Easy, allergy friendly cranberry cream cheese dip with orange, honey, and cinnamon. Just add your favorite gluten-free crackers and you have a quick holiday appetizer perfect for Christmas parties.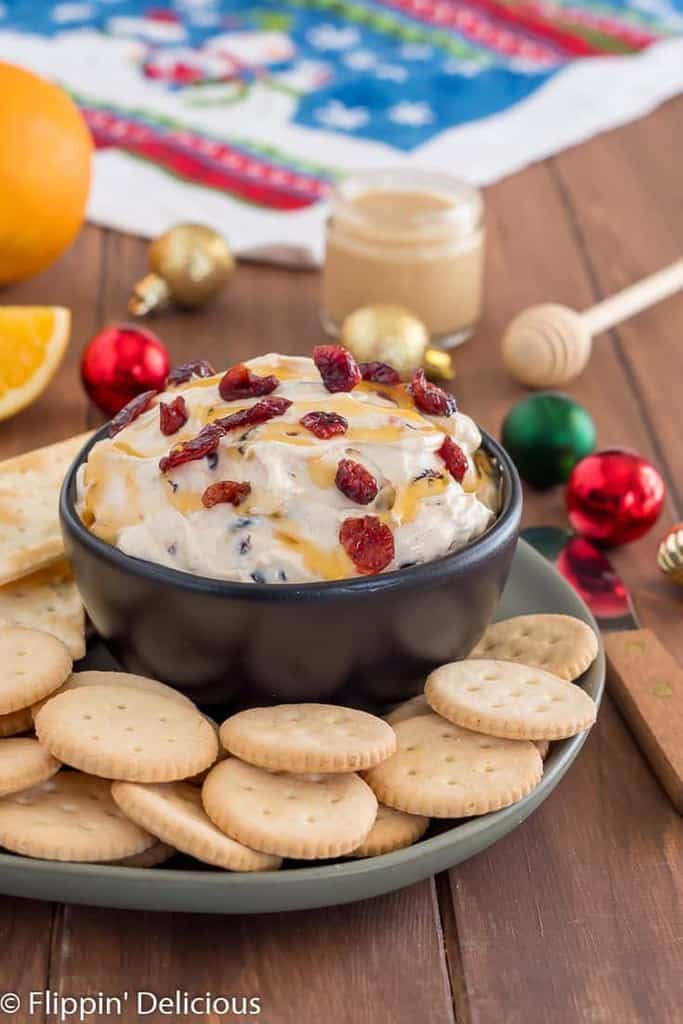 This post is sponsored by Schar. As always, all opinions are entirely my own. I love Schar's selection of gluten free, allergy friendly crackers, which go perfectly with this easy cream cheese cranberry dip. Thank you for supporting the companies that make Flippin' Delicious TM possible.
How do you navigate holiday parties with food allergies?
Safely navigating holiday parties with food allergies or celiac disease is often easier said than done. I've struggled with potluck events many times over the past years.
Do I feel safe trying that spinach artichoke dip?
Are those chips safe? There isn't a label.
Ugh. The cheese is on the same platter as the crackers.
Someone brought something that is gluten-free or works with your allergens (which is so amazingly sweet) but was it prepared without cross contact?
In my personal experience, the best thing is to plan ahead and bring something I know that I feel safe eating. Then I can focus my energy at the holiday party mingling with friends and drinking a festive punch.
I try to make something easy, so I don't spend the entire afternoon in the kitchen.
The holidays are busy. I don't have time to bake gluten free Christmas cookies every day.
How do you plan ahead before going to holiday parties?
At the start of the season stock your pantry safe crackers, chips, and cookies. My grocery store had a bunch of Schar gluten free crackers on sale, so I bought enough to last me the entire holiday season!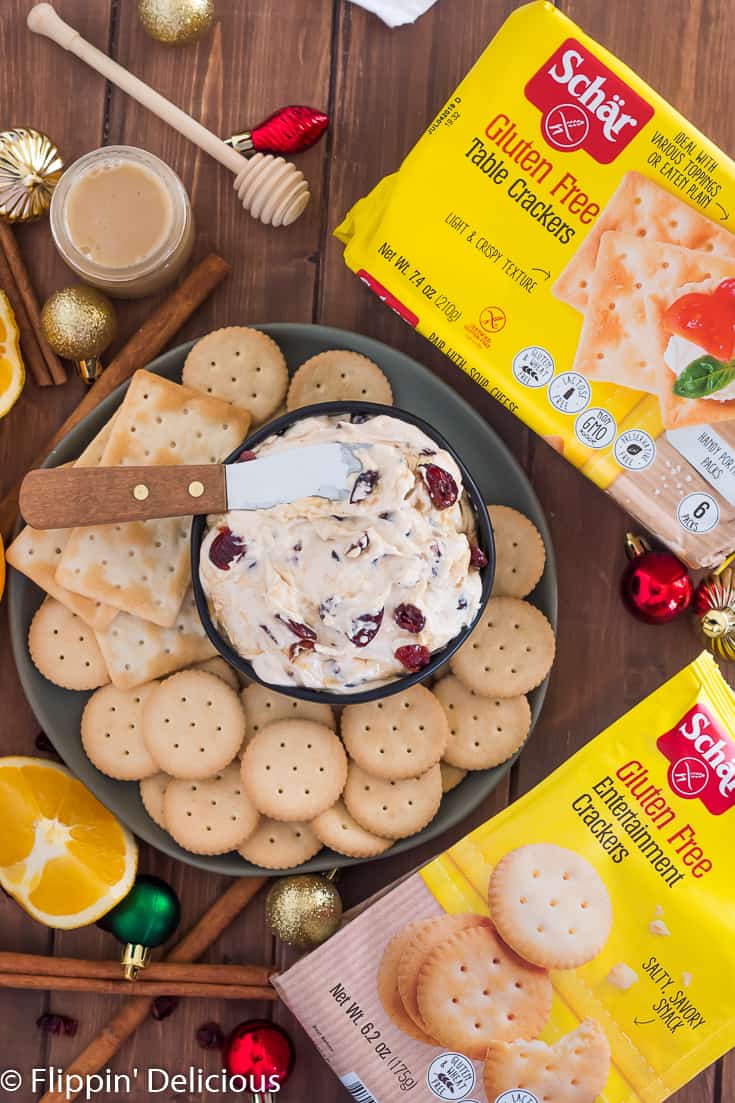 Also stock your fridge with some safe meats and cheeses, dips, hummus, or the ingredients to make an easy homemade dip (hint hint, like this recipe).
If your pantry is stocked, whenever you go to a party, even a last minute one, you don't have to make a last minute run to the store. The stores are insane during the holidays and a last minute run on a Friday night is too much.
Hide your safe snacks and ingredients in a corner, in a box or a bag, where no one will find them.
(Speaking from personal experience. My hubby and kids devour all the crackers whenever they see them.)
Whenever you get a last minute invite to an ugly sweater party (for that, you'll want to make my ugly holiday sweater crackers) or a white elephant party sneaks up on you, you'll be prepared.
Easy Cranberry Cream Cheese Dip Recipe
Over Thanksgiving I bough a cranberry goat cheese log that I added to a charcuterie board. I'm a big charcuterie fan, partially because I love cheese. The board I made over Thanksgiving so yummy!
The challenge with charcuterie boards is that mine tend to have a lot of dairy. I had a hard time keeping my dairy-intolerant preschool away from the cheese on Thanksgiving.
Luckily I had brought her favorite vegan cream cheese that she dipped her chips in.
I wanted to use the same flavors as that cranberry goat cheese log in a super easy and approachable family-friendly recipe.
How do you make cranberry cream cheese dip?
I used regular cream cheese to make it to share with you, but this recipe would work equally well with a vegan cream cheese so that anyone can enjoy it. Including those with dairy allergies, like my daughter.
To make my cream cheese cranberry dip I beat some softened cream cheese until fluffy and then added orange zest, orange juice, a touch of honey and cinnamon, and some dried cranberries.
That is is.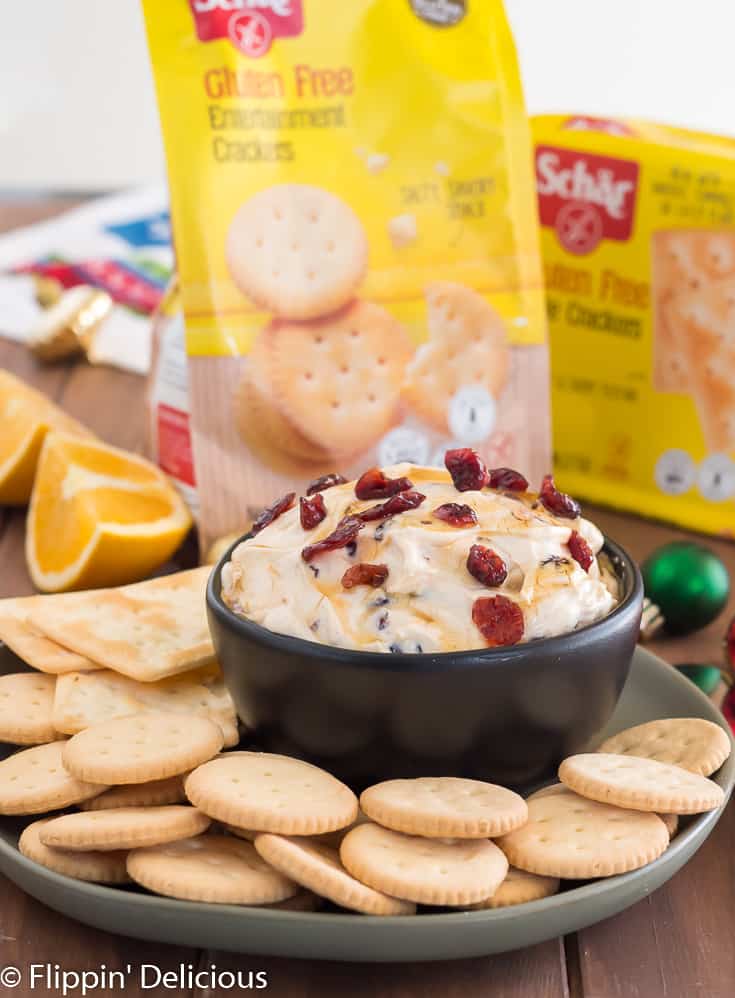 It took less than 10 minutes from start to walking out the door with gluten free holiday appetizer in hand.
Just put your cranberry cream cheese dip with honey and orange in a cute little bowl and surround it with gluten free crackers.
I spruced my cranberry orange cream cheese dip up by garnishing it with some extra dried cranberries and a drizzle of honey. It make such an easy holiday party appetizer!
(The cream cheese will start to "break" a little when the honey is drizzled on top. Drizzle it just before serving, not before hopping in the car.)
Grab gluten free crackers from your Holiday stash
I used Schar's Gluten Free Entertainment Crackers and Gluten Free Table Crackers with my cranberry cream cheese dip. They taste great on their own (which is why I had to hide them in a corner in my pantry so my hubby wouldn't find them) and are also sturdy enough to dip in cranberry cream cheese dip.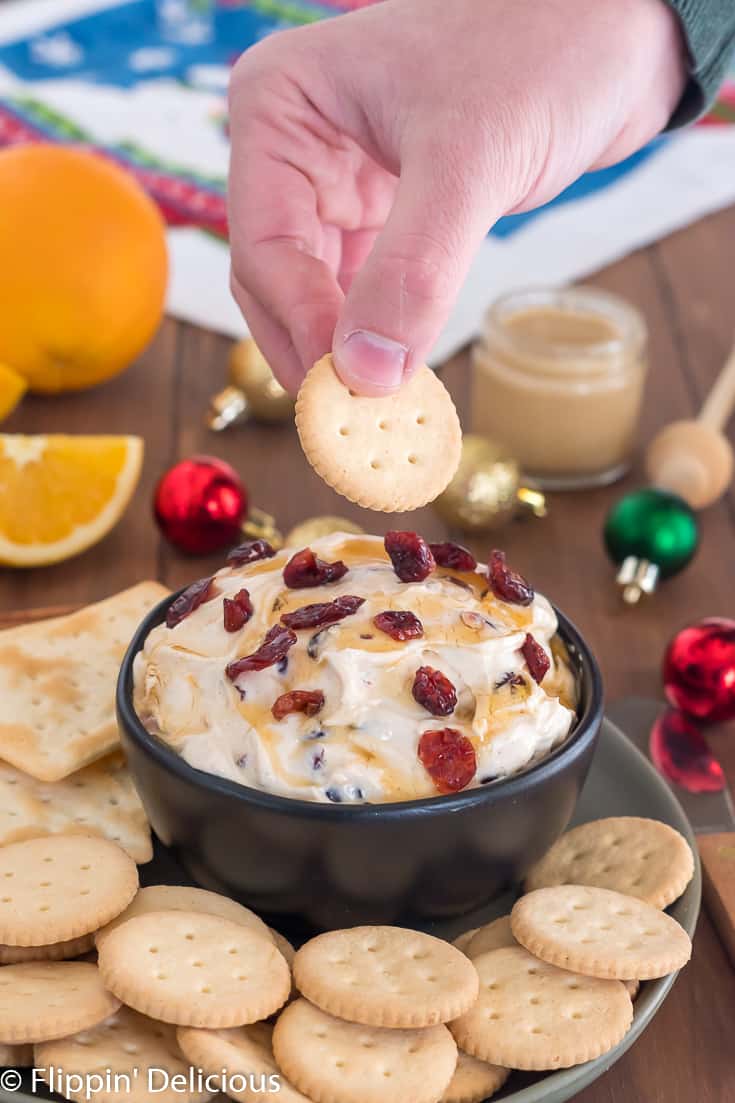 If you want to get fancy, you can top each Gluten Free Entertainment Cracker with a little dip and garnish it with a drizzle of honey, sprinkle of orange zest, and a dried cranberry or two.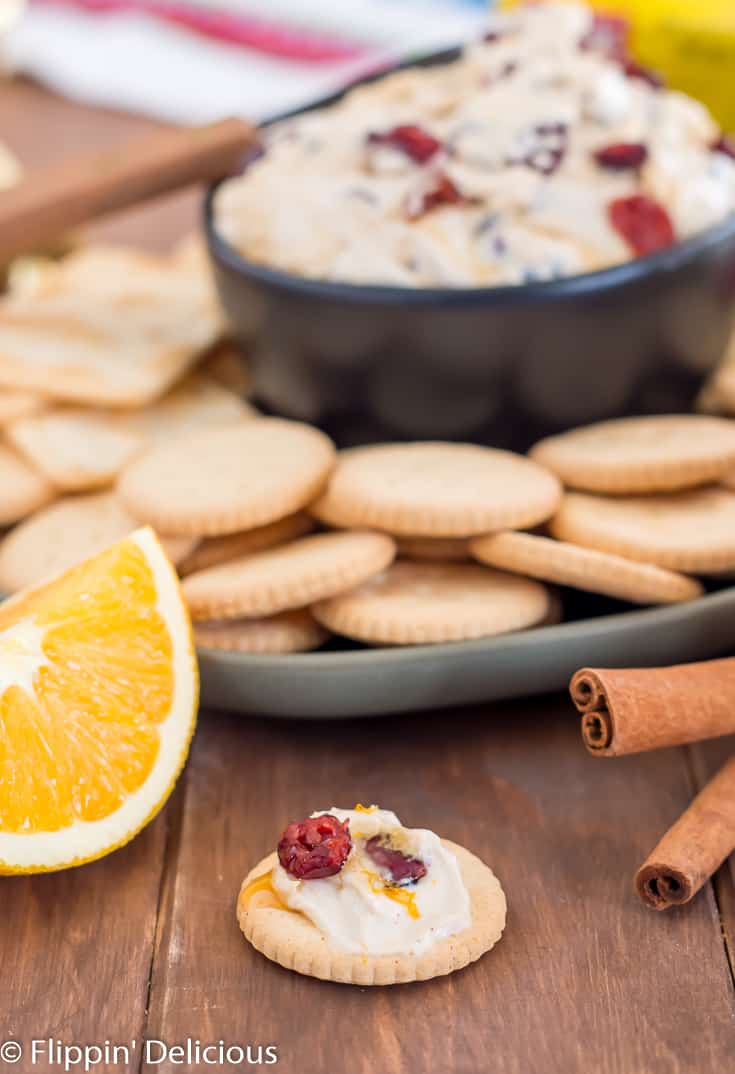 We are heading to a party tonight, and I'm bringing extra Gluten Free Entertainment Crackers with me so that if there are any safe dips, meat, and cheese I have something to eat them with.
And of course, I'll have this honey cranberry cream cheese dip.
All I need is a glass of wine and I'll be set even if there aren't other safe snacks.
I'm excited to be bringing such an easy and tasty cranberry cream cheese dip recipe to share with our friends before we exchange white elephant gifts.
What are your favorite tips and tricks for navigating holiday parties with food allergies or celiac disease?
📖 Recipe
Cranberry Cream Cheese Dip Recipe
Yield:
approx 1 ½ cups cranberry cream cheese dip
Easy, allergy friendly cranberry cream cheese dip with orange, honey, and cinnamon. Just add your favorite gluten-free crackers and you have a quick holiday appetizer perfect for parties. sc
Ingredients
8 ounces cream cheese, softened (substitute dairy free/ vegan cream cheese to make dairy free)
zest from ½ an orange
1 tablespoon fresh squeezed orange juice
2 tablespoons honey
½ teaspoon ground cinnamon
½ cup dried cranberries
Instructions
In a medium mixing bowl, beat the cream cheese until soft and fluffy with electric beaters, or a whisk and a lot of elbow grease.
Add remaining ingredients and beat until well combined.
Garnish with extra cranberries, orange zest, or honey (optional).
Serve with Gluten-Free Entertainment Crackers.
Notes
To make dairy free, swap the cream cheese for vegan cream cheese.
To make vegan, swap the cream cheese for vegan cream cheese and omit the honey. You may replace the honey with a little agave or coconut sugar, if desired.
Recommended Products
As an Amazon Associate and member of other affiliate programs, I earn from qualifying purchases.
Nutrition Information
Yield

12
Serving Size

1
Amount Per Serving
Calories

104
Total Fat

7g
Saturated Fat

4g
Trans Fat

0g
Unsaturated Fat

2g
Cholesterol

19mg
Sodium

65mg
Carbohydrates

11g
Fiber

1g
Sugar

9g
Protein

1g
All nutrition info is a guestimate and will vary depending on the ingredients you use.