Easy coconut poke cake made with a doctored white cake mix with cream of coconut and canned coconut milk poured over the top. Topped with whipped cream and toasted coconut, it has so many layers of coconut flavor! Instructions for making it dairy free, vegan, and gluten free are included.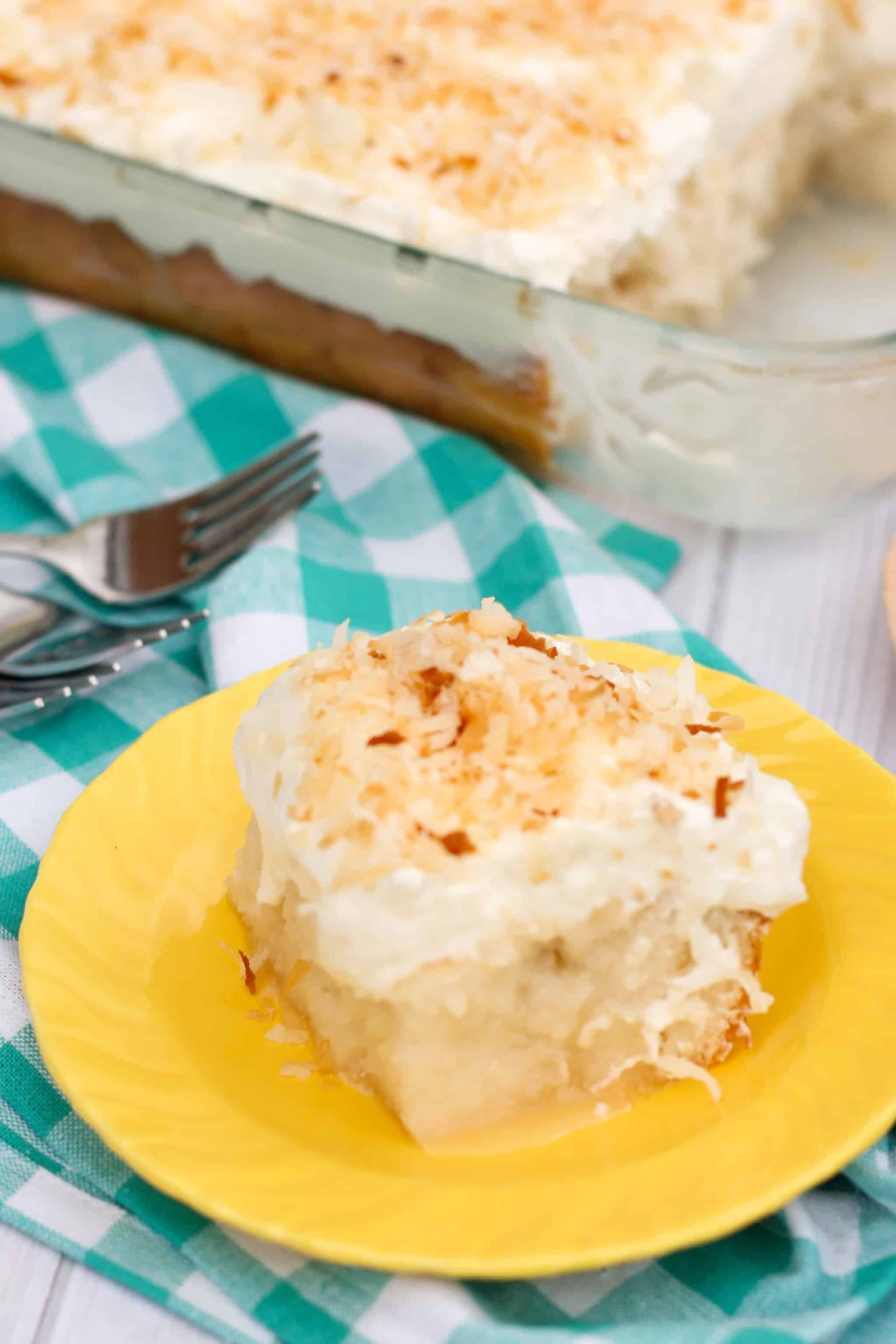 My dad was really into cycling when I was a little girl. One of his cycling buddies had a potluck at the end of the summer that we all got to go to.
Well at this potluck, someone had brought a coconut poke cake. And I've heard about this cake dozens of times through my childhood. I don't remember it, or remember if I had any of it, but my mom hasn't stopped singing its praises for almost 20 years
. It must have been one awesome cake!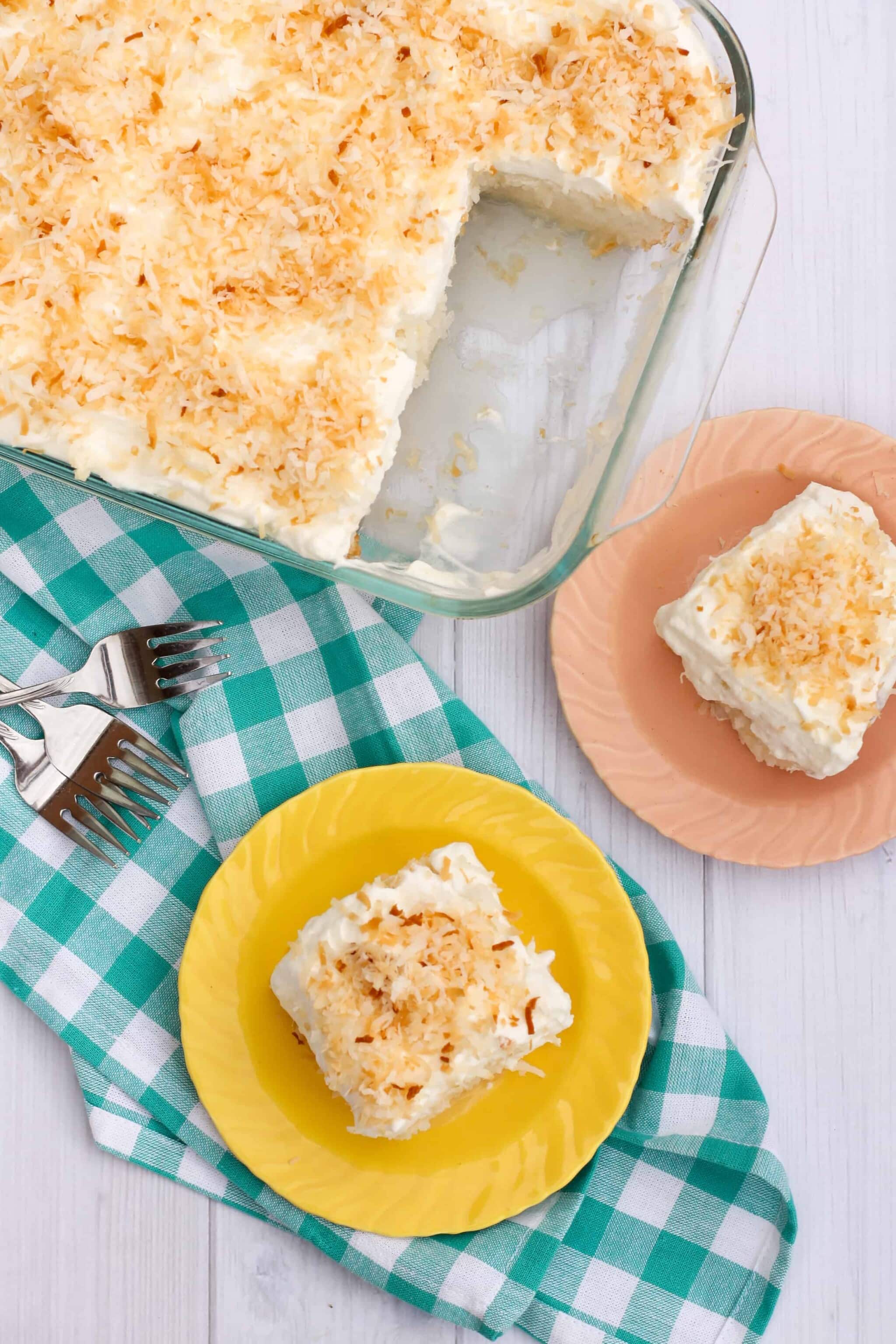 How to make coconut poke cake?
The caken was basically a white coconut cake with frosting and more coconut, but the thing that made it really special was that before it was frosted, cream of coconut was poured all over that cake and it just soaked in…
Apparently, it was life-changingly amazing.
Poke cake is actually pretty simple, and I wanted to layer in as much coconut flavor as I could.
What do you need to make coconut poke cake?
White Cake Mix- I used my homemade gluten free cake mix but you can use any cake mix you'd like.
Canned coconut milk
Unrefined coconut oil
Coconut Extract- I used my homemade coconut extract, which tastes amazing! You can use any coconut extract you'd like, or swap in vanilla extract
Sweetened Shredded Coconut
Cream of Coconut OR canned sweetened condensed coconut milk
Heavy Whipping Cream, whipped OR whipped topping
Powdered Sugar
Toasted Coconut
To keep things simple I used homemade gluten free white cake mix. You can use whatever cake mix you want for this coconut poke cake recipe!
To up the coconut ante when you bake your coconut poke cake use canned coconut milk instead of the milk or water in the box mix recipe, and use coconut oil instead of the oil or butter.
Then mix in a little shredded coconut for good measure. Once baked you just poke holes in the cake (coconut "poke" cake) and then pour the cream of coconut all over and let it soak in.
I topped it off with some whipped cream (flavored with a little coconut milk) and some more coconut, toasted this time.
If you want you could add a little coconut extract to the whipped cream for even more coconutty goodness.
Or if you are a Cool Whip kind of person feel free to sub it in. Who am I to judge? It is one less thing to worry about.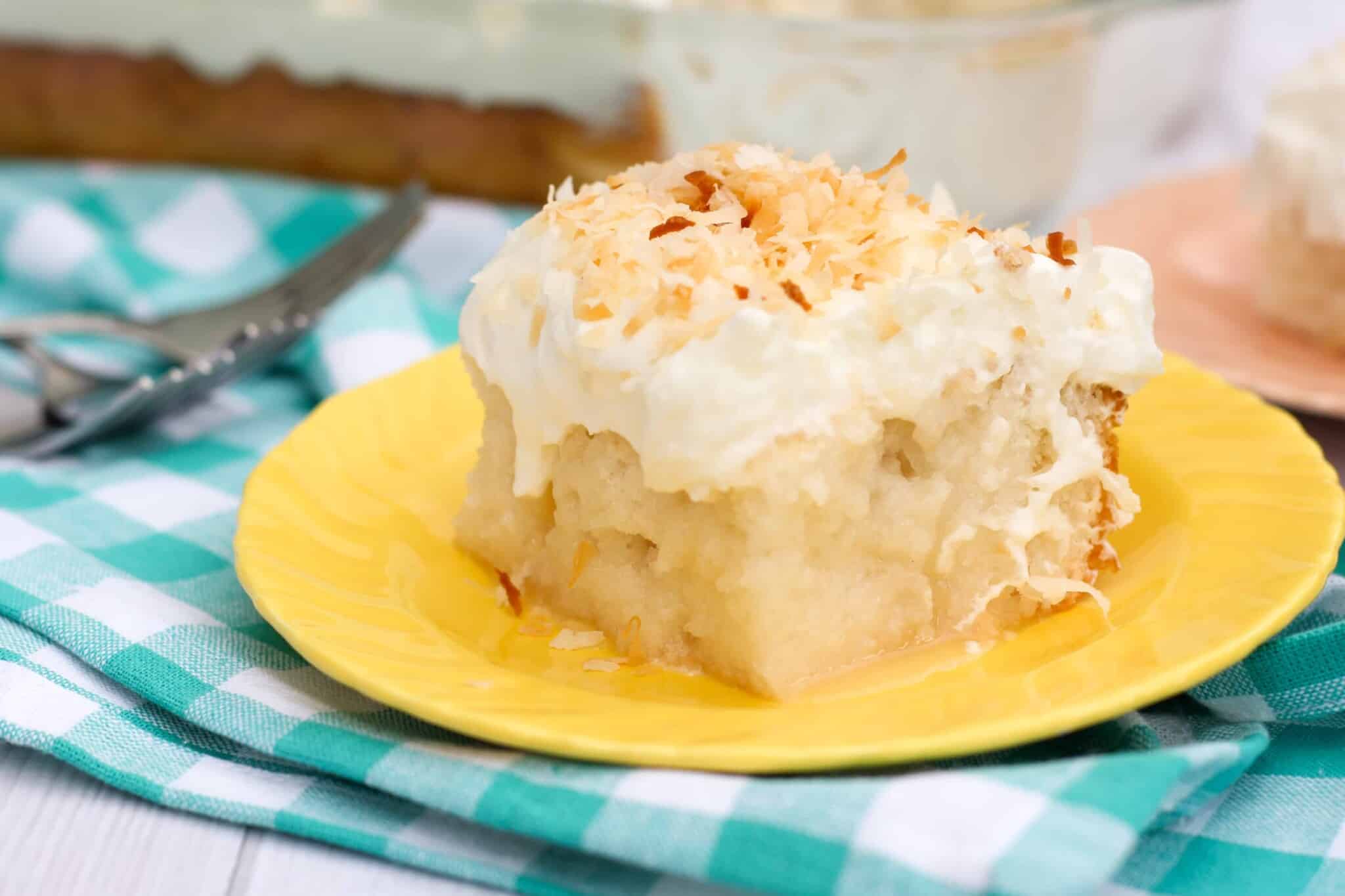 Where to find cream of coconut?
Just in case you aren't a cocktail drinker, let me tell you what cream of coconut is, and where you can find it.
My family didn't drink alcohol, so we'd never been to a liquor store. I think that was part of the mystery and awe. "Cream of coconut? What is cream of coconut?
It must be the ambrosia drink that all the Greek gods had, or something."
Cream of coconut is basically a coconut syrup, and boy it is tasty!
You will find cream of coconut in the liquor section of the grocery store near the margarita mix and other mix-ins.
It is really sweet so I mixed it with some canned coconut milk. That way it didn't lose any awesome coconut flavor, but just wasn't cloyingly sweet. It was still pretty sweet though.
What can I substitute for cream of coconut?
If you can't find cream of coconut, or if you want a dairy free cream of coconut substitute, use a can of dairy free sweetened condensed coconut milk.
I always have a can on hand, it has a great flavor and works great in this recipe.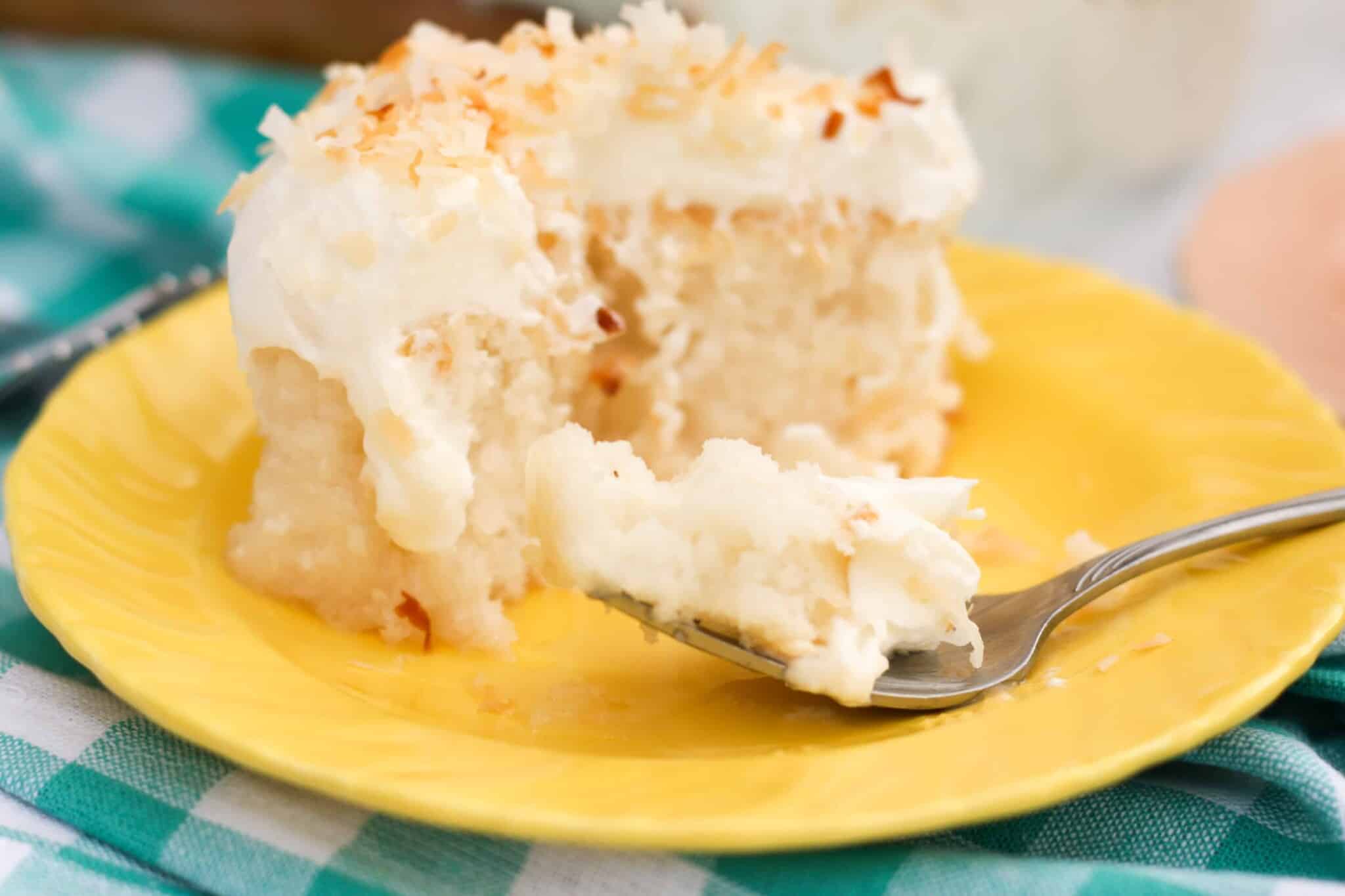 The result is a super moist coconut poke cake that is just loaded with sweet coconut flavor.
How to make coconut poke cake dairy free?
To make dairy free, use coconut milk and coconut oil in the cake batter.
Instead of cream of coconut, poured oven the cake when warm, use one can of sweetened condensed coconut milk.
To frost your coconut cake, instead of whipped cream, you can use a dairy free whipped topping like So Delicious's CocoWhip, or you can whip up the solid part of a chilled can (or three) of full fat coconut milk. If you can find a can of "coconut cream" which is just thicker coconut milk, you may not have to drain as much liquid from it, and you may also not need as many cans. You can add the powdered sugar to the whipped coconut cream and then add the toasted coconut.
How to make coconut poke cake vegan?
To make your coconut cake vegan, make all of the dairy free adjustments, and then also use an egg substitute.
My go-to is Bob's Red Mill's Egg Replacer, but I like to use a little more water than what the package calls for.
How to use gluten free flour
When baking with gluten free flour, your results will vary based on the gluten free flour you use.
Please read through my gluten free flour page for very thorough and detailed information about which gluten free flours work well, how to substitute one gluten free flour for another, and for my gluten free flour recipe.
How to measure gluten free flour
How you measure your gluten free flour is also very important.
To accurately measure your flour, use the "fork, spoon, knife" method.
First, mix your gluten free flour with a fork to ensure it is aerated and evenly mixed.
Then carefully spoon it into your measuring cup.
DO NOT scoop the flour with your measuring cup, you'll compact extra flour into the measuring cup and then your gluten free baked goods will be dry and crumbly because they'll have too much flour.
Finally, level off your measuring cup using a knife.
Use room temperature ingredients
You'll also have best results if all the ingredients are at room temperature, except for any ingredients that specify "cold" or "chilled".
Using room temperature ingredients like eggs, butter, and gluten free flours helps your baked goods to bake evenly and correctly.
Think about it, if you use cold eggs, your batter will be colder.
And then it will change how it bakes, or may take longer.
For recipes that rise using steam, this is especially important.
📖 Recipe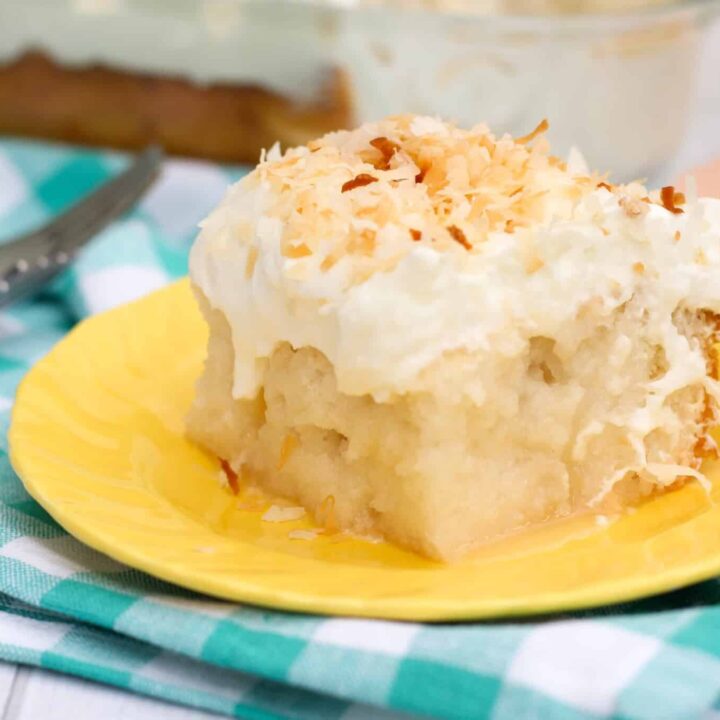 Coconut Poke Cake
Yield:
20 slices of coconut poke cake
Easy coconut poke cake starts with a cake mix, doctored up with coconut milk, coconut oil, and coconut extract. Pour cream of coconut all over the cake while it is warm so it can soak in, and then frosted with coconut whipped cream and toasted coconut. Easily made gluten-free, dairy free, and vegan.
Ingredients
¾ cup Sweetened Shredded Coconut
1 cup coconut milk
¾ cup coconut oil, melted and cooled
1 teaspoon vanilla extract
3 eggs
For the syrup:
1 cup Cream of Coconut
½ cup Coconut Milk, Canned
For the topping:
2 cups Heavy Whipping Cream
½ cup Coconut Milk, Canned
2 cups Powdered Sugar
1 ½ cups Sweetened Shredded Coconut
Instructions
Mix the cake mix according to the package directions. Use canned coconut milk instead of the milk or water, and using coconut oil instead of the oil or butter, if you like. Add the shredded coconut.
Bake according to the package directions in a 9x13-inch baking dish.
Once the cake is baked and cooled, poke holes in it about 1 inch apart using the handle of a wooden spoon.
Mix together the cream of coconut and the coconut milk and pour evenly over the cake into the holes.
Whip the whipping cream to medium peaks, add the coconut milk and powdered sugar, and whip until combined. Frost the entire cake with the whipped cream.
Toast the 1 ½ cups shredded coconut at 400°F for 5-8 minutes or until it is just starting to turn golden brown. Top the cake with the toasted coconut.
Notes
Substitute canned coconut milk for the milk or water and coconut oil for the oil or butter to bring your cake to the next level
I used a home-made gluten-free cake mix.
To make dairy free, use a can of sweetened condensed coconut milk instead of the cream of coconut, and then use a dairy free whipped topping or whipped and chilled coconut cream (the solid part from full-fat coconut milk) to top it. Be sure to use the coconut milk and coconut oil instead of milk or butter in the cake itself.
To make vegan coconut poke cake, make the dairy free substitutions and also use an egg substitute.
Nutrition Information
Yield

20
Serving Size

1
Amount Per Serving
Calories

370
Total Fat

31g
Saturated Fat

23g
Trans Fat

0g
Unsaturated Fat

6g
Cholesterol

68mg
Sodium

75mg
Carbohydrates

22g
Fiber

1g
Sugar

18g
Protein

3g
All nutrition info is a guestimate and will vary depending on the ingredients you use.