Homemade Coconut Extract is easy to make and naturally adds a sweet tropical coconut flavor to all your favorite recipes.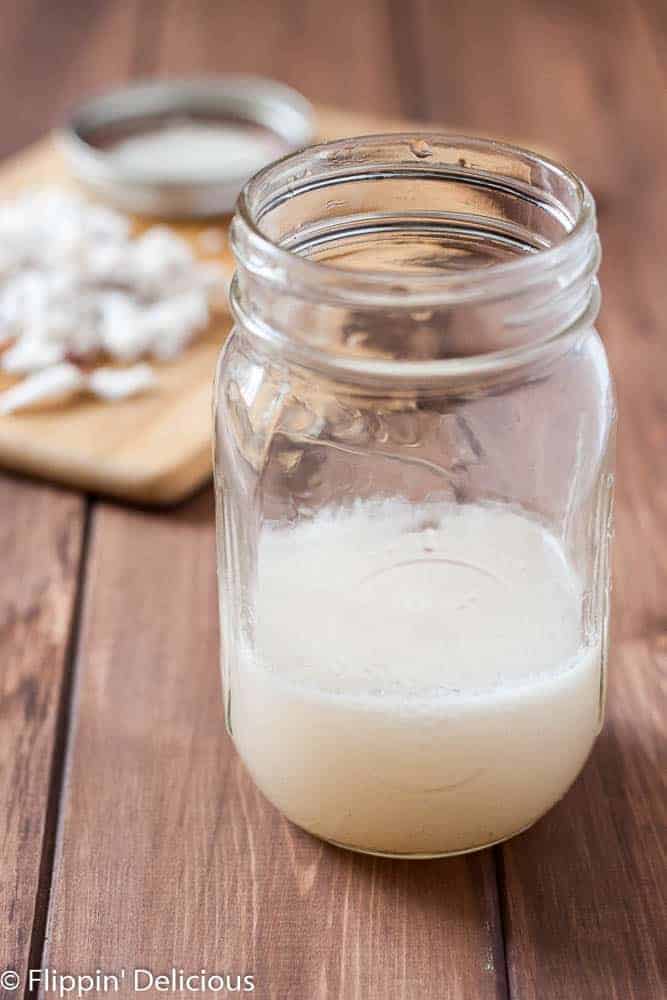 Have you ever made your own vanilla extract? I haven't, but I have seen lots of recipes online.
It is pretty basic. Toss a vanilla bean in some alcohol (normally vodka) and then let it sit for a while. The flavors from the vanilla bean dissolve into the alcohol and then you can easily add them to all your favorite recipes.
Making homemade coconut extract is just as easy!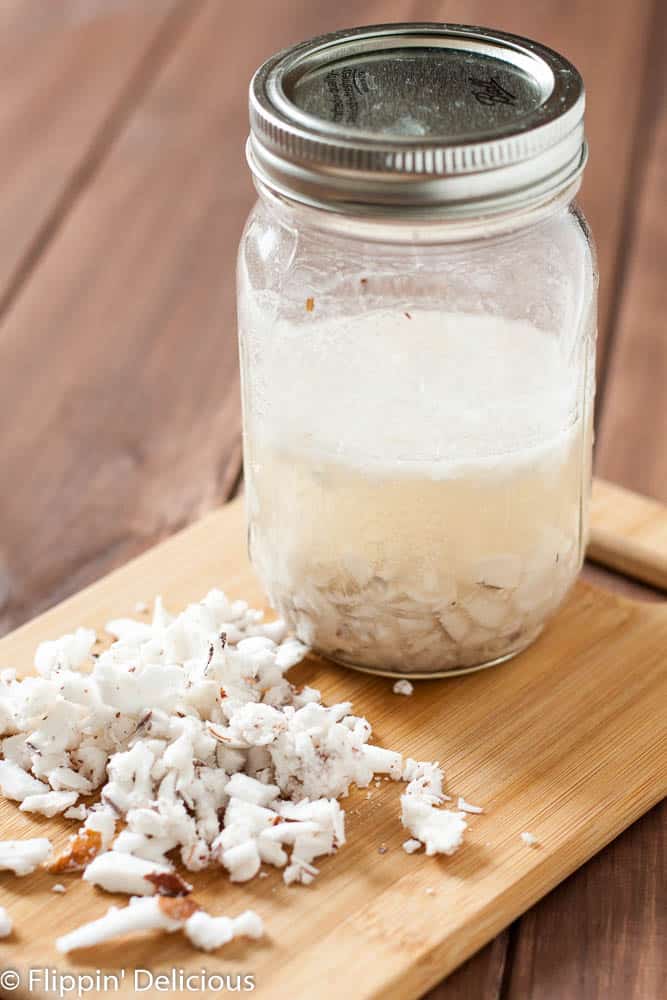 You only need 2 ingredients. Some alcohol and some coconut. Combine the two in a jar or other airtight container, and leave it in a cool dark place. I put mine in my cupboard and gave it a good shake every day or so.
While the prep for this homemade coconut extract is super easy, it can take some time for your extract to reach the strength that you want. I let my homemade coconut extract do it's thing for about a week and a half before I strained it. Just let it sit until you love the flavor!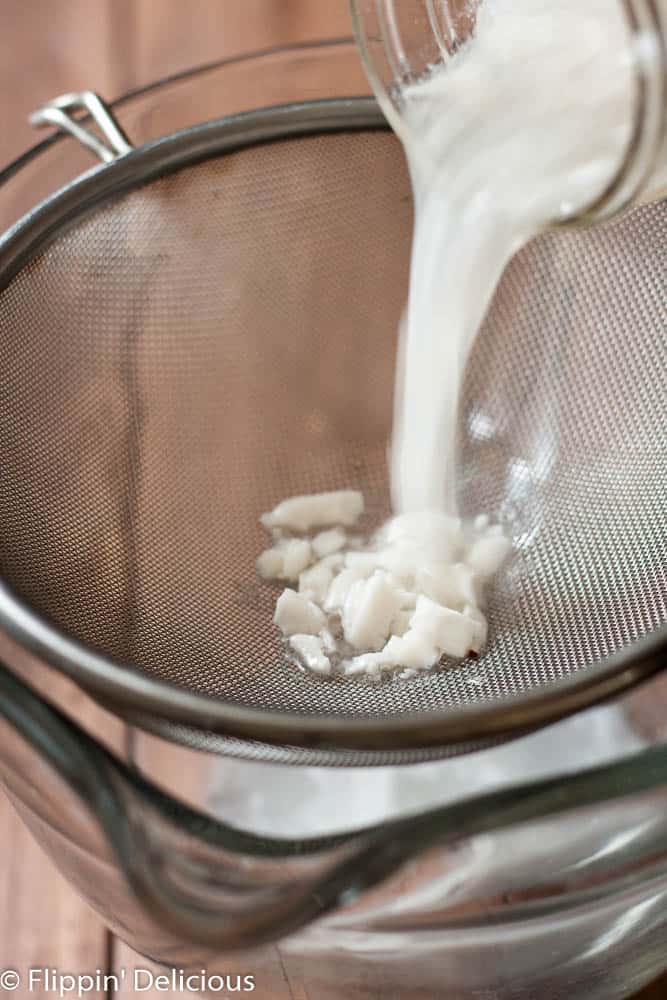 I used rum because it just seemed right to use a tropical alcohol with the coconut. You could use vodka, or really any distilled spirit to extract the flavors from your coconut. (Read more about Gluten-Free spirits and alcohol on GF Jules.)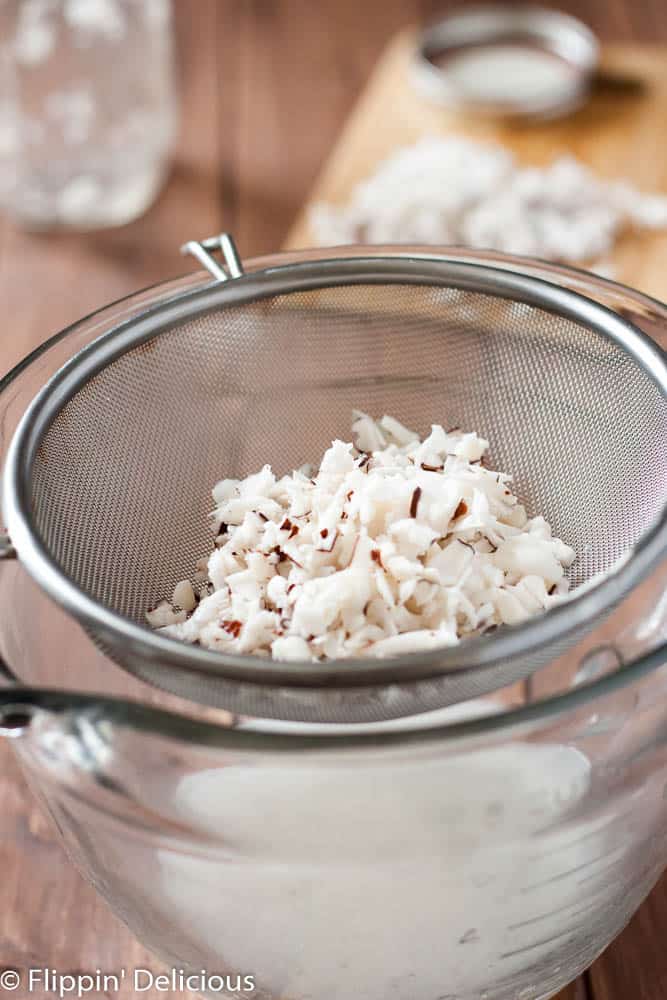 I used some fresh shredded coconut that I had in the freezer. I guess then it was frozen shredded coconut? Anyways I had it on hand so I used it. I have had a hard time using it up because it still has the brown "skin" on it. Whenever I add it to smoothies or something it adds a funky texture. BUT I thought this homemade coconut extract was the perfect way to use some of it up.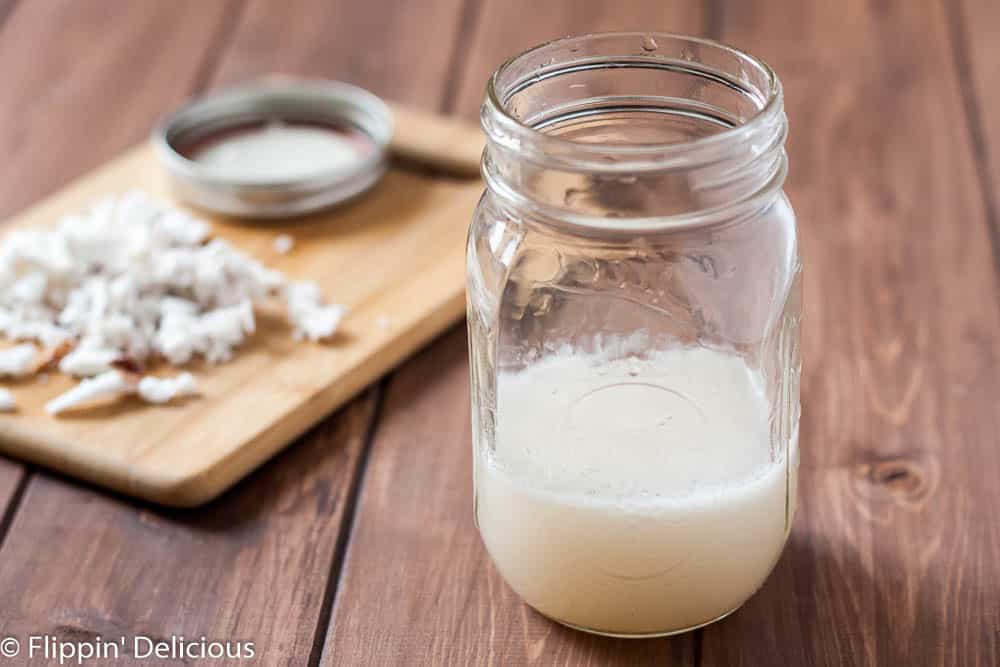 Go ahead and use dried shredded coconut instead of fresh or frozen coconut. The alcohol will extract the flavors just the same.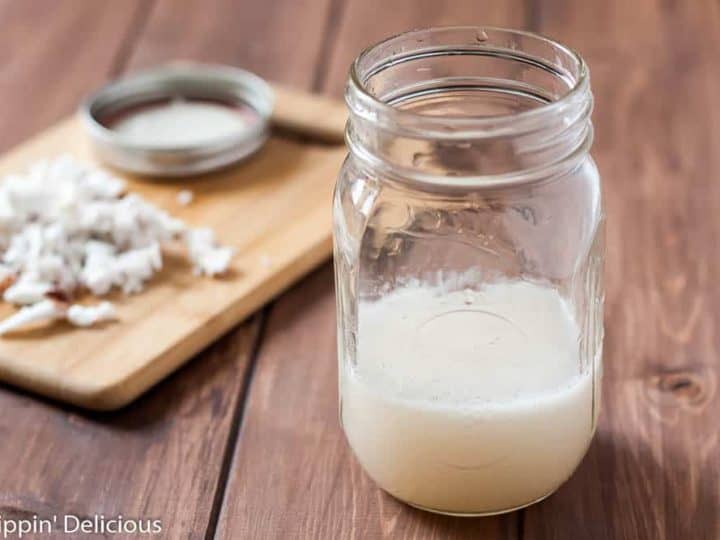 Yield:

3/4 cup coconut extract
Homemade Coconut Extract
Homemade Coconut Extract is easy to make and naturally adds a sweet tropical coconut flavor to all your favorite recipes.
Ingredients
shredded coconut (fresh or dried) (I used 3/4 - 1 cup)
3/4 cup Rum or other distilled alcohol (enough to cover the coconut)
Instructions
Place the shredded coconut in a jar or other airtight container.
Pour enough rum over the coconut to cover it. I ended up using about equal parts.
Place in a cool, dark area and let sit for several days to 2 weeks, giving your jar a good shake about once a day.
Once your extract has reached your desired level of coconutty-ness, drain the extract from the shredded coconut and store it in an airtight jar in the fridge.
Notes
I felt that the flavors in my homemade extract made with fresh coconut were not as concentrated as commercial extract, so I used extra in recipes when baking. But that is just my personal preference.
When I've made homemade coconut extract with dried coconut that I've toasted, it has had a stronger flavor.
To toast your dried coconut, place it in an even layer on a baking sheet. Toast in a 400 °f oven stirring at 5 minutes and every 2 minutes thereafter until it i golden brown. Let cool, and then use as directed in t he recipe.

I used a white rum with 35% alcohol content. You can use vodka instead, if you prefer
Nutrition Information
Yield
36
Serving Size
1
Amount Per Serving
Calories

19
Total Fat

1g
Saturated Fat

0g
Trans Fat

0g
Unsaturated Fat

0g
Cholesterol

0mg
Sodium

5mg
Carbohydrates

1g
Fiber

0g
Sugar

1g
Protein

0g
All nutrition info is a guestimate and will vary depending on the ingredients you use.