A Gluten Free Cookie Cake is the perfect dessert for when you can't decide what dessert to make. This way, you can have your cake, and eat it too. Dairy-Free option too.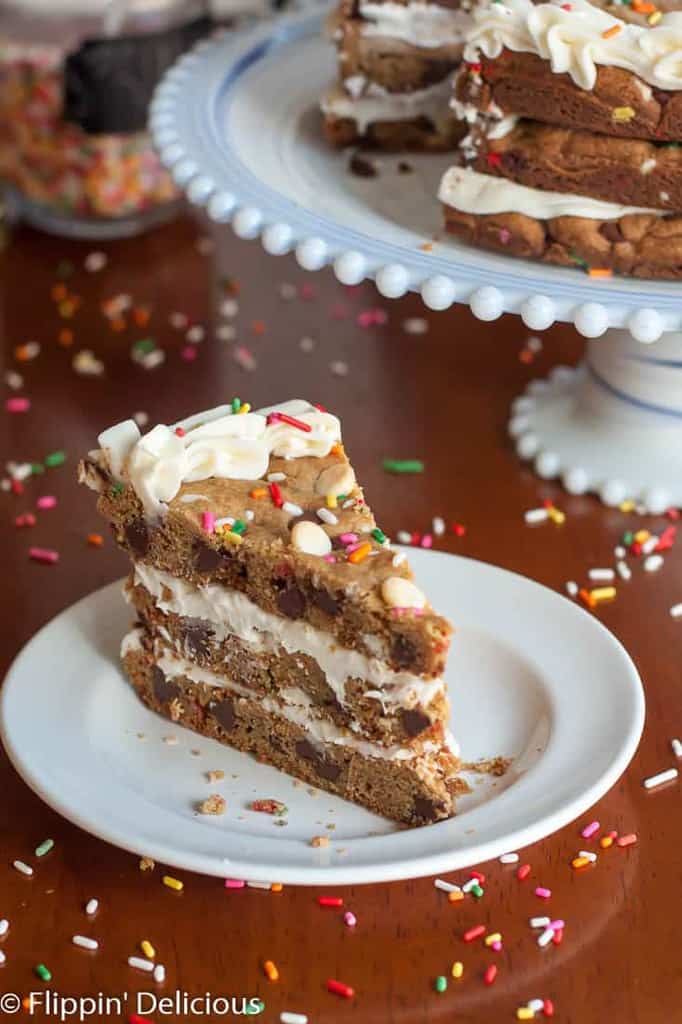 My friend Sharon from What the Fork Food Blog is celebrating her birthday, and I am celebrating with her and a bunch of her blogging friends.
How are we celebrating? A giveaway of course! We all pitched in to give away a KitchenAid stand mixer (the winner will get to choose between Green Apple, Ice, Aqua Sky, Cranberry, Metallic Chrome, or White), a prize package from Rodelle Vanilla (vanilla extract, almond extract, baking cocoa) and a $100 gift card to Sweetapolita.
What am I bringing to the party? This 3 layer gluten free cookie cake with buttercream frosting.
This Gluten Free Cookie Cake felt like a stroke of genius as I was preparing for my birthday last year. My husband and I were taking both of the girls on a trip out of state with my family, over my birthday. Because it was vacation, I wasn't really sure if I'd want to make an entire cake while we were there. There was just too much work involved when I didn't know if we'd have a fully equipped kitchen, or how much time I would have.
And thus, this cookie cake was born. I was able to pack the cookie cake layers ahead of time and then frost and assemble it a short few days later in time for the birthday festivities. And it was a big hit.
Everyone loves cookies, and everyone loves cake. And besides, why haven't we been putting buttercream frosting on our chocolate chip cookies before this?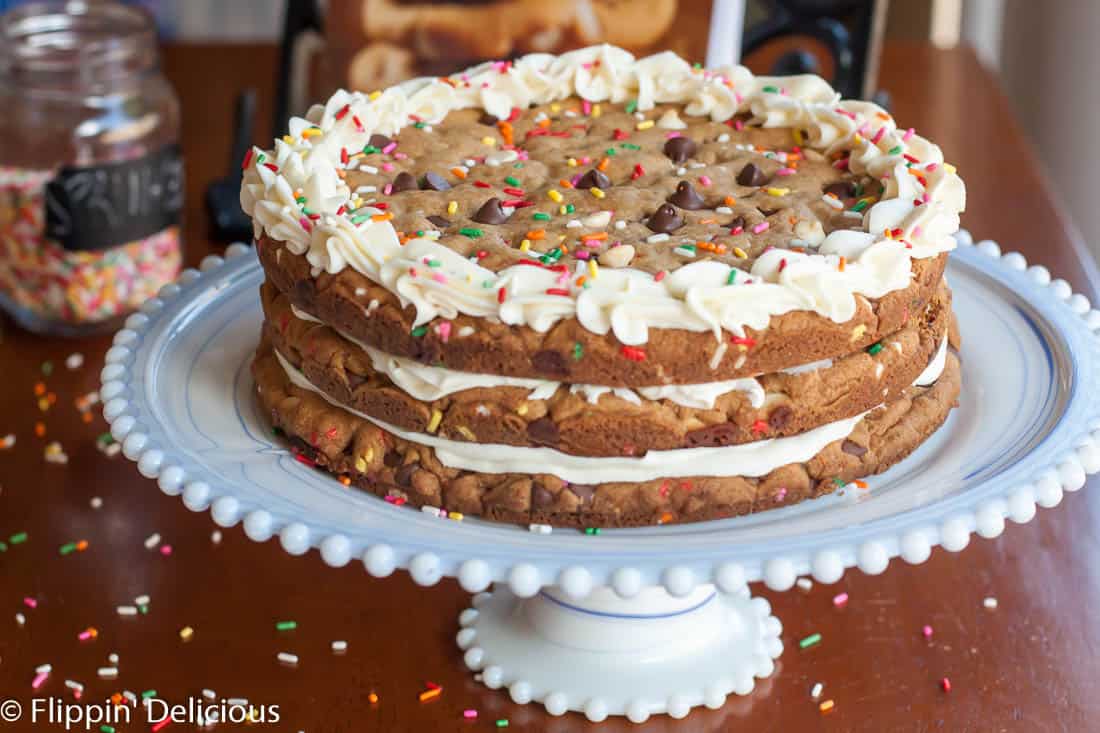 The idea of making a giant cookie can be a little bit intimidating. What if the cookie spreads too thin while it's baking? What if I cook it too long and it gets crispy? What if I don't cook it long enough and the center is still raw? Trust me, I had similar trepidations.
Rest assured, this cookie layer cake is a lot easier than you first think. The basic recipe for this cookie can be found in my cookbook, too.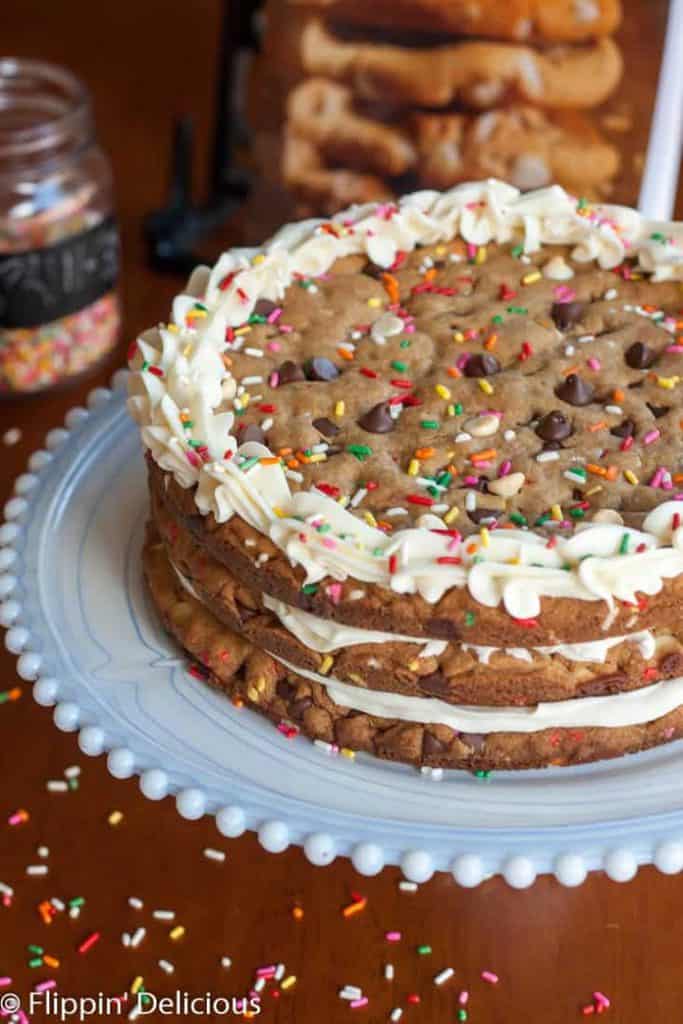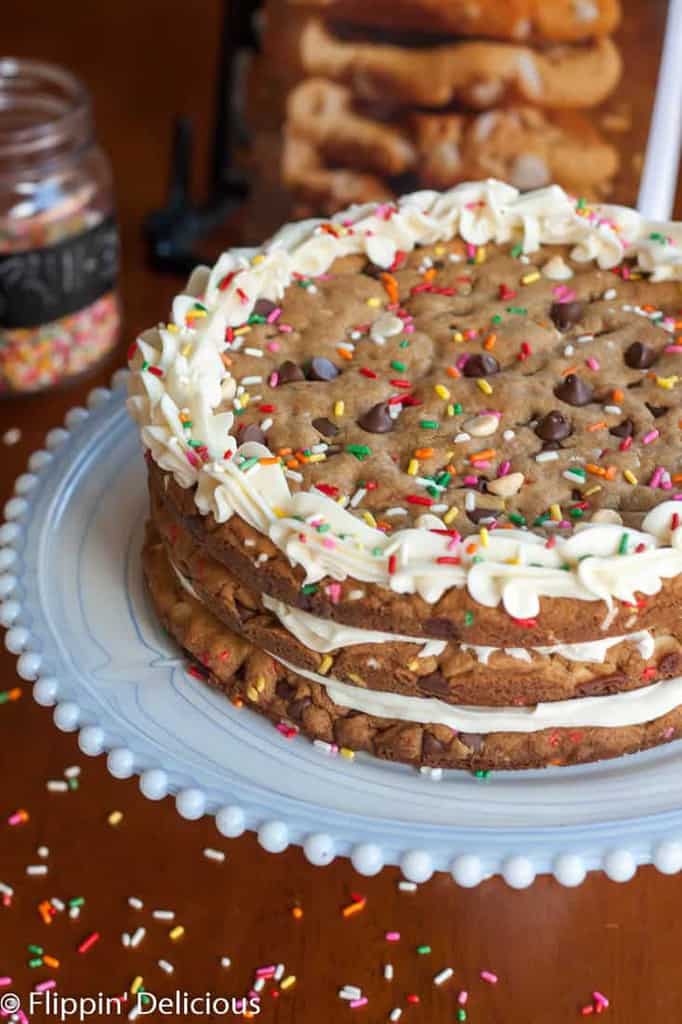 The key is having a good chocolate chip cookie recipe. Then the rest of your worries and issues will melt away. You bake the cookies in a cake pan, so you won't have to worry about uniformity. And I have the perfect chocolate chip cookie recipe for this cake. And you have to be picky with your flours, just like you would with any Gluten Free recipe. Trust me on this one, make sure you use the right flour. Otherwise you'll have a mouthful of chalky cookie, and no one wants that.
It cooked evenly, and each bite of this cake was soft and chewy, just what you'd expect from a regular cookie. Except this, this is better.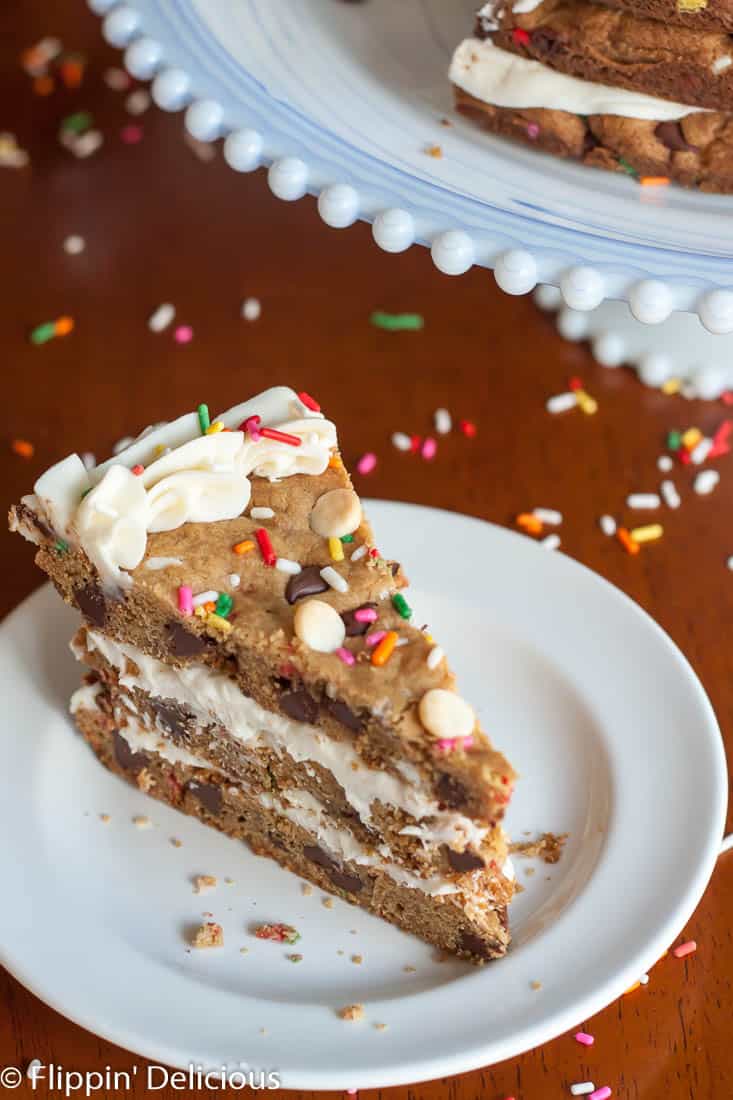 Don't miss all of the other Gluten-Free Birthday Recipes and help Sharon celebrate! They are right after the recipe (and the giveaway is too.)
📖 Recipe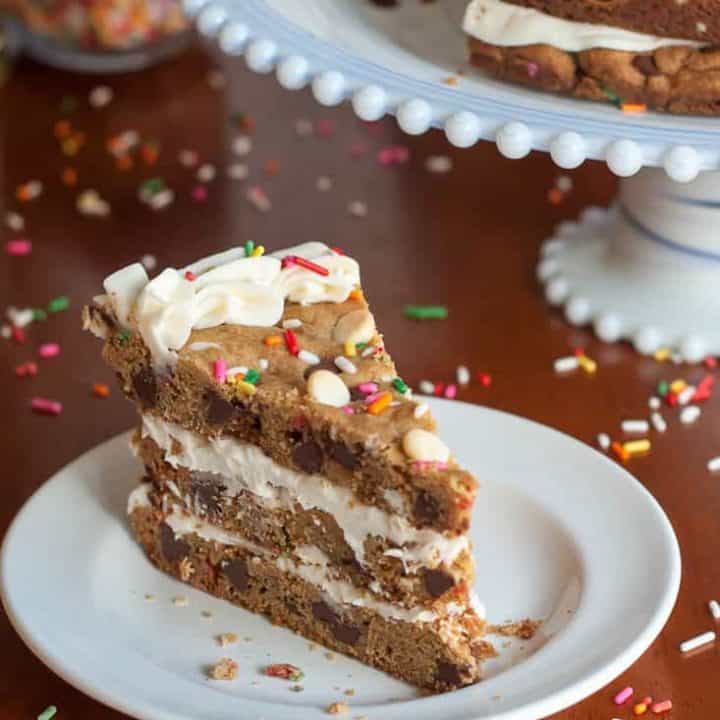 Gluten Free Cookie Cake
A Gluten Free Cookie Cake is the perfect dessert for when you can't decide what dessert to make. This way, you can have your cake, and eat it too. Dairy-Free option too.
Ingredients
¾ cup butter OR vegan butter, softened (or melted for chewier cookies) (1 ½ sticks)
8.25 oz brown sugar (approx 1 cup plus 1 ¼ teaspoons PACKED)
3 egg yolks
2 teaspoons vanilla extract
¾ teaspoon xanthan gum
1 ½ teaspoons baking soda
8 oz chocolate chips (approx 1 ¼ cups) (dairy-free if necessary)
2-4 tablespoons of the sprinkles of your choice
Instructions
Preheat your oven to 350F. Line 3 9 inch cake pans with parchment paper and set aside.
Cream together butter and brown sugar.
Add the egg yolks and vanilla extract and mix until smooth.
Add the xanthan gum, baking soda, and gluten free flour. Mix until combined and then stir in the chocolate chips and sprinkles.
Evenly divide the cookie dough between the cake pans and press it out. Don't worry about pushing it into all the nooks and crannies of the edges, it will spread a little as it bakes and will spread to the edges.
Bake for 10-12 minutes or until the dough has spread and the cookie cakes have lost their doughy shine. They will NOT be set yet, and that is ok. They will set as they cool.
Cool the cookie layers before frosting.
Place the bottom layer on a serving plate. Spread frosting over it and then top with another cookie layer. Repeat with the remaining layer and then decorate as desired.
Notes
I'm sorry if some of the volume measurements seem a little oddly specific. I perfected this recipe by weight and gave the best volume measurements I could for those of you without scales. If you have access to a scale, use the weight measurements for best results.
Recommended Products
As an Amazon Associate and member of other affiliate programs, I earn from qualifying purchases.
Nutrition Information
Yield

16
Serving Size

1
Amount Per Serving
Calories

237
Total Fat

16g
Saturated Fat

9g
Trans Fat

0g
Unsaturated Fat

6g
Cholesterol

61mg
Sodium

199mg
Carbohydrates

25g
Fiber

1g
Sugar

22g
Protein

1g
All nutrition info is a guestimate and will vary depending on the ingredients you use.
Celebrate with all of these other gluten free birthday recipes:
Gluten Free Coconut Cake - What The Fork Food Blog
Gluten Free Strawberry Lemonade Cupcakes - Gluten-Free Palate
Bourbon Tropical Peach Cocktail - Fearless Dining
Kir Royale Cocktails - The Heritage Cook
Gluten Free Chocolate Cupcakes - My Gluten Free Miami
Gluten Free Cookie Cake - Flippin' Delicious
Summer Beer - Vegetarian Mamma
The Best Gluten Free Cake - gfJules
Insane Cupcake Recipes - Our Mini Family
Gluten Free Coconut Cream Pie Cupcakes - Good Morning Cali
Mexican Dinner Rolls - Green Healthy Cooking
Summer Mocktails and Cocktails - A Joyfully Mad Kitchen
Gluten Free Cookie Cake - A Mind "Full" Mom
Strawberry Lychee Panna Cotta - Brunch-n-Bites
Cucumber Moscow Mule - The Culinary Compass
Paleo Chocolate Cupcakes with Mocha Frosting - Only Taste Matters
Gluten Free Chocolate Cupcakes - Veggie Balance
Virgin Watermelon Margarita - Coffee With Us 3
Elderflower Mojito - Home & Plate
Summertime Lemon Cupcakes - For the Love of Food
Chocolate Strawberry Shortcake Stacks - Simply Healthy Family
Chocolate Peanut Butter Cake - Cookie Dough and Oven Mitt
Watermelon Mint Gin Fizz - Frugal Foodie Mama
Giant Chocolate Chip Cookie Cake - Raia's Recipes
Tequila Sunrise Cocktail - All Roads Lead to the Kitchen
Grilled Spicy Pineapple Margarita - Lapetitchef
Gluten Free Fresh Apple Cake - My Gluten-free Kitchen