Sweet and creamy No Churn Gluten Free Cookies and Cream Ice Cream.... only 4 ingredients and no ice cream machine needed!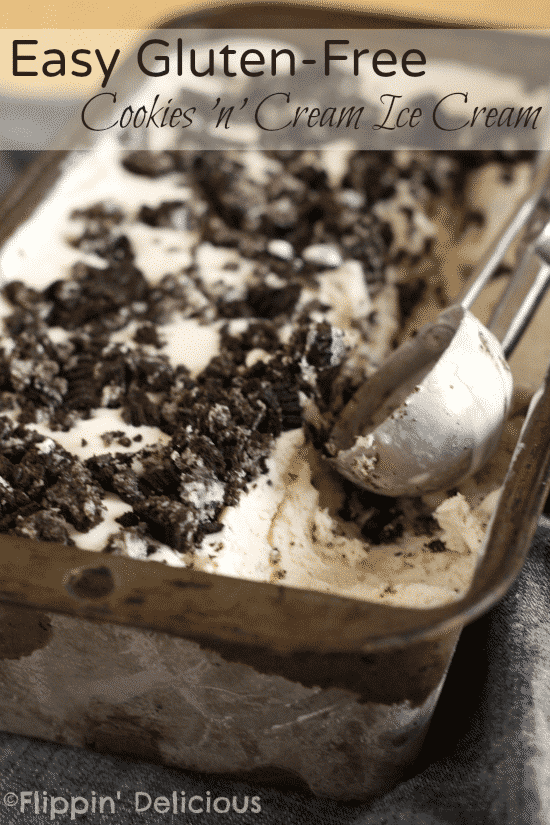 It is wonderful to see so many new gluten-free products in the grocery store! Especially when they get cheaper! My wal-mart's gluten-free section has been ever growing, and now great value has their own line of gluten-free products.
Gluten-free "Oreo" cookies that cost the same as regular Oreo cookies.
And mac 'n' cheese that is only $1.28 a box.
I am not going to tell you how many boxes I've made. It is embarrassing. I think it is sufficient to say that we no longer have tortilla sandwiches or leftovers for lunch.
Now on to ice cream. I've made several other no-churn "easy" ice cream recipes that are here on my blog like my gluten free birthday cake ice cream (complete with frosting swirl) and no churn dairy free ice cream.
This one is by far my favorite.
I don't know why, I didn't think I was such a huge cookies and cream fan and it hasn't been a flavor that I had been missing.
Sure it is good, but it just wasn't my favorite.
Now this ice cream is my favorite!
The balance flavors and textures is just perfect. The ice cream is sweet and creamy, the cookies get all soft from being in the ice cream. I also left my cookie chunks a little bit bigger so they are actually chunks instead of crumbs.
So easy to make! I had my little "helper" in the kitchen with me and I still had it in the freezer in 15 minutes. It is just perfect with a squirt of home-made chocolate syrup (recipe coming soon!)
I'm probably going to get in trouble with my husband because he didn't get any.
📖 Recipe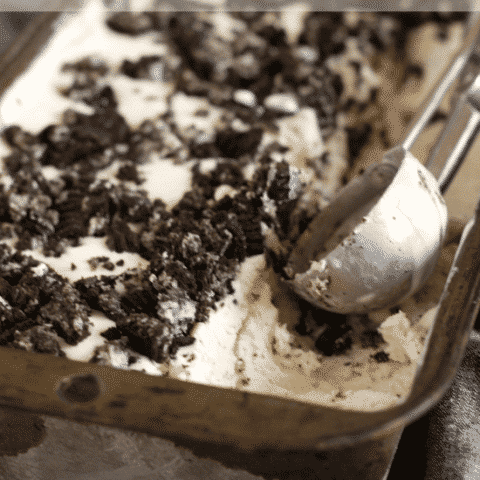 Gluten Free Cookies and Cream Ice Cream
Sweet and creamy No Churn Gluten Free Cookies and Cream Ice Cream.... only 4 ingredients and no ice cream machine needed!
Ingredients
(1 quart of ice cream)
2 cups heavy whipping cream
1 14oz can sweetened condensed milk
1 10 oz package gluten-free sandwich cookies (I used great-value brand)
1 teaspoon vanilla extract
Instructions
Crush the sandwich cookies into large chunks using a spoon in a mixing bowl, or breaking each cookie up using your fingers.
Whip the cream using electric hand-beaters or a stand mixer until it reaches soft-medium peaks.
Using a rubber or silicone spatula fold the sweetened condensed milk and vanilla into the whipped cream.
Stir in ¾ of the crushed cookies.
Pour the ice cream into a loaf pan and sprinkle with the remaining ¼ of the crushed cookies.
Freeze for 4-6 hours, or overnight until it is frozen through.
Nutrition Information
Yield

8
Serving Size

1
Amount Per Serving
Calories

532
Total Fat

29g
Saturated Fat

18g
Trans Fat

1g
Unsaturated Fat

9g
Cholesterol

90mg
Sodium

293mg
Carbohydrates

58g
Fiber

2g
Sugar

42g
Protein

11g
All nutrition info is a guestimate and will vary depending on the ingredients you use.
Some other easy no-churn and gluten-free ice cream recipes to cool you down...
What is your favorite ice cream flavor? Maybe I'll make it next!
Linked up at Gluten-Free Wednesdays,