This No Churn Dairy Free Honey Vanilla Ice Cream is a simple and easy recipe, no ice cream machine required!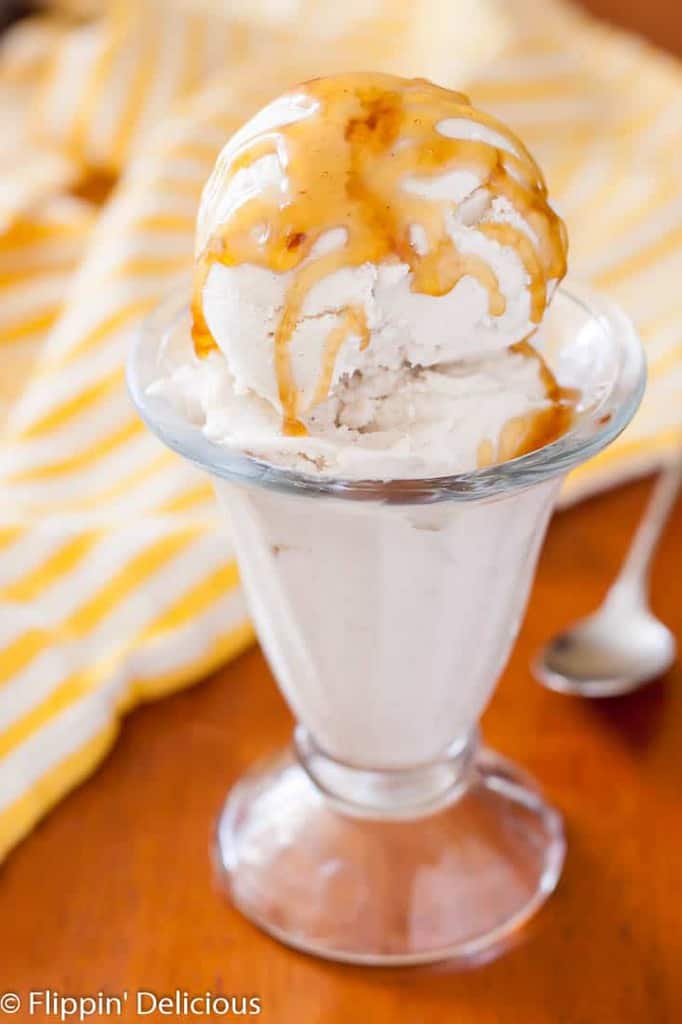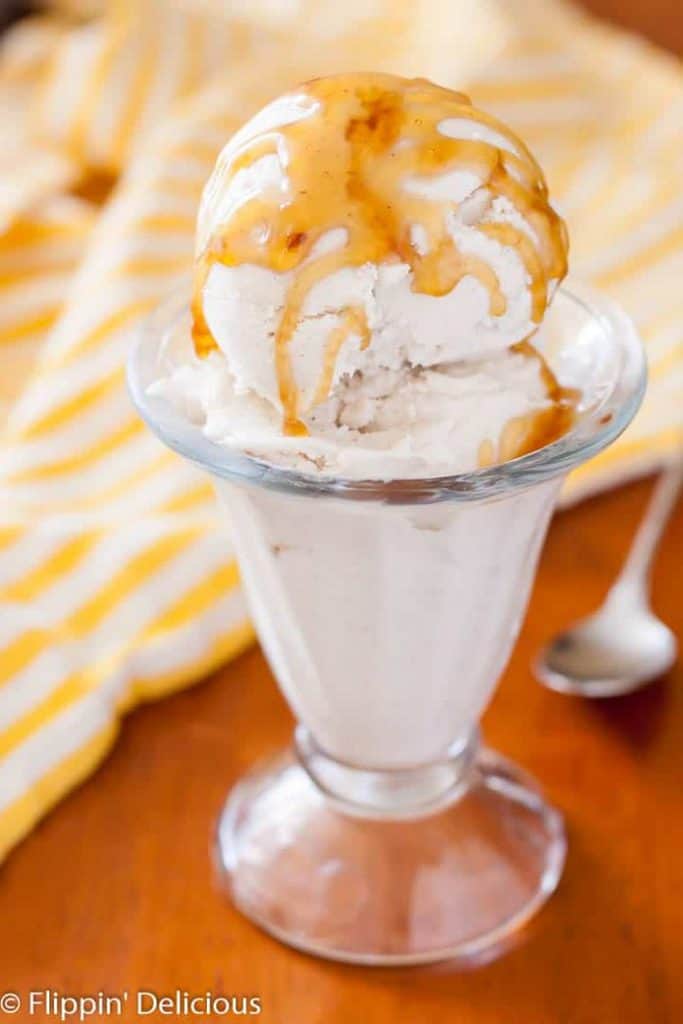 I am excited to announce that I am Rodelle's newest ambassador! Through our new partnership Rodelle provided me with ingredients to create this recipe and a prize pack to give away to one of YOU! As always, opinions are all my own. Thanks for supporting the companies that sponsor Flippin' Delicious™!
My family has been dairy free for 8 months now. Which means this summer I couldn't freeze up my favorite no churn ice cream recipes like my gluten free cake batter ice cream, gluten free cream cheese brownie ice cream, gluten free blueberry cheese cake ice cream, gluten free cookie dough brownie ice cream, OR gluten free cookies and cream ice cream.
In case you haven't guessed, I am a big fan of ice cream!
I loved how easy it was to create a no churn ice cream with just whipping cream and sweetened condensed milk.
But now those ingredients are off limits...
But I wasn't going to let that stop me!
Want more info on ice cream machines? Learn more about them and get some great Cuisinart Ice Cream Maker Recipes.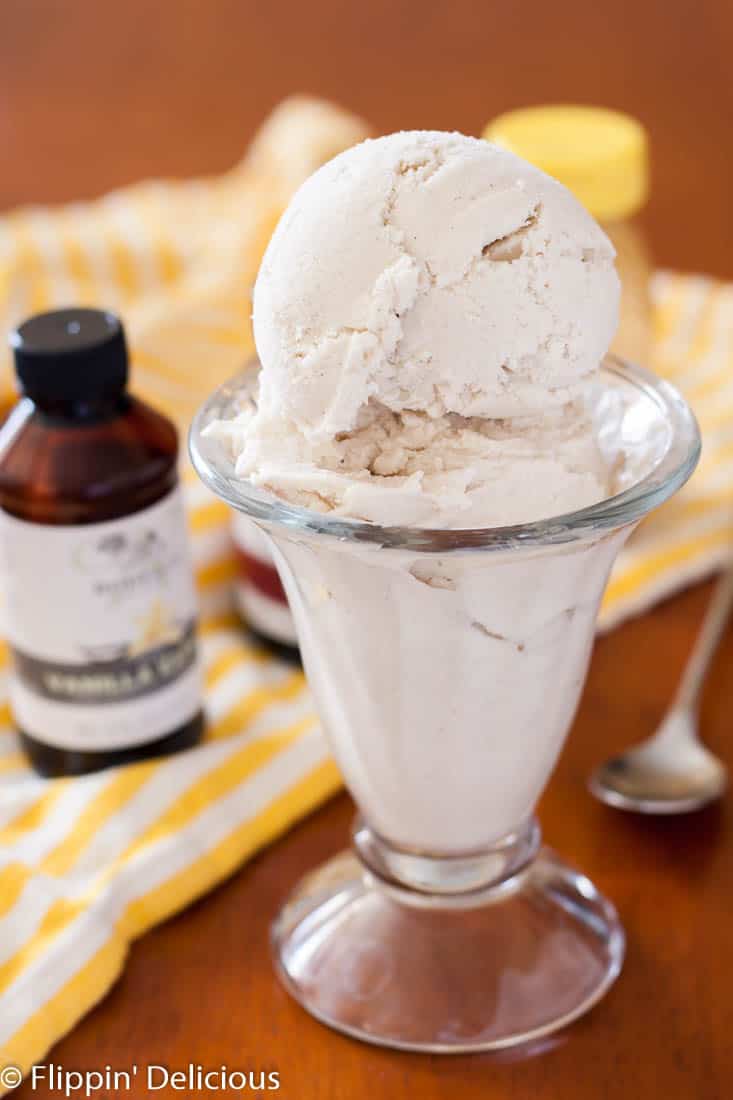 When I use vanilla, I want to be able to taste it.
Vanilla has become an under-valued flavor, synonimous for "plain." What a tragedy!
Vanilla is a flavor to be celebrated, savored, and enjoyed.
There is nothing plain about it! What better way to high-light the quality of Rodelle Vanilla than a dairy free vanilla ice cream!
I used coconut cream as the base for my no churn ice cream.
You need the high fat content so that your ice cream has that creamy mouth-feel.
Coconut cream can be whipped up to maked a topping similar to whipped cream, which is what I did.
Super easy to do, you just need to plan ahead and chill your canned coconut cream or canned full fat coconut milk over night (see the recipe note.)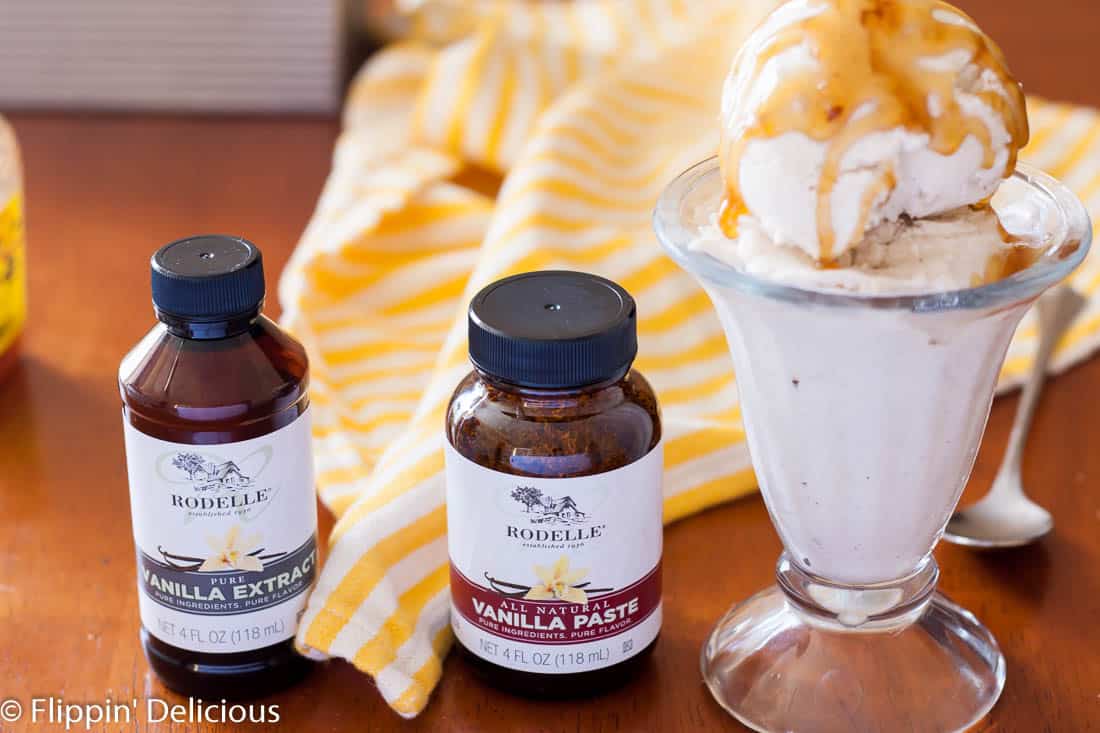 I used 2 different vanillas in this recipe, Rodelle Vanilla Paste (so you can *see* the vanilla in your ice cream) and Rodelle Pure Vanilla Extract.
The small amount of alcohol in the vanilla extract helps to minimize the ice crystals that form in your ice cream.
I also added a small amount of vodka to my ice cream for the same reason. You could also add another tablespoon of vanilla extract instead, if you prefer.
Also to minimize ice crystals, I wanted to use a thick and sticky liquid sweetener...honey!
If you can get your hands on a local raw honey, that is even better!
The flavor of your ice cream directly reflects the flavor of your honey, so quality of your honey matters just as much as the quality of your vanilla.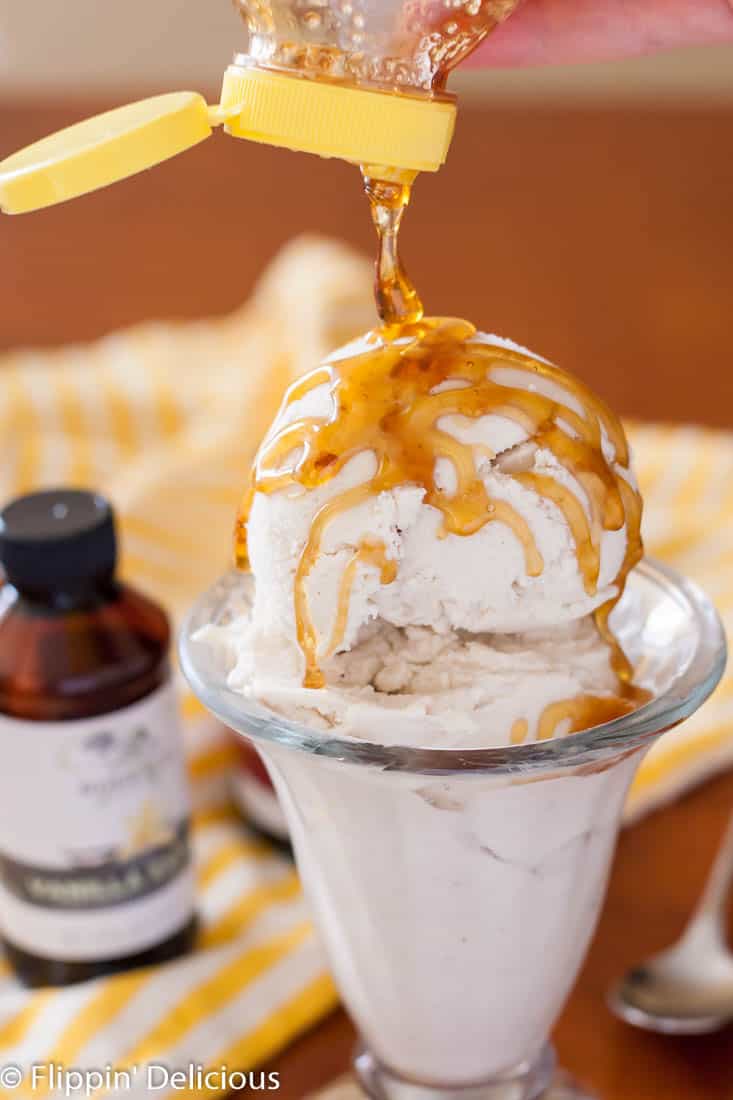 Once you gather your ingredients this dairy free honey vanilla ice cream comes together quickly and easily!
My ice cream had some ice crystals form, so I processed it in my blender and refroze it so that it was perfectly smooth and creamy.
You can also mix it up part-way through it's freeze to break up any ice crystals and then you won't need to blend and re-freeze it.
Though it is an extra step, it resulted in creamy and indulgent no churn dairy free ice cream with a fragrant floral flavor.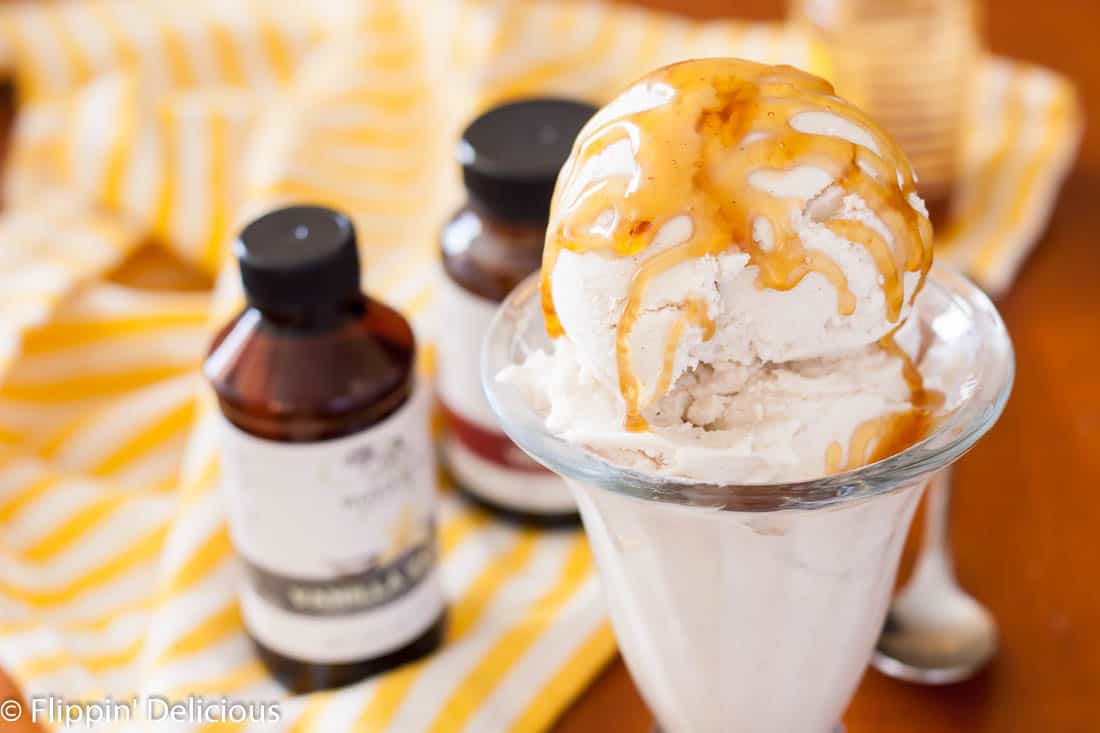 The combo of honey and vanilla in this dairy free no churn ice cream will win over your palate with their simple, subtle flavors!
To really bring your dairy free coconut ice cream to the next level, top it with this summer berry sauce recipe from my friend Michelle!
📖 Recipe
No Churn Dairy Free Honey Vanilla Ice Cream
Additional Time:
13 hours
12 minutes
Total Time:
13 hours
35 minutes
This No Churn Dairy Free Honey Vanilla Ice Cream is a simple and easy recipe, no ice cream machine required!
Ingredients
2 (14oz) cans coconut cream (chilled overnight undisturbed *see note)
½ cup honey
1 tablespoon gluten free vodka **see note
Instructions
Open the cans of coconut cream and carefully remove the solid coconut cream and place it in a chilled bowl, leaving all of the liquid behind (you can use it for another recipe.)
Using an electic mixer (stand or handheld) whip the coconut cream until light and fluffy (approx 1-2 minutes.)
Add the remaining ingredients and fold until smooth.
Pour the ice cream into a freezer-safe container (I used a metal loaf pan) and freeze for 4-6 hours, or until frozen through.
Scoop the ice cream into a blender or food processor and blend until smooth (I worked in batches.) Scrape back into your freezer safe container, and freeze for another 4 hours or until solid.
Notes
*I used Trader Joe's Coconut Cream. You could also use full-fat canned coconut milk, but you might not get as much of the solid coconut cream and will have to decrease the other ingredients slightly, or use 3 cans. My 2 cans of TJ's coconut cream gave me 2 ½- 2 ¾ cups of solid coconut cream.
**The vodka helps to reduce the formation of ice crystals. You can omit it if you want, but will get more ice crystals.
Nutrition Information
Yield

6
Serving Size

1
Amount Per Serving
Calories

122
Total Fat

1g
Saturated Fat

1g
Trans Fat

0g
Unsaturated Fat

0g
Cholesterol

0mg
Sodium

4mg
Carbohydrates

27g
Fiber

0g
Sugar

27g
Protein

0g
All nutrition info is a guestimate and will vary depending on the ingredients you use.
When some of my friends and I started planning this Hot August Night's Ice Cream Social giveaway I knew it was the perfect opportunity to dabble in the "dark arts" of dairy free ice cream.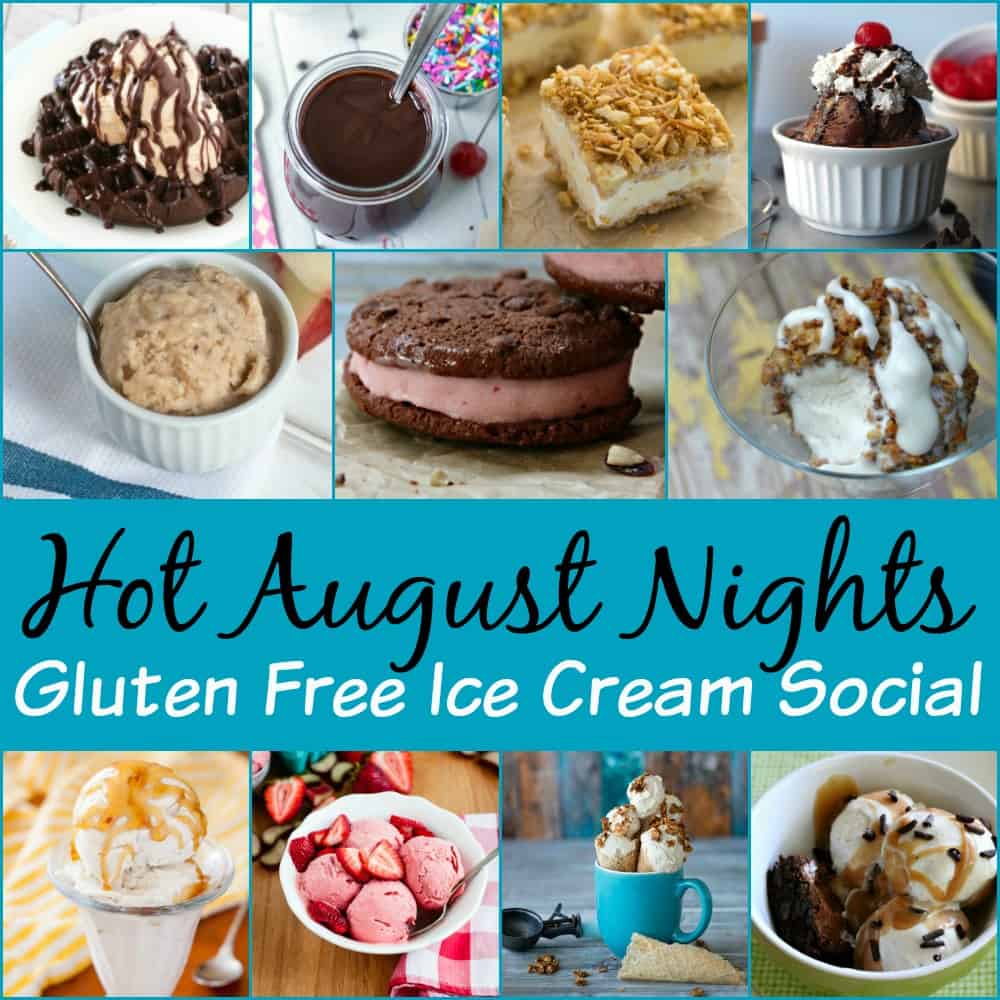 Everyone is sharing a gluten free ice-cream-related recipe and a GIVEAWAY! So that means you have lots of chances to enter and win! (scroll past the recipe to enter my giveaway, and visit each of my friends recipes to see what they are giving away!)
Paleo Hot Fudge Sauce by What the Fork Food Blog
Ice Cream Crunch Bars by Meaningful Eats
Gluten-Free Vegan Mug Brownie Sundae by Gluten Free Palate
Peanut Butter Ice Cream Topping by My Gluten Free Kitchen
Peaches & Cream Protein Ice Cream by Making It Milk Free
No Churn Dairy Free Honey Vanilla Ice Cream by Flippin Delicious
Ice Cream Sandwich by Vegetarian Mamma
Strawberry Rhubarb Sherbet by Cafe Johnsonia
GF, Vegan Waffle Cones by Gluten-Free Homemaker
Gluten Free Vegan Chocolate Fudge Waffle Sundaes by Sarah Bakes Gluten Free
Granola Bar "Fried" Ice cream w/ Creme' Anglaise by Gluten Free Frenzy
Hot August Nights with Rodelle