Dairy Free Hot Fudge Sauce that is thick, smooth. Made with cocoa powder and coconut milk, you'd never guess it is vegan!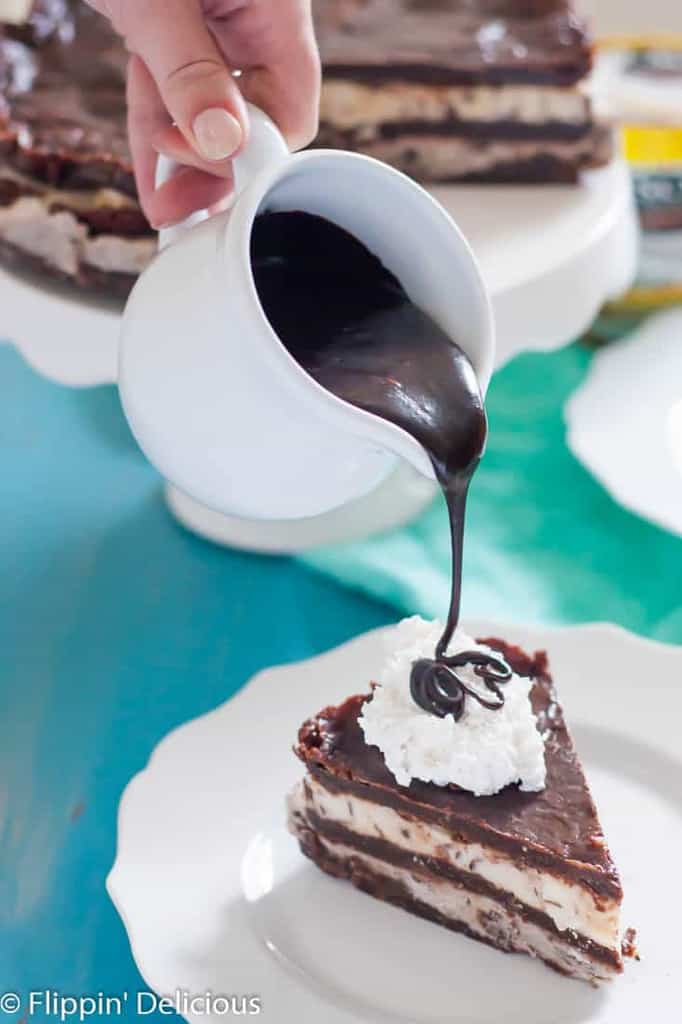 Rodelle sent me their gourmet baking cocoa and pure vanilla extract, which I used in this recipe. As always, all opinions are entirely my own. I already use Rodelle's products and ♥ them.
My dad's hot fudge sauce is legendary!
I am not certain it was my dad's recipe or my mom's recipe that she made for my dad, but there was a recipe my mom contributed to a church cookbook when I was 8 years old. Brad's Favorite Fudge Sauce. It was loaded with sugar, butter, LOTS of cocoa powder (I think the recipe called for 3 tablespoons and then noted that my mom always used 6 because my dad loves his chocolate,) and real cream.
It really was the hot fudge sauce of legend. So thick and creamy! This dairy free recipe is a dead ringer for my dad's favorite. It is perfect on gluten free cookie dough brownie ice cream, topping a cake, or an ice cream cake (recipe coming on Saturday!) You can drizzle this molten chocolate over almost anything and it will be amazing. I don't think I would try it on my gluten free dairy free mac n cheese though...😉 Stick to desserts.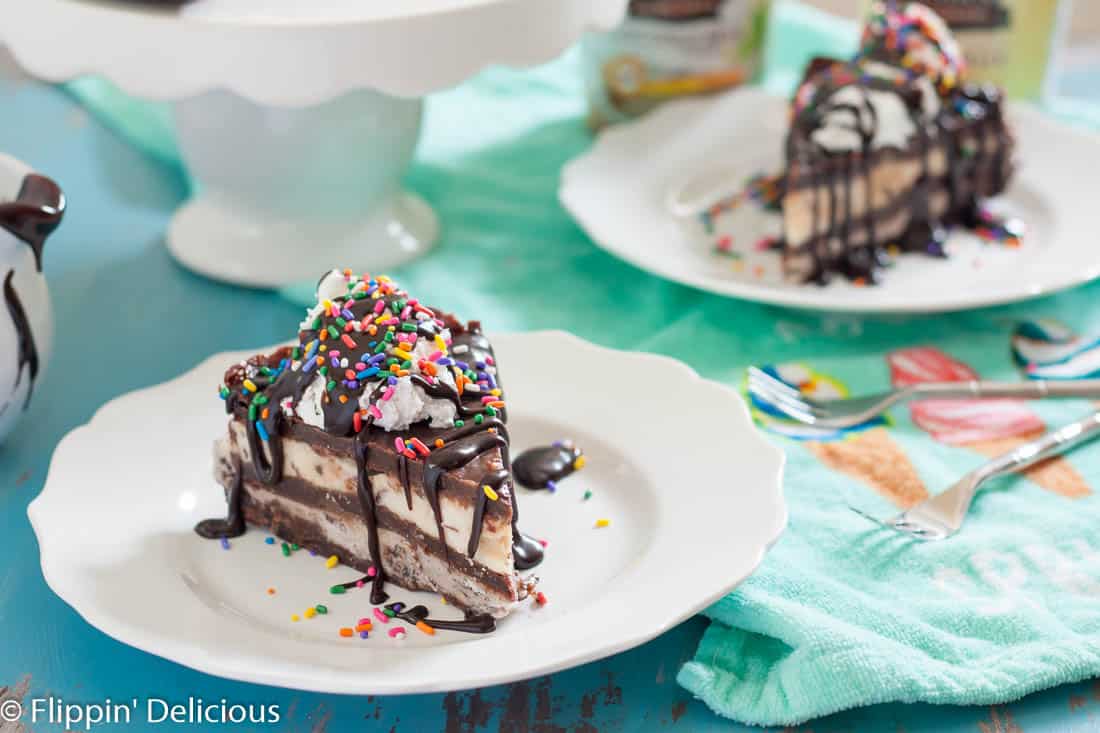 My sister and I would always make a double batch so that there would be some leftover. (She caught the kitchen on fire more than once making fudge sauce. She'd start to melt the butter and then get distracted...)We'd keep it in a mason jar in the fridge and sneak into it later with a spoon. It was the kind of fudge sauce that you could scoop with a spoon. Way better than anything you'd ever buy at a store!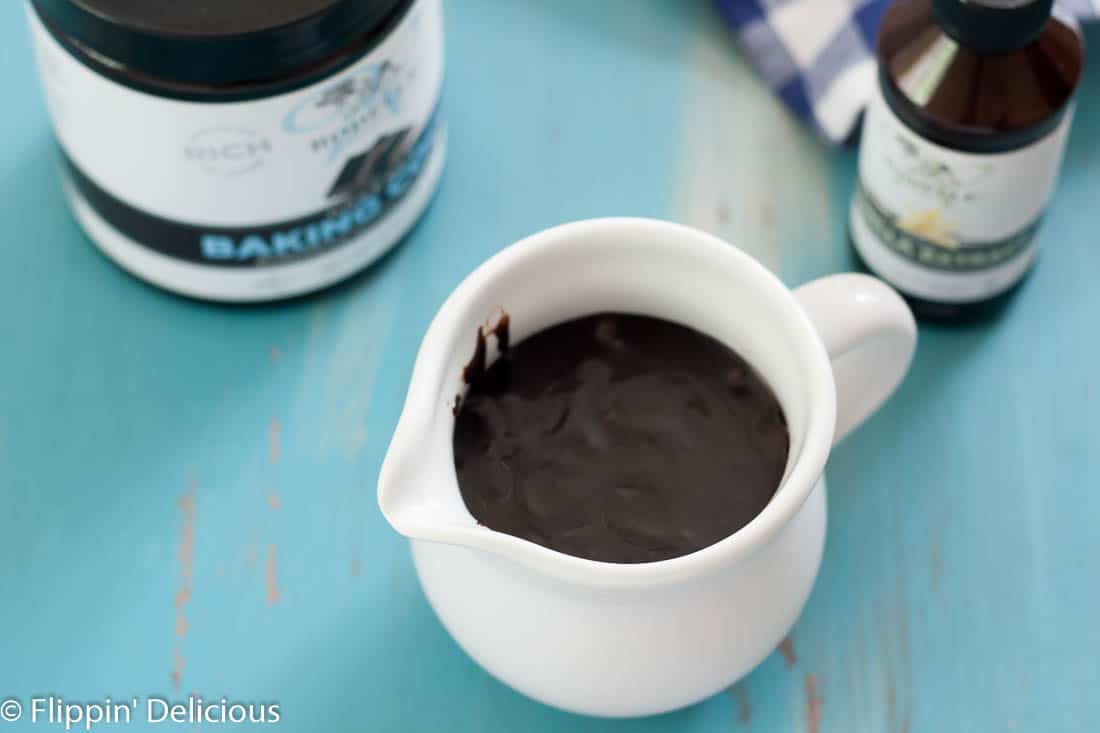 I've tried many times to make the same perfect, thick, oozy hot fudge sauce dairy free, but until now all I had managed to make was milky homemade chocolate syrup. The cream was what really gave the hot fudge sauce it's character oozy gooey perfection. The solution...full fat coconut milk! It doesn't taste coconutty with all of the luscious cocoa powder and it tasted just like I remember my dad's hot fudge sauce, except it is dairy free and vegan!
If you are doing the low-carb thing, I think you'll fall head over heals for my friend Maya from Wholesome Yum's Sugar-Free Caramel Sauce. Not only is it sugar-free, and low-carb, it still gets the green light if you are doing Keto!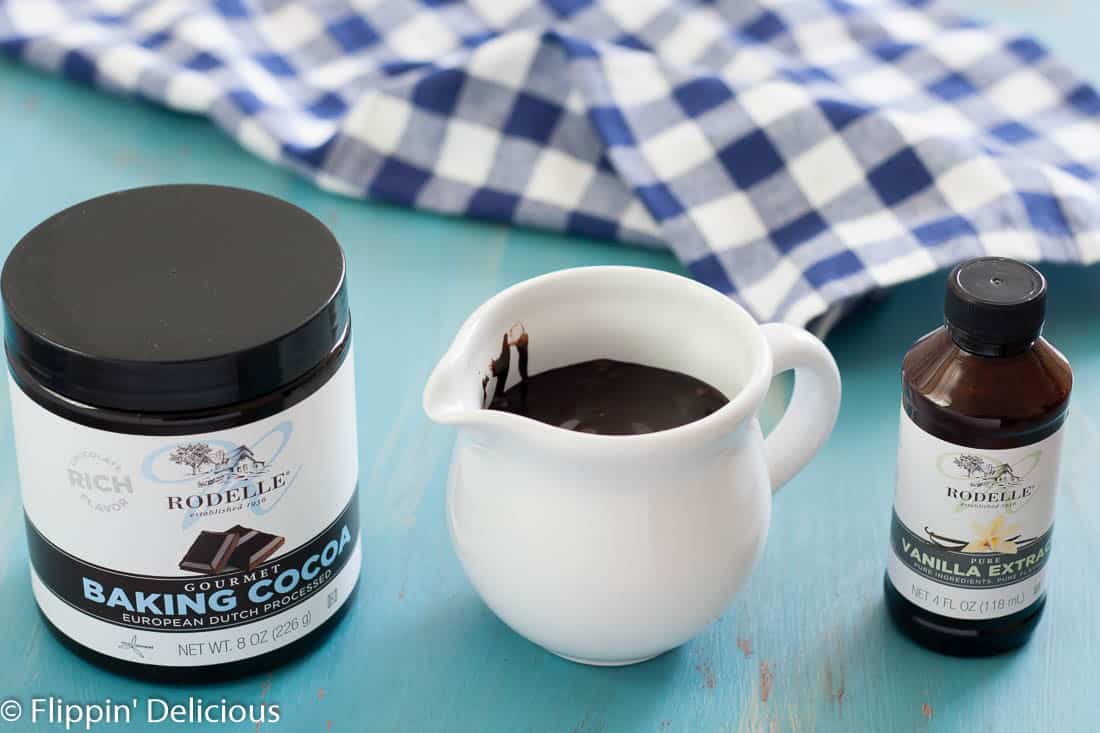 An essential part of this vegan hot fudge sauce is some good cocoa powder! I started using Rodelle's Gourmet Baking Cocoa around Christmas when I found some at Costco and I am not going back! Rodelle kindly sent me some of their gourmet baking cocoa and pure vanilla extract, which I used in this recipe. The baking cocoa is dutch processed, so it has a rich chocolate taste. A little vanilla rounds out the flavors. Each dairy free fudge sauce spoonful really is perfection!
I used powdered sugar instead of the regular white granulated sugar that my dad's original hot fudge recipe used. The powdered sugar has just a little bit of cornstarch in it, which helps the fudge sauce to thicken up. If you can't do corn, I would try using granulated sugar ( ¾ cup instead of 1 cup) and a teaspoon of tapioca starch or arrowroot starch.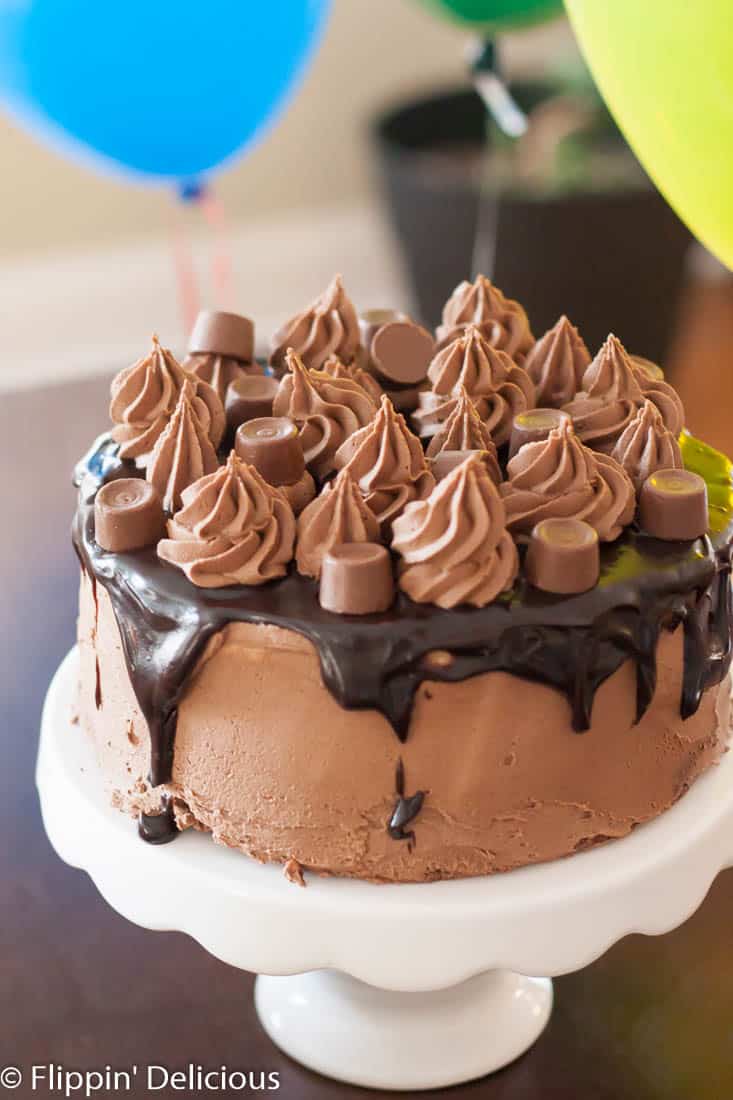 With this vegan and dairy free hot fudge sauce recipe in your back pocket, the possibilities are endless.

📖 Recipe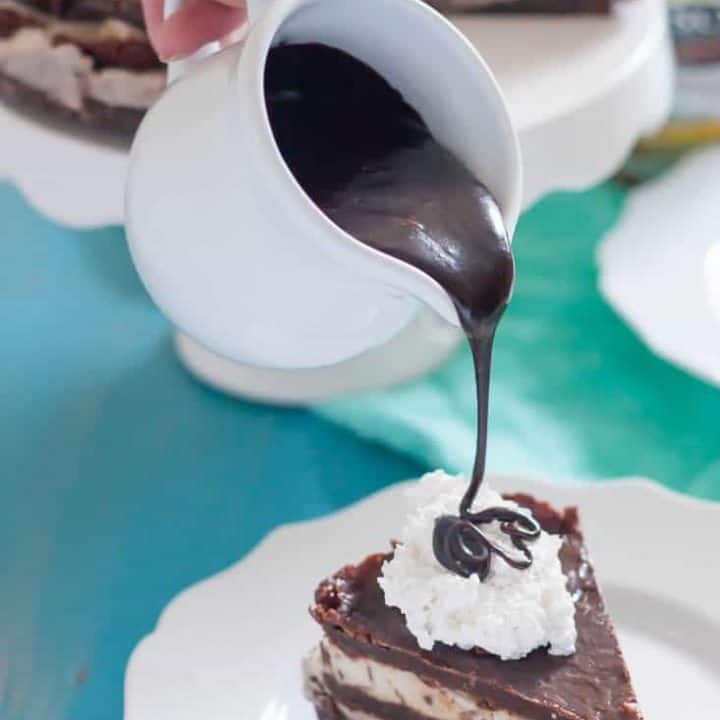 Dairy Free Hot Fudge Sauce
Dairy Free Hot Fudge Sauce that is thick, smooth. Made with cocoa powder and coconut milk, you'd never guess it is vegan!
Ingredients
½ cup (1 stick) vegan butter (I used earth balance)
1 cup powdered sugar
pinch of salt
Instructions
Melt the vegan butter in a saucepan over med-low heat.
Add the powdered sugar and cocoa and stir until smooth.
Add the coconut milk, vanilla extract, and a pinch of salt and stir until smooth. Bring to a simmer, and simmer for 2-3 minutes.
Serve warm.
Notes
If you are like my dad, use up to 6 tablespoons of cocoa powder.
Recommended Products
As an Amazon Associate and member of other affiliate programs, I earn from qualifying purchases.
Nutrition Information
Yield

8
Serving Size

1
Amount Per Serving
Calories

289
Total Fat

26g
Saturated Fat

17g
Trans Fat

1g
Unsaturated Fat

7g
Cholesterol

61mg
Sodium

201mg
Carbohydrates

15g
Fiber

0g
Sugar

14g
Protein

1g
All nutrition info is a guestimate and will vary depending on the ingredients you use.