Gluten free cornbread dressing- cajun style with wild rice and pecans, is savory, nutty and just a little sweet. The perfect gluten free stuffing for Thanksgiving!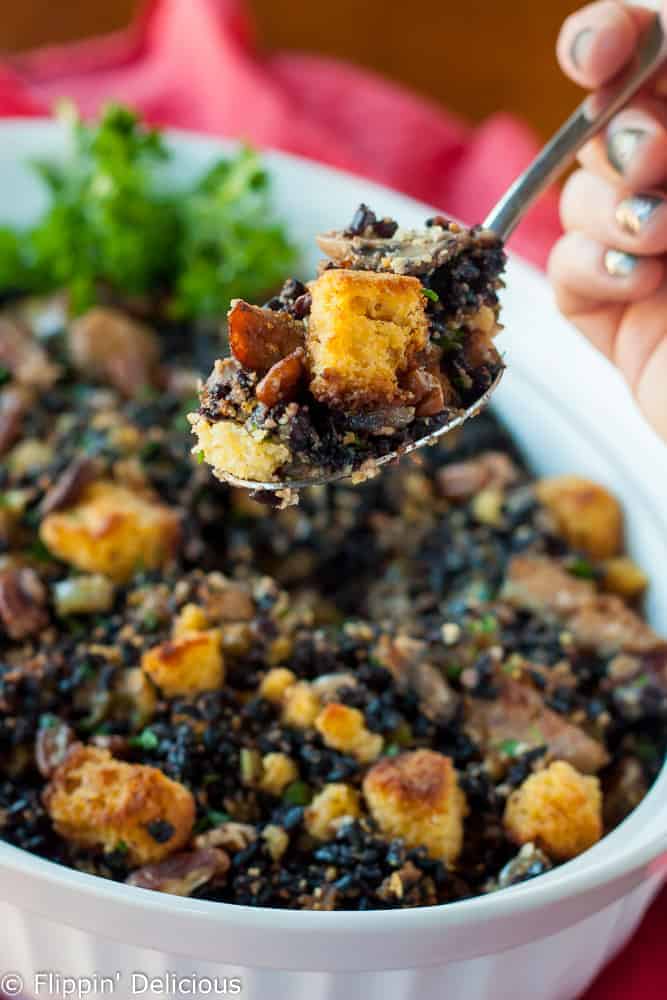 Thanksgiving is one of my favorite holidays of the year. I love food, so it makes sense.
But I also tend to get stressed out on Thanksgiving because there is so much to do.
It is kind of a high stakes dinner too. I mean if you burn the turkey…. or do what I've done and serve it still raw… not good! Not good!
This year I'm trying to simplify my Thanksgiving, and only make the dishes that I really truly love.
This gluten free cornbread dressing, cajun style with wild rice, andouille sausage, and pecans, is one of those dishes that I just can't skip.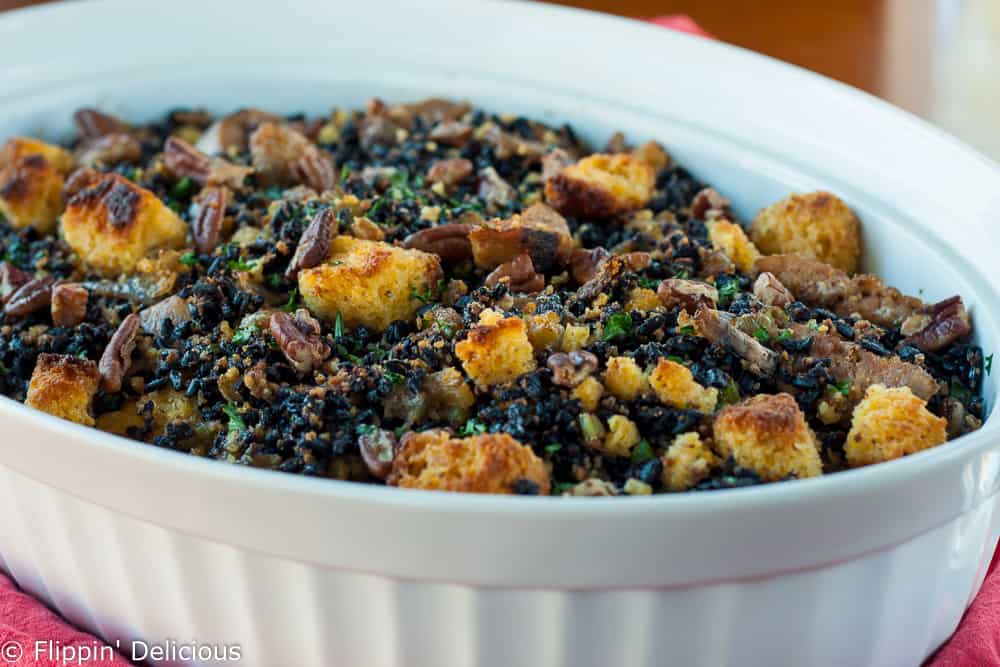 I also love that this dressing can be prepped a day or two in advance and stored in the fridge.
Just bring it to room temperature before baking closer to feast time.
One less thing that you have to prep on the big day!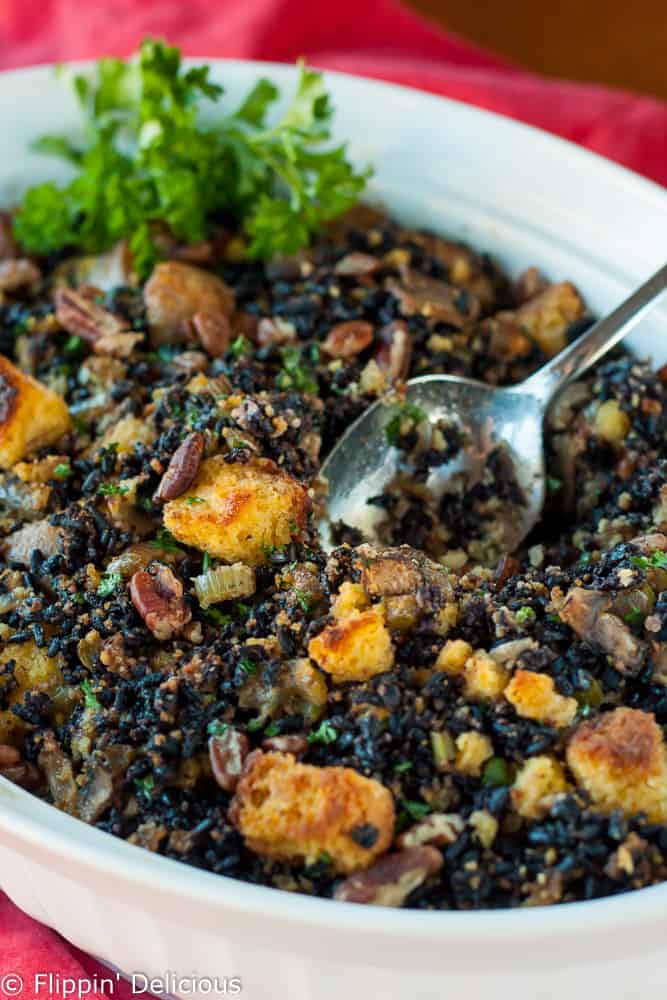 My family has been making some version of this gluten free cornbread dressing recipe every year since I was a little girl. Every year!
Growing up I thought that all stuffing or dressing was made of cornbread. Seriously!
I remember staying up past my bedtime on Thanksgiving Eve when I was little (oh gosh, I was probably like 7) and helping my mom crumble the cornbread.
At first we'd make the cornbread dressing very simply, we'd use our favorite honey cornbread recipe (the one that inspired my gluten free honey cornbread), some celery, onions, and probably a few spices.
When we could afford it we would toss in some toasted pine nuts, which made it really special.
But it was still pretty basic.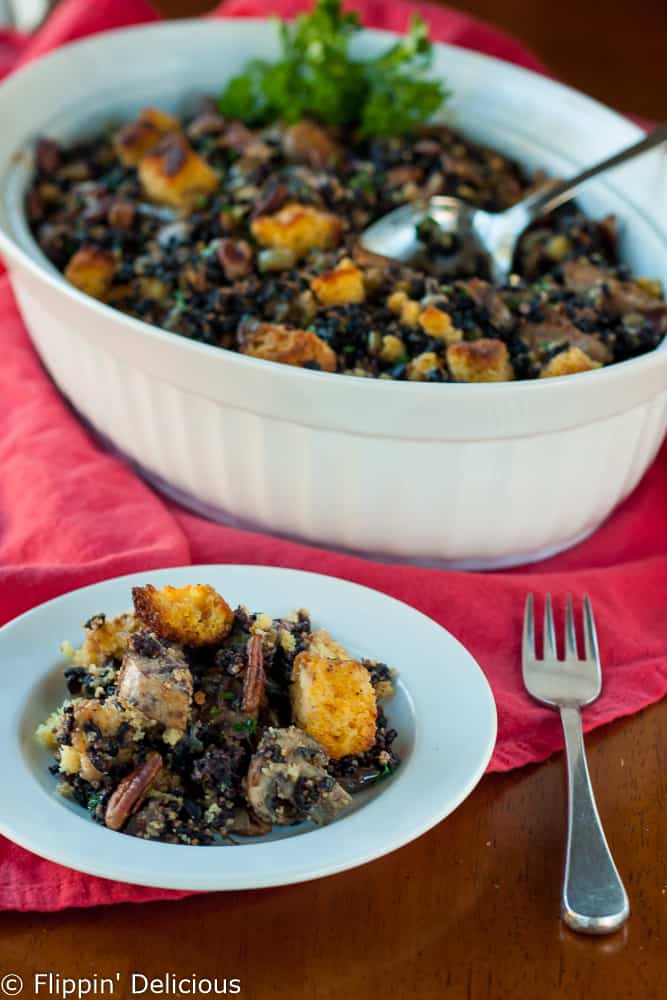 When I was a little older I found a recipe for a cajun cornbread dressing from Emeril Lagasse.
I was probably somewhere around 10 or 11.
Since that year, my dressing has been some version of that recipe.
We still often make it with pine nuts instead of pecans.
Partially because my dad has an allergy to pecans.
But I wanted to serve you up as southern of a dish that I could, so pecans it is!
The pine nuts are pretty stellar, and that is how I'll be making it for Thanksgiving day.
If you feel adventurous give it a shot with the pine nuts!
If you are a fan of walnuts and are looking for another untraditional stuffing recipe for your Thanksgiving feast I think you might like Katie from Healthy Seasonal's Gluten-Free Walnut and Kale Quinoa Stuffing.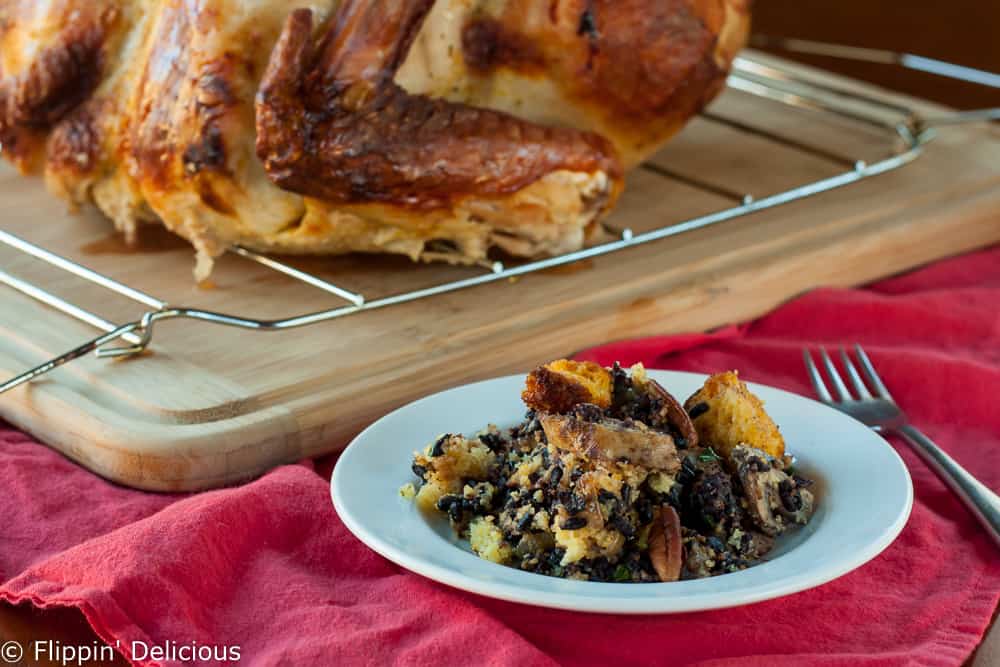 To complete your Thanksgiving Meal, try some of the paleo pie recipes in my cookbook, or my favorite Gluten-Free Honey Pumpkin Pie.
Don't forget to make some gluten free rolls, too! My friend Chandice has an amazing recipe for gluten-free cresent rolls.

Linked up at Gluten Free Recipe Fix Thanksgiving Edition,