My version of my family's favorite gluten free stuffing with green chile. Grab some Gluten free bread, celery, onion, cumin, thyme, parsley, garlic, green chile, butter, and broth and make some gluten free dressing with green chile for your Thanksgiving dinner.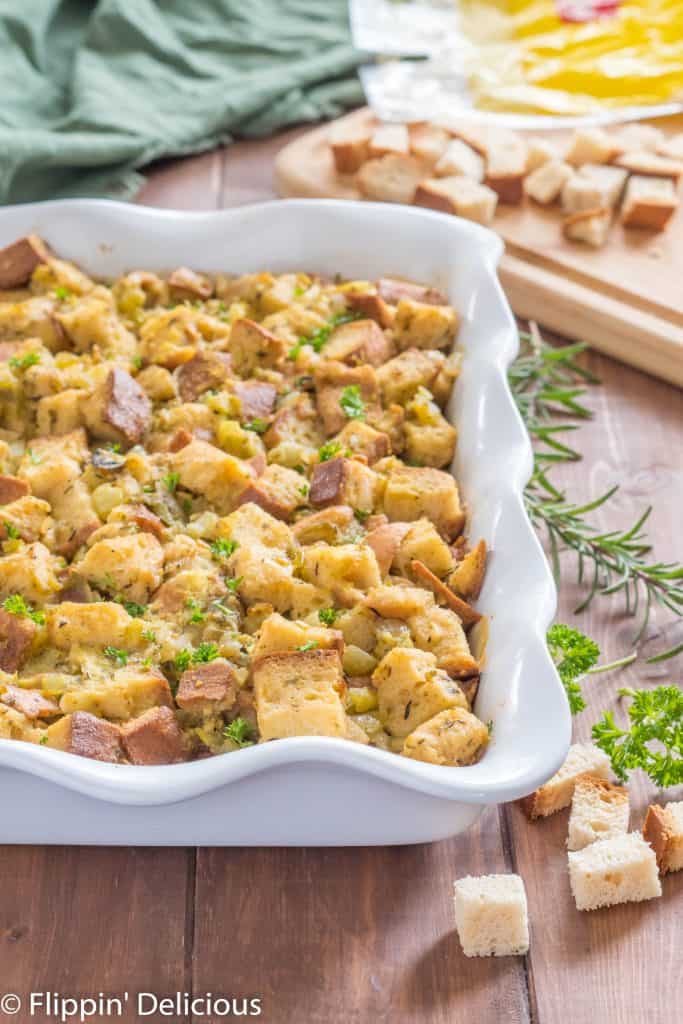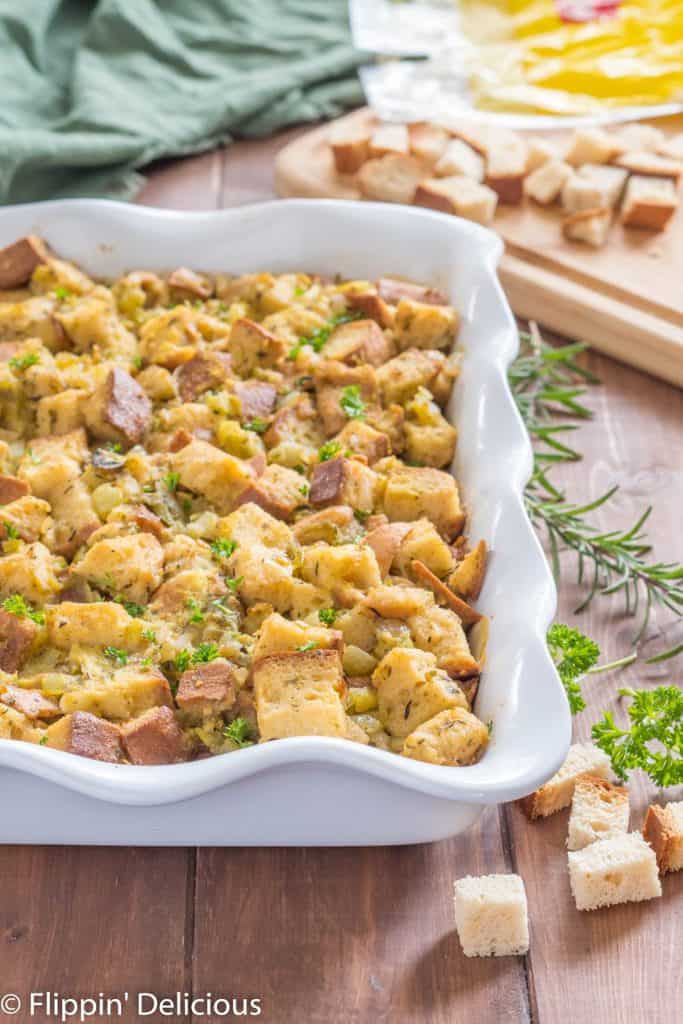 This post is sponsored by Schar. Schar is a world-leader in gluten-free products, and many of their products are staples in our home. As always, all opinions are my own. I love partnering with Schar to share about their products with you!
How do you make gluten free green chile stuffing?
Making gluten free dressing is basically the same as making traditional stuffing with bread, just using gluten-free bread.
Sorry, there isn't a big secret.
But starting with a good, great tasting loaf of gluten-free bread with a good texture is the difference between great stuffing, and something you don't feel proud serving your guests.
What bread do you use for gluten free dressing?
You can use any gluten-free bread you like, but I used Schar's Gluten Free Artisan Baker White Bread to make this stuffing.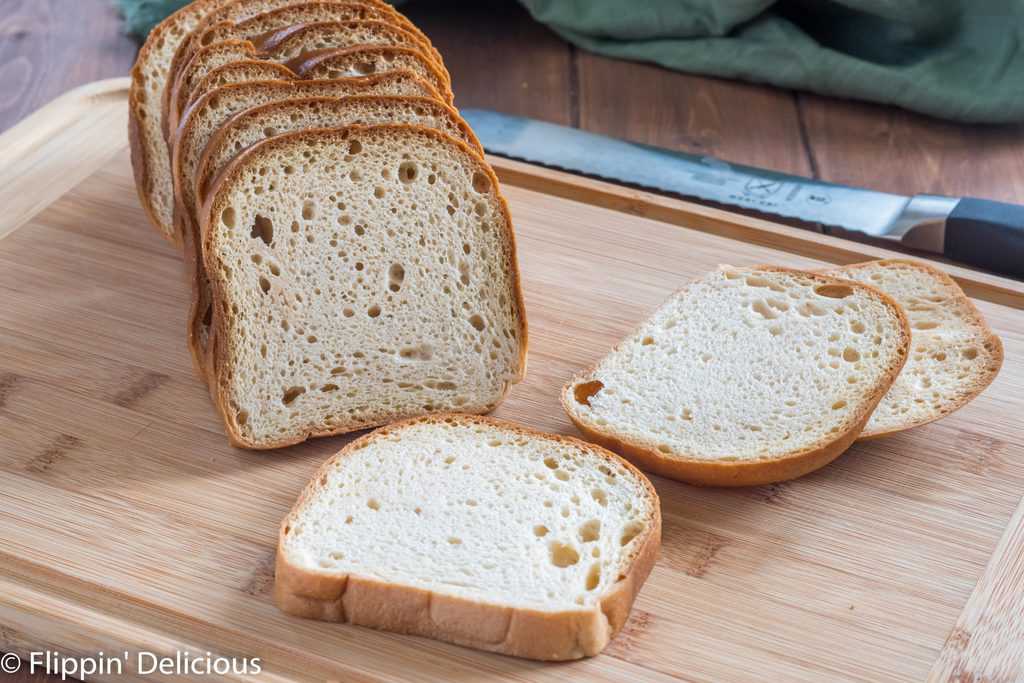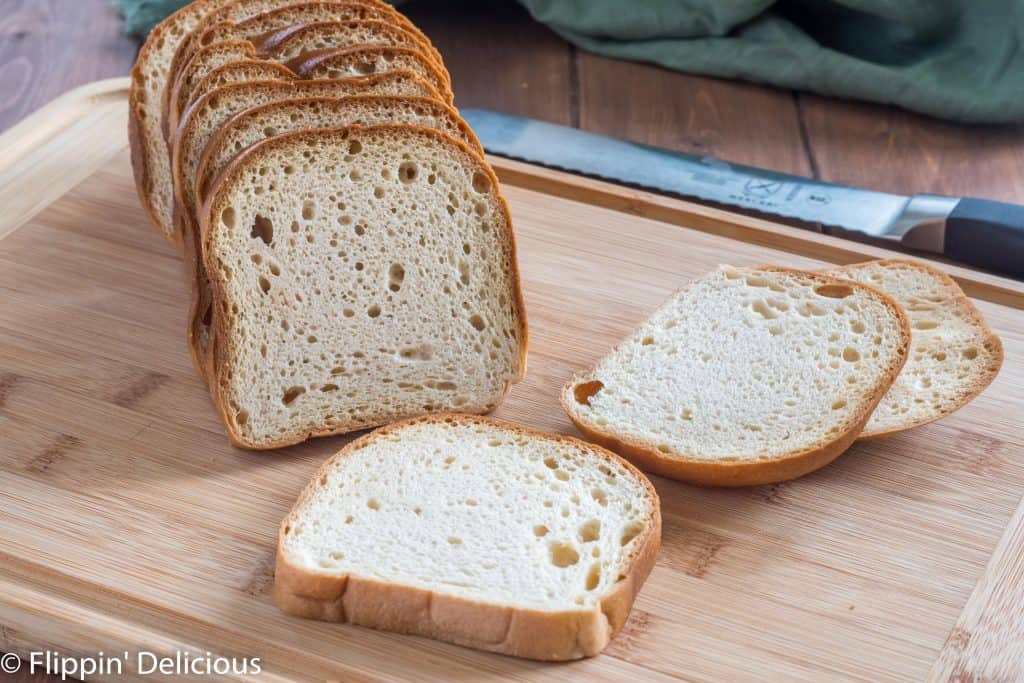 I really like the Artisan Baker White Bread from Schar because it is not only gluten free, but egg free, dairy free and non-gmo. It is made with sourdough, and has a subtle sourdough taste. The flavor really compliments the savory flavors of onion, herbs, celery and green chile I used in my gluten free dressing.
I also like using Schar's Artisan Baker Bread because it has a great texture. It isn't crumbly, like some gluten-free breads so it doesn't fall apart when you stir in the sauteed veggies and broth and bake it.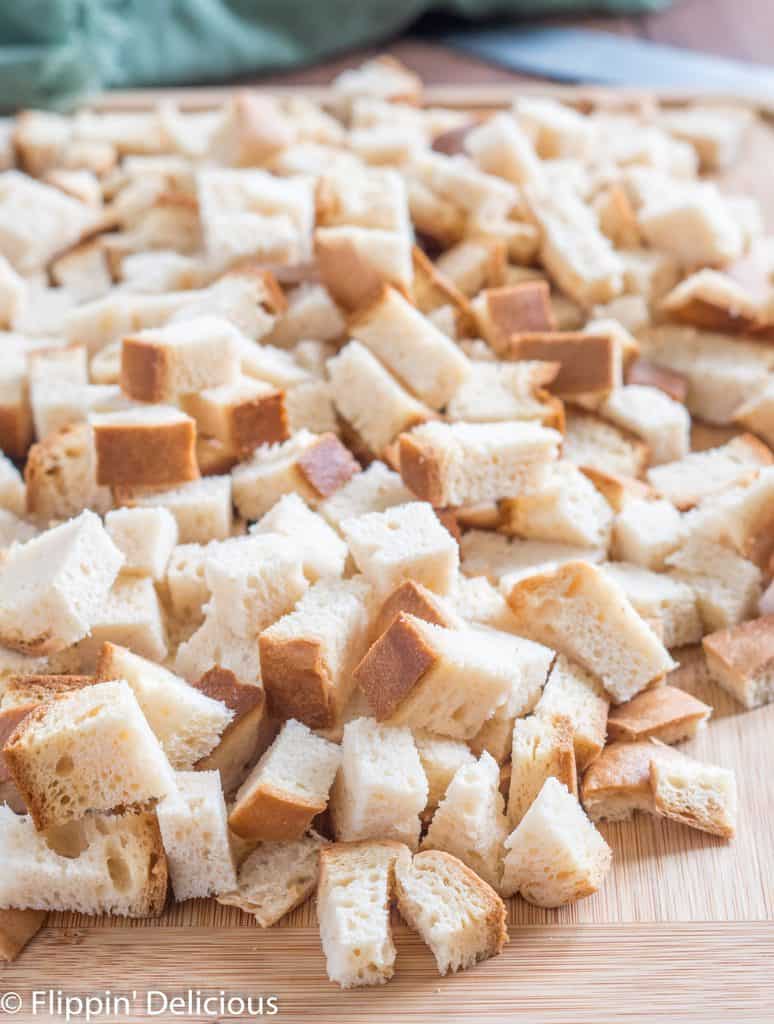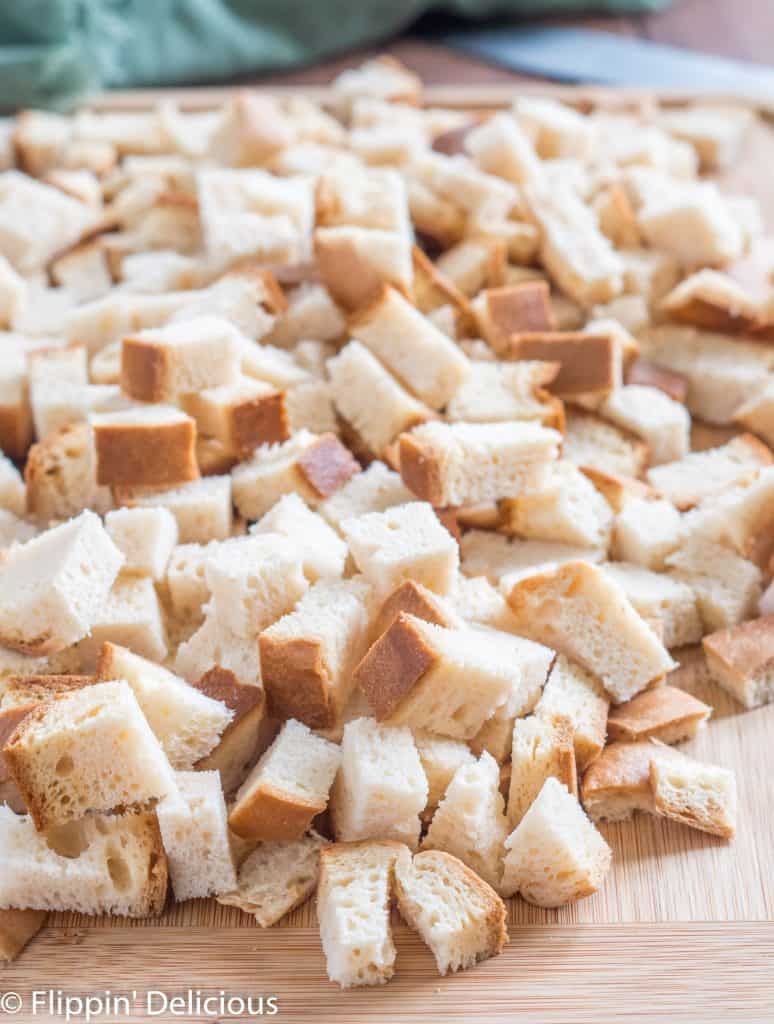 Round out your holiday feast with my gluten free green bean casserole. And don't forget the gluten free pumpkin pie and flaky gluten free pie crust!
Related: Traditional Easy Gluten Free Thanksgiving Menu
What do you need to make gluten free green chile stuffing?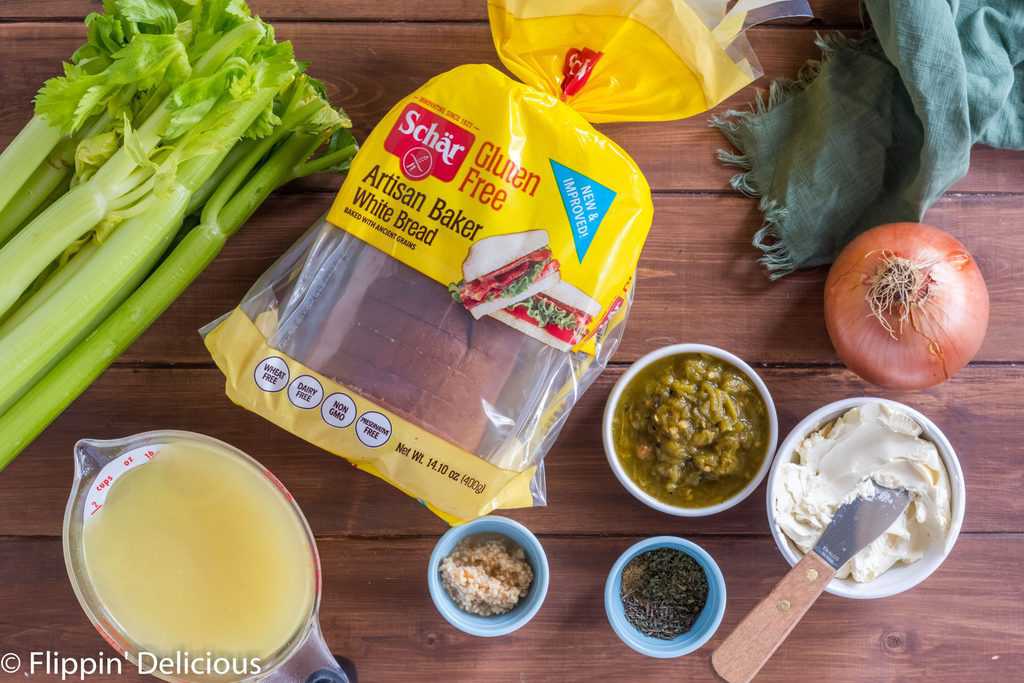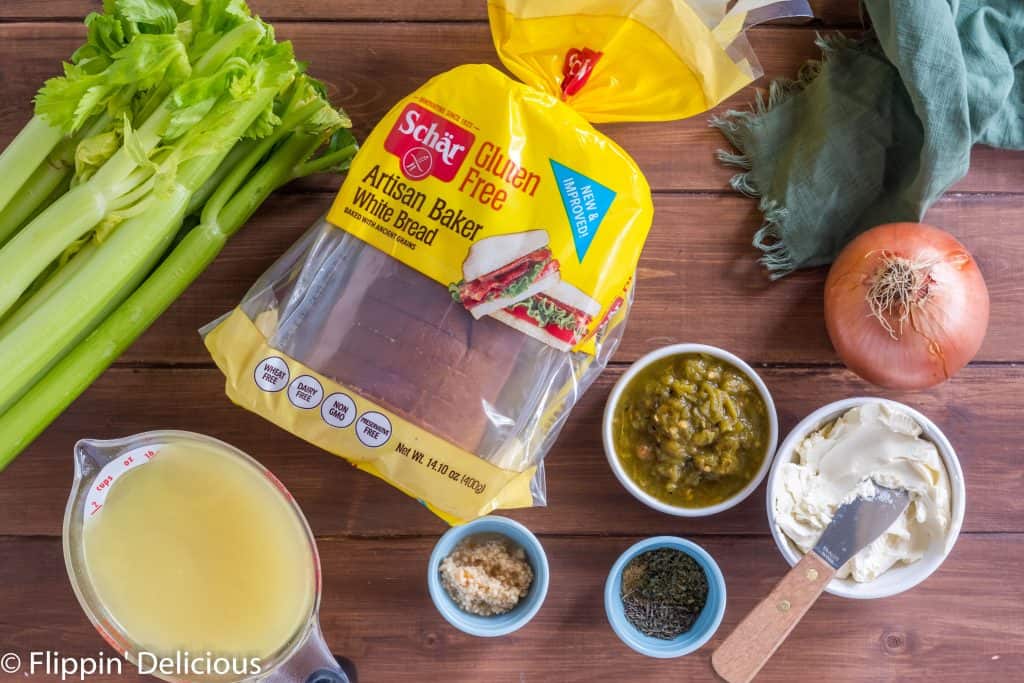 To make gluten free stuffing with green chile you'll need:
1 loaf of gluten free bread. (I used Schar's Artisan Baker White Bread, it has a subtle sourdough taste and works great in this gluten free dressing recipe.)
Butter or vegan butter. (I used Melt, but you can use any vegan butter, dairy butter, or even olive oil.)
Onion.
Celery.
Seasonings and Spices. (I used garlic, cumin, thyme, and parsley as well as salt and pepper, to taste.)
Broth or stock. (I used chicken broth made out of hot water and gluten-free bouillon. Be sure that your broth, stock, or bouillon is gluten-free. Many are gluten-free, but not all are.)
Hatch Green Chile. (Only if you are making green chile stuffing. And you should, it is delicious. I used green chile from a big jar, but you can also use 1-2 of the small cans of green chile.)
How do you make gluten free stuffing from scratch??
It is actually easier than you'd think to make gluten free stuffing from scratch!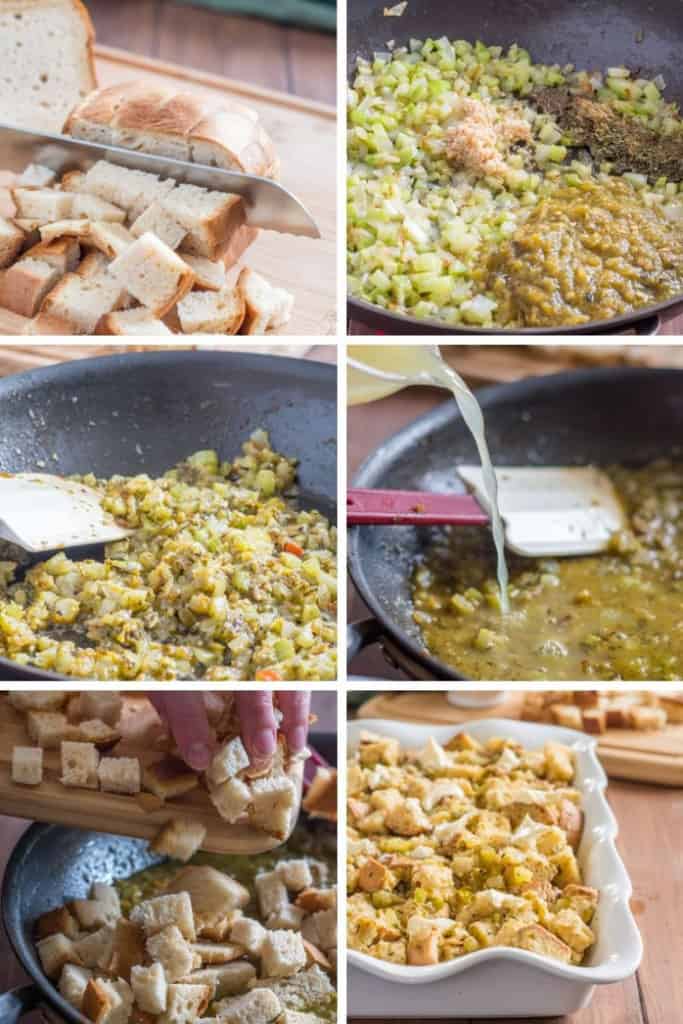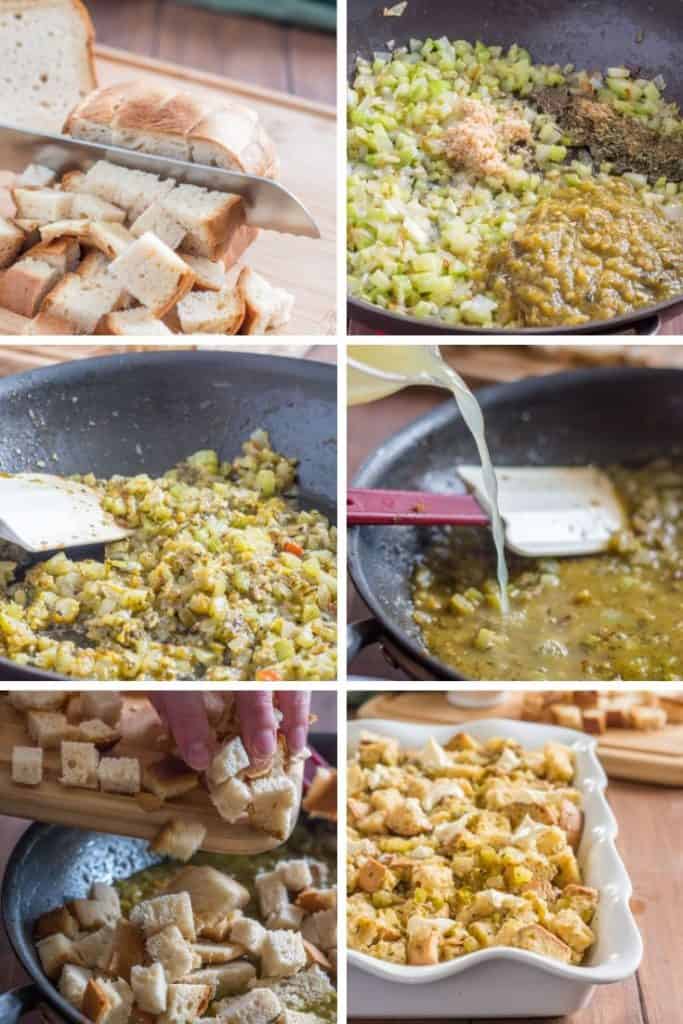 First, cube your gluten free bread, and leave it uncovered. Even if just while you prepare the other ingredients. You want it to dry out a bit so it can absorb all the flavors you are adding to your dressing. For even better results, leave the bread cubes out to dry for a few hours, or overnight.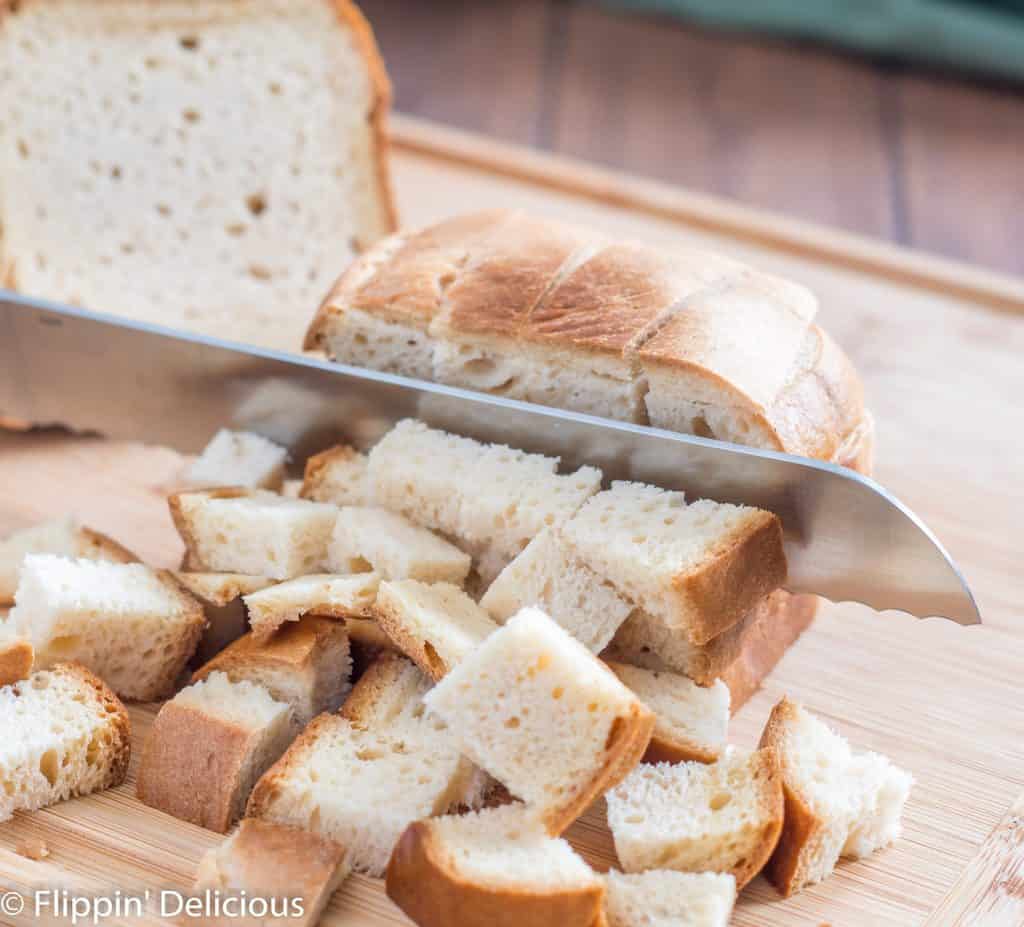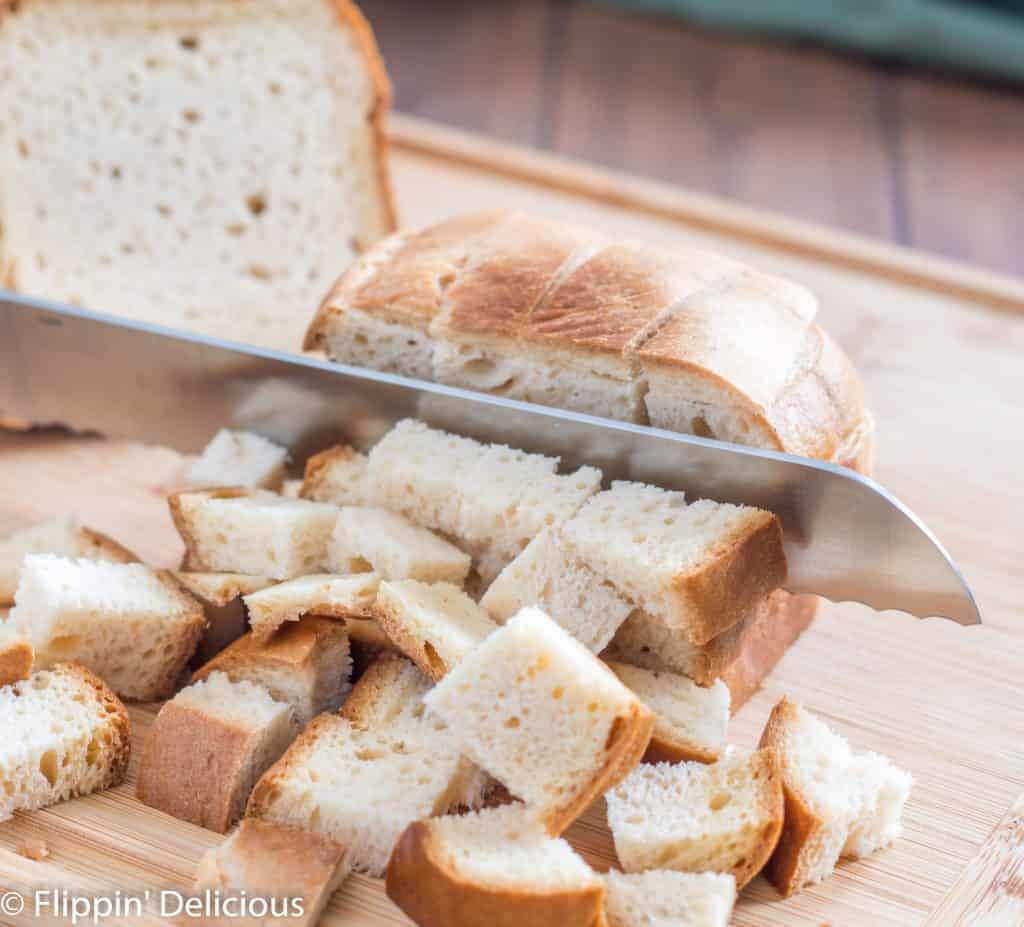 Next, saute your onion and celery in butter until they are softened and translucent.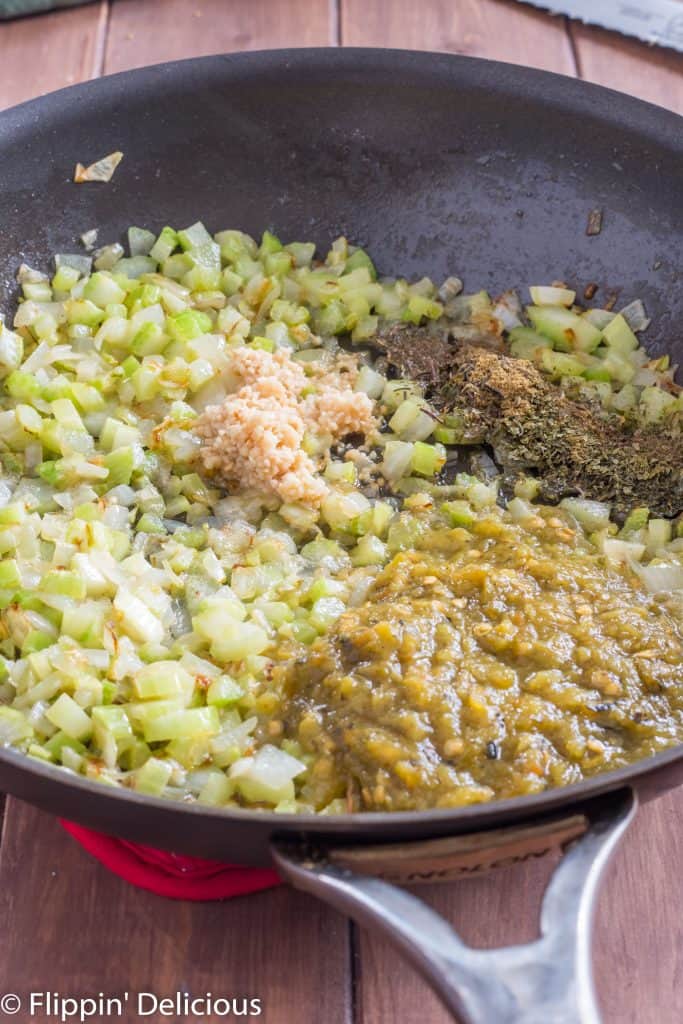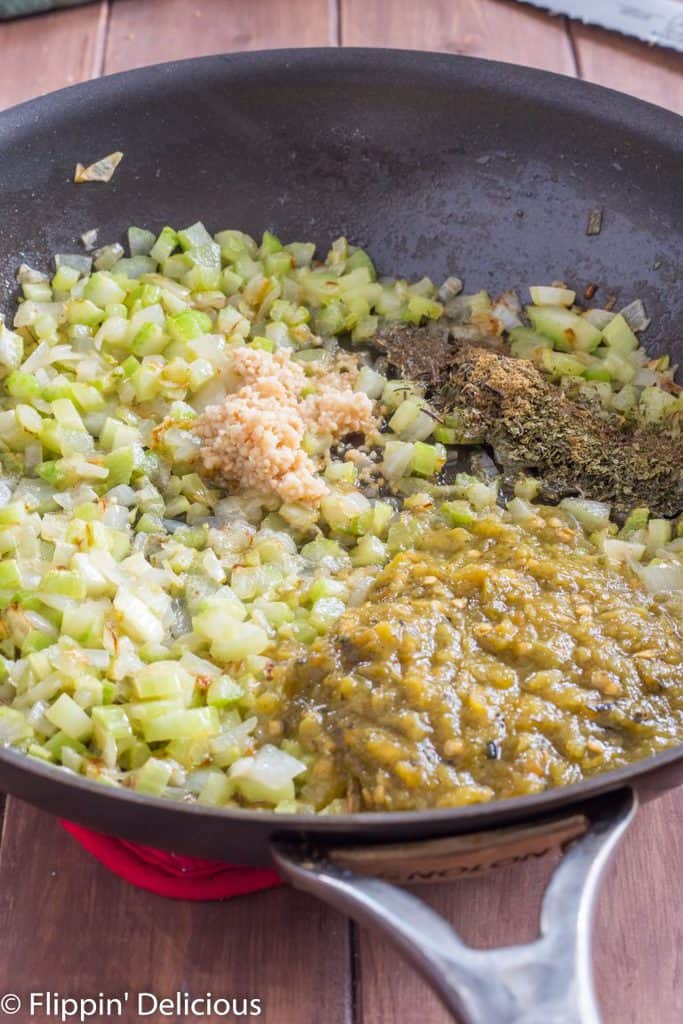 Then add your spices and herbs. In this case, cumin, thyme, parsley, garlic, and green chile.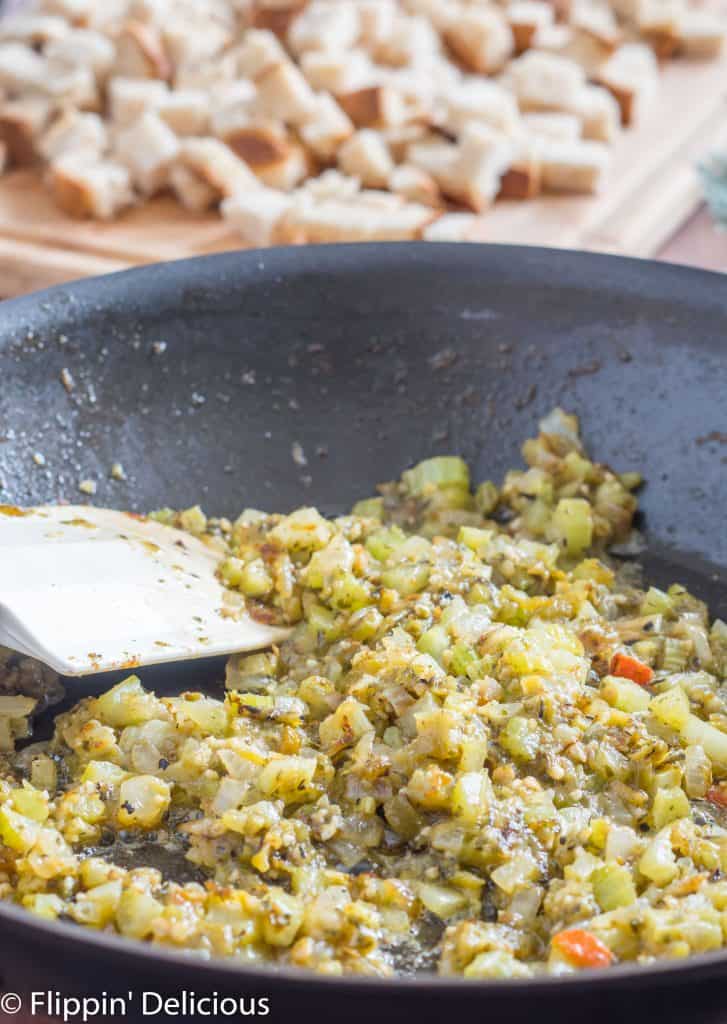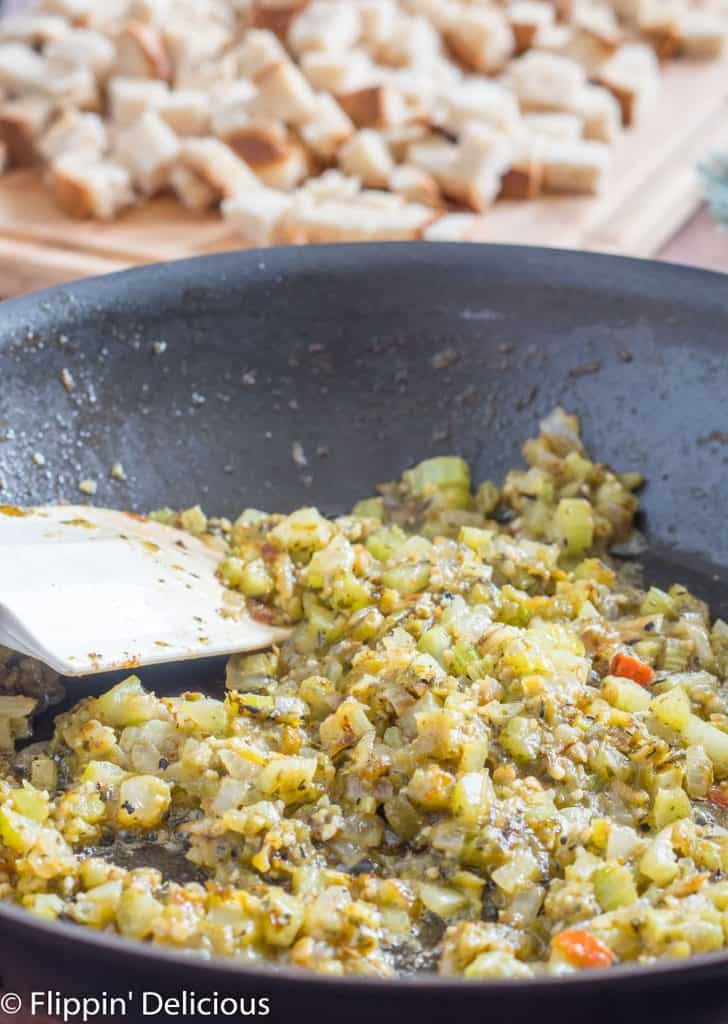 Saute for a few more minutes, and then add broth or stock to deglaze the pan. (Deglazing is basically loosening up any flavor bits that stuck to the pan, so they end up in your gluten free dressing.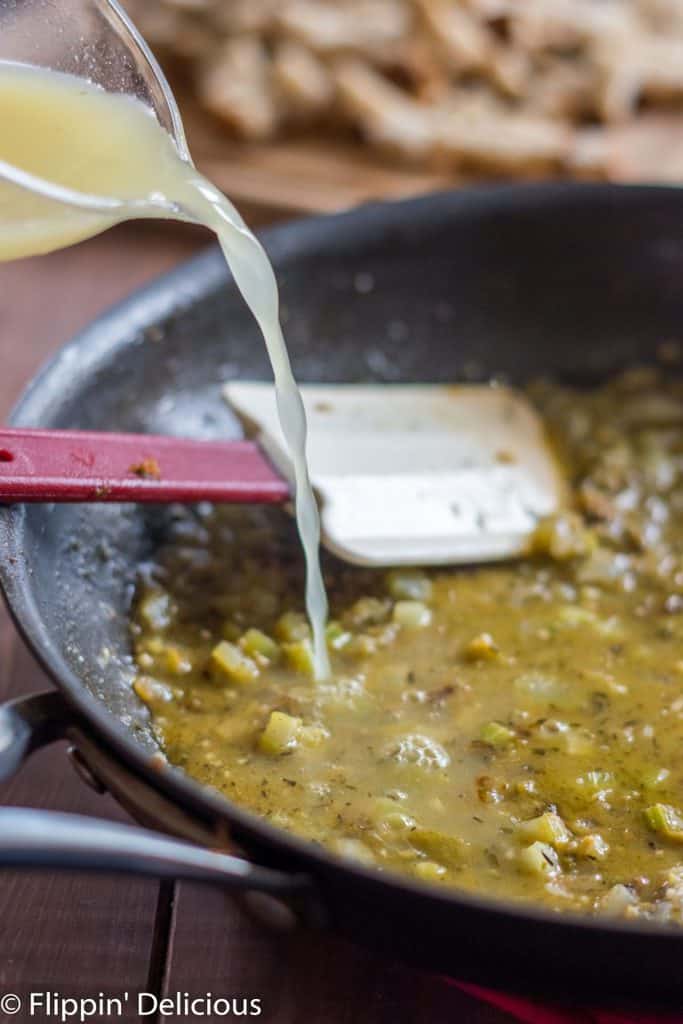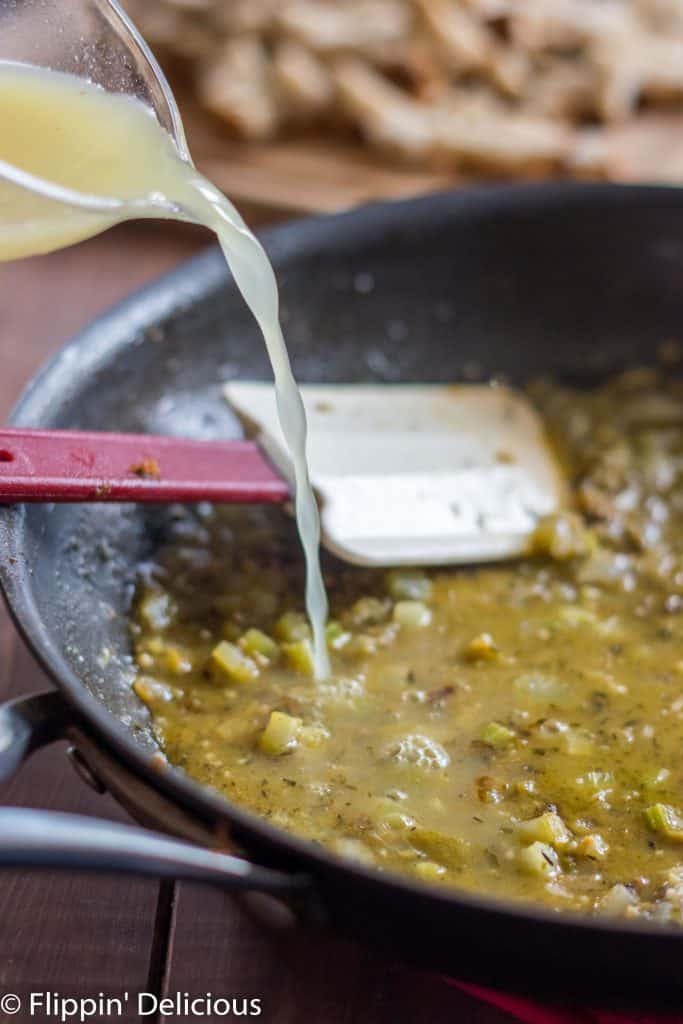 Toss your gluten free bread in the skillet, and stir to coat it with the broth and seasonings.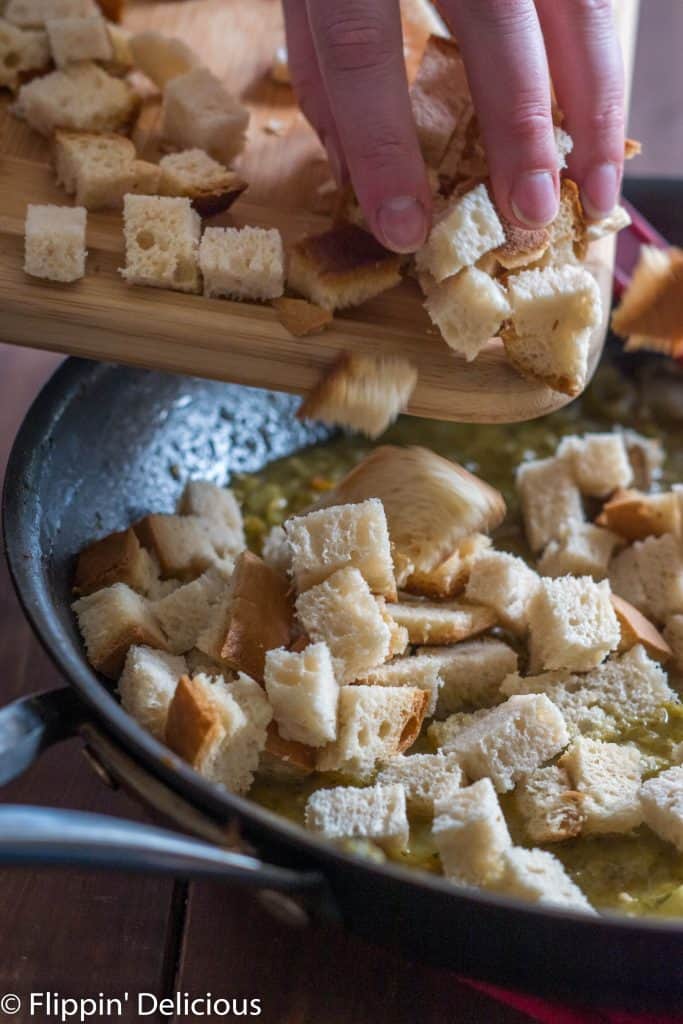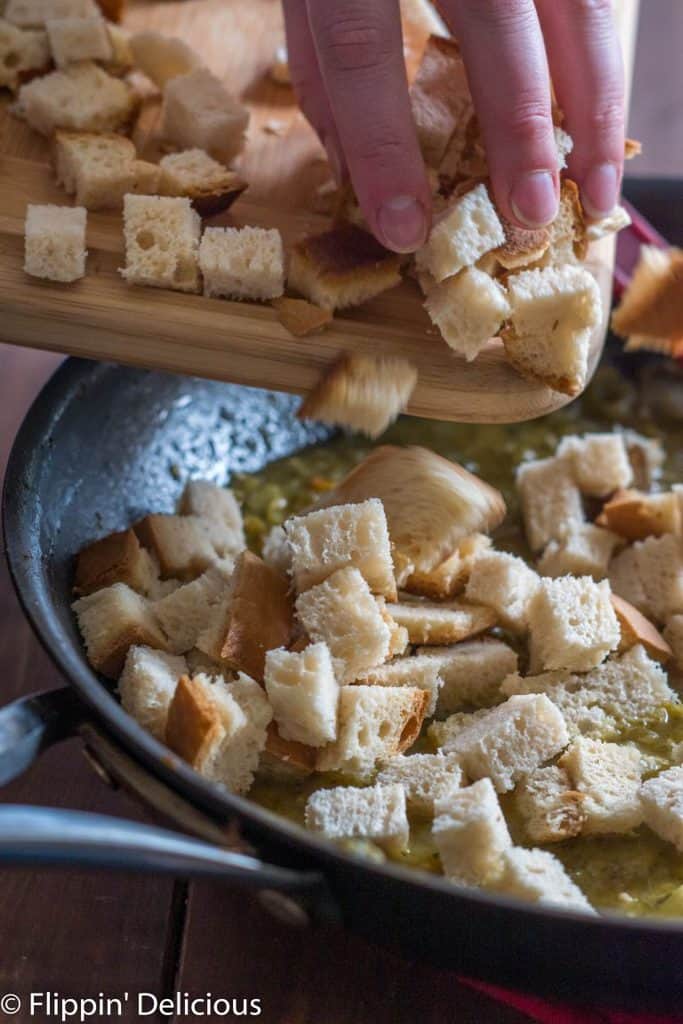 Pour it into a greased casserole dish. Then dot the top of your gluten free dressing with butter. You can also pour a little more broth in, if you like your stuffing moist!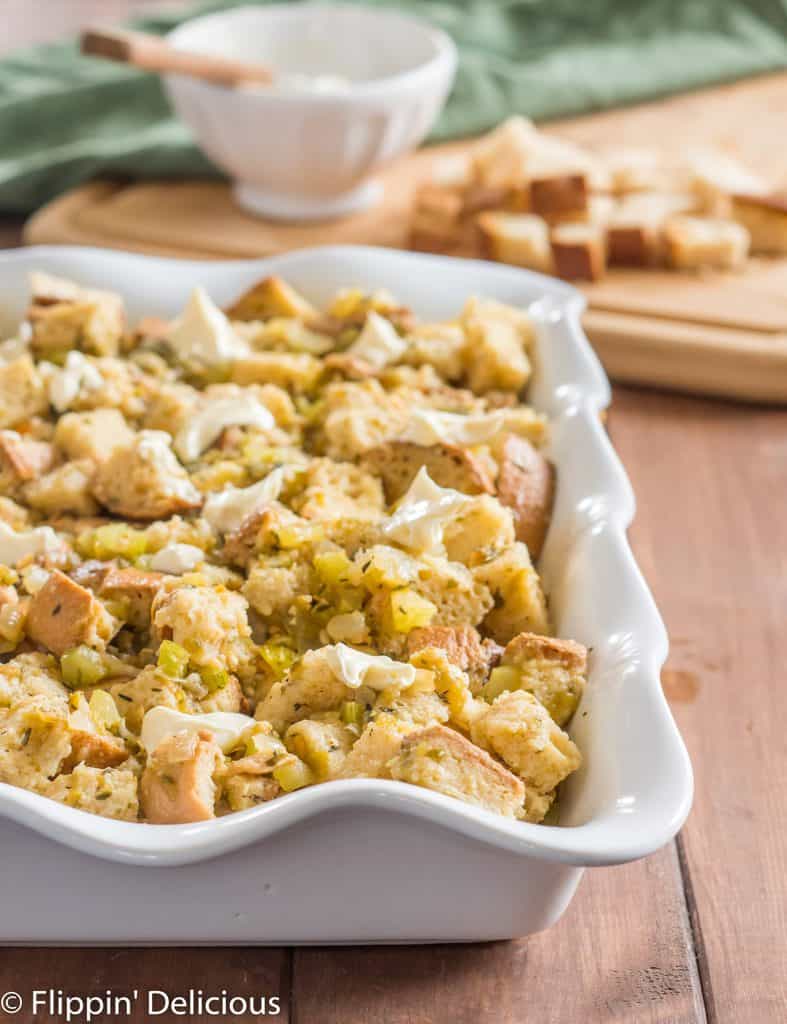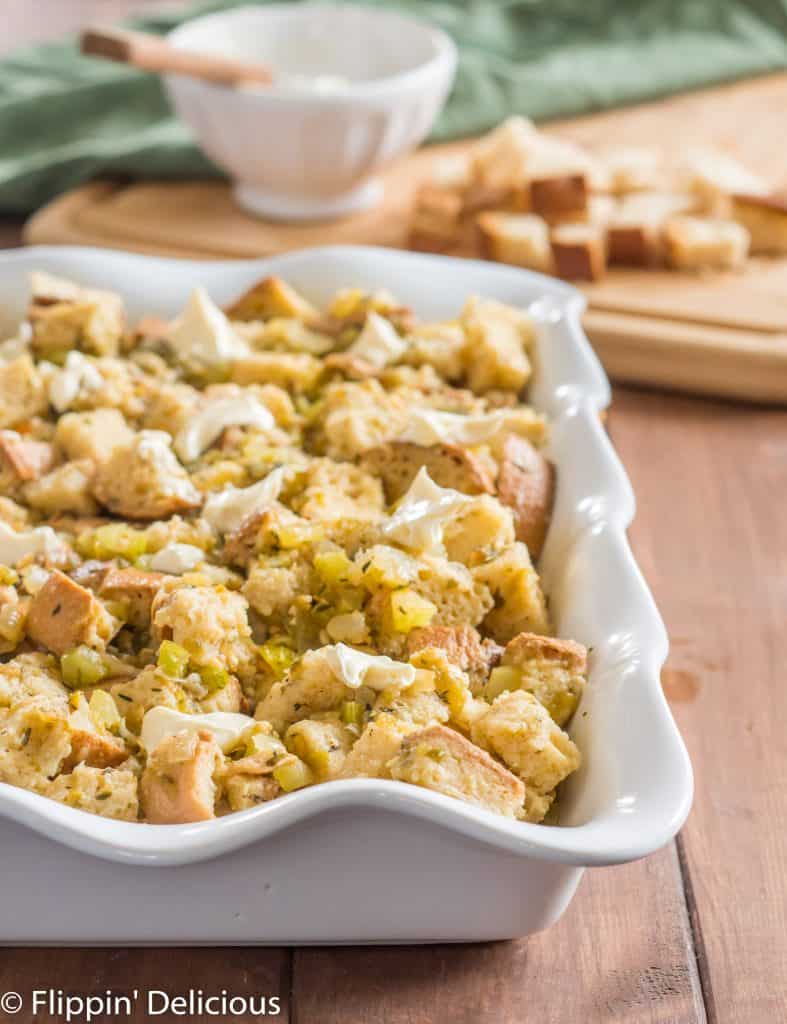 Bake it, first covered and then uncovered and then serve it while warm.
Leftovers can be stores in a container in the fridge for up to 5 days.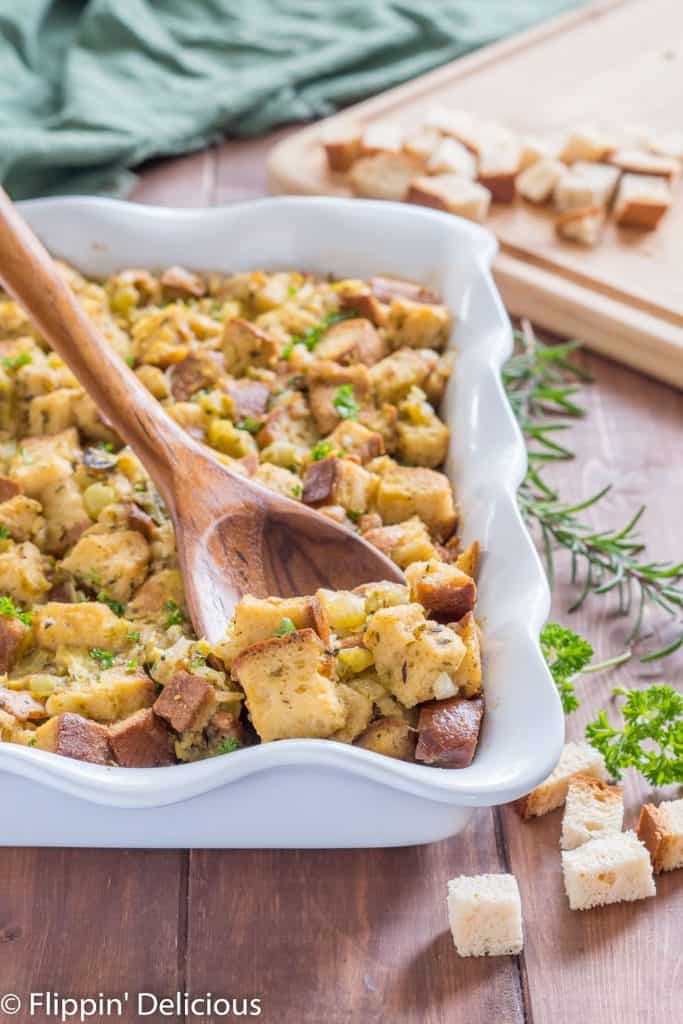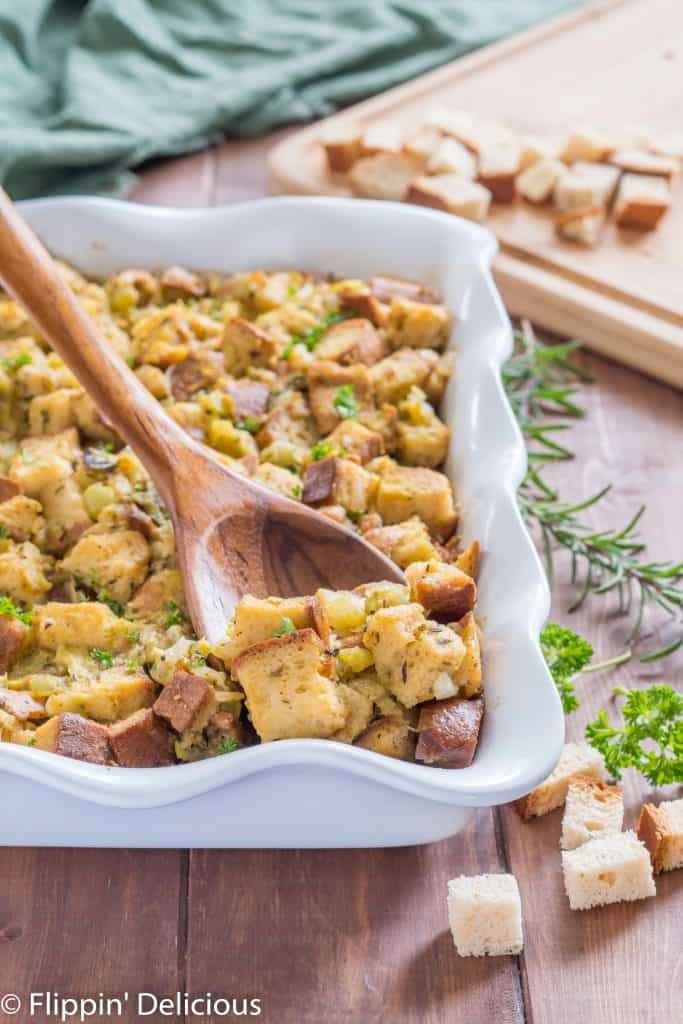 Can I make gluten free stuffing ahead of time?
Yes! I recommend making your stuffing and putting it into the casserole dish, and then storing it in the fridge until you are ready to bake it. Be sure to tightly cover your stuffing with plastic wrap, or use a casserole dish with a lid.
Let your casserole come up to room temperature before you put it in the oven, so that your casserole dish doesn't crack or explode from the quick change in temperatures.
How do you make gluten free vegetarian stuffing?
To make gluten free vegetarian stuffing, be sure to use a vegetable broth or stock and not a chicken broth to make your gluten free dressing with green chile. All other ingredients in this stuffing recipe are vegetarian.
Can celiac eat turkey stuffed?
If you stuff your turkey with a traditional bread stuffing, someone with celiac can not eat it. If someone has celiac disease, or a gluten-intolerance, it is important for their health to avoid cross contact with gluten.
Stuffing your turkey with gluten-bread is the exact definition of cross contact. It doesn't matter if you are "careful", the cross contact is inevitable and they may get sick, even if you serve the stuffing on the side.
Keep your celiac guests safe, and cook your stuffing outside of the turkey!
📖 Recipe
Gluten Free Stuffing with Hatch Green Chile
Yield:
Serves 8-10 as a side
Easy Gluten Free Stuffing with hatch green chile is the perfect easy gluten free dressing made with gluten free bread for your Thanksgiving or holiday feast.
Ingredients
½ cup butter*
1 cup finely diced onion
1 cup finely diced celery
1 teaspoon ground cumin
1 teaspoon dried thyme
1 teaspoon dried parsley**
1 teaspoon minced garlic
2 cups gluten free chicken broth***
Instructions
Preheat the oven to 400°f and lightly grease a 3-4 quart casserole dish.
Cut your gluten free bread into 1-1 ½ inch cubes.
In a large skillet over medium heat, melt about 6 tablespoons of the butter (save 2 tablespoons for later) and saute the onion and celery until translucent.
Add the cumin, thyme, and parsley, minced garlic, and chopped green chile and saute for another 2-3 minutes.
Add about 1 cup of broth to the skillet, and stir to deglaze the pan.
Add the cubed gluten free bread, and stir to coat. Add more broth, as desired. (I added another ½ cup).
Pour into the greased casserole dish, and spread evenly. Dot the top of the gluten free stuffing with the remaining 2 tablespoons of butter and drizzle any remaining broth over your stuffing, as desired. (You an customize how moist you want your stuffing to be, by using less or more broth.)
Cover tightly with aluminum foil, and bake covered for 20 minutes. Remove the cover, and bake for another 10-15 minutes until golden. (Alternatively, you can bake it at 350°f covered for 30 minutes, and uncovered for 30 minutes. I know you are juggling multiple things in your oven at one time during the holidays. )
Notes
*vegan butter, dairy butter, and even olive oil will work great. I used vegan butter, to keep my gluten free green chile dressing dairy free.
**you can use a tablespoon of fresh parsley, if you prefer.
***To make vegetarian gluten free stuffing use vegetable broth or stock.
I garnished my stuffing with some fresh parsley.
Nutrition Information
Yield

10
Serving Size

1
Amount Per Serving
Calories

109
Total Fat

10g
Saturated Fat

6g
Trans Fat

0g
Unsaturated Fat

3g
Cholesterol

25mg
Sodium

288mg
Carbohydrates

5g
Fiber

1g
Sugar

2g
Protein

1g
All nutrition info is a guestimate and will vary depending on the ingredients you use.