This gluten free Korean ground turkey and rice bowl makes a crowd-pleasing dinner that is on the table in less than 20 minutes!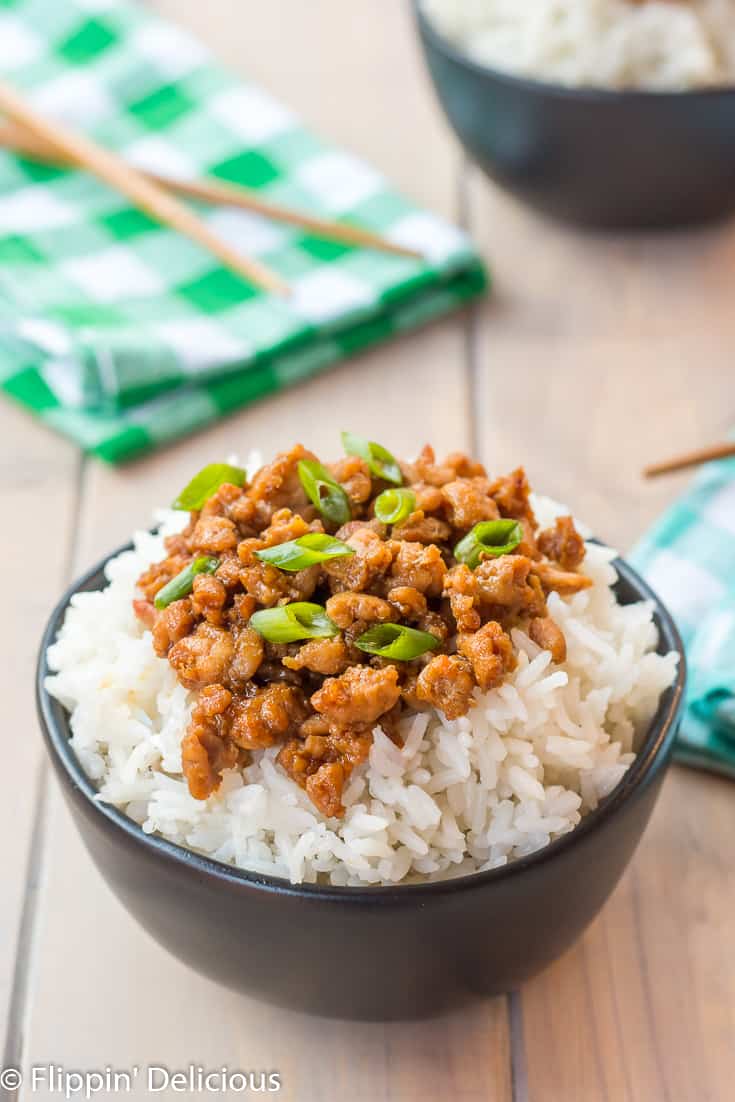 Gluten Free Korean Ground Turkey Rice Bowl
As a mom of little kids I am a big fan of quick and easy dinners like this gluten free Korean ground turkey rice bowl recipe.
It is simple, and easy to make and it is always a big hit with my kiddos and my husband.
It is sweet, salty, with just a hint of heat.
It isn't "spicy".
Just full of flavor.
Even my toddlers will eat it!
Some of my other favorite quick and easy meals are my gluten free 10-minute enchilada recipe and gluten free one pot no drain Mac n Cheese.
I love having easy dinner recipes in my back pocket.
It is the only way I can survive the week!
You may have seen recipes for Korean Beef on Pinterest.
This is my version of that recipe.
How do you make gluten free korean ground turkey?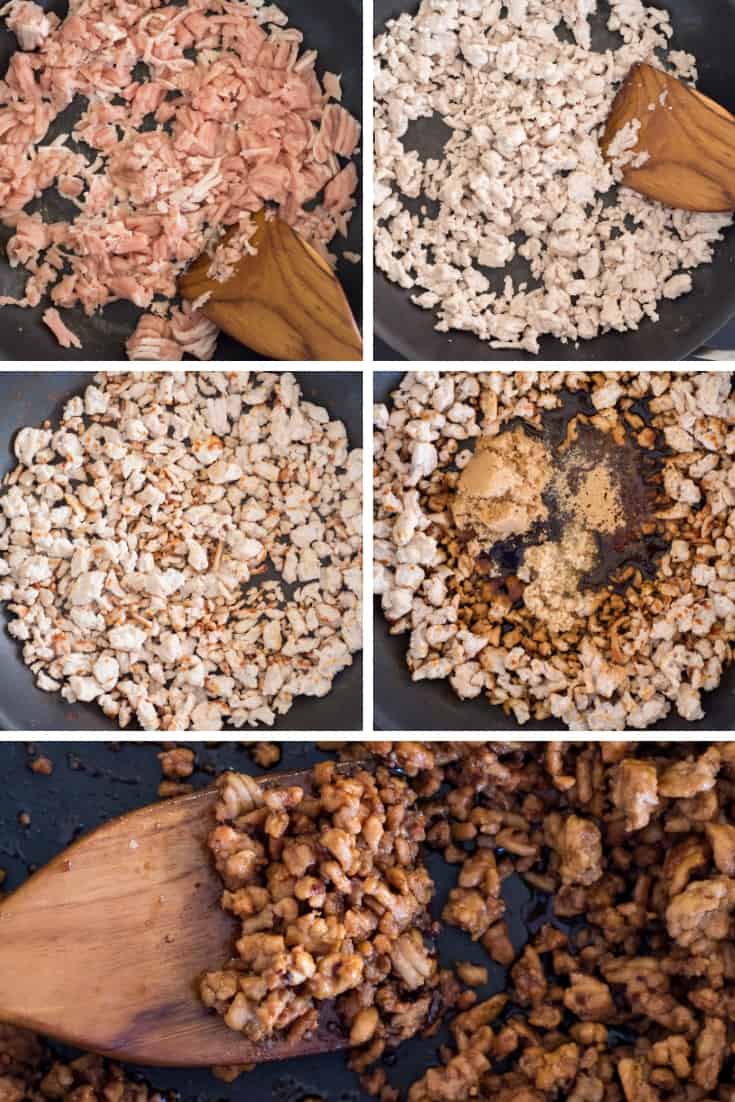 Why do I use ground turkey?
I used ground turkey because it is less expensive.
I know some people pick ground turkey for health reasons, but I picked it because it doesn't make as big a dent in my wallet.
Because of the caramelized brown sugar and tamari sauce on the meat, you really can't tell that it is turkey and not ground beef.
Because of the seasonings, this ground turkey bowl tastes rich and savory.
You wouldn't know it was ground turkey unless I told you!
Why does this Korean Ground Turkey have brown sugar?
The brown sugar adds some sweetness to counteract the heat from the pepper flakes.
You can absolutely adjust the amount of sugar to suite your tastes.
Every Korean Beef recipe I've seen uses about the same amount of sugar, and this is how my family likes it.
It you want it less sweet, you can cut the brown sugar down to ¼ cup.
You can also substitute coconut sugar, or another less-sweet sweetener.
Help! My Korean turkey and rice bowl was too sweet!
If your Korean ground turkey is too sweet for your taste, or if you would like to make it more savory, cut the brown sugar in the recipe by up to half.
A reader added some rice wine vinegar because her ground turkey and rice bowl was a little sweet for her.
Rice wine vinegar sounds like a great addition! I'd add about a tablespoon or so, to taste.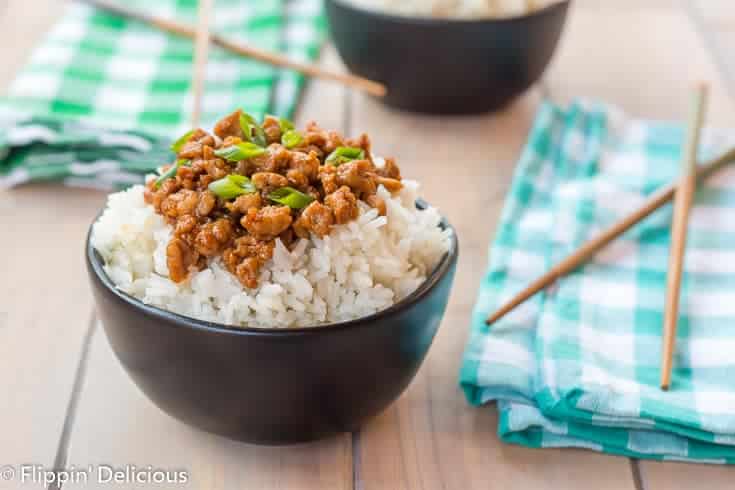 Can I use something other than brown sugar in my Korean ground turkey?
Yes! You can absolutely use a different sweetener to help make this recipe fit better with your diet.
To make this Korean ground turkey paleo, use ¼- ½ cup of coconut palm sugar.
You can also use ¼ cup of honey instead of the brown sugar. It will change the flavor profile a little, but will still be delicious.
Can I add vegetables to my Korean turkey and rice bowl?
Yes! Several readers have commented that they have added green beans. That just sounds delicious to me!
I'd recommend adding the veggies to your hot skillet just before the ground turkey is cooked through.
Adding the vegetables before adding the seasonings, gluten free tamari, and brown sugar will help them to have an opportunity to brown slightly before you add the moisture.
That golden brown caramelization equals more flavor!
Here are some ideas for vegetables to add to your turkey and rice bowl:
Zucchini, cut in half lengthwise and then sliced to make semi circles
Broccoli, frozen and thawed or fresh.
Green beans, frozen or fresh. Blanch them briefly in salted boiling water to keep them green!
Carrots, peeled and thinly sliced
Bell peppers, seeded and diced. They add color, and great flavor.
Frozen peas (don't add until the dish is almost finished, after adding the seasonings. You want them to just barely thaw!)
What if I don't have sesame oil?
I really love the complexity that the sesame oil and ground ginger add to the gluten free Korean turkey and rice bowl.
I have made it before without sesame oil when I have been out.
If you don't have it in your pantry you can skip the sesame oil and still enjoy this meal.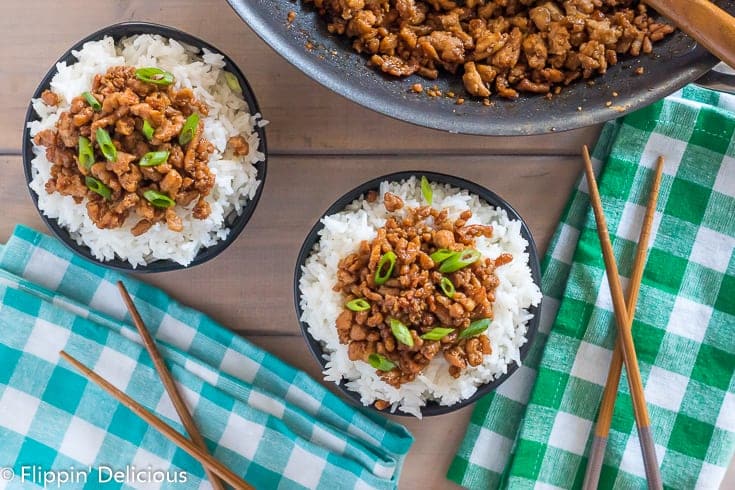 Can I make Korean ground turkey without soy sauce?
I know many people avoid soy-based products.
Whether you avoid soy for an allergy, or as a personal preference, there are some great soy-free substitues for gluten free/tamari soy sauce.
My favorite it coco aminos. Any coconut aminos will work!
Usually coconut aminos are a bit sweeter and less salty.
To compensate for the sweetness in coconut aminos, slightly reduce the sugar you use in the recipe.
You may also want to add a little salt, since coconut aminos don't have as much salt. That is, unless you are trying to eat a lower sodium diet.
What can I serve with my Korean ground turkey?
With quick-cooking (or leftover) rice you can have dinner on the table in under 20 minutes, which is a lifesaver for me.
You can make your own parboiled rice to put gluten free dinners on your table quickly.
If you don't like rice, try serving your Korean turkey over a bowl of rice ramen or other gluten free pasta.
For a low carb, or paleo-friendly Korean ground turkey, serve over cauliflower rice.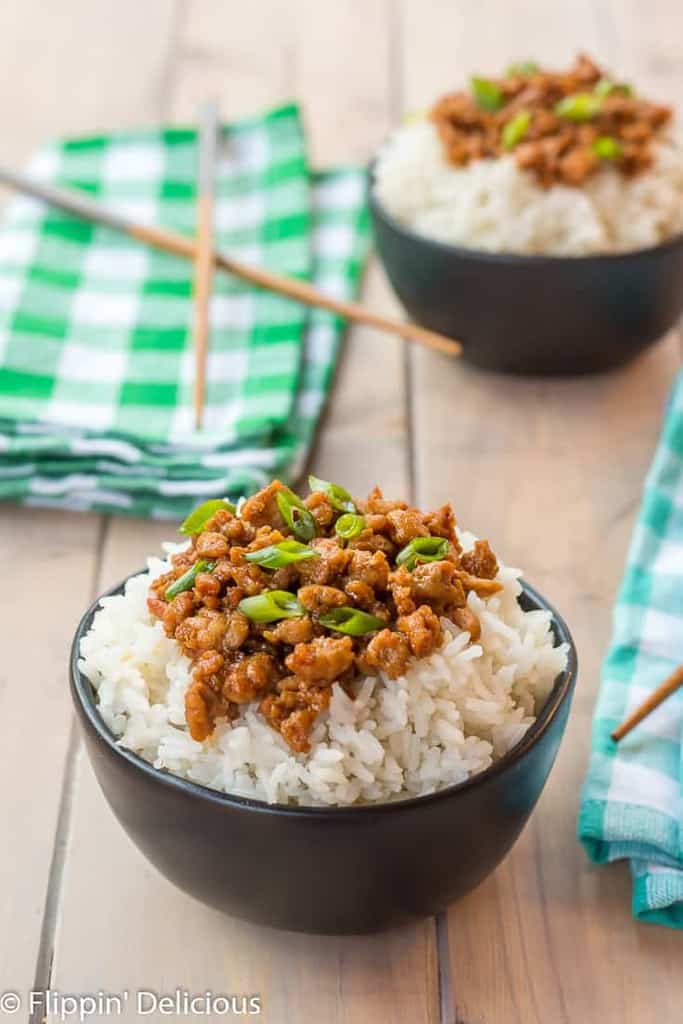 What do I use to garnish Korean Ground Turkey?
I like to use fresh cilantro to garnish my Korean ground turkey instead of sliced green onions which I've seen many other Korean ground beef recipes use. But I'll also use sliced green onions.
Once when making gluten free Korean ground turkey for dinner I discovered that I didn't have sliced green onions when I went to serve it.
I needed to add something fresh and green so I used cilantro because I did have that (and I love cilantro.)
My hubby is NOT a fan of green onions, and always pushes them to the side.
However, he liked cilantro on his gluten free Korean ground turkey and rice bowl.
The cilantro was such a hit, that is how I've finished off my gluten free Korean ground turkey ever since. (If you like ground turkey, you'll also love my gluten-free meatballs with ground turkey.). (If you like ground turkey, you'll also love my gluten-free meatballs with ground turkey.).
Of course, you can garnish your gluten free Korean turkey and rice bowl with green onions if you prefer.
I'll sometimes also garnish my ground turkey with sesame seeds. They compliment the sesame oil in the recipe nicely.
If you are a big fan of rice bowls, I think you'll love this Sweet Chili Lime Rice Bowl with Edamame and Mango from my friend Kristen of A Mind "Full" Mom. It is next on my family's dinner rotation!