Did you know you need to wear gluten free lipstick if you have Celiac disease? I'm celebrating spring with some fun shades that are perfect for Mother's Day.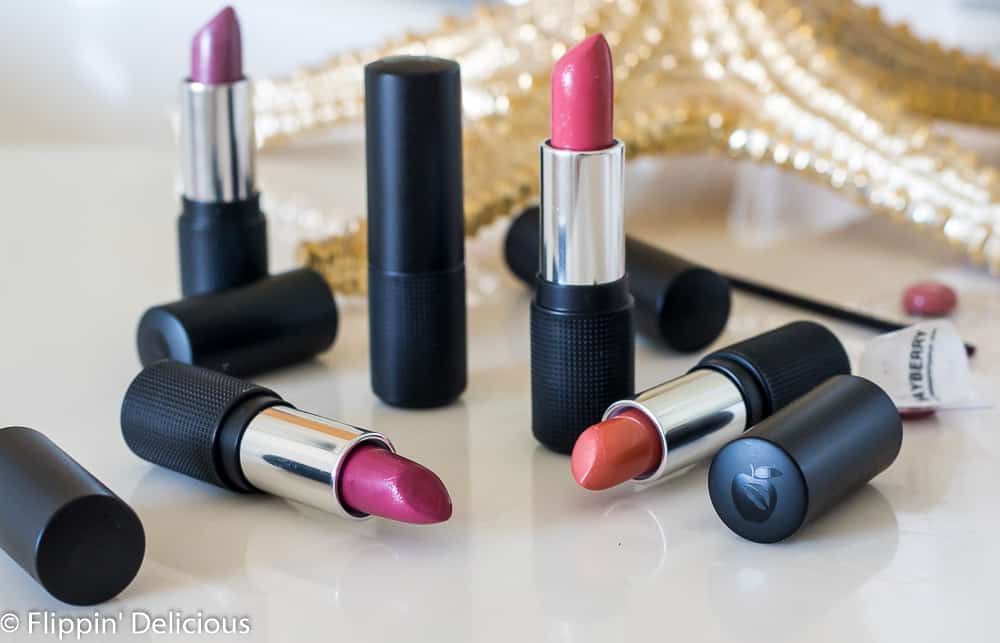 This post is sponsored by Red Apple Girls and features some of my favorite Gluten free Lipstick shades. As always, all opinions are entirely my own. I've been using Red Apple Lipstick for years, it is a brand I trust not only for quality, but for my celiac-safety.
It is finally warming up, and officially spring! Which means it is time to break out all the spring colors.
Spring also means Mother's Day. Mother's Day is in May, and May is Celiac Awareness Month.
Which is all fitting, because what is a better gift for your mom than a new spring lipstick. And if you have celiac disease, you may have gotten it from your mom. (And vice versa, if your mom has celiac, you may have it too.)
In honor of both Mother's Day and Celiac Awareness month, my mom and I tried on a some of Red Apple Lipstick's Gluten-Free, Vegan Lipsticks in sweet spring shades so we could share our favorites with you.
Not only are all of Red Apple Lipstick's products gluten free and vegan, they are also paraben free and creamy, smooth, and moisturizing.
Can you get celiac disease from your mom?
The short answer is yes. Celiac Disease is an autoimmune disorder and can be inherited from your parents.
I inherited celiac disease from my mom. She inherited it from my grandma (who was the first person in our family to be diagnosed with celiac disease, and she was in her 60's!). We suspect my grandma inherited celiac from her dad.
After my grandma was diagnosed with celiac disease more than a decade ago, several other family members have been diagnosed with, or are suspected to have celiac disease.
The majority of those with celiac have either the DQ 2.5 or DQ 8 genes. However there are a few people (less than 5% of celiacs) who don't carry either gene. So just because you have the gene, doesn't mean you have celiac. And just because you don't, doesn't mean that you do.
My friend Erica at Celiac and the Beast wrote a great article about What If my Celiac Gene Test is Positive that is a great read if you want more info. Erica really knows her stuff, and is an expert!
Why do you and your mom need gluten free lipstick if you have celiac disease?
If you have celiac disease, it is really important that everything that goes in and ON your mouth is gluten free. This includes your lip products.
I'm really careful about all of my face and hygiene products. I have a lot of anxiety associated with my celiac disease, so I only use gluten free products. If I use products with gluten in them, I get really anxious I'll touch my hair and then forget to wash my hands before having a snack, or something like that.
Some people feel comfortable using lotions and hair products that have gluten in them, but I prefer to play it safe and use all gluten free products. This is a highly debated topic in the gluten free community.
But you can't take a risk with what you put on your lips! People who wear lipstick can ingest as much as 4 lbs of lipstick in their lifetime, and as much as 1 lb of lipstick in a year! You know how it wears off throughout the day as you eat and drink. Yeah.... a lot of that gets into your system.
Gluten Free Lipsticks for Mother's Day
I wanted to treat my mom to some new gluten free lipsticks for Mother's Day. Red Apple Lipstick sent me some shades that they thought would look great on us.
My mom and I had a little lipstick party to test out some shades and pick out our favorites.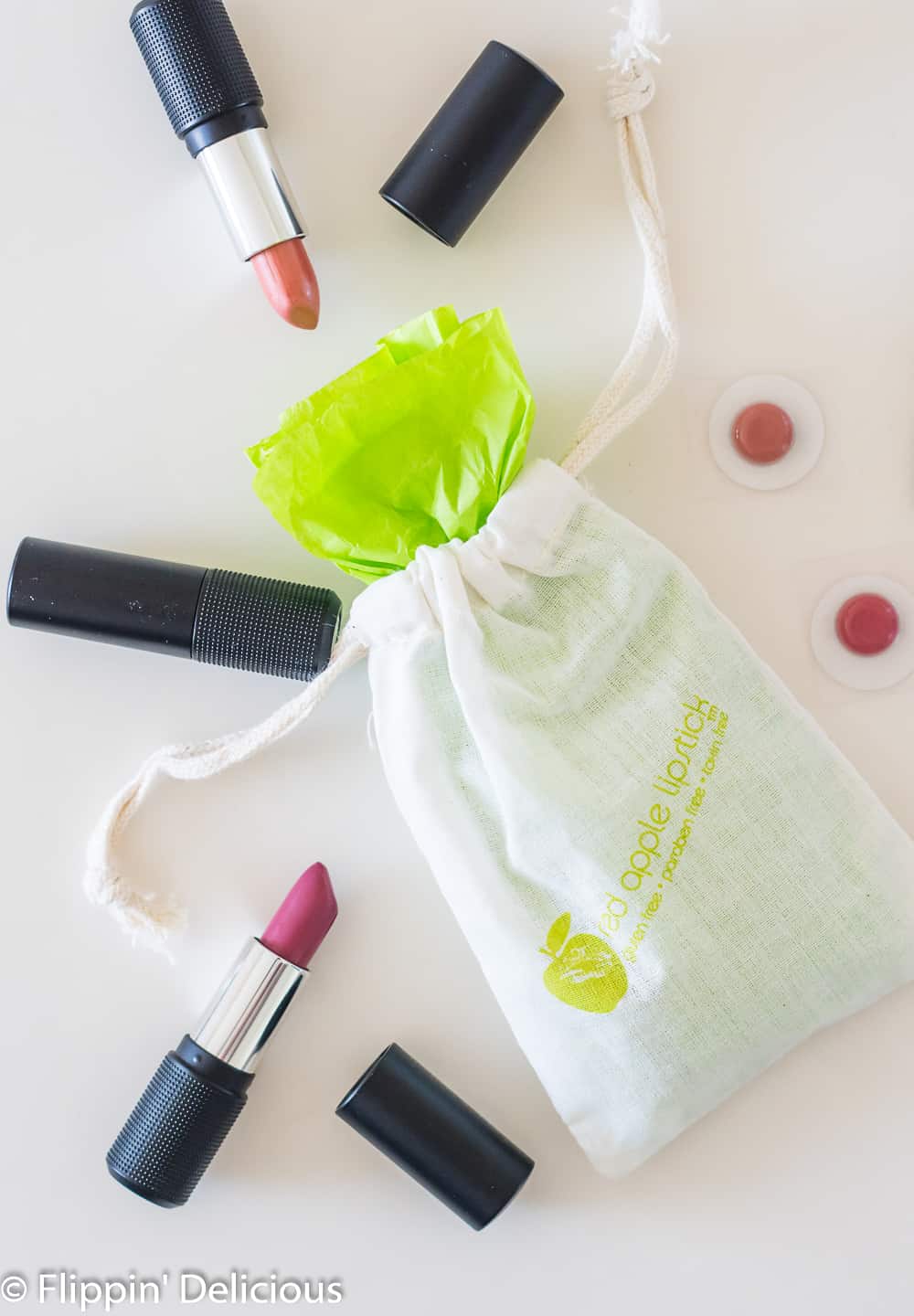 First, isn't my mom stunning?
I definitely get some of my good looks from her. (I get the rest from my dad. Duh.)
Check out SECRETS on Red Apple Lipstick.
My mom really likes colors that are a little more plum or mauve. They looks great with her skin tone.
Check out MAYBERRY on Red Apple Lipstick
I love color! I often go for the less-subtle shades and love bright colors.
Some of my favorite spring shades were Twist 'n' Pout, and Brazilliant.
Me, wearing Twist N Pout!Twist N Pout has really creamy full coverage, no shimmer, and I loved the pink!
Check out Twist N Pout on Red Apple Lipstick.
Brazilliant has a hint of tangerine, but it blends really well with your natural lip color. On me, it looks like a slightly coral pink. It isn't a shade I think I'd usually pick, which just shows it is good to try new things!
I've learned that I am a huge fan of any Red Apple Shade made with their Summer Passion formula (you can sort by formula when shopping on their website, which is really helpful if you need nut-free lipstick too.)
I like all of the Red Apple Lipstick formulas I've tried, they are all creamy and moisturizing! I think one of the reasons the Summer Passion formula is my fave is because it smells like vanilla! It goes on really light and a little sheer, so the color blends really well with your natural color. It also just feels lighter, making it perfect for Spring and Summer. (If i want a bolder color, I layer it two or three times).
My favorite Summer Passion formula spring colors we tried were Boys N Berries, and Vogue. They both were favorites!
Boys N Berries has a lot of pink and berry tones, with just a hint of lavender. It looked great on both my mom and I (and kind of matched my hair a little.)
My mom really loved Vogue. We tried adding a little dab of Petal Rebel on her bottom lip to highlight it a bit, just for fun. Petal Rebel is super shimmery, and the two were so pretty together.
Have you ever tried layering two lipstick colors?
Gluten Free Lipstick Samples
If you are like me, and are hesitant to try something new, I love that Red Apple Lipstick makes samples so you can try a few shades before you commit to an entire lipstick. I love bringing my samples when I travel! Then I can bring lots of shades without filling my entire toiletry bag with lipstick.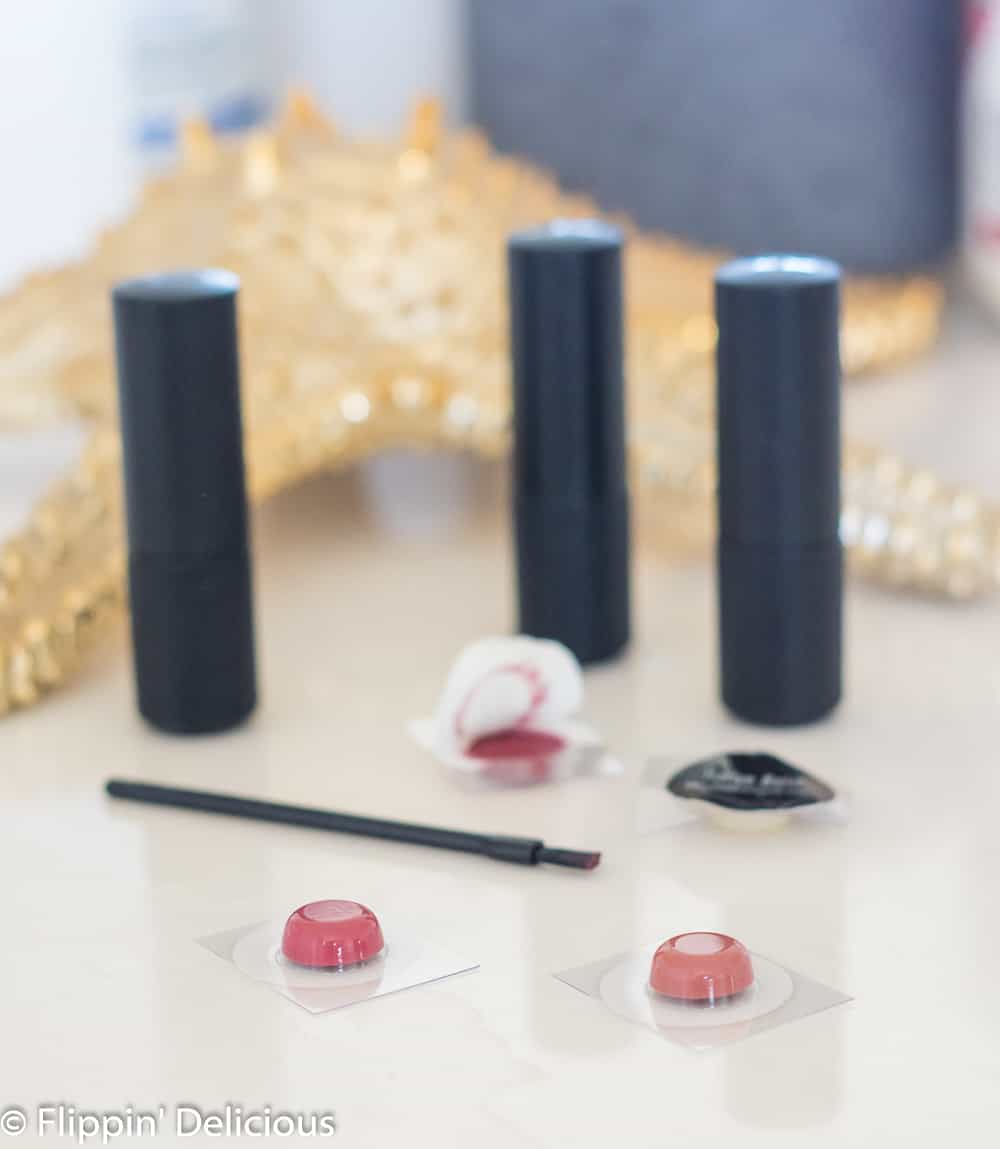 Tell me, what Red Apple Spring Lipsticks are you most excited to try? And which ones do you think your mom would want?
Pop over to Instagram and enter to win a $50 voucher to order whatever you want from Red Apple Girls!