Gluten-free Pad Thai has a light, zesty sauce. It's a quick, ethnic weeknight meal.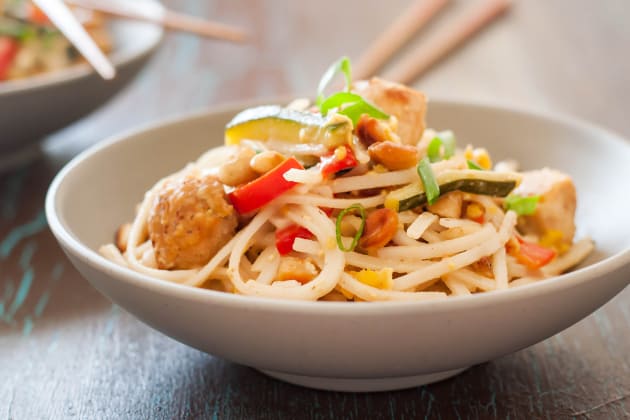 Growing up, I had a sister with a peanut allergy. It was pretty severe, and so we rarely had peanut butter in our home. We did it somewhat graciously (although sometimes you just can't help being a little cranky about the lack of peanut-y goodness in the pantry).
Once I got married and moved out, I slowly began adding peanut butter into my recipes. It was so nice to be able to finally start cooking with this nutty goodness. And there are so many things that are really enhanced by adding some peanuts.
So, obviously, all of the Pad Thai I ate growing up were seriously lacking. I didn't realize the full extent before I took a bite of this and wondered how I'd lived all those years with a peanut-less Pad Thai.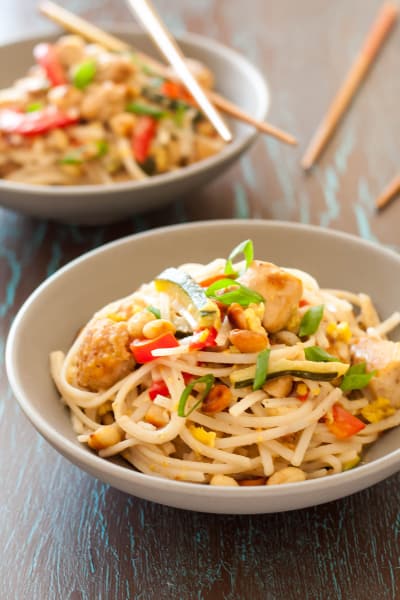 This gluten free Pad Thai recipe uses fish sauce instead of soy sauce. I'd always made my gluten free peanut butter noodles with soy sauce instead, but trust me, you need to make the switch to fish sauce as soon as possible. It adds some depth to the flavors that I didn't know I was lacking, and it creates an overall lighter sauce. It's just one of those small tweaks that really makes a world of difference.
Also, on the subject of peanut butter, I'm begging you to use natural peanut butter. It aids in that naturally light sauce, so you're not eating a mouthful of sweet, sticky peanut butter with your noodles. You all know that I love a good creamy, sticky sauce for pasta, like my gluten free no drain mac 'n' cheese, but this is definitely one recipe you want to make light.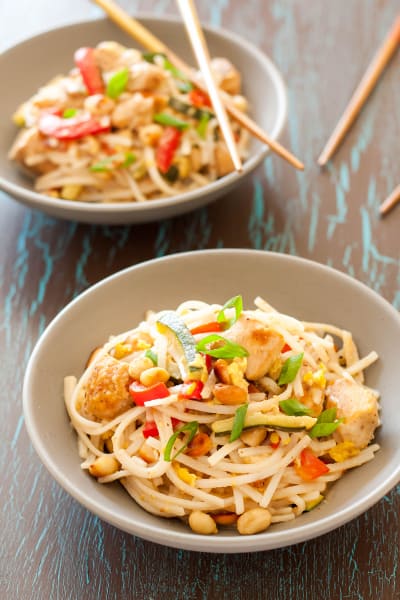 Making these two slight changes to the ingredients makes a light, salty, vinegary sauce, and I honestly can't eat Pad Thai any other way now.
I also added scrambled eggs for the first time with this recipe, and I'm so glad that I did! It's a fabulous source for a little extra protein, and it really helps add an additional complexity and different flavor to the dish.