Gluten Free Turkey Meatloaf | Easy ground turkey recipe for meatloaf that is juicy and tender. The best turkey meatloaf recipe you'll try!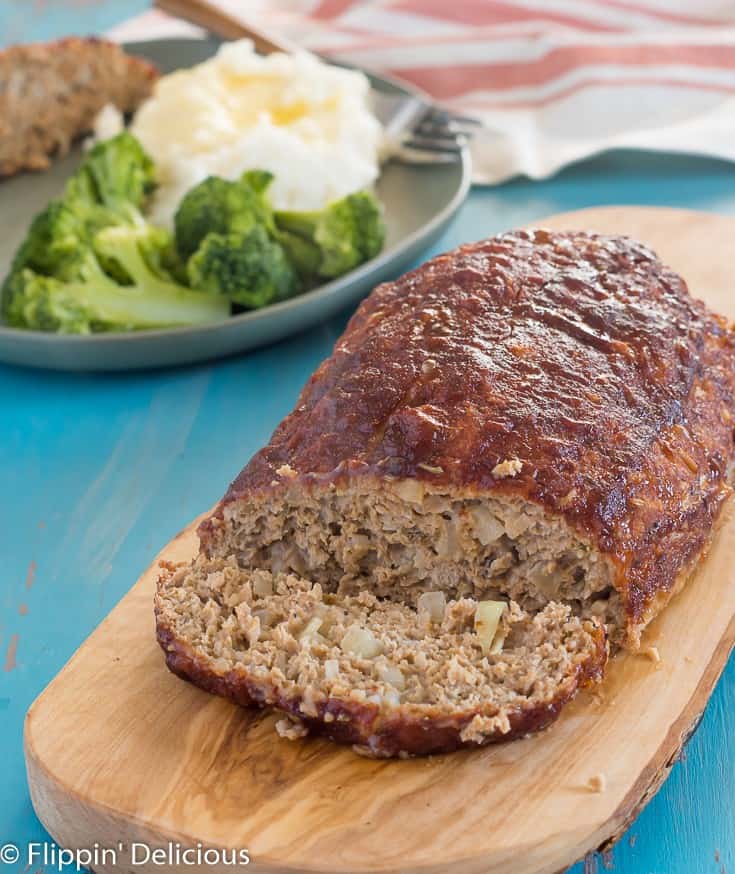 Ground Turkey Recipes
Ground turkey can be a great addition to your menu rotation. It is often less expensive and lower fat/calories than ground beef. Ground turkey recipes like my gluten free Korean ground turkey and rice bowl, and this gluten free turkey meatloaf are a staples on our dinner menu because they are savory, and make an easy family-friendly dinner.
Gluten free meatloaf using ground turkey is the perfect place to make the turkey swap because with the seasonings and glaze on top it is easy to forget you are eating ground turkey meatloaf instead of beef.
If you want a bite-size ground turkey recipe, try my gluten free turkey meatballs. They are similar to my ground turkey meatloaf recipe, but are already portions and very kid friendly.
Does Meatloaf have gluten?
Most meatloaf has gluten it because traditionally meatloaf has breadcrumbs. Store-bought meatloaf and meatballs may not have breadcrumbs, but almost all have a wheat-based filler. The breadcrumbs help meatloaf to be tender and juicy without being greasy. They absorb the juices and fat, keeping the meatloaf flavorful and also acting as a filler so that there is more meatloaf to go around.
What can I substitute for breadcrumbs gluten free?
What can you use instead of breadcrumbs in meatloaf? There are many options both in commercial gluten free breadcrumbs, and other non-breadcrumb substitutes.
Some of my favorite gluten free breadcrumb swaps are:
Rice Chex- Rice Chex are gluten-free and when gently crushed have a texture similar to panko breadcrumbs. I use my food processor, a bowl and a potato masher, or a ziploc bag and my hands to crush my Rice Chex.
Almond Flour- You may need a little less almond flour, or a little more liquid because almond flour is more dense than breadcrumbs. However, with a little tweaking it is a great breadcrumb substitute.
Gluten Free Crisp Rice Cereal- Just a quick pulse or crushing with a spoon and gluten free rice crisp cereal makes a perfect breadcrumb substitute.
Gluten Free Waffles- Whenever I make my grandma's gluten free waffles, I store any leftovers in the freezer. Toast them up and pulse them in your blender or food processor, or grate them using a box grater, or grater attachment on your mixer. You may also want to try my friend Chrystal's gluten free waffle mix. Keep it on hand so you can easily mix up some gluten free waffles whenever you need bread crumbs!
Leftover Gluten Free Bread- Save your heals and crusts! Toast them up and pulse to make breadcrumbs. You can do the same with any gluten free baking fails (it happens to the best of us).
If you want to make a meatloaf without breadcrumbs, try this paleo honey sesame turkey meatloaf.
What is in gluten free ground turkey meatloaf?

To make your gluten free turkey meatloaf you'll need:
Ground Turkey-I've found that most ground turkey is lean enough you don't need to worry about the fat percentage.
Egg- The egg binds the ground turkey meatloaf and helps it hold together. If you need to make an egg-free meatloaf you can use a little extra milk (2-3 tablespoons) or a flax egg.
Gluten free breadcrumbs, or a gluten free breadcrumb substitute. If you need ideas, scroll back up and read some of my favorite gluten free breadcrumb swaps.
Milk- I almost exclusively use an unsweetened plain coconut milk or almond milk but I've also used dairy milk. The most important thing is that your milk is unsweetened and plain because I have't yet met someone who likes vanilla meatloaf. Maybe you'll have better luck than me?
Diced onion-adds great flavor but you can use dehydrated onion, or onion powder in a pinch
Garlic-I like using minced garlic from the big Costco jar, but you can use fresh crushed or minced garlic, or even garlic powder.
Italian seasoning or your favorite similar herb seasoning. I love using my Herbs de Provence because it also has fennel and a little lavender. Try to use a seasoning that has rosemary in it. The rosemary really compliments and accentuates the ground turkey. If you don't have Italian seasoning, use a mix of parsley, rosemary, oregano, thyme, basil, or fennel.
Salt and pepper. Don't skip them unless you hate flavor.
Ketchup- the tomato adds a great umami flavor that you really need when you make a ground turkey meatloaf recipe. You can swap a little tomato paste for a similar effect if you don't have ketchup on hand.
Gluten Free Worcestershire Sauce- Just double check the ingredients on your Worcestershire sauce. I think I have a bottle of Lea & Perkins in my fridge that is gluten free, but not all bottles or brands are gluten free. You can also swap gluten free steak sauce, like A1. The Worcestershire or steak sauce are my secret ingredients, adding a lot of flavor and making my ground turkey meatloaf recipe taste more like beef!
Why don't you cook your meatloaf in a loaf pan?
I haven't cooked my meatloaf in a loaf pan for years. I think it was a tip I got from Alton Brown in an old episode of Good Eats?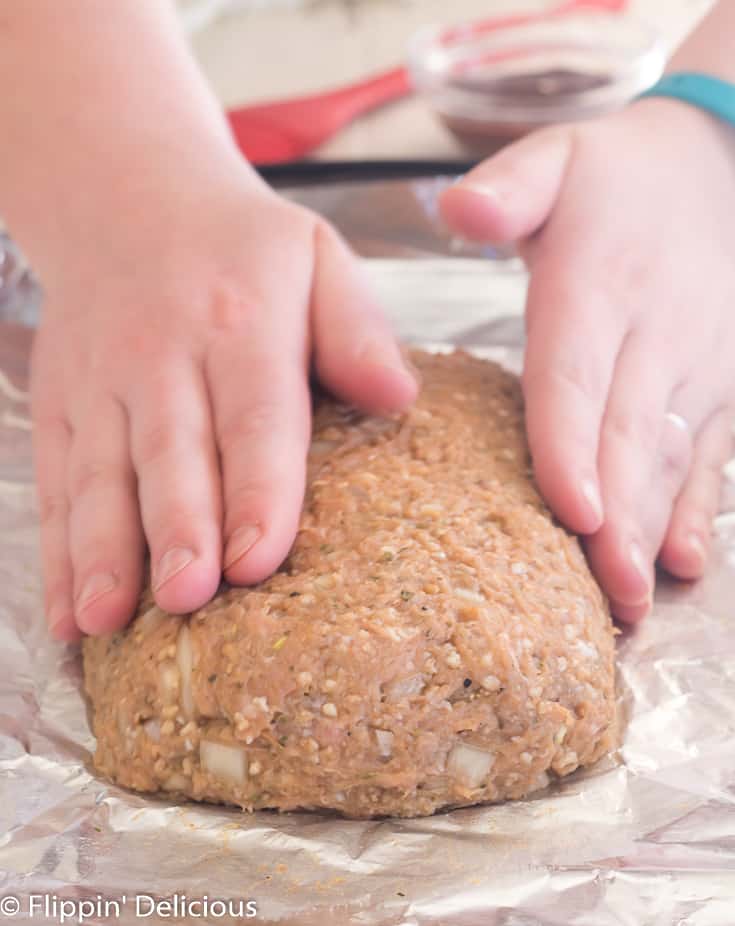 Forming your meatloaf into a free-form loaf on a baking sheet allows any excess fat that isn't absorbed by the gluten free bread crumbs to leak out, which keeps your meatloaf from being greasy.
It also allows for more glaze on the top of your gluten free meatloaf. And glaze equals flavor!
Browning also equals flavor, and more surface area from the free-form loaf means more area that can brown.
How do you glaze turkey meatloaf?
Many meatloaf recipes are brushed with ketchup alone as a meatloaf glaze.
I like to bump up the flavor of my turkey meatloaf glaze by mixing some ketchup with either steak sauce or Worcestershire sauce and brushing it over my meatloaf before I bake it.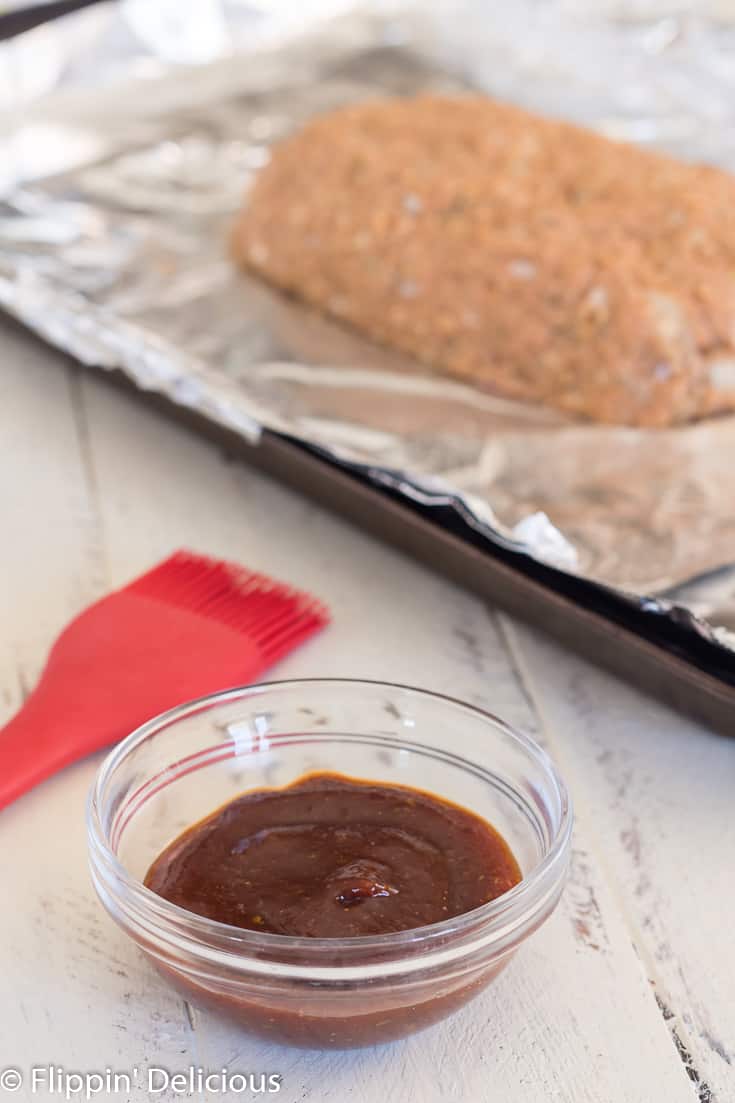 Simply mix them together and brush over your meatloaf before it goes in the oven. If you have extra, you can brush some more on the last ten minutes of baking.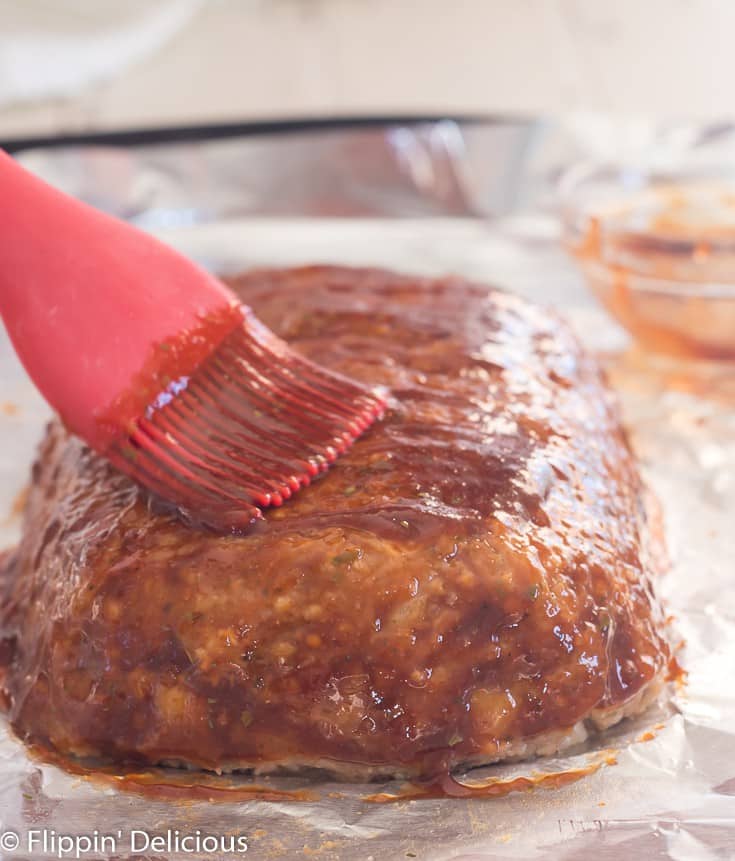 📖 Recipe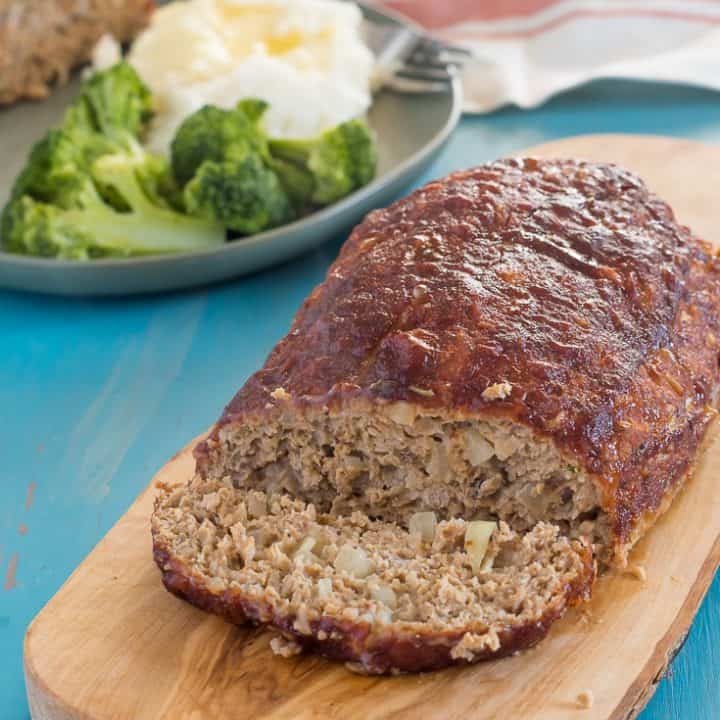 Gluten Free Turkey Meatloaf
Yield:
1 gluten free meatloaf serving 4-6 people
Total Time:
1 hour
15 minutes
Gluten Free Turkey Meatloaf | Easy ground turkey recipe for meatloaf that is juicy and tender. The best turkey meatloaf recipe you'll try!
Ingredients
Gluten Free Turkey Meatloaf
1 lb ground turkey
1 egg
½ cup gluten free breadcrumbs
½ cup finely diced onion
1 teaspoon minced garlic
½ teaspoon Italian Seasoning
½ teaspoon ground pepper
½ teaspoon salt
¼ cup milk (dairy free is fine if it is unsweetened plain milk)
2 tablespoons ketchup
2 tablespoons gluten free steak sauce or gluten free Worcestershire sauce.
Turkey Meatloaf Glaze
2 Tablespoons ketchup
2 tablespoons gluten free steak sauce or gluten free Worcestershire sauce.
Instructions
Preheat oven to 375°f and line a baking sheet with aluminum foil.
Lightly mix all the turkey meatloaf ingredients, ground turkey, egg, gluten free bread crumbs, onion, garlic, Italian seasoning, ground pepper, salt, milk, 2 tablespoons ketchup and 2 tablespoons steak or Worcestershire sauce, together in a large mixing bowl.
Form the mixture into a loaf, and place onto the prepared baking sheet.
In a small bowl, mix the additional ketchup and gluten free steak sauce, or gluten free Worcestershire sauce together and brush over the turkey meatloaf.
Bake at 375°F for 50-60 minutes, or until cooked through. The turkey meatloaf should reach an internal temperature of 165°f and should have no pink in the center, with all of the juices running clear.
Let your turkey meatloaf cool at least 10 minutes before cutting to let the juices settle.
Recommended Products
As an Amazon Associate and member of other affiliate programs, I earn from qualifying purchases.
Nutrition Information
Yield

6
Serving Size

1
Amount Per Serving
Calories

283
Total Fat

15g
Saturated Fat

4g
Trans Fat

0g
Unsaturated Fat

9g
Cholesterol

112mg
Sodium

663mg
Carbohydrates

16g
Fiber

1g
Sugar

5g
Protein

22g