These gluten free white cheddar crackers are a pretty darn close Cheez-it copy cat recipe. My hubby's favorite snack!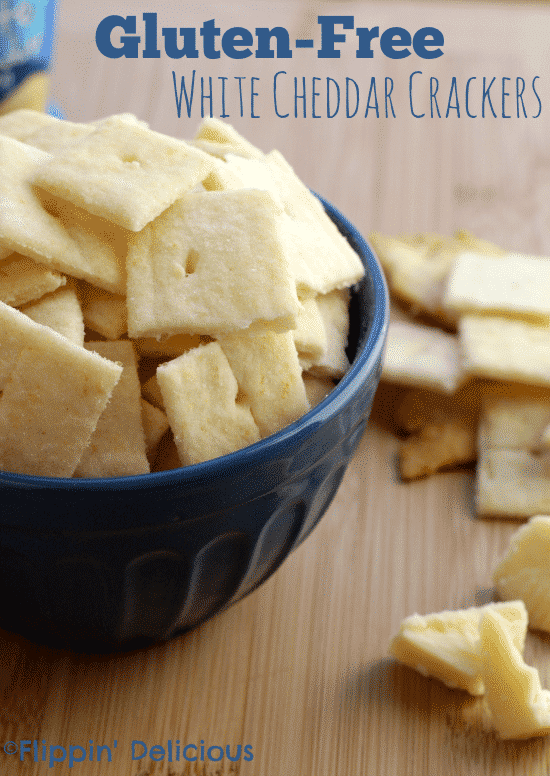 My hubby LOVES cheese crackers. Specifically Cheez-its and Goldfish. He declared that these were the best crackers that I have made, and were pretty darn close to the real deal.

The secret it to roll the dough out thin enough, and then to throw the crackers in the oven a second time. I turned my oven off after I baked the crackers, broke the crackers apart, and then let them crisp up for another 10 minutes or so.
The edges will probably get a little brown, but that is ok. If they don't get brown the crackers in the middle will be soggy. I actually like the crispy brown edges the best!
One of the very first recipes I ever posted on my blog was for Cheez-it copycat crackers. I think that these crackers are way better, instead of using half mac 'n' cheese powder like in my original recipe I use more white cheddar and just a bit of Kernel Season's White Cheddar seasoning.
I also brushed the crackers with a little bit of milk and sprinkled the Kernel Season's on top just before baking to intensify the flavor. If you don't have Kernel Season's you can skip it, but I love the extra kick of flavor it adds.
(I really love Kernel Season's and used their Parmesan Garlic seasoning in these crackers. When they saw them they sent me a box with all the different flavors, including this white cheddar. So I did get free product, though not in exchange for this post. And I honestly and truly love them! All their flavors are GF by the way...)
Don't get scared by the long directions. These crackers are really pretty simple to make. I just wanted to give you all of my tips and tricks, which means a longer recipe.
📖 Recipe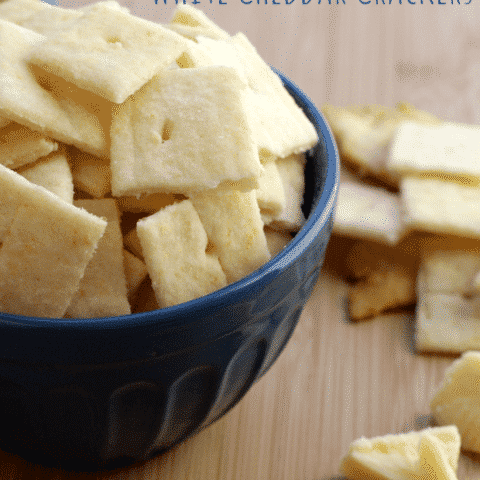 White Cheddar Crackers (Cheez-it Copycat Recipe)
Yield:
approx 150 crackers
These gluten free white cheddar crackers are a pretty darn close Cheez-it copy cat recipe. My hubby's favorite snack!
Ingredients
1 cup shredded white cheddar cheese
½ cup butter, softened
1 teaspoon Kernel Season's White Cheddar Seasoning
1 ½ cups gluten free flour
1 teaspoon xanthan gum
2 teaspoons baking powder
½ teaspoon salt
1 egg white
Instructions
Preheat the oven to 400F and line 2 baking sheets with parchment paper or silicone baking liners.
Using a food processor pulse the butter, cheese, and Kernel Season's until smooth.
Add xanthan gum, baking powder, salt, and flour and pulse until combined.
Add the egg white and pulse until a smooth dough forms.
Divide the dough in half, and place each half onto a sheet of plastic wrap and form it into a rectangle. Wrap it in the plastic wrap and chill for at least 15 minutes in the freezer.
Once the dough is chilled unwrap each half and place in the center of the lined baking sheet. Place a sheet of plastic wrap on top of the dough and roll it out until it is approx. ⅛" thick (roll it out until it about covers the entire bottom of the pan.) Repeat for the other dough and pan.
Cut the dough into 1 ½" squares using a dull pizza cutter or butter knife. (don't want to ruin your silpat!) Poke a small hole in the center of each cracker using a toothpick, or the tine of a fork.
Lightly brush with milk and immediately sprinkle with more Kernel Season's (optional.)
Bake in your preheated oven for 6-8 minutes, or until the edges begin to brown, rotating the pan every 2 minutes so it bakes evenly.
Remove the crackers from the oven, turn the oven off, and let the crackers cool slightly (about 5-10 minutes.) Break the crackers apart where you cut them, and slide them back into your oven (turned off) for another 5-10 minutes to help them crisp up.
Notes
If you don't have a food processor you can easily use an electric mixer, handheld or stand, or even mix everthing by hand. Food processor is just the easiest and quickest way to bring everything together so if you have one, now is the time to pull it out.
When rolling out the crackers I like to trim the scraggly edges, fold them over onto the edge of the dough, and roll them out until smooth. It helps you to have cleaner edges, and also prevents the edges from being way too thin and burning.
Try to roll the dough a little thinner in the middle of the pan, that will help with even baking.
Brushing with milk and sprinkling with more cheddar seasoning is completely optional. If you don't want to sprinkle with more seasoning DON'T BRUSH WITH MILK. The only reason I brushed them with milk was to adhere the seasoning, and you don't want to add unnecessary moisture if you don't have too. If you don't brush your crackers with milk they will only need a short trip in the oven the second time.
Nutrition Information
Yield

10
Serving Size

1 1/10th of a batch
Amount Per Serving
Calories

203
Total Fat

14g
Saturated Fat

8g
Trans Fat

0g
Unsaturated Fat

4g
Cholesterol

37mg
Sodium

402mg
Carbohydrates

15g
Fiber

1g
Sugar

0g
Protein

5g
All nutrition info is a guestimate and will vary depending on the ingredients you use.
Try my other cracker recipes...
Garlic Parmesan Crackers
Do you have any cracker making tips?