Instant pot stuffed turkey tenderloin means you can have Thanksgiving dinner all year-round! It's made in under an hour, and SO good.
Ever since I got my Instant Pot for Mother's Day this spring I have been using it several times a week for dinner. It really is a gift that has kept on giving!
I bought it for myself as a Mother's Day gift (shhh! That can be our secret, right?) There was a steal of a deal on Amazon and my sweet hubby is not only working full time, but also doing a full-time master's program.
Plus, the whole dad of 2 small children thing and the occasional need to sleep.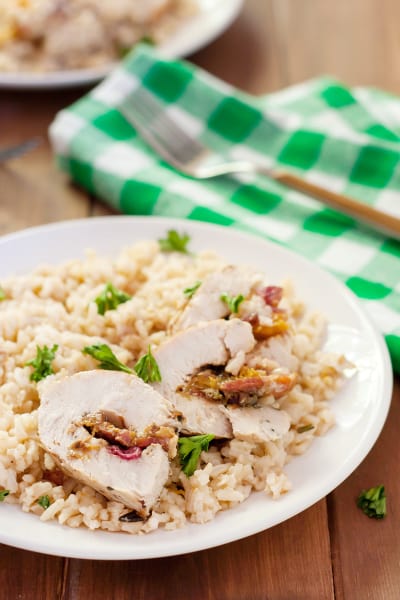 He came to me a few days before and apologized that Mother's Day wasn't going to be awesome that weekend. We were going out of town the day before, so we were traveling and weren't going to be able to celebrate like we normally did.
I just love the Instant Pot that I bought myself.
I did have a very nice Mother's Day. We were staying with friends, and my hubby got up with the kids so I could sleep in, and then our hosts cooked me breakfast! Crispy potatoes, sausage, scrambled eggs...
I digress!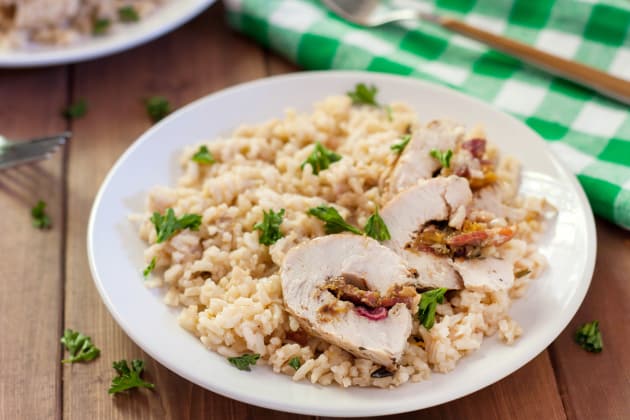 I love my instant pot because as a busy work-at-home mom with 2 small children, it saves my butt when dinner hour hits.
My very favorite thing about my instant pot is that I have the ability to sear meats or sauté veggies before sealing it up. It is a great way to add a lot of color and flavor to a dish and doesn't make any extra dishes!
I used my instant pot to sauté some frozen butternut squash and cranberries with a few slices of bacon and fresh rosemary. Then I butterflied a turkey tenderloin and spooned the butternut filling inside before rolling the tenderloin back up.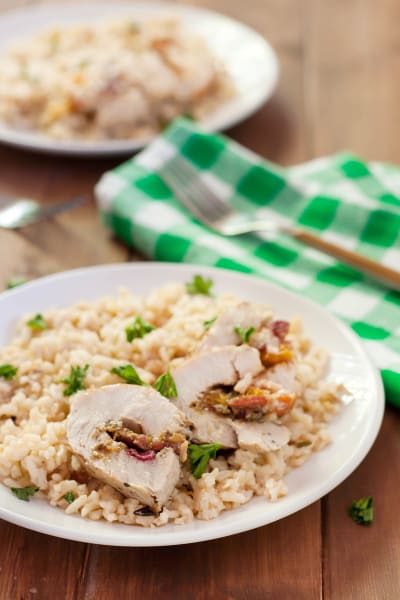 I kept it from opening by poking the hardy stem of my rosemary through the edge, but if you have some cooking twine that will be even easier.
I quickly seared the turkey, and then toasted a little rice in my Instant Pot before deglazing the pan with some white wine, adding water for the rice, and then sealing it up.
When I opened my Instant pot up about 20 minutes later, my kitchen smelled like I had spent hours slaving over a Thanksgiving dinner, but in reality, I had spent less than 30 for this one pot Instant pot meal!
If using your Instant Pot freed up some extra time, you can try making my friend Chandice's gluten-free crescent rolls. They are the perfect addition to your one-pot Thanksgiving feast!