Lemon Basil Salmon is perfect for date night, dinner with friends, or even for your fish-loving kids! It goes perfectly with a toasted gluten free baguette.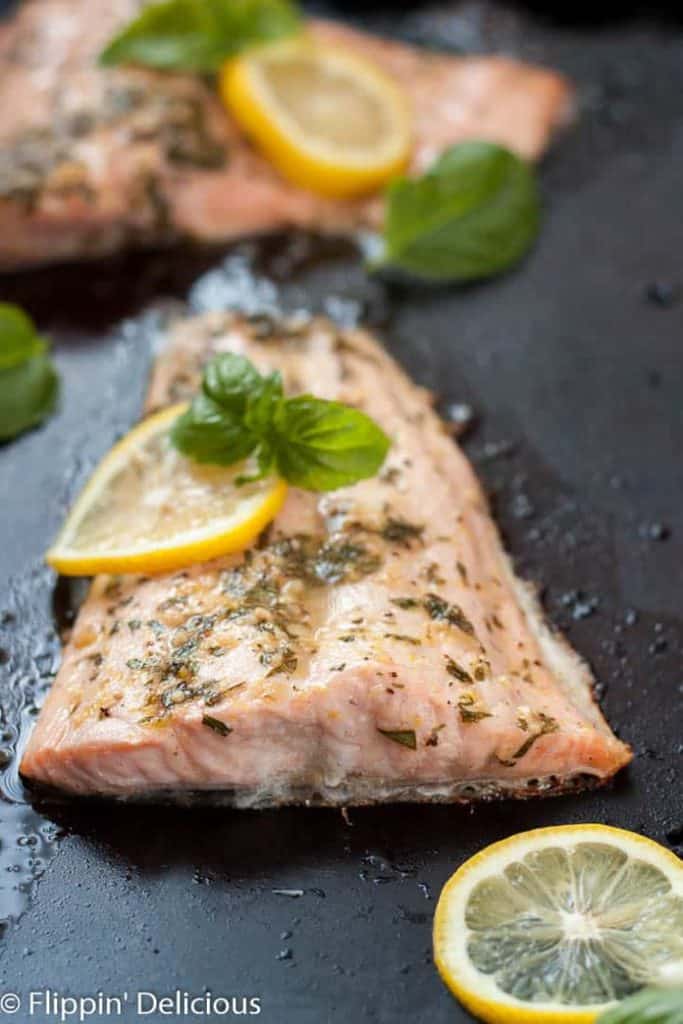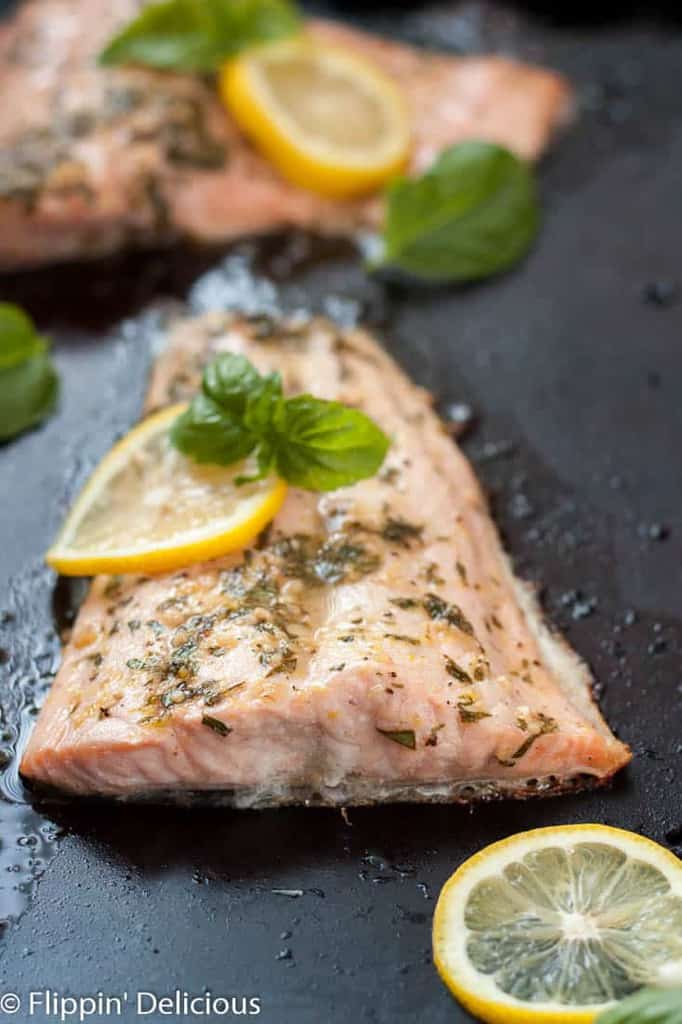 With two kids, it can sometimes be a long time between date nights in our house. Between getting a babysitter, and making plans, and the stress of leaving our kids, we put off date nights more often than we really should.
When we do have date nights, we usually opt for a date night at home, because it's easier and usually less expensive.
Just because you're having date night at home doesn't mean that it doesn't get to be romantic. I made this Lemon Basil Salmon, and I served it with a homemade charcuterie board with gluten free french bread, cheese, pickles, and capers.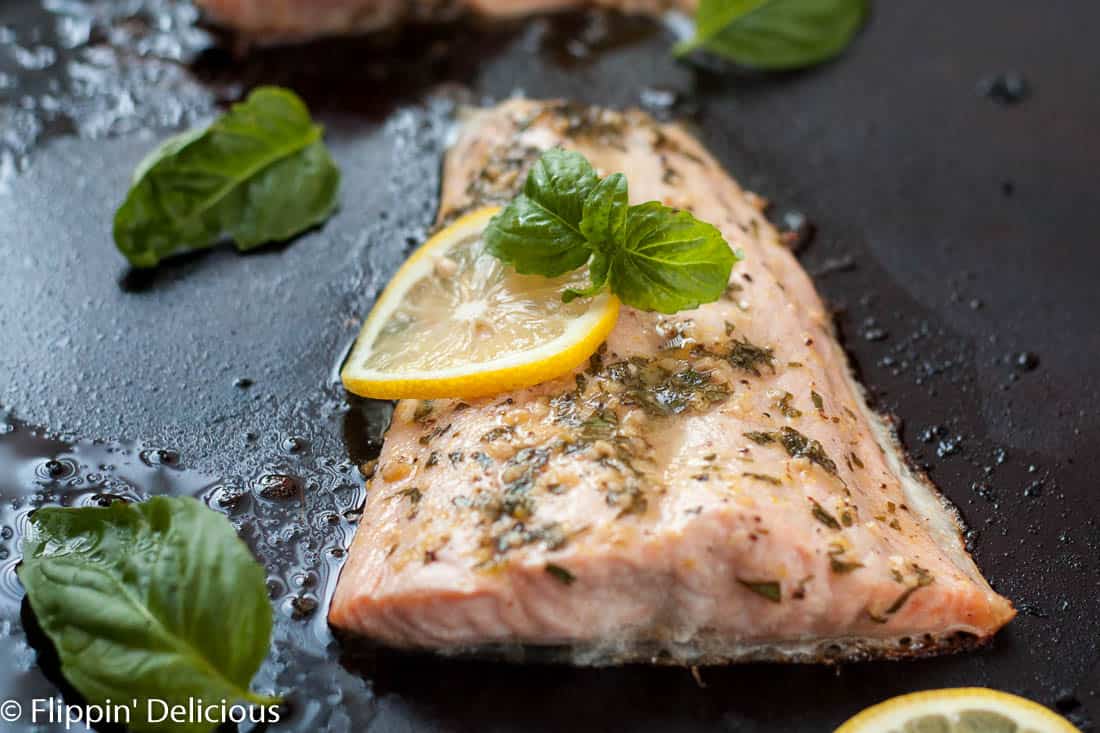 And of course, what is an at home date night without a few cocktails? Our favorites are my honey lavender margarita or my dairy free funfetti cocktail.
This lemon basil salmon recipe doesn't take that long to cook, and it doesn't require any marination. So you can broil the salmon, which only takes about 10 minutes, while you whip up a few cocktails and arrange your charcuterie board.
I let my husband tuck the kids in bed while I got everything set up for our date night. It took me less time than I expected, and I found myself sipping on my margarita while I waited for him to join me. Good thing I made a few extras.
The salmon is nice and buttery, and the flavors are really light and bright.
It's flaky, it's moist, and you could probably cut into it with a spoon.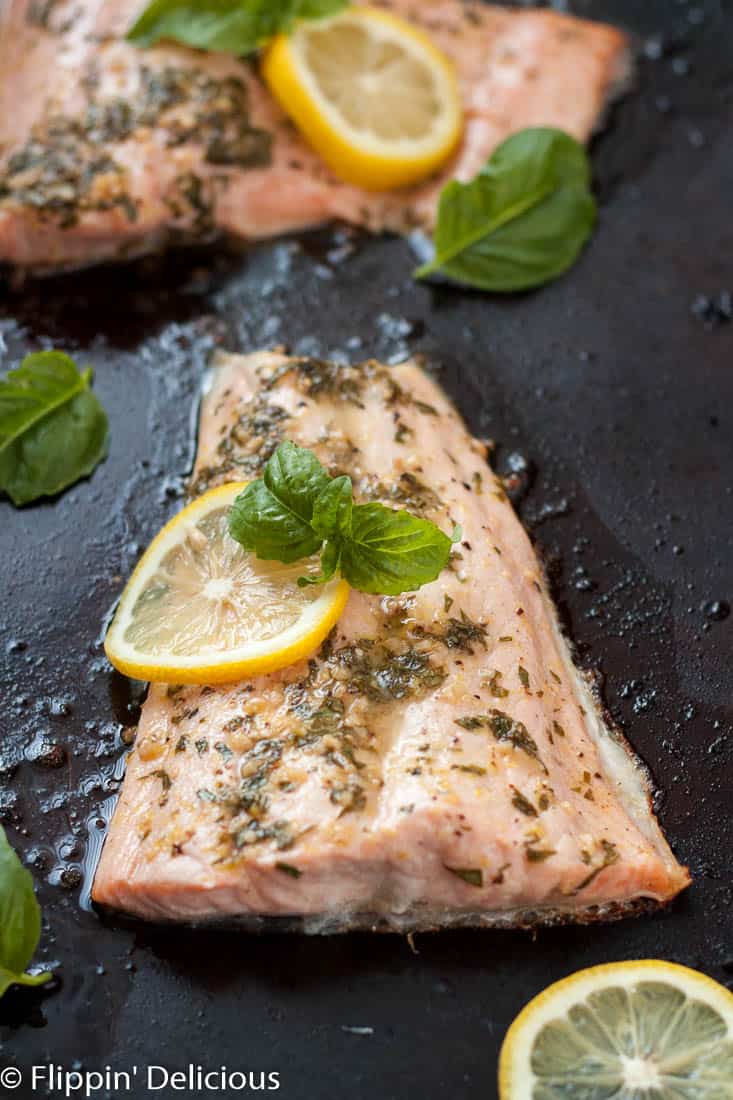 You can eat it plain, or you can put it on some toasted gluten free french bread and eat it that way. It's accompanied really well with some soft cheese like a brie or camembert, and the capers from our board provided a salty bite that compliments the light flavors of the basil salmon so well.
I think this lemon basil salmon recipe would also go great with some quinoa. I've been loving my friend Lindsay's post How to make Best Quinoa, it has tons of tips and tricks for cooking flavorful and fluffy quinoa.
You may also like this baked lemon garlic chicken, if you aren't a huge salmon fan. You can bake asparagus and potatoes with the chicken, making it a very easy meal, just like this lemon basil salmon recipe.