Packing lunchboxes can be a breeze with all of these nut free lunch ideas!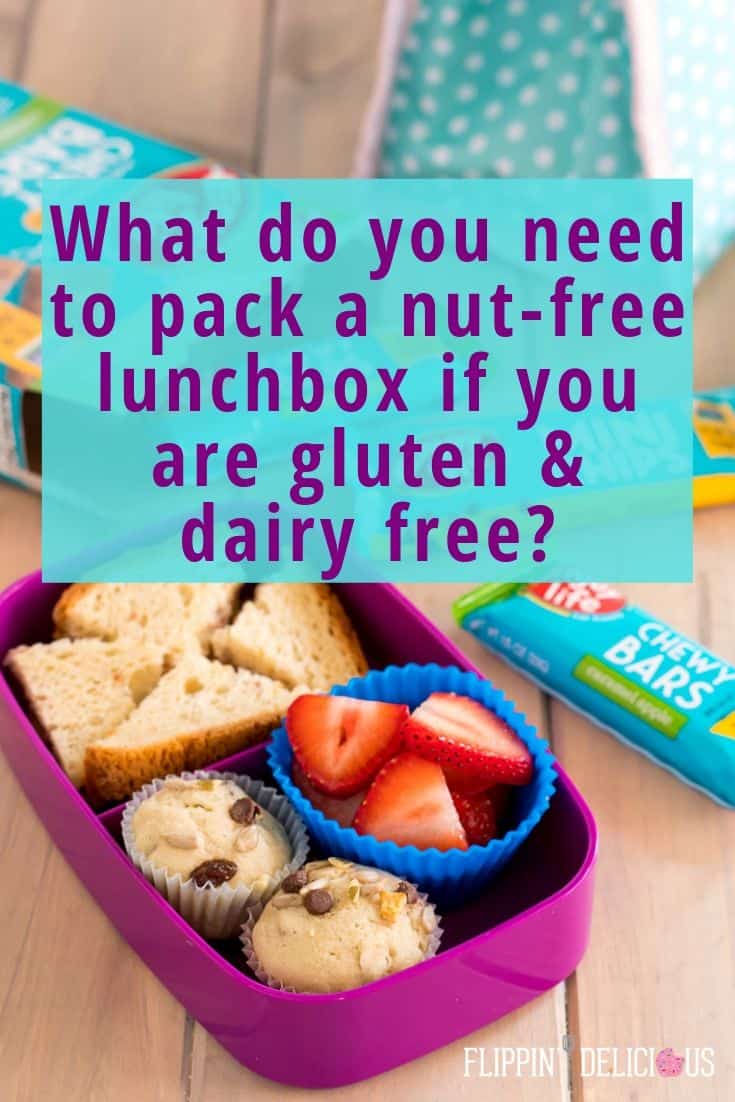 Even though I'm a pro at the allergy mom life, I felt a moment of panic when I learned at preschool orientation that the school was nut free.
I'm no newbie to the custom-eating allergy-friendly world. I've been gluten free for years. My family has been eating mostly dairy free for nearly four years for our youngest daughter. She has a dairy intolerance and suspected leaky gut.
I feel like at this point, I'm a pro at creative substitutions to make allergy friendly lunches.
And then my dairy-free preschooler starting attending a nut-free school.
That meant no almond milk. No almond milk yogurt. No more almond cheese! What could I send with my kid for a nut free lunch?
I figured if even I started madly googling for "nut free lunch box ideas" and scouring the aisles at our grocery store, there were probably other people (seasoned allergy parents or not) who may need some resources if their dairy free kids go to a nut free school.
So many of our go-to dairy substitutes had nuts, in them before, so we had to change the way we shopped for groceries so that I don't accidentally send her to school with something that has nuts in it.
Now we are nut-free lunch packing pros!
Now we are lunch-packing pros. We even have some allergy-friendly lunch boxes that fold flat into a placemat and are machine washable. Yep. Every week I can throw the entire lunchbox in the washer. They are also insulated, and super easy to use. That way I never have to worry about what was on the table before my kids sit down.
I use coconut milk or flax milk for all of our baking, and for my daughter's morning cereal so that if I make muffins, I can send them in my daughter's nut free lunches.
Keep reading below for some of my favorite allergy friendly lunch ideas and products. You can also check out all of the lunch recipes I've ever posted.
After a year in a nut-free preschool, I gathered all of our favorite nut free school lunch ideas and put them in one easy list for you. I have a few nut free lunch recipes as well as lots of our favorite products that we almost always have on hand.
A note on Soy-Free Nut-Free lunches
As a personal preference, I try to avoid too many dairy free subs that are soy based. We get so much soy in our diets, I don't want to add too it with a bunch of soy based milks and yogurts. Soy can mess with estrogen levels, and as a mom of two little girls I just try to limit it so we don't have way too much. We still enjoy plenty of soy-based products. I just don't want to rely on soy for all of our milk substitutes.
There are some products listed that are soy based. I tried to mark when they were made with soy. (I did not read labels in-depth for a soy allergy, I was looking for things that were mainly soy, like soy yogurt and soy milk.)
Many of the products and recipes listed below are soy-free, all except one are dairy-free (one brand of nut-free bars that I love so much, I had to mention) and all of them are gluten-free.