Quick & easy gluten free no bake cookies shaped into birds nest cookies with mini eggs. A fun and fest treat perfect for spring and Easter.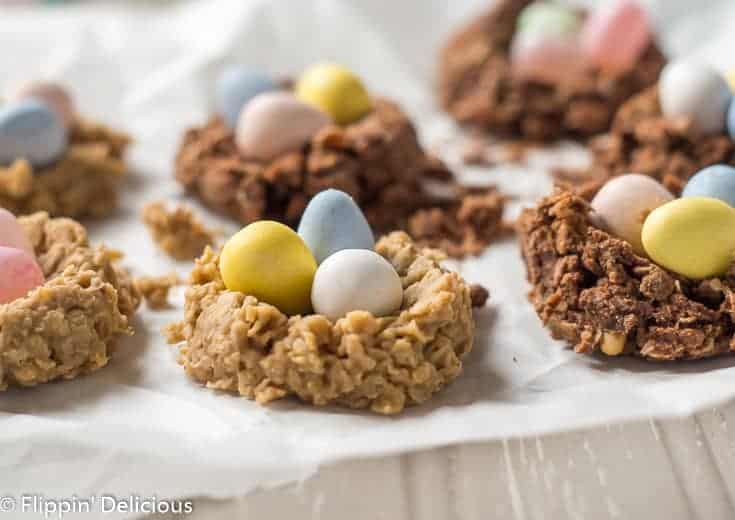 Gluten Free No Bake Birds Nest Cookies
I've always wanted to make an Easter Birds nest cookie recipe! They are fun to make with the kids, and they are fun to eat.
I wanted to make a really easy cookie recipe, that was gluten free and vegan so that everyone can enjoy it. I chose approachable pantry staple ingredients, so that you hopefully don't have to take an extra trip to the store to make them.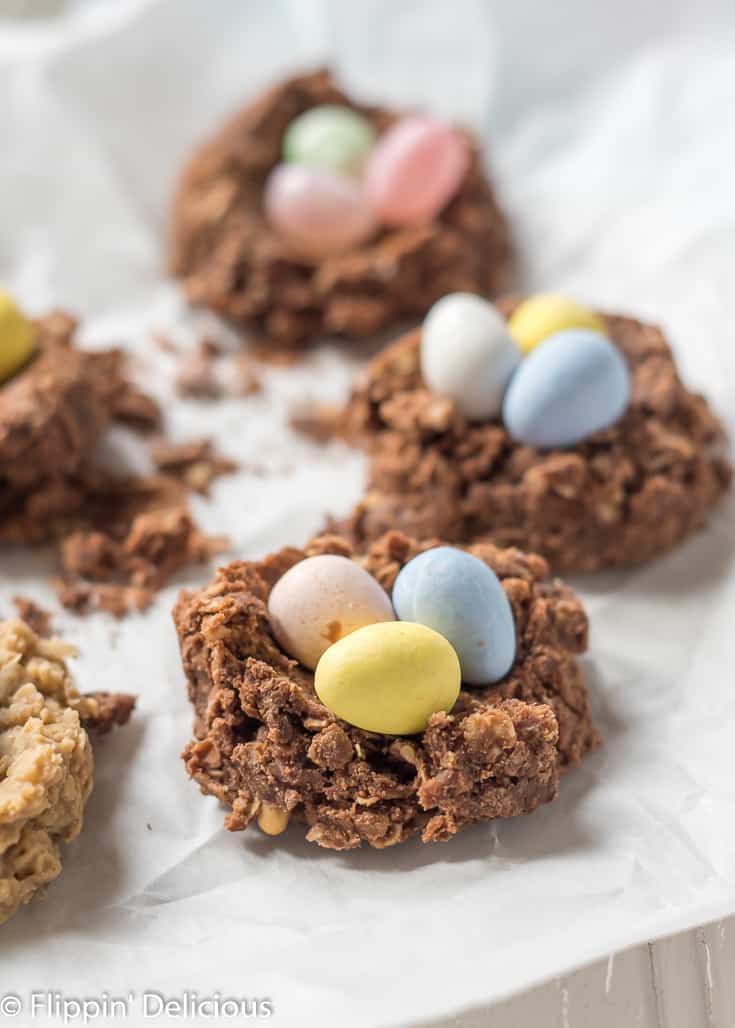 If you've never had gluten free no-bake cookies you are in for a treat! They were one of my favorites growing up.
They are more similar to a candy or fudge in some ways. You cook the sugar, oil, (cocoa powder, if using)and milk until it boils, and then add peanut butter, vanilla and oats. The mixture sets up as it cools into fudgy, sweet, no bake cookies.
I adapted my favorite gluten free peanut butter no bake cookies to be vegan and made them with sunflower seed butter so they are peanut free.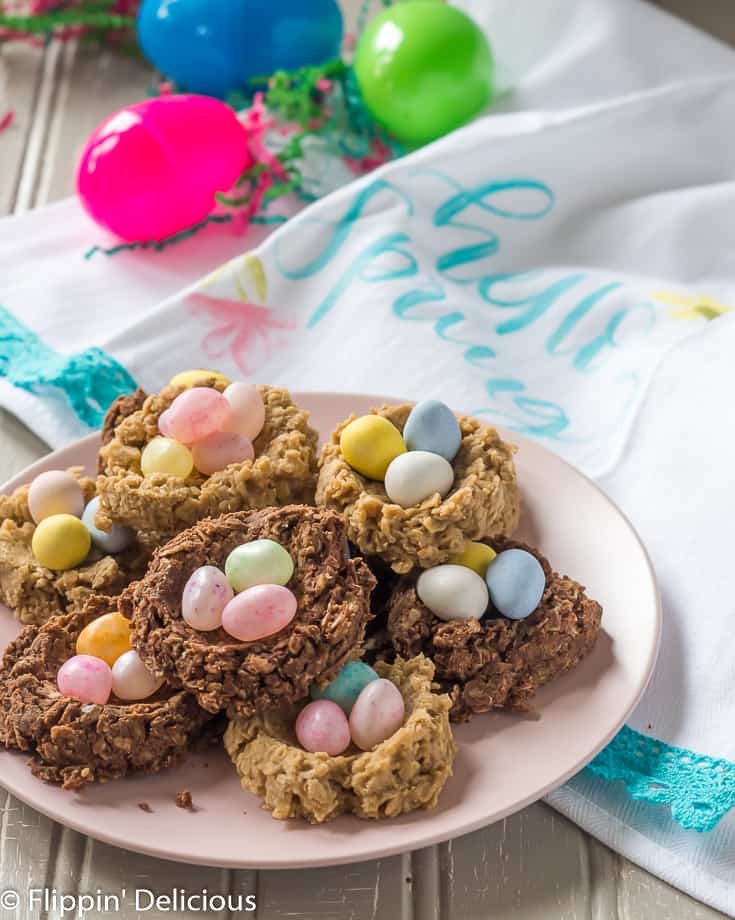 To make gluten free birds nest cookies you'll need:
White sugar. If you are out, brown sugar will work. A natural sugar substitute may not melt to make the cookies set up.
Coconut oil. You can use almost any cooking oil. I chose coconut oil, but avocado oil, canola oil, palm shortening, or vegetable oil should work just the same.
Dairy free milk. I used coconut milk beverage because it is what my preschooler drinks. You can use any non-dairy milk you have on hand. Dairy milk will work too.
Cocoa powder (optional). I used cocoa powder in some of my gluten free Easter egg nest cookies, and made some with just SunButter. If you use cocoa powder, the ingredient amounts are a little different because the cocoa powder makes the cookie mixture thicker, and it will set up very quickly. You'll need less gluten free oats.
Sunflower seed butter. I used SunButter Crunchy, but you can use creamy too. If you eat peanut butter in your home, any NOT all-natural peanut butter should work. If you have to store your peanut butter in the fridge to keep it from separating, you may have different results. I used SunButter because my daughter goes to a nut-free school, and I have a sister with a peanut allergy. As pictured, these Daster egg cookies are peanut free!
Gluten free oats. I used Zego's Exceptional Oats in my first batch, and then used GF Harvest in a later batch I tested. Zego's Exceptional Oats are not only purity protocol (the only oats safe for those with celiac, IMO) they are also tested for glysophate and there is a QR code on the back of each package so you can see all the test results for your oats (including gluten test). Exceptional Oats are also hull-less and very quick cooking. If you use GF Harvest, or another gluten free purity protocol oat in your gluten free no bake cookies, a quick oat will give you similar texture. If you want a less oaty cookie, use old fashioned gluten free oats and you'll have more "extra space" between the oats for the cookie base. You can try using part or all shredded coconut if you aren't a fan of oats.
Vanilla extract. It is all about the flavor, people! Vanilla makes a difference. You don't have to splurge on the good stuff, I used Rodelle's Bakers Extract which is a mix of Vanilla and Chocolate Extract. It rounded out the flavor perfectly.
Egg-shaped candies. Read on. I have lots of suggestions of candies to use in your no bake cookie birds nest.
What to use for eggs in birds nest cookies?
There are lots of fun egg-inspired candies that are gluten free and vegan, and perfect for nesting in your gluten-free Easter nest cookies. Just walk down the candy aisle and start reading ingredients to find some that work for you.
Jelly Eggs (what I used. These were made by Brach's and gluten free and vegan via ingredients)
Jelly Beans
Chocolate Eggs with a candy shell (I also used these. The ones I used were Cadbury brand. They were gluten free, but not dairy free and vegan)
Gummy eggs (I saw a Swedish Fish version this year. I bought them, but they didn't make it on my gluten free birds nest cookies.)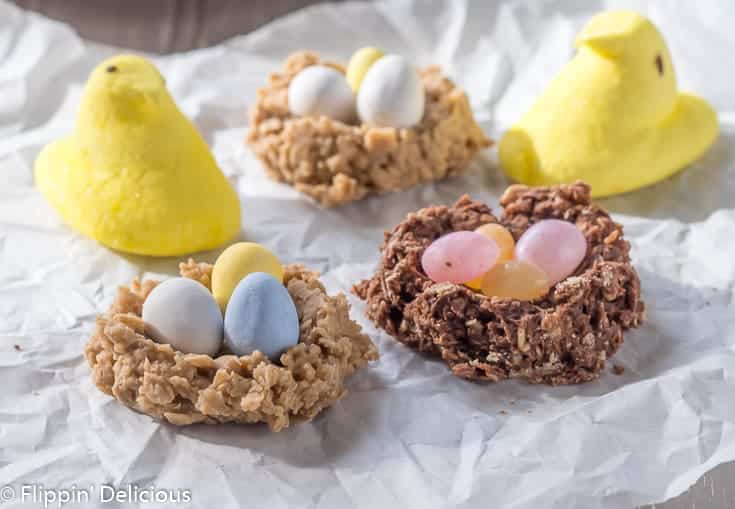 If you want to make more gluten free birds nest treats, check out my blogging and real-life friend's recipes for gluten free vegan macaroon nests and gluten free chocolate birds nest cupcakes.
How to make gluten free peanut free no bake cookies: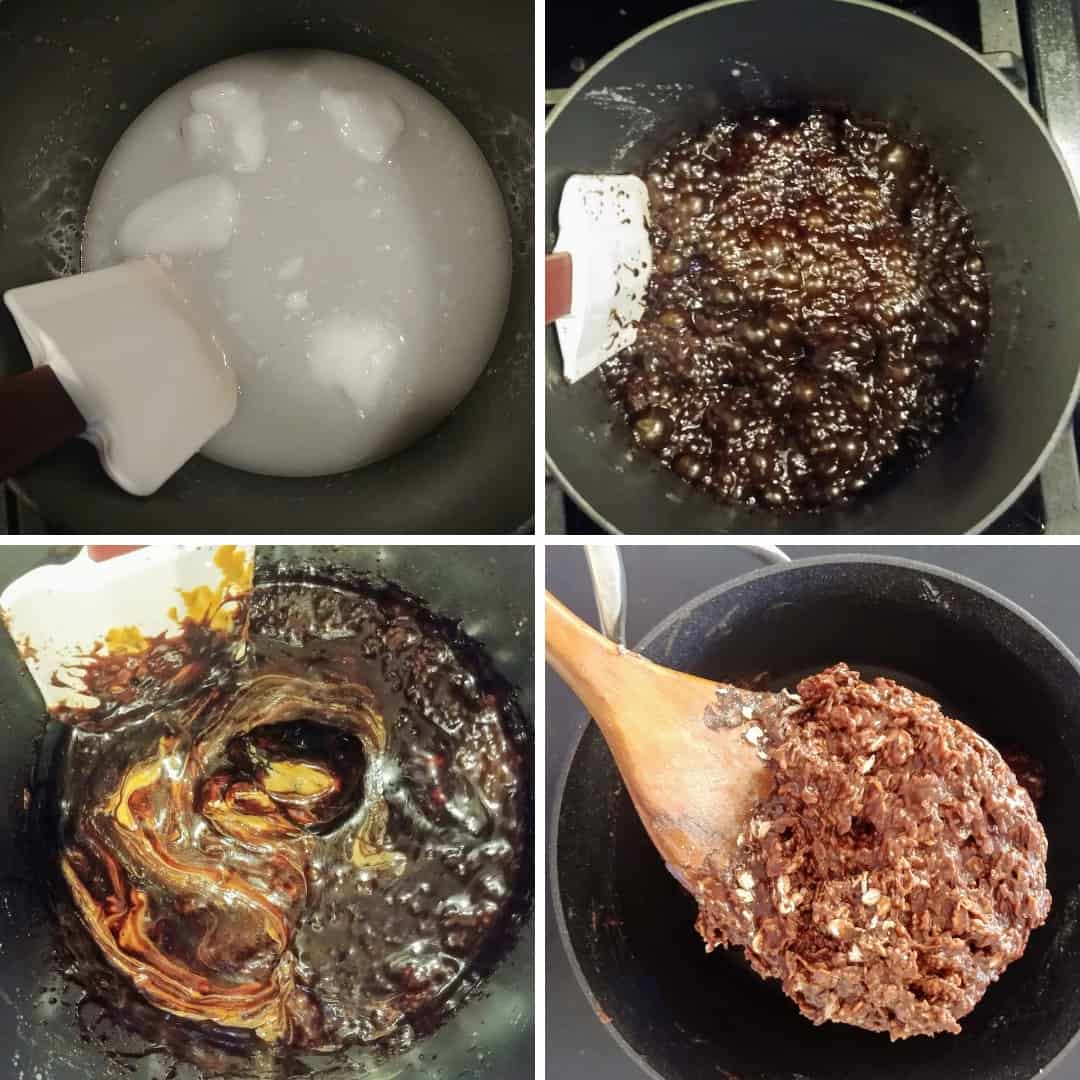 First, add your sugar, oil, and milk in a saucepan and bring it to a rolling boil. Set a timer to ensure if cooks to the correct sugar point so your vegan no bake cookies set up. I timed all of my batches for 3 minutes, which make them firmer and set up quickly. If you want a fudgier, more gooey cookie, time your sugar mixture between 2 minutes and 2 minutes 30 seconds.
Remove from heat, and add Sunflower Seed Butter (or peanut butter if you aren't making peanut free no bake cookies) and some vanilla. Adding the sunflower seed butter and vanilla now keeps the sunflower seeds from scorching, and helps to prevent the vanilla flavor evaporating away. Stir quickly. If it looks separated, add a little bit more milk and stir over low heat until it is smooth.
Finally, you add your gluten free oats and stir them in.
Working quickly, before your no-bake cookies set up, scoop your no bake cookie mixture onto a sheet or parchment paper or a silicone baking mat (something they won't stick to. Even plastic wrap works in a pinch.)
To make scooping easy, I used my medium cookie scoop but you can also use cereal spoons. Scoop with one cereal spoon, and scrape with another.
I lightly greased the back of my cookie scoop with palm shortening so the mixture wouldn't stick, and then pressed it into each cookie before it set to make the nest indentation. If you don't have a cookie scoop, lightly grease the back of a rounded tablespoon measuring spoon.
Working quickly before your no-bake cookies set, press your jelly eggs or chocolate eggs into the depression.
Add a peep or two (not vegan, but most are gluten free and dairy free) so that your gluten free birds nest cookies have some birds to keep the Easter eggs company.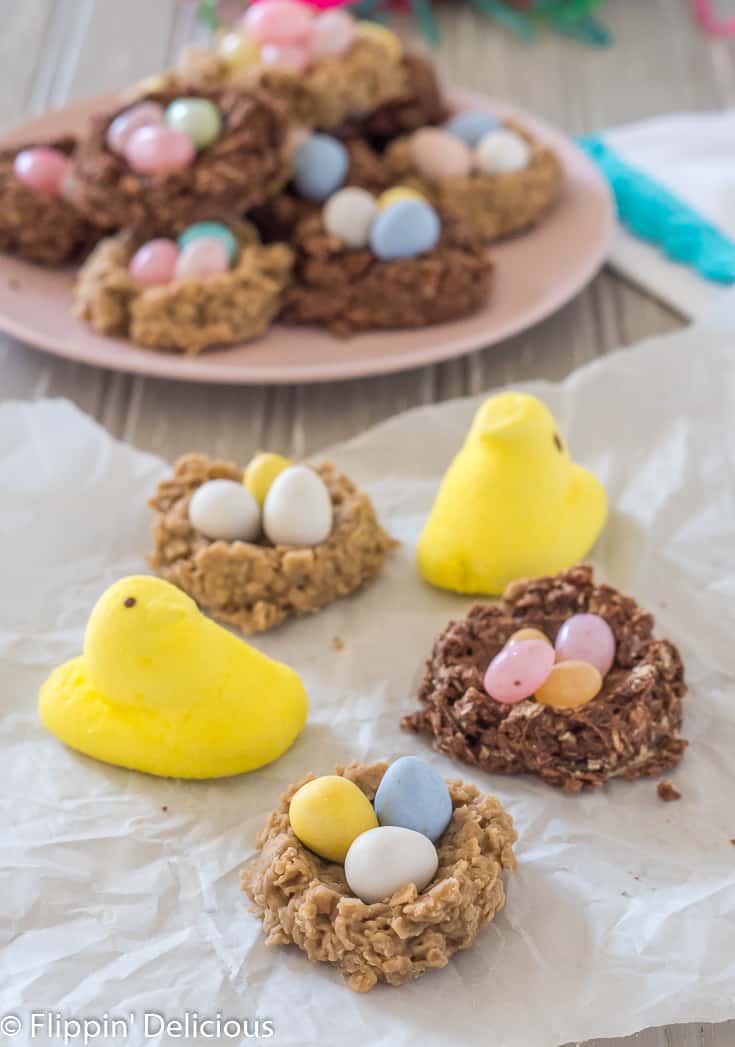 My kids made these cookies with me. They did almost everything besides using the stove on their own!
What if my gluten free no bake cookies don't set up?
If your cookies didn't set up, they probably didn't reach a high enough sugar point.
It could also be the kind of oats, or that you didn't add enough (quick oats will help the cookies set up better, old fashioned has more spaces for the sugar mixture between the rolled oats.)
Humidity can also be a factor, if there is a lot of moisture in the air you may need to boil your sugar mixture a little longer.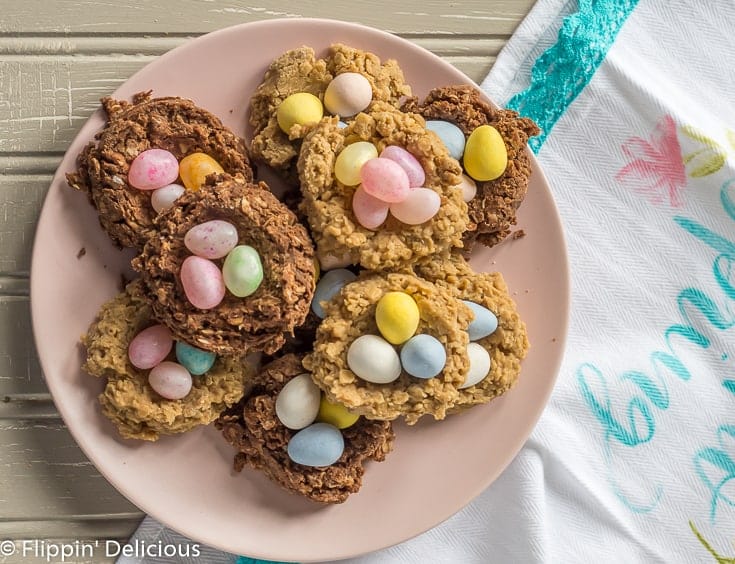 If your cookies aren't setting, try popping your cookies into the freezer to help them along.
They may be a bit gooey, but they'll still be yummy.
Next time you make them, boil the sugar mixture a little longer. Or stir in a little more gluten free oats. Or use gluten free quick oats instead of old-fashioned.
Want more cookie recipes like this one?
Check out my cookbook, Gluten-Free Cookies All Year Round, for more than 60 gluten-free & allergy friendly cookie recipes for every occasion.
📖 Recipe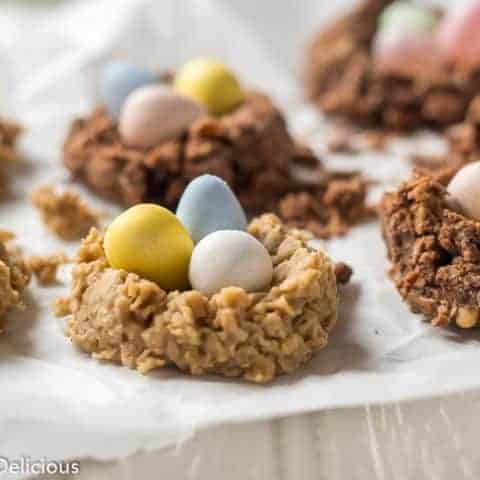 Vegan Gluten Free Birds Nest Cookies
Quick & easy gluten free no bake cookies shaped into birds nest cookies with mini eggs. A fun and fest treat perfect for spring and Easter.
Ingredients
1 cup white sugar
3 tablespoons coconut oil
¼ cup coconut milk
¼ teaspoon vanilla extract
½ cup sunflower seed butter
½ cup candy eggs, for decorating
Instructions
Line 2 baking sheets with silicone baking mats, parchment paper, or wax paper.
In a small/medium saucepan combine the sugar, coconut oil, coconut milk, and heat until it comes to a boil, stirring occasionally. Once it comes to a boil, continue to let it bubble for exactly 3 minutes while stirring occasionally. (for slightly fudgier cookies set the timer for 2 minutes 30 seconds).
Remove from heat and add the sunflower seed butter and vanilla and continue to stir until the SunButter is melted and combined. If it gets too thick, place it back over low heat for a minute.
Add the oats and stir until they are evenly coated.
Scoop the mixture onto the prepared baking sheets using a 1 ½ Tablespoon cookie scoop. Grease the back of your cookie scoop and use it to make an indentation in each cookie to form a birds nest.Quickly add candy eggs to decocrate your birds nest cookies.
Let the cookies sit undisturbed until they set. If it is really hot you can speed the process up by popping the cookies in the fridge or freezer.
Notes
Make sure you use gluten free oats that are purity protocol. Many gluten free oats, even those that are certified, may not be safe for those with celiac.
To make with dairy, use ¼ cup of butter and ¼ cup of milk.
To make with peanutbutter, use ½ cup of creamy peanut butter instead of the Sunflower Seed Butter.
TO MAKE CHOCOLATE BIRDS NEST COOKIES please use the recipe that follows this one, on this page. The amount of oats, and milk changes.
Recommended Products
As an Amazon Associate and member of other affiliate programs, I earn from qualifying purchases.
Nutrition Information
Yield

18
Serving Size

1 gluten free no bake cookie
Amount Per Serving
Calories

172
Total Fat

8g
Saturated Fat

3g
Trans Fat

0g
Unsaturated Fat

4g
Cholesterol

10mg
Sodium

31mg
Carbohydrates

24g
Fiber

1g
Sugar

16g
Protein

3g