Gluten Free Sandwich Cookies can be a fun "treat hack" to make with store-bought cookies and vegan oreo-style cream filling. With lots of sprinkles, of course.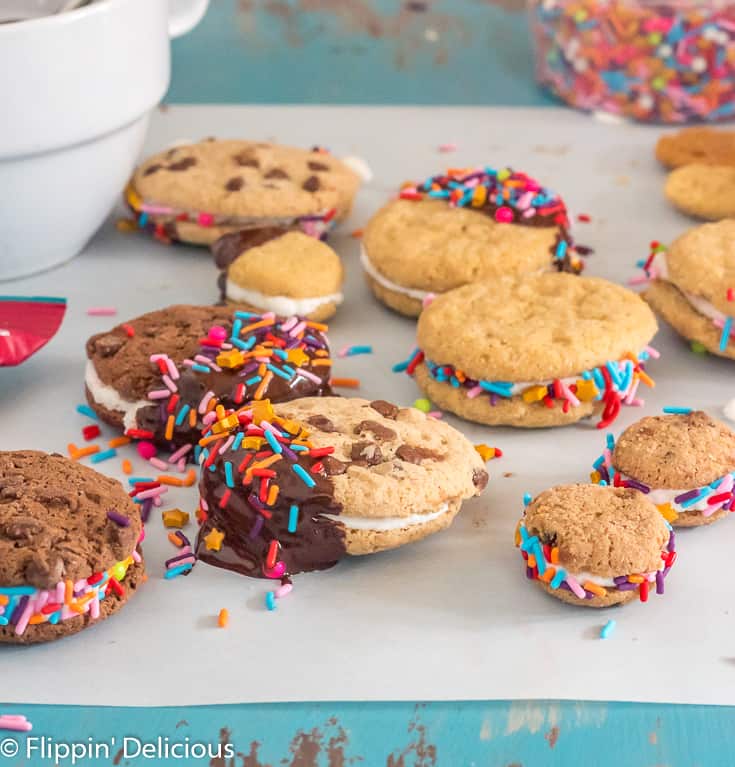 This post is sponsored by Enjoy Life Foods. As always, all opinions are entirely my own.
Sometimes you just want a gluten free sandwich cookie. Maybe you want that cookie to also be rolled in sprinkles and dipped in chocolate. Or dipped in chocolate and covered in sprinkles.
If you are like our family, you are juggling multiple food allergies and dietary restrictions. That can sometimes weigh heavy on your heart.
"You can't eat that." "No, that will make you sick."
It isn't fun to tell anyone that. Let alone a little kid.
The whole reason I started Flippin' Delicious was to help others celebrate the food they can enjoy.
Gluten free food can be "Flippin' Delicious". You and I both don't need to be deprived of anything just because we eat gluten free (or dairy free, or peanut-free, or nut-free.)
Instead of focusing on all the things you can't eat, focus on all the delicious things you can!
Like these cookies.
Taking a bite into one of these allergy friendly sandwich cookies just makes my heart happy.
I started filling and decorating these fun allergy friendly sandwich cookies, and then my kids quickly came and took over.
We had a fun little gluten free vegan sandwich cookie party! Everyone loved filling and decorating their own sandwich cookies!
I think it would be a lot of fun to do something like this for a birthday party, or other celebration!
It is worth celebrating all of the things we CAN enjoy, instead of just focusing on the things we can't eat.
How to make gluten free sandwich cookies?
You can use almost any gluten free cookie to make sandwich cookies. To make my life easy, we used Enjoy Life Food's Crunchy Cookies. The kids especially loved using Enjoy Life's Mini Cookies to make fun-size gluten free sandwich cookies! I love that Enjoy Life's products are all free of 14 common allergens.
I chose Enjoy Life's Crunchy Cookies because they are easy for us to find, and the crunchy cookies absorb a little moisture from the frosting to make the perfect vegan sandwich cookies.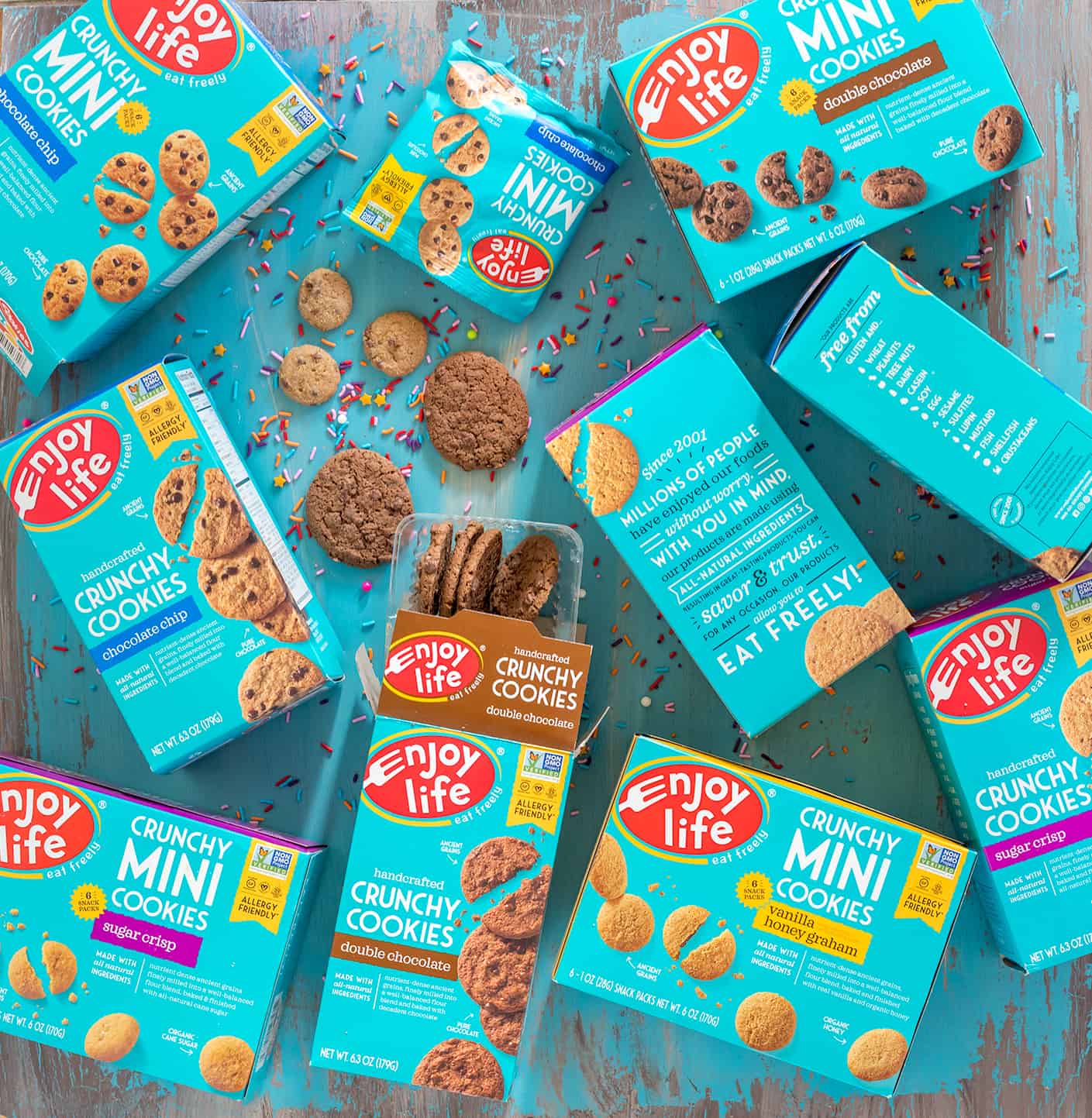 They are made with whole grains, no artificial ingredients, have strict allergy testing, are certified gluten free, verified non-gmo, certified kosher, and are made with real chocolate. Real chocolate that is dairy free, vegan, and paleo.
Not only are most people able to eat Enjoy Life's Cookies, they are also delicious.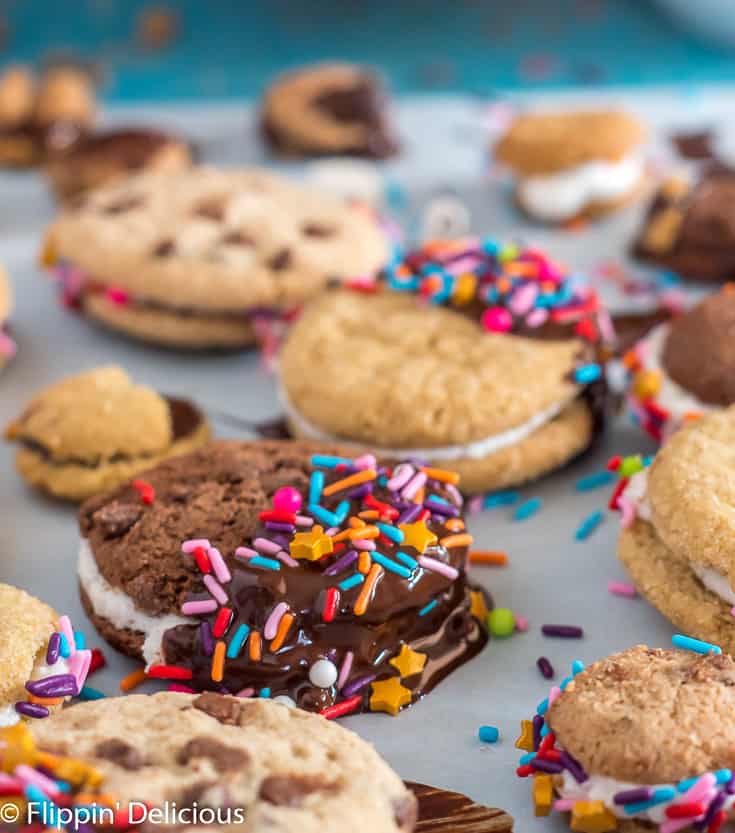 They also have chocolate! Or at least the Chocolate Chip Crunchy Cookies and Double Chocolate Chip Crunchy Cookies do. We added some melted Enjoy Life Dark Chocolate Morsels to the Sugar Crisp and Vanilla Honey Graham Cookies, because everyone should celebrate dairy free, vegan, real chocolate!
I've also made oreo-cream sandwich cookies using my gluten free chocolate chip cookies. They are so indulgent and incredible!
You can also make sandwich cookies using my Gluten Free Double Chocolate Chip Cookie Recipe I created in partnership with Enjoy Life, using their baking chocolate.
How do you make vegan oreo filling for sandwich cookies?
The dairy free oreo filling is super easy to make. I adapted the recipe from my homemade gluten free oreo cookies in my cookbook, The Essential Gluten Free Cookie Guide.
To make the vegan oreo filling you only need 4 ingredients:
Shortening- I used palm shortening, but you can use a different shortening if you prefer.
Powdered Sugar- You can use a corn-free powdered sugar if you need, they are out there!
Vanilla Extract- Just a touch of real vanilla makes this oreo-style filling better than what comes out of an actual oreo.
Hot water- Not that this should really count as an ingredient, but you do need just a little bit of hot water to bring the frosting together.
Making the frosting is as easy as beating the shortening and powdered sugar together, and then adding the vanilla and hot water and whipping until smooth. You'll have a very thick, oreo-style filling for your gluten free sandwich cookies.
If you'd prefer more of a buttercream frosting filling, you can use my vegan frosting instead
How to fill gluten free sandwich cookies with oreo-style cream frosting?
Because it is so thick, I've found the easiest way to fill your cookies is to use a piping bag, or a plastic sandwich bag with the corner snipped off. It is less messy and easier than using a knife.
You don't need to smooth the frosting at all. Just gently press another cookie on top.
To illustrate how fool-proof it is, here is my oldest showing my youngest how to fill a sandwich cookie with oreo cream.
Any my youngest piping filling onto a cookie, mostly by herself. Of course her big sister was right there to help, not that she needed it. She filled plenty of gluten free sandwich cookies all on her own.
If my little girls can do it, you can too!
How do you dip sandwich cookies in chocolate?
Now it is time to decorate!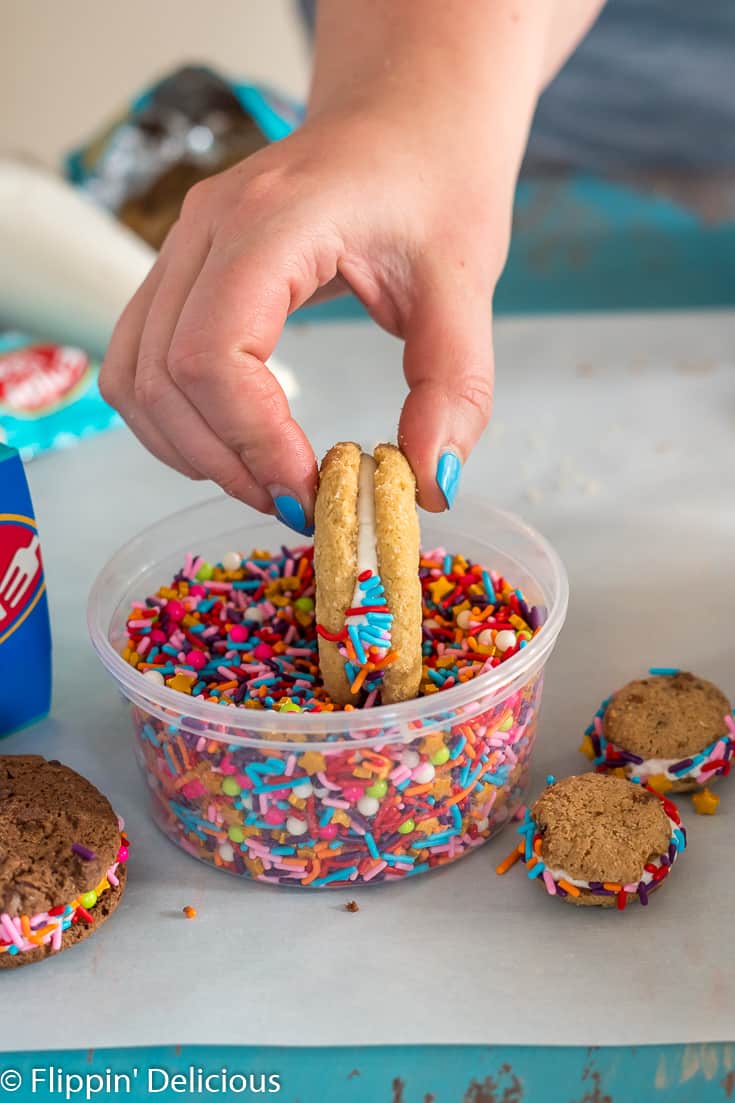 We rolled the exposed frosting edges of some cookies in sprinkles. Not only does this make them fun and festive (all in the spirit of celebrating all of the good things we can eat) it also keeps the filling from sticking the cookies to each other.
Don't forget the Mini Cookies!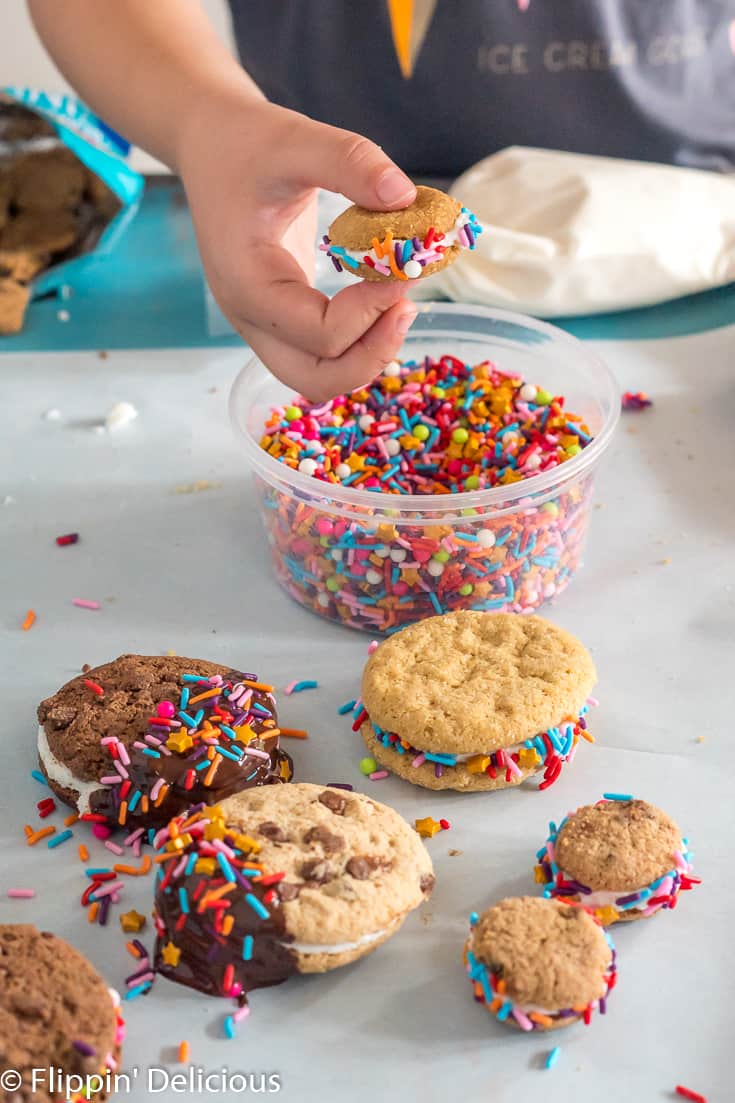 To make chocolate for dipping your gluten free cookies, place ½ cup of Enjoy Life's Dark Chocolate Morsels (or Mega Chunks or Mini Chips, your choice) in a microwave safe bowl with a teaspoon of coconut oil or palm shortening and heat in 30 second increments until melted.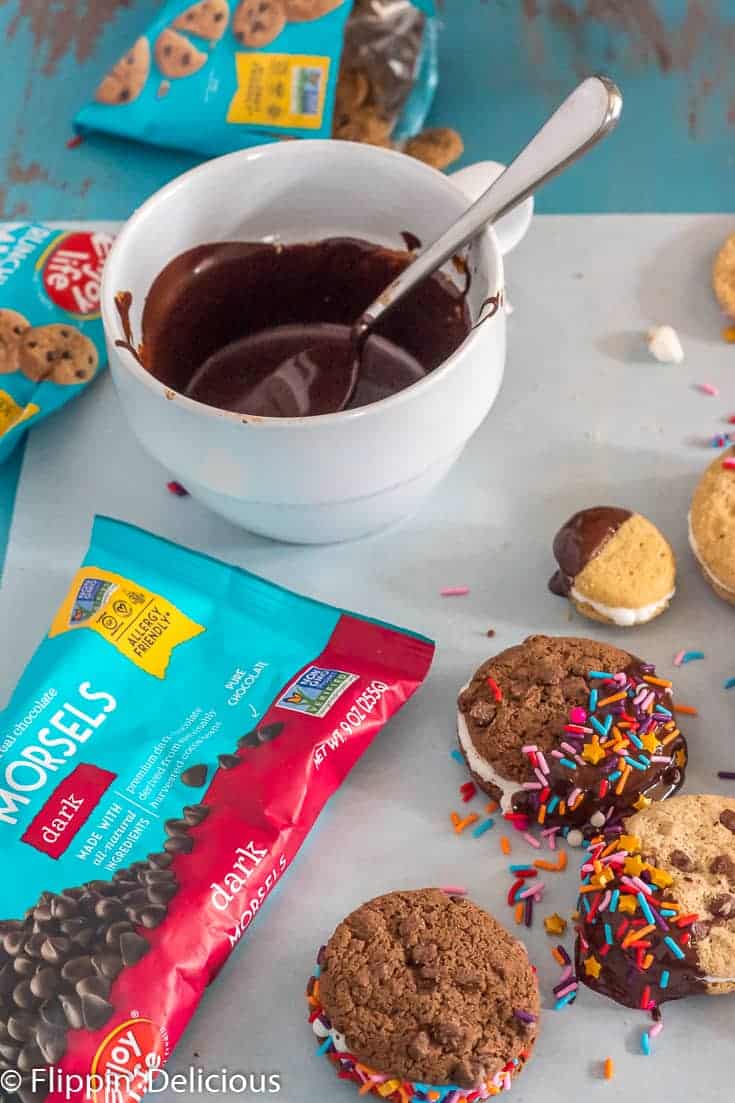 Ideally, you stop heating while there are still a few un-melted pieces, and stir until it is fully melted. This will help your chocolate to set up smoothly. I heated my chocolate for 1 minute and 15 seconds total.
Holding one side of your filled gluten free sandwich cookie, dip into chocolate and let the excess fall off as you gently shake it. Place your chocolate dipped sandwich cookies on a piece of wax or parchment paper and sprinkle with sprinkles before it sets.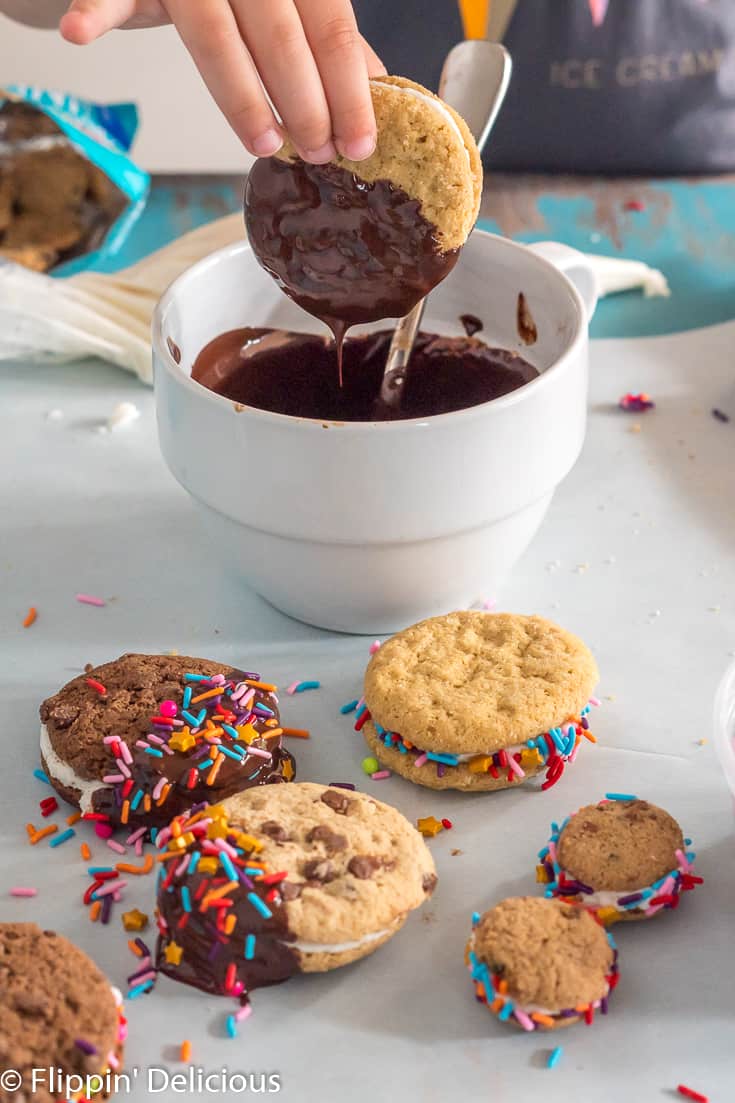 Don't forget to add sprinkles before the chocolate sets.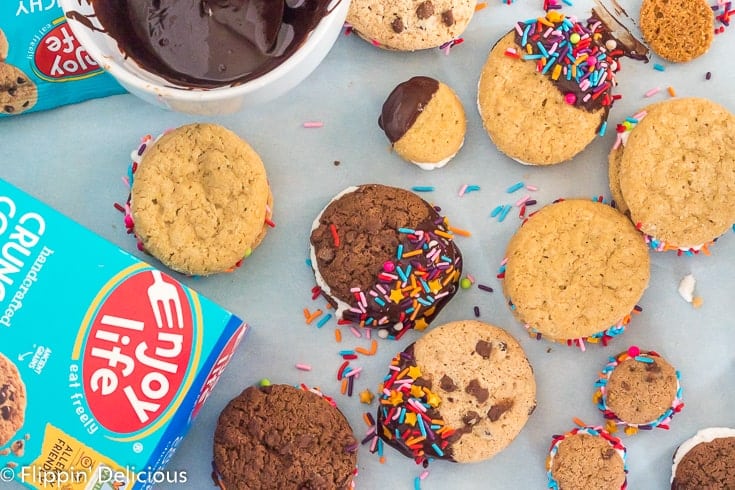 If you want more recipes using Enjoy Life Food's Crunchy Cookies, I think you'll love my friend Michelle's S'mores Sandwich Cookies and my friend Margaret's Mud Pie.
Want more cookie recipes like this one?
Check out my cookbook, Gluten-Free Cookies All Year Round, for more than 60 gluten-free & allergy friendly cookie recipes for every occasion.
📖 Recipe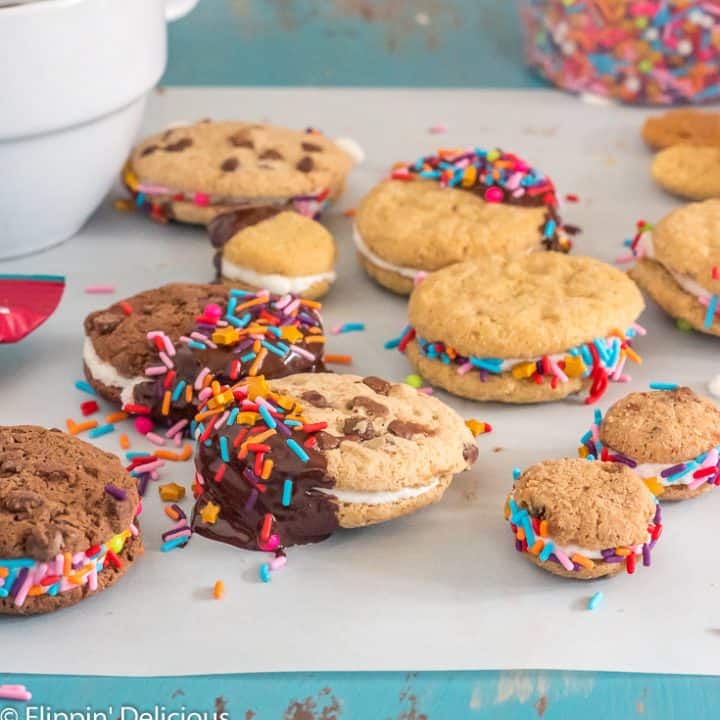 Gluten Free Sandwich Cookies
Yield:
21 gluten free sandwich cookies
Easy gluten free sandwich cookies that start with store bought cookies. Filled with oreo-style cream filling and dipped in chocolate and covered in sprinkles, these semi-homemade sandwich cookies and fun, colorful, and tasty!
Ingredients
Cookies and Chocolate
1 teaspoon palm shortening
¼ cup sprinkles
Vegan Oreo Cream Frosting
¼ cup shortening
1 ½ cups powdered sugar
1 teaspoon vanilla extract
1 tablespon hot water
Instructions
To make the Oreo-style cream filling:
Beat the shortening until fluffy.
Add the powdered sugar, and beat until combined.
Add the vanilla extract and hot water, and beat until you have a smooth and creamy frosting.
Place the frosting into a piping bag, or sandwich bag with the corner snipped off.
To make the dipping chocolate:
Place the baking chocolate and palm shortening in a small microwave safe bowl.
Heat for 30 second increments in the microwave, stirring between increments, until smooth. It took me about 1 minute 15 seconds.
To make the gluten free sandwich cookies:
Place one cookie upside down, squeeze oreo filling in an even layer, and then top with another cookie.
If desired, roll the exposed filling edges in sprinkles, or dip sandwich cookies in halfway in melted chocolate and sprinkle with sprinkles.
Recommended Products
As an Amazon Associate and member of other affiliate programs, I earn from qualifying purchases.
Nutrition Information
Yield

21
Serving Size

1 gluten free sandwich cookie dipped in chocolate
Amount Per Serving
Calories

93
Total Fat

5g
Saturated Fat

2g
Trans Fat

0g
Unsaturated Fat

3g
Cholesterol

1mg
Sodium

6mg
Carbohydrates

11g
Fiber

1g
Sugar

9g
Protein

1g