Have you ever wondered, hat dairy free milks are good for making lattes and cappuccinos? what dairy free milks will actually froth well? Whether you are living plant-based, or if you have a dairy allergy, you still crave a smooth and frothy dairy free or vegan latte or cappuccino.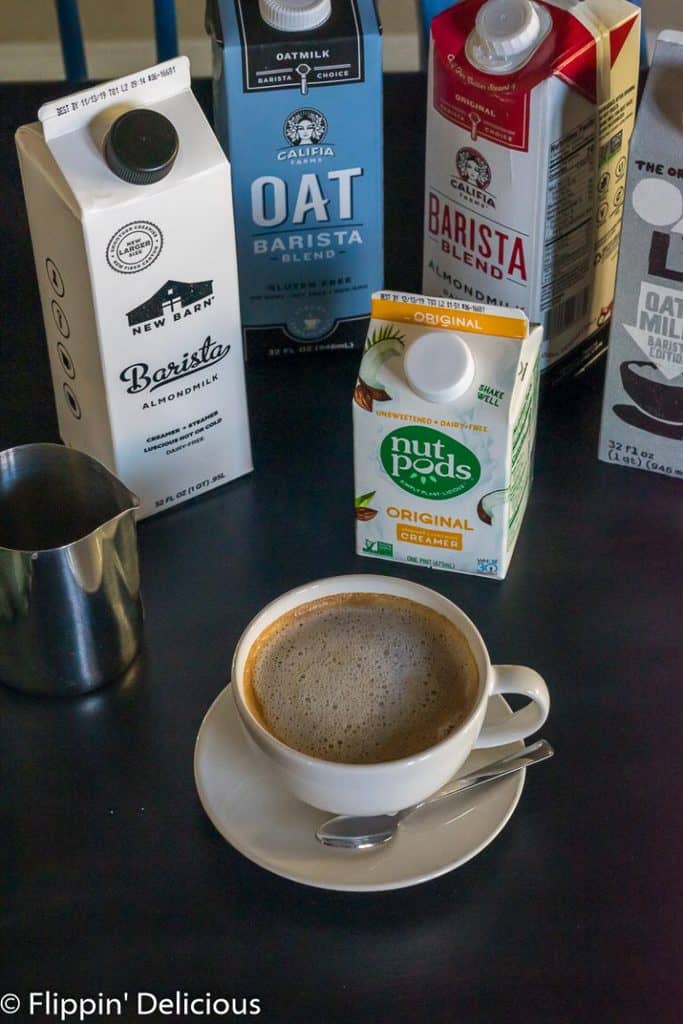 And if you experience has been anything like mine, you've settled for many thin, watery, or bitter lattes. They just miss the mark!
About a year ago, I sent out on a mission to find the best milk to make the best dairy free latte!
With the plant-based revolution happening right now, there is a growing number of plant-based and dairy-free "barista" milks.
In general, those "Barista" milks foam better than the drinking milks. And actually, unsweetened vegan creamers foam really well, and give you more of the silky mouthfeel of a dairy latte because they are thicker and have a higher fat content (generally).
If you want a dairy free creamer, I have a recipe for a homemade dairy free sugar cookie cream and dairy free chocolate peppermint creamer I think you'll love!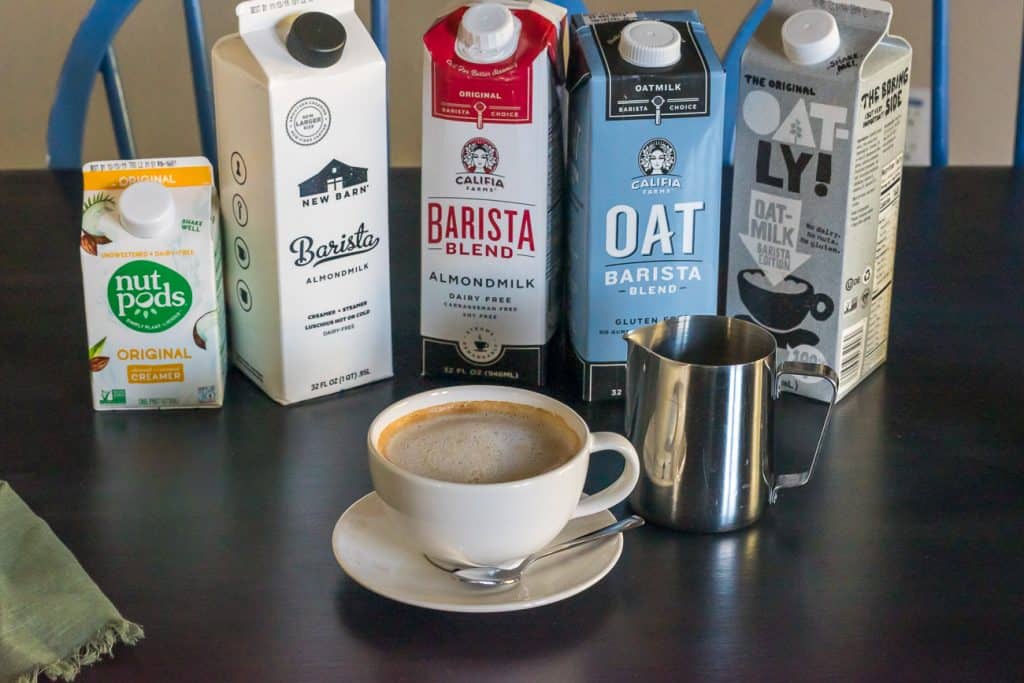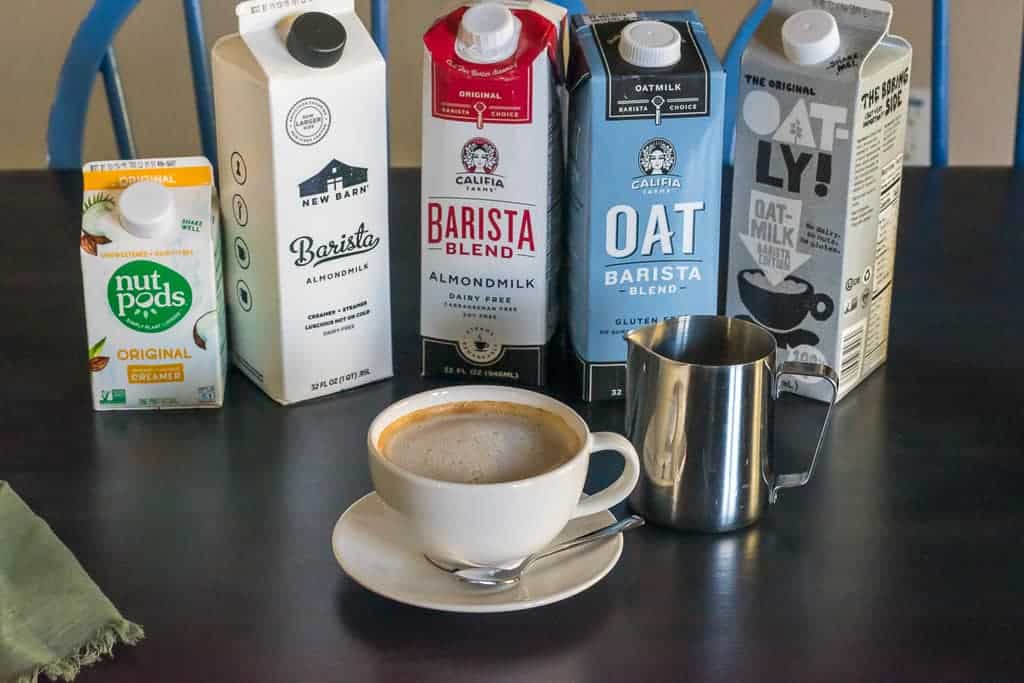 where to buy dairy free and vegan milk for lattes?
I went to Sprouts and Whole Foods, and scoured the internet and asked every vegan friend I had. And then I tried them ALL!
Generally, you can find many of the best dairy free barista milks online (and I've got links to them all below) but some can only be found at local stores and aren't shipped. I've tried to note on each vegan barista milk where I found it.
Here are the ranked results of more than a year of testing dairy free milks.
Best Dairy Free & Plant Based milks for lattes and cappuccinos
Photo Credit: www.amazon.com
I'd had a ranked list in my head for months when I first saw Ripple Barista at my local sprouts, and decided to try it. It instantly rose to the top of my list! And here is why.... taste. Every other dairy free latte milk tastes like something. Like almond, or oats or coconut;. To me, Ripple's Barista blend tastes really close to regular milk from a cow that moos. It foams easily, even getting a microfoam for a latte or dry from for a cappuccino. It has the perfect mouthfeel!
Ripple Barista is vegan dairy free, nut-free, and gluten free. It is made with pea protein, which is pretty nifty. Each serving has 6g of plant based protein.
The drawbacks, some people with peanut allergies cross-react to pea protein (and more and more people are developing pea allergies.) If you are one of these people, it wouldn't work for you.
It is a bit more expensive than many of the other options. At my local store is was almost $6 for one carton, and that made me 4-5 lattes. Pretty steep price! On Amazon I found a six pack, but it wasn't any cheaper. If you ever find it on sale, definitely grab it!
Photo Credit: www.newbarnorganics.com
The only reason that this is not #1 is that it tastes like almonds, and it tastes like almonds in the best way. At my first sip of a New Barn Barista Almondmilk Latte I though, "THIS is what I thought an almond milk latte would taste like." It is smooth, creamy, and froths beautifully.
New Barn Barista is really neck and neck with Ripple Barista, but Ripple wins on the technicality that it doesn't have a "taste".
New Barn Barista Almondmilk is dairy free, vegan, and gluten-free.
Their almonds are dry-farmed in Spain, meaning they use less water and it also gives them a flavor boost.
New Barn Barista is also a bit more affordable, you can buy a 6-pack on New Barn's website for $26, which works out to a little more than $4 a carton. If you can do Almonds, and like a real almond flavor, this would be my #1 pick for you.
Photo Credit: www.amazon.com
Nutpods is one of my hands-down favorites, and has been a staple in my kitchen for nearly a year. It is also low-carb, keto- paleo, in addition to being gluten-free, dairy-free, plant-based and vegan. It has no added sugar, and is made with coconut and almond.
I also LOVE the flavors. I stock up on Hazelnut and Caramel for my coffee, and buy Original to use instead of a splash of cream to savory recipes.
Because it is a creamer, and not a Barista milk, it is thicker which helps to create a fluffier, thicker foam and great mouthfeel (due to the higher fat content.)
I also LOVE adding a splash to my tea, or to a sparkling water to make a faux-Italian-soda. It is a great afternoon treat with no guilt!
I've also found Nutpods to have more of a neutral taste than the Barista Almondmilks on this list.
Nutpods is a little pricier than the Califia Farms Barista Almond Milk (which is next, and my other dairy free latte milk staple), but I still always have it on hand because it adds an incredible creaminess and great mouthfeel to my dairy free lattes. You can get a 4 pack on Amazon for about $15, but the containers are smaller. I usually can find a 4-pack at Homegoods for $10, and my Sprouts regularly has sales for 2 for $5 (which works out to $10 for 4).
Photo Credit: Flippin' Delicious
Yes, this isn't my #1 milk but it is the one I always keep on hand. Why? Califia Farms Almondmilk Barista Blend fits in my budget every week and it tastes great, and foams pretty well. It does have a subtle almond taste, which I like.
If you are like me, and are balancing a budget and also want to treat yo' self to a damn good latte, this may be the plant-based barista milk for you.
It is dairy free, vegan, plant-based, gluten free, and non GMO.
I can buy a 6 pack on Amazon for around $18, and there are often lightning deals. It is usually the Amazon Suggestion. If you buy online, you'll probably end up paying about $3 a carton.
Like I said before, this is the milk that I always have a case of. That says a lot!
ProTip: If you are using Califia Barista Almondmilk, use ⅓ to ½ of your favorite Nutpods for the best balance of flavor, consistency, and budget.
Photo Credit: www.amazon.com
I just discovered that my go-to barista milk comes in unsweetened. I'm a milk but not sugar kind of gal, so I can't wait to try it! I will updates as soon as I do!
Califia Farms Unsweetened Almondmilk Barista Blend is Dairy Free | Whole30 | Keto | Vegan | Plant Based | Nut Milk | Non-GMO.
All the Oatmilks
I decided that all the oatmilks deserve a list of their own. Oatmilk was the hot thing last year, but even though many are labeled gluten-free it can be tricky to know what their oat source is, and none that I have found are made from purity protocol oats, which means they are most likely made from mechanically sorted gluten-free oats. I've tried all of these, and oats are a great option so I wanted to include them. From my experience, they all foam similarily and I'm ranking them in my favorite order.
Photo Credit: happyplanet.com
I really loved Happy Planet's Barista Oatmilk, it tasted great, frothed well, and had a really nice creamy texture. It doesn't have any added sugar (like most Barista Oatmilks) which I love! It does have Sunflower Oil added.
It is a great neutral tastes, and really lets your favorite coffee beans shine.
Happy Planet's Barista Edition Oatmilk is made with gluten-free oats, however the finished product isn't certified gluten-free.
Photo Credit: Flippin' Delicious
I am a big Califia Farms fan. When I tried this Oatmilk at Expo West in March 2019, the barista who was giving samples whispered that it was her new favorite and go-to. Everyone used to have Oatly as their #1, but she liked Califia Farm's Barista Oatmilk even more. And I have to agree with that Barista!
Califia Barista Blend Oatmilk is unsweetened (which is a win in my book) and is Dairy Free, Sugar Free, Carrageenan Free, has No Gums or Stabilizers, is Non-GMO, Vegan, and Kosher.
Photo Credit: www.amazon.com
Oatly Barista is an industry fave, available at many coffee shops. And for good reason, it foams great and it tastes great. It just performs well!
It is dairy-free, vegan, plant-based, and has no added sugars.
It does have rapeseed/canola oil added to it. If you aren't a canola oil fan, try Happy Planet Oatmilk or Califia Farms, both use Sunflower Seed oil instead.
It says there is "no gluten" and I appreciate that on their website they link to the ingredient source, so many companies don't have the same transparency. I was unable to confirm from their website that either the oats or the finished Barista Oatmilk is certified gluten-free.