Dairy Free Gluten Free Red Velvet Donut Recipe- quick and easy to make, allergy friendly, and has all the classic red velvet flavors (including a dairy free cream cheese flavored glaze.) No frying needed, these red velvet donuts are baked!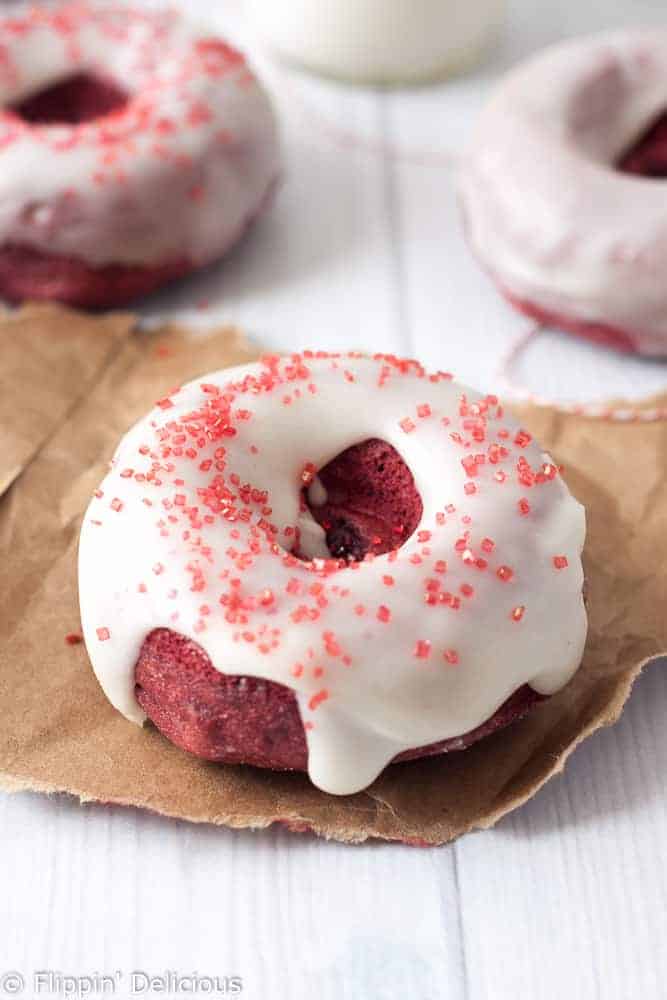 Gluten Free Red Velvet Donut Recipe
I am a HUGE fan of red velvet! I never had it until I was a teenager, but then I fell in love. 
Every year before Valentine's Day I add a few more gluten free red velvet recipes to my repitiore. Over the years, I have added many gluten free red velvet recipes to my website, including my gluten free red velvet cupcakes which are always a huge hit!
I've also added gluten free red velvet brownies and gluten free red velvet crinkle cookies, which are easy to bring along to class parties or Valentine's parties.
I just knew that I needed to add a dairy free gluten free red velvet donut recipe to Flippin' Delicious!
This gluten free baked red velvet donut recipe makes a moist and sweet baked red velvet donut, with a sweet and tangy cream cheese flavored glaze. They really are everything you love about frosted gluten free red velvet cake rolled into a cute little donut.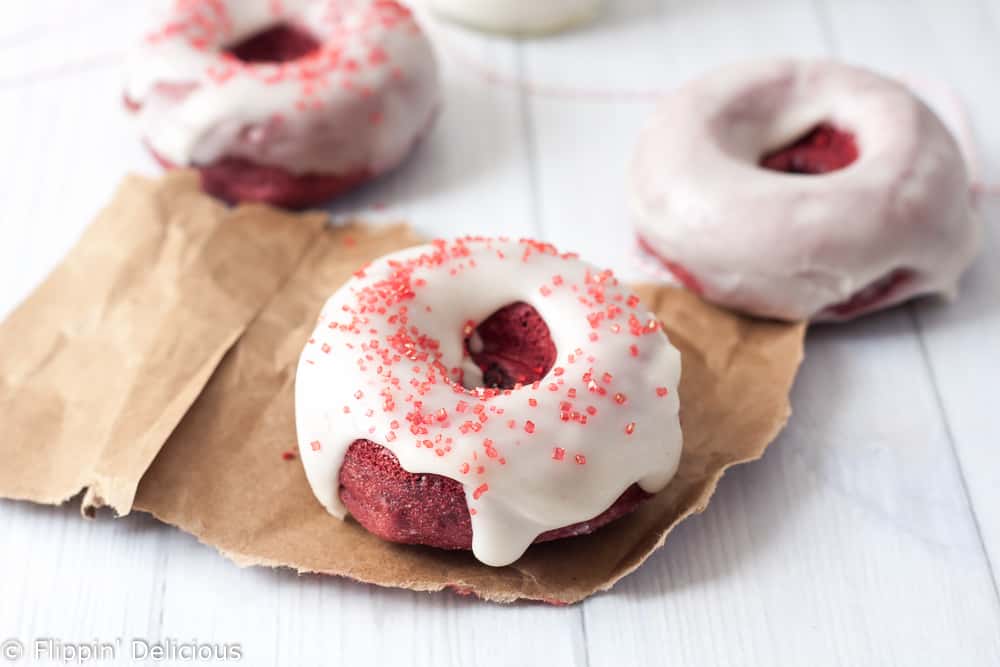 If you don't have a donut pan, buy one.
Why should you buy a donut pan?
It is a purchase that I have not regretted one bit! I love making baked gluten free donuts for breakfast on special occasions. Baking donuts is much easier, and less messy, than frying donuts yourself.
The pan was pretty inexpensive, and is so worth it. If you don't have a pan, and just can't wait to make these gluten free baked red velvet donuts, just bake them in a greased muffin tin. You won't have the iconic donut shape, but if you bake them in a mini muffin tin they are basically donut holes.
Once you buy a donut pan, you can also make these amazing Gluten-Free Cinnamon Sugar Donuts that my dear friend Chrystal from Gluten-Free Palate created. They are amazing! She made them for me for breakfast when I visited her last year.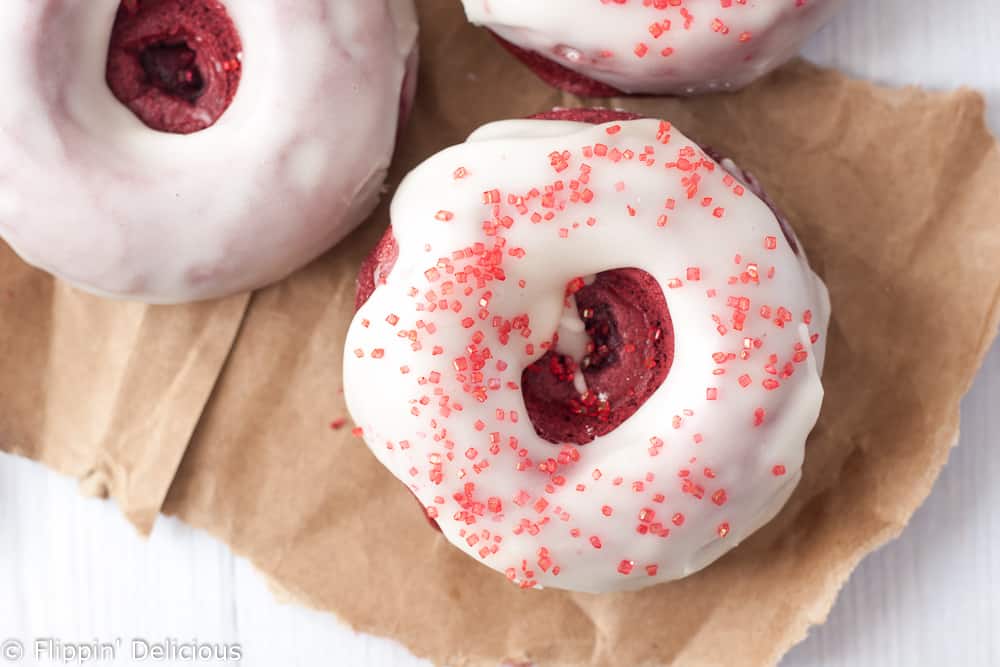 Gluten Free Red Velvet Recipes
For those of you who don't know, red velvet is a light chocolate cake flavored with vanilla and a slight tang from vinegar used to leaven the cake.
For me, red velvet is not complete without some cream cheese frosting. That is tricky when you are making a dairy free recipe, but I found an easy solution.
When making the batter I used my favorite coconut or nut milk and then when making the frosting I used some cheesecake flavoring that I had in my pantry from when I made my sister's red velvet wedding cake (I used the cheesecake flavoring in the buttercream to frost it because buttercream traveled so much better than cream cheese frosting.) (NOTE- I used LORANN super strength oil, which according to their site is "free of dairy allergens". Their cream cheese flavorings are not dairy-free)
If you don't have cheesecake flavor, or the desire to buy it, just omit it. Your frosting won't have the cream cheese tang, but will still be delicious.
You can also frost your gluten free baked red velvet donuts with my easy cream cheese frosting, if you can do dairy.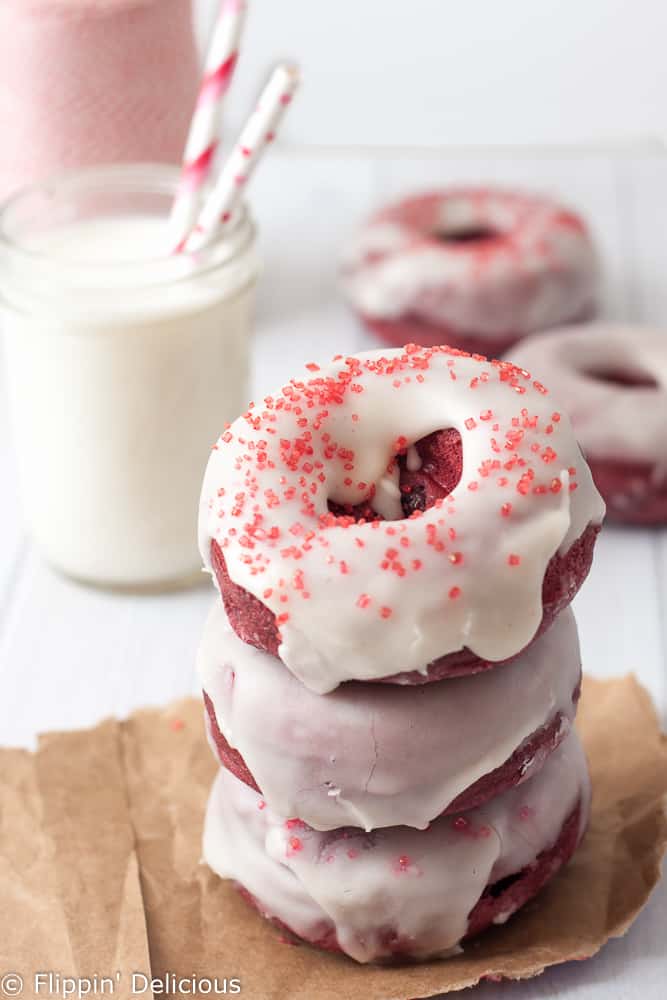 Why did I make my red velvet donuts dairy free?
Every recipe on Flippin' Delicious is gluten free, it has always been that way.
Now I am trying to add more dairy free recipes to my blog. Partially because I know that many of you need recipes that are gluten free and dairy free, but also because my family's need have changed, at least for now.
(If you are looking for more gluten and dairy free donut recipes, these Strawberry Baked Donuts from my friend Lindsey look amazing! They are made in the blender, with real fresh strawberries.)
Over the summer my mom had to cut dairy out of her diet. She has been gluten free for a long time, but had started having issues again and dairy seemed to be the culprit. Since then dairy free has been on my radar more and more. I am always looking out for things that she can eat!
My toddler has been having problems with exzema since she started eating table food. It was around the time that the seasons changed from summer to winter (that is basically what happens here in New Mexico, it is fall for about 2 weeks.)
We thought that is was just the change in seasons. We have been rubbing her down with coconut oil, and saw a little improvement, but her skin hasn't ever healed all the way.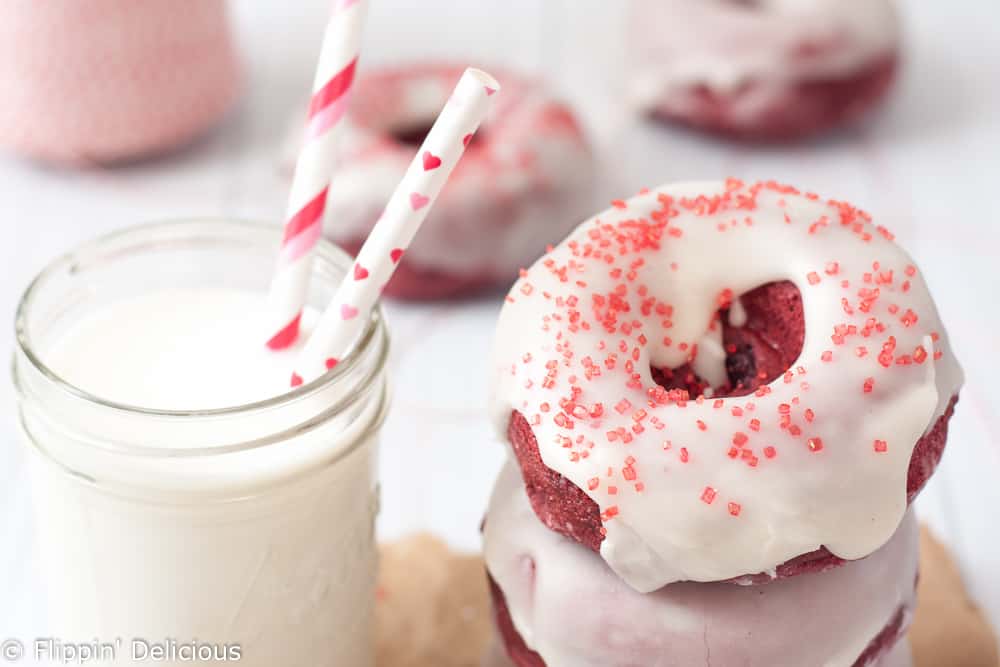 I have been trying to wean her (which is a constant battle, anyone with a high needs baby will tell you the same thing) so I gave her a sippy cup of milk a few days to see if that would help with the weaning thing. (Big surprise, it didn't.) BUT the day after the sippy cup of milk her skin flared up and her tummy and back were bright red.
So we are trying to cut dairy out of our 1 year old's diet, and I quickly discovered that the only way to keep her from getting any dairy is to have no dairy in the house. Luckily, because of my experience blogging in the gluten free and allergy community, this transition has been easier. I know exactly what to do, so I haven't been overwhelmed.
I'll stop typing now, and sharing all of my allergy adventures with you.
Here is the recipe for dairy free gluten free baked red velvet donuts.
Dairy Free Gluten Free Baked Red Velvet Donut Recipe
Ingredients
For the dairy free gluten free baked red velvet donuts
¾ cup all purpose gluten free flour (I used GF Jules, but you could also use my cake flour blend, GF Mama, or another high quality GF blend.)
½ teaspoon xanthan gum (omit if your blend already has it)
¼ cup plus 2 tablespoons sugar
1 tablespoon cocoa powder
1 teaspoon baking powder
¼ teaspoon salt
1 egg
2 tablespoons oil
⅓ cup dairy free milk
1 tablespoon vinegar
½-1 teaspoon red food coloring
For the glaze
Instructions
For the dairy free gluten free baked red velvet donuts
Preheat the oven to 425F. Lightly grease your donut pan and set aside.
In a measuring cup or small bowl mix together the dairy free milk and vinegar and set aside for 5-10 minutes.
In a mixing bowl, whisk together the gluten free flour, sugar, cocoa powder, baking powder, salt, and xanthan gum(if using). Make a "well" in the dry ingredients.
Add the milk/vinegar mixture, egg, oil, and food coloring to the well and mix until just combined.
(Add more or less food coloring to get the desired color. I ended up using 1 teaspoon, but I wanted my donuts to be bright red.)
Pour the batter into a sandwich bag, seal it, and then cut one of the corners off. Use this makeshift piping bag to fill the donut pan.
Bake for 8-10 minutes, or until the donut springs back when you lightly touch it.
Let cool slightly before removing them from the pan.
Dip in the glaze or frost with your favorite frosting.
For the glaze
In a small microwave safe bowl, mix together all of the glaze ingredients.
Heat in your microwave for 20-30 seconds. You don't want the frosting to boil or bubble, you just want it to be warm and thinner.
Quickly dip each donut in the glaze and set aside for the glaze to set. Work quickly, as the glaze will set fast and the glaze does not reheat very well.
Don't miss the rest of my
gluten free red velvet recipes
!