Crispy Baked Sweet Potato Fries with Orange Zest Icing Dipping Sauce. Crispy edges, velvety soft insides and a bright orange citrus icing to dip or drizzle on your fries however you want! Naturally gluten free and dairy free.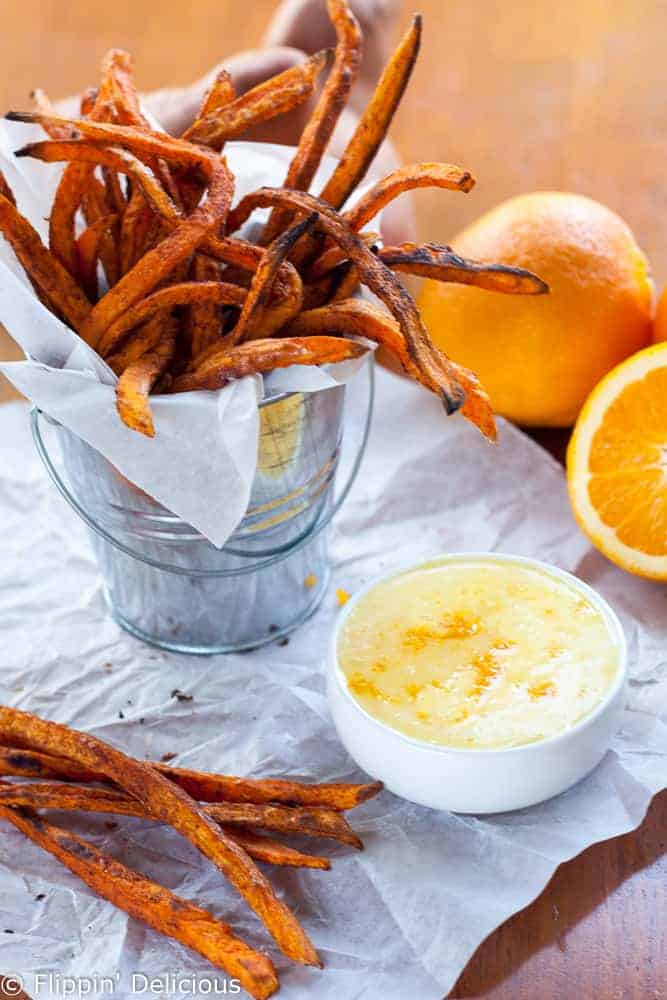 I participated in an Influencer Activation on behalf of Influence Central for KitchenIQ. I received promotional items to thank me for my participation." #SharpenYourKitchenIQ
This post contains affiliate links. When you purchase something using one of these links a small percentage comes back to Flippin' Delicious. Thank you for helping to support Flippin' Delicious so we can keep all the gluten-free recipes coming! For more information, see our disclosure policy.
I think almost everyone has heard at some point that it is safer to cut with a sharp knife than a dull knife. The real question is if you believe it or not. It sounds almost counter-intuitive. Wouldn't a sharp knife cut you worse? Well yes, it is sharper, but a sharp knife is less likely to slip and cut you. Especially when you are cutting touch or thick skinned fruits and veggies. Like sweet potatoes.
I'm going to be honest, it is still tough to cut sweet potatoes even with a sharp knife. They are just one tough root. However, they are much, much, much easier to cut with a sharp knife, and much easier to get nice straight cuts too.
Also, who loves squished tomatoes? Not me! Thin pretty slices are where it is at. Sharp knives really are better.
I'm going to pause right here and apologize for all of the pictures. I LOVE pictures, they really show what was happening more than words can.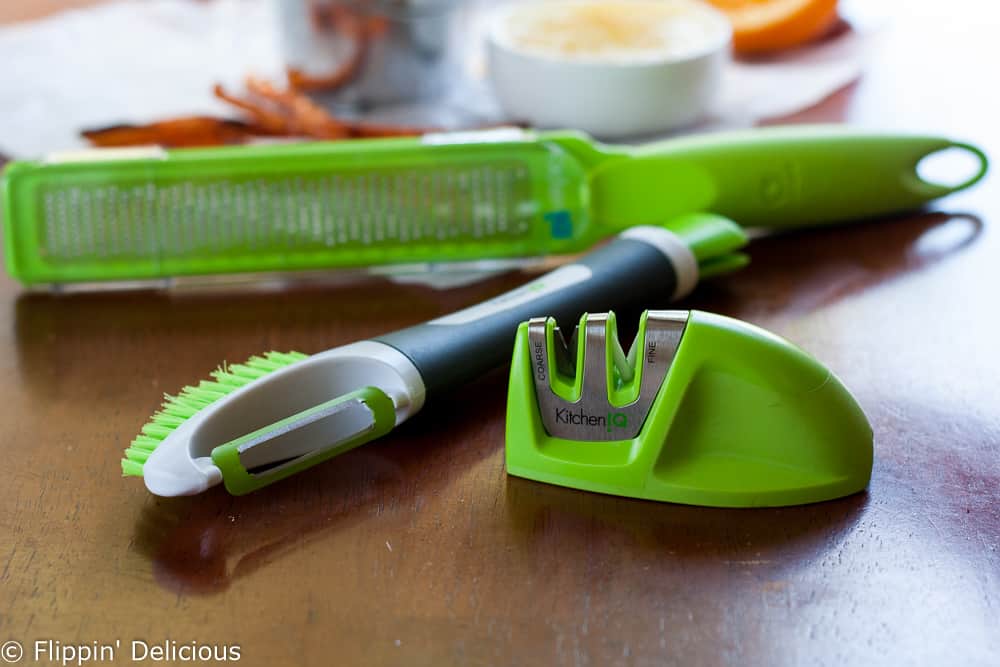 Which is one reason I was really excited to have some of my bestest friends over to try the Edge Grip Knife Sharpener from Kitchen IQ. We had a knife sharpening party, and everyone got to bring their knives and give them a nice fresh edge. Kitchen IQ also sent me their awesome Potato Tool and enough Better Zesters for everyone to take one home with them!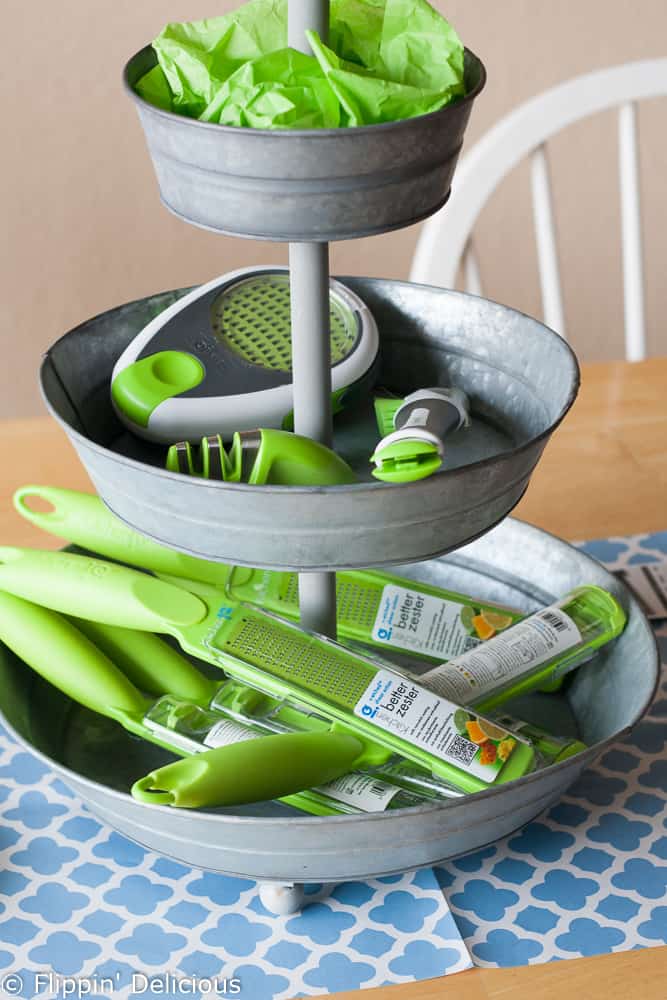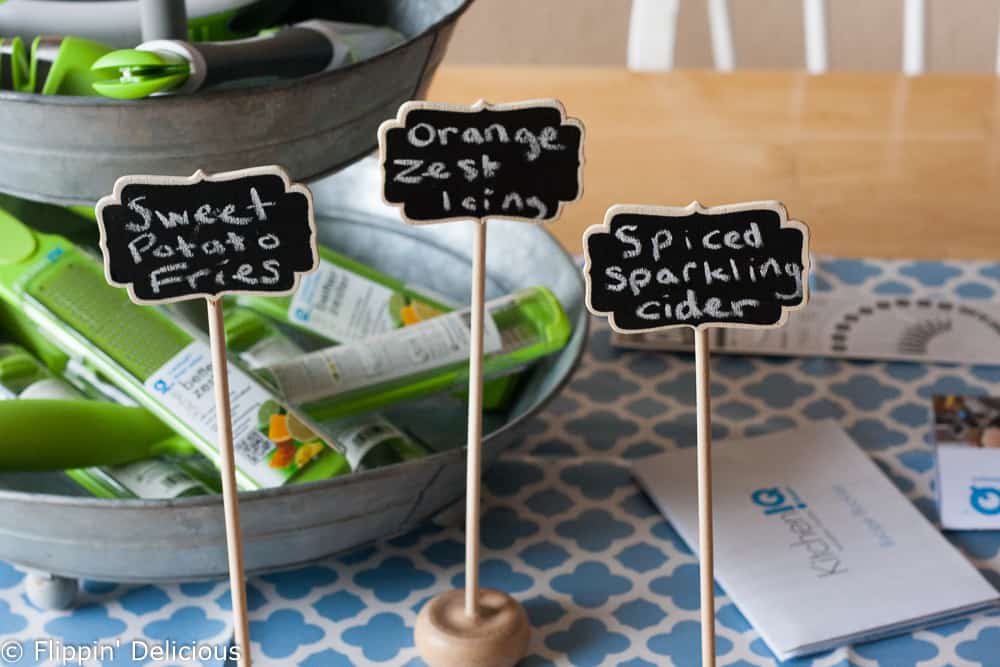 I was already a fan of Kitchen IQ. I have the Ceramic Edge Electric Knife Sharpener (which also sharpens serrated knives, BONUS!) and the Ginger Grater Tool. So, I was super excited to share all of these other awesome tools with my friends.
The Edge Grip Knife Sharpener is super easy to use, and you can use it to give your knives a pretty smooth edge. I love that you hold it steady on the edge of the table so it doesn't wiggle and wobble all over.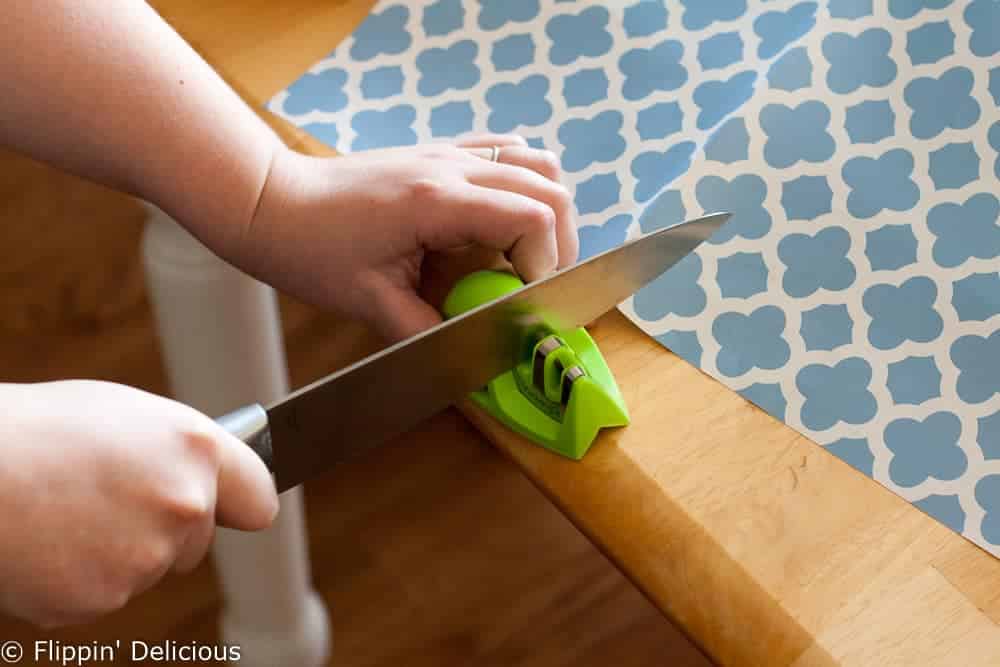 I also fell in love with the Better Zester. I'd never actually used a zester, I'd always just used the side of my box grater. I could never go back! I love that the Better Zester has a little self-scraping container for catching your zest. The container even has measuring lines so you know how much zest you have!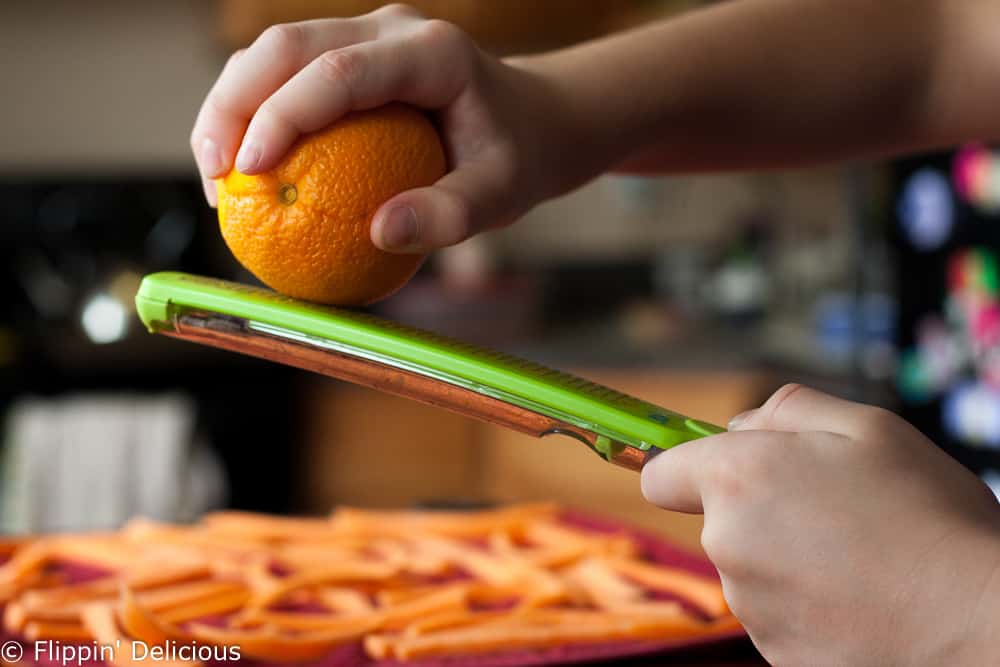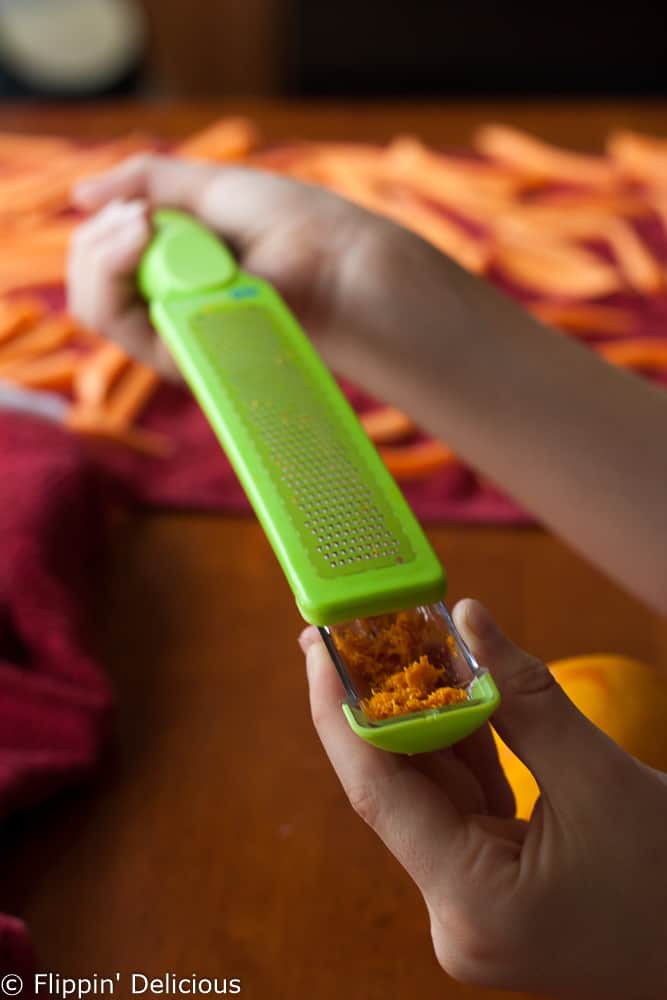 And how cute is the Potato Tool? I love the little knife that tucks inside. And I couldn't believe how much dirt the brush got off when I scrubbed some russett potatoes! It really is an all-in-one tool! (I gave one to my grandma for her birthday, I thought she'd love it!)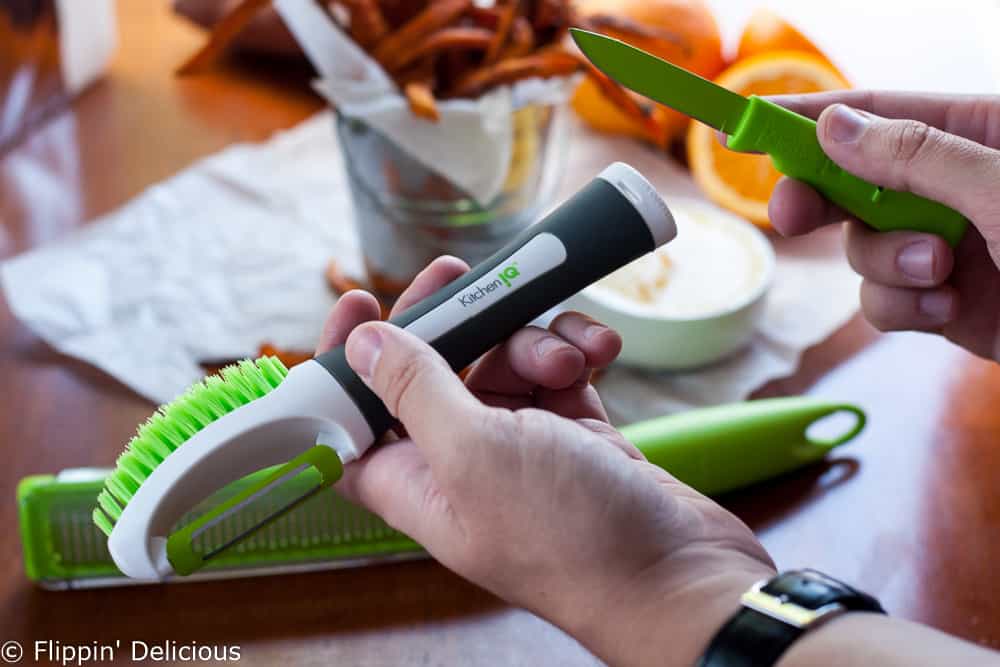 So one Saturday afternoon everyone came over to my house and we ate crispy baked sweet potato fries dipped in orange zest icing and sipped sparkling cinnamon apple cider. And had a girl party!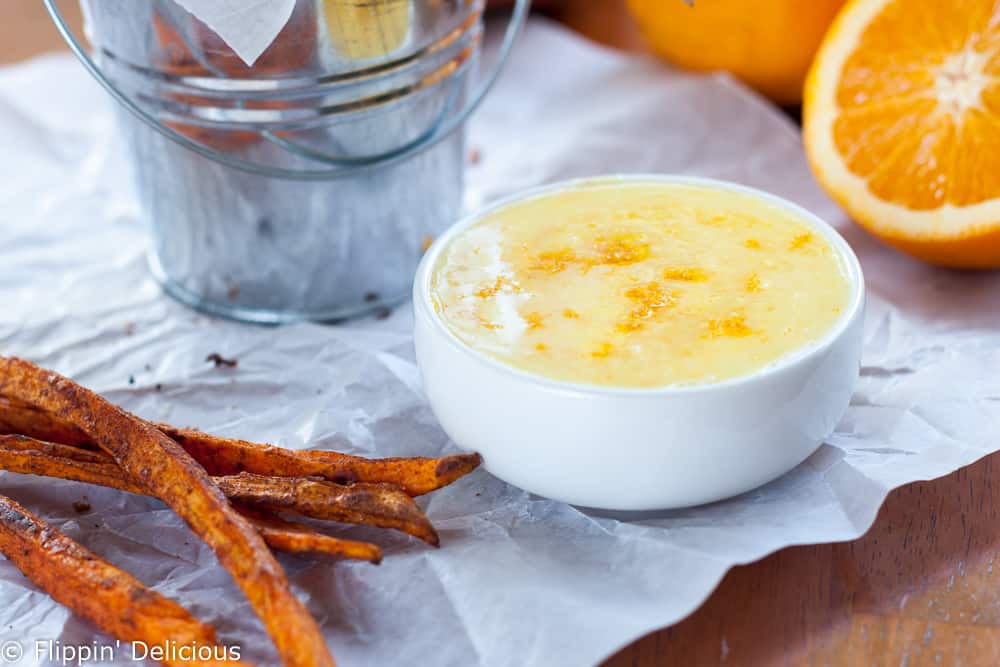 (P.s. I used all of the tools that Kitchen IQ sent me to make those baked sweet potato fries.)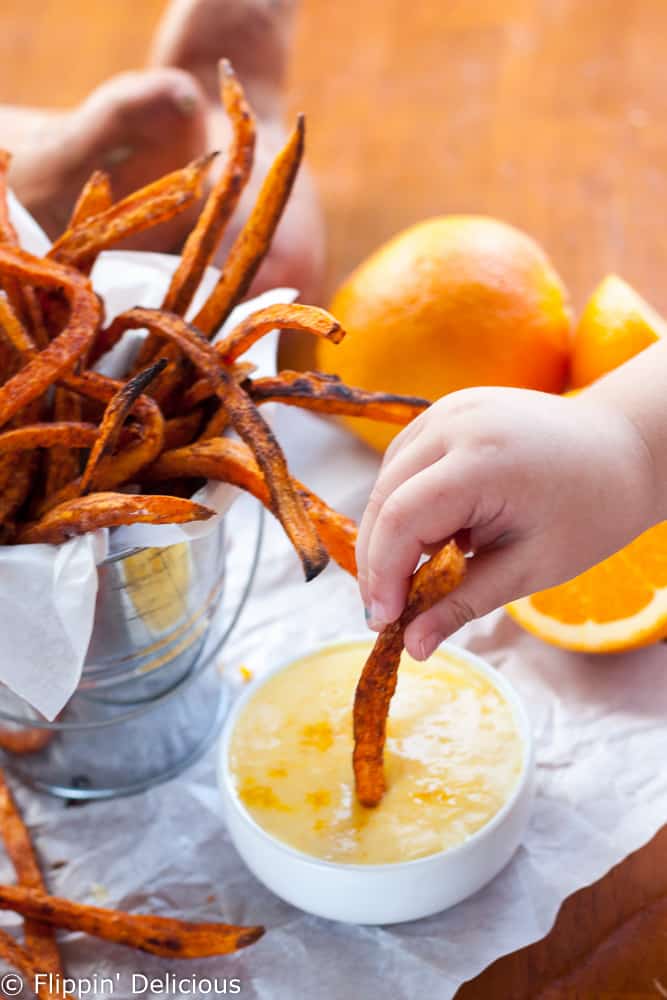 I knew that I wanted to make sweet potato fries, so I went over to my friend Sharon's blog, What The Fork Food Blog, to stalk her recipe. She recommended soaking the cut sweet potatoes in water in the fridge for at least 2 hours to help them be crisper. Also a little dust of cornstarch helps in the crisp department. Check out her awesome Baked Sweet Potato Fries with Maple Mustard Dipping Sauce!

📖 Recipe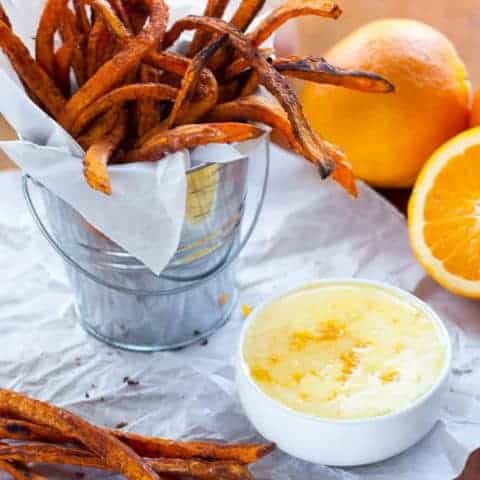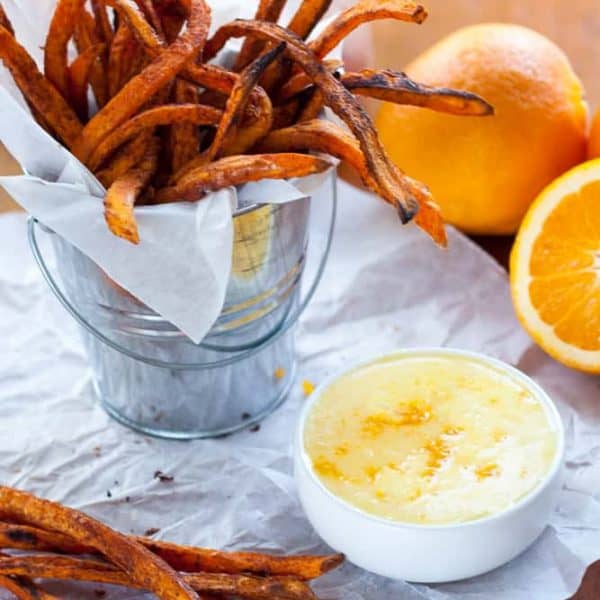 Baked Sweet Potato Fries with Orange Zest Icing
Yield:
serves 2-4 as an appetizer or small dessert
Crispy Baked Sweet Potato Fries with Orange Zest Icing Dipping Sauce. Crispy edges, velvety soft insides and a bright orange citrus icing to dip or drizzle on your fries however you want! Naturally gluten free and dairy free.
Ingredients
For the Fries
2 large sweet potatoes
2 Tablespoons cornstarch
½ teaspoon salt
½ teaspoon ground cinnamon
2 Tablespoons olive oil
For the Orange Zest Icing to dip
½ cup powdered sugar
½ Tablespoon fresh orange zest
2-3 Tablespoons fresh orange juice
Instructions
Peel the sweet potatoes and cut them into thin fries using a sharp knife (not as thin as matchsticks, but thinner than regular fries. Similar to the size of a McDonald's fry, maybe a little thinner.)
Soak the fries in cold water in the fridge for at least 2 hours, as long as overnight.)
When you are ready to bake the fries removed them from the water and let them dry thoroughly on a clean dish towel.
Preheat the oven to 425F.
Toss the fries with the cornstarch. Then drizzle in the olive oil and season with salt and cinnamon.
Place the fries on a baking sheet lined with parchment paper in a single layer, ideally with a little space between each fry.
Bake for 15 minutes, stir/flip the fries over using a spatula, and then bake for another 10-15 minutes. Remove from the oven when the edges are crispy and the fries are cooked through.
Be careful not to burn them!
Let cool slightly and enjoy immediately with the orange zest icing to dip or drizzle on top.
For the Orange Zest Icing
Mix together all ingredients until smooth. You can use less or more orange juice to get the consistency that you want.
Nutrition Information
Yield

4
Serving Size

1
Amount Per Serving
Calories

193
Total Fat

7g
Saturated Fat

1g
Trans Fat

0g
Unsaturated Fat

6g
Cholesterol

0mg
Sodium

286mg
Carbohydrates

32g
Fiber

2g
Sugar

19g
Protein

1g
All nutrition info is a guestimate and will vary depending on the ingredients you use.
Linked up to
Waste Not Want Not Wednesdays
, Two Cup Tuesdays, Allergy Free Wednesdays,Whimsy Wednesdays,