Nothing is easier than throwing these easy crispy carnitas in the slow cooker at lunch, and then enjoying them for dinner with some gluten free corn tortillas.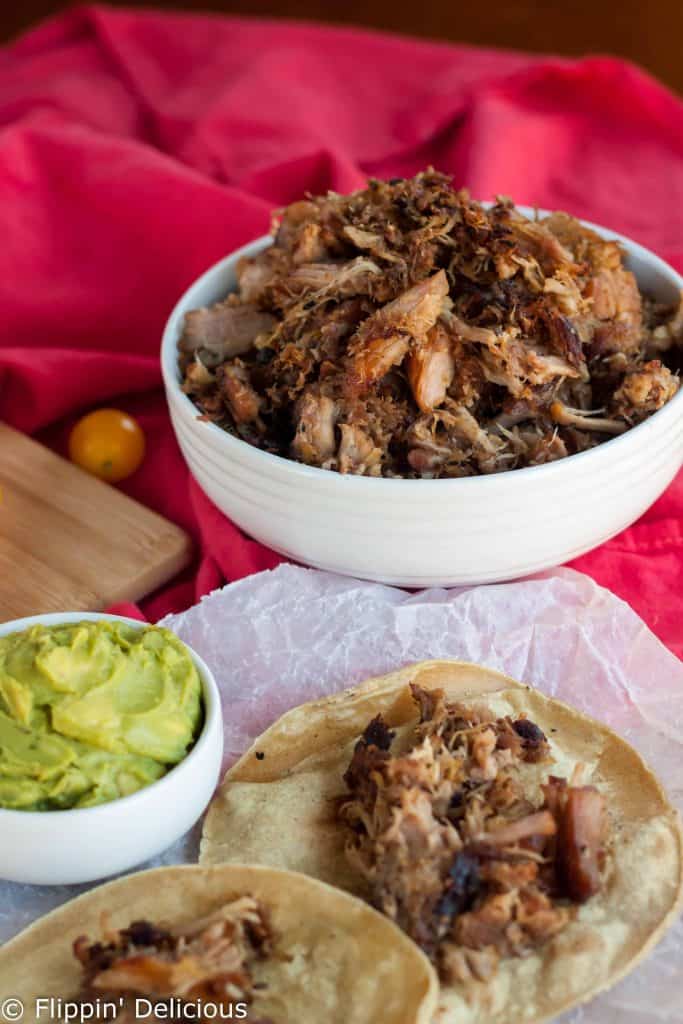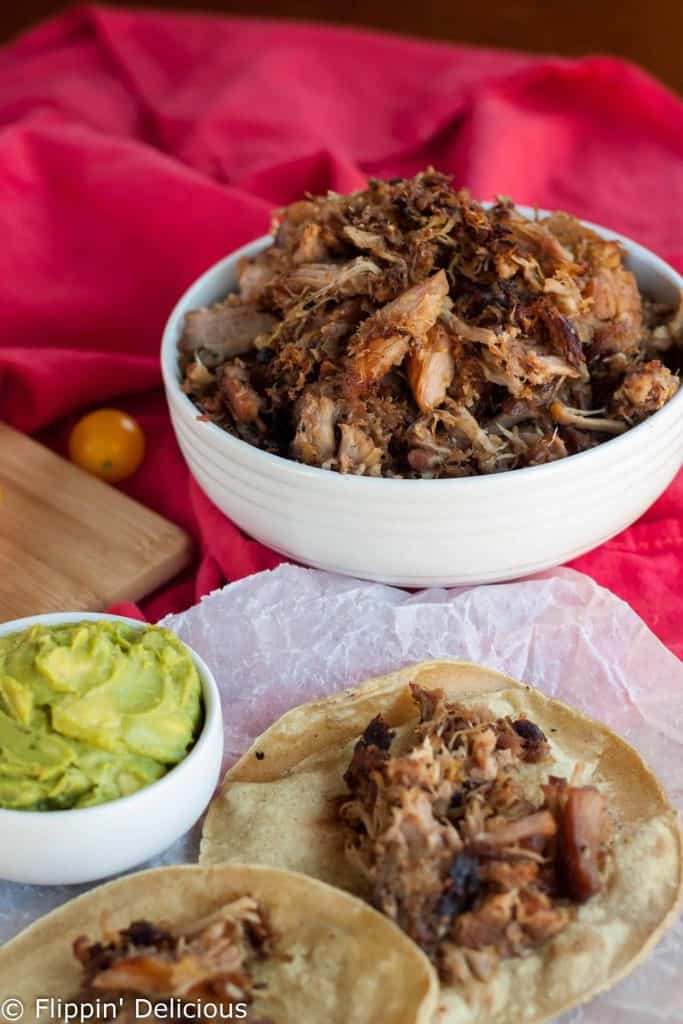 There is a special place in my heart for tacos. I just really love tacos! No particular childhood memory, or amazing taco I had some time a long time ago. I just straight up love tacos! One of my favorite taco recipes are these gluten free slow cooker turkey mole tacos.
Street tacos is where it is at! They are often naturally gluten-free because they are served on a doubled up corn tortillas. So BONUS!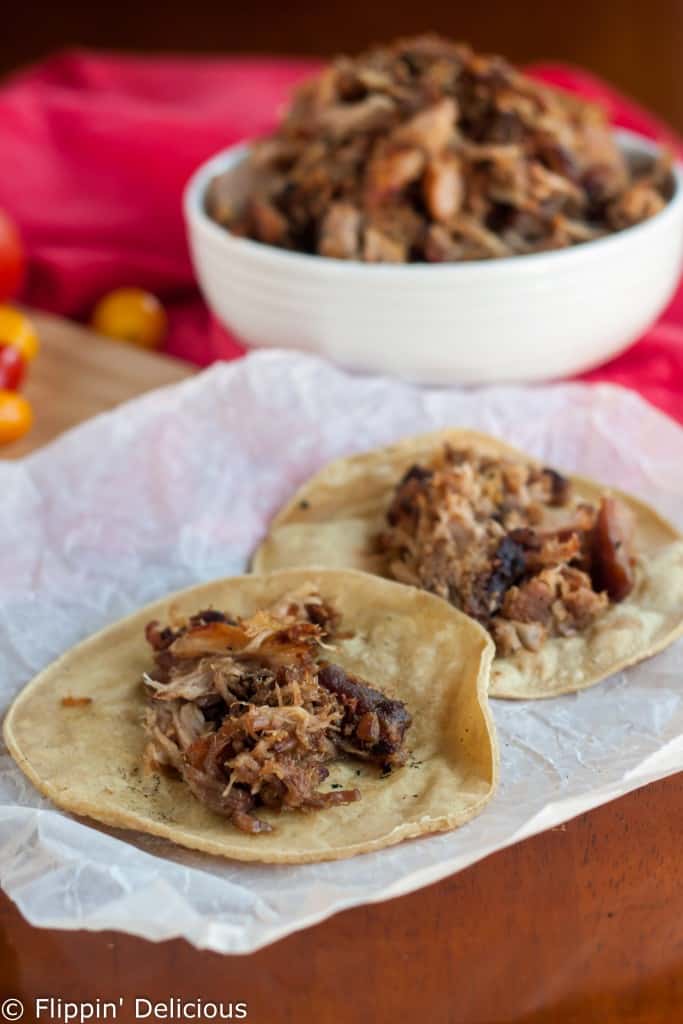 Nothing beats some savory crispy pork piled high on those corn tortillas, with just a little sour cream, guacamole, cilantro, or some cotija cheese and maybe pico de gallo or fresh pineapple salsa and a squeeze of lime. Simple, and amazing! They don't need a whole lot, just simple and clean flavors.
I used country-style pork boneless ribs for my easy slow cooker crispy carnitas recipe, but you could also use a pork roast or shoulder. I'd cut it into large chunks to help it cook evenly. The important thing is that you pick a cut of pork that has a good marbling of fat. You want that fat, because that is what makes the carnitas crispy. And those crispy bits are the best part!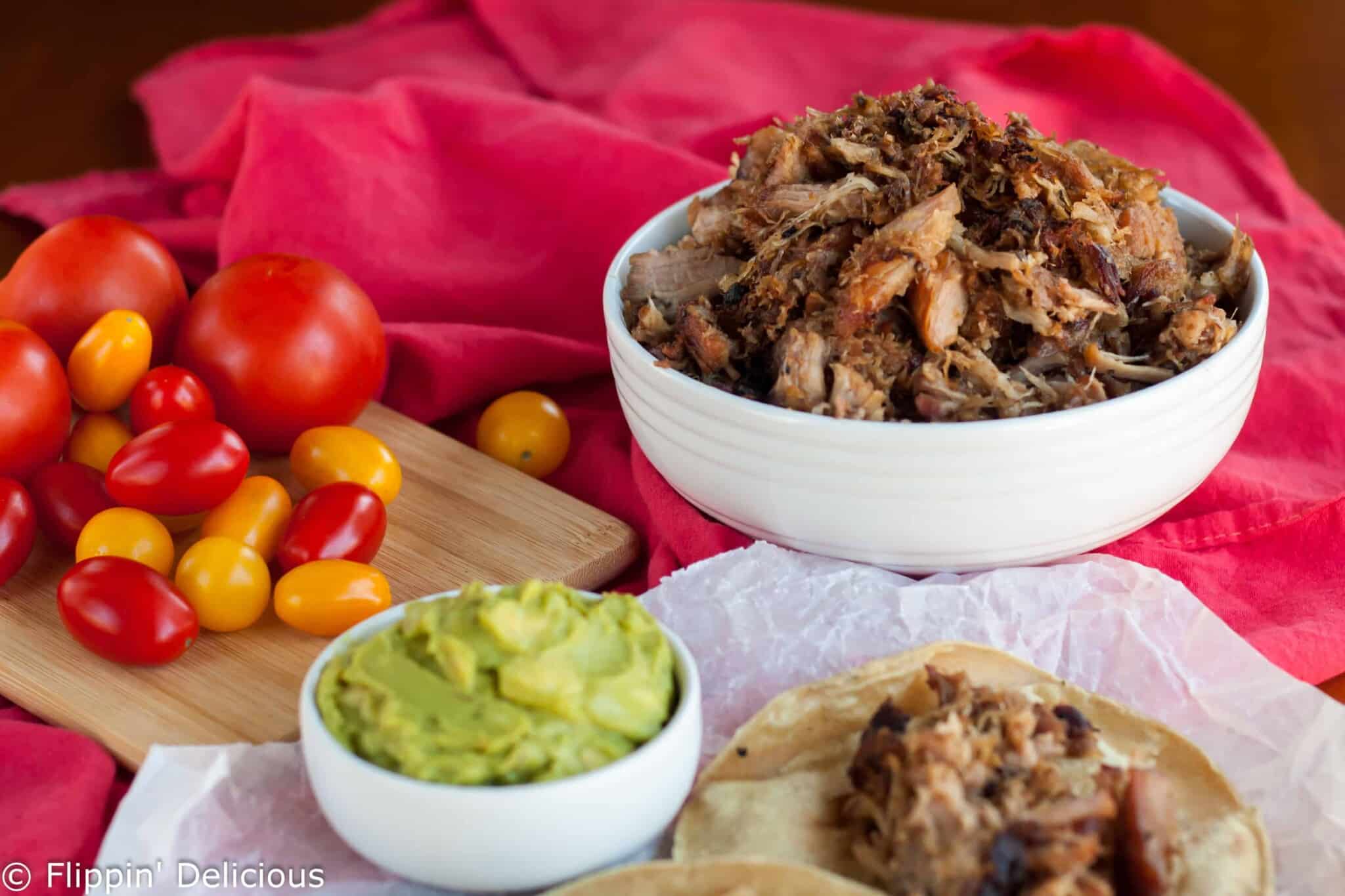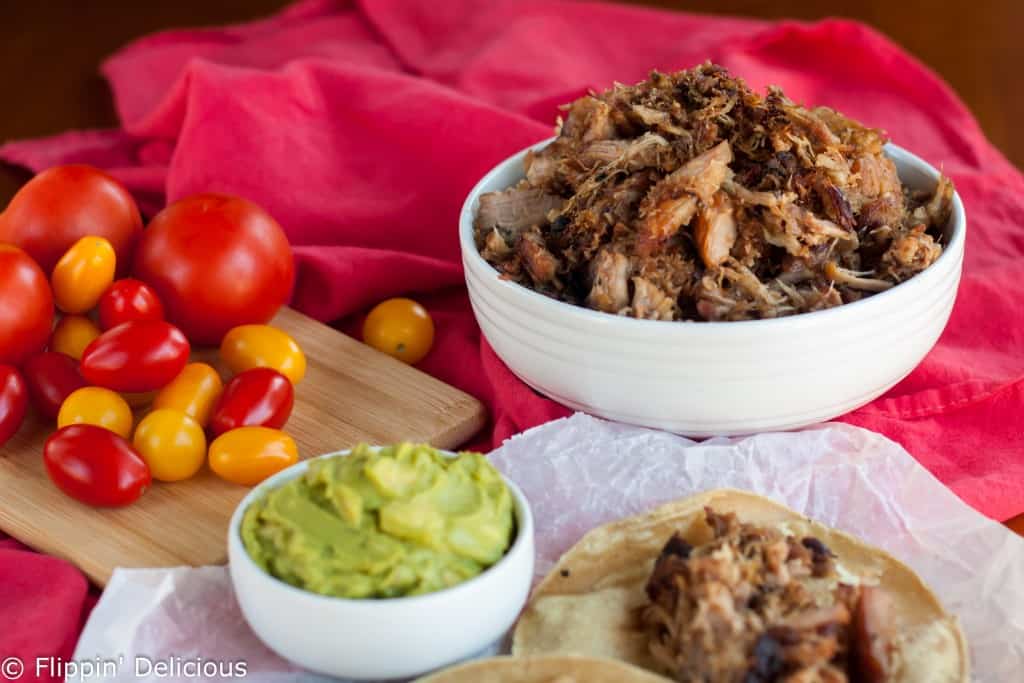 It will take 3-4 hours to cook on high, or 6-7 on low, depending on your slow cooker, and how much pork you cook at once.
Just place your pork in your slow cooker and season it with just a little bit of brown sugar, cumin, garlic and onion powder, good ol' salt and pepper, and maybe a dash or chile powder. Then just let it cook low and slow.
To make carnitas crispy, and that is what makes them special, remove the lid and turn the heat on your slow cooker up for the last 30-45 minutes and stir your carnitas to shred them. The meat should shred really easily and be super moist.
Removing the lid lets the extra liquid evaporate and the carnitas will kind of fry in their own drippings. Just like when you fry bacon. (This works especially well if you are using an Instant Pot on the slow cooker setting and can turn it to "Saute".)
To crisp up your carnitas even faster, and to get them even crispier move them to the stove top. Just fry your carnitas to a heavy bottomed saucepan while stirring. It will only take a few minutes over medium high heat.
UPDATE: I've found the best way to crisp up a large batch is to moved the shredded pork to a baking sheet and broil on high heat until they start to crisp. Depending on your oven it will take 3-5 minutes.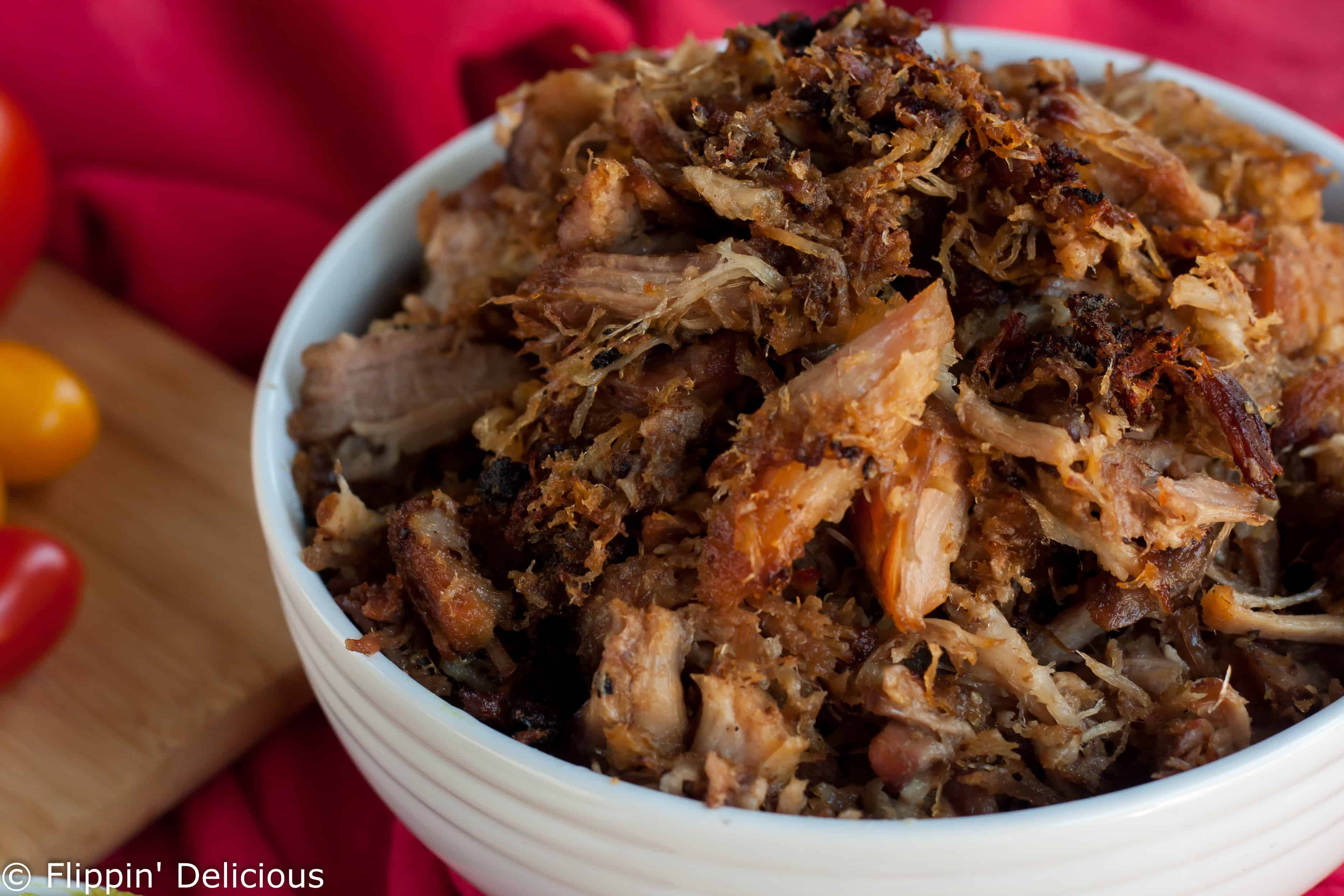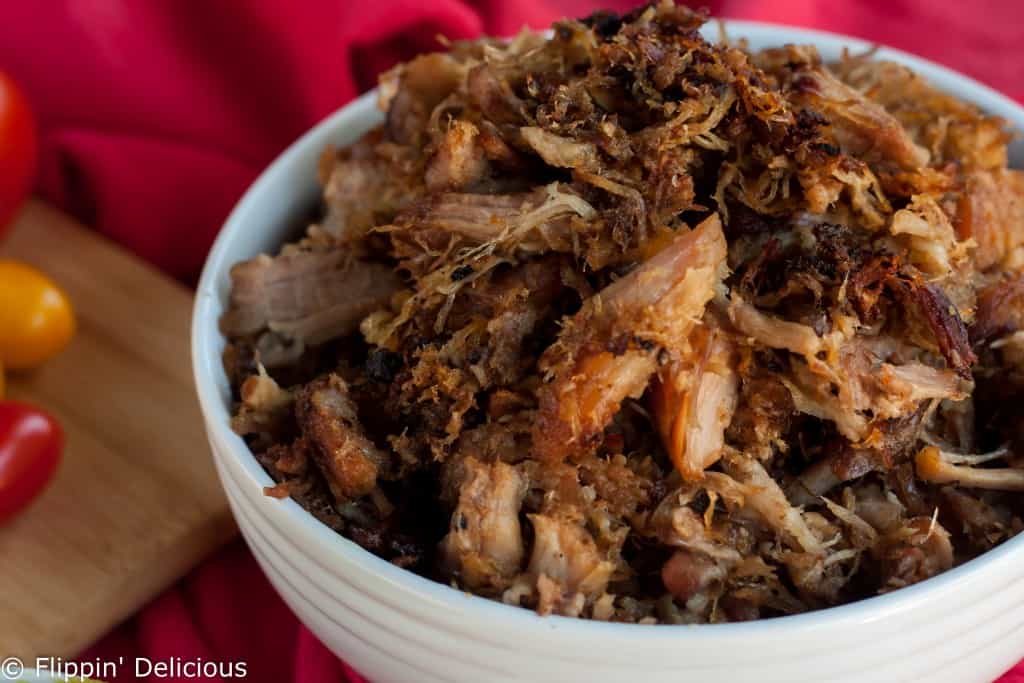 Seriously, we just could not stop eating these easy slow cooker crispy carnitas. We were stuffed and just kept on eating. Those crispy shreds are the very best!
If you are looking for an Instant Pot pulled pork, check out my friend Alyssa's Pressure Cooker Pulled Pork. There are so many ways to use it!
📖 Recipe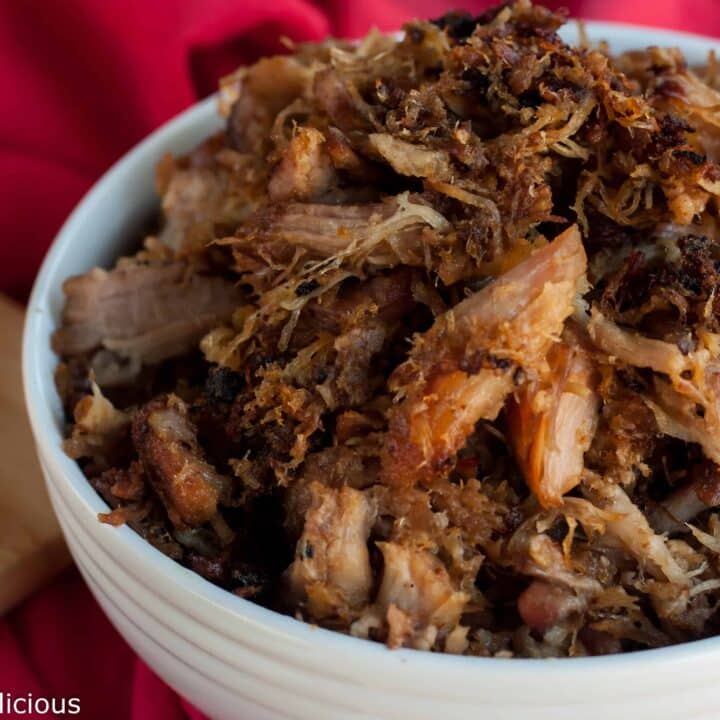 Gluten Free Carnitas
Total Time:
8 hours
10 minutes
Easy gluten free slow cooker carnitas that can also be made in the Instant Pot. Crisped up in the oven, on the stove top, or in your Instant Pot on "saute" these carnitas are versatile and ready for your favorite gluten free tacos!
Ingredients
1 ½-2 pounds Country-Style Pork Boneless Ribs, Or pork shoulder roast
2 tablespoons Brown Sugar
2 teaspoons Ground Cumin
1 teaspoon Chili Powder
2 teaspoons Salt
¾ teaspoon Ground Black Pepper
2 teaspoons Onion Powder
2 teaspoons Garlic Powder
Instructions
Place your pork in your slow cooker and season with all the spices and brown sugar.
Cook on high for 3-4 hours or low for 6-7 hours or until the pork is tender and falling apart.
Remove the lid and turn the heat to high and stir the pork to break it up in the small chunks and shreds. Continue to stir occasionally until the excess moisture evaporates.
To crisp in the oven: spread and even layer of the carnitas on a baking sheet and cook in a preheated broiler on high until they start to turn golden and crispy. For easy clean up, I like to line my baking sheet with aluminum foil or parchment paper. As long as your pork had enough fat, you don't need to grease the baking sheet.
To crisp carnitas on the stove top: Heat a heavy bottomed skillet over medium/high heat. Sprinkle the shredded carnitas with plenty of pork fat and let fry until crispy. You will need to stir it once or twice so that the poke gets crispy on all sides, but don't stir it too much. If you stir it too much, the carnitas won't get a chance to brown and get crisp.
Notes
To make crispy gluten free carnitas in the Instant Pot, place ingredients in the pressure cooker and cook on high pressure for 60 minutes. Let the pressure release naturally, then turn your instant pot to "Saute" and let the extra liquid simmer off while your shred your pork. You can then let the carnitas crisp as they fry in the rendered pork fat.
Nutrition Information
Yield

6
Serving Size

1
Amount Per Serving
Calories

471
Total Fat

28g
Saturated Fat

10g
Trans Fat

0g
Unsaturated Fat

15g
Cholesterol

159mg
Sodium

828mg
Carbohydrates

6g
Fiber

1g
Sugar

4g
Protein

47g
All nutrition info is a guestimate and will vary depending on the ingredients you use.