Greek cuisine is filled with delectable dishes that you just want to make. But what if you're gluten-free?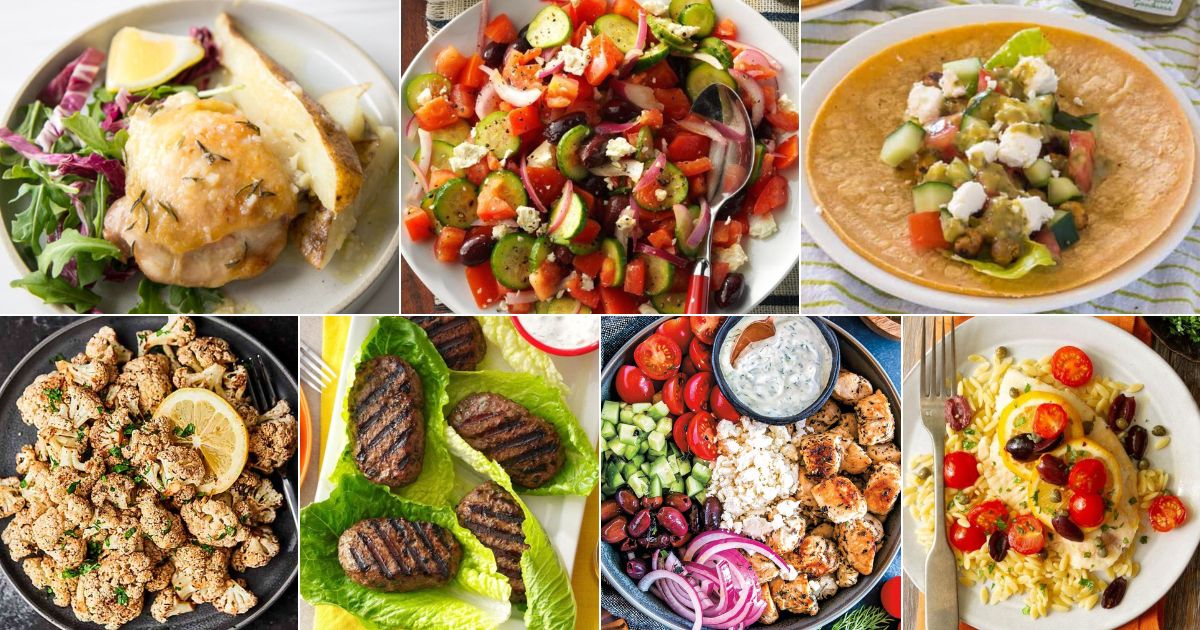 Well, you're in luck because many Greek dishes are gluten-free or can be made so with a few simple substitutions. Just make sure any dressing you have doesn't contain wheat and that you use a pasta alternative, like rice flour or chickpea pasta.
To help you make the most delicious Mediterranean meal around, we have compiled 13 of the best gluten-free Greek recipes. These will transport you to the Greek Isles, where you can try everything from vegetarian chickpea tacos to Greek salad, moussaka, gluten-free Greek pastitsio, Mediterranean cauliflower, and more. So read on to explore these straightforward, easy-to-prepare, and totally delicious recipes.
Jump to:
1. Easy Greek Vegetarian Chickpea Tacos Recipe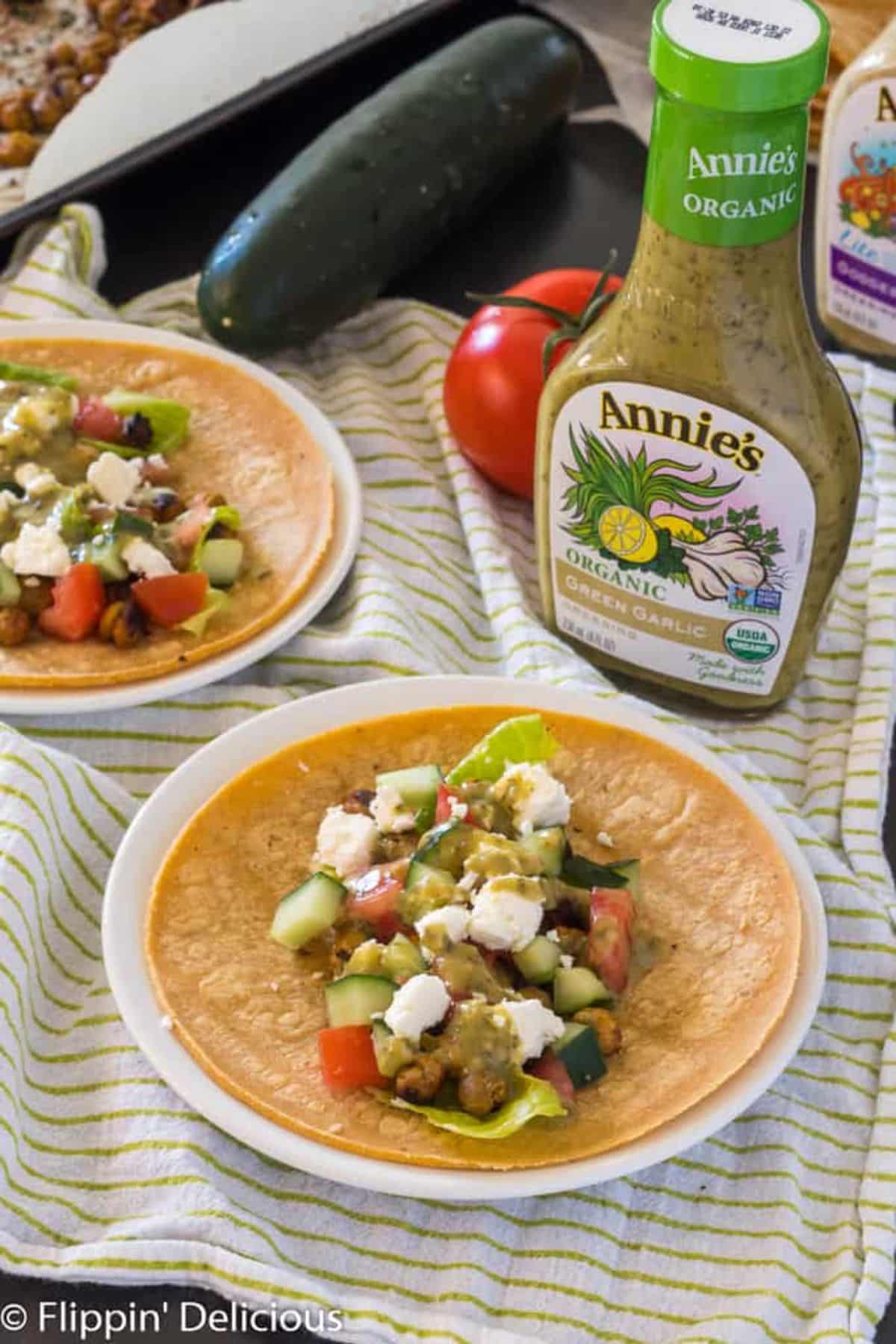 Delicious vegetarian chickpea tacos have an irresistible Greek flavor without gluten! Loaded with tomatoes, feta, cucumber, and everything else you would expect on a Greek taco, but it only takes 15 minutes to prepare and 30 minutes to cook. So when you're craving a healthy taco bursting with Mediterranean flavors, don't ignore it; get in the kitchen and get cooking.
When these tacos are ready, drizzle on some gluten-free Annie's Goddess Lite Dressing and dig in. You won't be disappointed. In fact, these tacos are so good you'll be begging for more!
2. Gluten-Free Greek Pasta Recipe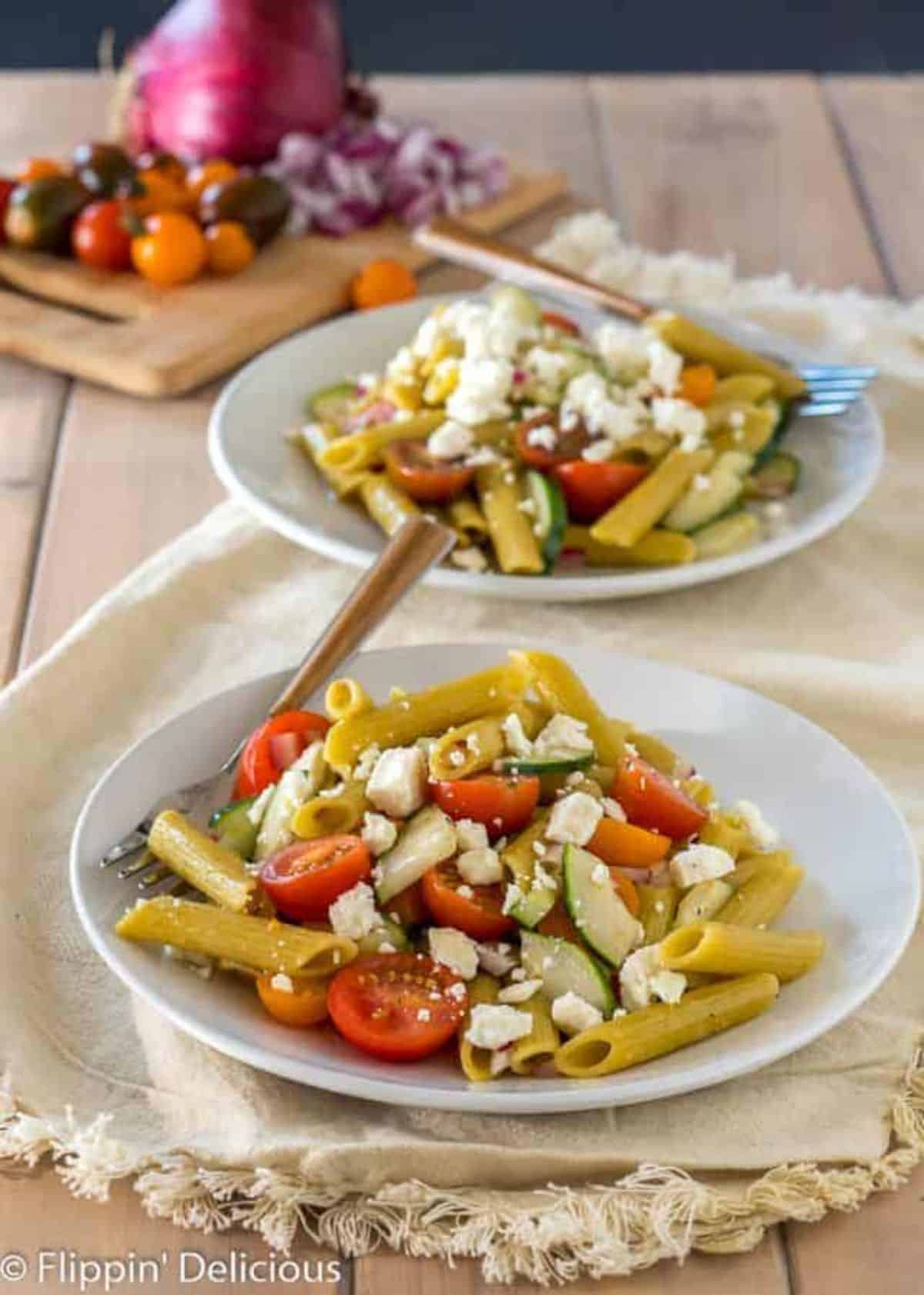 Another crowd favorite is this easy gluten-free Greek pasta. This ten-minute meal is an easy option for anyone looking to make a delicious dinner fast. We used chickpea pasta, but any gluten-free pasta alternative will do. This is a great go-to recipe when you don't have a lot of time to cook and are craving something light and flavorful.
3. Mediterranean Sole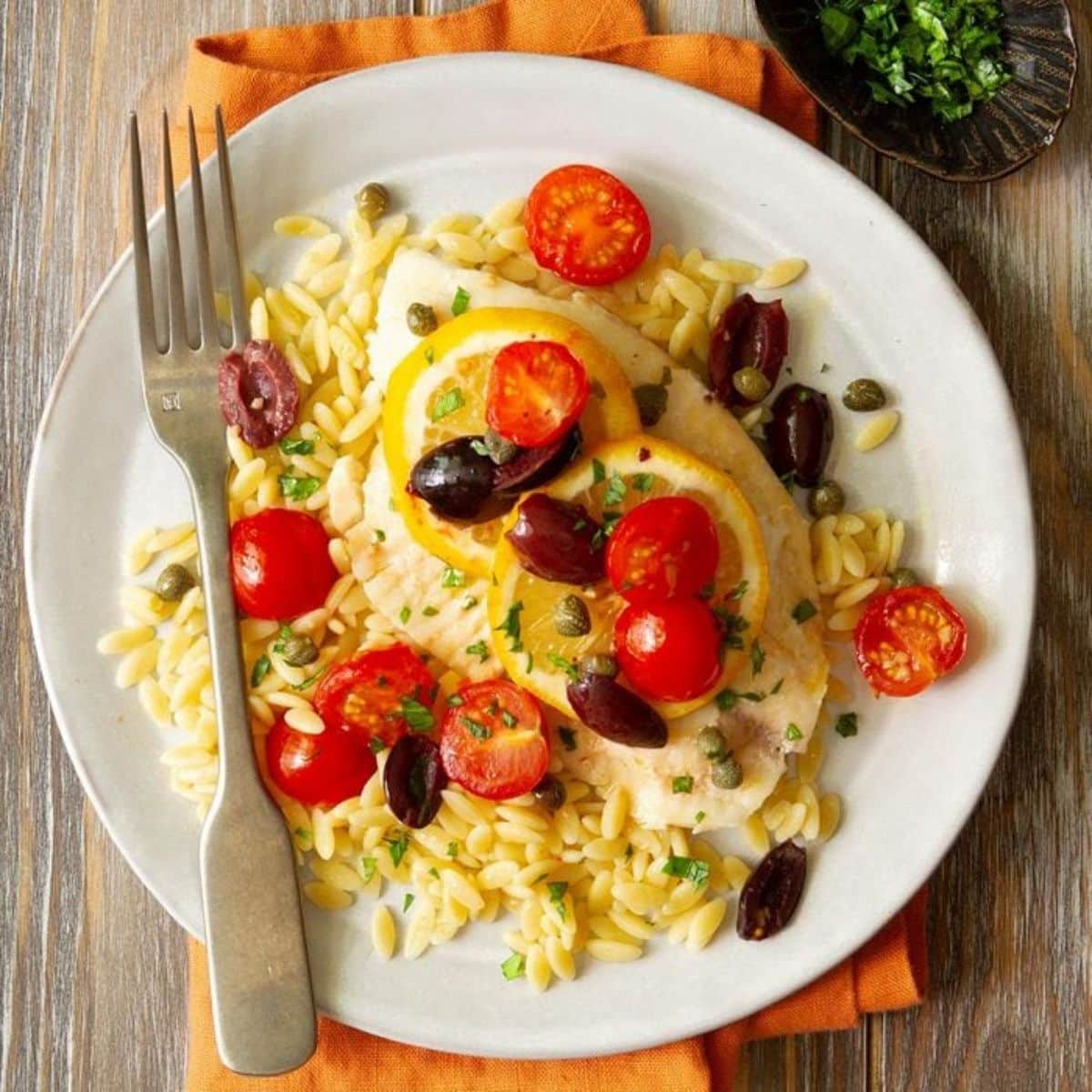 Looking for a gluten-free Greek recipe that is easy to make but also great for a special occasion? You've found it in this Mediterranean Sole recipe. Sole is a type of flatfish highly sought after due, in part, to its versatility. Used frequently in Mediterranean dishes, it absorbs flavors well.
Subtly seasoned with pepper, garlic, and lemon juice, this oven-baked sole is infused with the flavors of tomatoes, olives, capers, and chicken broth. With a 25-minute prep and cook time, this seafood dish is done before you know it!
4. Dad's Greek Salad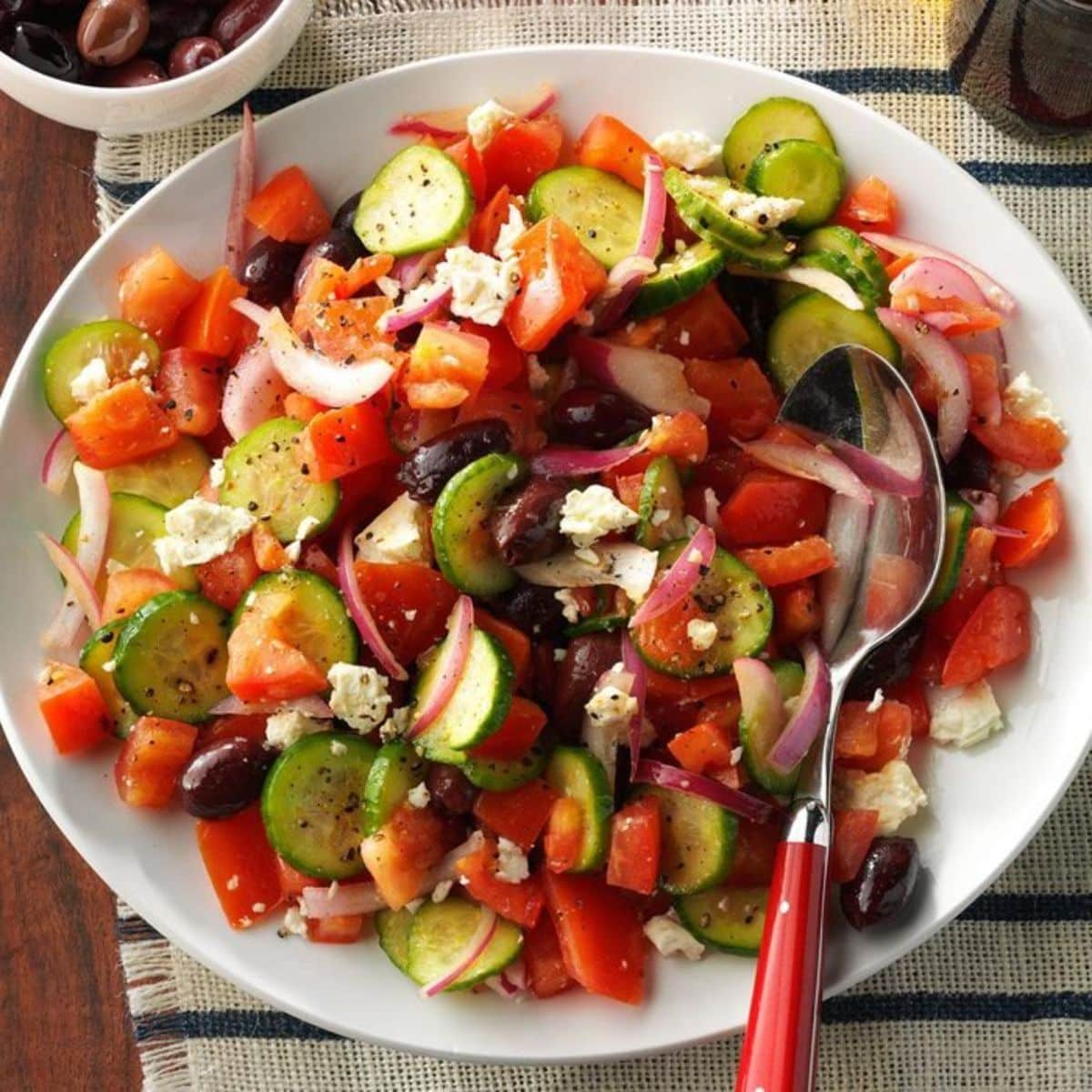 A refreshing, gluten-free recipe that combines fresh vegetables, like cucumbers, tomatoes, and any other veggies you've been craving, along with feta cheese and olives. This Greek salad has a tangy, satisfying flavor enhanced by gluten-free Greek salad dressing and some fresh herbs. Even better, it only takes a few minutes to make. Savor this salad with these watermelon cups. They're a delicious and refreshing treat that will cool you down on a warm summer day.
5. Juicy & Delicious Mixed Spice-Burgers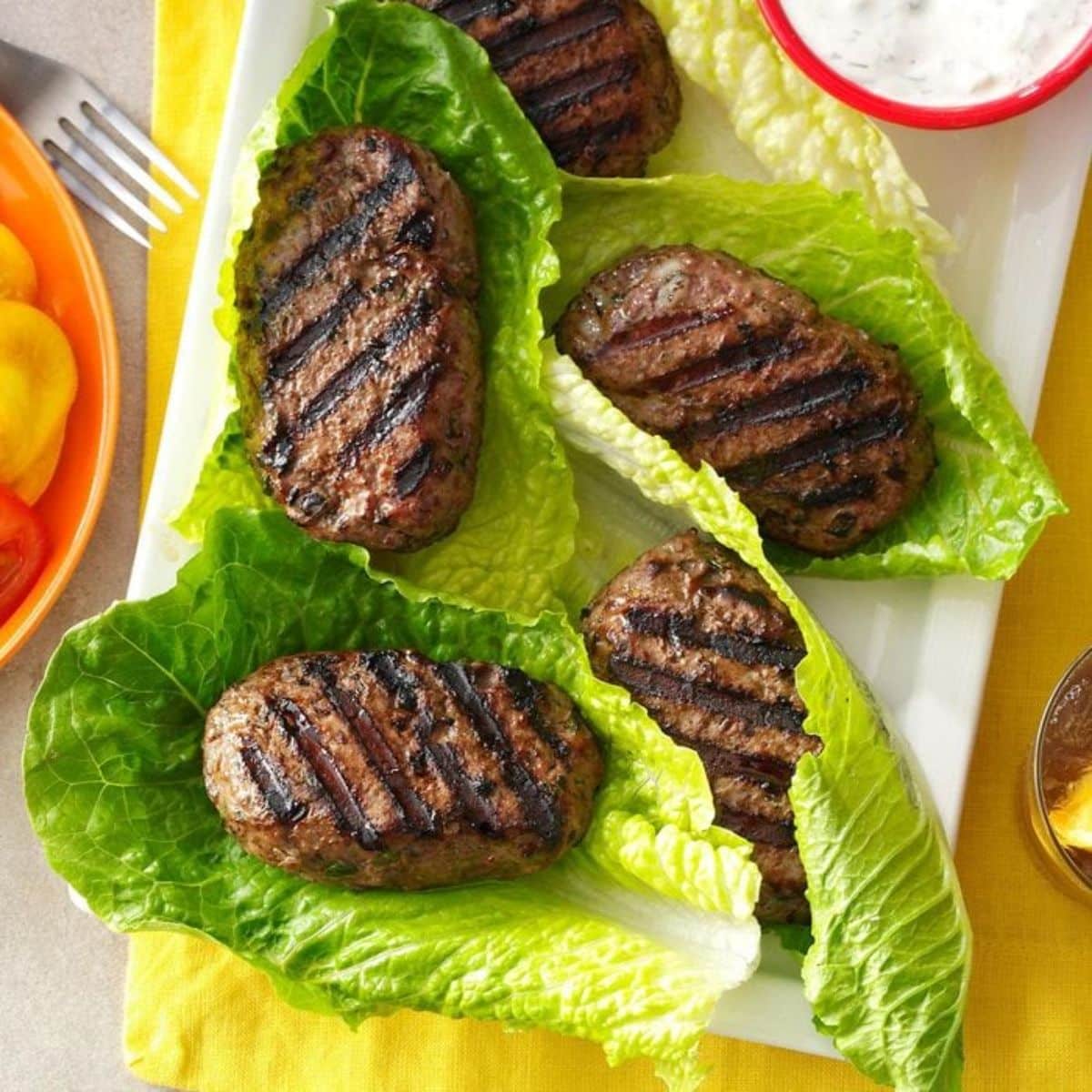 If you're looking for a more filling recipe than watermelon cups, you might want to try out these mixed-spice burgers. These juicy burgers have a twist of Greek flavor (and no gluten). A traditional street food known as kofta, these meaty morsels are served on a large piece of lettuce (or on a bun if you prefer).
They are known for their unique taste due to the spices like cumin, coriander, paprika, garlic, and onion powder and shaped into patties that mostly resemble traditional burgers but are slightly longer.
We highly recommend adding a delicious tzatziki sauce for even more flavor. What are you waiting for? Explore the flavors of Greece with these hearty, spiced burgers.
6. Gluten-Free Greek Moussaka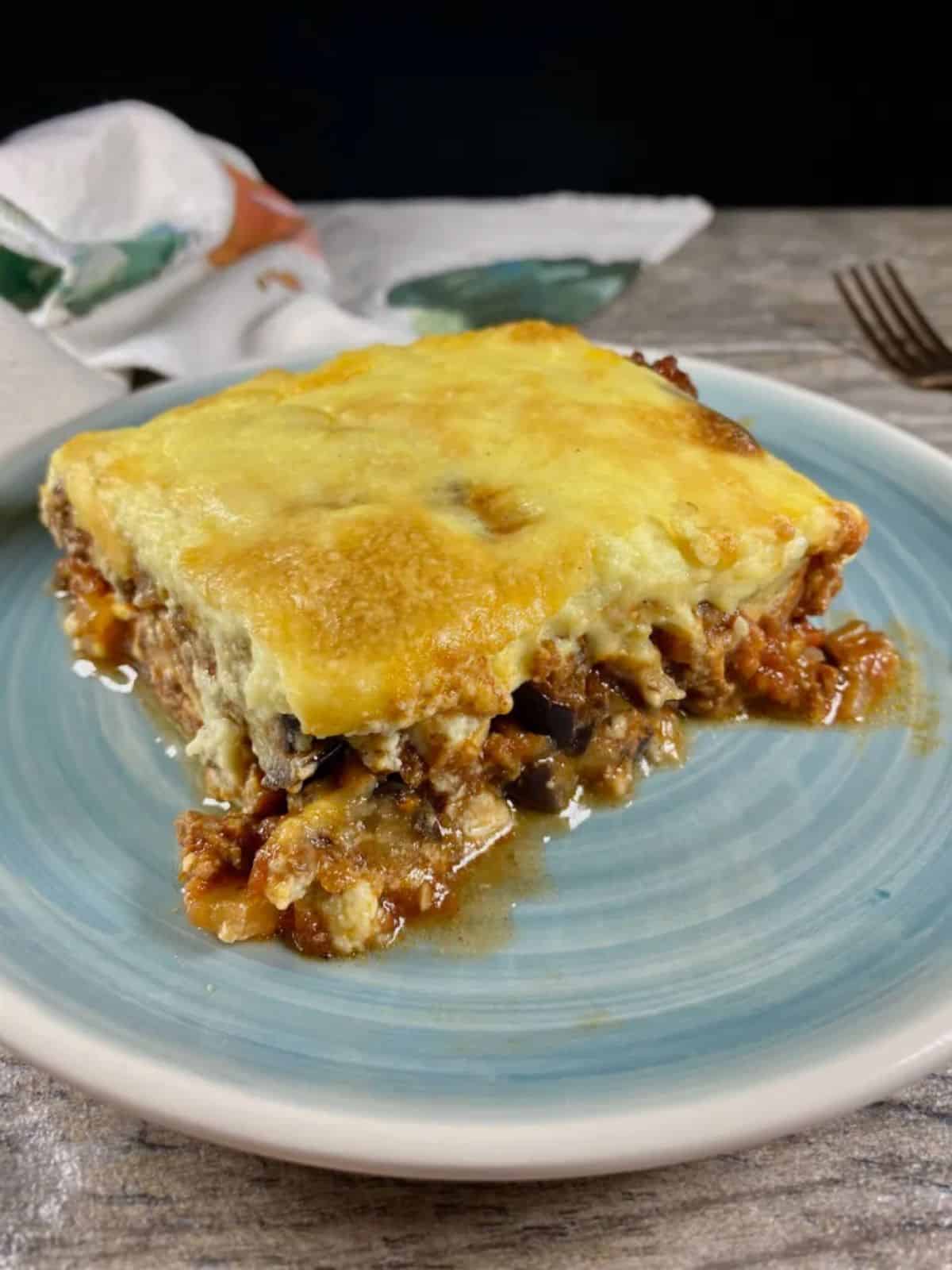 Mediterranean food lovers crave Greek Moussaka. It's rather like a Greek lasagna, except that it is made with eggplant instead of pasta. Yet traditional moussaka isn't gluten-free because of the flour used in the bechamel sauce that tops this casserole. But don't fret; you can make it gluten-free with this recipe that makes it easy to create the best moussaka you've ever had.
You need 10 minutes to prepare all the ingredients and about 1 hour 20 minutes to cook everything. You'll need eggplant, meat sauce, goat cheese, butter, coconut milk, and a few other ingredients to complete this gluten-free Greek recipe with all the Mediterranean flavor you could ever want.
7. Low-Carb Greek Chicken Bowls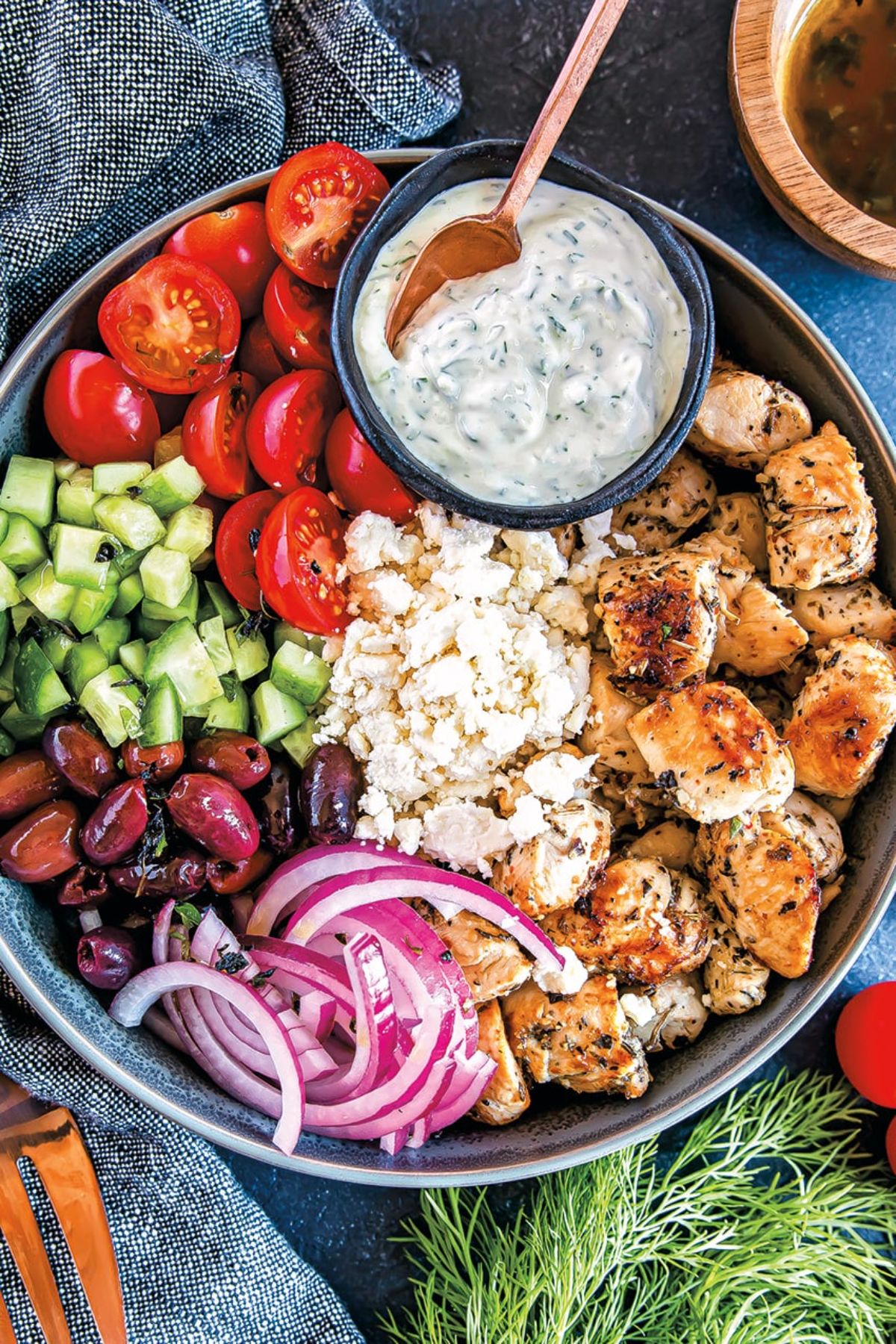 Love eating gluten-free? This low-carb chicken bowl Greek recipe is a delicious alternative to far less-healthy options. What's more, it's filled with healthy fats and antioxidants without having too many carbs, so it's perfect for those on a keto or paleo diet. The full recipe takes less than half an hour to make.
Some of the many ingredients include cucumber, tomatoes, red onion, and Kalamata olives. But why not toss in other ingredients you like to make a low-carb bowl you'll love? Gluten-free can get creative. The result? A light, refreshing entree you can't resist.
8. Baked Feta with Tomato and Red Pepper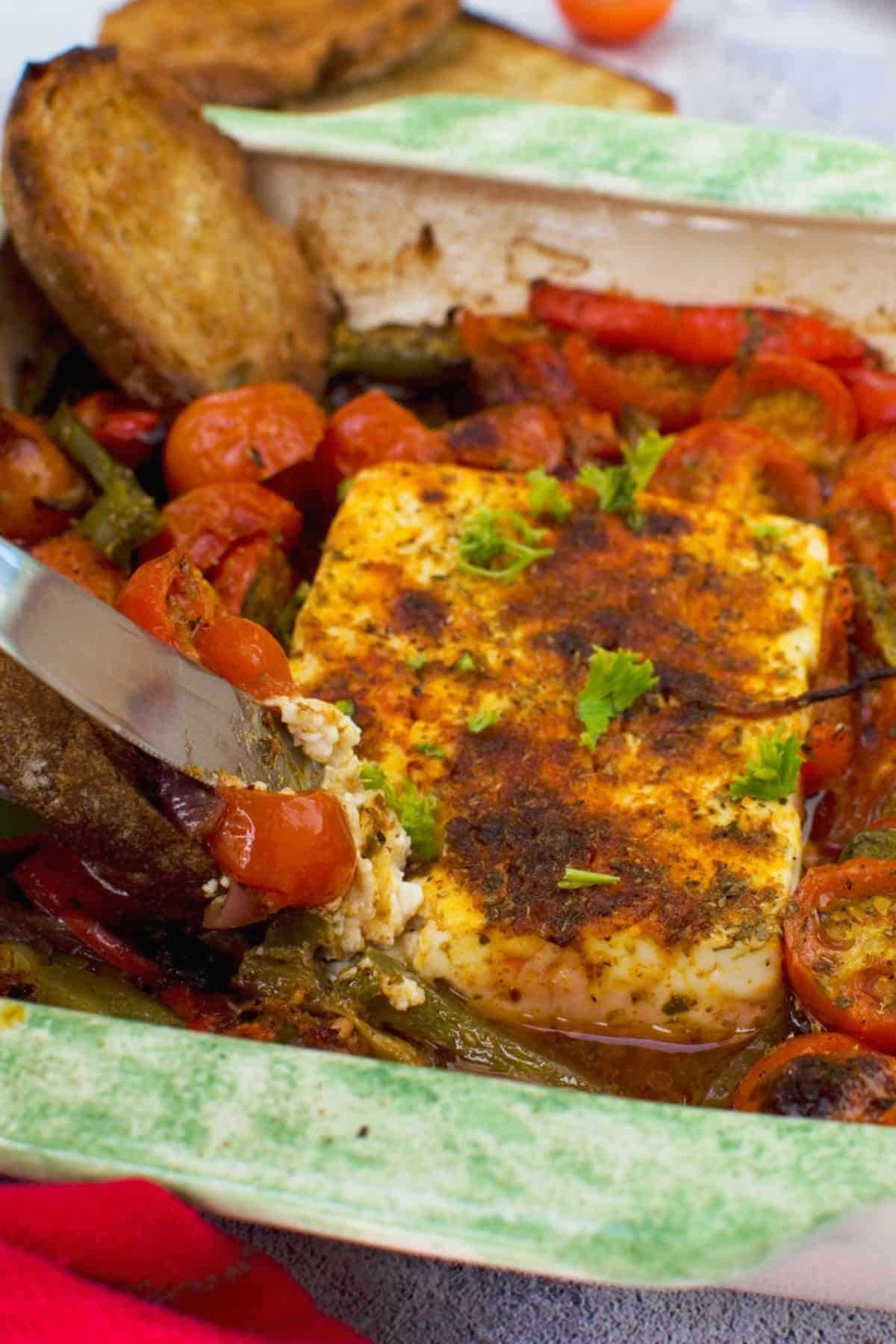 This authentic Greek recipe is a delicious menu item, whether you want to prepare it for an appetizer or the main dish. It's a naturally gluten-free savory dish that combines the richness of feta cheese with roasted tomatoes and red peppers. You may want to finish it off with a drizzle of olive oil.
The dish takes only 10 minutes to prepare and bakes to perfection in just 40 minutes, so it should fit into everybody's daily dinner schedule, no matter how busy they are. Lightly spiced with black pepper, oregano, and thyme, this baked feta retains its firmness soaking up the flavors of sweet tomatoes and briny olives. So good!
9. Mediterranean Cauliflower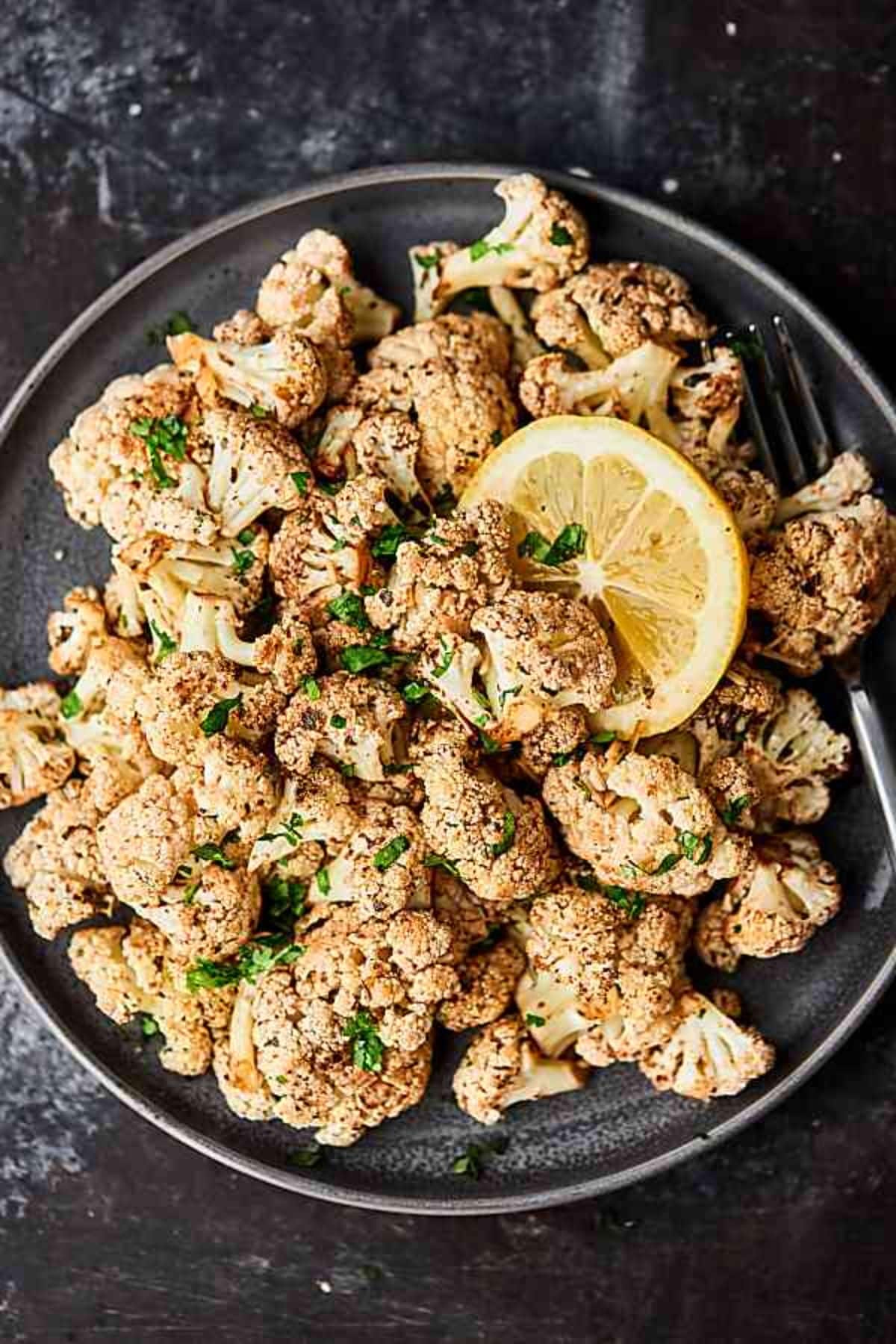 This delicious gluten-free Greek dish showcases Mediterranean flavors, and even though it's filled with healthy ingredients, it feels like an indulgence. To make this recipe, roast cauliflower florets and combine them with green olives, feta cheese, and diced tomatoes seasoned with oregano, garlic, salt, and pepper.
You can use pitted green olives or the pimento-stuffed variety for more flavor. Since this dish is so nutritious and light, don't be afraid to load up on the shredded parmesan/romano/asiago cheese topping, too.
10. Gluten-free Greek Pastitsio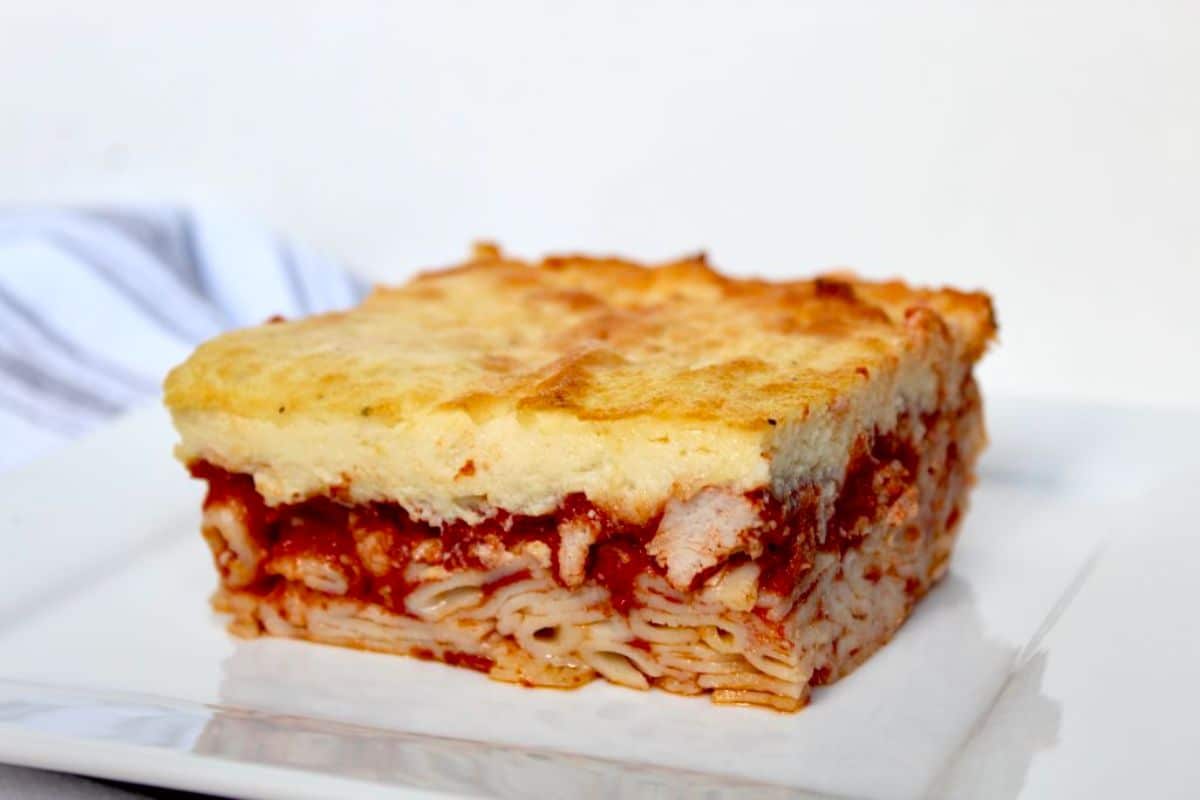 Another great modern twist on a traditional Greek recipe that's made gluten-free is this Gluten-free Greek Pastitsio. A pastitsio is a Greek version of lasagna that uses ziti pasta. It usually contains three layers of pasta, meat sauce, and bechamel sauce.
A mainstay at Greek festivals and restaurants, this dish features layers of pasta, meat, and tomato sauce, topped with some extra creamy bechamel sauce. You can make a few different substitutes, including the type of meat you use.
Even better, subbing wheat flour pasta for a gluten-free version makes it possible for everyone to enjoy this pastitsio. While you may not have heard of pastitsio before this recipe, you won't forget it after you taste its meaty, creamy, slightly spicy deliciousness.
11. 20-Minute Healthy Greek Meatballs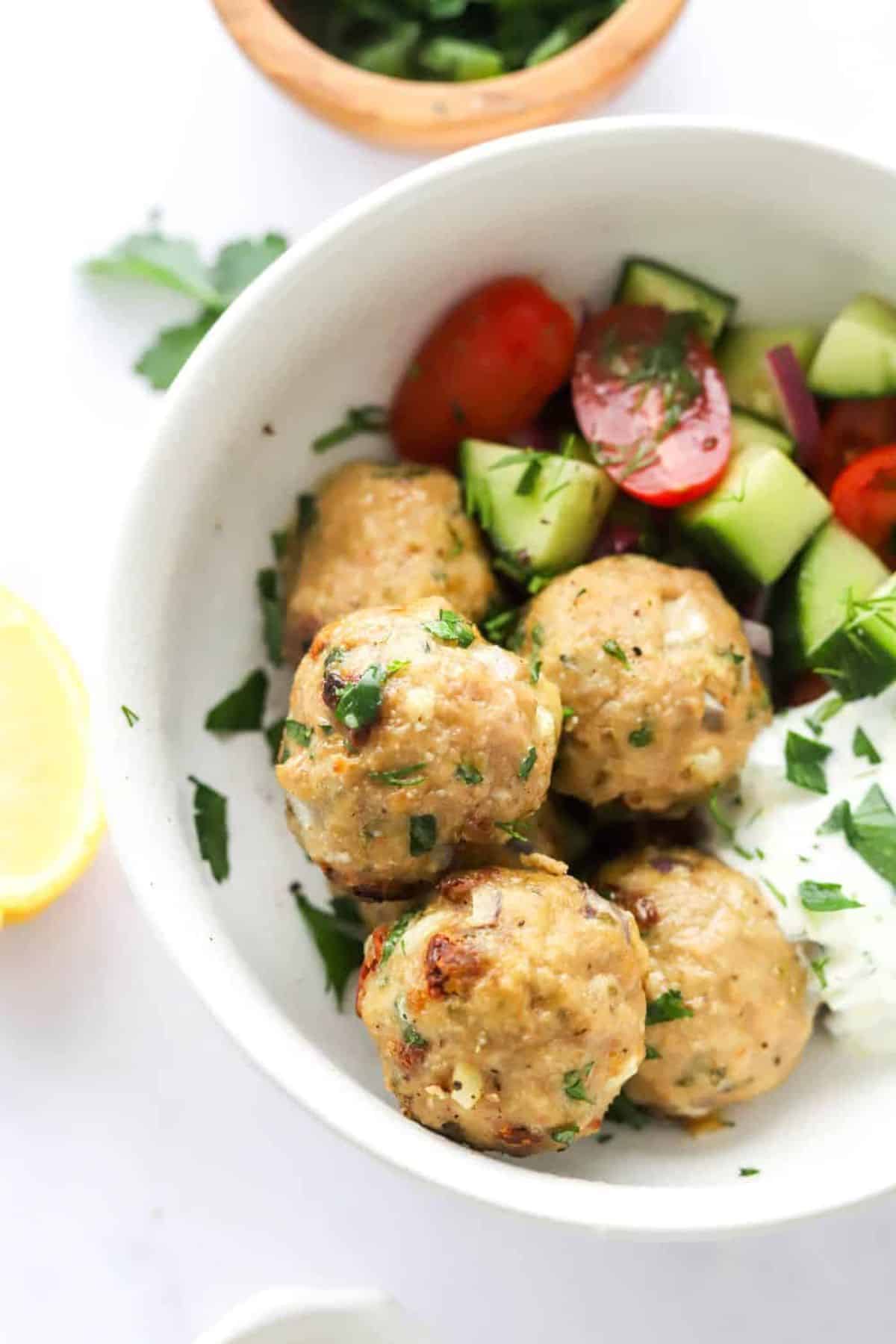 Craving more gluten-free Greek recipes? We've got a dish you'll just adore. These 20-minute-healthy Greek meatballs are chock full of juicy flavors and are oh-so-easy to make. These meatballs are best enjoyed with tzatziki sauce, cucumber salad, or any other great Greek dish from this list. We've made this a few times, and we've never been disappointed. Actually, we're so impressed with how quickly these come together and how utterly delicious they are.
Rounding out the ingredients list are tomatoes, red onion, garlic, almond flour, oregano, olive, salt, and pepper, as well as ground turkey and parsley. Mix them up, form them into meatballs, and pop them in the oven for twenty minutes. Tuck these in some pita bread layered with romaine lettuce, tomato, red onion, and hummus, and you've got a sandwich that will satisfy your Mediterranean food cravings.
12. Greek Lemon Chicken and Potatoes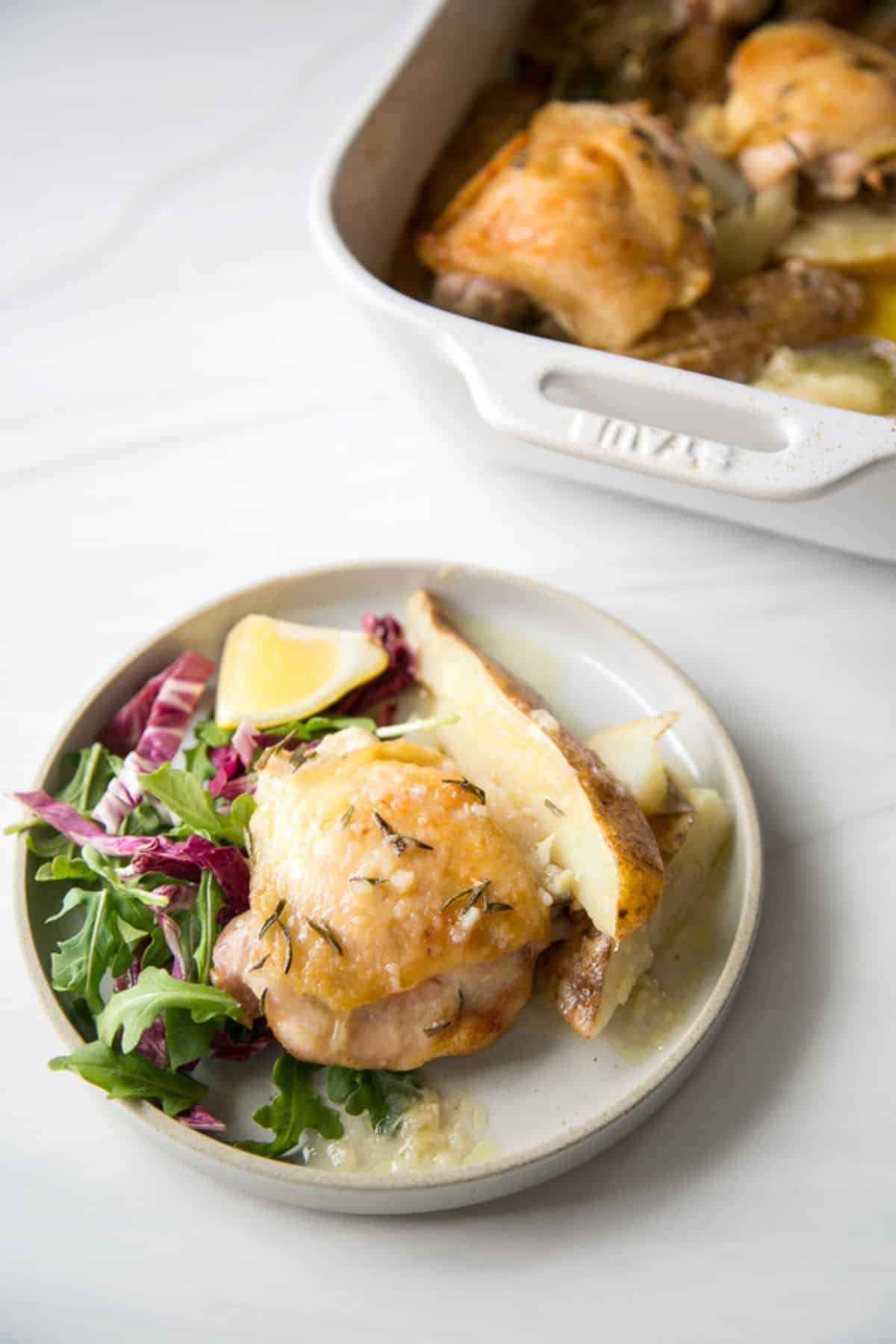 A simple and delicious one-pan gluten-free Greek chicken dish that's also dairy-free? Yes, please! This recipe includes chicken, russet potatoes, lemon juice, olive oil, chicken stock, and a few other simple ingredients. We love sheet pan meals like these because they're so easy to make, and they're super delish, especially with a green salad.
13. Gluten-Free Greek Pasta Salad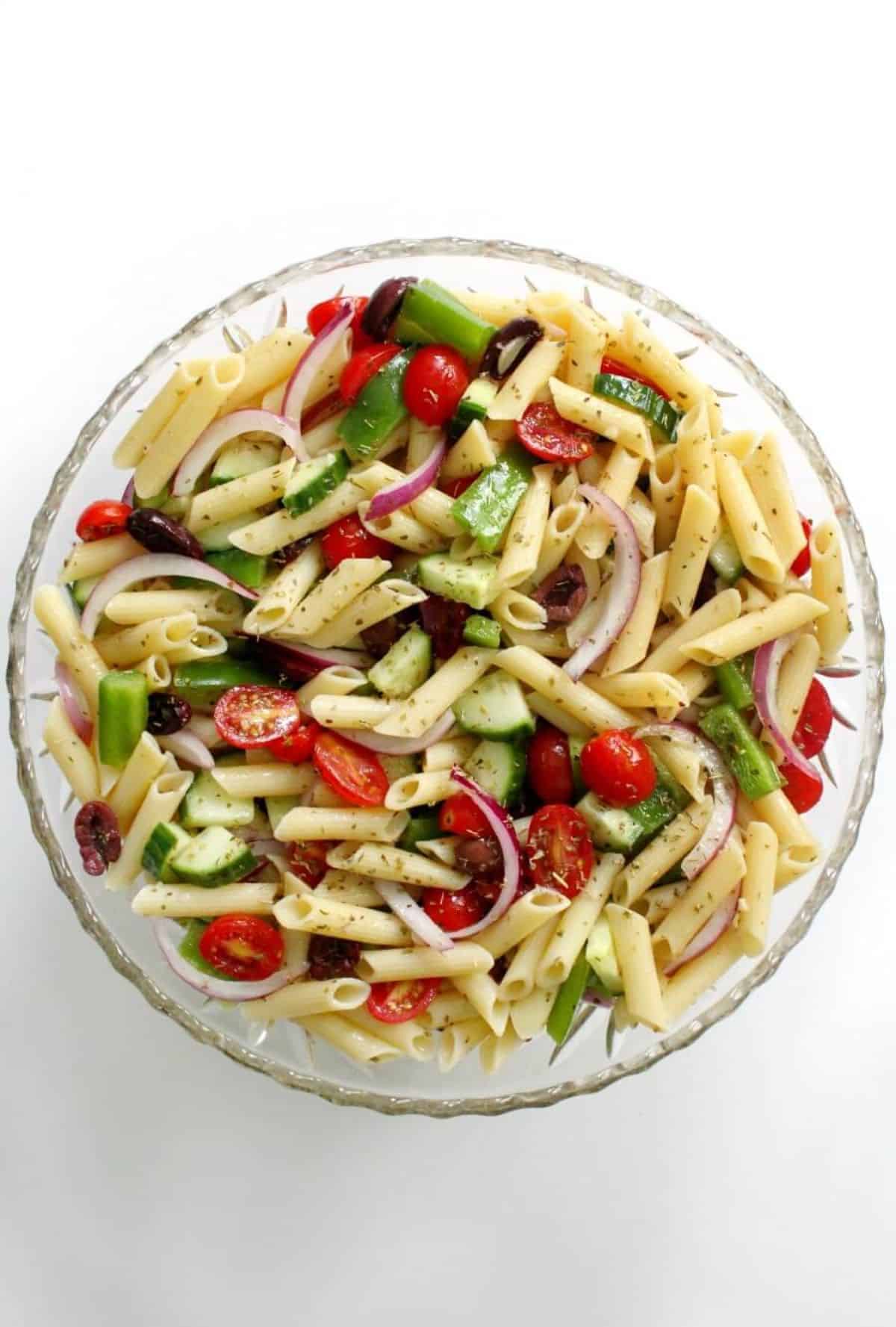 Since we're talking about salad, here's another you need in your repertoire. Greek pasta salad is a fantastic way to enjoy Mediterranean flavors and avoid dairy and many other common food intolerance triggers. It's a great side dish with other meals as well.
The recipe includes tomatoes, cucumbers, olives, red onion, green peppers, and pasta. These ingredients provide a refreshing and crunchy texture while adding to the overall flavor. Make sure to pick out a gluten-free pasta alternative, as well.
Want to make this recipe more filling? Just add meatballs or chicken. That not only adds flavor but may increase your enjoyment of the dish as well. Whether you want a main dish, a side dish, or even an appetizer for a get-together, this pasta salad is a great choice.
Wrapping Up
A gluten-free diet doesn't have to be boring. With so many alternative flours, every dish from every world cuisine can be made for the gluten sensitive, like these gluten-free Greek recipes. From main dishes to great appetizers and side dishes, everything on this list is a must-try. So gather your favorite gluten-free pasta and flour and whip up a flavorful Greek dish. No matter what you try, we know you'll really love it.