Fudgy gluten free mocha chocolate chip cookies are soft and chewy. They are full of cocoa and chocolate with just a hint of bitter coffee.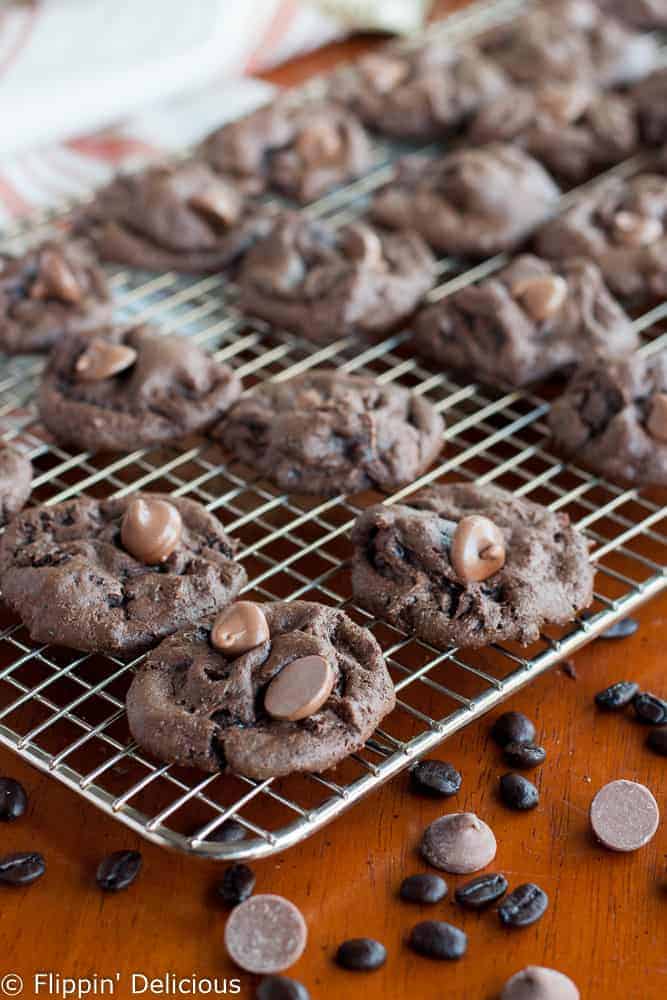 I have just a few more gluten free cookie recipes for you before the holidays are over. These gluten free mocha chocolate chip cookies are super chocolatey easy drop cookies with just a hint of coffee. I just love what coffee does to enhance and round out the chocolate flavor. I think it makes them even more chocolatey!
I added freshly ground coffee beans directly into the cookie dough. I only used 1 ½ tablespoons of ground coffee in my cookie dough, and it really just added a hint of mocha. I think next time I bake this gluten free mocha chocolate chip cookies recipe I'll double it to really bump up the mocha flavor!
Cookies really are one of my favorite things to bake. I just LOVE cookies, and I always have. I won't bore you with the story of my love for cookies again, you can read a little bit about it in my Gluten Free Flourless Chocolate Peppermint Cookies Recipe. But I do want to tell you about these cookies and about the flour that I used in them.
Normally my gluten free cookie/cake flour blend is my go for almost everything. I think I was maybe a little cocky about it, declaring it the best gluten free flour blend ever and PERFECT for cookies and cakes. I still really like my gluten free flour blend, but I'm beginning to open my kitchen up to some other great flour blends.
My friend Rachel, the founder of Gluten Free Mama, sent me some of her flour and a few other mixes to try out (I received no compensation, just some flour and mixes from my gluten-free blogging buddy.) I've been using it in lots of recipes, but the first one to go up on Flippin' Delicious are these gluten free mocha chocolate chip cookies.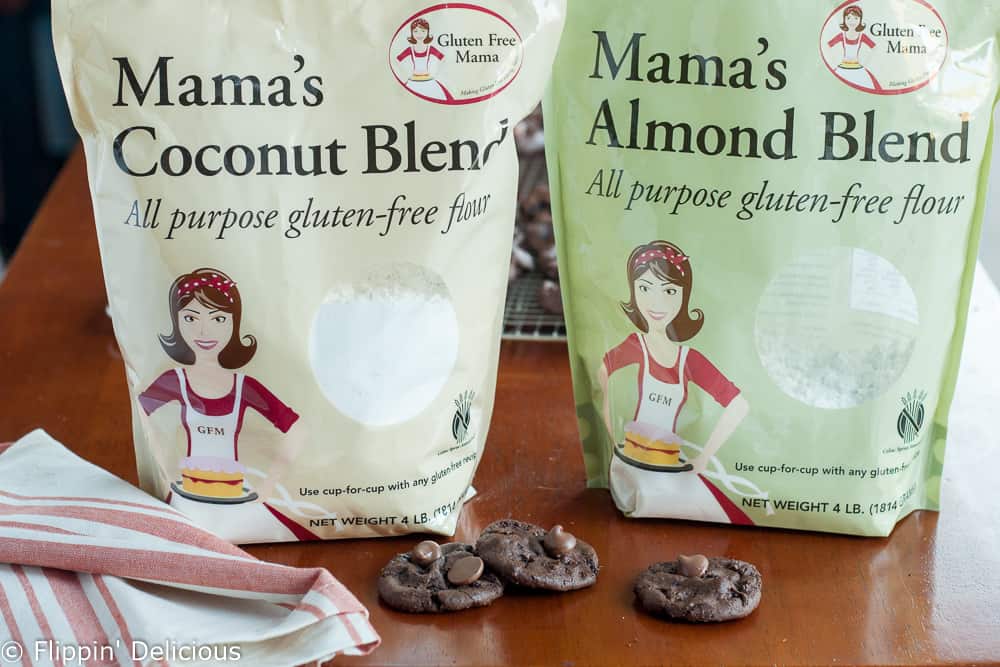 I was really impressed with how Gluten Free Mama's flour acts in baked goods. I made a yellow cake that sprung back! Unheard of texture for a gluten free cake! It inspired me to buy some of GF Jules' flour to try out too. Not all gluten free flour blends are created equal, and I have always known that. I thought that my flour blend was pretty good but trying and loving my friend's gluten free flours has been a bit humbling. I have to be honest and admit that their flour is better than my gluten free flour blend and I plan to be using their gluten free flours in my baking a lot more in the future.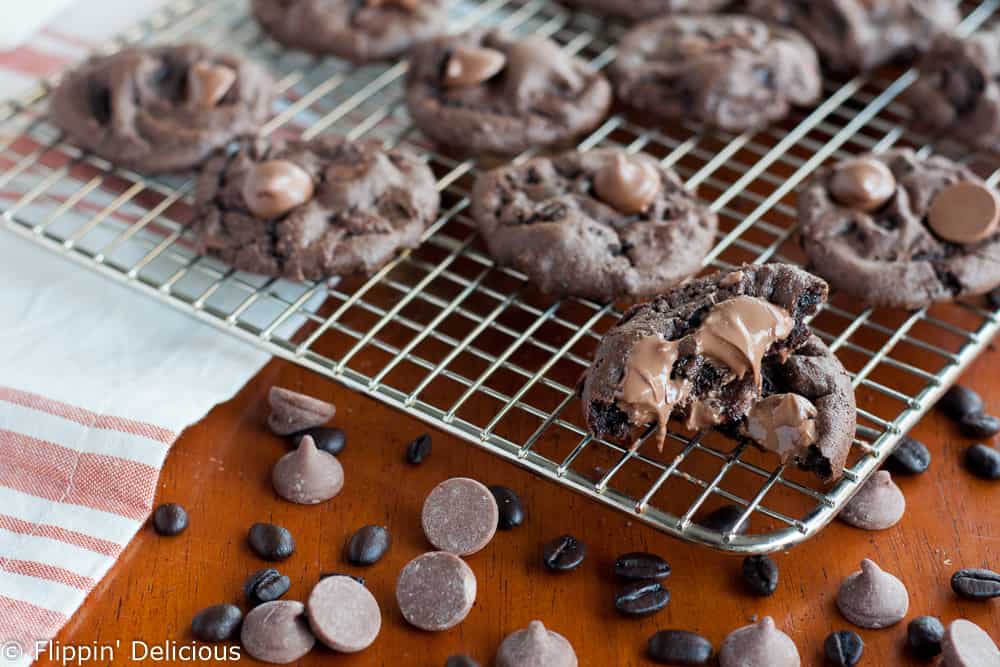 I look forward to the great food blogger cookie swap every year! It is such a fun way to share cookies and make some new blogging friends. I have been baking tons and tons of cookies for the past 2 months. It seems like I am baking a new recipe or testing an old one every other day! I was having a really hard time finalizing a recipe to mail to my gluten free cookie swap buddies, until I made these cookies. I adapted them from the recipe on the back of Gluten Free Mama's Coconut Flour Blend. It is a really easy recipe, and makes lots of cookies. Plenty for you to have some for yourself and enough to bring to a cookie exchange too.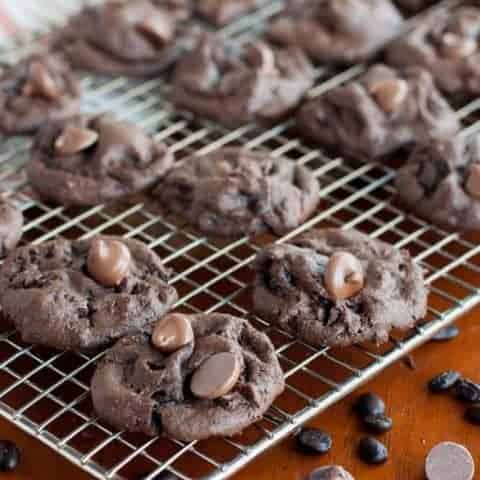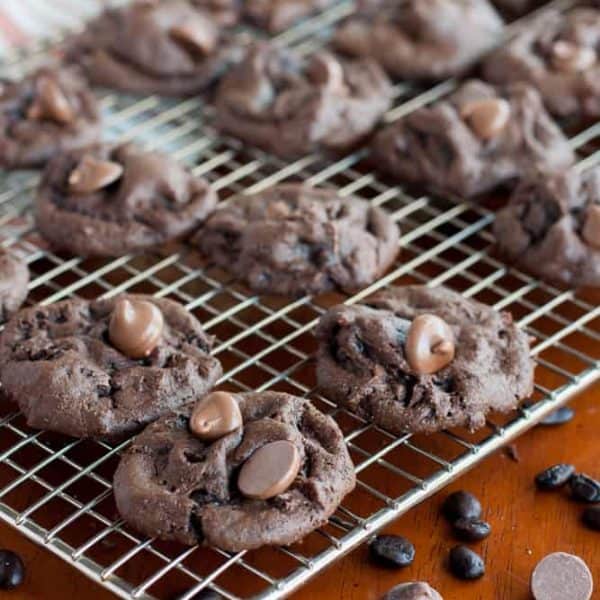 Gluten Free Mocha Chocolate Chip Cookies
Fudgy gluten free mocha chocolate chip cookies are soft and chewy. They are full of cocoa and chocolate with just a hint of bitter coffee.
Ingredients
¾ cup butter, softened
1 ¼ cups white sugar
2 eggs
2 teaspoons vanilla extract
1 ½ tablespoons finely ground coffee
¾ cup cocoa powder (I used dark/Dutch processed cocoa)
1 teaspoon baking soda
¾ teaspoon salt
¾ teaspoon xanthan gum
1 ½ cup milk chocolate chips
Instructions
Preheat the oven to 350F and line your baking/cookie sheets with parchment paper silicone baking mats.
Cream together the butter and sugar.
Add the eggs and cream until smooth.
Add the vanilla and ground coffee and mix until incorporated. Add the cocoa powder, baking soda, salt, xanthan gum, and gluten free flour and mix until you have a smooth dough.
Stir in the milk chocolate chips.
Scoop the dough onto the prepared baking sheets into ½ tablespoon sized portions approximately 3 inches apart.
Bake for 8-10 minutes. The cookies won't look "done" and will still be soft but will lose their doughy sheen.
Let cool on the baking sheet for 5 minutes before removing to a cooling rack.
Notes
I made my cookies smaller than I normally do. Feel free to make bigger cookies using a 1 ½ tablespoon cookie scoop, just bake a little longer. I'd guess anywhere from 10-12 minutes but maybe as long as 14.
Recommended Products
As an Amazon Associate and member of other affiliate programs, I earn from qualifying purchases.
Nutrition Information
Yield

48
Serving Size

1
Amount Per Serving
Calories

84
Total Fat

5g
Saturated Fat

3g
Trans Fat

0g
Unsaturated Fat

1g
Cholesterol

17mg
Sodium

89mg
Carbohydrates

9g
Fiber

0g
Sugar

8g
Protein

1g
All nutrition info is a guestimate and will vary depending on the ingredients you use.