Gluten-Free pumpkin spice latte donuts are a sweet & festive way to kick-start a fall morning.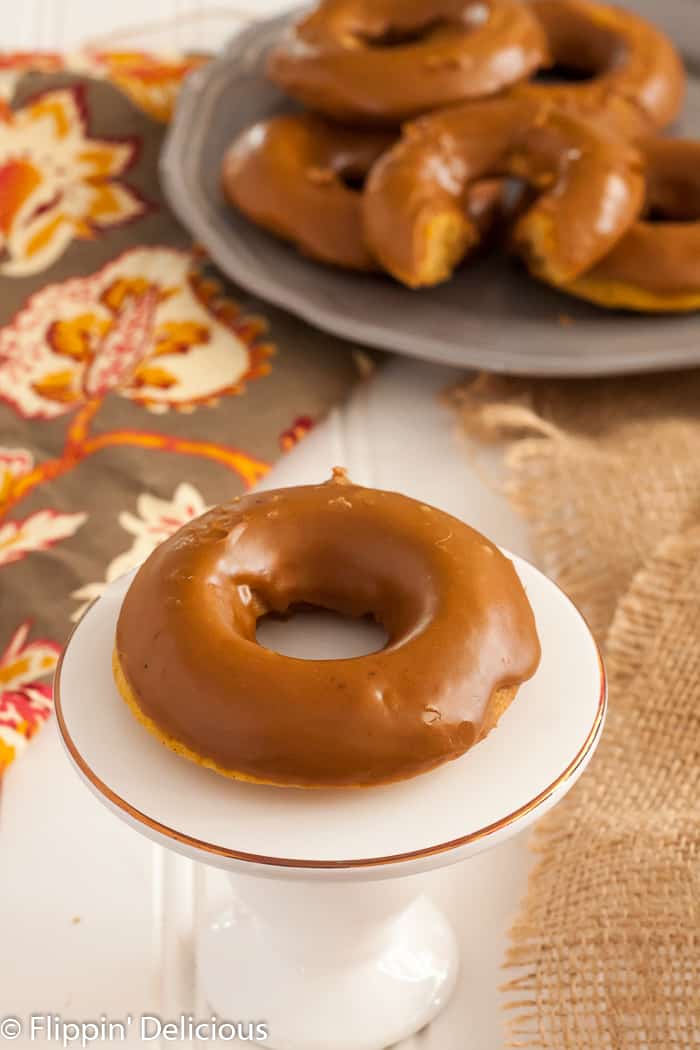 I still remember the first time I tried a pumpkin spice latte. Sadly, it was underwhelming. Too sweet, and lacking in the pumpkin department.
Soon after I tried a REAL pumpkin latte from my favorite local coffee shop. Real pumpkin puree and real maple syrup, the flavor knocked my socks off!
After baking my gluten-free pumpkin spice latte cupcakes I knew I had to put the iconic fall flavor combo into gluten-free baked donuts. The results knocked my socks off once again. Tender pumpkin cake donuts dipped into a caffeinated coffee glaze... match made in heaven.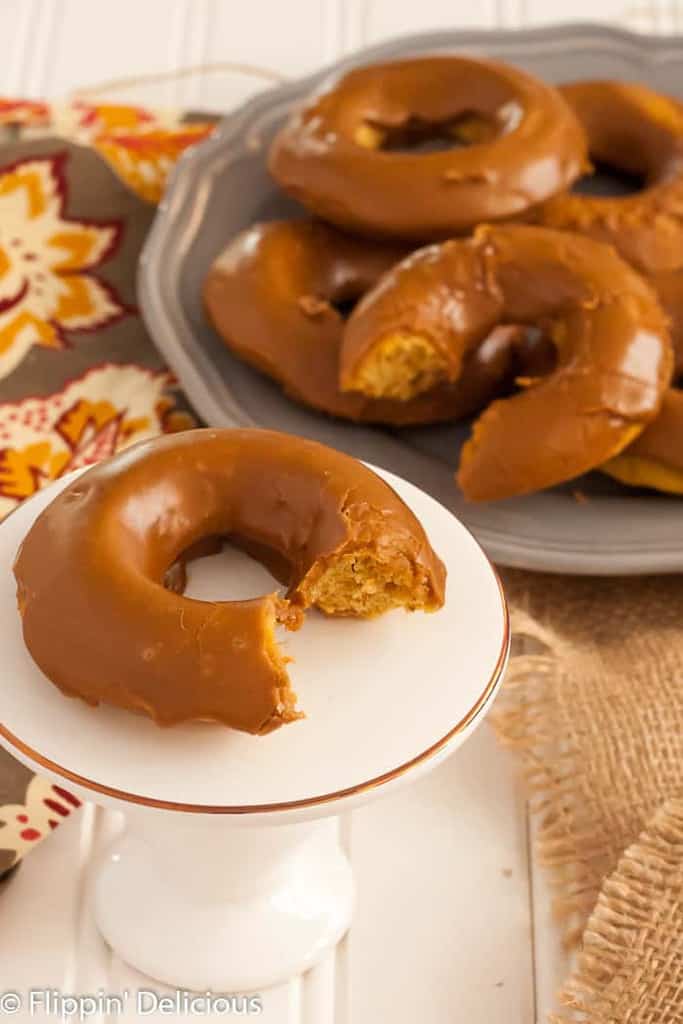 Whisking the gluten-free pumpkin donut batter takes just a few minutes. Real pumpkin, brown sugar, and your favorite pumpkin-spices, along with some gluten-free flour. I used "dairy-free buttermilk" which is just dairy-free milk and a little vinegar mixed together, to keep these donuts dairy-free.
The easiest way I have found to get the batter into my donut pan is to scoop the pumpkin batter into a gallon size zipper bag. I snip a corner off and squeeze the batter right into the donut-shaped tin.
If you don't already have a donut pan, I suggest amazon-priming one. I love mine and use it all the time. It is the only safe way to for me to get gluten-free donuts! If you don't have a donut pan right now and can't wait for the two-day shipping you can make "donut holes" buy using a mini-muffin tin or "mega donut holes" if you use a regular muffin tin.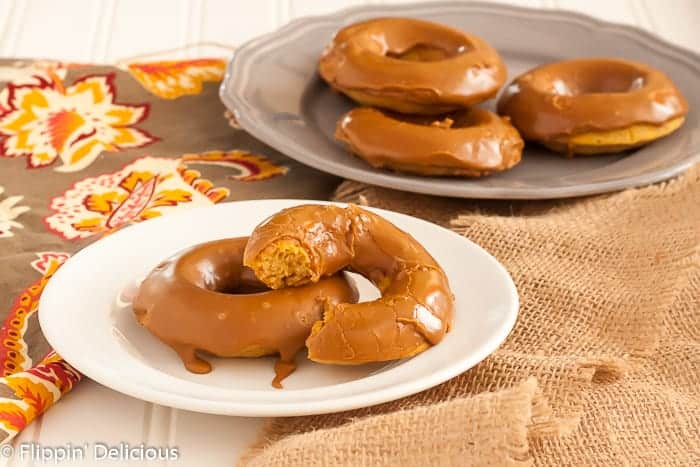 While my donuts are in the oven, I whisk together the coffee glaze. My secret to getting a great "latte" flavor is to use strong-brewed coffee instead of milk and to add some instant coffee. If you add the instant coffee last, sometimes it won't dissolve all the way and will make some pretty coffee speckles in your glaze. When making this batch my coffee was too hot and dissolved the instant coffee...instantly.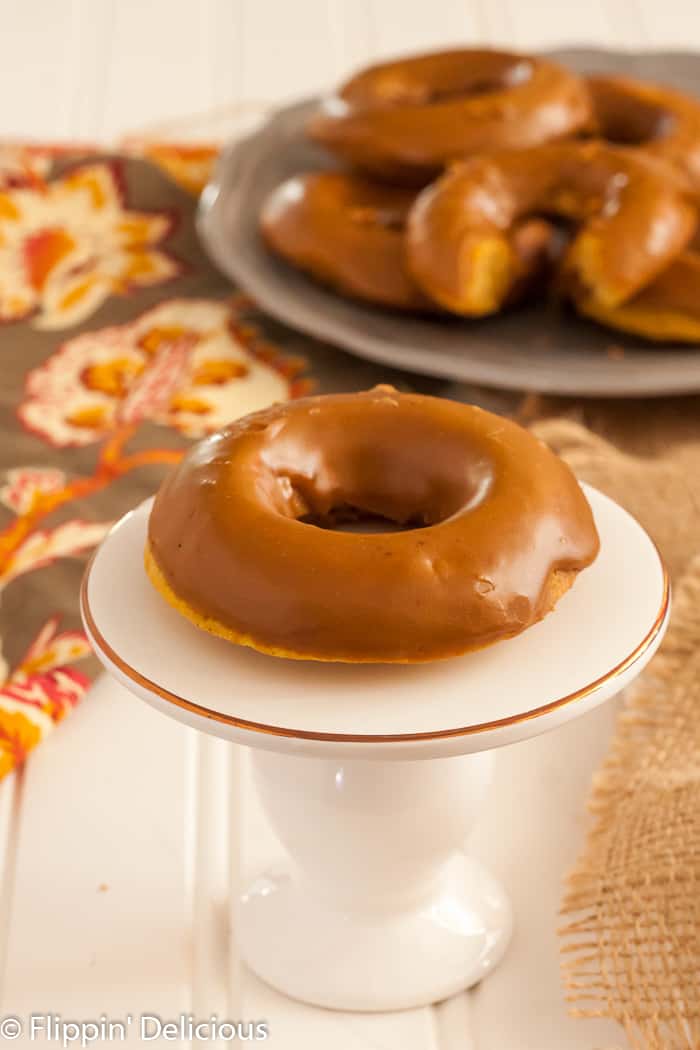 Another secret to frosting perfect gluten-free pumpkin spice latte donuts is to heat up the glaze. If you heat the glaze it will quickly set shiny and smooth, won't soak into the donut, and will give you that crinkly crunch when you take your first bite.

📖 Recipe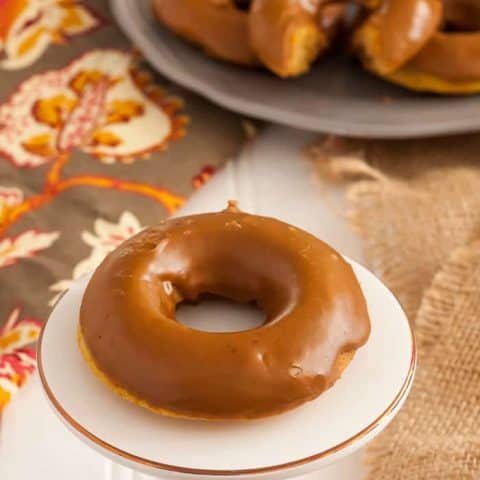 Gluten-Free Pumpkin Spice Latte Donuts
Gluten-Free pumpkin spice latte donuts are a sweet & festive way to kick-start a fall morning.
Ingredients
For the gluten free pumpkin latte donuts
¼ cup sugar
1 teaspoon baking powder
¼ teaspoon nutmeg
½ teaspoon salt
¼ cup plus 2 tablespoons your favorite dairy-free milk mixed with 1 teaspoon of vinegar (let sit 5 mins)
1 egg
3 tablespoons pumpkin puree
1 tablespoon oil
For the coffee glaze:
½ cup powdered sugar
1-2 tablespoons coffee
1 teaspoon instant coffee
1 teaspoon vanilla
Instructions
Preheat oven to 425F, Spray your doughnut pan with nonstick cooking spray.
In a mixing bowl whisk or sift together all of the dry ingredients. Add the milk, egg, pumpkin, and oil and mix until combined. Fill each doughnut cup about ⅔ full.
Bake for 7-9 minutes or until the doughnuts spring back when touched.
Let cool for 4-5 minutes before removing from pan.
For the Coffee Glaze
Mix the powdered sugar and 1 tablespoon of coffee and vanilla extract together. It will be very thick. If it is still "crumbly" add in more coffee, up to a tablespoon. Stir in the instant coffee. Heat in the microwave for approx 30 seconds. Immediately dip each doughnut in the glaze and then let cool.
Notes
The glaze doesn't reheat very well so don't heat it up until you are all ready to dip.
Recommended Products
As an Amazon Associate and member of other affiliate programs, I earn from qualifying purchases.
Nutrition Information
Yield

10
Serving Size

1
Amount Per Serving
Calories

200
Total Fat

3g
Saturated Fat

0g
Trans Fat

0g
Unsaturated Fat

2g
Cholesterol

23mg
Sodium

204mg
Carbohydrates

39g
Fiber

1g
Sugar

13g
Protein

4g
All nutrition info is a guestimate and will vary depending on the ingredients you use.