This gluten-free stir fry will be cooked and ready to eat faster than you could imagine. This is such a crowd pleaser, and you won't find yourself with leftovers!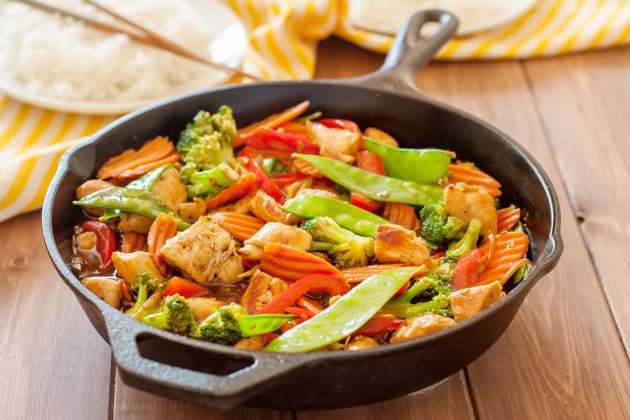 When I was younger, one staple meal my mother always made for us was a stir fry. It was easily adjustable to the tastes of everyone who was eating. We could make it gluten free, dairy free, or vegetarian so quickly and easily.
As I've grown my personal recipe library, I've kept some of the recipes that I grew up with, modifying them for my personal tastes and elevating them a little bit whenever possible. This gluten free stir fry is one of those recipes.
I use a bag of fresh stir fry vegetables for this recipe, and then I just add some fresh red peppers as well. This recipe is very customizable to the kind of vegetables that you personally like.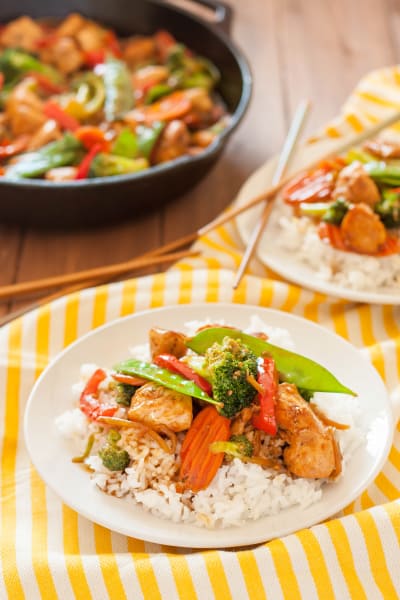 If there are vegetables you don't like that are included in bagged stir fry veggies, go ahead and use your favorite vegetables instead. You can also use frozen stir fry veggies. Whatever is best for you.
This gluten free stir fry recipe really cooks so quickly.
Start cooking the chicken and vegetables, while you make the sauce.
And then pour the sauce on and wait just a few minutes for it to cook, and then it's done.
20-minute meal, easy. What will you do with all your extra dinner prep time?
I like to use the rest of my evening making a dessert to enjoy after dinner, like some gluten free red velvet donuts. Or, if I get started on dessert before dinner? I'll make my favorite gluten free devils food chocolate cake.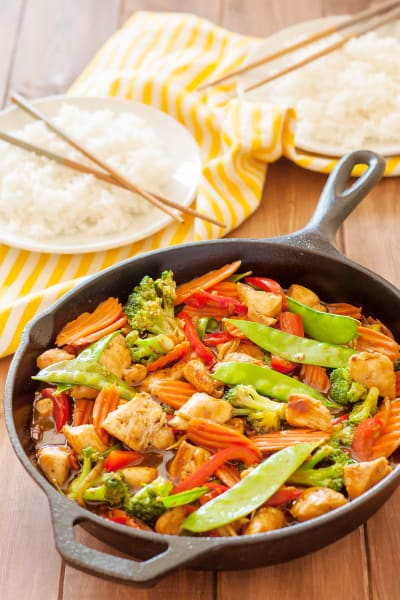 Miss E likes to help me cook this one. I let her help me mix up the sauce or measure the rice while I handle chopping veggies and cooking with heat. I love easy recipes like this that let me include my daughter, because I love seeing my love for food and cooking pass onto her.