Gluten free tiramisu cream puffs have all the flavors and textures of the classic Italian dessert in a fun bite-sized dessert. The perfect pick-me-up!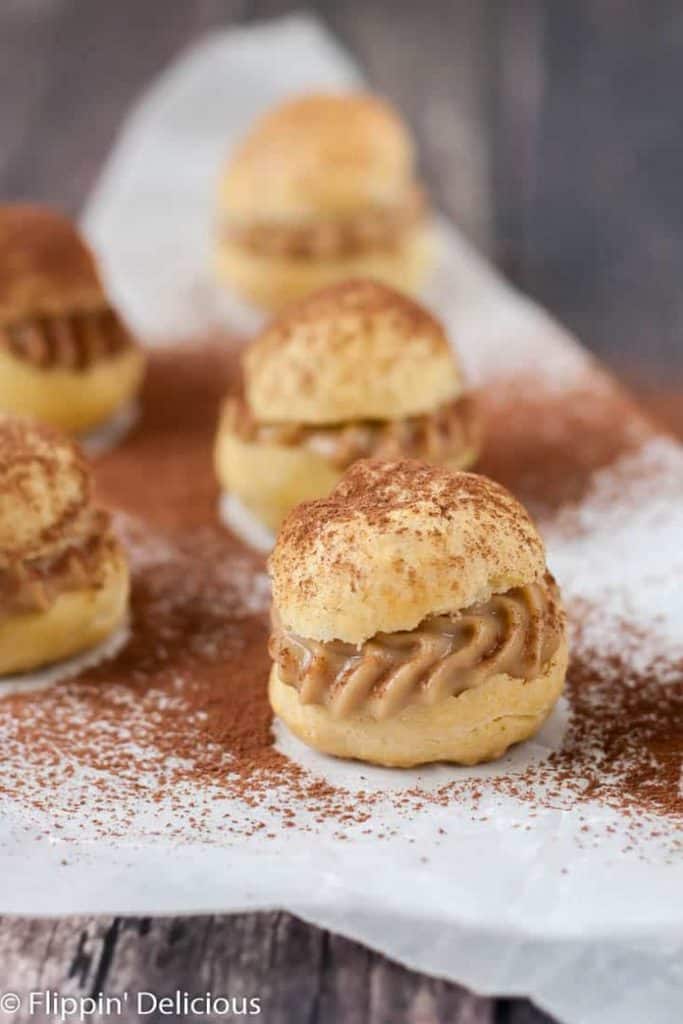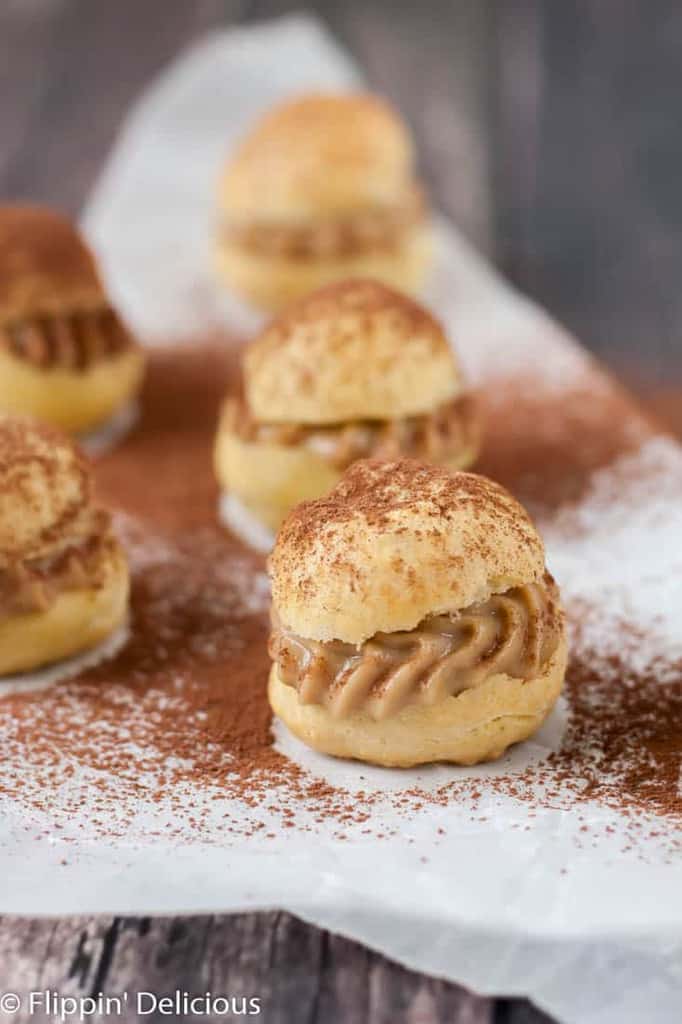 What is the signature flavor of tiramisu? You have the creamy mascarpone filling, the bitter espresso, and the slight tingle of
marsala wine
, brandy, or dark rum. In the classic Italian pick-me-up dessert lady finger cookies provided the structure.
I am a big fan of cream puffs.
Gluten-free cream puffs
actually aren't too tricky to make . The gluten free pate choux dough sounds challenging to make, but it only has a few ingredients and as long as you follow the directions step-by-step you will have beautifully golden buttery puffs perfect for filling and dusting with powdered sugar and cocoa.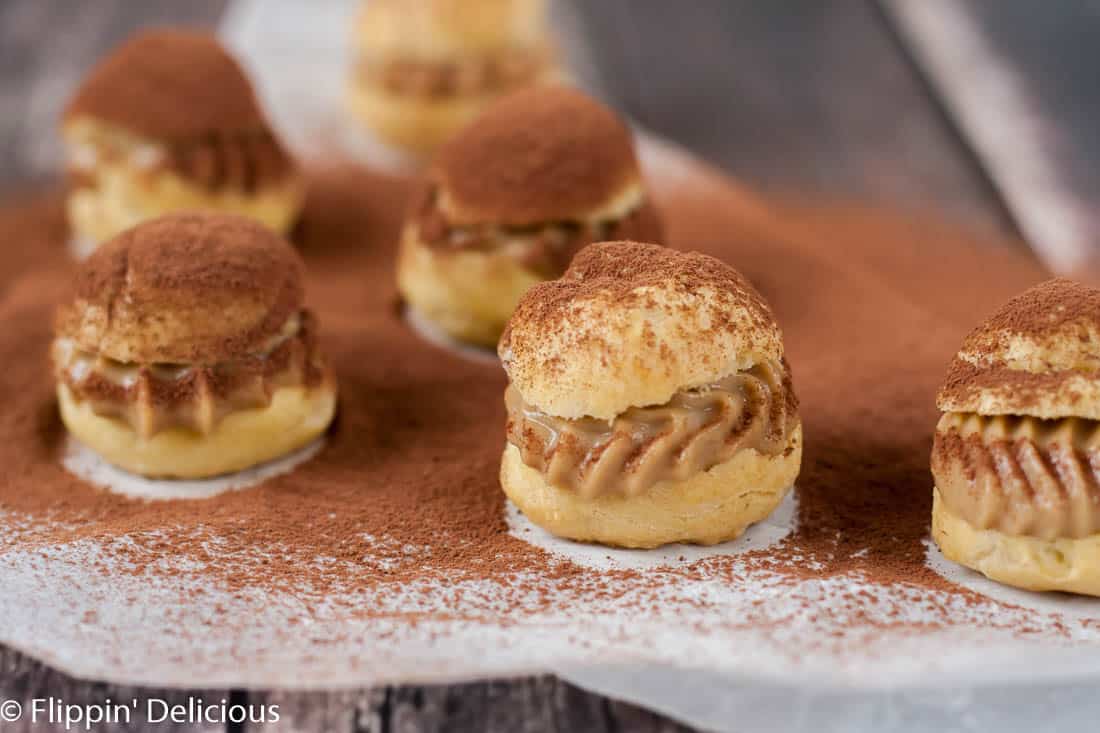 These gluten free tiramisu cream puffs have all of the flavors of classic tiramisu, but in a super fun bite-sized
dessert
. Perfect for parties! You feel so fancy eating or serving these.
The espresso cream that I filled these cream puffs with only takes 15 minutes on the stove-top.
I used some gelatin to help the cream set up and be pipe-able. Bitter espresso
coffee
, a hint of
vanilla
, and just a touch of marsala wine, brandy, or dark rum. Once you dust the filled cream puffs with
cocoa powder
they taste just like tiramisu AND you can easily make them dairy free!
If you are a fan of coffee flavored desserts you need to add my gluten free coffee brownies with espresso frosting and gluten free pumpkin spice latte cupcakes with coffee frosting!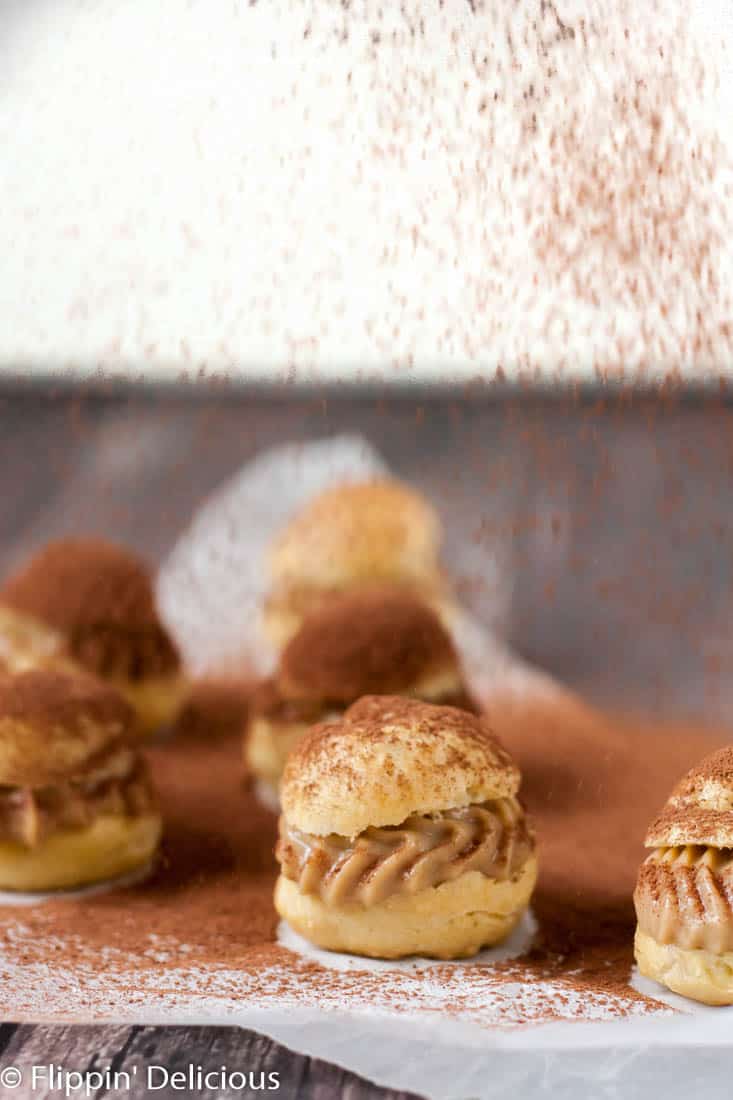 You can bake the cream puffs a day ahead, and make the filling several days ahead and keep it chilled in the fridge making these a great dessert to prep ahead. Just fill them within a few hours of serving so that the pastry doesn't get soggy.
Have you ever made gluten free ladyfingers?
I have.
I failed miserably.
It was one recipe where having my kids in the kitchen with me really threw things off. I did something wrong and my ladyfingers baked into a crispy puddle instead of delightfully crisp delicate cookies.
So I made tiramisu using some leftover cake that I had in my freezer. I enjoyed every bite (and didn't share with anyone.)
After that Lady Finger disaster I shelved my tiramisu dreams until I met one of my high-school friends for lunch. We started talking about our favorite ways to enjoy coffee. I told her about my tiramisu mishap. She told me about how silly she felt asking a barista at Starbucks for 8 oz of espresso when she made tiramisu for her birthday the last year.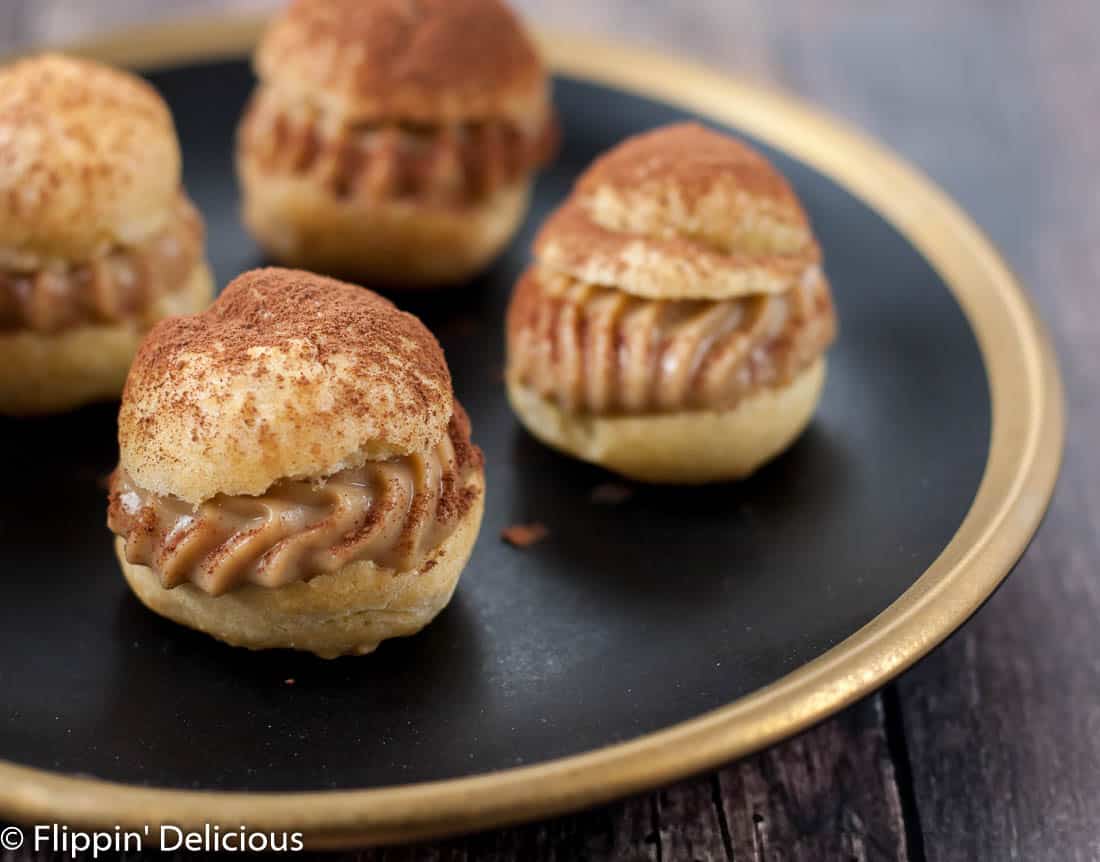 My friend's birthday was coming up the next month, and we planned to go out together for sushi.
I love to bake gifts for my friends and family, so I spent the morning before our sushi date making gluten free cream puffs in 2 of her favorite flavors. I made gluten free matcha cream puffs, and these sexy gluten free tiramisu cream puffs. She was so excited when I handed her a bakery box filled with golden pastries!
📖 Recipe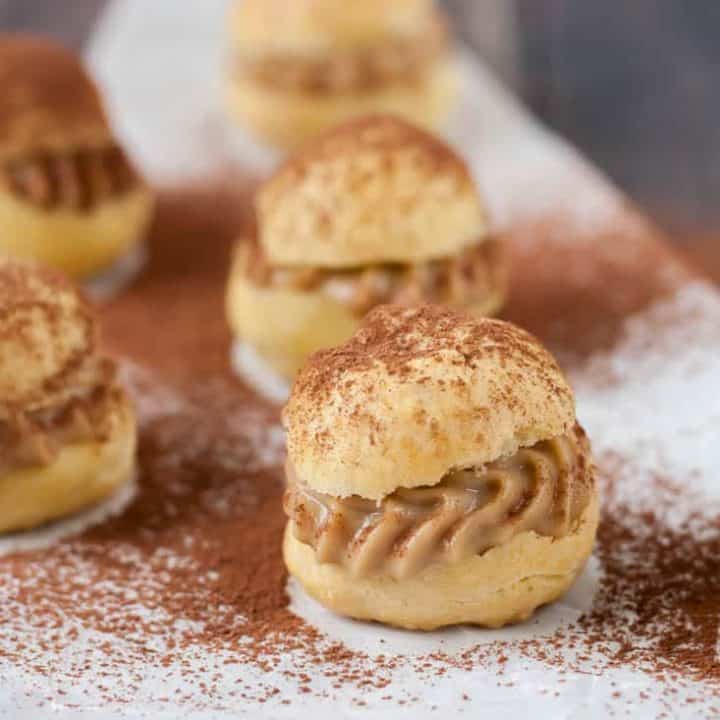 Gluten Free Tiramisu Cream Puffs
Yield:
30 small cream puffs or 12 large cream puffs
Gluten free tiramisu cream puffs have all the flavors and textures of the classic Italian dessert in a fun bite-sized dessert. The perfect pick-me-up!
Ingredients
1 teaspoon powdered unflavored gelatin
¼ cup espresso or strong coffee, hot
2 cups milk (dairy free is fine)
3 Tablespoons cornstarch
3 eggs
½ cup sugar
1 tablespoon marsala wine, dark rum, or brandy (optional)
Instructions
Prepare the pate choux using my gluten free cream puff recipe and bake according to the directions.
For the Espresso Pastry Cream
Mix the gelatin with 1 tablespoon of cool water and set it aside to bloom for 5 minutes. Whisk in the hot espresso or coffee. Continue to whisk until the gelatin is completely dissolved. Set aside.
In a saucepan whisk together the milk and cornstarch and heat while stirring until it starts to thicken.
In a bowl whisk together the eggs and sugar until smooth.
When the milk is steaming and slightly thickened, pour 1 cup of steaming milk into the egg mixture, whisking constantly.
Carefully pour the egg mixture back into the saucepan of milk, while whisking. Continue to cook over low heat until the pastry cream coats the back of a spoon and leaves a clean line when you wipe the back of the spoon with your finger.
Whisk the vanilla extract, optional wine or brandy, and espresso gelatin into the pasty cream.
Pour the pastry cream into a clean container and press plastic wrap on the surface to prevent a skin from forming as it cools. Chill before using.
To finish the cream puffs
Cut the cream puffs in half and remove any soft dough. Fill with the espresso pastry cream (I used a pastry bag but you can also use a plastic bag with a corner cut off.)
Dust the filled cream puffs with cocoa powder, if desired.
Notes
Makes about 2.5 cups espresso pasty cream (enough to fill 1 batch of gluten free cream puffs).
Nutrition Information
Yield

12
Serving Size

1
Amount Per Serving
Calories

52
Total Fat

2g
Saturated Fat

1g
Trans Fat

0g
Unsaturated Fat

1g
Cholesterol

22mg
Sodium

29mg
Carbohydrates

6g
Fiber

0g
Sugar

4g
Protein

1g
All nutrition info is a guestimate and will vary depending on the ingredients you use.