This Gluten Free Vegan Chocolate Pie is no bake and free of the top 8 allergens. Finally a dairy free dream whip pie that my family can enjoy!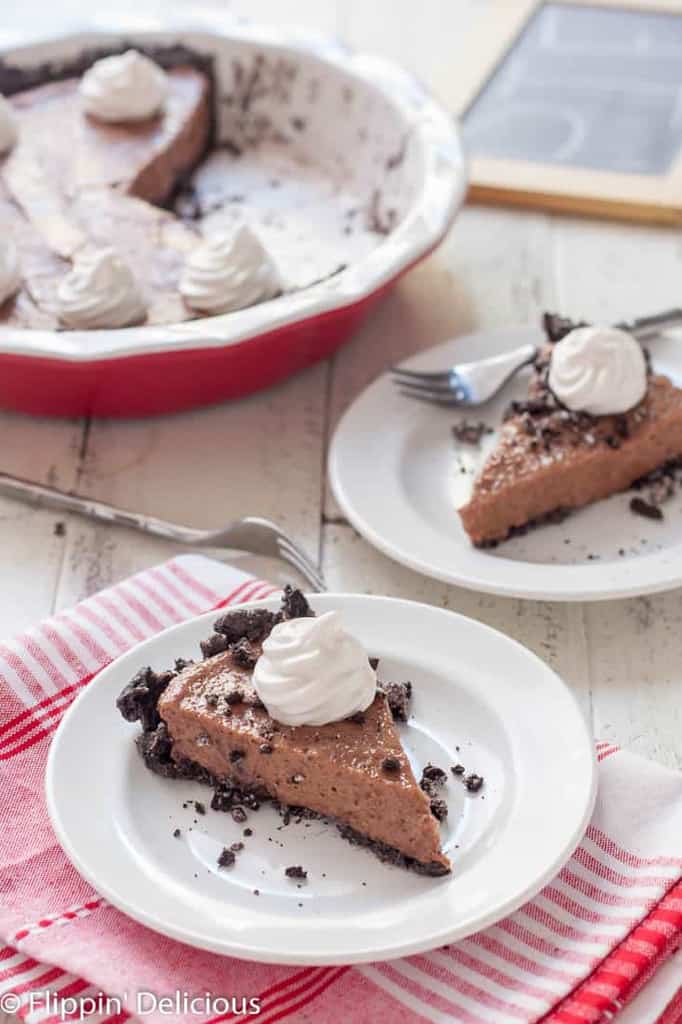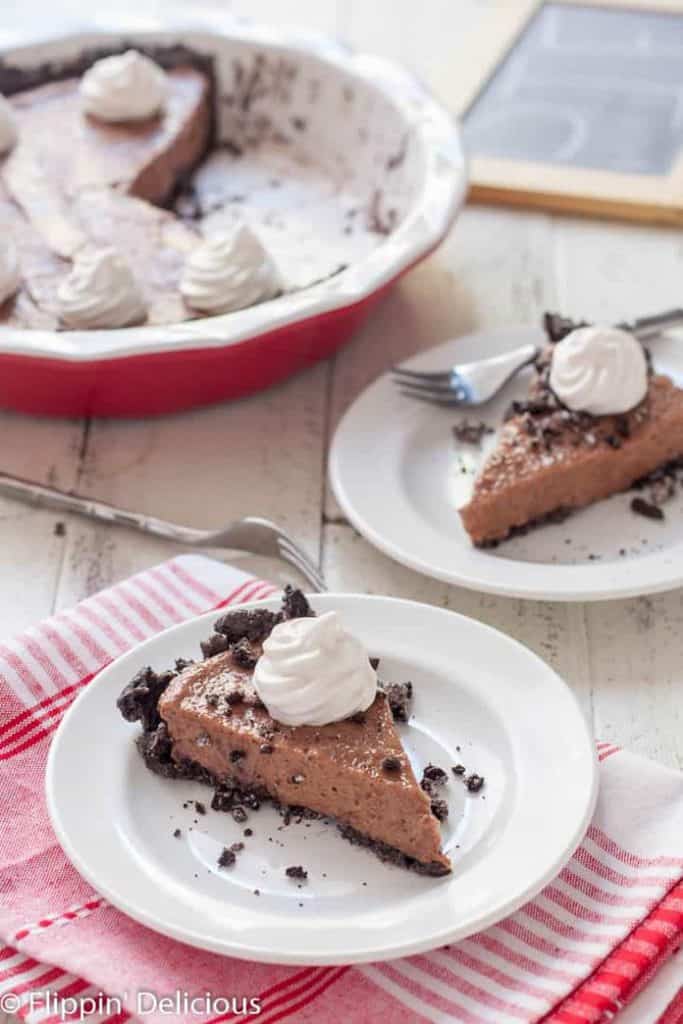 This post is sponsored by Vivian's Live Again. As always, all opinions are entirely my own. Thanks for supporting Flippin' Delicious™ and the companies that I work with!
There are some things about my husband that I will never understand. Like his undying love of cereal and his aversion to many of my favorite desserts. He would rather eat a bowl of cereal than a slice of my gluten free red velvet cake.
When we were engaged we had a discussion about dessert and he eventually admitted that there was one dessert that he really did love (and prefered to cereal.
Dream Whip Pie.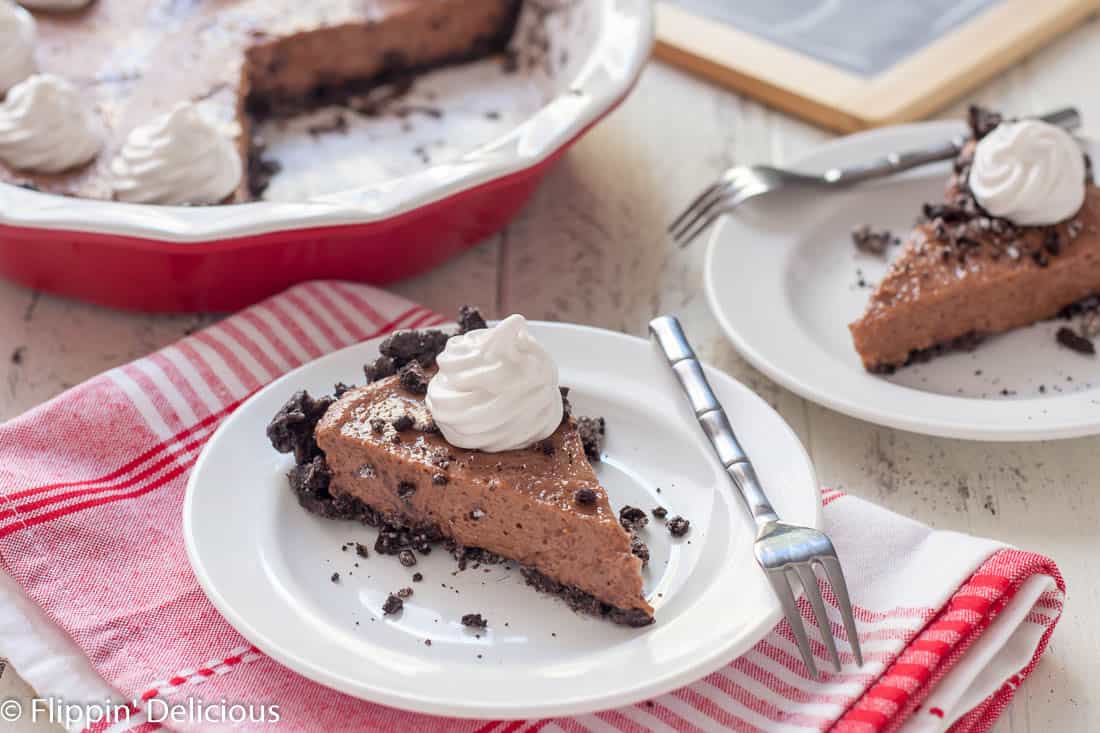 It was something that his mom had made for special occasions when he was growing up. I had never heard of dream whip pie before. So we googled it. It was basically a chocolate pudding or chocolate cream pie made with a Dream Whip packet (powdered magic that turns into whipped cream when whipped with milk) and chocolate pudding mix.
Our very first Thanksgiving after we were married I wanted to surprise him by making a dream whip pie, but using homemade pudding and fresh whipped cream. I was pregnant with our first and had been throwing up for a solid 4 months, but I stood in our tiny itsy bitsy kitchen in our tiny itsy bitsy STUDIO apartment and attempted that elusive chocolate cream pie. That one was a complete flop!
A few years later I made a pie with whipped cream and melted chocolate that my sister lovingly refers to as a "3 musketeers pie" because the filling was so rich it reminded her of the filling of a 3 musketeer bar. She could only eat a few bites!
I eventually surrendered to the classic chocolate dream whip pie as originally made by my hubby's mom. Every Thanksgiving and every birthday I would make it for him.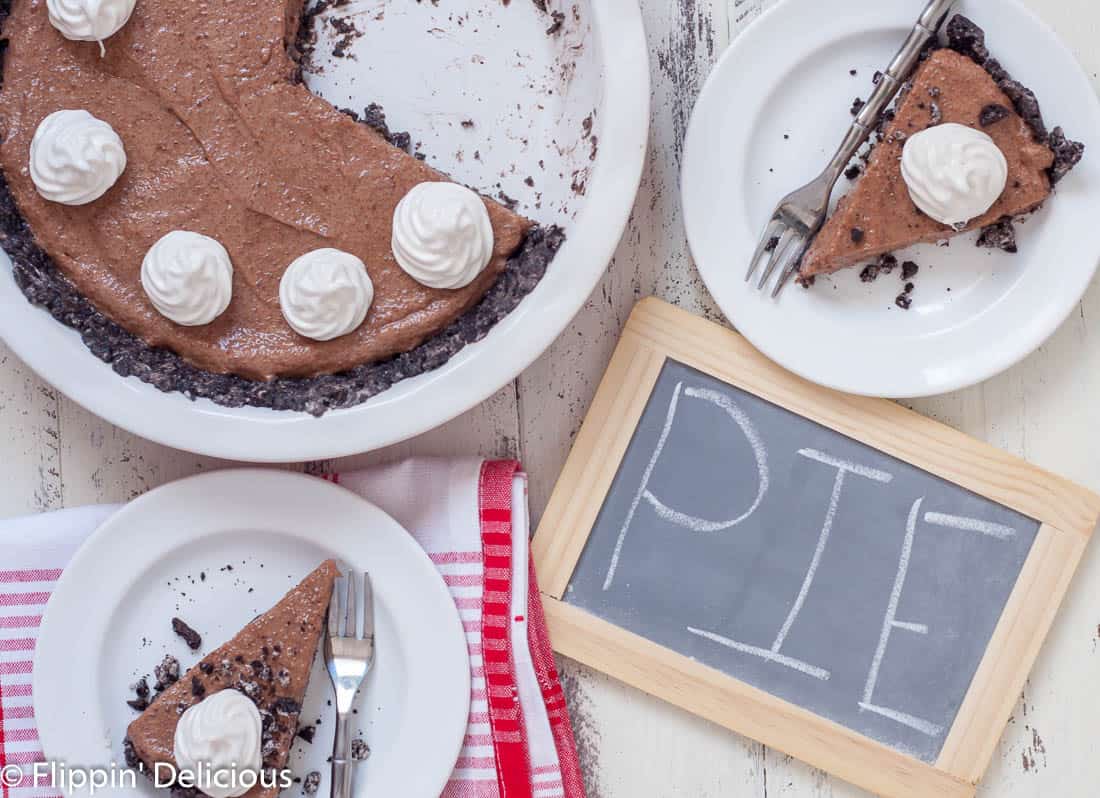 But last January we went dairy free, so a creamy gluten free chocolate cream pie made with dream whip is no longer an option.
When I first met the owner of Vivian's Live Again at Everything Food Conference this past May she gave me one of her creamy whipped topping packets to try. It is soy and dairy free, gluten free, and vegan. My first thought was to use it to re-create that chocolate dream whip pie for my hubby. I saved it for his birthday and made a beautiful creamy gluten free vegan chocolate cream pie with my girls. It was pretty darn good! A few tweaks to that recipe and I now have what I think is a dead ringer for a dream whip pie, but it is gluten-free, vegan, and free of the top 8 allergens!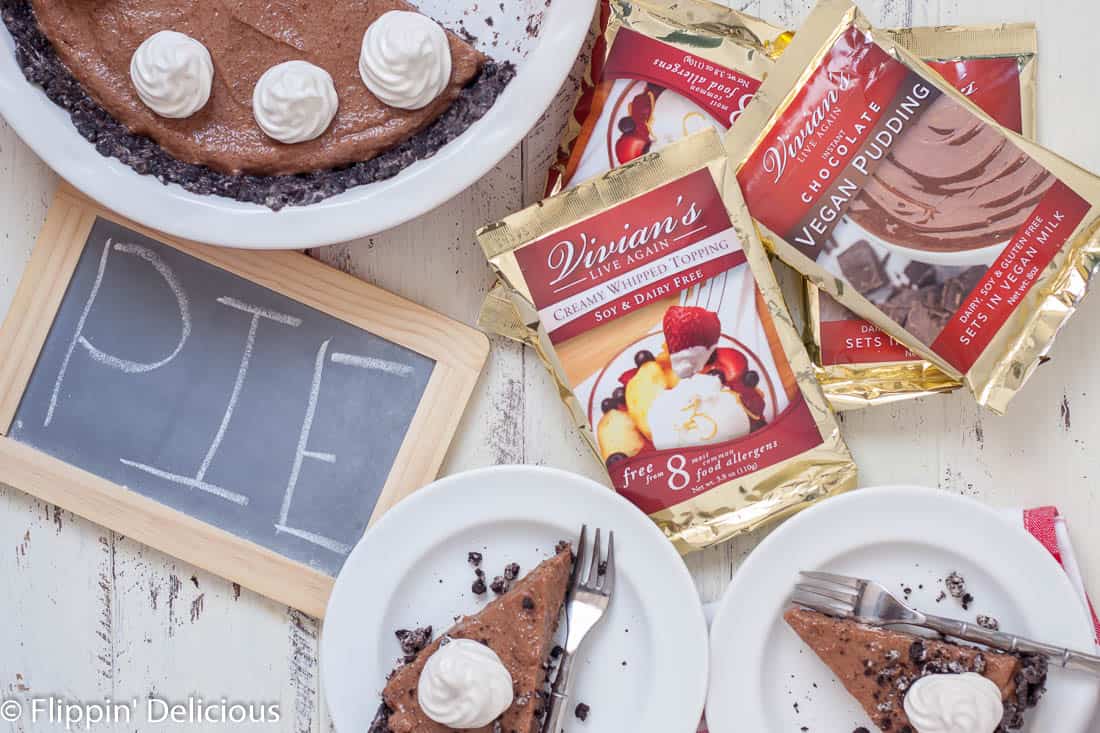 I used Vivian's Live Again Creamy Whipped Topping AND Vivian's Live Again Vegan Instant Chocolate Pudding folded together in a gluten free vegan chocolate cookie crust. It was so easy! No oven required, making it perfect for the hot summer months, or for Thanksgiving when you don't have any extra room in your oven.
Vivian's Live Again also has a Vegan Vanilla Instant Pudding and a Vegan Banana Instant Pudding! How yummy would it be to use sub the banana pudding and pour it into a gluten free graham style crust and top it with sliced bananas?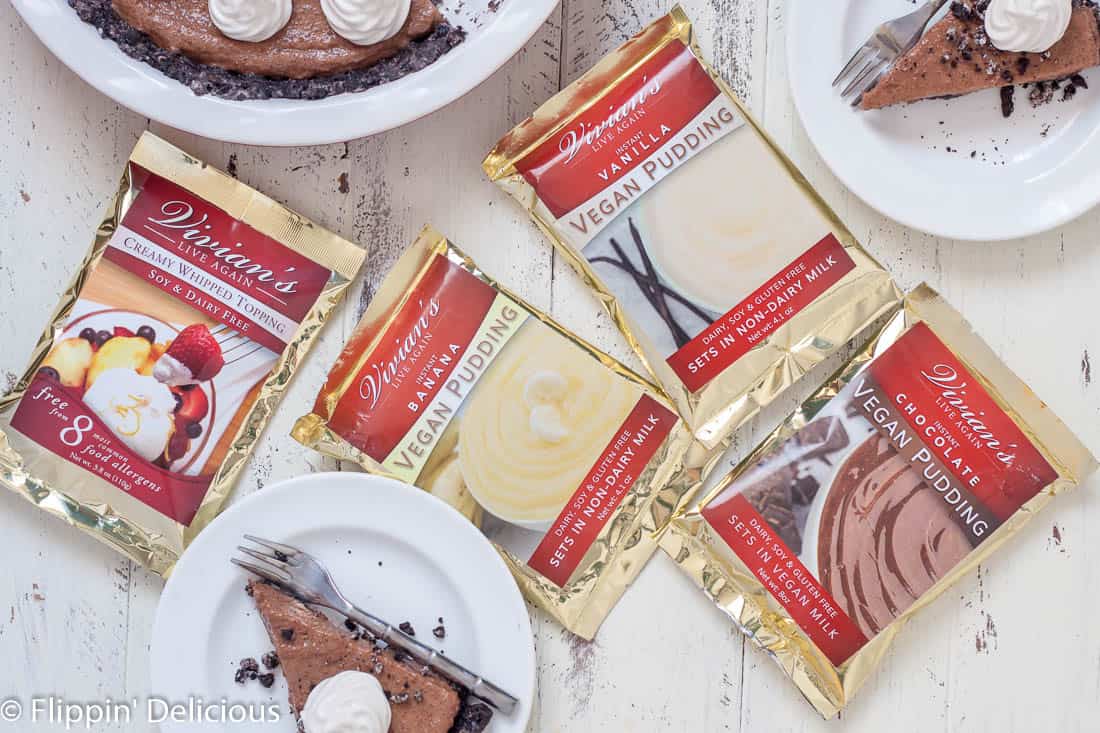 We usually go to my parents home for Thanksgiving, since they live about 20 minutes away from us. Almost all of my family eats gluten-free, so we have a 100% gluten free Thanksgiving feast complete with more gluten free pies than people (I think our record was 17 pies 2 years ago! Last year we cut it back to 15.) It is a celiac's paradise!
This year we are going to enjoy our Thanksgiving feast with my mother-in-law. She and her husband eat normally, while we have to eat gluten free and dairy free. So I am going to tuck a few creamy whipped topping and vegan pudding packets into my purse and make this gluten free vegan chocolate pie at her home that we all can eat!

📖 Recipe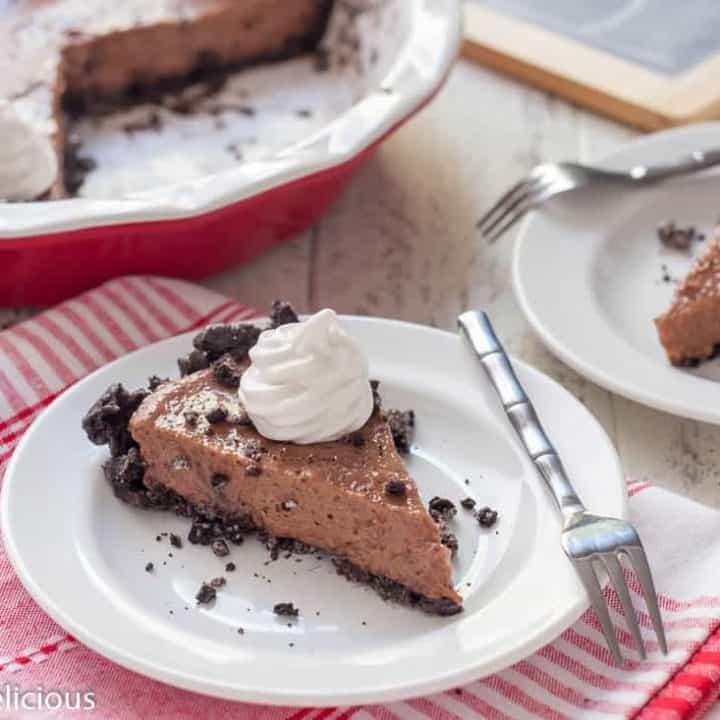 Gluten Free Vegan Chocolate Pie
This Gluten Free Vegan Chocolate Pie is no bake and free of the top 8 allergens. Finally a dairy free dream whip pie that my family can enjoy!
Ingredients
2 ½ cups gluten free vegan chocolate cookie crumbs, divided (I used a 10.5 oz pkg of chocolate sandwich cookies crumbed with the filling still in them)
3-4 tablespoons vegan butter OR palm shortening, melted
1 cup water, divided
3 teaspoons oil, divided
1 ½ cups dairy-free milk (I used almond)
Instructions
Make a chocolate cookie crumb crust by mixing 2 ¼ cups cookie crumbs (reserve ¼ cup for the finished pie) with 4 tablespoons of vegan butter (use 3 tablespoons if you used sandwich cookies with the filling still in them for the cookie crumbs.) Gently press the crust up the sides and on the bottom of your 9 inch pie plate. Place in the freezer to chill for at least 10 minutes.
Whip 1 package of Vivian's Live Again Creamy Whipped Topping according to the package directions with ½ cup of water and 1 ½ teaspoons of oil.
In a separate bowl whisk Vivian's Live Again Instant Chocolate Vegan Pudding with the dairy free milk until smooth.
Gently fold the whipped topping into the pudding, and then pour it into the chocolate cookie crust. Chill in the fridge for at least 1 hour (but for best results 3+ hours).
Prepare the remaining package of Vivian's Live Again Creamy Whipped Topping according to package directions with the remaining ½ cup water and 1 ½ teaspoons oil. Serve with the pie and garnish with the reserved cookie crumbs.
Notes
I've also made this recipe successfully using Jello Instant Pudding (the package says it won't set with non dairy milk, but it has always set for me if I use less milk than the package calls for. Use 1 ½ cups instead of 2) and So Delicious CocoWhip, or something similar.
I love the convenience of Vivian's Live Again because I can store them in my pantry and have whipped topping at a moment's notice. However, I can't buy them locally and order them online. If you don't have time to wait for shipping, I wanted to give you an alternative.
Recommended Products
As an Amazon Associate and member of other affiliate programs, I earn from qualifying purchases.
Nutrition Information
Yield

8
Serving Size

1
Amount Per Serving
Calories

417
Total Fat

25g
Saturated Fat

14g
Trans Fat

0g
Unsaturated Fat

10g
Cholesterol

28mg
Sodium

211mg
Carbohydrates

42g
Fiber

2g
Sugar

28g
Protein

6g
All nutrition info is a guestimate and will vary depending on the ingredients you use.