Straight from my celiac grandma, this gluten free waffles recipe is the best! Dairy free waffle option.
Photos, video, and post updated 6/12/2021
Gluten Free Waffles recipe straight from my Grandma's recipe box
My grandma makes the very best gluten free waffles.
I know EVERYONE says that, but I'm not kidding, it really is the best gluten free waffles recipe.
They have the perfectly crisp exterior with a tender bite.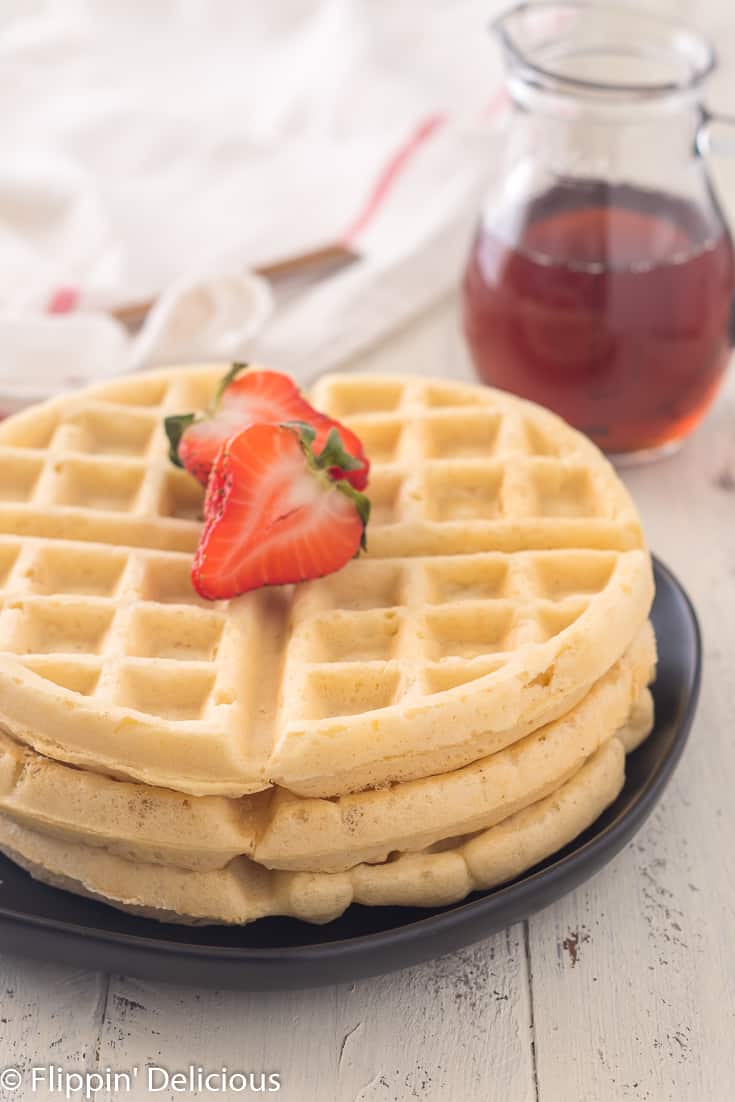 My grandma has celiac disease (we all get it from her side of the family) so of course her waffles are gluten-free. Which is awesome!
Growing up, my family ate waffles or pancakes for breakfast every single Saturday. It was a tradition we got from my Grandma.
When my mom was a little girl they had waffles for breakfast on Saturday.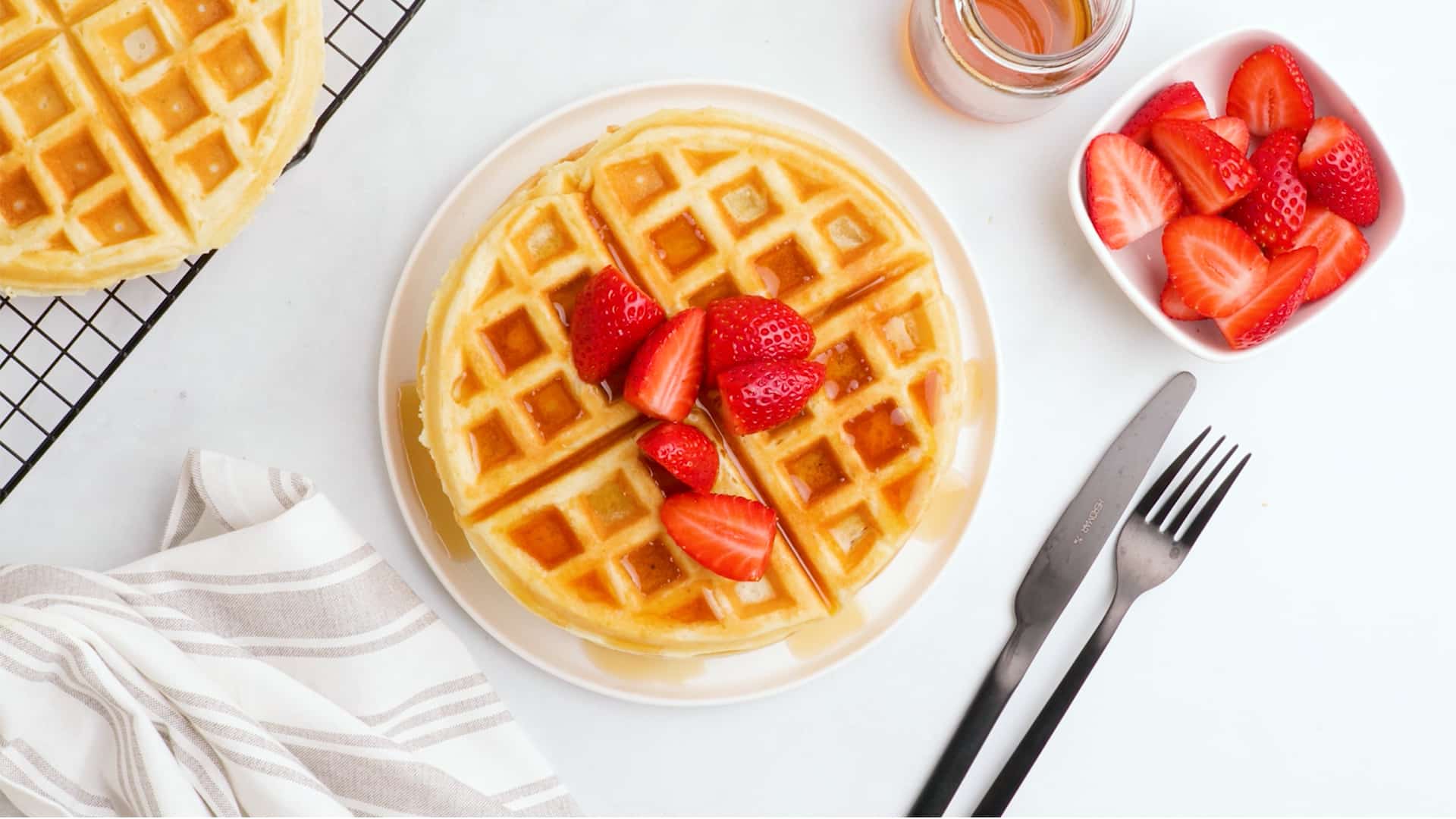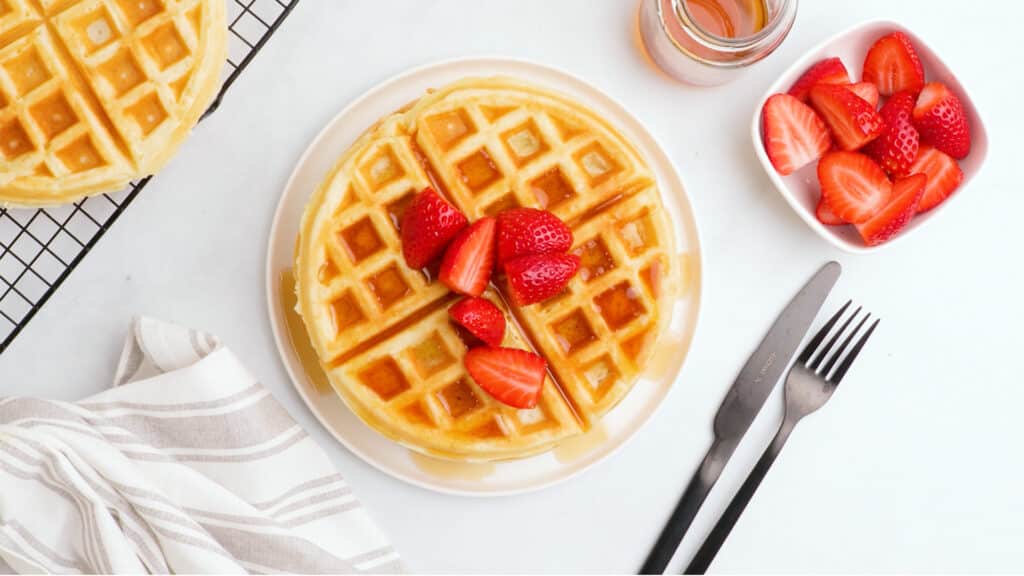 It was something we could do to feel close to my grandma, even though we lived thousands of miles away from each other.
When my family went gluten free (I was a teenager still living at home) I tried dozens of times to make really good gluten free waffles.
Waffles that were as good as my gluten-filled days.
Every time it wasn't quite right. They'd be way to dry and crumble all over the place, OR they would be gummy. I don't know which is worse.
I had all but given up, until my grandma made me her gluten free waffles for breakfast.
They were perfect.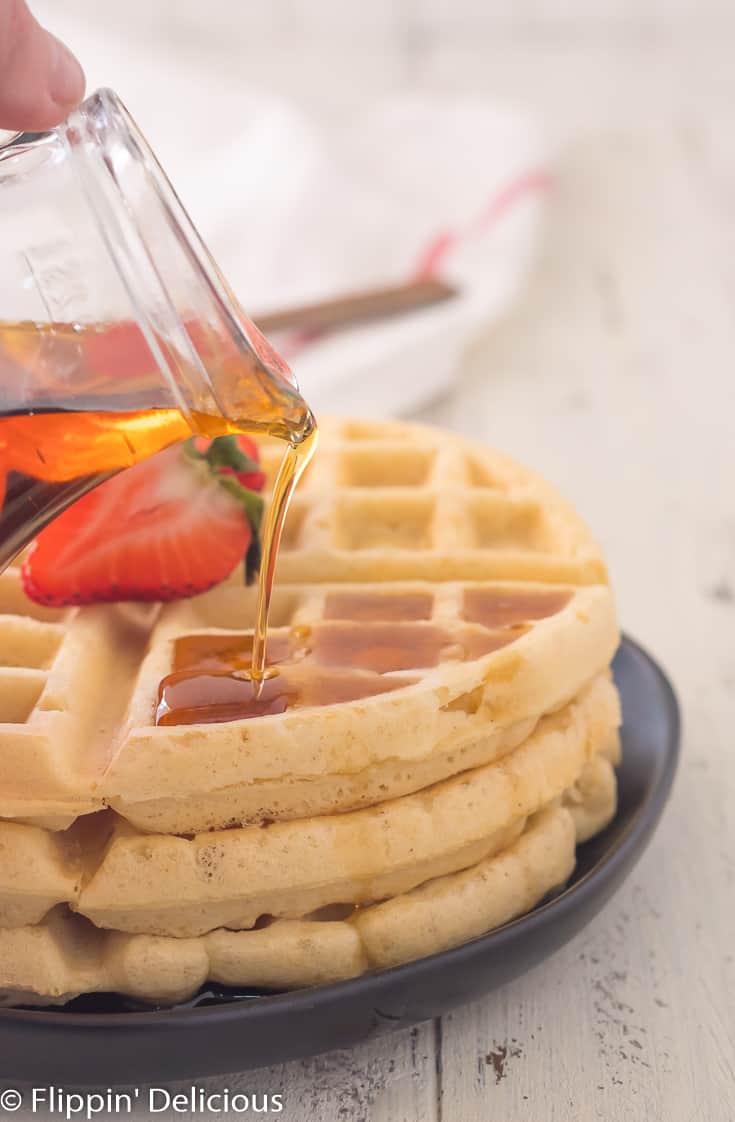 Crispy on the outside, a bit fluffy on the inside, flexible and not crumbly or dry at all. They have great texture and great bite.
Of course my grandma had nailed a great gluten free waffle recipe. She had been making waffles every Saturday morning for decades.
I loved my grandma's gluten free waffles so much, I asked her for the recipe. She gladly wrote her recipe down for me on a blank 3x5 card from her recipe tin.
Sometimes I miss the days of recipe boxes full of index cards. Do you? So much history, and great food.
How to make gluten free waffles from scratch
My grandma's gluten free waffles are really easy to make! No whipping egg whites or other funky business makes this a very easy gluten free waffle recipe.
I can't whip eggs whites until I'm at least on my second mug of coffee.
This gluten free waffle batter is quickly whisked together in a bowl or large measuring cup (my fave, it has a spout!) while your waffle iron preheats.
How do you cook gluten free waffles?
I use a Belgian waffle iron that I've had for years.
It gets the job done, but I've been eyeing a bigger square waffle iron so I can better keep up with my hungry kiddos. (Plus it has removable plates so it is easier to keep clean.)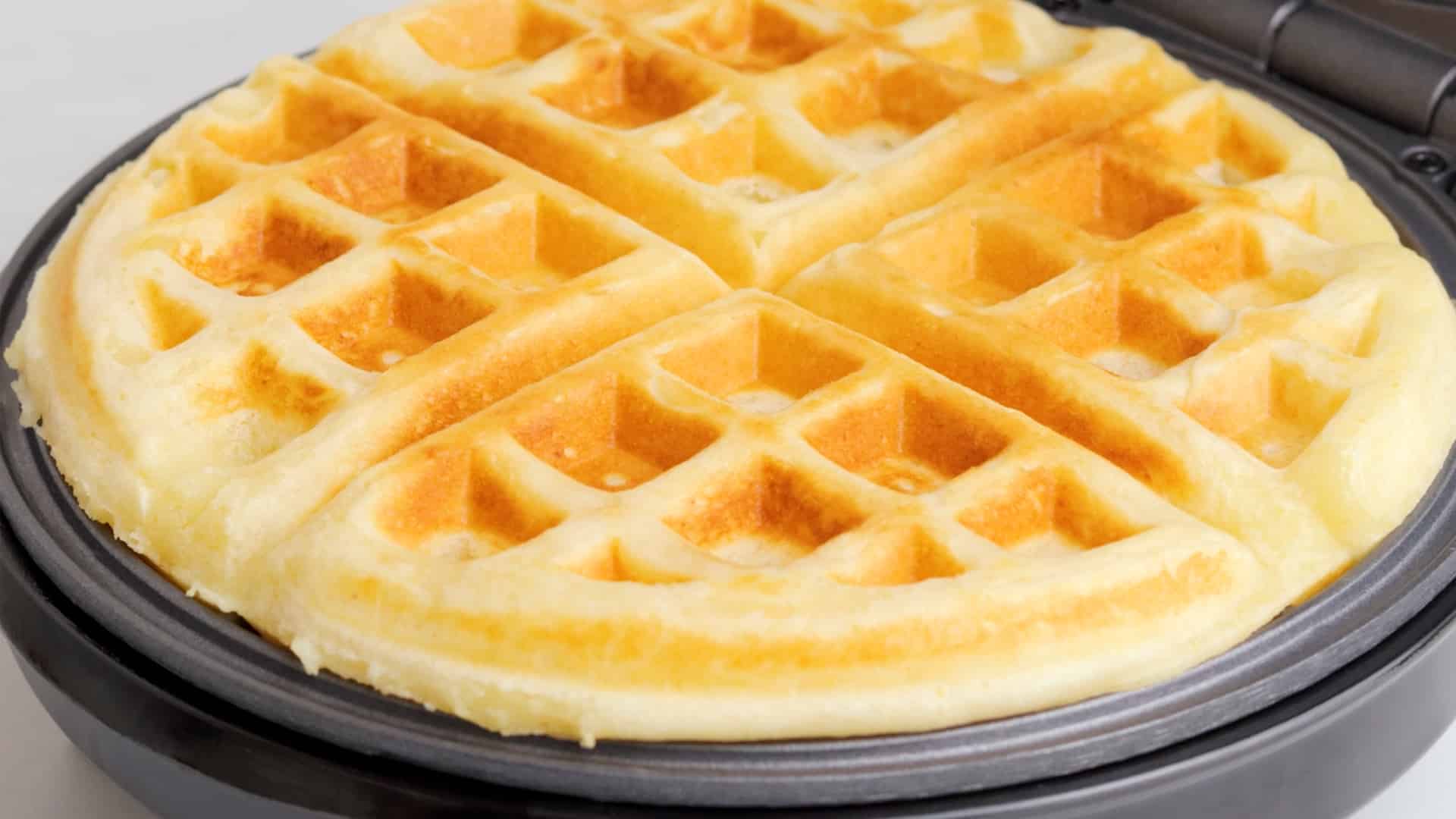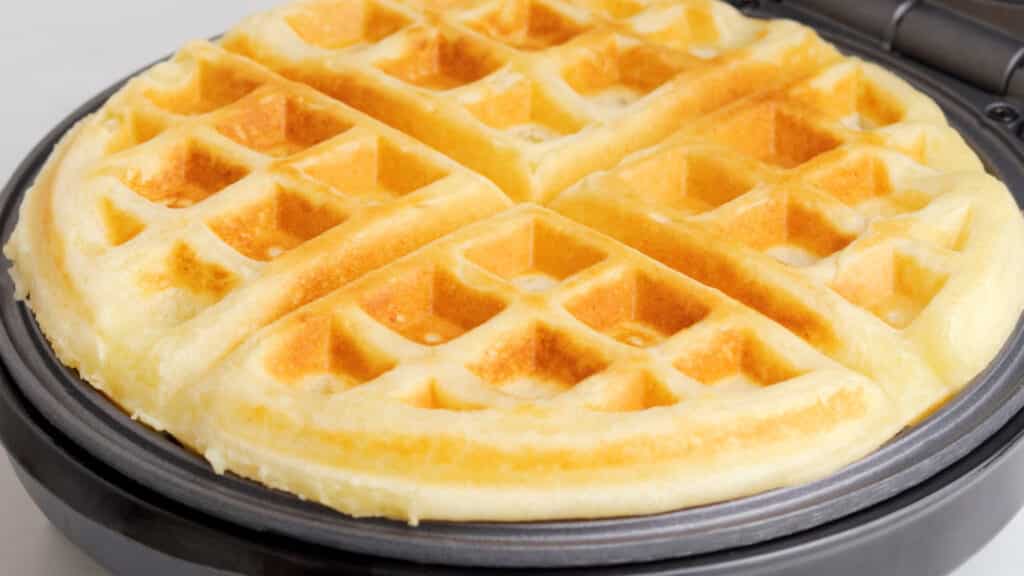 I also want a waffle iron that will beep when the waffle is done. My kids will call me over to the kitchen table and I'll get distracted and forget to go back!
How to make gluten free waffle batter
Don't skip the sugar. My mom always skipped it when we were kids. She thought, "we are pouring sugar all over our waffles, they don't need it inside too." As much as I love her, my mom was wrong. The sugar plays an important part in helping the waffles the brown as they cook. Without the sugar, you'll have super pale waffles.
Measure your flour by scooping it into a measuring cup with a spoon, then swiping off the excess. Don't scoop the flour directly with the measuring cup, you'll end up with too much flour.
Make sure your baking powder is fresh. Old baking powder won't raise your batter as much and you will have dense waffles.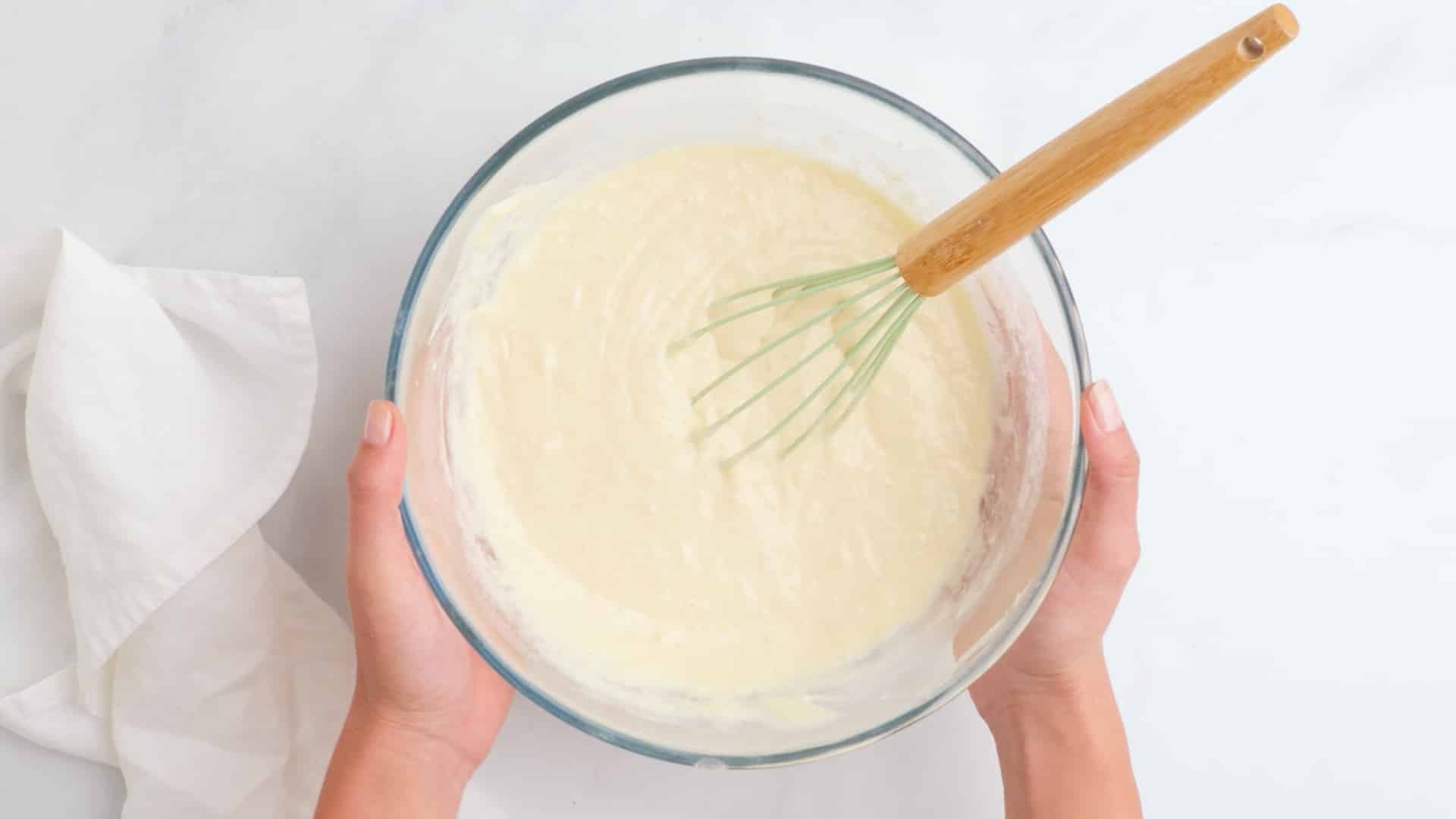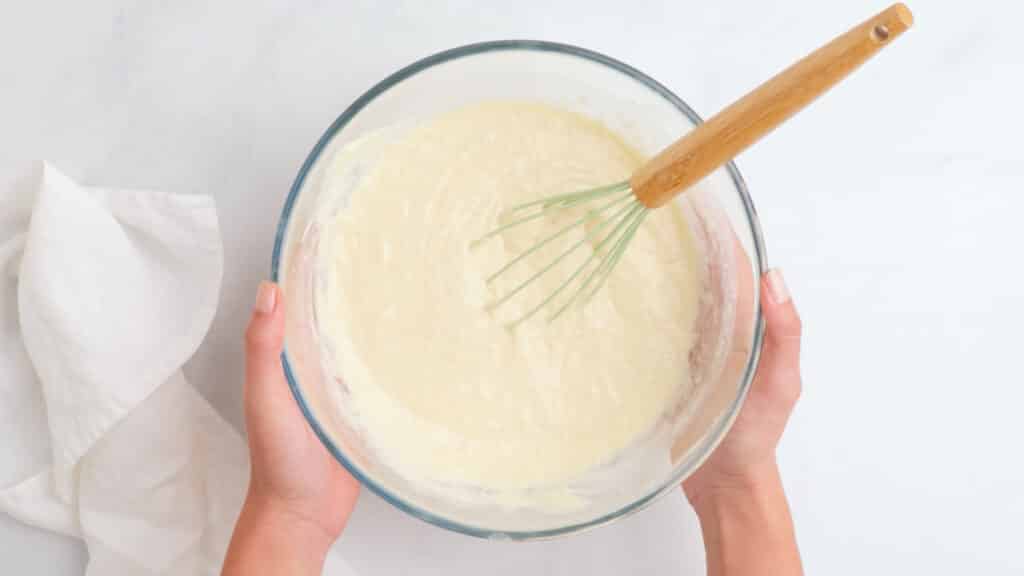 Waffle batter thickens as it sits, so you may need to add more milk. I already give a range (1 ½ - 2 cups) because depending on the humidity or where you live, some days you need more milk or less. I always end up using at least 2 cups because I live in the ultra-dry state of New Mexico. You should have a pourable batter that isn't thin or watery.
I like to use a spring-loaded ice cream scoop to measure my waffle batter. It is less messy than using a ladle or measuring cup. I will sometimes mix everything in a large measuring cup with a spout so that I can pour the batter directly onto the iron.
One of my very favorite Sunday brunch waffle and pancakes is this pancake bottle. You can mix up the batter in the bottle usking a blender ball, just give it a good shake and then squirt out your batter. It works great for waffles too!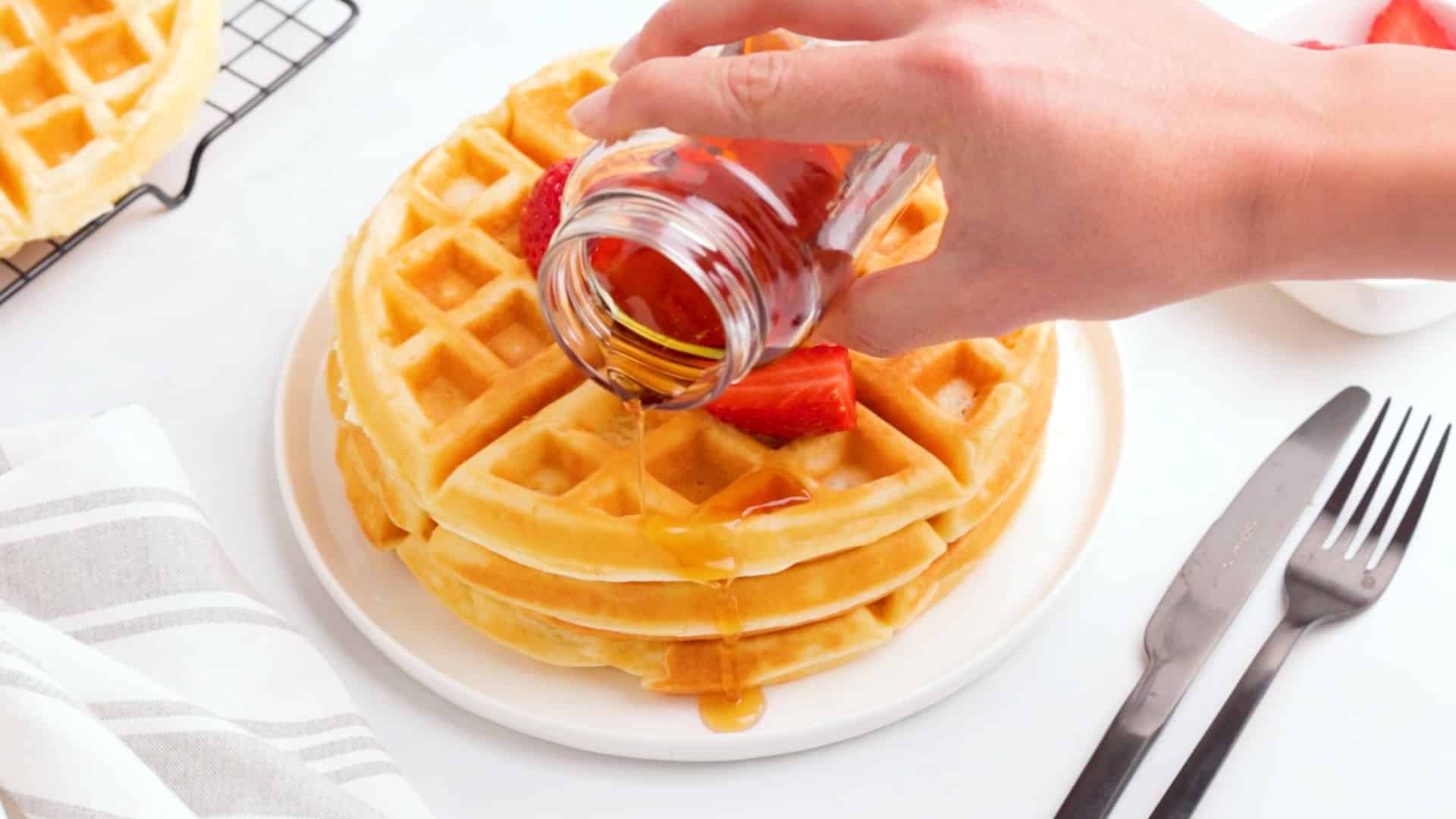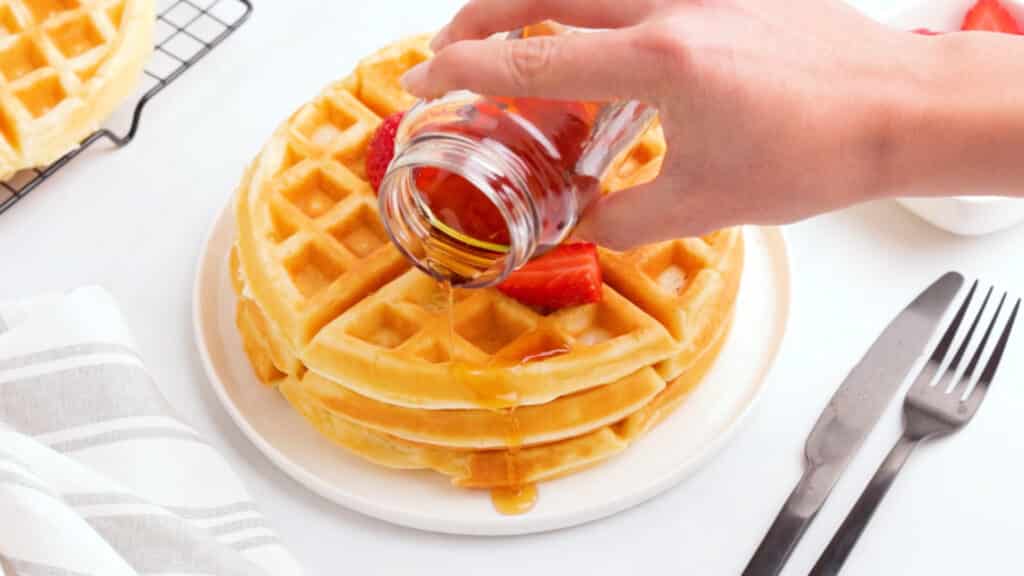 How to use gluten free flour
When baking with gluten free flour, your results will vary based on the gluten free flour you use.
Please read through my gluten free flour page for very thorough and detailed information about which gluten free flours work well, how to substitute one gluten free flour for another, and for my gluten free flour recipe.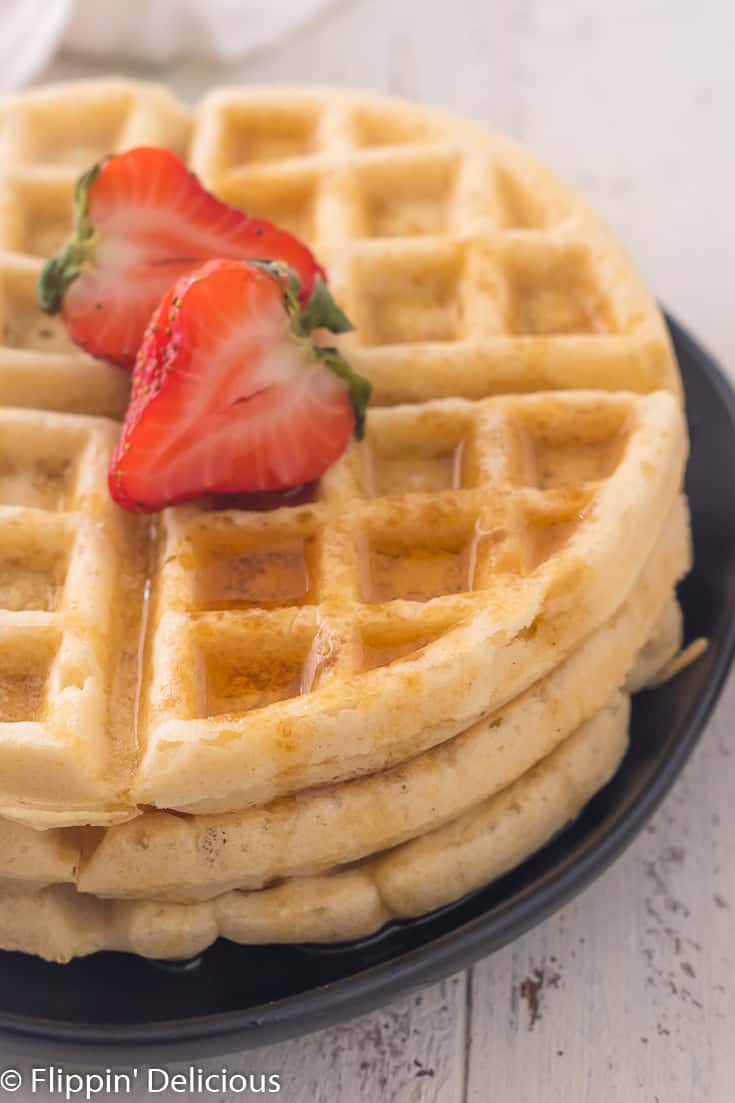 How to measure gluten free flour
How you measure your gluten free flour is also very important.
To accurately measure your flour, use the "fork, spoon, knife" method.
First, mix your gluten free flour with a fork to ensure it is aerated and evenly mixed.
Then carefully spoon it into your measuring cup.
DO NOT scoop the flour with your measuring cup, you'll compact extra flour into the measuring cup and then your gluten free baked goods will be dry and crumbly because they'll have too much flour.
Finally, level off your measuring cup using a knife.
Use room temperature ingredients
You'll also have best results if all the ingredients are at room temperature, except for any ingredients that specify "cold" or "chilled".
Using room temperature ingredients like eggs, butter, and gluten free flours helps your baked goods to bake evenly and correctly.
Think about it, if you use cold eggs, your batter will be colder.
And then it will change how it bakes, or may take longer.
For recipes that rise using steam, this is especially important.
If you are looking for a paleo waffle recipe, I think you'll fall in love with this recipe for Paleo Sweet Potato Waffles .
Have you tried keto? If you need a low carb recipe try these keto paleo almond flour waffles recipe.
Also keto, this chaffles recipe is going to rock your world!
When I have a waffle craving, nothing will satisfy it except for my grandma's easy gluten free waffles. All they need is a nice pat of butter, a healthy drizzle of real maple syrup, and a few fresh strawberries.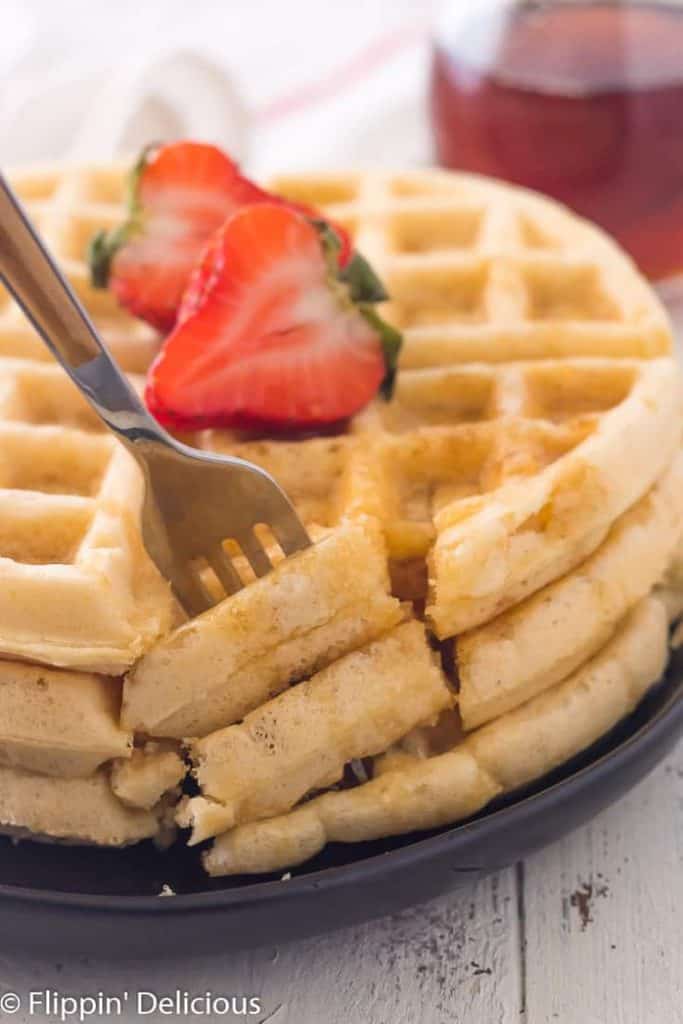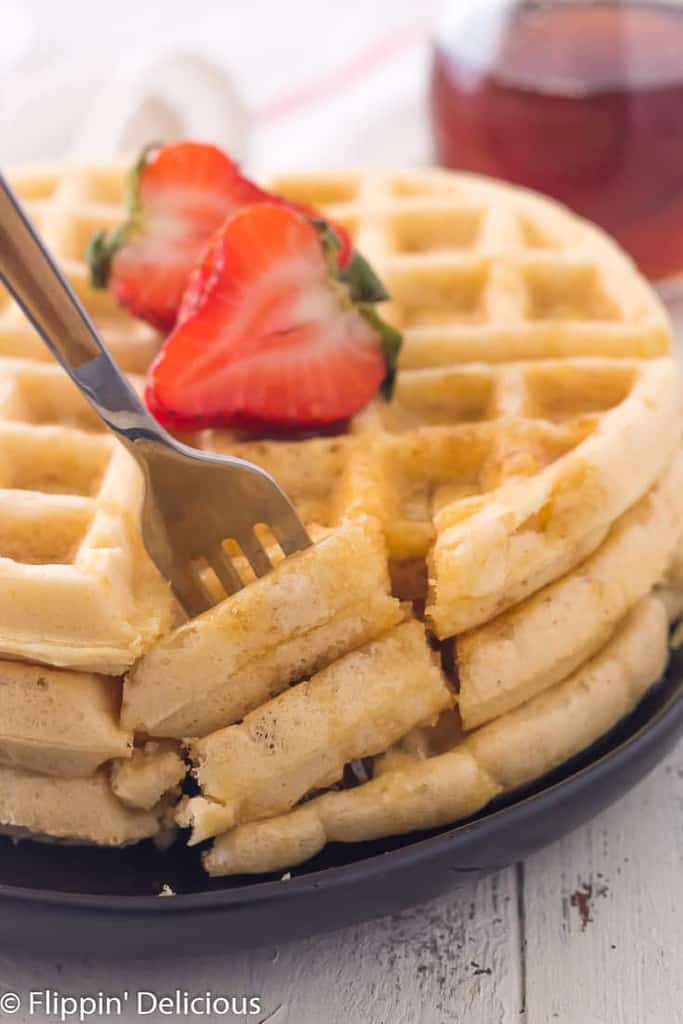 Just one bite and I'm sitting at my grandma's kitchen island, looking through her recipe box as the sun streams through the big bay window in the next room.
I love that not only did she pass her recipe on to me, I also get to share it with you.
So what are you having for breakfast tomorrow? I'm making waffles!
My grandma's easy gluten free waffle recipe
📖 Recipe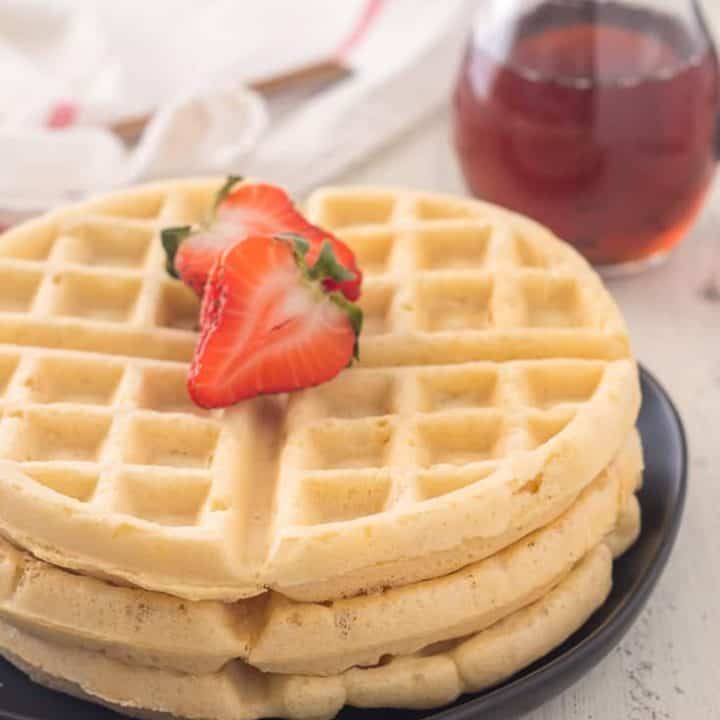 Gluten Free Waffles
Yield:
8-10 waffles (⅓-1/2 cup batter per waffle)
Straight from my celiac grandma, this gluten free waffles recipe is the best! Dairy free waffle option.
Ingredients
1 Tablespoons baking powder
3 Tablespoons sugar
¾ teaspoons xanthan gum
2 eggs
3 Tablespoons oil
2 cups milk (dairy or non-dairy)
Instructions
Mix together the dry ingredients, gluten free flour, xanthan gum, baking powder, and sugar.
Make a "well" in the middle of the dry ingredients and add the remaining ingredients to the well. These are the "wet" ingredients, eggs, oil, and milk. Use about 1 ½ cups of milk to start (you can add more if you need it.
Mix together until it is all combined. If you batter is too thick to pour, add the remaining ½ cup of milk. Depending on the weather, and where you live, you may or may not need the entire two cups of milk. If you live somewhere dry, your batter may still be too thick. If this is the case, add more milk a little at a time until you get the perfect consistency for making your gluten free waffles.
Cook according to your waffle iron instructions. I've found that gluten-free waffles take a little longer to bake than regular waffles.
Notes
My waffles took about 4 minutes to cook, and I used ⅓-1/2 cup of batter per waffle, but your waffle iron may be different.
A good guideline is to wait until the waffle stops steaming. I've found that gluten-free waffles take a little longer to cook than traditional waffles.
To make dairy free, use your favorite dairy free milk.
To make vegan waffles, use your favorite dairy free milk and also use an egg replacer. My go-to is Bob's Red Mill's egg replacer. You could also use 4-6 tablespoons of applesauce or mashed banana, and increase the baking powder slightly.
To make you waffles more fluffy and crisp, separate the egg whites and whisk them to stiff peaks. Prepare the batter using the egg yolks only. After the batter is mixed, gently fold in the egg whites.
Nutrition Information
Yield

10
Serving Size

1
Amount Per Serving
Calories

206
Total Fat

6g
Saturated Fat

1g
Trans Fat

0g
Unsaturated Fat

5g
Cholesterol

41mg
Sodium

187mg
Carbohydrates

31g
Fiber

1g
Sugar

4g
Protein

6g
All nutrition info is a guestimate and will vary depending on the ingredients you use.