We had a magical time at the Jovial gluten free getaway in Lucca, Italy. Learning to make gluten free pasta, gluten free bread, and gluten free pizza.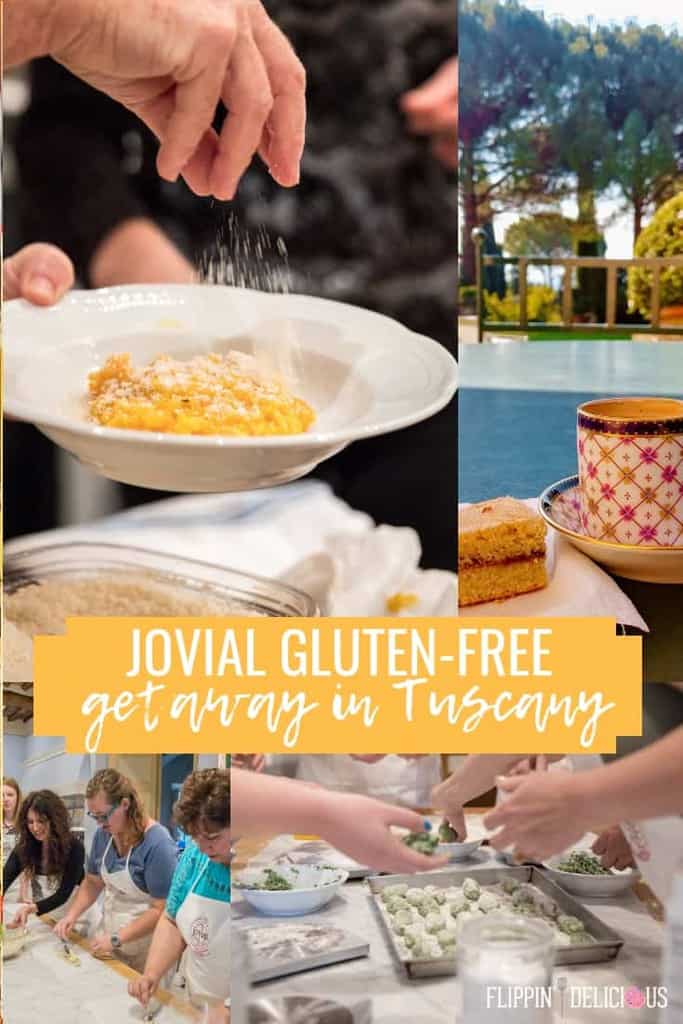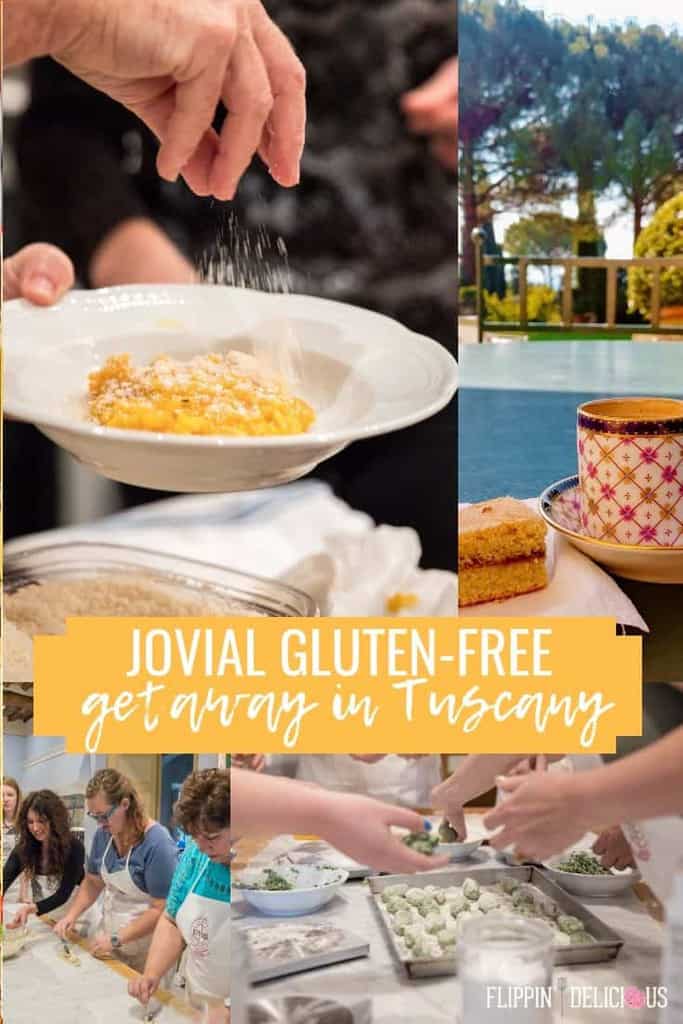 This post is sponsored by Jovial. As always, all opinions are entirely my own. Thank you, Jovial for inviting my husband and I to attend your Gluten Free Getaway.
We had flown into Rome a few days earlier, so we hopped on a train that brought us through the Tuscan country side to Lucca. I loved seeing all the laundry drying on balconies as we sped past medieval towns, and historical landmarks.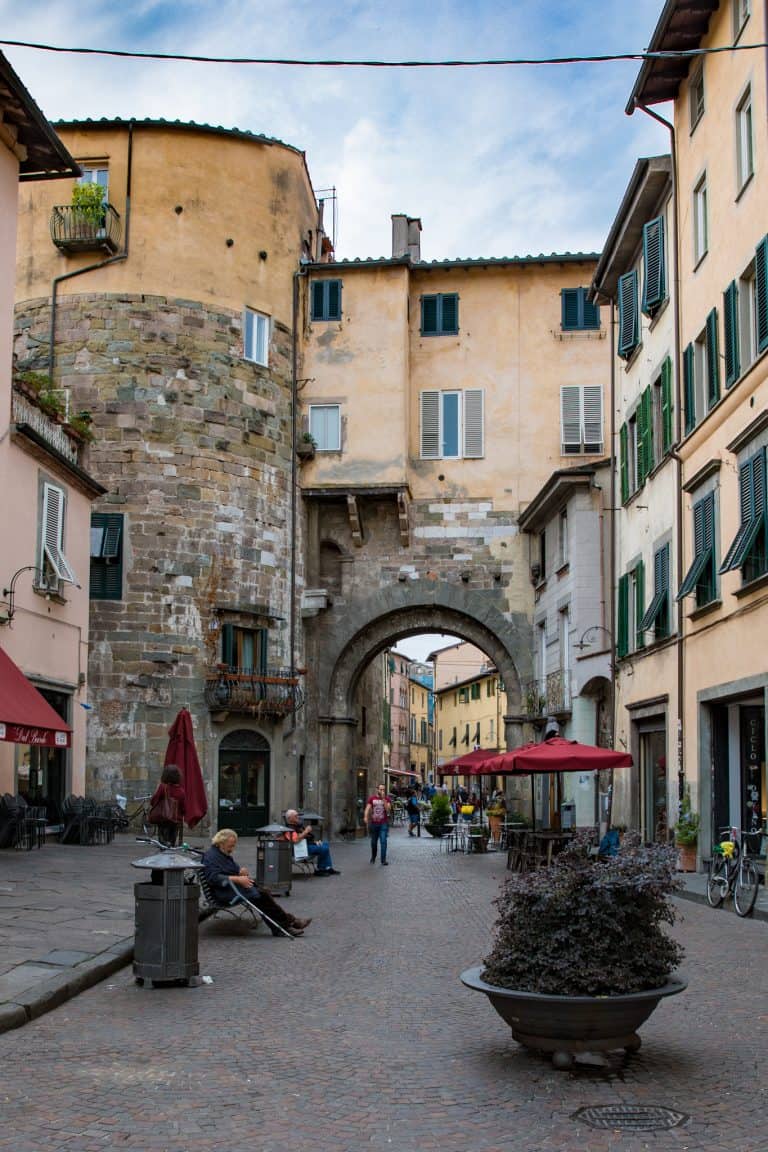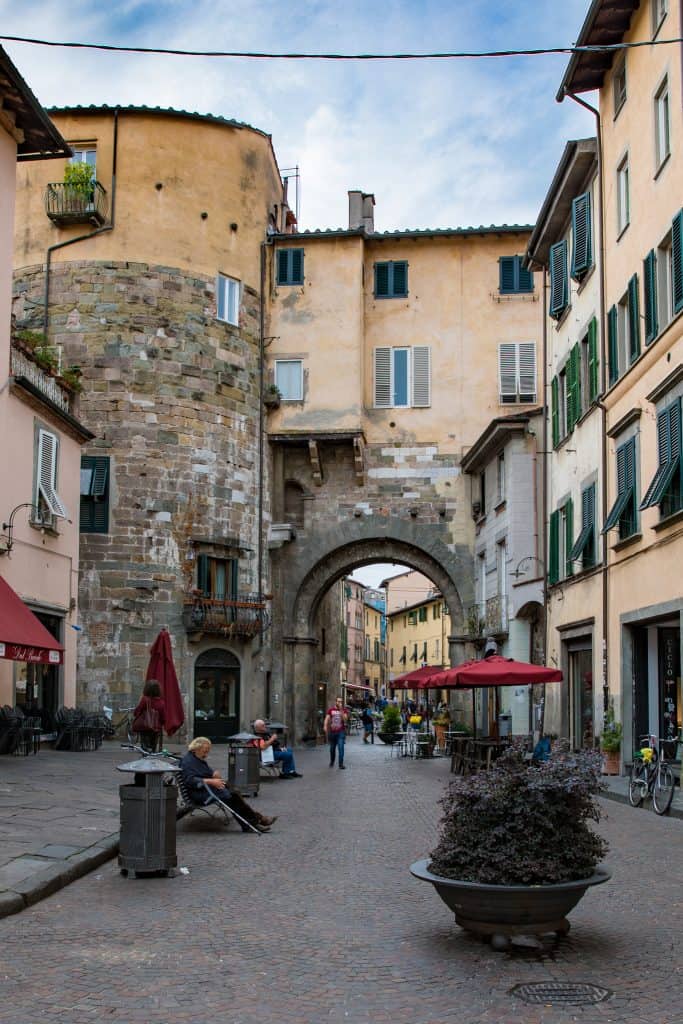 (Side note, our favorite city during our entire 11 days in Italy was Lucca. It was the perfect balance of touristy things, local spots, history, and is super walk-able. We can't wait to go back!)
My dear friend, Chrystal from Gluten-Free Palate, and her husband Mr. GFP went with us. We had so much fun exploring Italy with them! Read Chrystal's perspective on our Gluten Free Jovial Culinary Getaway.
Read more about my gluten free travel adventures. I strongly believe that having to eat gluten free shouldn't hold you back from experiencing life!
How to get to the Villa Boccella
From Lucca the Villa is a 30 Euro taxi ride or a 2-euro train ride to Ponte a Mariano plus a 15-minute walk up the hill to the villa.
We caught a train to Ponte a Mariano, which only took about 10 minutes. Lorenzo met us at the bottom of the hill so we didn't have to drag our luggage up, but it really is a lovely walk. We walked to the train station almost every day to do some exploring on our own. So much of Tuscany and Italy is just a short train ride away!
Welcome Dinner
The gluten free getaway began with an elegant welcome dinner prepared by Carla, the founder of Jovial. My favorite thing from the evening was the creamy pumpkin risotto (made with roasted pumpkin so there were layers and layers of flavor) and the Parmesan rolls.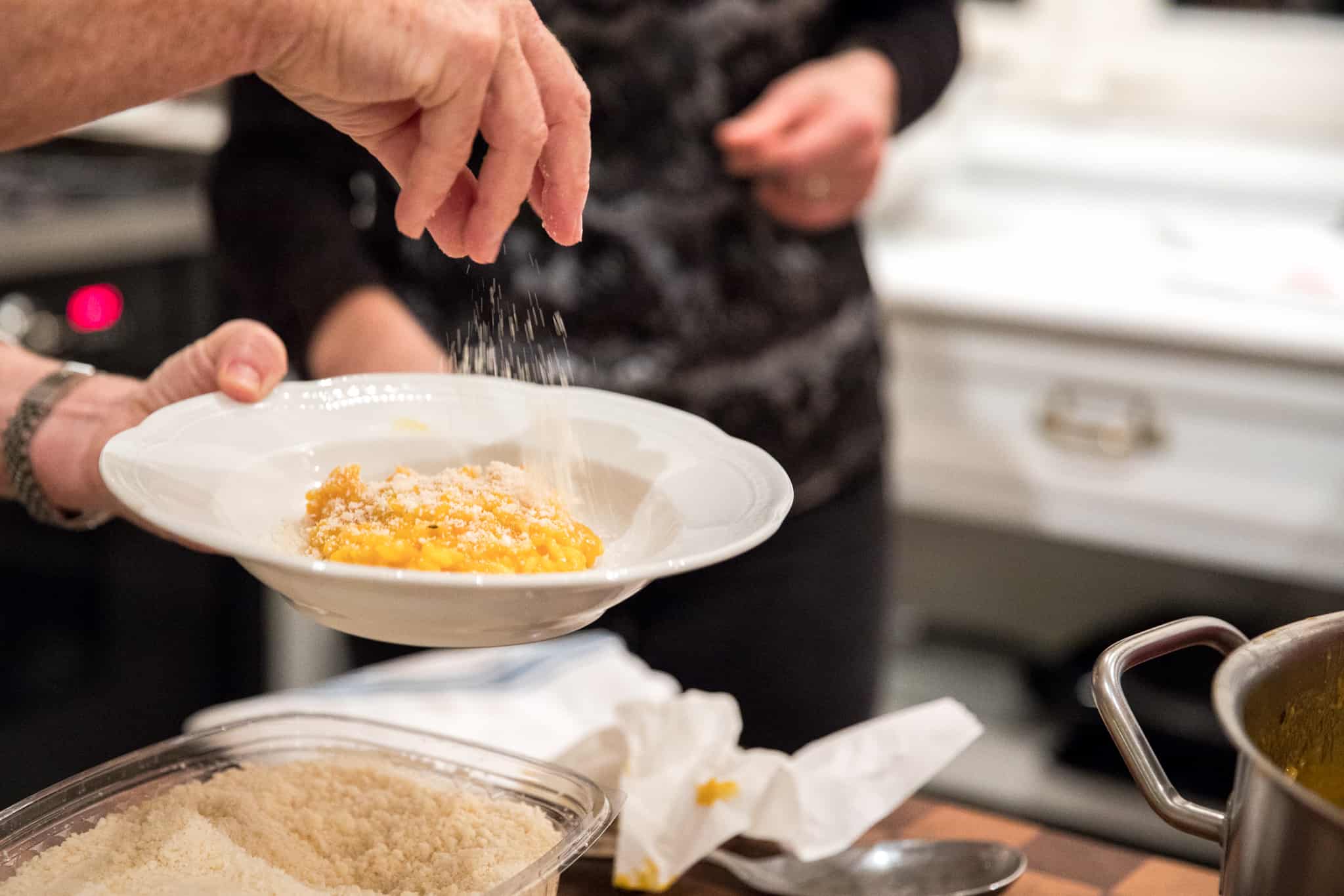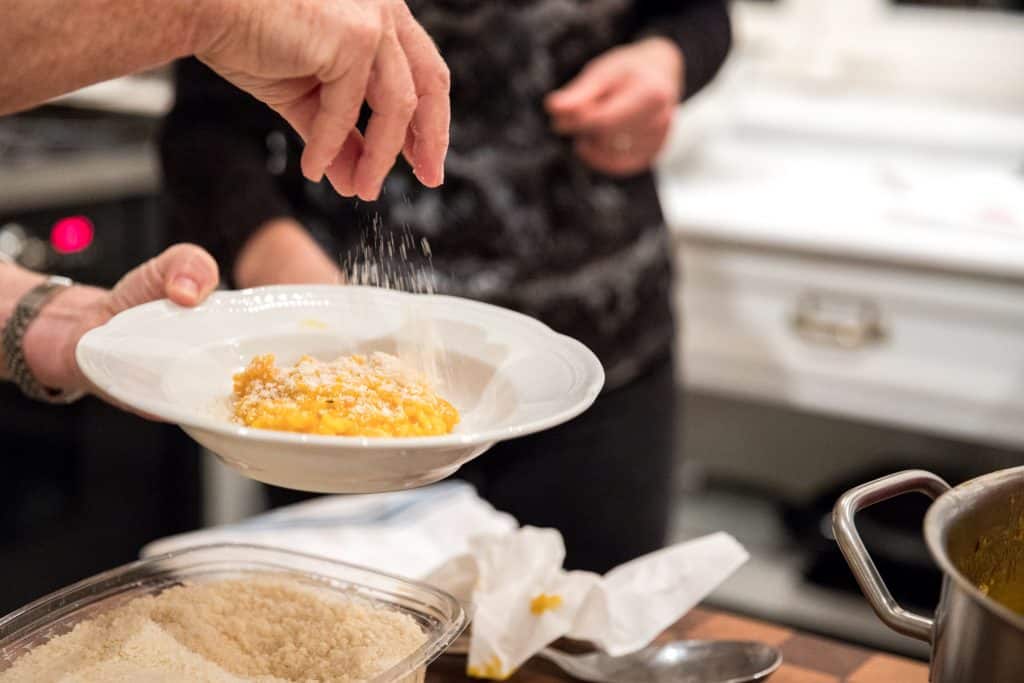 We sat with different people each meal, and loved making so many friends during our stay. Everyone was so nice! (We actually created a private Facebook group after the getaway so we could all stay in touch. I'm not exaggerating, we all really hit it off.)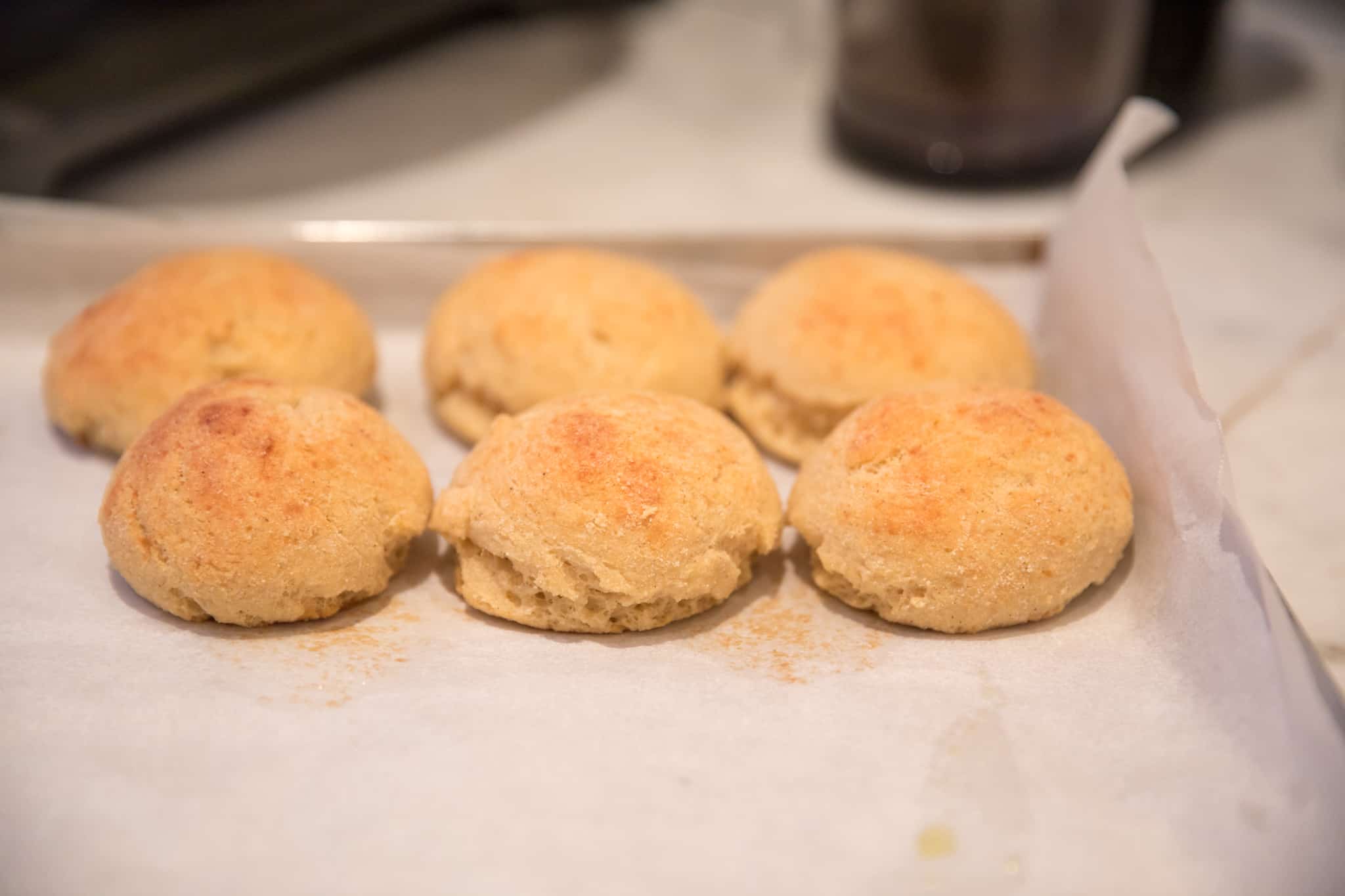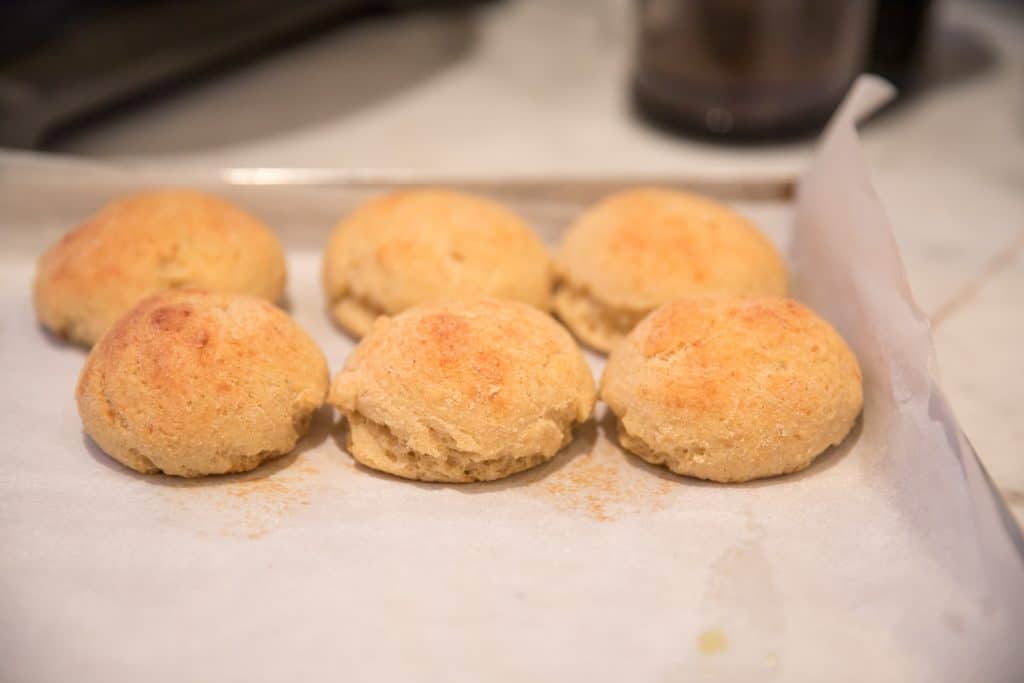 My favorite things about the Villa
The villa is like something out of a story book! Everything is just perfect.
There was a chalkboard in the main house that was updated each day with events for the day. We had a lot of free time to either relax before classes, and also had 2 free days when we didn't have a class in the evening.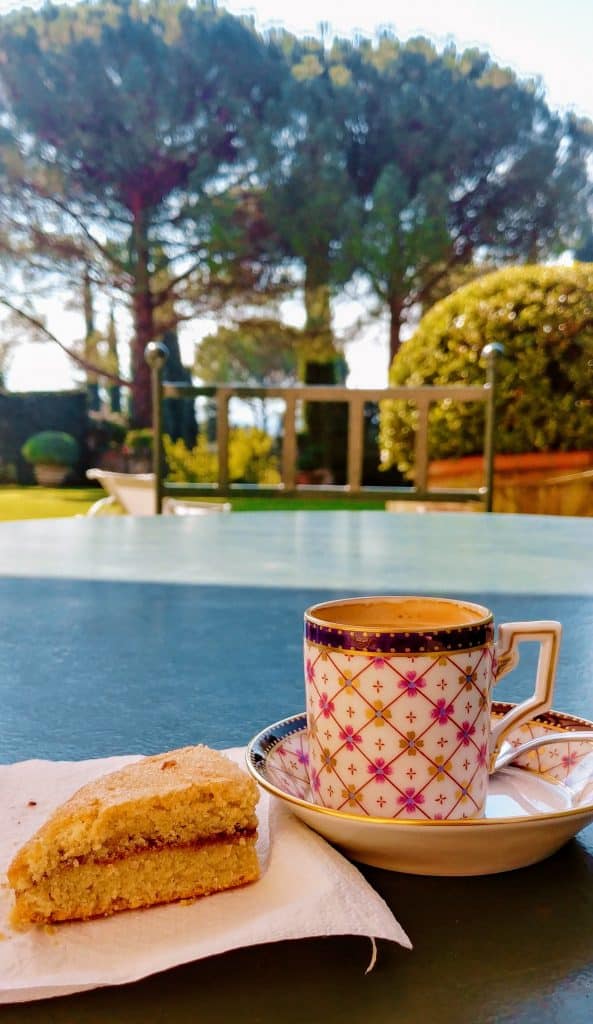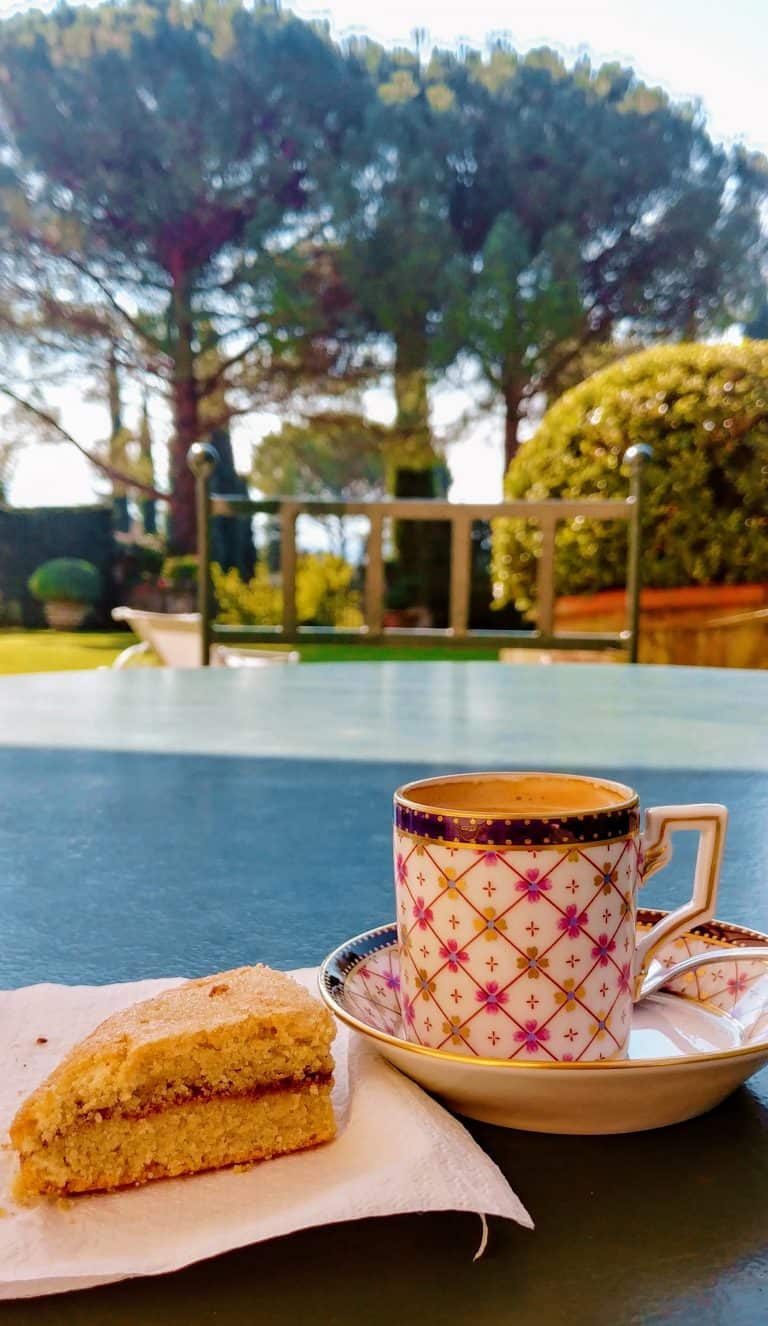 My favorite things about the villa were:
The endless cappuccinos from the Nespresso machine. Coffee just tastes better in Italy.
All the leftovers. Any leftovers from the meals were in the fridge for us to reheat and enjoy.
Pasta for days. Carla left a basket of Jovial Gluten-Free Pasta and Tomatoes, along with several other ingredients so we could make a fresh meal whenever we were hungry.
There were grapes growing on one of the buildings, and it smelled like grape jelly. (I was so hungry when we first arrived from traveling.)
The open air windows. I just loved leaving them open while I lay on the bed. Gazing at the Tuscan countryside through the open window.
All the gardens and stunning grounds.
Gluten Free Pasta Class
The first day, before the gluten free pasta class I relaxed on the villa grounds. Sipping wine, eating gluten free pasta, sipping espresso, and eating cookies.
I mean, it doesn't get more perfect than that!
As we started the gluten free pasta class, we all shelled fresh borlotti beans (that we later ate for dinner) while Carla told us all about why she started Jovial.
She shared her journey, talking about her daughter, her parents, and how it all began. With hard work she grew Jovial because she wanted there to be healthy gluten free options.
So many gluten free products and flours are full of empty calories and starches. Carla wanted her daughter to have food that tasted good and was good for her, so she created the flour blends and other products. Jovial's flours are all made without starches, and with minimal gums.
My gluten free flour blend is 50% starch so this really hit home for me. I mean, I don't think my cookies have to be nutritious, but I want to feed my kids healthier breads and muffins. I've been experimenting with different flours and am happy to report that Jovial's Pastry flour has worked well in all of the recipes I've tried it in so far. Sometimes the results are a little different, but all have turned out. In fact, I just bought more of Jovial's flour, with my own money.
After learning about how Carla started her Jovial journey six years ago, we headed to the kitchen and started mixing fresh gluten free pasta dough.
It was fun to make our own gluten free pasta! It really isn't as hard as I thought it was.
Carla showed us how to measure the flour and egg by weight, which makes a big difference in the results.
My hubby accidentally added too much water to his dough and it was too wet to roll. So he made a pinch pot with it.
My favorite was the ricotta gnudi. It was perfectly tender.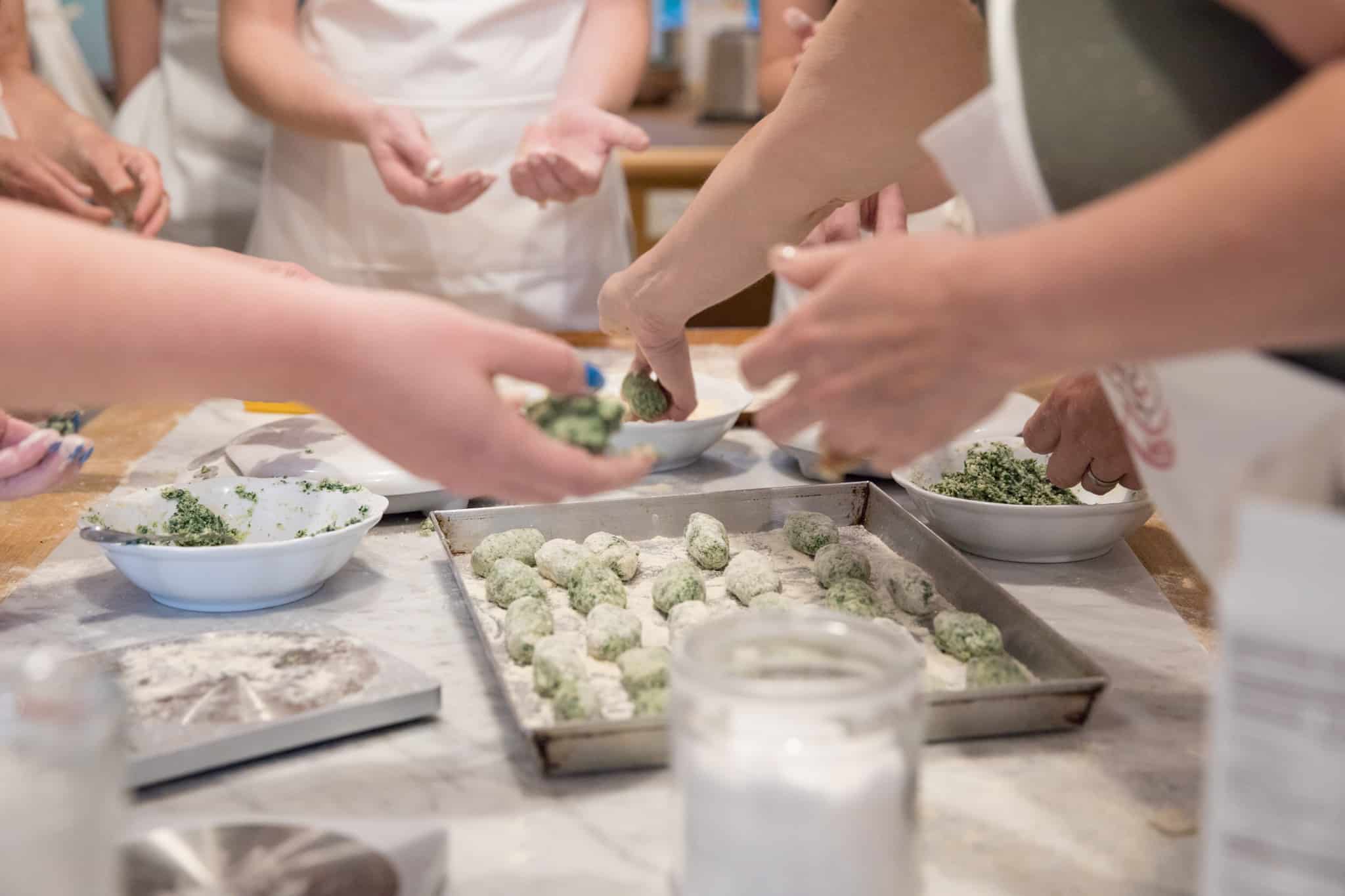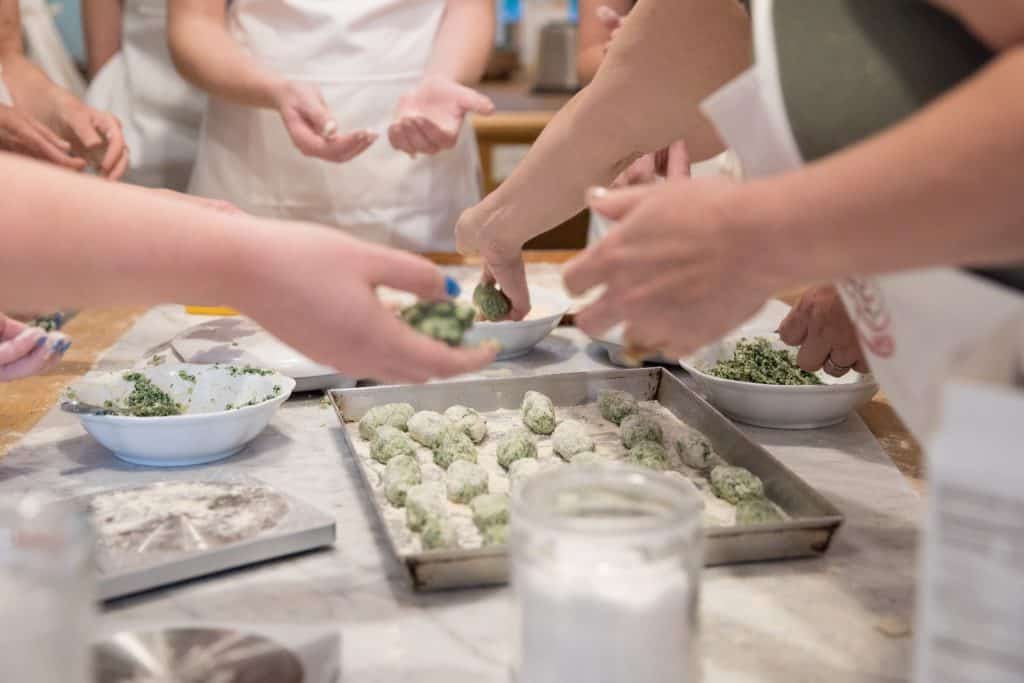 The next day was a free day. We went to Pisa to see the leaning tower and Livorno to see the Mediterranean ocean. We also explored a super cool medieval fort.
Gluten Free Bake-Off
The next cooking class to come was our Bake-Off. We took a mini trip to Lucca, just riding the train into town. It was drizzling as we walked between buildings.
When we got back to the villa, we each pulled the name of a dessert out of a hat to decide which team we were on. Mr. GFPalate was on my team along with 3 other guests (and now friends). We were tasked with making a Brooklyn Blackout Cake.
The Brooklyn Blackout Cake consisted of a chocolate layer cake filled with chocolate buttercream and enrobed in a chocolate pudding.
I'd never made a cake frosted in pudding before, but now I think more cakes should be frosted that way. It was delicious!
We garnished our Brooklyn Blackout Cake with chocolate leaves we made by dipping some bay leaves from the hedge outside in dark chocolate. We also added some pretty purple flowers, swirls of chocolate buttercream, and fresh bay leaves.
It was stunning!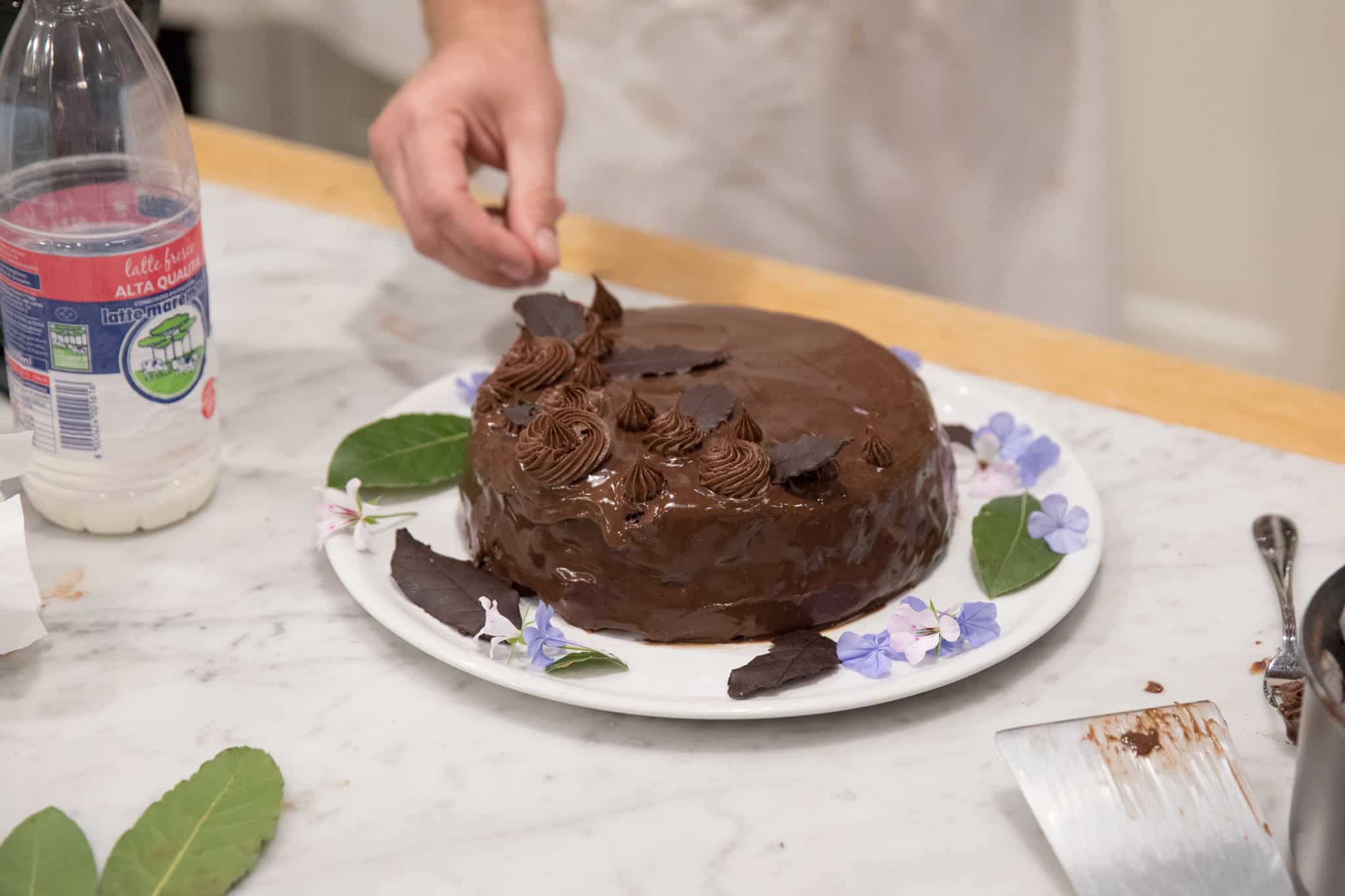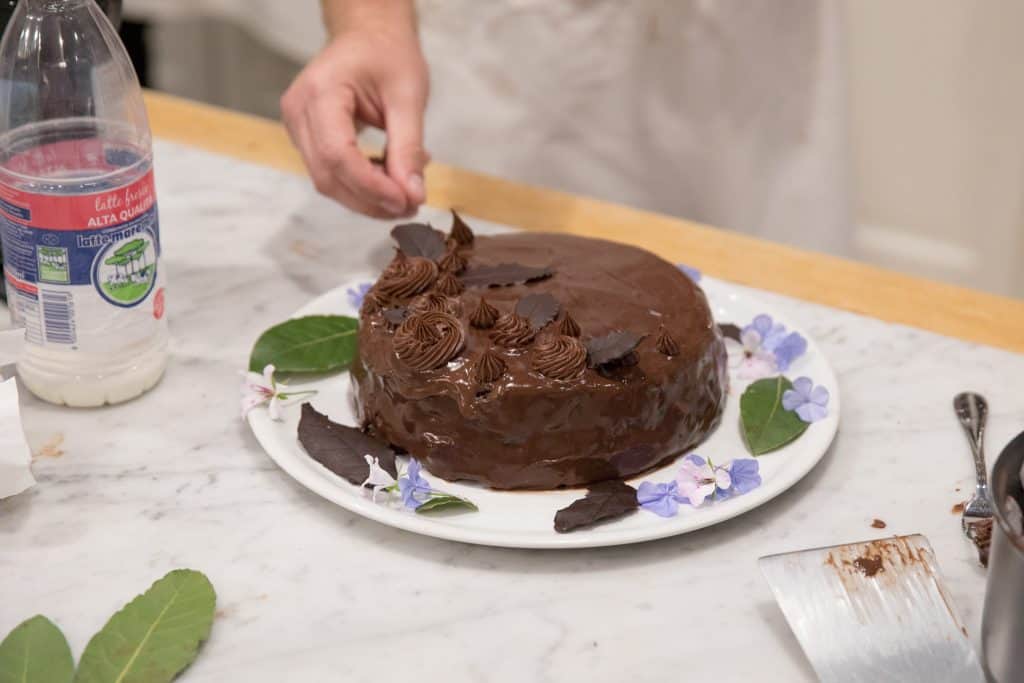 And even more important, it was delicious.
However, completing our dessert was only half the battle. We had to present our desserts to a panel of judges!
We'd been so focused on our masterpiece cake that we left our presentation prep to the end, and rushed it a bit.
All of the desserts were phenomenal. It was a close contest.
My husband was on a different team. He did theater in high school (and after) and isn't much of a baker, so he started working on his team's presentation right away. It paid off! He presented a speech in Italian all about his team's lemon meringue pie (which was amazing, the pie that is.)
And his team won.
He will never let me live it down that he beat me in a baking competition. But it was all in good fun. We were all winners, because not only did we enjoy a delicious meal, but four different desserts.
The next day was another free day. We went to Florence! I'll share all of the delicious gluten free finds we enjoyed there in another post.
Gluten Free Bread Class
The last baking class was Bread Day! We spent most of the morning in Lucca. Riding around the city wall on bicycles with Chrystal (Gluten-Free Palate) and her husband.
When we came back, we learned how to bake gluten free bread with Jovial's flours. For me, the bread class was a game changer. I've always been a little terrified of gluten free bread.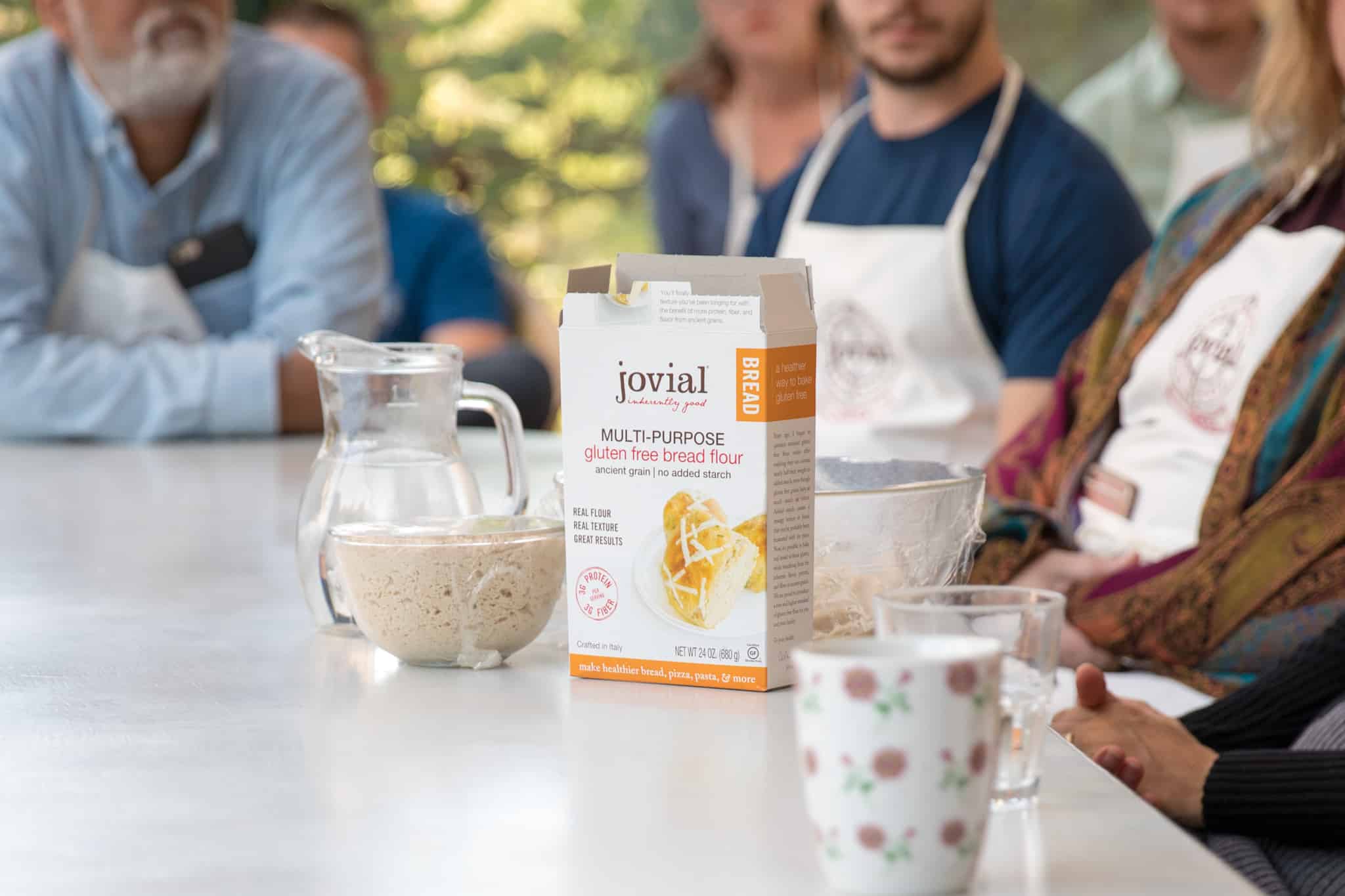 You'll notice, I only have a few gluten free bread recipes, and most of them are in the gluten free quick bread category.
In a short period of time, we mixed together 5 different gluten free yeast breads.
We didn't use a stand mixer.
The recipes didn't have a dozen different ingredients.
I was shocked at how easy it was!
We made cinnamon rolls, baguettes, mock rye, and focaccia.
Carla also taught us about using a gluten free sourdough starter.
I was shocked a how forgiving the gluten free bread dough was. Yes, we had to use slightly different techniques to shape the dough. Spooning it and smoothing it before scoring it.
My very favorite bread from the night was the gluten-free mock rye.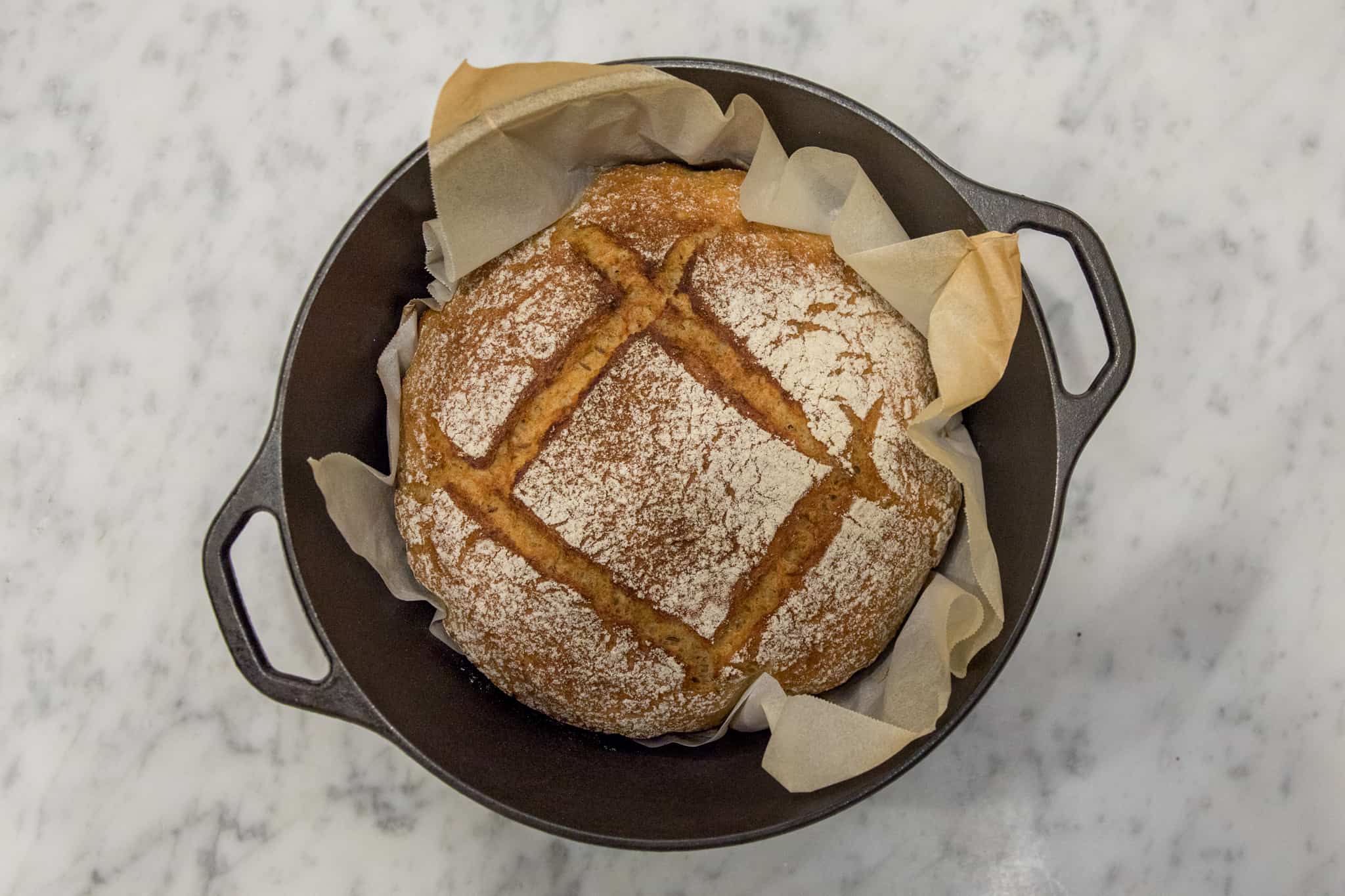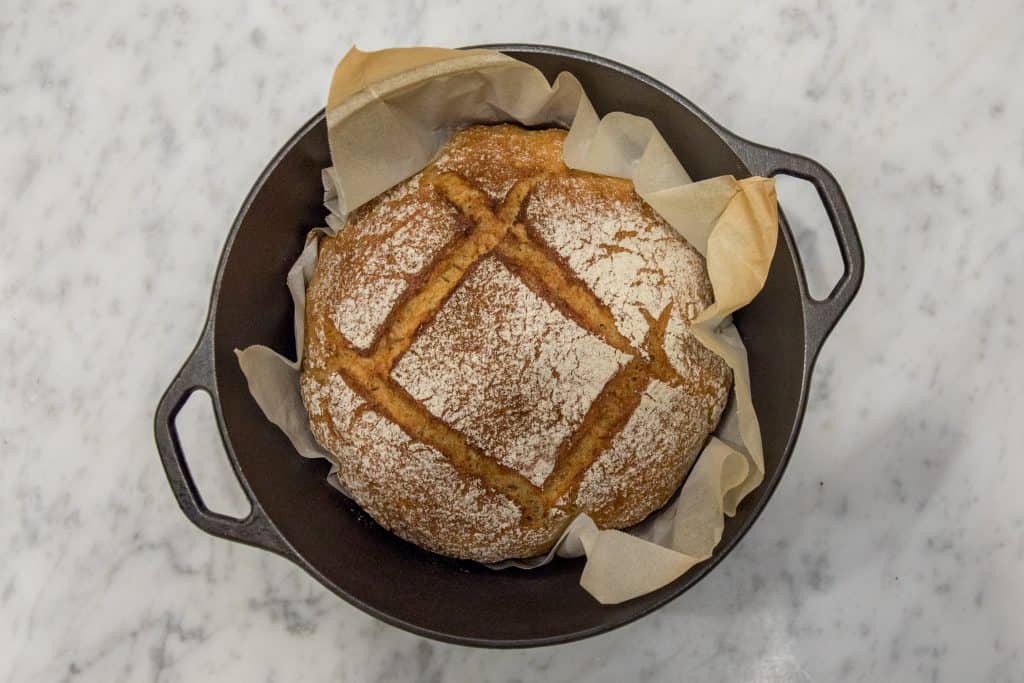 It was baked in a cast iron Dutch oven, which helped to trap the steam the bread released as it cooked which made the bread have the perfect chewy crust.
I wasn't in the USA even 24 hours before I made my own gluten free artisan bread! That is just how inspiring the bread class was for me.
Farewell Wood-fired pizza night
Our last night at the villa, we made homemade pizzas with a sourdough starter. We spent the morning, you got it, in Lucca. We spent some time in Ponte a Mariano too.
When we got back, Carla had already whisked up the gluten free pizza dough and let it rise. We all pressed out our dough and topped it with our favorites before it went into a wood-burning pizza oven.
After our pizza, Carla brought around roasted chestnuts. You know…chestnuts roasting o're an open fire. They were delicious. Just slightly sweet and nutty. It made me want to hunt some down this holiday season just because I'm craving them.
We also tried an amazing bottle of wine. It is made with dried grapes, if I remember correctly. It had a lovely fruity, complex, sweet profile.
What did I learn from spending a week in an Italian Villa eating amazing gluten free food?
It is okay to slow down. Enjoy life. Enjoy the moment. Soak it all up.
Italians have such a different approach to food compared with Americans. They eat things fresh, in season, and with simple seasonings.
Everything is prepared with care, focusing on making the ingredients shine. Things like the Borlotti beans we prepped during our first cooking class were scrumptious when simple boiled and then sautéed in olive oil with salt and pepper.
When ingredients are prepared the right way, they can really shine.
Do you want to visit Italy? Jovial is already booking their 2019 getaways.
Tell me, what class would you be most excited about?