Easy Copycat Panda Express gluten free orange chicken tastes just like your favorite Chinese take-out!
I think that we all have our favorite Chinese take-out.
Whether it is General Tso's Chicken, Mongolian Beef, Chicken Peanut Satay with noodles, egg drop soup, gluten free stir fry, sticky garlic noodles, or my personal fave...
Gluten free Orange Chicken
It is fairly easy to convert many Chinese take-out recipes to be gluten free.
Often all you need to do is substitute the regular soy sauce for a gluten free tamari soy sauce or coconut aminos.
(Which is what I do in my gluten free Korean ground turkey and rice bowl.)
Easy Peasy!
Not all Asian recipes are so easy to make gluten free.
The recipes that are breaded, like orange chicken, are not so always so simple to convert to gluten free.
(BTW, if you are looking for a Gluten-Free General Tso recipe, Jessica from Bless Her Heart Y'all has a baked recipe that looks delicious.)
I've seen some gluten free orange chicken recipes that are prepared low carb style, just made without any breading.
That is a simple solution, but I really like the extra chew and crispness that you get with breaded gluten free orange chicken.
The breading on the gluten free orange chicken also helps the chicken to hold on to more of the sweet, tangy orange citrus sauce.
Which of course, you want that mouthwatering sauce!
Want to know the simple solution?
You probably already have it in your kitchen.
How do you use cornstarch to bread chicken?
Cornstarch is often used as a thickener in Asian-style sauces so it is very natural to use to as a coating on the chicken.
Depending on how thick of a breading you want on your gluten free chicken, you can coat your cut chicken pieces once or twice in cornstarch.
How to lightly coat chicken pieces in cornstarch?
I usually coat my chicken in cornstarch one time to make it a quick and easy weeknight dinner.
First, place cornstarch in a large bowl, or a plastic bag.
Cut your chicken into bite-size pieces that are 1-2 inches.
Add the chicken to the bowl or bag with cornstarch, and toss to coat evenly.
How to bread chicken pieces using cornstarch and milk or egg?
If you want a thicker coating on your gluten free orange chicken just coat it twice.
After you toss the bite-size chicken pieces in cornstarch (as described above) dip each piece in a little milk or an egg white whisked with a little water.
Then toss dip your gluten free breaded chicken in another ½ cup of cornstarch.
What can I use instead of cornstarch?
If you avoid using corn, you can get similar results by using:
You may also try using cassava flour, which is the whole cassava root and not just the starch (just the starch is tapioca starch).
You can also toss your chicken in a gluten free flour, but it doesn't make the same light and crisp coating. I much prefer using a starch.
How to fry gluten free orange chicken?
Another secret to the perfect golden crisp gluten free orange chicken is to make sure that your pan is sizzling hot before you add the chicken.
To prevent catching my kitchen on fire I heat the pan up dry until a drop of water fizzles away seconds after landing on the hot surface.
Then I add just enough oil to coat the bottom of the pan, and then add the chicken.
I like using a cast-iron skillet because it has such great even heat.
I also love using a non-stick pan because then I can use less oil.
Don't use a lid to prevent oil spatter.
The lid will hold in the moisture the chicken releases as it cooks and you'll have soggy chicken.
Instead of using a lid, invest in a splatter screen. (This one has a collapsible handle for easy storage)
Your kitchen will thank you.
And future you will thank yourself because you'll have less clean-up to do.
Don't crowd the pan
You want to cook your cornstarch-breaded chicken pieces in a single layer, with room in-between each piece so that they can get golden brown.
If your breaded chicken is too close together, they will get soggy instead of crisp.
I almost always cook my orange chicken in batches so my pan doesn't get crowded.
Be sure to add a little more oil for each batch of chicken you add.
After all of the chicken is cooked, cook the sauce and then add the chicken back to the pan.
How do you make gluten free orange chicken sauce?
Making the gluten free sauce for your copy cat panda express orange chicken is as easy as whisking the ingredients together in a bowl and simmering it until thickened.
This sauce is so good, you may want to double it. As written, it makes just enough to coat all of the breaded gluten free chicken.
One of my blogging friends, MiGluten-Free Gal, makes my GF orange chicken more often than I do.
She always doubles the amount of sauce for the recipe. I usually do the same!
To make the gluten free orange chicken sauce you'll need:
Gluten Free Soy Sauce. I usually use Tamari, but I've also used Coconut Aminos in this recipe with similar results.
White vinegar. You can use either a distilled white vinegar, or a rice vinegar. I've even used apple cider vinegar in a pinch!
Orange juice and orange zest. This is where you get all the flavor! If you don't have a fresh orange to use for orange zest, it will still taste good but won't have as strong of an orange flavor.
Water. The sauce will be to strong if you don't add it.
Brown Sugar. Brown sugar adds sweetness, and also helps to thicken the sauce as the sugars caramelize. I've also made this recipe using coconut sugar and/or honey if you want a less processed alternative. If you don't have brown sugar, you can use granulated white sugar. It won't add as much flavor, but will get the job done.
Minced garlic. You can use pressed garlic, or even garlic powder in a pinch.
Red pepper flakes. You can use more or less to suit your tastes. If you are making it for particularly picky children you can omit all-together. If you don't have red pepper flakes, you can substitute a tiny pinch of cayenne.
Whisk all the ingredients together in a small bowl (I usually use a cereal bowl and a fork) and pour into the hot pan after you finish cooking the chicken.
There will be just a little cornstarch leftover in the pan.
The cornstarch will help thicken the gluten free orange sauce.
If you want to make this sauce on its own, without the chicken, I'd recommend adding a teaspoon of cornstarch before heating it to help it thicken.
Once the sauce is simmering, add the cooked cornstarch breaded chicken and toss to coat.
Continue to simmer for another minute or two, the sauce will thicken up a bit more and will thicken even more as it cools.
How do I garnish gluten free orange chicken?
If I garnish my gluten free orange chicken, I usually sprinkle with a few thinly sliced green onions, or a sprinkle of sesame seeds.
My mom regularly makes this recipe, and she adds thinly sliced carrots which add a great sweetness and contrasting texture.
After cooking the chicken, but before cooking the sauce, she sautés thinly sliced carrots (so thin, they are almost shaved) in a little oil until they are golden on the edges.
Then she adds the sauce to the carrots, and continues the recipe as written from that point.
I think this recipe would also be great with some steamed green beans.
What can I serve with gluten free orange chicken?
I usually go simple, and serve my orange chicken with rice. If you want to, you can even make your own parboiled rice to get dinner on the table even quicker.
You can also serve it over gluten free rice ramen.
I love making a copycat Panda Express Chow Mein by sautéing cooked rice ramen with sautéed onions and cabbage in a little sesame oil, and then seasoning with soy sauce.
So here you go, a gluten free orange chicken recipe that is so easy and delicious that you'll never miss Chinese take-out again.
I think it tastes even better than Panda Express' orange chicken. That is the power of the orange zest!
Can I freeze orange chicken?
It is entirely possible to freeze your orange chicken!
I'd recommend cooking the chicken, and then freezing it before adding the sauce.
Freeze the chicken in a single layer on a baking sheet until solid, and then move to an air tight freezer bag.
When you are ready to serve it, thaw and reheat the chicken, and toss with sauce.
You could also bread the chicken, and freeze it before cooking. Freeze it in a single layer on a baking sheet, and then move to a freezer bag once it is frozen.
Cook the raw breaded chicken straight from the freezer. It will take a few extra minutes to cook since it is frozen.
If you freeze it in a layer, the chicken shouldn't be stuck together and will cook quickly and brown evenly.
Now all you need are some gluten-free fortune cookies and your meal is complete.
If you are looking for a paleo-friendly take-out copycat recipe I think you'll love my friend Taylor (of Food, Faith, Fitness)'s Firecracker Pineapple Chicken recipe.
📖 Recipe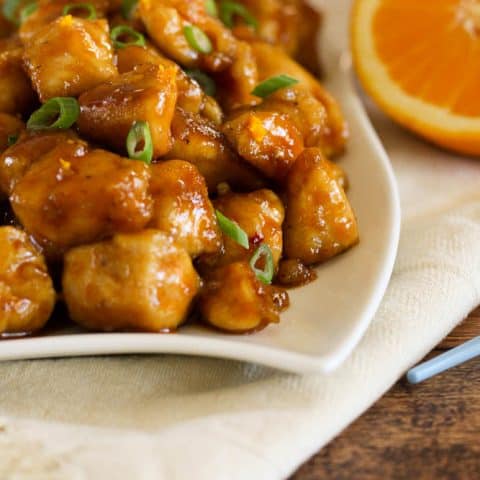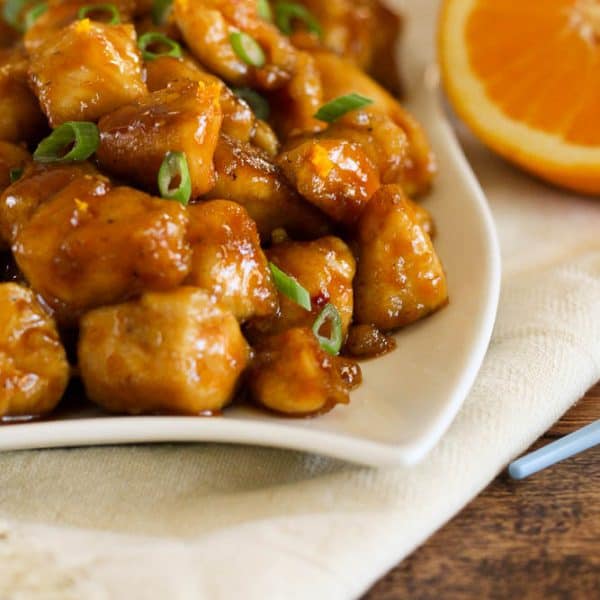 Gluten Free Orange Chicken
Easy gluten free orange chicken recipe, tastes better than Panda Express and is gluten-free. The secret is using cornstarch to give the chicken a light and crisp breading, and using orange juice and orange zest in the sauce.
Ingredients
Gluten Free Breaded Chicken
2 pounds Chicken, Cut into bite-sized pieces (I used chicken tenderloins)
½ teaspoon salt
½ teaspoon ground pepper
½ cup Cornstarch
¼ cup Oil, Approximately
Gluten Free Orange Chicken Sauce
¼ cup Tamari Gluten Free Soy Sauce
¼ cup Rice Vinegar
¼ cup Orange Juice
¼ cup Water
¼ cup Brown Sugar, Packed
1 tablespoon Cornstarch
½ teaspoon Minced Garlic
¼ teaspoon Crushed Red Pepper Flakes
1 tablespoon Orange Zest
Green onions, to garnish
Instructions
Heat a heavy-bottomed skillet over medium-high heat.
Place the cornstarch in a large bowl and season with salt and pepper, add the chicken on top and toss until evenly coated.
Add just enough oil to coat the bottom of the hot skillet and then add the chicken.
Cook stirring occasionally until all the chicken is cooked through and golden brown.
Meanwhile, whisk together all the sauce ingredients in a small bowl.
Once the chicken is cooked through, add the sauce to the hot skillet and simmer and stir until thickened.
Garnish with some green onions if you want, and enjoy. You can serve it with steamed rice if desired.
Notes
To get crispy chicken, you may want to brown it in batches so you don't crowd the pan. This takes a little bit longer, but I promise the crispy golden chicken is absolutely worth it!
I've also made this recipe using Coconut Aminos to make soy-free orange chicken. Because Coconut Aminos are sweeter, I cut back slightly on the sugar in the recipe.
While I prefer using rice wine vinegar, you can also use plain distilled white vinegar. Distilled vinegar is gluten-free, even if a gluten-containing grain was originally used.
You can use honey or coconut sugar instead of brown sugar if you prefer.
You can use this recipe as a base for sweet and sour chicken, using pineapple juice instead of the orange juice and orange zest, and adding cut pineapple to the chicken before the sauce.
To make sesame honey chicken, use honey instead of brown sugar, omit the orange juice and orange zest, and add a tablespoon of sesame oil. Garnish with toasted sesame seeds.
Nutrition Information
Yield

6
Serving Size

1
Amount Per Serving
Calories

508
Total Fat

29g
Saturated Fat

6g
Trans Fat

0g
Unsaturated Fat

21g
Cholesterol

142mg
Sodium

1105mg
Carbohydrates

21g
Fiber

0g
Sugar

9g
Protein

38g
All nutrition info is a guestimate and will vary depending on the ingredients you use.