These gluten free carrot zucchini muffins are low carb, refined sugar free, and full of fresh veggies. The perfect morning snack!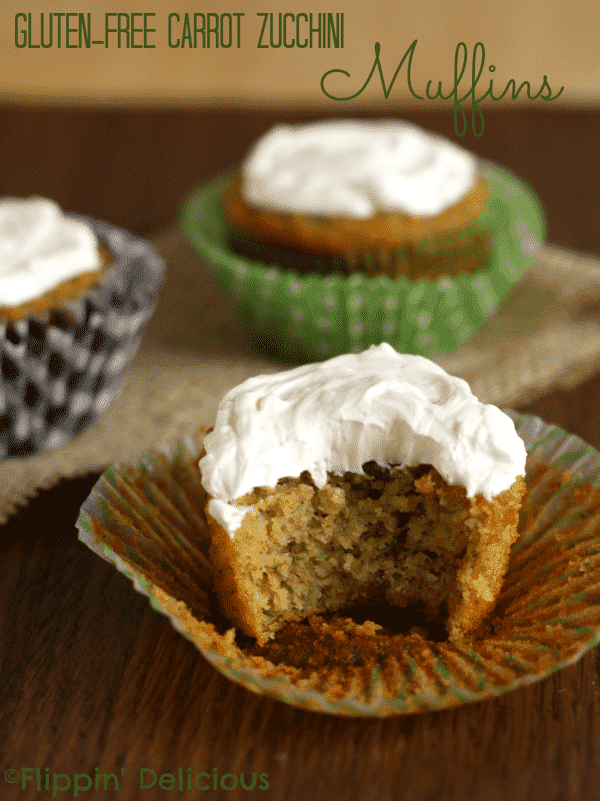 I have a sweet spot for muffins in my stomach.
Muffins were one of the first things I learned to bake when I was a little girl.
Which I guess I say a lot, but gluten free pumpkin chocolate chip muffins really were a staple in our home and I loved making them with my mom.
Measuring and adding ingredients, stirring the batter, and licking the bowl of course.
How do you make Gluten free carrot zucchini muffins?
These gluten-free carrot zucchini muffins are easy enough that you can make them with your kiddos if they want to help.
Miss E loves helping me in the kitchen.
I think she really spent more time playing with a whole carrot on a cutting board and dumping the salt shaker all over the floor than helping me make muffins but it is all about the experience.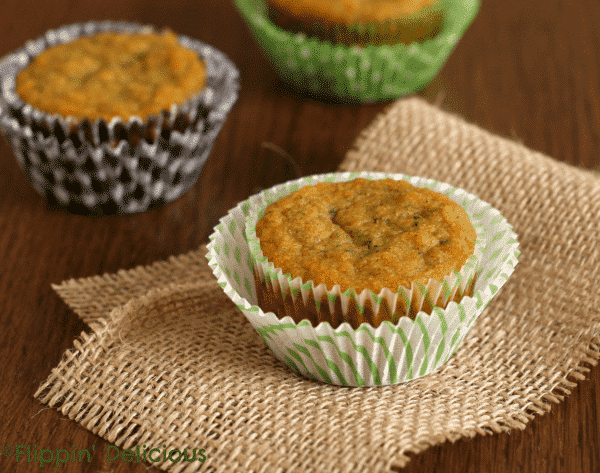 She is also quite the budding food stylist.
If you follow me on Instagram you probably saw this picture of her rearranging all of the "cupcakes" for me.
She loves helping mommy! (If you don't follow me on Instagram, you should. All the behind the scenes and previews of what I'm baking. )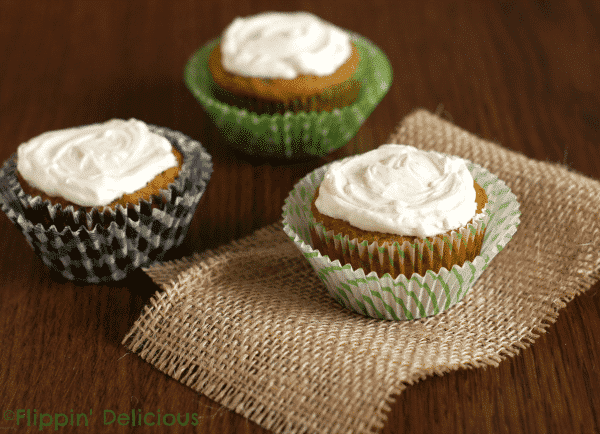 Muffins make a great breakfast or snack but often times they are loaded with sugar.
Which of course never stops me from eating them.
I just wanted to create a gluten-free recipe that was going to fill my 28 week pregnant body with some nutrients and protein instead of giving my baby a sugar high.
I really didn't miss the refined sugar in these gluten-free muffins at all.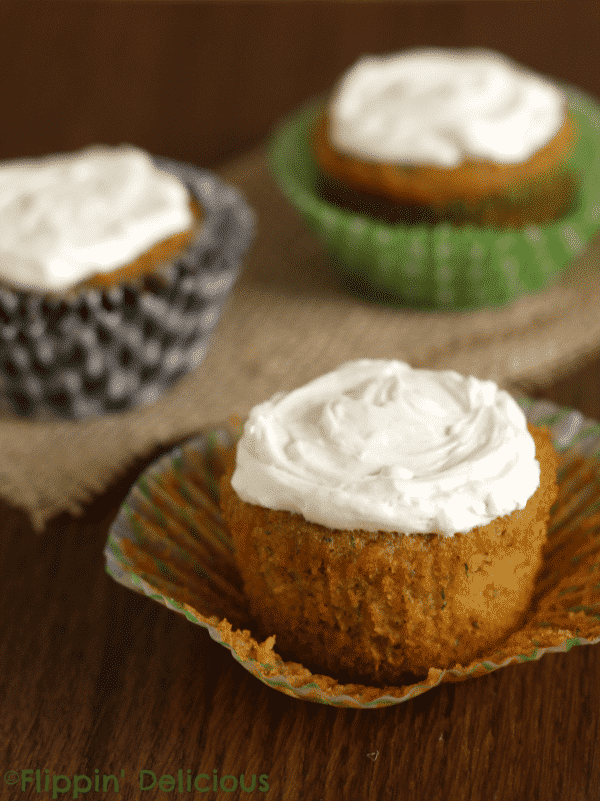 They are slightly sweet and extra moist from the honey, freshly shredded zucchini and carrot for some fiber and nutrients, protein from the almond flour, a little rice flour to lighten up the texture, and whipped cream cheese to top them off.
If you are a fan of zucchini muffins, I think you'll love my gluten free zucchini bread made in the blender. It is so easy!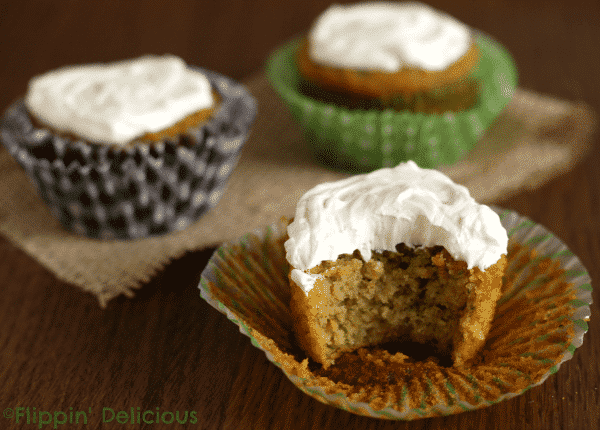 If you want to avoid grains entirely instead of just doing it gluten-free you can try using an extra half a cup of almond flour instead of the rice flour.
The muffins won't be quite as light, but will still be delicious!
You might also really enjoy my friend Erin's Healthy Carrot Cake. It has a gluten-free option, and is the perfect healthier cake for celebrations.
How to use gluten free flour
When baking with gluten free flour, your results will vary based on the gluten free flour you use.
Please read through my gluten free flour page for very thorough and detailed information about which gluten free flours work well, how to substitute one gluten free flour for another, and for my gluten free flour recipe.
How to measure gluten free flour
How you measure your gluten free flour is also very important.
To accurately measure your flour, use the "fork, spoon, knife" method.
First, mix your gluten free flour with a fork to ensure it is aerated and evenly mixed.
Then carefully spoon it into your measuring cup.
DO NOT scoop the flour with your measuring cup, you'll compact extra flour into the measuring cup and then your gluten free baked goods will be dry and crumbly because they'll have too much flour.
Finally, level off your measuring cup using a knife.
Use room temperature ingredients
You'll also have best results if all the ingredients are at room temperature, except for any ingredients that specify "cold" or "chilled".
Using room temperature ingredients like eggs, butter, and gluten free flours helps your baked goods to bake evenly and correctly.
Think about it, if you use cold eggs, your batter will be colder.
And then it will change how it bakes, or may take longer.
For recipes that rise using steam, this is especially important.
📖 Recipe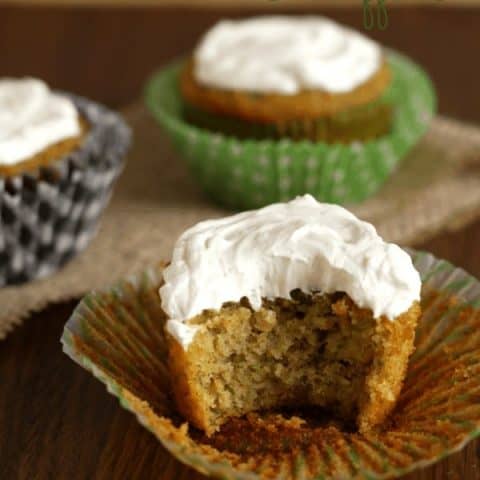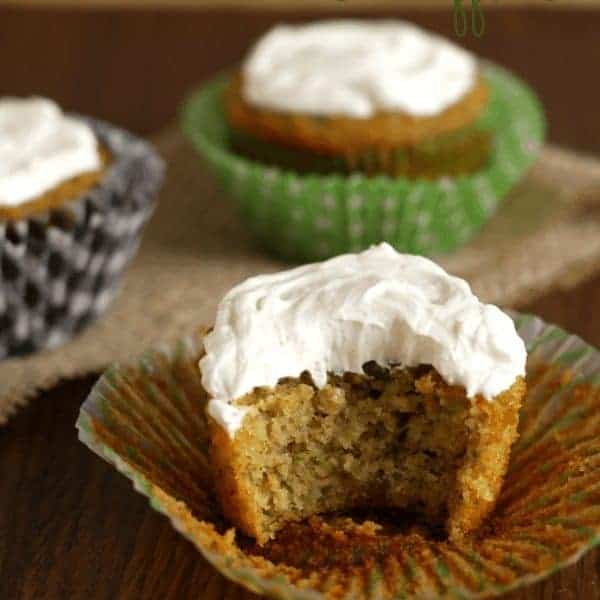 Gluten Free Carrot Zucchini Muffins
Yield:
1 ½ dozen gluten free muffins
Sweet Carrot Zucchini Muffins are gluten-free and low carb. They make a great protein-filled breakfast! You can even top them with cream cheese "frosting."
Ingredients
1 ½ cups almond flour
½ cup brown rice flour
2 ½ teaspoons baking powder
½ teaspoon salt
1 teaspoon cinnamon
½ cup honey (or pure maple syrup)
½ cup oil (vegetable or coconut)
2 eggs
½ cup finely shredded carrots
1 ¼ cups finely shredded zucchini
For the Whipped Cream Cheese
8 oz cream cheese, softened
2 tablespoons honey
Instructions
Preheat your oven to 350F. Line a muffin tin with paper liners, or liberally grease.
In a mixing bowl combine the almond flour, brown rice flour, baking powder, salt, and cinnamon.
Make a "well" in the dry ingredients and add the honey, oil, and eggs and stir to combine. The batter will be thick. Add the shredded carrots and zucchini and stir until they are evenly distributed.
Fill each muffin liner with better so it is about ¾ full.
Bake for 30-35 minutes or until the edges are golden and the muffin springs back if you lightly touch it.
Let cool before frosting, if desired.
For the whipped cream cheese
Whip the cream cheese until light and fluffy using an electric stand or handheld mixer. Add the honey and continue to whip until combined.
Notes
You can easily use more carrot and less zucchini, or even all zucchini if you want. Just make sure the total amount of shredded vegetables in the recipe is the same.
Recommended Products
As an Amazon Associate and member of other affiliate programs, I earn from qualifying purchases.
Nutrition Information
Yield

18
Serving Size

1
Amount Per Serving
Calories

217
Total Fat

16g
Saturated Fat

4g
Trans Fat

0g
Unsaturated Fat

11g
Cholesterol

33mg
Sodium

177mg
Carbohydrates

17g
Fiber

2g
Sugar

11g
Protein

4g
All nutrition info is a guestimate and will vary depending on the ingredients you use.
Some other scrumptious muffin recipes from yours truly...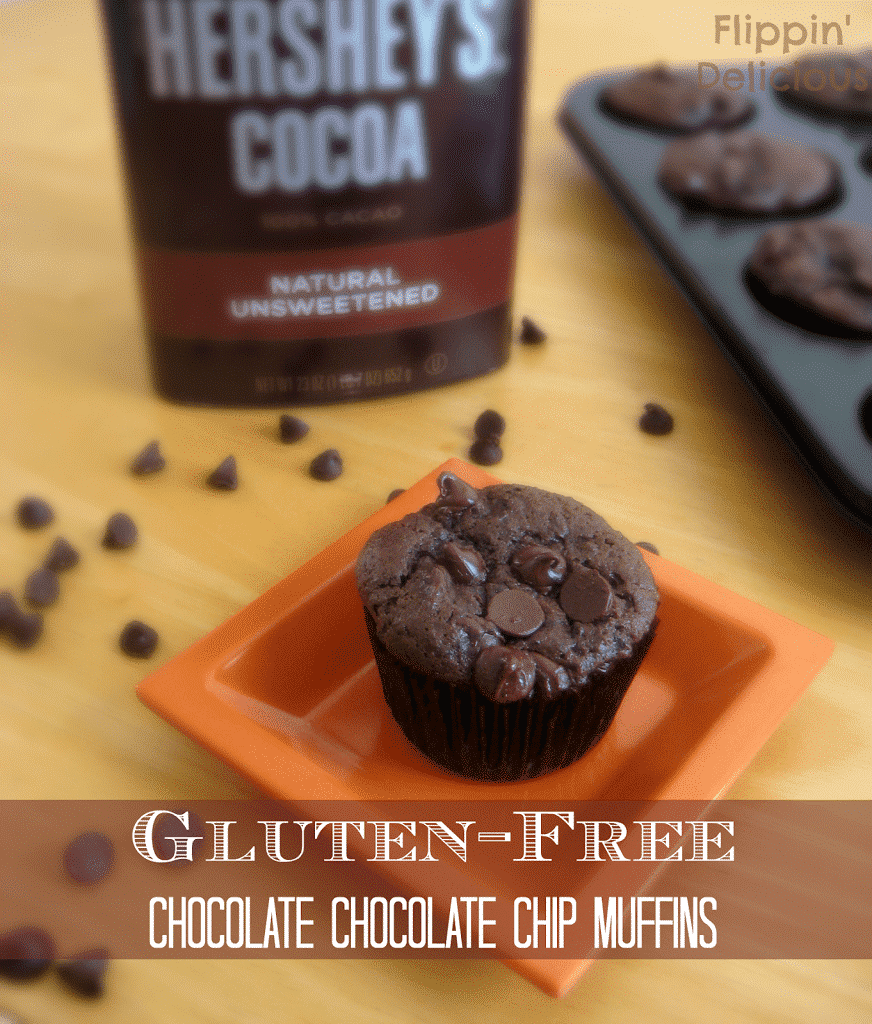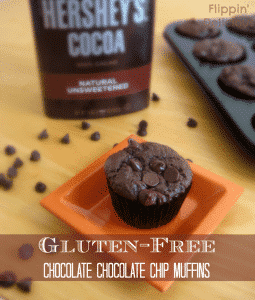 Gluten-Free Cranberry Chocolate Muffins