These almond flour brownies have a rich chocolate flavor, and super chewy edges and are gluten free. No cocoa here, just smooth melted chocolate. They are easily made dairy free too!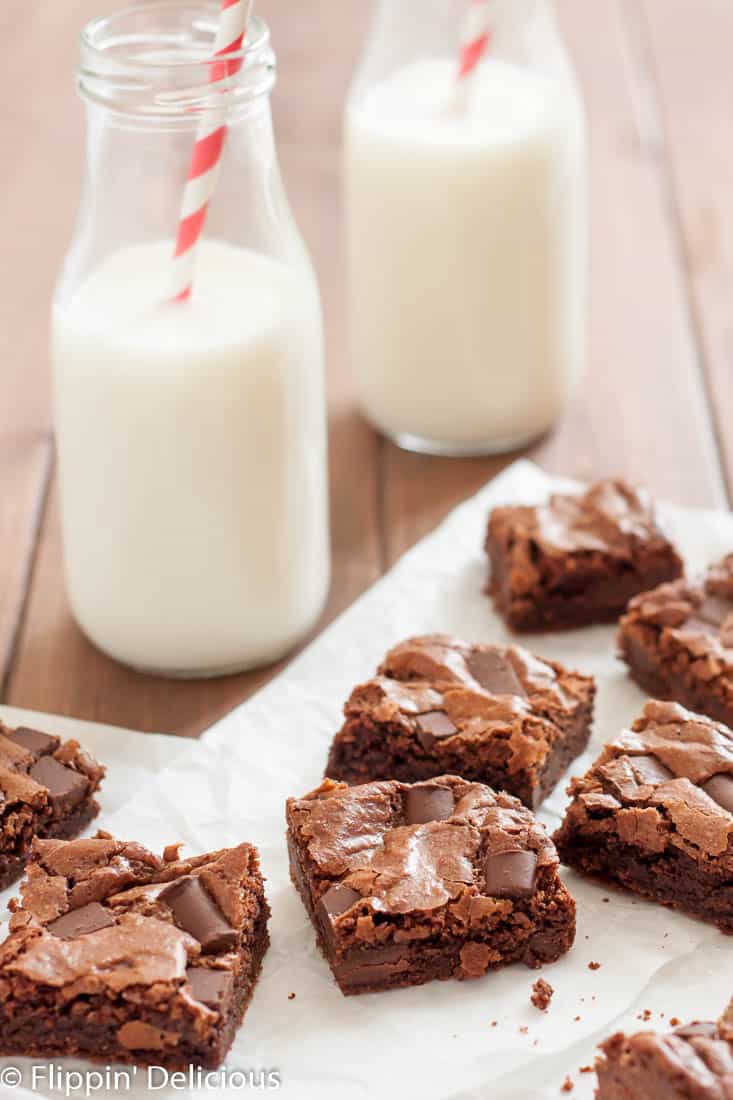 I know, I already have the best gluten free fudgy brownie recipe already posted on Flippin' Delicious.
I still believe they are the best fudgy brownies, but there is a little room for another recipe in the spotlight.
And these Almond flour brownies made with melted chocolate are worth making.
When I first baked that pan of fudgy brownies, I was won over. It is an easy, cocoa powder based recipe.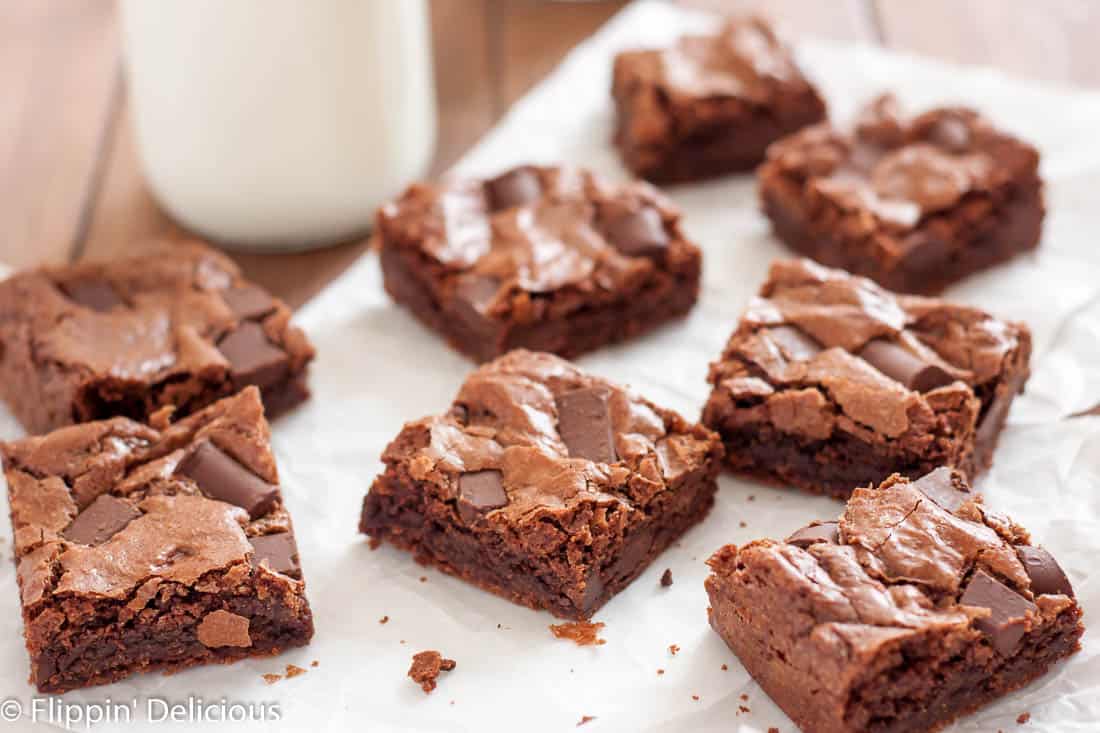 So I continued to search for the perfect brownie recipe.
I created a secret board on pinterest titled "The Search for the Secret Brownie" and I kept baking!
But I kept searching for brownie perfection, and created these almond flour brownies with the perfect chewy texture, and a decadent milk chocolate flavor from melted chocolate instead of cocoa.
When I ran my own gluten free baking company in 2013, I tested several recipes, making tons of tweaks, and this is the recipe I decided to add to my menu.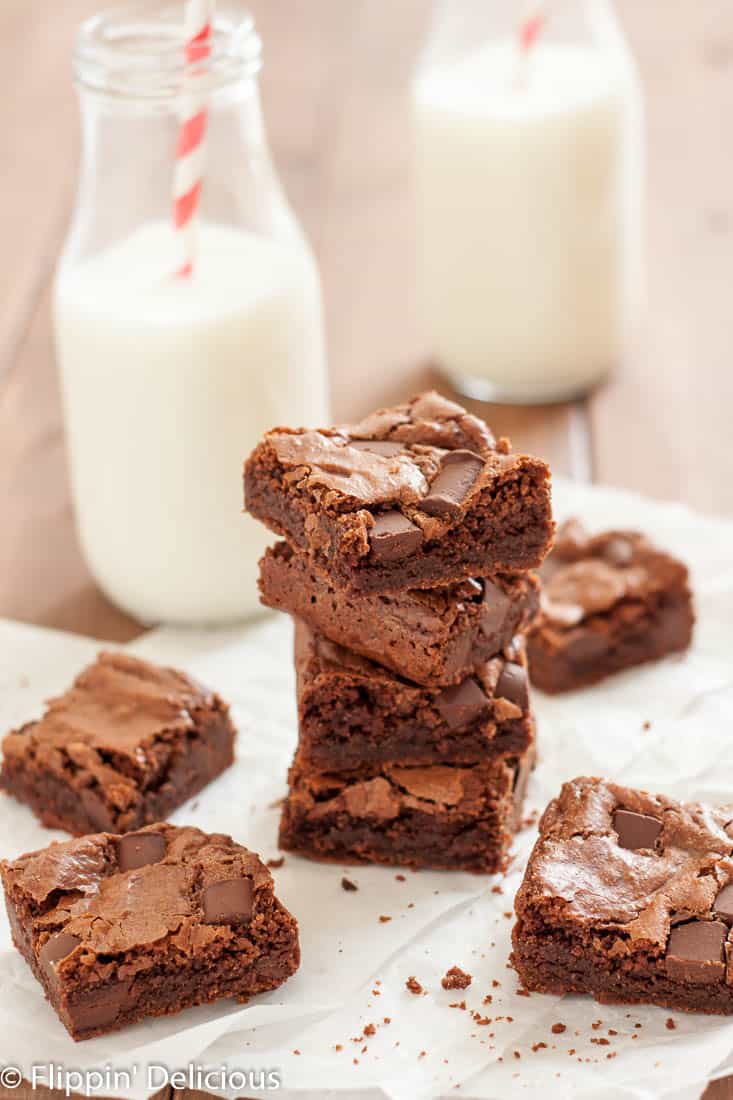 It is also my sister's favorite recipe. For quite awhile she would always request these almond flour brownies whenever we had a family gathering.
And then I included the recipe in my cookbook, The Essential Gluten Free Cookie Guide.
Now whenever I have a brownie craving, it is hard to choose between my best gluten free fudgy brownies OR these sweet and chewy almond flour brownies.
It is an impossible choice, you should make them both!
Wouldn't these brownies be absolutely scrumptious with a scoop of toasted almond ice cream on top? Yum!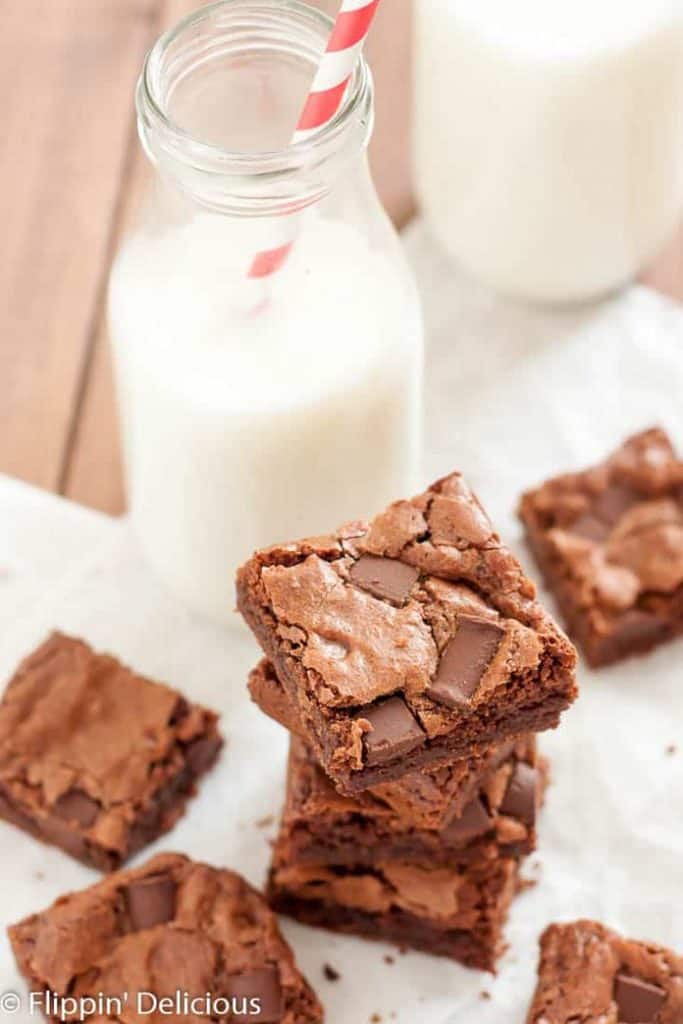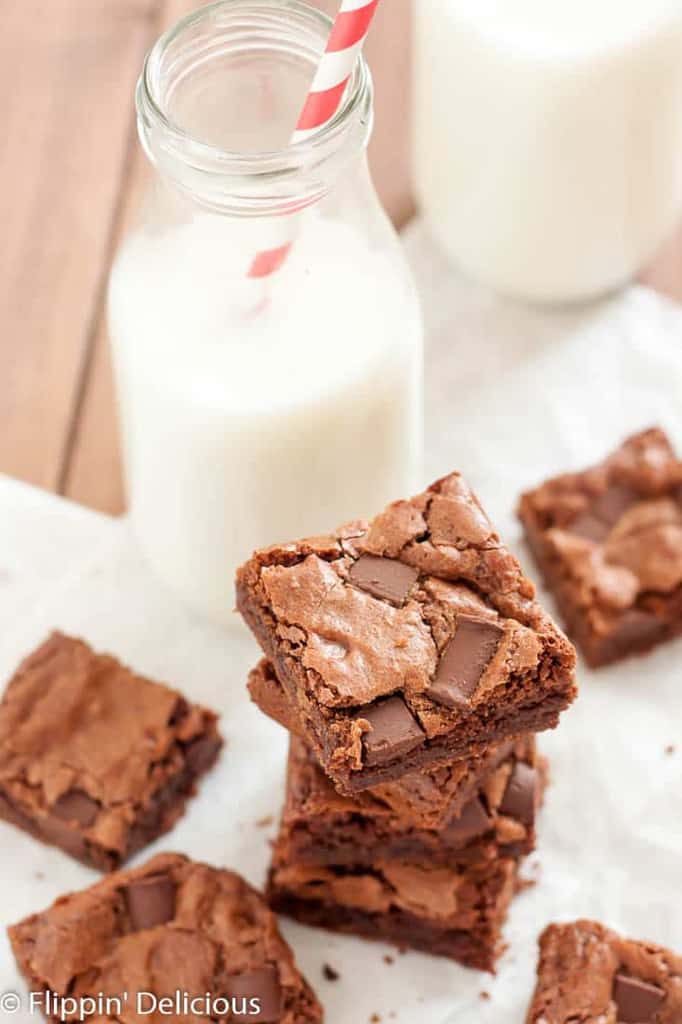 How to make almond flour brownies
I love that all of the chocolate comes from melted chocolate, making these brownies super rich.
As the almond flour brownies bake they get that perfect flaky top. The huge chocolate chunks are just a bonus!
First, melt your chocolate, oil, and sugar.
Add the almond flour, gluten free flour, and salt and mix until combined.
Stir in the eggs one at a time, working quickly so the egg doesn't scramble when it hits the warm batter.
Add chocolate chunks, or any other brownie add-ins, and pour into a pan that has been greased or lined with parchment paper.
Bake until the edges are set, I like to leave my brownies a little gooey in the middle, because I like them fudgy.
How to measure almond flour
This recipe does use almond flour (sorry all of my nut-allergic friends!) The almond flour really contributes to the chewy texture.
To measure almond flour, carefully spoon your almond flour into a measuring cup and level it off with a knife-edge.
Be sure not to pack your almond flour into the cup.
The most accurate way to measure almond flour is by weight, so I have included a weight measurement for you if you do have a kitchen scale.
Can I use something instead of almond flour?
I do not know of a good substitute, so if you have to skip almonds I would suggest trying my other brownie recipe instead of trying to adapt this one.
How to store almond flour
I like to store my almond flour in an airtight container or ziploc bag in the fridge to keep it fresh as long as possible.
When stored at room temperature, almond flour can quickly go rancid.
Before using it in a recipe, let your almond flour come to room temperature. I remove mine from the fridge and measure it out about half an hour before I start baking with it.
If you try baking with still-cold almond flour it can cause the chocolate to solidify, and can also cause oil clumps if you use certain oils, like coconut oil, with a high melting point.
I buy my gluten free almond flour on amazon.
How to make dairy free almond flour brownies
As long as you use dairy free chocolate the brownies are dairy free (and no one would ever guess!)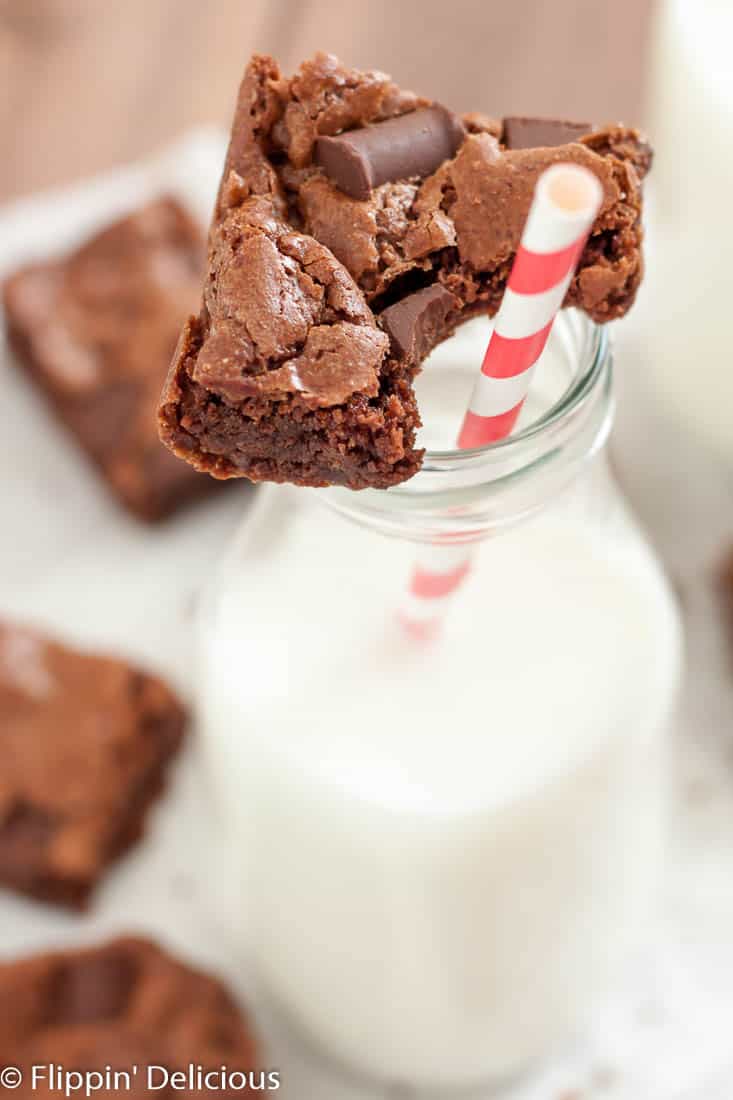 How to make vegan almond flour brownies
This recipe does work well with egg substitutes (I always use a flax egg.)
These brownies they are just a bit fudgy too.
I always under-bake mine a bit because I love that fudgy bite so much!
However they are not nearly as fudgy as my other gluten free brownie recipe, so if you tried it and it was too fudgy for you, I bet you'll love these chewy dark chocolate brownies.
Now it is up to you to decide, which brownie is perfect?
Bake them both and tell me 🙂 (I am not responsible for weight gain from eating 2 pans of brownies.)
📖 Recipe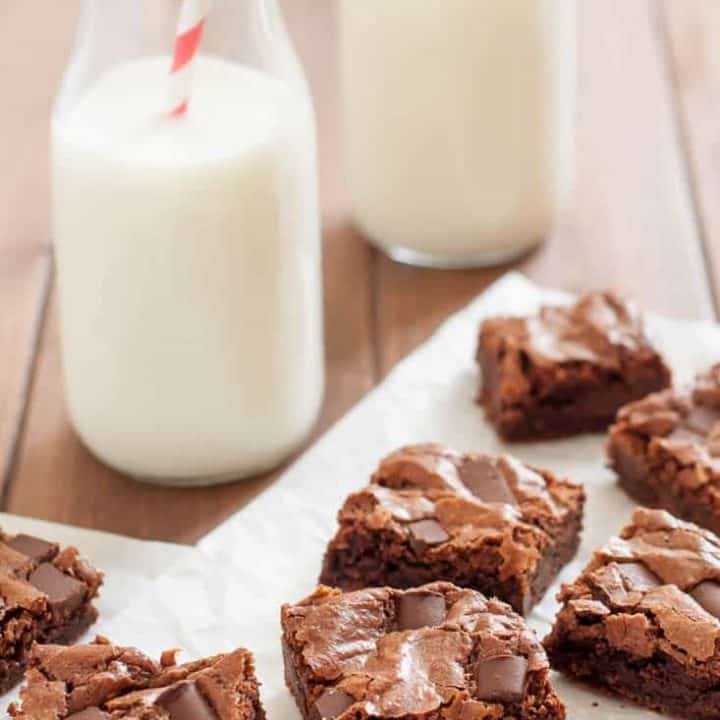 Almond Flour Brownies
These almond flour brownies have a rich chocolate flavor, and super chewy edges, and are gluten free. No cocoa here, just smooth melted chocolate. They are easily made dairy free too!
Instructions
Preheat the oven to 350F. Line a 8x8 inch baking pan with parchment paper or lightly grease it.
Place the chocolate and the oil in a microwave safe bowl, and heat in 30 second increments until smooth. (alternatively melt over low heat in a sauce pan.)
Let cool slightly, then stir in the sugar.
Stir in the almond flour, gluten free flour, and salt.
Add the eggs one at a time, stirring until thoroughly combined after each addition.
Stir in the remaining chocolate chunks or chips (I like to save ⅓ of them to sprinkle on the top.)
Spread the batter in the prepared pan and bake for approx 30 minutes, or until a toothpick inserted near the center comes out with just crumbs (and no liquid brownie batter.)
Let cool before cutting, if you can wait!
Notes
To make without gluten free flour, substitute another 2 tablespoons of almond flour and 2 tablespoons of tapioca starch or corn starch. You can also swap the entire ¼ cup of gluten free flour for almond flour, for extra frudgy brownies.
Nutrition Information
Yield

9
Serving Size

1 gluten free brownie
Amount Per Serving
Calories

327
Total Fat

19g
Saturated Fat

5g
Trans Fat

0g
Unsaturated Fat

12g
Cholesterol

47mg
Sodium

152mg
Carbohydrates

35g
Fiber

2g
Sugar

29g
Protein

6g
All nutrition info is a guestimate and will vary depending on the ingredients you use.