Gluten Free Magic Cookie Bars with Marshmallows- seven sweet and chewy layers of nuts, Chocolate Chips, coconut, and gluten free graham crackers and covered in sweetened condensed milk.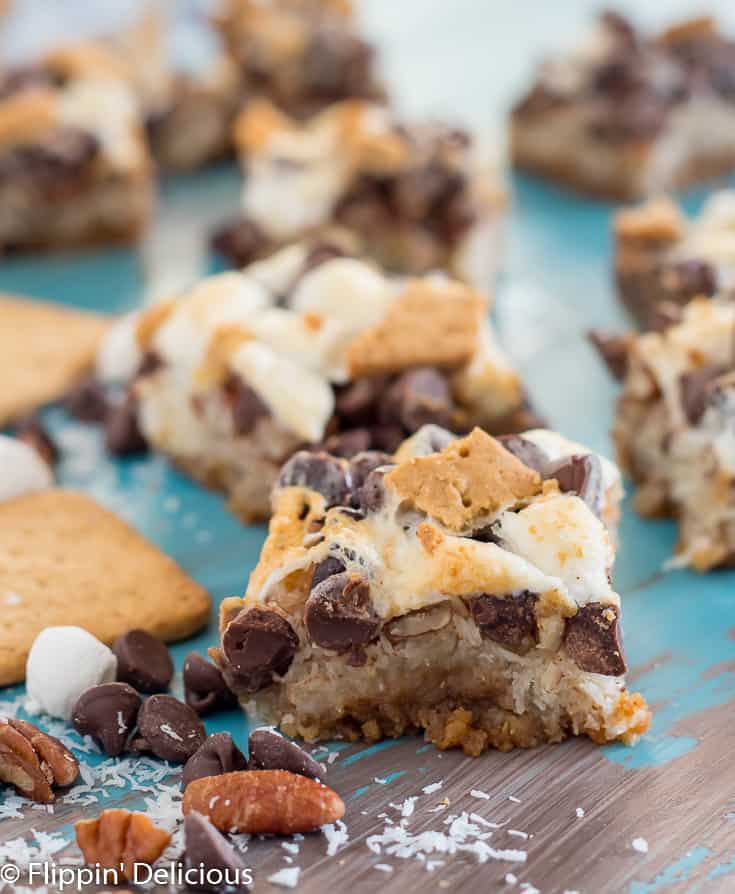 This post is sponsored by Schar. As always, all opinions are entirely my own. Thank you for supporting Flippin' Delicious and the companies I work with.
Gluten free magic cookie bars with marshmallows
Magic cookie bars go by many names. Magic Cookie Bars. Seven Layer bars. And Hello Dolly Bars. They are all essentially the same choose-your-own adventure bar cookie with seven layers of chopped nuts, chocolate chips, and coconut.
Because you can easily switch up the seven layers to include your favorite add ins, you can make your magic cookie bar recipe just the way you want!
Partly out of necessity, and partly out of a summer campfire craving (more on that below) I added marshmallows to my gluten free magic cookie bars. I just loved how the marshmallows puffed and turned golden as my magic cookie bars baked.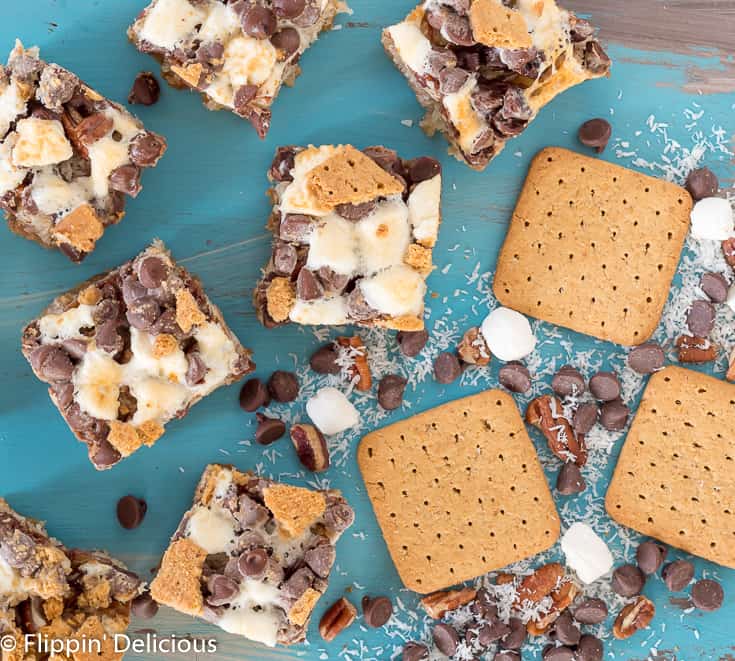 Hello Gluten Free S'mores Magic Cookie Bars!
Or S'more Seven Layer Cookie Bars.
Or S'mores Hello Dolly Bars.
The difference is only in the name.
Whatever you call them, these gluten free bar cookies will be a huge hit! I could hardly wait for my magic cookie bars to cool before I dug in.
What are magic cookie bars?
Magic cookie bars are a sweet and salty bar cookie made by layering a graham-style cracker crust, coconut, nuts, chocolate chips, and sweetened condensed milk. When baked, the sweetened condensed milk melts down over the other ingredients, magically turning them into bar cookies.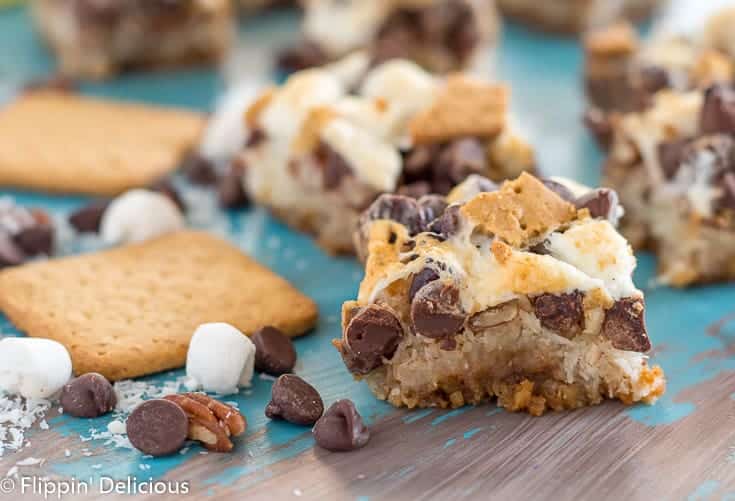 How do you make a magic cookie bar?
Magic cookie bars are really as easy as layering all of the ingredients into your baking pan and pouring a can of sweetened condensed milk over the top before baking. Settling on the 7 layers is the hardest part!
What are the 7 layers of 7 layer Bars?
7 layer bars are normally made some combination of:
Graham crackers
Melted butter
Shredded coconut (or coconut flakes)
Chopped nuts
Chocolate Chips
White Chocolate or Butterscotch Chips
Sweetened Condensed Milk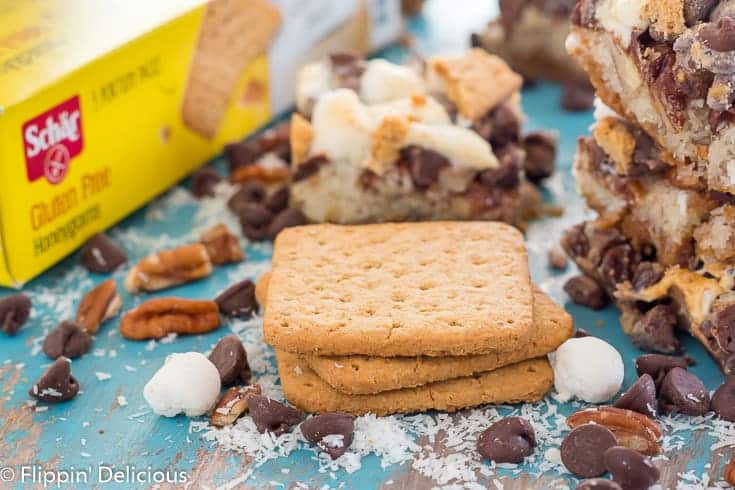 I started with Schar Honeygrams. They are my go-to gluten-free graham-style cracker. (I used them in a crust of my gluten free cookie dough pie on Pi day.) They don't have a gritty sandy taste like some gluten free graham-style crackers do. I also love dipping them in milk, just like I did when I was a kid.
Right now Schar is running their Add You Voice campaign where you can share your gluten-free journey and get entered to win prizes and some gluten-free samples.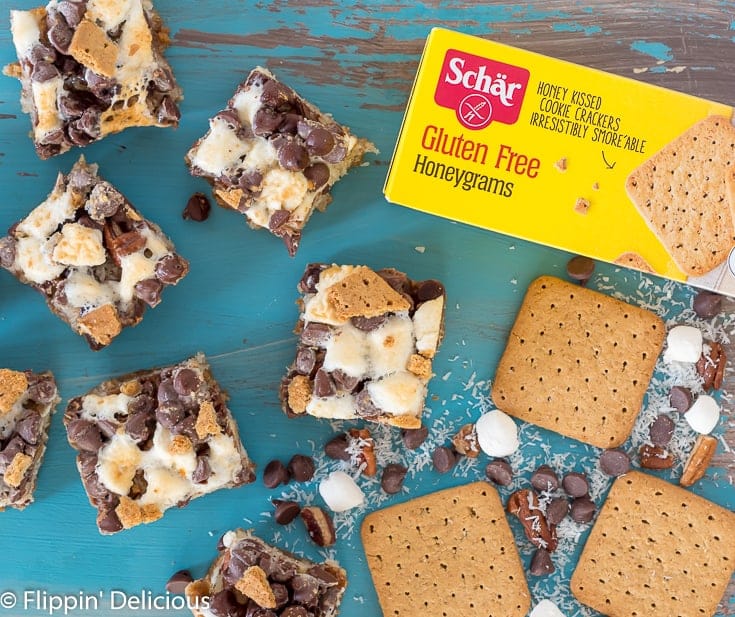 If you really want to up the ante, use Schar's Chocolate Honeygrams for a bonus chocolate layer!
To make my magic cookie bars recipe dairy free I used vegan chocolate chips, vegan butter, and coconut sweetened condensed milk.
There are lots of different slight variations in the nuts, coconut, and chocolate chips traditionally used. I opted for pecans because they are my favorite, and finely shredded coconut so that my magic cookie bars would be easy to cut. You can use any chopped nuts you love.
Because I didn't have any vegan white chocolate or vegan butterscotch chips (do these even exist?) on hand I wanted to add a different 7th layer.
I needed a 7th layer in my vegan seven layer bars!
As I was deciding what ingredients I wanted in my vegan seven layer bars, I was actually stumped and called my sister to ask her opinion. Even though it was almost 9pm. (She is the best! A quick chat with her and I had much better direction!)
I could have added a second nut, like sliced almonds.
Another option could have been two kinds of vegan chocolate chips, a dark and a semisweet but I didn't feel like that was a big enough difference to consider it two layers.
Or I could toss in some marshmallows!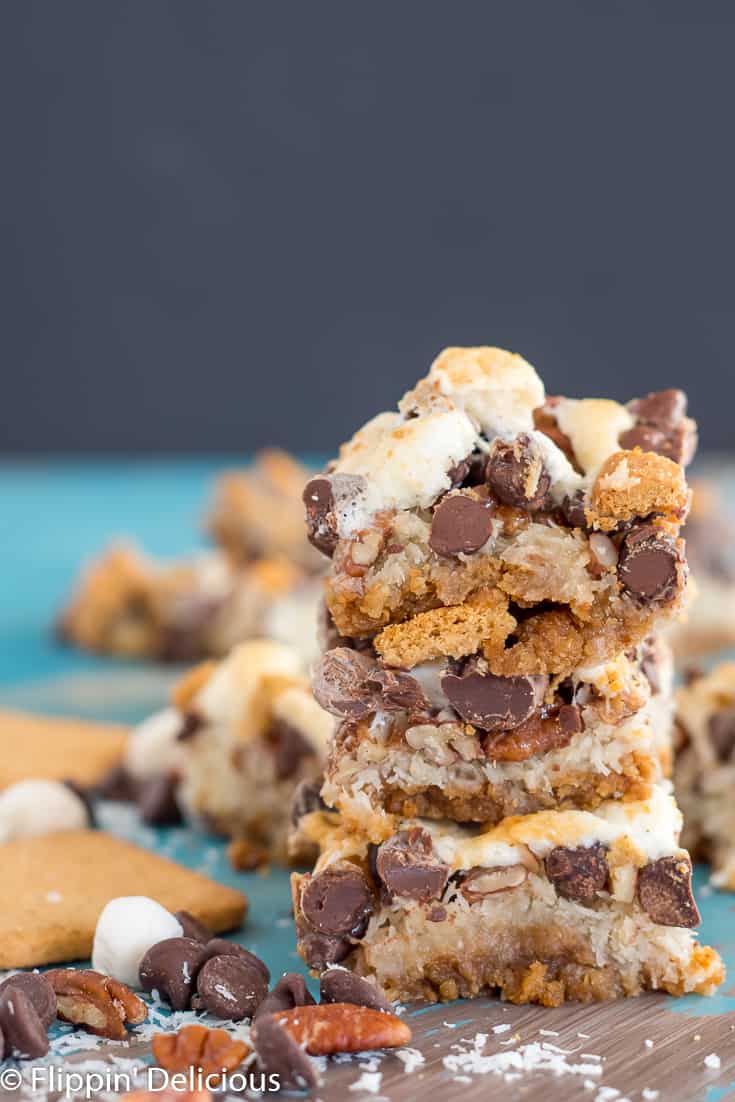 Ultimately, I went for marshmallows. Gluten free magic cookie bars with marshmallows reminded me of a S'mores with all of the chocolate chips and honeygram pieces!
(My sister has great advice. She also was really craving s'mores.)
I actually had vegan marshmallows on hand, so that is what I used. Accidentally making my gluten free s'mores magic cookie bars vegan
If you love gluten free bar cookies, try my gluten free lemon bars recipe!!
How long do you cook seven layer bars?
Bake your finished seven layer bars at 350°f for 30 to 40 minutes. The sweetened condensed milk needs to melt down over the other ingredients and cook to a high enough sugar point so that they cookie bars will set when they are cool. Your seven layer bars should be golden around the edges. If you want a gooey-er seven layer bar, stay closer to the 30-minute mark. For chewy-er seven layer bars, stick closer to 40 minutes.
Can you freeze magic cookie bars?
Yes, you can definitely freeze magic cookie bars! I froze my cookie bars by placing them in an airtight container, though you could also use an airtight bag. Just pull them out of the freezer a few hours before you plan to eat them.
Right after I made my gluten free magic cookie bars I caught some back-to-school crud that was going around. As much as all I wanted to eat was magic cookie bars, I knew I should wait for my body to heal a bit before indulging. So, into the freezer they went! They were every bit as good after they thawed, and they stayed fresh.
Pin these gluten free magic cookie bars for later:
Ready, set, bake your gluten free seven layer bars!
📖 Recipe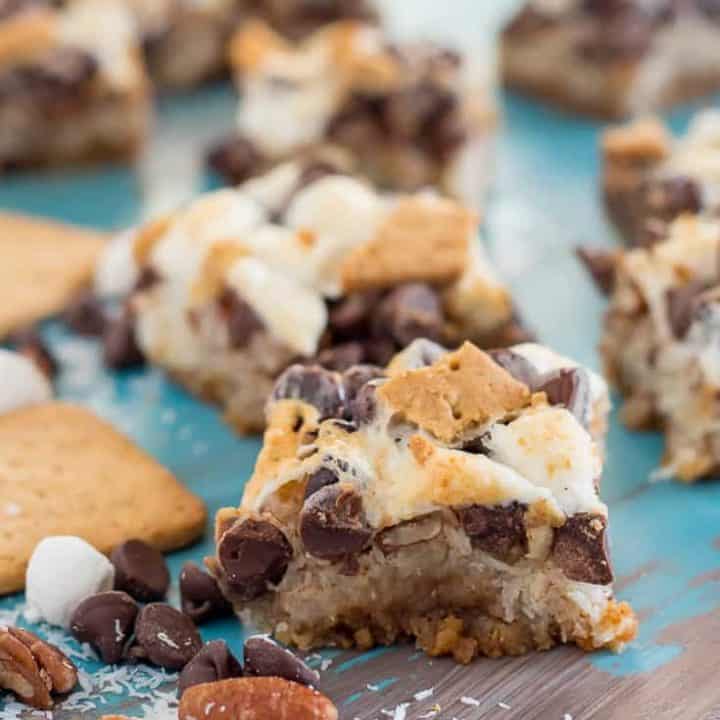 Gluten free magic cookie bars with marshmallows
Yield:
16 Gluten Free Magic Cookie Bars
Gluten free magic cookie bars with marshmallows made with dairy free sweetened condensed milk and Schar gluten free Honeygrams.
Ingredients
¼ cup vegan butter, melted
1 ½ cups shredded coconut
1 cup dairy free chocolate chips
¾ cup chopped pecans
1 cup mini marshmallows (I used vegan marshmallows, but normal mini marshmallows may work if you are only avoiding egg and/or dairy)
1 can coconut sweetened condensed milk
Instructions
Preheat the oven to 350°f and line a 8x8 baking dish with parchment paper (for easy removal) or lightly grease.
Gently crush the Schar Honeygrams and reserve ¼ cup and set aside.
Place the remaining Honeygrams in the prepared baking dish band mix with butter. Gently press evenly into the bottom of the baking dish.
Evenly sprinkle the shredded coconut, chopped pecans, chocolate chips, and mini marshmallows over the Honeygram mixture.
Drizzle the coconut sweetened condensed milk evenly over the bars and sprinkle with the reserved Honeygrams.
Bake in the preheated oven for 30-40 minutes or until the condensed coconut milk has melted evenly over the seven layer bars and the edges are golden.
Let cool completely before cutting into squares and serving. If the bars don't cool, they won't be set and will be very messy (and still delicious).
Nutrition Information
Yield

16
Serving Size

1
Amount Per Serving
Calories

191
Total Fat

14g
Saturated Fat

8g
Trans Fat

0g
Unsaturated Fat

6g
Cholesterol

8mg
Sodium

67mg
Carbohydrates

18g
Fiber

2g
Sugar

14g
Protein

2g
All nutrition info is a guestimate and will vary depending on the ingredients you use.