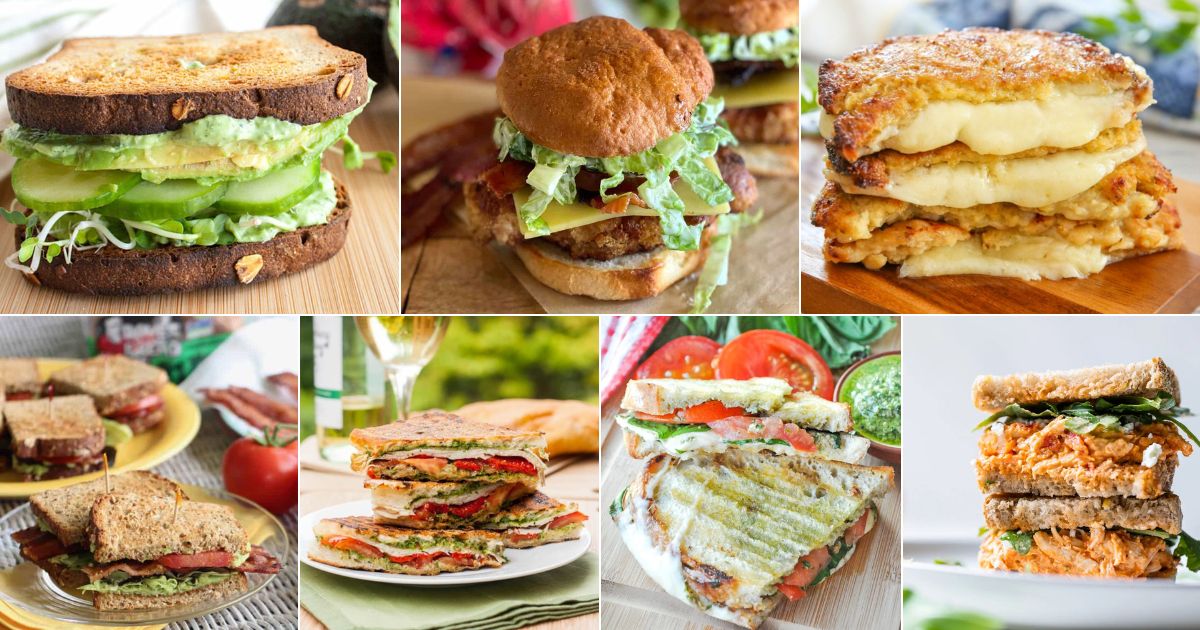 Cutting back on gluten doesn't mean you can't enjoy the convenience and delicious taste of a sandwich. From wraps to gluten-free bread, there are many simple and healthy gluten-free sandwich recipes to explore.
Jump to:
1. Instant Pot Gluten-Free French Dip Sandwiches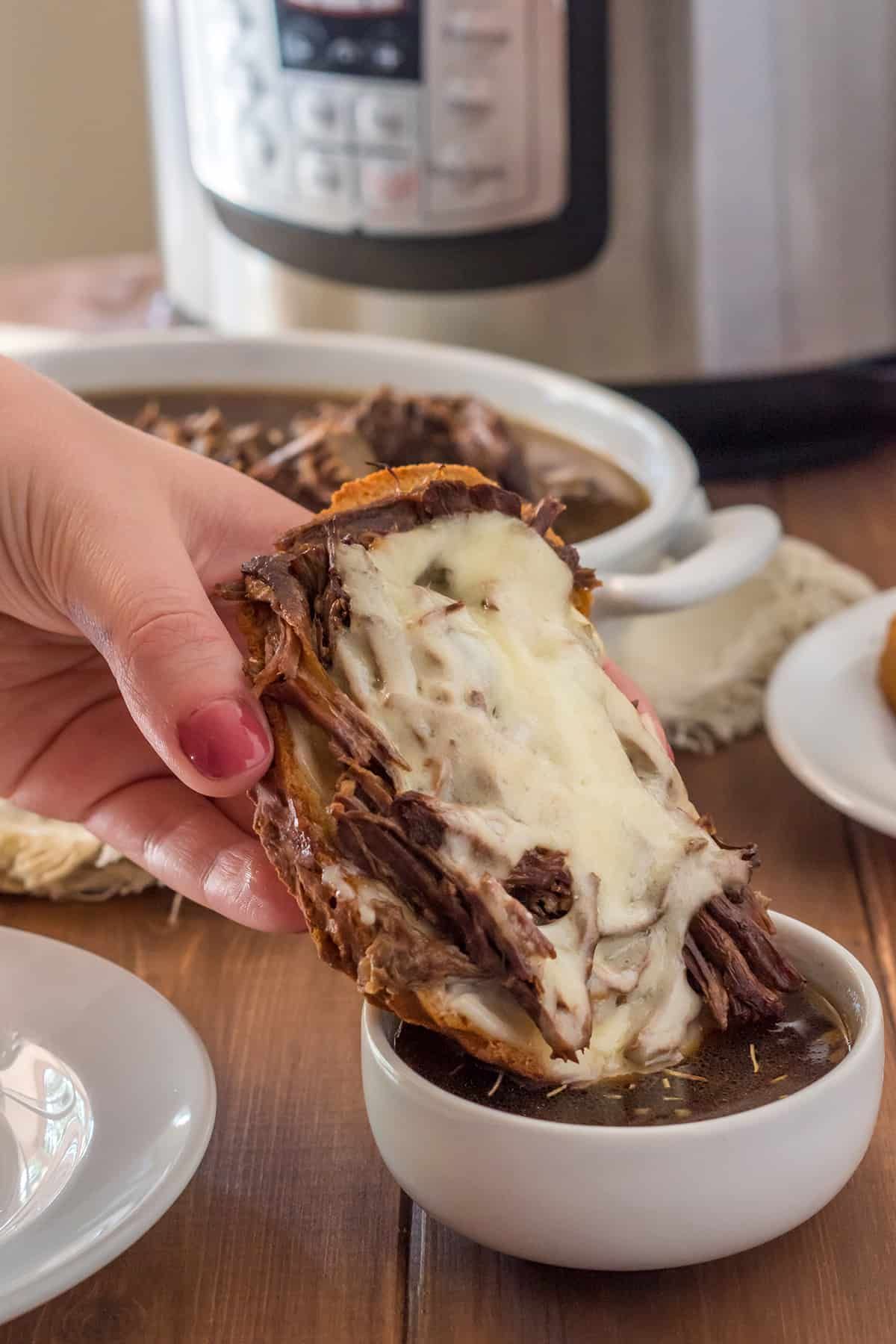 These delicious French Dip sandwiches come together effortlessly. All you have to do is let the beef, herbs, and coconut aminos, or your gluten-free sauce of choice, simmer in an instant pot for an hour or so.
You can then serve the melt-in-your-mouth meat with your choice of cheese and gluten-free bread. Have fun customizing this recipe by trying different sandwich toppings or adding your favorite herbs or spices to the jus!
2. Gluten-Free Club Sandwich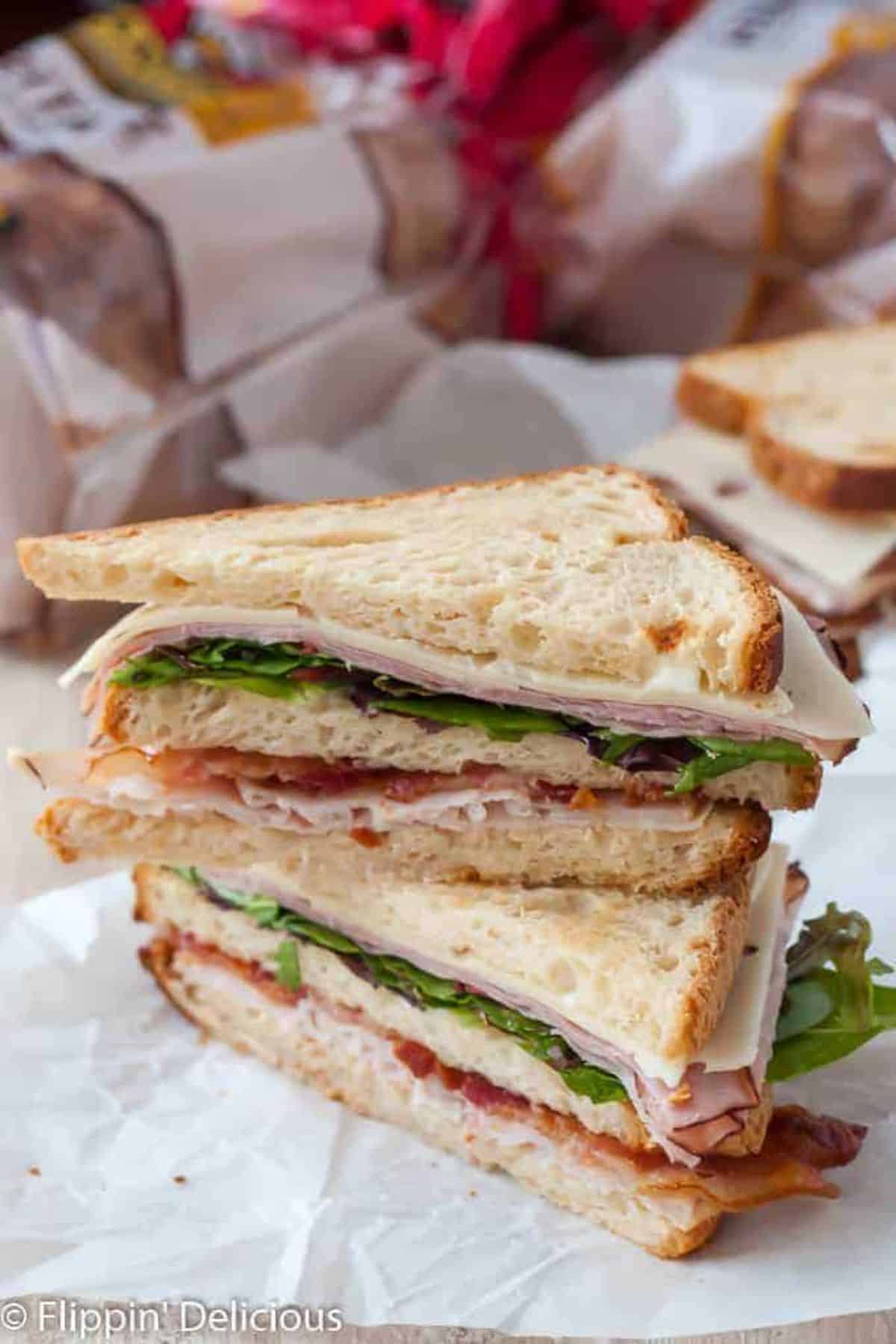 Club sandwiches are a timeless classic. Whether you need a convenient lunch, you can eat on the go, or want to wow your guests with some sophisticated appetizers, you can't go wrong with club sandwiches.
This gluten-free version uses gluten-free bread, sliced deli meat, greens, bacon, cheese, and your choice of dressing. The result is a mouth-watering club sandwich with the perfect combination of savory meat, fresh greens, and delicate cheese.
3. Gluten-Free Reuben Sandwich Dippers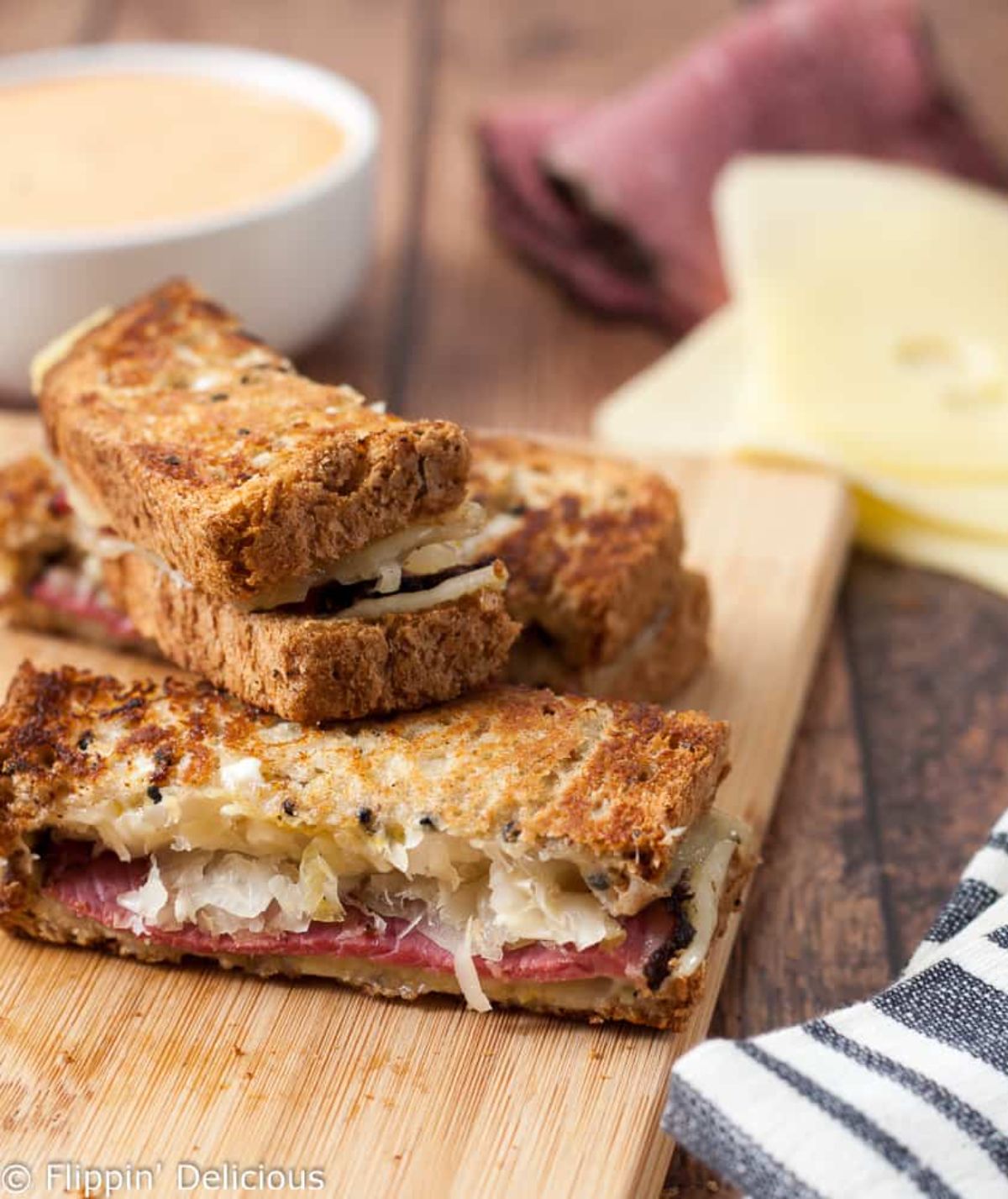 With their generous layers of corned beef, Swiss cheese, and sauerkraut, Reuben sandwiches are the perfect savory snack. You can easily make a gluten-free version by swapping the rye bread for a gluten-free alternative.
This recipe features a tasty twist by adding a Thousand Island dipping sauce. It's a fun addition that enhances the savory flavor profile of this sandwich, but you can opt for another gluten-free dressing if you want to customize this recipe.
Note that you'll have to double-check that your store-bought deli meat and dressing are gluten-free products.
4. Gluten-Free Pulled Pork With Green Chile Slaw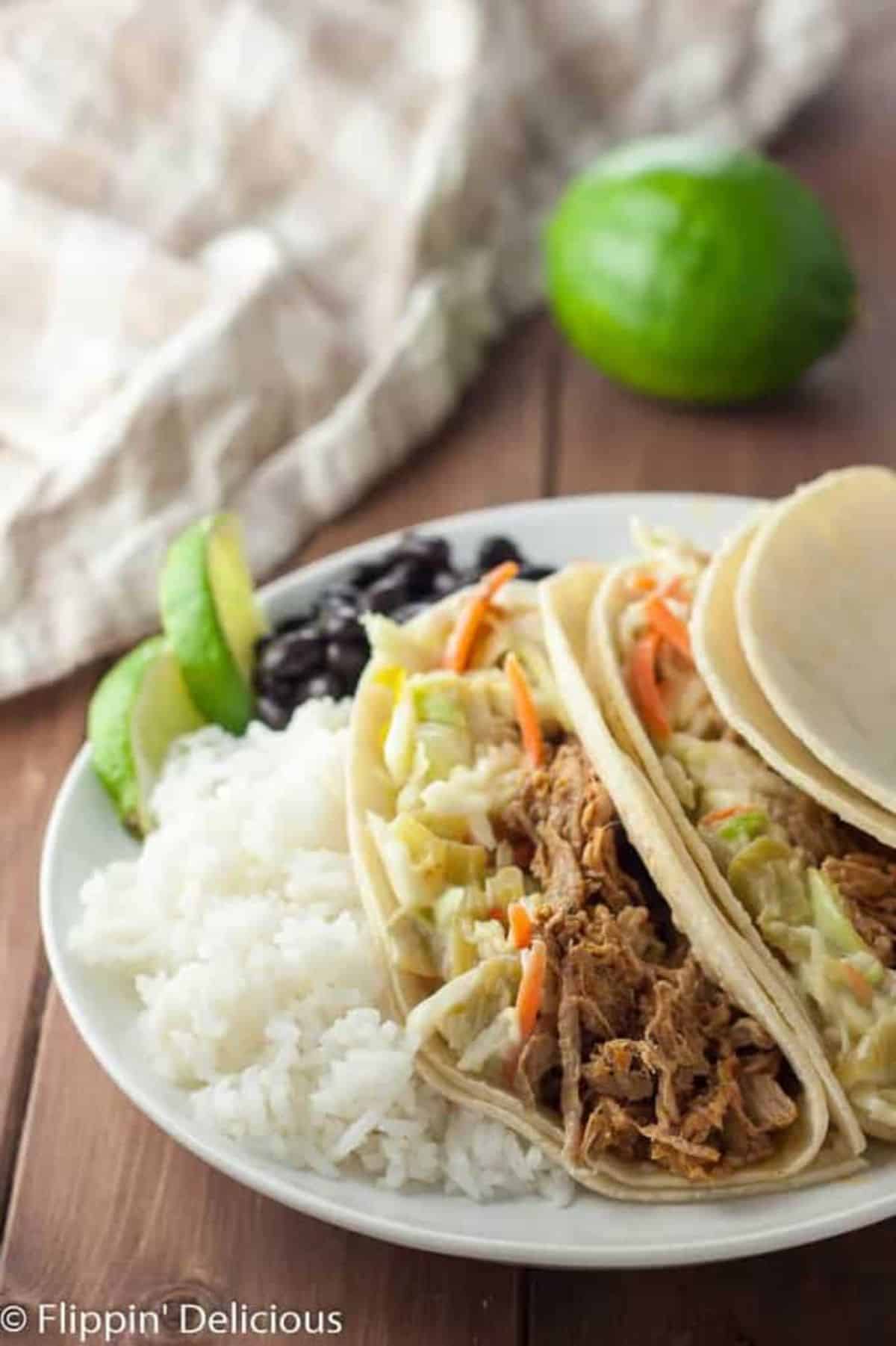 The combination of the braised pulled pork and the crisp texture of the green chile slaw is amazing. This recipe guides you through the process of making pulled pork marinated in apple cider for an extra kick and also teaches you how to make delicious green chile slaw.
You can then add some gluten-free bread or gluten-free tortillas for a pulled pork sandwich that brims with rich flavors. It's a simple slow-cooker recipe, and you can easily make a large batch to have delicious sandwiches all week long!
5. Cauliflower Grilled Cheese Sandwich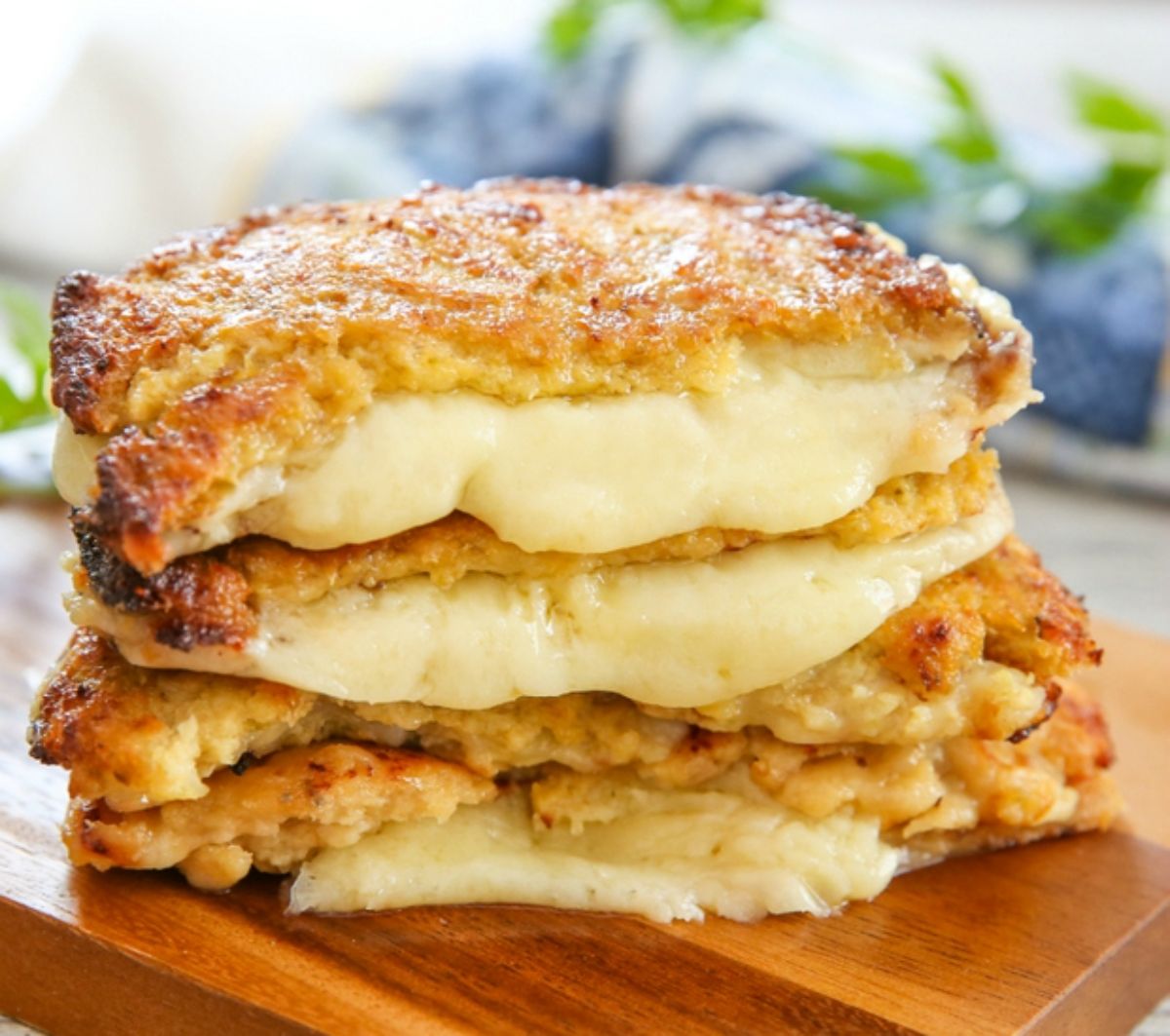 This bold recipe replaces bread with some grilled cauliflower! It's a unique and original take on a classic sandwich that eliminates gluten.
You'll have to rice the cauliflower, add an egg and parmesan to create a homogenous texture, and grill it with a generous amount of butter. The result is a crispy and tasty bread substitute that goes marvelously well with melted cheese.
Once you're familiar with this technique, you can try creating a bread substitute with other riced vegetables.
6. Chick-Fil-A Copycat Gluten-Free Chicken Sandwich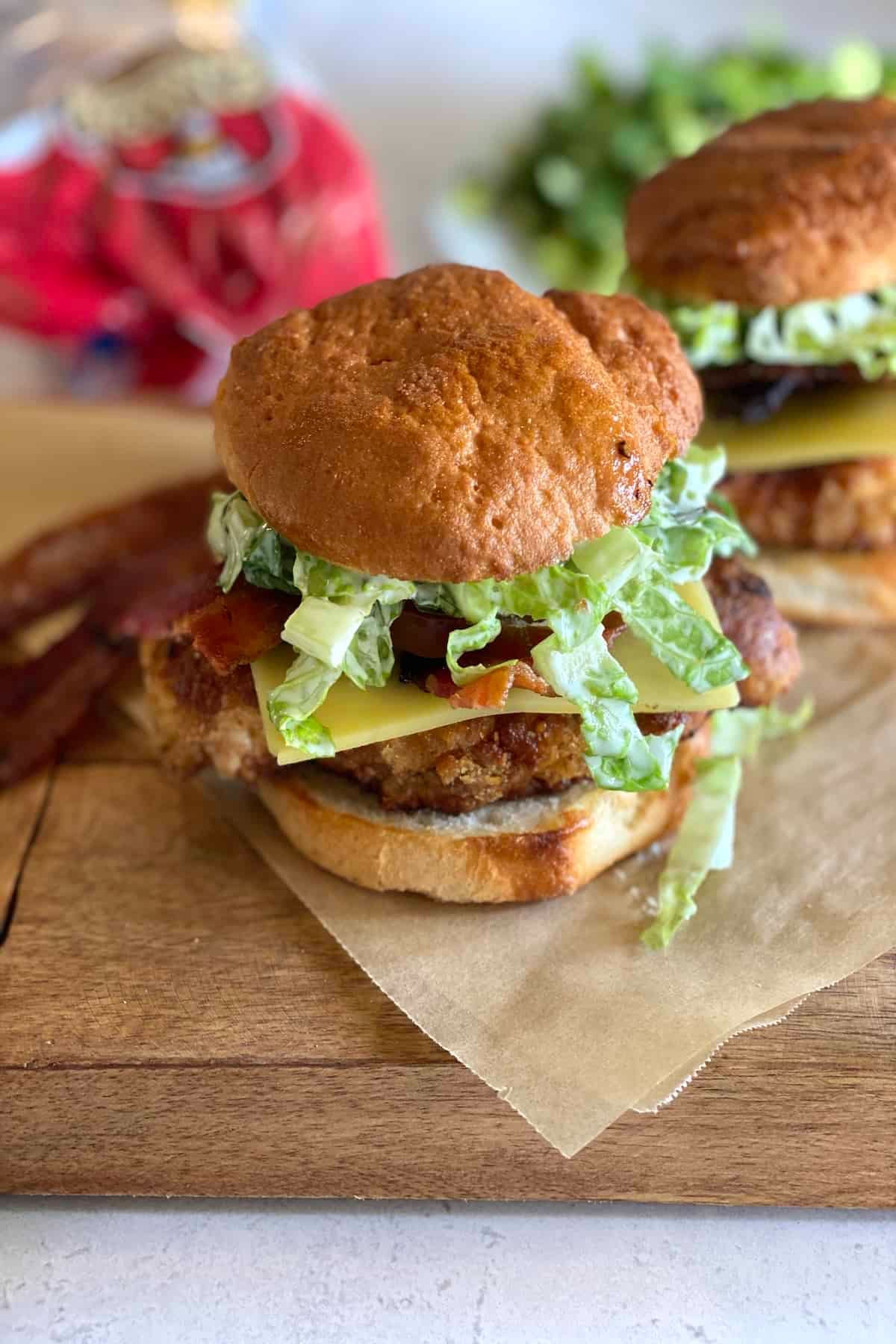 Finding gluten-free menu items can be challenging when eating out. Thankfully, there are many copycat recipes that reproduce the taste of your favorite fast-food sandwiches.
This gluten-free take on the famous Chick-Fil-A chicken sandwich uses gluten-free hamburger buns as well as gluten-free flour to prepare the breaded chicken breasts.
The end result is delicious, making it difficult to tell this gluten-free sandwich apart from the real thing. Plus, you can use the gluten-free breading technique for other dishes, from chicken nuggets to fried shrimp.
7. Turkey and Roasted Red Pepper Panini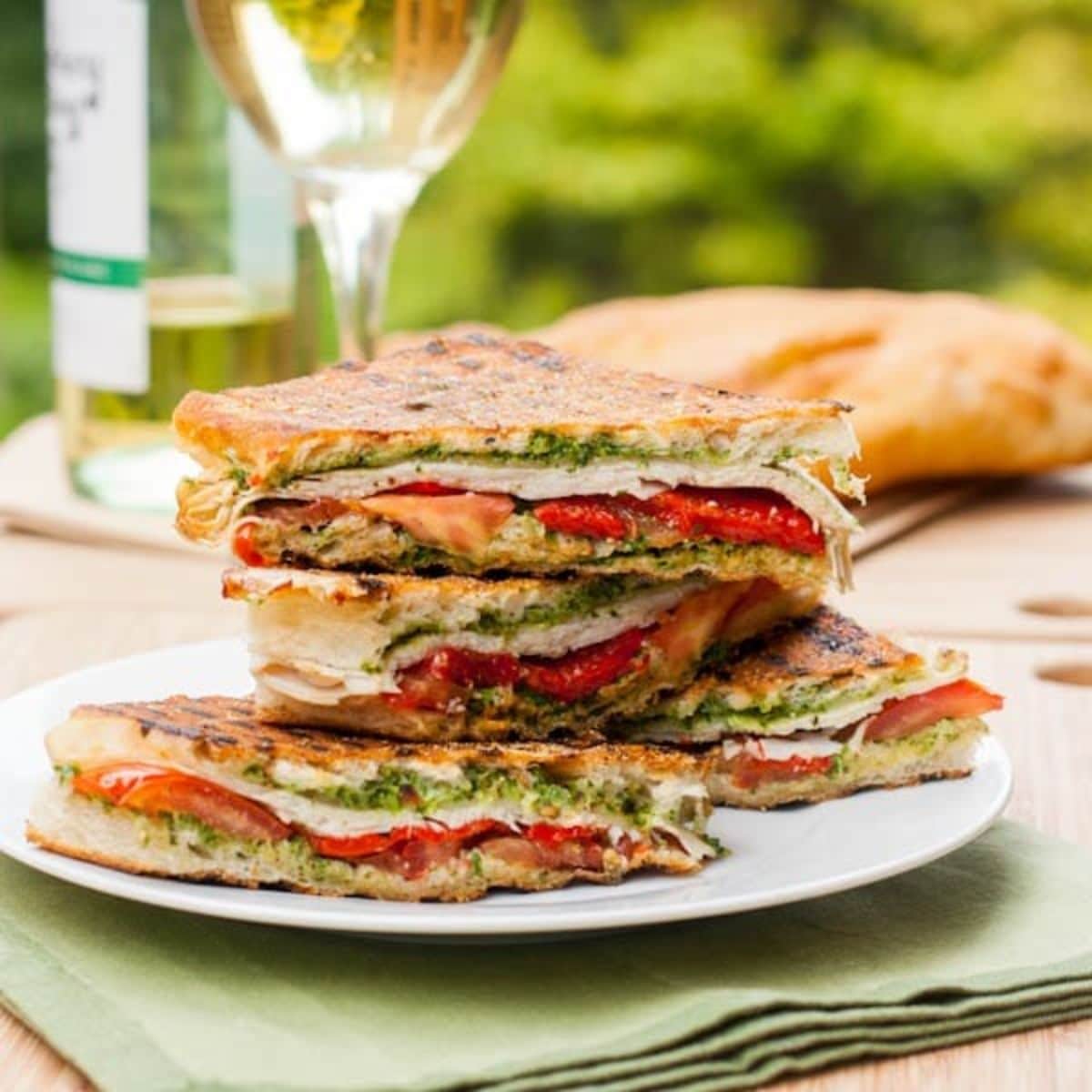 We love this gluten-free sandwich because the red pepper adds a kick to the delicate flavor of the turkey meat. The pesto adds a nutty and slightly garlicky taste that enhances this toasted panini.
You'll need gluten-free bread or gluten-free focaccia, turkey cold cuts, roasted red peppers, tomatoes, pesto, and cheese. You can toast the bread in a pan or use a panini maker if you have one. This quick and easy recipe is sure to become an instant favorite!
8. Green Goddess Sandwich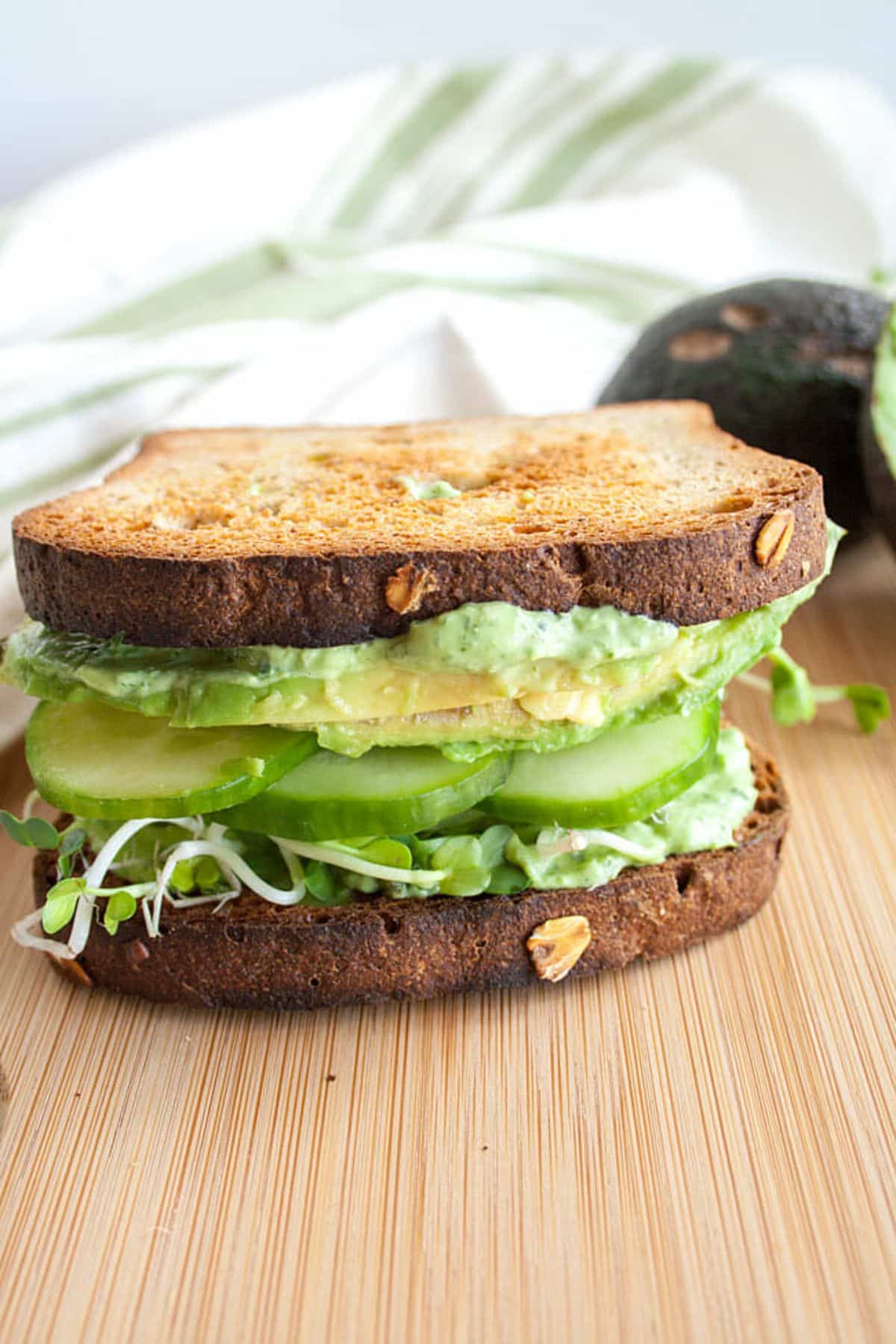 This vegan and gluten-free sandwich combines the creamy texture of Green Goddess dressing with the rich taste of avocado. You can top this delicious sandwich with cucumber, sprouts, or other greens and vegetables of your choice.
It's a fun way to use leftover greens, and the use of gluten-free bread opens up many possibilities for customizing the recipe.
9. Pesto Caprese Panini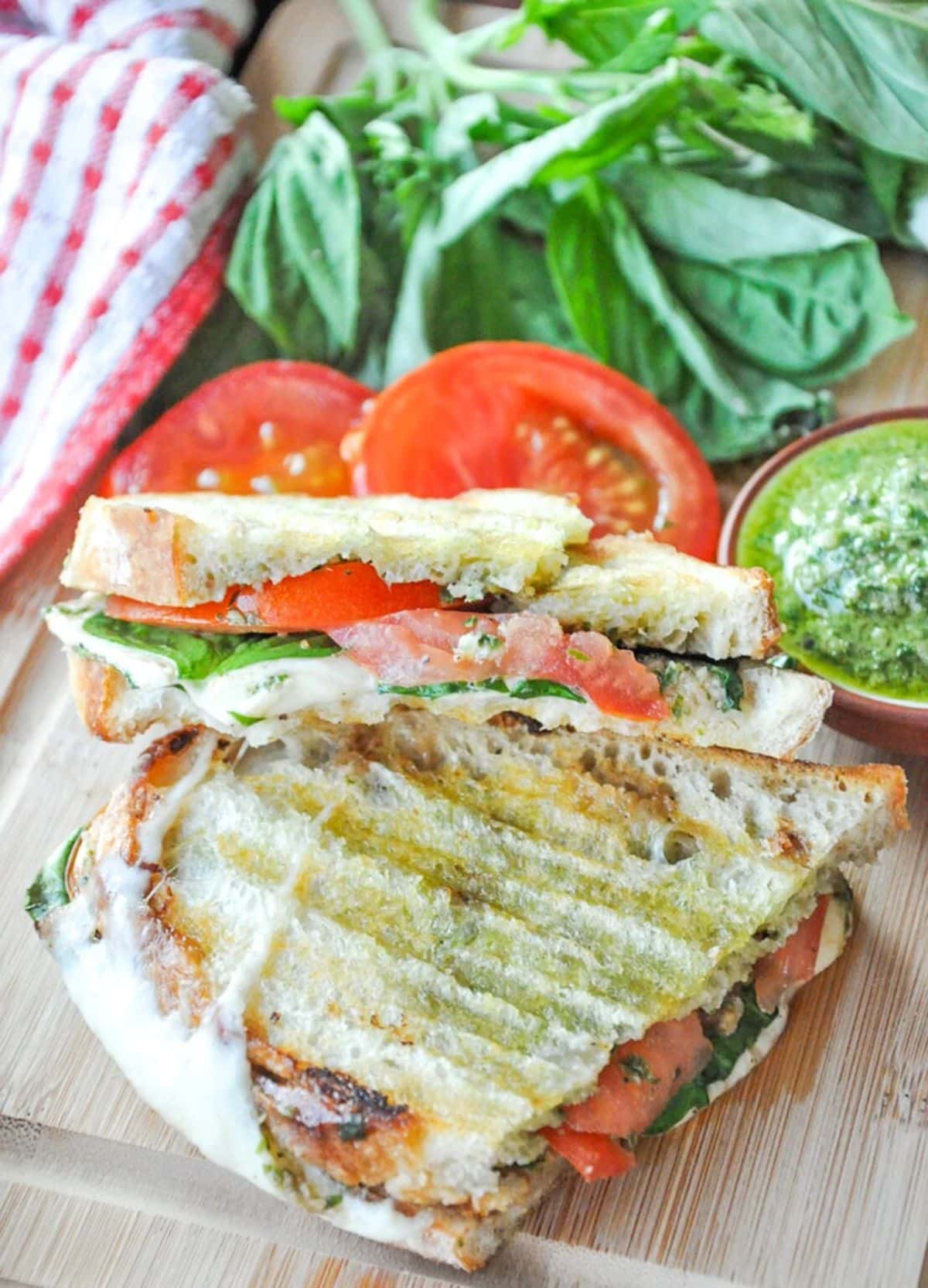 This gluten-free pesto Caprese panini is the perfect addition to a summertime picnic with its rich Mediterranean flavors.
You'll get better results if you use gluten-free sourdough or ciabatta bread and grill it with a cast-iron skillet or panini press. You can easily customize the recipe by adding deli meat or leftovers if you don't want a vegetarian sandwich.
The recipe includes steps to make homemade pesto. We recommend making a large batch and freezing small portions for other recipes!
10. No Bread Turkey Club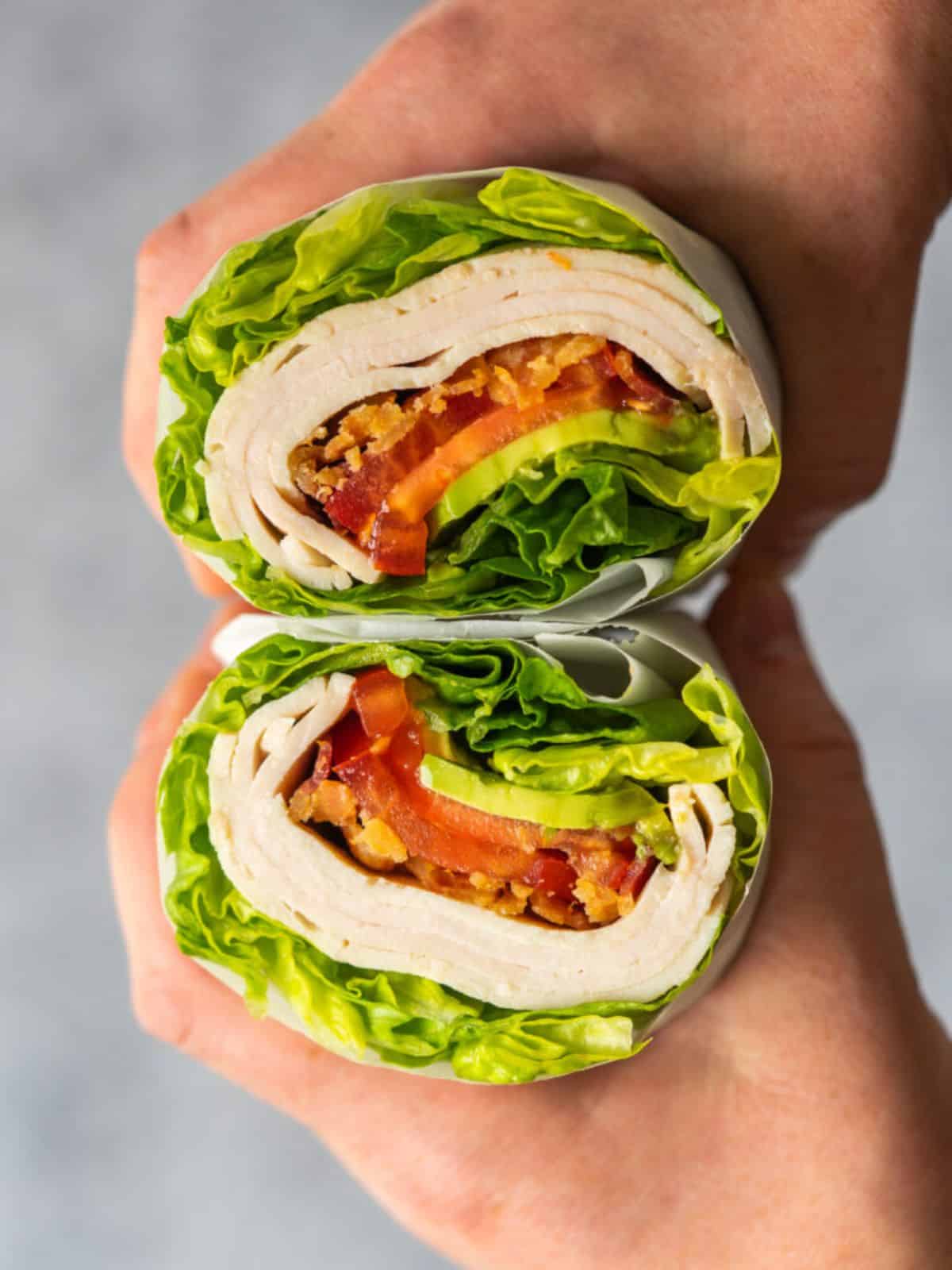 Cut back on gluten and carbs by learning how to make this fresh no-bread sandwich! This recipe uses romaine lettuce to create a crispy wrap that holds the ingredients together.
The recipe calls for using deli turkey meat, fresh tomatoes, bacon, and avocado, but you can easily customize your sandwich toppings. We recommend checking out this recipe because it details how to properly wrap the ingredients for a no-bread sandwich you can eat on the go.
11. Turkey Ham and Cheese Apple Sandwich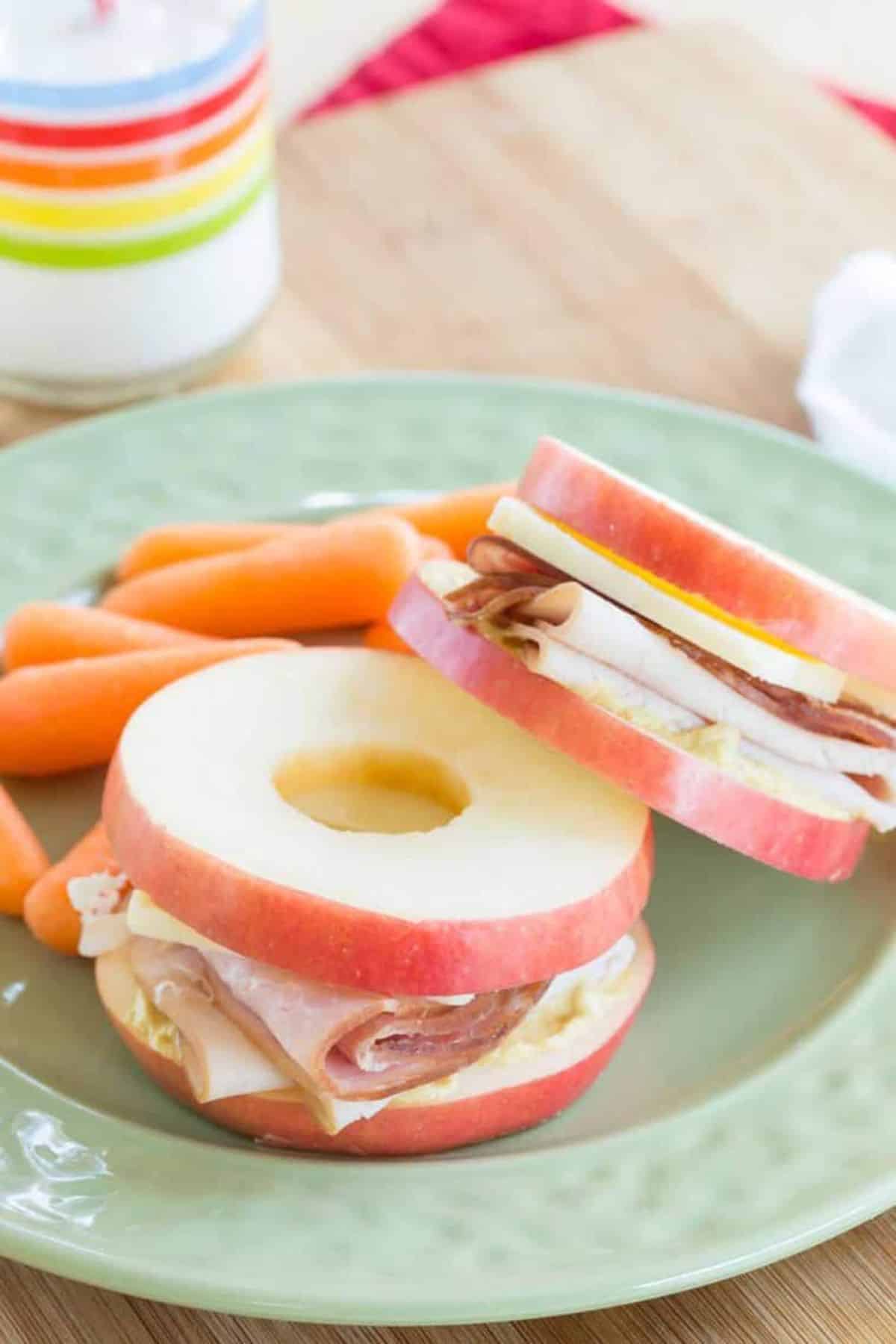 Eliminating bread from your sandwich is a simple way to get rid of gluten. This innovative recipe replaces bread with apple slices for a crunchy and satisfying result.
We love this recipe as the sweet and tart taste of the apple creates an interesting contrast with the flavorful ingredients like meat and cheese.
These sandwiches are quick and easy to make, and they're an ideal option for introducing your guests to new flavor pairings.
12. Gluten-Free Avocado BLT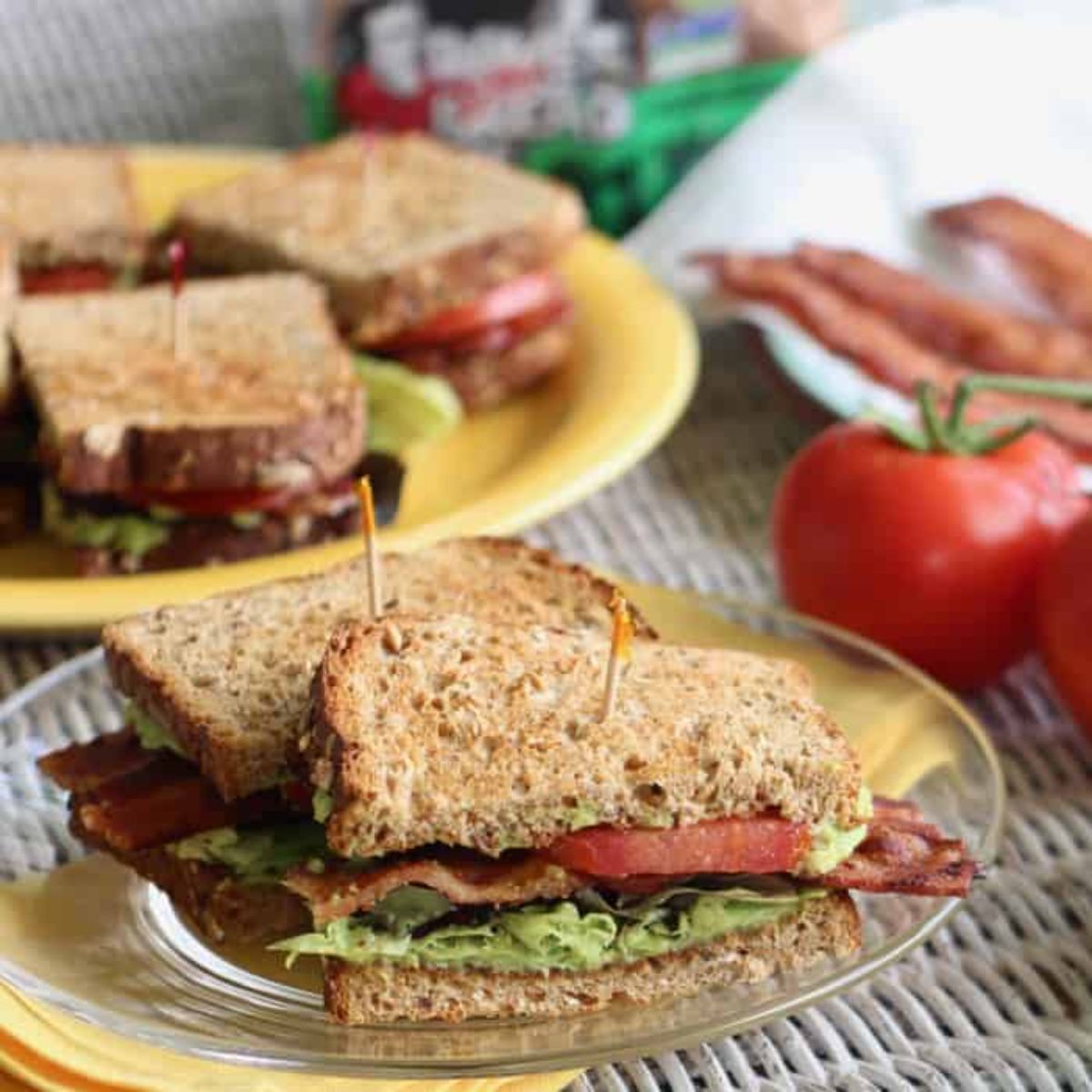 This gluten-free take on a classic sandwich is full of flavor and easy to make. This recipe uses gluten-free bread and introduces mashed avocado to create a creamy texture.
We love the idea of using mashed avocado instead of condiments or dressing since avocados contain healthy fats, vitamins, and minerals.
13. Gluten-Free Chaffle Sandwich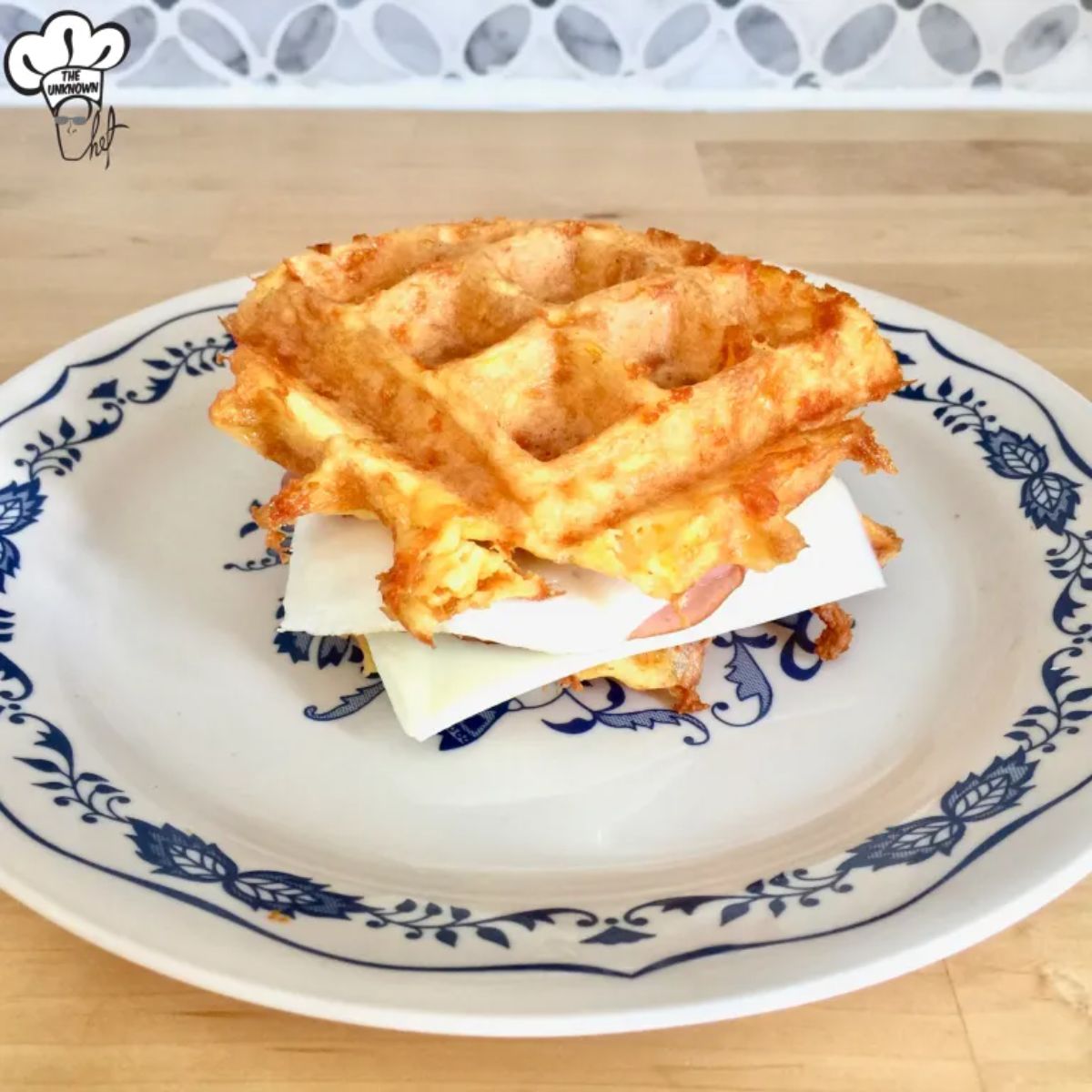 A chaffle is a combination of eggs and grated cheese that you grill in a waffle maker. The result is a delicious bread alternative that is free of gluten.
Once you've made your chaffle, simply top it with classic breakfast sandwich ingredients such as eggs, ham, or sausage.
14. Instant Pot Crack Chicken Sandwich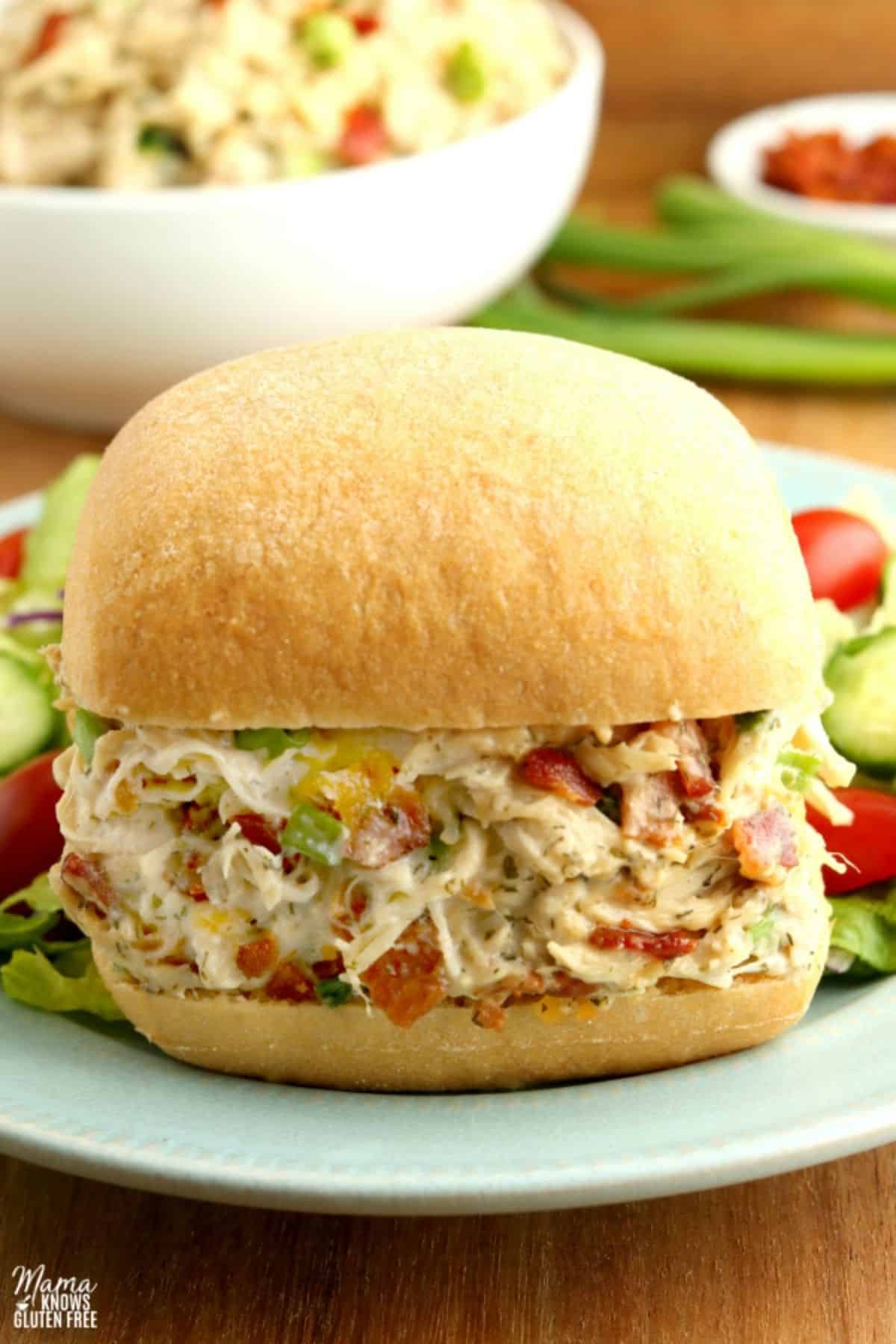 Instant pot recipes are perfect for cold winter nights. This zesty gluten-free sandwich is creamy, savory, and recomforting.
You can make the crack chicken by combining shredded chicken, cream cheese, bacon, and herbs in an instant pot. Once the mixture is ready, serve it on gluten-free bread rolls.
15. Cranberry Apple Chickpea Salad Sandwich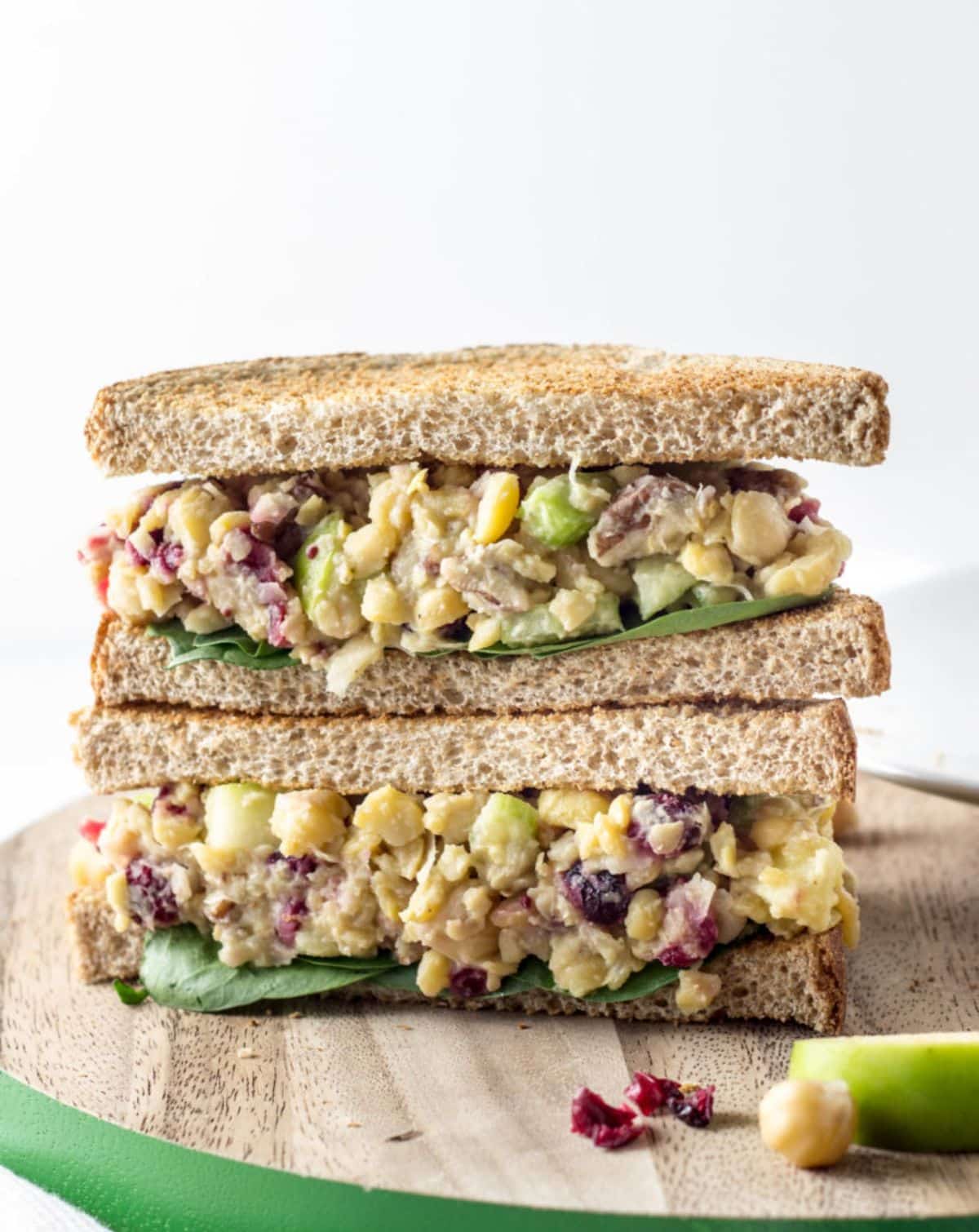 This vegan and gluten-free sandwich plays with textures by combining crispy apples with soft chickpeas. We also love the contrast between the sweet and tart fruity flavors and the mild nutty taste of the chickpeas.
This delicious sandwich is easy to make, and it's full of nutrients. It's great for reusing leftover chickpeas, and it's easy to customize the sandwich toppings by adding your favorite dried fruits or seeds.
16. Gluten-Free Chicken Quesadillas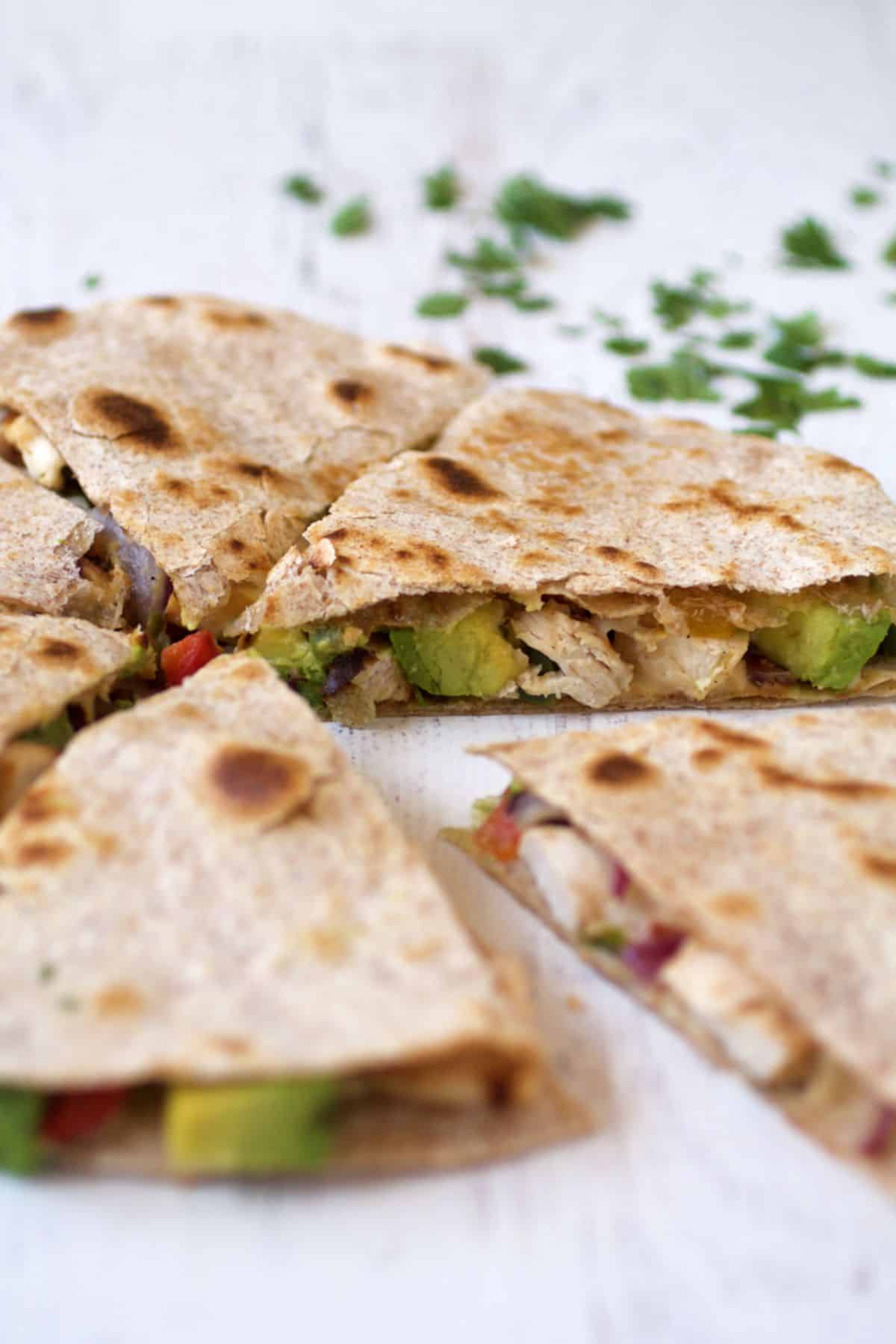 These gluten-free chicken quesadillas use brown rice tortillas to eliminate gluten. A mix of red onions, garlic, hummus, and avocado creates a tasty and creamy texture that brings out the delicate taste of the chicken.
We highly recommend these chicken quesadillas as a go-to dinner recipe, a healthy snack, or an appetizer.
17. Gluten-Free Cucumber Sandwich Bite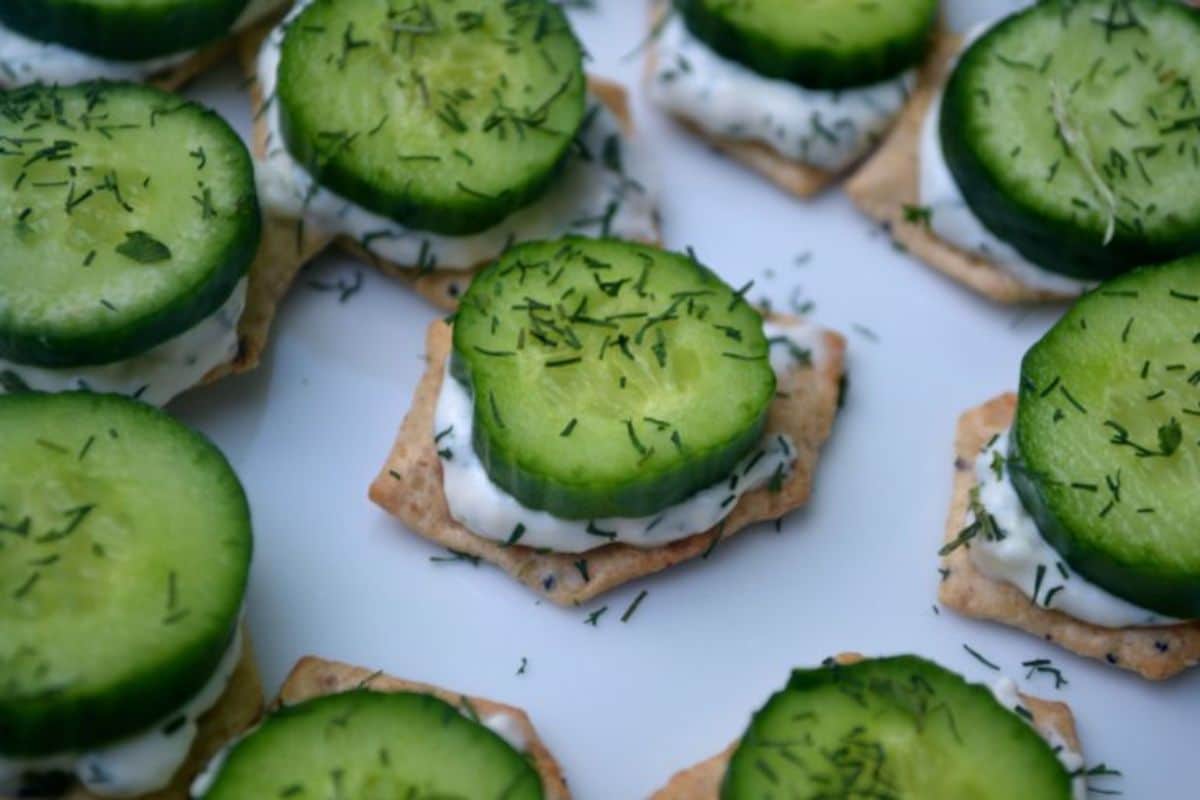 Cucumber sandwiches are the perfect combination of taste and freshness. These gluten-free sandwich bites make for a fun appetizer or mid-morning snack.
You'll need gluten-free crackers, fresh cucumbers, garlic powder, and a dash of sea salt to bring out the zesty flavor profile of this delicious snack.
18. White Bean Sandwich
This nutritious sandwich used mashed white beans to mimic the texture of a classic tuna sandwich. The recipe also calls for using tahini to introduce a rich and creamy taste. Serving this sandwich on gluten-free pitta bread is a healthy and delicious option.
It's a fun sandwich to make, and you can add spring onions, chives, or capers to create a unique sandwich.
19. Sun-Dried Tomato Chicken Salad Sandwich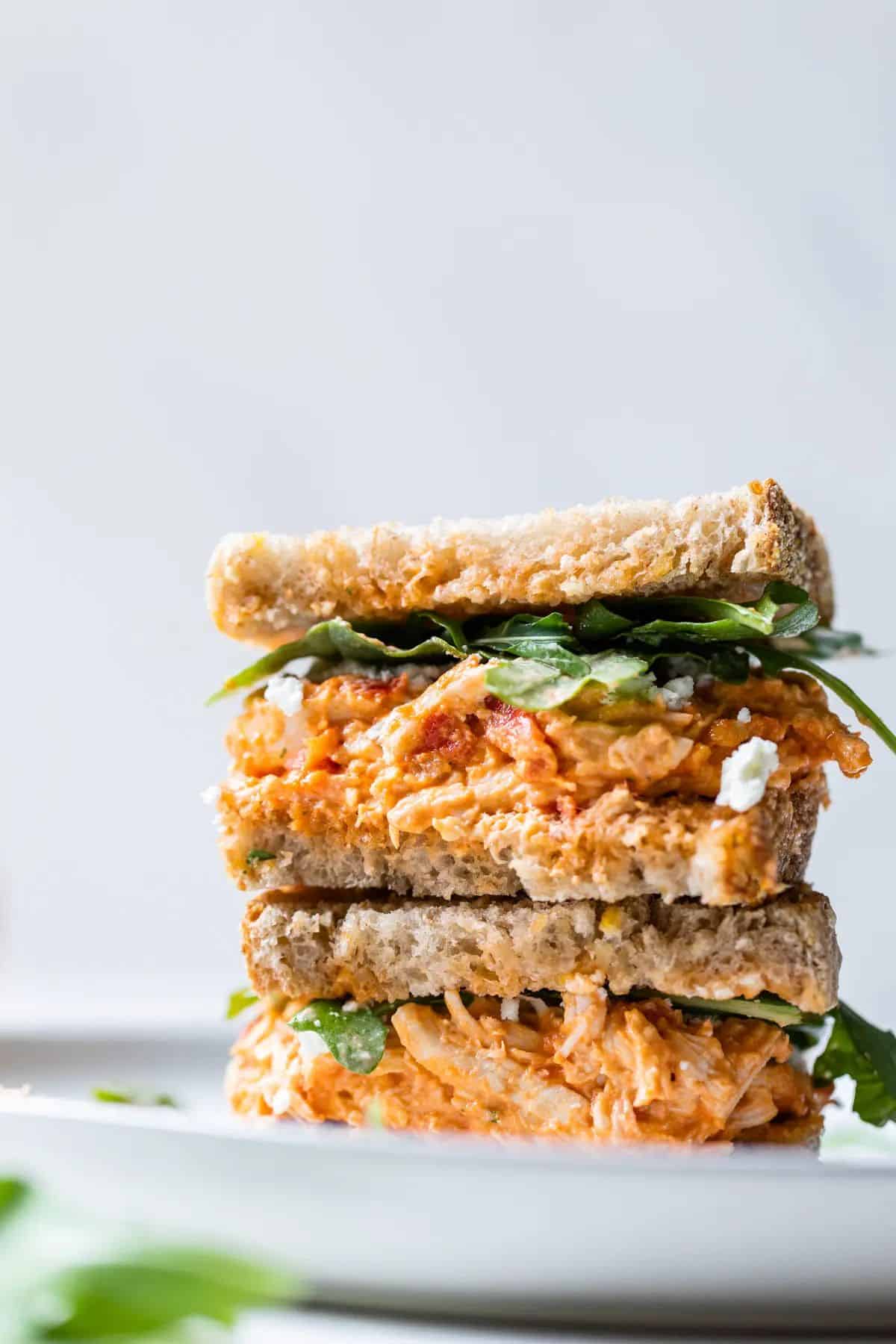 This chicken salad recipe comes together effortlessly with only five ingredients. All you have to do is cook and shred the chicken before adding mayo, sun-dried tomatoes, arugula, and cheese.
Once you have prepared this tasty chicken salad, it makes the perfect sandwich filling for your favorite gluten-free bread.
20. Gluten-Free Cuban Breakfast Sandwich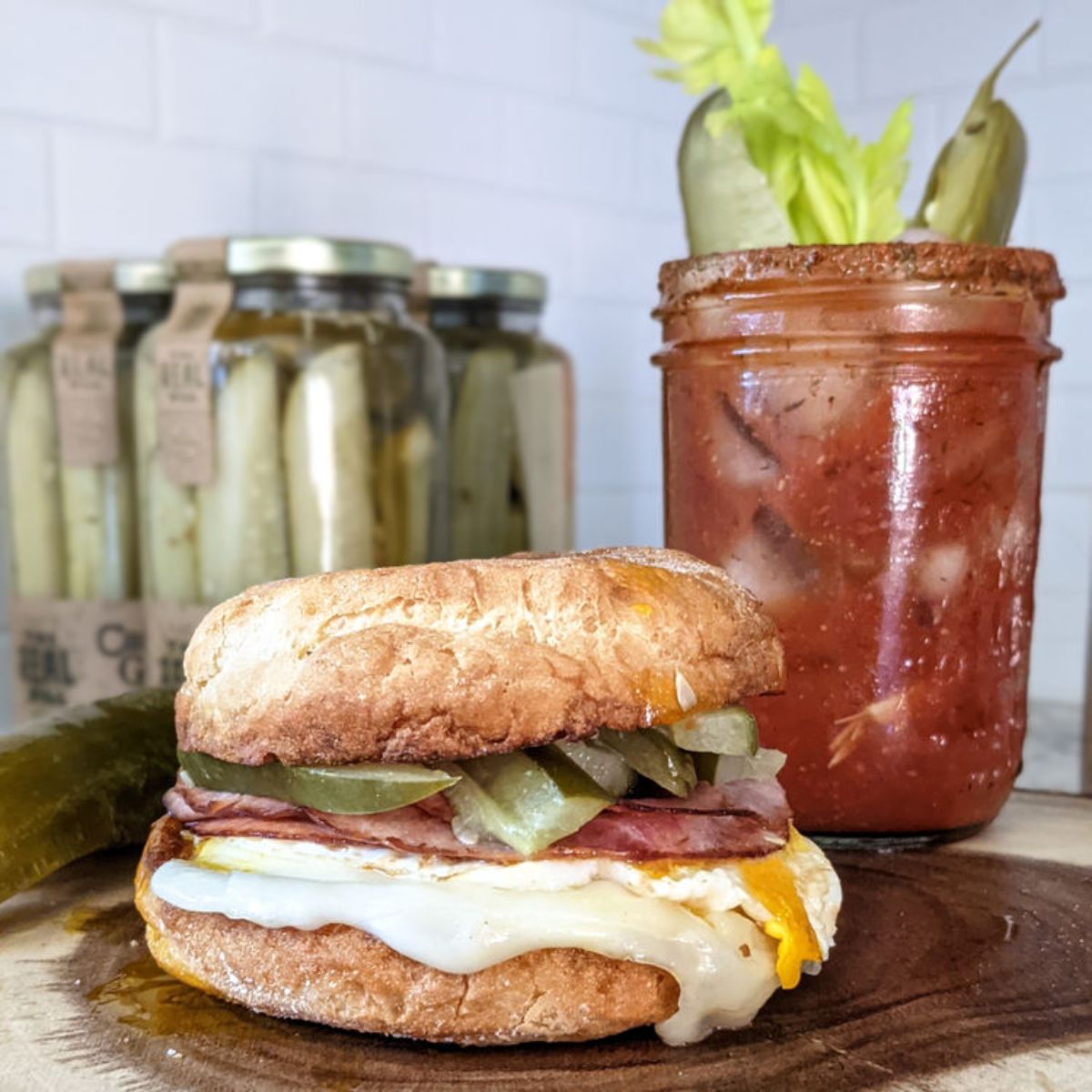 Start the day with a delicious gluten-free Cuban sandwich. You'll need a few ingredients that you probably have on hand, including ham, cheese, and pickles.
Grilling the sandwiches creates a pleasant melted texture while bringing out the flavor of the meat, and you can experiment with different types of gluten-free bread to customize this recipe.
21. Maid-Rite Copycat Sandwiches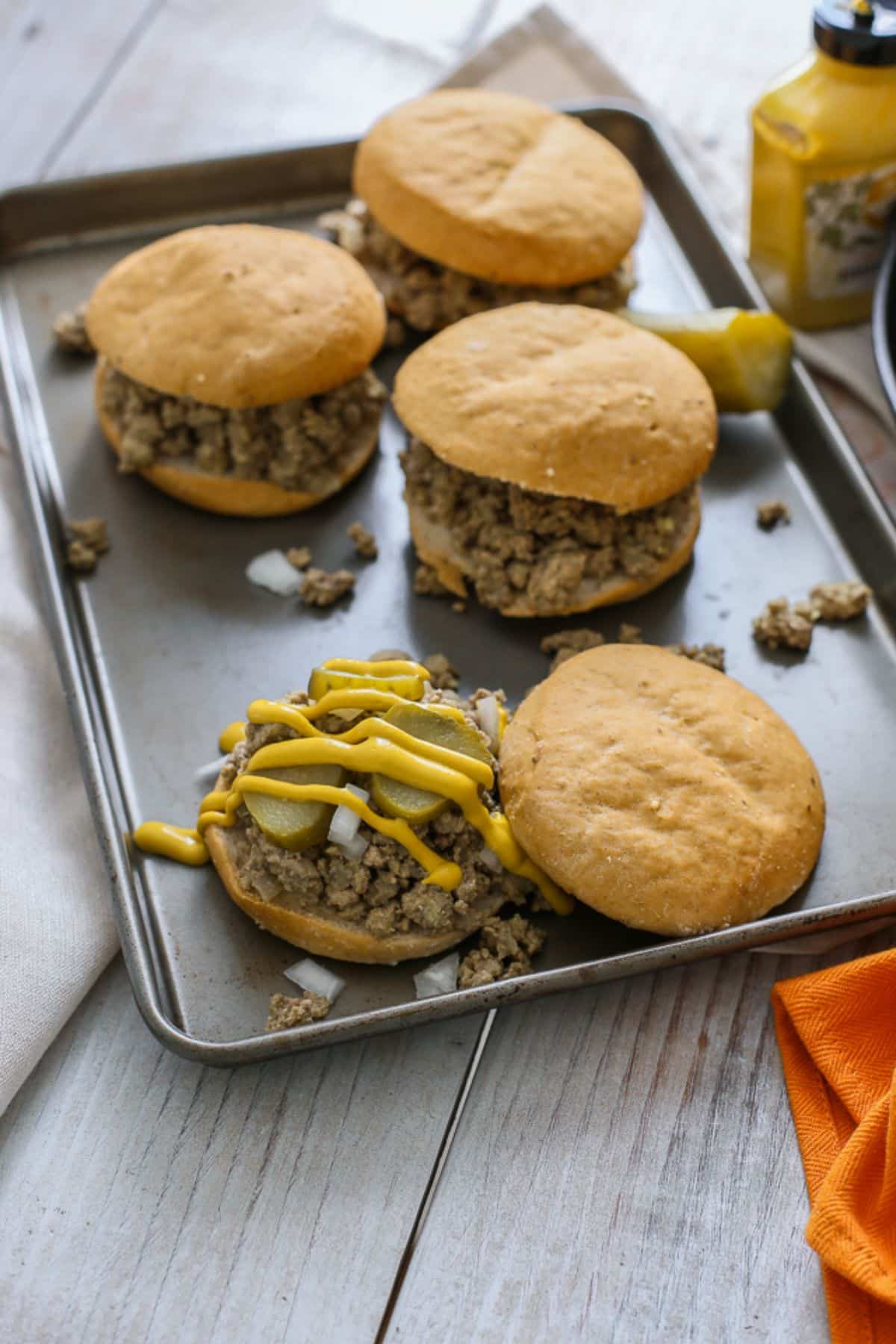 Everyone loves a good loose meat sandwich. This copycat recipe will help you create a gluten-free version of the Maid-Rite sandwiches with ground beef, turkey, and gluten-free buns.
This recipe recreates the taste of the original Maid-Rite menu item by cooking the meat in a mix of beef broth, apple cider vinegar, and other ingredients.
Wrap Up
These fun and easy gluten-free sandwich recipes will help you enhance your meals with some healthy and original options. Don't hesitate to customize these recipes by adding your favorite sandwich toppings or trying different kinds of gluten-free bread!