Gluten-free, grain-free sugar cookie protein bites, low carb and keto they are the perfect snack, and they taste like cookie dough!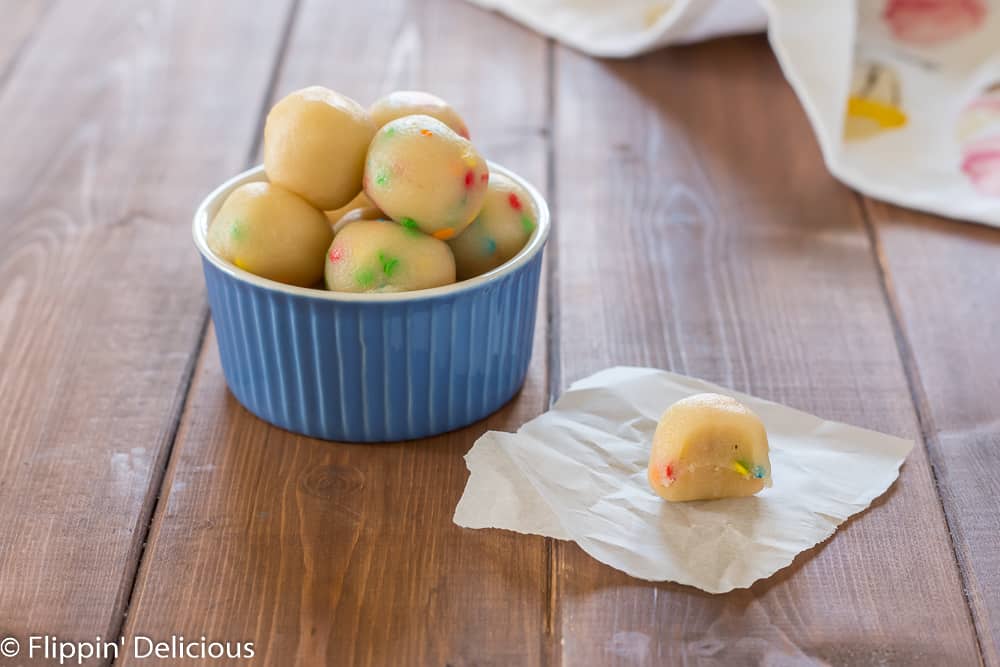 This post is sponsored by Naked Nutrition, and uses their Naked Collagen, collagen peptides.
There are so many different ways to make protein bites! (or power-balls, or protein balls. Whatever you call them.)
I grew up eating peanut butter balls. You know, the ones made with honey, peanut butter, and powdered nonfat dry milk? They were so good! But I realize now, they were really loaded with sugar.
I don't eat keto or low carb all time time. (I mean, have you seen my gluten free sugar cookies?)
But for me, life is all about balance. I like making low-carb protein bites to have as a snack.
These gluten free sugar cookie dough protein bites will curb your cravings, and make you feel full because of the protein (from Naked Collagen, and almond flour) and fat (coconut oil).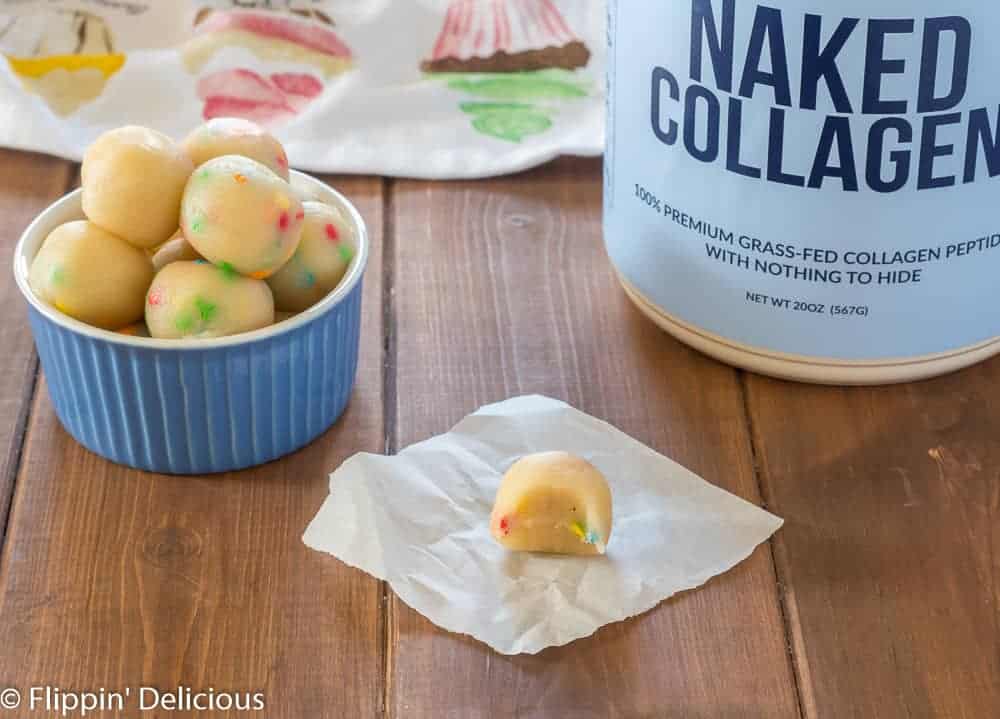 And they taste just like cookie dough, so my brain thinks I'm getting an indulgent treat!
This recipe is inspired by my friend Tim's recipe for Keto Cookie Dough, which my family loves.
What do you need to make low carb cookie dough protein bites?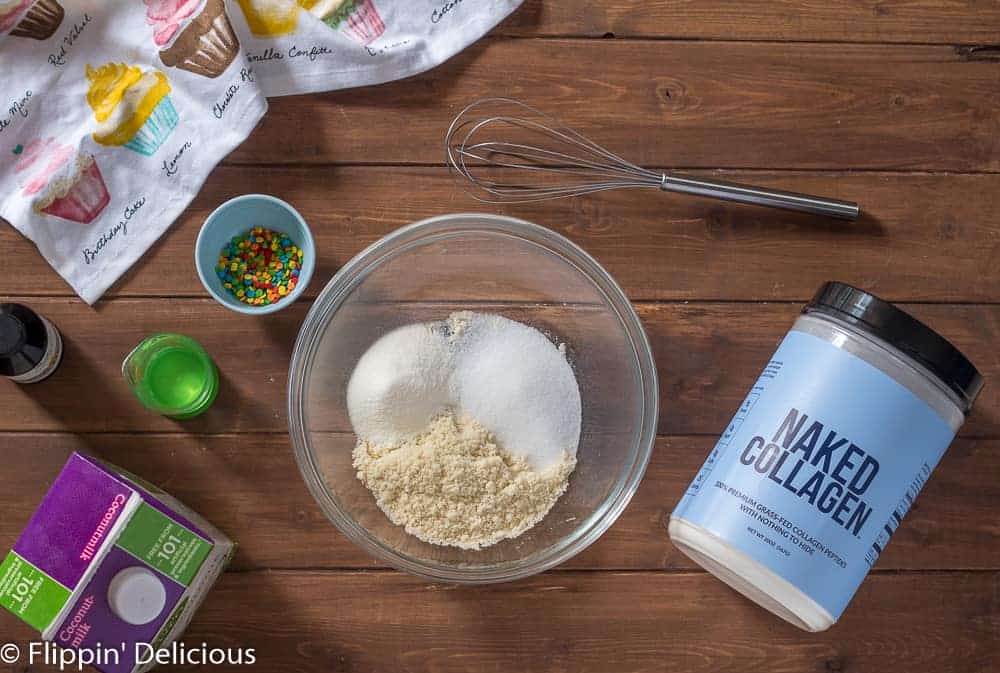 To make keto cookie dough protein bites you'll need:
I also added some sprinkles, which obviously have sugar. Don't @ me. Sprinkles make for pretty pictures, and make it so when you see these low carb protein bites, you think sugar cookie dough!
I did find some sugar free sprinkles on Amazon that you can use to make your sugar cookie dough protein bites colorful and keto!
If you are looking for more almond flour, low carb recipes, you'll probably like my almond flour keto lemon poppyseed muffins.
How do you make protein bites?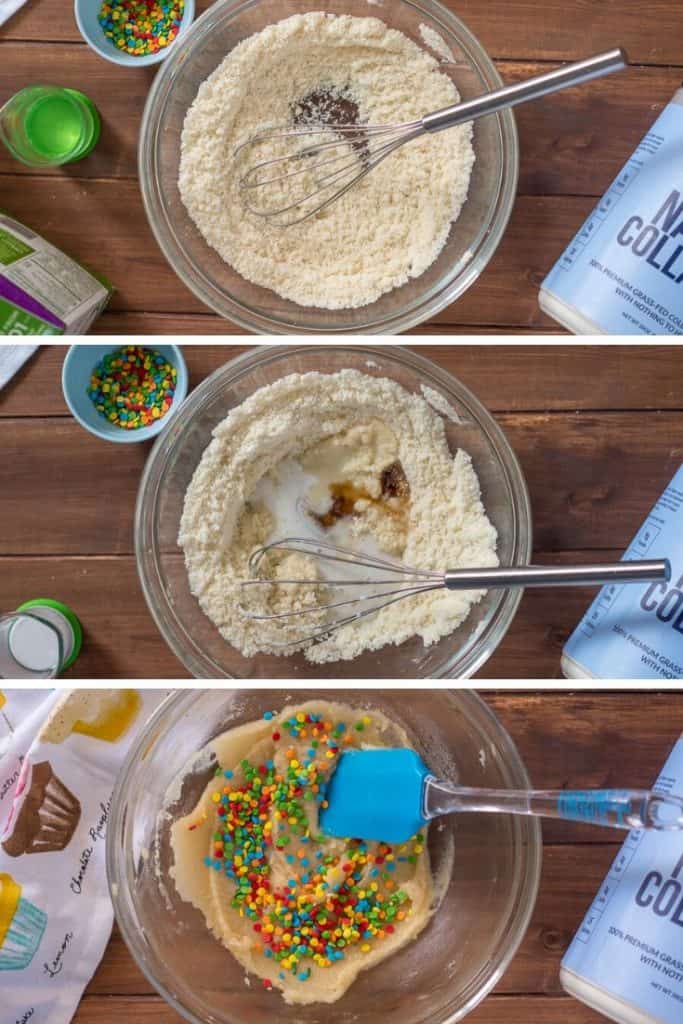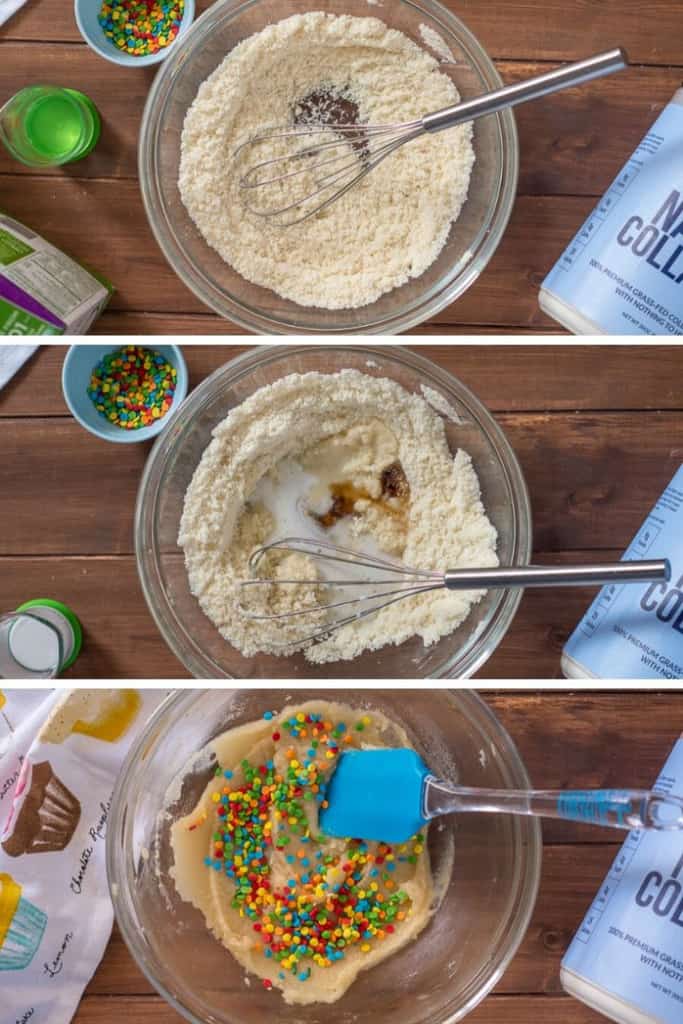 Making protein bites is as easy as whisking together you dry ingredients, adding your wet ingredients, and stirring until you have a smooth dough.
For best results, make sure all of your ingredients are at room temperature.
If you use almond flour you've stored in the fridge, and then add melted coconut oil to it, the coconut oil with harden in clumps and won't mix into your cookie dough bites.
Using all room temperature ingredients helps to ensure that this doesn't happen to you!
I like to whisk all my dry ingredients together first, in this case almond flour, collagen peptides, and erythritol/monk fruit sweetener.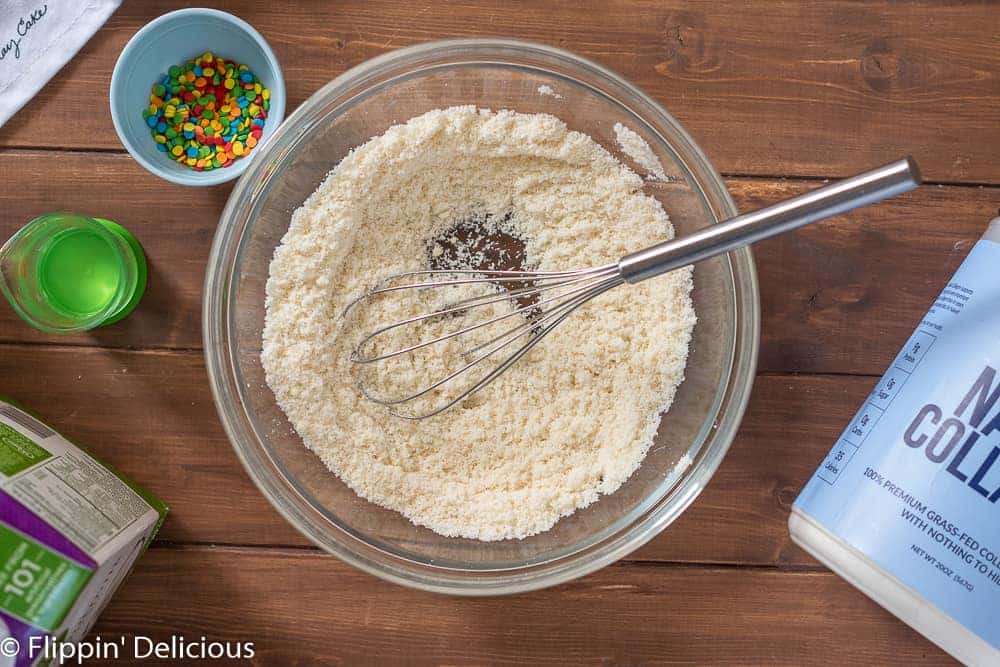 Whisking the dry ingredients first makes sure that you have them evenly combined and they don't clump together when you add your liquid.
Add your liquid, and stir until smooth. (In this case, melted coconut oil, unsweetened coconut milk, and vanilla extract.)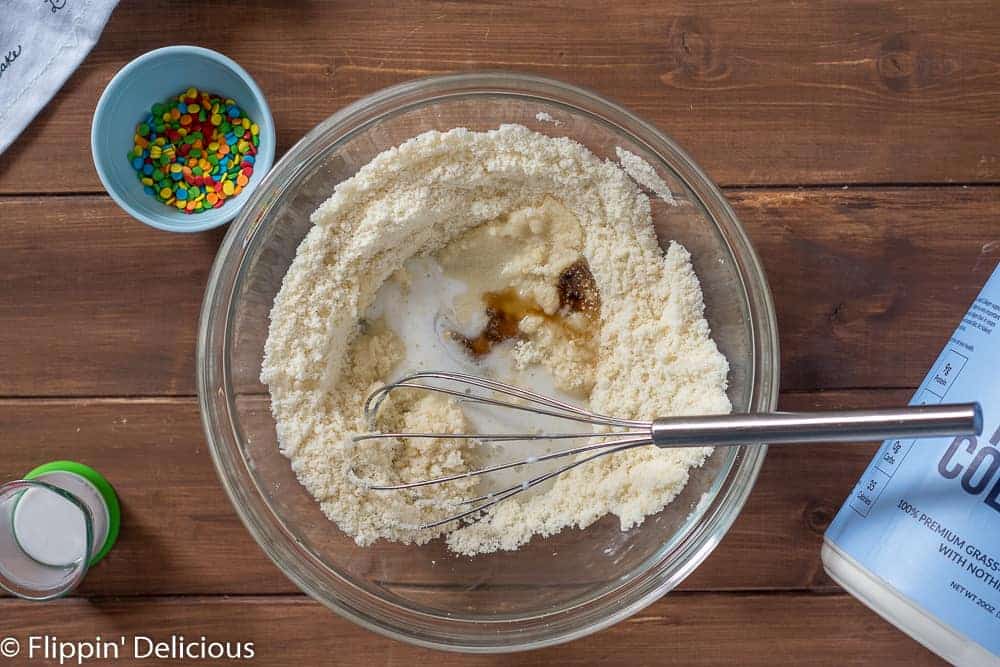 Once you have a smooth dough, you can mix in any add-ins, like sprinkles.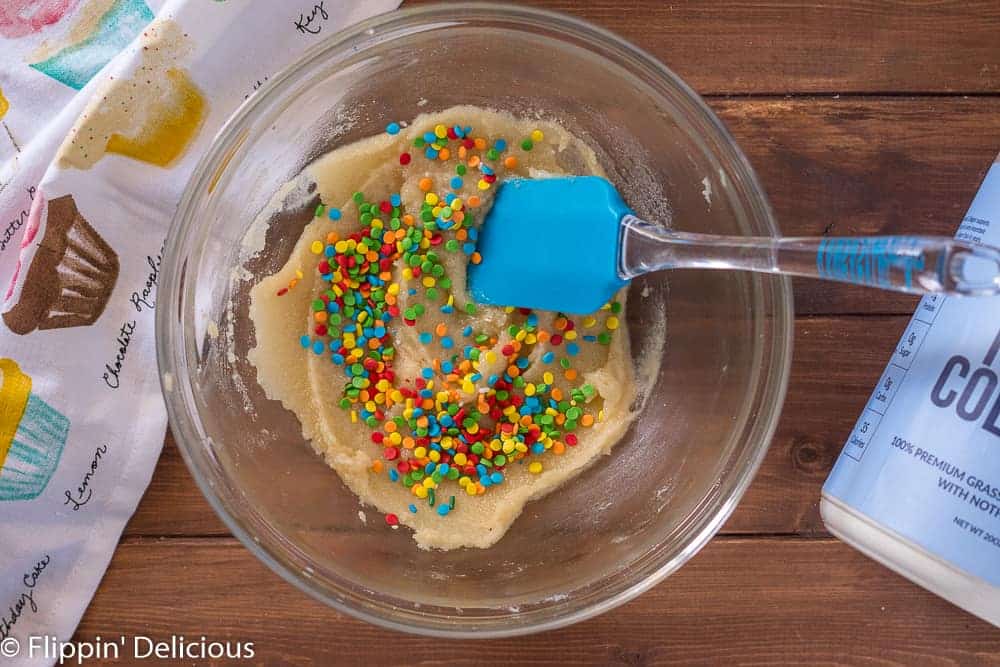 Your dough will be too soft to roll into balls right now, but will be perfect after it chills in the fridge for half an hour.
The coconut oil with harden as it chills, giving you the perfect cookie dough texture.
Roll your chilled cookie dough into balls, and then store your finished cookie dough protein bites in the fridge or freezer in a sealed container. They'll stay fresh in the freezer for up to a week, and in the freezer for up to a month.
How do you make protein bites low carb?
To make low carb protein bites, don't add higher-carb ingredients like oats, honey, banana, or flour.
I used almond flour, a sugar-free granulated sweetener made with erythritol and monk fruit, and coconut oil and coconut milk as the base for my protein bites.
I added extra protein to my sugar cookie dough bites with a few scoops of collagen peptides.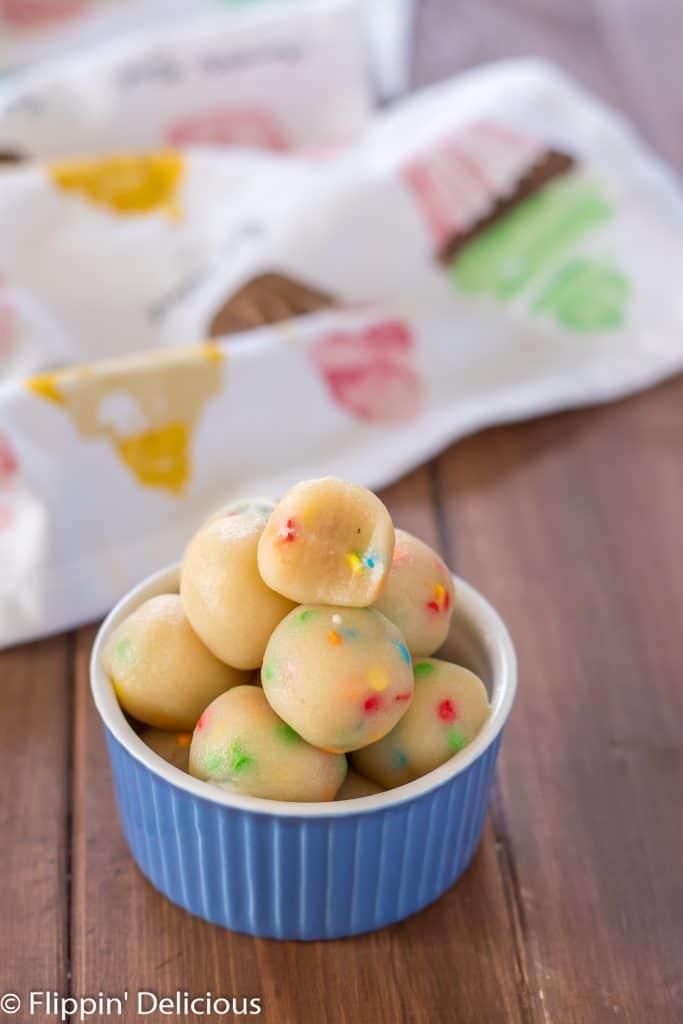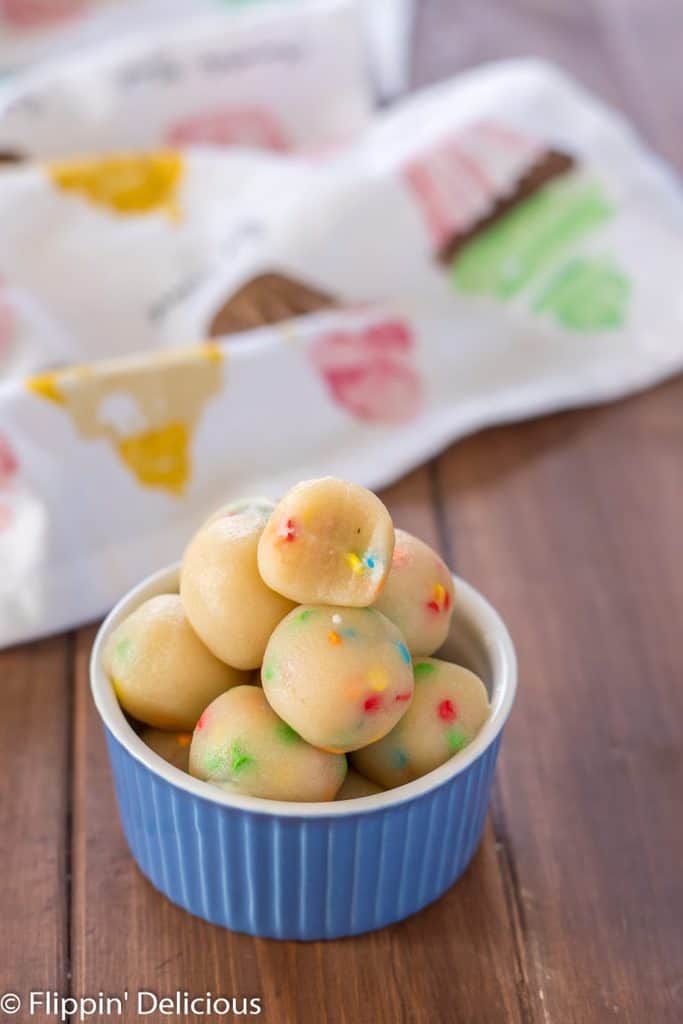 Why do I take collagen peptides?
I've been taking collagen every day for the past two years. I usually add a scoop of collagen peptides to my daily dairy free latte.
I take collagen peptides daily to help with my gut health (something that lots of people with celiac or gluten-intolerance can struggle with) and also to make my latte fuel me farther, keeping me full and energetic until late morning.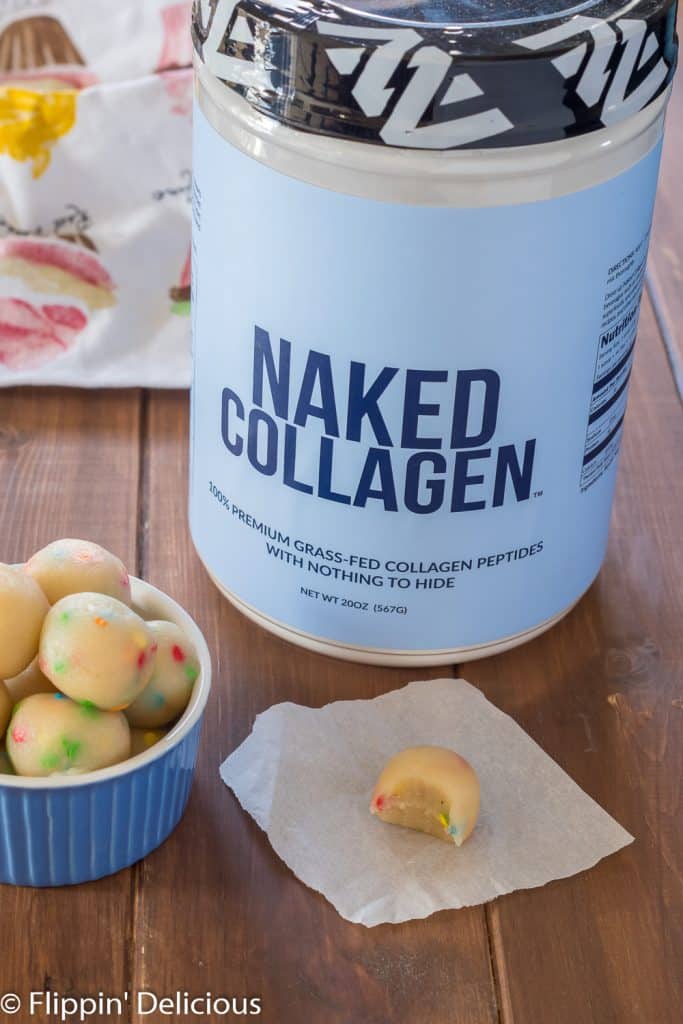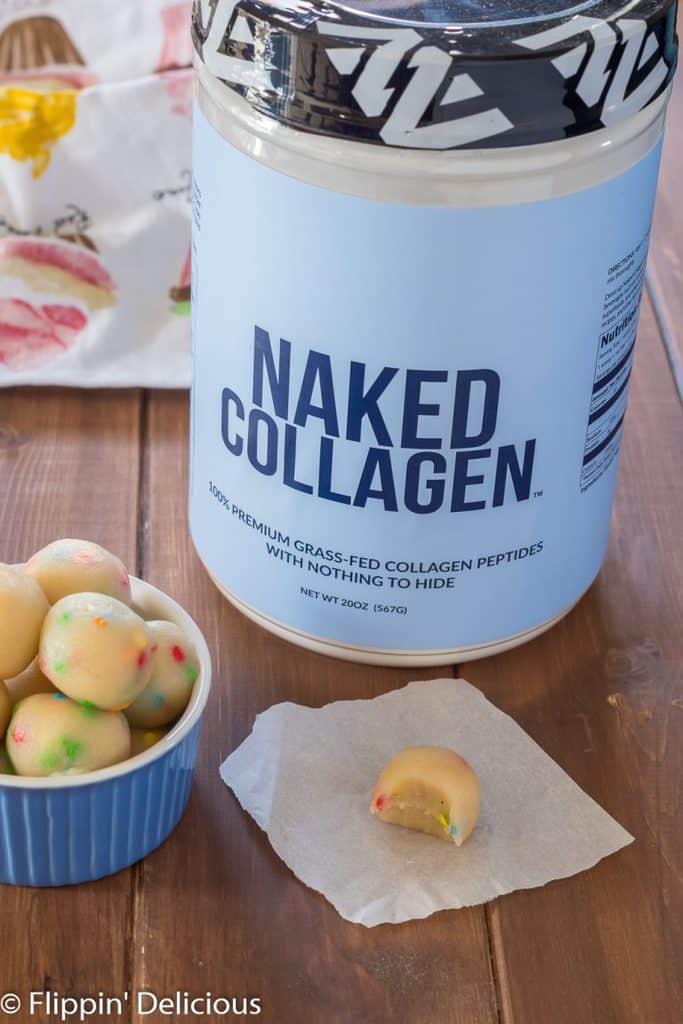 About 10 or 11 I'll have a small snack, like a few of these cookie dough protein bites, and then I'll have lunch around noon or 1p.m.
Adding collagen to my morning coffee helps me do all the mom things I need to in the morning!
A good collagen peptide powder should dissolve quickly in cold or hot liquids, not have any funky flavors, and shouldn't have anything funky added to it.
I really like Naked Nutrition's Naked Collagen because collagen peptides are the only ingredients. Yep, nothing else.
Naked Collagen also dissolves easily, and doesn't add a funky or overwhelming taste. You can barely taste it!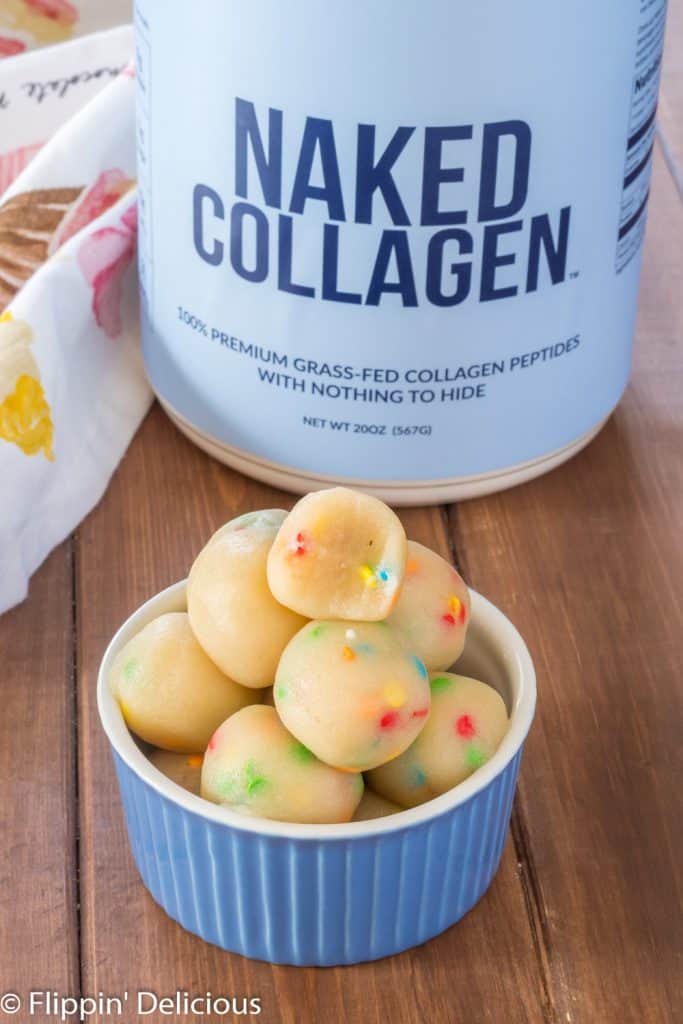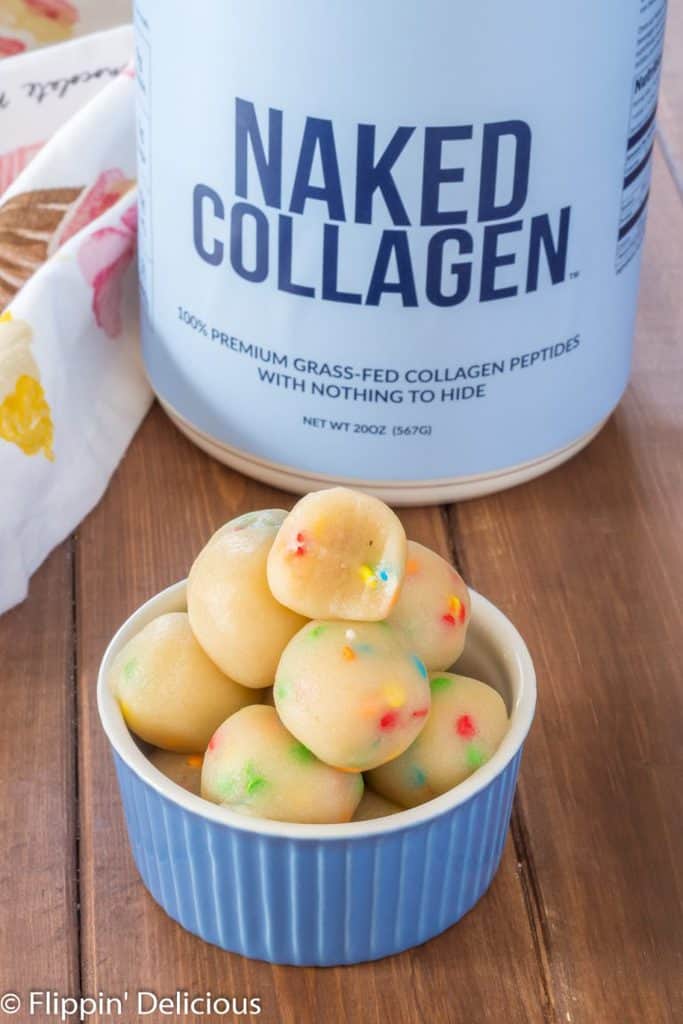 I'd always been scared to try new collagen peptides, and had been buying an expensive well-known brand for years. I'm glad I tried Naked Collagen, because it is just as good as any collagen peptides I've ever had!
Adding collagen to my cookie dough bites also helps me to make sure I get enough protein into my picky-eating-kids. They can't taste the collagen peptides, and it is easy for me to add to stuff.
📖 Recipe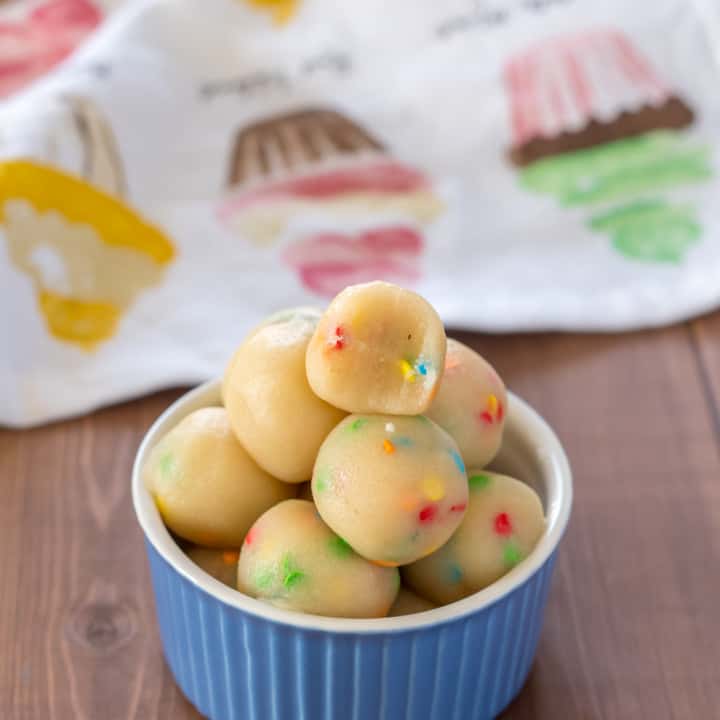 Sugar Cookie Dough Protein Bites - Low Carb, Keto
Yield:
1 dozen energy balls
Chilling Time:
30 minutes
7 ingredient healthier sugar cookie dough protein bites-low carb keto cookie dough energy balls made with collagen peptides, almond flour, monk fruit/erythritol sweetener, coconut oil, coconut milk, vanilla extract and (optional) sugar-free sprinkles.
Ingredients
2 tablespoons coconut oil
2 tablespoons unsweetened coconut milk
1 teaspoon vanilla extract
1 tablespoon sugar free sprinkles
Instructions
In a medium bowl, whisk together the collagen peptides, almond flour, and sugar substitute.
Add the coconut oil, coconut, milk and vanilla extract and mix until you have a smooth dough.
Add the sugar free sprinkles, and mix to evenly distribute.
Chill your sugar cookie dough energy ball dough for at least 30 minutes, then roll into small balls, about 2 teaspoons of dough per each protein bite.
Chill your energy protein bites until serving.
Store in the fridge for up to a week, or in the freezer for a month.
Notes
For best results, make sure all your ingredients are at room temperature before you begin. If any of your ingredients are cold, the melted coconut oil will harden and won't mix into your energy bites.
Nutrition Information
Yield

12
Serving Size

1
Amount Per Serving
Calories

87
Total Fat

6g
Saturated Fat

2g
Trans Fat

0g
Unsaturated Fat

3g
Cholesterol

0mg
Sodium

8mg
Carbohydrates

5g
Net Carbohydrates

2g
Fiber

1g
Sugar

3g
Sugar Alcohols

2g
Protein

4g
All nutrition info is a guestimate and will vary depending on the ingredients you use. Net Carbs and Sugar Alcohols were manually calculated with the ingredients I used. Other nutrition info was automatically calculated and may be less accurate.