Step-by-step photos make stacking three layers of gluten free red velvet cake piped with fluffy rosettes a "piece of cake". This gluten free red velvet layer cake will impress! The gluten free red velvet cake is moist, with the traditional hints of cocoa and vanilla. Piped with cream cheese frosting roses, it is absolutely stunning.
Gluten Free Red Velvet Cake
I've been super excited to share this with you! Layer cakes may seem scary or hard, but they really aren't.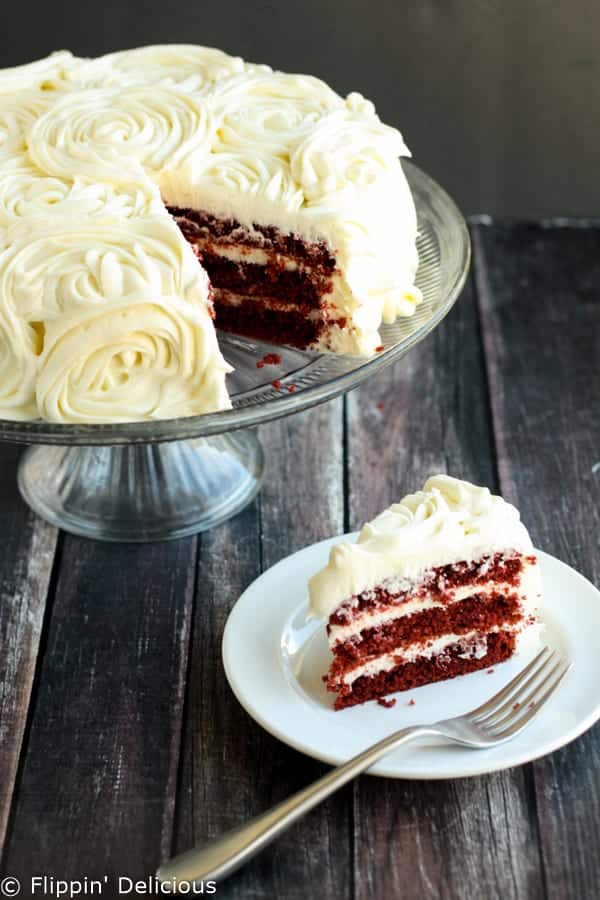 There are a few tricks to success but once you try it, it isn't that tricky.
It isn't as hard as you'd think to make a stunning layer cake like this, and I'm going to show you how.
I'm a big fan of red velvet cake. I've been making gluten-free red velvet cupcakes and gluten free dairy free red velvet cake for years.
How do you make a gluten free red velvet cake?
First you start with the cake.
Moist gluten-free red velvet cake batter is made with the traditional buttermilk and cocoa which lends a reddish-brown hue to the cake.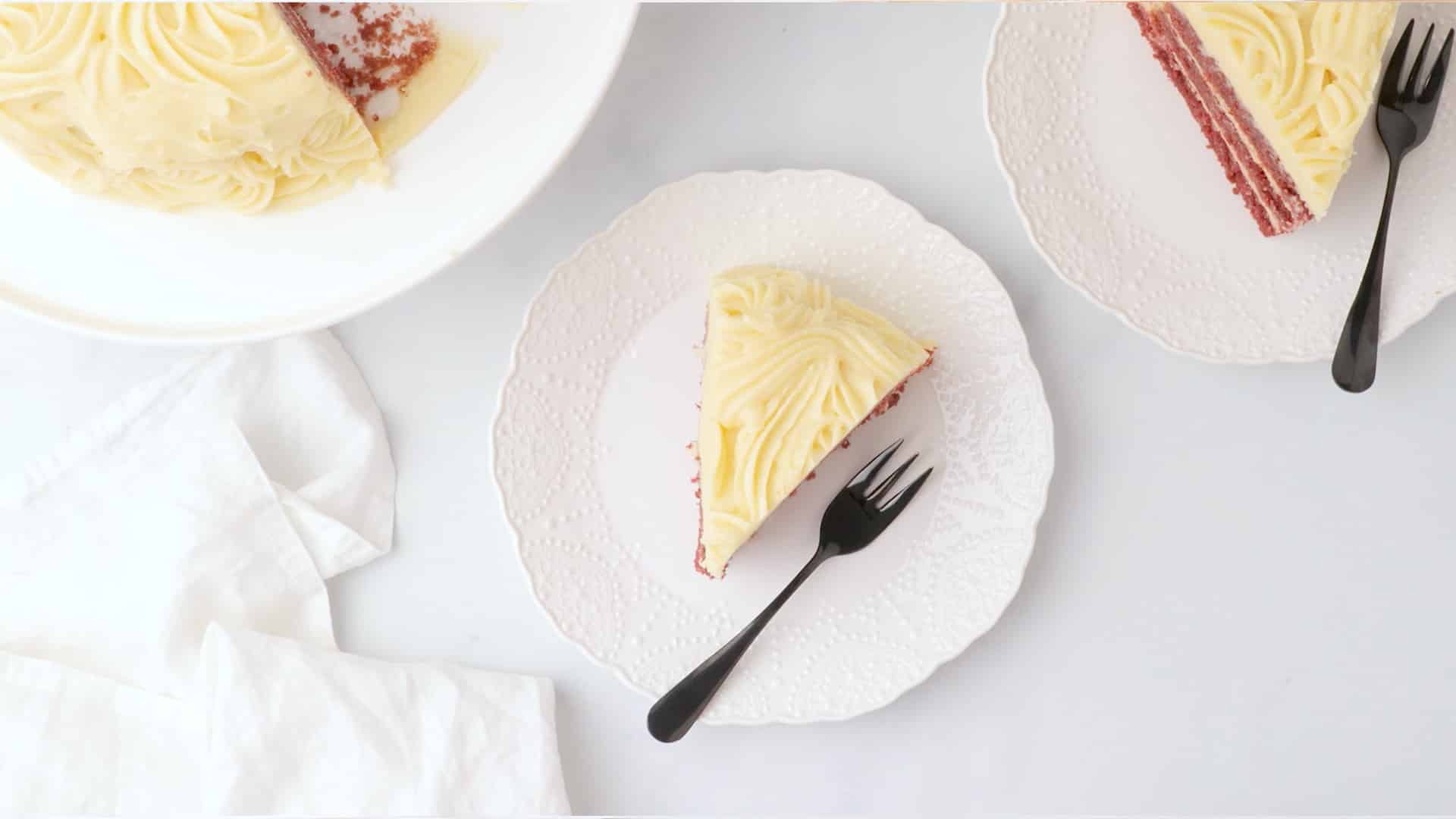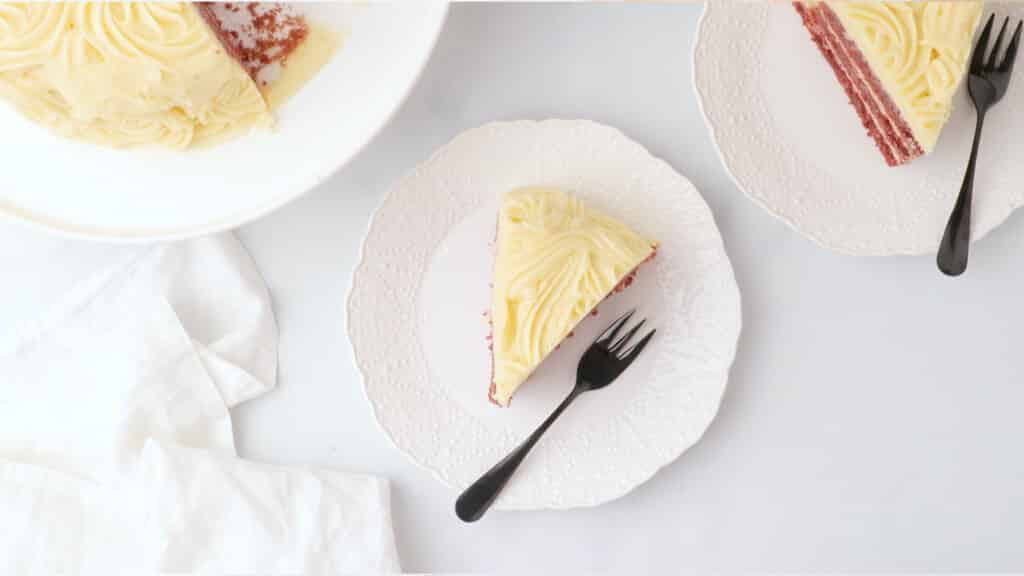 How to make your own buttermilk using vinegar?
I've always made my own "buttermilk" instead of purchasing it.
All you need to do is add the vinegar to your milk and let it sit for a few minutes.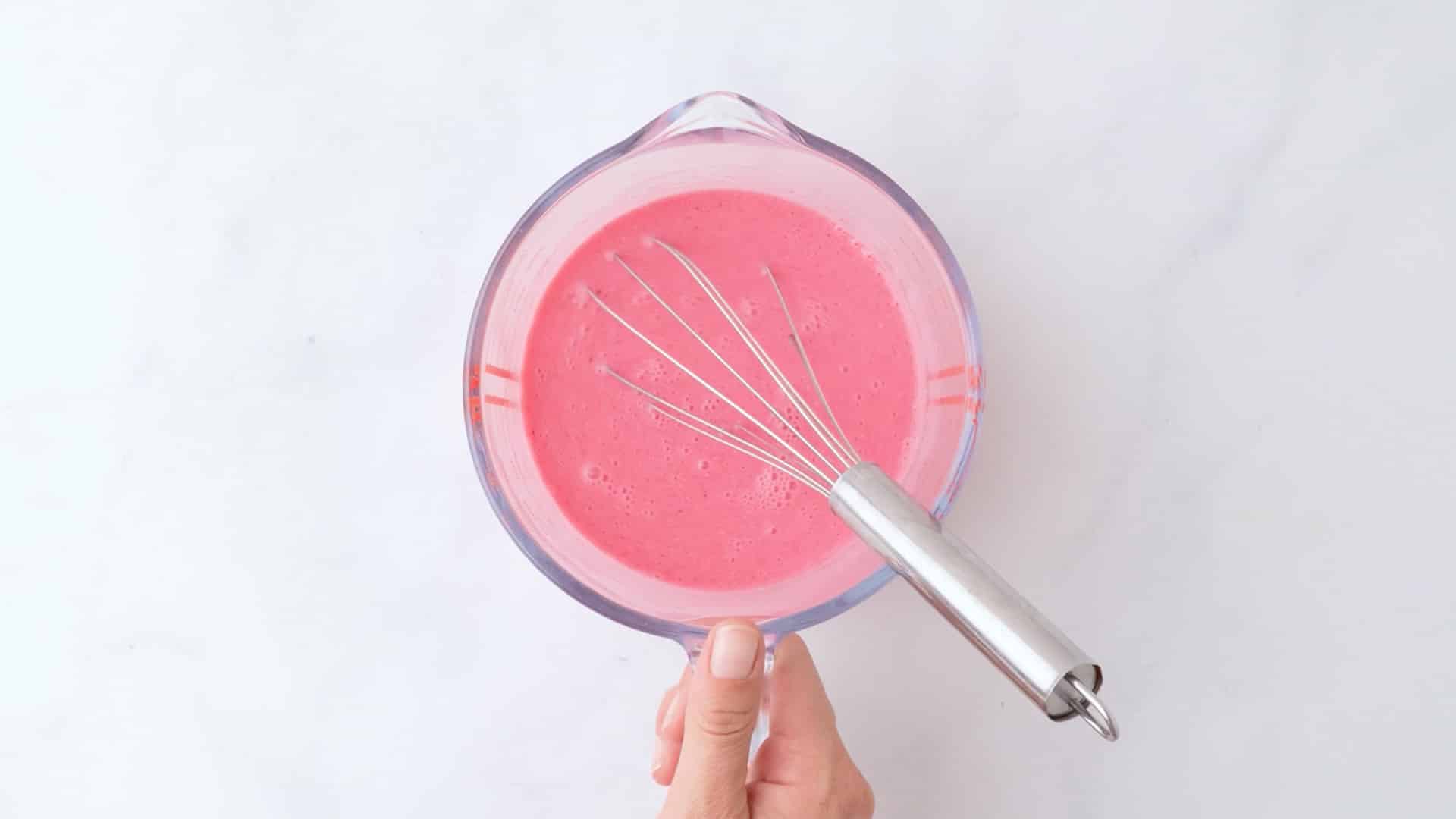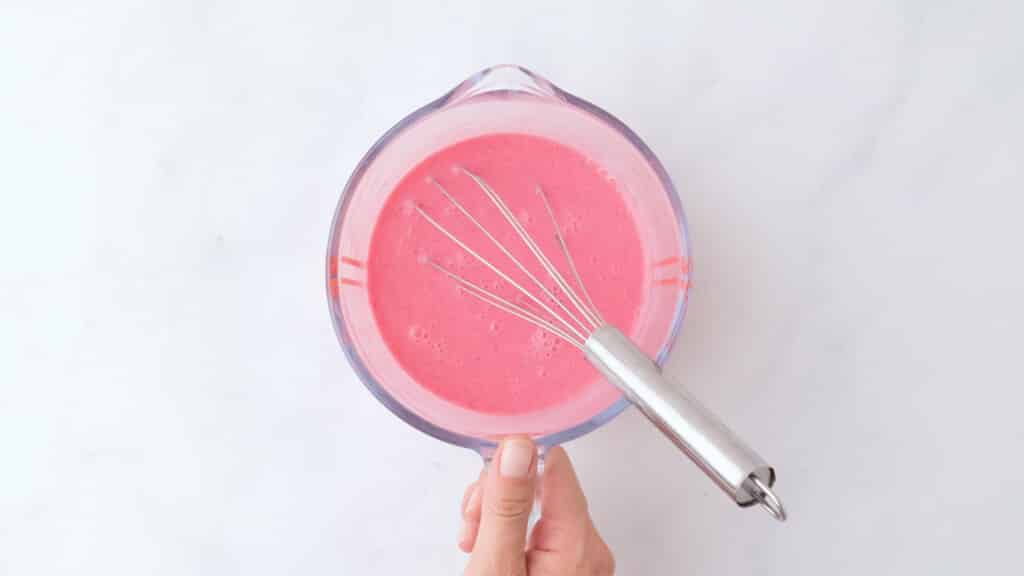 Since there really isn't a dairy-free buttermilk on the market, this makes it easy to make a gluten free red velvet cake dairy free or vegan.
If you handle dairy, you can also use regular milk with the same results.
The vinegar is essential to getting your cake to rise, and it will rise a lot. Almost double!
The vinegar reacts with the baking soda and cocoa powder, just like those volcanos you made in grade school.
Except for making a volcano and a mess, you get a slice of gluten free dairy free red velvet cake.
Of course we help the red along with some food coloring to make it more vibrant, but the chemical reaction between the vinegar, baking soda, and cocoa is how the cake got its name.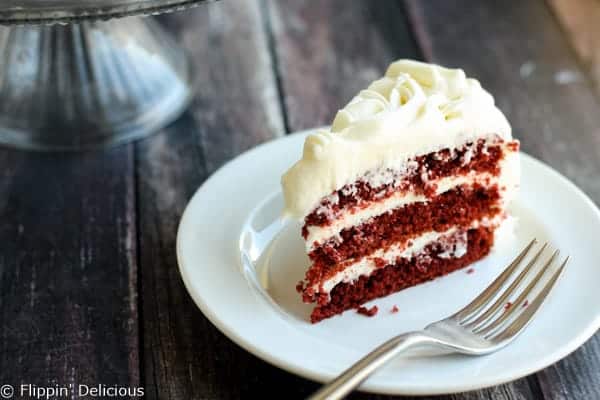 When do you add the oil for gluten free red velvet cake?
Based on some comments I tried mixing the oil into the flour and other dry ingredients before adding the other wet ingredients.
Several commenters said that this is how they've always made red velvet cakes, and that it gives the cake its velvety texture.
In a red velvet cake made with regular gluten-flour adding the oil first makes a big difference!
This is because the oil prevents some of the gluten binding together when other liquid is added, which does result in a more tender cake.
I have tried adding the oil first, and to be honest I didn't notice any difference in texture.
With gluten free cakes, you don't have to worry about preventing gluten development, so that is hy mixing the.
You can mix your gluten free dairy free red velvet cake batter whichever way you prefer.
Can you make red velvet cake with natural food colorings?
There are lots of natural food colorings on the market, too. If you use a natural food coloring, your cake may not be as vibrant.
Just add your food coloring of choice until your cake batter reaches the hue you desire.
If you use a liquid food coloring, you'll need a lot more to get a vibrant color.
You may have better luck using a powdered natural food red coloring to get a brighter color.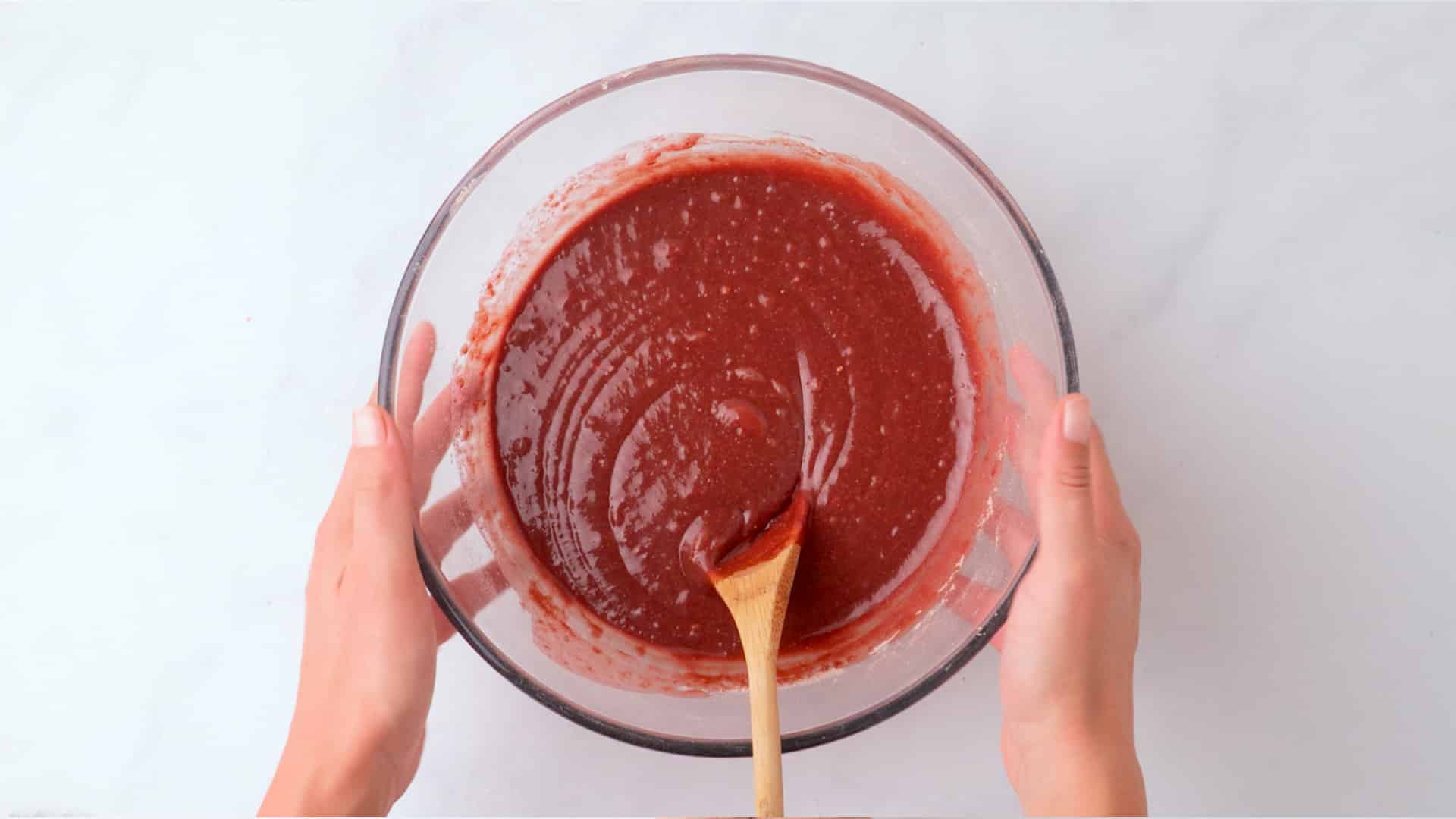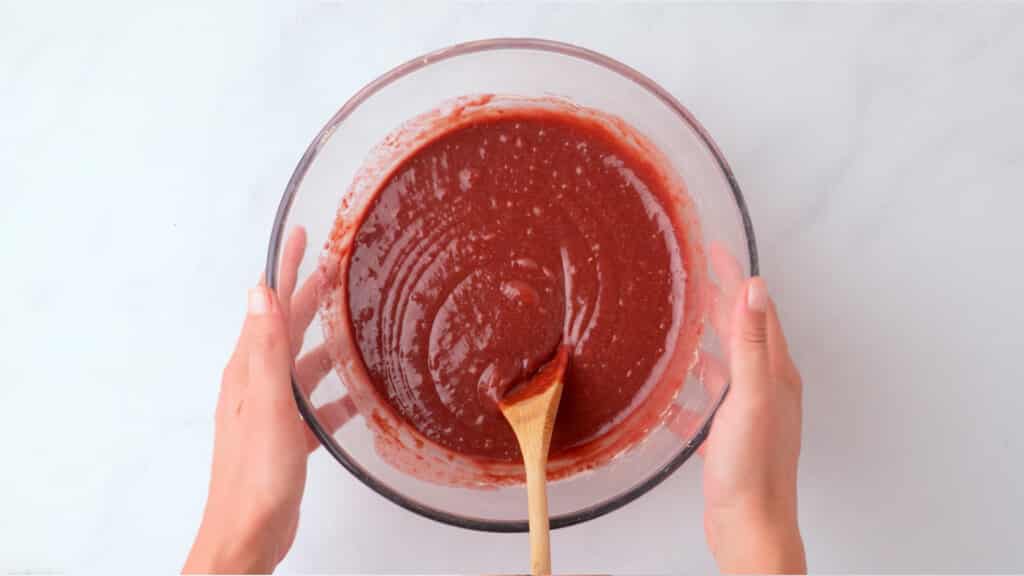 How do you color a red velvet cake using beets?
I'm working on a dye-free vegan gluten free red velvet cake using beets.
Until it is ready, I'd try using pureed steamed beets instead of some of the dairy free milk if you want to give a gluten free red velvet cake colored with beets a try.
While I personally have no problem with a little red food coloring on occasion, I know many do so I'm working to help you have the gluten free red velvet recipes that work best for you.
How do you make vegan red velvet cake?
To make a vegan gluten free red velvet cake, simply swap the egg in the recipe with a little egg replacer.
My go-to is Bob's Red Mill's Egg Replacer, but I also have had great results with a flax egg.
I know many people swear by Ener-G egg replacer. Use your favorite vegan egg replacer!
Because this recipe uses whole eggs I've had no problems substituting an egg replacer.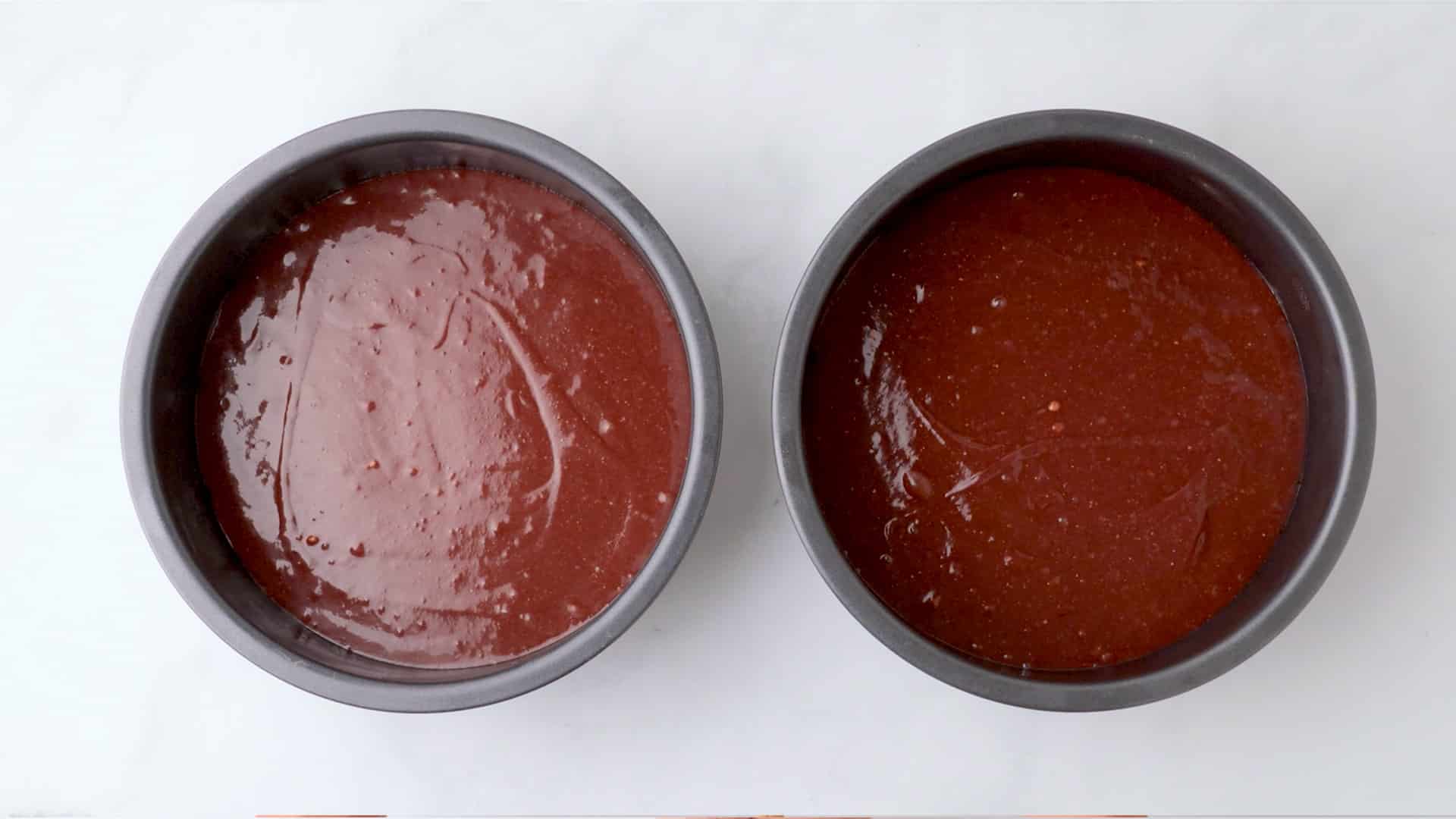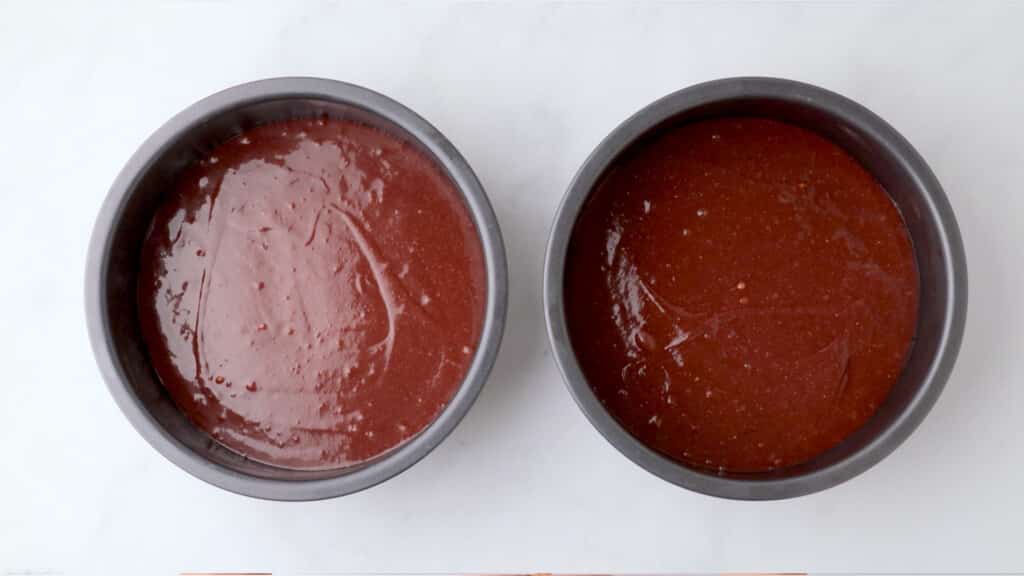 Don't Be Scared of the Layers
I like to bake the gluten-free red velvet cake layers the day before I assemble the cake.
That gives them plenty of time to cool.
The batter is super easy to make, just measure all the ingredients and mix!
I baked it into 3 layers, but you could do 2 if you want.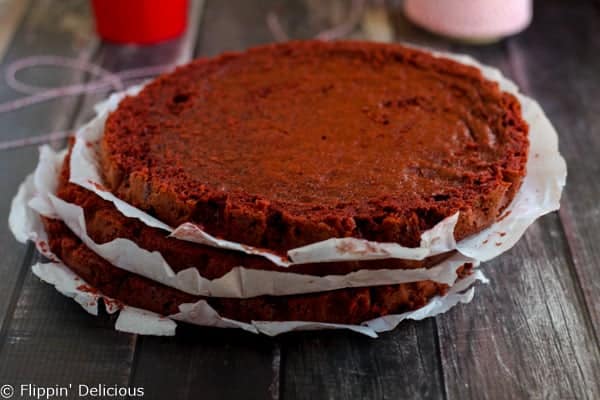 Once they are baked pop them in the freezer to chill, and then trim them to make the top level and even.
It is so much easier and less messy to do this if the cake is frozen.
How to use gluten free flour
when baking with gluten free flour, your results will vary based on the gluten free flour you use.
Please read through my gluten free flour page for very thorough and detailed information about which gluten free flours work well, how to substitute one gluten free flour for another, and for my gluten free flour recipe.
How to measure gluten free flour
How you measure your gluten free flour is also very important.
To accurately measure your flour, use the "fork, spoon, knife" method.
First, mix your gluten free flour with a fork to ensure it is aerated and evenly mixed.
Then carefully spoon it into your measuring cup.
DO NOT scoop the flour with your measuring cup, you'll compact extra flour into the measuring cup and then your gluten free baked goods will be dry and crumbly because they'll have too much flour.
Finally, level off your measuring cup using a knife.
Use room temperature ingredients
You'll also have best results if all the ingredients are at room temperature, except for any ingredients that specify "cold" or "chilled".
Using room temperature ingredients like eggs, butter, and gluten free flours helps your baked goods to bake evenly and correctly.
Think about it, if you use cold eggs, your batter will be colder.
And then it will change how it bakes, or may take longer.
For recipes that rise using steam, this is especially important.
How to make Cream Cheese Frosting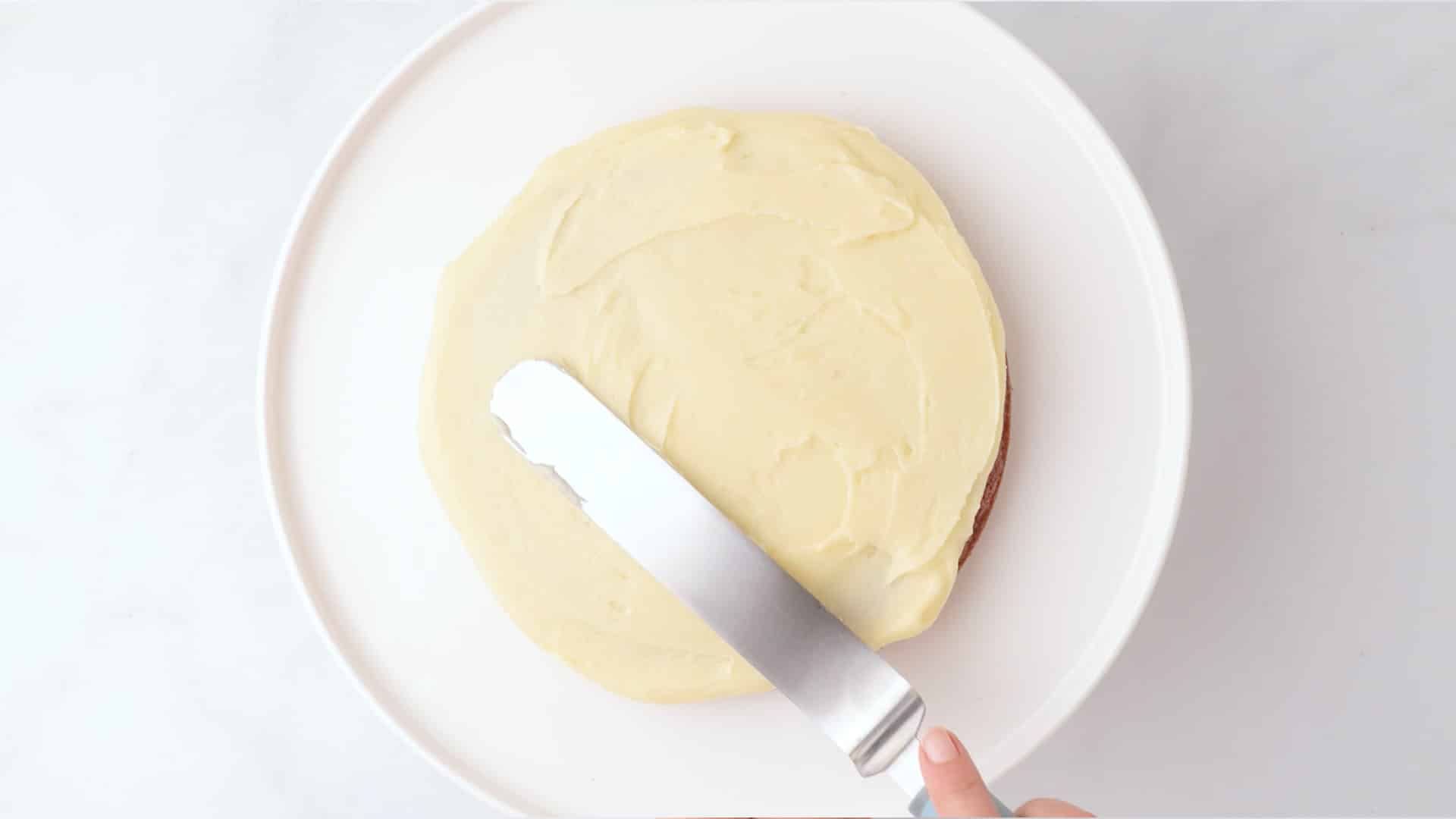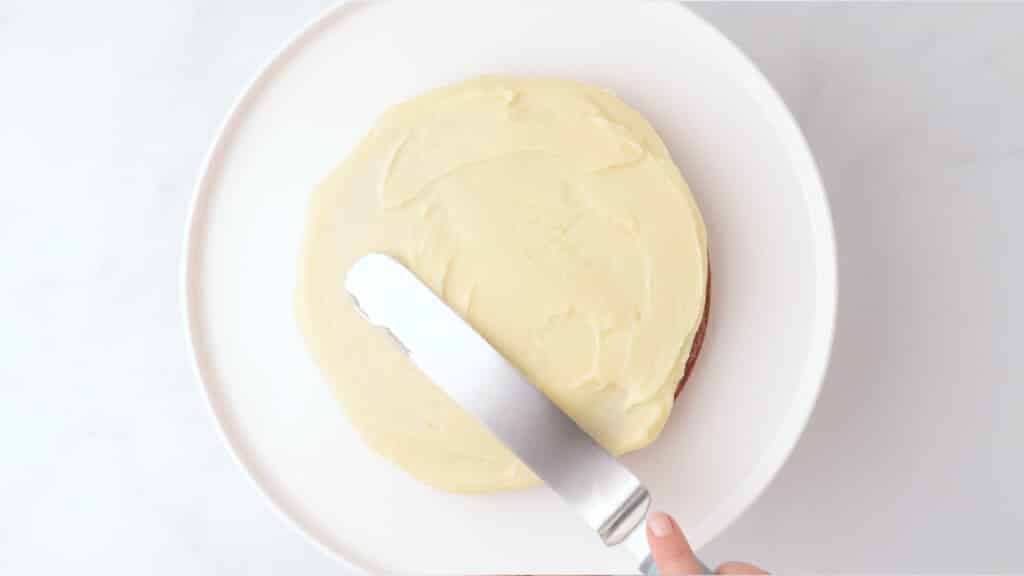 The cream cheese frosting only has 4 ingredients (5 if you count the vanilla.)
Super easy to make, you just have to whip all the ingredients together.
Whipping the butter and cream cheese first helps to incorporate more air into the frosting, making it creamy and easier to spread.
This cream cheese frosting gave me plenty to frost the cake very liberally and I still had a extra.
Better to have extra frosting than not enough! You can use the extra on a few Gluten-Free Red Velvet Mug Cakes.
Or if you aren't planning on doing the rose swirls and want a more moderately frosted cake (more cake than frosting) then make the frosting with 8oz of cream cheese, 4 oz of butter, and 24 oz of powdered sugar.
How to frost a cake with rose swirls
I loaded the frosting into a piping bag with a large round tip to make it easier to apply it to the cake.
Place the bottom cake layer on your serving plate and put a big swirl of frosting on the top of the layer.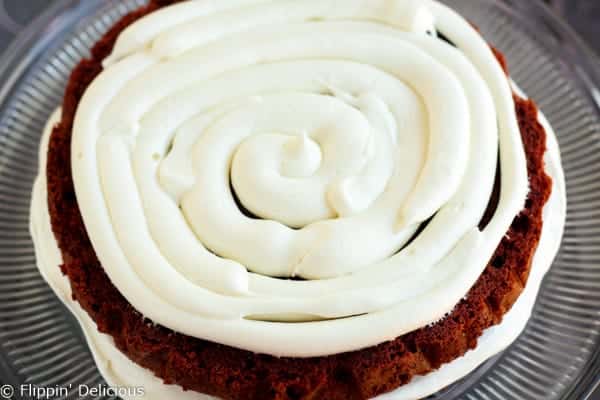 Use a spatula to spread the frosting evenly over the the layer, and out over the edge slightly.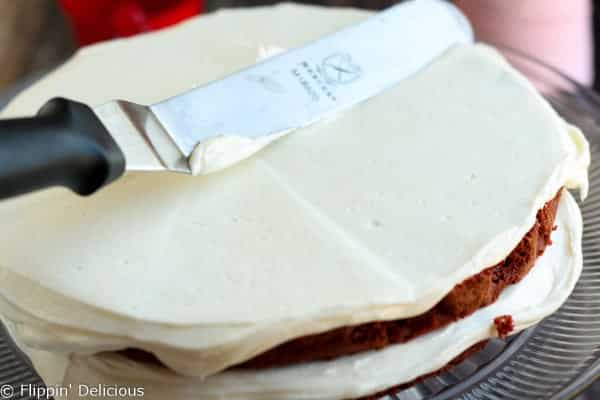 Top with the next layer and repeat. Then repeat again.
Cover the sides using the frosting that you pushed out over the edge. You just need a thin layer, this is your "crumb coat" which prevents crumbs from getting into the finished cake, and helps you to just have a smooth cake canvas to start with.
Once your crumb coat is on put your cake in the fridge or freezer for the frosting to set.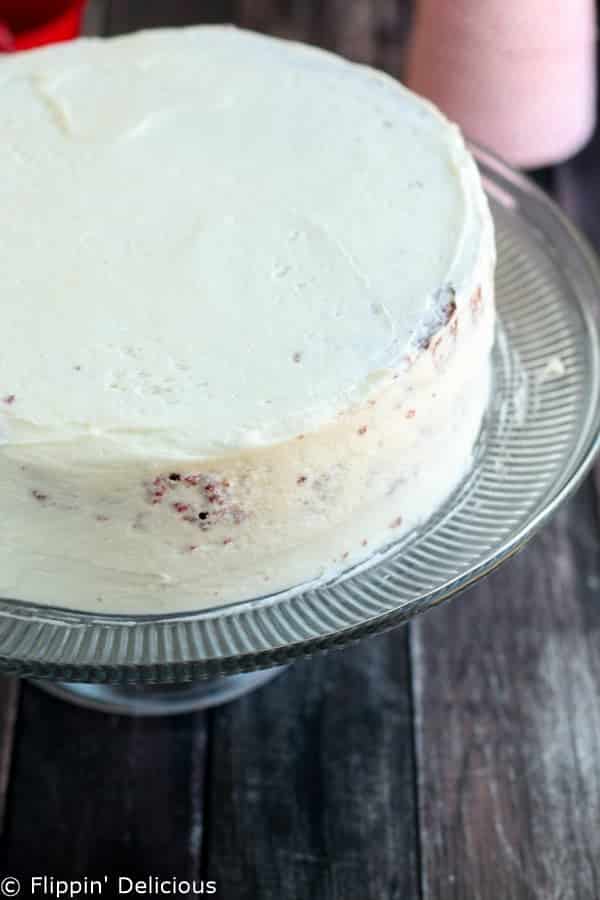 I loaded some more of the frosting into a piping bag with a large drop flower tip. You could also use a star tip.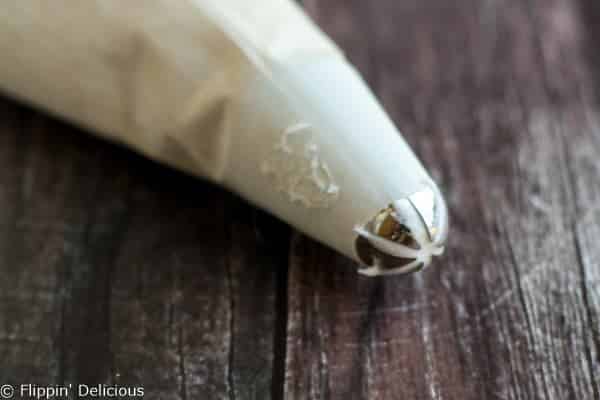 Starting in the center of the cake make the rose swirls.
Hold the bag perpendicular to the cake and starting in the center swirl outwards.
Continue to make frosting swirls working from the center of the cake....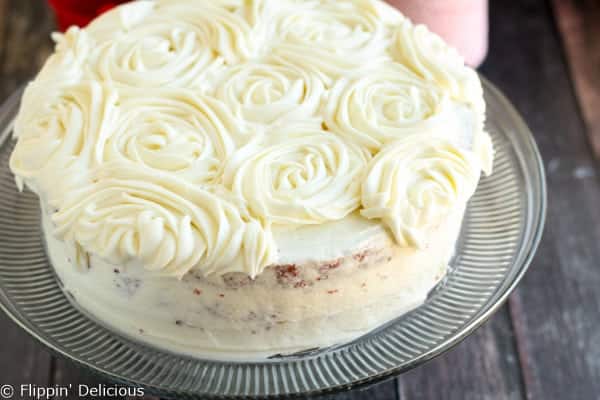 working out down the sides of the cake.
It doesn't have to be perfect! It will taste good no matter what.
The sides of my cake were a mess, but you can't tell. It just looks yum!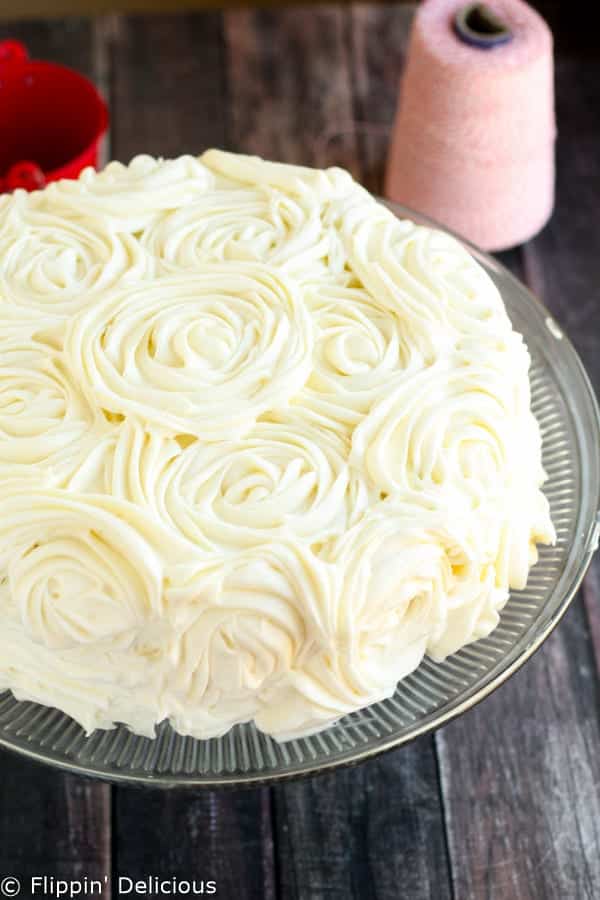 📖 Recipe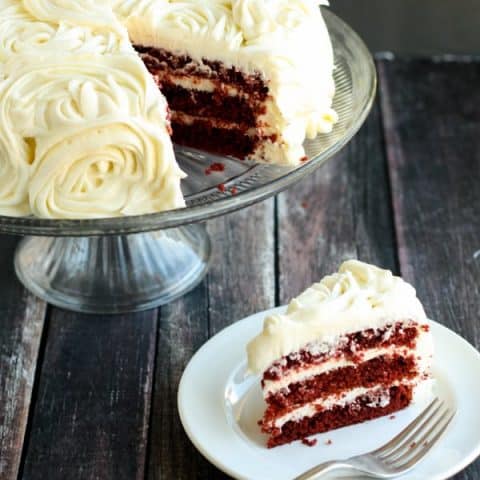 Gluten Free Red Velvet Cake
Total Time:
1 hour
30 minutes
Moist gluten-free red velvet cake with cream cheese frosting is absolutely stunning! 3 gluten-free red velvet cake layers, filled and frosted with creamy frosting in a romantic rose pattern. The traditional gluten-free red velvet cake is moist with hints of cocoa and vanilla. The perfect "WOW!" dessert for Valentine's Day, or any day.
Ingredients
For the Gluten-Free Red Velvet Cake
3 Tablespoons cocoa powder (0.75 ounces by weight)
1 ¼ cups white sugar (9.5 ounces by weight)
½ teaspoon salt
½ teaspoon xanthan gum (omit if you are using a different flour blend that already includes xanthan or guar gum)
½ teaspoon baking soda
½ cup milk
½ cup vegetable oil
2 eggs
1 teaspoon vanilla
1 teaspoon vinegar
½ – 1 teaspoon red food coloring
For the Cream Cheese Frosting
(2) 8 ounce packages Cream Cheese, softened
(2) 4 oz sticks butter, softened (1 cup)
3 lbs (48 oz) powdered sugar
2-3 Tablespoons milk or cream
1 teaspoon vanilla extract
Instructions
For the Gluten-Free Red Velvet Cake
Preheat oven to 350°F. Lightly grease 3, 9 inch round cake pans and line them with parchment paper.
Mix together all the dry ingredients in a mixing bowl. In a large liquid measuring cup mix together all the wet ingredients. Add the wet ingredients to the dry ingredients and mix until combined.
Divide the batter evenly between the 3 pans (approx 1 cup per pan) and bake until a toothpick poked near the center of the cake comes out clean, about 25-30 minutes.
Cool before frosting with cream cheese frosting.
For the Cream Cheese Frosting
Using a stand mixer or electric hand beaters beat the butter and cream cheese until light and fluffy (5 minutes) add the milk or cream, powdered sugar and vanilla and beat until smooth (additional 3 minutes.)
Nutrition Information
Yield

10
Serving Size

1
Amount Per Serving
Calories

424
Total Fat

30g
Saturated Fat

12g
Trans Fat

1g
Unsaturated Fat

16g
Cholesterol

89mg
Sodium

348mg
Carbohydrates

34g
Fiber

0g
Sugar

27g
Protein

4g
All nutrition info is a guestimate and will vary depending on the ingredients you use.