Cream Cheese Frosting is so easy to make, just 5 ingredients! Sweet, creamy, with that slight tang that you love.
I really love cream cheese frosting. Smooth and creamy, just like my favorite american buttercream (recipe coming soon!) but less buttery and it has that cream cheese tang that I just can't get enough of.
Making your own frosting is really so easy!
If you need a vegan or dairy free buttercream, my vegan frosting is fluffy and tastes great.
I even have a vegan chocolate buttercream recipe that uses melted chocolate and cocoa powder!
Just a few basic ingredients and a mixer and you are set.
How to make fluffy cream cheese frosting?
There are a few secrets to making a perfect easy cream cheese frosting.
The butter and the cream cheese need to be very soft, but not at all melted.
When I plan ahead I will just set the butter and the cream cheese out on the counter several hours before I plan on making my frosting.
If they are nice and soft they will whip easily which will give you a light and creamy frosting.
The more you whip your frosting, the fluffier it will be.
The second secret is to whip, whip, WHIP!
To make frosting you really need some sort of electric mixer.
I love my stand mixer, and that is definitely the easiest way to go.
You just turn it on, and then come back a few minutes later. You can also use a handheld mixer, I have many times. I'd just suggest using a heavy-duty model if you can.
Even when softened the frosting is quite thick and could burn out the motor on a mixer if you aren't careful.
The butter and cream cheese really need a full 5 minutes of whipping to incorporate lots of air and make the finished frosting nice and smooth.
Set a timer, a full 5 minutes!
Funny story. My sister got married this past May and I made her wedding cake and the cupcakes to serve at her reception.
She wanted gluten free red velvet cake with cream cheese frosting.
I am asked to make it for almost every special occasion now.
It is what I made my sister for her birthday just a few months before.
Anyways... I made and frosted more than 300 red velvet cupcakes with this cream cheese frosting.
(If you want to check out my cake making adventures on Instagram you can here, here, and here. And here and here are pics from her wedding.)
I made pounds and pounds of my easy cream cheese frosting.
I was letting my mixer really whip the cream cheese but when I went to lift up the beaters, the whisk attachment stayed in the frosting and the post that it was attached to was still in the head of my mixer.
The plastic whisk attachment melted off because of the friction! (you can see that on Instagram too, here.)
Pro-tip: use your paddle attachment or a solid metal whisk attachment.
How much powdered sugar do you need to make cream cheese frosting?
The final secret to the perfect easy cream cheese frosting is to measure the powdered sugar (and the butter and cream cheese) by weight.
Why? It is quite simple, the amount of air in powdered sugar can vary greatly.
Maybe you just shook the bag and it is nice and aerated?
Or maybe you really packed it in?
Either way of measuring could get you more or less sugar, which could really change your frosting.
So do it by weight!
Just one last note, this frosting is very soft when it is warm.
Not nearly as stiff as my american buttercream.
Any piping you do won't have as much definition, but that doesn't change how delicious it is.
I really think it is the perfect easy cream cheese frosting!
And while I'm thinking of cream cheese, you've got to try this gluten free cheesecake! My friend Erin's recipe used chopped nuts in the crust for great flavor and texture!
📖 Recipe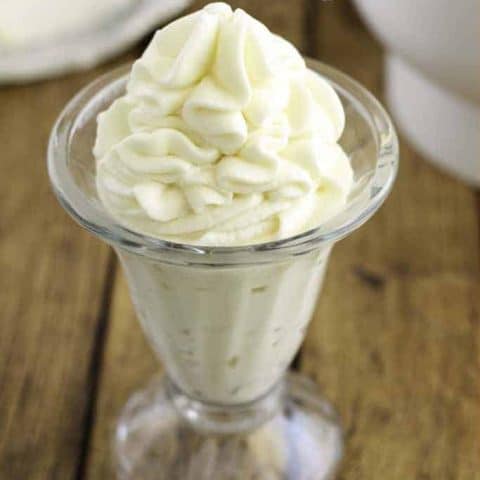 Easy Cream Cheese Frosting
Yield:
Enough cream cheese frosting for 24 cupcakes, a 2 layer 6 or 8 inch cake, or a 9x13 cake
Cream Cheese Frosting is so easy to make, just 5 ingredients! Sweet, creamy, with that slight tang that you love.
Ingredients
(1) 8oz pkg Cream Cheese, softened
(1) 4 oz stick butter, softened (½ cup)
1 ½ lbs (24 oz) powdered sugar
1-2 Tablespoons milk or cream
1 teaspoon vanilla extract
Instructions
Using a stand mixer or electric hand beaters beat the butter and cream cheese until light and fluffy (5 minutes) add the milk or cream, powdered sugar and vanilla and beat until smooth (additional 3 minutes.)
Notes
I often double this recipe and use 3 lbs of powdered sugar. Instead of measuring it, I use 1, 2 lb bag of powdered sugar and half of a second 2lb bag of powdered sugar.
Nutrition Information
Yield

24
Serving Size

1
Amount Per Serving
Calories

73
Total Fat

8g
Saturated Fat

5g
Trans Fat

0g
Unsaturated Fat

2g
Cholesterol

21mg
Sodium

61mg
Carbohydrates

1g
Fiber

0g
Sugar

1g
Protein

1g
All nutrition info is a guestimate and will vary depending on the ingredients you use.