Gluten Free Pumpkin Cookies- chewy edges and crinkly sugar-sprinkled tops makes these gluten free vegan pumpkin cookies the perfect gluten free fall drop cookie!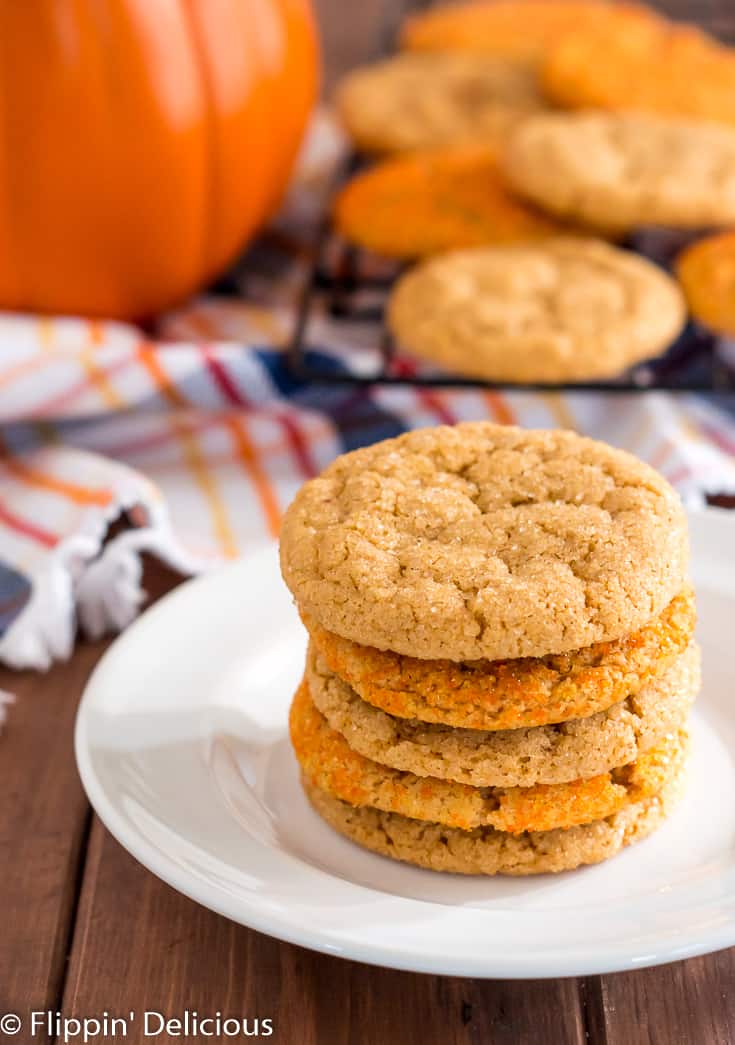 Gluten Free Pumpkin Cookies
It took me several tries to get my vegan gluten free pumpkin chocolate chip cookie recipe perfectly chewy.
I thought that developing these gluten free pumpkin cookies would be the same.
I thought I'd make my first attempt last Saturday morning as I was heading out the door to my gluten free support group.
Imagine my surprise when they turned out perfectly!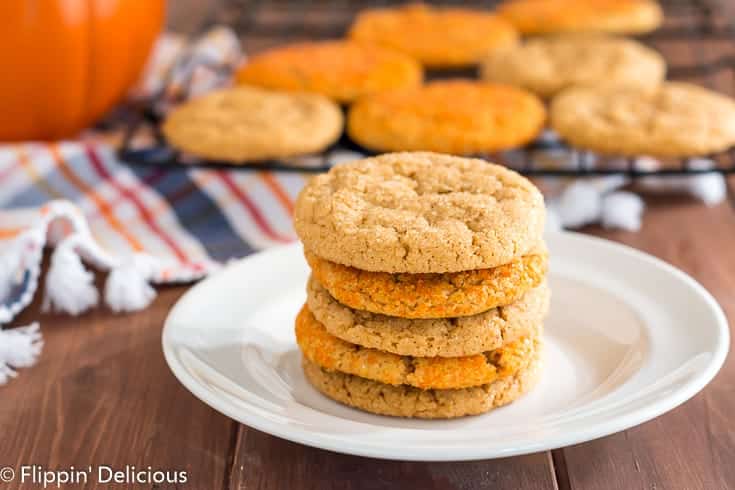 Because I was heading out the door (and I was late) I snapped a quick Instagram story picture, but didn't have time to take pictures for a post.
I thought it would take several tweaks to make them perfect, so I was pleasantly surprised when I nailed it on the first try!
I'm the self-proclaimed gluten free sugar cookie queen. My famous gluten free soft frosted sugar cookies are often requested by friends and family members.
I'm also a pumpkin recipe fanatic!
All summer I wait in eager anticipation for it to become socially acceptable to share pumpkin recipes because I just love them so much.
I love baking with pumpkin year round!
It is only natural that I want to marry my love of gluten free sugar cookies with pumpkin!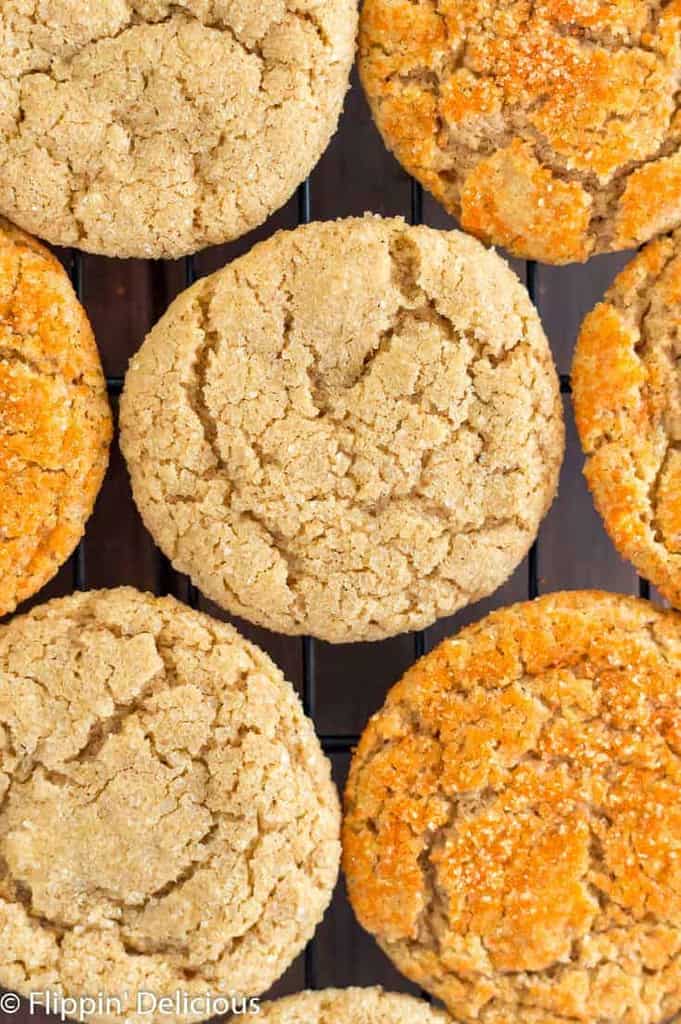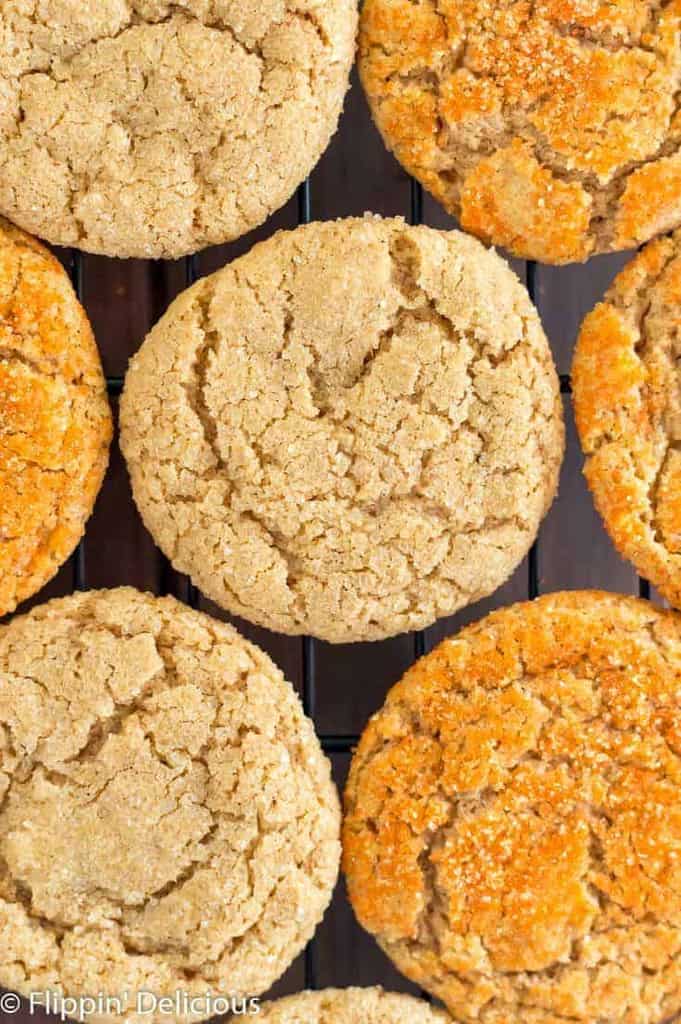 How do you make vegan pumpkin cookies?
As I was working on my gluten free pumpkin chocolate chip cookies, I remembered that pumpkin can be used as an egg replacement.
In fact I made a vegan gluten free pumpkin chocolate chip muffins over the weekend too, swapping the egg for pumpkin puree with some extra baking powder to give it a little lift.
This gluten free vegan pumpkin cookie recipe was inspired by all of my recent vegan pumpkin baking adventures!
I adapted the gluten free sugar drop cookie recipe from my ebook, Gluten Free Holiday Cookies.
It is easy to make vegan, simply swapping the egg in the recipe for three tablespoons of pumpkin puree.
I added some cinnamon and nutmeg for good measure, because who wan't plain pumpkin cookies when they can have gluten free pumpkin spice cookies?
Also, I added a little pumpkin spice extract to my gluten free pumpkin spice cookie recipe, since I have it in my pantry.
I makes the pumpkin flavor prominent, you can't miss it.
Don't worry if you don't have it on hand, you can easily omit it.
To make my gluten free pumpkin cookies vegan, I also used a dairy-free vegan butter and/or palm shortening instead of the butter.
I like using a little of both for the best flavor and texture, but if you have just one it will still work.
I rolled my gluten free vegan pumpkin cookie dough in sugar before baking.
I rolled half of my vegan pumpkin cookies in coarse raw sugar and the other half in an orange and yellow sanding sugar.
My kids loved the bright orange color!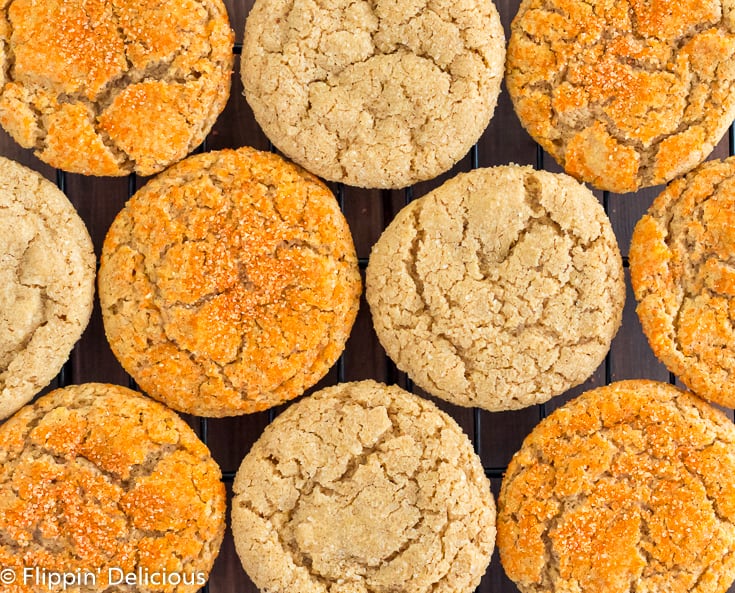 I have even more festive seasonal cookies for you.
My newest cookbook, Gluten-Free Cookies All Year Round, has gluten free cookie recipes for every holiday and occasion!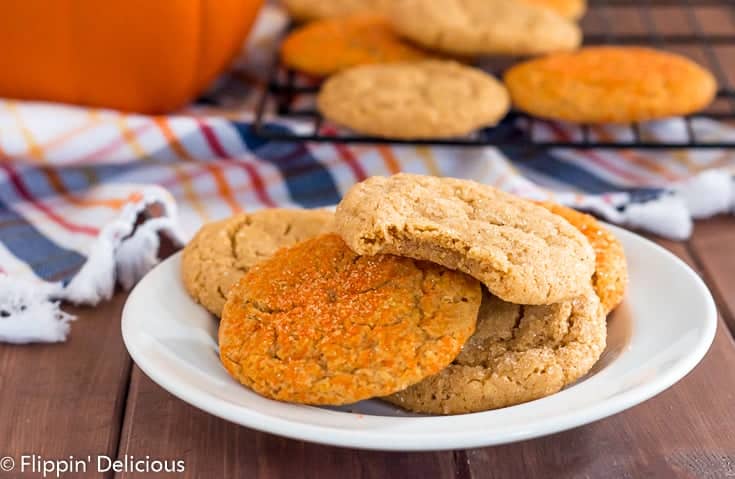 HOW DO YOU MAKE CHEWY PUMPKIN COOKIES?
The secret to making chewy pumpkin cookies is to use pumpkin puree instead of the eggs (which makes this pumpkin cookie recipe egg-free!)
If you use eggs and pumpkin, you will end up with a very cakey cookie.
The other secret to making a chewy pumpkin cookie is the ratio of sugar to butter (or vegan butter, in this instance.)
If you cut down on the sugar in the recipe, your pumpkin cookies will be more cakey and will lose their chewy center and crisp edges.
What gluten free flour should you use to make PUMPKIN COOKIES?
To make gluten free pumpkin cookies, use your favorite gluten free flour.
I use my gluten free flour blend, and add xanthan gum to help replace some of the structure that gluten would normally provide in a cookie.
If you use a gluten free flour that already has xanthan gum in it, omit the extra called for in my recipe or you will have gummy gluten free pumpkin cookies.
To get the best texture, most gluten free batters need to a be a bit wetter than their wheat counterpart.
If you use a different gluten free flour, you may need a little less flour. When I use Bob's Red Mill's 1 to 1 gluten free flour I need to use less flour because it absorbs more moisture.
No matter what flour you use, be sure to measure it by first whisking the flour so it is well combined (or give your container a shake) then scooping the flour into a measuring cup with a spoon, then finally leveling it off.
DON'T SCOOP YOUR FLOUR WITH THE MEASURING CUP! If you do, you'll have too much flour and your cookies will be dry.
How do you make Gluten free frosted pumpkin cookies?
If you'd like, you can spread your gluten free pumpkin cookies with a little frosting.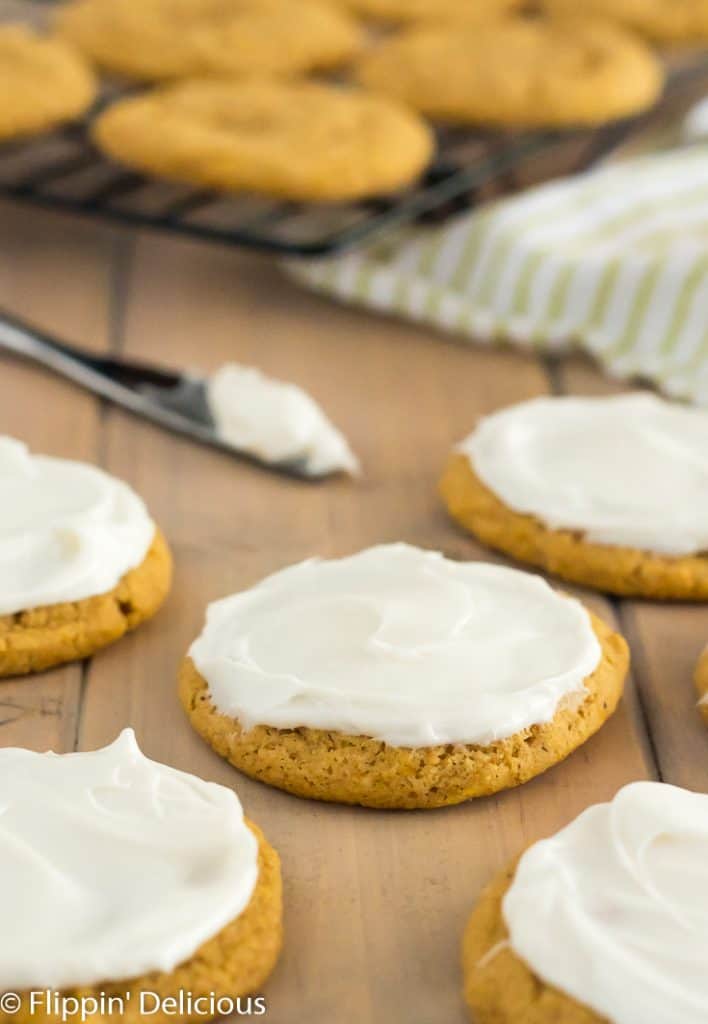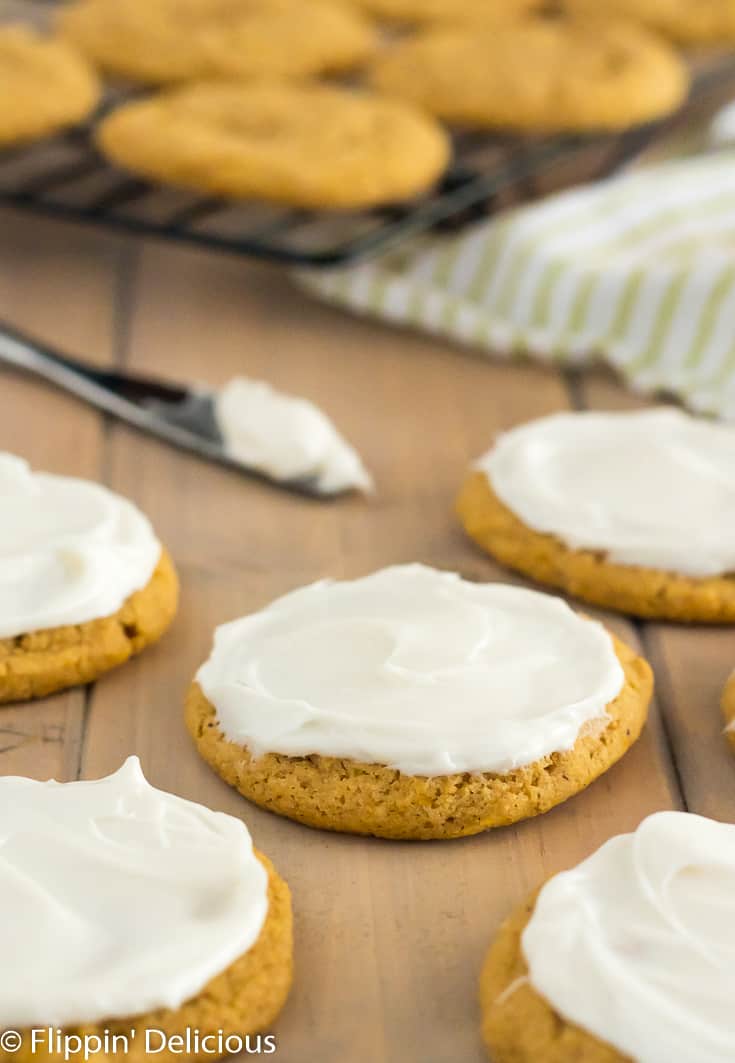 Or add a sprinkle of nutmeg or pumpkin spice.
With frosting on top, these cookies taste more like a gluten free pumpkin pie cookie!
They feel more indulgent.
Almost like sitting down with a nice slice of gluten free pumpkin cake.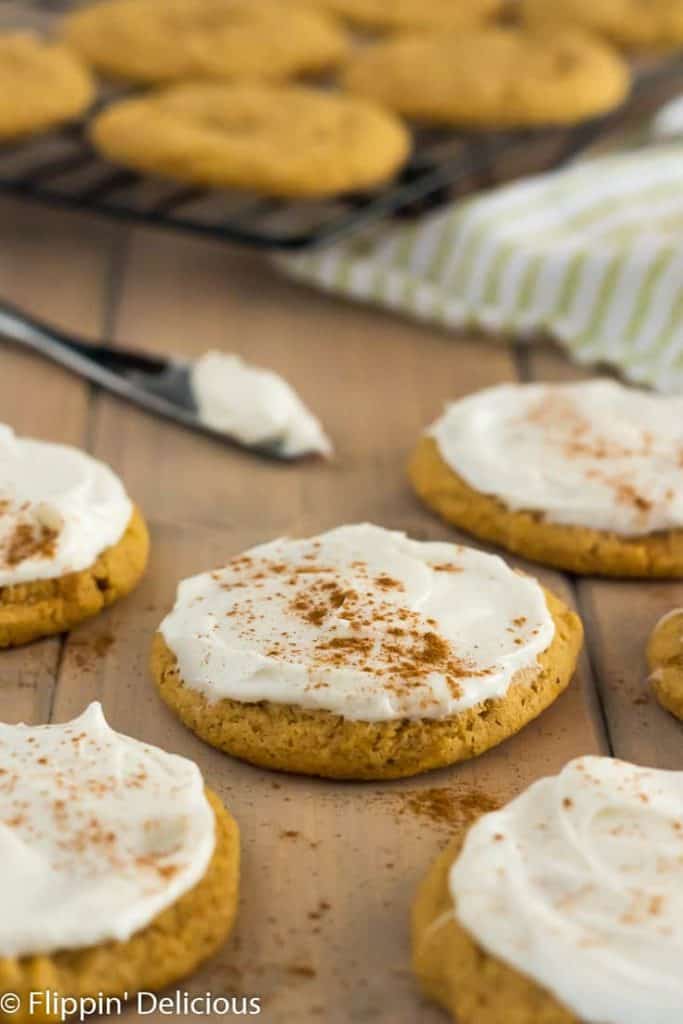 But easier.
And chewier.
I've always loved pumpkin goodies topped with cream cheese frosting.
This vegan pumpkin cookie reminds me of that flavor combo in all the best ways.
You get a chewy pumpkin cookie, with crisp edges topped with a sweet and creamy frosting. It really is everything you could want from a cookie, and more!
Add a sprinkle of nutmeg, or your favorite sprinkles to make the perfect gluten free pumpkin cookie!
WHAT FROSTING IS BEST FOR PUMPKIN COOKIES?
I've topped these vegan pumpkin cookies with canned frosting (I think it was a fluffy marshmallow) that worked with my family's allergens.
I've also used my vegan frosting recipe.
Many canned frostings are dairy free. Which is weird, but hey, one less thing I have to worry about.
Be sure to thoroughly read the ingredients to make sure it works for your dietary requirements.
If I have the time, my vegan buttercream is my go-to.
It is sweet and fluffy, and perfect on everything. It actually tastes good!
If you eat dairy, absolutely go with my easy cream cheese frosting.
Nothing beats the cream cheese + pumpkin combo.
(If you are a fan of cream cheese frosting and pumpkin, try my gluten free pumpkin cupcakes!)
CAN I MAKE VEGAN CREAM CHEESE FROSTING FOR PUMPKIN COOKIES?
Absolutely! Use your favorite vegan cream cheese in my easy cream cheese frosting.
My favorite hack, which doesn't use vegan cream cheese, is to whip up a batch of my vegan frosting and add a little super-strength cheesecake flavoring oil.
According to LorAnn, their super-strength flavoring oils are made without dairy or nuts.
Flavoring my vegan frosting with the cheesecake oil give you the same flavors as a cream cheese frosting, but without dairy.
HOW LONG DO PUMPKIN COOKIES LAST?
Gluten free vegan pumpkin cookies with frosting will last for a hot minute at my house. (J.K.)
You can store pumpkin cookies for 3-4 days in an airtight container.
If you use a dairy-based frosting I recommend storing in the fridge in an airtight container, for food safety reasons.
If your frosting doesn't require refrigeration, your frosted pumpkin cookies will last for 3-4 days in an airtight container at room temperature.
For longer pumpkin cookie storage, you can freeze your pumpkin cookies.
CAN YOU FREEZE PUMPKIN COOKIES?
Absolutely you can freeze pumpkin cookies!
I love freezing them after they have been frosted, but you can also freeze them first and then frost them after they thaw.
To freeze pumpkin cookies, make sure they have cooled and the frosting has set. (If your frosting isn't set, place a single layer of cookies on a sheet pan in your freezer until the frosting freezes, then proceed.)
Place your pumpkin cookies in an airtight container, placing parchment or wax paper in-between layers of cookies so they don't stick together.
Freeze for up to a month, for best texture.
📖 Recipe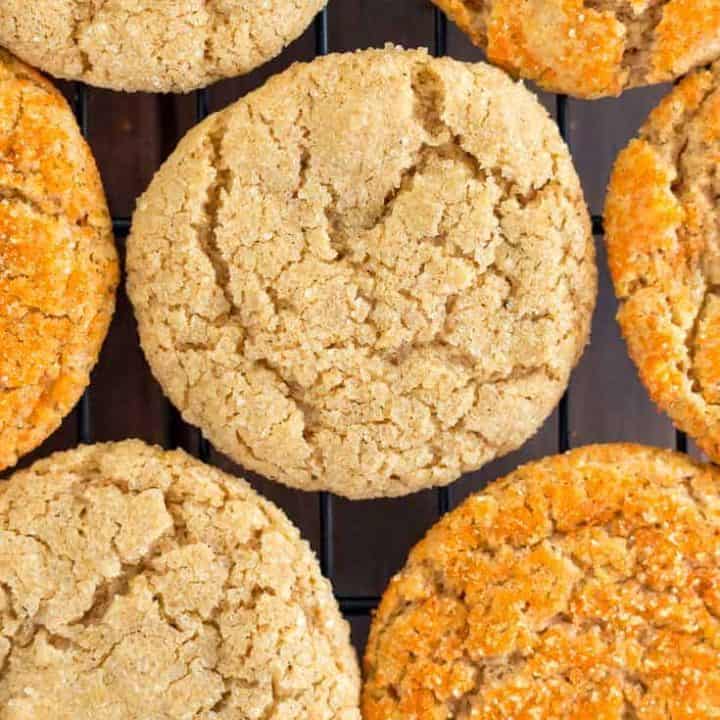 Gluten Free Pumpkin Sugar Cookies Recipe
Yield:
1 ½ dozen gluten free vegan pumpkin sugar cookies
Gluten Free Pumpkin Sugar Cookies- chewy edges and crinkly sugar-sprinkled tops makes these gluten free vegan pumpkin sugar cookies the perfect gluten free fall drop cookie!
Ingredients
6 tablespoons vegan butter, softened (or dairy-butter)
¾ cup white sugar
3 tablespoons 100% pumpkin puree
¾ teaspoon vanilla extract
¾ teaspoon pumpkin extract (optional)
¼ teaspoon salt
½ teaspoon baking powder
½ teaspoon baking soda
¾ teaspoon xanthan gum (omit if you use a different flour that already has it)
½ teaspoon ground cinnamon
½ teaspoon nutmeg
Optional, course raw sugar
Instructions
Preheat the oven to 350F. Line 2 baking sheets with parchment paper or a silicone baking mat.
Cream together the butter and sugar. Add the pumpkin puree and mix until smooth.
Add the vanilla extract, pumpkin extract (optional) salt, baking powder, baking soda, xanthan gum, and gluten-free flour and mix until combined.
Scoop the dough using a 1 ½ tablespoon cookie scoop and place on the prepared baking sheet.
Optionally, sprinkle each cookie with a little coarse raw sugar or dip each ball of cookie dough in it before baking.
Bake for 8-10 minutes.
If desired, frost after cooling.
Notes
If you like your sugar cookies thinner with golden crispy edges and a chewy center, decrease the flour to 1 cup.
I used Earth Balance as my vegan butter in this recipe. I have the best dairy free results using 4 tablespoons vegan butter with 2 tablespoons palm shortening. Or you can use 6 tablespoons of softened butter if you can do dairy.
Recommended Products
As an Amazon Associate and member of other affiliate programs, I earn from qualifying purchases.
Nutrition Information
Yield

18
Serving Size

1 cookie
Amount Per Serving
Calories

159
Total Fat

5g
Saturated Fat

3g
Trans Fat

0g
Unsaturated Fat

2g
Cholesterol

11mg
Sodium

117mg
Carbohydrates

26g
Fiber

1g
Sugar

12g
Protein

2g