EASY gluten free Christmas cookies recipe| NO-CHILL gluten free cookie dough that is easy to roll out, with tips to get the perfect gluten free holiday cookie cut outs.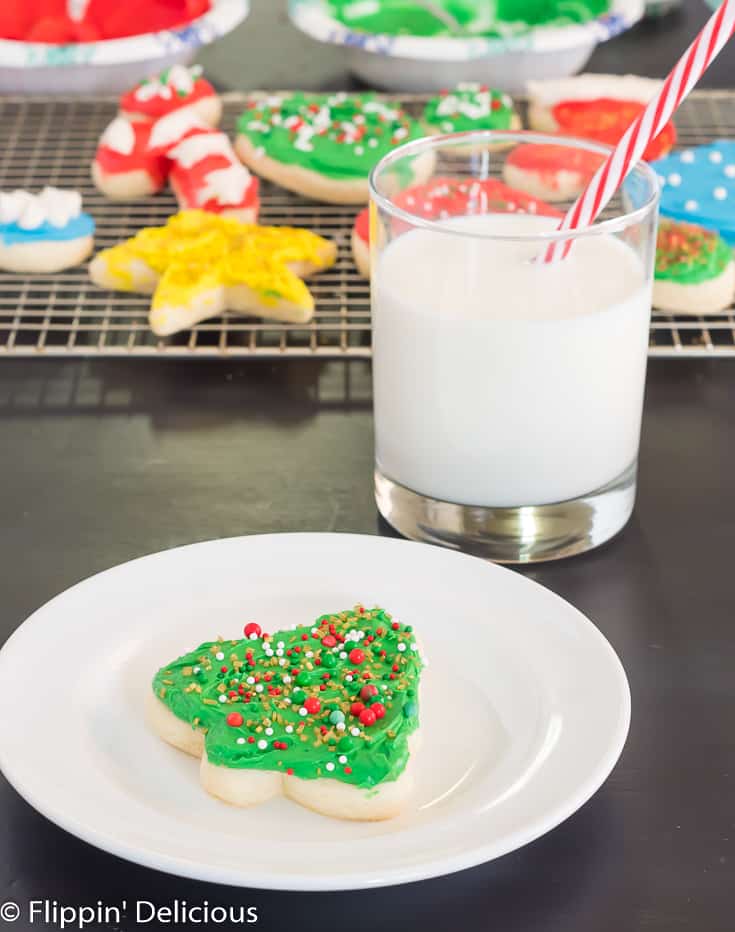 Gluten Free Cookie Cut out Recipe for Christmas
Is it really Christmas without a plate of festive frosted holiday sugar cookies to leave out for Santa?
Not at my house!
My kids and I look forward to making these gluten free cookie cut outs during the holidays every year.
The holiday season can not pass without us making my gluten free christmas cookie recipe together.
If you need a vegan or dairy free recipe, I've included recipe adaptions in this post, and you may also find my gluten free vegan sugar cookie cut outs recipe helpful.
Looking for gluten free cookies for other holidays? I've got you covered!
My newest cookbook, Gluten-Free Cookies All Year Round, has gluten free cookie recipes for every holiday and occasion!
Want the original gluten free cookies with pink frosting and sprinkles (just like the soft frosted cookies from the grocery store)?
Don't miss my gluten free sugar cookies recipe!
If you want to be lazy, you can make my gluten free sugar cookie bars for the same flavor but a fraction of the effort. (That is a big win, allergy mommas!)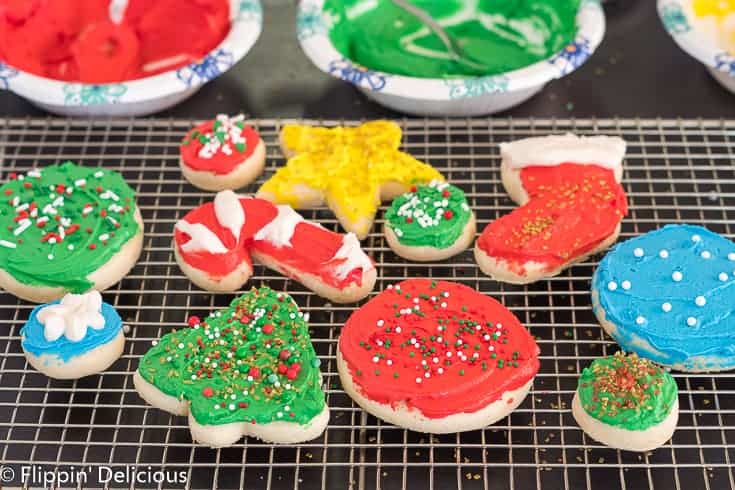 How to make gluten free Christmas cut-out cookies from scratch?
It is easy to make gluten free cookie cut outs. You only need 8 ingredients:
butter
sugar
eggs
salt
baking powder
vanilla extract
gluten free flour
xanthan gum (if your gluten free flour doesn't already have it)
It is easier to make if you use a stand mixer or handheld mixer, but I've made gluten free cookies with a wooden spoon and elbow grease too. Use whatever you have!
I use the basic creaming method to make my gluten free cut out cookies from scratch.
Cream the butter and sugar
Add the egg and mix until emulsified (no longer separated, nice and smooth)
Add the baking powder, xanthan gum, salt, and vanilla extract (I add them before the flour so that they are mixed more evenly)
Mix in the gluten free flour
Making homemade gluten free sugar cookies from scratch can seem daunting, but they really aren't harder than making gluten free chocolate chip cookies.
How to make sugar cookies with gluten free flour?
When making sugar cookies with gluten free flour you often need to use less flour than you would use with a traditional cut outholiday cookies.
This can make it really tricky to roll out your gluten free cookie dough to make gluten free sugar cookie cut outs!
There are a few things you can do to make your gluten free cookie dough easier to work with.
You can add more flour, but this will make your cookies crumbly and dry.
Chill the dough.
Roll the cookie dough out between sheets of plastic wrap.
I choose to roll my gluten free Christmas cut out cookie dough between pieces of plastic wrap.
Sometimes I'll chill my gluten free cookie dough, but only if I'm having a hard time working with it.
I'll roll it out, and then chill it before cutting out with cookie cutters.
Even using gluten free flour to roll out your cookie dough can result in dry and crumbly cookies.
I do not like crumbly gluten free Christmascookies!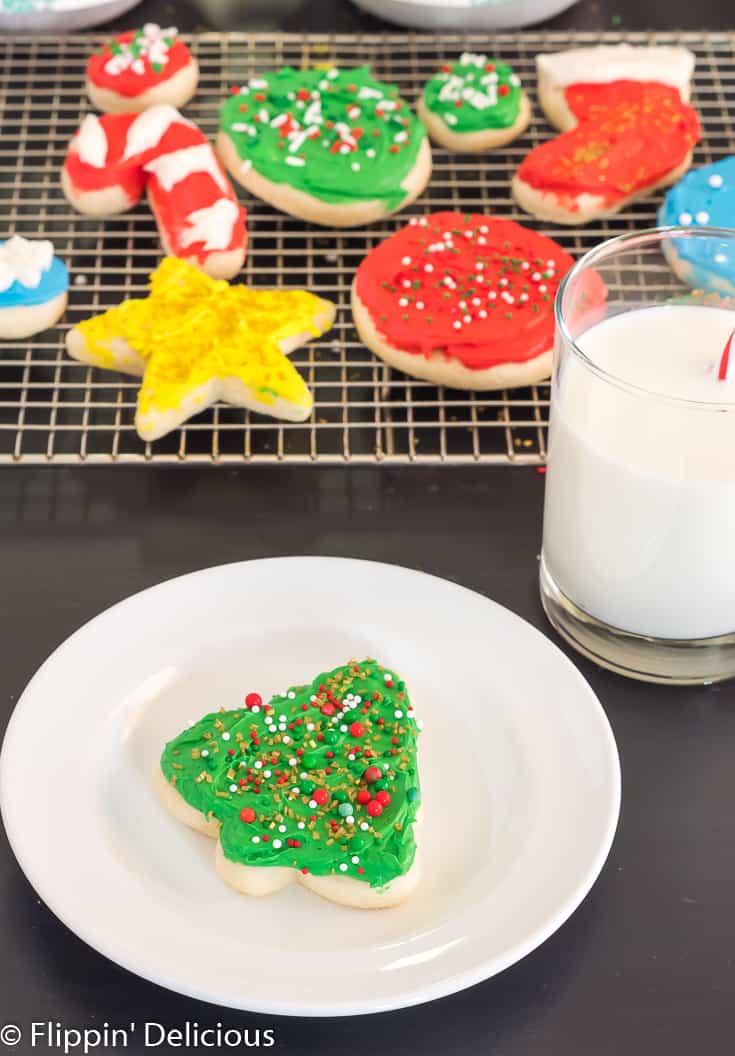 How to make gluten free cookie cut outs?
Gluten free Christmas cut out cookies can be particularly tricky, because you have to move the cookie dough cut outs without stretching them out (unless you like picasso inspired gingerbread men).
My solution? Roll the cookie dough out directly onto parchment baking paper or a silicone baking mat so that you don't have to move the cookies after you cut them out.
(Watch the video to watch exactly how I do it.)
Perfect shapes every time!
I do my most complex shapes first (like gingerbread men, snowmen, candy canes, stars, or trees) and then I'll re-roll out simple shapes, like rounds or hearts, to add with the scraps.
I'm not worried about losing intricate details on a basic heart or round gluten free sugar cookie, so I will fill in the spaces left on the cookie sheet between the more intricate designs.
Which gluten free flour makes the best gluten free Christmas cookies cut outs?
I've always used my gluten free flour blend to make these sugar cookies and they are perfect every time!
My blend is really high in starch, and makes a very tender and cakey gluten free soft frosted sugar cookie.
Many of my readers have used Bob's 1 to 1 Gluten Free Flour and King Arthur Measure for Measure Gluten free Flour in my gluten free sugar cookie recipe with great results.
I'm still working on testing these and other gluten free flours so that you can make the best gluten free cookies with a gluten free flour that is accessible to you.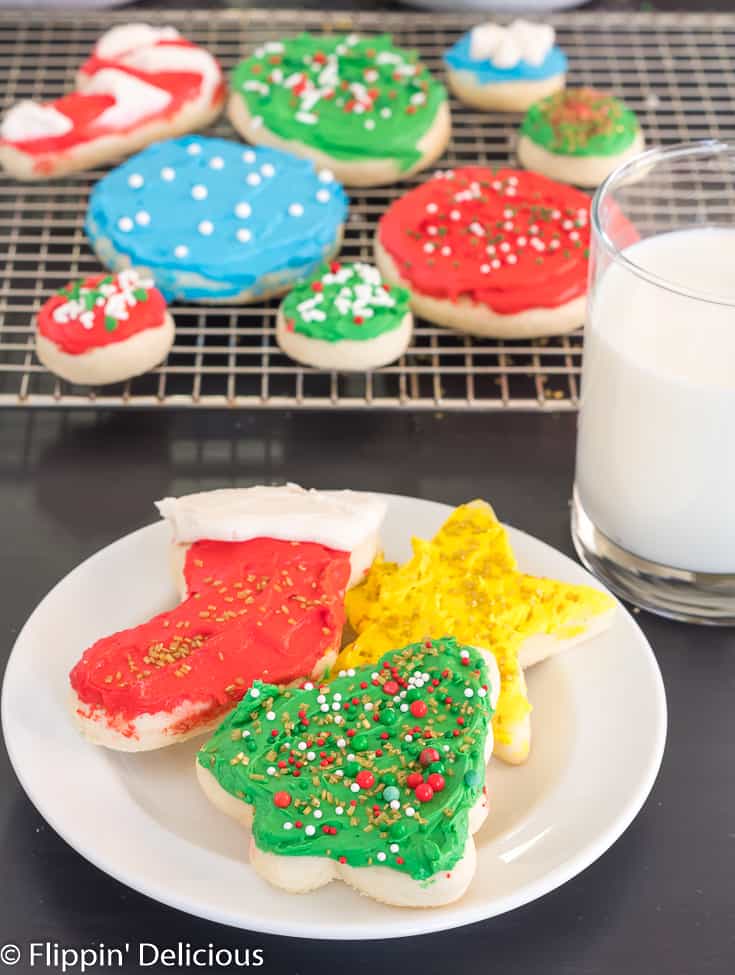 If you really want a flour-free gluten free Christmas cookie, try these Cinnamon Stars made with almond flour that my friend Celeste made.
How to make gluten free sugar cookies vegan or dairy free?
My family often makes these gluten free sugar cookies dairy free or vegan.
My daughter has a dairy intolerance so dairy free is actually our default! I only use butter when I'm planning to share them with dairy eaters.
How to make Gluten Free Dairy Free Christmas Cookies?
To adapt this gluten free sugar cookie recipe to be dairy free, swap the butter in the recipe for a vegan butter (Earth Balance or Melt are my go-to) or palm shortening.
With lots of testing, I've found the best swap to be half vegan butter and half palm shortening.
I've found the vegan shortening alone can tend to be oily or greasy, and can have too strong of a "not real butter" taste.
Tempered with a little palm shortening you get the perfect texture and taste!
(Likewise, I find gluten free dairy free sugar cookies made with all shortening bland and not as tender.)
How to make Vegan Gluten Free Christmas Cookies?
Once you've mastered the dairy free gluten free sugar cookie, you just need to swap in a good egg substitute.
In the past I've relied on flax eggs.
A flax egg is 1 tablespoon of ground flax meal mixed with warm water.
It does a great job of binding, but doesn't add any lift.
A flax egg also tends to taste like...flax. It leaves flax speckles in your cookies, and I don't want my Christmas cookies to look healthy.
More recently I've been using Bob's Red Mill's Egg Replacer.
It has been working great!
It has some baking soda to give your vegan cookies a little extra lift, and it is made with starches and psyllium husk.
You can also use Ener-g egg replacer, though I haven't personally played with it very much.
What is your favorite egg replacer? I'd love to know.
How to frost gluten free Christmas cookies?
You can frost my gluten free Christmas cookies with your favorite frosting, or my easy american buttercream or vegan butttercream frosting.
I will sometimes pull out my frosting tips, but most often I just snip the corner off of a ziploc bag for any details or stripes.
It is so easy to clean up (because I just toss the empty bag in the trash).
Don't forget to add some gluten free sprinkles!
📖 Recipe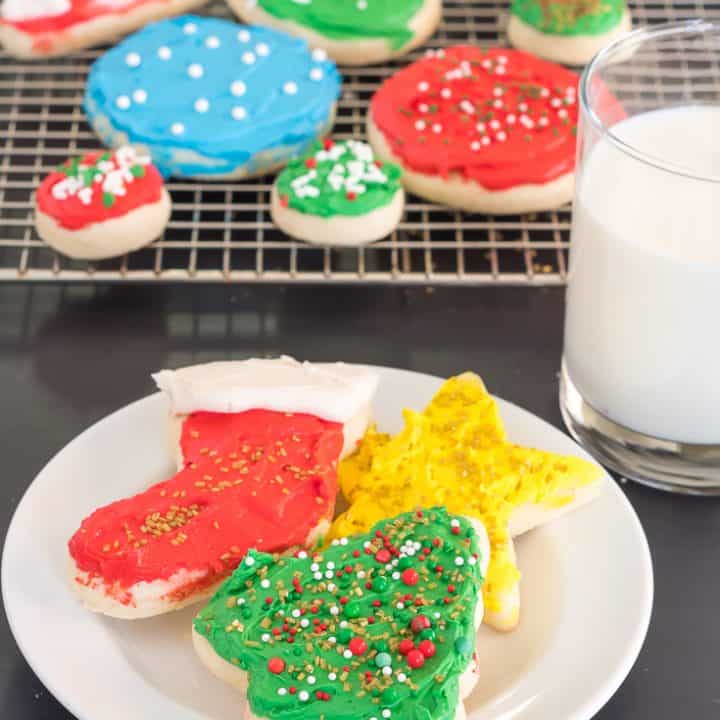 Gluten Free Christmas Sugar Cookies
Yield:
2-3 dozen gluten free sugar cookie cutouts
EASY gluten free Christmas sugar cookie recipe | NO-CHILL gluten free sugar cookie dough with tips to get the perfect gluten free soft sugar cookie cutouts.
Ingredients
½ cup butter, softened
1 cup white sugar
2 eggs
¾ teaspoon salt
1 ½ teaspoons baking powder
Instructions
Preheat the oven to 350F.
Cream the butter and sugar together on low-medium speed. Add the eggs and beat until smooth.
Add the salt, baking powder, xanthan gum, vanilla extract and gluten-free flour and mix until combined.
Lay your silicone baking mat or a sheet of parchment paper on the counter top. Place the dough on top, and then place a sheet of plastic wrap on top. Roll the dough out between the parchment or silicone baking mats until it is approx. ½ inch thick. Peel off the top sheet and cut the cookies out using your favorite chirstmas and holiday cookie cutters (about 3-4 inches in size works best, if they are smaller they will cook quicker) leaving at least 2 inches between the cookies. DO NOT take the cookies off of the baking mat or bottom piece of parchment; you will be baking them just like that. Not taking them off prevents the dough from stretching out of shape. Peel the excess dough off and re-roll the same way, onto a new baking mat or sheet of parchment. (If you are only cutting out rounds, you roll can roll the dough out between 2 sheets of plastic wrap [½ inch thick] and then move the cut outs to the silicone baking mat or parchment lined baking sheet. They may stretch slightly but will generally retain their shape.)
Bake in your pre-heated oven for 8-10 minutes. They will still be soft but the edges will just start to look dry, and the bottom of the cookie will just be starting to brown. They won't look done. If they look done, they are over-baked and may be burnt on the bottom. Let cool for 5-10 minutes on the baking sheet, and then remove to a cooling rack.
Notes
To make these gluten free sugar cookies vegan or dairy free, see notes above for suitable TESTED substitutions.
Nutrition Information
Yield

30
Serving Size

1 cookie
Amount Per Serving
Calories

111
Total Fat

4g
Saturated Fat

2g
Trans Fat

0g
Unsaturated Fat

1g
Cholesterol

21mg
Sodium

107mg
Carbohydrates

18g
Fiber

0g
Sugar

7g
Protein

2g