Rich and creamy vegan chocolate frosting with cocoa powder and melted vegan chocolate. Easily customized vegan chocolate buttercream frosting recipe for all the chocolate lovers out there!
Sometimes you want more than a vanilla vegan frosting. And while my vanilla frosting is incredible (it has great reviews, check them out). I was sad you were missing out by not having an awesome vegan chocolate frosting recipe!
How to make dairy free chocolate frosting:
Spoiler: my chocolate frosting starts out exactly the same as my vegan frosting recipe. There are a few secrets to making a perfect vegan buttercream frosting. You can read more details than you'd ever want to know on in that recipe, and here is the Reader's Digest version.
Use half shortening & half vegan/dairy free butter. I've found that using half and half helps your frosting to have the perfect texture, and a balanced flavor. It doesn't taste like fake butter. If doesn't taste like licking shortening. It is smooth, creamy, and pipable. Will hold up to piped cupcakes and decorated layer cakes with ease. It isn't too soft and melty, or get separated.
Whip it real good. I'm serious. Before you do anything, whip the shortening and butter until fluffy. You can't incorporate air into it as easily once you add powdered sugar.
Add the powdered sugar, vanilla, and a touch of dairy free milk (which is only necessary if your frosting is still too thick). Depending on the temperature and your vegan butter, you may not need the splash of milk.
Whip it again! This is your chance to make your vegan frosting fluffy!
What mixer do you need to make frosting?
A stand mixer, or heavy duty hand-held electric mixer is essential for making fluffy frosting!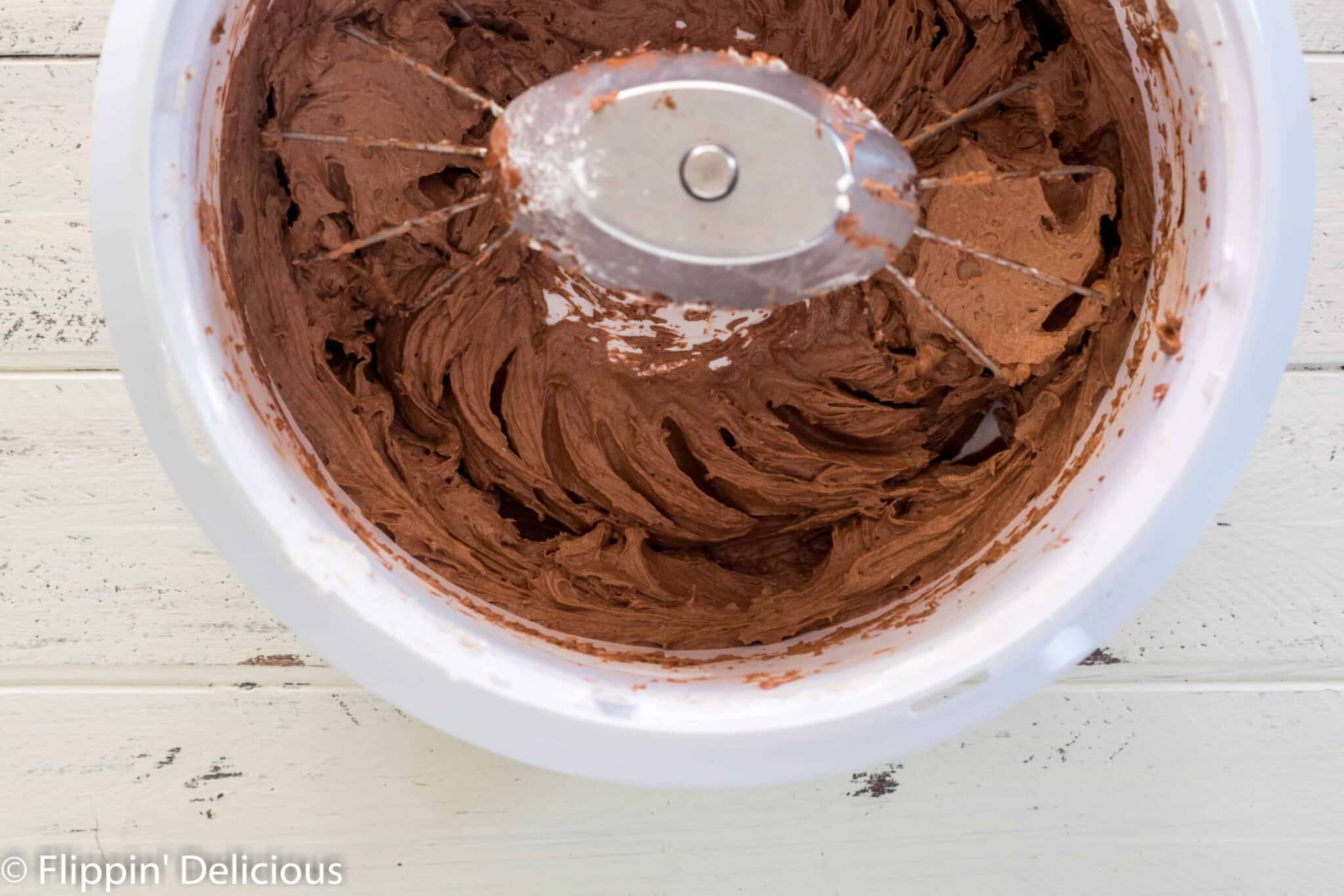 I used my Nutrimill Artiste, and it whips the shortening in butter in about half the time since it has such a strong motor.
The times given are for a hand held mixer, or traditional stand mixer with a overhead motor (the beater swings down into the bowl.) I've tested these times for years in my Bosch Compact, and with my KitchenAid Handheld mixer. They all do a great job! The timing is just a little different.
Once you have your vegan frosting base, you can add chocolate (among other flavorings).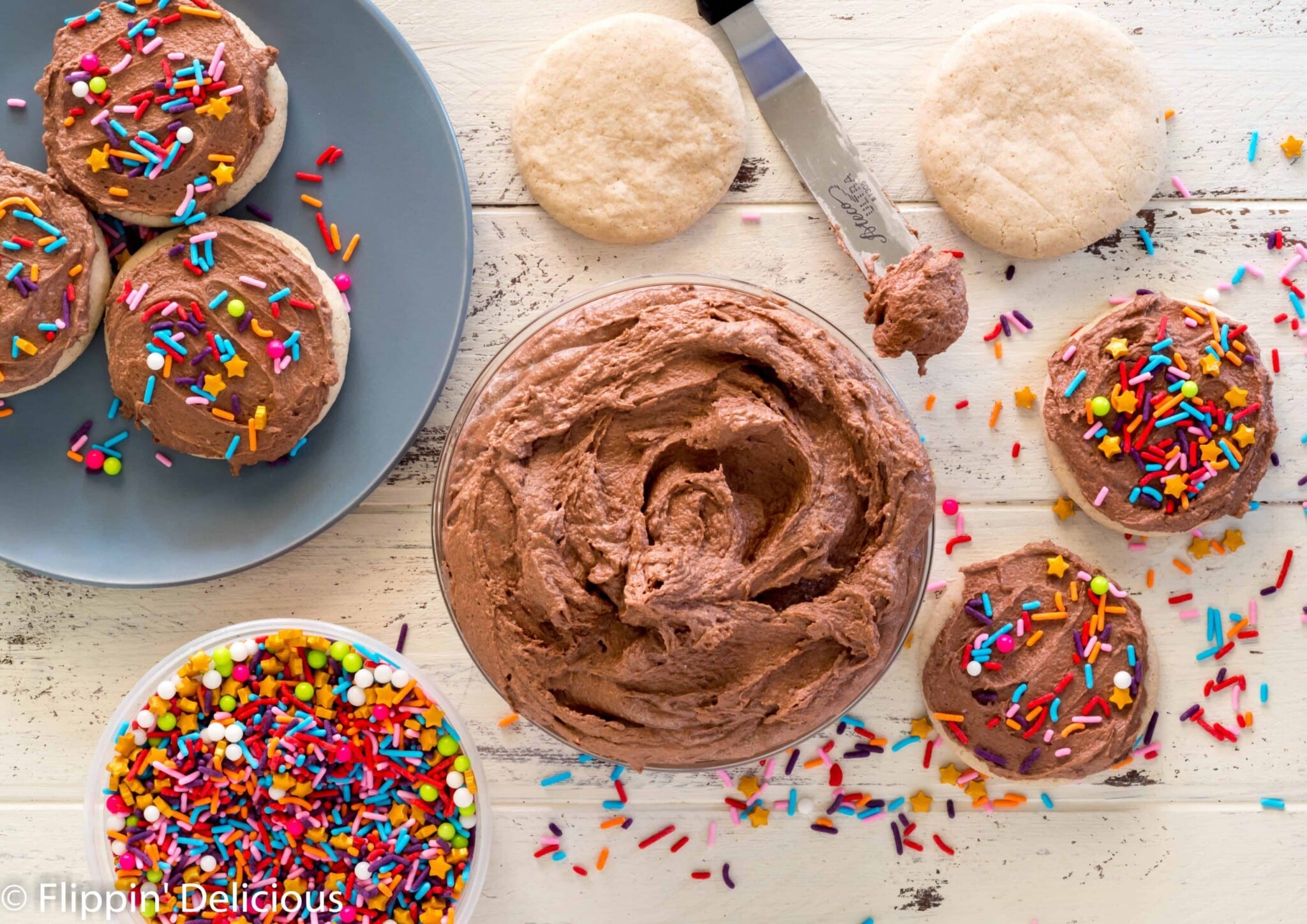 There are two ways to make your vegan frosting chocolate.
While both of chocolate options sound really simple, there are a few secrets to making a really chocolatey, rich, smooth vegan chocolate buttercream.
I used 2 tablespoons of cocoa powder and ¼ cup of melted vegan chocolate in this batch of vegan chocolate frosting. I love combining the two to create a well-rounded and balanced rich chocolate dairy free frosting.
If you want a richer frosting, you can absolutely add more melted chocolate or cocoa powder. I'd recommend using up-to ¼ cup cocoa powder or 1 cup melted vegan chocolate.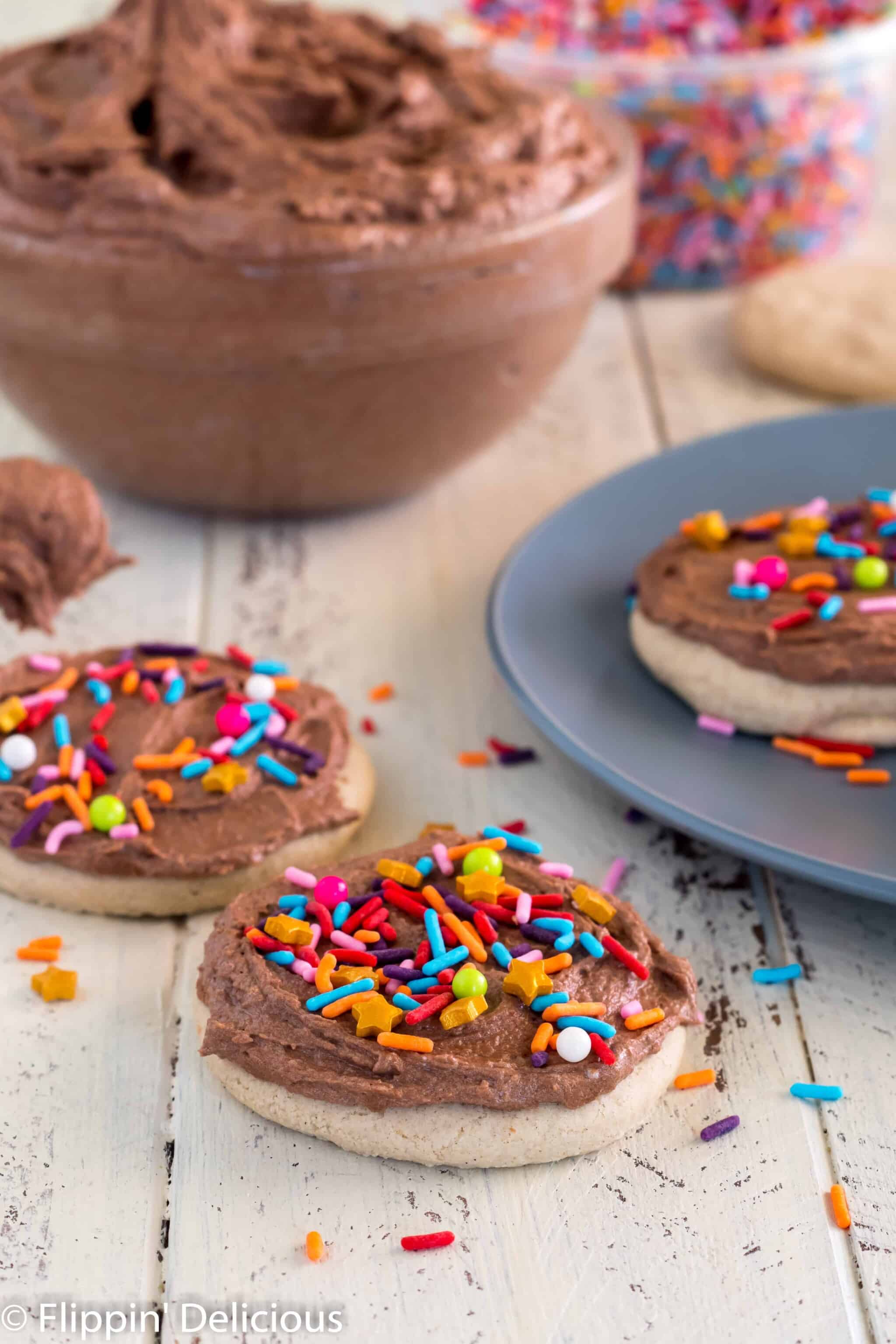 My chocolate vegan frosting is deceptively light because of all the air that I whipped into it. It was rich and full of chocolate flavor!
How to make vegan chocolate frosting with melted chocolate:
Adding melted chocolate to your frosting is the best way to create a dark, rich, creamy vegan chocolate frosting.
However, not everyone has access to a vegan, allergy friendly chocolate.
My favorite vegan chocolates to use in frosting are:
A microwave makes melting chocolate easy! Simply pour your vegan chocolate of choice into a microwave safe bowl and heat for 30 second increments until it is melted.
If you don't have a microwave you can melt your chocolate in a double boiler.
If you don't have a double boiler, you can place a heat-safe bowl over a saucepan with boiling water and heat while stirring until melted.
Let your chocolate cool to body temperature before adding to your frosting. When you touch the melted chocolate with your fingertip, it should feel not hot or cool, but about the same temperature of your skin. Just barely warm.
How to make vegan chocolate frosting with cocoa powder:
Cocoa powder may seem like the easiest way to make chocolate frosting. But if you've ever just added cocoa powder to your favorite frosting, you know that more often than not, it falls flat.
When I'm adding cocoa powder to vegan buttercream, I like to make a paste with cocoa powder and hot water , and then let it cool to room temperature.
All you need is equal parts of cocoa powder and hot water.
To boost the flavor even more, use hot coffee or hot espresso instead of hot water.
The hot water heats up the cocoa butter, and enhances the chocolate flavors (just like when you brew up cup of coffee or tea). The hot water somehow makes the cocoa powder taste more chocolatey!
Using a dutch processed cocoa powder will also give you a better chocolate flavor. Regular baking cocoa is very acidic. A dutch cocoa, or dark cocoa powder will have a much better taste. I usually use Rodelle's Gourmet Baking Cocoa.
Making the paste with cocoa powder also helps it get evenly incorporated into your chocolate frosting, and gives you a chance to break up any cocoa powder lumps so your frosting is smooth and creamy.
Be sure to let the cocoa powder paste to cool to room temperature before beating it into your vegan frosting. If it doesn't cool, it will melt your palm shortening and vegan butter.
What to frosting with vegan chocolate frosting?
I've frosted everything from gluten free vegan sugar cookies, to cupcakes and brownies with this fluffy chocolate vegan frosting! You can add it anywhere you want.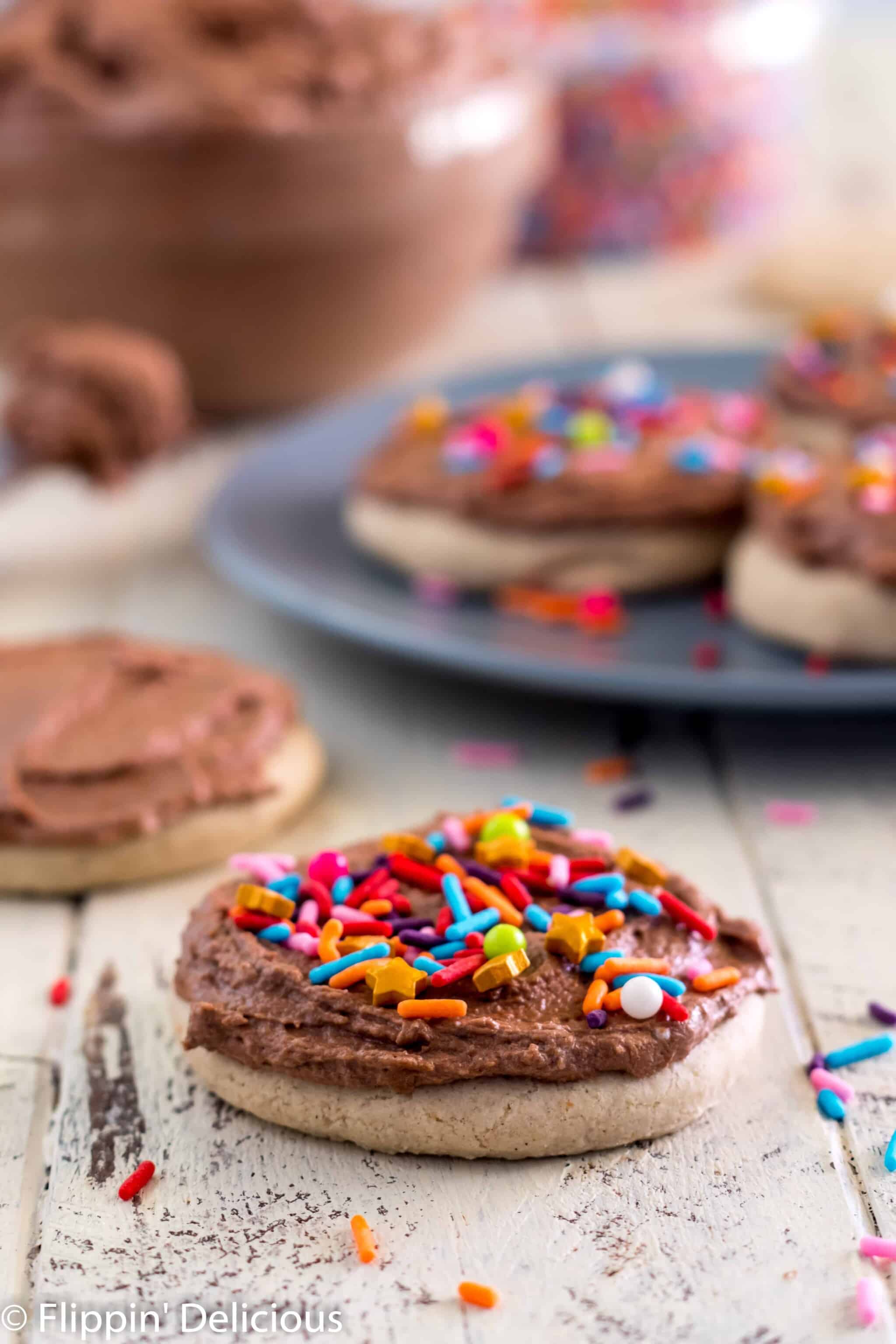 📖 Recipe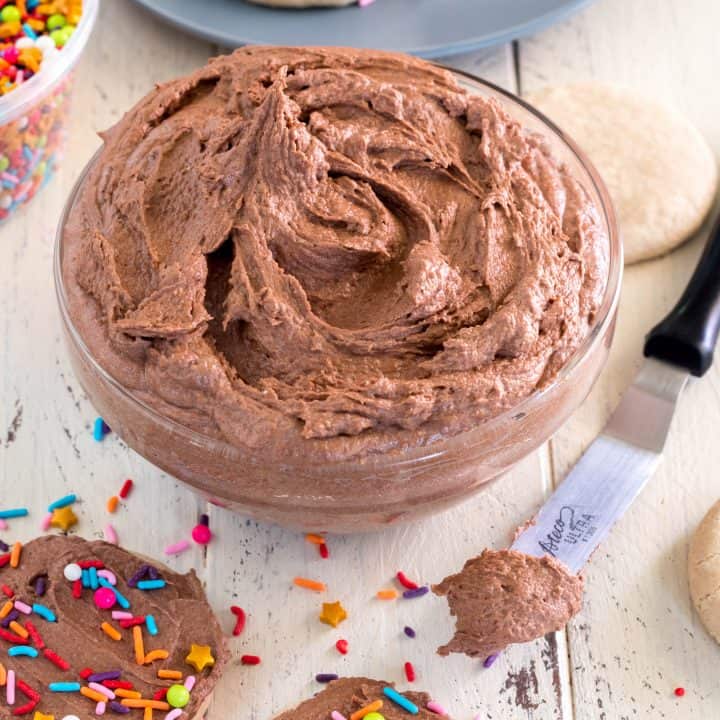 Vegan Chocolate Frosting
Yield:
enough to frost 2 dozen cupcakes
Vegan Chocolate Frosting- sweet, fluffy, and perfectly pipeable, this dairy free chocolate frosting is my go-to for topping cookies and cakes. It makes a mean cupcake, too. Make is as dark chocolate as you'd like!
Ingredients
2 tablespoons hot water or coffee
2 tablespoons dutch processed cocoa powder
1 cup palm shortening
1 cup vegan butter
1 (2 lbs) bag powdered sugar
2 teaspoon vanilla extract or vanilla paste
1-2 tablespoons dairy-free milk
¼ cup vegan chocolate, melted and cooled
Instructions
Mix the cocoa powder with hot water or coffee in a small bowl until it makes a smooth paste. Set aside to cool.
Whip the palm shortening and vegan butter using a stand mixer or heavy duty hand-held mixer for 5 minutes. Set a timer! It should be light in color, and very fluffy.
Add the powdered sugar, and vanilla extract. Beat at a low speed to combine.
Add the dairy-free milk a teaspoon at a time, while whipping, until the frosting comes together.
If the frosting is still too thick add a little dairy free milk.
Add a teaspoon of milk, and then add more ½ a teaspoon at a time until your frosting is smooth and spreadable. And add the milk after the vanilla, since that will add more moisture to your frosting. If you accidentally add too much milk (it happens to the best of us) and your frosting is sloppy, too loose, or weeping, try adding ¼- ½ cup more of powdered sugar. This can sometimes help to absorb the extra liquid and save the day.
Add the cooled cocoa paste, and cooled melted vegan chocolate and mix until combined.
Increase the speed and whip for another 2-3 minutes or until light and fluffy.
Notes
You can easily half this recipe, or even make only a quarter batch.
Be sure to follow the times for whipping the frosting. If you don't whip it long enough, it won't be fluffy.
I've used Earth Balance, Melt, Pure Blends Coconut Oil Spread, and Pure Blends Avocado Oil Spread with great results. I have also used Smart Balance, which makes a looser, softer frosting that may not need any milk.
You can use just cocoa powder, or just melted chocolate to make this vegan chocolate frosting to suit your tastes. You can increase the cocoa powder, up to ¼ cup with ¼ cup of hot water or coffee, and can increase the melted vegan chocolate up to 1 cup for a darker, richer chocolate vegan frosting.
Recommended Products
As an Amazon Associate and member of other affiliate programs, I earn from qualifying purchases.
Nutrition Information
Yield

24
Serving Size

enough for 1 cupcake or cookie ~ 3 tablespoons
Amount Per Serving
Calories

181
Total Fat

17g
Saturated Fat

11g
Trans Fat

0g
Unsaturated Fat

5g
Cholesterol

21mg
Sodium

63mg
Carbohydrates

6g
Fiber

0g
Sugar

6g
Protein

0g