Gluten free camping food ideas and a gluten free menu for camping, including gluten free camping recipes, tips, and tricks.
This post is sponsored by Schar. As always, all opinions are entirely my own.
Before we became avid campers, I never knew what food to pack, or how to plan a menu for camping.
Now I feel like a seasoned camper, and planning our camping menu is a breeze.
I'm sharing my favorite camping meal ideas, and all my tips and tricks.
what camping food is gluten free?
Lots of favorite camping food can be made gluten-free with just a fe easy substitutes.
Camping just isn't the same without hot dogs and s'mores roasted over an open fire.
Schar's Gluten-Free Honeygrams and Gluten Free Hot Dog Buns are camping must-haves!
I keep them on hand in my camping bin so we are to always ready to go camping!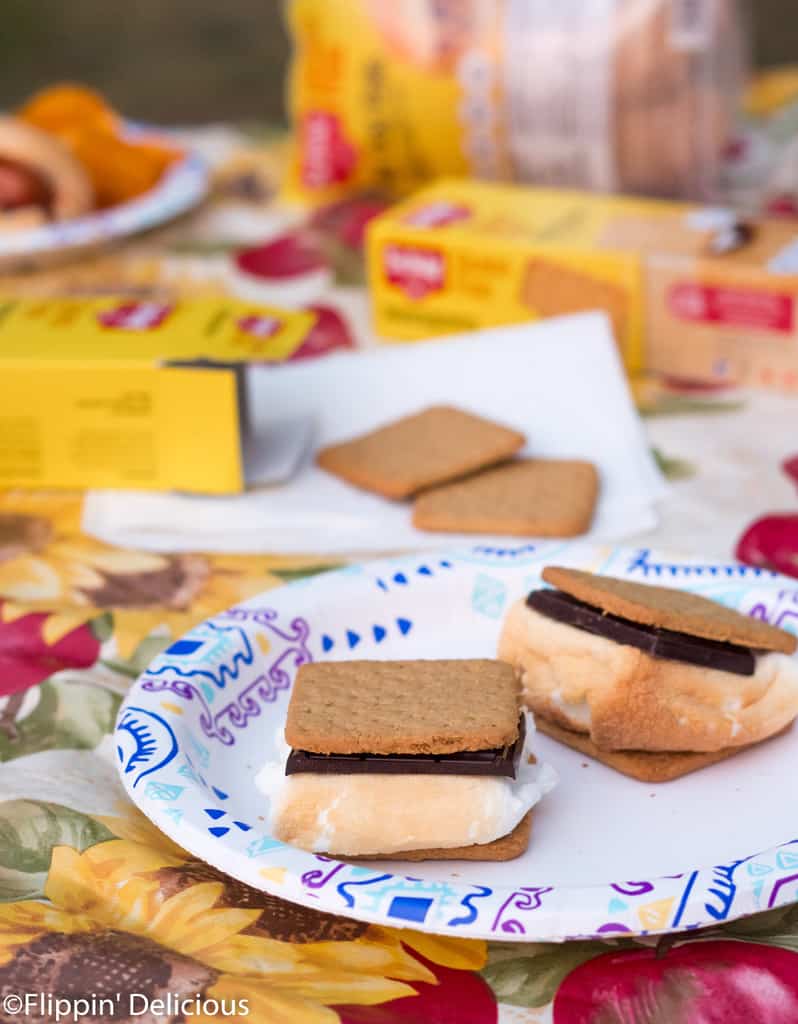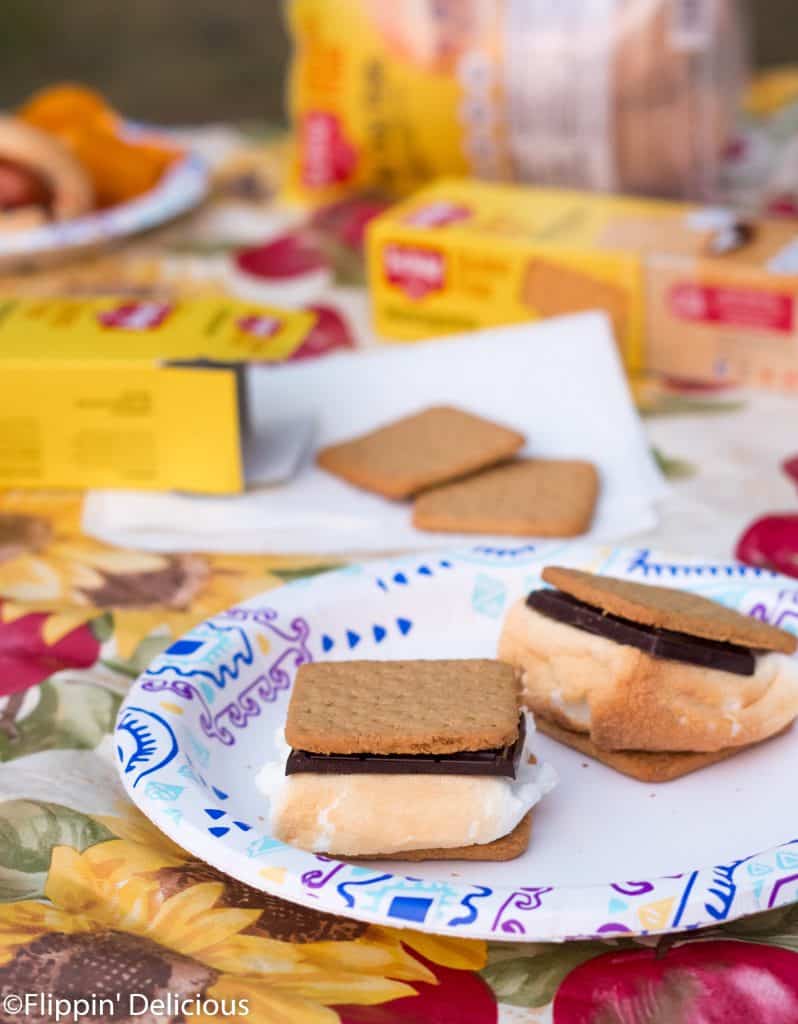 Did you know that Schar's hot dog buns stay fresh for up to 3 months from when they are packages (if you don't open them, that is.)
If you use Schar's Chocolate Honeygrams, you can totally skip the chocolate bars.
And then your s'mores has chocolate on both sides of the marshmallow, too!
gluten free camping menu for a two night camping trip
This is a sample of what I'll pack for gluten free food for a 2 night camping trip.
Dinner the first night, hot dogs and s'mores!
Breakfast, scrambled eggs, bacon or sausage, and hash browns
Lunch(if needed, while packing up camp), leftovers, jerky, cheese sticks, and sandwiches.
Other things I love to pack are gluten-free canned chili (Hormel Chili with beans is gluten-free last I checked, many canned chilis are NOT gluten free.)
Homemade gluten free chili is also a great dutch-oven meal for camping. It is also easy to make on a propane stove!
we also really like packing cereal, and granola with some yogurt.
Don't forget to pack lots of extra gluten free snacks! My kids and I always seem to be extra hungry while we are camping!
On my shopping list for a two day gluten free camping trip:
Gluten-Free Hot Dog Buns
Gluten-Free Honeygrams
Gluten Free bread
Gluten Free Pancake Mix (and any ingredients needed to make it, I try to use mixes that only need water.)
gluten free corn tortillas
Gluten-Free Chips
Dehydrated Hashbrowns
Marshmallows
Chocolate Bars
Salsa and green chile
canned beans
Maple Syrup or Jam
Gluten Free Pasta (short shape)
Jarred pasta sauce
Ketchup
Mustard
mayonaise
Gluten Free Beef Jerky
Instant Coffee or pour-over camping coffee
Gluten-Free Hot Dogs
gluten free lunch meat
Bacon and/or sausage
sliced cheese
Eggs (liquid egg in the carton, if you like scrambled)
shredded cheddar cheese
Mozzarella Cheese
Ricotta Cheese
Butter, to serve with pancakes
cheese sticks
How do you pack gluten free camp food?
I try to plan several meals that use only shelf-stable ingredients so that I don't have to worry about having to get more ice mid-camping trip.
All of the food that needs to be chilled goes into a cooler.
All the other food goes into a large plastic container.
I actually keep my large plastic container stocked with camping staples like Schar's Gluten Free Hot Dog Buns and Gluten Free Honeygrams.
I keep my coolers and bins of food locked in the car at night, to avoid attracting bears or other critters.
gluten free camping menu ideas:
Gluten Free Camping Food
Gluten free camping food and gluten free camping menu ideas, so you can be ready to go on an adventure at a moment's notice.