The best gluten free brownies recipe I have ever made! Rich and fudgy made with cocoa powder and gluten-free flour, they have the perfect flaky top. This is the perfect base gluten free brownie mix for all your homemade gf brownie creations! Add chocolate chips to make them even better!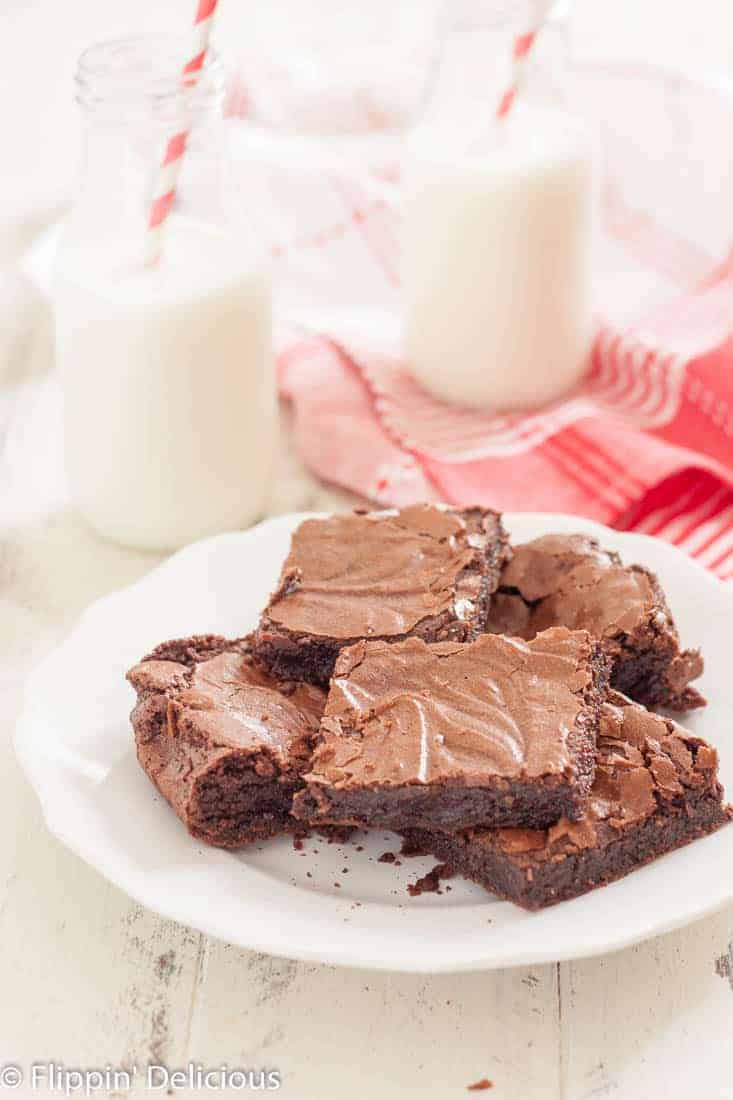 Photos updated 8/2016, video and additional photos added 1/2022
Post & recipe updated 1/2022
Figuring out the best gluten free brownies recipe was quite the journey when I started my search more than 5 years ago.
Getting a chewy, fudgy texture proved to be a challenge when you aren't using wheat flour.
What makes the perfect gluten free brownies recipe, for me:
What I wanted in a gluten free brownie recipe was:
A gluten free brownie using cocoa powder, and not melted chocolate. Because it sounds easier, and makes less dishes.
That flaky, crinkly top on your baked gluten free brownies. It is hard to get! I'd read it has something to do with the balance of fat, and that adding chocolate chips can help you make brownies with a flaky top. I wanted a recipe that doesn't need to add chocolate chips toget a flaky crust. (And I did that! You get that perfect flaky crinkle with or without adding chocolate chips)
Perfect Chewy edges and rich fudgy center.
Easy! Having a one-bowl, no-mixer-needed gluten free brownie recipe is a must for me. I wanted a gf brownie recipe I could mix the dry ingredients up ahead of time and then add the wet, just like a boxed brownie mix. Well, this recipe can do that, and it tastes better than any box mix I've ever had!
Great texture, and taste. I absolutely didn't want brownies that taste "gluten-free".
For me, this recipe checks all those boxes. You only need one bowl, since you don't have to melt chocolate or any other fancy business.
It has the perfect flaky top, without adding chocolate chips, and it has an all-around great taste and texture.
You can even use this recipe to make your own gluten-free brownie mix for gifting, or to make life easier for future you.
(Just read through the more than 40 comments below, there are some great reviews! )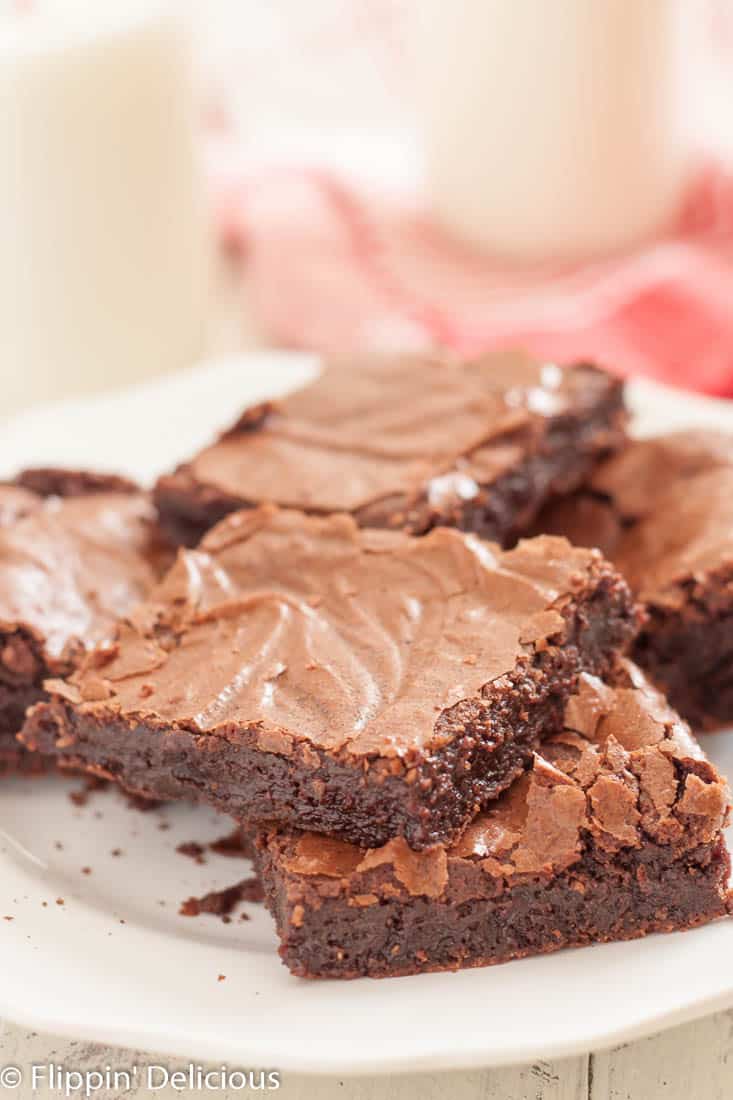 How do you make gluten free brownies
This is an easy gluten-free brownies recipe.
You don't have to pull out a saucepan, or melt chocolate.
You only need one bowl and a handful of pantry staples.
For the flakiest top, I do change the order you mix ingredients, first mixing the oil with the sugar and cocoa.
I feel like this helps my brownies have a better texture, and helps it to get that flaky top.
That said, I do get lazy sometimes and mix it up like a brownie mix. Just mix all the dry ingredients together, and then add the wet ingredients and stir until you have a batter.
It is quick and easy, and you still get some darn delicious gluten free brownies.
Just look at that flaky top... these gf brownies really are better than a box mix.
If fudgy brownies aren't your thing, you'll have to check out my gluten free chewy brownies with almond flour. They are more involved since they use melted chocolate, and almond flour in addition to a gluten free all purpose flour, but they are well worth the effort.

What ingredients do you need to make gluten free brownies?
Melted Butter or Oil. I've used browned butter, melted butter, vegetable oil, coconut oil, canola oil, and melted vegan butter. All work great, and will only change the texture and flavor slightly. Of course, butter tastes better, but I've used whatever is handy.
White Sugar. For this recipe, I prefer white sugar to brown sugar. If you try to use a coconut sugar, or other sweetener it will change the texture of the brownies. Brown sugar or coconut sugar will make them a bit more cakey.
Cocoa Powder. I've used dutch-processed or dark cocoa powder, and traditional cocoa powder. Both are yummy! Remember, the flavor comes from the cocoa so pick one you like.
Vanilla Extract. Vanilla rounds out the flavor of the chocolate, but won't shine so do't waste your expensive stuff.
Pinch of Salt. It make the chocolate taste even more chocolatey! Don't skip it. You can also add a sprinkle of flakey sea salt on top of your gf brownies.
Eggs. I usually use regular eggs, but you can also use egg substitute. I recommend a flax egg or Bob's Red Mill's Egg Replacer (keep reading for my tips on making gluten free vegan brownies.)
Gluten Free Flour. I used my gluten free flour blend, but this recipe requires so little flour that I've had pretty good results when I use a different gluten free flour blend. I've also tested Bob's Red Mill 1 to 1 Gluten-Free Flour and it worked great. I do not recommend substituting a single-ingredient flour like almond flour or coconut flour, it will drastically change the texture. (For almond flour, check out my Almond Flour Brownies).
Xanthan Gum, which is optional. If your gluten free flour doesn't already have xanthan gum in it, I recommend adding some to help simulate the structure that gluten would normally give brownies. If you are using a flour that already has xanthan or guar gum in it, omit the xanthan gum in the recipe. All of that said, I've also made it with my flour and no added xanthan gum and it turns out pretty similar. My sister has also baked it without xanthan gum, and she and her roomates thought they were just as good as regular brownies.
Is cocoa powder gluten free?
Most cocoa powder is gluten free. I've yet to see a cocoa powder that adds wheat, barley, or rye to it, most cocoa powders are 100% ground cocoa.
I still always read the label to double-check that it wasn't manufactured on the same line as something else that has gluten, but I've never found a cocoa powder that isn't gluten free.
A bigger issue would be using an open container of cocoa powder in a home that bakes with wheat flour. Someone could have used the same measuring spoon or cup to measure the cocoa after the flour.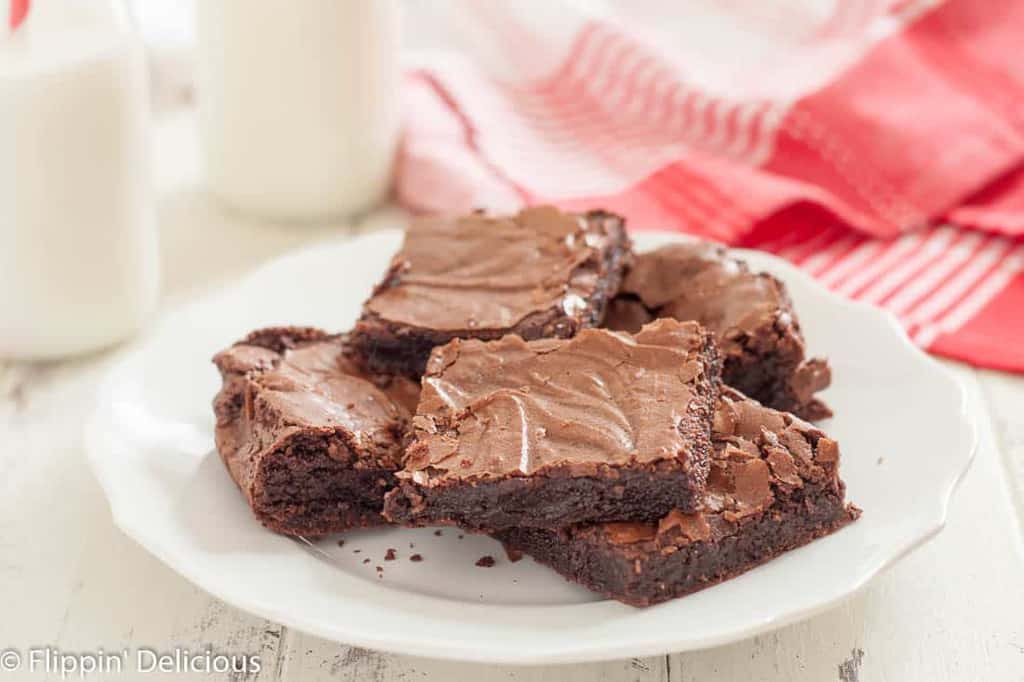 How do you make gluten free brownies recipe dairy free?
If you have to eat dairy-free you can easily use melted vegan butter, or coconut oil or vegetable oil.
Both readers, and I, have tested coconut oil and vegetable oil with great results. I usually use vegetable oil or canola oil, and they turn out great every time!
How do you make vegan gluten free brownies?
This recipe works great with egg substitute to make them vegan and gluten free.
I usually use a flax egg, or Bob's Red Mill's Egg Replacer.
A flax egg is made by mixing 1 tablespoon of flax meal with 3 tablespoons of hot water and letting it sit for a few minutes to gel.
(Remember, you'll need two flax eggs, so you'll need 2 tablespoons of flax meal and 6 tablespoons of hot water.)
When I use Bob's Red Mill's Egg Replacer I like to use 3 tablespoons of water for each tablespoon of egg replacer, instead of the 2 tablespoons in the directions.
I've found that the 2 tablespoons wasn't enough liquid to give my brownie batter the right texture and consistency, but maybe 2 tablespoons will work better for you, I live in a dry climate and at higher altitude.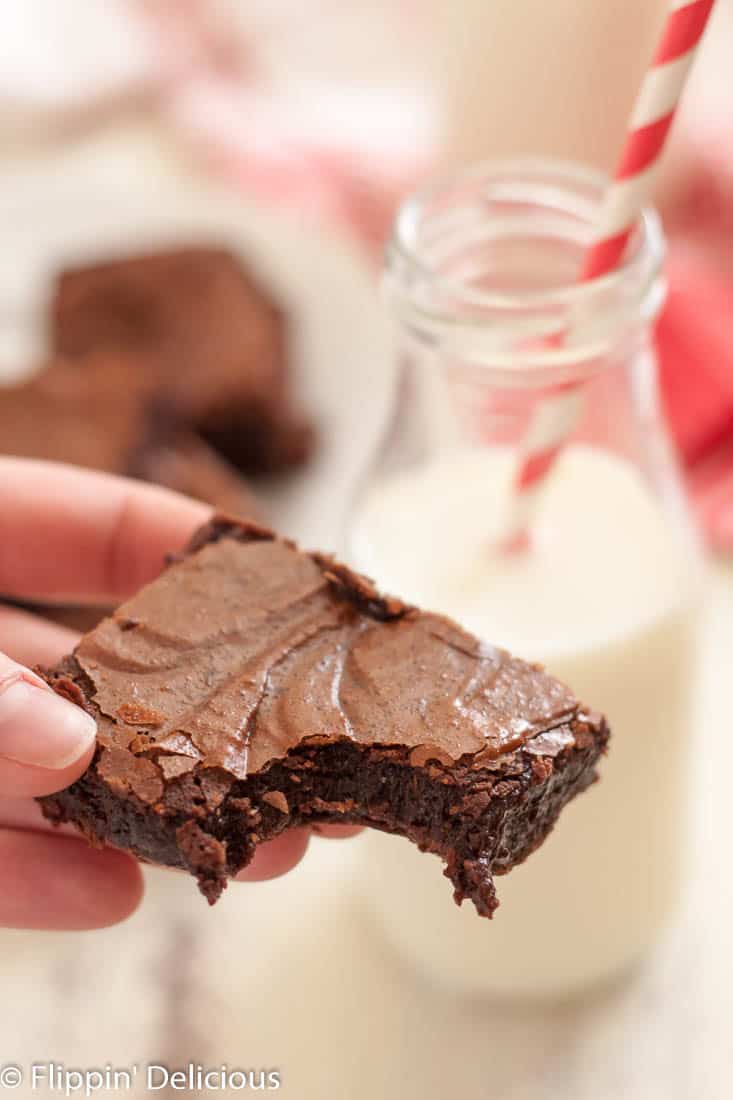 Can I add mix-ins to my gluten free brownie mix?
The short answer, is absolutely! I've added every brownie mix in under the sun to this recipe, and I've loved them all.
This recipe is super versatile and is always a hit.
My favorite gluten free brownie mix-ins are:
Chocolate Chips added to the batter.
Peanut Butter swirled into the batter before baking- Gluten Free Peanut Butter Brownie Recipe
Cream Cheese or Cheesecake Filling swirled into the batter.
Mocha or Coffee Brownies- Add 1 tablespoon of finely ground coffee to the batter and frost with espresso frosting (recipe below).
Oreo-Creme-Style Frosting, on top, once they are baked (recipe below).
Andes Mints or Andes Mint Baking Bits- Gluten Free Mint Brownies
Crushed Candy Canes, either mixed into the batter or added to buttercream frosting on top.
Cookie Dough, either baked with gluten free cookie dough swirled in or frosted with my edible gluten free cookie dough .
Reese's Peanut Butter Cups and other gluten free candy bars baked inside, or sprinkled on top.
Since baking this gluten free fudgy brownie recipe I have used as a base in tons of flavored brownie recipes.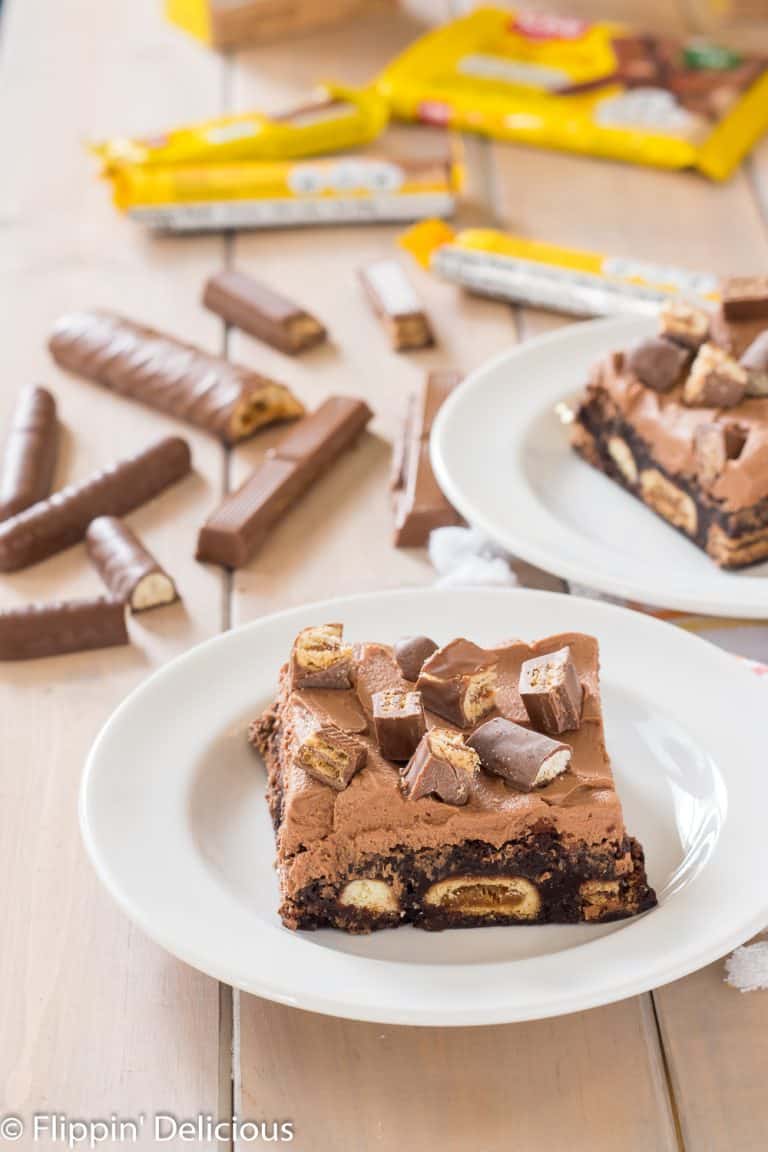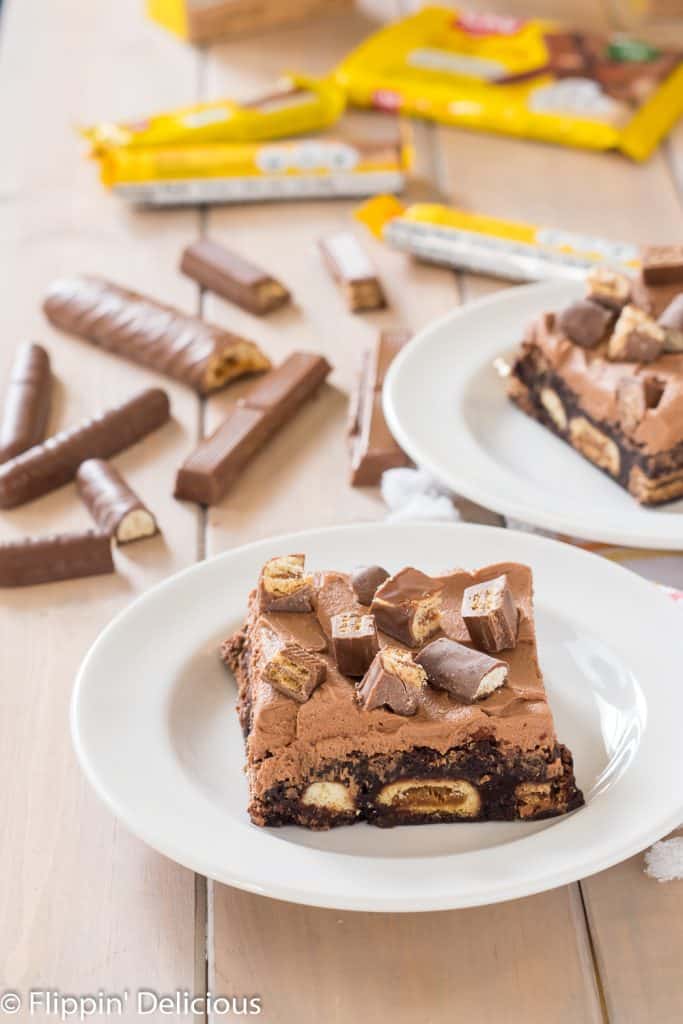 To make vegan cookies and cream or oreo creme frosting for brownies:
To make oreo-style cream frosting you'll need
¼ cup palm shortening
1 teaspoons granulated sugar
1 ½ cups powdered sugar
1 ½ tablespoons hot water
1 teaspoons vanilla extract
¼ cup gluten free chocolate cookie crumbs (optional, if you want to make cookies and cream frosting)
With electric beaters, whip the palm shortening and granulated sugar until light and fluffy.
Add the powdered sugar, vanilla, and hot water and beat at low speed until combined. Whip for another 2-3 minutes.
Beat in the cookie crumbs and spread the frosting over the cooled brownies. Top with melted chocolate if desired.
To make espresso frosting for gluten free mocha brownies:
¼ cup vegan butter (or dairy butter if you can tolerate)
1 ¾ cup powdered sugar
2 Tablespoons cocoa powder
1 ½ Tablespoons espresso, cooled
3 tablespoons chocolate sprinkles!
With electric beaters or in a stand mixer whip the butter until light and fluffy (2-3 minutes.)
Add 1 cup of powdered sugar, the cocoa powder, and the espresso. Beat until combined and then add the remaining powdered sugar ¼ cup at a time until you reach the desired frosting consistency. Whip for another 2-3 minutes.
What is the best pan for baking gluten free brownies?
There are tons of different opinions on the very best pan for brownies.
Glass pan or metal pan? There is a never-ending debate. Here is what I like best about each pan.
If you like chewier edges, I recommend a metal pan. I'll actually use my 9 inch round cake pan to bake brownies when I want a chewier edge.
The metal edge heats quickly, which bakes the edges of your gluten free brownies a little bit more leaving them perfectly chewy, while keeping that fudgy brownie center.
I usually use my square 8 inch glass baking dish. It heats evenly, and I don't have to worry about overbaking, and making the edges too chewy.
Whichever pan you use, I recommend lining your pan with parchment paper so you can easily remove your brownies and cut them into perfect squares.
If you don't line your pan with parchment paper, please thoroughly grease your pan before adding the gluten free brownie batter.
How long do gluten free brownies last?
If sealed in an airtight container, gluten free brownies will last about 5-7 days (if you can hide them from your family). You can store them at room temperature or in the fridge.
Gluten Free Brownies never last more than an afternoon at our house, unless I hide them in the depths of our freezer. Everyone eats them up! If you can get them to last longer at your house, tell me how!
Can I freeze gluten free brownies?
To save your gluten free brownies longer, you can freeze them for up to 3 months.
Seal them tightly in an air-tight container or freezer bag. I like to place wax or parchment paper in-between my frozen gluten free brownies so that they don't stick together and come out as a brick of frozen brownies.
📖 Recipe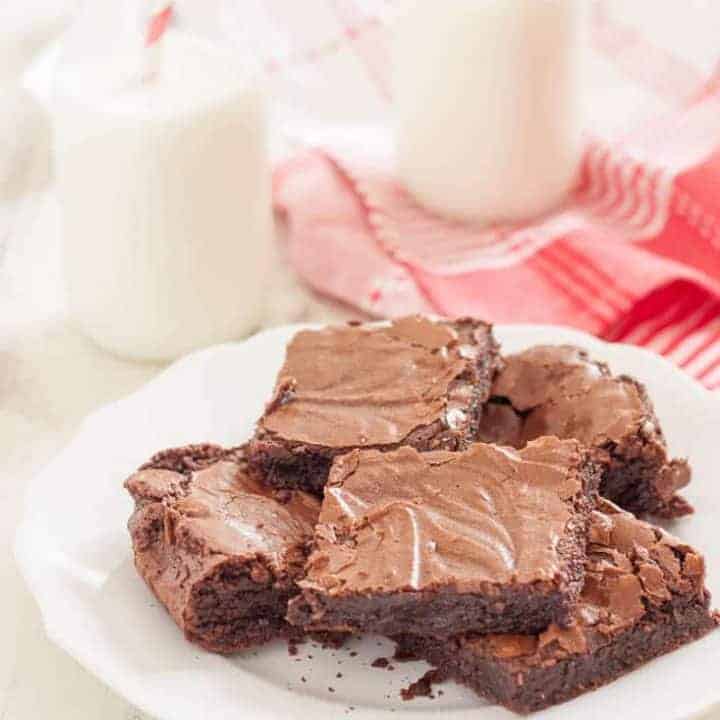 Gluten Free Brownies Recipe
Fudgy gluten free brownies recipe made with cocoa powder with a dairy free option.
Ingredients
6 tablespoons melted butter, or coconut oil
1 ¼ cup granulated sugar
¾ cup unsweetened cocoa powder
¼ teaspoon salt
1 teaspoon vanilla extract
2 eggs
¼ teaspoon xanthan gum (omit if your flour already has it)
Instructions
Preheat oven to 350 degrees.
Grease a 8x8 baking pan, or line it with parchment paper.
Pour the melted butter (or melted coconut oil, or canola or vegetable oil) into a medium bowl, or the bowl of your stand mixer. Add the sugar and cocoa powder.
Beat the sugar butter, and cocoa powder until smooth and almost creamy. You can do this with a stand mixer, electric hand mixer, or just using a whisk (which is my normal method.)
Add the salt and vanilla and mix to combine.
Add the eggs, one at a time, mixing in between each addition. You can also use egg substitute, equal to two eggs. *see note
Add the gluten free flour and mix well. The batter will be very thick, and will be smooth.
Use a sturdy spatula to spread batter in the prepared 8x8 pan.
Bake for 30-35 minutes until toothpick inserted comes out with a few crumbs and no wet batter.
Let cool, then cut into 2" squares. Try really hard to not eat them all yourself. (Larger, 3 inch brownies are pictured, which is why they look thin.
Notes
To make this recipe even easier, you can make it gluten free brownie mix style. Simply whisk the dry ingredients (gluten free flour, xanthan gum, cocoa powder, sugar, and salt), and then add the wet ingredients (butter or oil, vanilla, and eggs) and mix until combined. Then bake as directed. This works great when you are trying to prep ahead of time, or if you are wanting to gift someone gluten free brownie mix.
You can use melted butter, vegetable oil avocado oil, coconut oil, canola oil, or any other neutral-flavored oil to bake these brownies. This has been our family's go-to recipe for more than 5 years, and we've tried them all.
Originally I used a stand mixer to make this recipe, but it is totally unnecessary. I usually use a whisk to mix the oil with the sugar and cocoa powder and keep using it until after the eggs are added. Then I switch to a heavy-duty rubber spatula or a wooden spoon when I add the gluten free flour.
You can use an egg substitute equal to 2 eggs to make these gluten free brownies vegan. I like using a flax egg or Bob's Red Mill's Egg Replacer in this recipe. To make one flax egg, simply mix 1 tablespoon flax meal mixed with 3 tablespoons of hot water and let it sit for five minutes to gel. To use Bob's Red Mill's Egg Replace, mix one tablespoon of powdered egg replacer with 3 tablespoons water (instead of the 2 tablespoons the directions call for).
Recommended Products
As an Amazon Associate and member of other affiliate programs, I earn from qualifying purchases.
Nutrition Information
Yield

16
Serving Size

1
Amount Per Serving
Calories

131
Total Fat

6g
Saturated Fat

4g
Trans Fat

0g
Unsaturated Fat

2g
Cholesterol

35mg
Sodium

76mg
Carbohydrates

18g
Fiber

1g
Sugar

16g
Protein

2g
All nutrition info is a guestimate and will vary depending on the ingredients you use.
I originally used browned butter in this recipe way back in 2013, inspired by Something Swanky's Browned Butter Brownies. The subtle nuttiness of browned butter really makes them special. If you can do dairy, give it a try!