Is this your first Gluten Free Thanksgiving? Maybe you are a seasoned gluten free Thanksgiving pro looking for some tips and tricks?
Either way, this easy gluten free Thanksgiving menu has all the gluten free recipes you need for your Thanksgiving feast.
Easy Gluten Free Thanksgiving Recipes & Menu
Thanksgiving is such a food-centric holiday, it can be overwhelming when you have to make the entire Thanksgiving gluten free (or at least the parts you or a loved one wants to be able to eat). I'm breaking it down, sharing my favorite EASY recipes so you don't have to stress.
Happy Gluten Free Thanksgiving!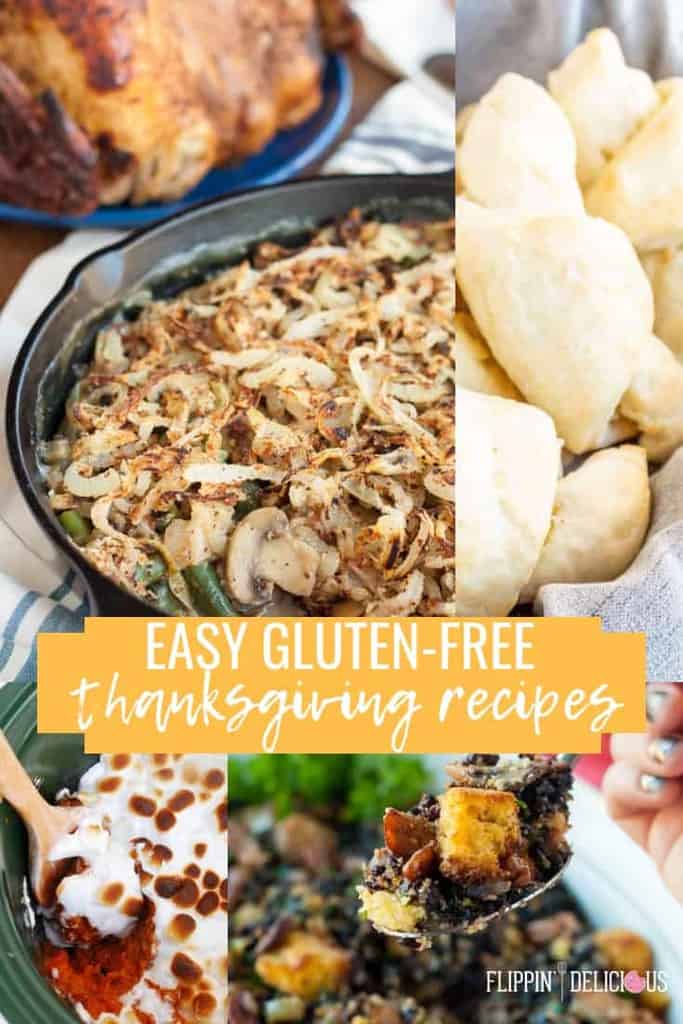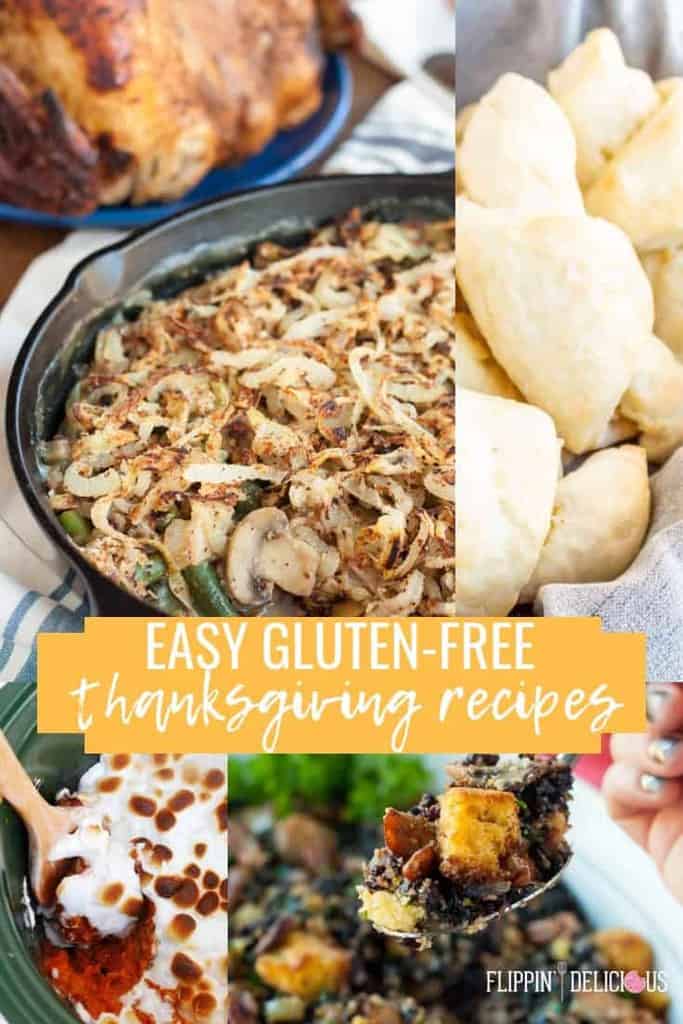 If you are looking for low carb or keto Thanksgiving recipes, check out this list of Best Keto Thanksgiving Recipes.
How to make a gluten free Thanksgiving Dinner?
Here are all of my favorite easy gluten free recipes for Thanksgiving.
I tried to only share one of two of my favorite recipes, instead of overwhelming you with dozens of gluten free recipes.
There are already enough visiting in-laws and guest to overwhelm you, you don't need to plan an overwhelming complicated menu on top of that.
Gluten Free Recipes for Thanksgiving
Start with the star. Are you making a gluten free thanksgiving turkey, or ham?
Gluten Free Thanksgiving Turkey
Since we are on easy mode, make Allergy Awesomeness's Slow Cooker Turkey. It can be made in the Instant Pot, too.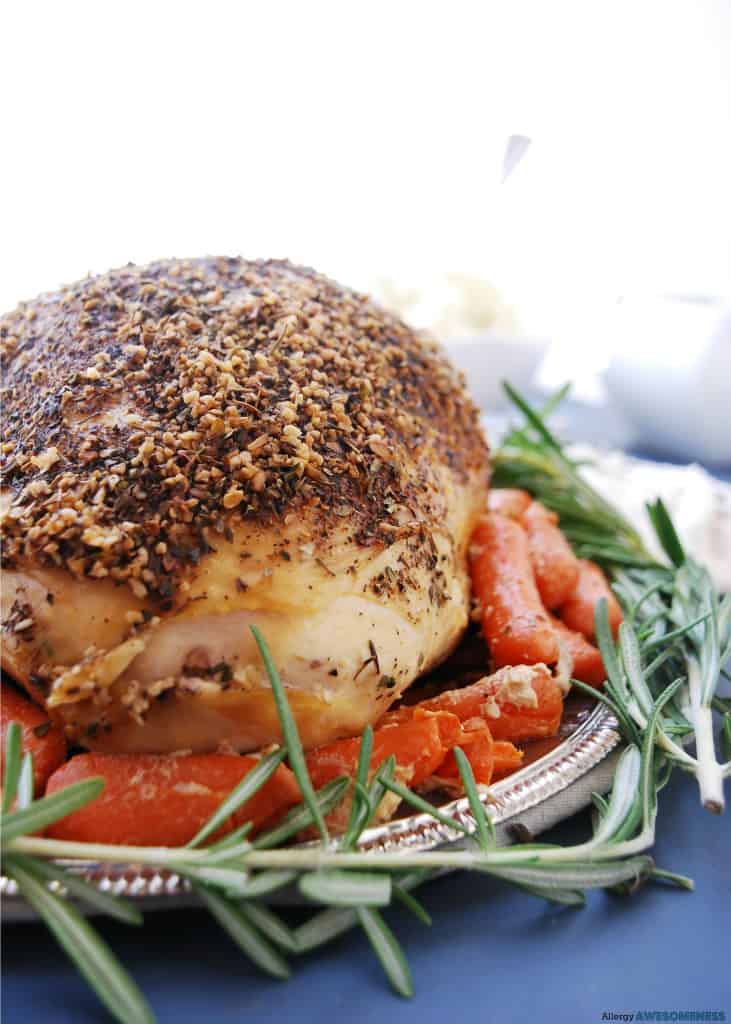 It you want a more traditional roasted turkey, try Eat At Our Table's no fail gluten free brined turkey.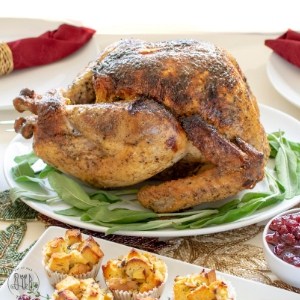 Even easier mode, try my Instant Pot Stuffed Turkey Tenderloin. Perfect for if you just want a small gluten free thanksgiving meal for 2-3 people.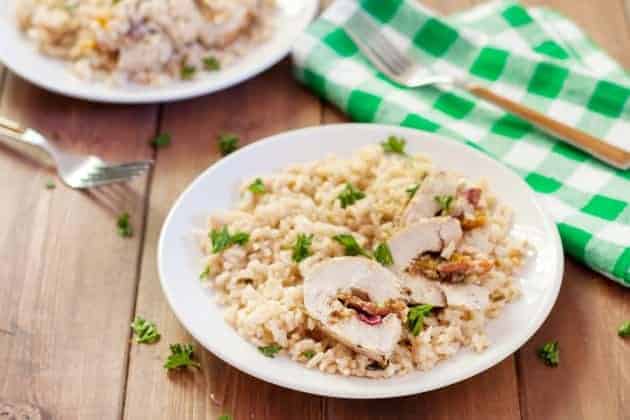 We can't talk turkey without talking gluten free gravy.
How do you make gluten free gravy?
You can make gluten free gravy the same way as regular gravy, but using a gluten free flour or cornstarch to thicken it. Don't use the gravy mix that comes with your turkey unless it is specifically labeled gluten free. Most aren't!
I love Gluten-Free Palates gluten free gravy because it only takes 5 minutes and has just 4 ingredients. Talk about an easy gluten free Thanksgiving!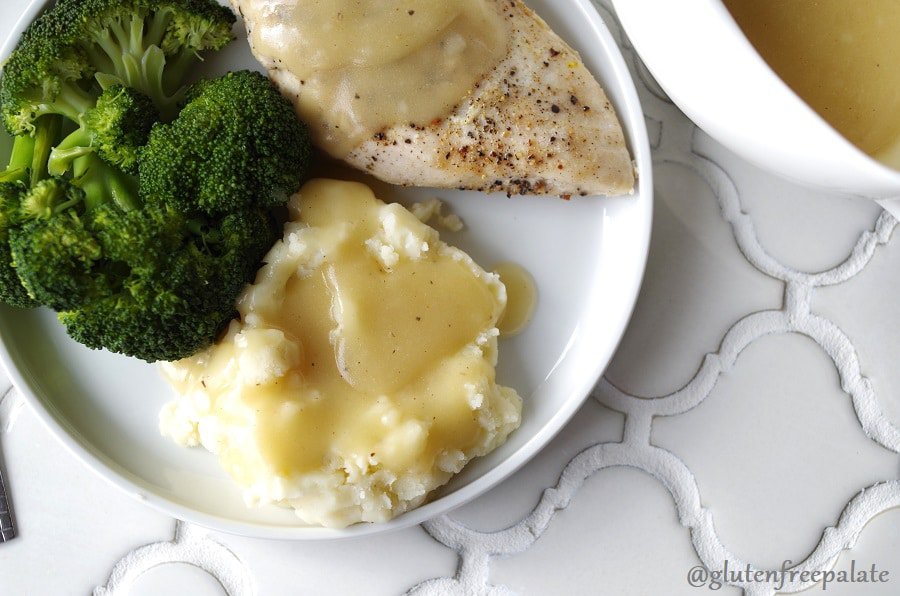 Another great (and super duper easy) gluten free gravy recipe is from Life After Wheat.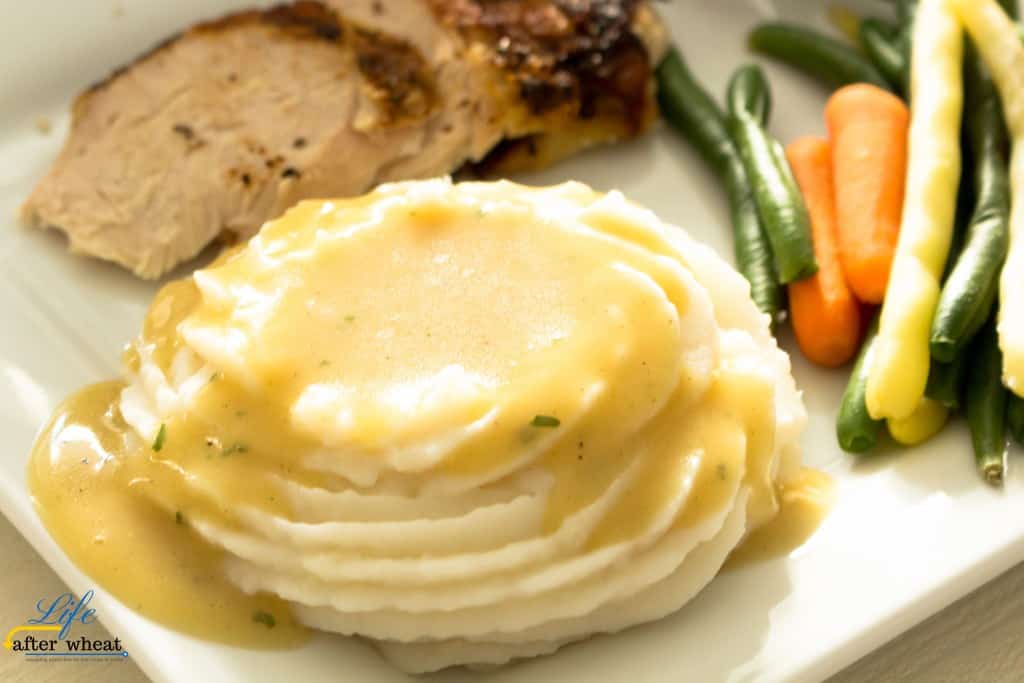 6 Easy Gluten Free Side Dish Recipes for Thanksgiving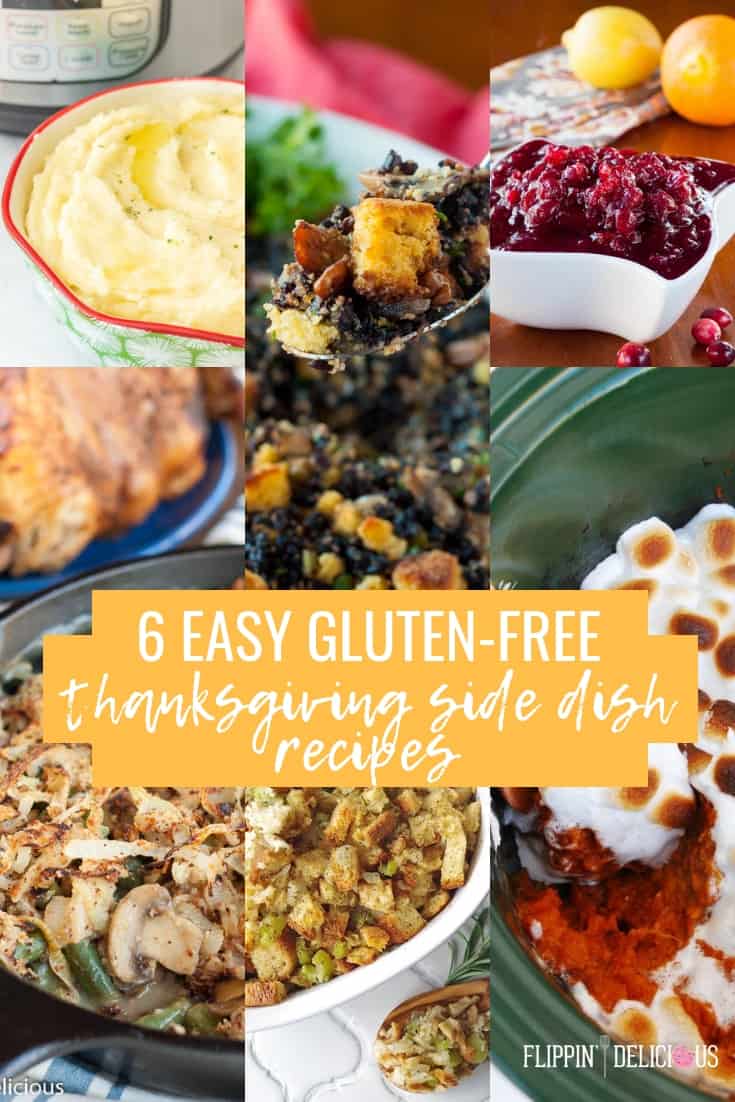 How do you make gluten free dressing for Thanksgiving?
We'll start with gluten free dressing/gluten free stuffing. The only difference between gluten free dressing and gluten free stuffing (in my opinion) is that stuffing goes in the bird, and dressing doesn't.
I don't like stuffing my bird. In my experience, the bird gets dried out while you wait for the stuffing to hit a safe temp. Also, getting the stuffing to a food-safe temp within 4 hours is a challenge.
It is also more work and hassle.
Remember, this is an easy gluten free thanksgiving menu.
Make it easy on yourself and don't stuff your stuffing.
Gluten free Dressing for Thanksgiving
My family has a favorite gluten free cornbread dressing recipe we've been making for years. This is a gussied up version, but you can simplify it.
My recipe has sausage, pecans, and wild rice.
Skip the sausage and wild rice to make it quick and easy.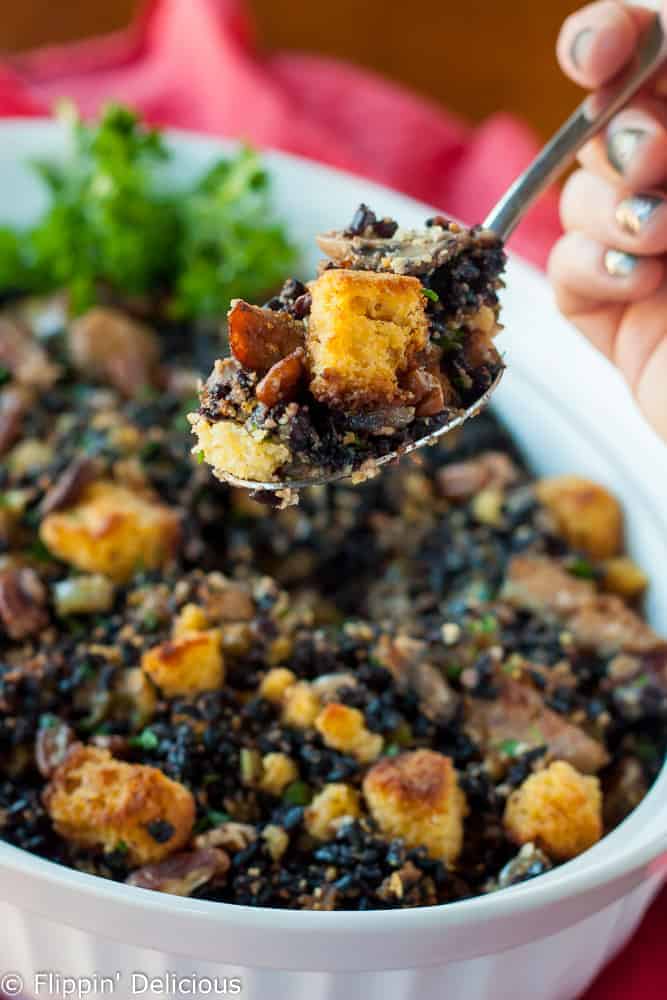 You'll need a gluten free cornbread recipe too. Make gluten free cornbread as your bread and use some of it for your gluten free dressing. Kill two birds with one stone.
My family's all time favorite recipe, and our new tradition, is to make gluten free green chile stuffing. It is classic stuffing, made gluten-free with a spicy twist.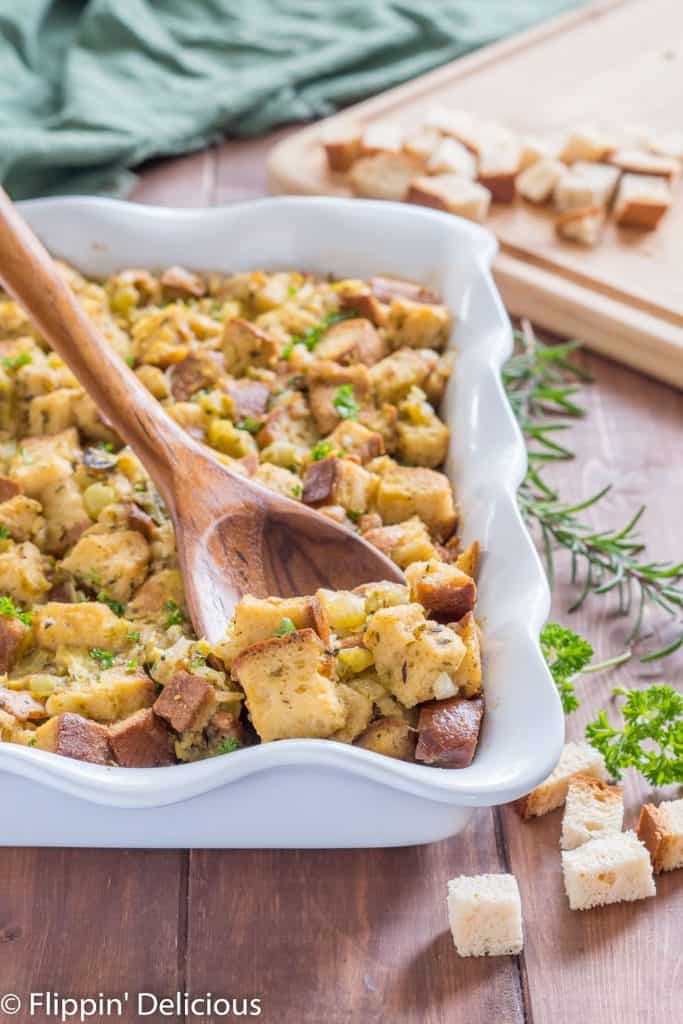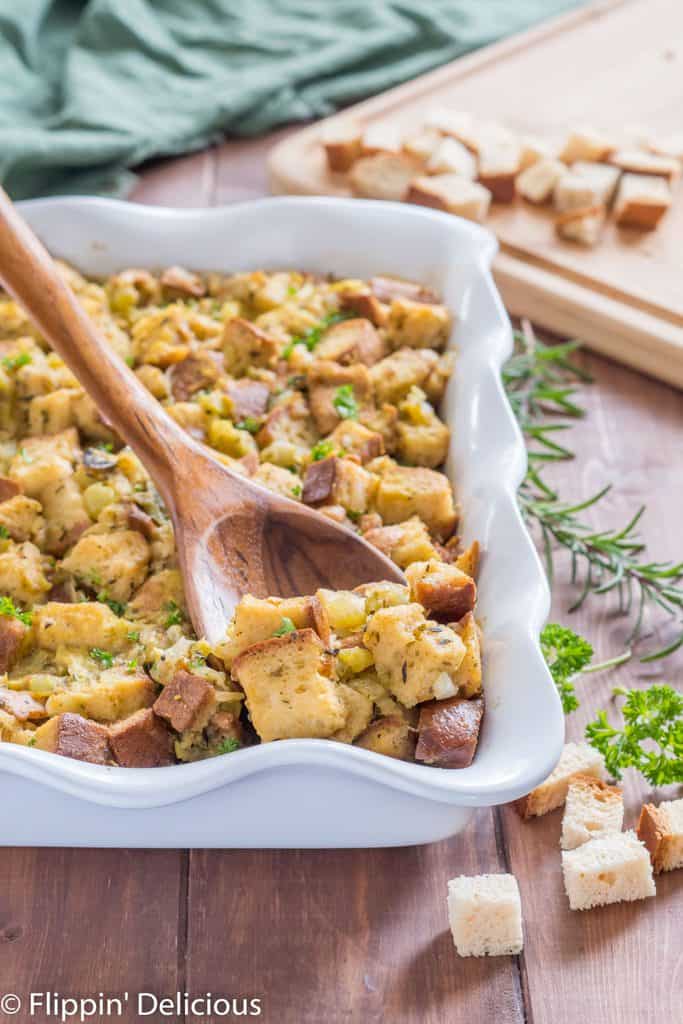 My friend Chrystal from Gluten-Free Palate has a traditional gluten free stuffing recipe that is amazing!
If you want to go the traditional bread stuffing route, her recipe is great because it only uses one loaf of bread and has less than 10 ingredients.
Again, this is an easy gluten free Thanksgiving menu with easy gluten free Thanksgiving recipes.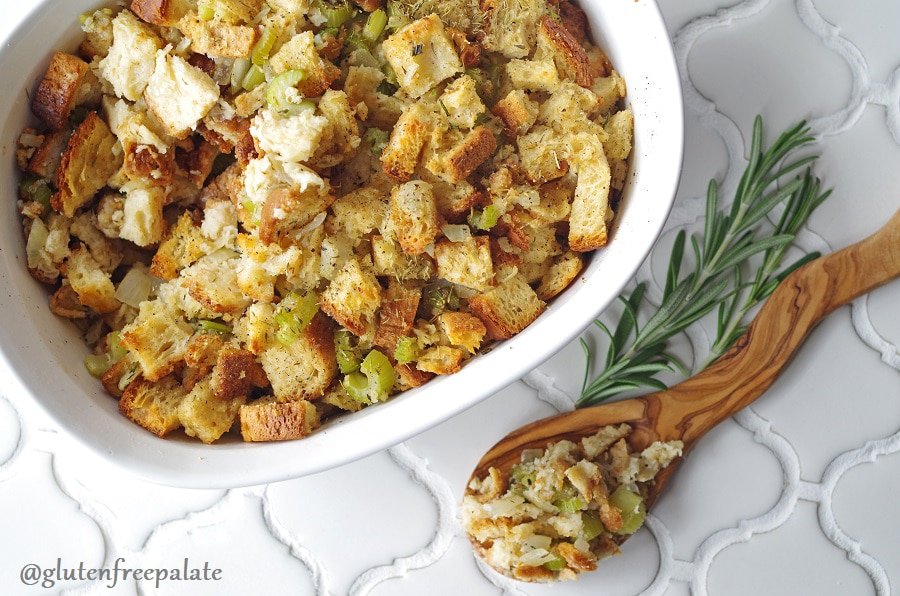 Gluten Free Thanksgiving Side Dish Recipes
It isn't Thanksgiving at my house without some green beans.
My favorite gluten free vegan green bean casserole is always a bit hit! It is actually really easy to make!
If you find some gluten free fried onions, you can skip the homemade gluten free fried onions on top, swapping in the store-bought gluten free fried onions.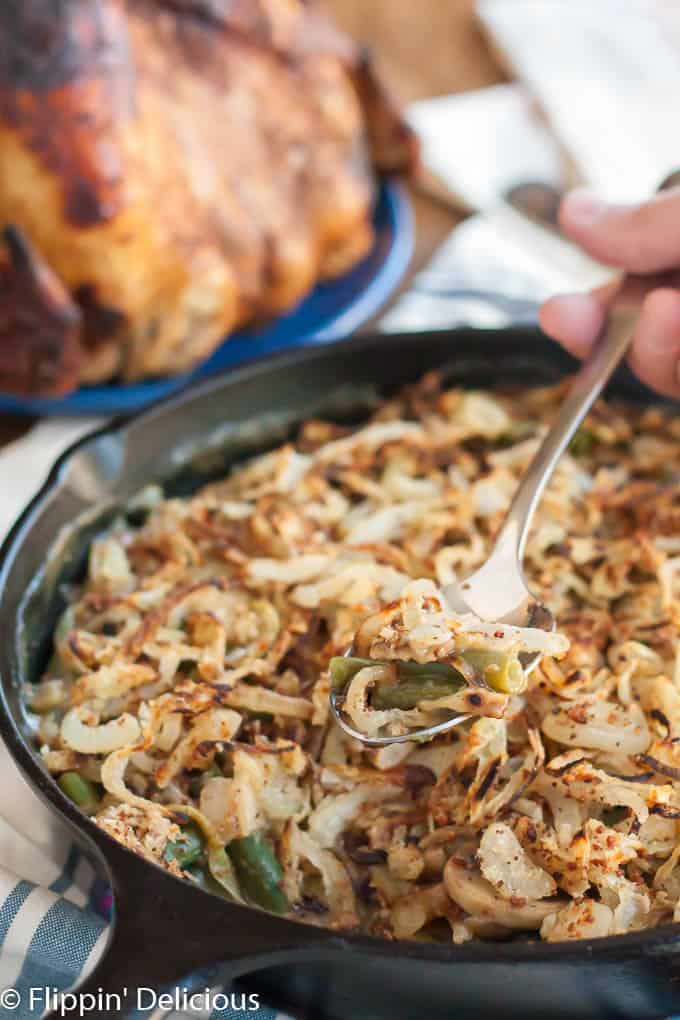 I never skip the cranberry sauce!
You don't want that crap from the can either.
When I was a teenager, I watched Alton Brown's Thanksgiving episode of Good Eats and made his cranberry turkey dipping sauce My family has been hooked since!
Turkey's tryptophan plus the over load of food and silky gluten free gravy makes me crave a bright fruity bite to contrast all the richness.
Over the years, I've switched over to my 15-minute cranberry sauce with just 4 ingredients (cranberries, orange, apple cider, and sugar.) It is easy, and has all the harvest flavors I crave.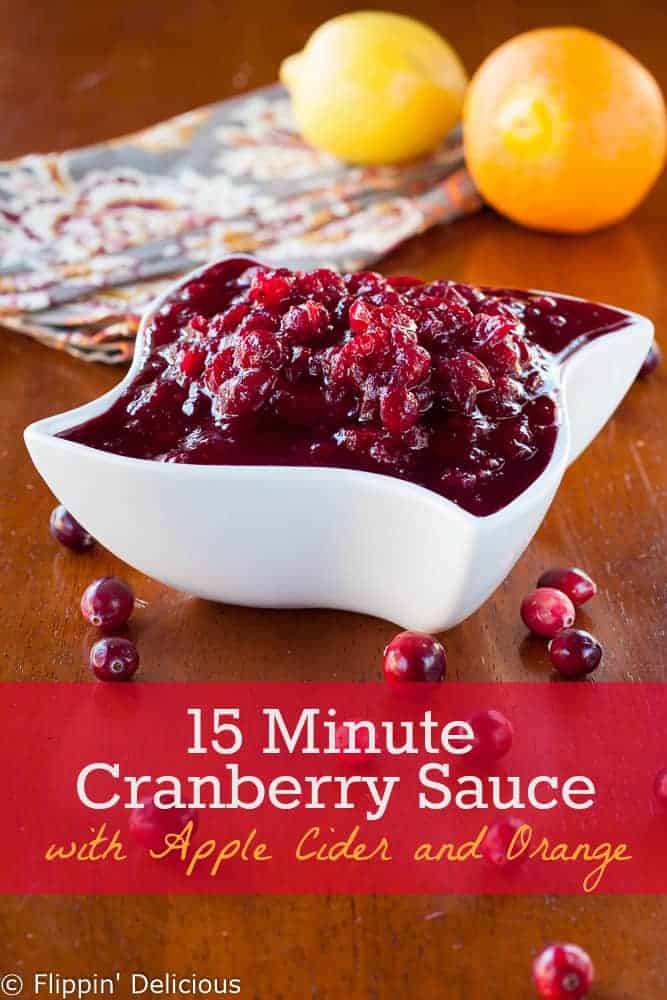 You can't skip the mashed potatoes!
I've been making my mashed potatoes in my Instant Pot for the past few years. It is so easy! No draining. You just add your ingredients to your Instant Pot, pressure cook it, and then mash it right there in the pan.
It doesn't get easier.
This year I'm following My Gluten-Free Kitchen's Gluten Free Dairy Free Instant Pot Mashed Potatoes Recipe.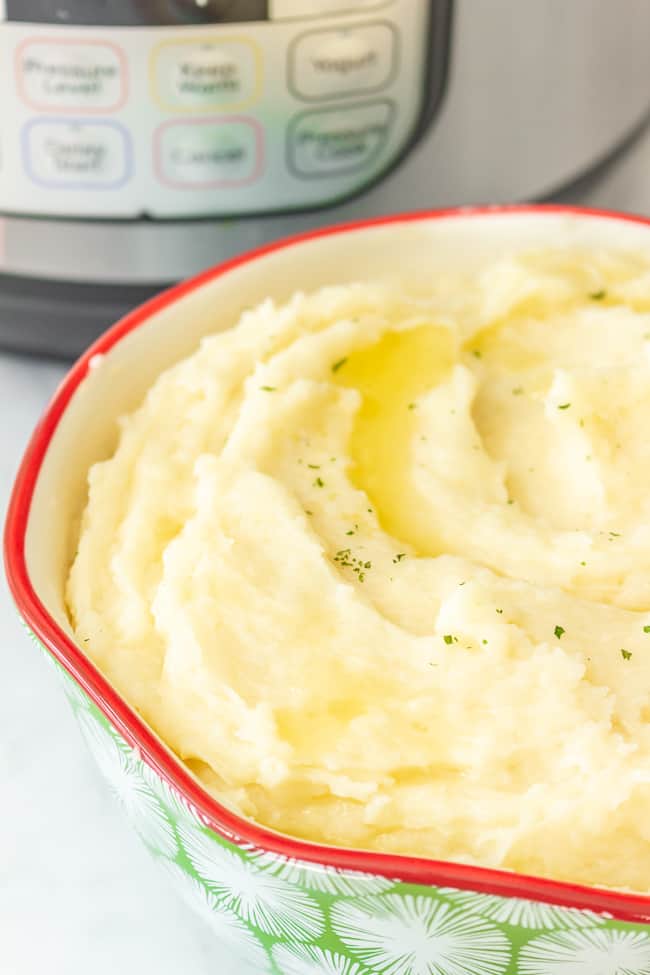 Do you serve sweet potatoes as a gluten free Thanksgiving side dish?
Give Allergy Awesomeness's slow cooker sweet potato casserole a try.
Since it is made in the slow cooker, it couldn't be easier!
Gluten Free rolls for Thanksgiving
For years my family spent hours laboring over gluten free rolls that sucked. Please don't do what we did. Use these tried and true recipes for gluten free rolls that everyone will love.
My Gluten Free Kitchen's gluten free pull apart rolls are super easy to make! You form the rolls with an ice cream scoop, and they turn out perfect every time.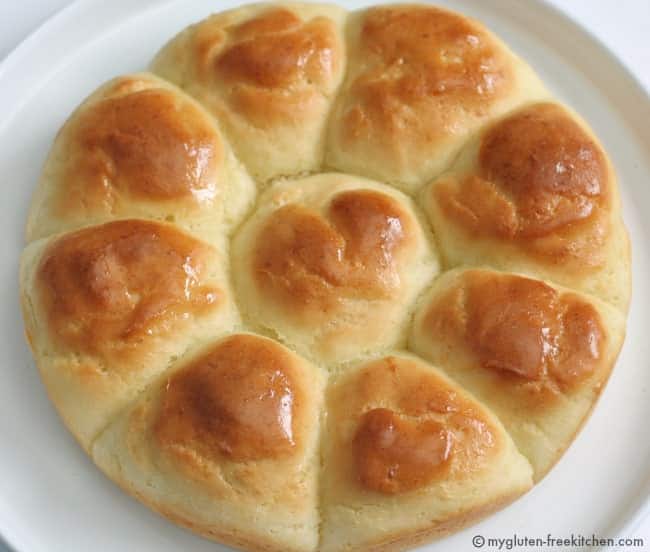 Life After Wheat has mastered gluten free bread. On of my favorite recipes of hers is these gluten free crescent rolls. I helped her demo them at My Gluten Free World Expo in Utah a few years ago and they are amazing.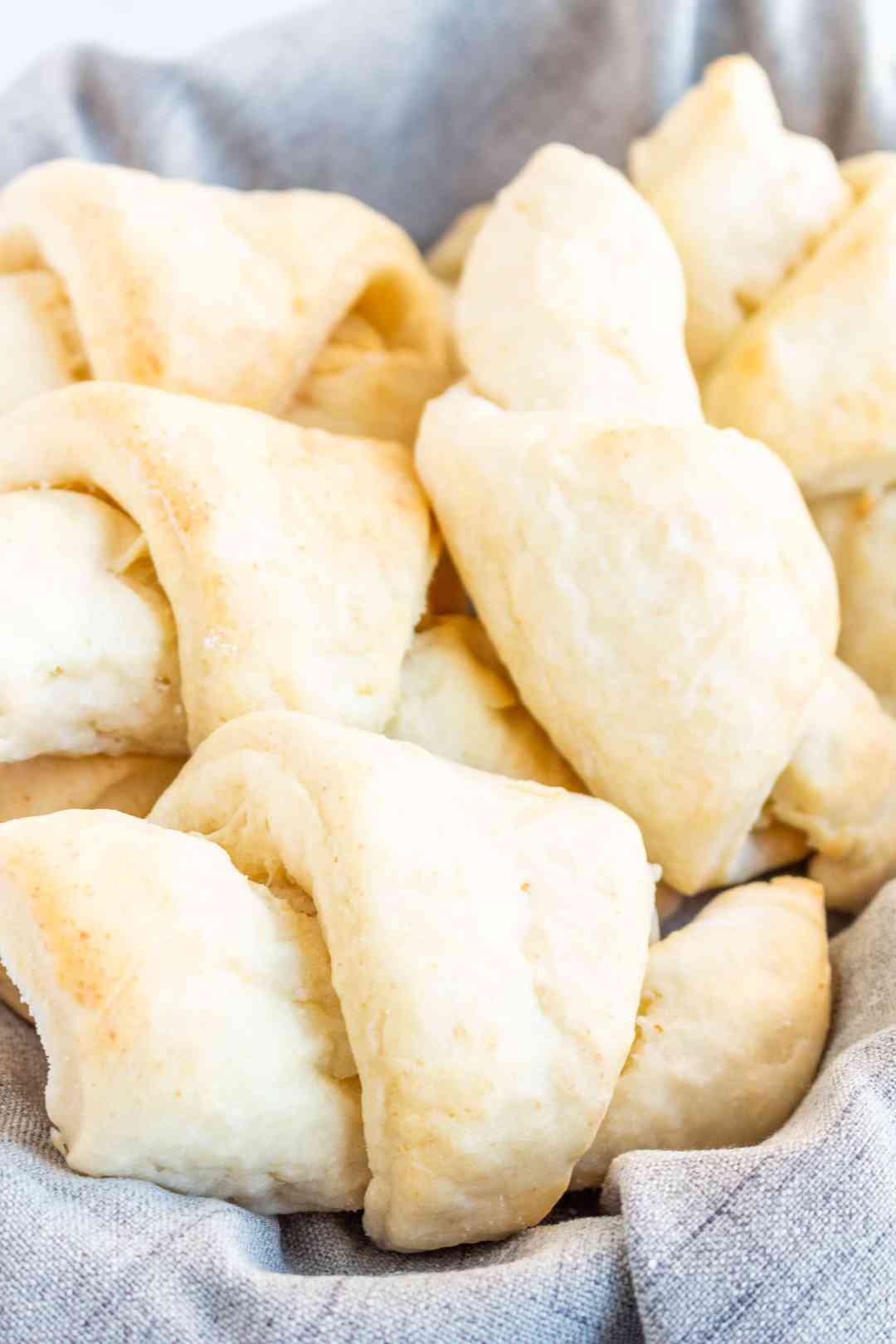 One of my very favorite gluten free breads for Thanksgiving is gluten free cornbread.
I love how quick and easy it is to mix up. It really couldn't get easier!
You can also easily bake my gluten free honey cornbread the night before, it is just as good the next day.
What gluten free Thanksgiving recipes are you using? If you have a favorite I didn't list, please comment below and share it with me.
Happy Gluten Free Thanksgiving!
Gluten Free Thanksgiving Recipes
Every gluten-free Thanksgiving recipe you need for a complete gluten-free thanksgiving menu!