French cuisine isn't the first thing that comes to mind when considering healthy eating or dietary restrictions. However, substituting a few ingredients for their gluten-free alternatives can result in delicious and surprising culinary creations with a unique French touch.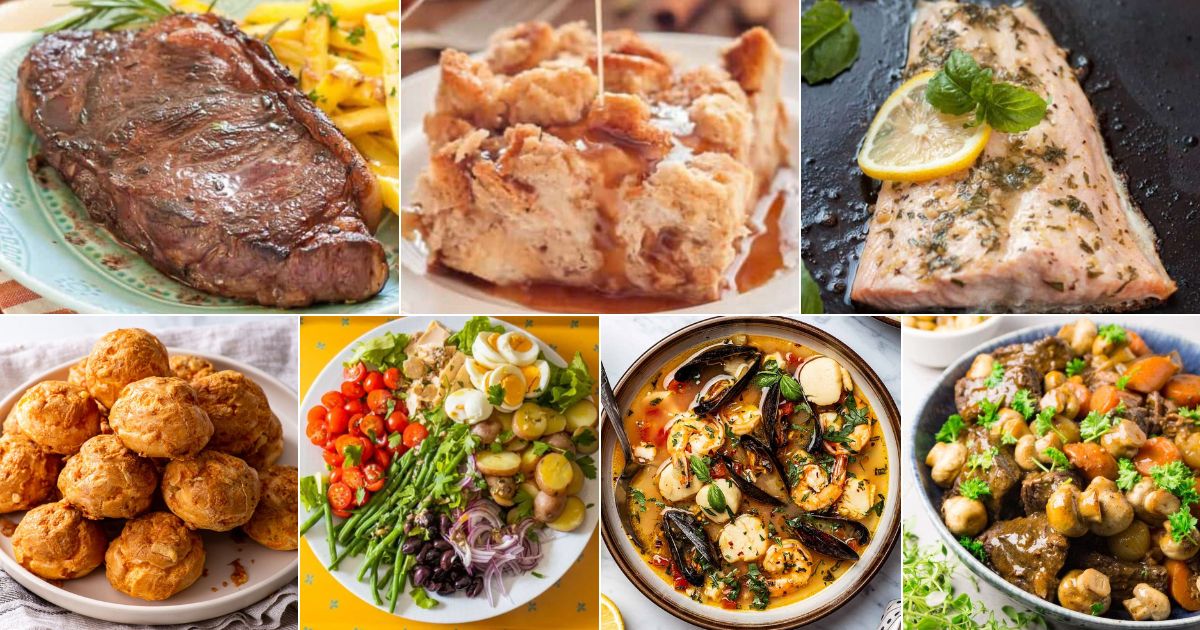 If you are looking for some comfort food or European-inspired recipes, these 13 gluten-free French recipes will take your meal plans to the next level!
Jump to:
1. Gluten-Free Club Sandwich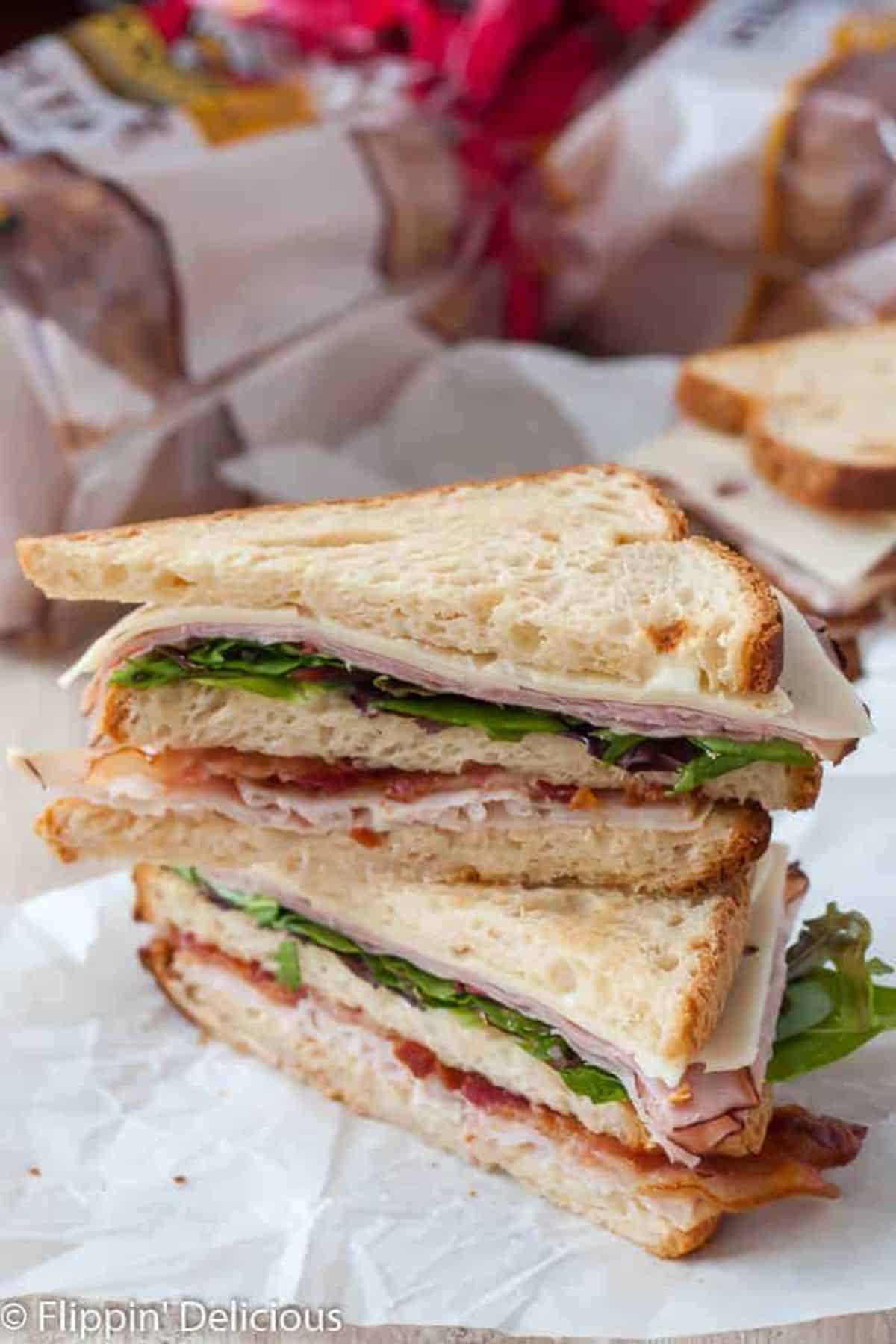 The club sandwich is a timeless American staple that dates back to the 19th century, but it quickly rose to popularity as a quick and easy snack served in the luxury hotels of Paris.
It's a great go-to sandwich for using leftovers or preparing a healthy lunch if you don't have much time. There are countless ways to customize this sandwich with your favorite toppings and dressings.
For a French-inspired club sandwich, replace the ham with cold turkey or chicken and add a few slices of bacon. A hard-boiled egg will complete the sandwich while adding some protein. Serve it with Gherkin pickles to get the full Parisian hotel experience.
You can easily make this classic sandwich gluten-free by choosing gluten-free bread and checking that your mayo or dressing of choice doesn't contain any gluten. We recommend whole-grain gluten-free bread to go with the turkey meat.
2. Red Wine Marinated Steak With Baked Garlic and Herb Fries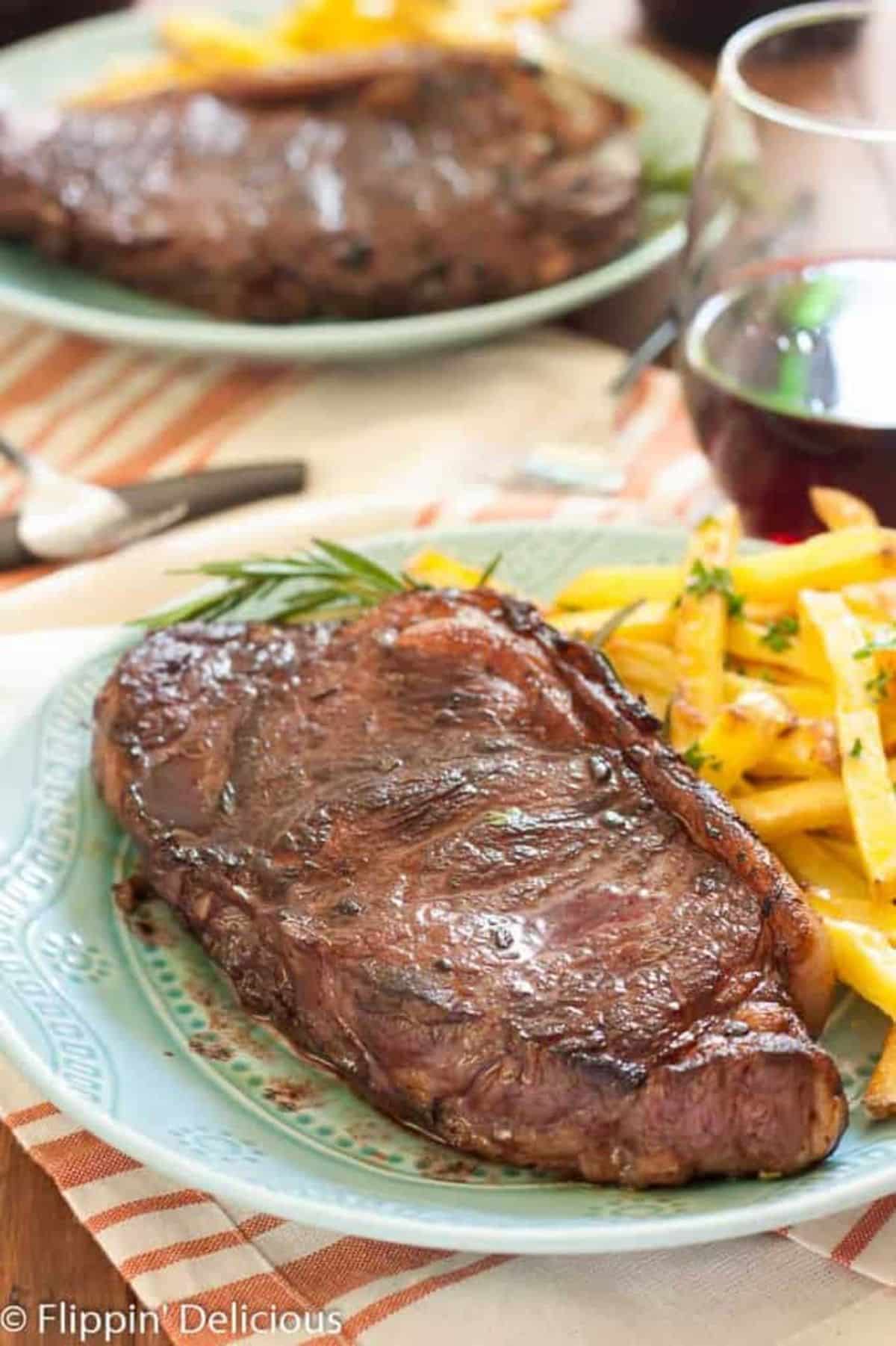 Steak frites is one of the most popular bistro dishes in France. This recipe is an elegant take on this classic dish that uses a red wine marinade to infuse the meat with a rich and balanced flavor. The use of hers also elevates the fries.
All the ingredients are naturally free of gluten, and you can experiment with your favorite herbs or add spices to the marinade. Marinated steak sounds classy, but you'll find that the recipe is surprisingly easy to make.
Pick a French wine for the marinade. Cabernets are often a go-to choice when serving red meat, but using Pinot Noir can bring out interesting flavors thanks to the dry profile of this popular wine.
3. Lemon Basil Salmon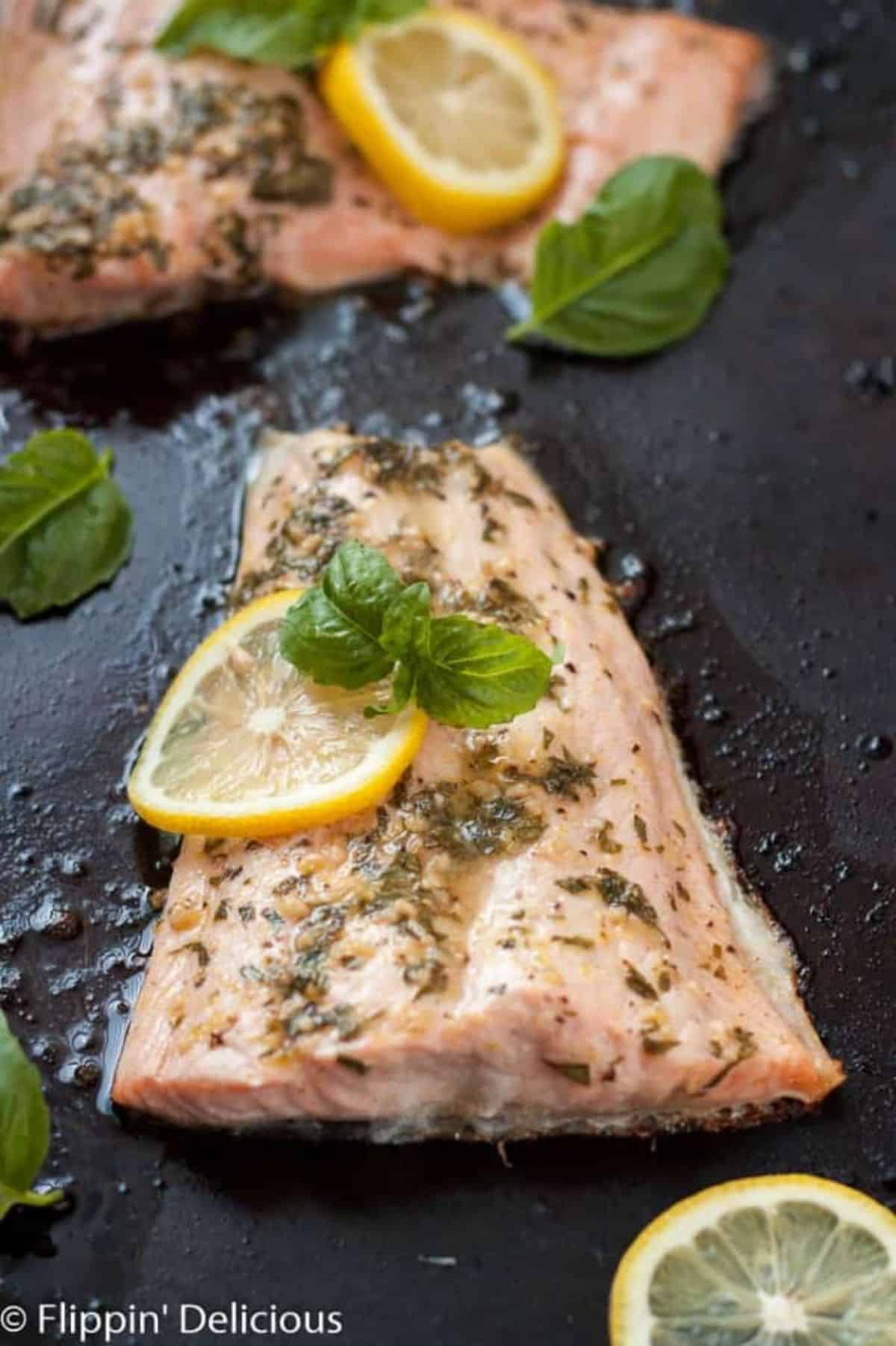 This effortless dinner comes together in seconds and will impress everyone.
Whether you want to cook something special for your significant other or treat your guests to some fresh salmon filets, this baked lemon basil salmon is one of the best gluten-free French recipes.
Baking the filets in butter results in a flaky and delicate texture that perfectly complements the mild taste of the salmon.
Citrus and fish are common associations in French cuisine. Still, you can highlight the European inspiration behind this recipe by substituting the basil for more common herbs in French cooking, like tarragon, parsley, chives, or bay leaves.
Serving this delicious fish dish with a gluten-free baguette is another fun addition if you are having a French-themed dinner.
4. Potato Wedges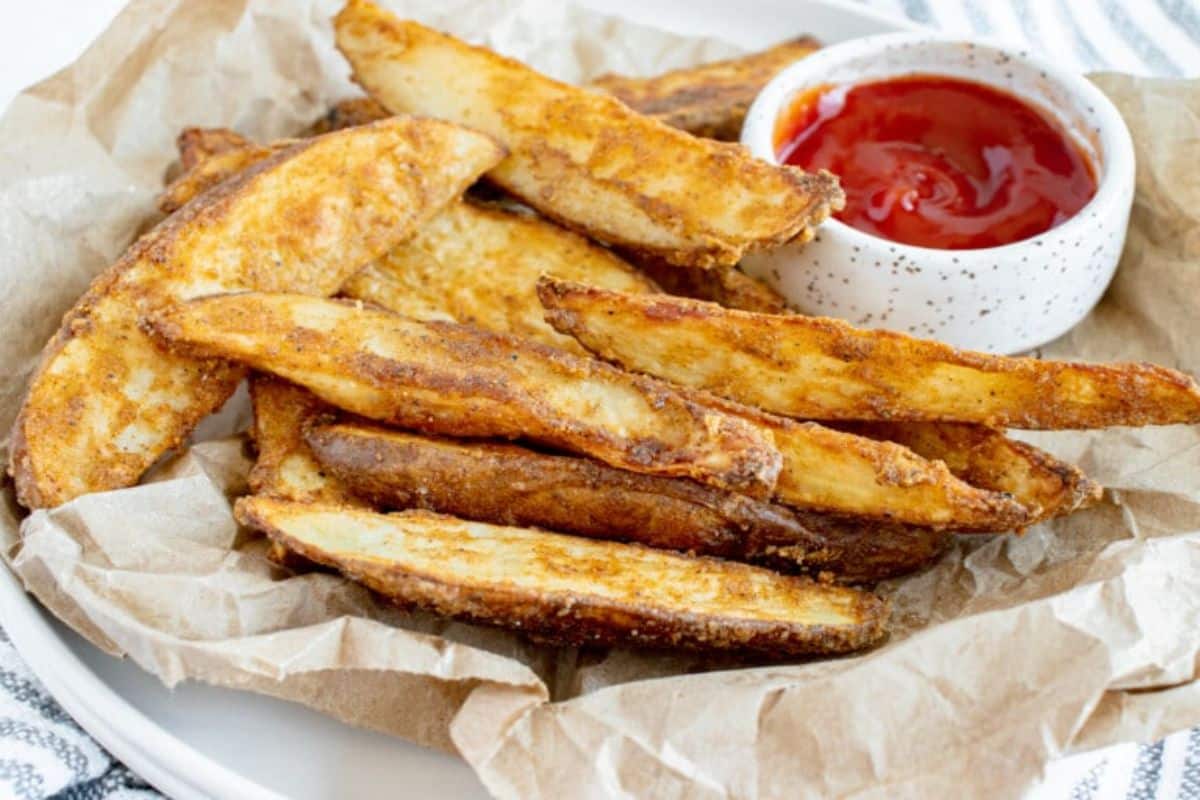 Fries originated in Belgium in the late 17th century and quickly became a popular street food throughout France and the rest of Europe.
Crispy fried potatoes remain a popular staple of fast food and bistro fare, but a growing number of fine dining establishments are finding new ways of elevating this comfort food.
These gluten-free potato wedges are a fun take on French fries and are very easy to make. Leaving the skin on helps save time but adds to the crispiness and increases the fiber content.
Serve these potato wedges with baked chicken or steak for a classic French meal. You can also add some gluten-free gravy and cheese curds to recreate the classic French Canadian dish, poutine.
5. Gluten-Free Vegan Green Bean Casserole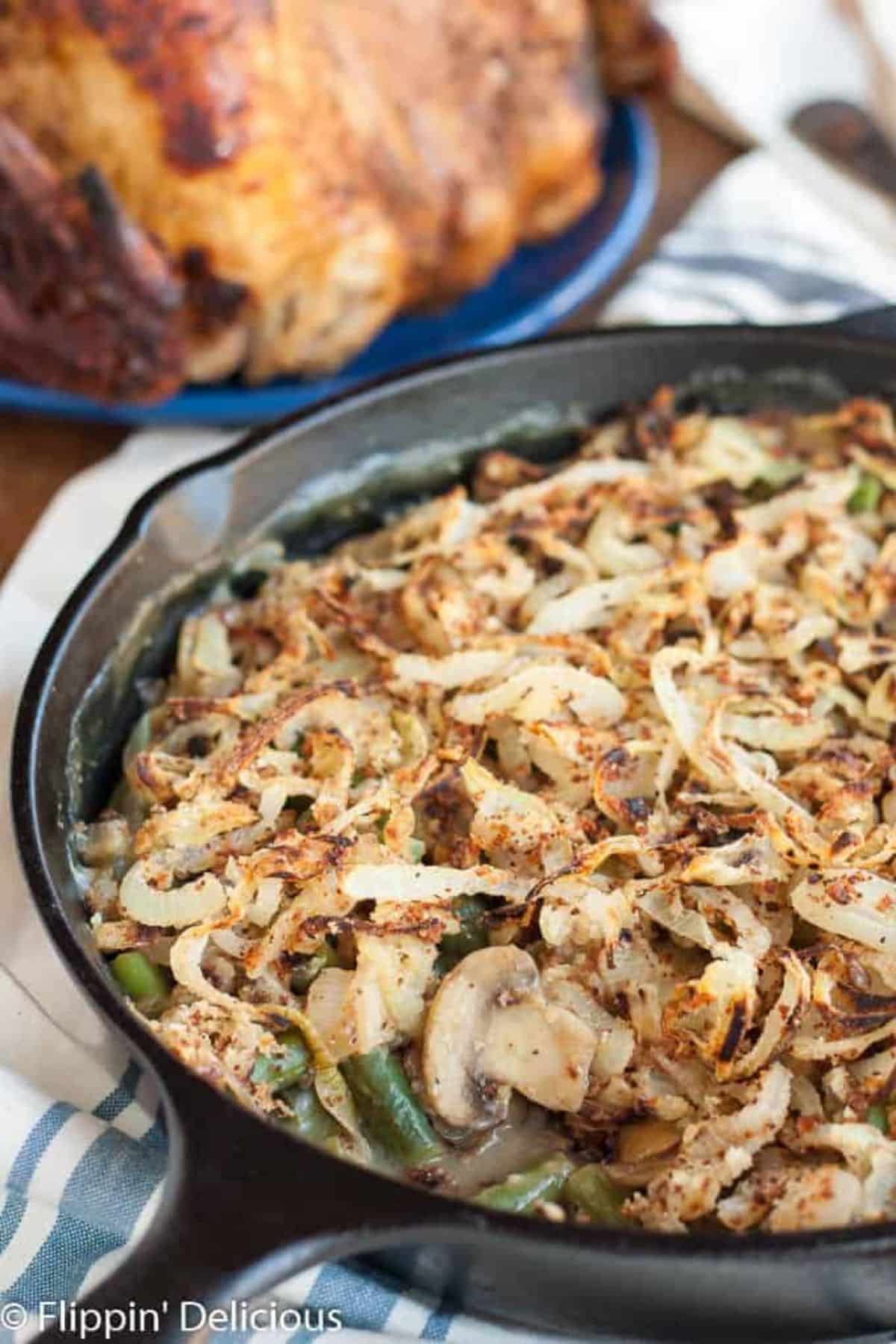 Casserole is a French word that translates to saucepan, a reference to the type of recipient used to bake these dishes. Casseroles are typically a way to make something creative with leftovers in French cuisine.
This gluten-free and vegan recipe combines green beans with a rich cream of mushroom soup and some crunchy gluten-free bread crumbs.
It's the perfect way to turn healthy ingredients into a comforting dish, and it might become your children's favorite way of eating vegetables.
Turn this casserole into a meal by adding some ground beef or a thin layer of cheese and let it brown in the oven to turn it into a French gratin.
6. Gluten-Free Dark Cherry Pie With Lemon Zest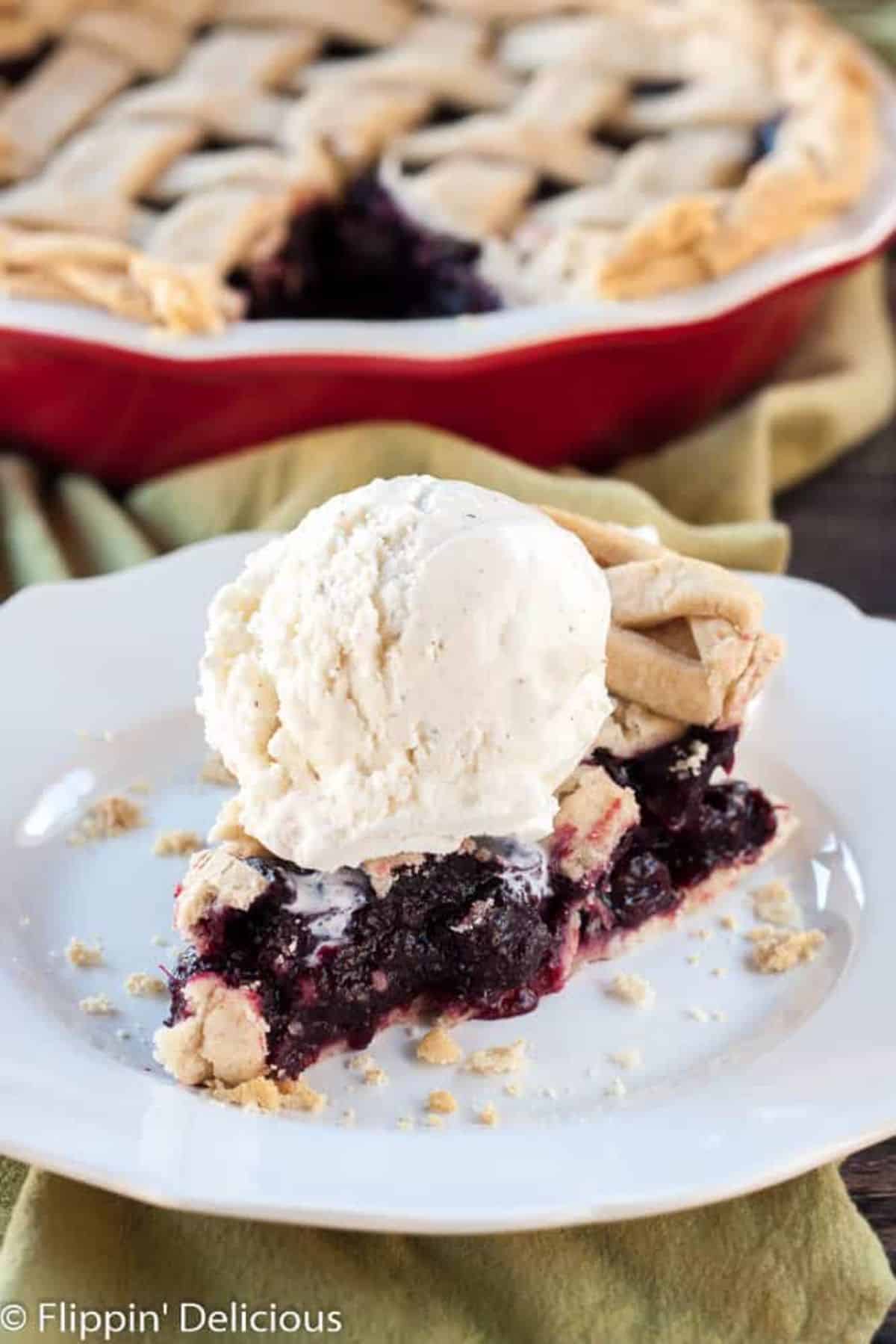 Cherry desserts are common in French cuisine, with classics like clafoutis or cherry pies. Unfortunately, most baked goods aren't gluten-free unless you substitute some key ingredients.
Making a gluten-free cherry pie is easier than it sounds, and this detailed recipe will walk you through the process of making your own gluten-free pie crust. You'll even learn how to crimp and decorate the pie!
Adding lemon zest is a great way to balance the tartness of the cherries without letting the acidity take over.
Do not hesitate to make a large batch of gluten-free pie crust since you can use it with a wide range of fruits. For a French-inspired dessert, try using this gluten-free pie crust to make Tarte Tatin, a unique upside-down apple pie.
7. Gluten-Free Nutella Stuffed French Toast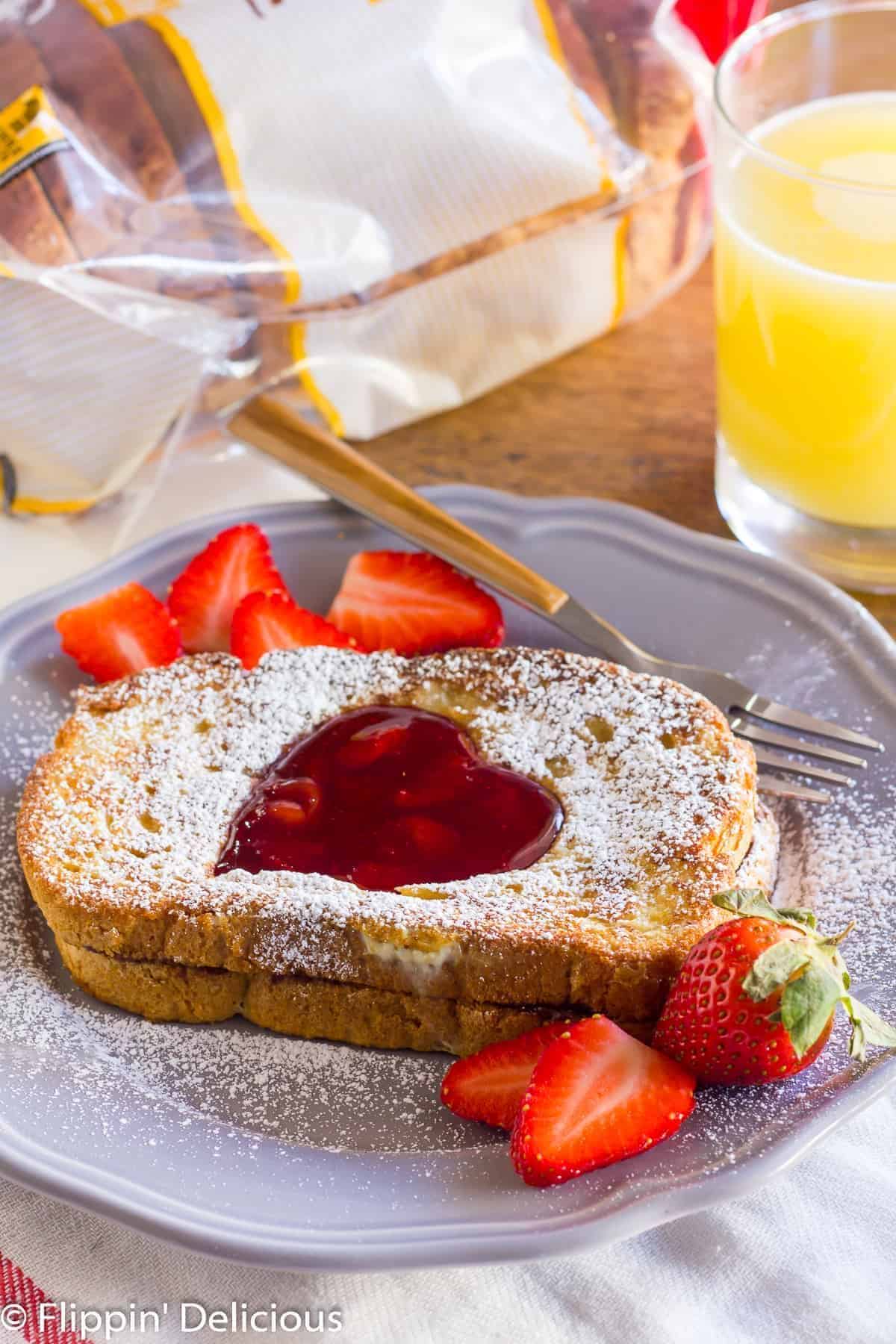 Everyone loves Nutella, but did you know the chocolate hazelnut spread was viral in France?
This gluten-free Nutella stuffed French toast is the perfect dessert or breakfast if you are craving something sweet.
While Nutella is not a healthy option due to its high fat and sugar content, it's a gluten-free ingredient, and there is no harm in indulging in the occasional treat.
Stuffed French toast is quick and easy to make, and adding Nutella will elevate this simple breakfast staple with its rich and gooey texture.
The recipe also uses cherry jam to balance the sweet taste of the chocolate spread with a hint of tartness. Jam is an interesting addition, and you can experiment with different flavors.
The key is to use gluten-free bread. We recommend choosing gluten-free bread with thick slices to make the stuffed French toast easier to eat.
8. Gluten-Free Chai French Toast Casserole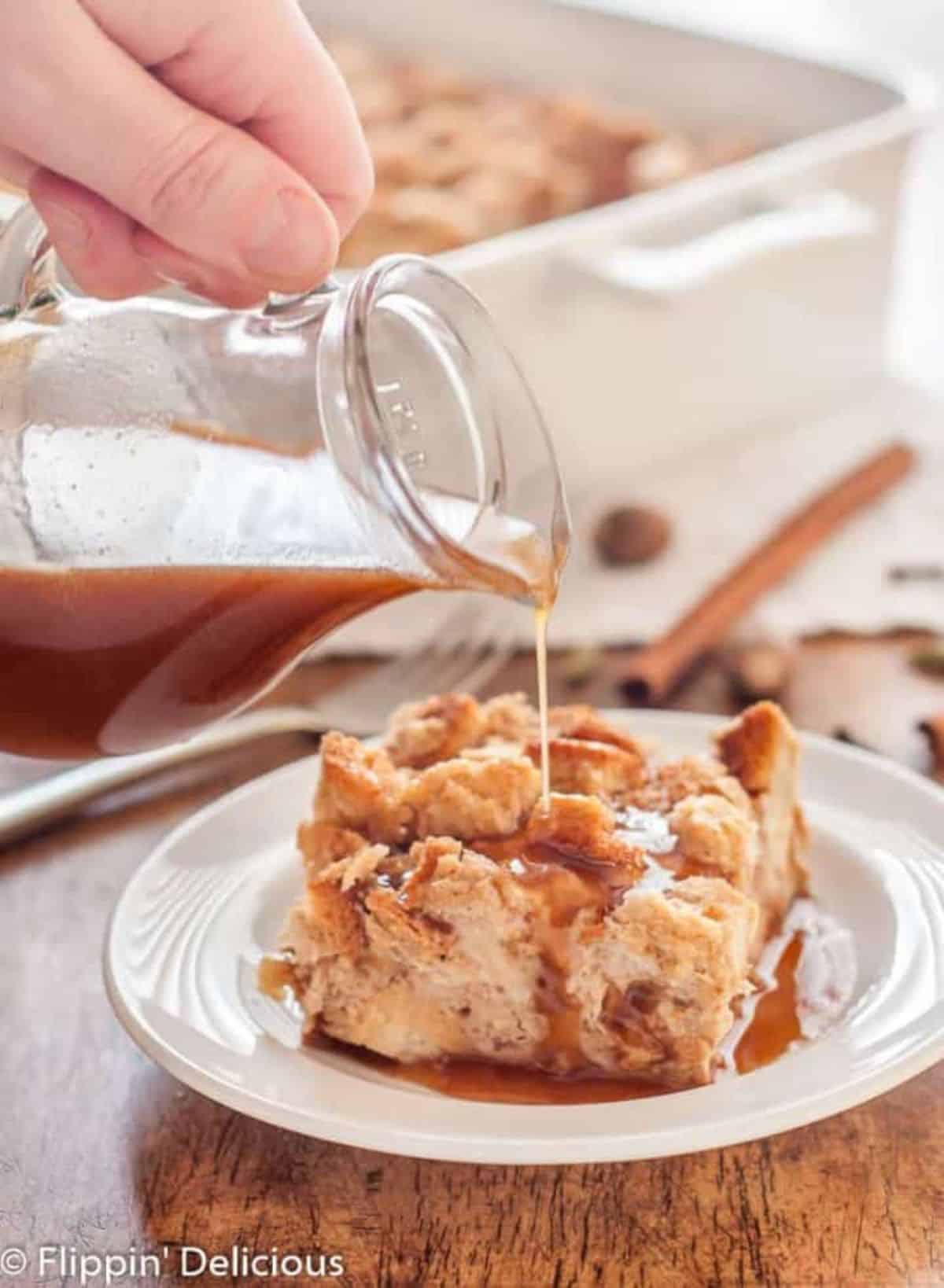 The exact origin of French toast is unclear since it's been a popular way of turning day-old bread into a delicious breakfast for several centuries.
This French toast recipe uses gluten-free bread and introduces chai tea for a modern take on a timeless dish. It also includes a honey butter sauce that balances the tea's bitter flavor, and you easily customize the spice mixture to create unique flavors.
This casserole is a fun way to use gluten-free bread approaching its expiration date. Still, it's also a great go-to breakfast if you need to feed a large group of people and want to accommodate everyone's dietary restrictions.
For a European-inspired flavor, try adding some ginger to the spice mix to mimic the authentic taste of gingerbread!
9. Easy Beef Bourguignon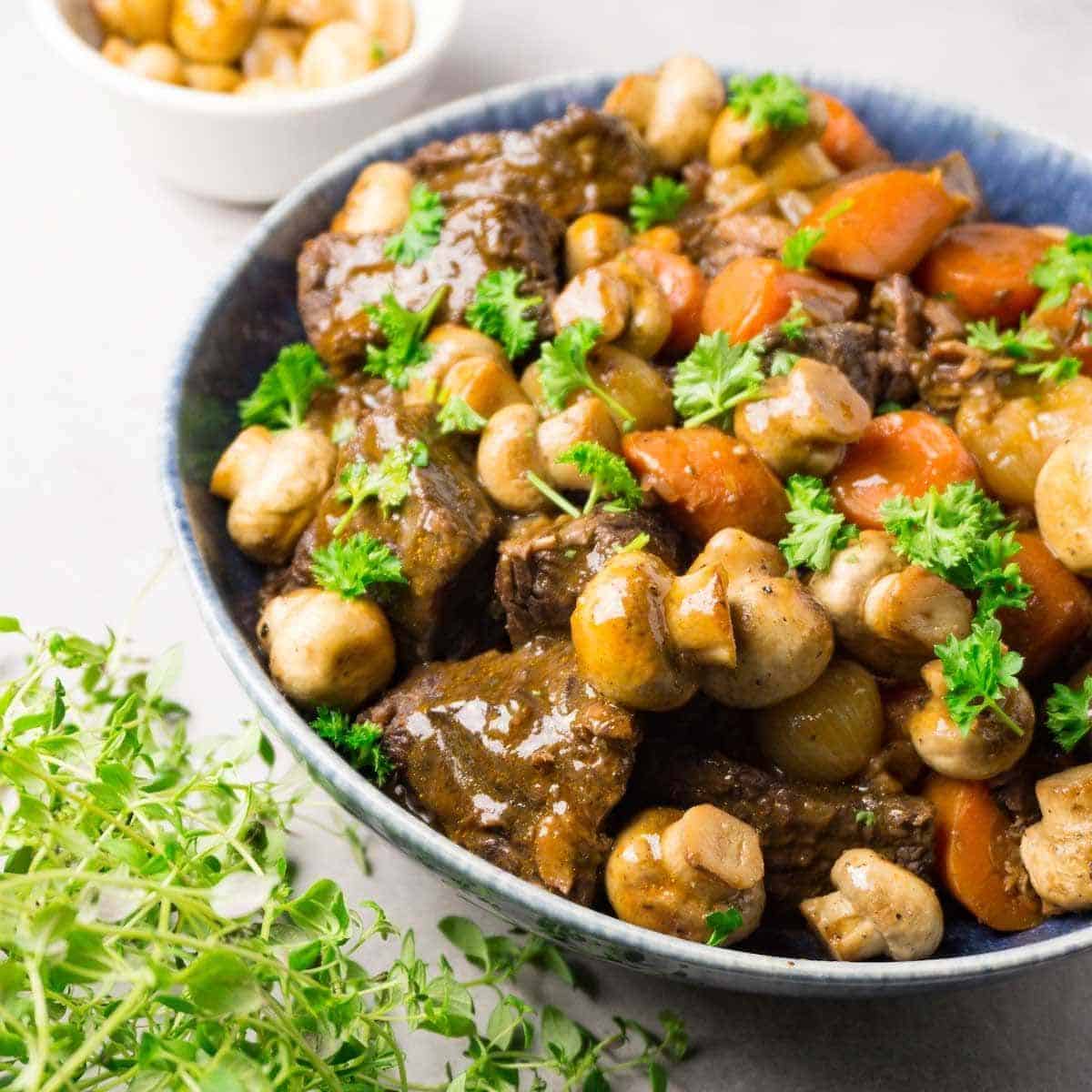 Beef Bourguignon is a staple of French cuisine. It's a sort of beef stew marinated in a mix of beef stock and red wine. Cooks often add vegetables like onions, carrots, and potatoes and let them cook in the stew slowly.
This cooking method results in incredibly tender meat that melts in your mouth, and this Beef Bourguignon recipe will even explain how to pick the best cut of meat to achieve this effect.
The authentic recipe calls for using some flour to get the stew to thicken, but this gluten-free take on Beef Bourguignon uses xanthan gum, a gluten-free alternative.
10. Salade Nicoise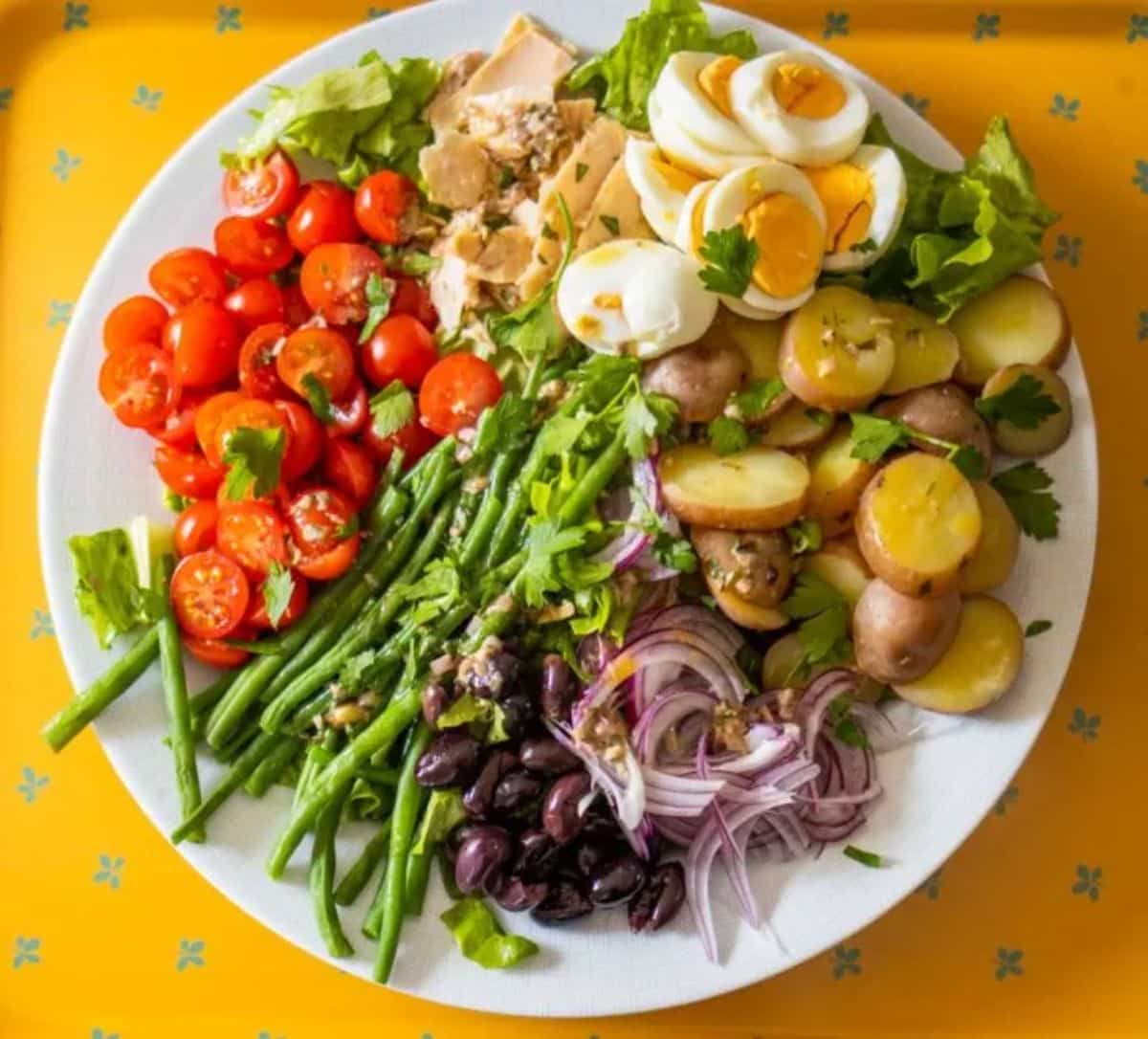 Nice is one of the major cities on the French Riviera. It's a popular tourist destination and the birthplace of one of the most famous French salads, the Salade Nicoise.
This traditional salad combines tuna with hard-boiled eggs, green beans, tomatoes, and potatoes. It's an ideal cold dish for a hot summer day, and the protein content makes it more filling than a regular salad.
The best part is that all the ingredients are naturally gluten-free, and the salad comes together in minutes.
11. Bouillabaisse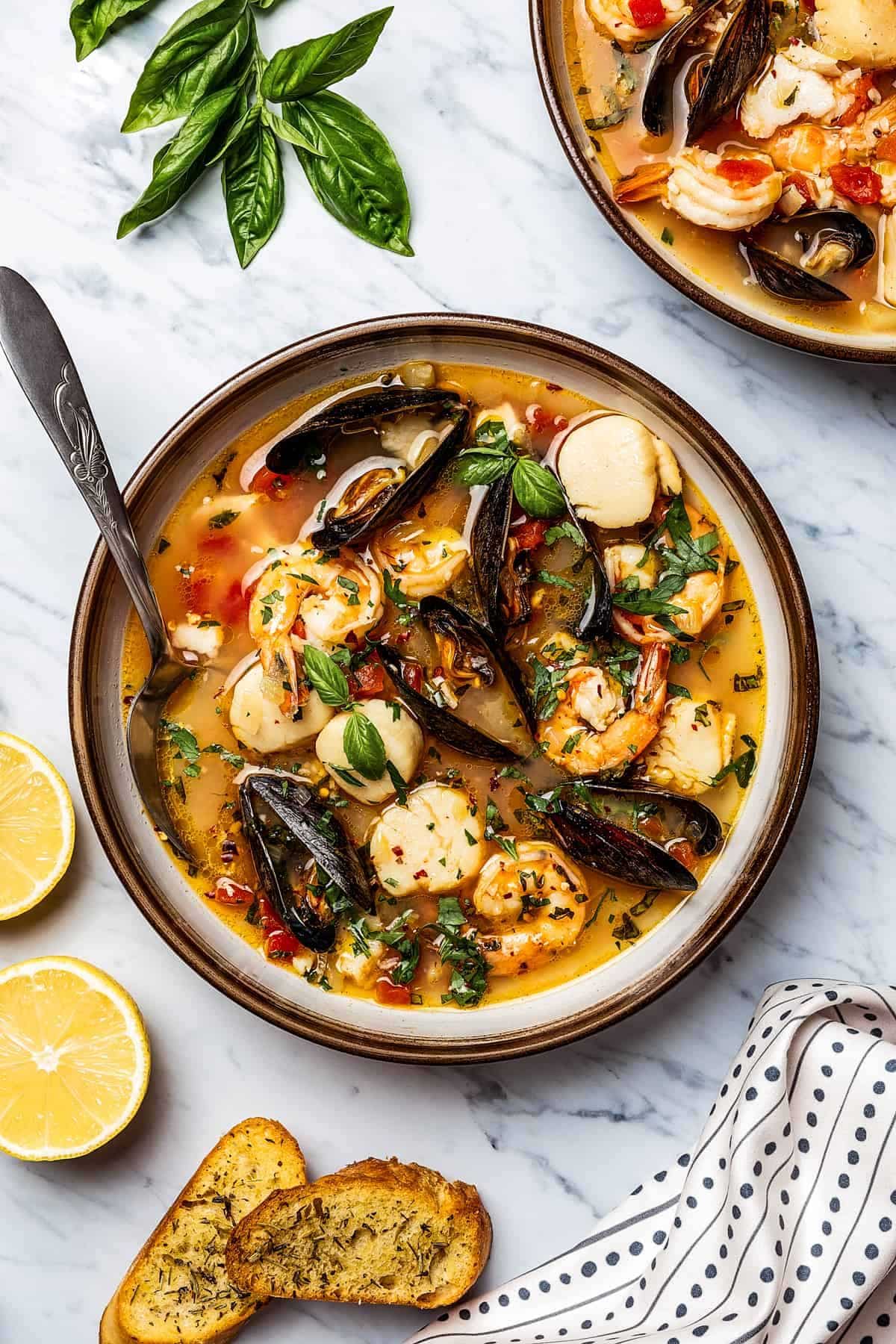 Bouillabaisse is a traditional fish stew from the south of France. It is a bold dish full of flavors, and you can customize the recipe based on the seafood you're able to find. The key is to use a mix of fresh fish, crab, shrimp, and mussels.
This bouillabaisse recipe doesn't use flour to thicken the stock, resulting in a gluten-free version. However, the consistency might be closer to soup than a stew.
If you prefer a more authentic take on bouillabaisse, add a few spoonfuls of gluten-free flour or use another thickening agent of your choice.
12. French Cheese Puffs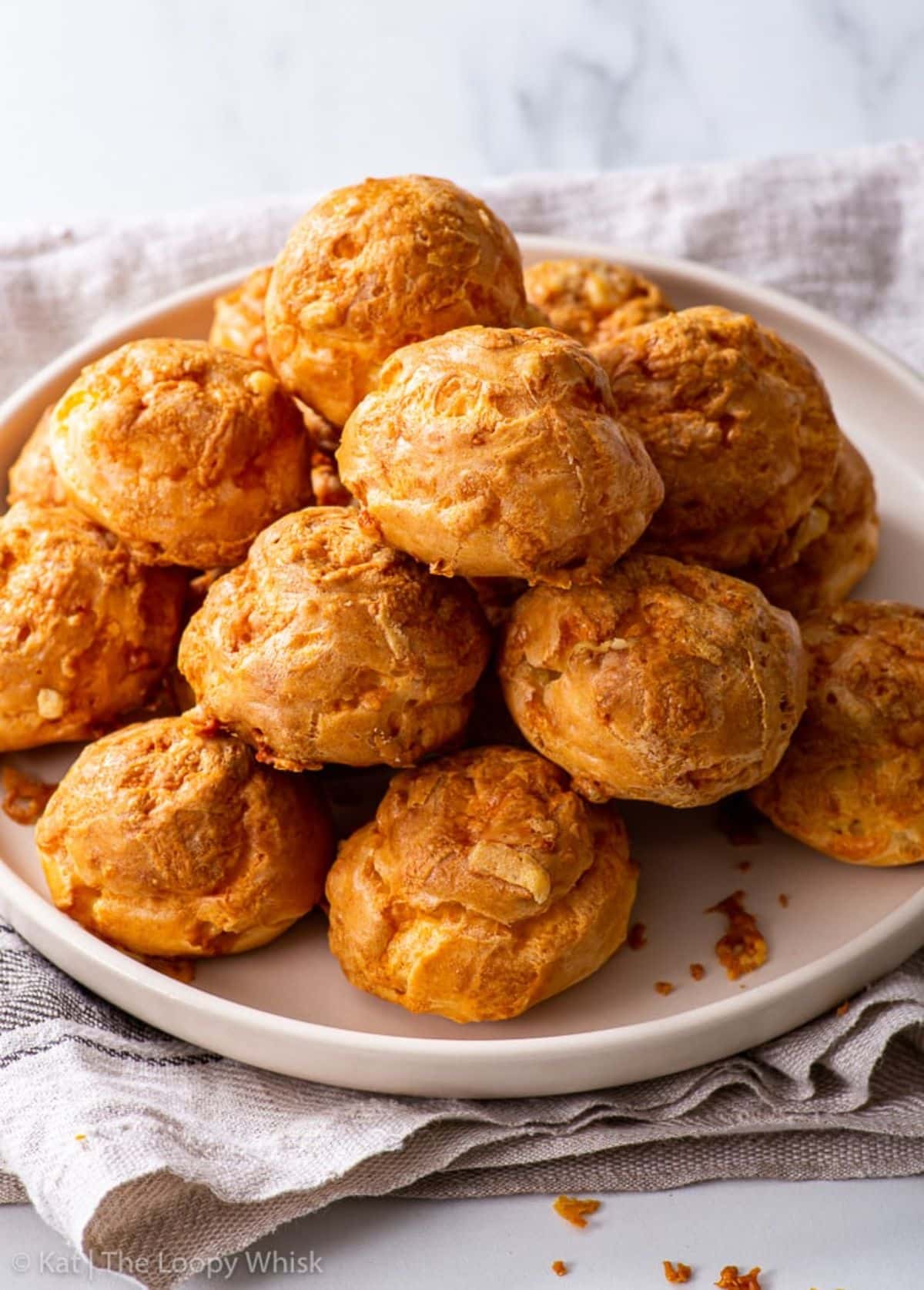 Cheese puffs, known as gougères in French, are a popular appetizer. With their airy texture and bold cheese taste, these tasty bites are sure to be a crowd-pleaser at your next gathering.
Cheese puffs use the dough, which means it's not a gluten-free recipe unless you make a few changes.
We recommend checking out this original gougère recipe that uses a gluten-free flour blend and introduces xanthan gum to obtain the right texture for the puffs.
These cheese puffs are the perfect addition to a cheese board, but you can also serve them with a light salad for an elegant starter course.
Once you master the art of making gluten-free choux pastries, you can tweak the recipe to replace the cheese with some sweet ingredients!
13. Gluten-Free Crepes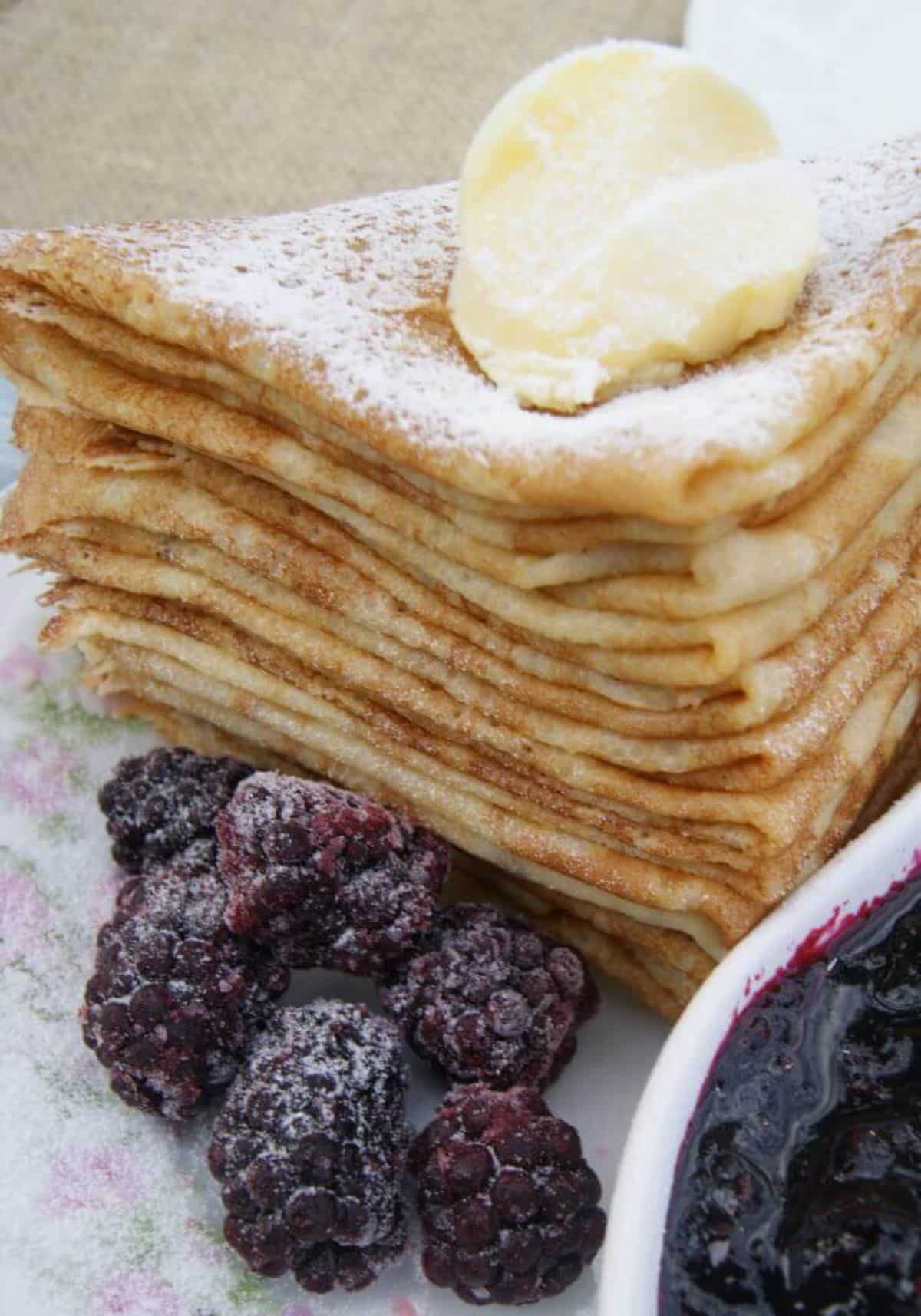 A common French tradition is to eat crepes for Candlemas in February. However, this staple of French cuisine is popular year-round, and you'll often see it served as a street food with a variety of sweet and savory toppings.
Gluten-free crepes are easy to make as long as you have some gluten-free flour. The process is similar to making gluten-free pancakes, but you'll use liquid ingredients in larger proportions to a thin texture.
From fresh fruits to powdered sugar or Nutella, there are countless toppings you can add to crepes.
You can also make a crepe cake by stacking alternating layers of crepes and toppings or put together a fun crepe buffet and have your guests pick their own toppings.
Conclusion
These gluten-free French recipes will help you discover some staples of European cuisine while following your dietary restrictions. We hope you found some new and exciting dishes to try.
Remember that you can easily tweak most of these recipes by substituting ingredients or adjusting the seasoning!