Are you looking for delicious and healthy vegan, gluten-free recipes? Look no further! Whether you have a gluten intolerance, follow a vegan diet, or simply want to try something new, this collection of 37 delicious vegan, gluten-free ideas has covered you.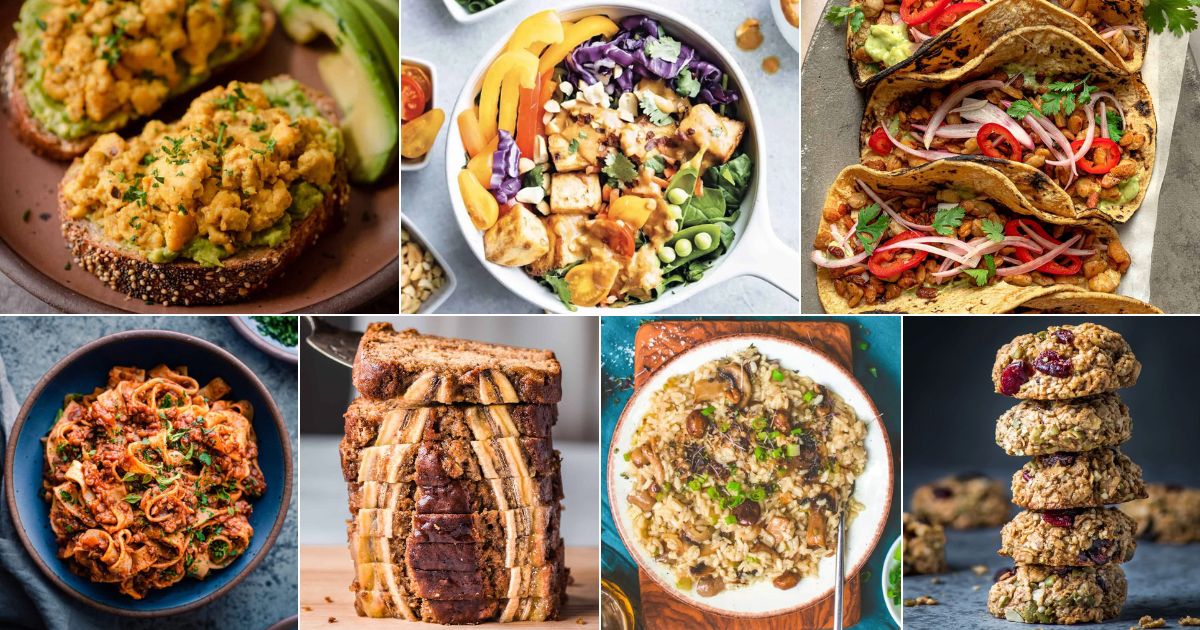 From savory pancakes with sautéed mushrooms and spinach to curried millet sushi, these easy recipes will impress your taste buds and keep you satisfied.
Jump to: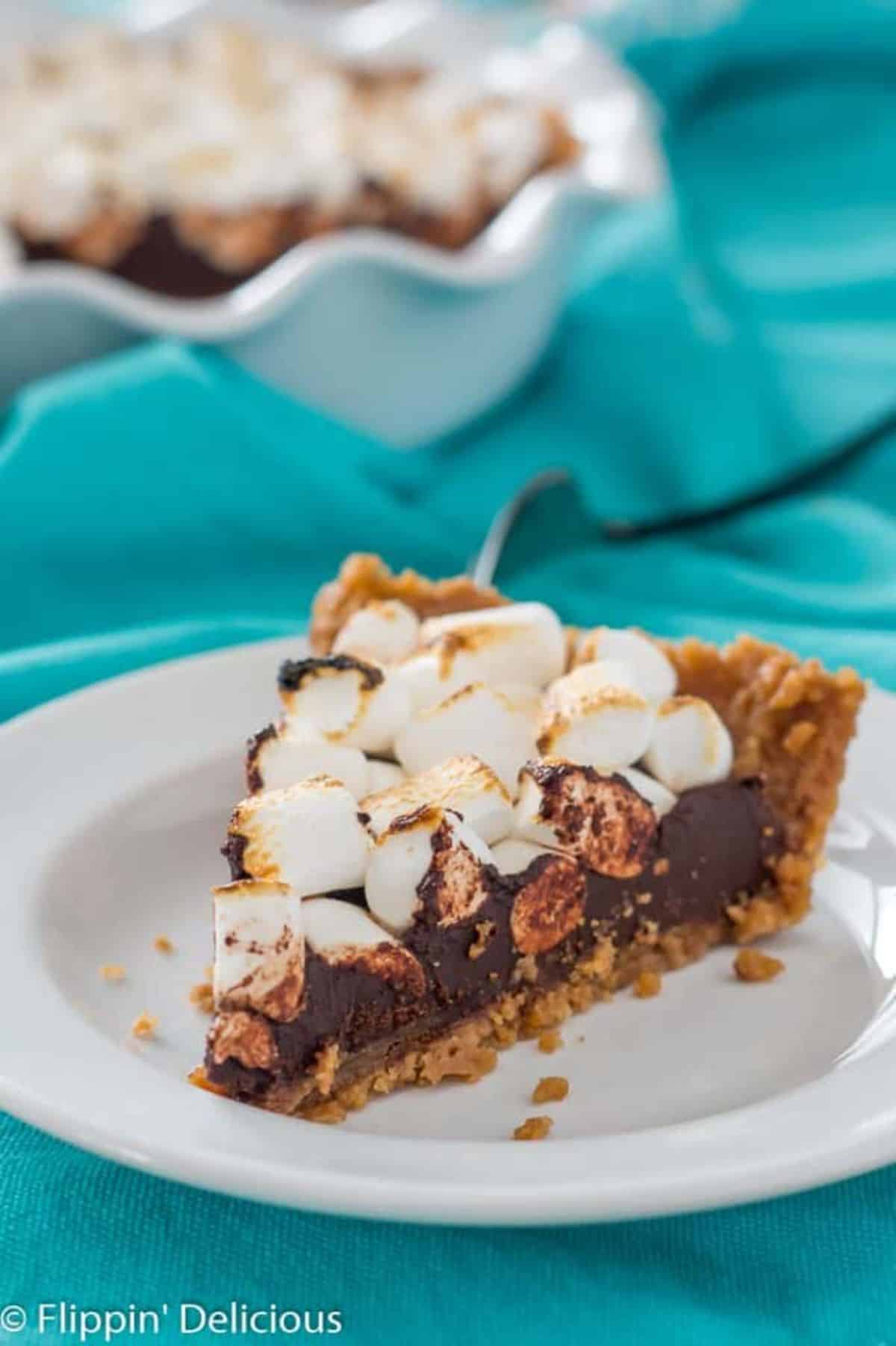 Indulge in the ultimate vegan, gluten-free dessert with this S'mores Pie recipe! Imagine a buttery, crunchy graham-style crust that crumbles in your mouth, layered with rich, smooth, and decadent fudge filling, and topped with fluffy, golden vegan marshmallows.
The combination of chocolate and marshmallows will transport you to a campfire under the stars, but this time with the bonus of being guilt-free.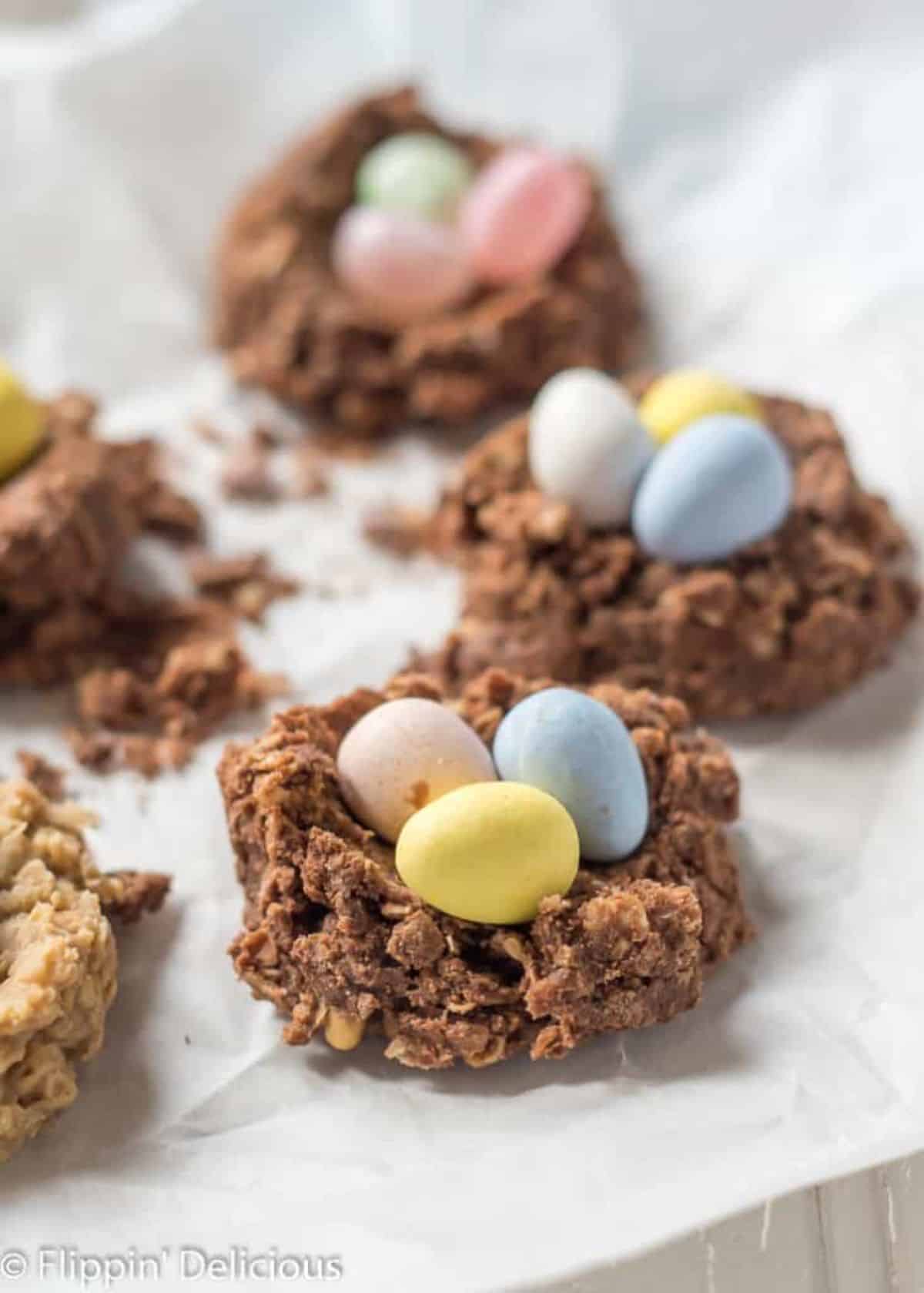 These quick and easy no-bake cookies are shaped into adorable bird nests and topped with colorful candy eggs, making them the perfect addition to any springtime celebration.
Made with just a handful of ingredients, including sunflower seed butter, gluten-free oats, coconut oil, and coconut milk, making them a great option for those with dietary restrictions.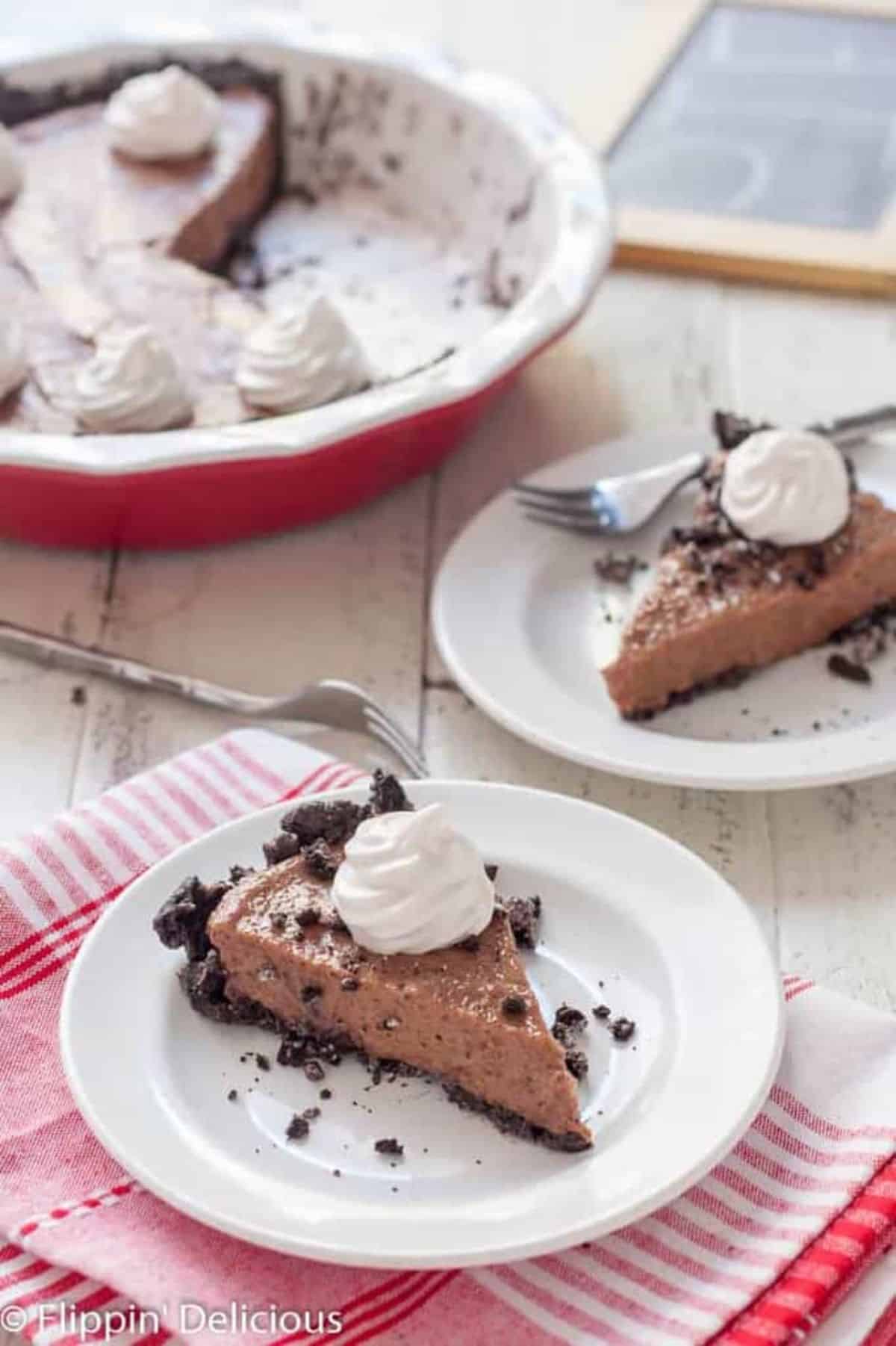 This vegan and gluten-free chocolate pie is the perfect treat for anyone with dietary restrictions who still wants to indulge in a rich and decadent dessert. Sometimes it's hard to find truly delicious. Chocolate desserts when you're vegan and/or gluten-free, so this is a great option to have in your recipe arsenal.
It is made with a chocolate cookie crumb crust, creamy vegan chocolate pudding, and topped with luscious whipped cream. The best part of this recipe? It's a no-bake, meaning it takes very little time to prepare and doesn't need to be cooked.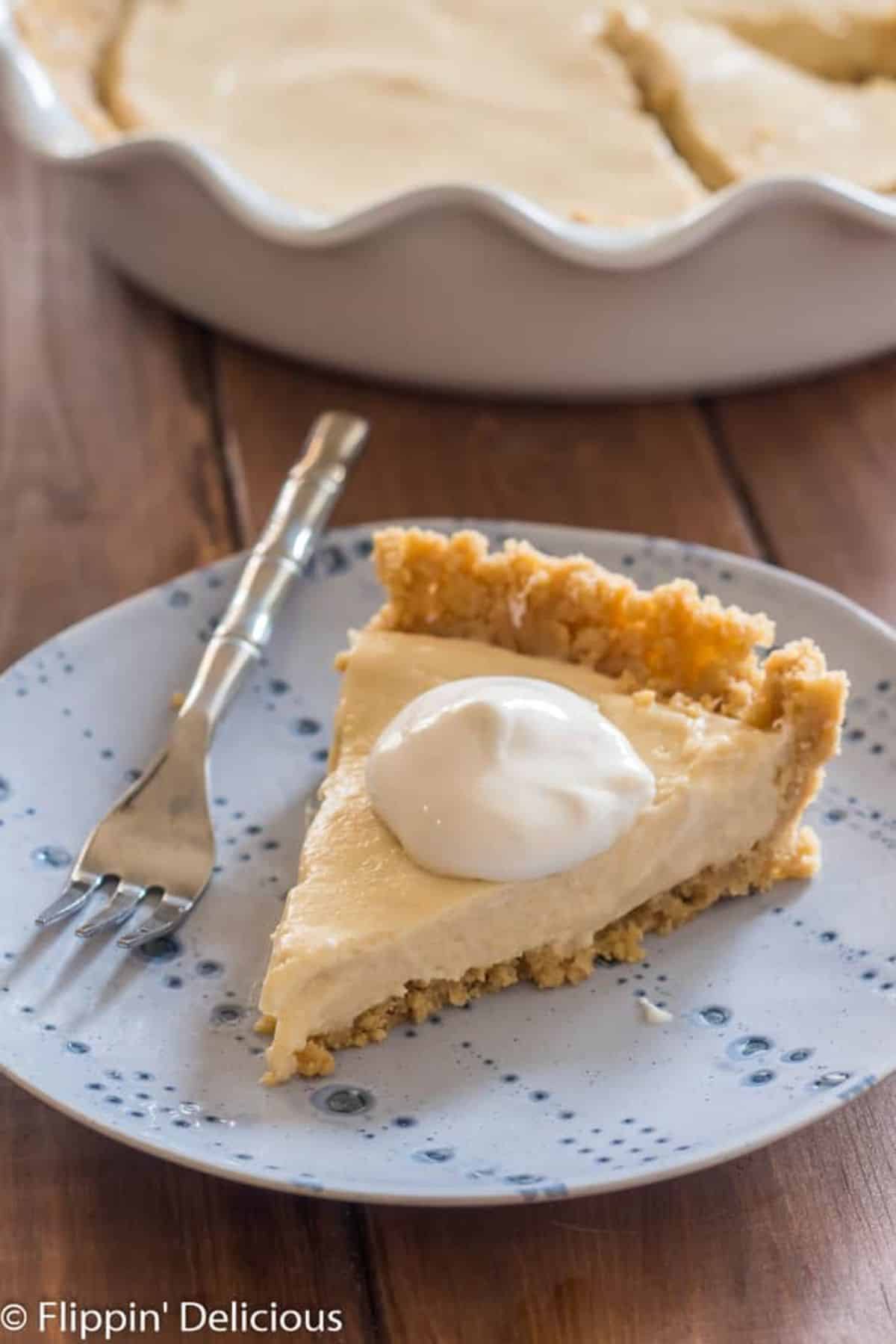 The Vegan Pudding Pie is yet another amazing (and easy to make!) vegan dessert that's perfect for your next holiday or family gathering.
With a gluten-free cookie crumb crust and creamy vegan pudding filling, this pie is not only tasty but also customizable. This recipe is also super easy to make, with just a few simple ingredients and minimal prep time.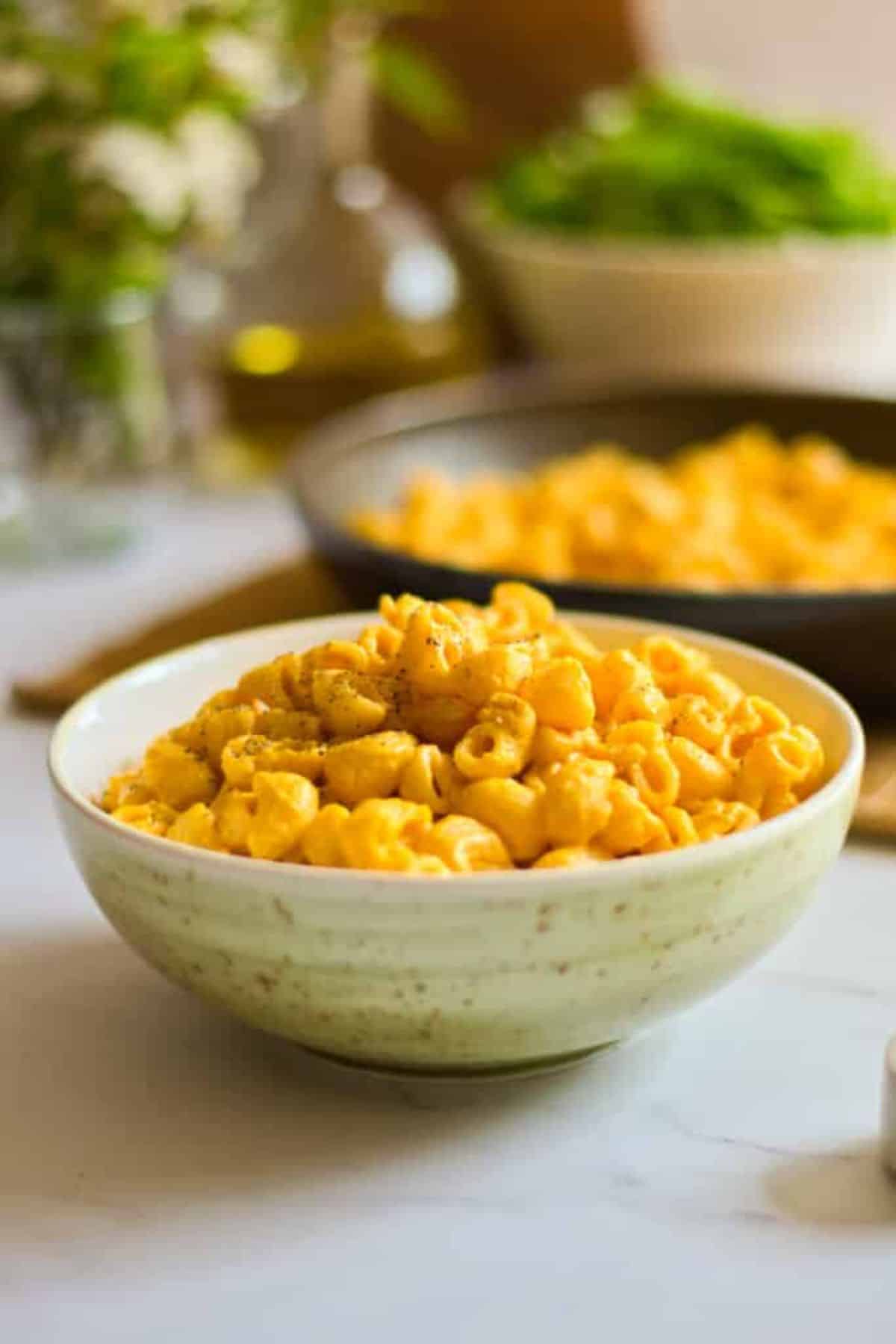 This delicious recipe features a creamy, flavorful cheese sauce made from potatoes, carrots, nutritional yeast flakes, and a blend of seasonings. Boil the vegetables until soft and blend them with soy milk, smoked paprika, turmeric, mustard, and lemon juice until they form a cheesy sauce.
Cook up your favorite gluten-free pasta and toss it with the sauce for a satisfying, guilt-free, vegan meal.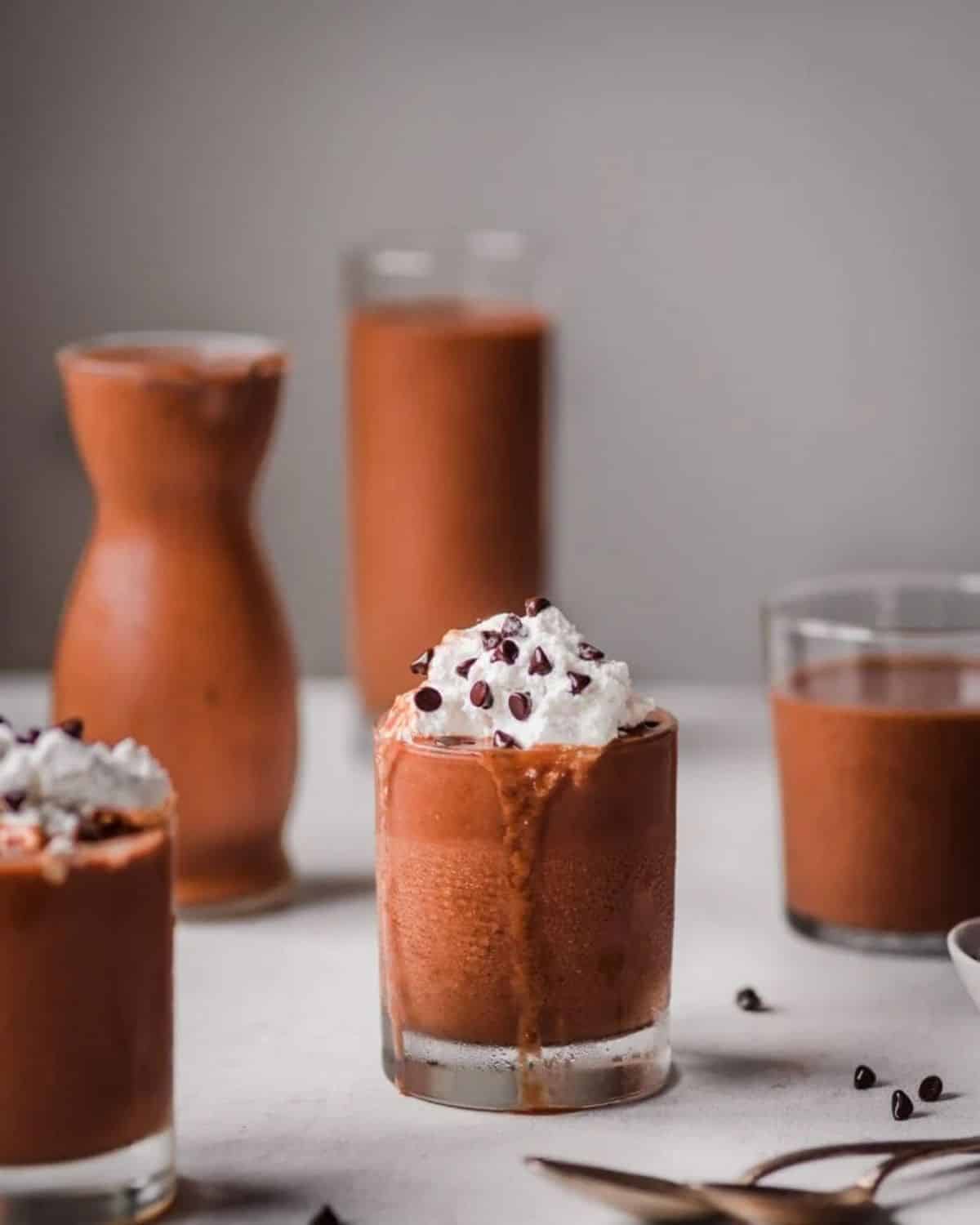 This Vegan Chocolate Sweet Potato Milkshake recipe is a delicious and nutritious way to satisfy your sweet tooth! Made with baked sweet potatoes, frozen bananas, plant-based milk, and cacao powder, this shake is loaded with antioxidants and nutrients.
To make it, simply bake the sweet potatoes in the oven and then blend them with the other ingredients until smooth and creamy.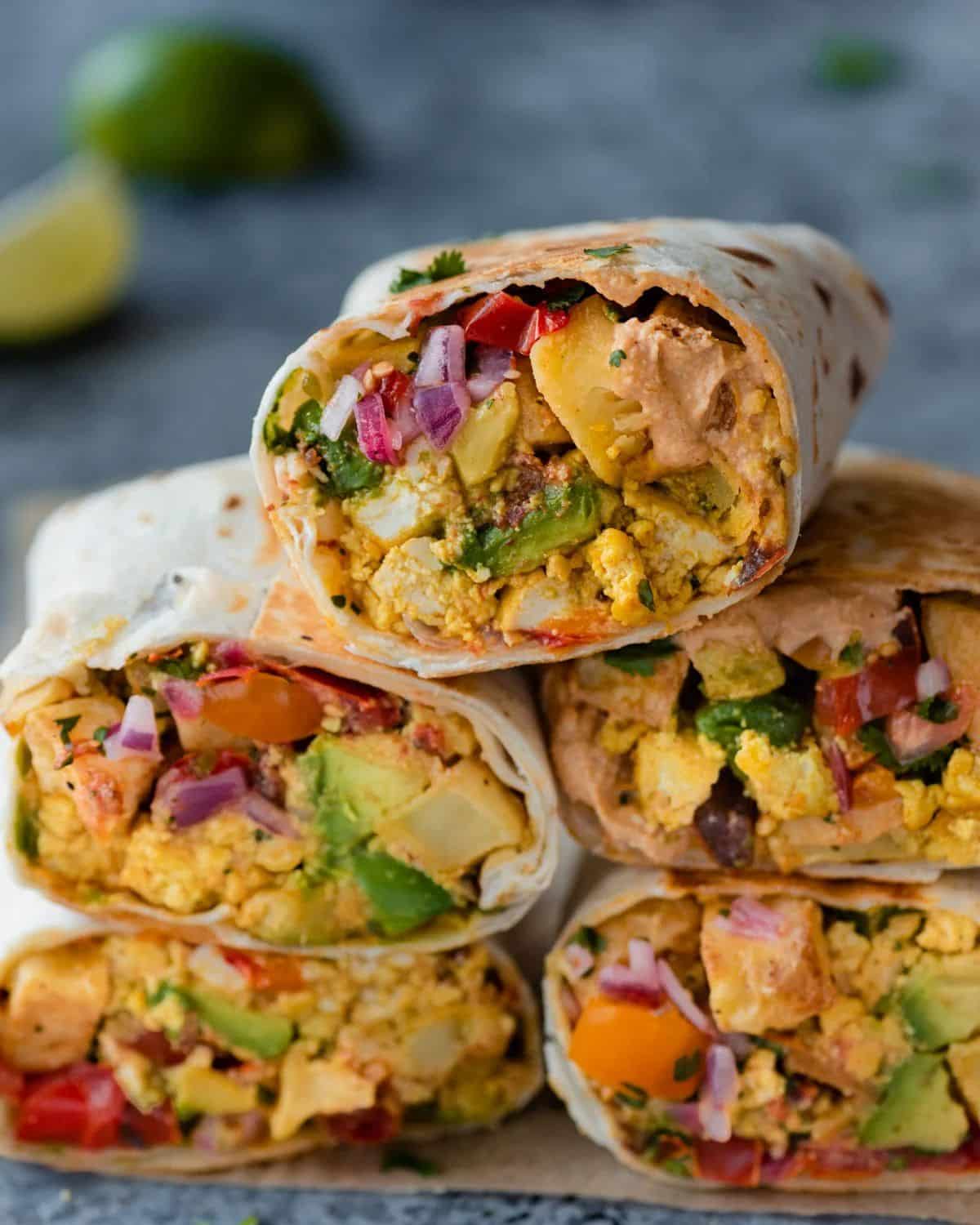 This recipe for vegan breakfast burritos looks delicious! It includes several components that can be made ahead of time, such as the crispy roasted potatoes, pico de gallo, and eggy tofu scramble.
The assembly of the burritos is quick and easy once all the components are prepared. The recipe also includes a vegan queso sauce, which adds a delicious and creamy element to the burritos.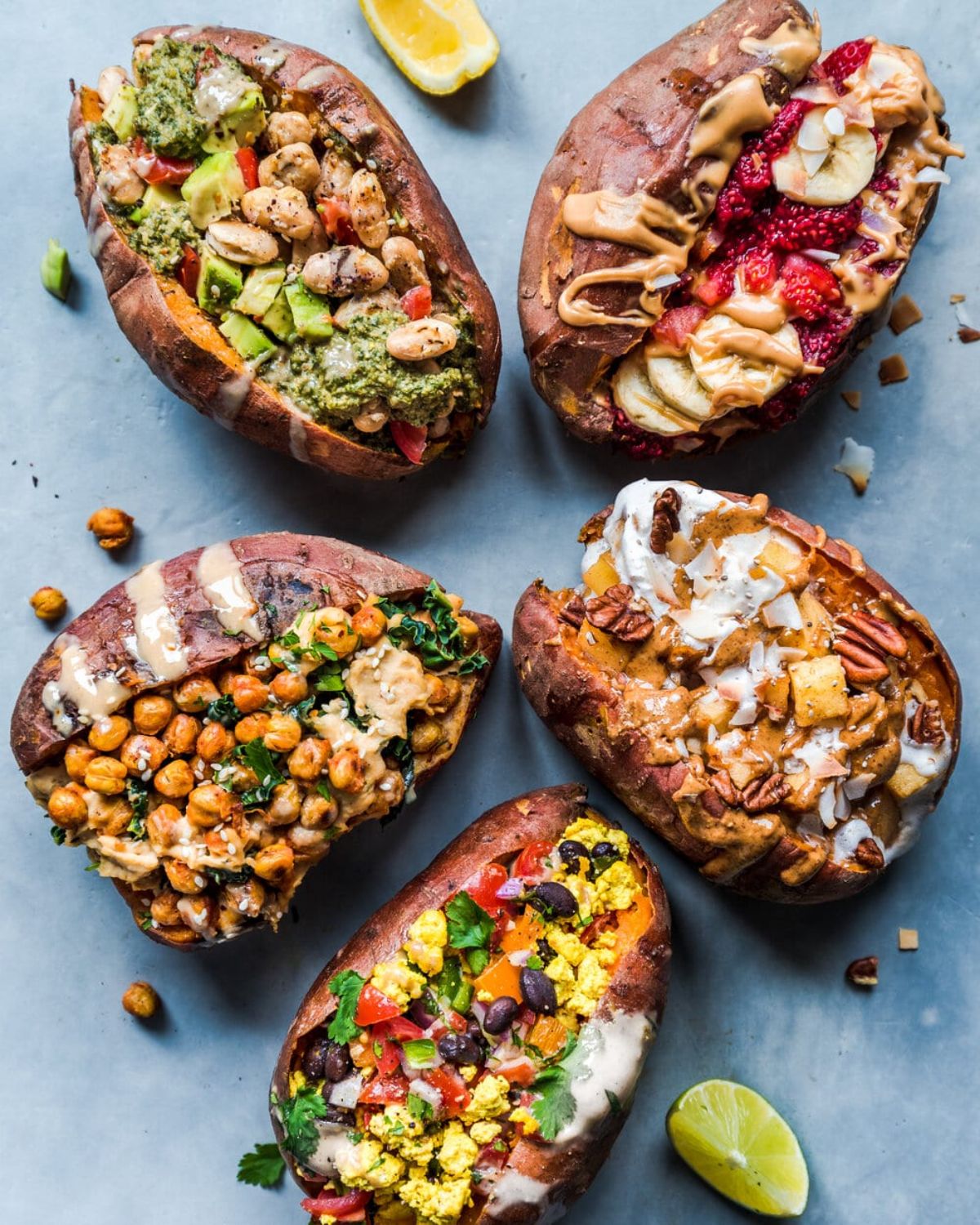 The Double Chickpea, Stuffed Sweet Potatoes recipe involves baking sweet potatoes and stuffing them with spiced crispy chickpeas, hummus, tahini, and finely shredded raw lacinato kale. To make the crispy chickpeas, you need to heat olive oil in a skillet, add chickpeas, and cook them until browned and blistered.
Then, you need to add oregano, thyme, garlic powder, paprika, salt, and lemon juice to the skillet. Finally, you need to stuff each baked sweet potato with hummus, shredded kale, crispy chickpeas, and tahini.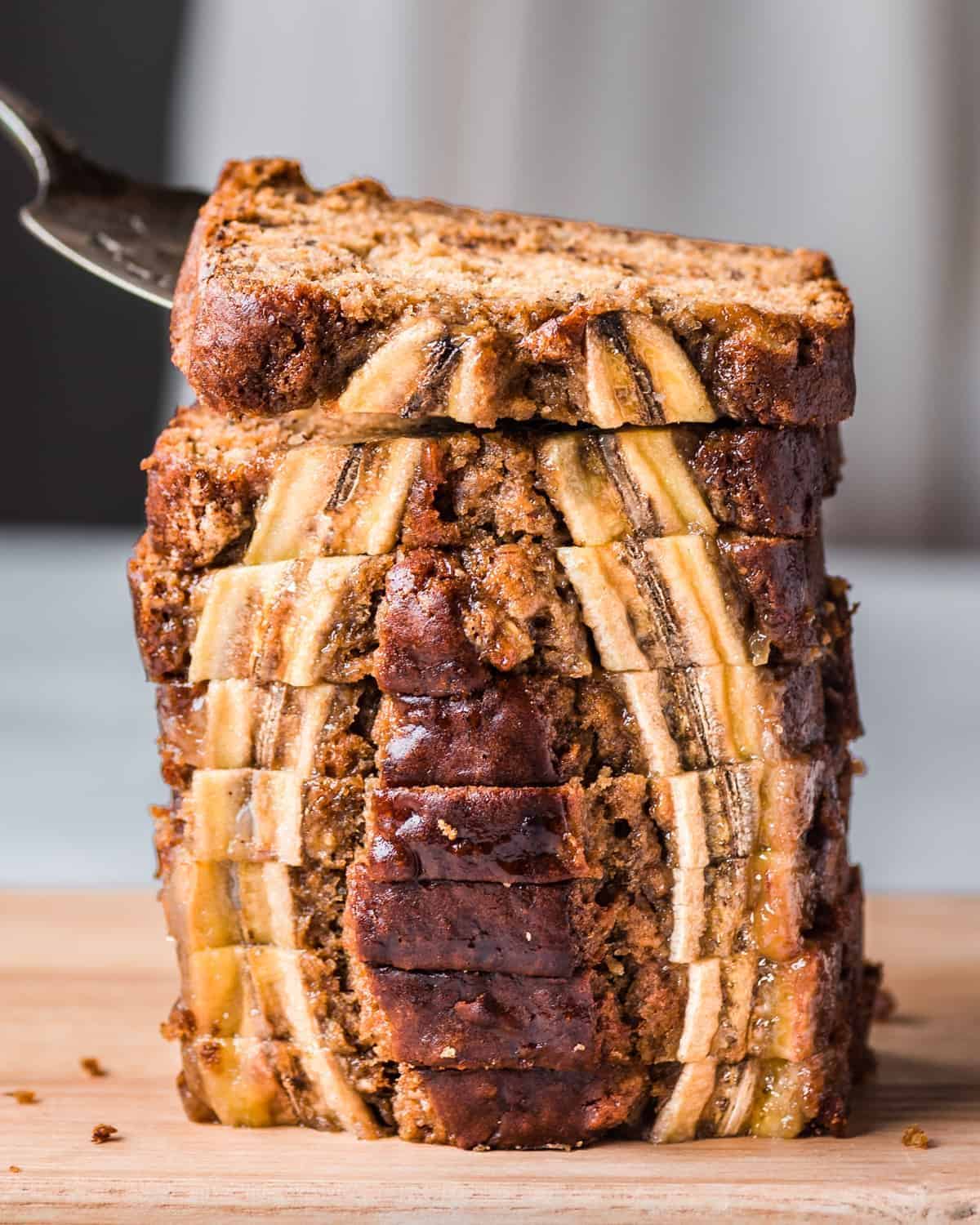 This amazing vegan and gluten-free recipe yields a tender, moist, and fluffy texture that sets it apart and practically melts in your mouth.
Made with aquafaba (the liquid from a can of chickpeas) or flax eggs for a vegan alternative to eggs, mashed bananas, oat milk, sunflower oil, organic brown sugar or coconut sugar, vanilla extract, all-purpose flour, sea salt, baking soda, and ground cinnamon, this is a recipe that you're definitely going to want to try more than once!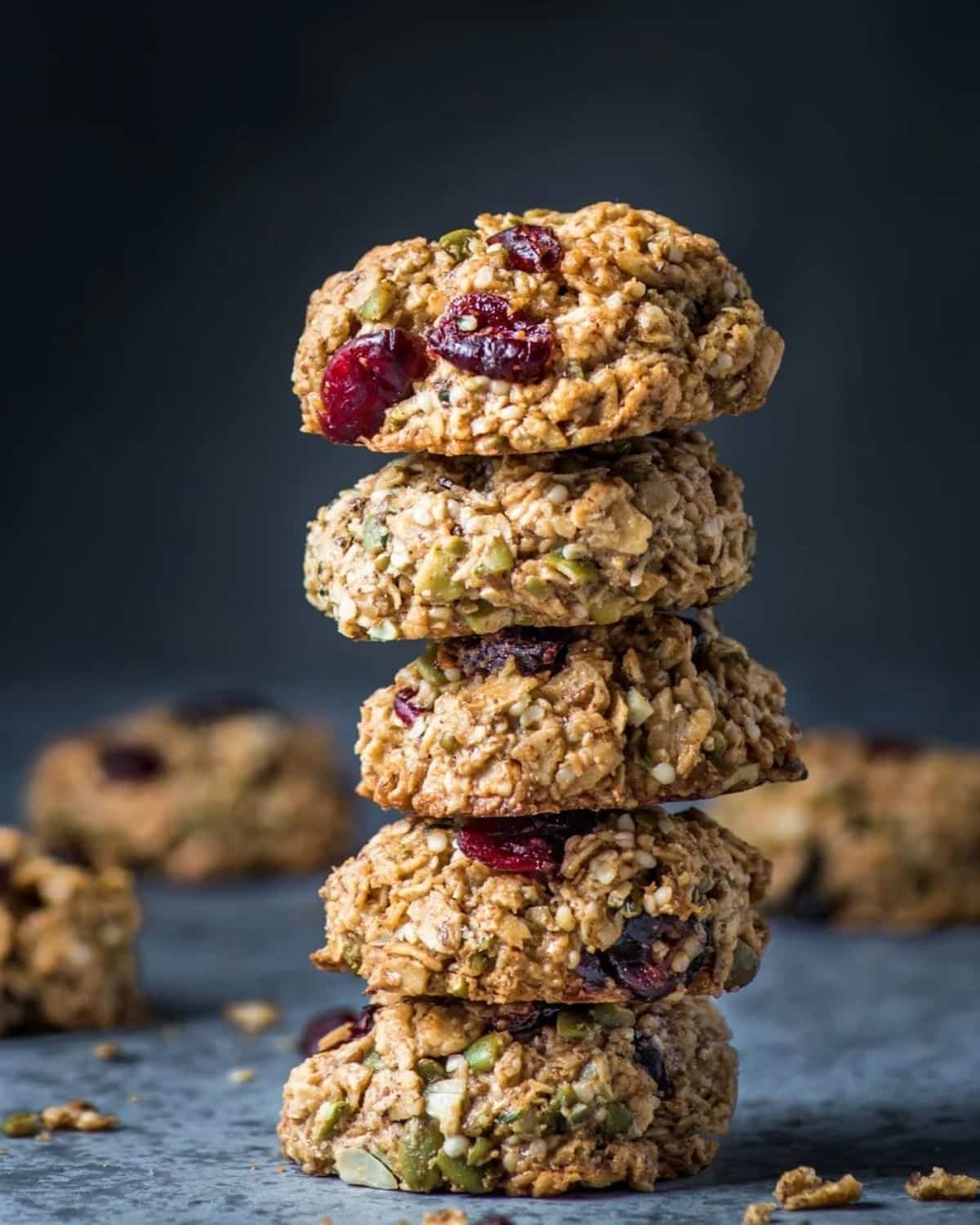 These breakfast cookies are a great option for those busy mornings when you don't have time to sit down and eat a full meal. These cookies are healthy enough for breakfast or as a post-workout snack and delicious enough for dessert.
Each cookie packs 5g of protein and 3g of fiber, which is pretty impressive for a cookie! You can customize these cookies by adding your favorite mix-ins like dried fruit, mini vegan chocolate chips, and chopped nuts or seeds.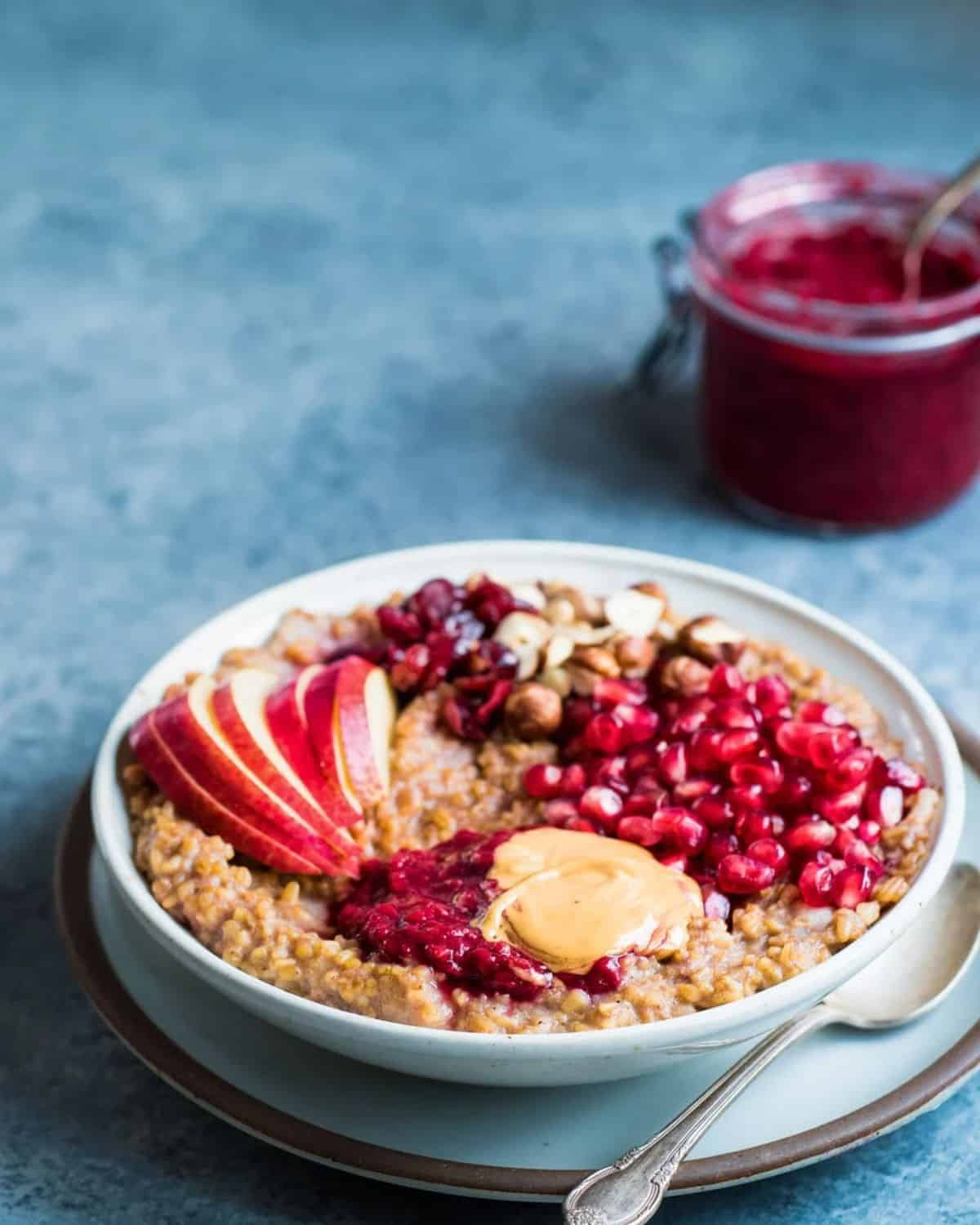 This recipe is for a healthy, vegan, and gluten-free oatmeal sweetened naturally with dates and pears. The recipe calls for steel-cut oats, oat milk (or other non-dairy milk), Medjool dates, pears, vanilla extract, sea salt, and a variety of spices, including cinnamon, ginger, allspice, and cardamom.
The oatmeal is prepared in an Instant Pot by adding all the ingredients to the inner pot and pressure cooking for 12 minutes, followed by a natural pressure release for 20 minutes.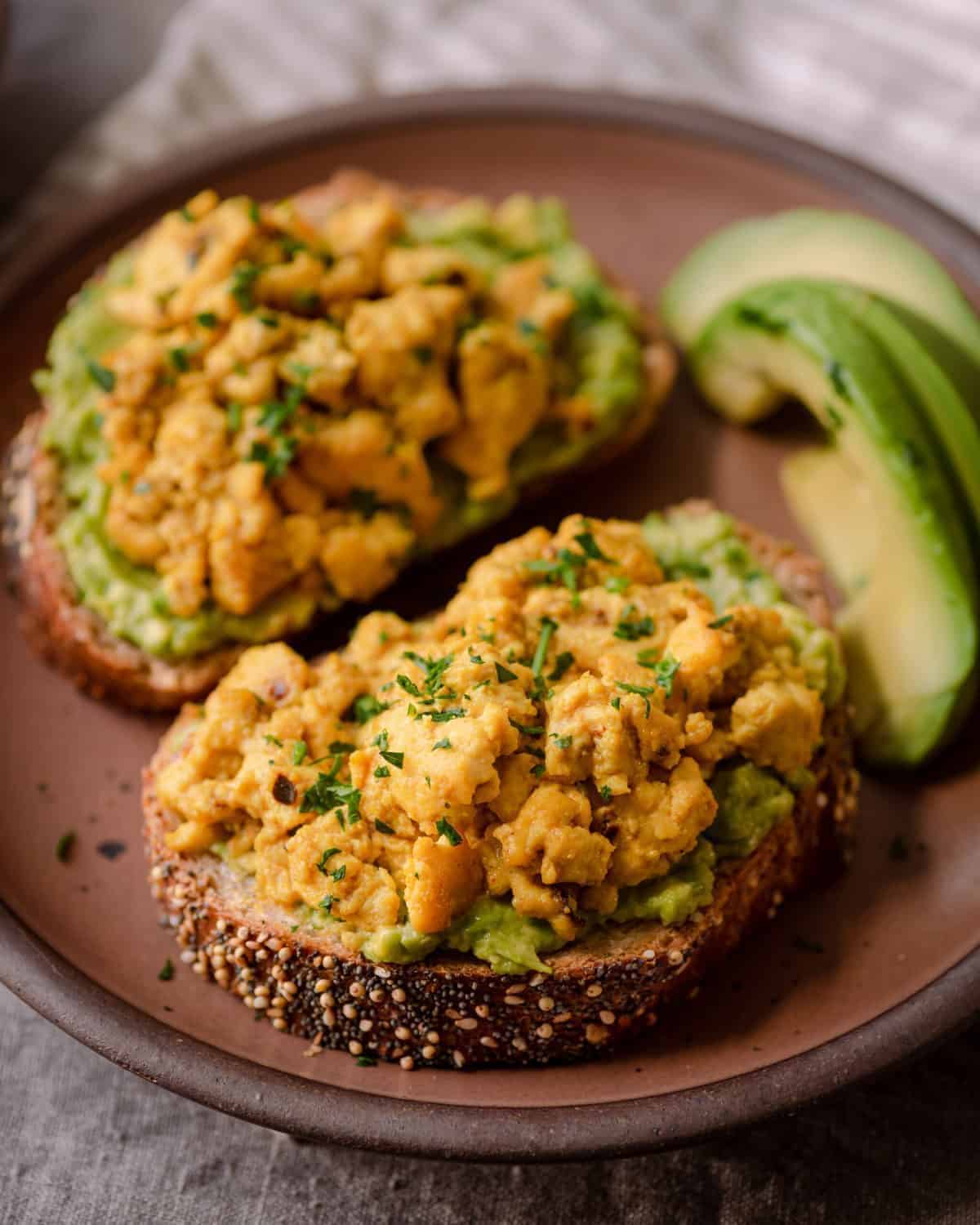 This recipe is for a vegan tofu scramble that mimics the texture and flavor of scrambled eggs. The dish is made with firm tofu, which is pressed to remove excess water and then crumbled into chunks.
The sauce is added to the pan with the tofu and cooked until the desired texture is reached. The scramble is finished with kala namak, or Indian black salt, which gives it an eggy flavor.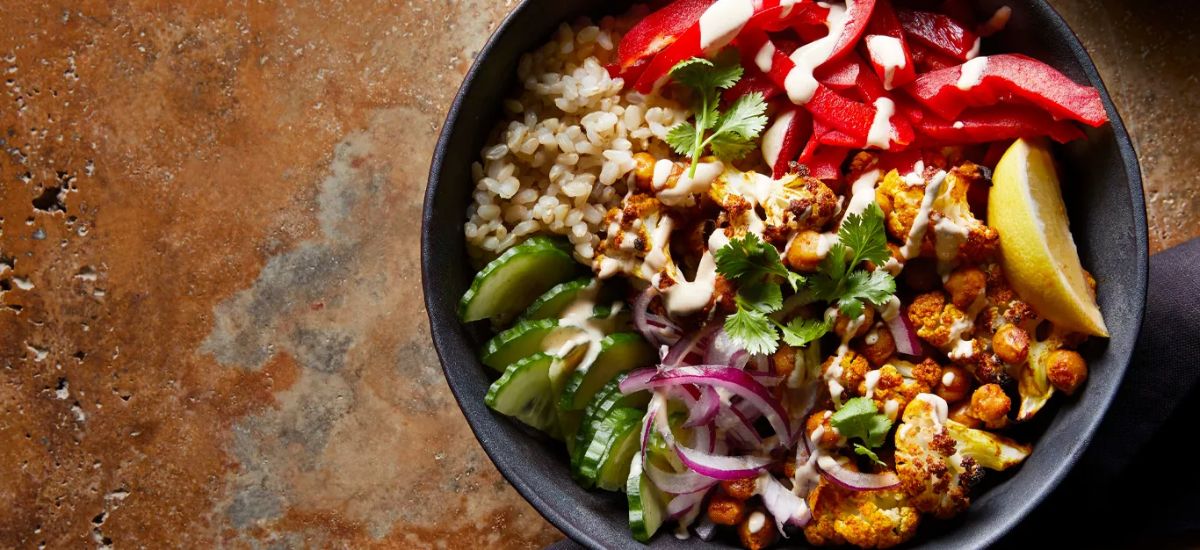 These vegan shawarma bowls are bursting with flavor and texture. The dish features a delightful combination of roasted cauliflower and chickpeas seasoned with warm Mediterranean spices, including cinnamon, turmeric, and coriander.
The dish is served with hot brown rice, fresh cucumber, bell pepper, and red onion. If you want to make it (or buy it), a simple tahini dressing adds creaminess and an extra layer of flavor.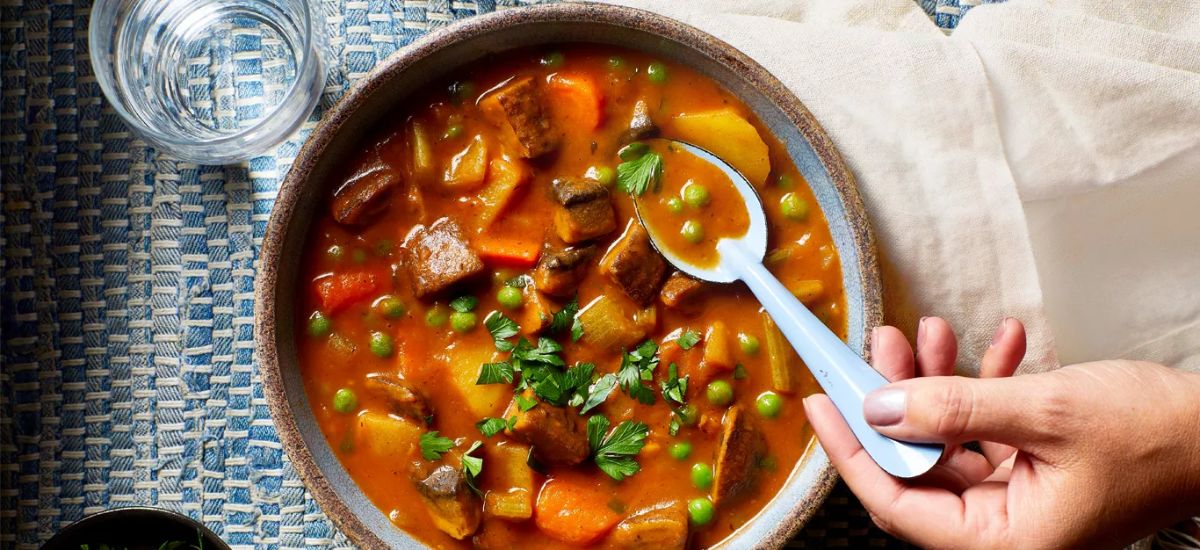 This hearty and comforting vegan stew is perfect for when you need a little extra love and warmth. It's made with portobello mushrooms, fresh veggies, and fragrant herbs like rosemary and parsley.
The mushrooms give the stew a rich and meaty texture, while the veggies soak up the broth.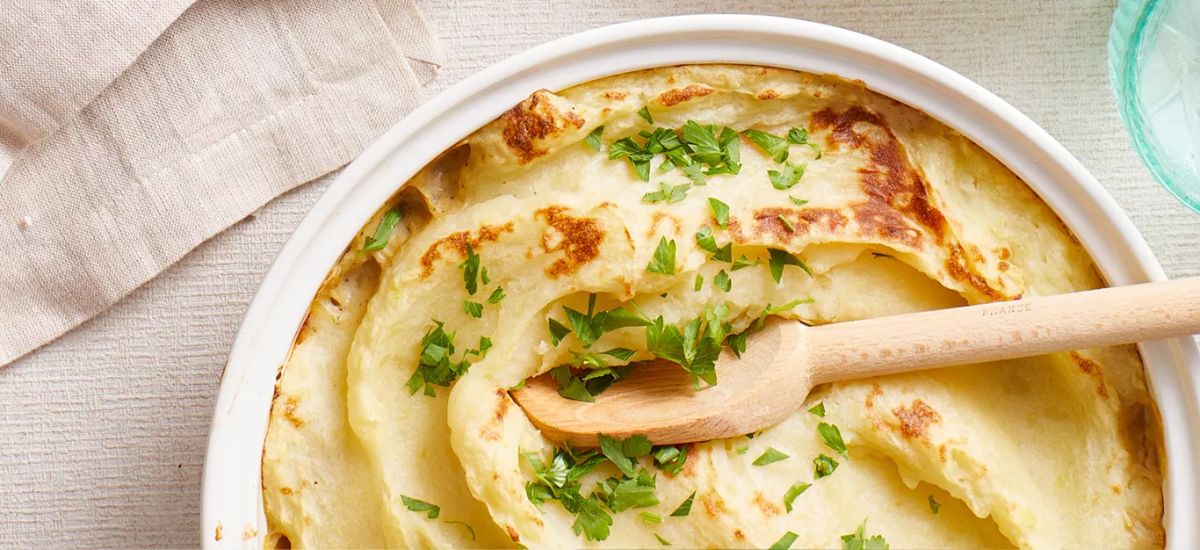 This Budget-Friendly Shepherd's Pie recipe is a classic casserole made with a bounty of vegetables, including onions, carrots, celery, and corn. The vegetables are cooked down into a savory gravy that adds richness and moisture to the dish.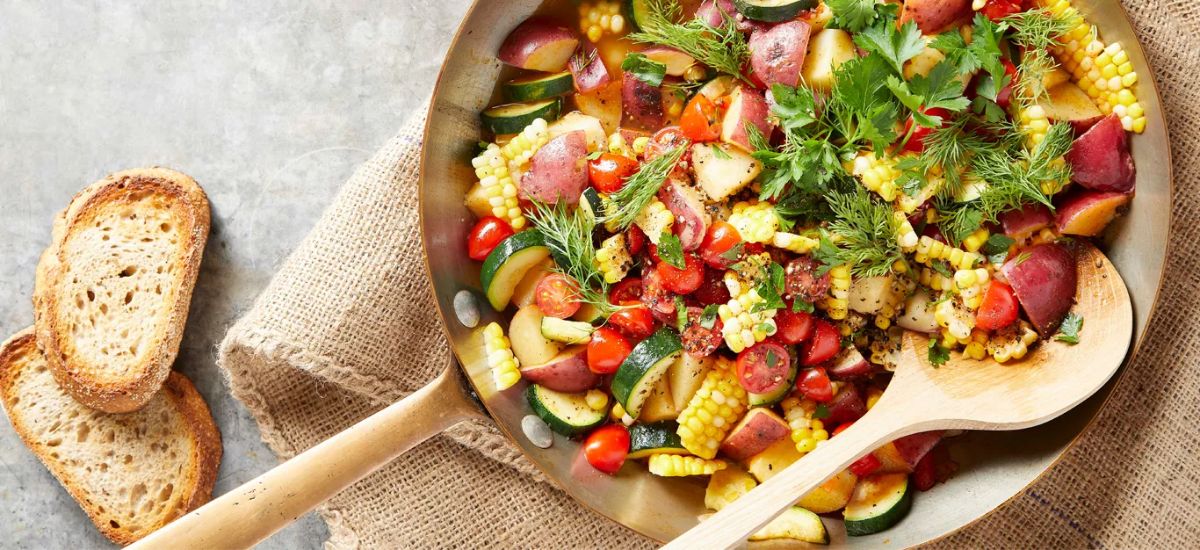 Wake up to a savory and herb-infused breakfast with this delicious Herbed Breakfast Hash recipe! Bursting with fresh vegetables like red bell peppers, zucchini, and grape tomatoes, this hash is not only colorful but also incredibly healthy.
The fragrant aroma of garlic and chili powder will tantalize your senses, making it the perfect way to start your day.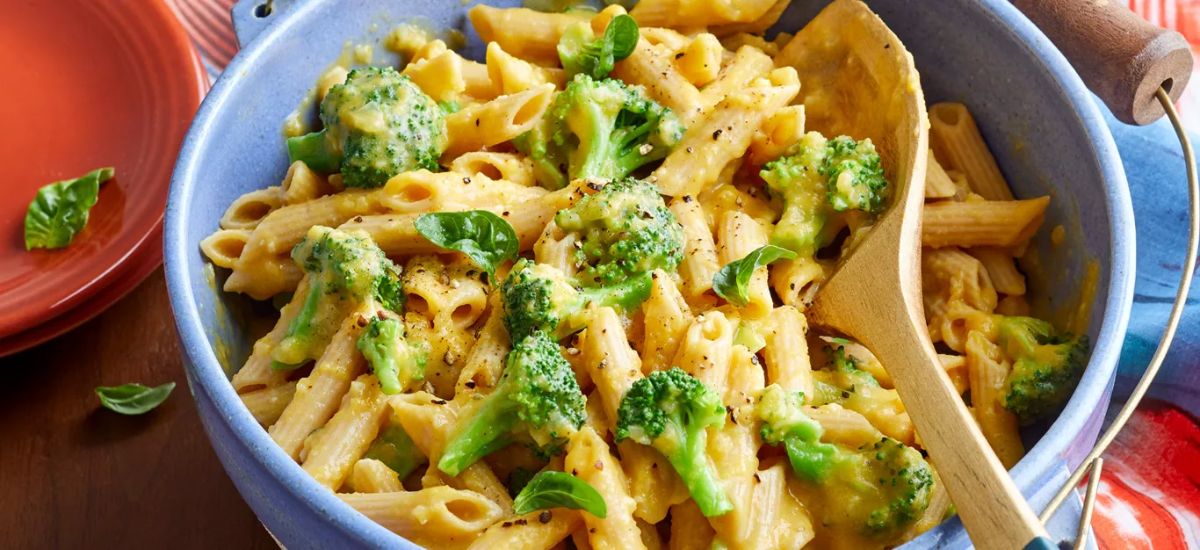 Looking for a healthier take on the classic mac and cheese? Look no further than this recipe for Butternut Squash Mac and Cheese with Broccoli!
The sauce gets its depth of flavor from fresh thyme and garlic, while a splash of white wine vinegar adds just the right amount of tang.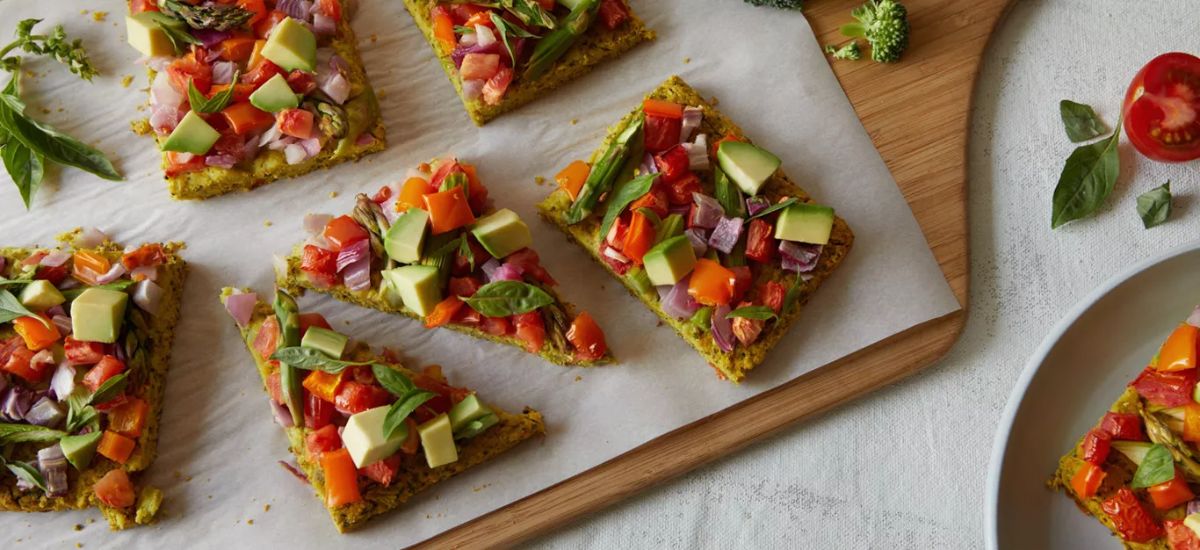 The Broccoli-Crust Veggie Pizza is another great recipe option that utilizes broccoli as a pizza crust instead of the traditional flour-based crust.
The crust is made from broccoli, chickpea flour, almond flour, Italian seasoning, garlic, turmeric, baking powder, and plant milk. The pizza is topped with asparagus, red onion, bell pepper, and tomato and can be garnished with avocado and basil.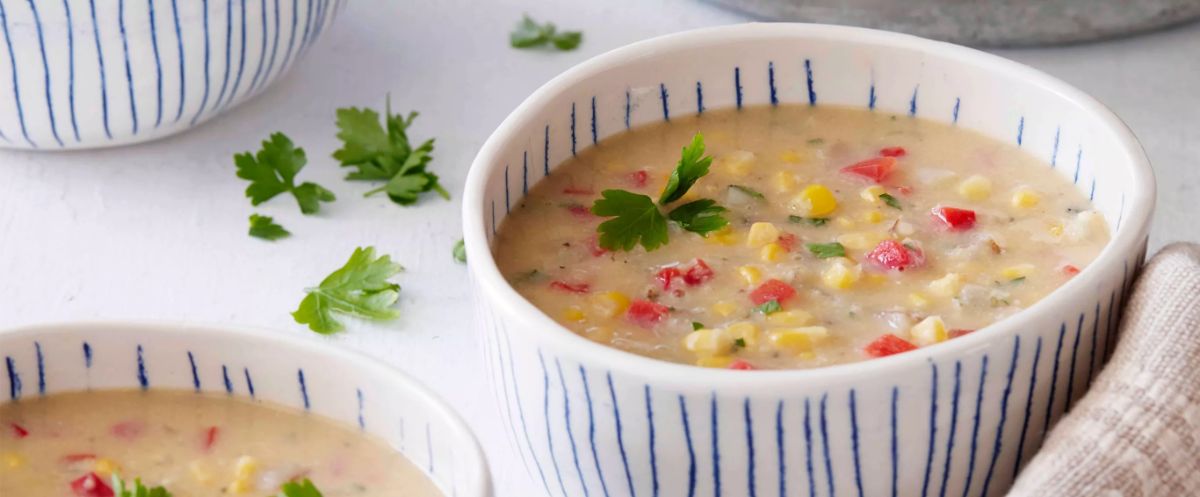 This easy-to-make vegan/gluten-free recipe uses ingredients such as onion, garlic, vegetable stock, fresh or frozen corn kernels, and potato. The recipe involves simmering the onion, garlic, and vegetable stock until the onion is translucent, adding the corn, potato, and remaining stock, and simmering until the potato is soft. It's a pretty simple way to make a meal that's perfect for a cold winter night.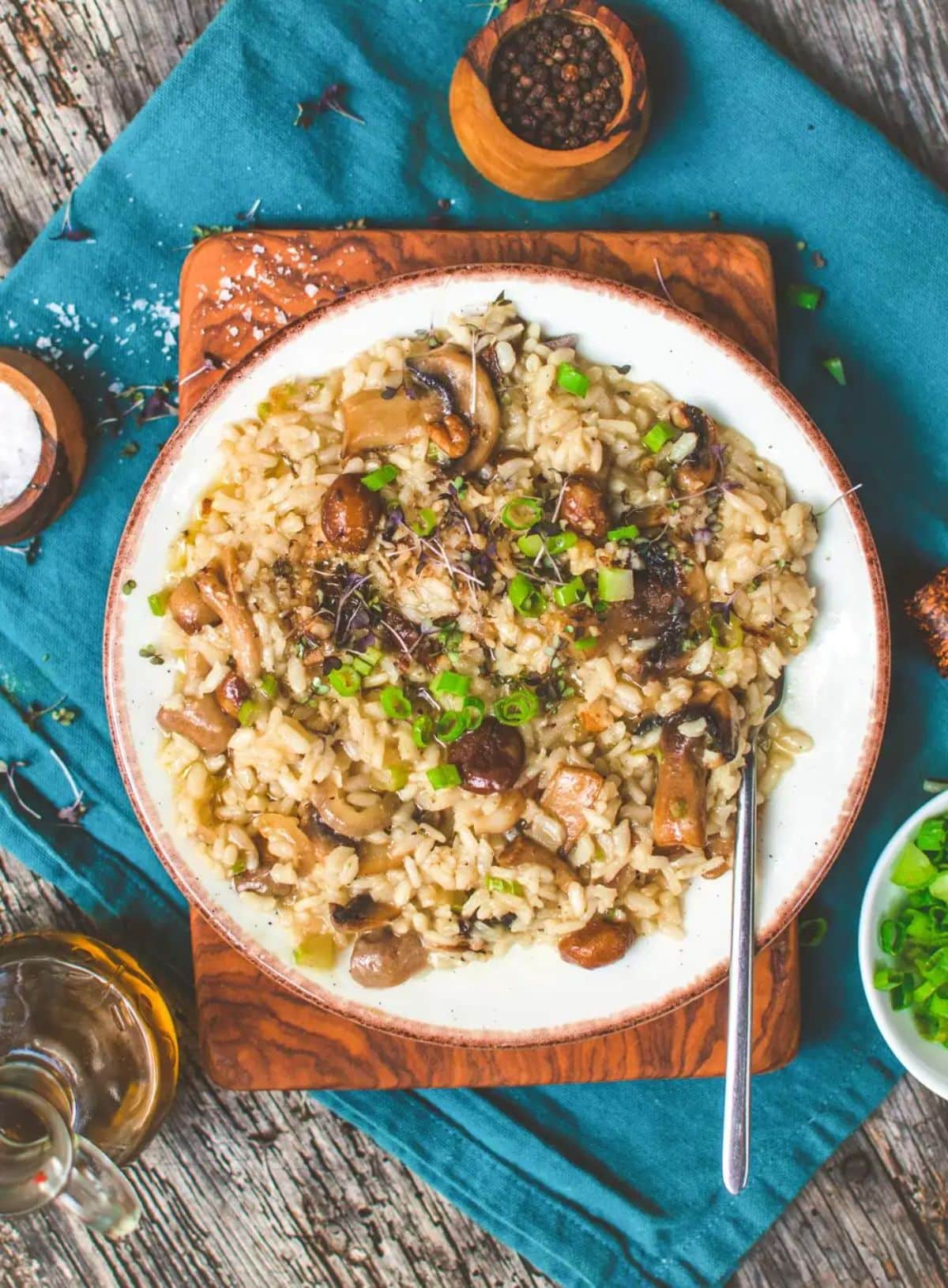 This recipe is a vegan version of the classic Italian dish, mushroom risotto. The recipe uses vegetable stock instead of chicken stock and replaces dairy cheese and butter with vegan butter. These are all really easy substitutions that barely add any time or cost to making the dish.
The dish is flavored with garlic, onion, and celery, and wild mushrooms are added for more flavor.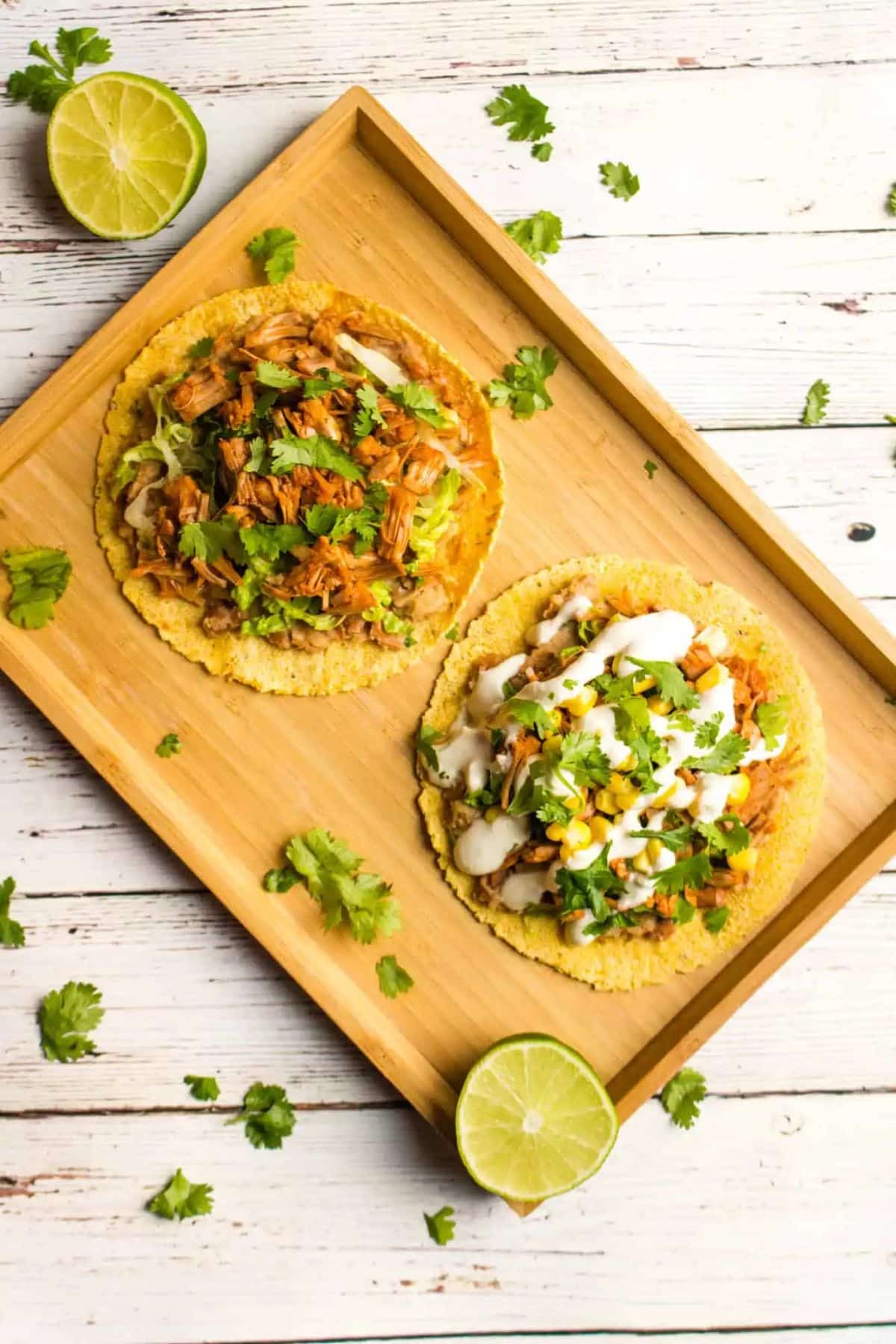 Jackfruit tostadas are a delicious vegan alternative to traditional meat-based tostadas. This recipe features two components: homemade refried beans and BBQ jackfruit.
The refried beans are made by sautéing onion, garlic, and jalapeño in coconut oil and adding mashed pinto beans with cilantro and lime juice.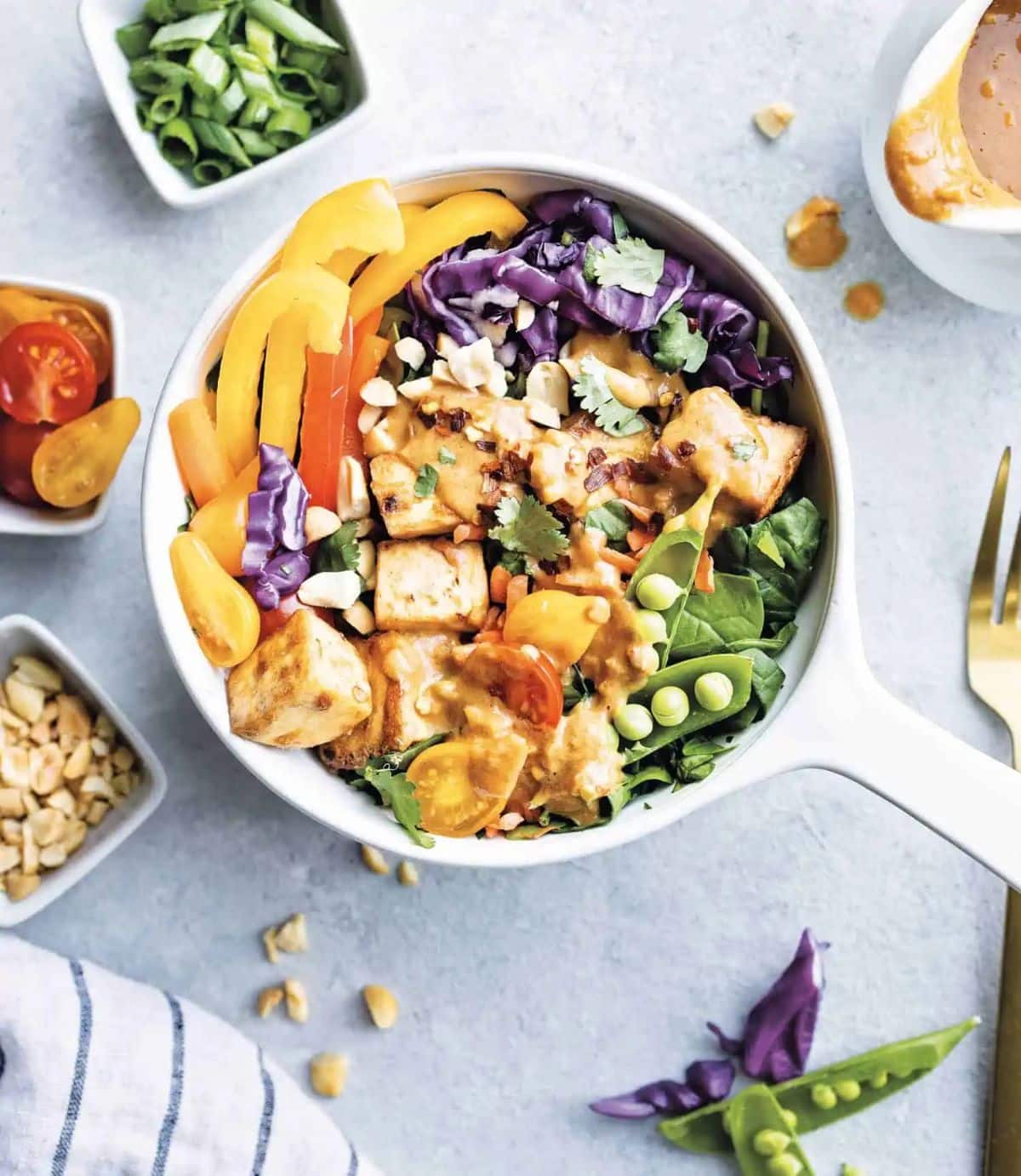 This super tasty recipe is for a Thai chopped salad with peanut-baked tofu. To make the salad, you will need firm tofu, baby spinach leaves, snap peas, shredded carrots, shredded purple cabbage, green onion, a red or orange bell pepper, a ripe avocado, cilantro, and chopped peanuts or cashews.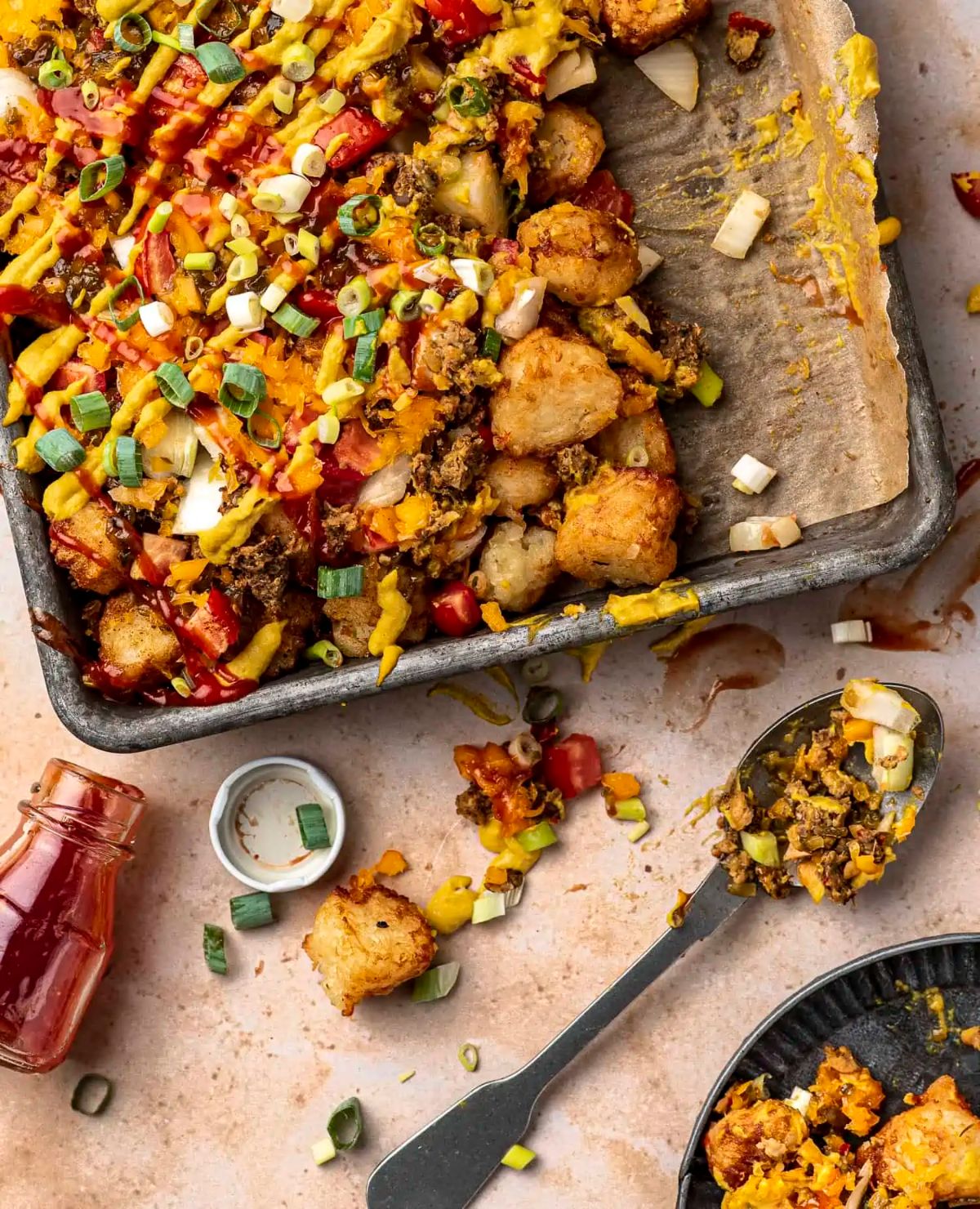 This recipe for cheesy burger tater tots looks delicious! The tater tots are baked in the oven with Old Bay seasoning, then topped with vegan ground beef or crumbled sausage, onion, tomato, sweet pickle relish, and vegan cheddar cheese.
The tots are then baked again until the cheese is melted and bubbly. To finish, the tots are drizzled with mustard, ketchup, or Thousand Island dressing.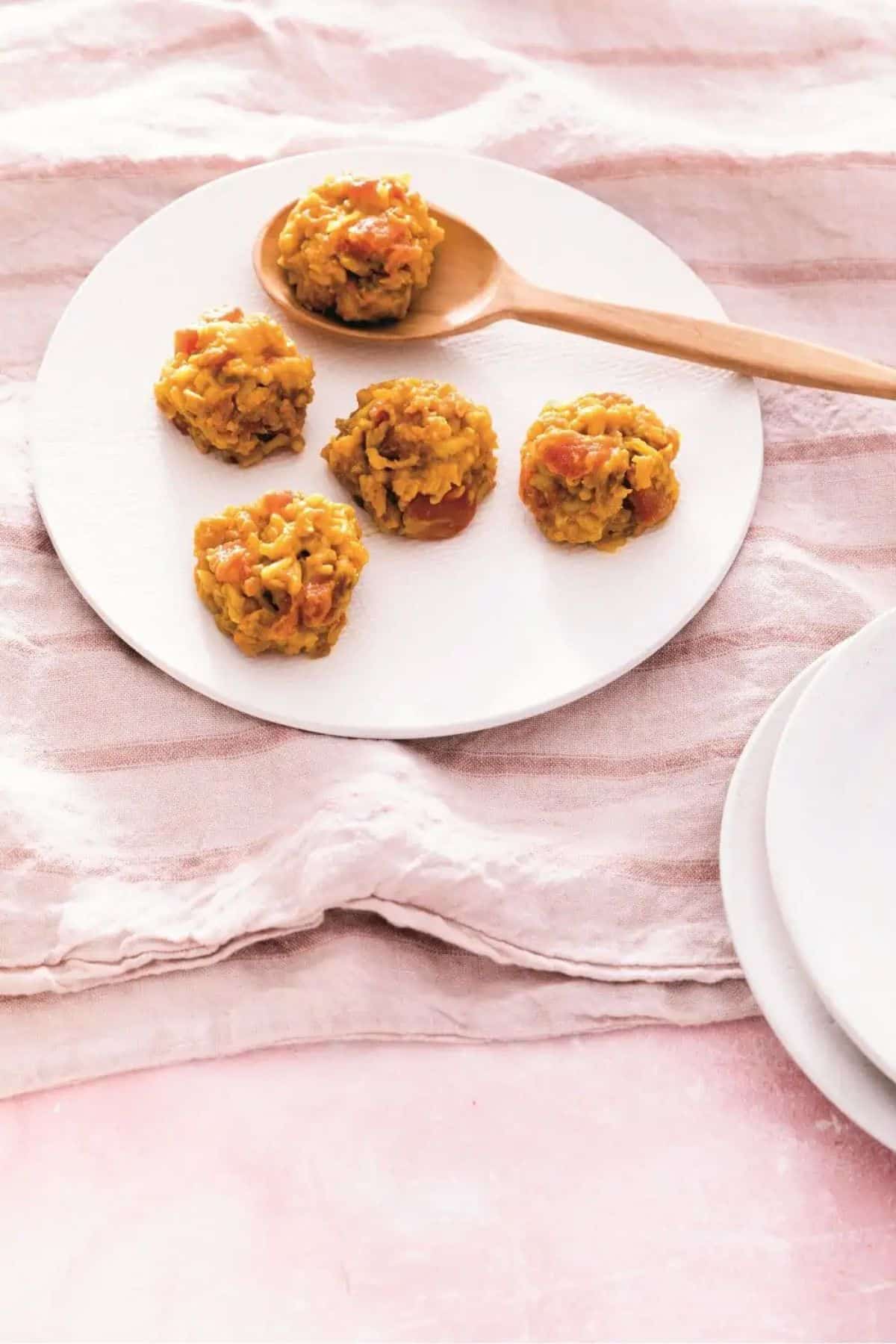 This vegan vegetable moong dal khichdi recipe is a great way to add protein to a child's diet. It contains brown rice, moong dal, onion, tomato, and spices. The recipe provides instructions for forming the khichdi into balls for easy snacking, but it can also be served in a bowl.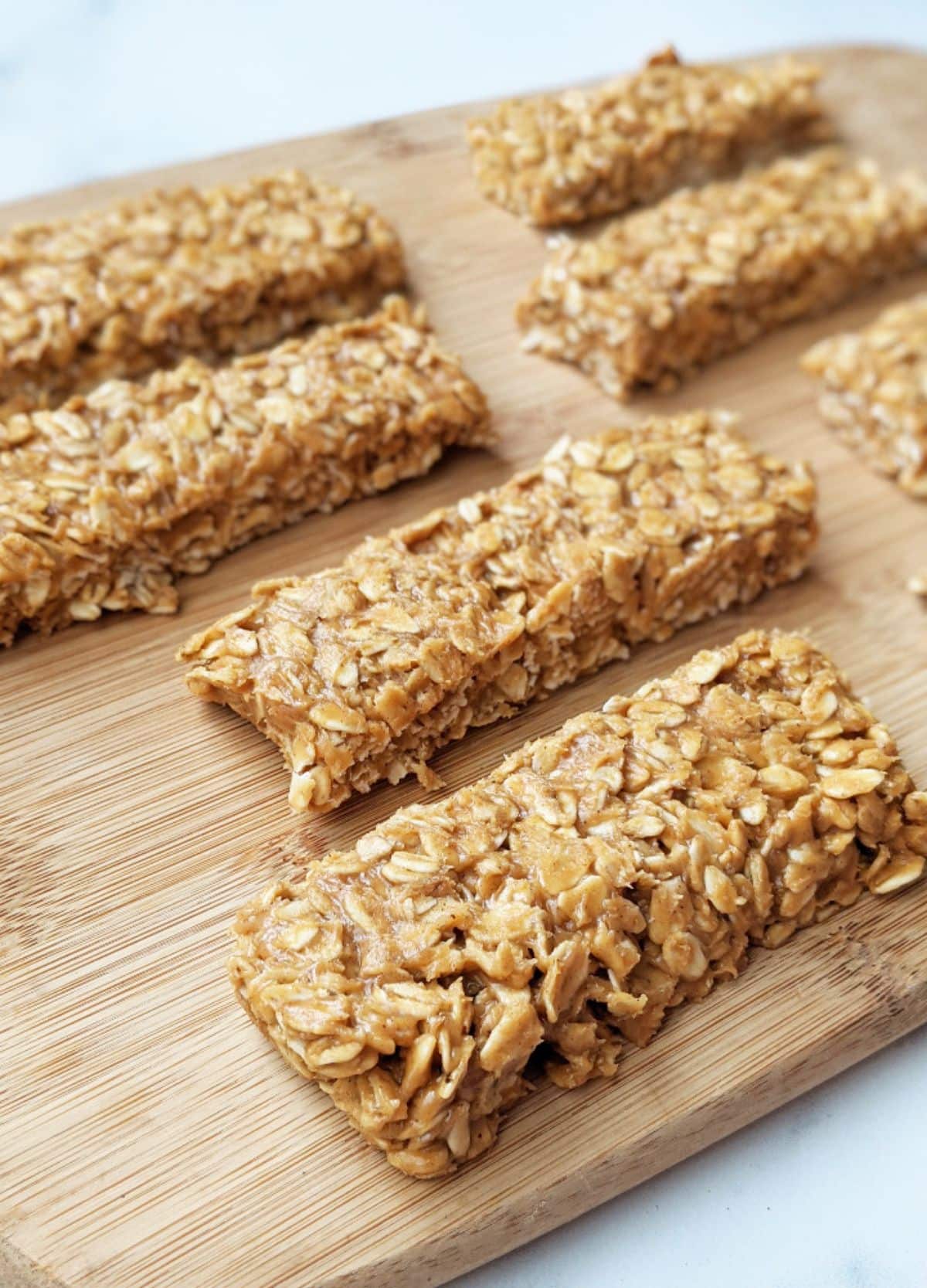 This recipe is for 5 ingredients no bake granola bars that are vegan and gluten-free. It only takes 5 minutes to prepare and boasts 9g of protein using only whole food ingredients.
The recipe calls for all-natural peanut butter, pure maple syrup (or agave syrup), ground cinnamon, salt, and rolled oats. Simply heat the peanut butter and maple syrup in a microwave-safe bowl, add in the cinnamon and salt, mix in the oats, and pour the mixture into a lined pan to refrigerate for at least one hour.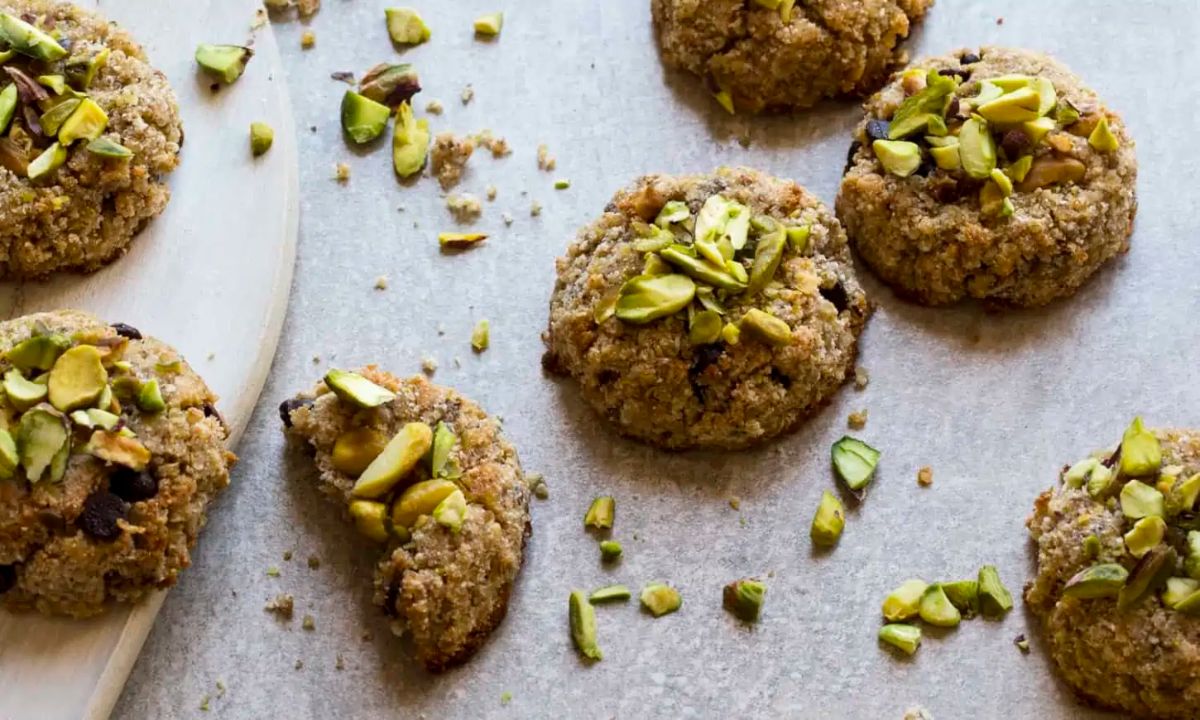 These lemon pistachio quinoa cookies are a healthy treat that is gluten-free and packed with nutrition. The cookies are easy to make, and the recipe includes step-by-step instructions.
These cookies are a great snack or dessert option that everyone can enjoy.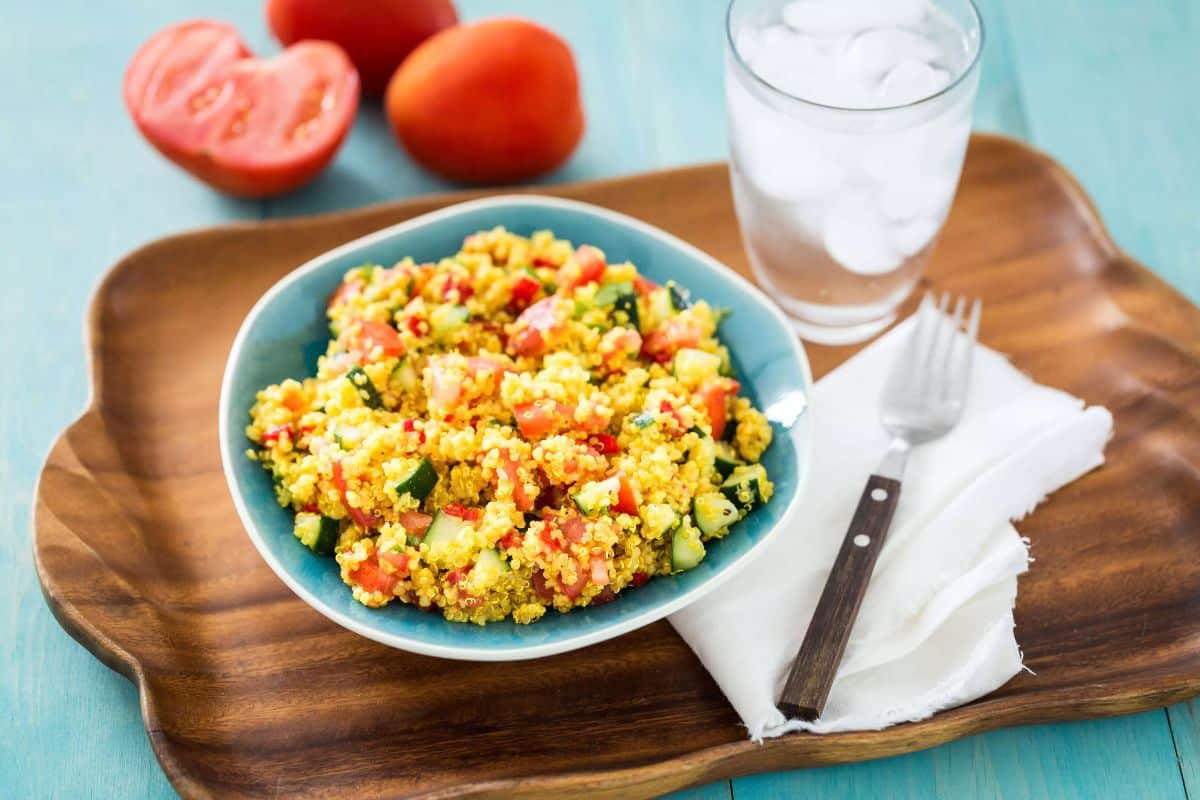 This is a recipe for a Middle Eastern Quinoa Salad that is vegan and can be served as a side dish or a meal on its own. The salad features flavors of Middle Eastern cuisine with earthy cumin and turmeric paired with the freshness of cucumber, lemon, and basil.
The recipe also includes chopped tomatoes and roasted red bell pepper and suggests adding chopped fresh red bell peppers for an extra pop of freshness. The quinoa is cooked with cumin and turmeric and then mixed with the other ingredients.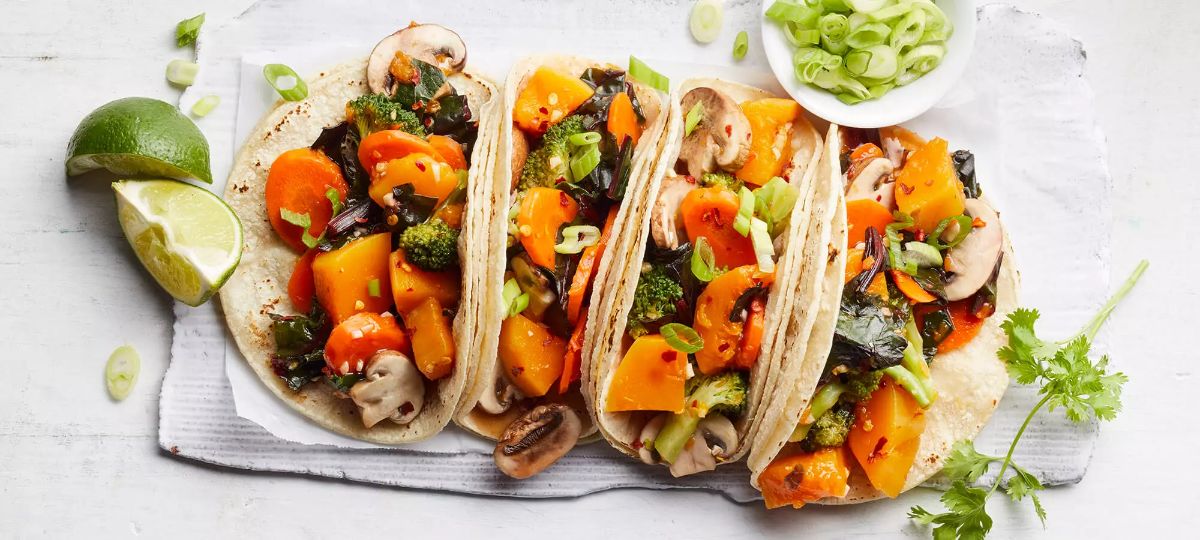 The Spicy Stir-Fry Tacos recipe is a delicious way to enjoy a flavorful vegan (and gluten-free!) meal. Packed with butternut squash, button mushrooms, broccoli, carrots, and Swiss chard, this easy-to-make vegan dish is cooked in a skillet. You'll also need to make a sauce out of garlic, ginger, tamari, and rice vinegar.
The addition of crushed red pepper flakes adds a nice kick of heat, making this dish perfect for those who enjoy spicy flavors. You can always use fewer red pepper flakes (or none at all) if you're not a spice fan.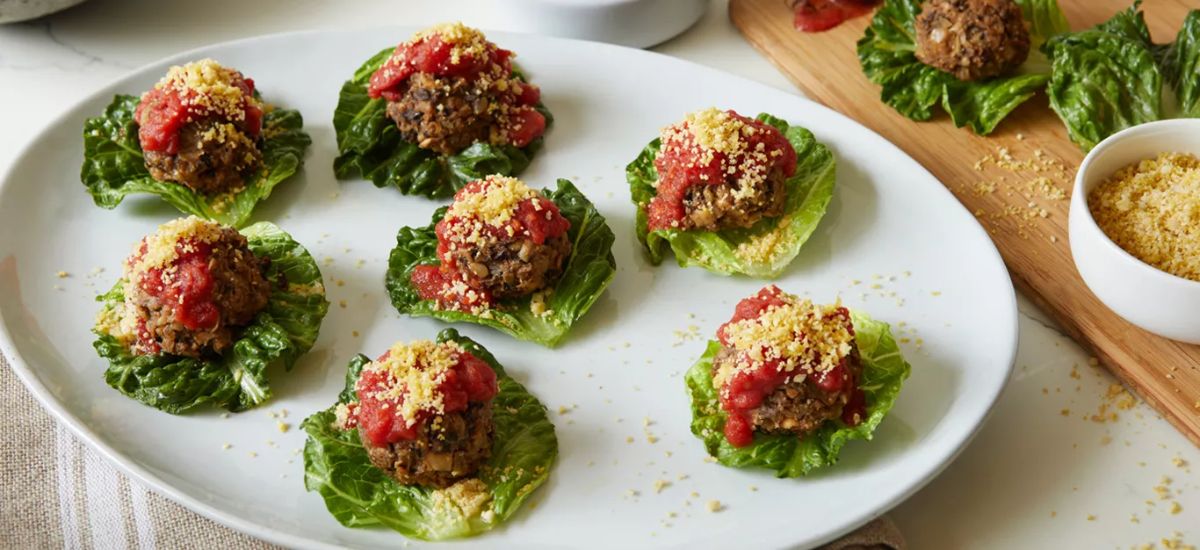 This recipe is for Fancy Vegan Meatballs made with beans, rice, vegetables, and herbs. The recipe is vegan, gluten-free, and easy to make.
The meatballs can be prepared ahead of time and baked just before serving. The cashew crumble topping is made with cashews, nutritional yeast, and miso and adds a nutty and cheesy flavor to the meatballs.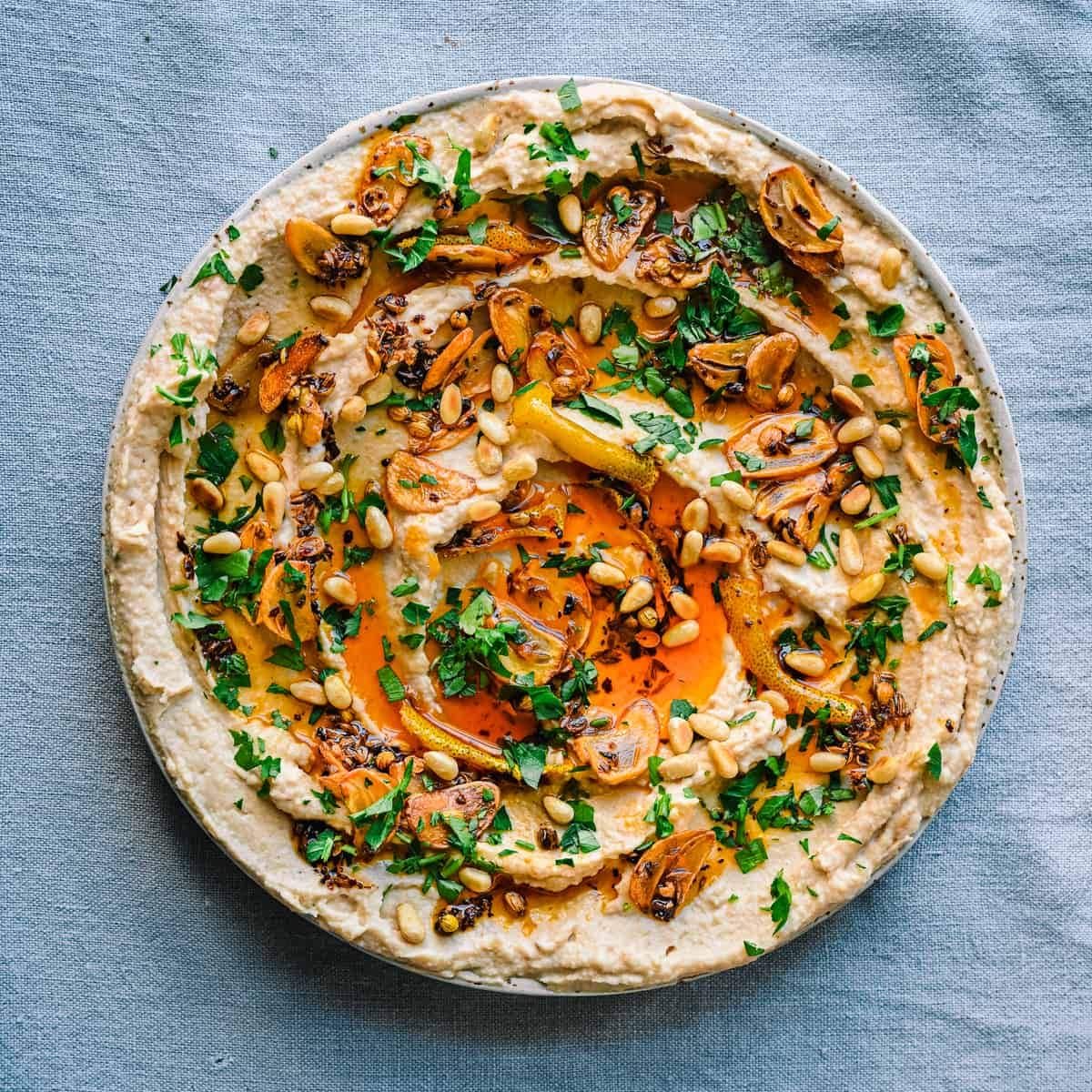 This Lemony White Bean Dip recipe is a flavorful and creamy dip perfect for an appetizer, side dish, or sandwich spread. Once you make it, you're going to come back to it time and time again!
Made with cannellini beans, lemon juice, white miso paste, and pine nuts, this dip is seasoned with garlic, cumin seeds, coriander seeds, and Aleppo pepper for a Middle Eastern-inspired flavor.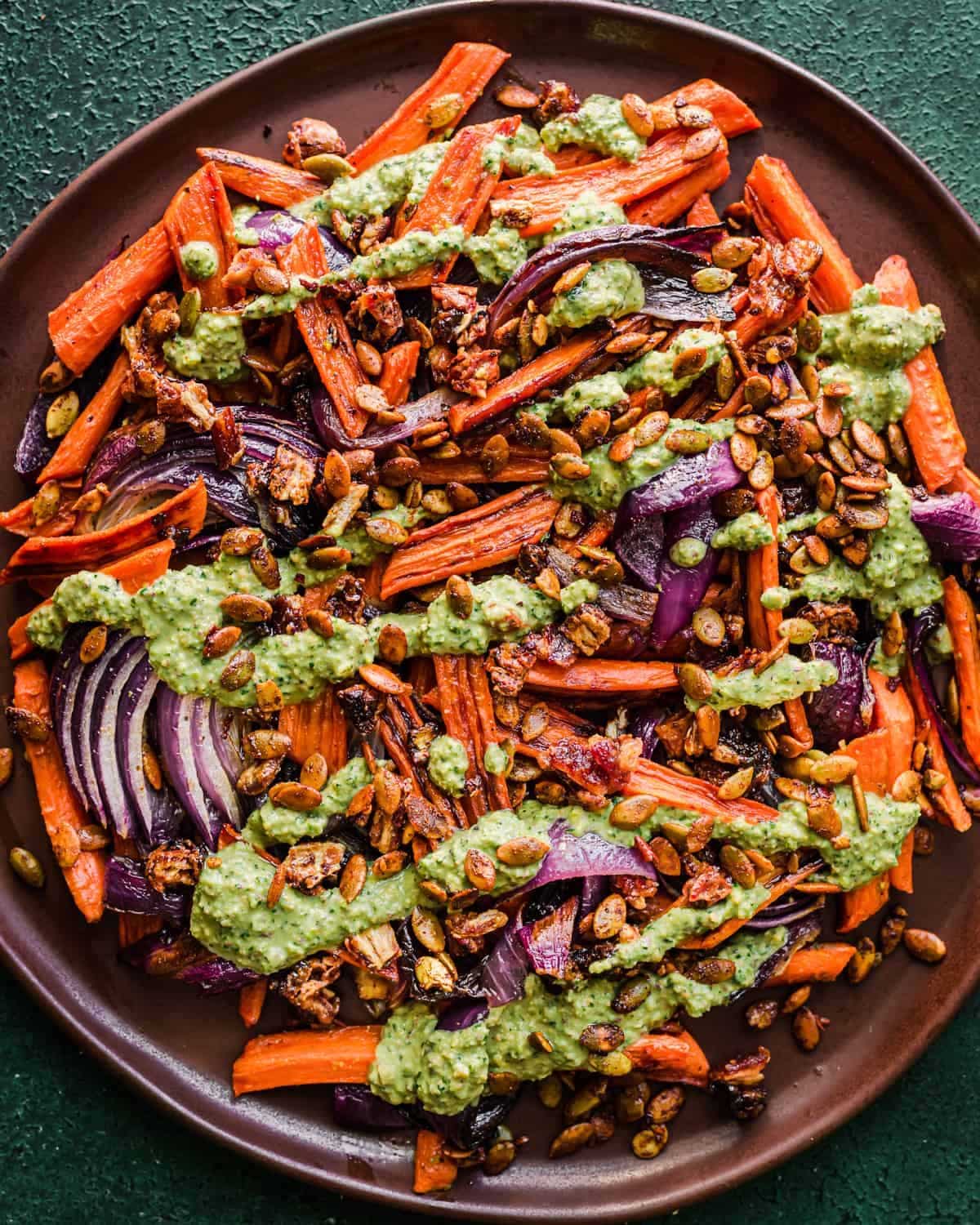 The recipe is for Roasted Carrots and Dates with Pistachio Pesto. It's a vegan dish that combines Middle Eastern and New American flavors in a compelling way. It's unlikely you've ever tried something like this before!
The dish features roasted carrots, red onions, and dates covered in a flavorful pistachio pesto and topped with a seed sprinkle. It's a truly flavor-packed recipe made with affordable ingredients.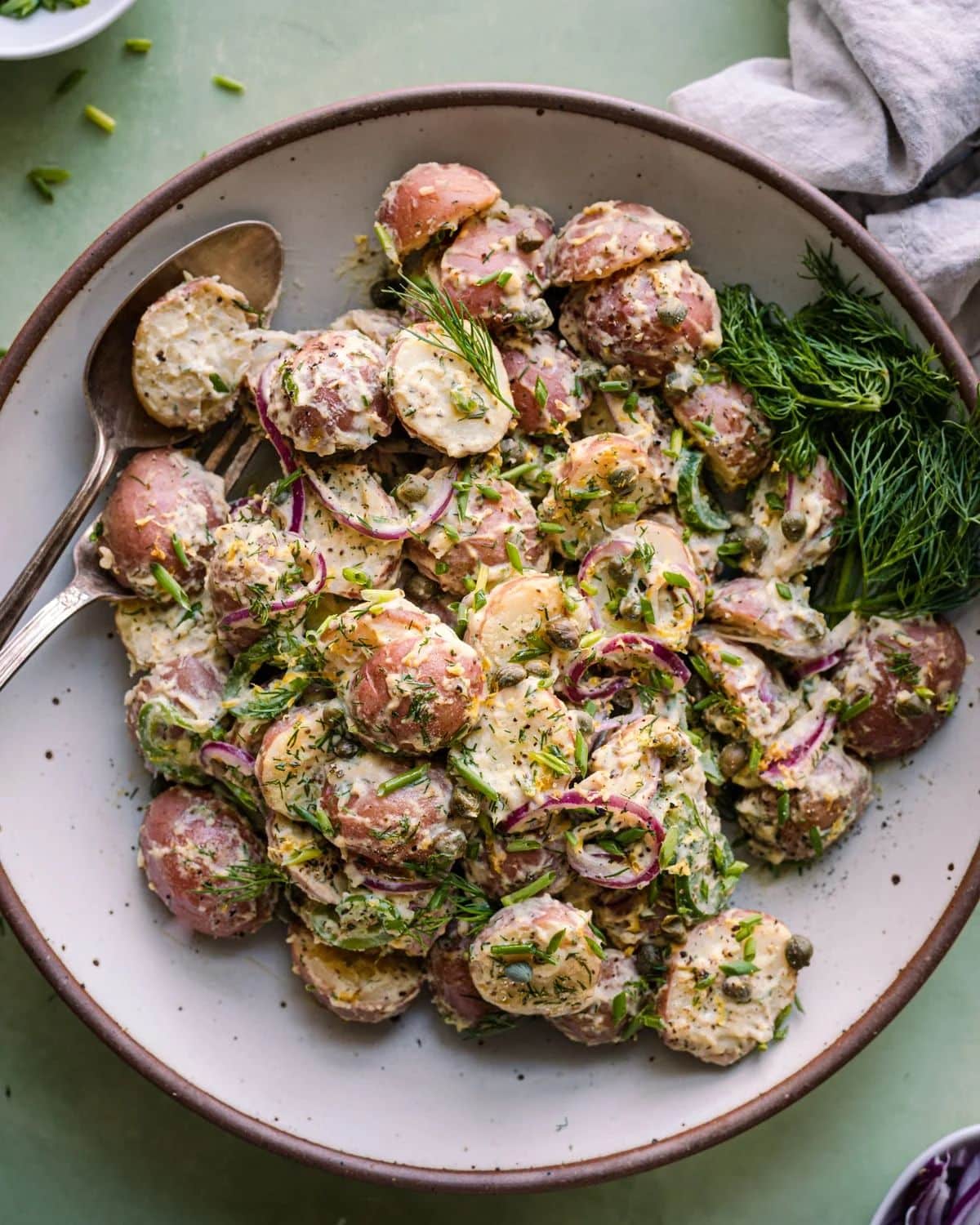 This is a mayo-free vegan version of the classic potato salad. The dish features tender baby red potatoes, fingerling potatoes, or new potatoes, which are boiled until just cooked and then coated in a creamy, tangy dressing.
The salad also includes capers, thinly sliced red onions, de-seeded and thinly sliced jalapeño pepper (optional), and chopped chives or thinly sliced scallions.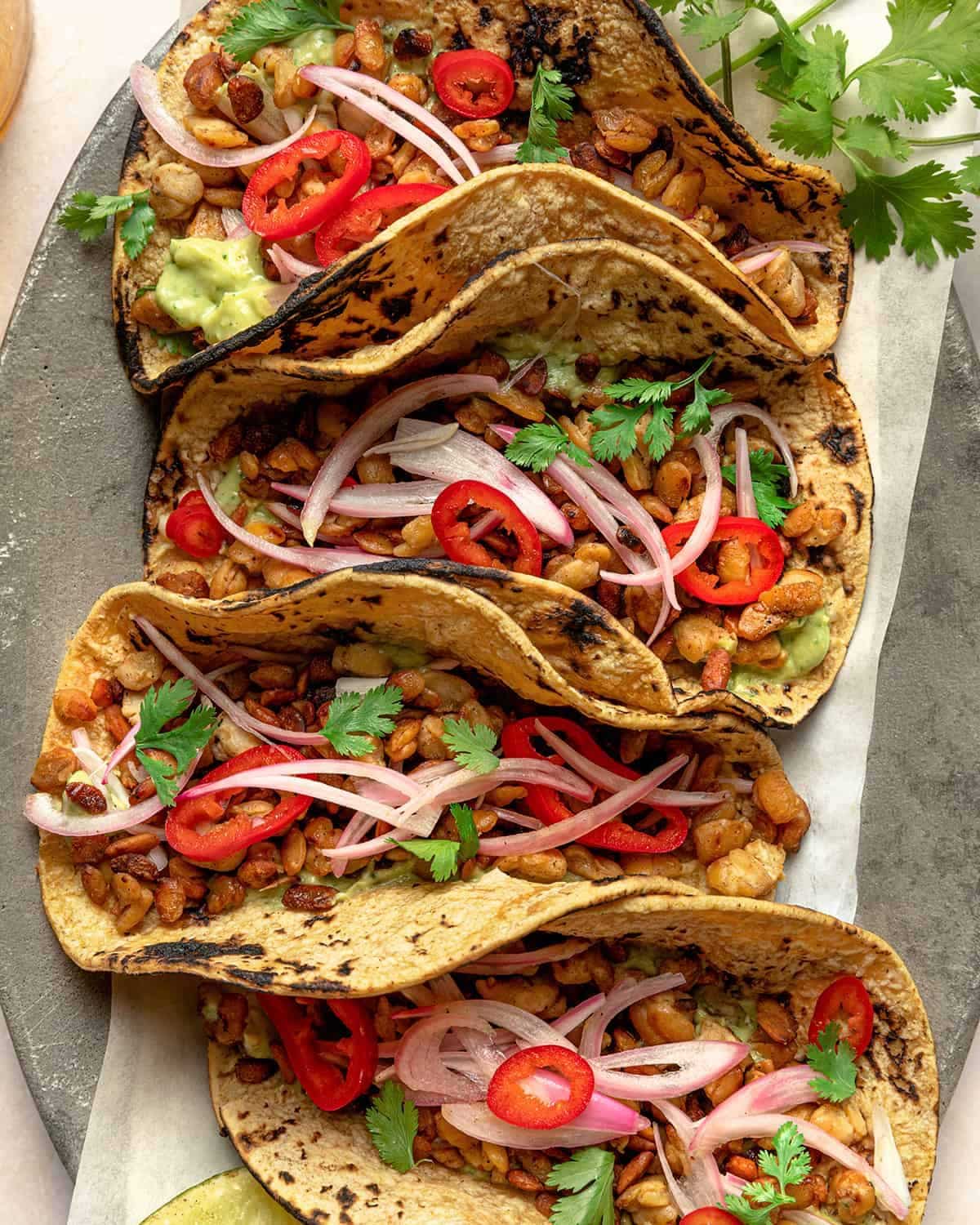 This is a truly amazing recipe for tempeh tacos. To start, the tempeh is crumbled into small pieces and fried until crispy, then tossed in a mixture of soy sauce and lime juice.
The tacos are assembled with homemade avocado crema, quick pickled vegetables (Fresno chile peppers or jalapeños and shallot), and charred corn tortillas.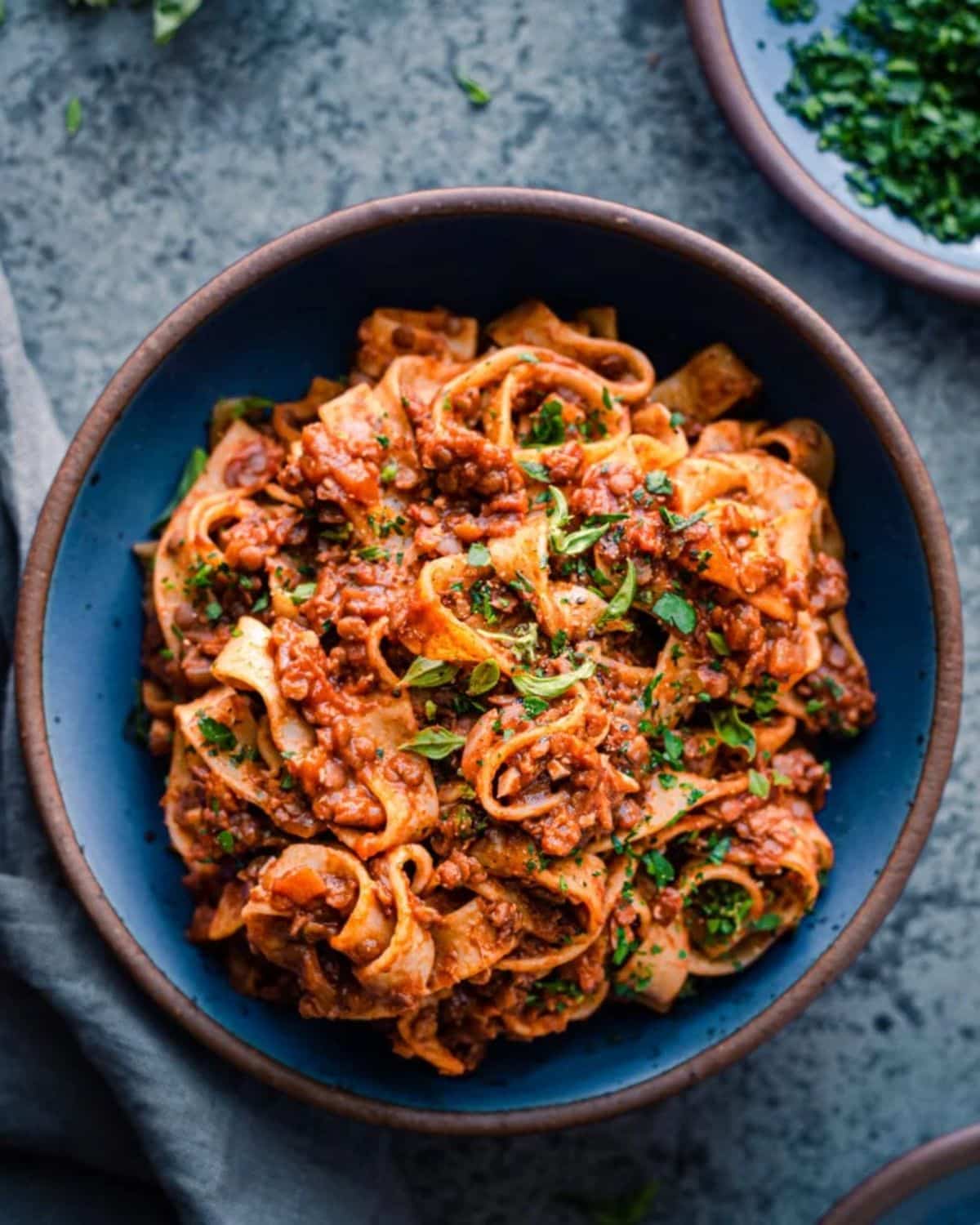 This recipe is for a vegan and gluten-free lentil bolognese, which is hearty, meaty, and packed with umami.
The recipe calls for just 10 main ingredients that are all pantry staples, making it easy to whip up at any time. The recipe starts with soaking a cup of red lentils for up to 60 minutes while preparing the other ingredients.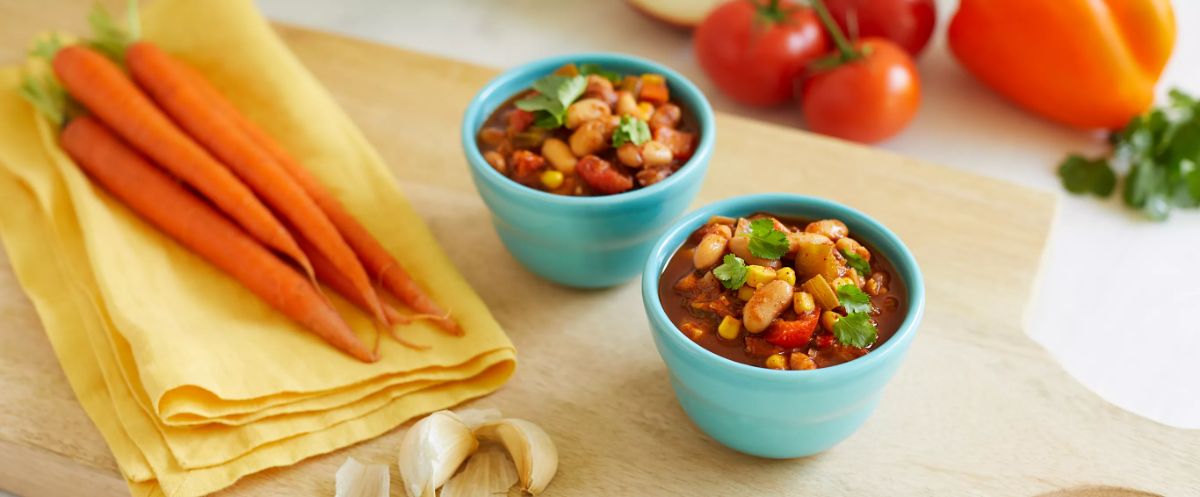 White beans are a very common ingredient in vegan cooking and something you'll need to have on hand if you want to make this zesty white bean chili. The hearty and flavorful chili is loaded with veggies like bell peppers, onions, celery, and carrots, giving it a hint of natural sweetness.
Additionally, you'll get to use a wide variety of spices, including cumin, oregano, chili powder, and paprika adds a depth of flavor that will tantalize your taste buds.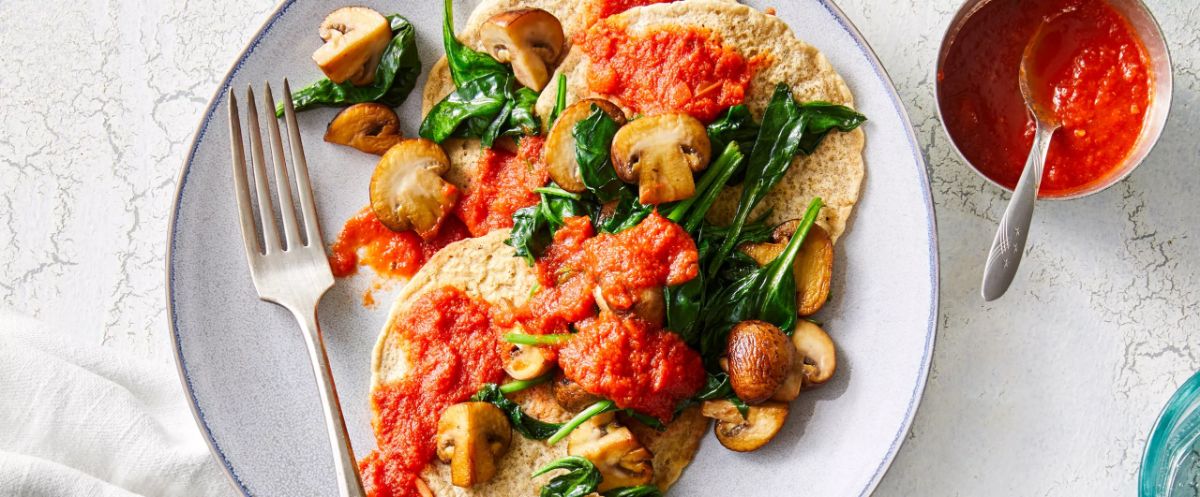 These amazing savory pancakes are made with a blend of gluten-free flours and flavorful spices, and the sautéed vegetables add a healthy dose of vitamins and nutrients.
The dish finishes with a generous serving of warm, oil-free marinara sauce. It's a satisfying and flavorful meal that's sure to please everyone at the dinner table.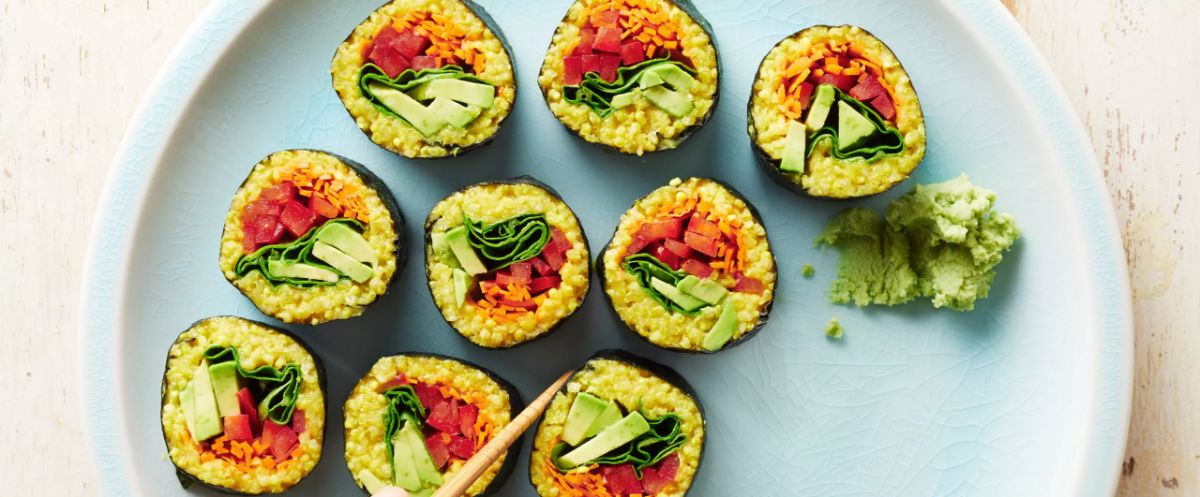 The recipe is for Curried Millet Sushi, which features cooked millet flavored with curry powder, onion powder, and garlic powder mixed with brown rice vinegar and maple syrup dressing.
The millet mixture is then rolled with nori sheets and filled with vegetables such as sweet peppers, shredded carrots, avocado slices, and fresh spinach. The sushi is then cut into pieces and served with low-sodium tamari, soy sauce, and wasabi paste.
Final Thoughts
As this list proves, a vegan, gluten-free diet can be both delicious and healthy if you use the right ingredients and take care in your preparation. From breakfast to dinner, many plant-based options are easy to make and cater to various tastes and dietary restrictions.
Don't be afraid to experiment with different ingredients and flavor combinations to find your favorite go-to vegan, gluten-free dishes.