Get ready to fire up the grill, whip out your spatula, and tantalize your taste buds with a sizzling array of gluten-free BBQ ideas.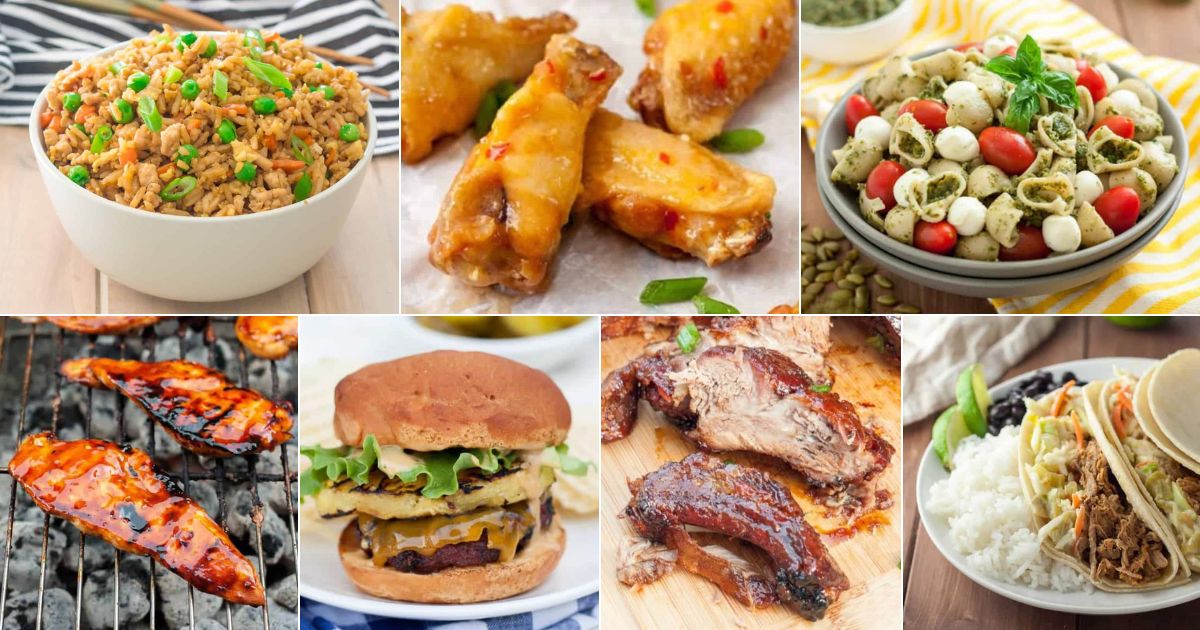 These easy-to-follow recipes will allow you to grill at the BBQ or bring an accompanying side dish - all carefully crafted to cater to gluten-sensitive individuals without compromising on flavor.
Here are 31 gluten-free BBQ ideas that'll make your outdoor event an unforgettable feast!
Jump to: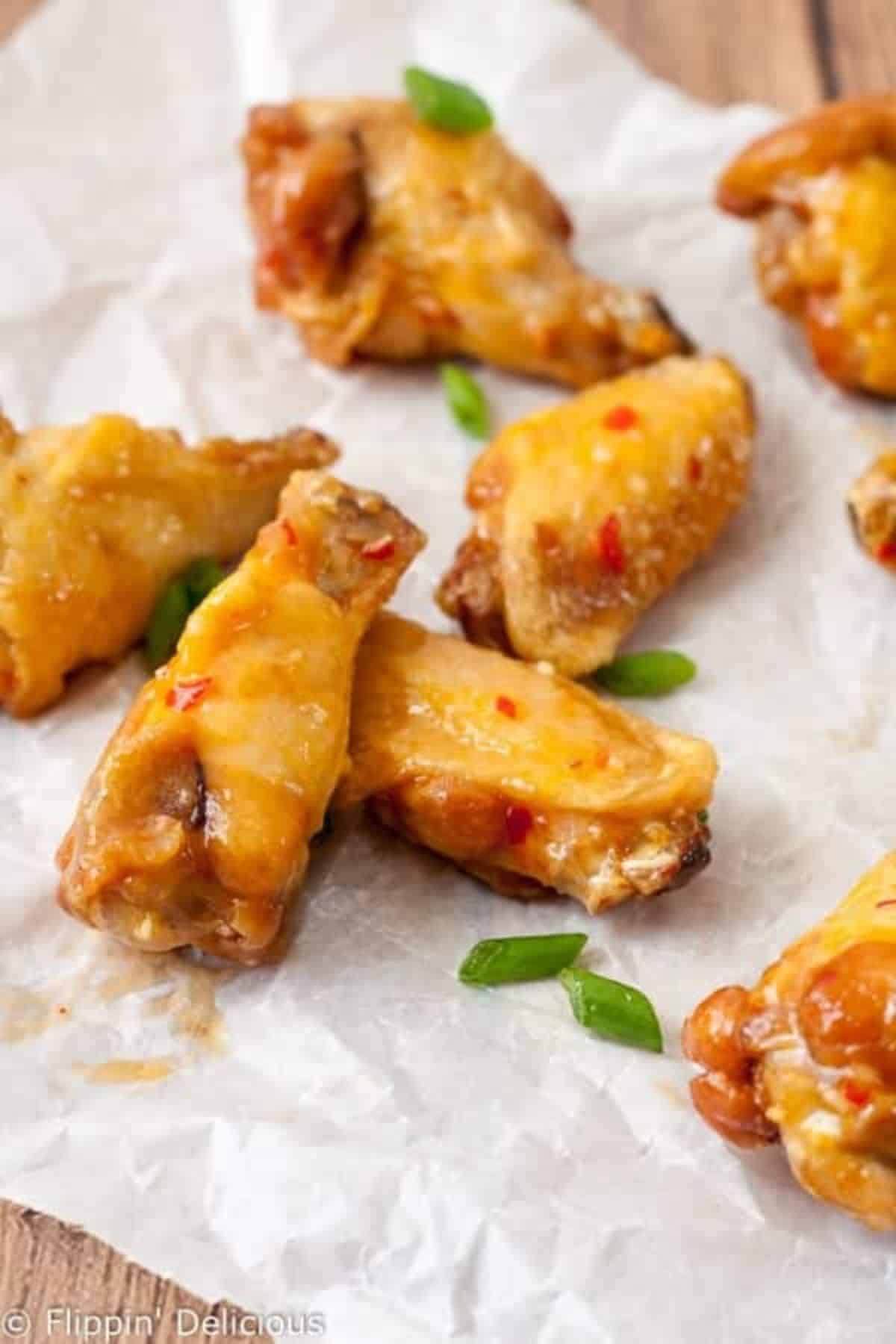 These sweet chili wings are bathed in a tantalizing combination of sweet chili sauce, garlic, and butter, making them a gluten-free wonder that delivers a perfect balance of sweetness, spice, and tang.
The succulent chicken wings, perfectly grilled to achieve a crispy exterior, are then generously glazed with the irresistible sauce, creating a sticky, finger-licking sensation.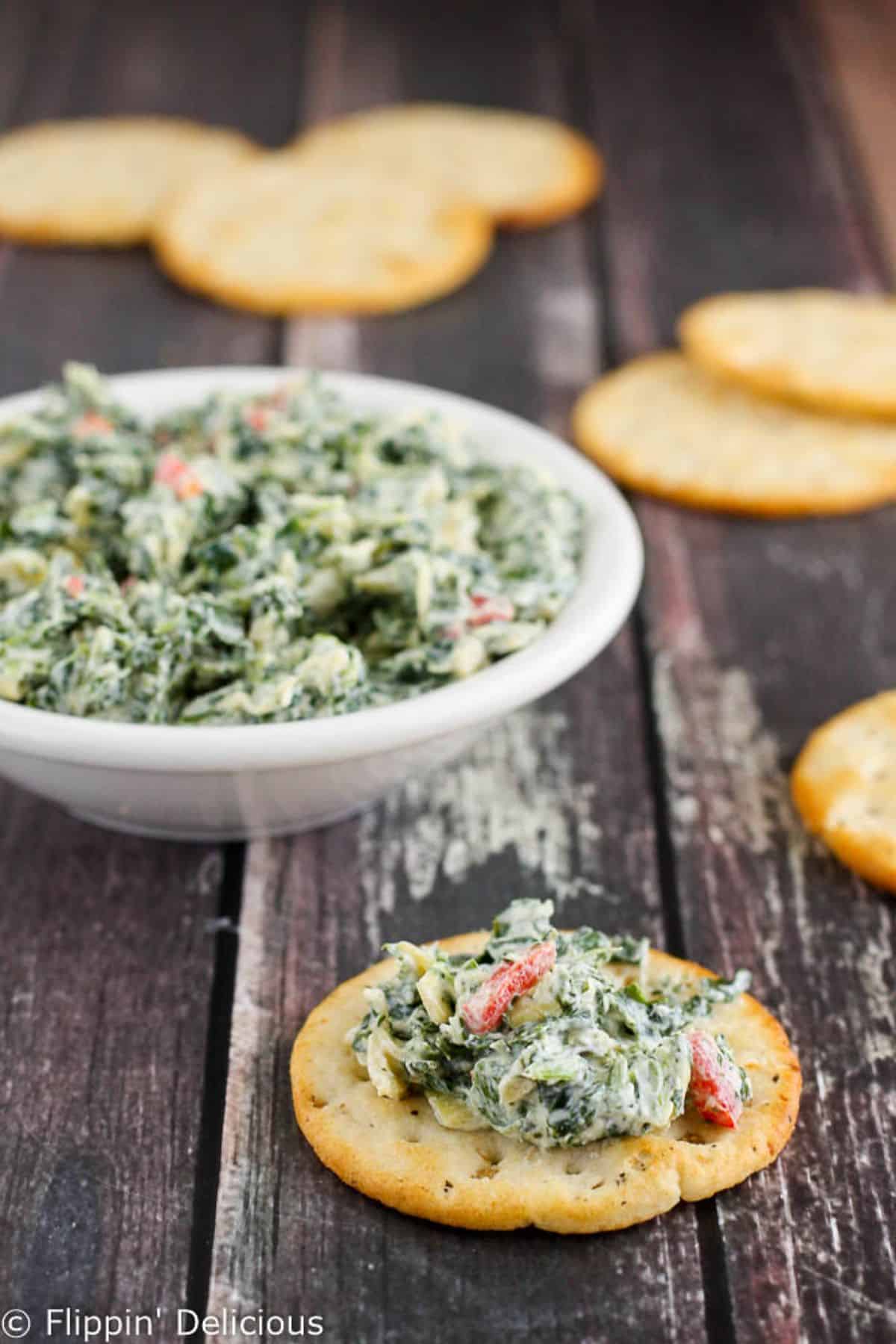 Gluten-free skinny spinach artichoke dip, made with Greek yogurt, is a delightful and guilt-free indulgence. Creamy, tangy, and packed with the vibrant flavors of spinach and artichoke, this dip is a perfect accompaniment for any gathering, but especially as a side dish at a BBQ.
This dip's light and refreshing taste makes it an ideal appetizer or snack option in between meaty bites, while the addition of Greek yogurt adds a creamy richness without the excess calories.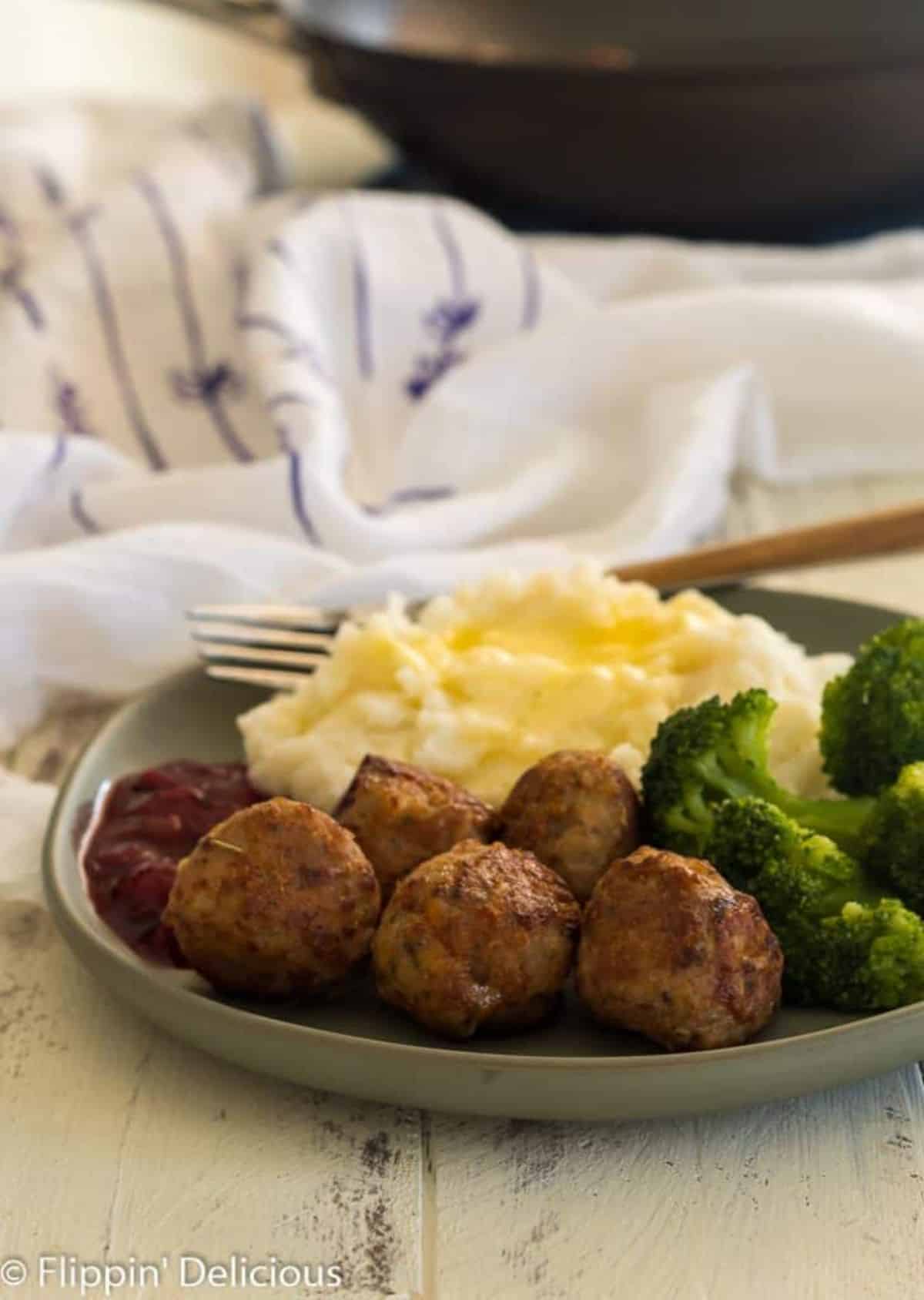 Gluten-free meatballs are the true epitome of meaty goodness. These delectable bites boast a savory and robust flavor, making them a fantastic option to bring to a BBQ.
The tender and juicy texture of the meatballs, combined with their mouthwatering taste, make them an ideal addition to sandwiches or even as a standalone protein-packed snack while waiting for the grilled meats.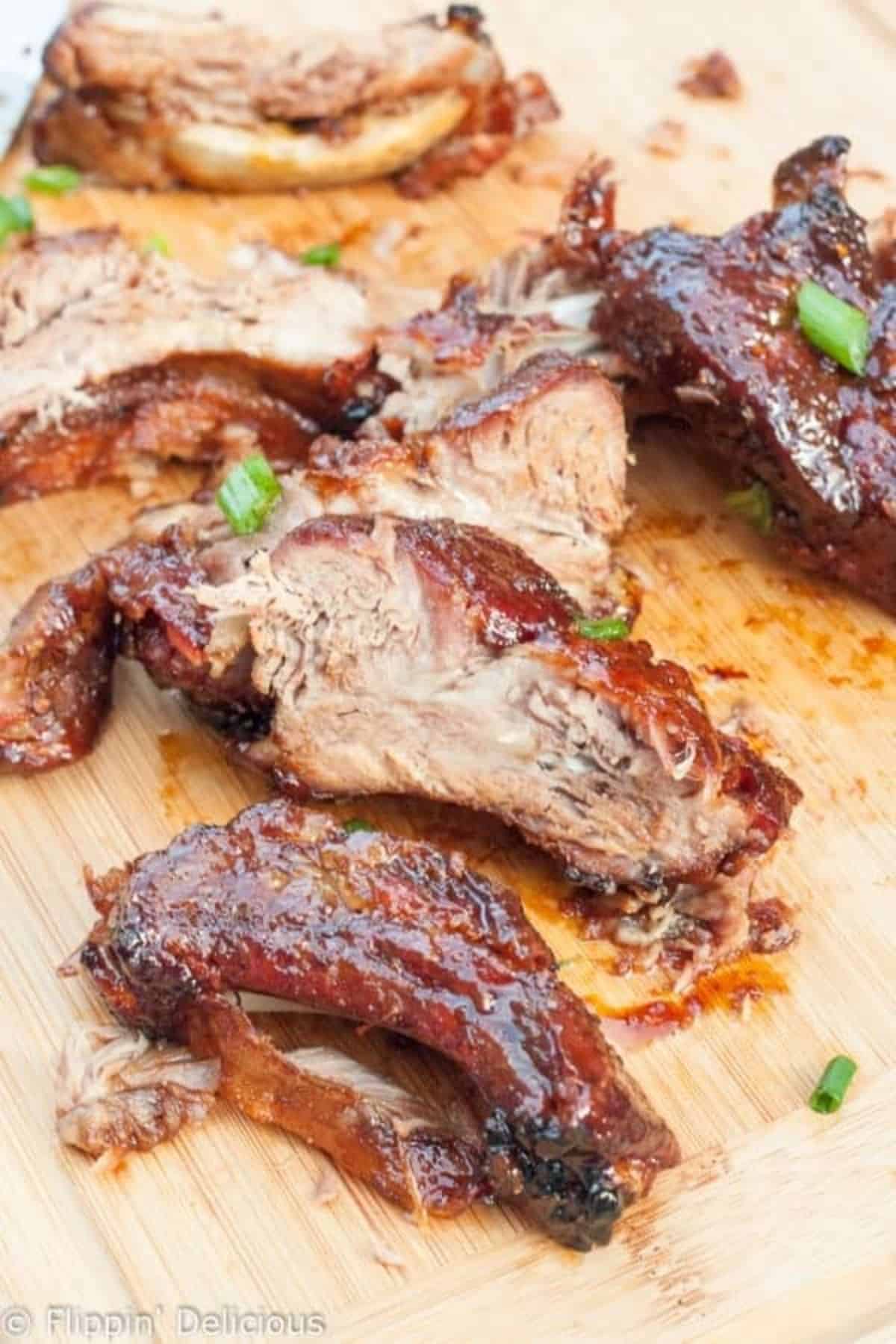 Gluten-free sticky Asian ribs are truly flavor-packed. Infused with the alluring combination of Tamari gluten-free soy sauce, ginger, garlic, onion powder, and sesame oil, these ribs deliver a harmonious blend of sweet, savory, and tangy flavors.
Whether you're hosting a backyard BBQ or simply craving a finger-licking feast, these gluten-free sticky Asian ribs are a guaranteed hit that will leave your guests asking for seconds.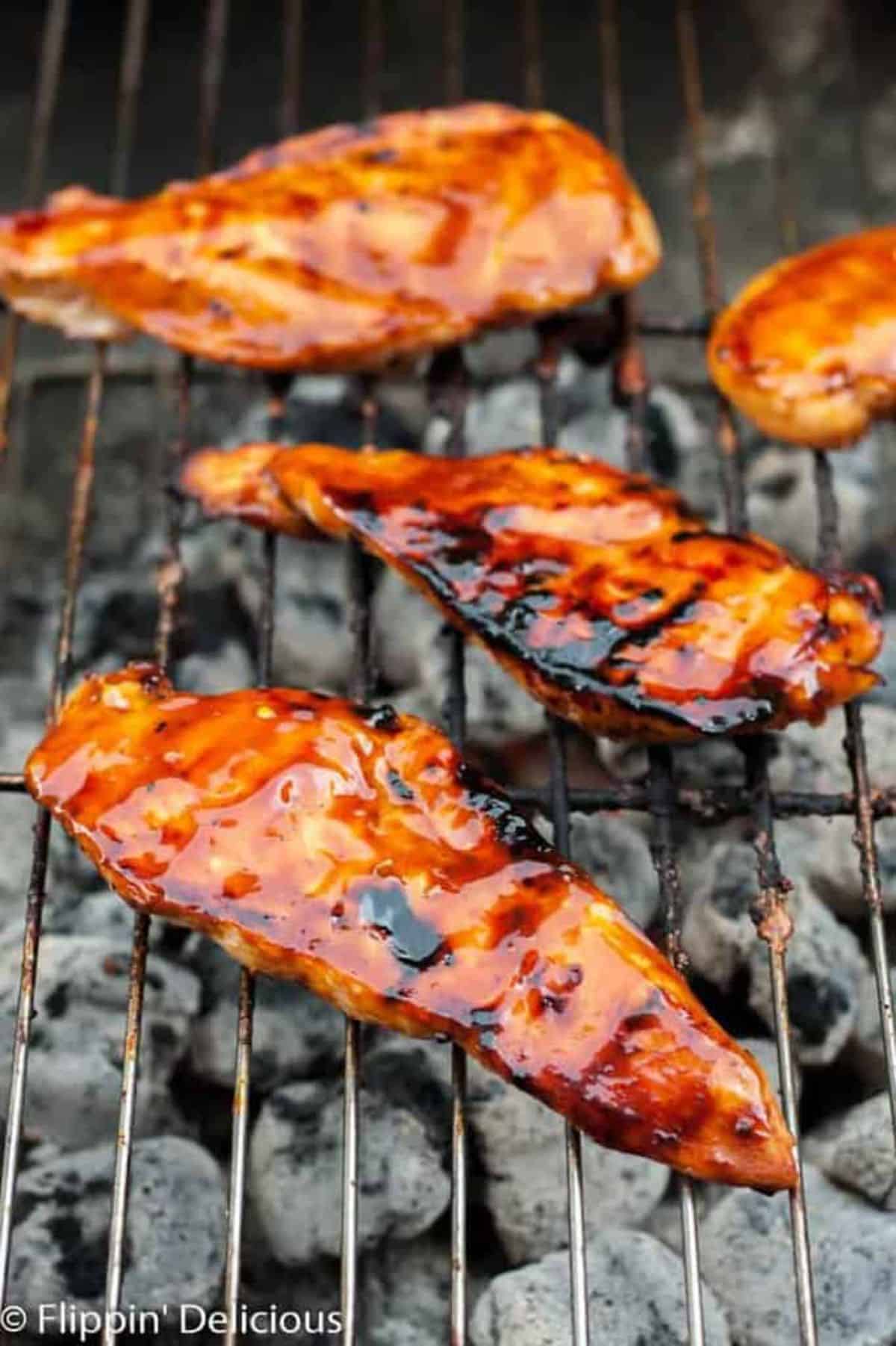 Who doesn't love teriyaki chicken? Gluten-free teriyaki chicken is an irresistible crowd-pleaser that brings joy to any BBQ spread. The succulent, tender meat is generously coated in a tantalizing sweet and savory glaze.
When grilled well, this dish boasts a delightful char and a juicy, flavorful interior. They're ideal for a spring or summertime BBQ.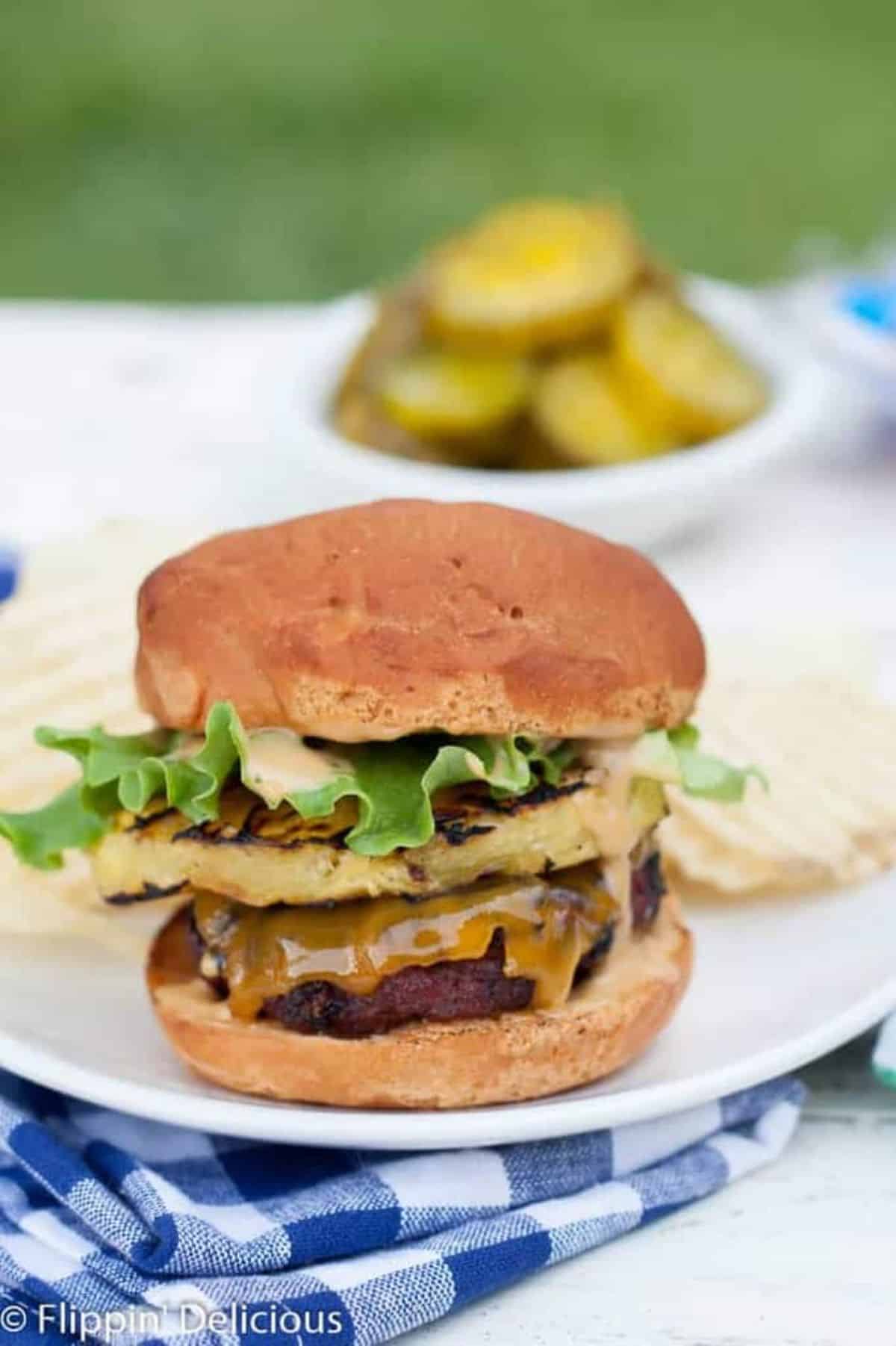 Gluten-free teriyaki grilled pineapple burgers are a mouthwatering delight. You'll savor the flavors of the juicy patty paired with a caramelized ginger-brown sugar rub and a creamy teriyaki mayo.
These burgers are nestled in a gluten-free hamburger bun and offer a perfect combination of sweet, savory, and tangy. They pair wonderfully with grilled vegetables, crispy coleslaw, or a side of sweet potato fries.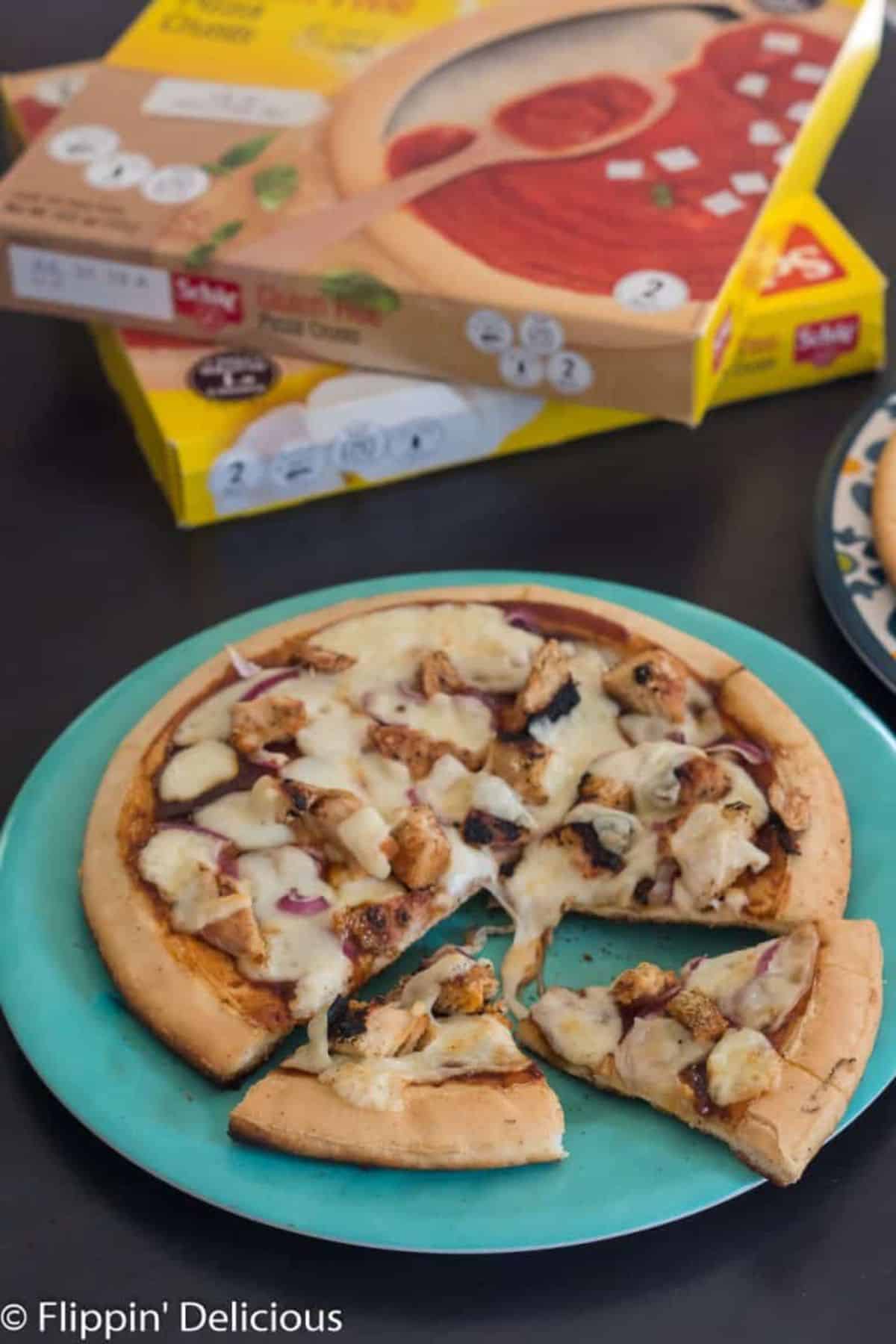 Gluten-free grilled pizza featuring a delectable combination of spinach artichoke and barbecue chicken takes the concept of pizza on the grill to a whole new level.
You can indulge in the smoky flavors and crispy crust of this inventive masterpiece at a BBQ, and it pairs swimmingly with a variety of BBQ favorites, such as fresh salads or a side of tangy coleslaw.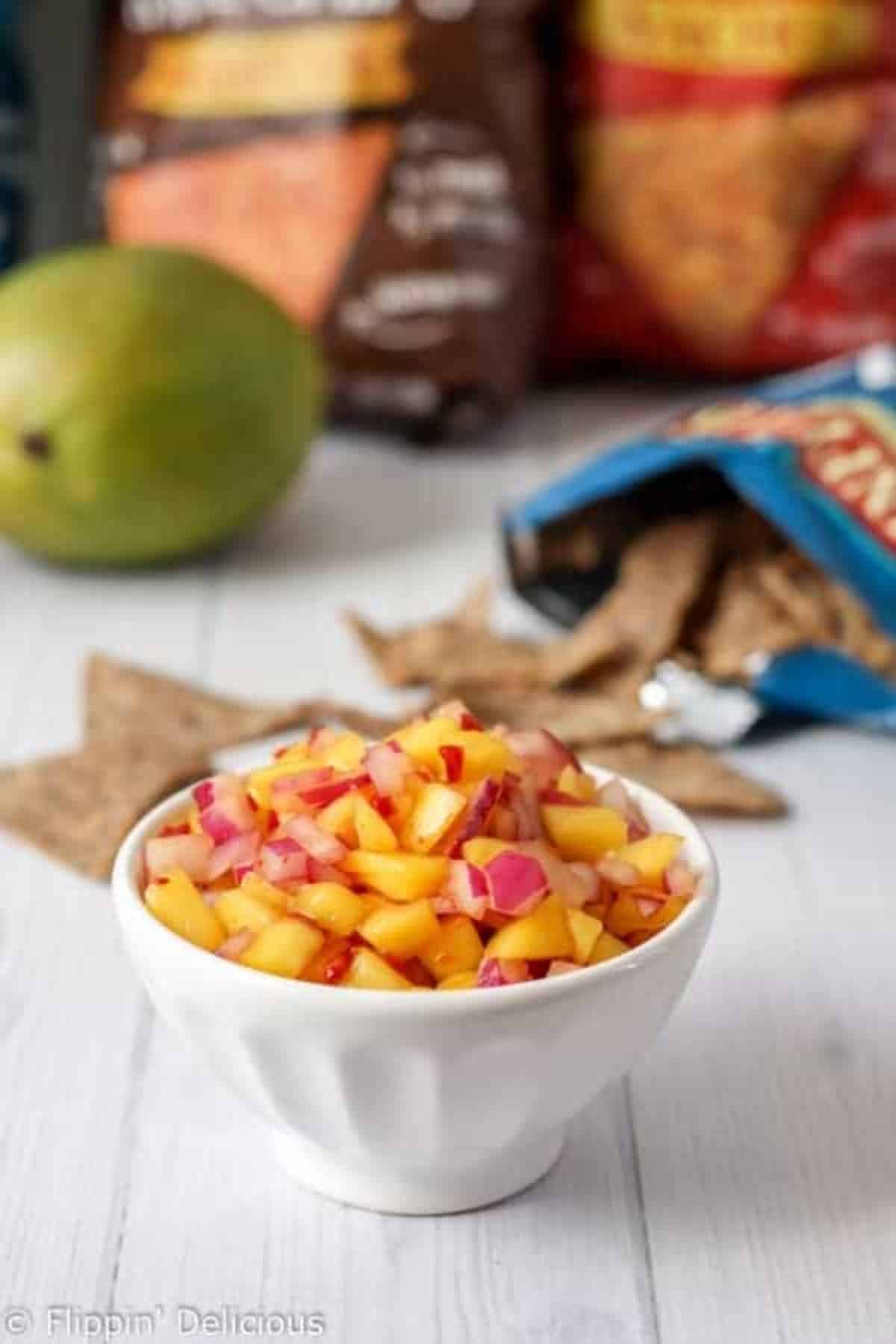 There's a vibrant explosion of flavors when you get a bit of chipotle mango salsa, especially with vegan nachos.
This alluring salsa, crafted from the pure essence of mango, onion, and chipotle pepper, offers a balance of sweet, smoky, and tangy notes.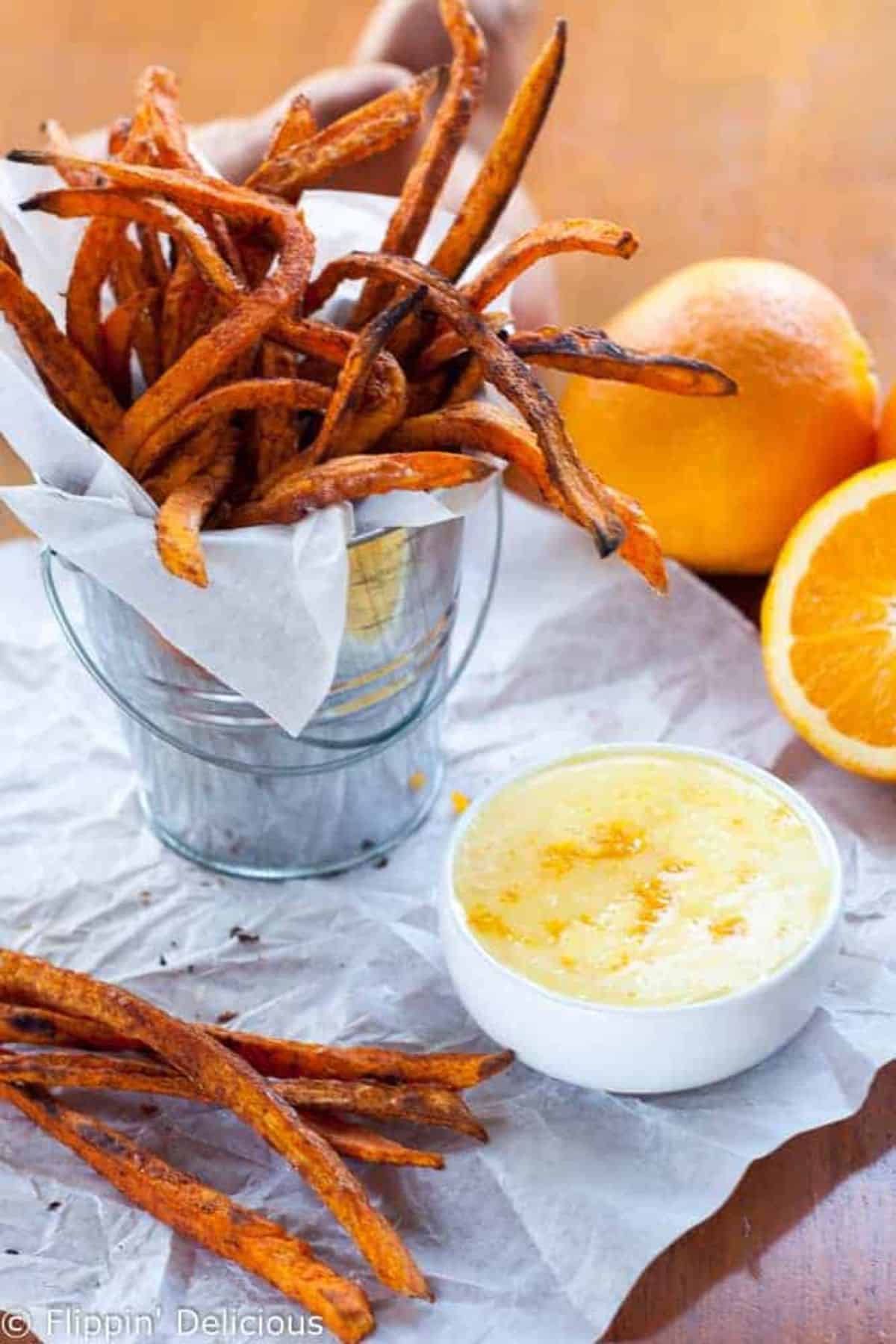 Crispy baked sweet potato fries paired with a gorgeous orange zest icing dipping sauce is an indulgent, one-of-a-kind dish that'll wow the crowd!
The zesty and citrusy notes of the orange zest icing sauce provide a refreshing and tangy contrast to the crispy, savory fries.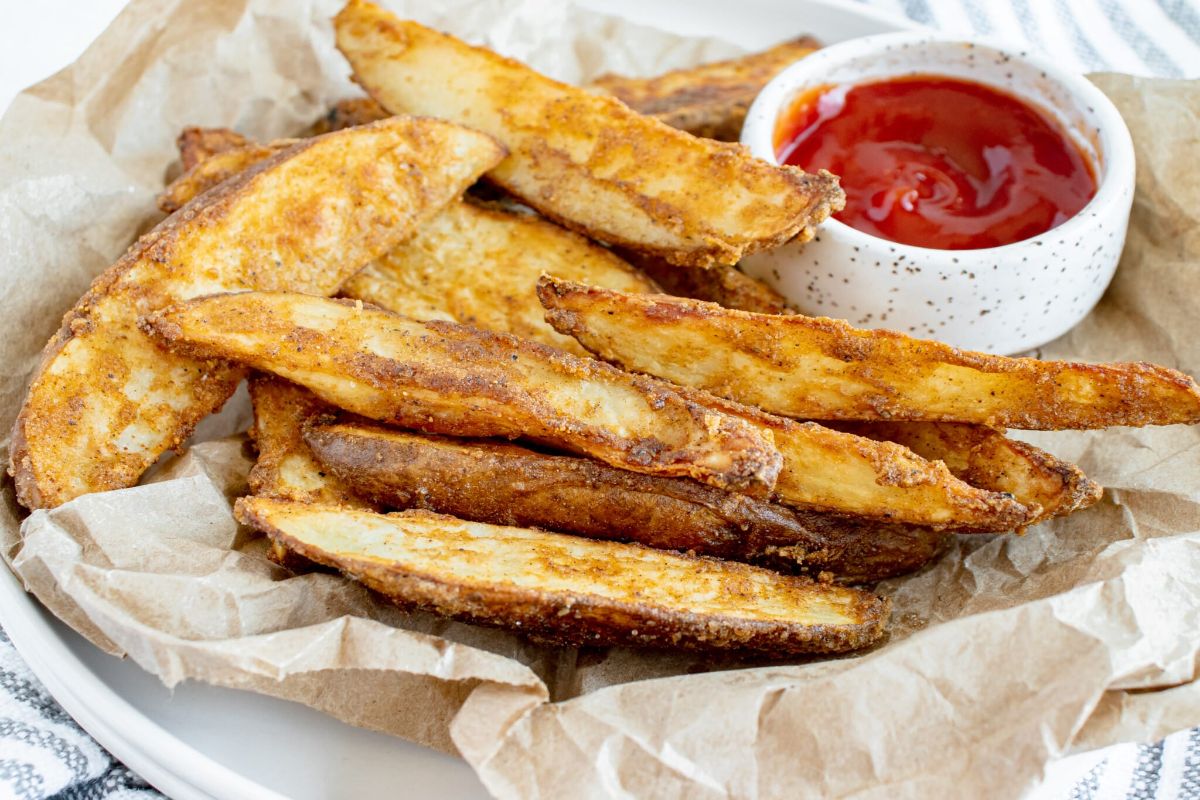 Another potato-based dish that's fantastic for BBQs are these oven-baked potato wedges, which are scrumptious and perfectly coated in gluten-free flour for a crispy exterior.
These wedges offer a wonderful balance of fluffy and tender insides with a satisfying crunch. Plus, their mild yet inviting flavor makes them an ideal accompaniment to a BBQ feast, complementing grilled meats and vibrant salads.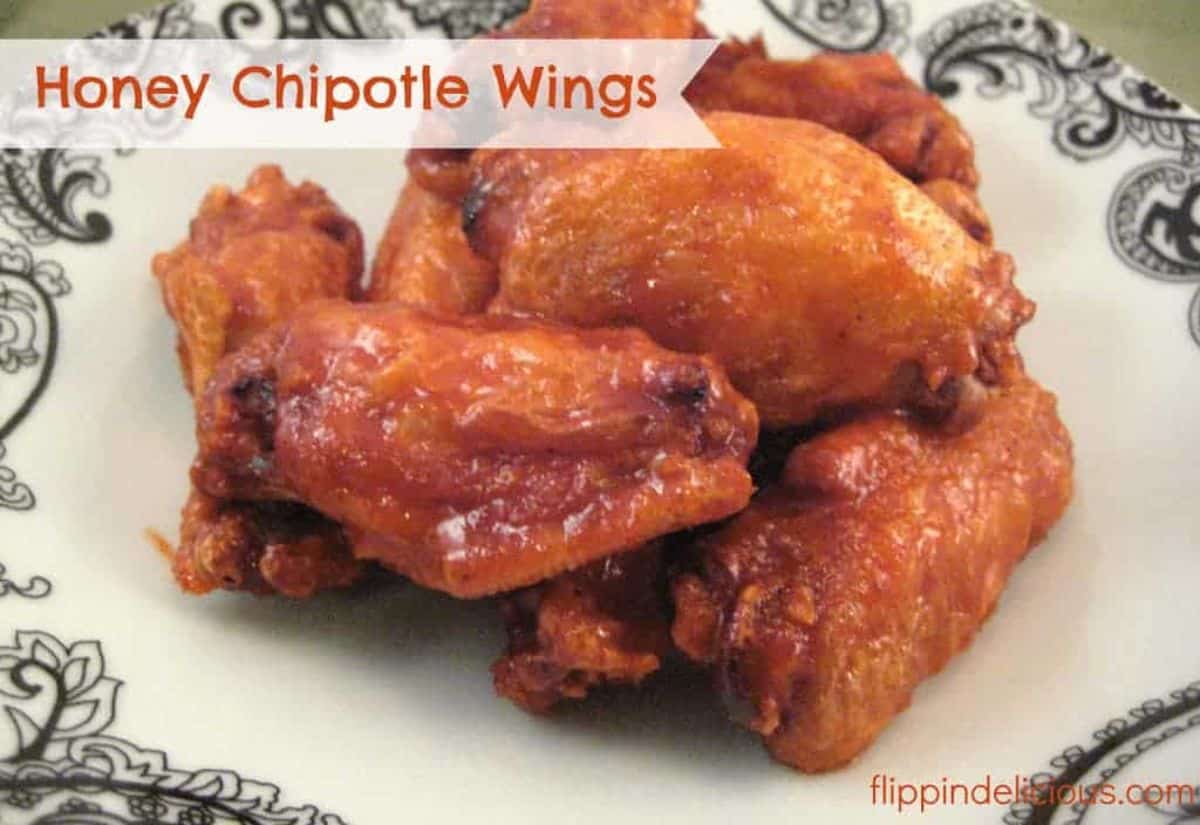 Savor the irresistible combination of flavors with honey chipotle wings, which offer a perfect balance of sweet and smoky, with a lingering hint of heat.
These simple yet inviting wings are bursting with flavor, making them a standout dish at any BBQ. Whether enjoyed as an appetizer or as a main course, they pair exceptionally well with refreshing sides like grilled corn.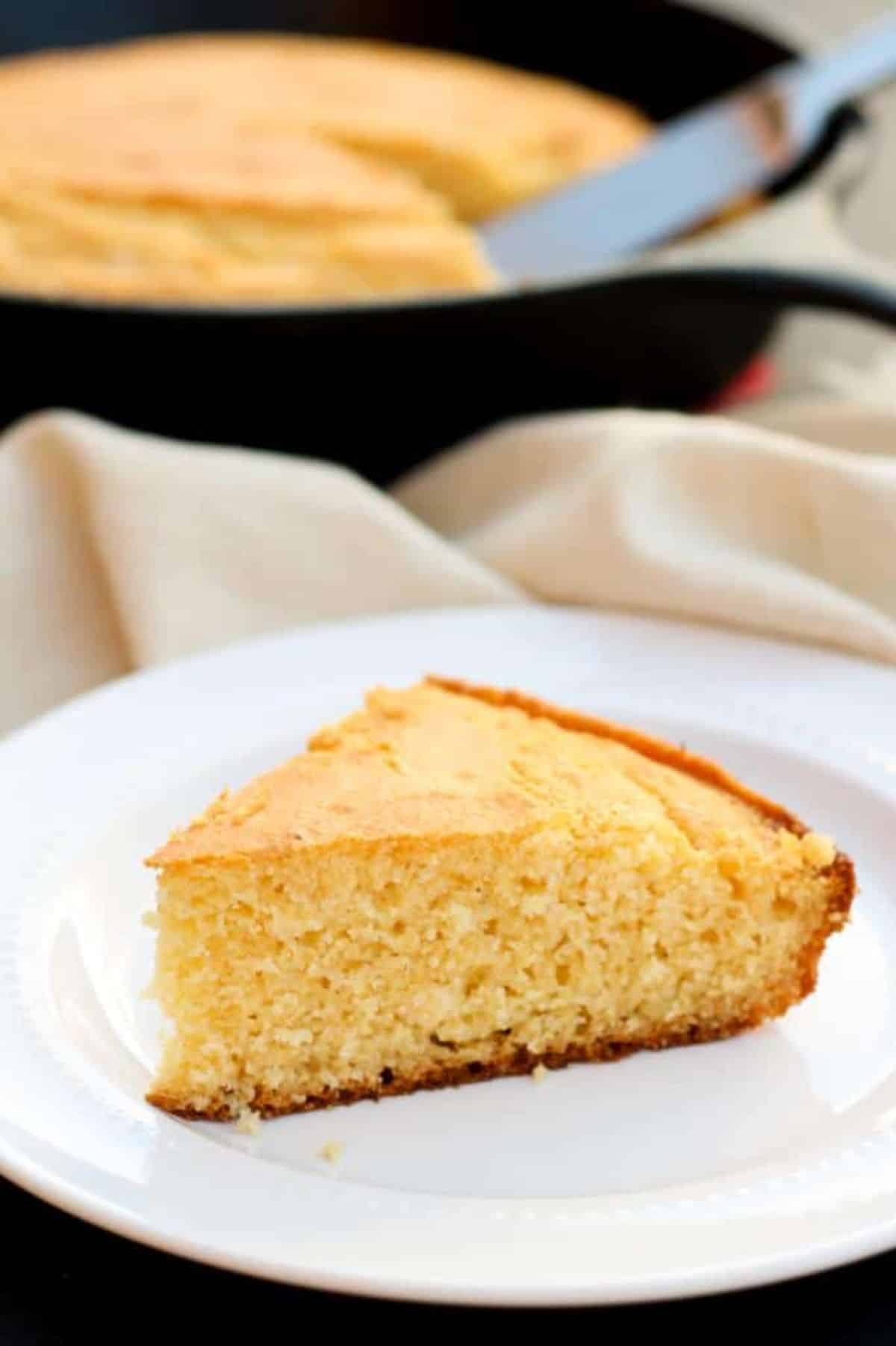 Cornbread is a fan-favorite, classic delight for southern BBQ gatherings. This beloved side dish offers a rich and comforting flavor, with a subtle sweetness and a hint of cornmeal goodness - and this version is the perfect solution for gluten-free eaters!
This cornbread pairs exceptionally well with various BBQ staples, such as slow-cooked meats, tangy sauces, and hearty chili.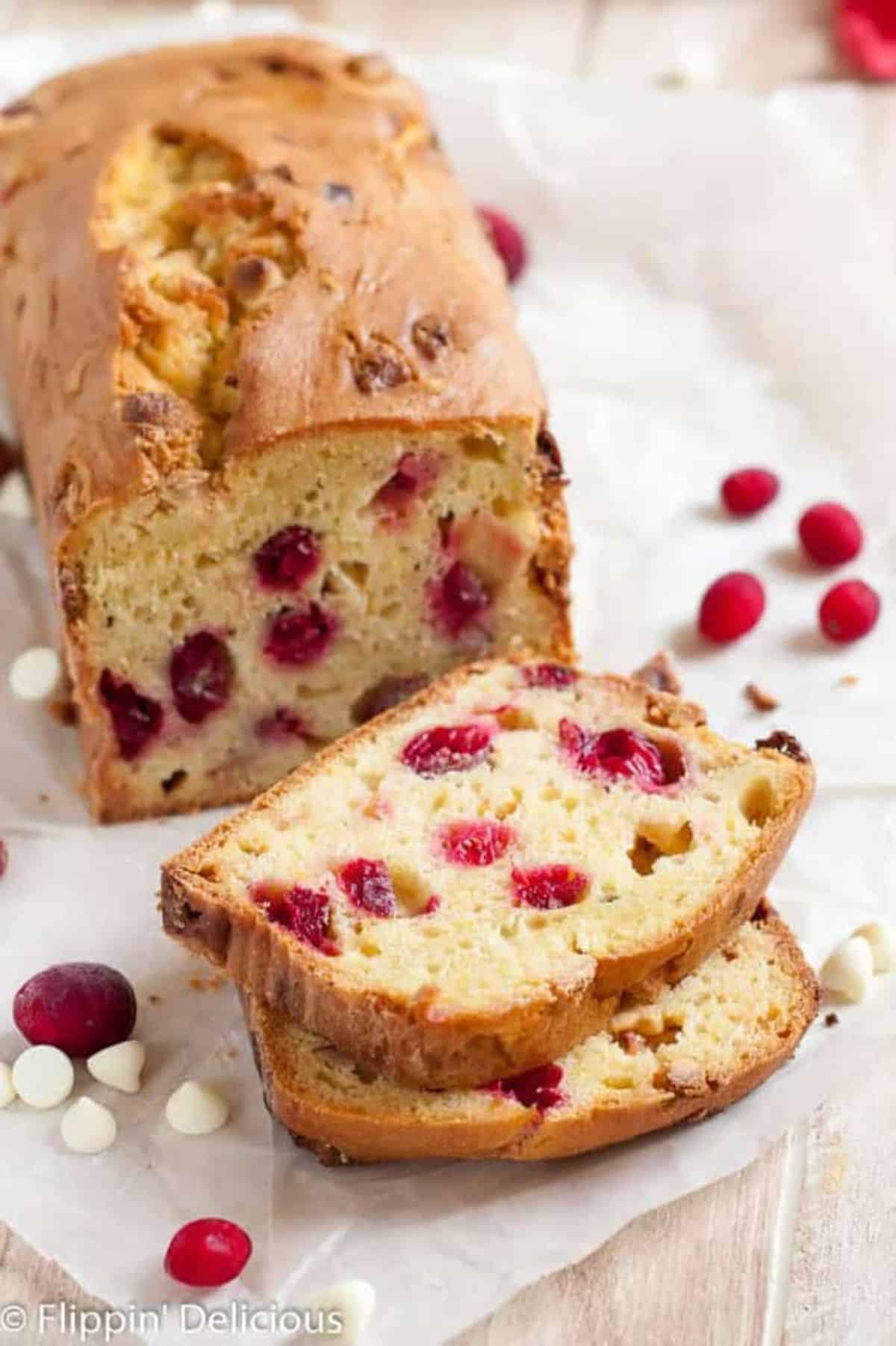 This gluten-free cranberry bread is a delightful twist on a more classic cornbread like the one mentioned above.
This unique combination includes a fantastic blend of tart cranberries, bright, citrusy notes, creamy white chocolate, and crunchy hazelnuts.
The bread's balanced sweetness and tanginess make it an excellent accompaniment to a BBQ spread, adding a touch of autumn-like elegance and Thanksgiving indulgence.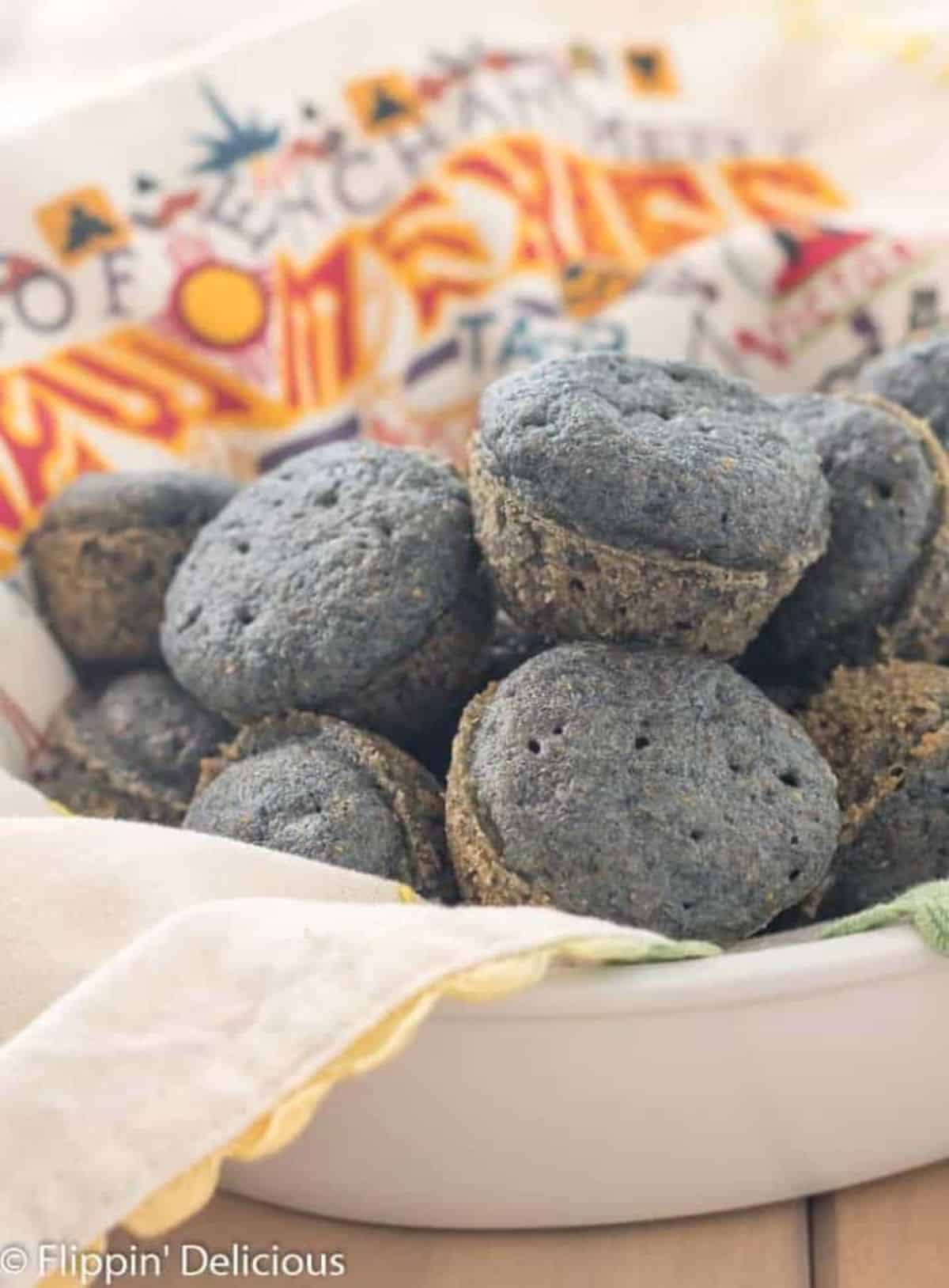 Gluten-free blue corn muffins are a delightful addition to any BBQ table. Blue corn muffins are known for their distinct flavor and color, offering a subtle sweetness, a hint of earthiness, and a unique display.
With their light and fluffy texture, these wholesome muffins pair wonderfully with a variety of BBQ dishes, such as grilled chicken and steak.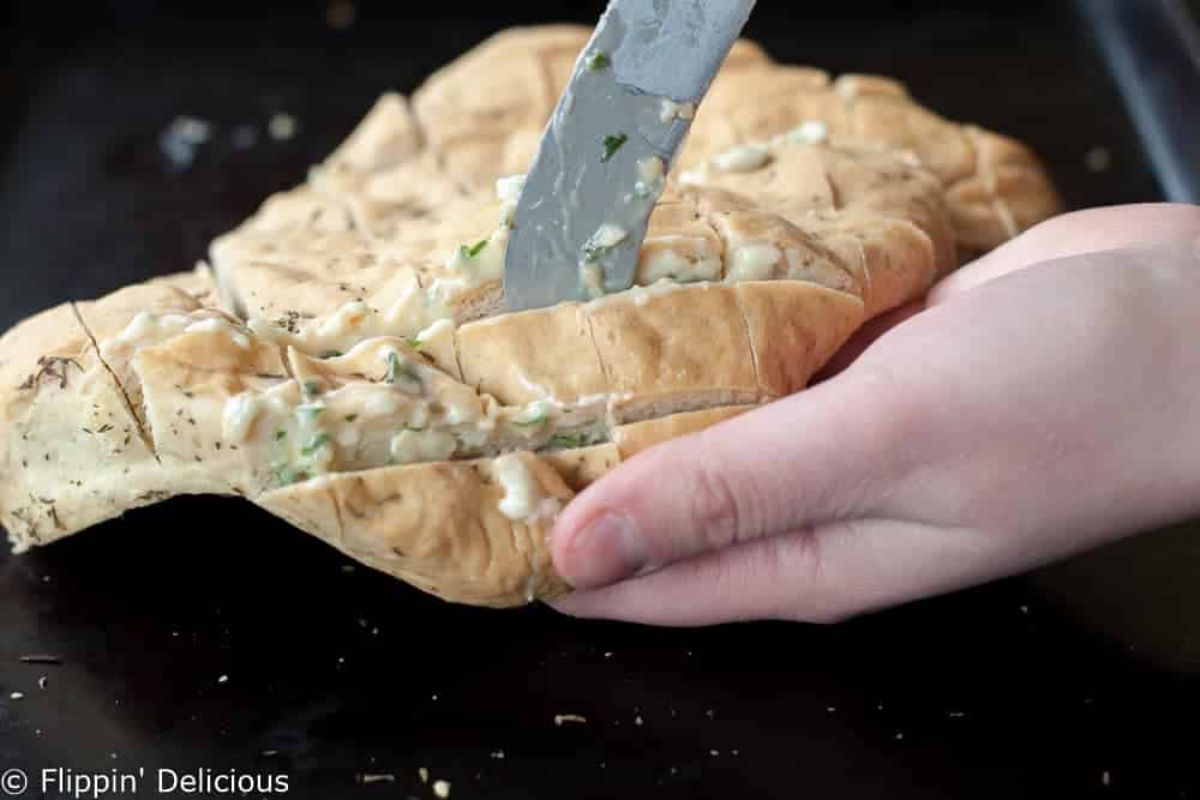 Gluten-free cheesy garlic pull-apart bread is also called crack bread because of how addictive it is! Each pillowy bite offers a memorable combo of savory cheese and aromatic garlic, resulting in a burst of true deliciousness.
This bread is an ideal accompaniment to grilled meats, especially when used to soak up the flavorful BBQ sauces or served alongside smoky pulled pork. This one will undoubtedly be a favorite among your guests.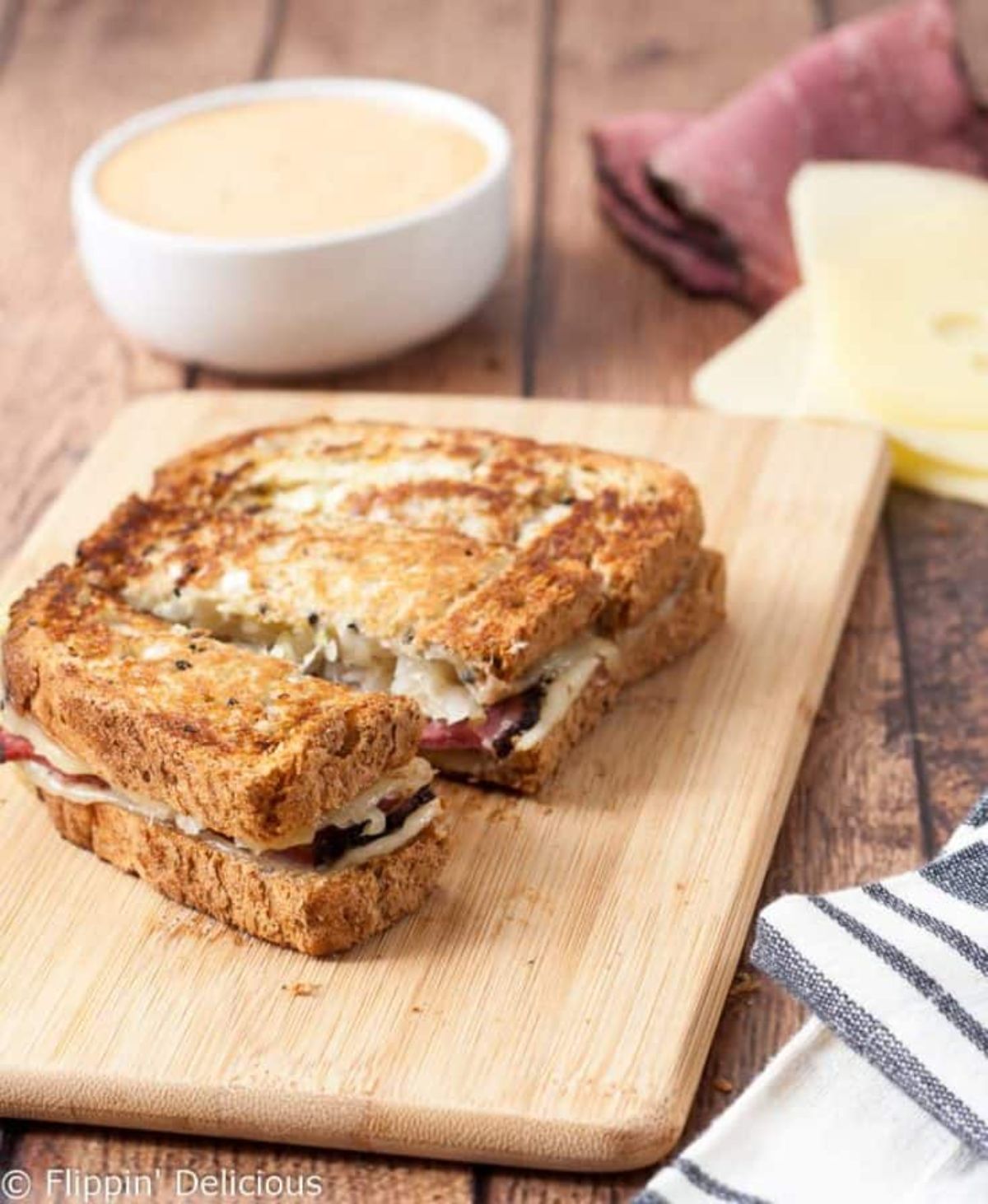 Gluten-free Reuben sandwich dippers with Thousand Island dressing are a finger-licking twist on a classic sandwich favorite.
Featuring the quintessential elements of a Reuben sandwich, including gluten-free rye-style bread, flavorful pastrami, tangy sauerkraut, melted Swiss cheese, and a hint of mustard, these dippers are expectedly savory, tangy, and oh-so cheesy.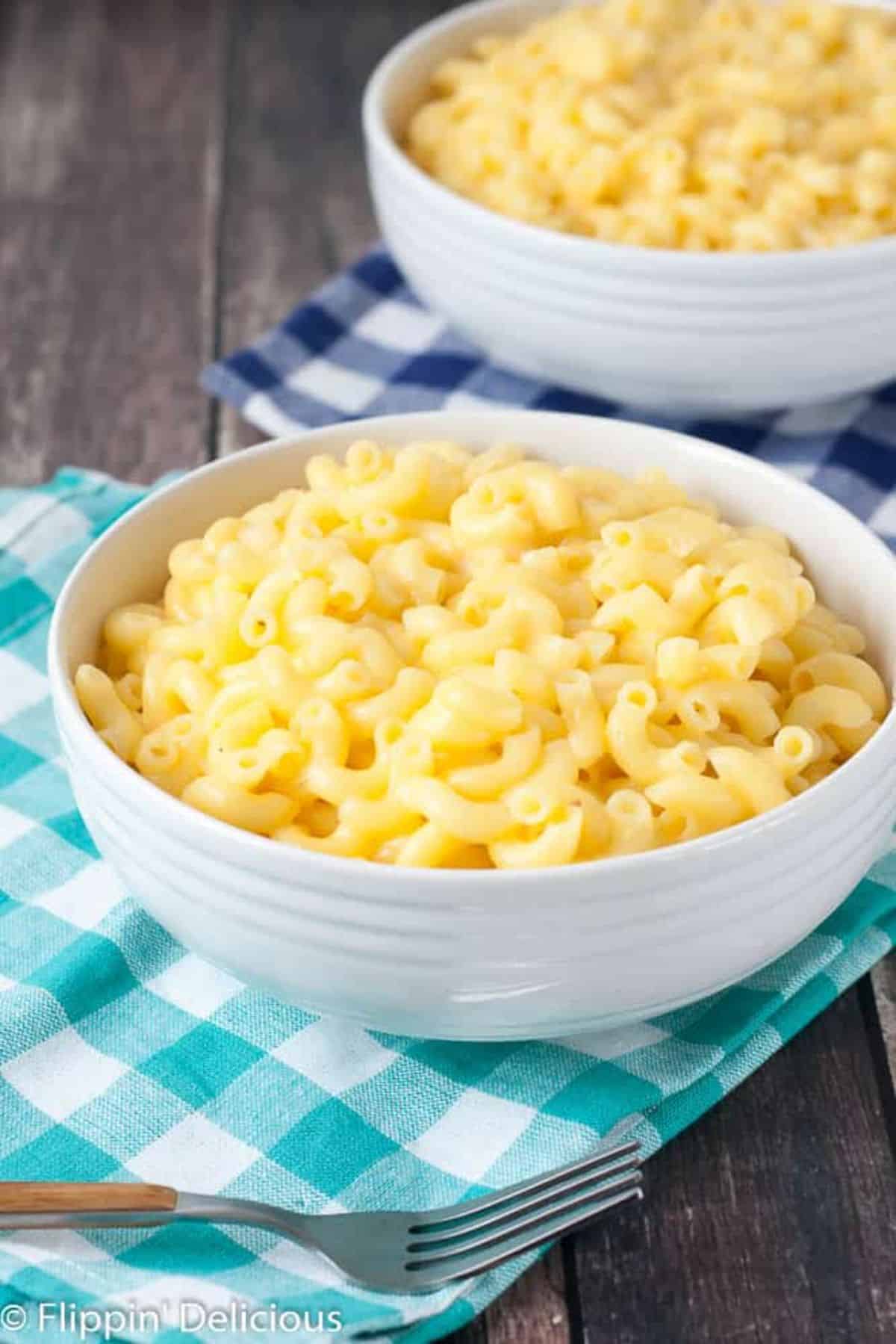 Gluten-free 1 Pot, No-Drain Mac n Cheese is a time-saving game-changer that brings the classic comfort food to your BBQ table in just 15 minutes.
This homemade macaroni and cheese are way better than box recipes, delivering a creamy and cheesy delight that pairs wonderfully with grilled chicken, pulled pork, or baked beans.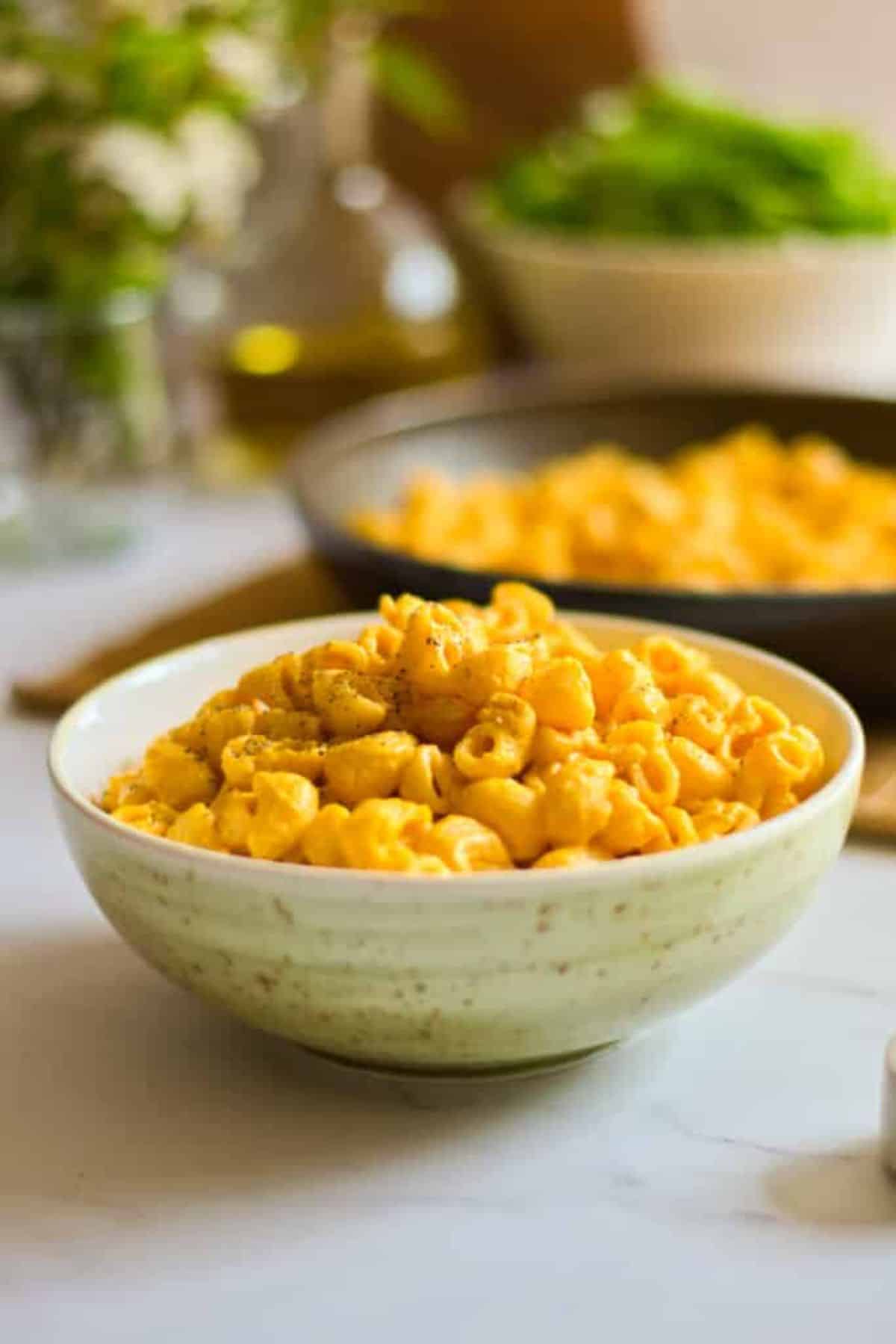 If you're a vegan, you might feel a bit left out at a BBQ. But not anymore with this gluten-free and vegan mac & cheese recipe!
While maintaining a creamy and velvety texture, this vegan version replaces the traditional cheese with a potato and carrot puree, resulting in a satisfying flavor. You can pair it with grilled vegetables, tofu skewers, or a fresh garden salad for a completely vegan BBQ meal.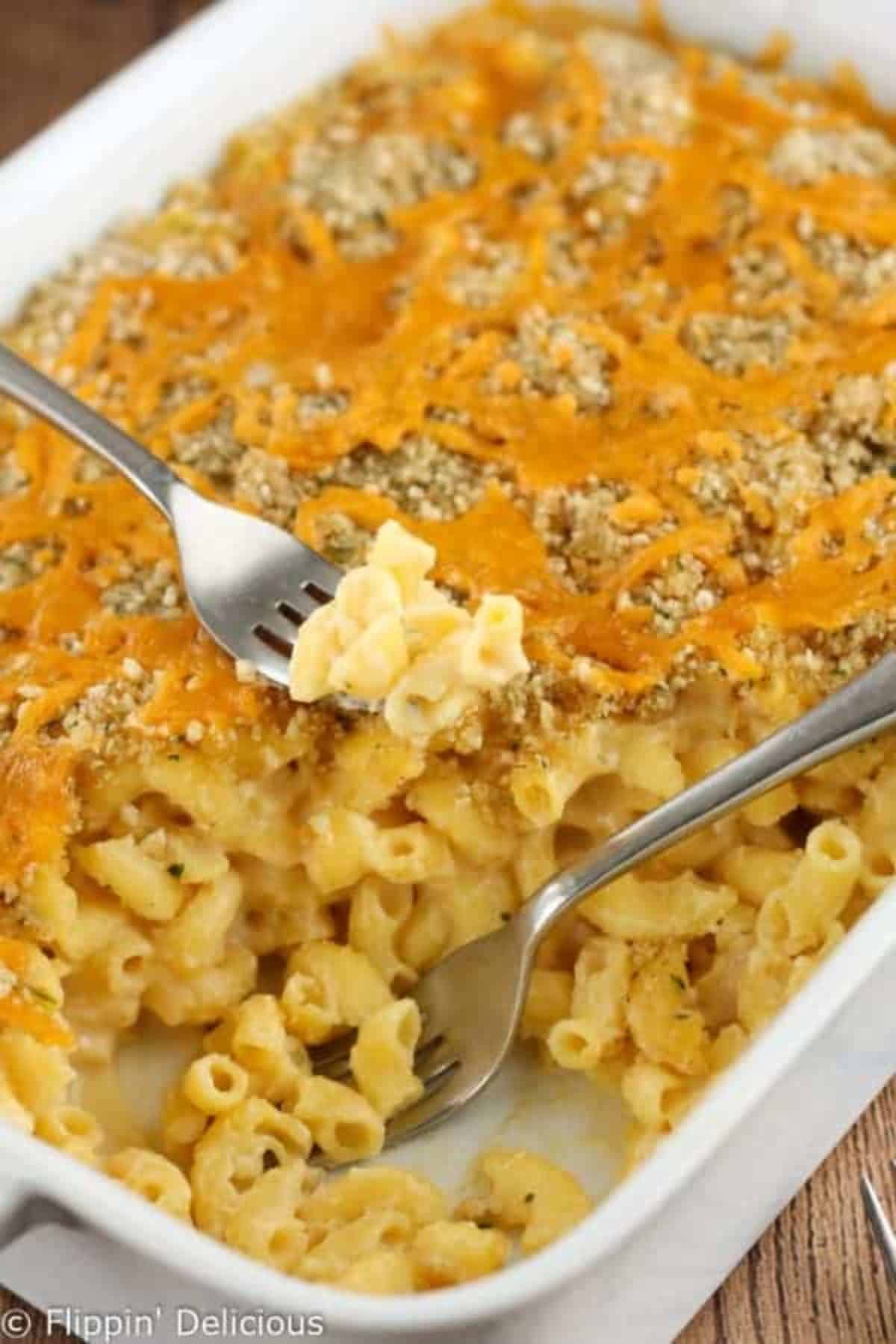 No room on the stove? No problem.
Baked gluten-free mac and cheese is a convenient and mouthwatering option when someone's already got pots and pans on the stove before the BBQ.
This dish boasts a creamy and cheesy flavor with a perfectly baked, buttery, golden crust on top.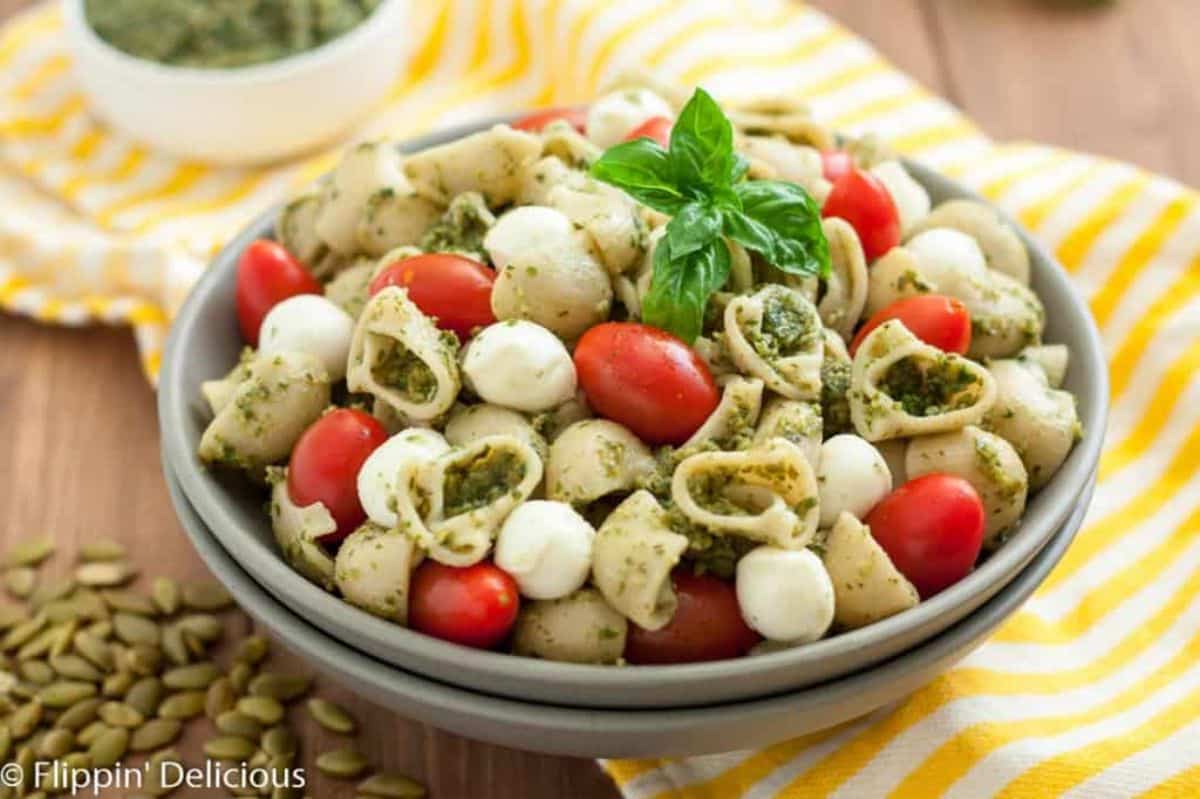 Pasta salads tend to offer a delightful combination of flavors and textures, and this gluten-free version is no exception.
The nutty and herbaceous notes of the pumpkin seed pesto beautifully complement the tender pasta, creating a satisfying and flavorful dish. It pairs wonderfully with marinated tofu skewers.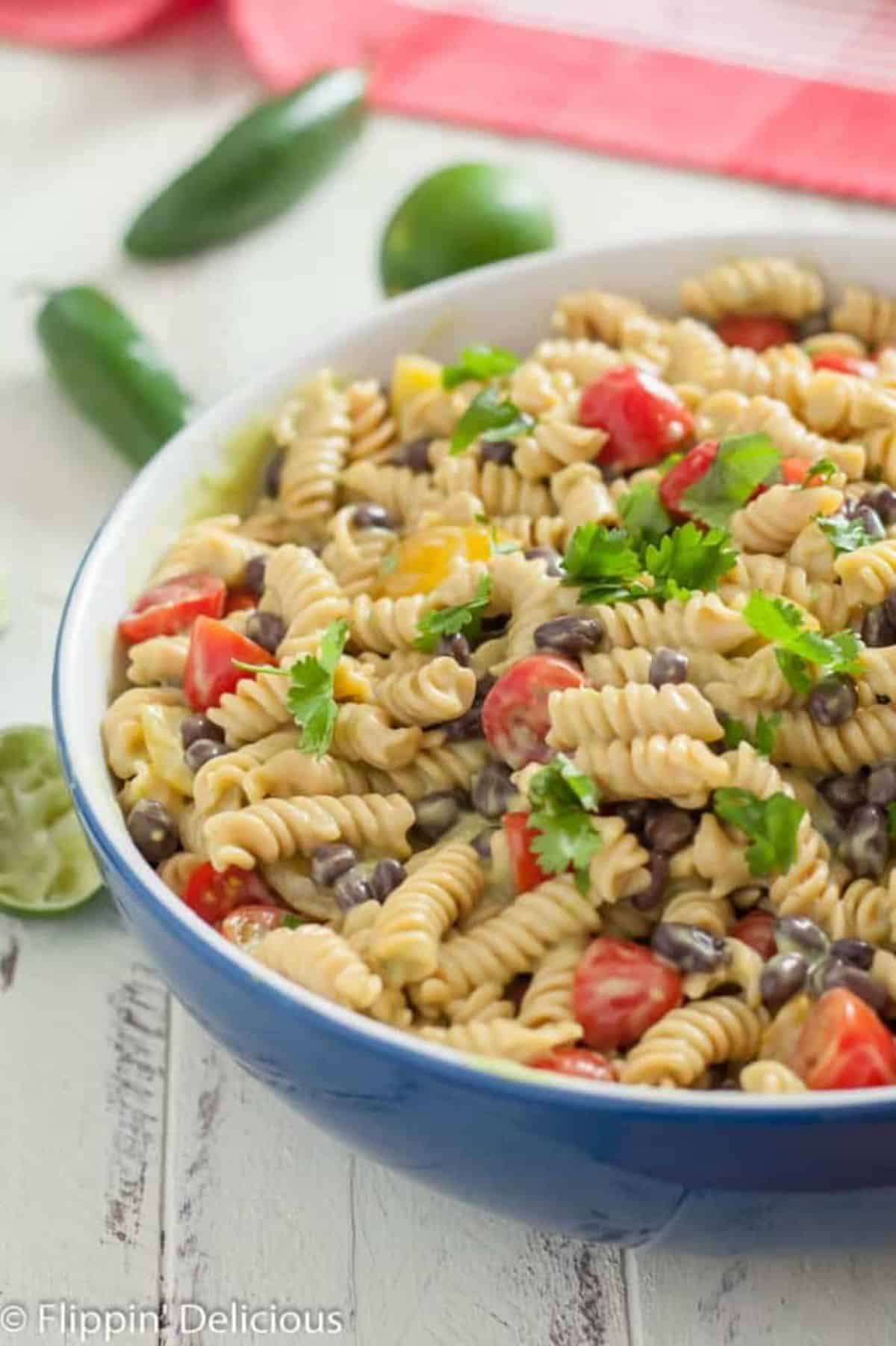 Gluten-free southwest pasta salad combines the vibrant and umami flavors of tomatoes, black beans, and pumpkin seeds with gluten-free rotini.
This refreshing salad carries a hint of tanginess and a touch of smokiness, thus pairing perfectly with grilled chicken or alongside a bowl of fresh guacamole and tortilla chips to complete the Southwest flair.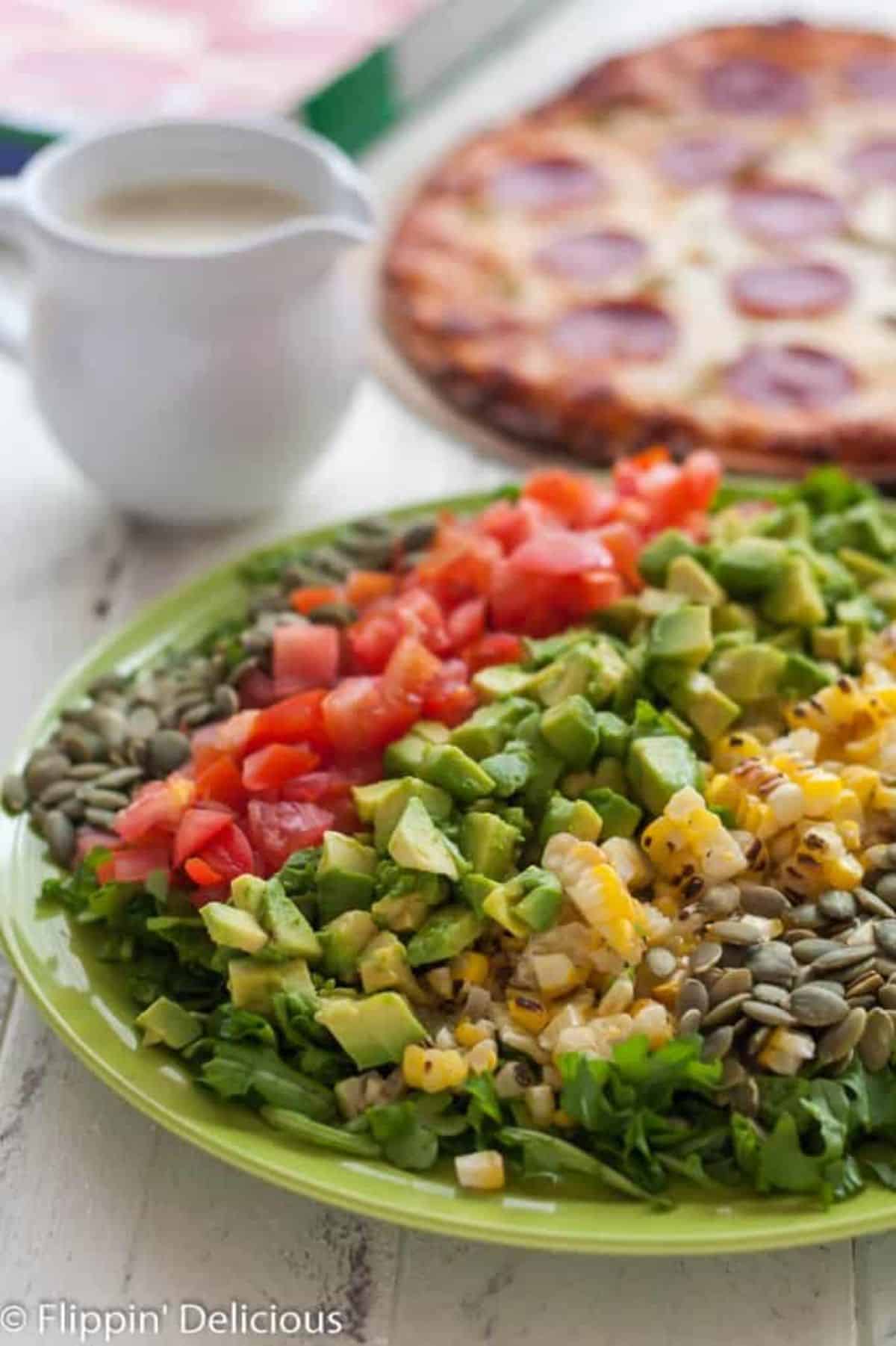 If you don't know what hatch green chiles are, get excited about experiencing this unique flavor in this chopped salad with hatch green chile vinaigrette.
The salad offers a medley of fresh and crisp ingredients, while the tangy and slightly spicy vinaigrette adds a delightful kick.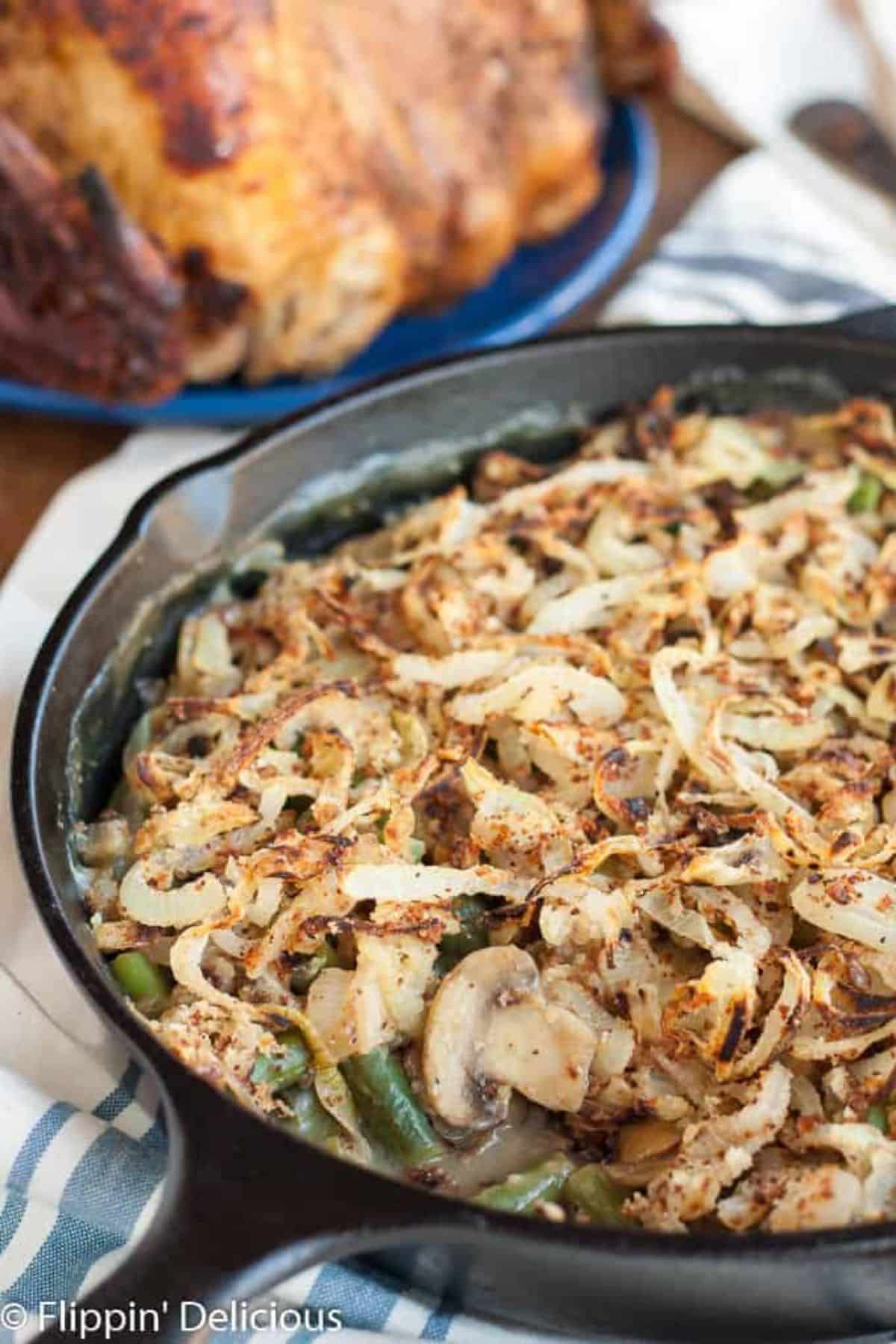 Gluten-free, vegan green bean casserole is another excellent, tasty, and veggie-filled side dish.
A bite of this gluten-free, vegan green bean transports you to the heart of a traditional BBQ, evoking a sense of nostalgia and satisfaction with every bite. Pair it with marinating tofu skewers for the tastiest vegan plate.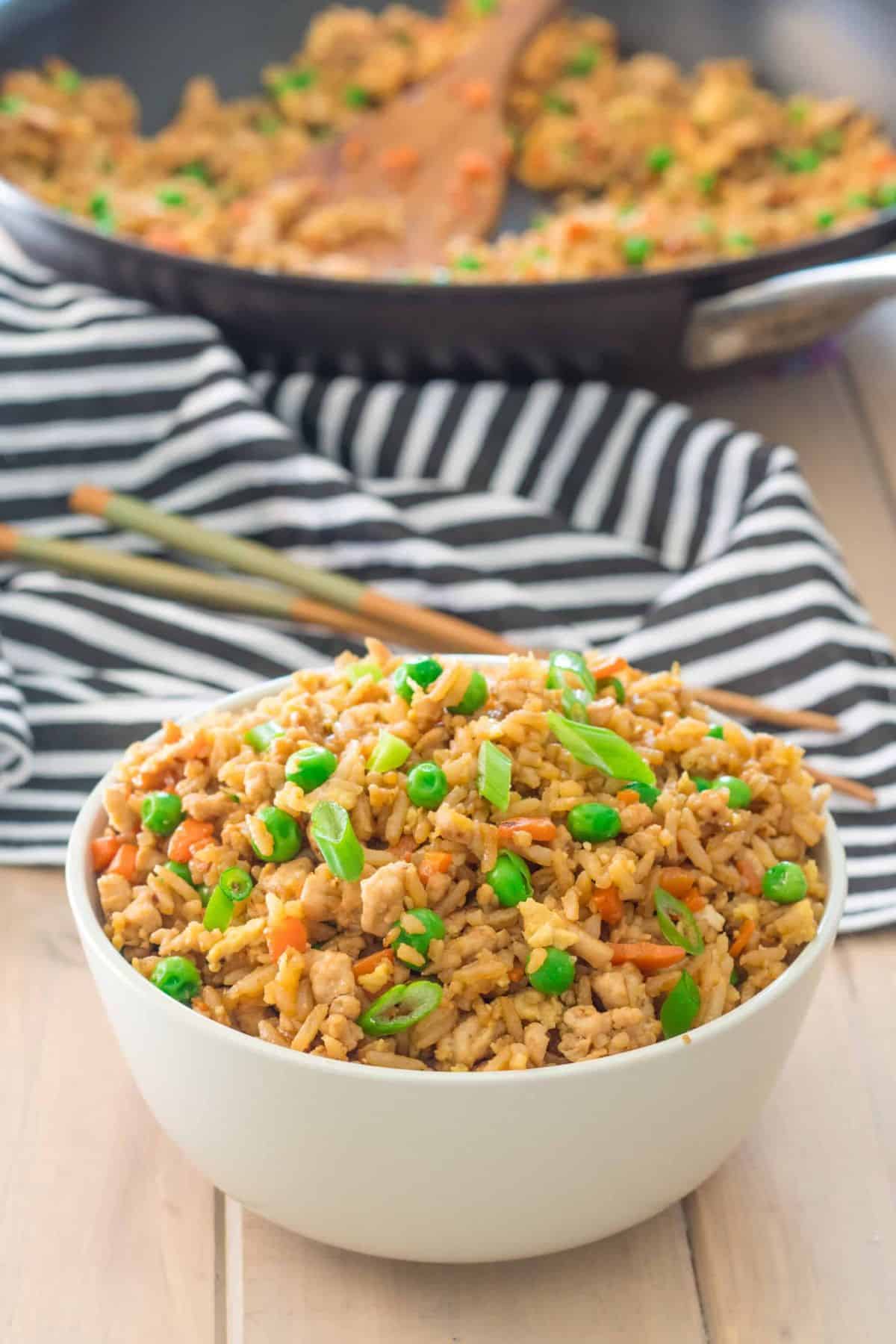 If you have extra ground turkey and don't want to make too many turkey burgers on the grill, try this Asian-inspired, gluten-free ground turkey fried rice recipe.
It offers an international fusion of flavors and textures, with the savory taste of seasoned ground turkey complemented by aromatic stir-fried vegetables and fragrant jasmine rice.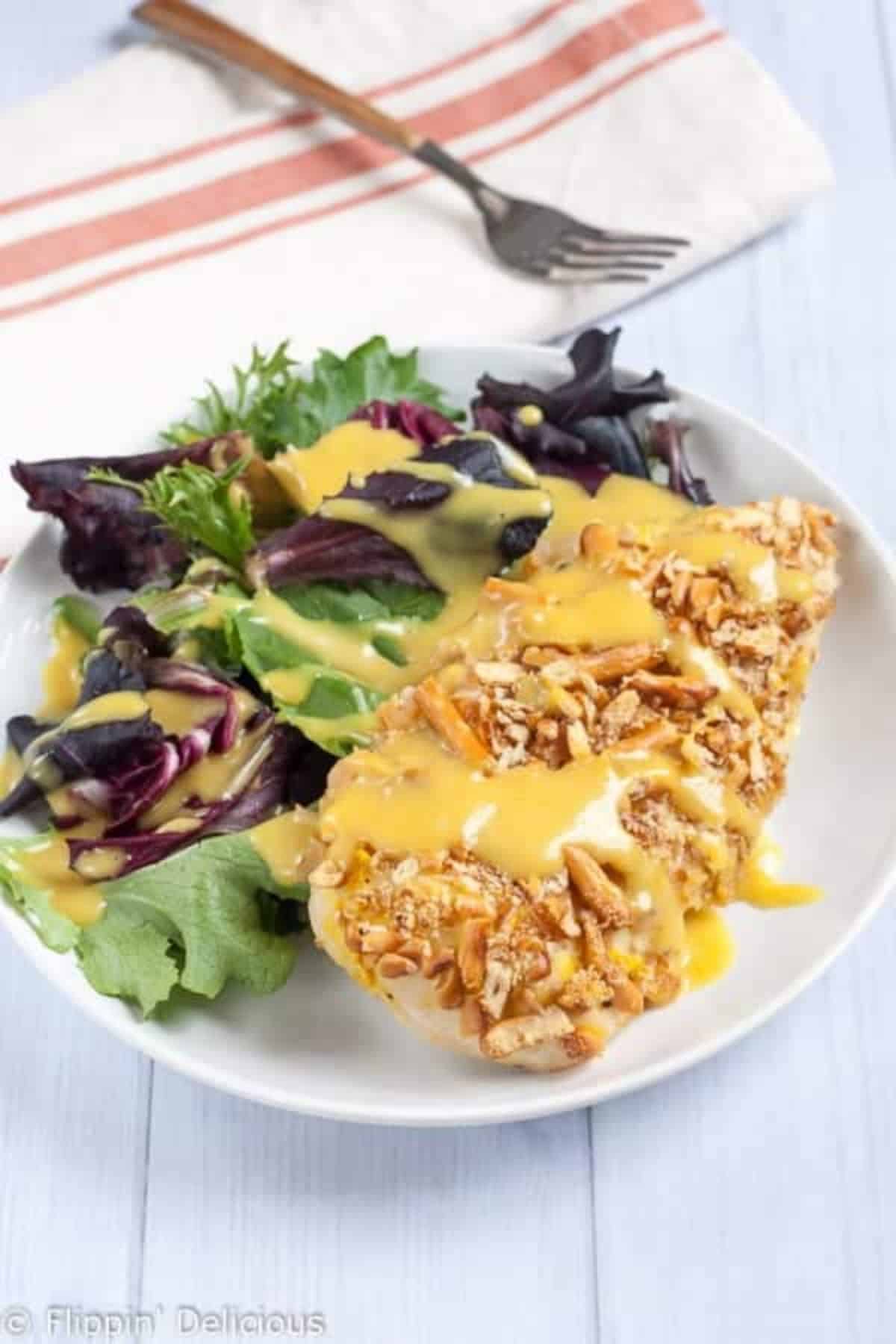 Gluten-free pretzel chicken with honey mustard is a tasty dish that combines the crispy and savory goodness of pretzel-crusted chicken with the sweet tanginess of honey mustard dipping sauce.
It pairs exceptionally well with grilled corn or a fresh cucumber salad, making it a must-have addition to your outdoor feast.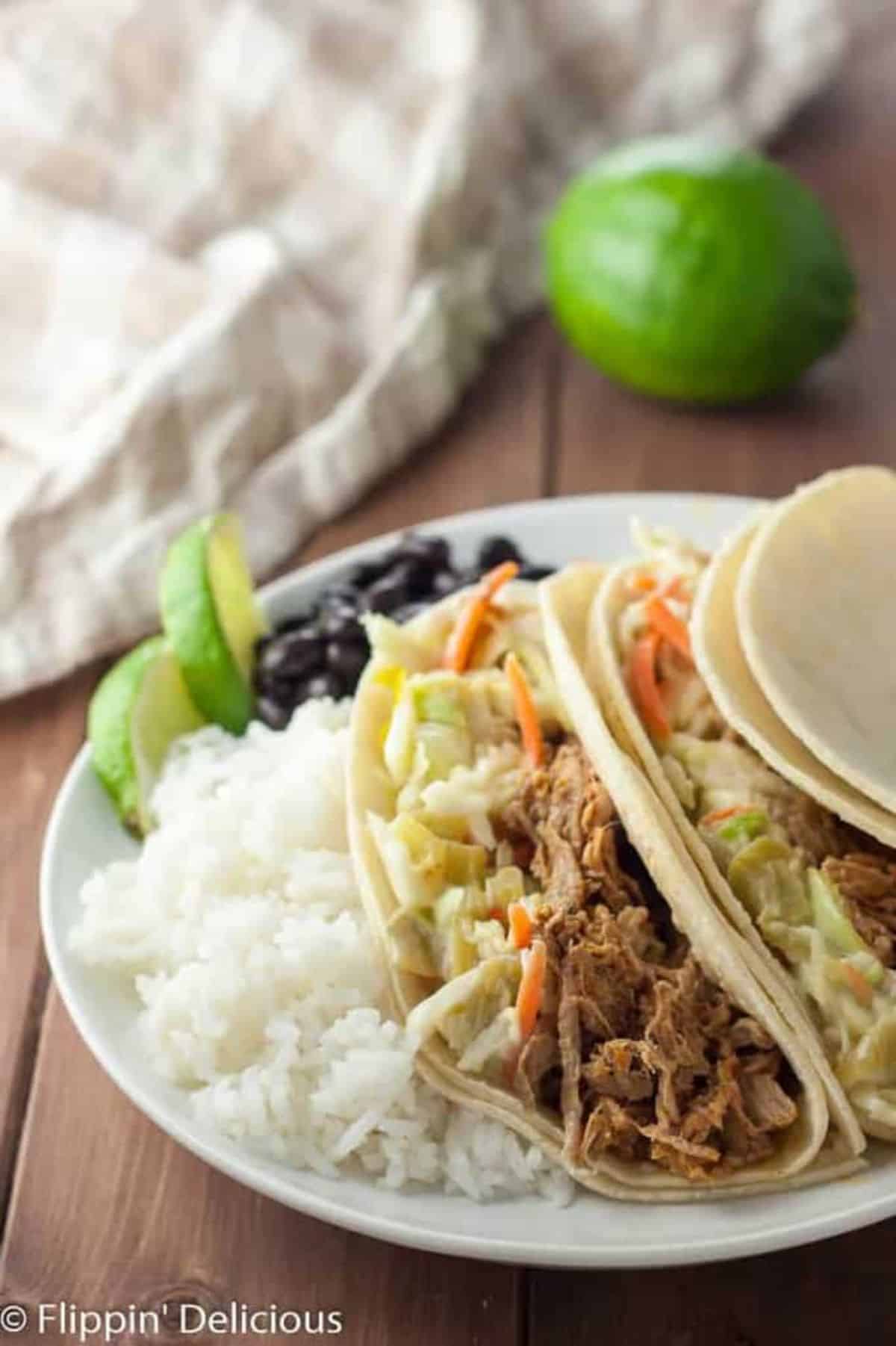 If you liked the sound of green chile, try this green chile slaw on top of gluten-free pulled pork tacos.
These tacos go swimmingly alongside smoky grilled sausages, tangy barbecue chicken, or a refreshing coleslaw for contrast.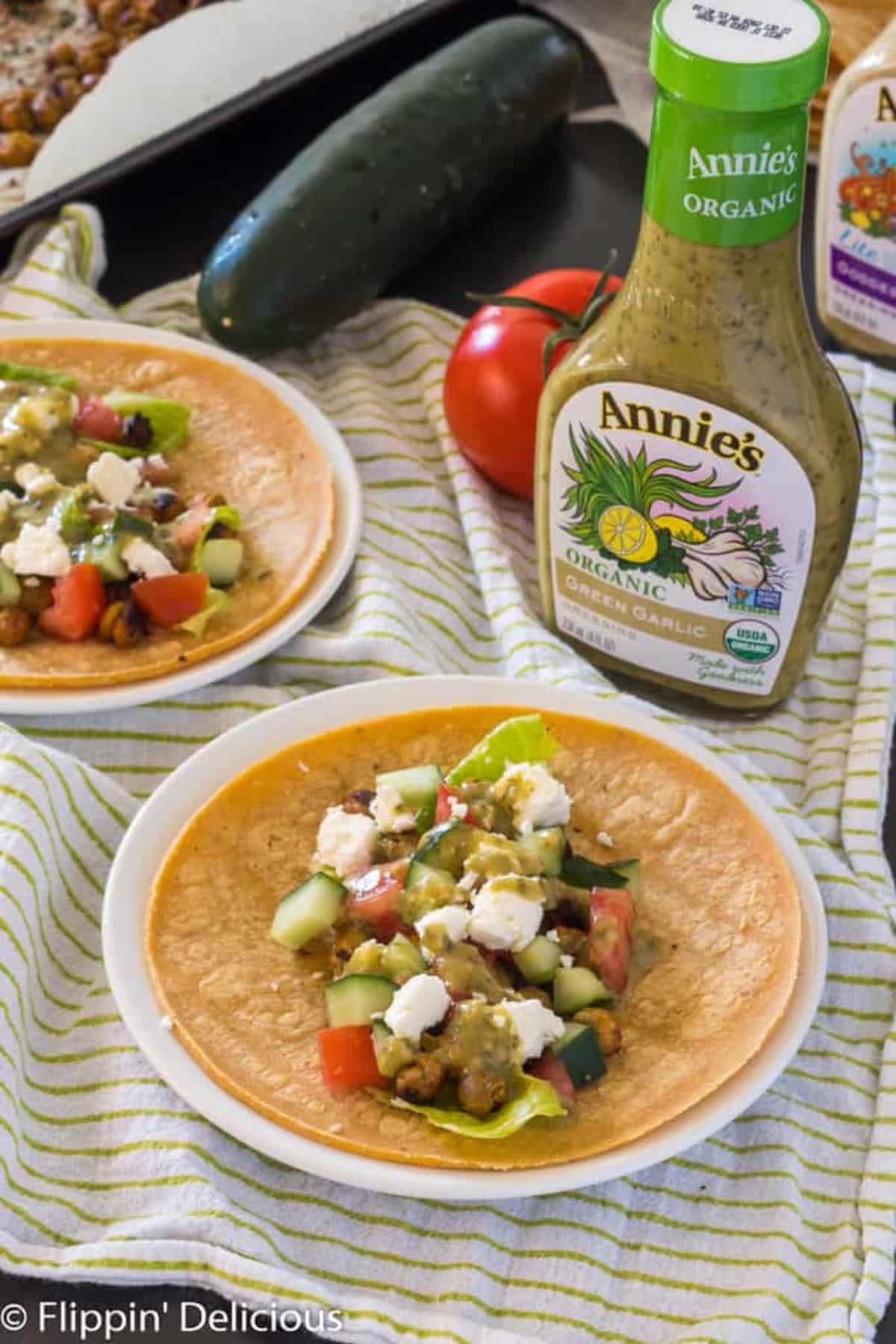 These easy Greek vegetarian tacos are packed with protein-rich chickpeas, fresh vegetables, and a medley of aromatic herbs and spices.
The tangy tzatziki sauce adds a refreshing touch, while the soft gluten-free taco shells provide the perfect vessel for all the delicious fillings.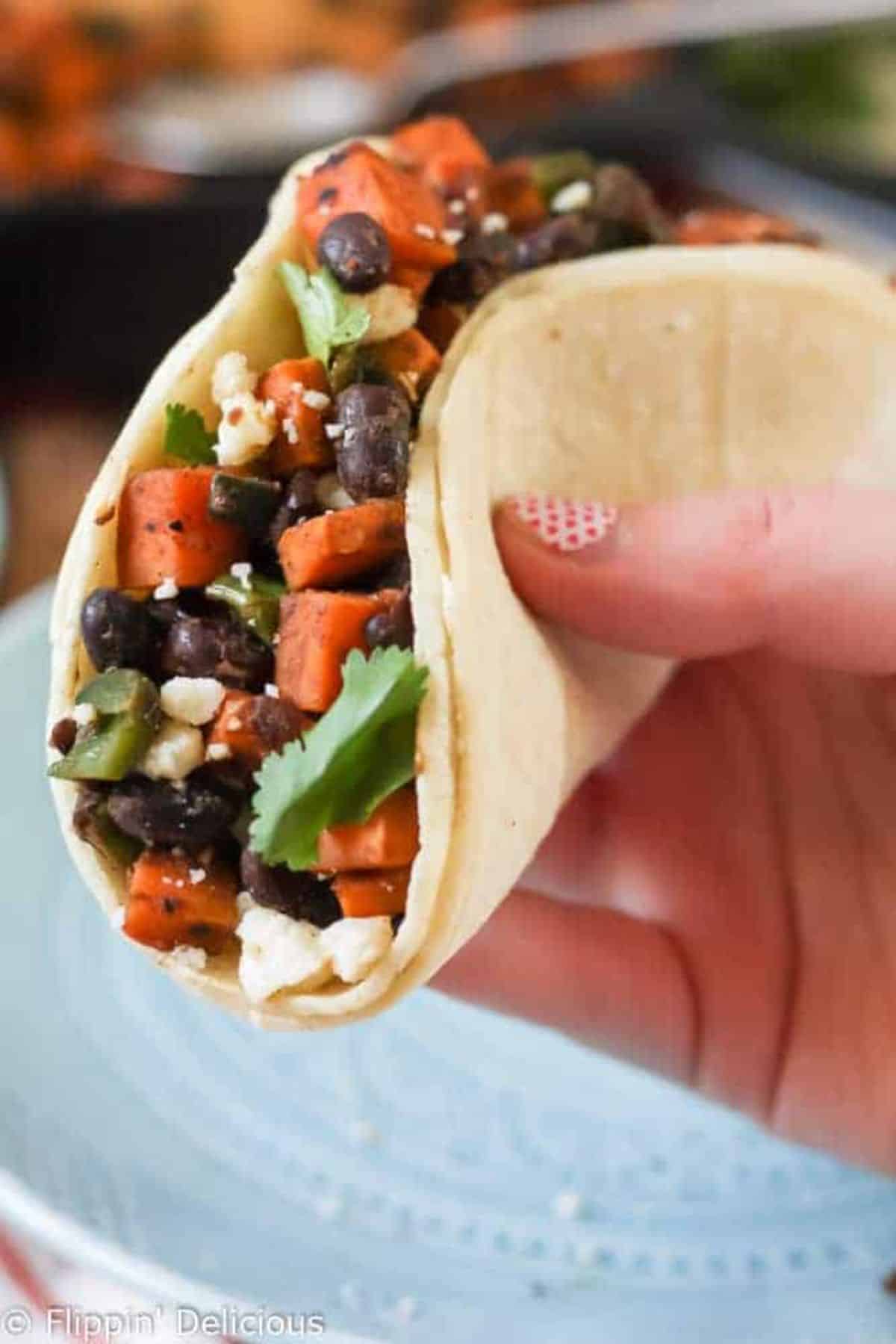 This sweet potato black bean taco recipe is a refreshing, vegetarian addition to a BBQ spread.
The combination of hearty sweet potatoes, antioxidant-rich black beans, and a variety of fresh and flavorful ingredients creates a delicious and satisfying taco filling.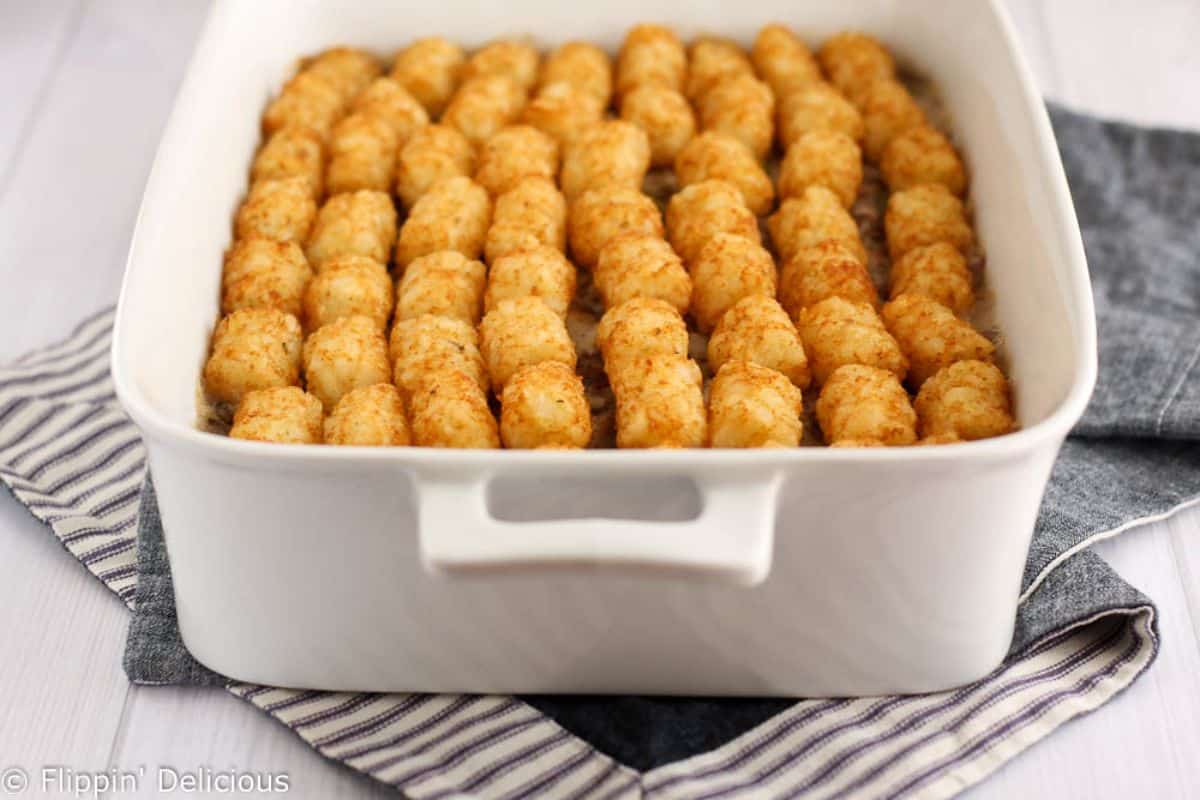 Whether for a relaxed backyard gathering or a game-day party, this gluten-free tater tot casserole is the ultimate crowd-pleaser.
This tater tot casserole pairs exceptionally well with grilled shrimp skewers, juicy carne asada, or alongside a platter of grilled vegetables.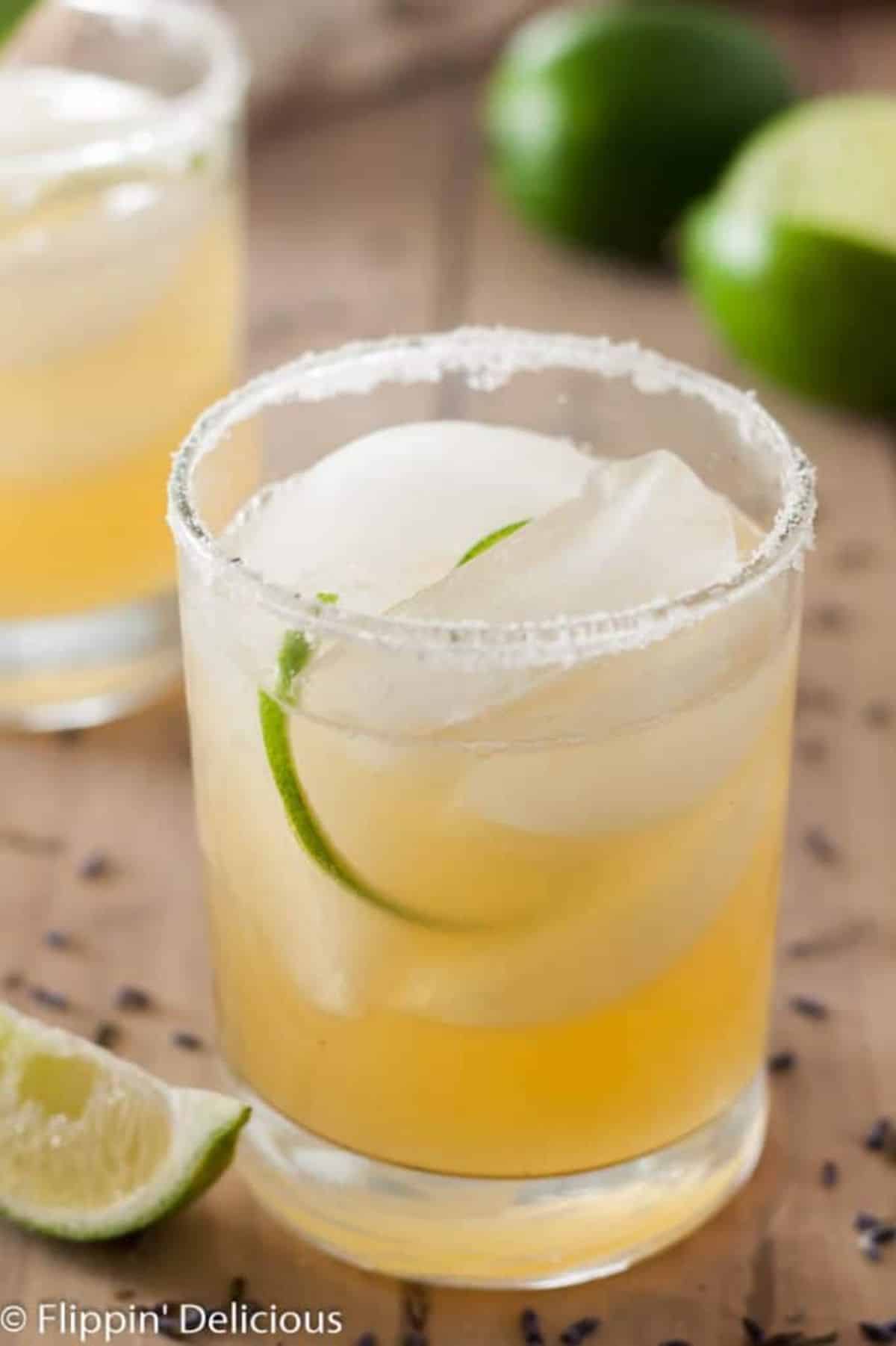 Lavender honey margaritas have a delicate floral aroma and sweetness from the honey, thus offering a sophisticated flavor profile that pairs perfectly with grilled seafood or chicken at a BBQ.
Plus, they're gluten-free, making them a fantastic choice for those who avoid beer due to their gluten content.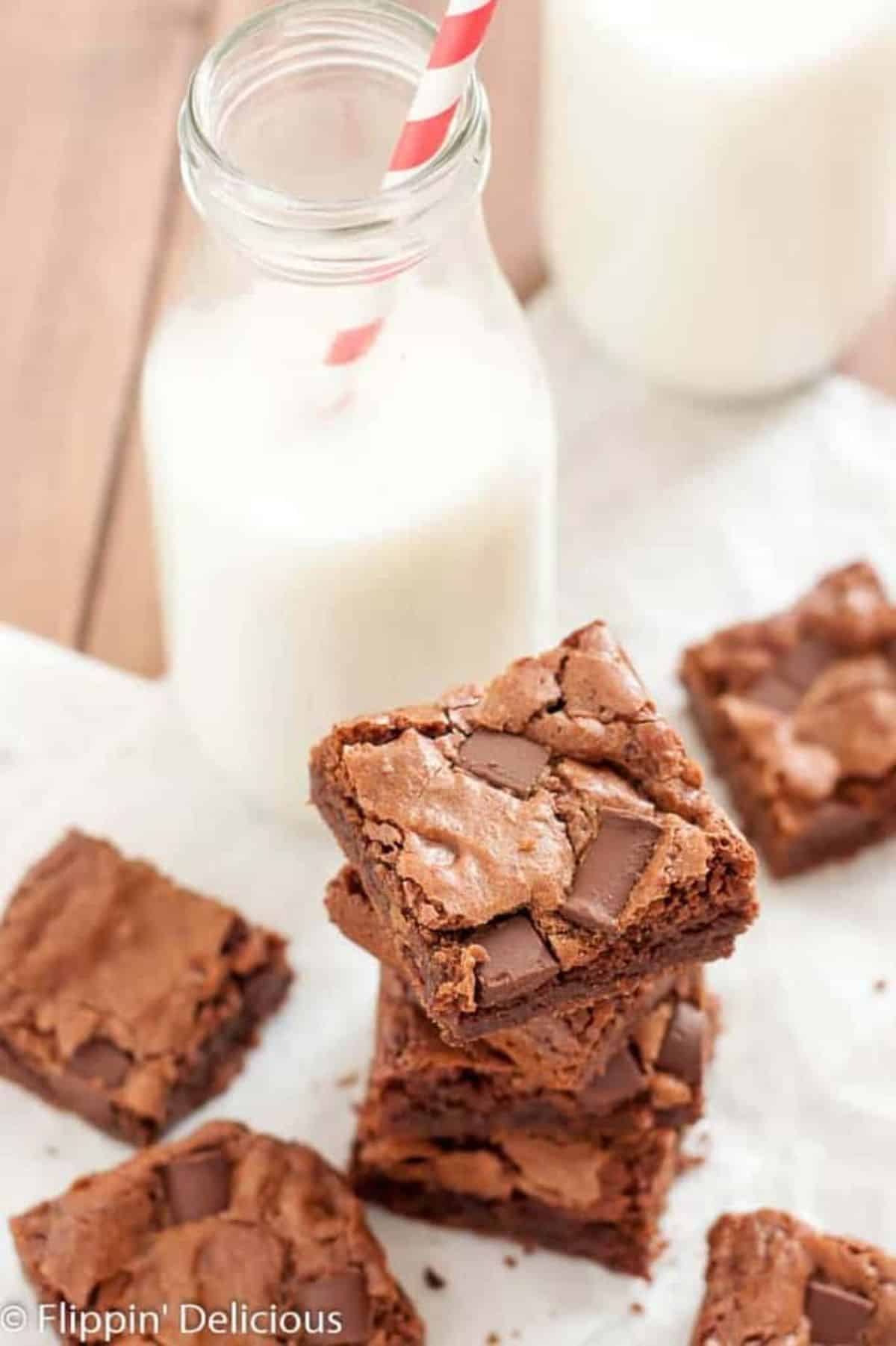 The best BBQ events have a wide range of savory dishes, but you can't forget dessert! And did you know that people love brownies so much that there's a National Brownie Day?
These gluten-free brownies make a fantastic dessert dish after you've finished juicy grilled burgers or tangy barbecue chicken.