Whether you have dietary restrictions or want to cut back on gluten to adopt healthier eating habits, these gluten-free lunch ideas will help you explore a wide range of delicious and nutritious dishes.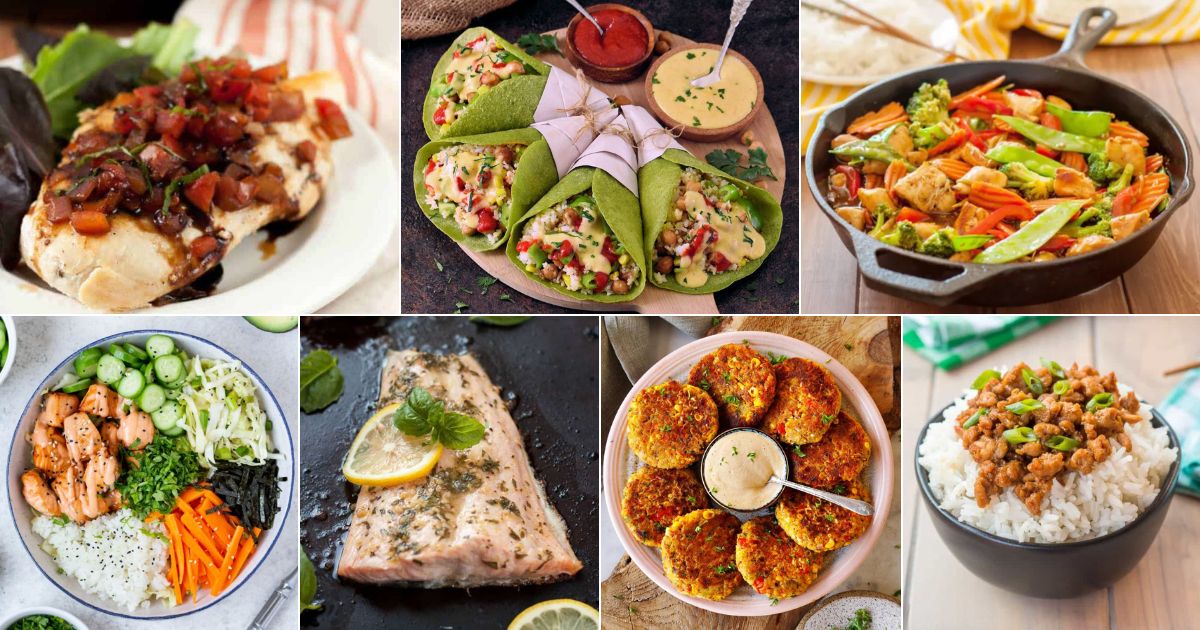 From gluten-free sandwiches to casseroles and instant pot recipes, here are some quick and easy lunches that won't take much prep time.
Jump to:
1. Gluten-Free Vegan Mac and Cheese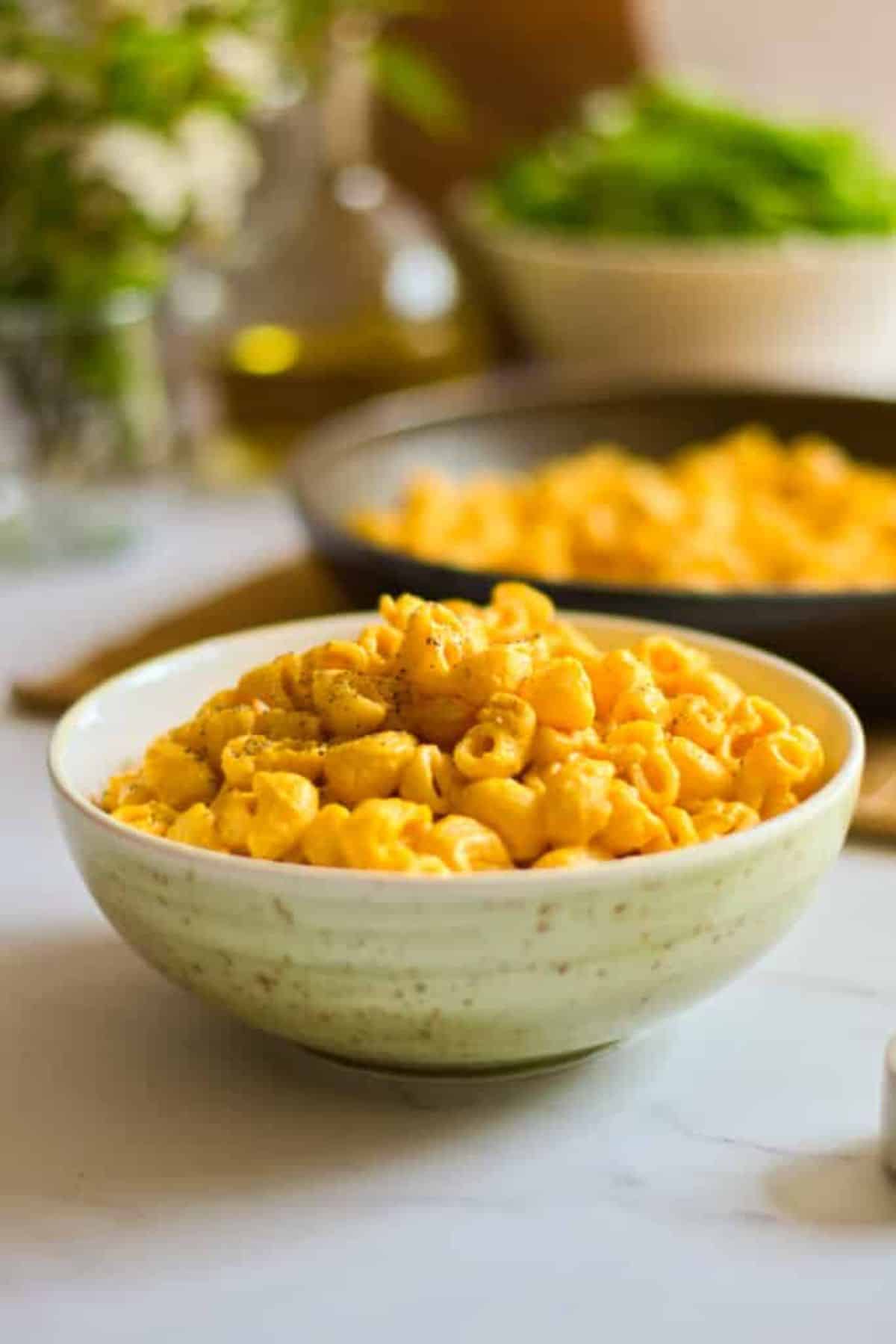 A steamy bowl of mac and cheese is the ultimate comfort food, but pasta is a common trigger for gluten sensitivities. This gluten-free mac and cheese recipe substitutes macaroni with gluten-free pasta and is just as flavorful as the classic, wheat-based version.
2. Gluten-Free Pretzel Chicken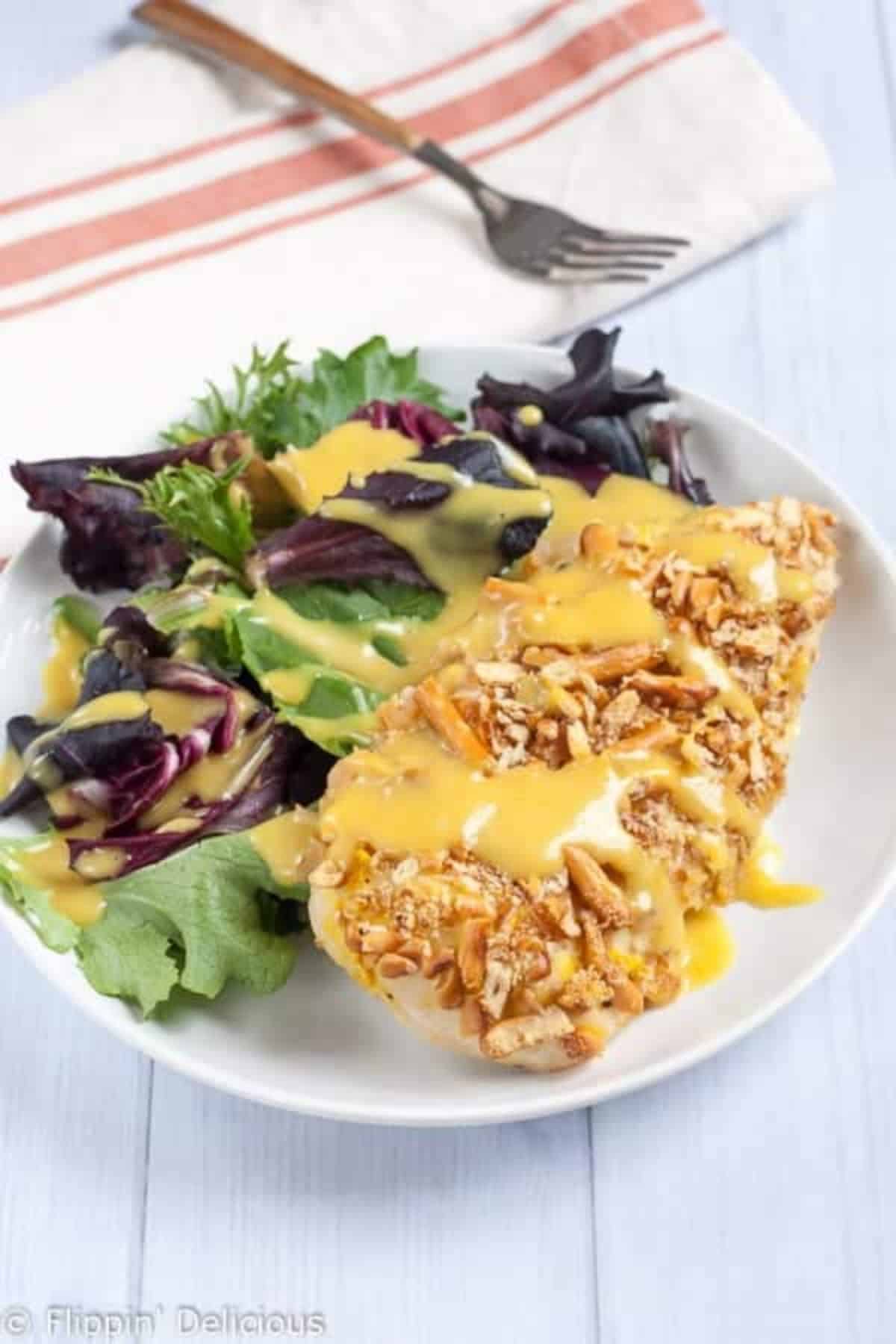 Craving the crunchy and satisfying texture of fried chicken? You can have it even if you're gluten-free. Coat the chicken with a layer of crushed gluten-free pretzels and bake.
The salty and savory flavors of the pretzel crumbs enhance the mild taste of the chicken. If you love dipping your chicken in honey mustard and other flavorful condiments, then this will become your favorite recipe.
3. Gluten-Free Slow Cooker Meatloaf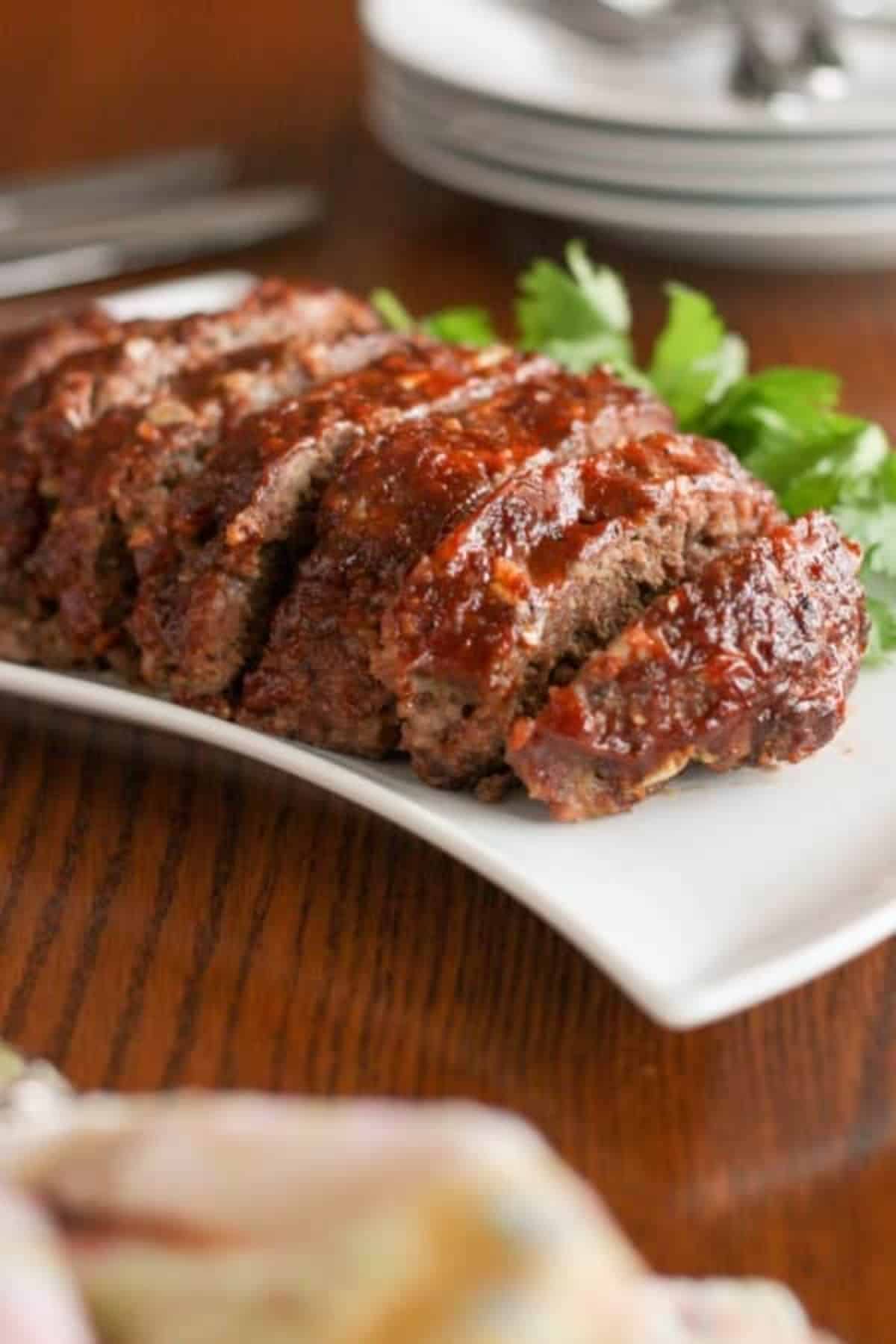 This simple recipe only takes a few minutes of prep time, and you'll have a hearty and comforting lunch waiting after you've finished your work day. You know there's nothing more welcoming than coming home to the aroma of garlic, Italian seasoning, and rich ground beef that has been low and slow-cooked for hours. So add this slow cooker meatloaf to your roster of recipes.
4. Sweet Chili Wings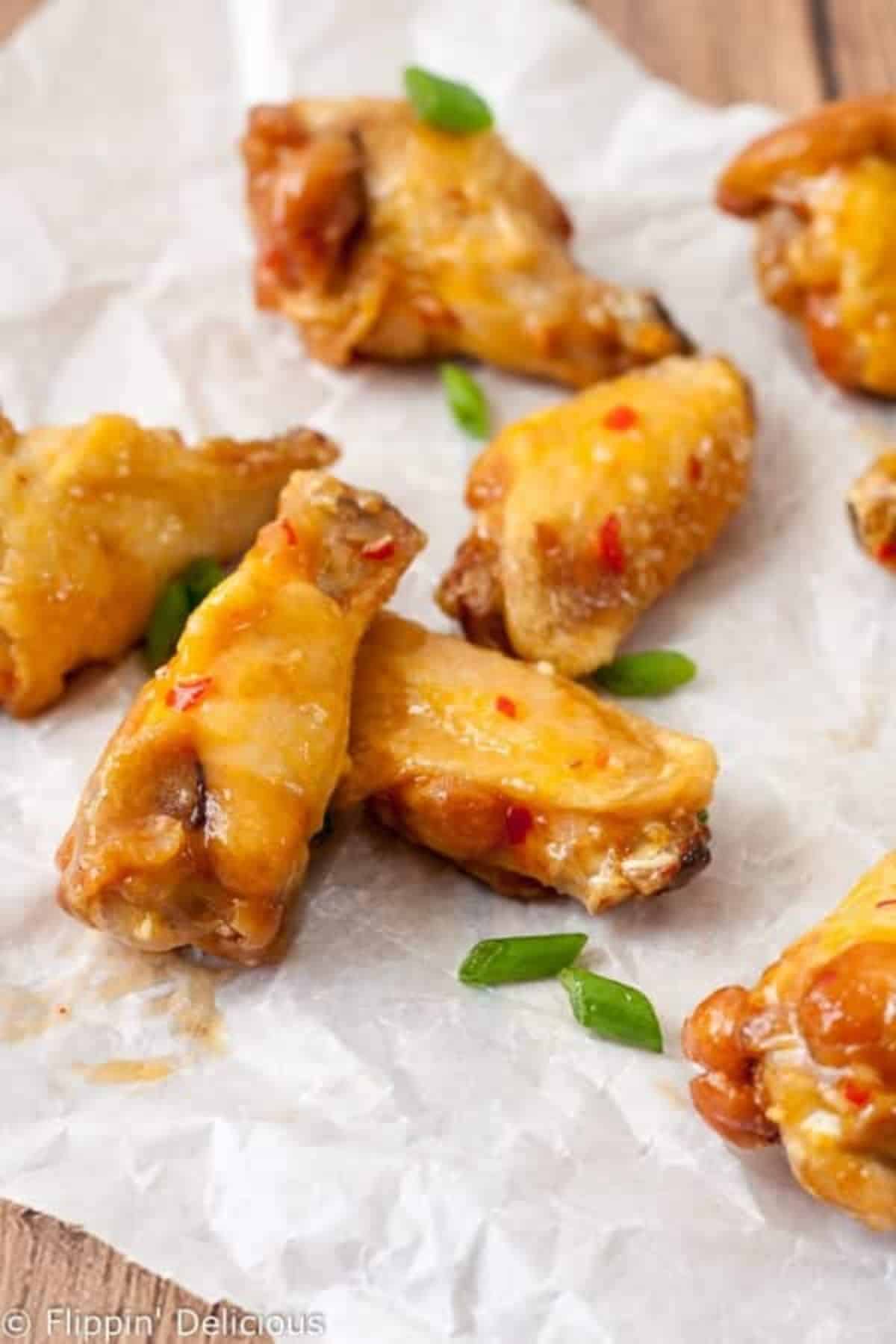 Looking for bold and spicy gluten-free lunch ideas? You've found them with these tangy, sweet chili wings.
This Asian-inspired recipe features a buttery, garlicky sweet chili dipping sauce to coat this fried chicken in mouthwatering flavor.
5. Chipotle Mango Salsa With Vegan Nachos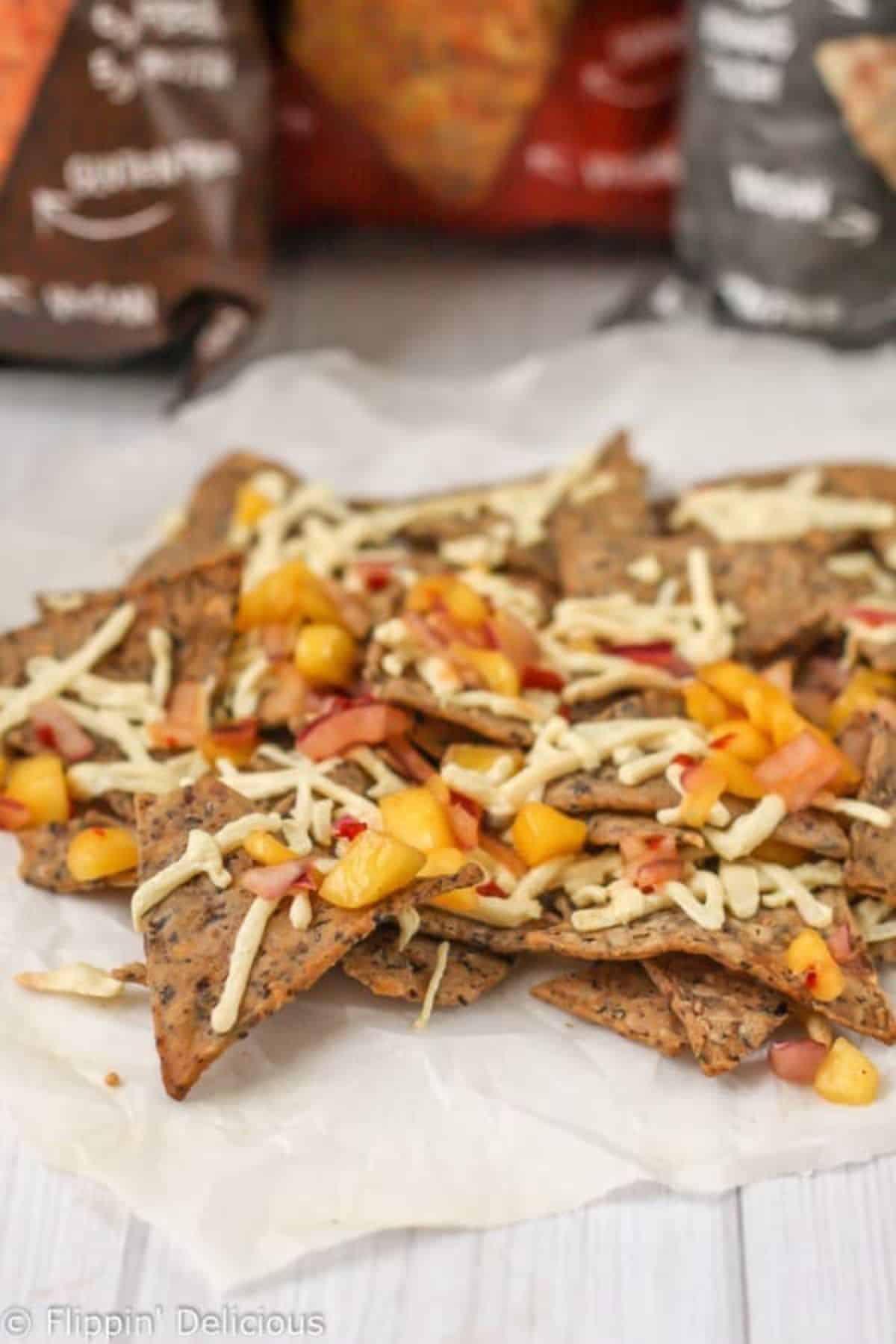 Do you typically eat a light lunch? Vegan nachos with sweet and spicy salsa are the perfect finger food for a quick desk lunch that will make your coworkers jealous. No matter the hungry looks you get, you don't have to share!
To make this snack, grab some gluten-free nachos, dice half a red onion, two juicy mangos, and chipotle peppers, and blend. The result is a salsa brimming with flavors.
6. Gluten-Free Bang Bang Shrimp
Bang Bang shrimps are one of the signature dishes of the Bonefish Grill restaurant chain. They whip up this recipe by tossing shrimp in a spicy sauce, and panko crumb mix, which gives it a deliciously crispy texture, but the breadcrumb mix they use is not gluten-free.
What to do? It is a gluten-free Bang Bang shrimp recipe to the rescue. This recipe has everything you need to recreate this mouthwatering dish at home with gluten-free breadcrumbs.
7. Gluten-Free Sausage Gravy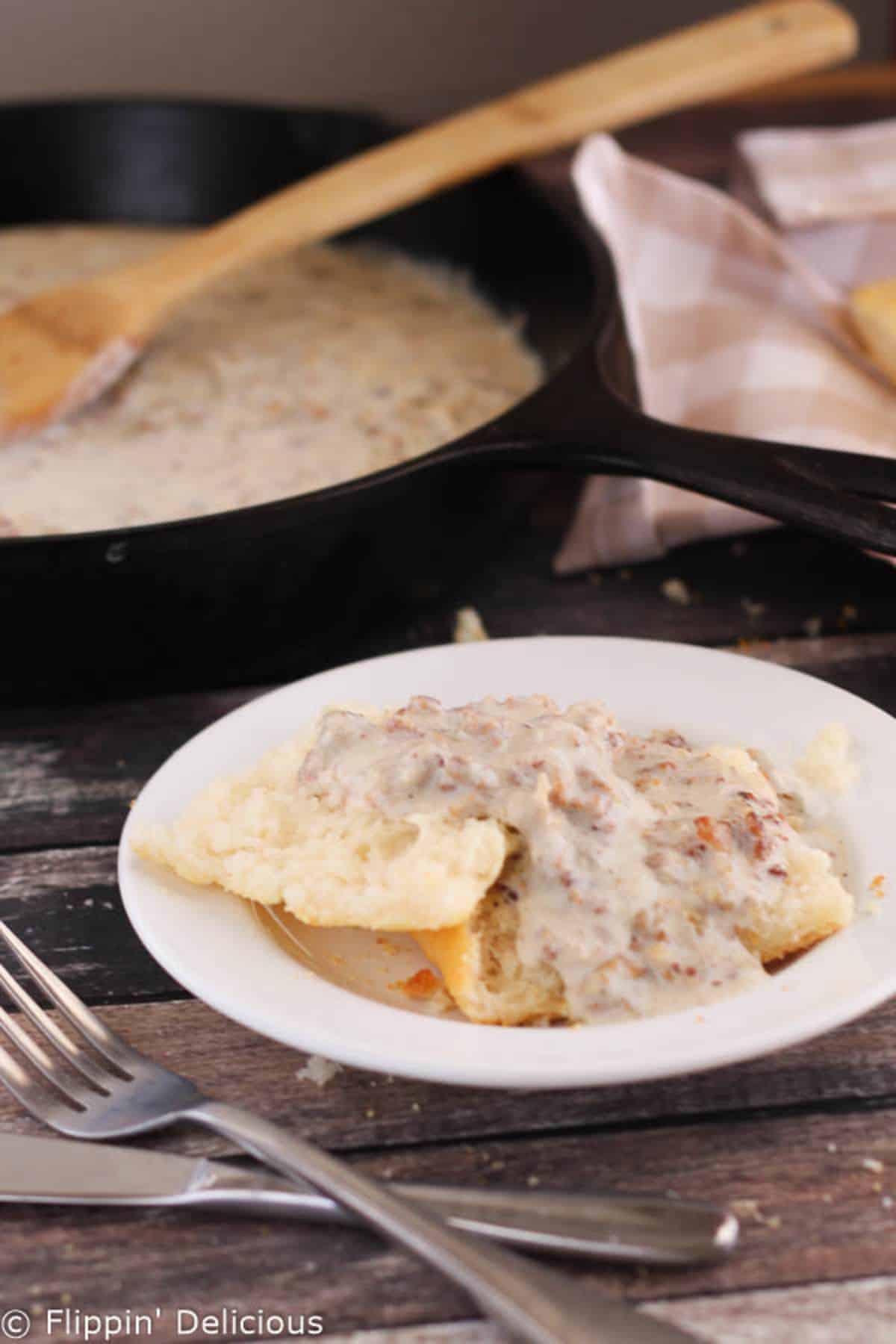 Southern food isn't always gluten-free friendly. Hearty, flour-heavy sausage gravy can't possibly be gluten-free, can it? Yes, it can- if you whip up this gluten-free sausage gravy yourself.
All you need is rice flour, milk, heavy cream, gluten-free sausage, a dash of salt and pepper, and about 20 minutes on a cast iron skillet, and you've got a creamy and savory dish that you won't stop eating.
8. Gluten-Free Creamy Chicken Casserole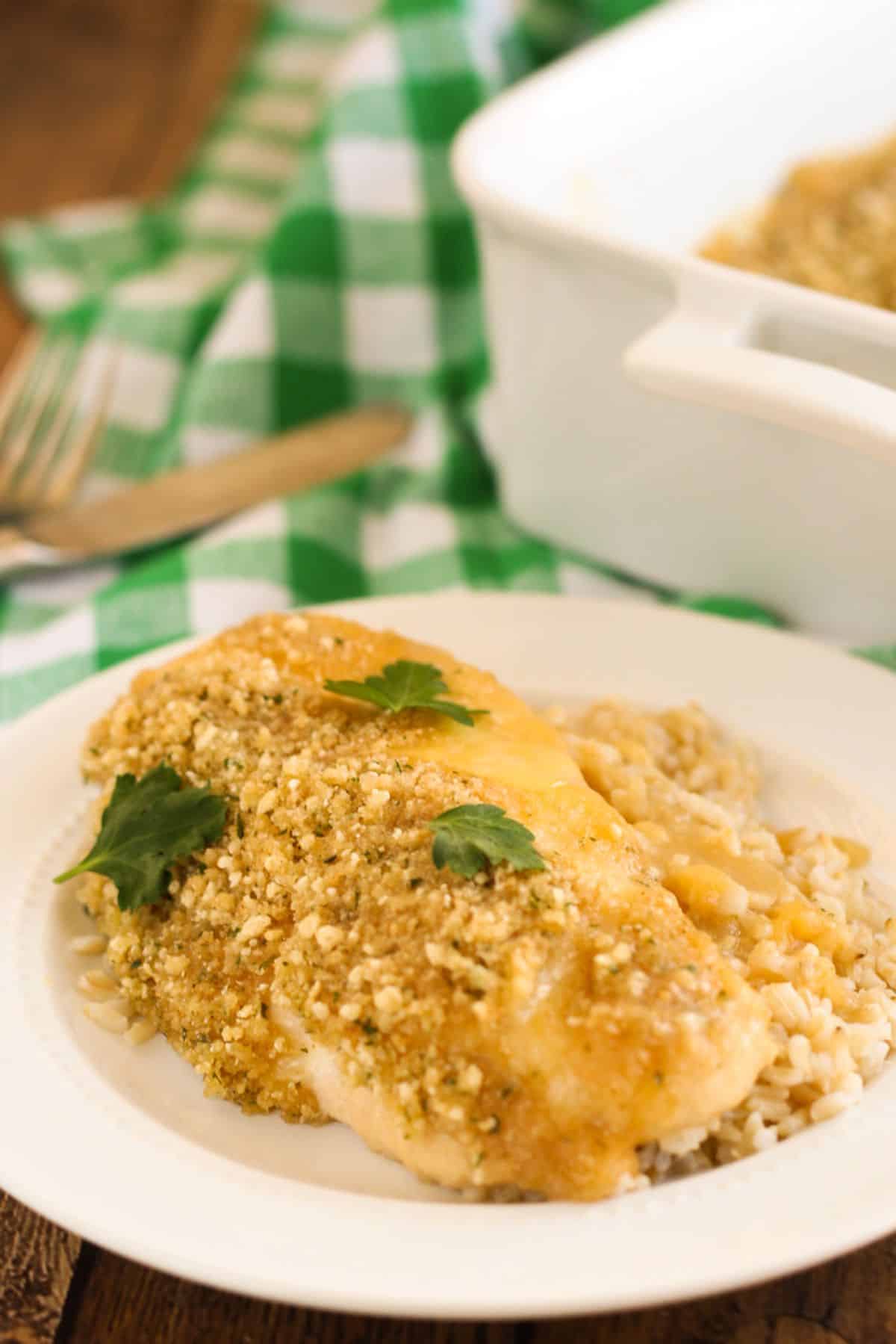 If you're cooking for a large group of people or like to prepare large quantities so you can have leftovers for dinner, this creamy chicken casserole is an excellent choice.
Apple juice introduces a sweet and tart flavor that brings out the taste of the chicken, while gluten-free breadcrumbs add some texture and deliciousness.
9. Gluten-Free Orange Chicken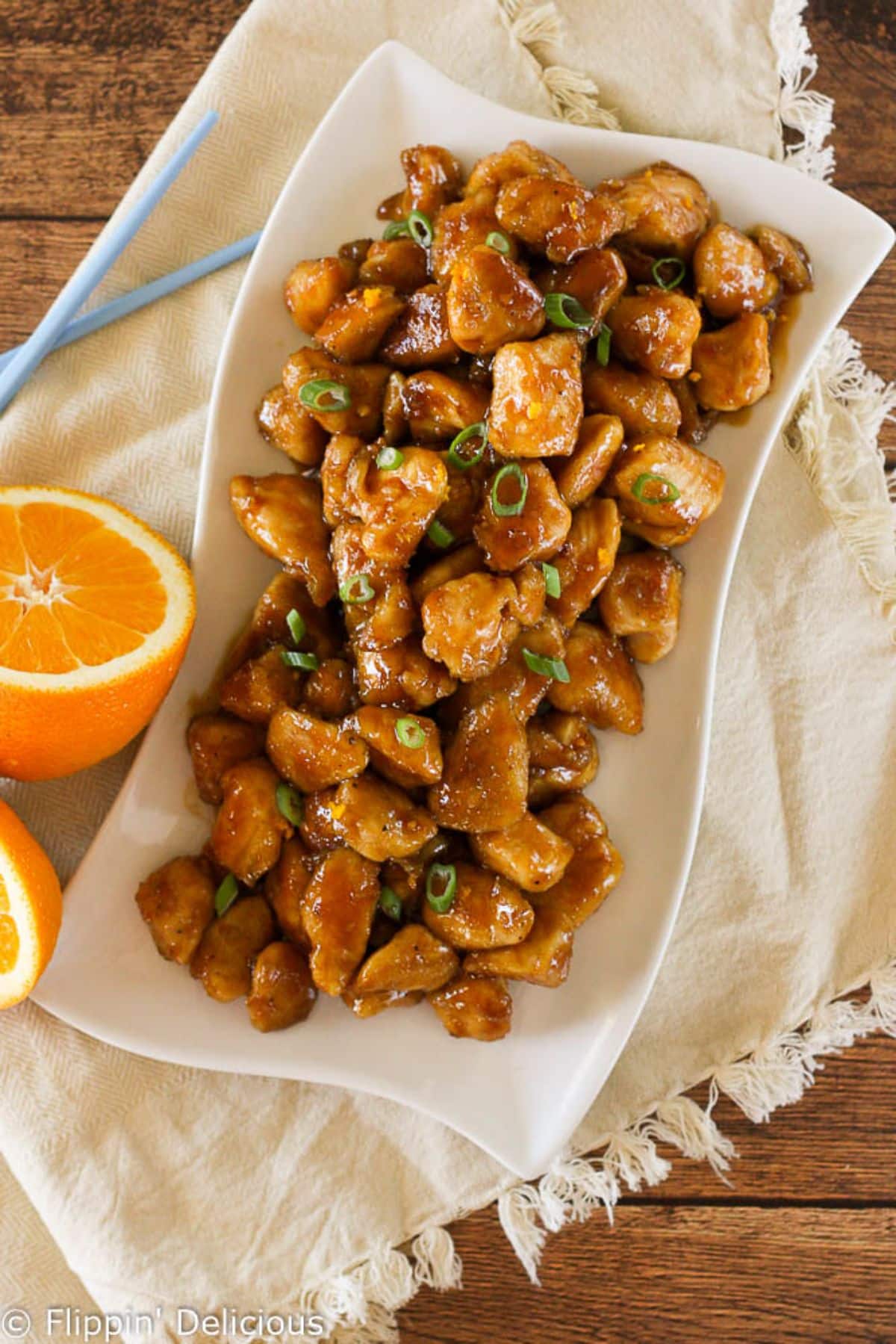 Craving Panda Express but bummed out by the lack of gluten-free options? Cheer up and make their popular orange chicken stir fry on your own. Just sub out conventional soy sauce for gluten-free soy sauce, and make an orange sauce so delicious, you'll drizzle it on every savory dish!
10. Gluten-Free Cheddar Cheese Soup with Ham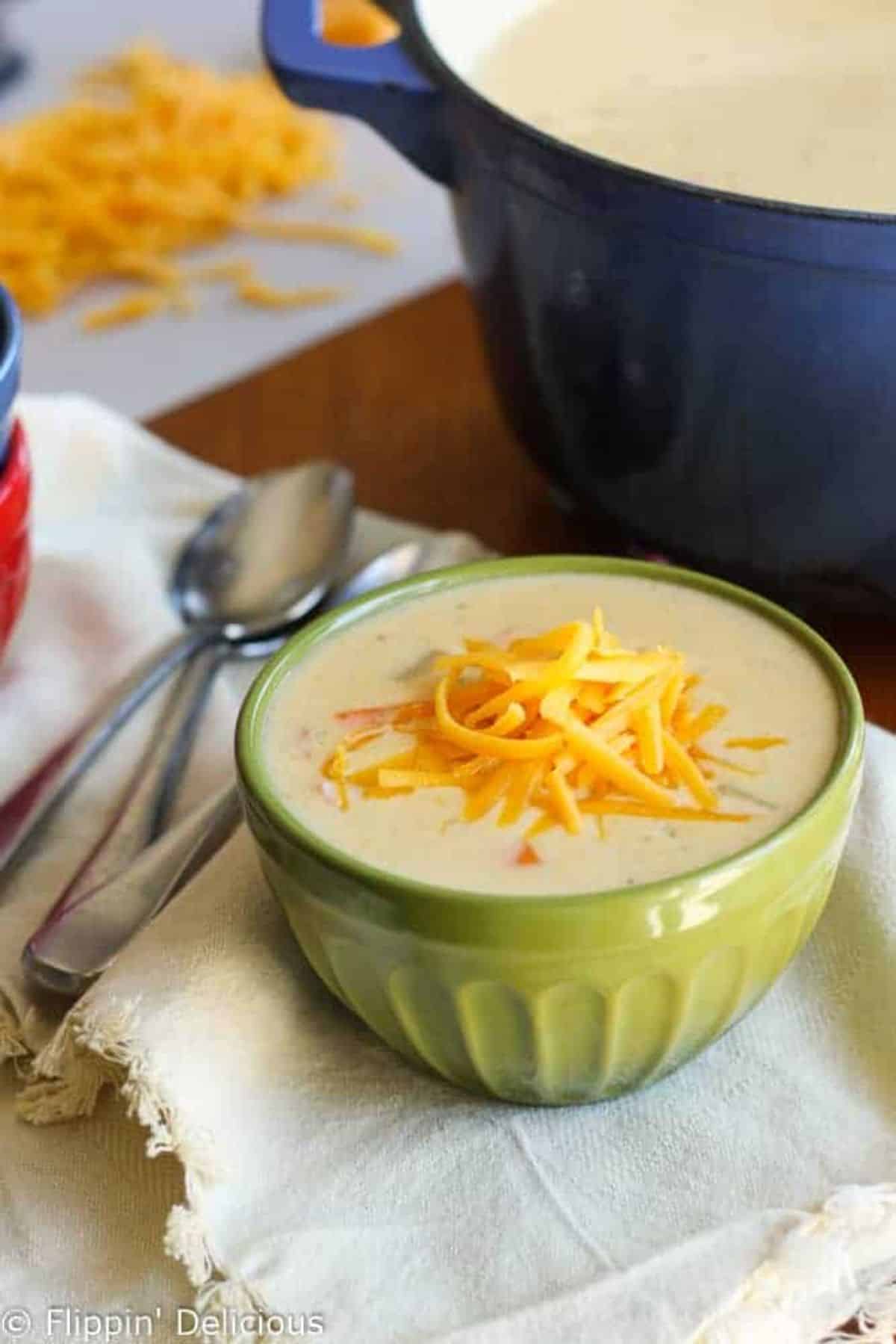 Hearty cheddar cheese soup is the ideal winter lunch. You can't go wrong with the delectable combo of salty ham, creamy cheese, diced potatoes, and carrots. You'll crave this rich, cheesy soup no matter the season.
11. Gluten-Free Green Chile Enchiladas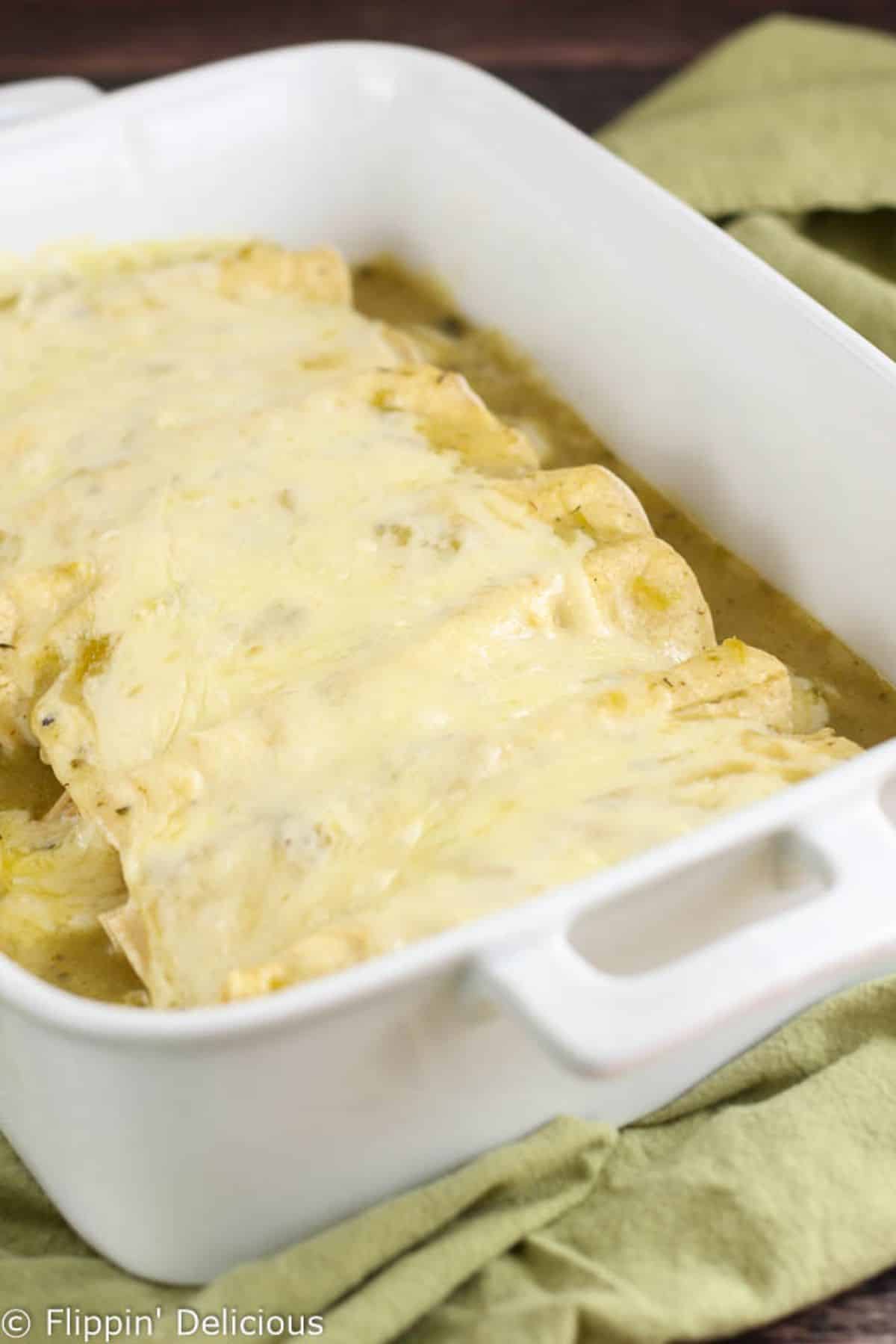 Yes, you can savor enchiladas. Just use a gluten-free alternative like corn or rice flour tortillas in these Mexican-inspired enchiladas. The same goes for the gluten-free sauce- rice flour makes a perfect thickener. These enchiladas only take a few minutes to make and are oh-so-easy to adjust the quantities to feed the gang.
12. Dairy-Free Gluten-Free Baked Ziti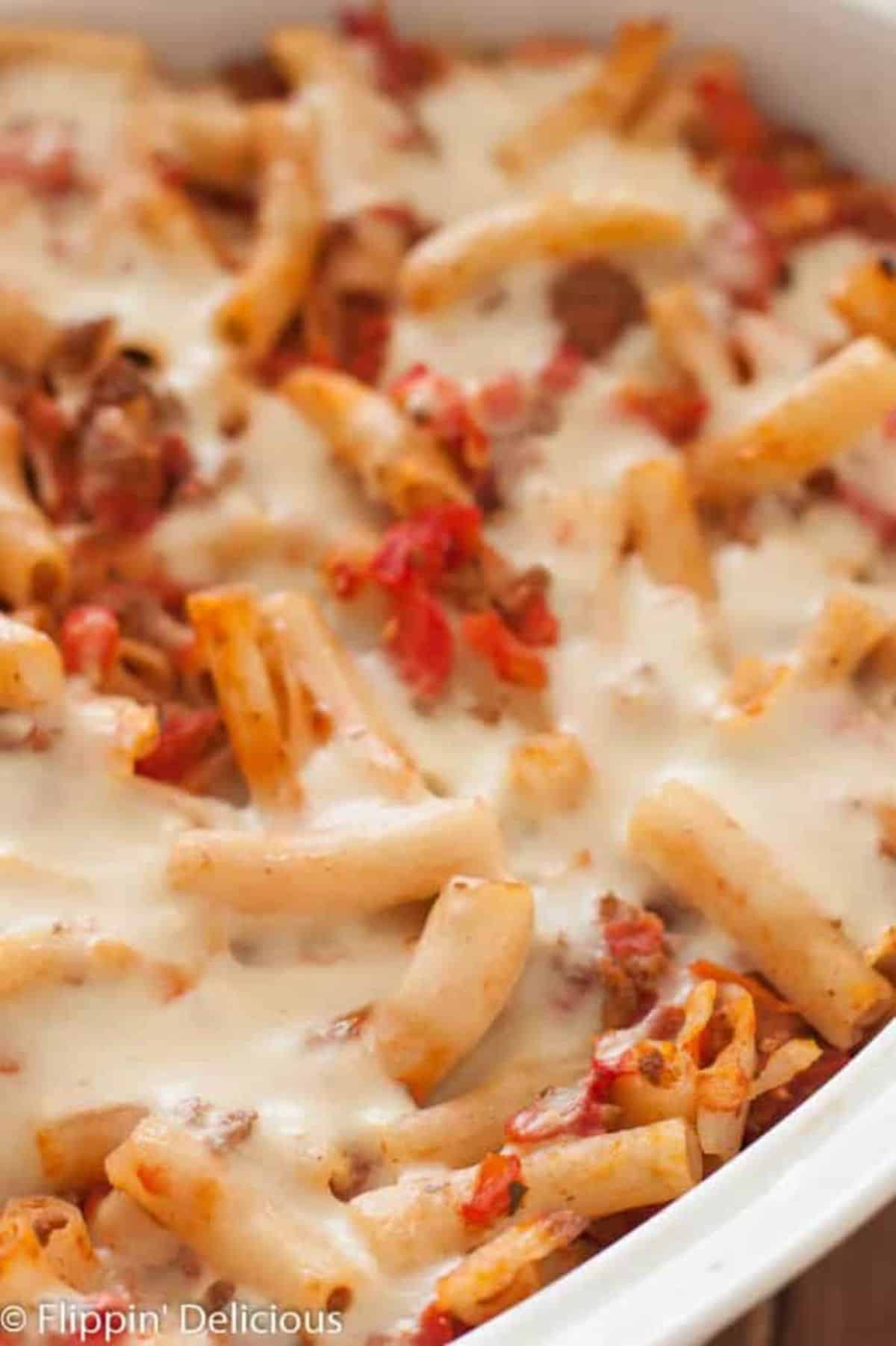 Looking for Sunday lunch ideas? Look no further than this delicious baked ziti. You only need gluten-free pasta and dairy-free milk for the sauce. Gluten-free ziti is so al dente, no one will know it's wheat free!
13. Instant Pot Tomatillo Pork Tacos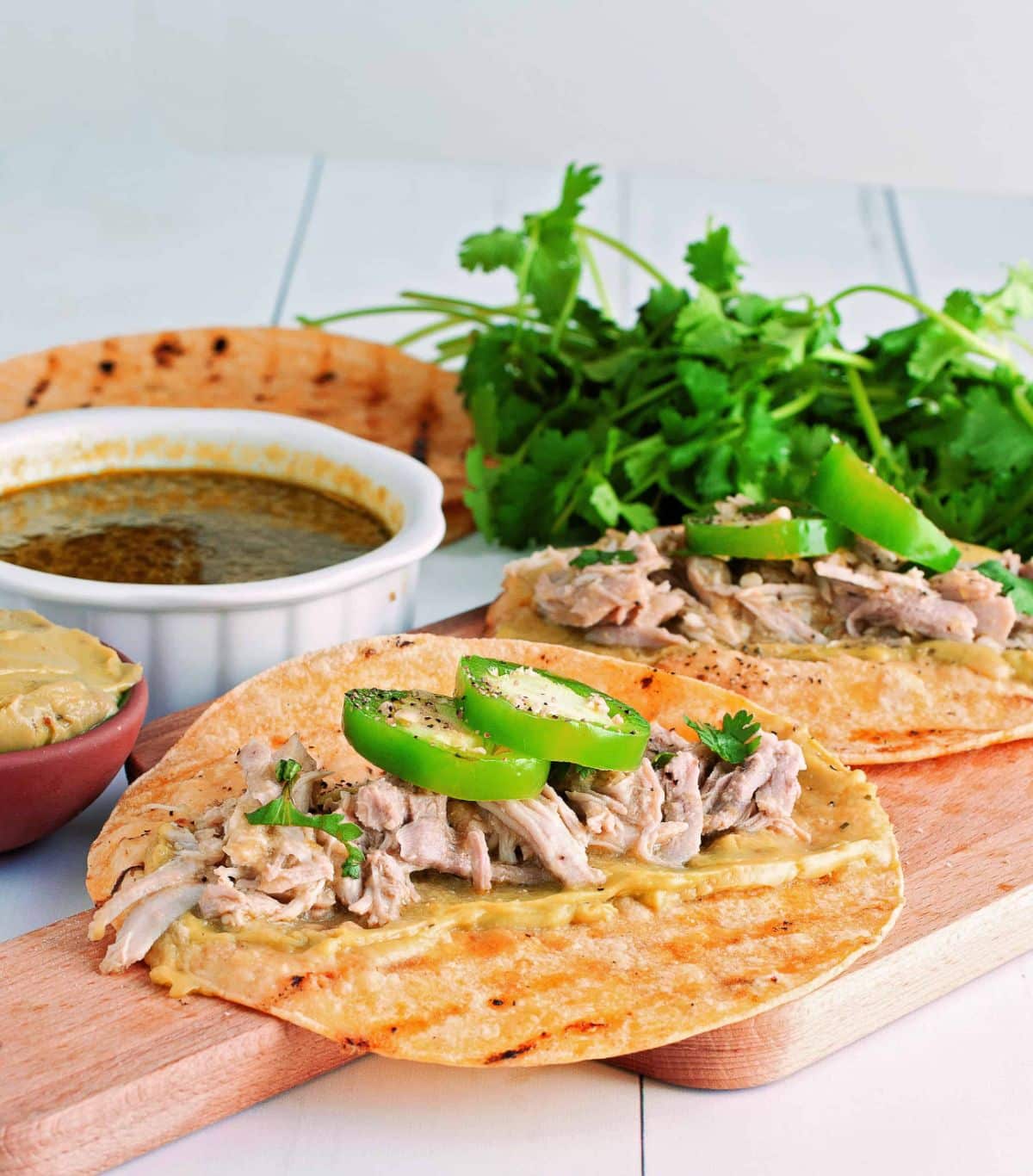 Homemade tomatillo sauce adds a bold and bright flavor to these pork tacos. Add your favorite gluten-free toppings, and it's lunch, dinner, or a snack! These instant pot pork tacos are perfect if you're looking for gluten-free meals you can prepare in a few minutes.
14. Baked Gluten-Free Mac and Cheese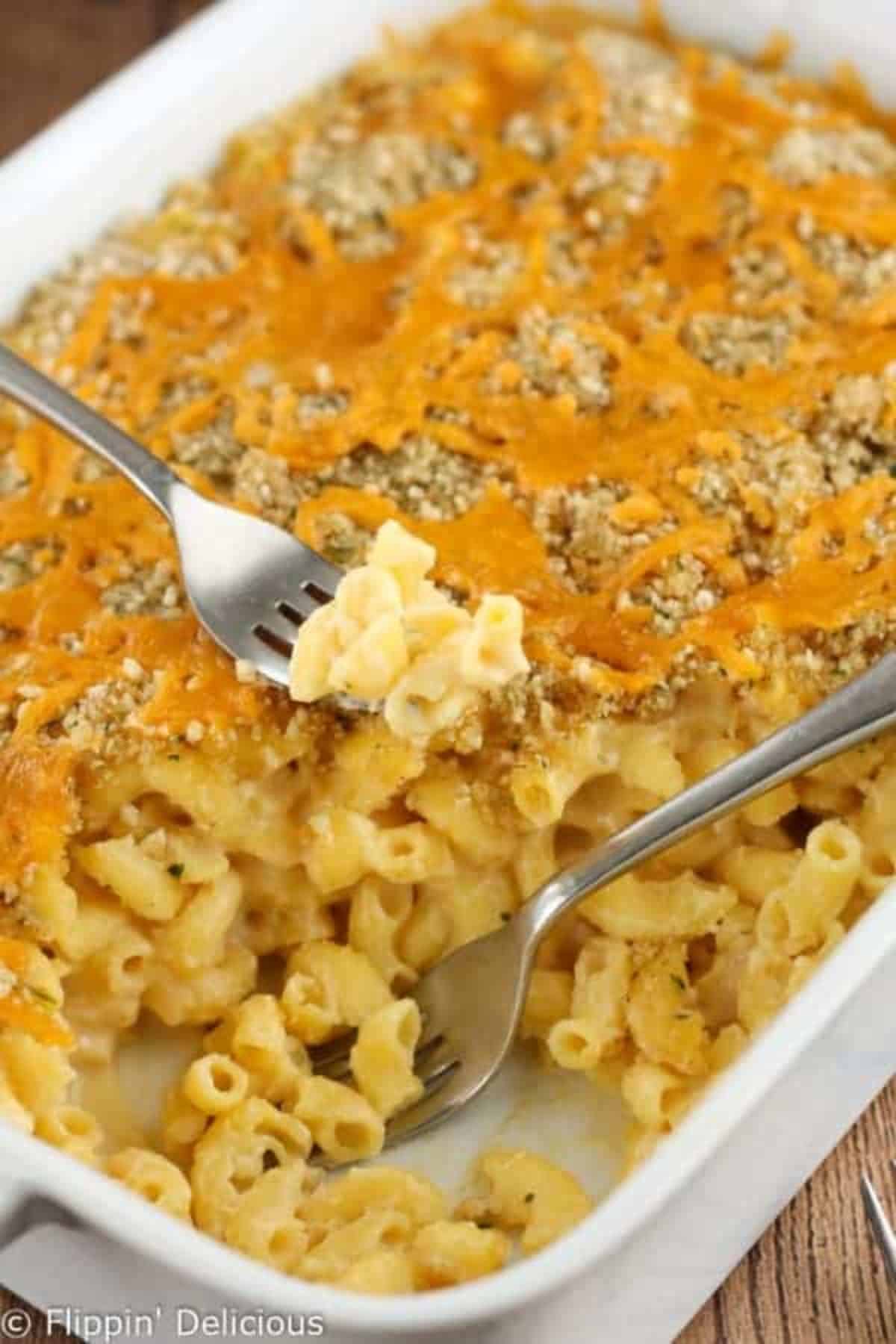 Creamy cheese sauce and crispy bread crumb crust make this Baked mac and cheese a winner. Gluten-free pasta, gluten-free rice flour, and gluten-free breadcrumbs- it doesn't get more gluten-free than that or more delicious.
15. Honey Chipotle Wings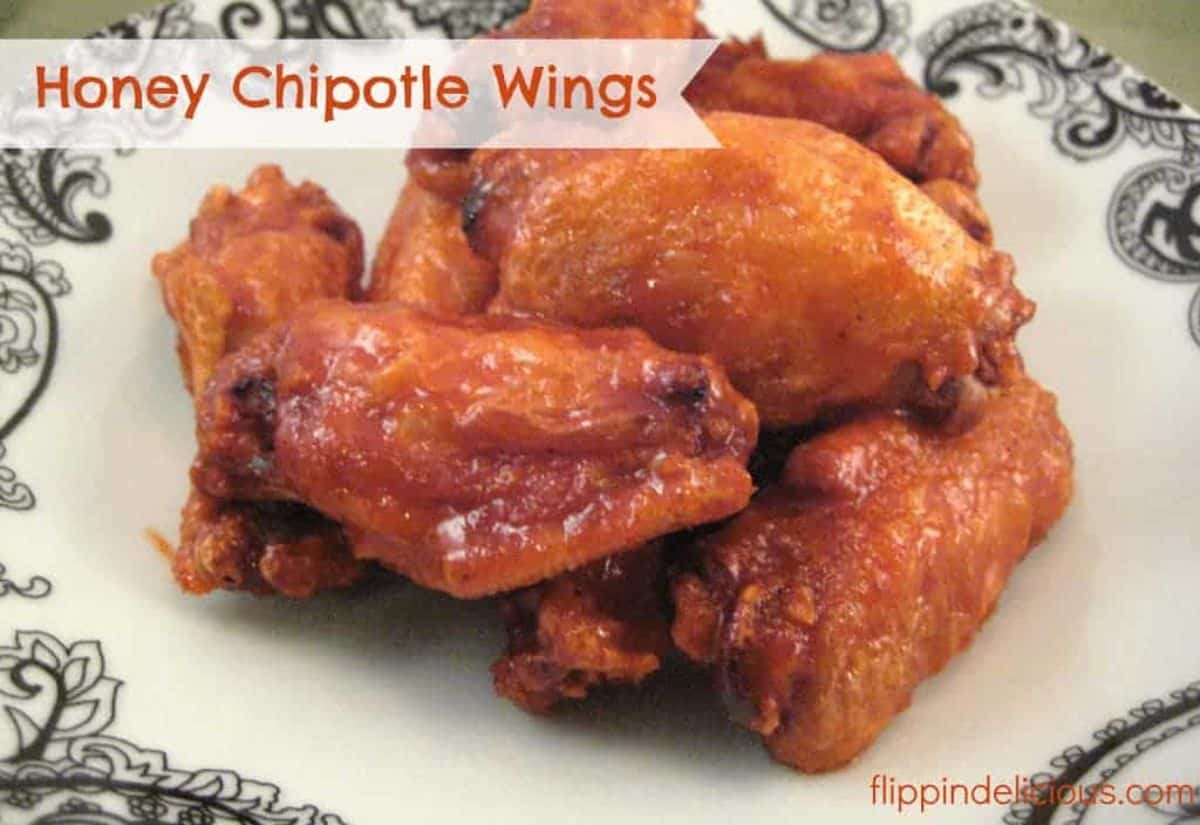 Bold, sweet honey chipotle wings are the lunchtime meal that you've been craving. Fry a batch of chicken wings, then coat them with adobo sauce, honey, and apple cider vinegar. Yum!
16. Gluten-Free Club Sandwich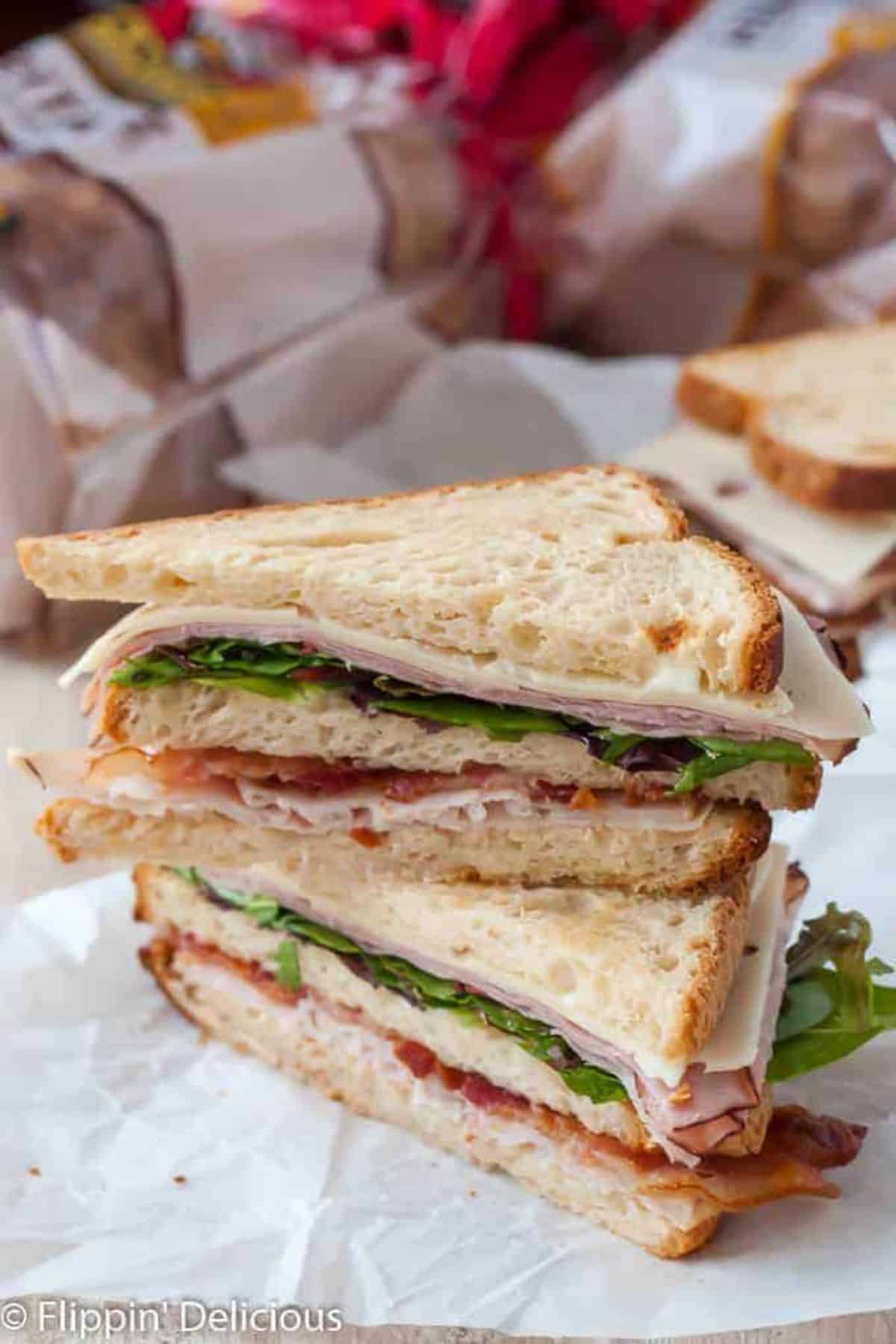 A timeless classic, the club sandwich is a convenient option for a quick snack or hearty lunch. A gluten-free take on this classic uses a rice flour bread that might be even more delicious than wheat-based varieties. Now you can enjoy your favorite sandwich despite dietary restrictions.
17. Chicken Posole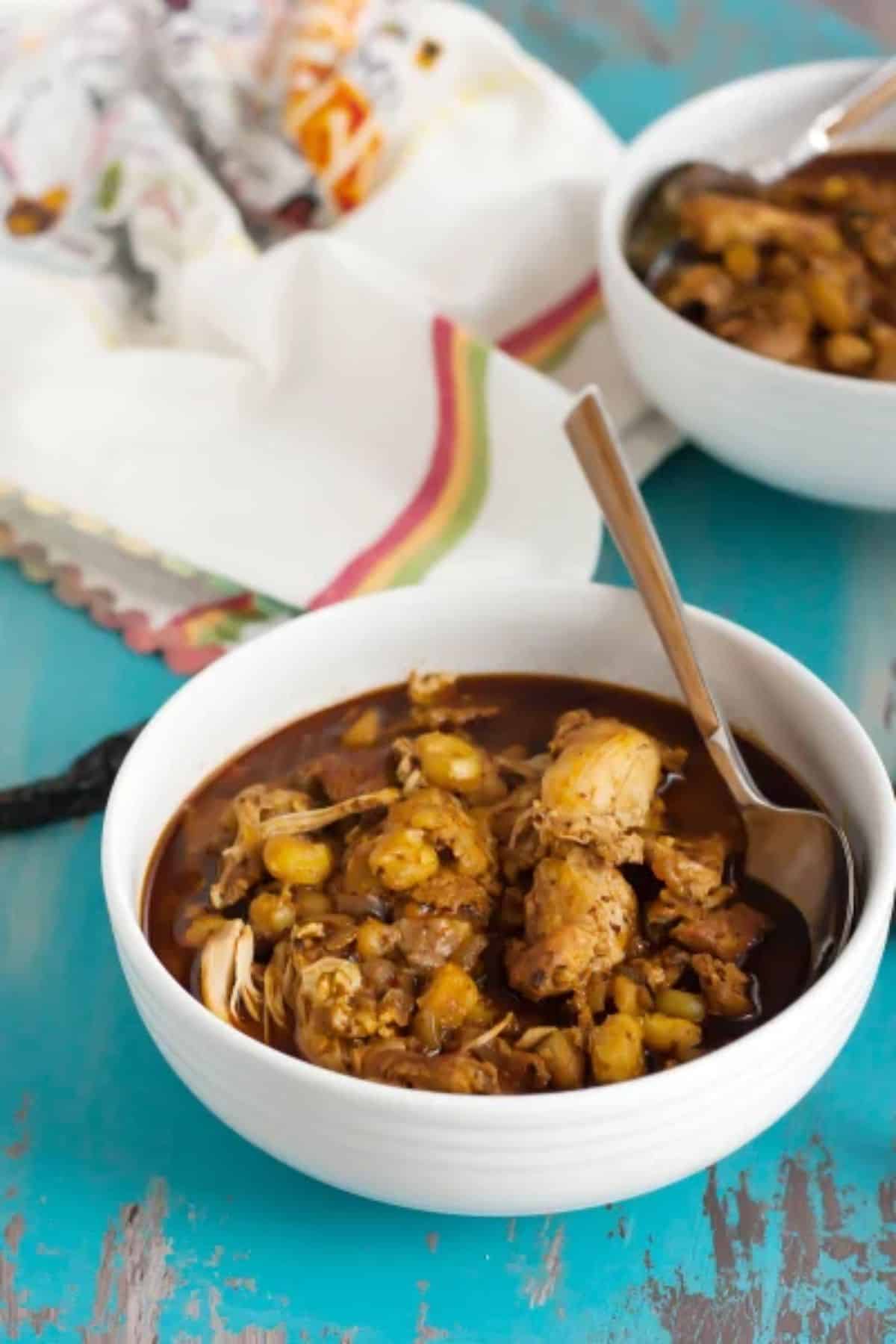 Posole or pozole is a traditional Mexican dish that resembles a meat soup or stew with hominy and chile. This chicken posole recipe comes together effortlessly in an instant pot.
Though it only takes about 30 minutes, a rich blend of chicken broth, garlic, cumin, rice, cojita cheese, and guajillo peppers has a complex flavor that will convince you that this soup has been stewing for hours.
18. Instant Pot Chicken Tikka Masala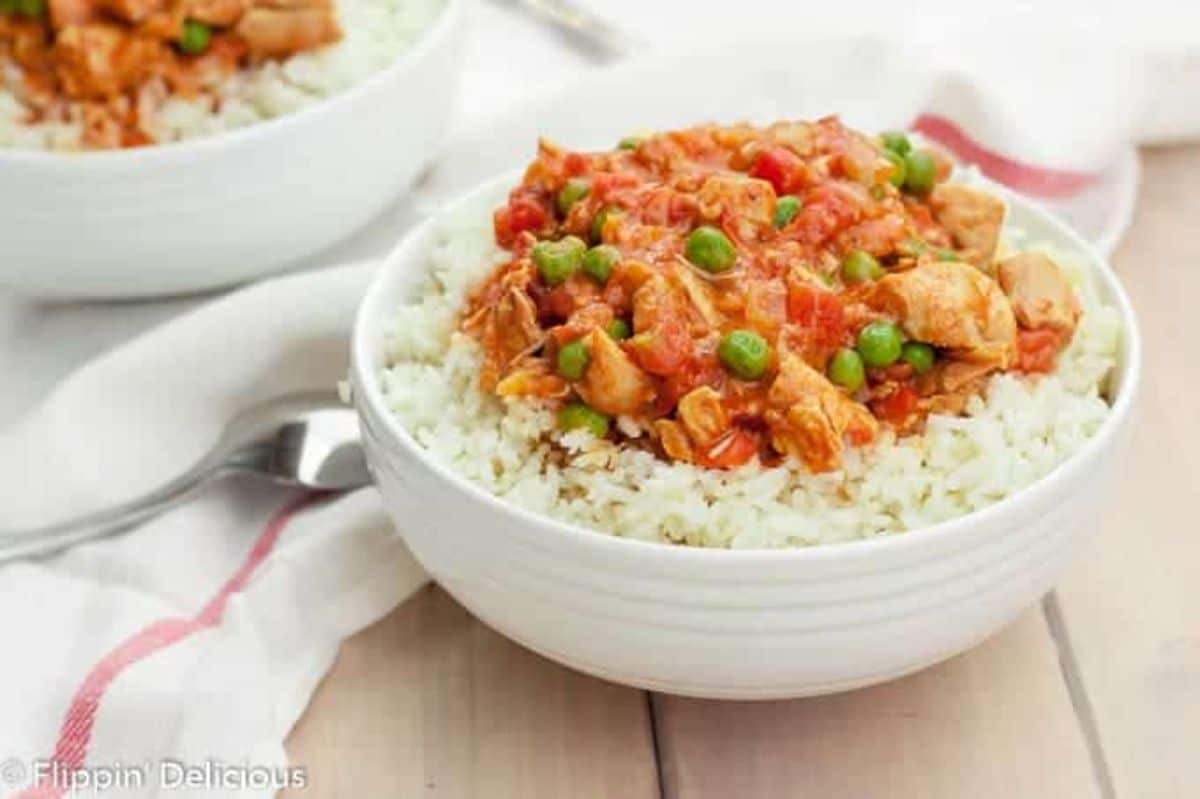 Add some Indian-inspired flavors to your lunch with this tasty chicken tikka masala recipe. Rice is naturally gluten-free, and you can use a mix of ginger pasta, tomato paste, and coconut milk to achieve a thick and creamy consistency for the curry.
19. Instant Pot Gluten-Free Teriyaki Meatloaf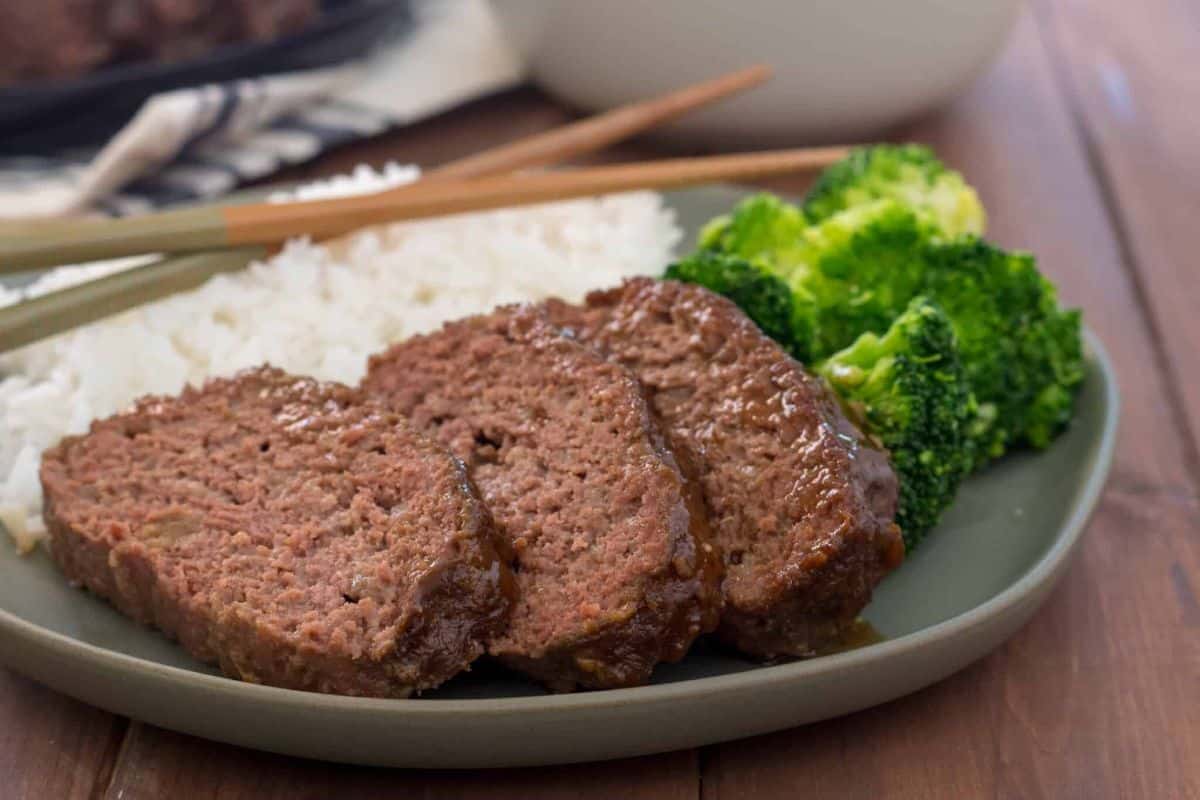 Level up this classic dish by introducing some bold Japanese-inspired flavors. You won't have flavor fatigue with this meatloaf recipe, thanks to a zesty combination of gluten-free soy sauce, garlic, ginger, and a teriyaki glaze. Add more tang and piquancy with some rice wine vinegar and brown sugar, and meatloaf will become your passion.
20. Green Chile White Bean Chicken Chili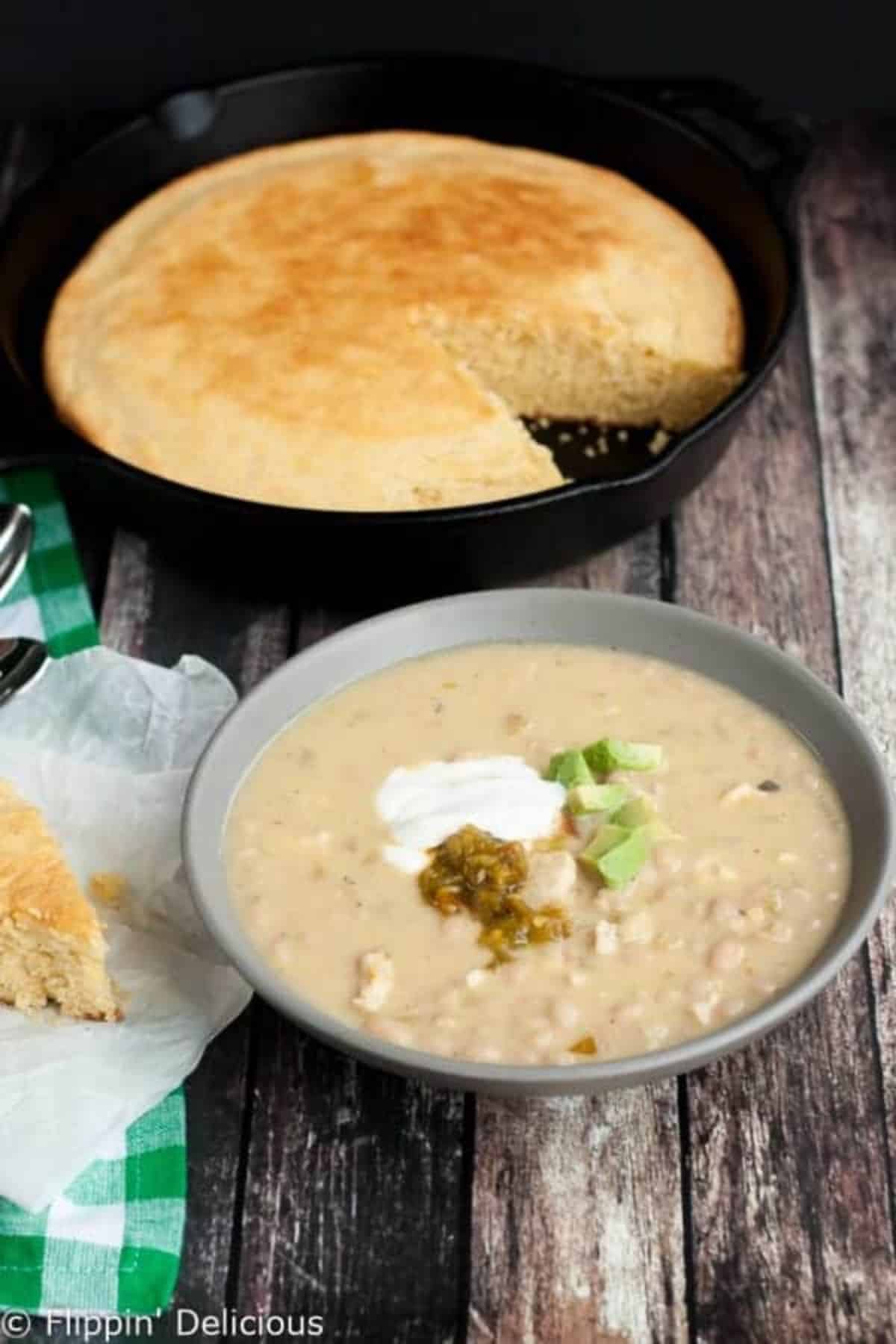 Savory white beans and spicy green chile make this chicken chili the ultimate Mexican-inspired lunch. Serve this bold and creamy chili over rice or dip your favorite gluten-free bread in to soak up every drop of flavor.
This recipe is a must for leftover chicken, but change it up by adding kidney beans, cumin, paprika, or banana peppers.
21. Gluten-Free Tater Tot Casserole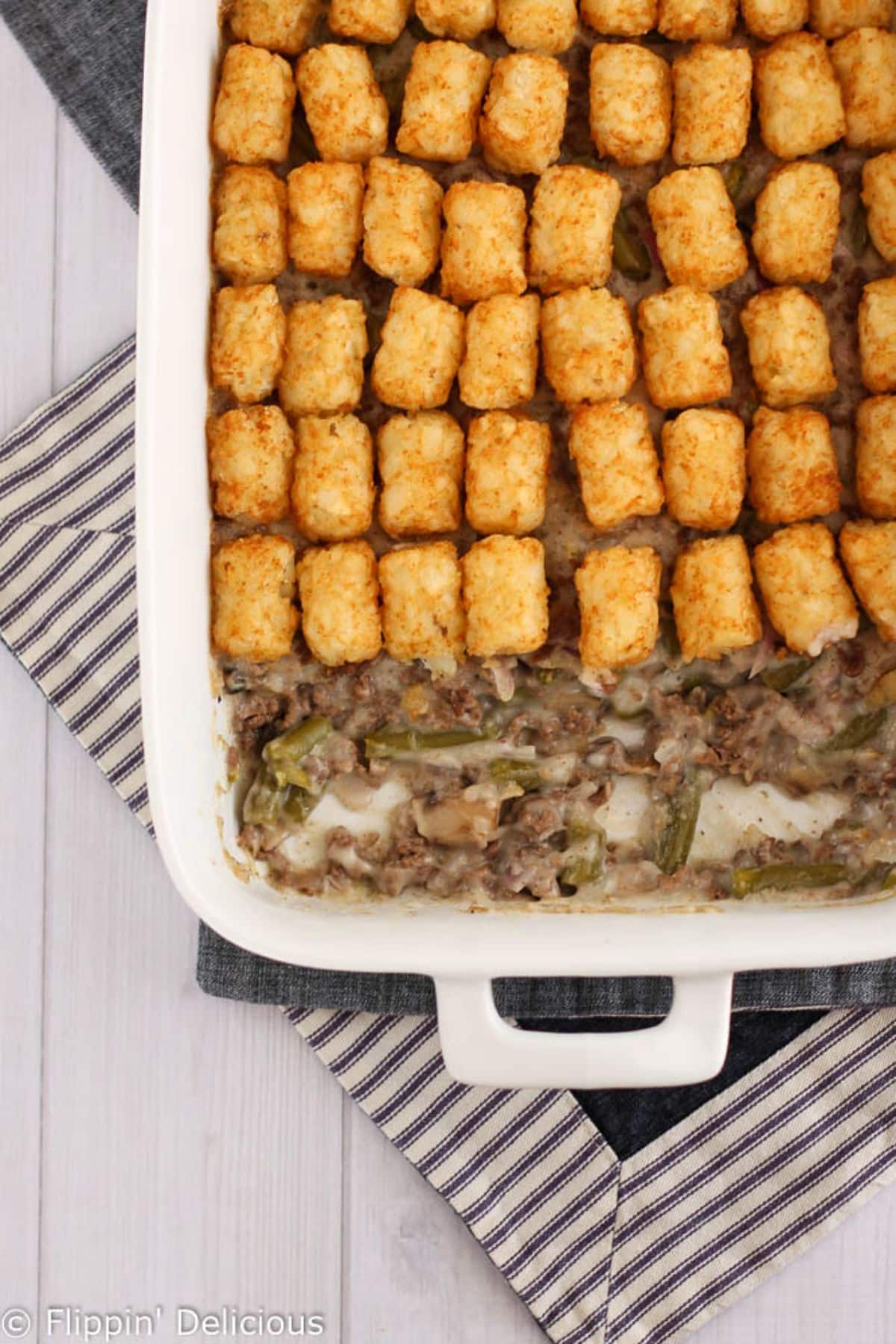 Golden and crispy Tater tots are a common craving. Fortunately, there are some gluten-free versions available in stores. Have a hankering for these delectable potato bites at dinnertime? Make a gluten-free tater tot casserole. Combine gluten-free tater tots with ground beef or turkey, vegetables, and gluten-free cream of mushroom soup, and that's how dinner is done.
22. Gluten-Free Cream of Mushroom Soup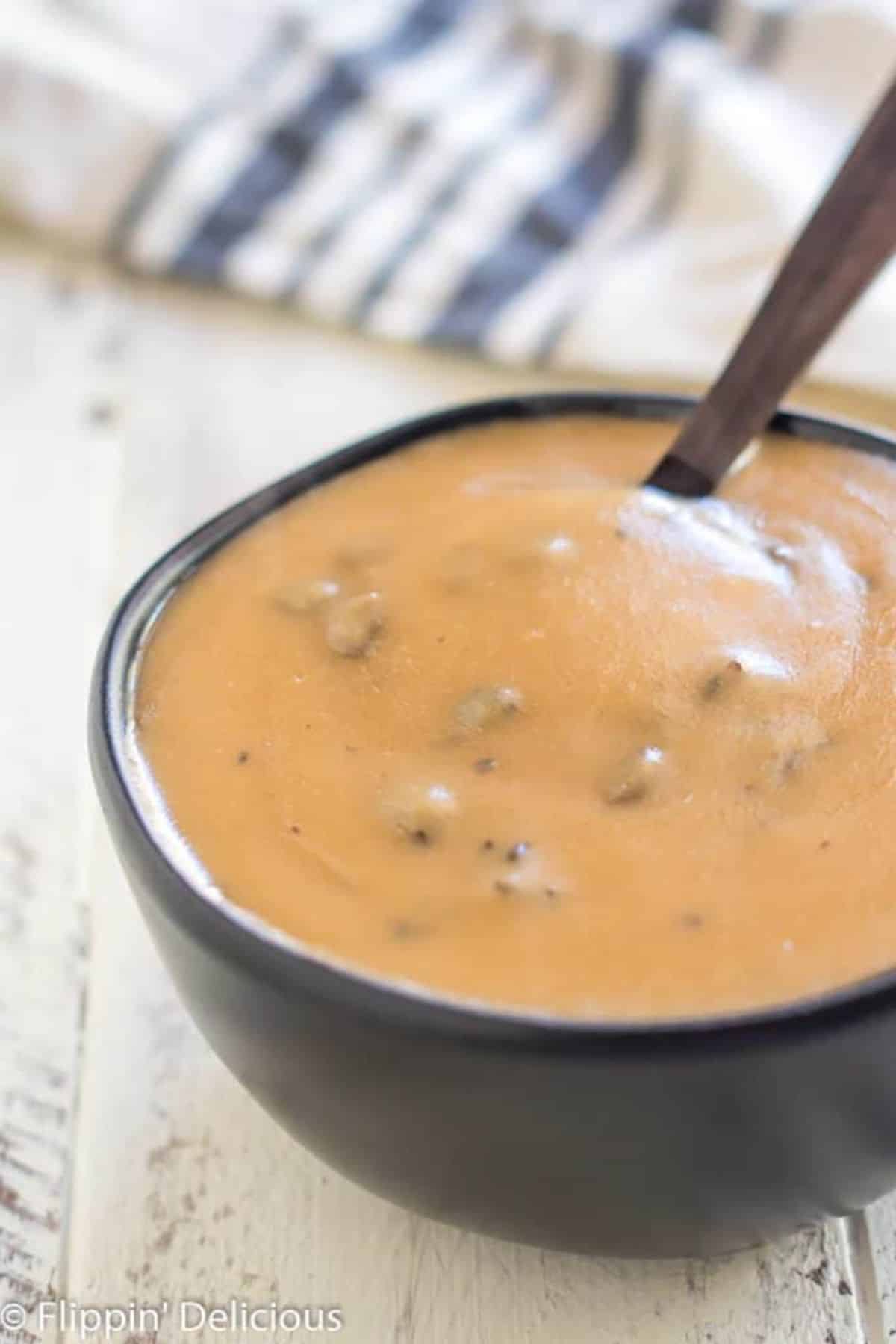 Speaking of cream of mushroom soup, making a homemade and gluten-free version of this dish is easier than you think. This recipe uses rice flour and coconut flour to create a thick and creamy consistency without adding any gluten.
23. Gluten-Free Clam Chowder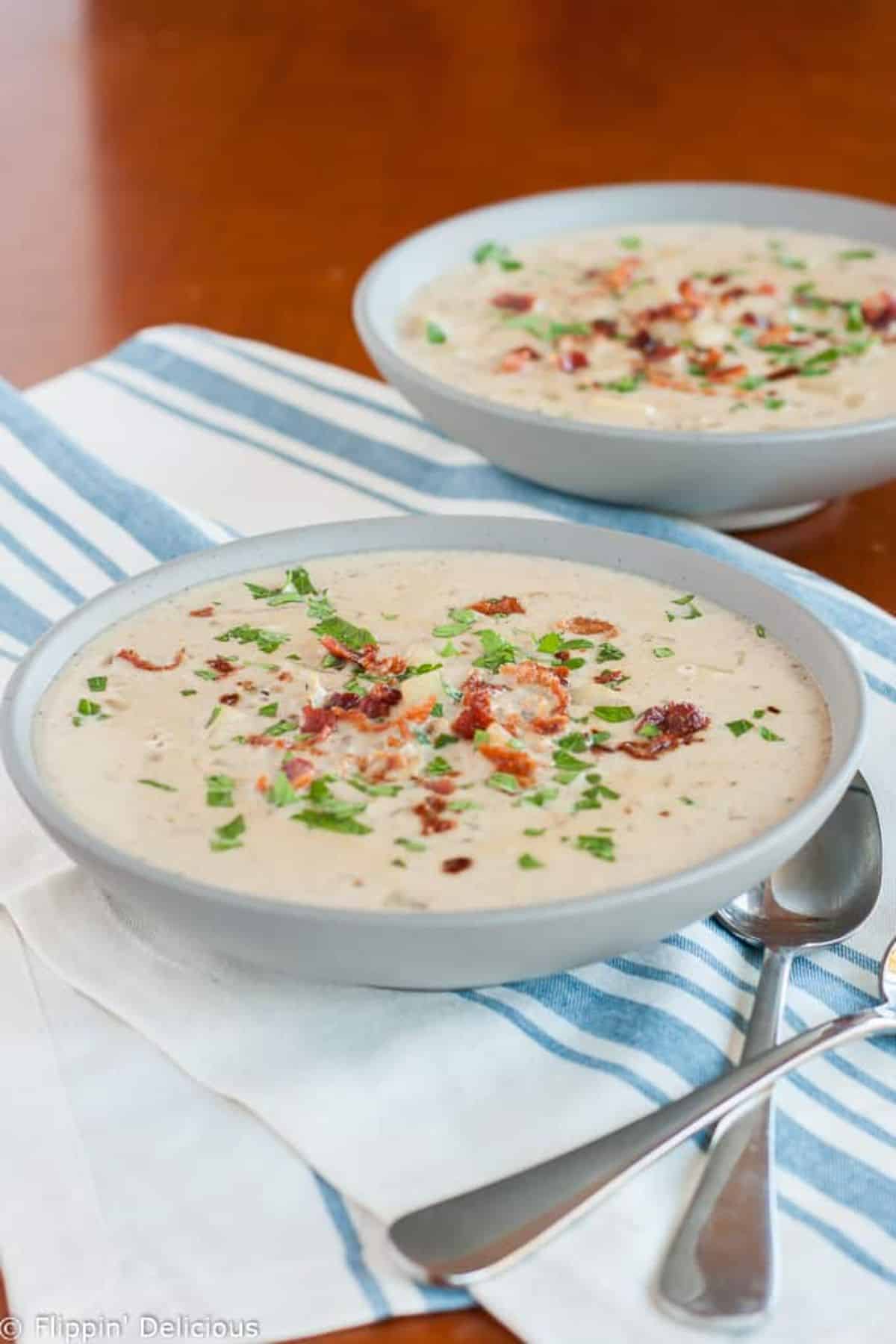 How about a healthy and delicious take on a classic New England dish? Gluten-free clam chowder is thickened with rice flour, while ingredients like bacon, onion, and garlic bring out the rich heartiness of this dish.
24. Gluten-Free Chicken Pot Pie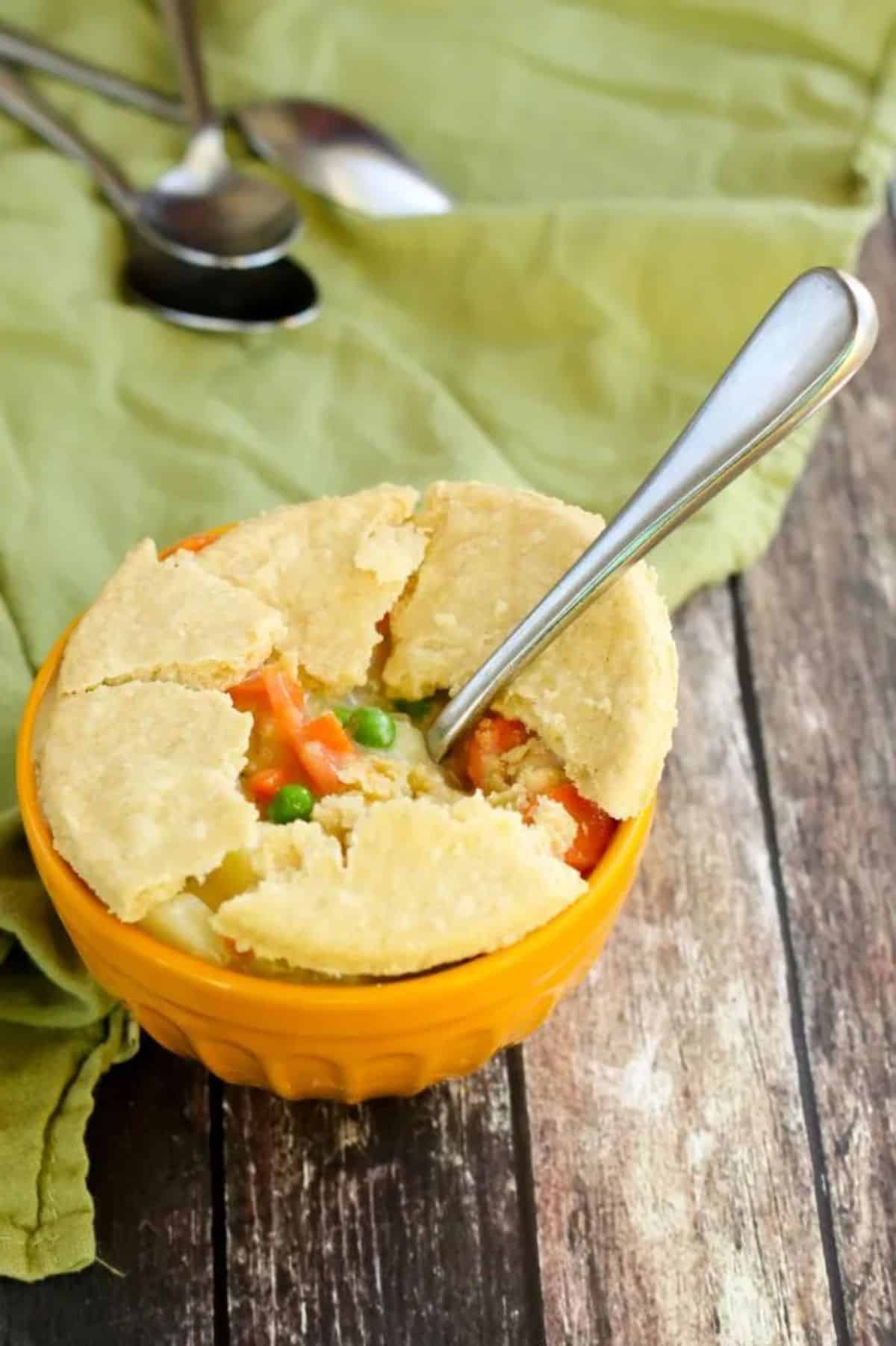 With its buttery crust and creamy filling, this gluten-free chicken pot pie will soon become a lunchtime favorite. The crust contains a mix of rice, sorghum, and millet flour that's totally gluten-free.
25. Gluten-Free Lasagna Casserole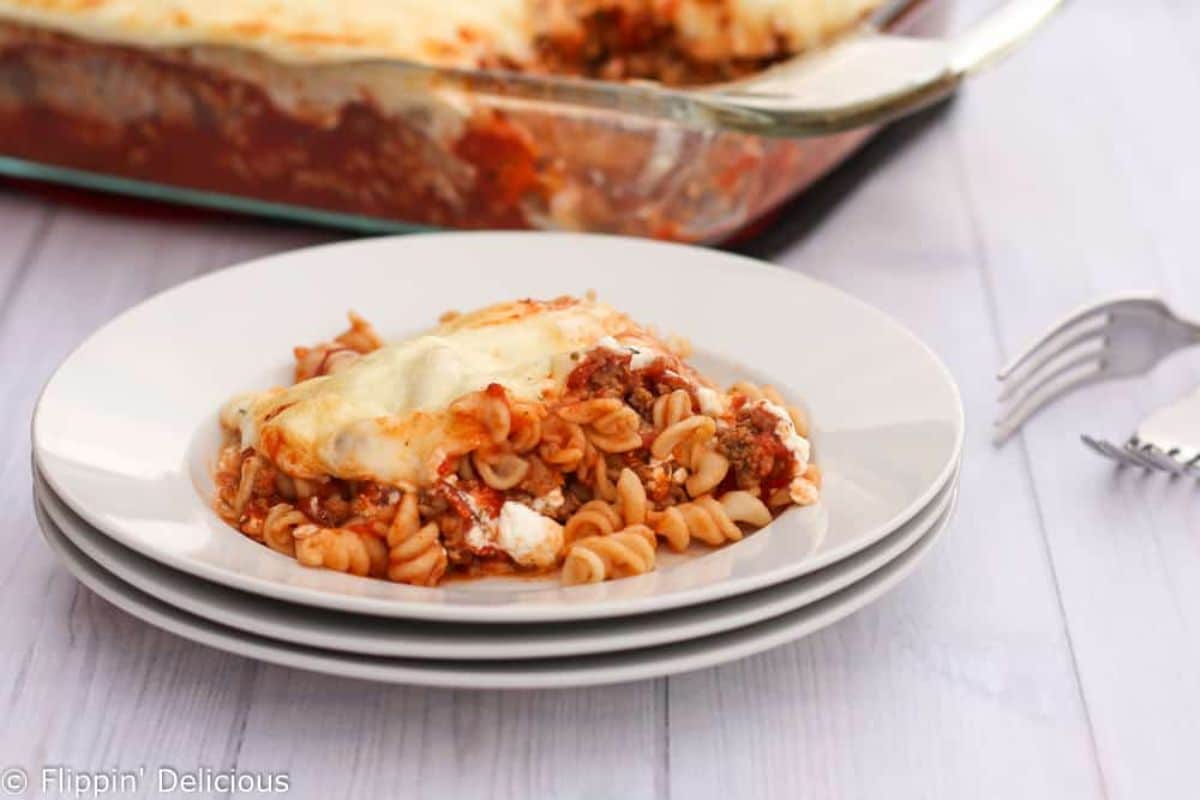 A 20-minute lasagna casserole? Yes, please! Save time and use a store-bought gluten-free pasta sauce, or whip up your own with some fresh tomatoes to maximize the flavors of this Italian-inspired recipe.
26. Gluten-Free Enchiladas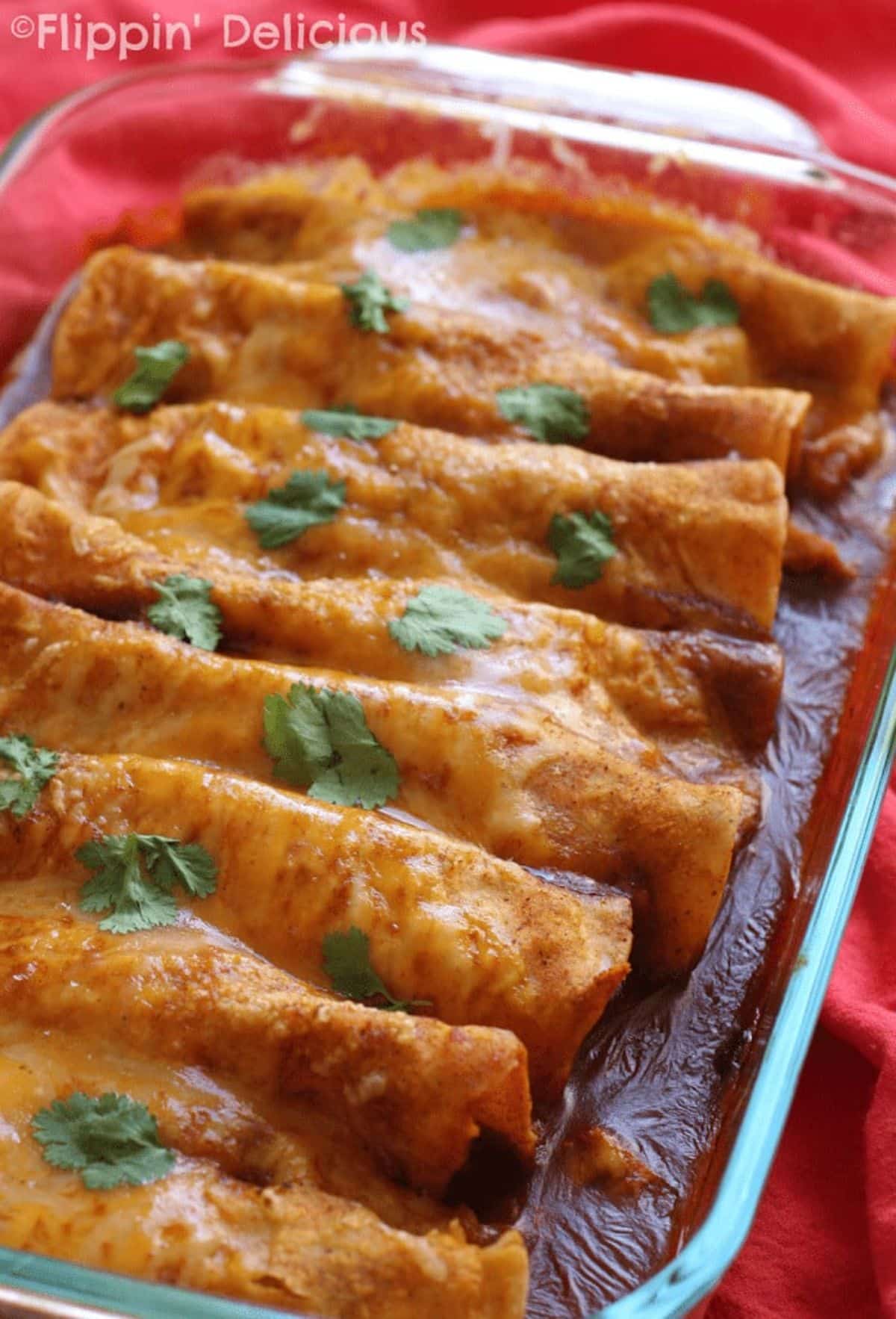 If you're stuck in a lunch rut, these gluten-free enchiladas will wake you up. Combine gluten-free tortillas with ground beef and gluten-free enchilada sauce for bold Mexican flavors, tons of spice, and plenty of cheese that will make this dish your lunchtime go-to.
27. Gluten-Free Meatballs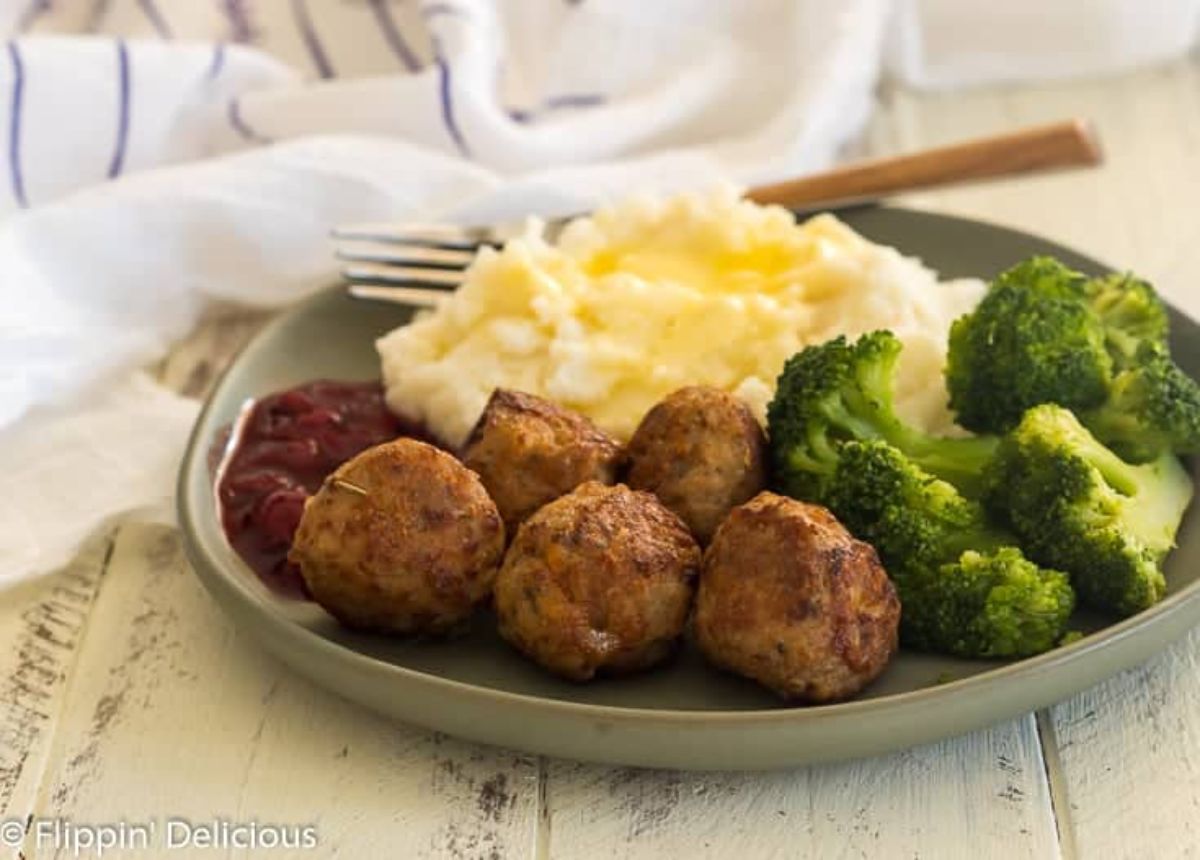 Meatballs require a fair amount of breadcrumbs, but you can make it gluten-free with this recipe. Gluten-free meatballs are perfect with rice flour spaghetti or a gluten-free version of Swedish meatballs.
28. Gluten-Free Coconut Shrimp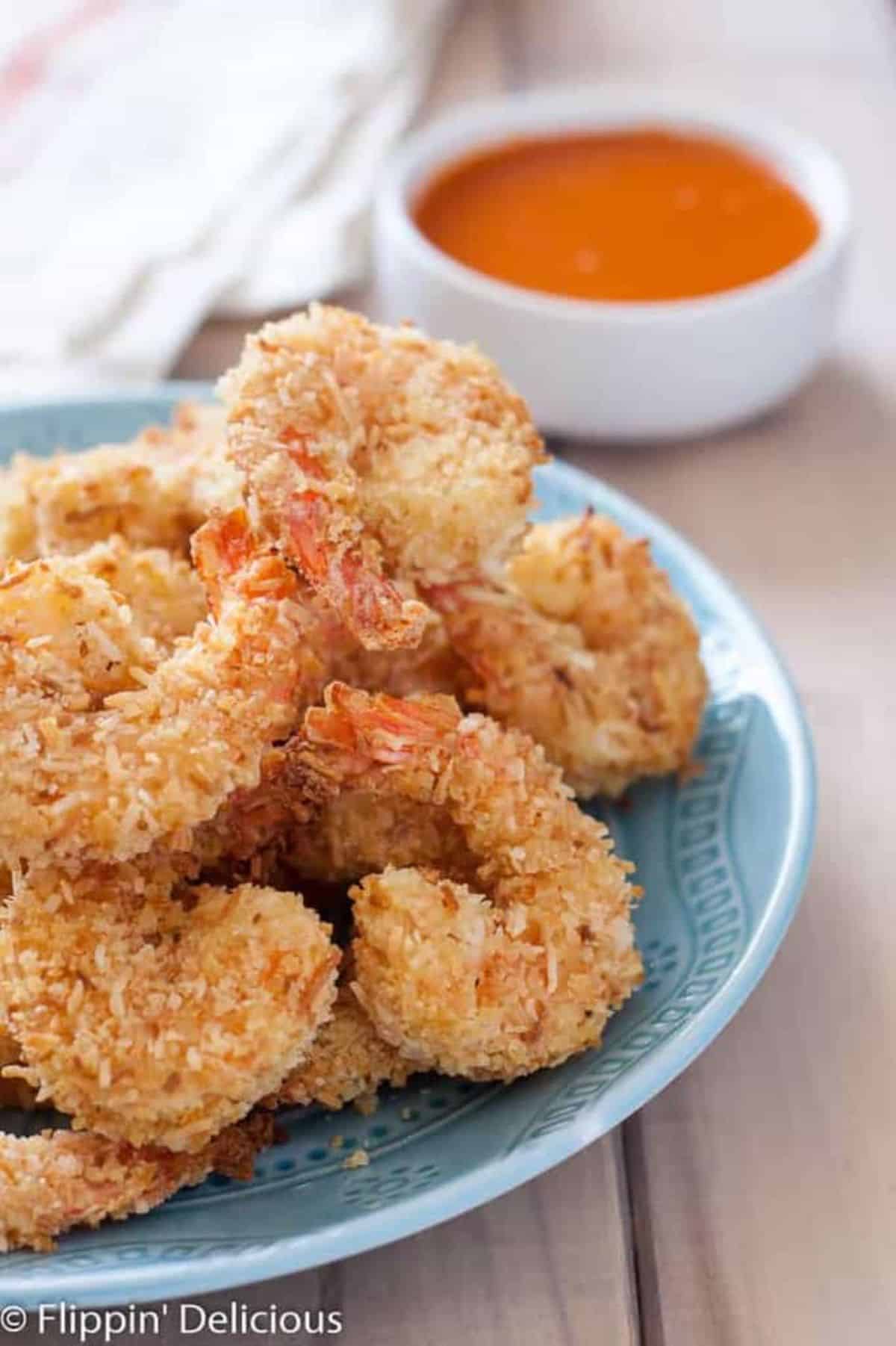 Satisfying and crunchy texture is what this seafood recipe is about. It's no fuss to make either, just coat the shrimp in a mixture of gluten-free breadcrumbs and coconut flakes and fry or bake them. No matter what way you make them, they're utterly addictive.
29. Gluten-Free Korean Ground Turkey Rice Bowl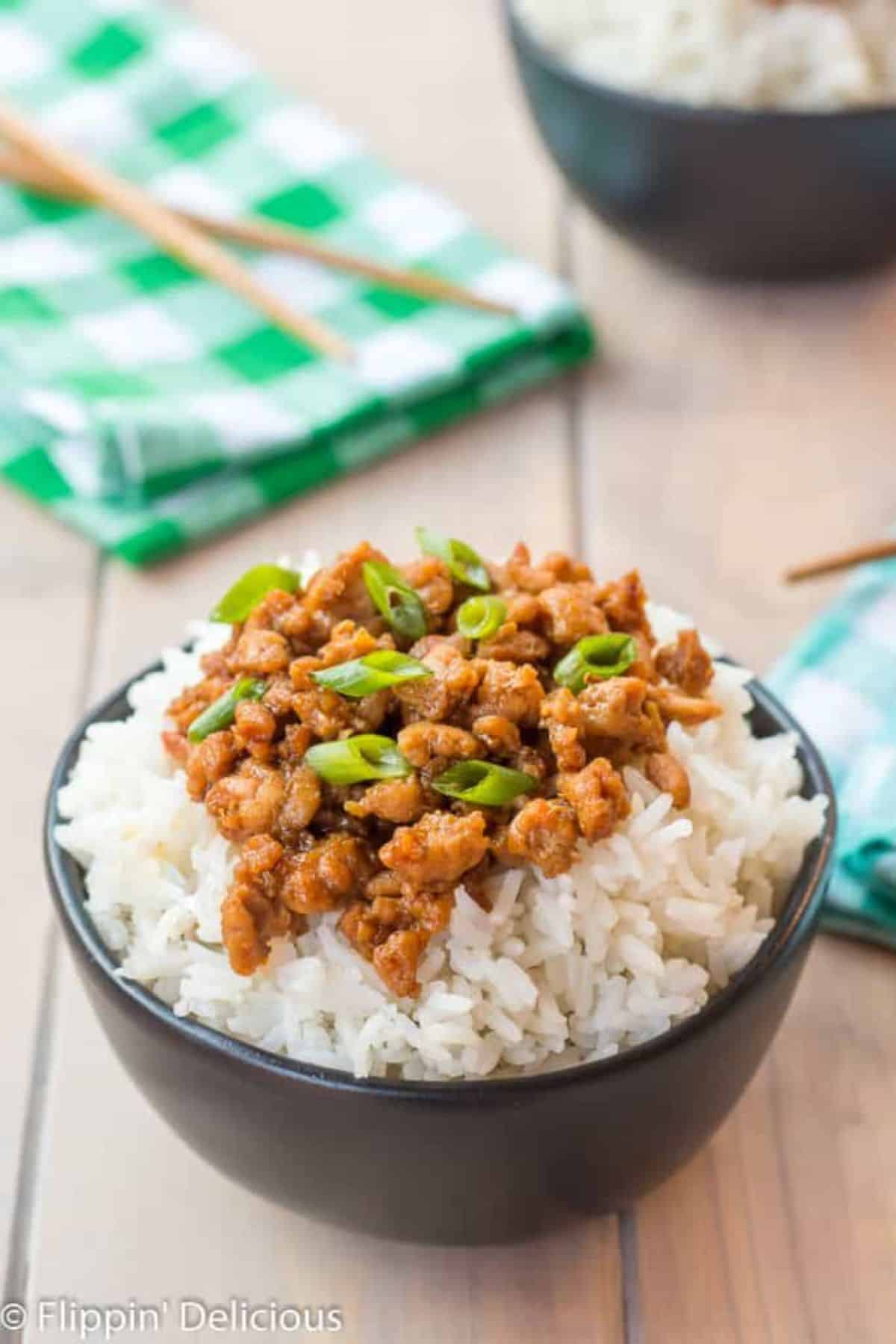 With a little over two grams of fat per 100 grams, turkey is a lean and healthy alternative to red meat. There are countless ways to add more of this protein to your diet, starting with these Korean-inspired rice bowls loaded with ground turkey, vegetables, and sesame oil.
30. Gluten-Free Carrot Zucchini Muffins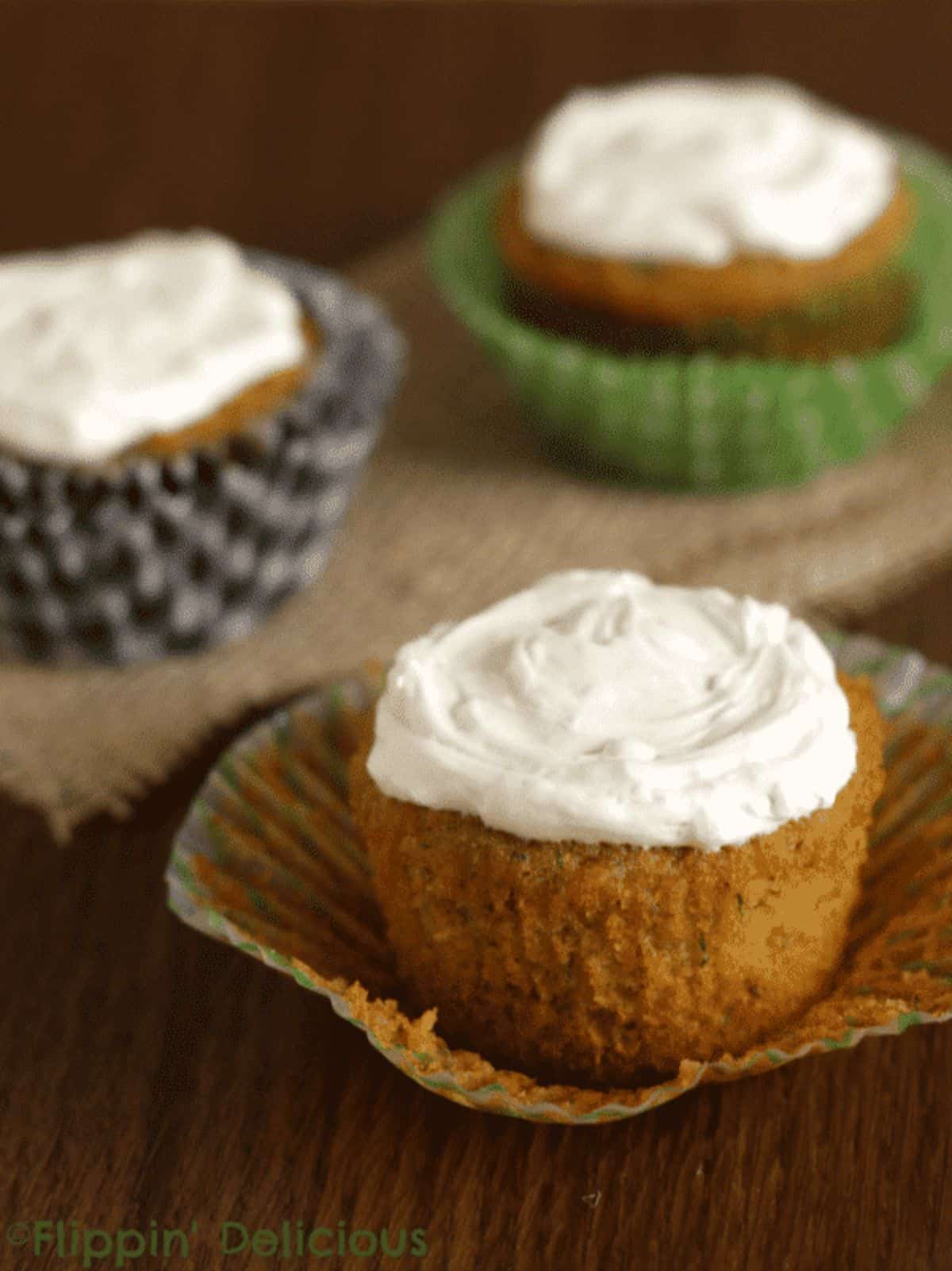 These delectable muffins are an on-the-go snack or dessert that's very nutrient dense. Make a filling lunch by adding raw veggie sticks and skipping the whipped cream cheese topping.
With ingredients like almond flour, carrots, and zucchini, these muffins are a healthy way to control cravings.
31. Gluten-Free Chicken Piccata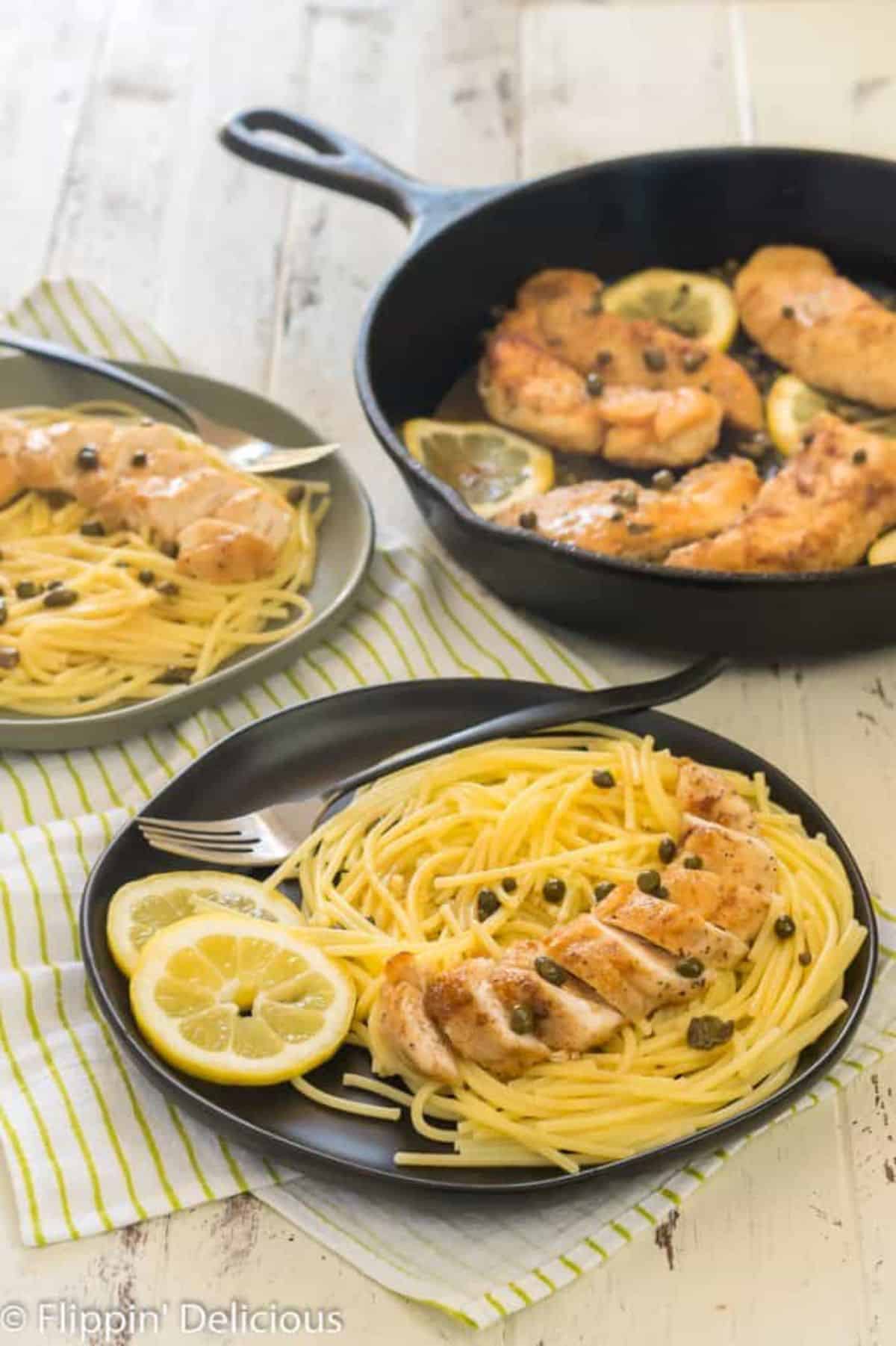 A traditional Italian dish, chicken piccata is served with a rich butter sauce topped with briny capers. While chicken piccata typically comes with fresh wheat flour pasta, make it at home with your favorite gluten-free pasta instead.
32. Gluten-Free Greek Pasta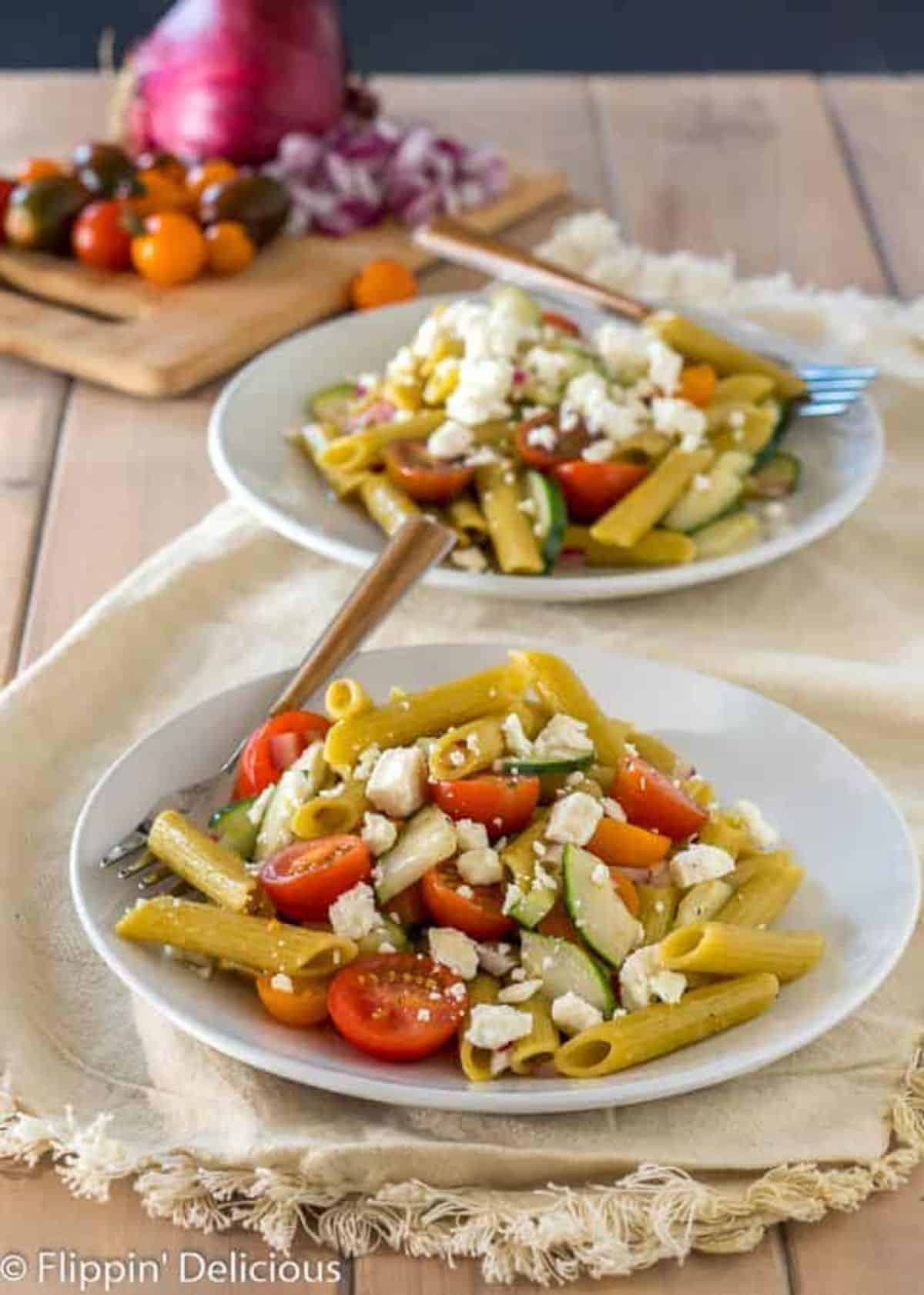 This mouthwatering pasta dish is brimming with Mediterranean flavors thanks to feta cheese, cherry tomatoes, and fresh veggies. Lentil or chickpea pasta makes this dish gluten-free; what's more, it only takes ten minutes to make, and its Mediterranean flavors are the perfect summertime lunch!
33. Seared Ahi Tuna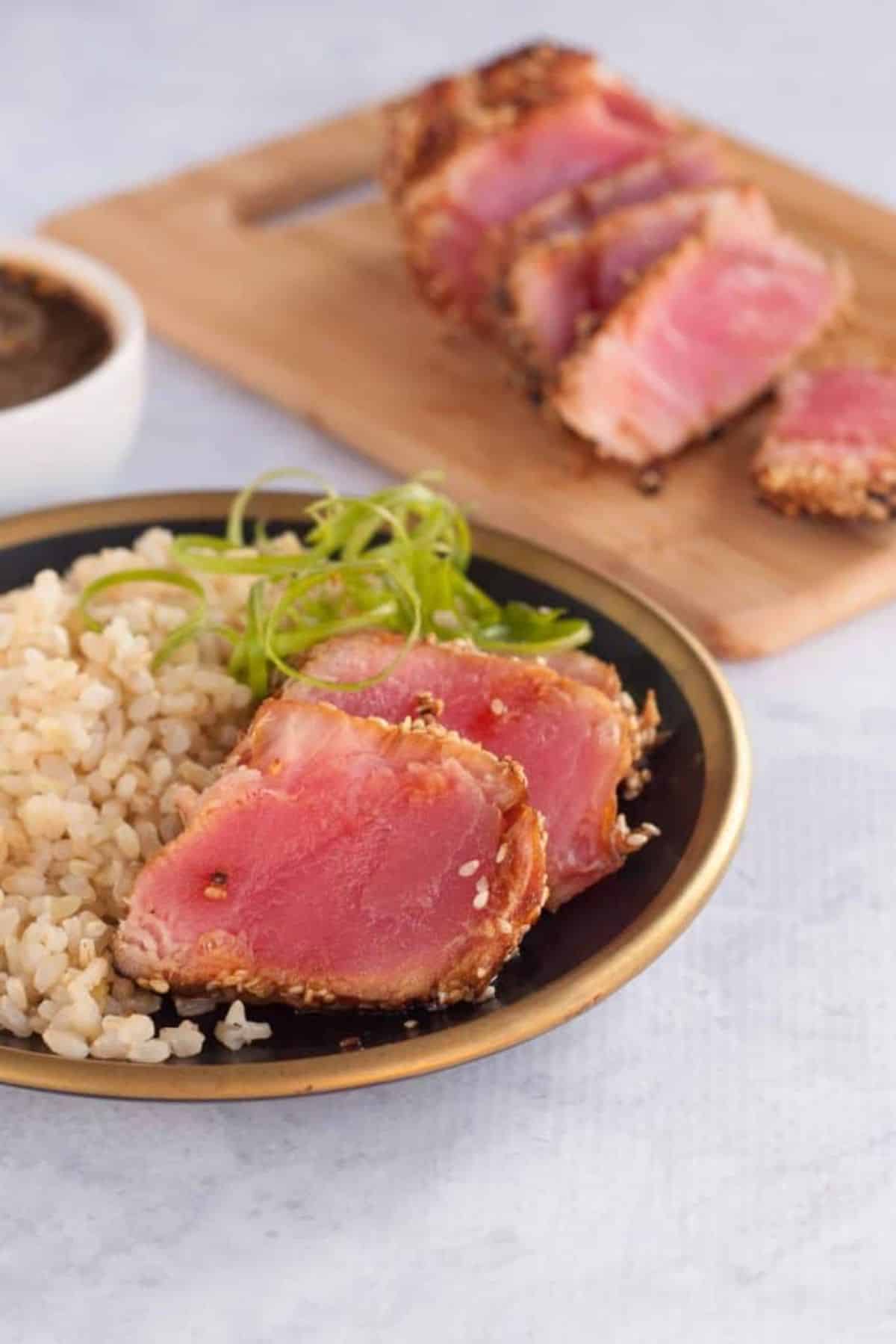 A popular dish in Hawaii, seared Ahi tuna can refer to yellowfin or bigeye tuna. Gluten-free soy sauce, honey, ginger, and red pepper flakes create a sweet and savory marinade that will brighten the taste of these tender tuna steaks.
34. Sweet Potato Black Bean Vegetarian Tacos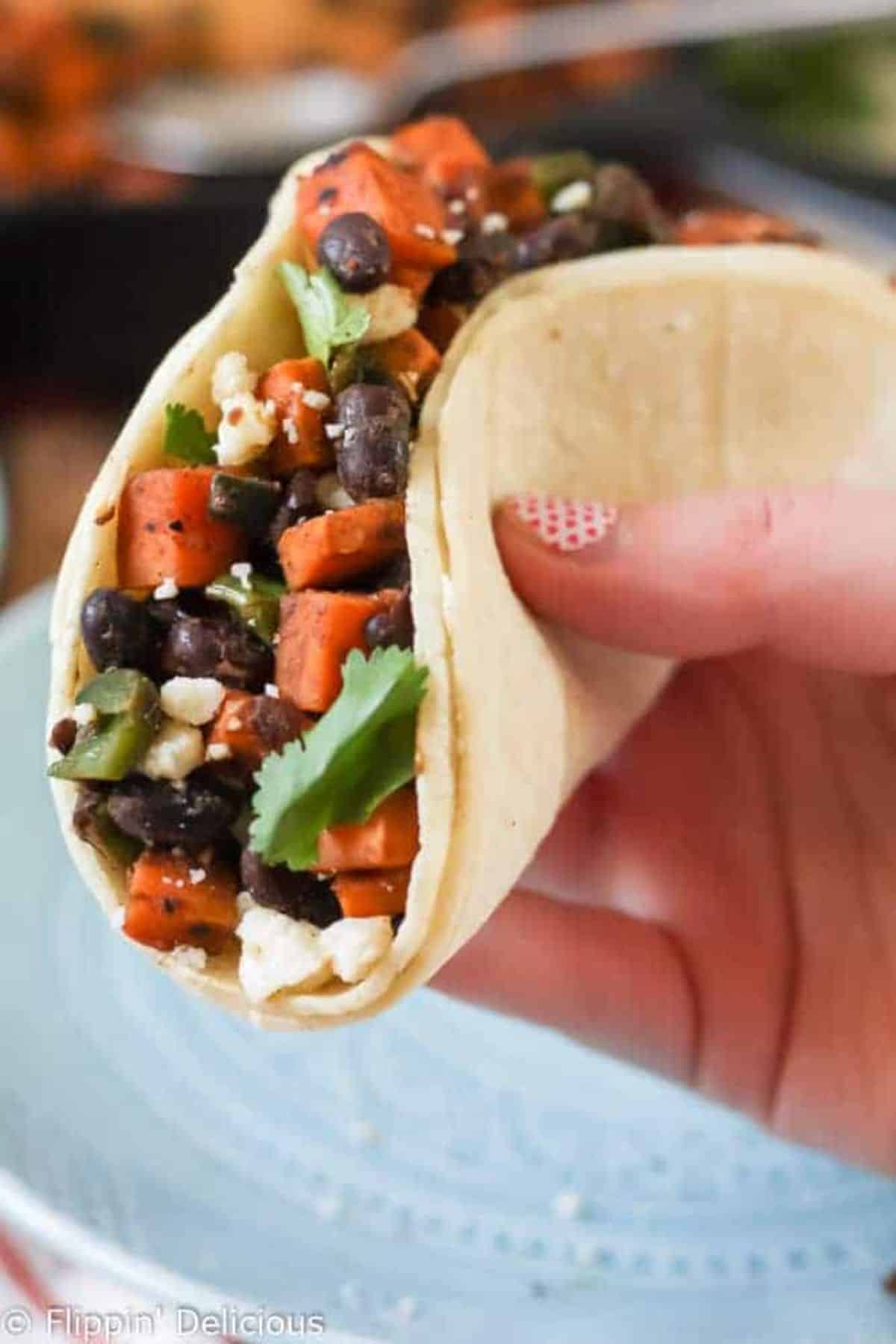 If you're vegetarian and gluten-free, you might feel that there aren't many food choices. Sweet Potato Black Bean Vegetarian Tacos will change your mind. Quick, easy, gluten-free, and vegetarian, this is a lunch you can enjoy anywhere. Sweet potatoes introduce a creamy and savory flavor, while chili powder and cumin add a kick to the tacos.
35. Bruschetta Chicken Skillet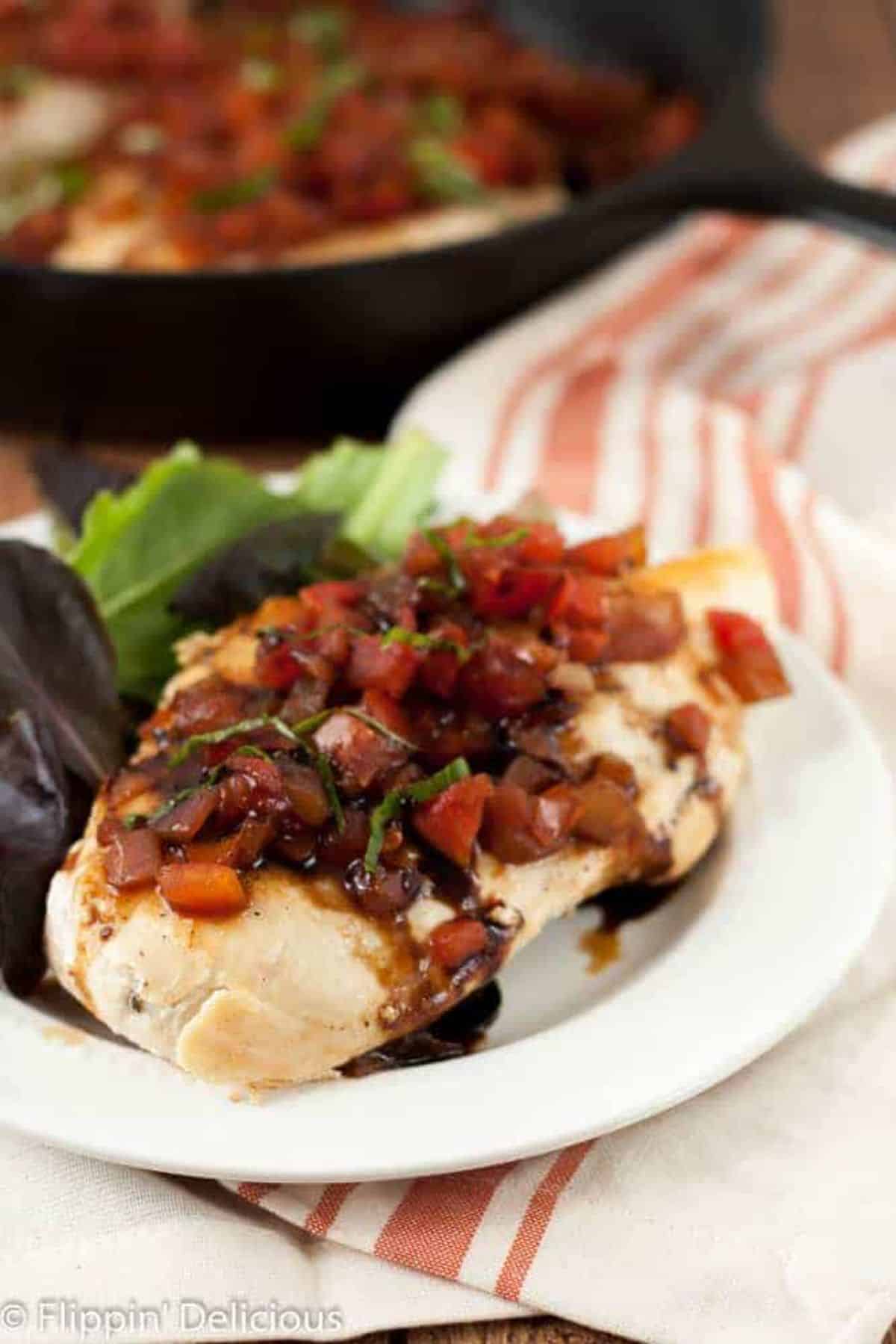 A dish that brings rich Mediterranean flavors and a complex profile, this bruschetta chicken skillet has a ten-minute prep time. All you have to do is coat the chicken in olive oil and saute it with Roma tomatoes, red onions, and balsamic vinegar, and enjoy.
36. Gluten-Free Teriyaki Grilled Pineapple Burgers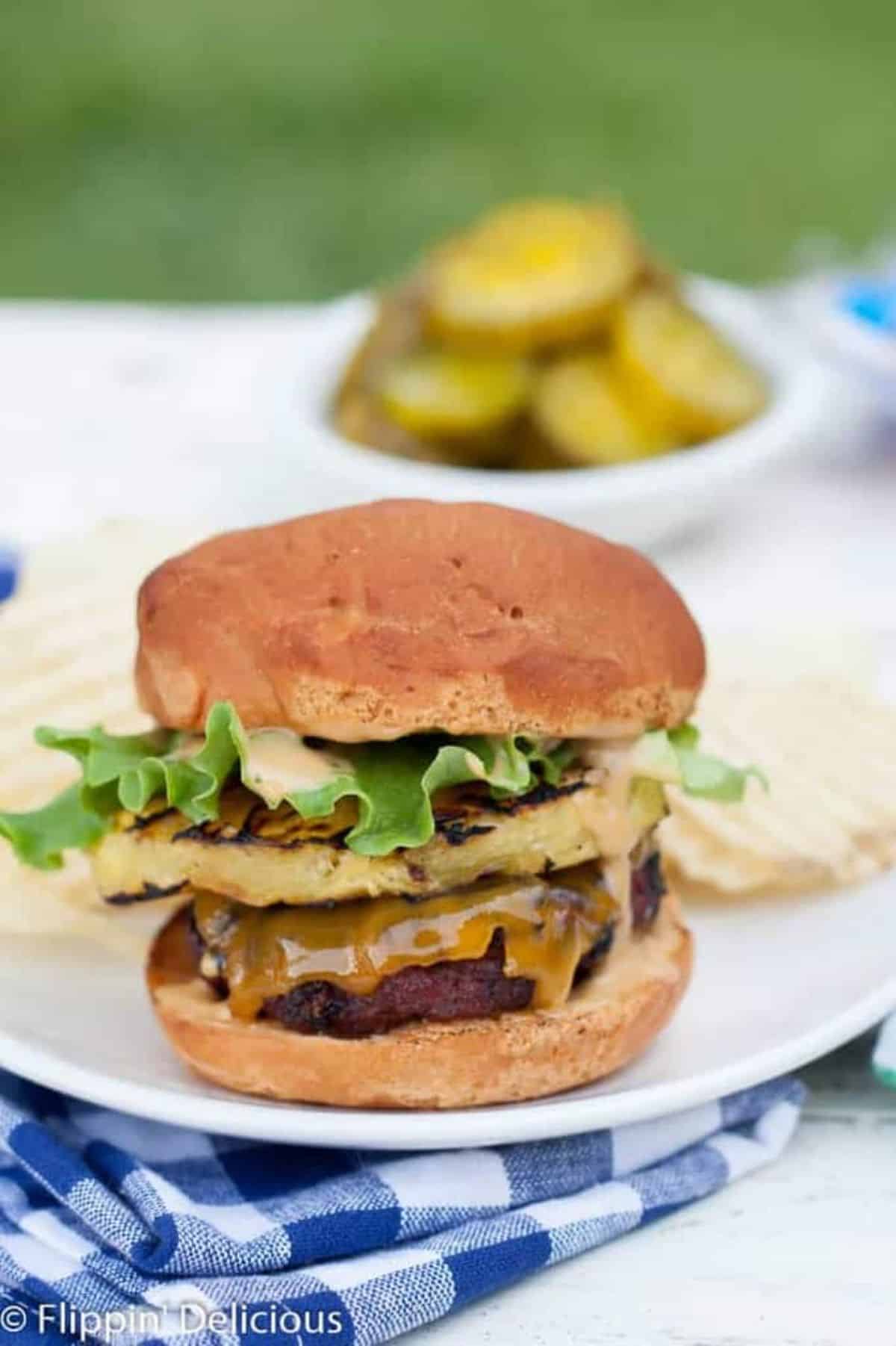 Skip the traditional grilled burgers and make these tangy pineapple burgers instead. Tart pineapple and savory ground beef are the tropical flavors blend you've been searching for.
37. Gluten-Free Chicken Marsala
A traditional Italian chicken dish of delicious Marsala wine and mushroom sauce, chicken marsala is a classic, but that sauce isn't gluten-free unless you make it yourself. Thick your homemade sauce with gluten-free flour and then layer it over rice pasta. Delicious!
38. Gluten-Free Reuben Sandwich Dippers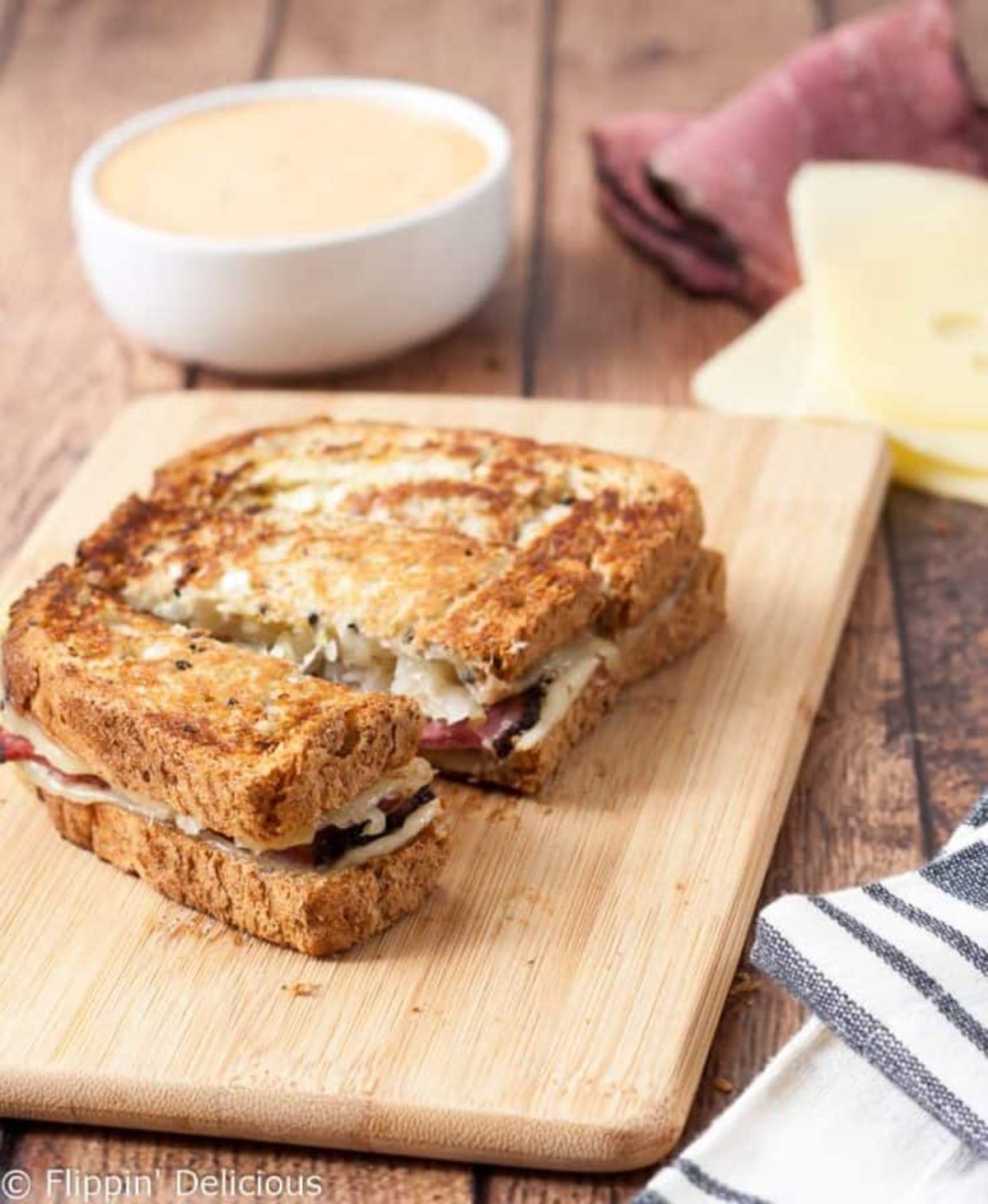 Who doesn't love a Reuben sandwich? Make it gluten-free and bite-size with these Reuben sandwich dippers. A side of Thousand Island dressing for dipping brings sweetness and tanginess to this mealtime classic.
39. Gluten-Free One Pot Chicken Taco Pasta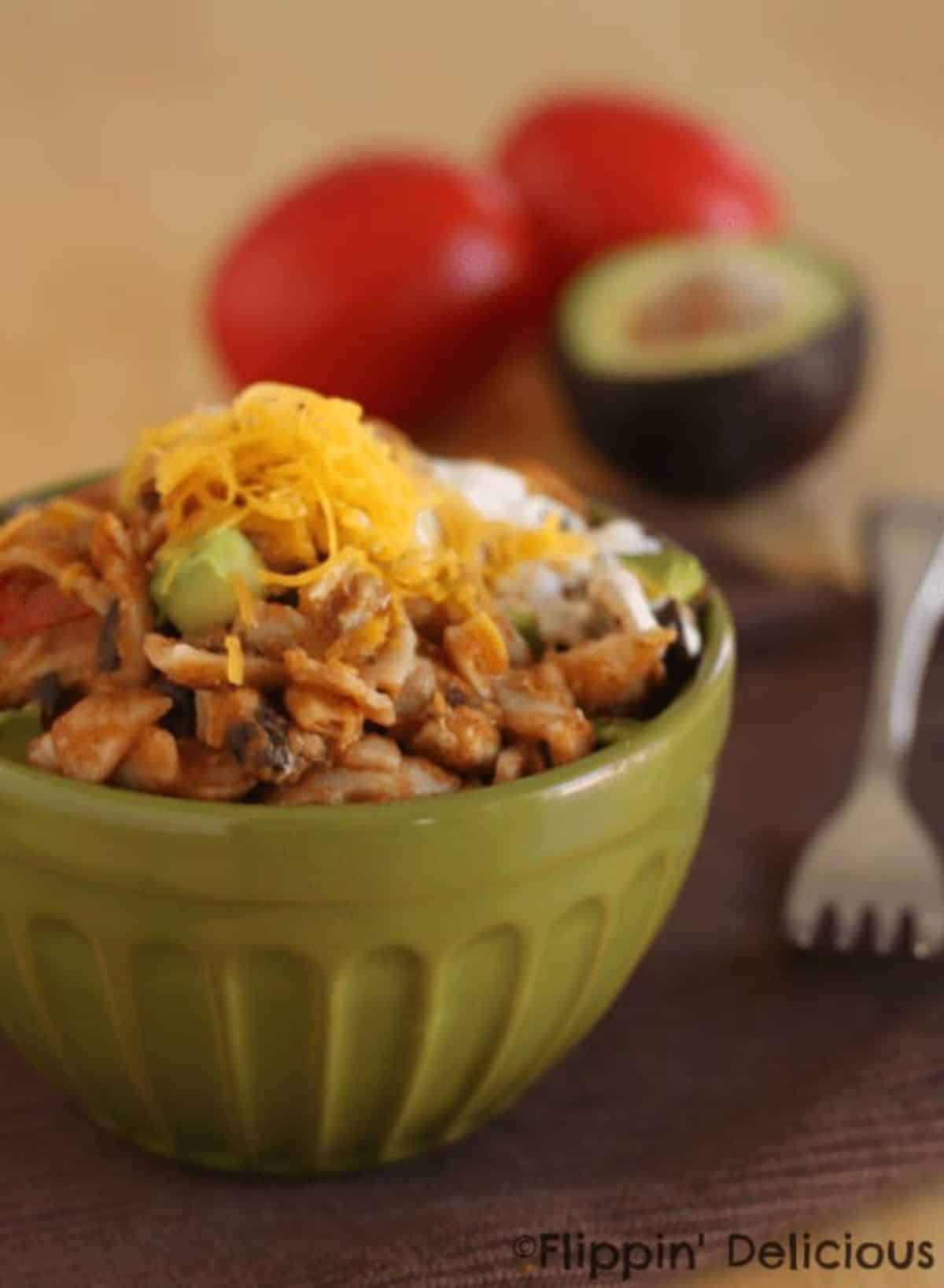 This imaginative chicken taco bowl recipe combines the familiar flavors of cumin, garlic, and onion powder with corn, chile, tender chicken, black beans, and gluten-free pasta for a thoroughly satisfying dinner you'll crave.
40. Gluten-Free Pulled Pork With Green Chile Slaw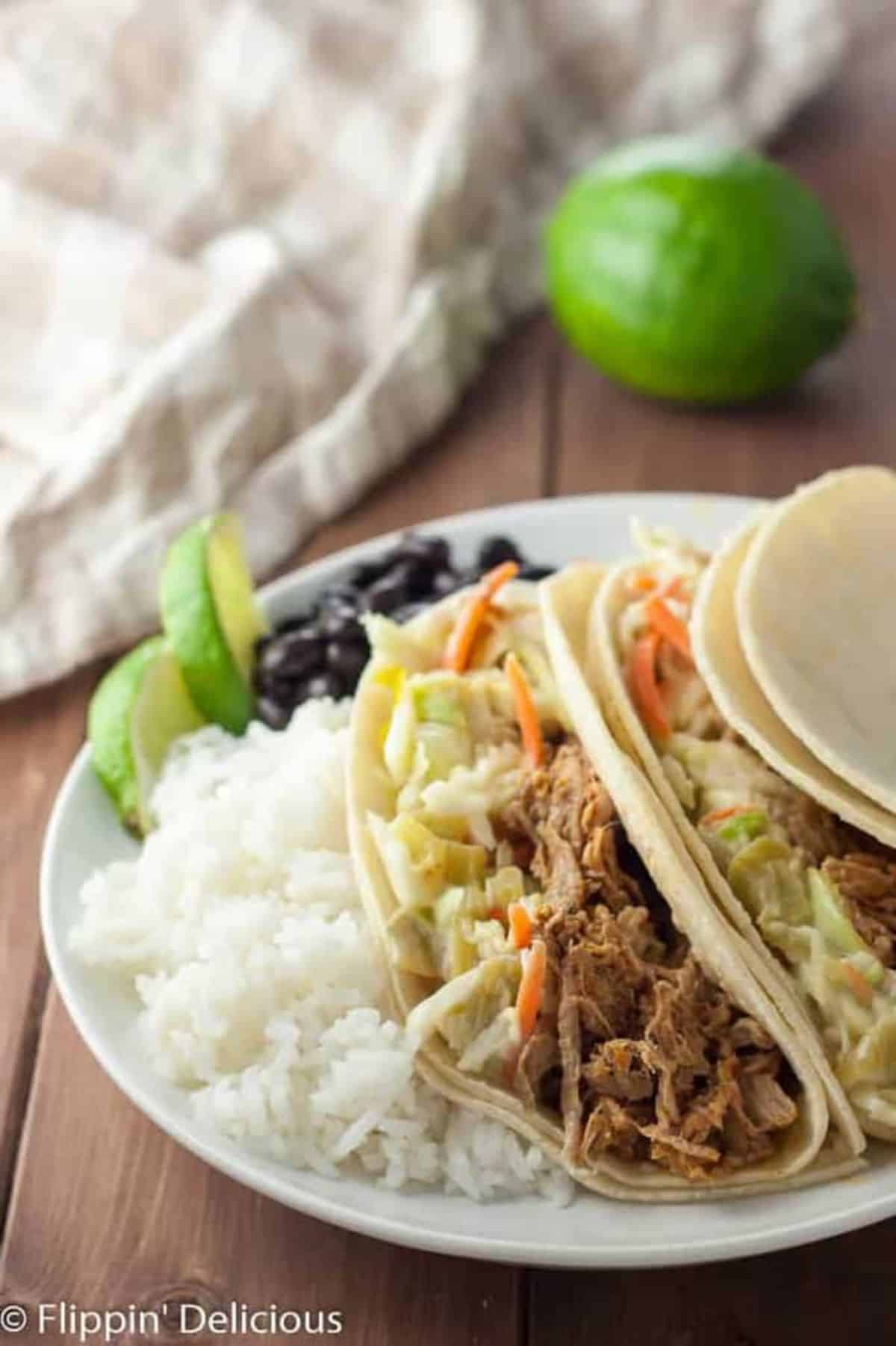 Get creative with this pulled pork recipe. Slow-cooked pork and fresh and crunchy green slaw is made for your tacos, sandwiches, or rice bowls, and they're totally gluten-free.
41. Red Wine Marinated Steak With Baked Garlic and Herb Fries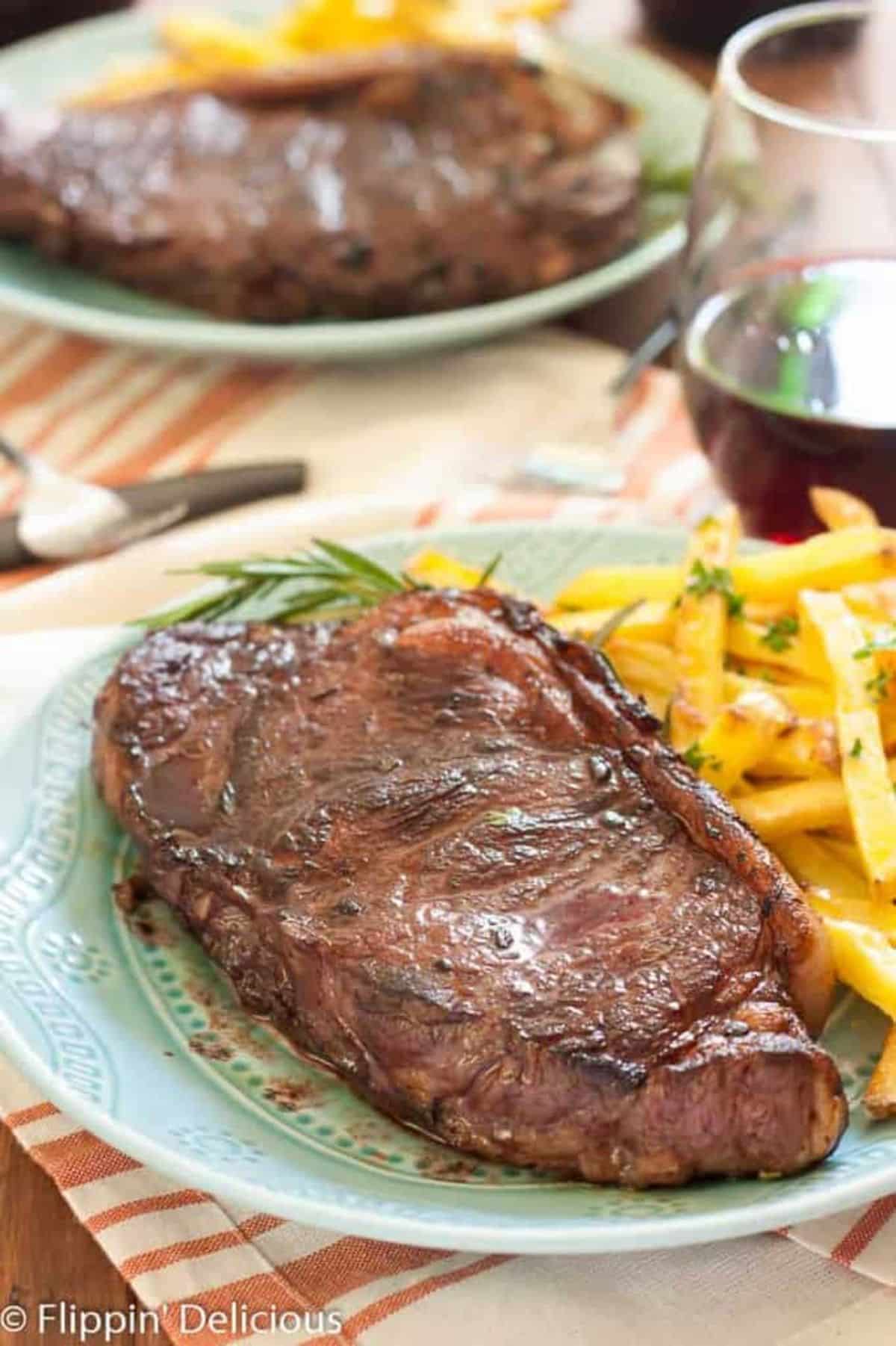 Gluten-free gets fancy with this marinated steak. This French bistro dish has levels of complexity that contradict its simple ingredients. A marinade of red wine, rosemary, garlic, salt, and pepper makes the steak, while the fries are drizzled with a blend of olive oil, sea salt, and garlic. There isn't much involved in this dish, but the taste is utterly exquisite.
42. Lemon Basil Salmon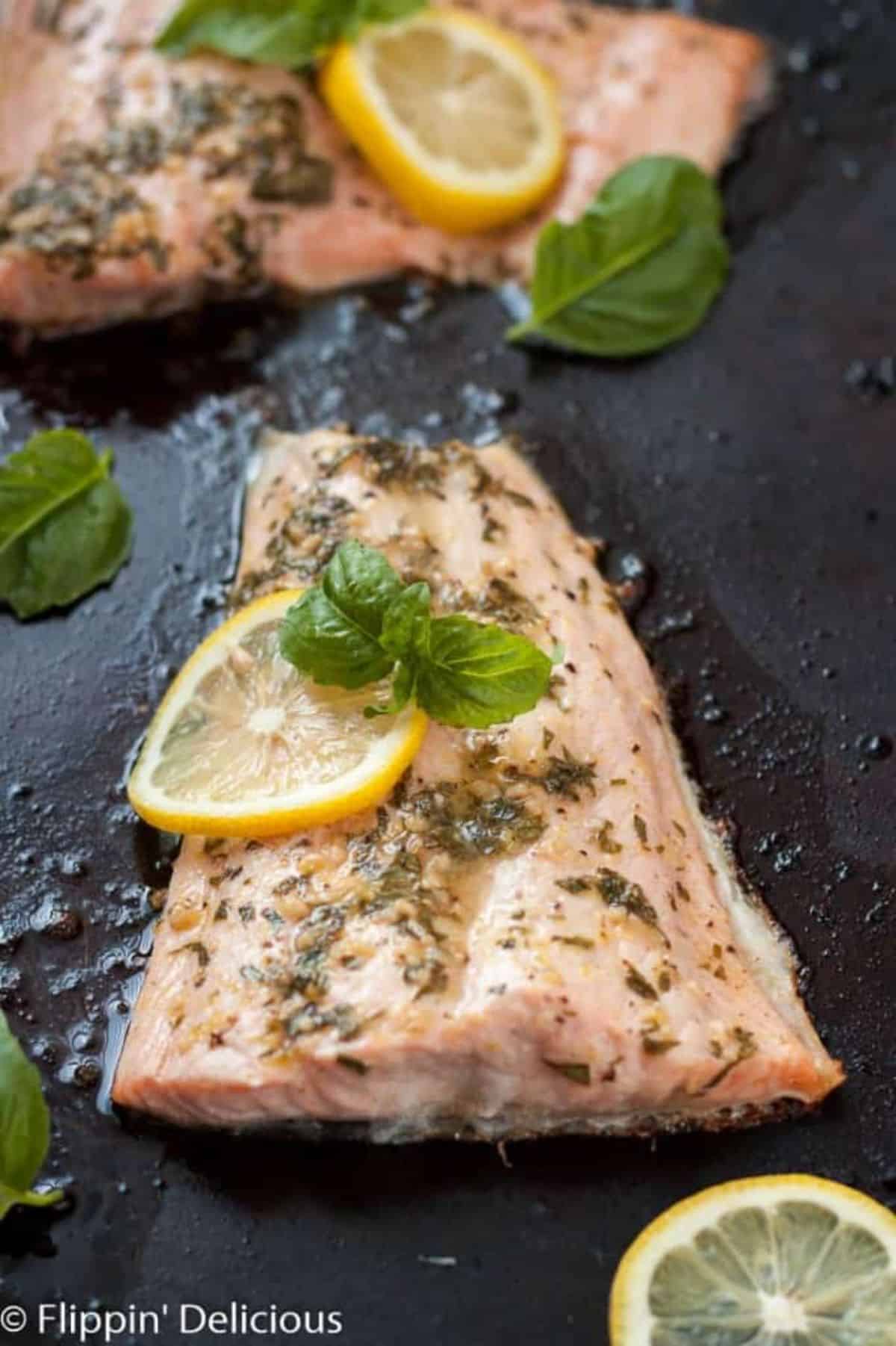 This salmon recipe is quick to make but so good, thanks to the flaky broiled salmon filets topped with butter, garlic, basil, and lemon juice. Serve with a side of rice or sauteed vegetables for a healthy gluten-free lunch.
43. Vegan Roasted Red Pepper Alfredo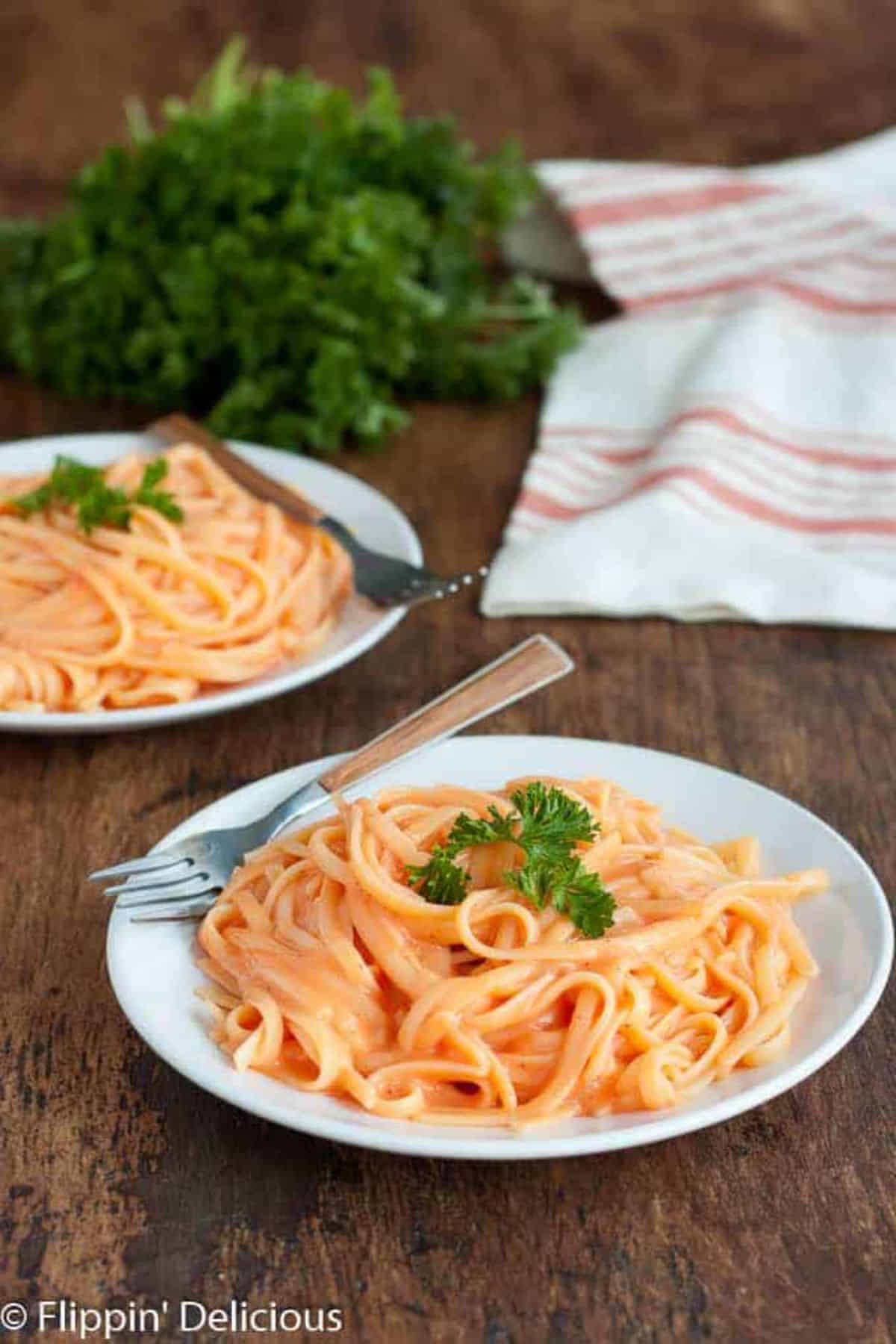 Alfredo pasta is a mainstay of Italian cuisine for a reason. A vegan and gluten-free take on this timeless dish uses rice pasta and a gluten-free Alfredo sauce mix. Roasted red bell peppers in the sauce add color and a spicy flavor dimension.
44. Gluten-Free Baked Parmesan Chicken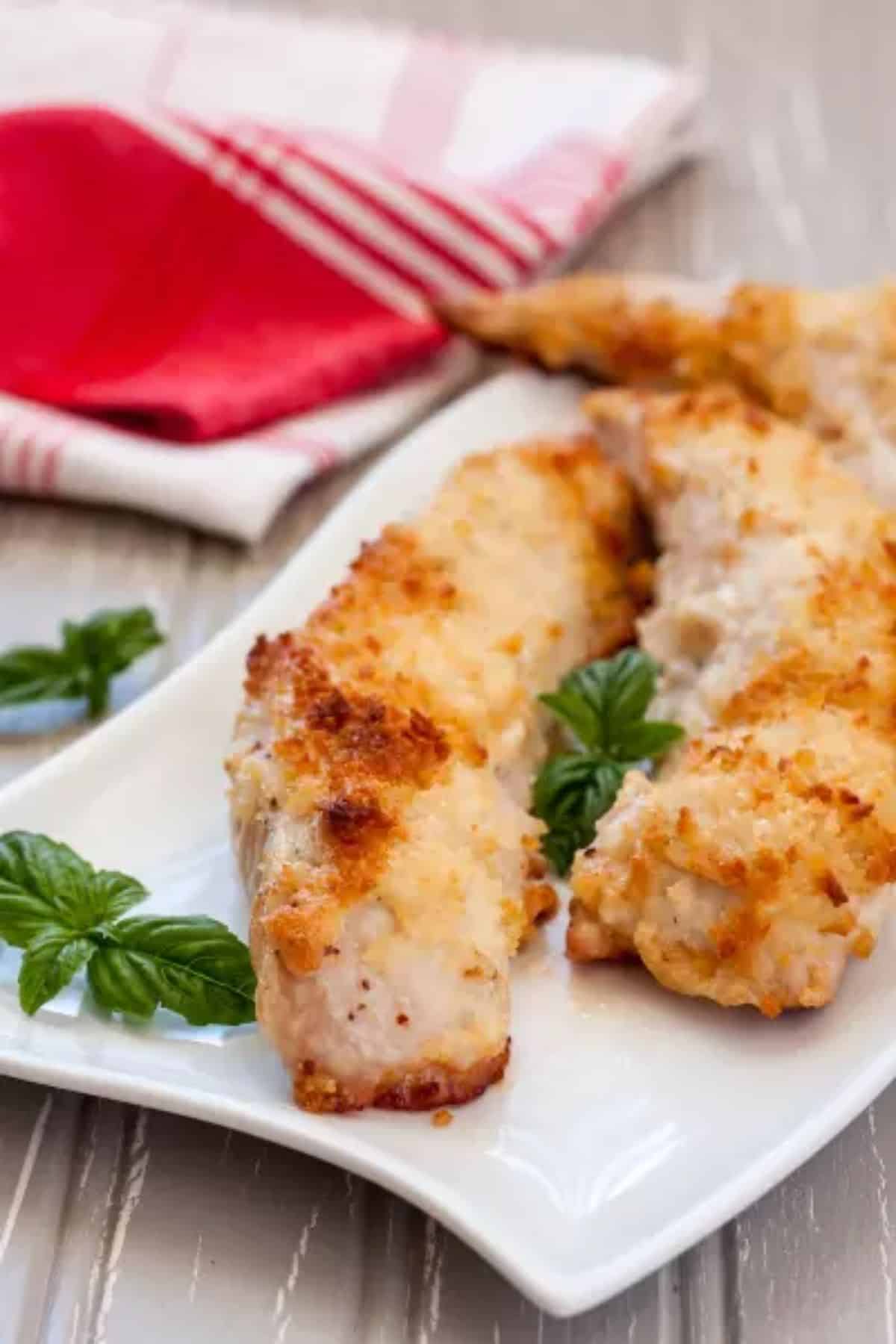 Gluten and dairy-free? You can still have Parmesan chicken if you use vegan cheese and gluten-free breadcrumbs. This isn't a flavor compromise; it's just tantalizing flavor.
45. Gluten-Free Stir Fry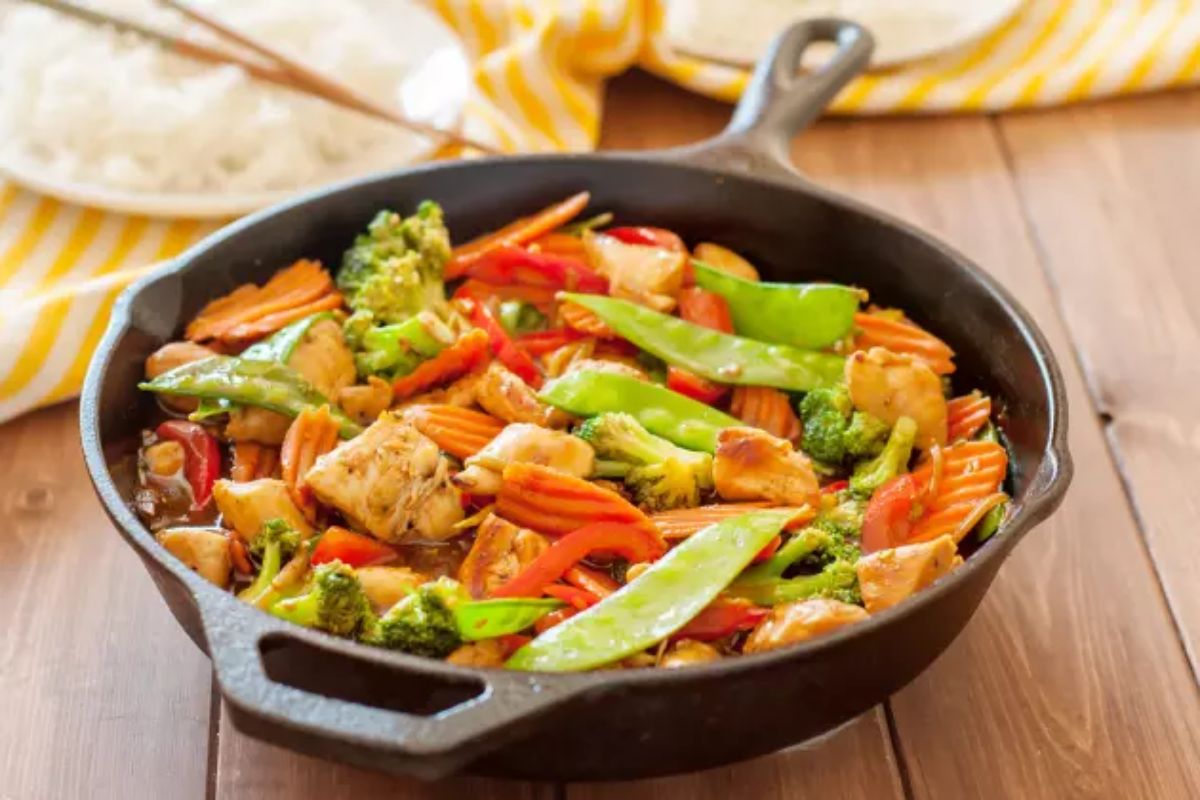 Tamari soy sauce, ginger, chicken broth, garlic, and leftover vegetables are needed for this gluten-free stir fry recipe that takes mere minutes to make. What's more, you'll have a sauce recipe for every stir fry.
46. Gluten-Free Pad Thai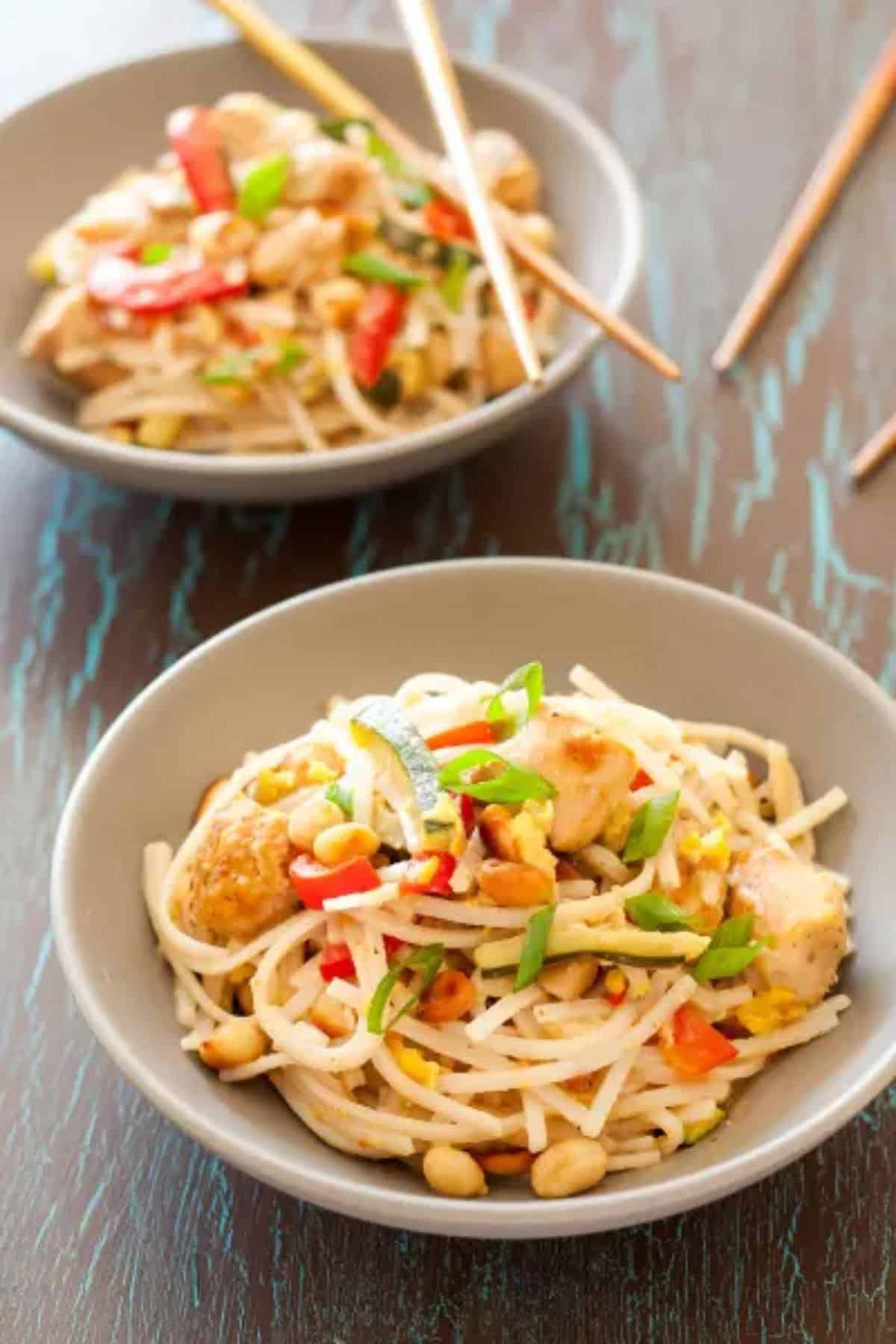 Want to know a secret? Restaurant Pad Thai is usually gluten-free. If you're still worried about a reaction, then make this gluten-free Pad Thai at home instead. Peanut butter, zucchini squash, fish sauce, and rice noodles. What an incredible blend of sweet and savory flavors!
47. Crispy Baked Sweet Potato Fries With Orange Zest Icing Dipping Sauce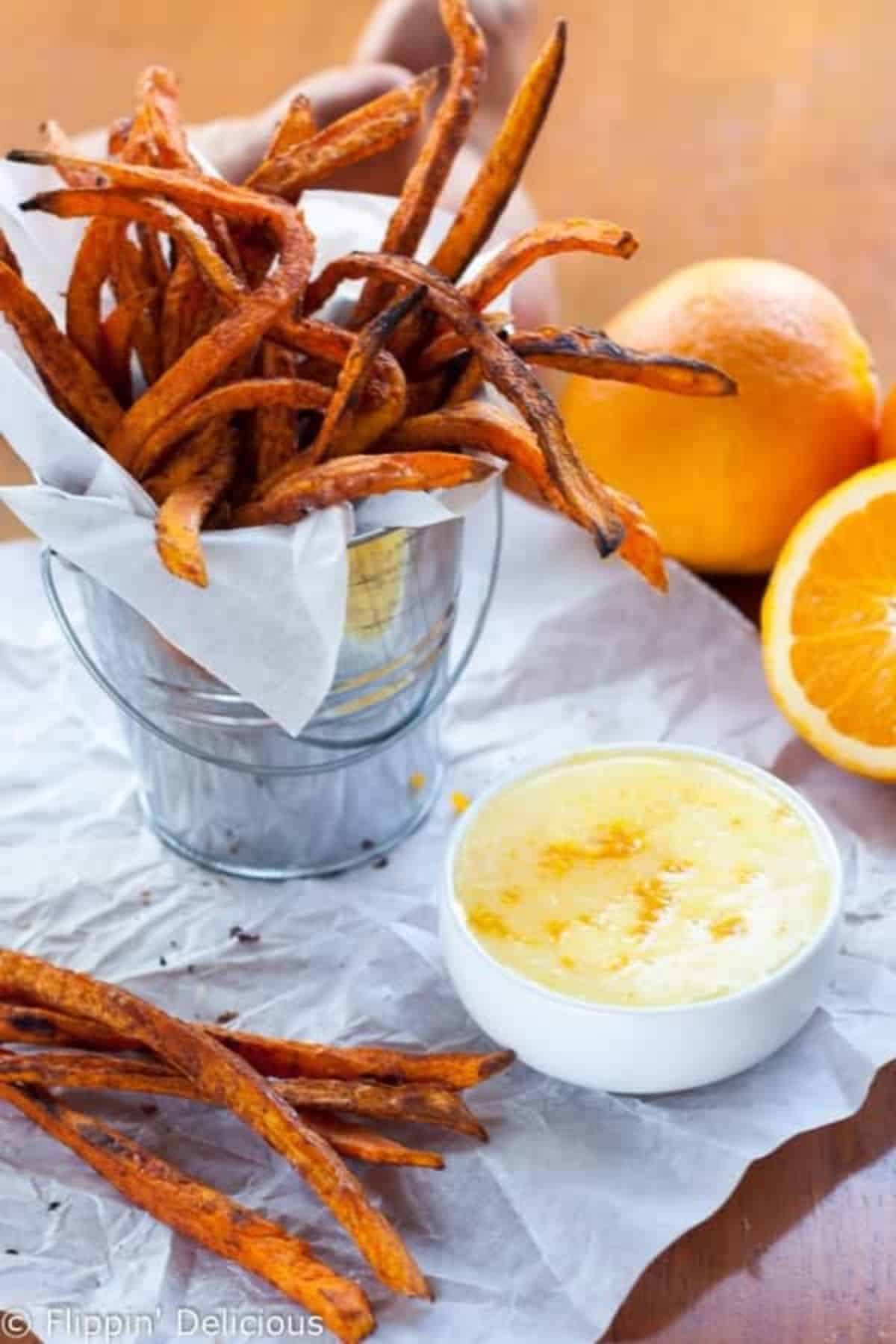 This orange zest dipping sauce creates a compelling contrast with these sweet potato fries. Serve with steak or grilled chicken, or enjoy these fries by themselves.
48. Spicy Salmon Bowl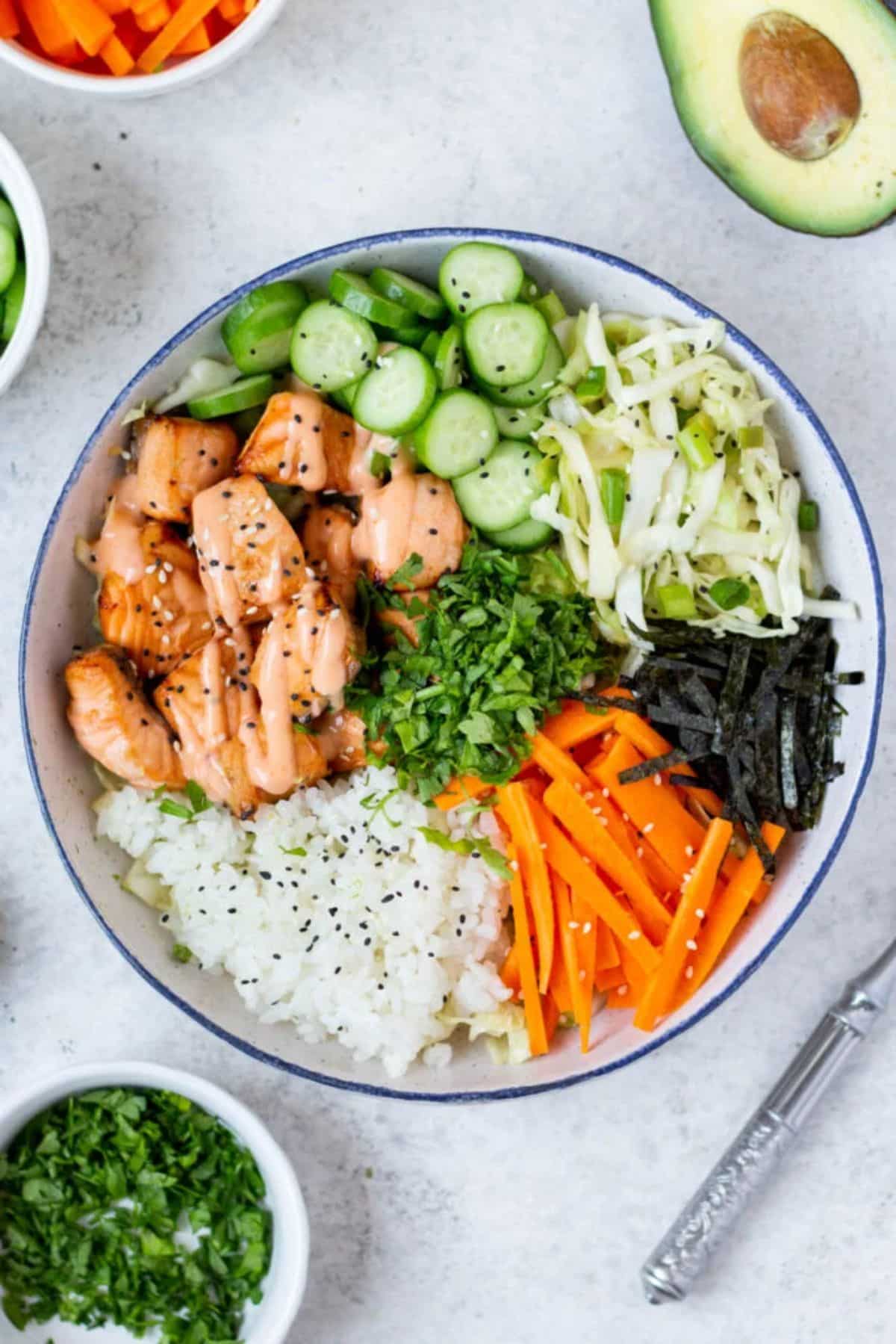 A marinade of rice vinegar, gluten-free soy sauce, sesame oil, and sriracha adds heat and complexity to this salmon bowl recipe. Mix and match the ingredients to use leftovers or create a lunch bowl with all your favorite veggies and greens.
49. Veggie Fritters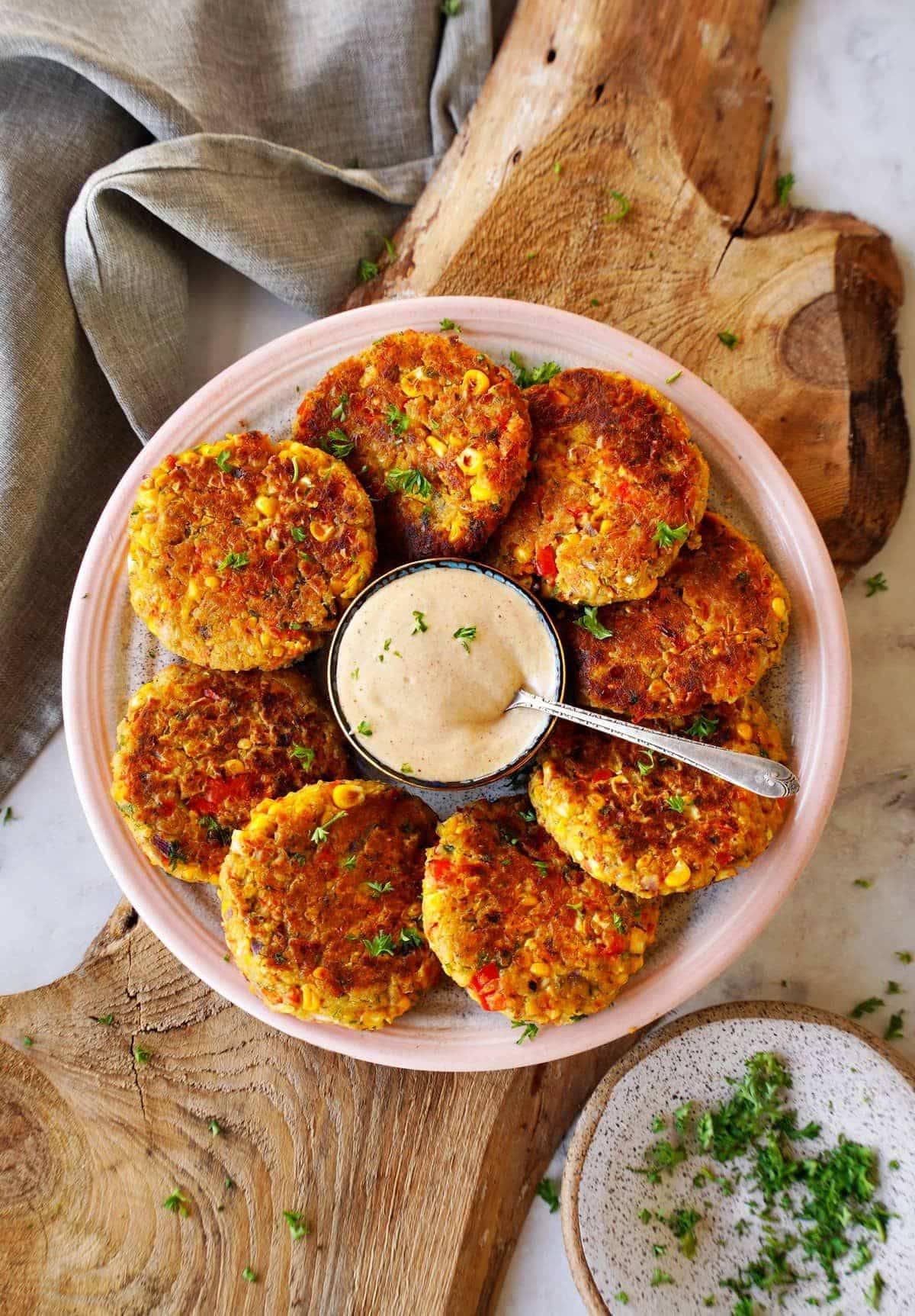 Healthy vegetarian fritters are protein-dense, spicy, and have a satisfying crunch, so you can't stop eating them. They're gluten-free so indulge. Serve them with your favorite gluten-free dipping sauce, or enjoy them plain. Cumin, garlic, onion powder, smoked paprika, and paprika flakes round out this recipe, so these chickpea fritters have more than enough flavor.
50. Gluten-Free Greek Pasta Salad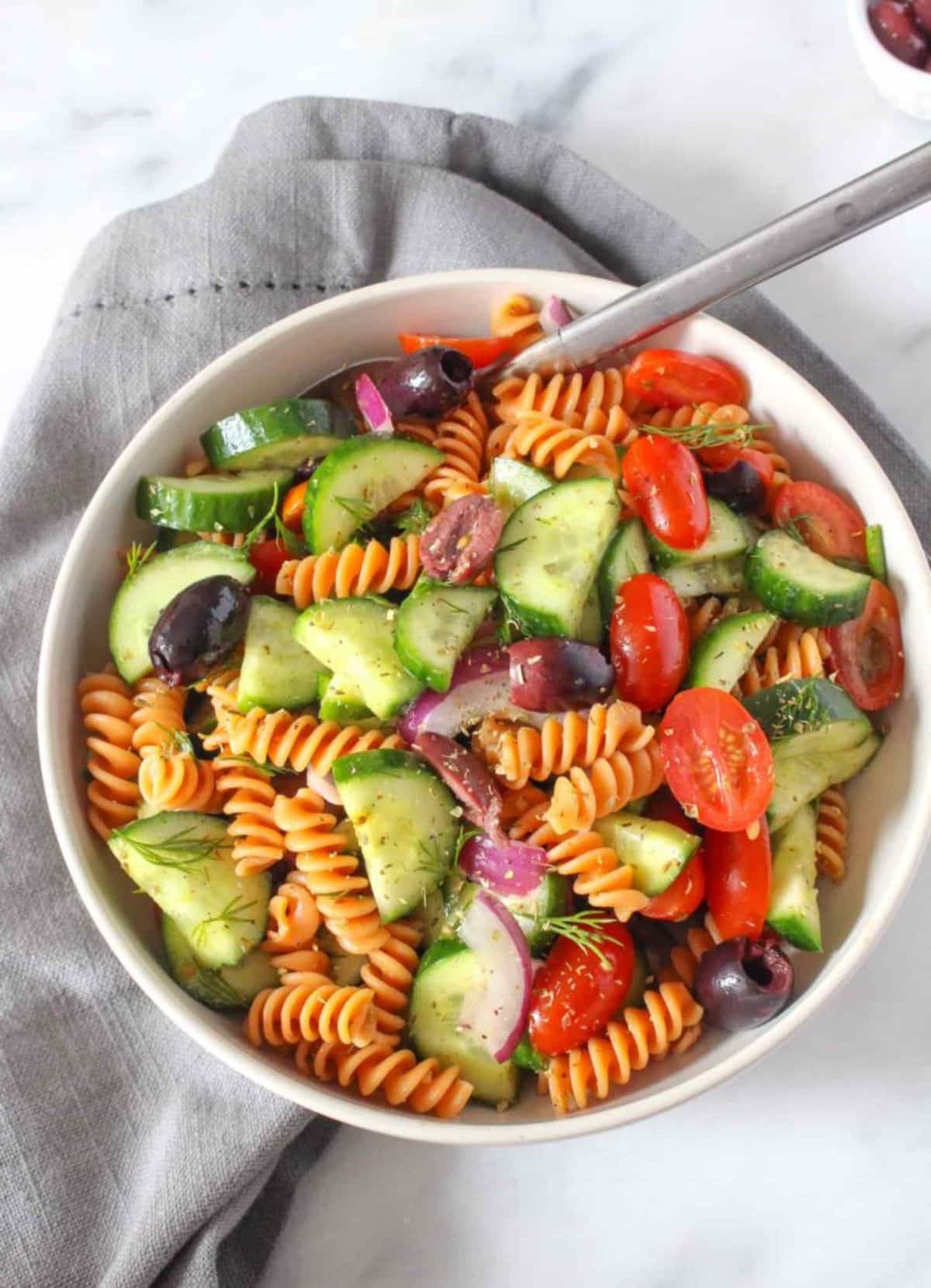 Pasta salad is a classic summertime lunch that is easy to take with you anywhere. Mediterranean-inspired flavors come from fresh grape tomatoes, cucumbers, olives, and oregano, while gluten-free pasta makes this a safe choice for your next meal.
51. Easy Spinach Tortillas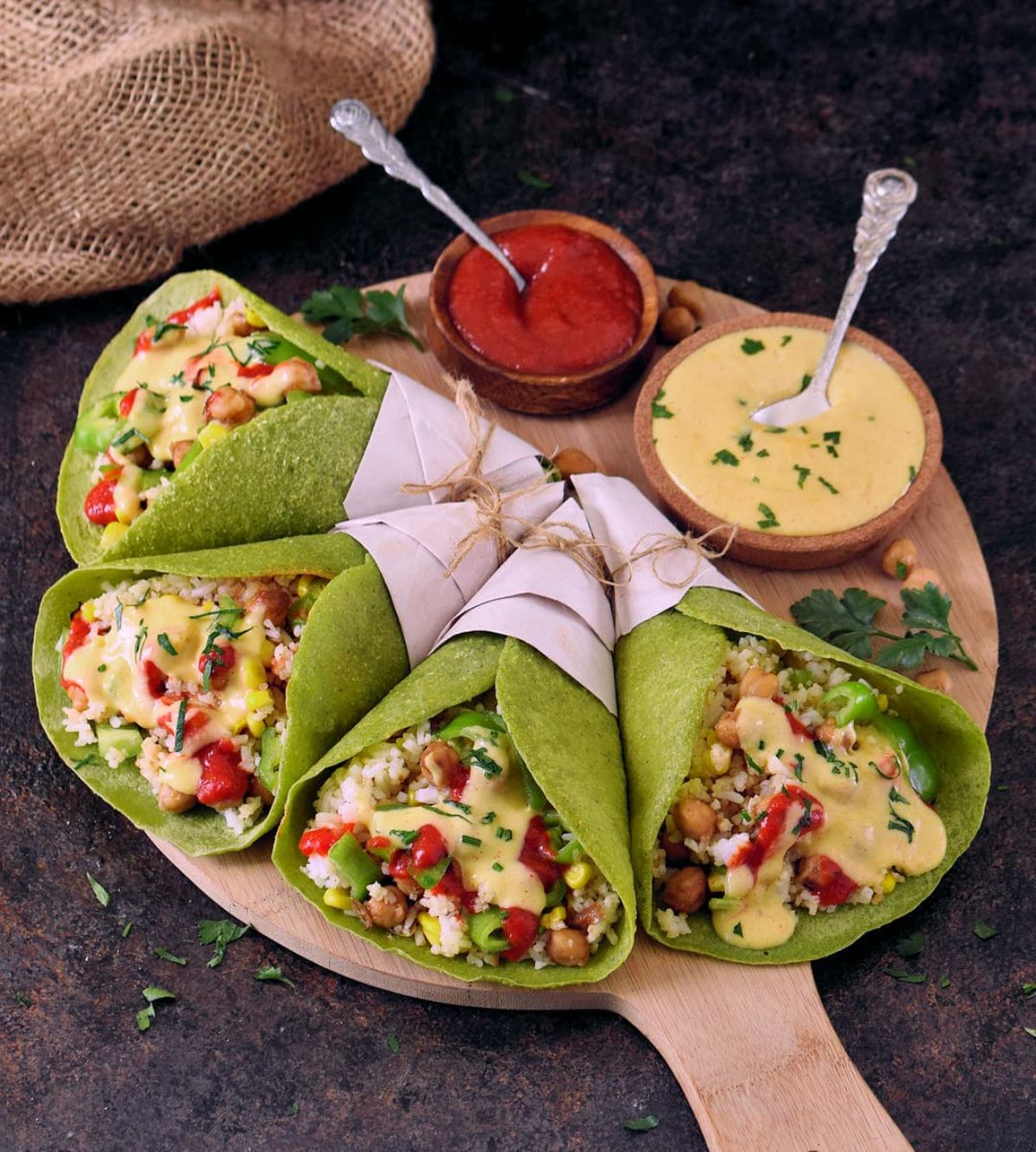 We can't get enough of these gluten-free spinach tortillas! You only need five ingredients to make a batch, so what are you waiting for? Combine them with grilled chicken, rice, beans, or fresh veggies, and start dipping.
Bonus recipe: Apple Cranberry Chicken Salad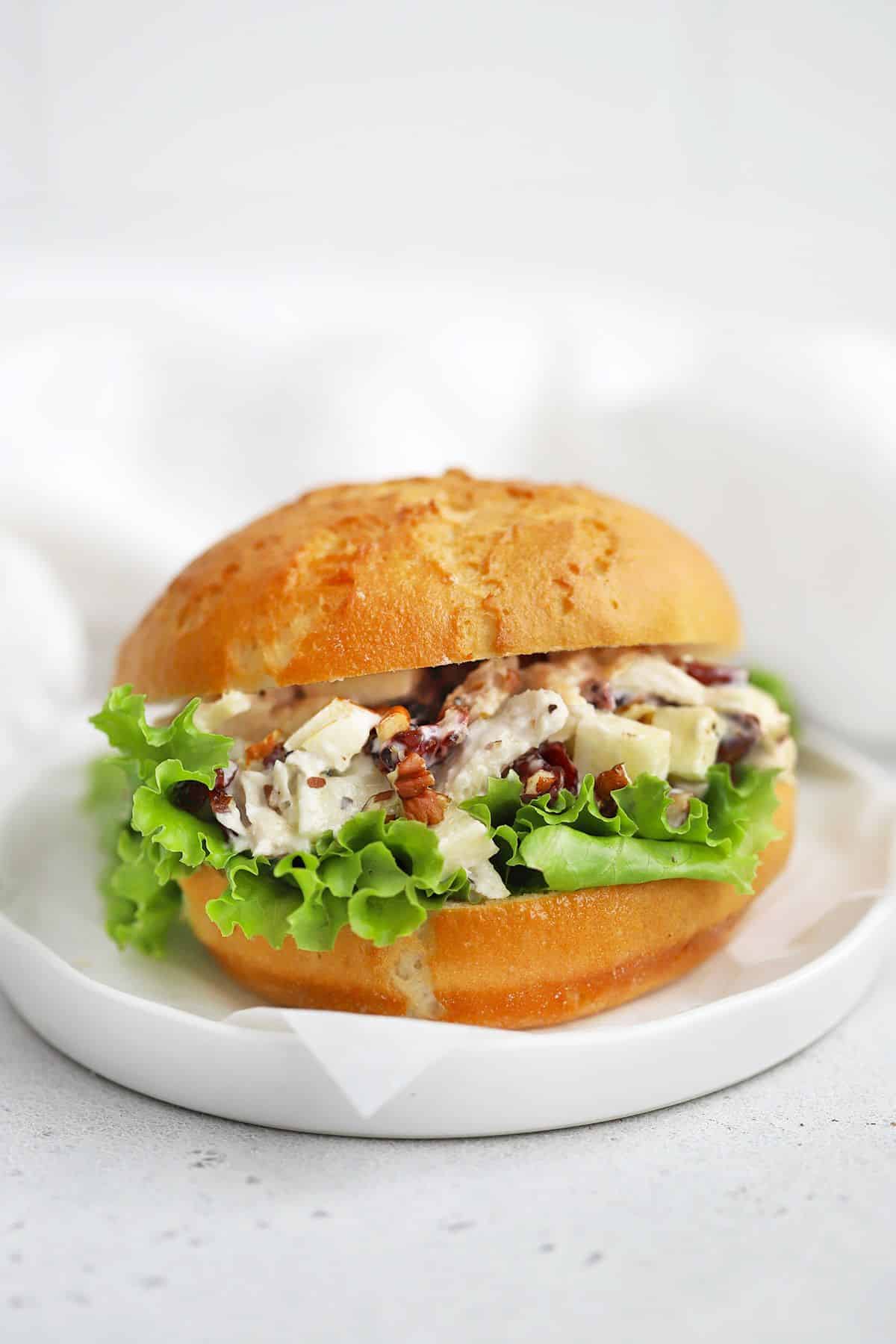 With its diced fresh apple and dried cranberries, this gluten-free salad combines the sweet and tart flavors of fruits with the delicate taste of chicken. It's a versatile salad that you can enjoy by itself or use as a filler for a tortilla, wrap, or sandwich.
Wrap Up
A gluten-free diet doesn't have to be complicated or boring. These gluten-free lunch ideas come together in minutes, and you can explore a wide range of flavors and cuisines to make lunchtime more fun!