Eating gluten-free has never been easier! The Food and Drug Administration (FDA) issued a mandate in 2013 that foods on the market must be labeled as gluten-free to help those enduring Celiac disease or gluten intolerance to shop at grocery stores confidently.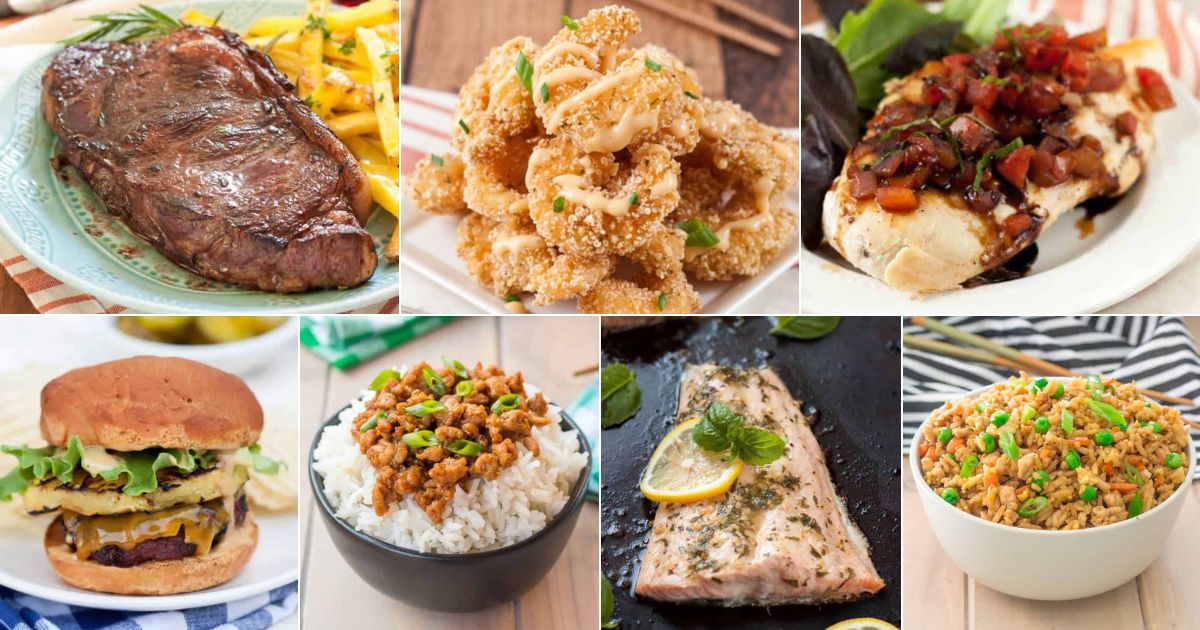 Today, we will answer these questions:
What is gluten?
Why do people eat a gluten-free diet?
How do I make any recipe gluten-free?
Are fruits and vegetables gluten-free?
Gluten-free picky eaters do not have to suffer with minimal meal options because they cannot eat gluten-laden products for whatever reason. There are still many recipes out there that are nutritious, delicious, and affordable to make at home for your special diet.
Jump to:
What Is Gluten?
Gluten is a type of protein that comes from wheat-based products such as barley, rye, durum, emmer, semolina, farro, and others. Some foods that you would not even expect contain gluten, such as soups, rolled or quick oats, bread, food coloring, pasta, sauces, salad dressings, and cereals.
While you can make gluten-free food alternatives, there are also products on the market to purchase gluten-free ingredients to make it easier to prepare meals. Cutting out gluten from sauces, soups, roux, and salad dressings means being sure you do not use wheat-based flour to thicken them.
Why Do People Eat a Gluten-Free Diet?
People eat a gluten-free diet for multiple reasons. They may have Celiac disease, a non-Celiac gluten sensitivity. People may have personal diet preferences and see that they feel better consuming gluten-free products versus mainstream foods. On a more serious note, a gluten-free diet is necessary if you have a wheat allergy.
Celiac Disease
Most individuals consume a gluten-free diet because not doing so can cause serious medical problems if they have what's called Celiac disease. It is a condition where the person cannot properly digest foods that contain gluten. While it only affects 1% of people worldwide, only about 30% of people experiencing the condition receive a proper medical diagnosis.
If someone with a gluten intolerance eats food containing the substance, then the corresponding immune response results in their small intestine being attacked. Villous atrophy begins to form in the small intestine, which is indicative of Celiac disease.
Maybe you know someone in your family, whether your sibling, one of your parents, or any of your children, that may have received a Celiac disease diagnosis. This means that you are 10% likely to develop the same condition later in life.
Non-Celiac Gluten Sensitivity
Some people can experience gluten intolerance without having Celiac disease. This means that any foods containing gluten can make them feel different symptoms, such as abdominal pain, bloating, constipation, and diarrhea. Hence, switching to a gluten-free diet can ease these symptoms while helping them feel more energized.
Diet Preferences
People who have not been formally diagnosed with gluten intolerance or Celiac disease may decide to try a gluten-free diet to see how they feel. If the person is repeatedly experiencing any of the symptoms described above that could relate to gluten intolerance, they may benefit from switching to gluten-free alternatives.
Wheat Allergy
About 1 in 100 children contract a wheat allergy during their youth. Many grow out of the allergy by the time they are age 12. However, some continue to endure wheat allergy for the remainder of their lives, whereas a gluten-free diet is necessary for their health and safety.
How Do I Make Any Recipe Gluten-Free?
Making any recipe gluten-free is as simple as swapping out gluten-laden ingredients with suitable alternatives.
Gluten-Free Flour Alternatives
All-purpose flour contains up to 11% gluten because it is manufactured from a wheat's endosperm. Hence, choosing an alternative flour without gluten content will instantly turn your baked goods into gluten-free delights.
Some examples of gluten-free flour alternatives include:
Almond
Amaranth
Arrowroot
Chickpea
Corn
Sorghum
Tapioca
Gluten-Free Beer Alternatives
Beer-battered shrimp or salmon sounds delicious, but there's just one problem. The spiked beverage contains gluten because of wheat and barley.
Find a gluten-free beer brand that you love. This glutenless beer variety is created from sorghum or brown rice.
Other gluten-free beer alternatives that mimic the original taste and aesthetic of the iconic beverage include:
Ginger beer
Hard cider
Hard seltzer
Mead
Are Fruits and Vegetables Gluten-Free?
Yes, fruits and vegetables are gluten-free because they do not contain wheat-based products. You can make a deliciously healthy meal with gluten-free alternatives for pasta, oats, and other products while incorporating any of your favorite fruits and vegetables for a pop of flavor and health benefits.
If the fruit or vegetable is fresh or frozen without other additives, then they are gluten-free even if they do not say it on the packaging. Watch out for processed produce products that could contain gluten-laden ingredients.
For example, if you are purchasing battered okra from the frozen section, you have to check the ingredients list to be sure there are no wheat-based ingredients in the bread. Some frozen or pre-cut fruits may be coated in a syrup or candy-based solution, which could contain gluten-laden ingredients.
Hence, it's best to purchase the fruit or vegetable by itself from the fresh produce or frozen department and then add your desired gluten-free ingredients to be on the safe side.
Now for the moment you've been waiting for: the gluten-free recipes! Here are 63 gluten-free recipes for the pickiest eaters of any age. From chicken dishes to savory beef delights and sweet treats as a snack or dessert, there is something delicious for all gluten-free dieters on this list.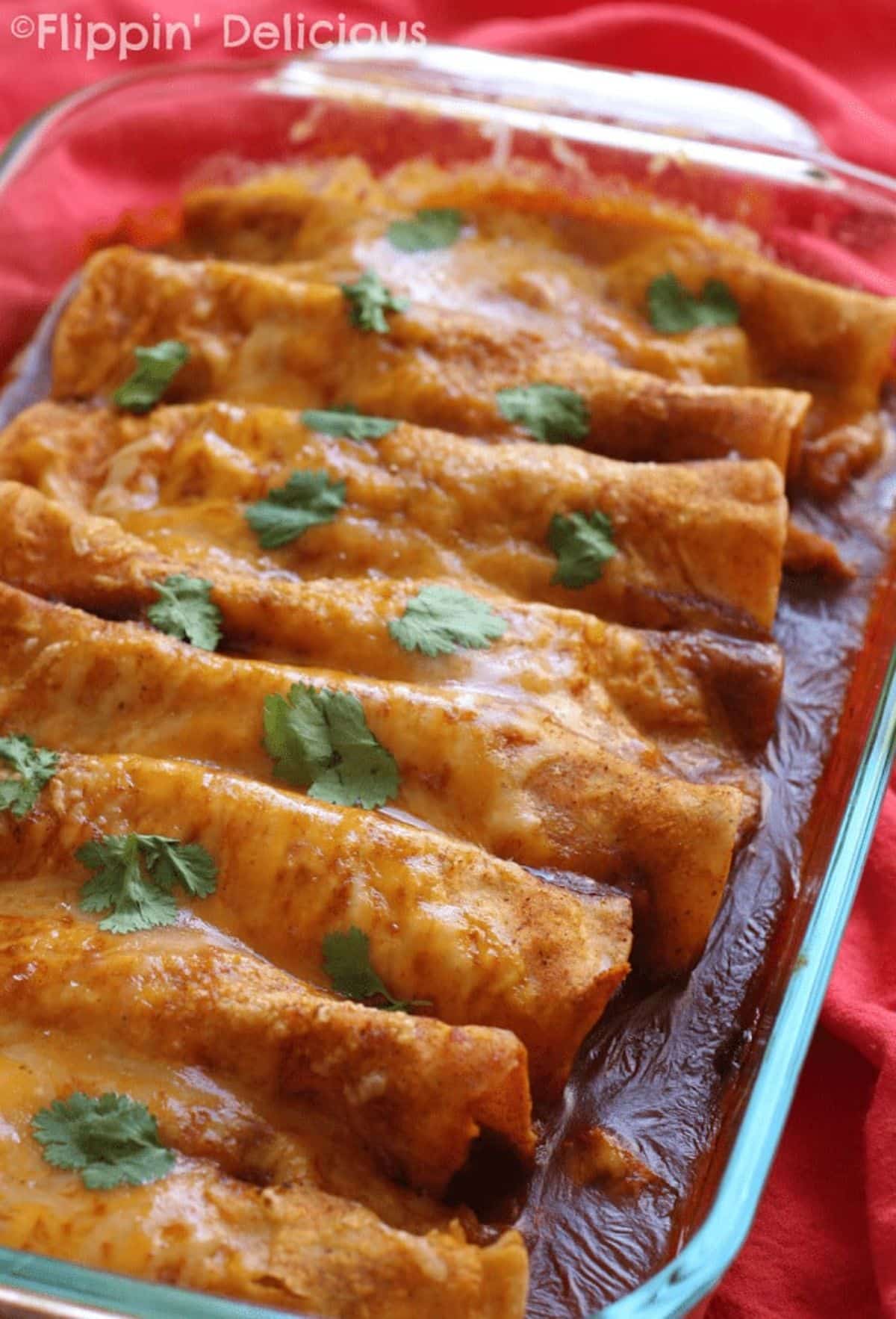 Try this Mexican-inspired dish filled with moist chicken, melted cheese, and veggies and herbs of your choice.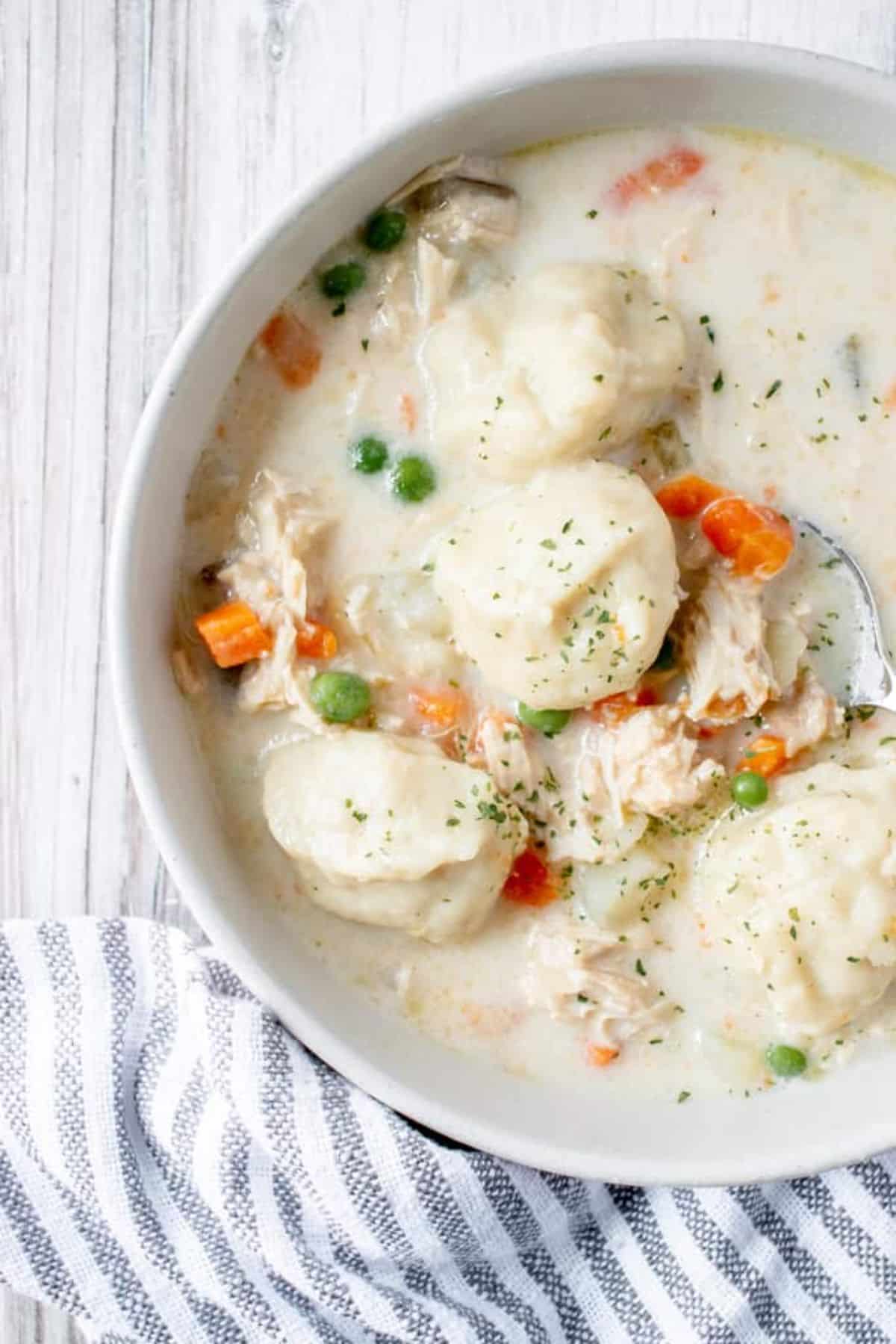 Dumplings are so warm and cozy with all your daily servings of veggies in one meal!
The fresh basil and crunch of the green onions tie in the flavorful umami of the soy sauce noodles.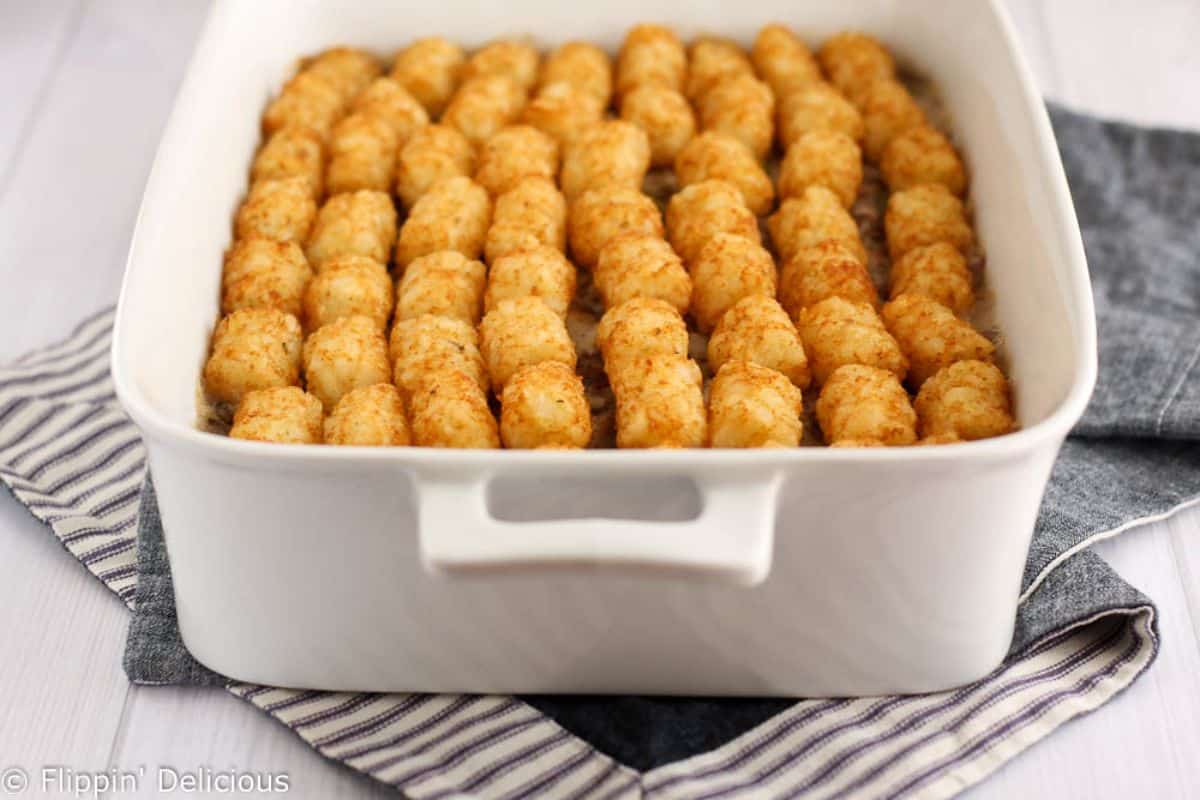 Choose from beef or turkey for the meat component. Don't forget to make this homemade gluten-free cream mushroom soup to tie it all together.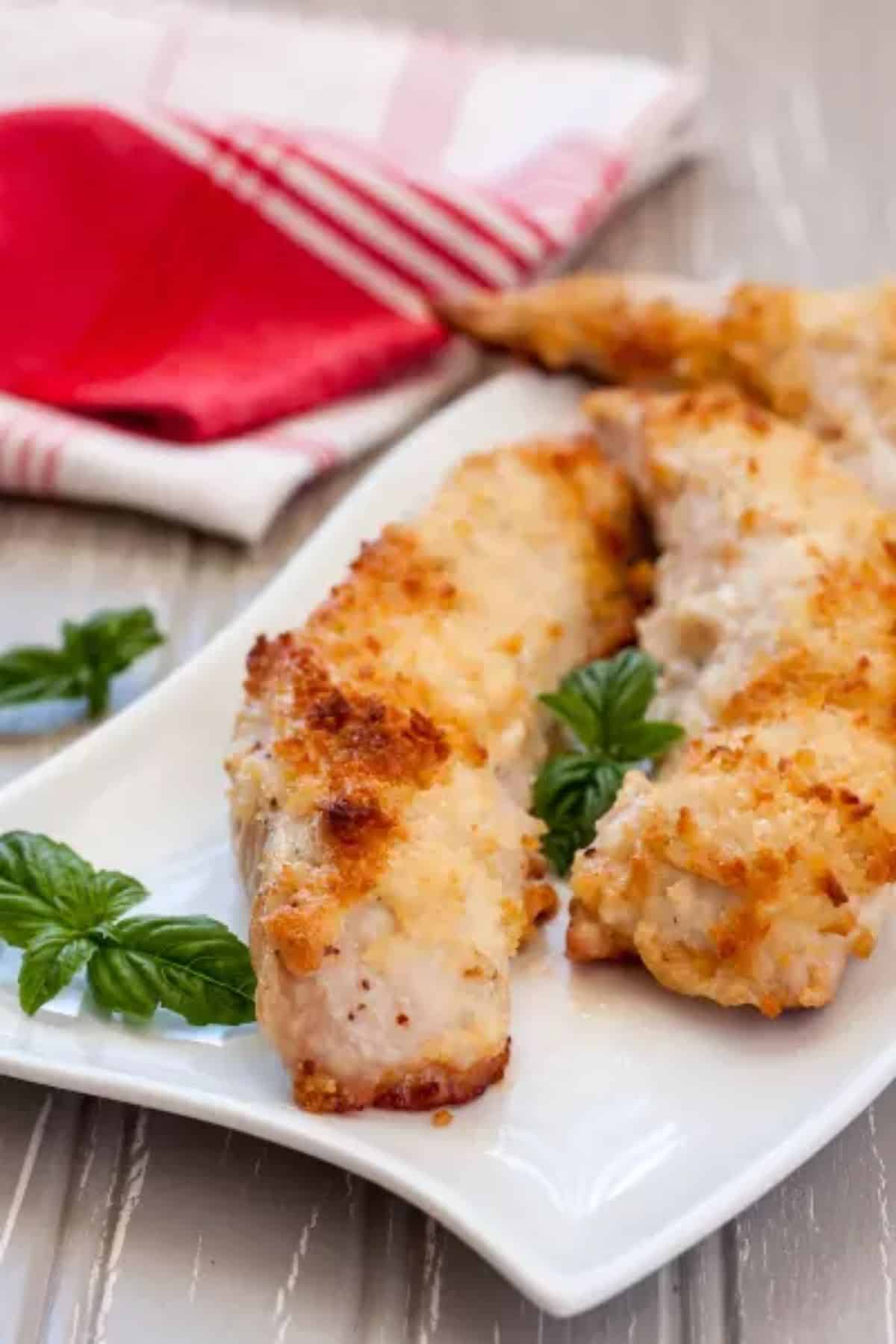 Chicken and cheese taste great together, especially when it's baked parmesan chicken!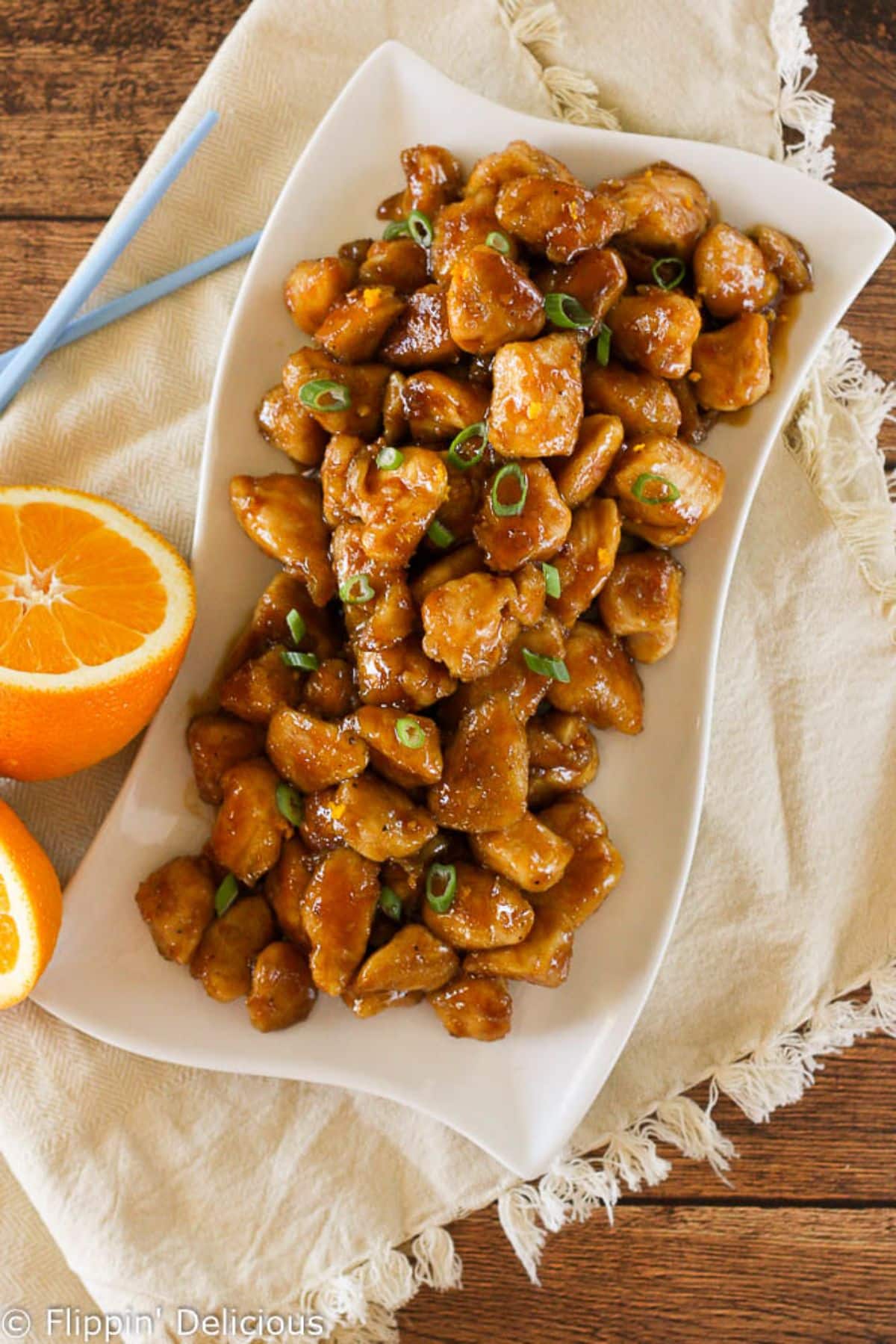 Do you love Panda Express orange chicken but don't love the priciness? We cracked the code so you can make a gluten-free alternative home that's healthier, tastier, and more budget-friendly.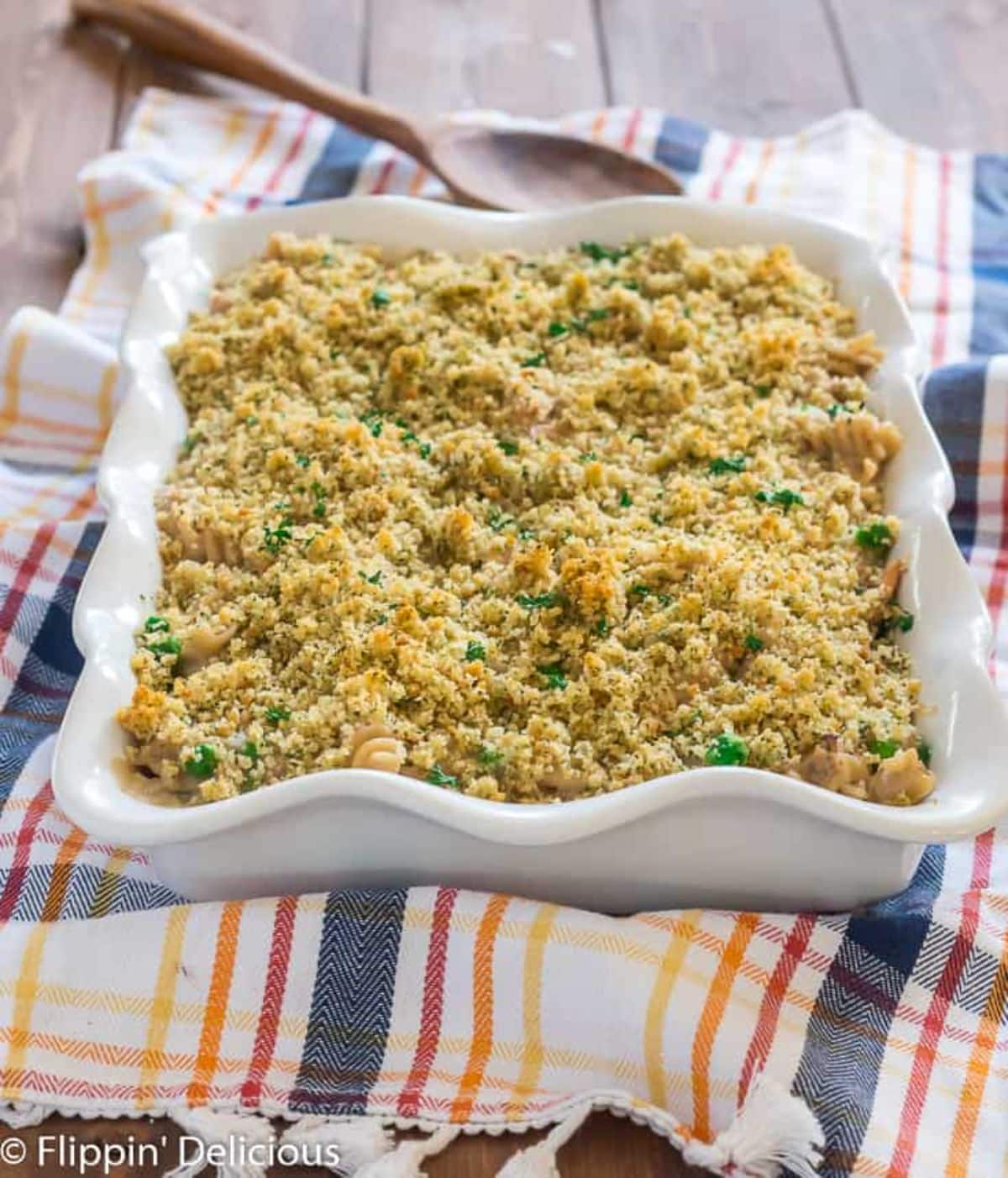 Tuna, vegetables, and pasta is a meal made in heaven. If you are tired of tuna salad, give this warm tuna dish a try!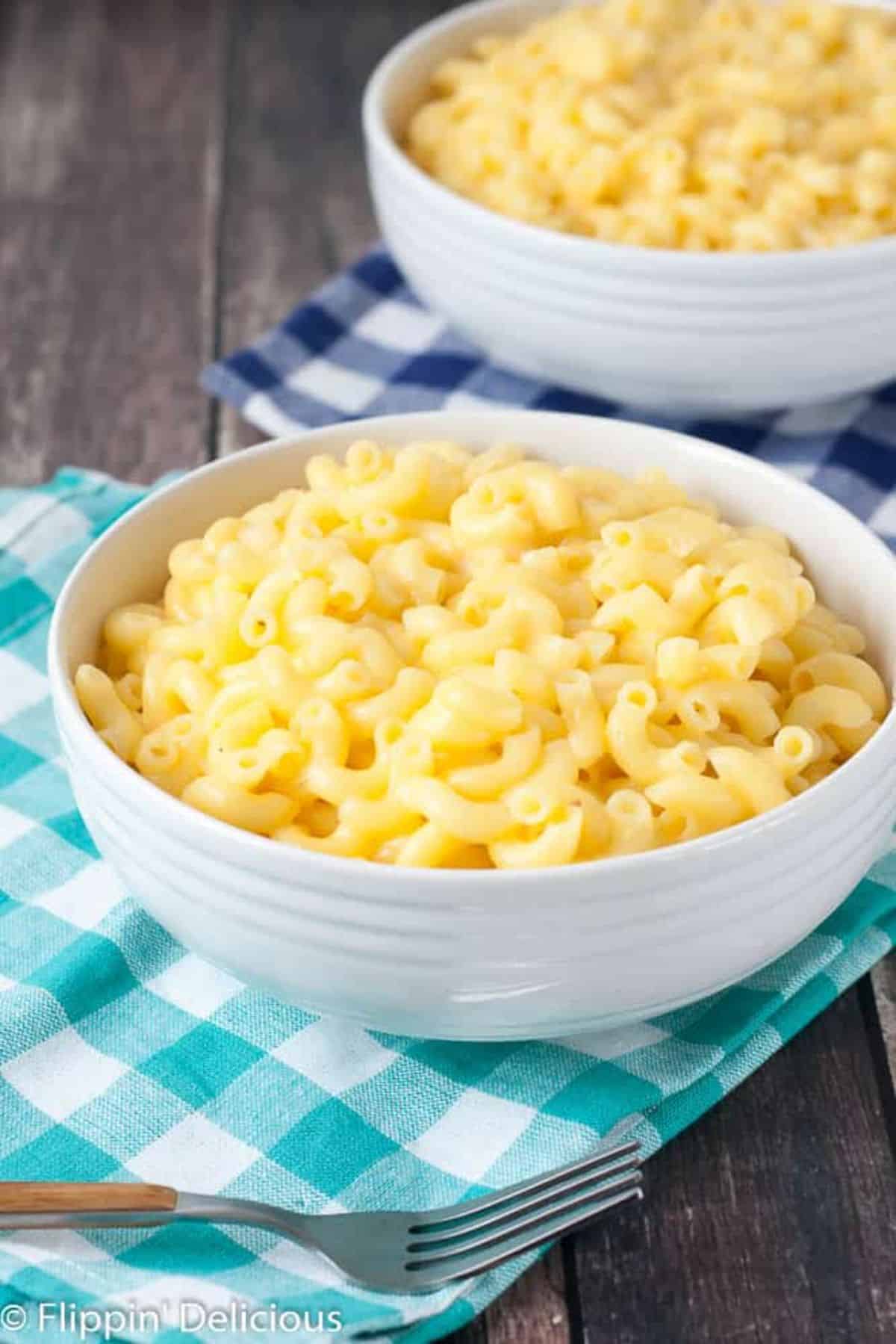 Mac and cheese lovers assemble! Now there's a gluten-free alternative to your favorite comfort food, and it's a delicious one-pot meal to boot.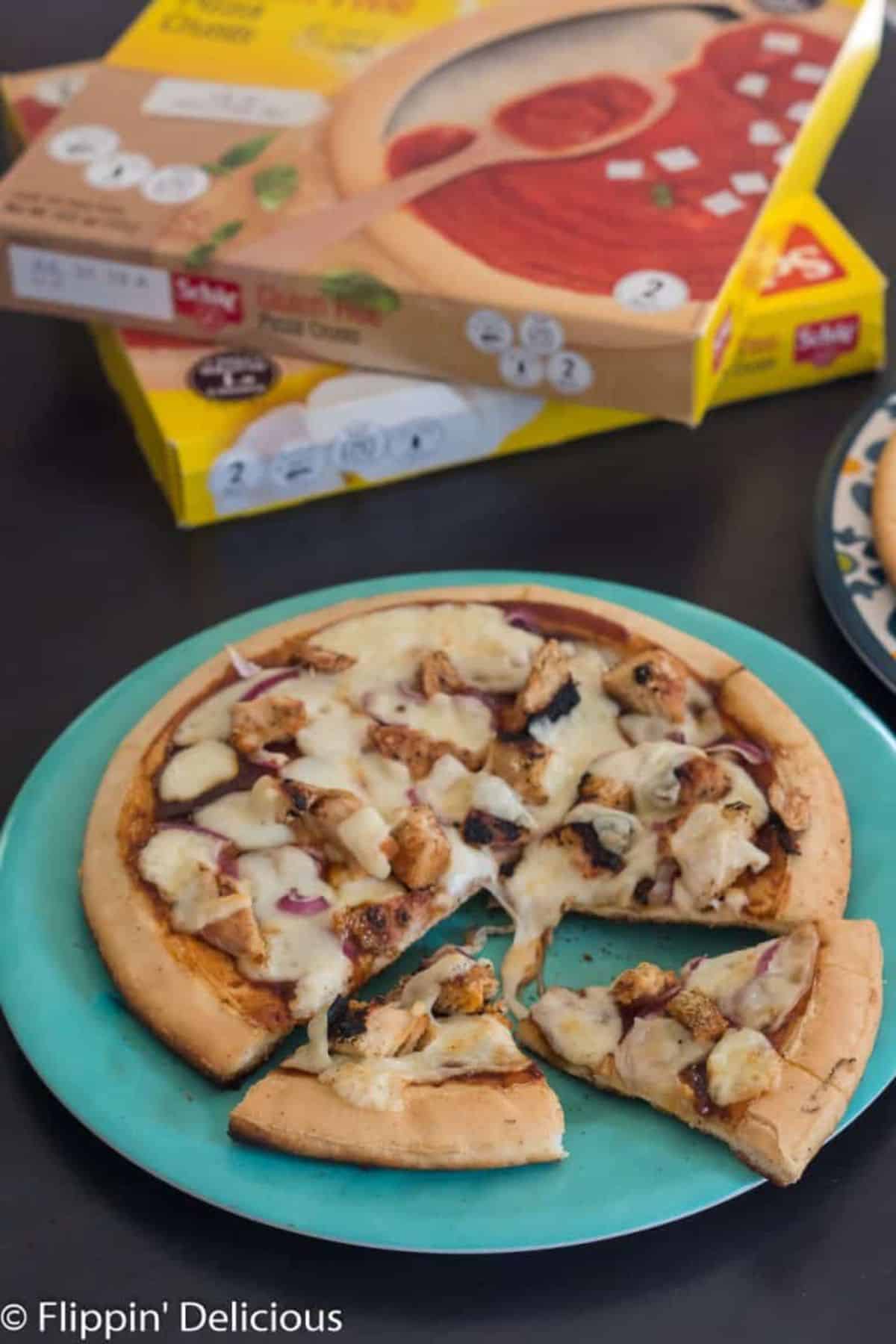 Zesty barbecue and moist chicken on a pizza? Yes, please! Don't forget the red onions for a pop of color and flavor.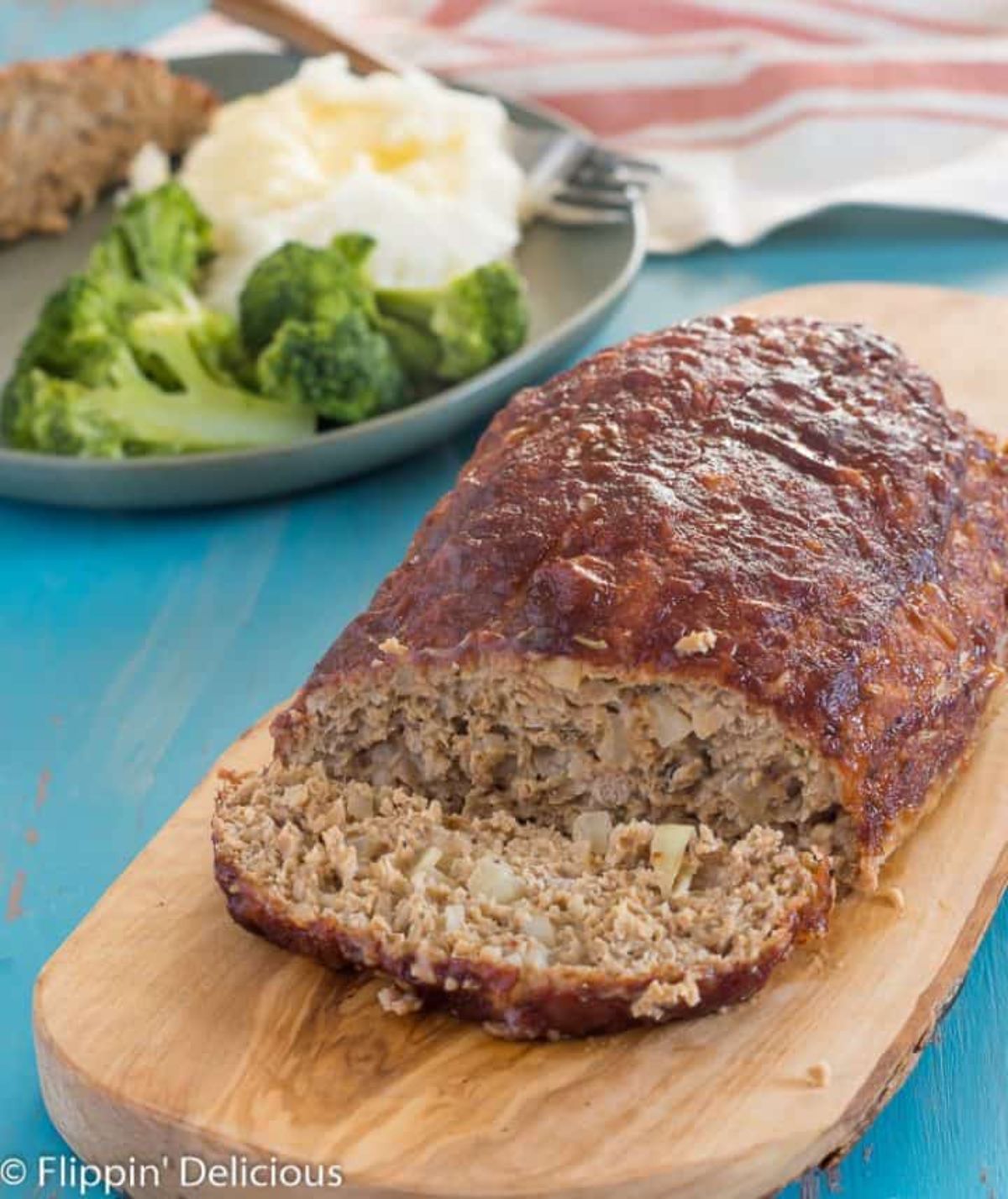 With a side of mashed potatoes and steamed broccoli, this gluten-free turkey meatloaf will be a hit at the dinner table.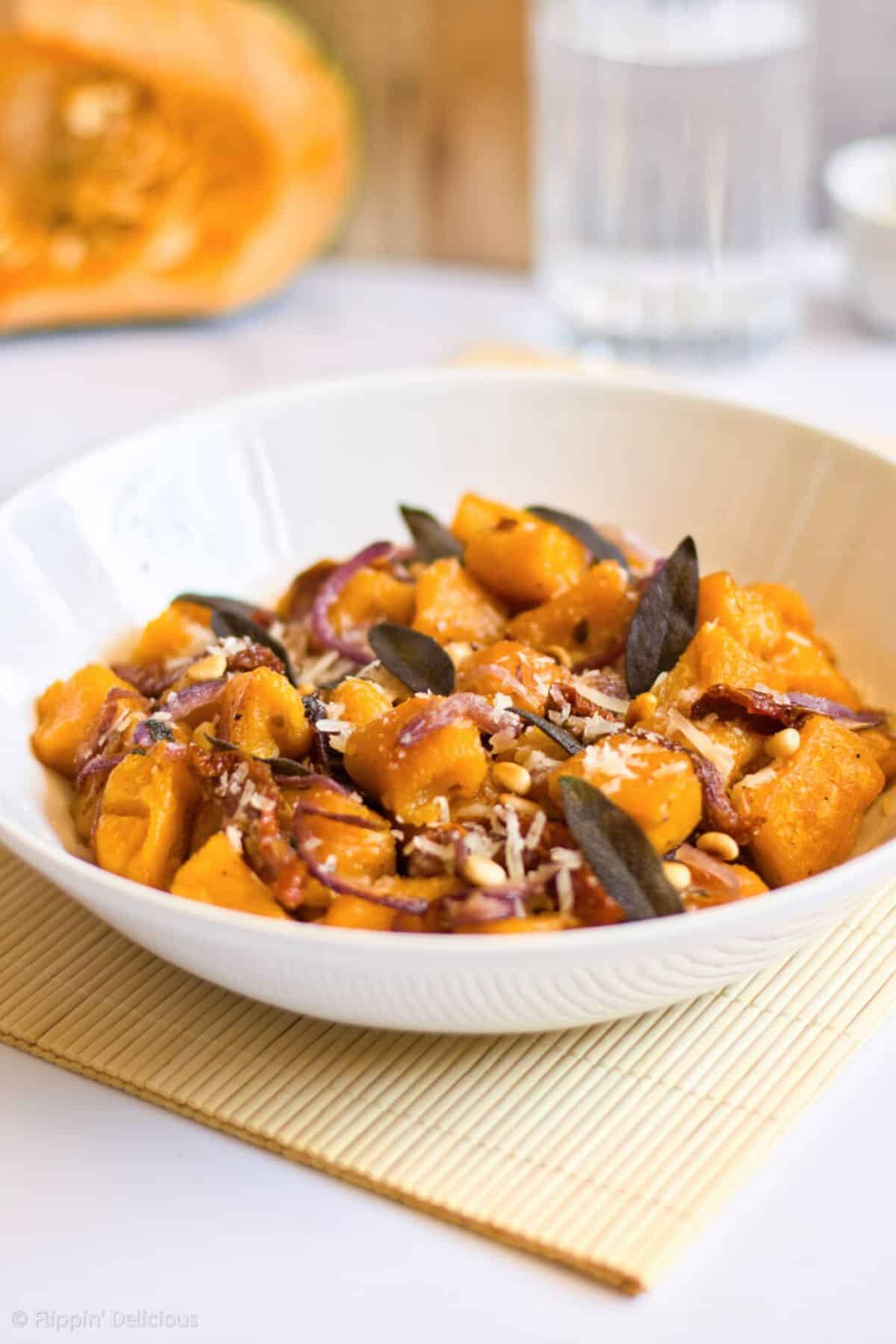 Save this recipe for gluten-free, vegan pumpkin gnocchi for a brisk autumn day! The freshness of the sage sauce compliments the hearty, starchy goodness of the potatoes.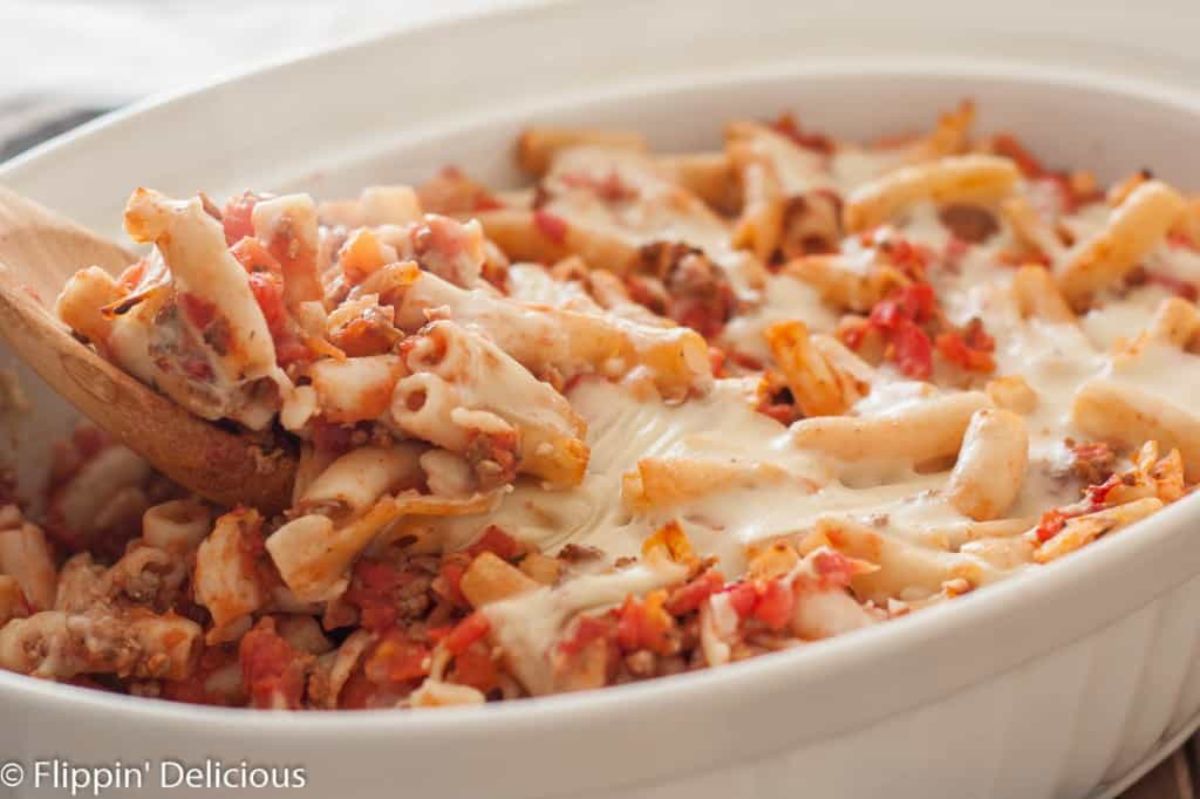 Here's the answer to your pasta and cheese craving without dealing with the gluten's effects. This makes a great make-and-freeze meal, so you can pop it into the oven when you get the craving for it.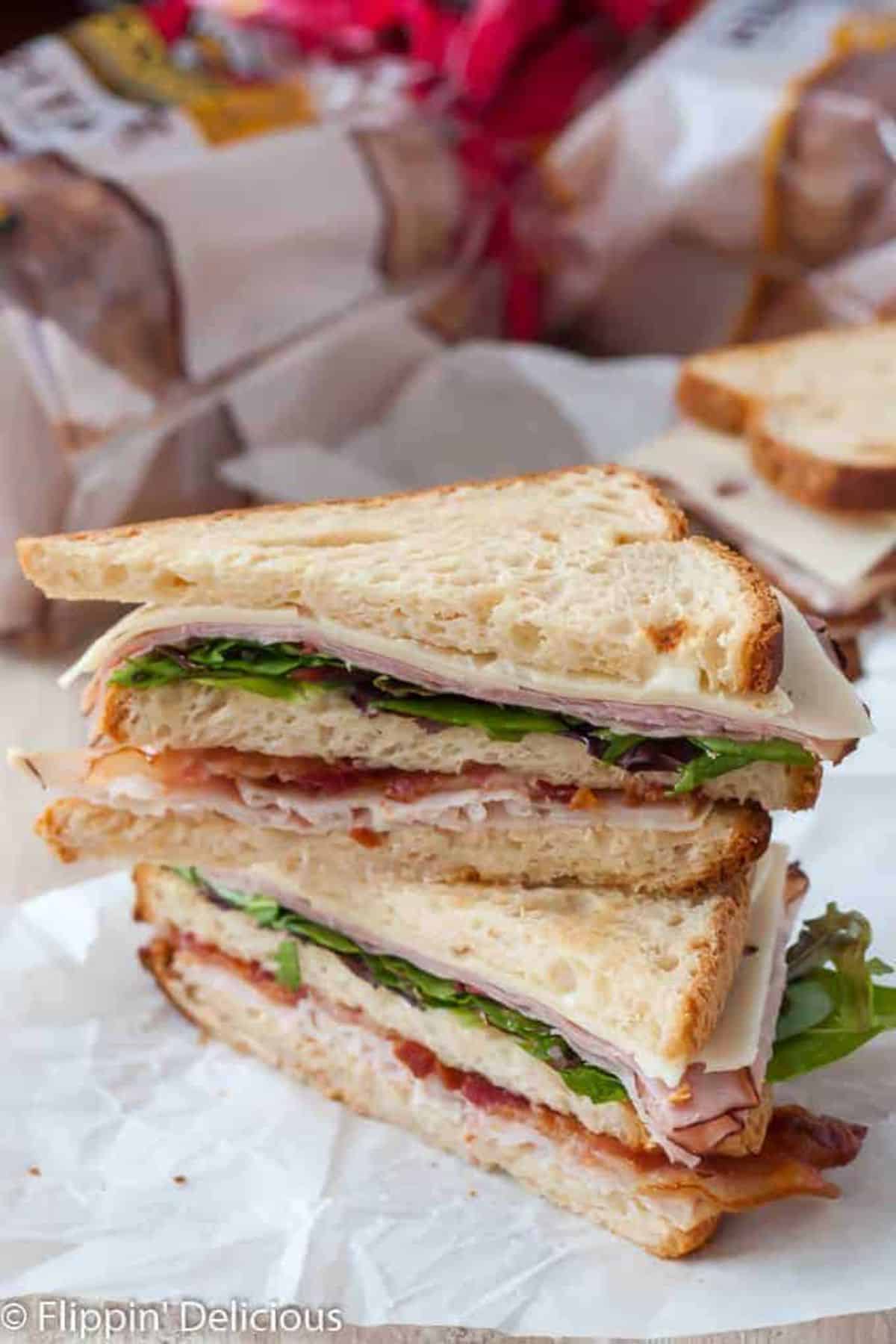 Sandwiches are a versatile lunch idea that you can customize how you desire. The nuttiness of the Swiss cheese, the saltiness of the bacon, and the sumptuous notes of the Black Forest ham will leave you wanting seconds.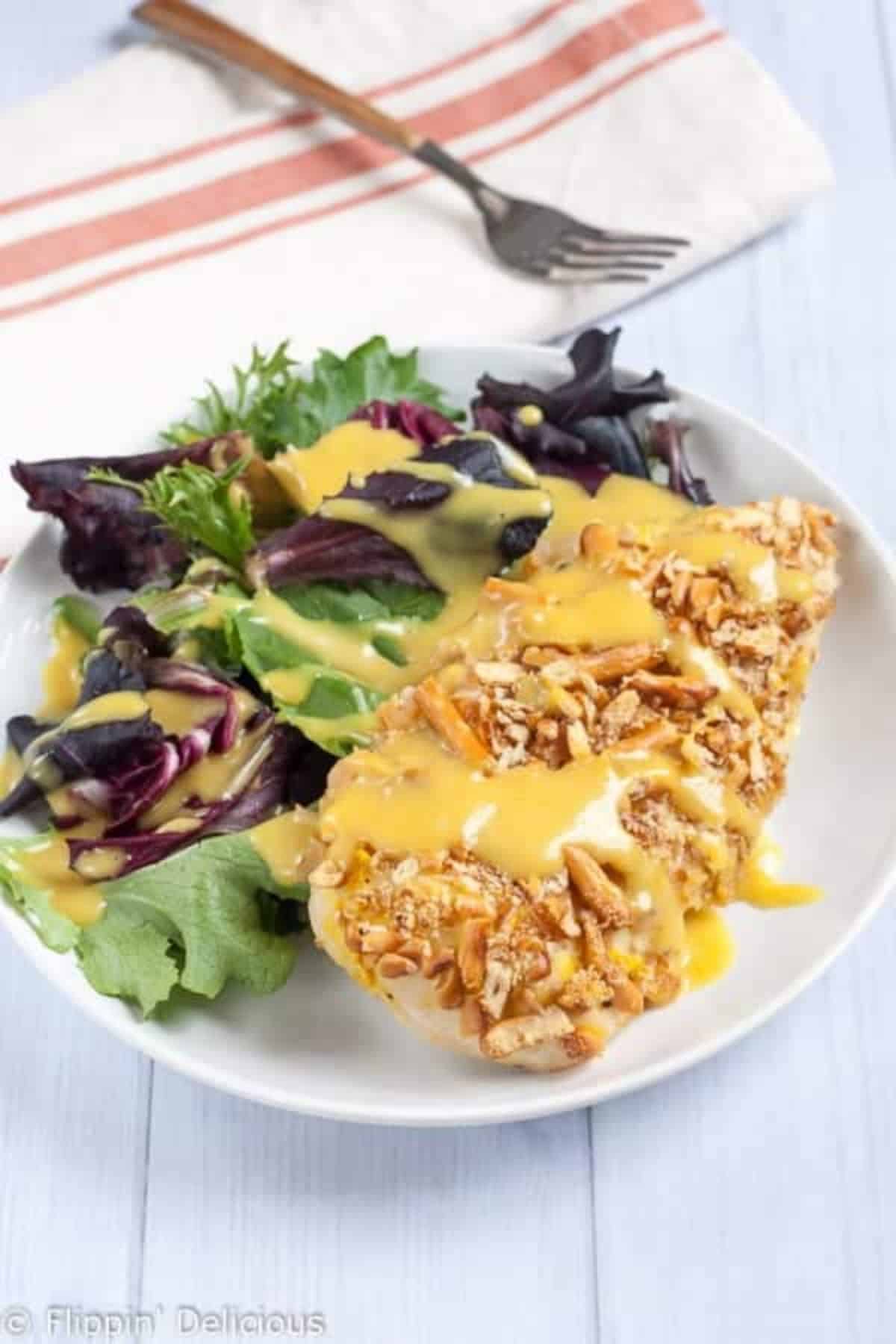 The pretzels' saltiness and honey mustard's zestiness pair well with the chicken.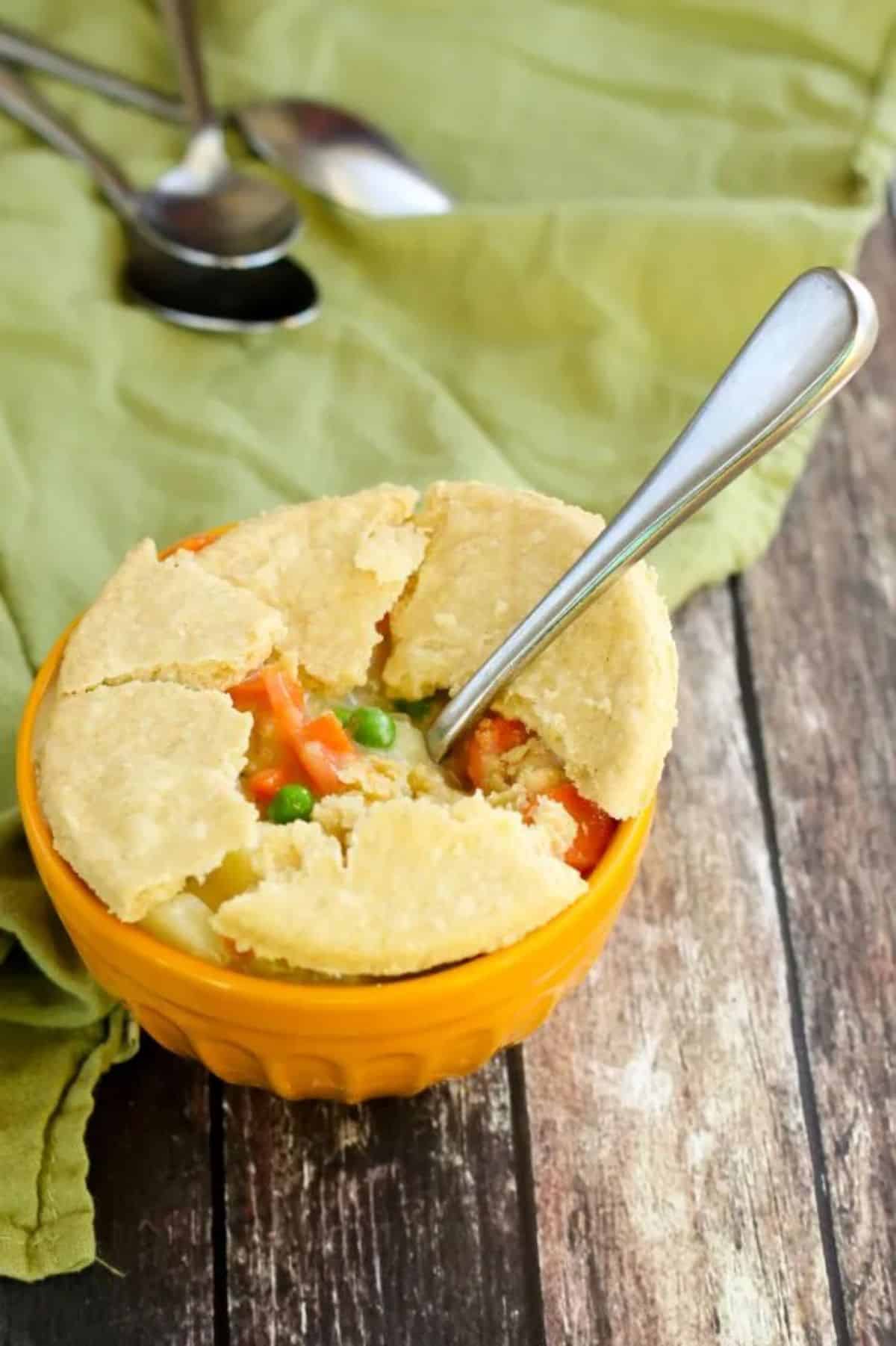 This gluten-free chicken pot pie recipe will have you thinking about your grandmother's cooking.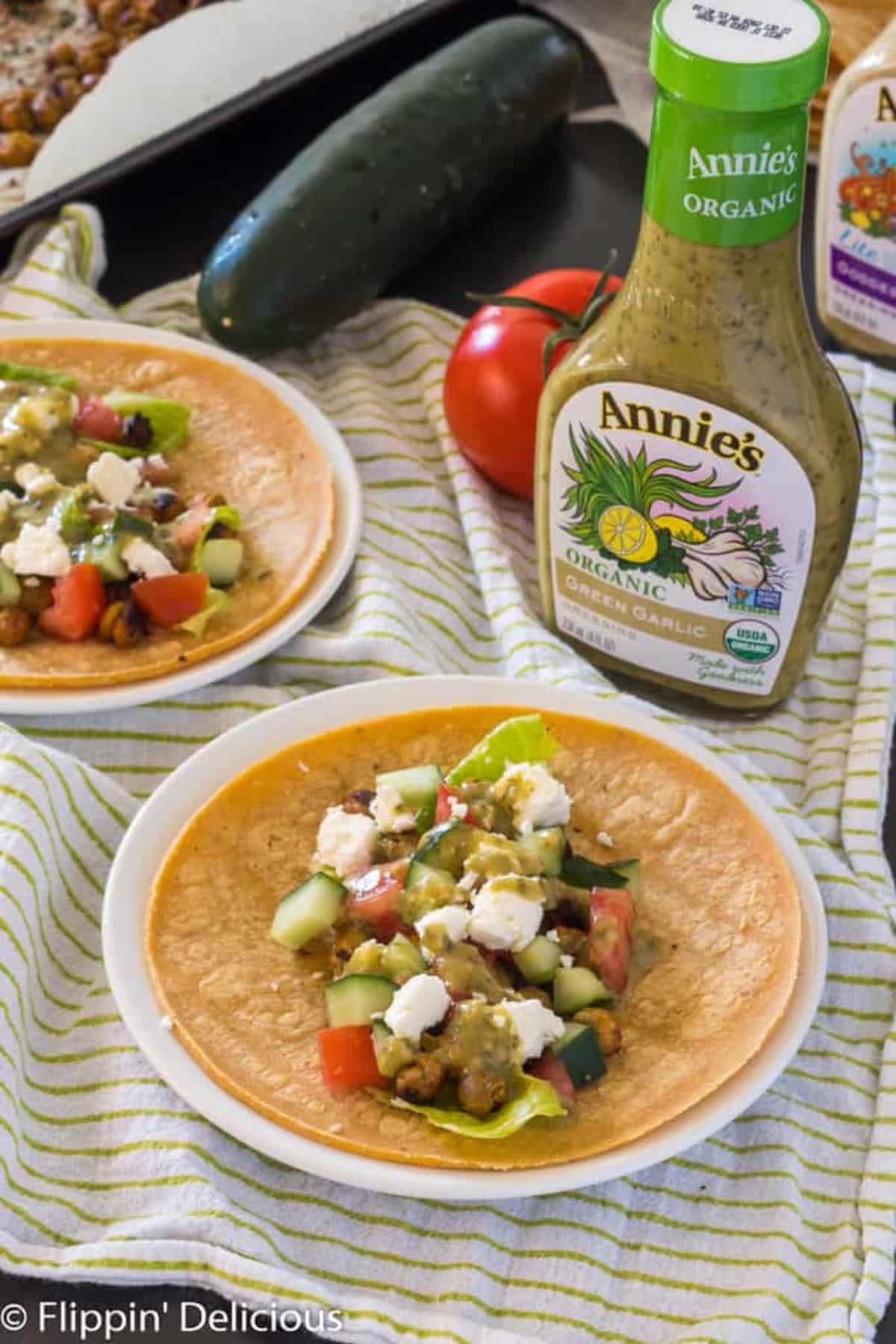 Whether you're vegetarian or not, these Greek vegetarian chickpea tacos will pack a flavorful punch.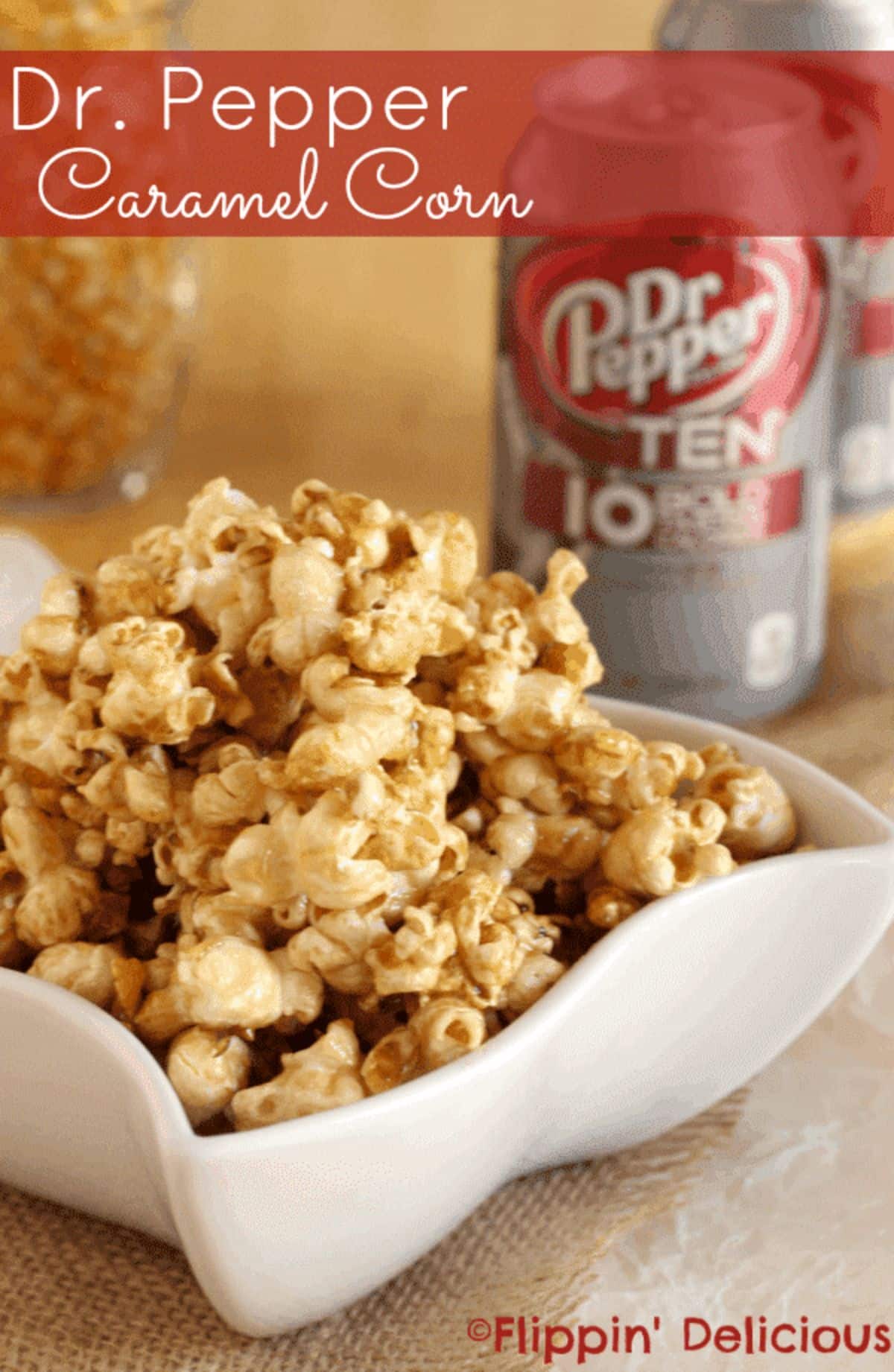 Sure, you've drank soda while munching on popcorn at the movie theaters, but mixing it in one dish is another adventure!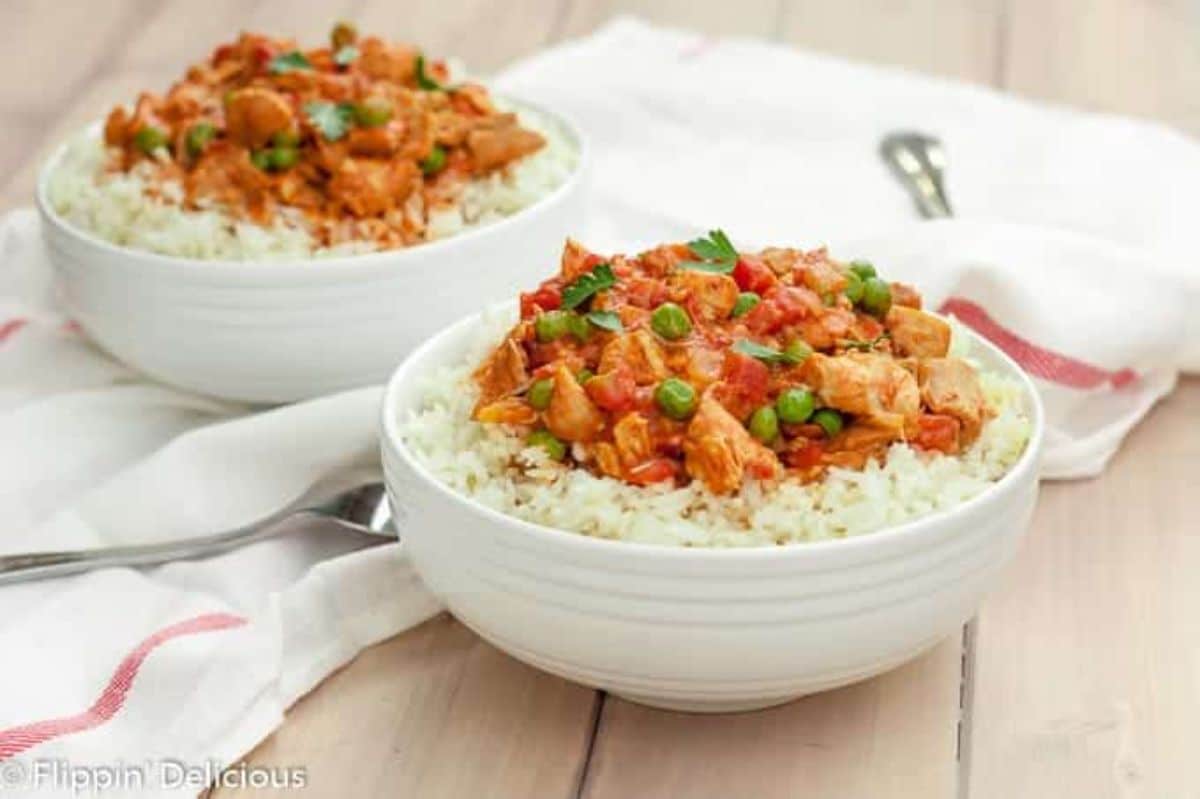 Take a trip to India without booking a flight by making this gluten-free Instant Pot chicken tikka masala.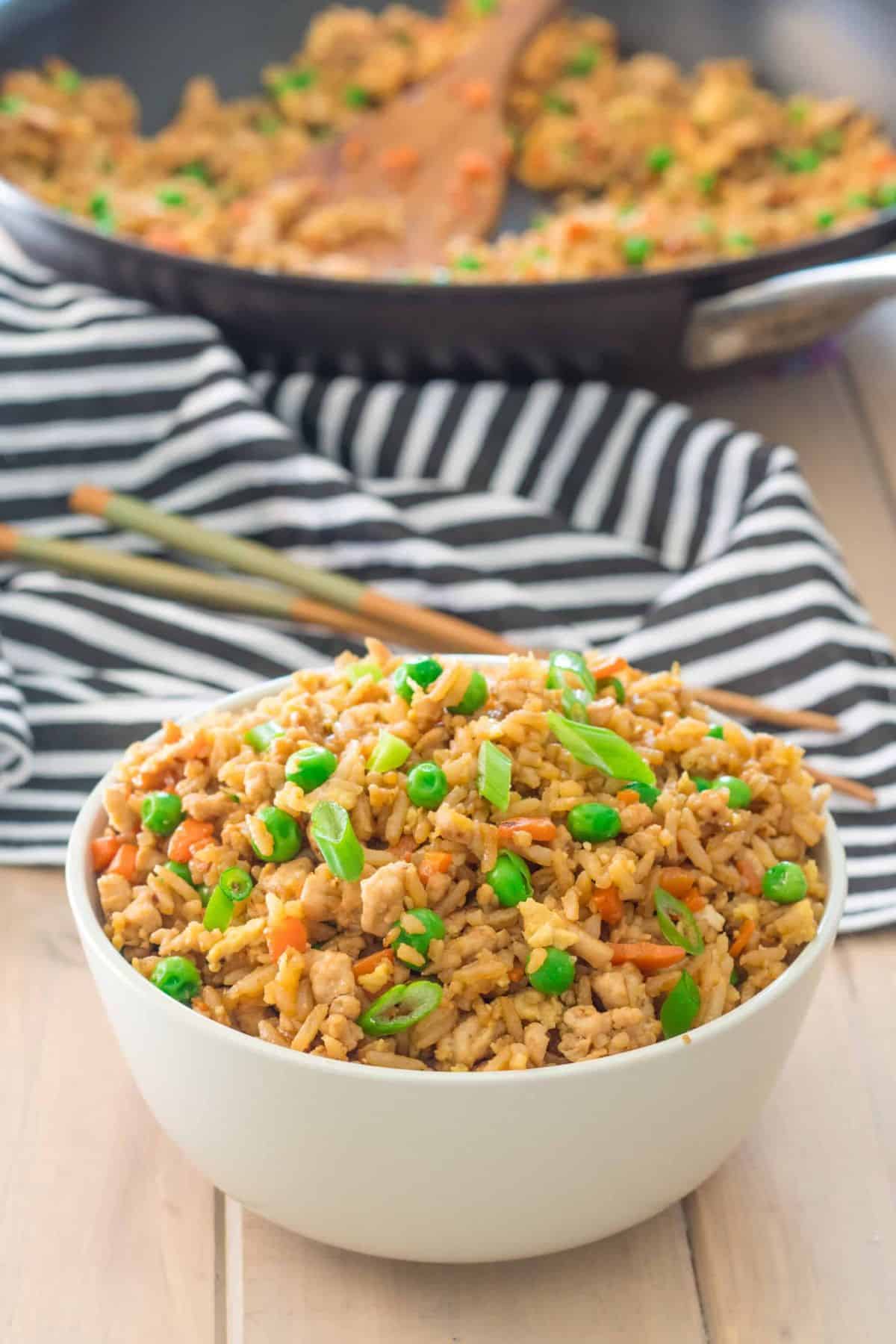 Fried rice is a delicious Asian dish. Add ground turkey is a nice twist on a classic.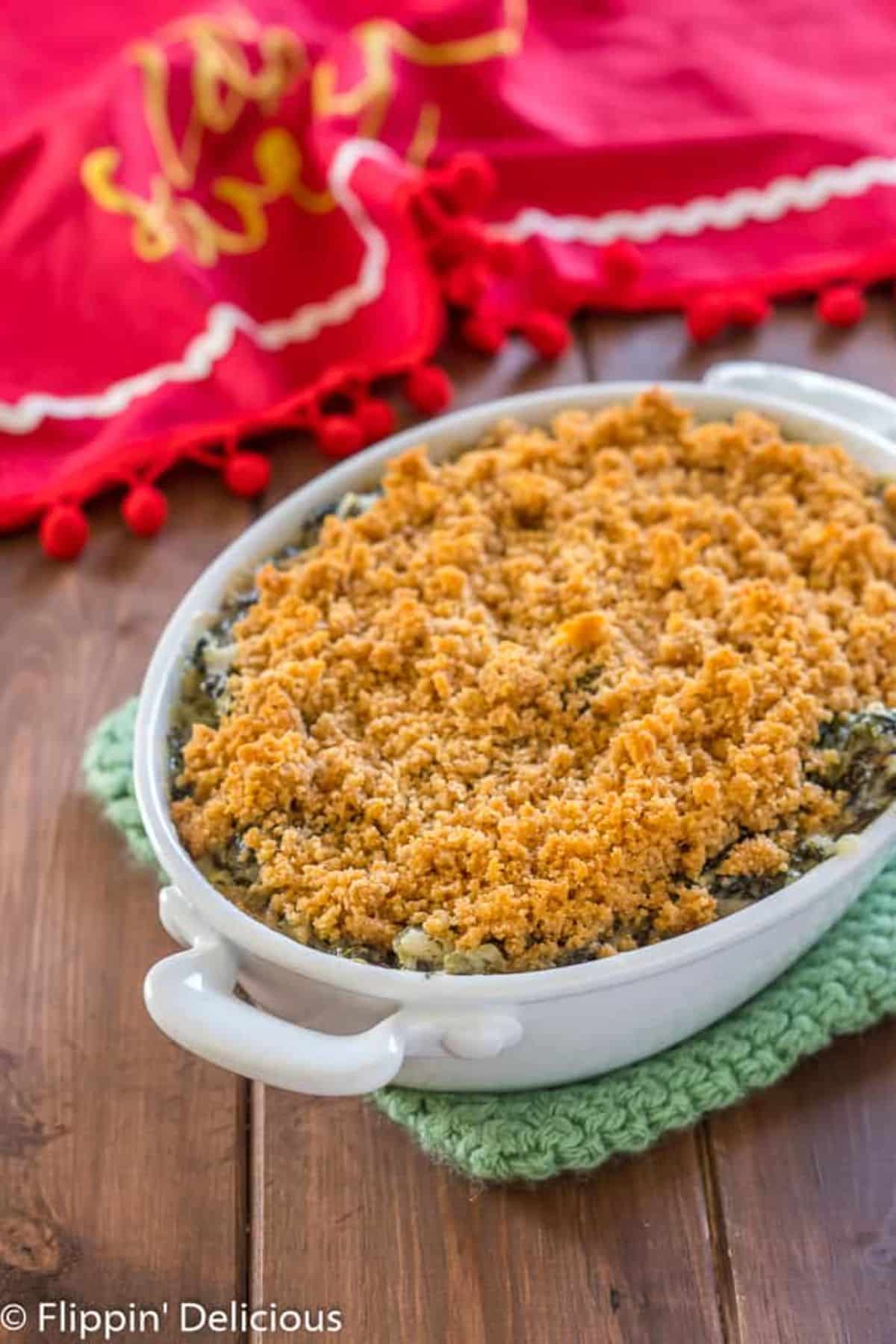 Put cheese on any vegetable, and kids and adults will eat it right up!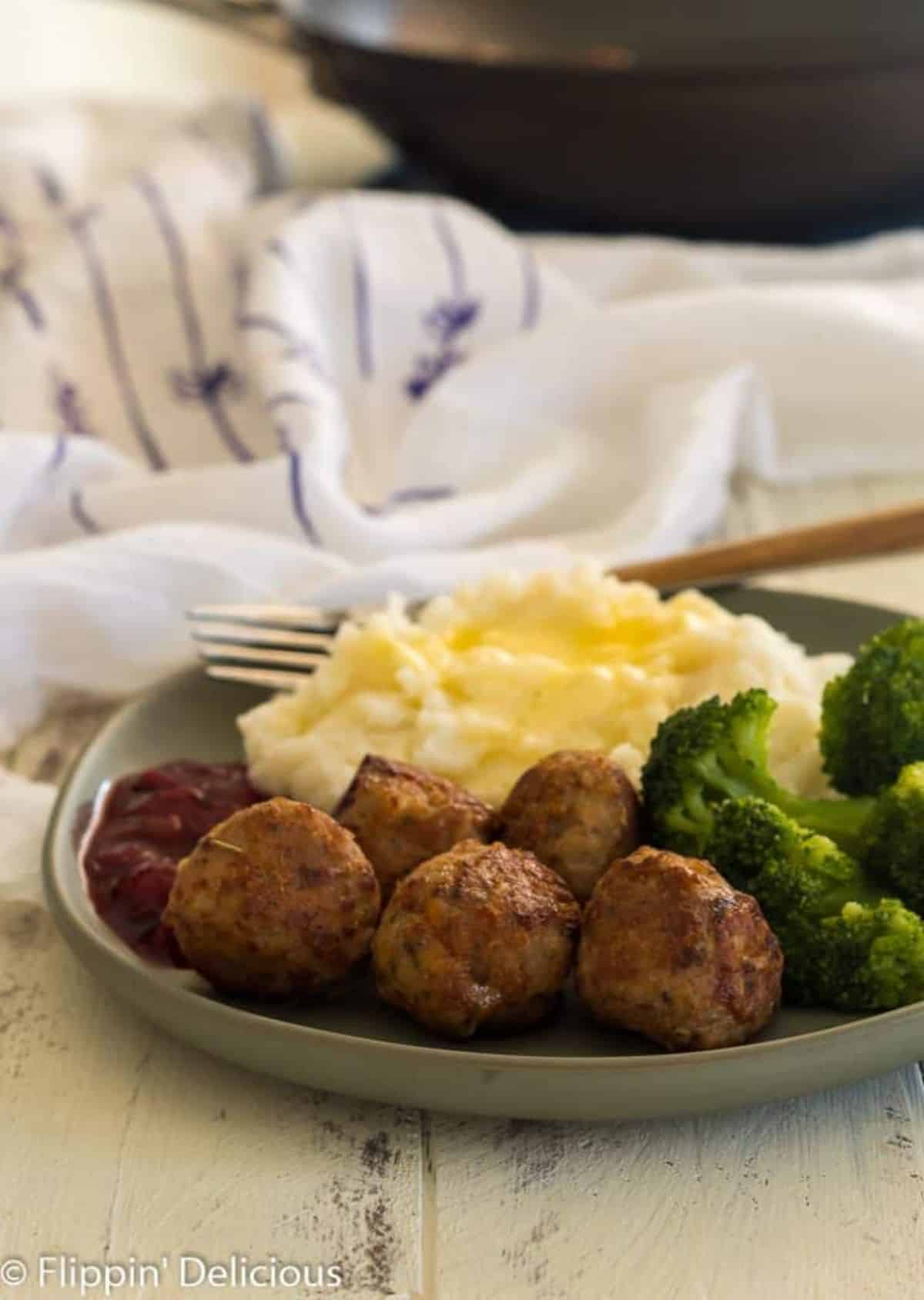 These gluten-free meatballs can go into a spaghetti recipe or a sub or serve as a main dish with a vegetable and starch!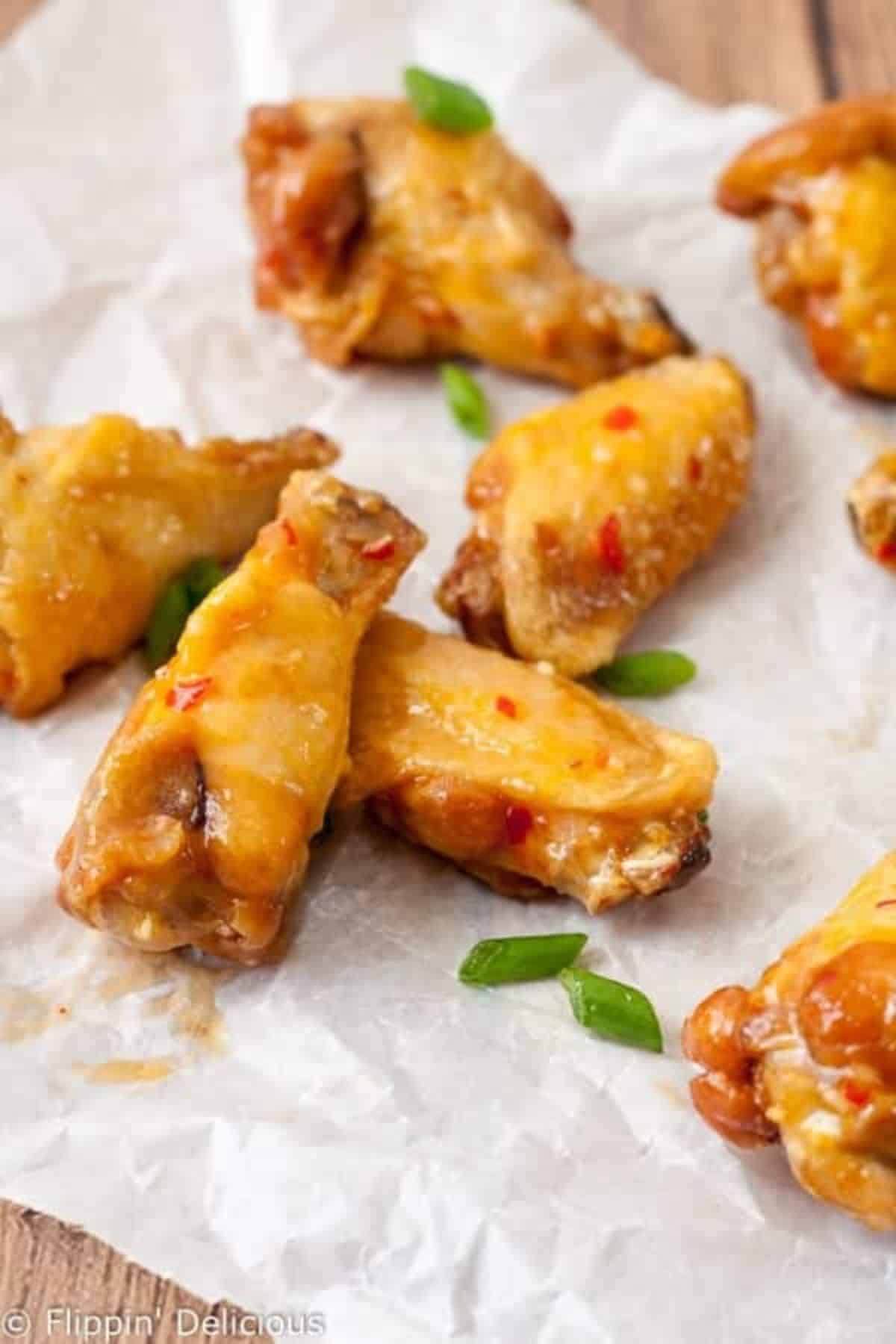 Gluten-free sweet chili wings bring spiciness and sweetness to the table for a satisfying punch of flavor.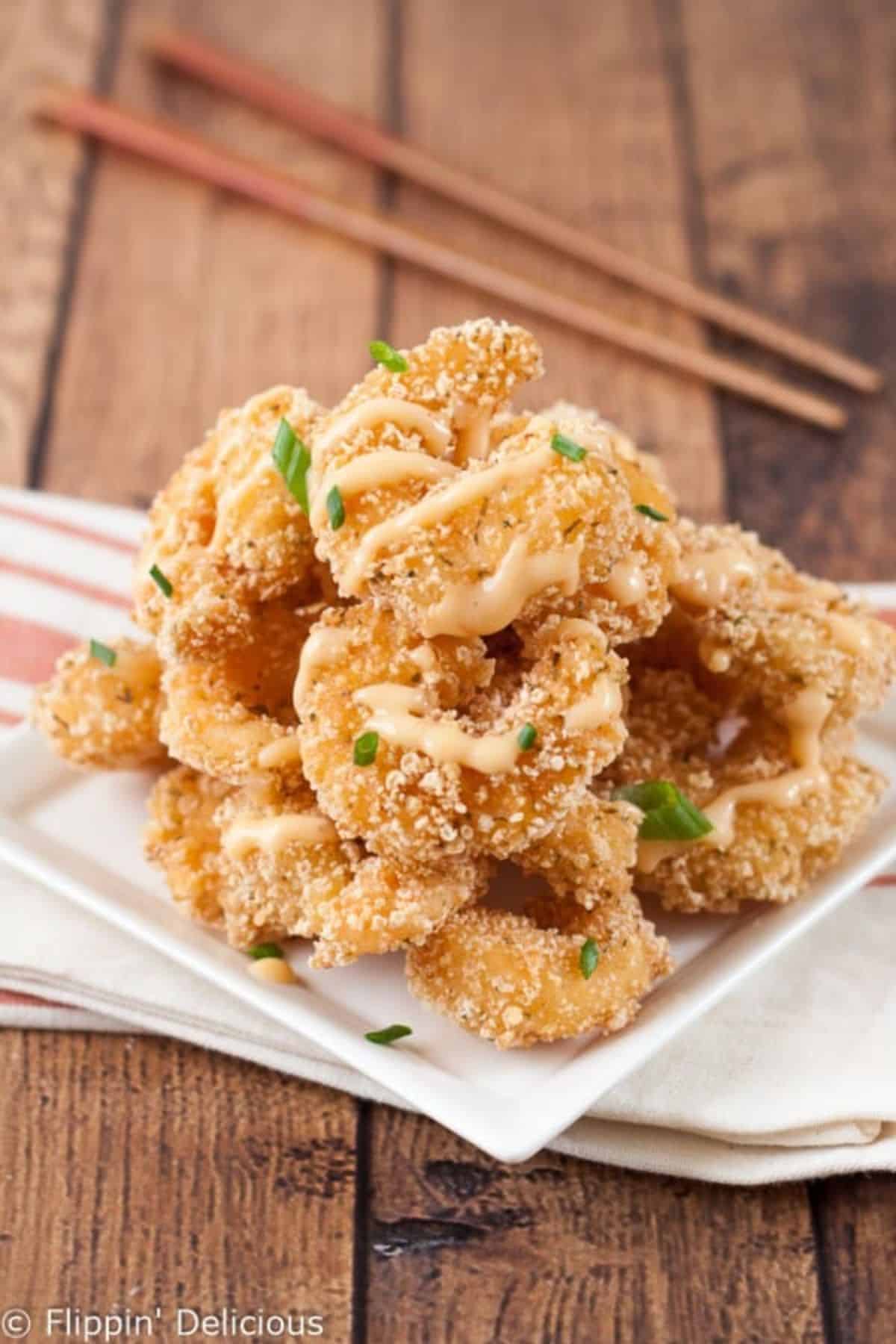 What's not to love about breaded seafood with a spicy sauce?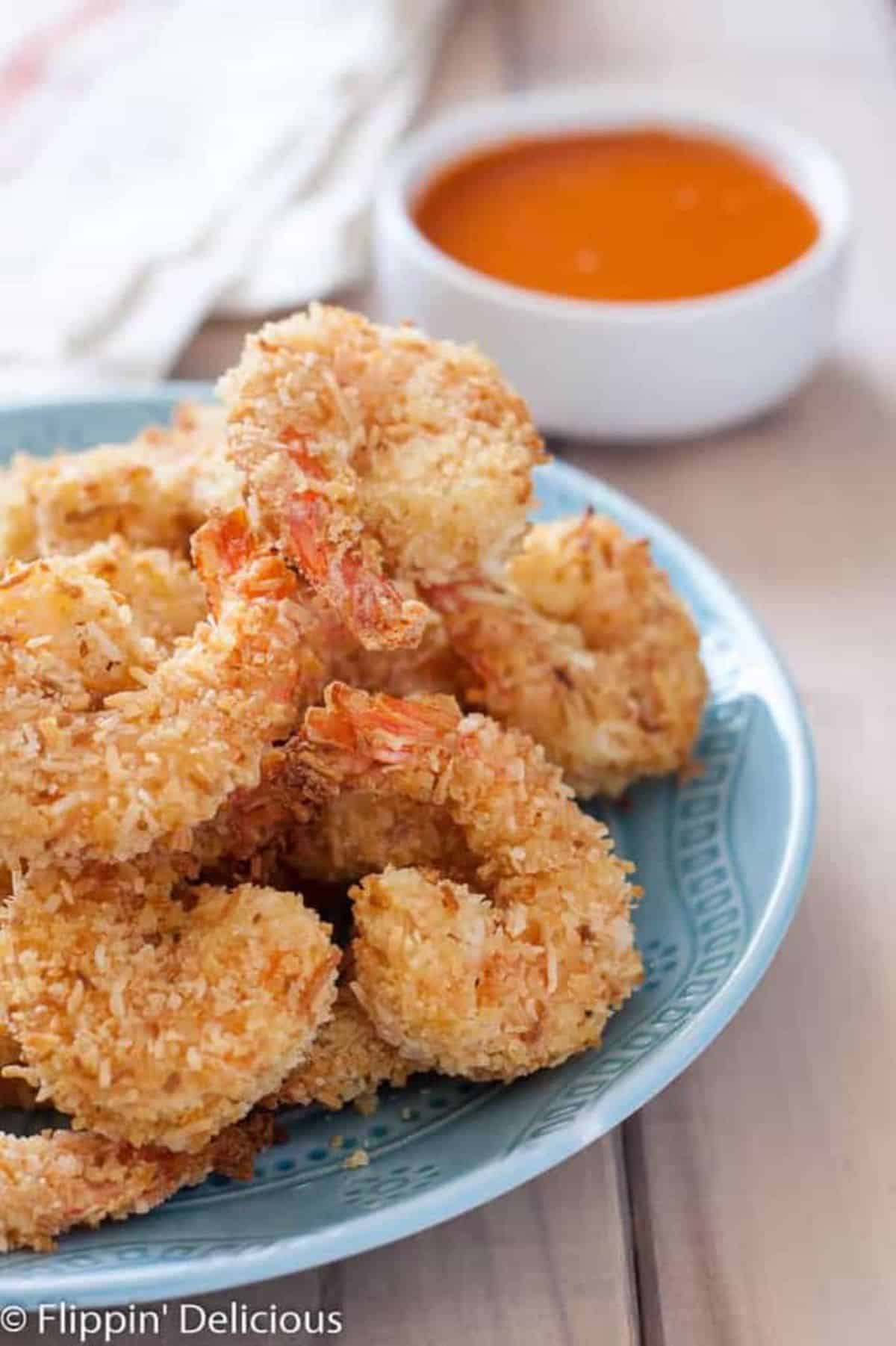 When you're making the Bang Bang shrimp, make a batch of these coconut shrimp for a seafood fiesta!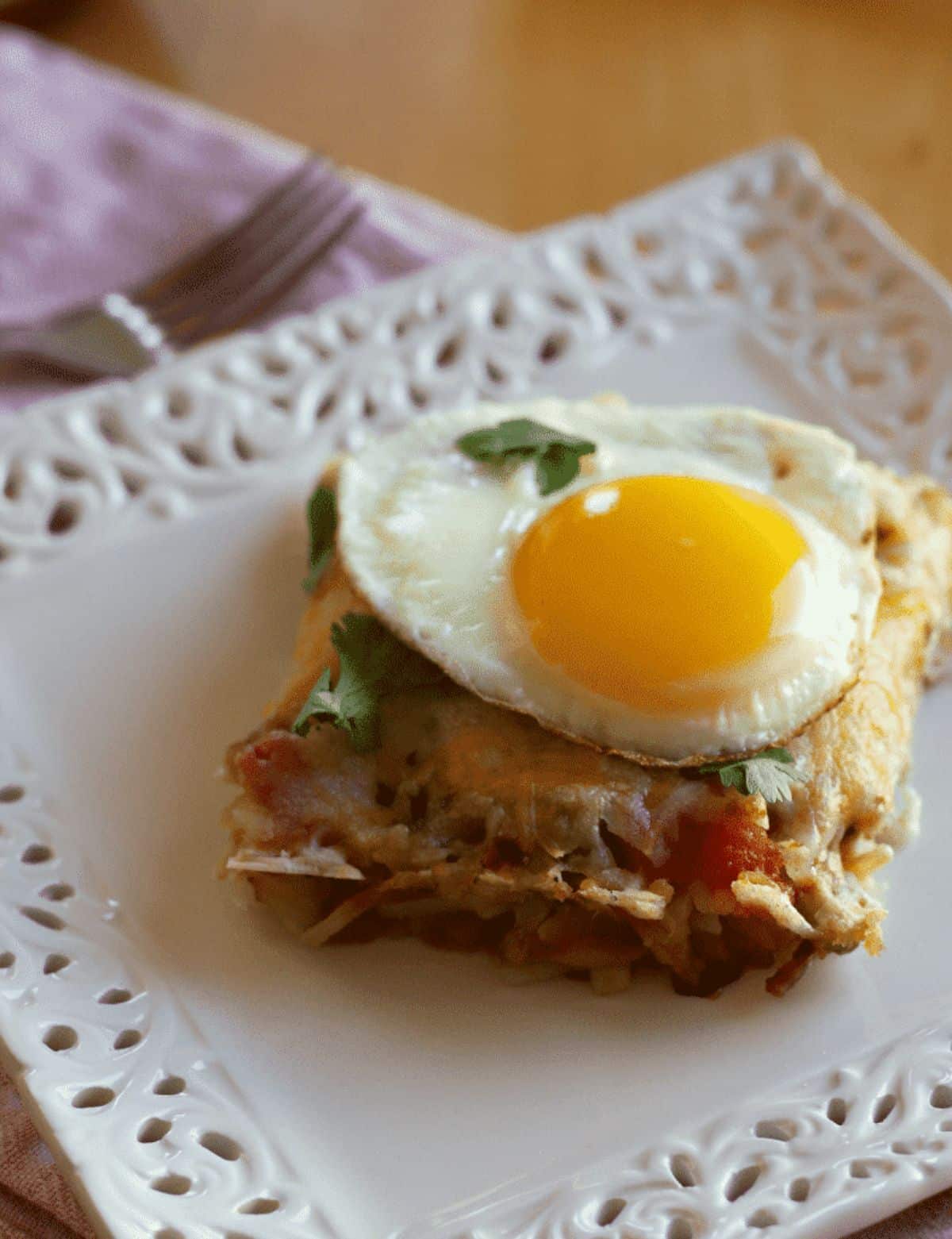 The egg and hash browns in this gluten-free Huevos Rancheros hashbrowns casserole complete a breakfast or brunch experience!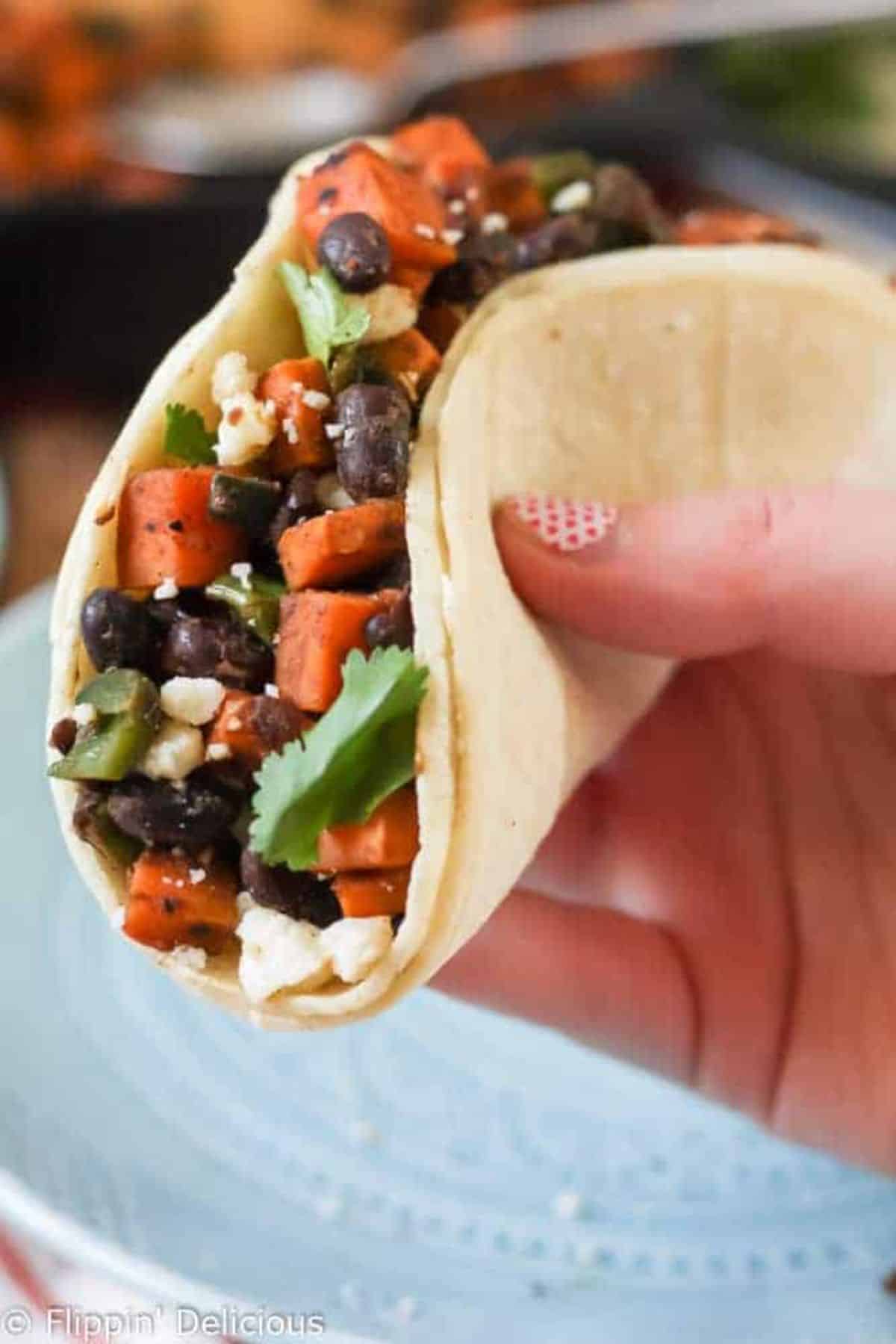 The subtle sweetness of the sweet potato and the earthiness of the black beans tie together this vegetarian taco recipe.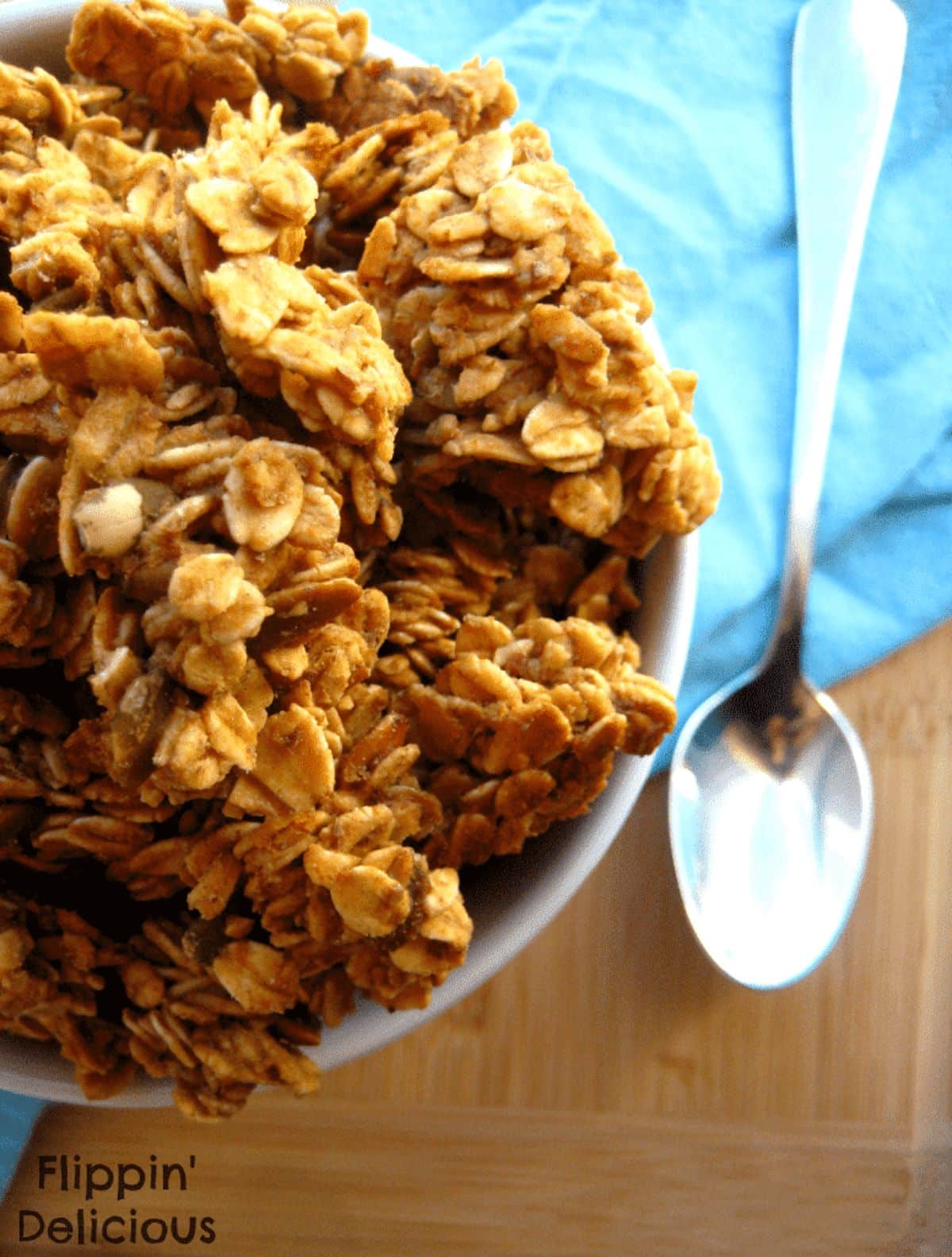 Salted caramel granola is a nice sweet treat for any time of the day. Eat the granola by itself, treat it like cereal, or mix it in yogurt!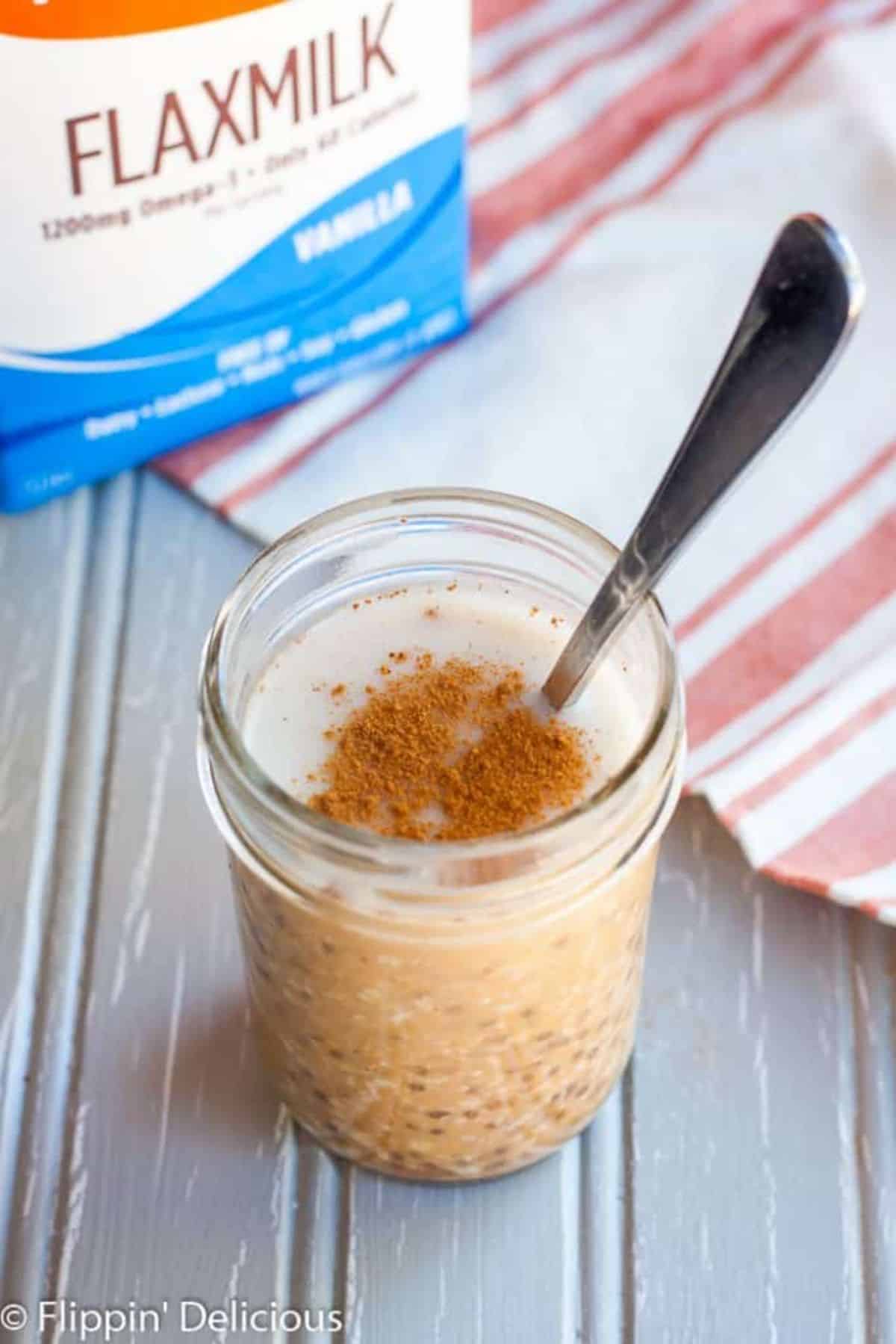 Pumpkin Pie overnight oats are delicious during the autumn season, but they can be a year-round breakfast or snack!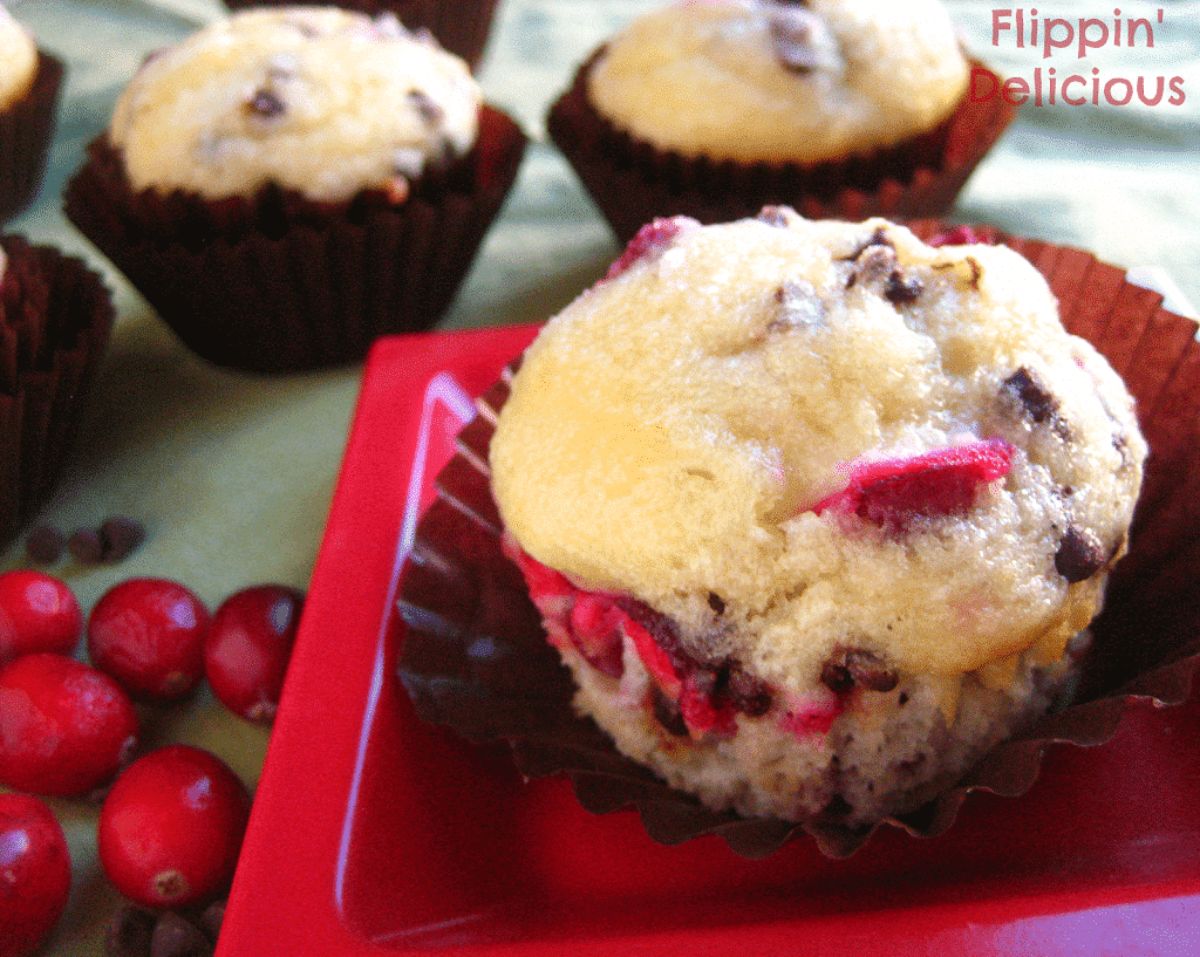 The tartness of cranberries and sweet chocolate completes these gluten-free cranberry chocolate muffins. Use dark chocolate as a substitute to boost your antioxidant intake.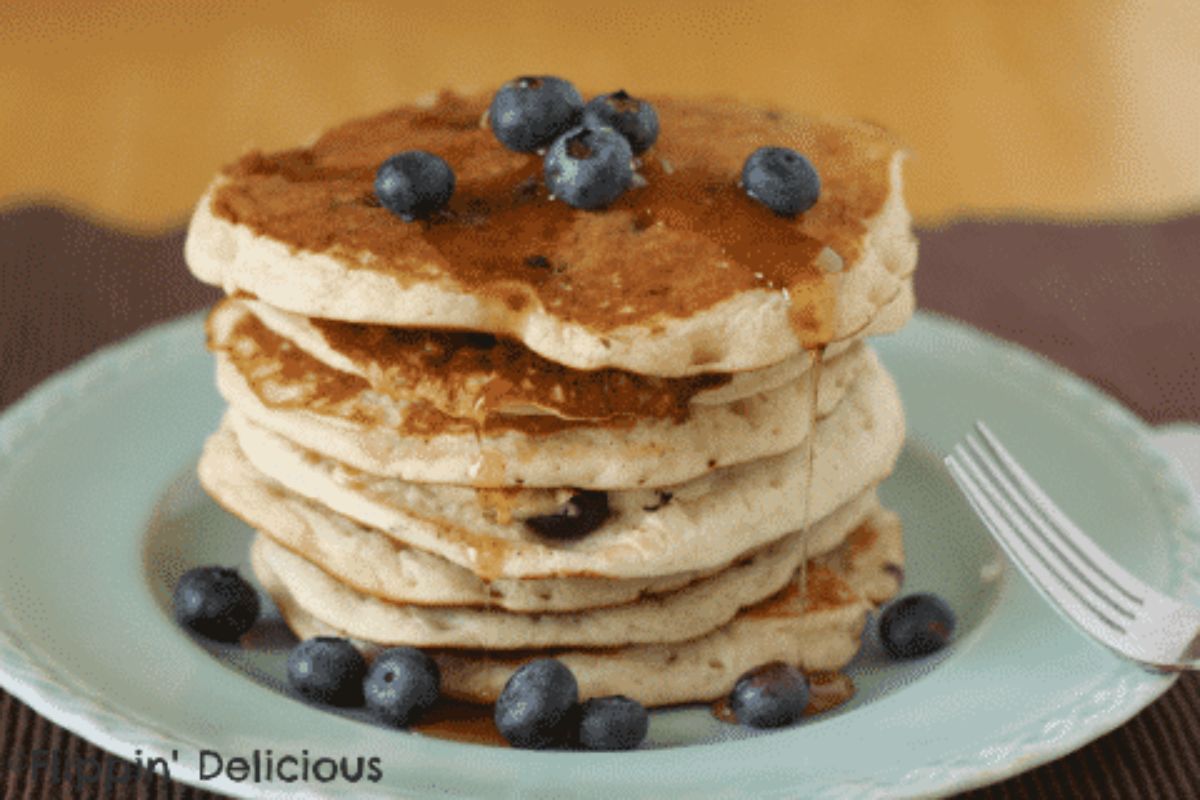 Bananas and blueberries are beautifully delicious together, especially in a breakfast recipe.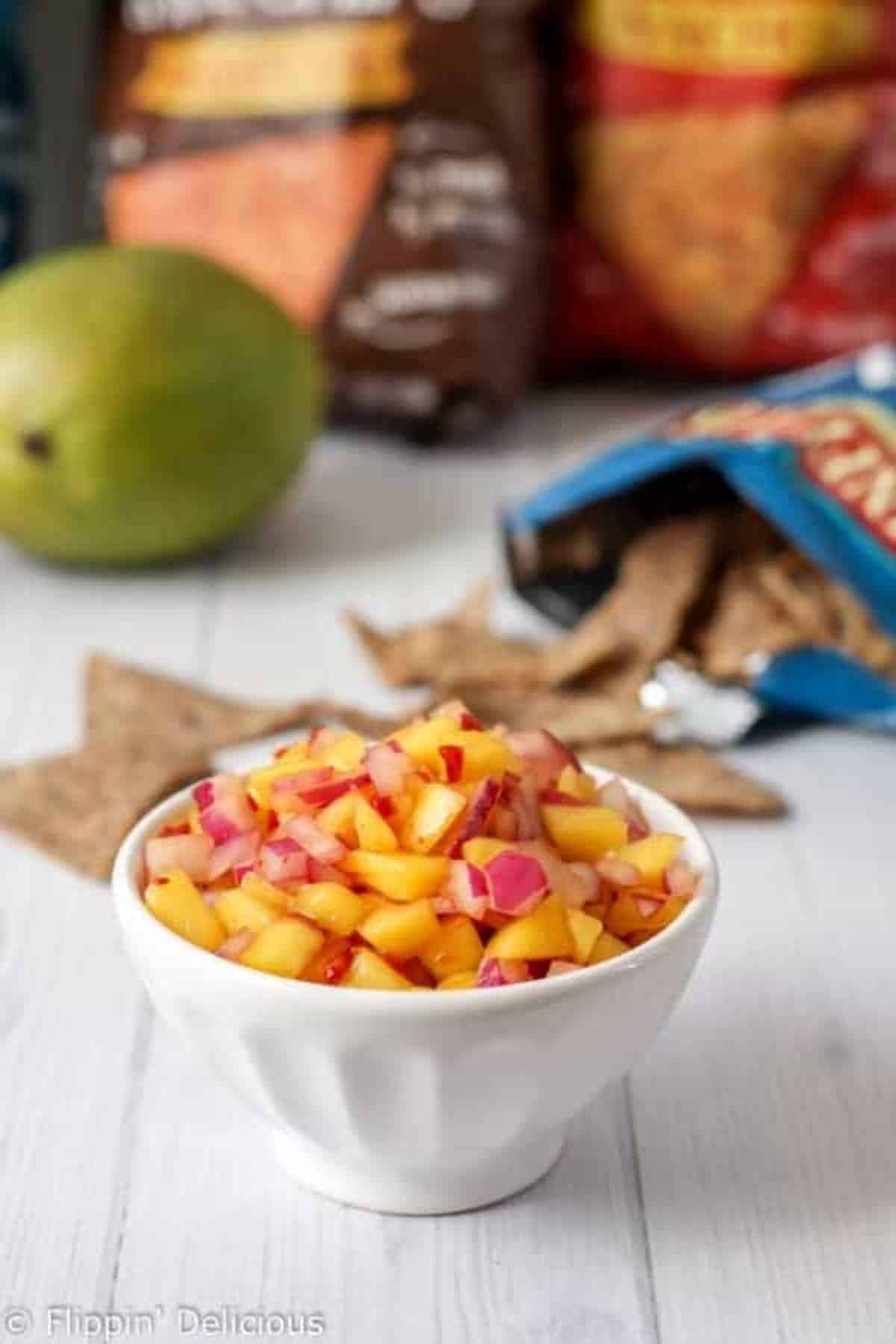 Chipotle mango salsa requires only a few ingredients: diced red onions, diced mangoes, and gluten-free chipotle pepper in Adobo sauce.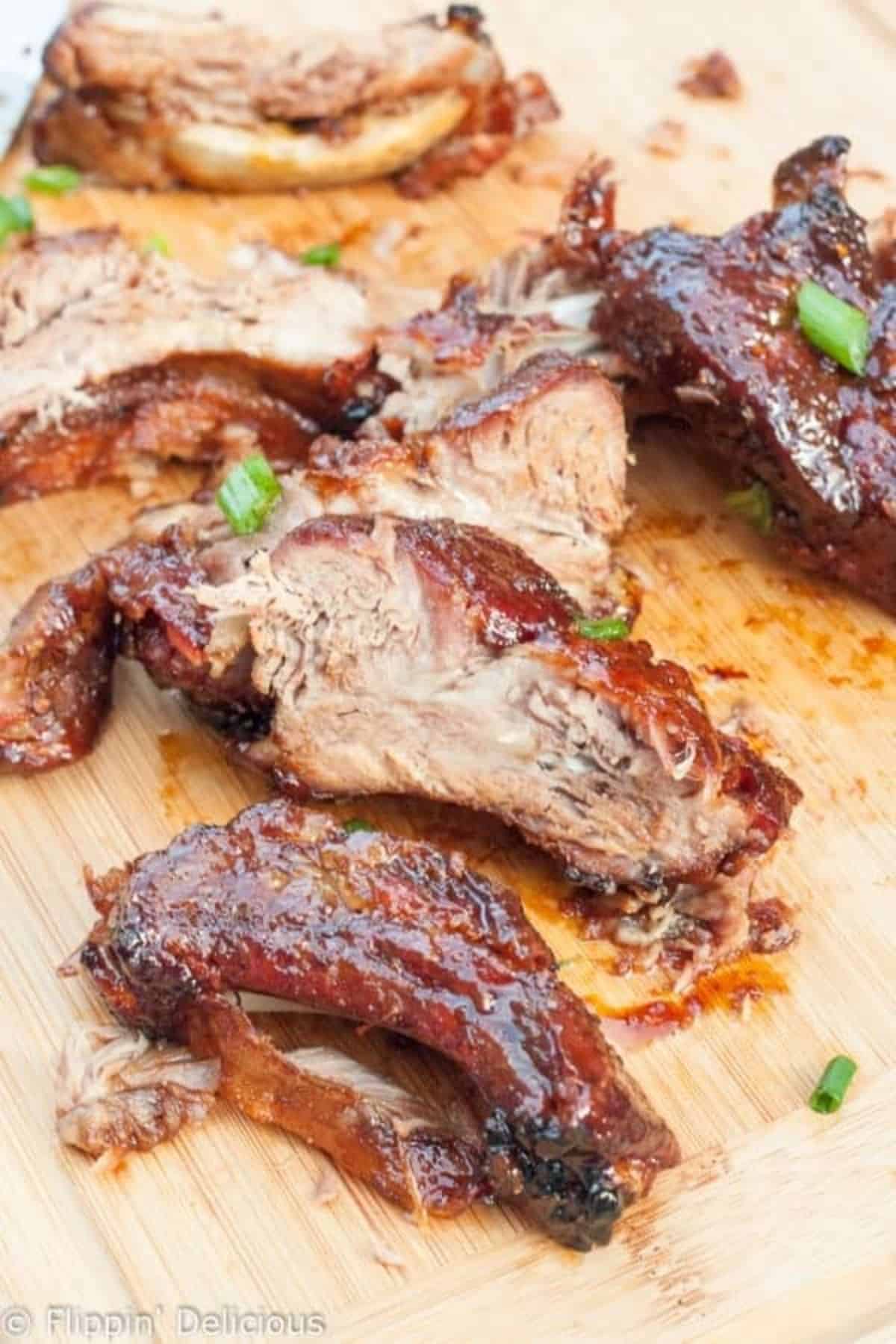 Notes of ginger, garlic, and sesame oil will tie in the quintessential Asian flavors.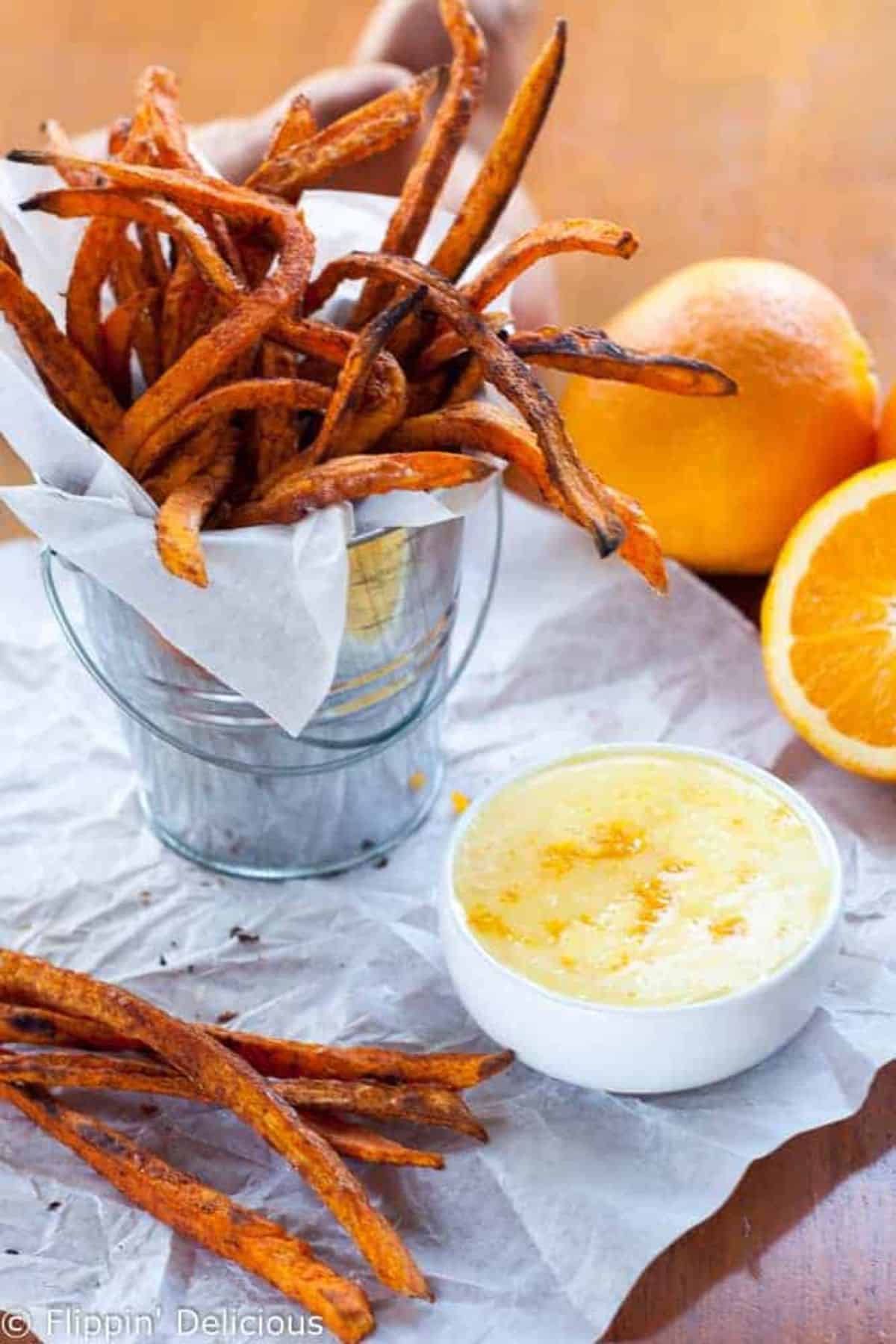 Crispy baked sweet potato fries with a side of orange zest icing dip is a twist on a classic.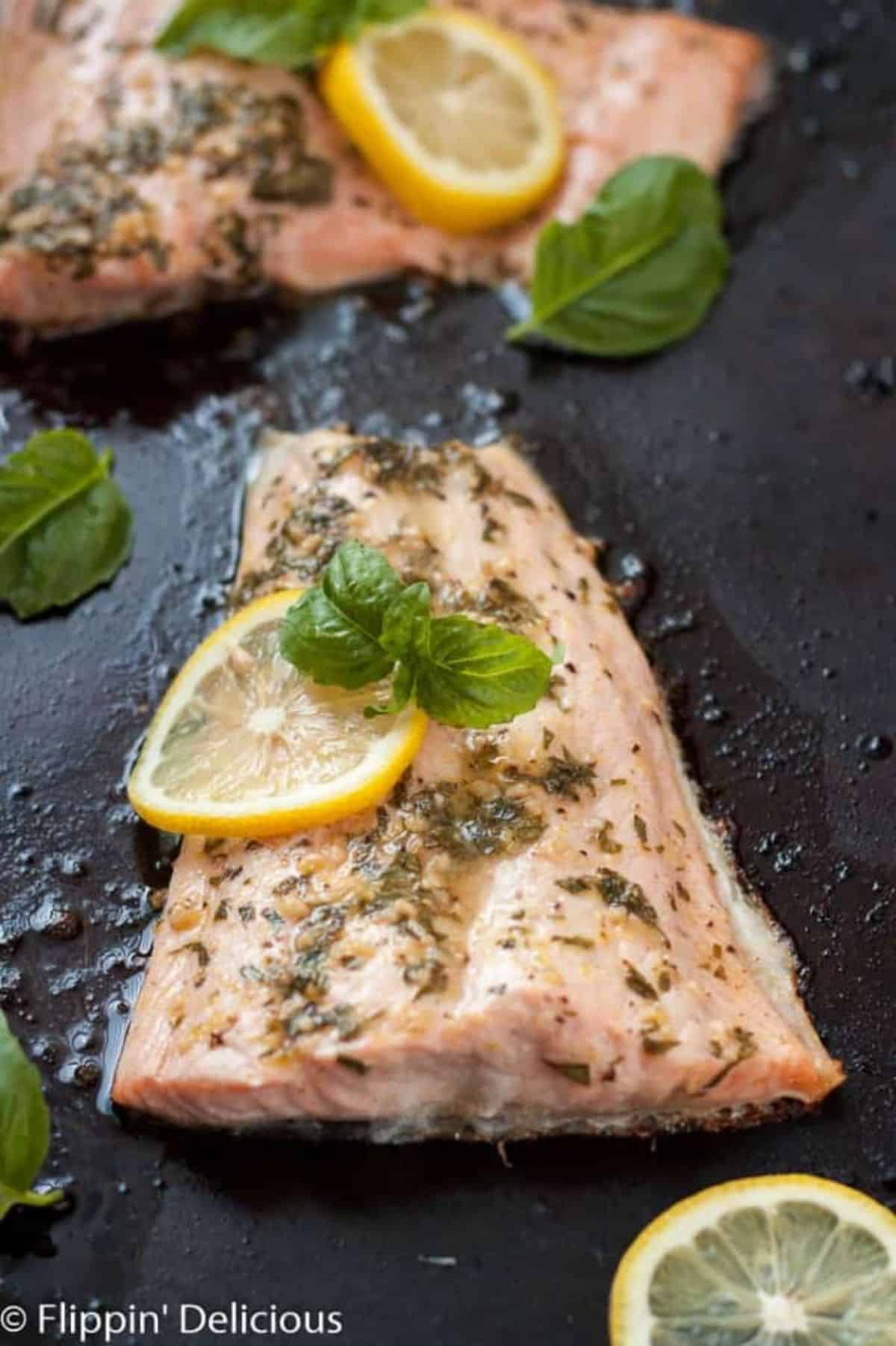 Lemon basil salmon is an earthy and citrusy fish dish.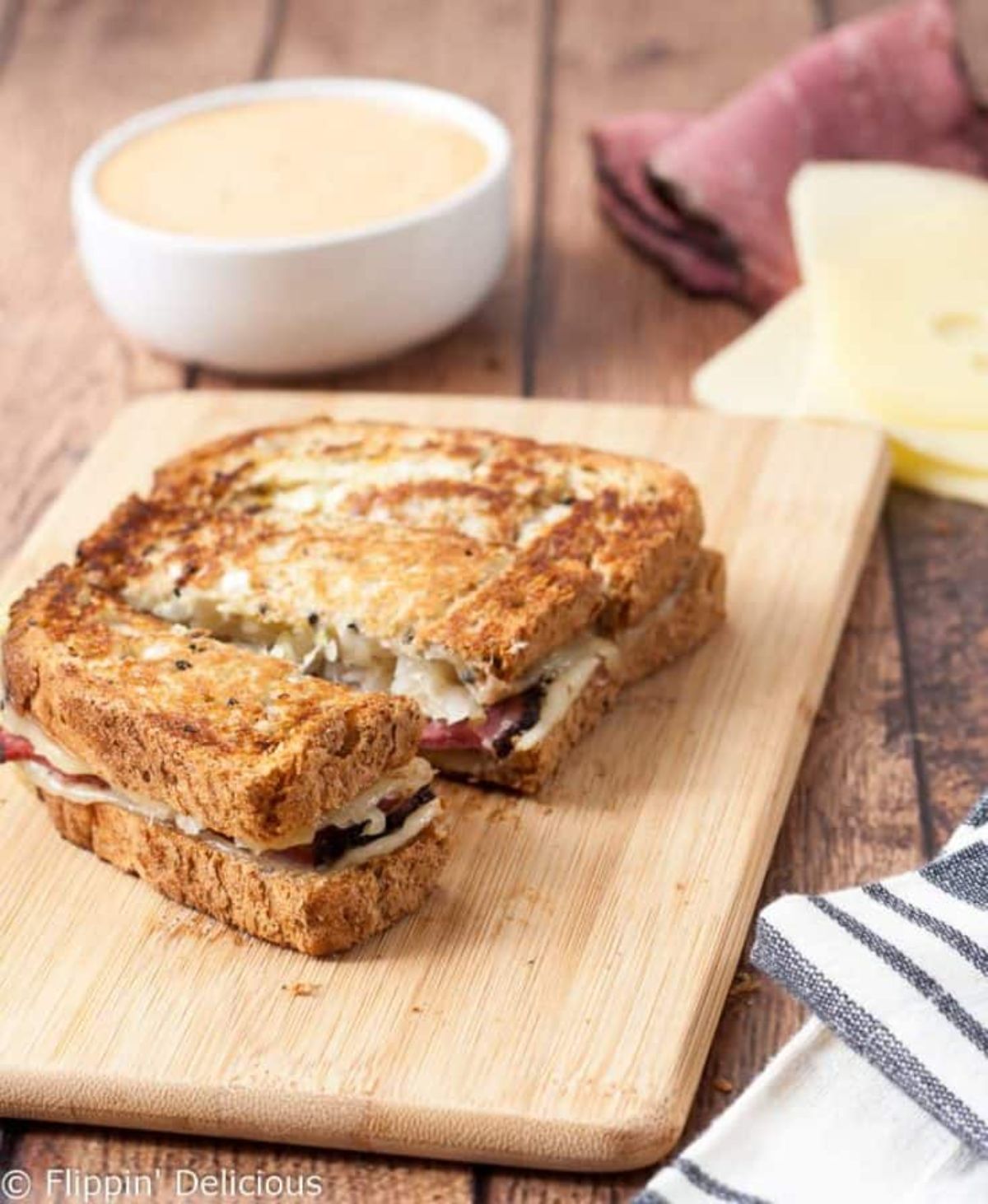 Gluten-free Reuben sandwiches are a meaty and zesty delight in between two bread slices. Don't worry: the rye bread is gluten-free!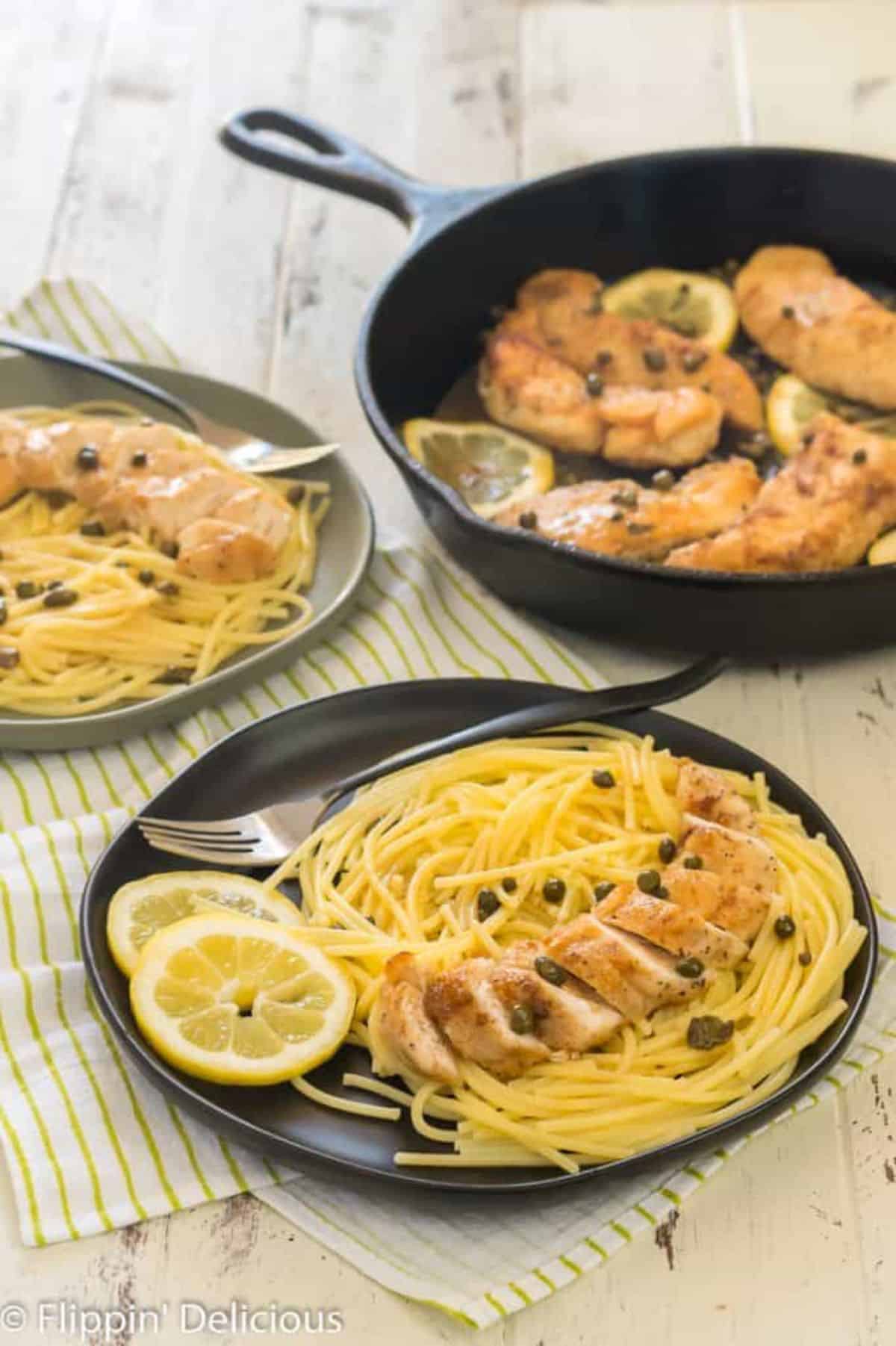 Take a trip to Italy without boarding a plane. This gluten-free chicken piccata is moist, briny, and tart, thanks to the lemon juice and capers.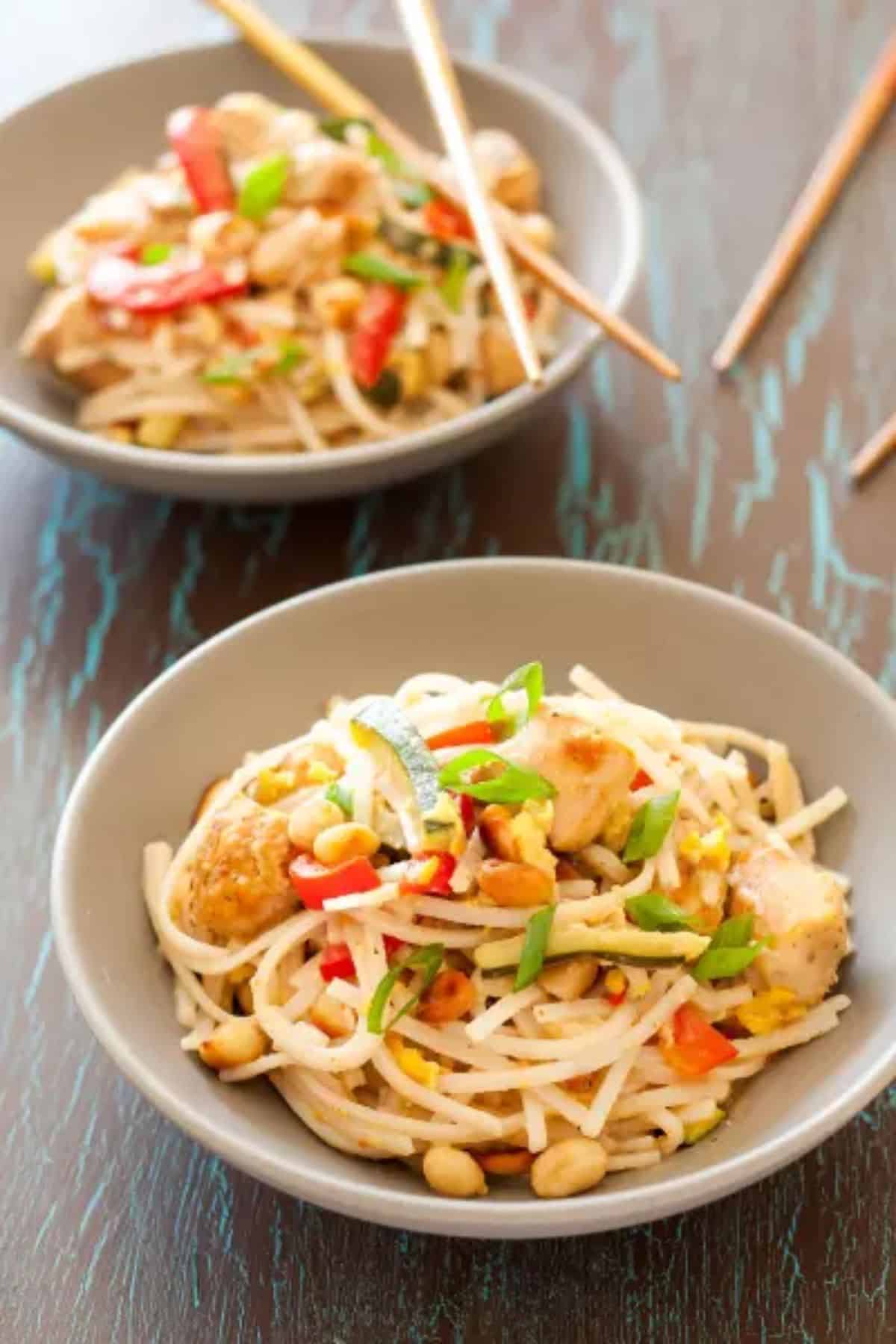 Asian takeout just became take-in! The fish sauce, crunchy peanuts, and natural peanut butter mixed with fresh vegetables and gluten-free rice sticks will satisfy your umami taste buds.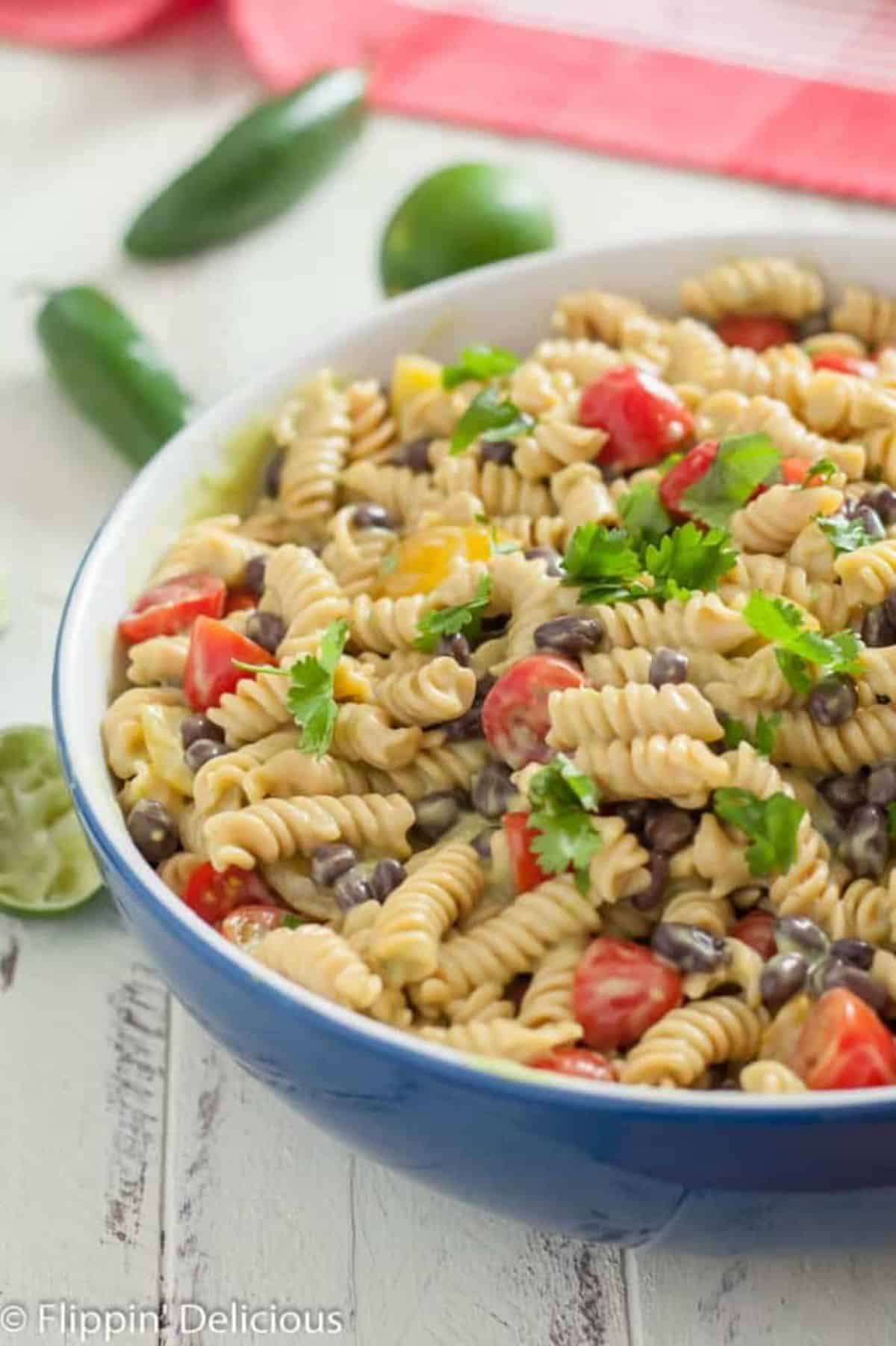 The different flavor profiles of the vegetables with the avocado dressing will tame the pickiest eater! Avocados have 67% monounsaturated fat, a healthier alternative to other fats in gluten-laden foods. Plus, avocado compliments the flavors of tomatoes, black beans, and cilantro.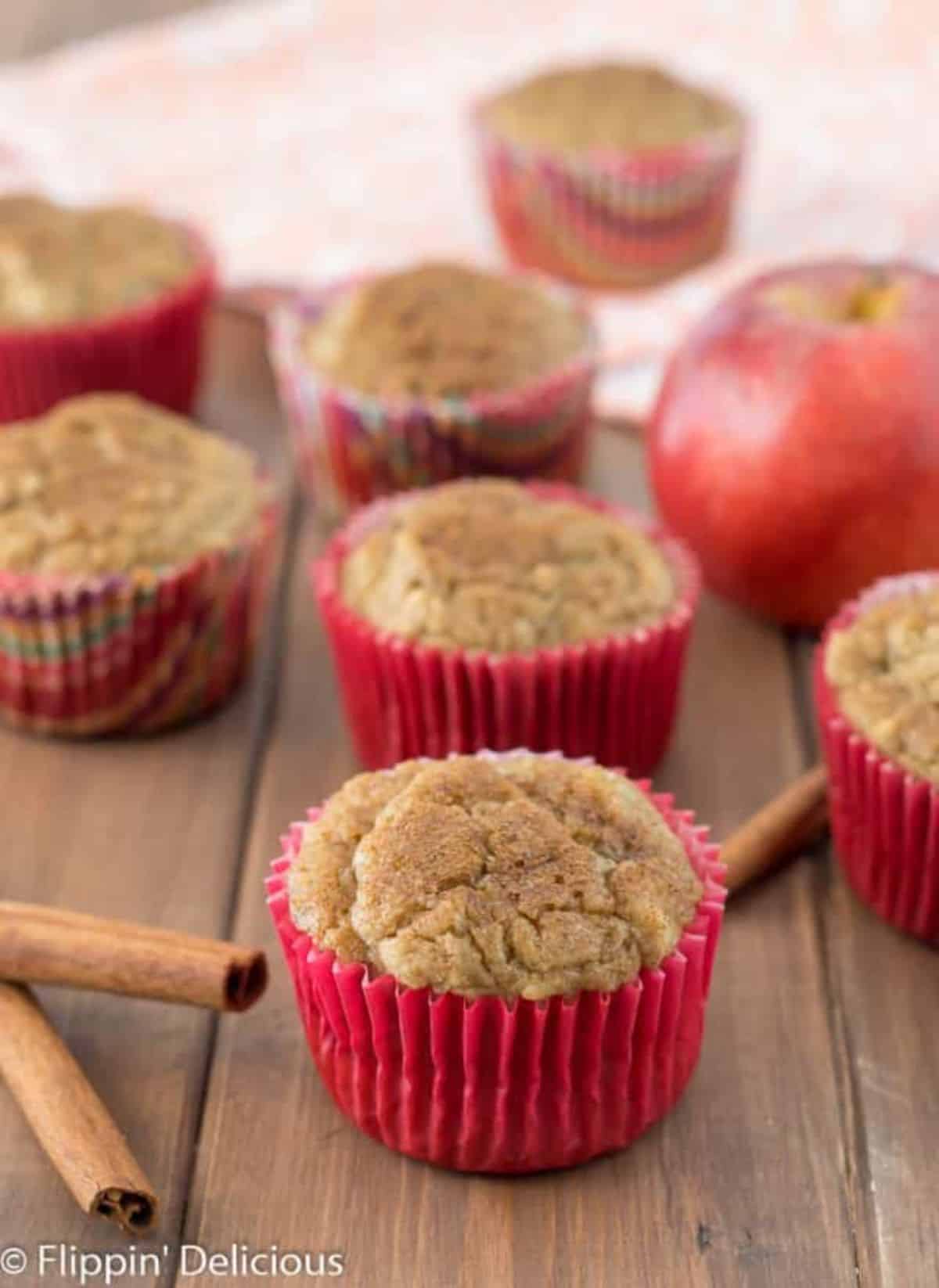 Put those apples sitting in the fruit basket to good use! Using a combination of your favorite fresh apple, and applesauce will create a more moist muffin.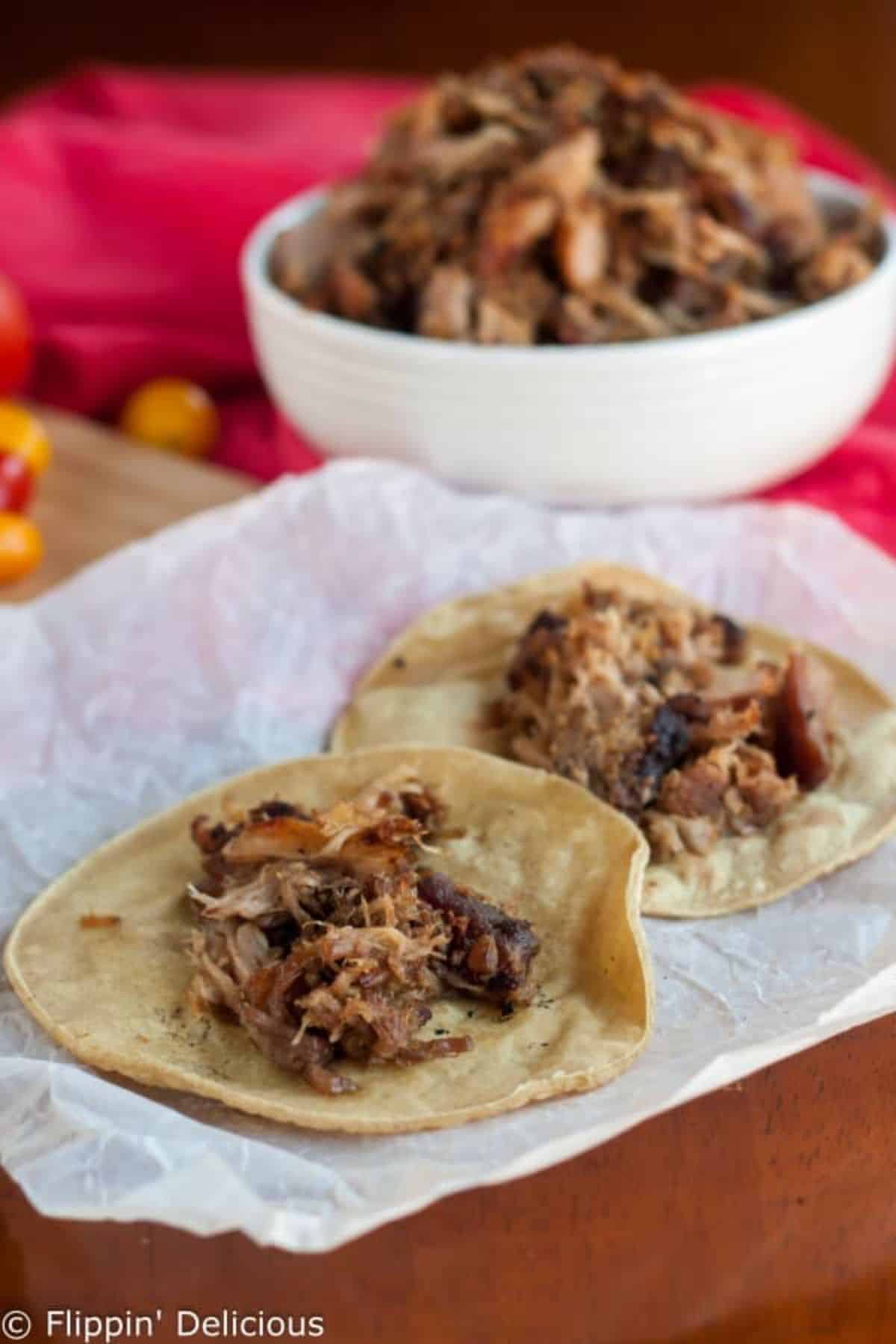 Carnitas are flavorful and sweet thanks to the brown sugar and range of simple Mexican spices. Use boneless ribs or a pork shoulder for the best results.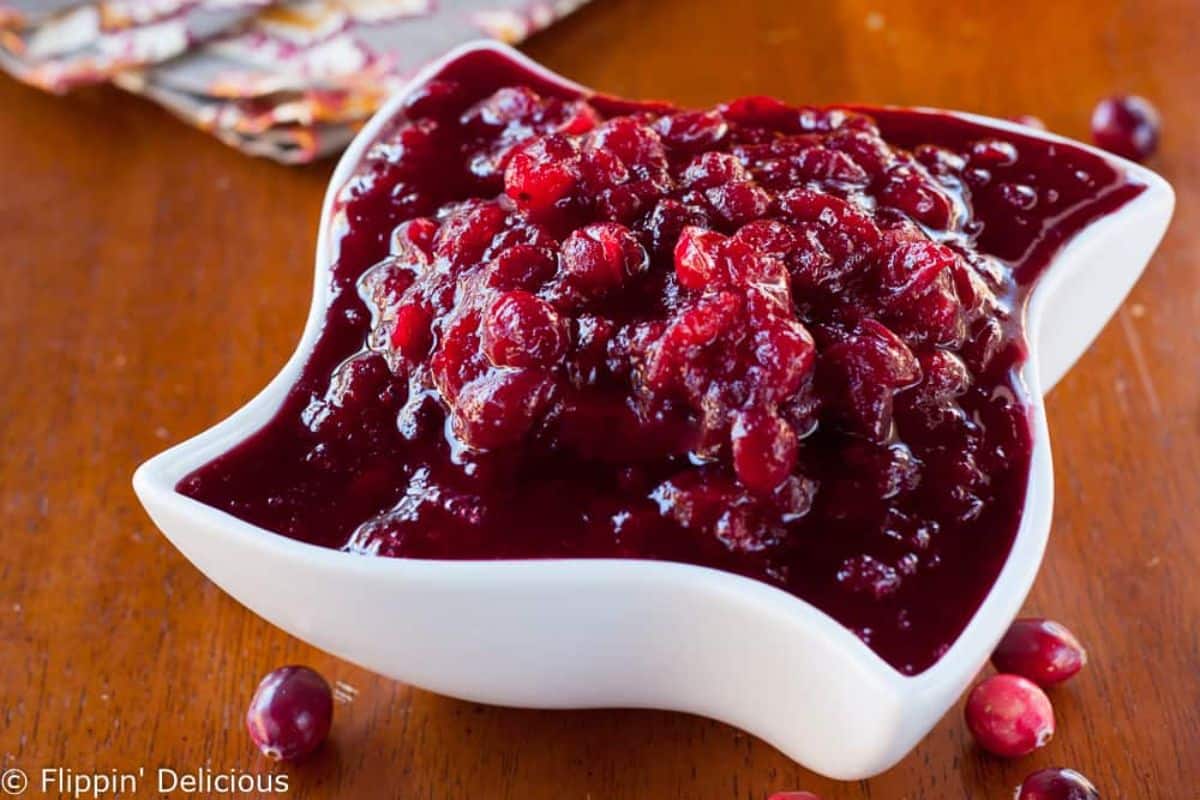 This 15-minute cranberry sauce recipe is a tart and refreshing side dish to complete any meal! Save this recipe for when you make Easter or Thanksgiving dinner.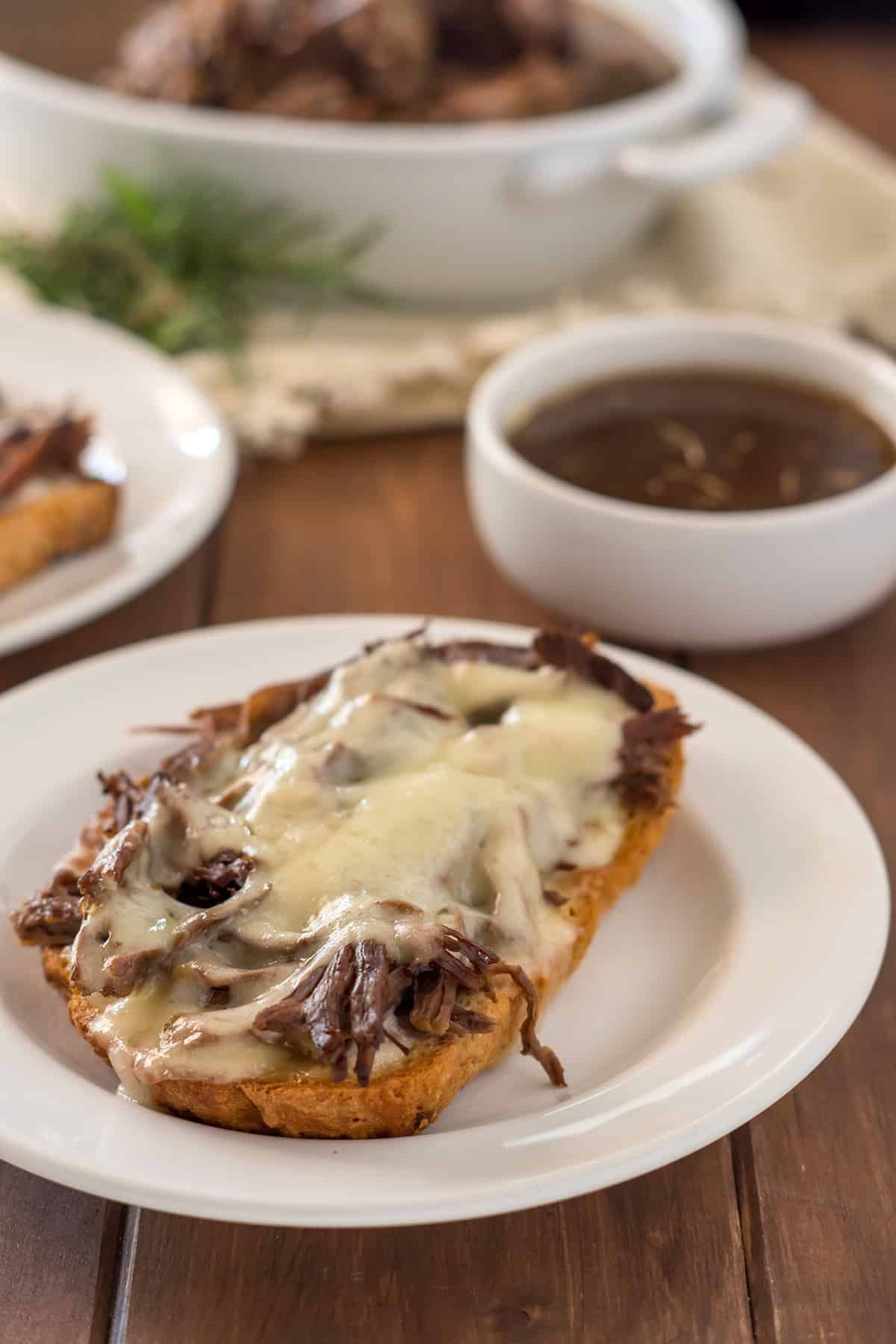 Gluten-free French dip sandwiches are a meaty, sumptuous meal!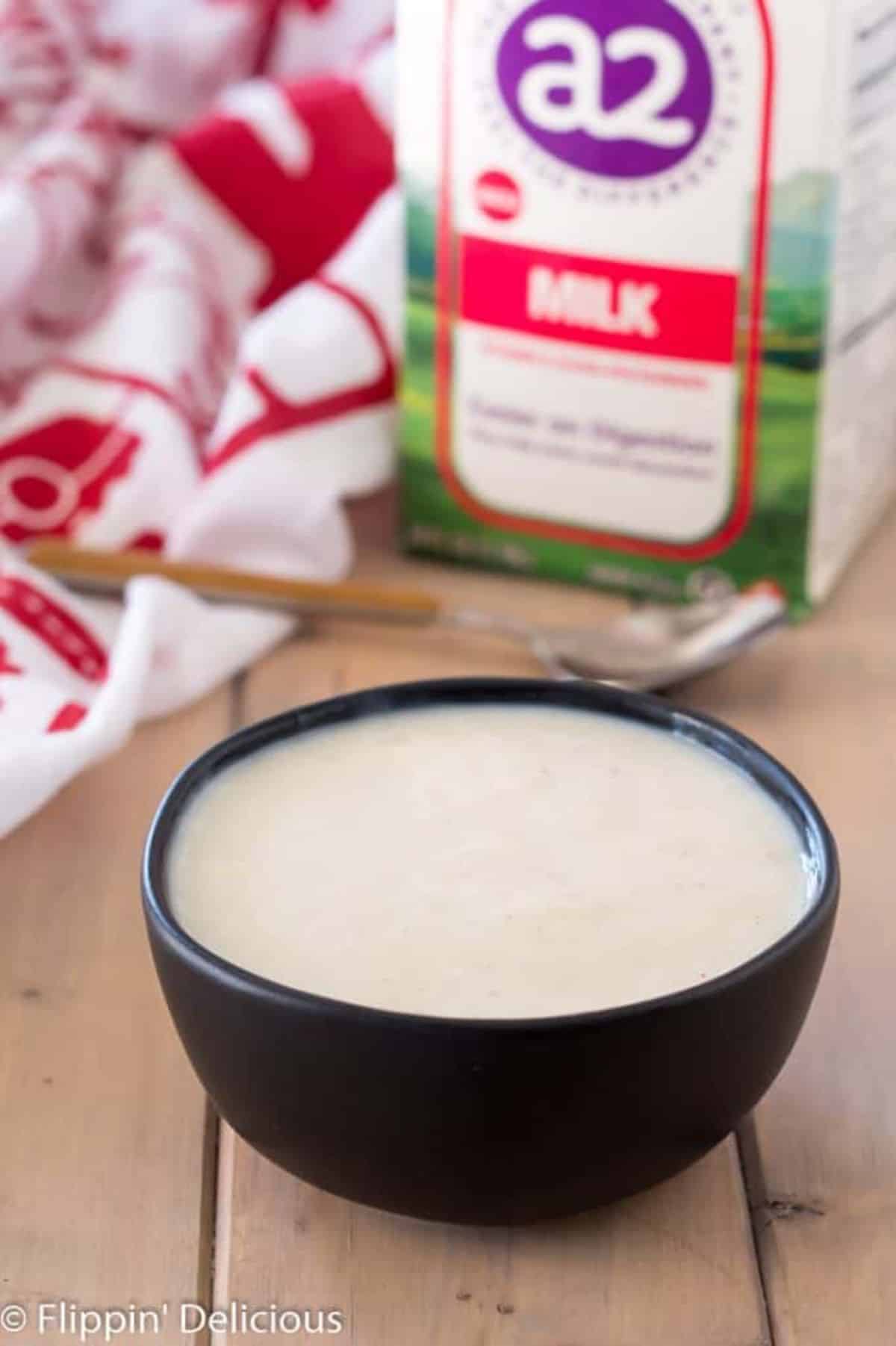 This gluten-free pudding recipe is great as a snack by itself, mixed into a custard pie or topped with raspberries or strawberries for more flavor.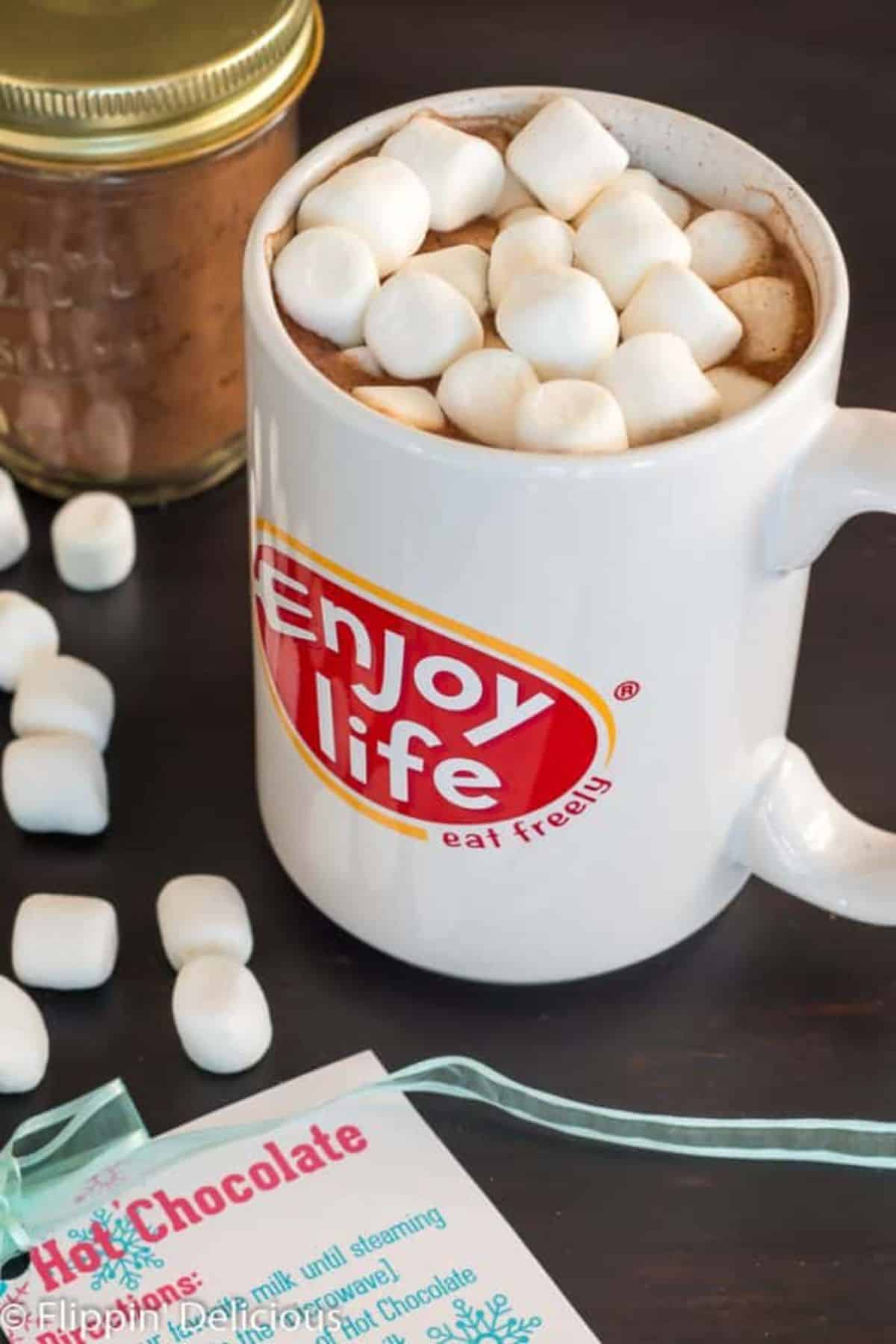 This vegan hot chocolate mix can easily be stored in your pantry for when you're ready to add hot water or milk to it to enjoy on a cold day.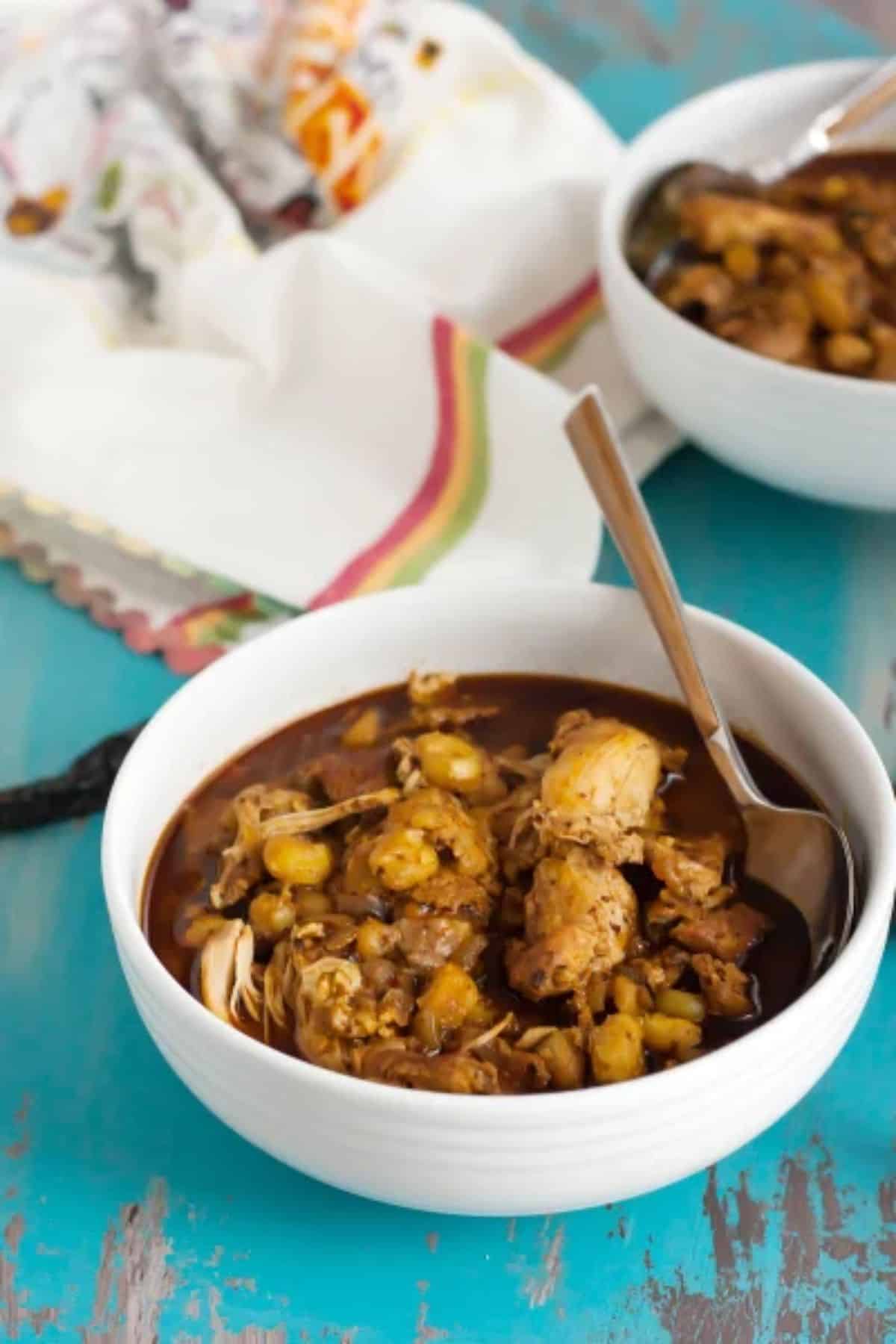 Chicken posole is a savory, zesty dish that's almost like eating a taco from a bowl!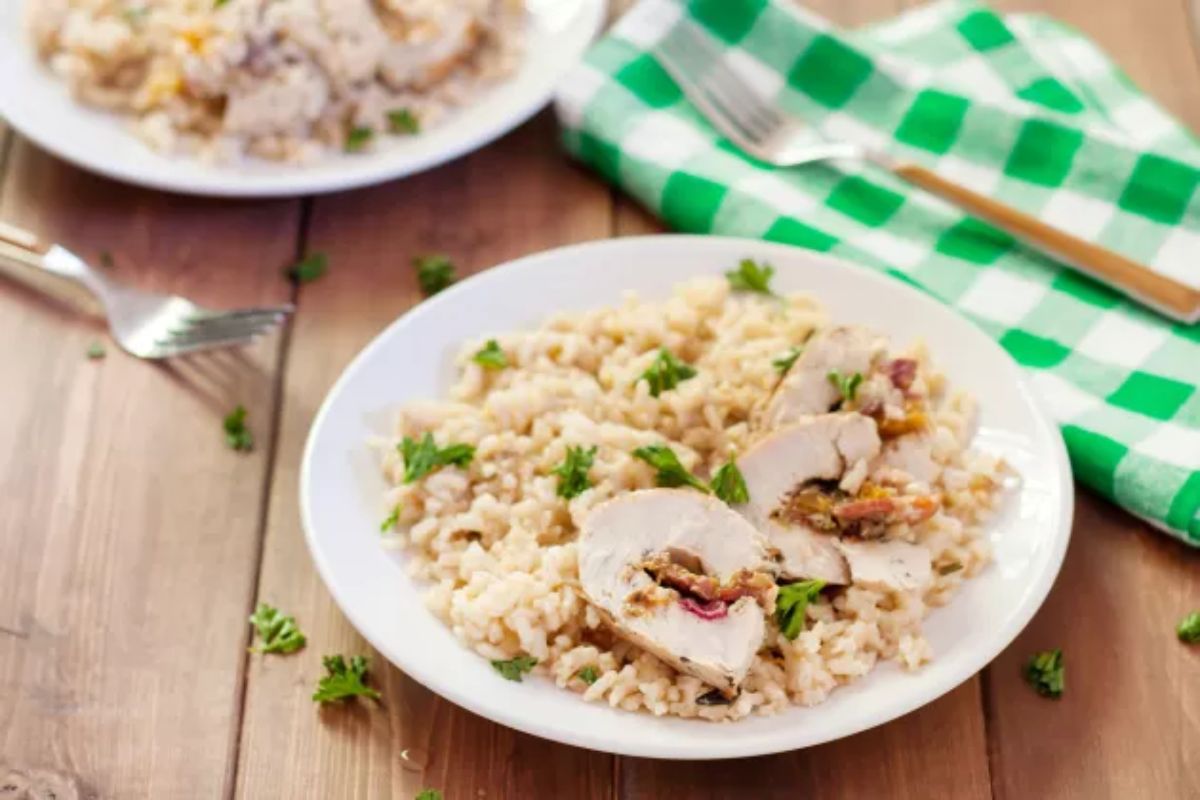 It takes less than an hour to make this sumptuous stuffed turkey tenderloin in your Instant Pot!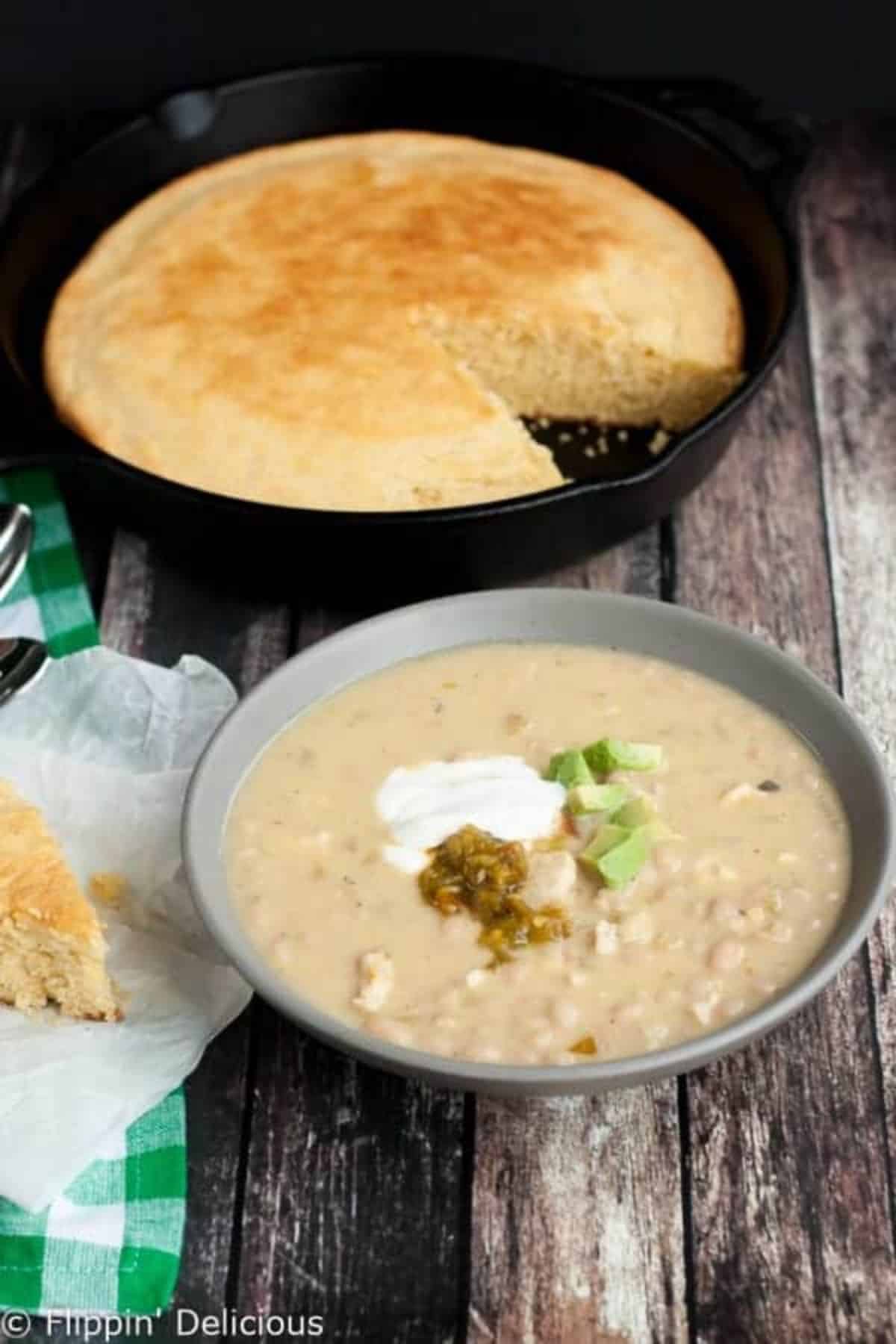 While beef and red bean chili is the classic, the green chile white bean chicken chili is the flavorful twist on a tradition!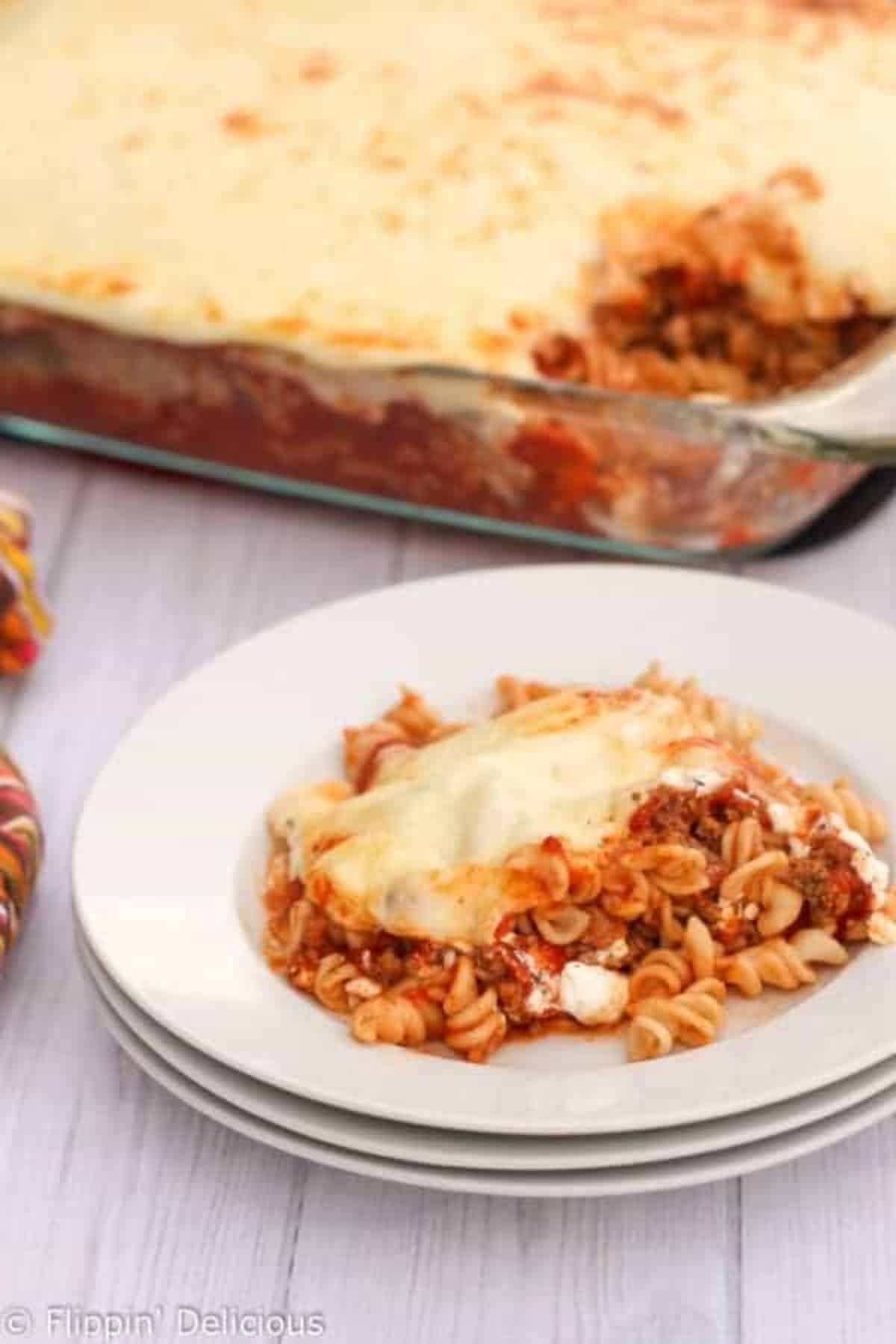 If you hate Mondays like Garfield, whip up some of this gluten-free lasagna casserole to take away the woes.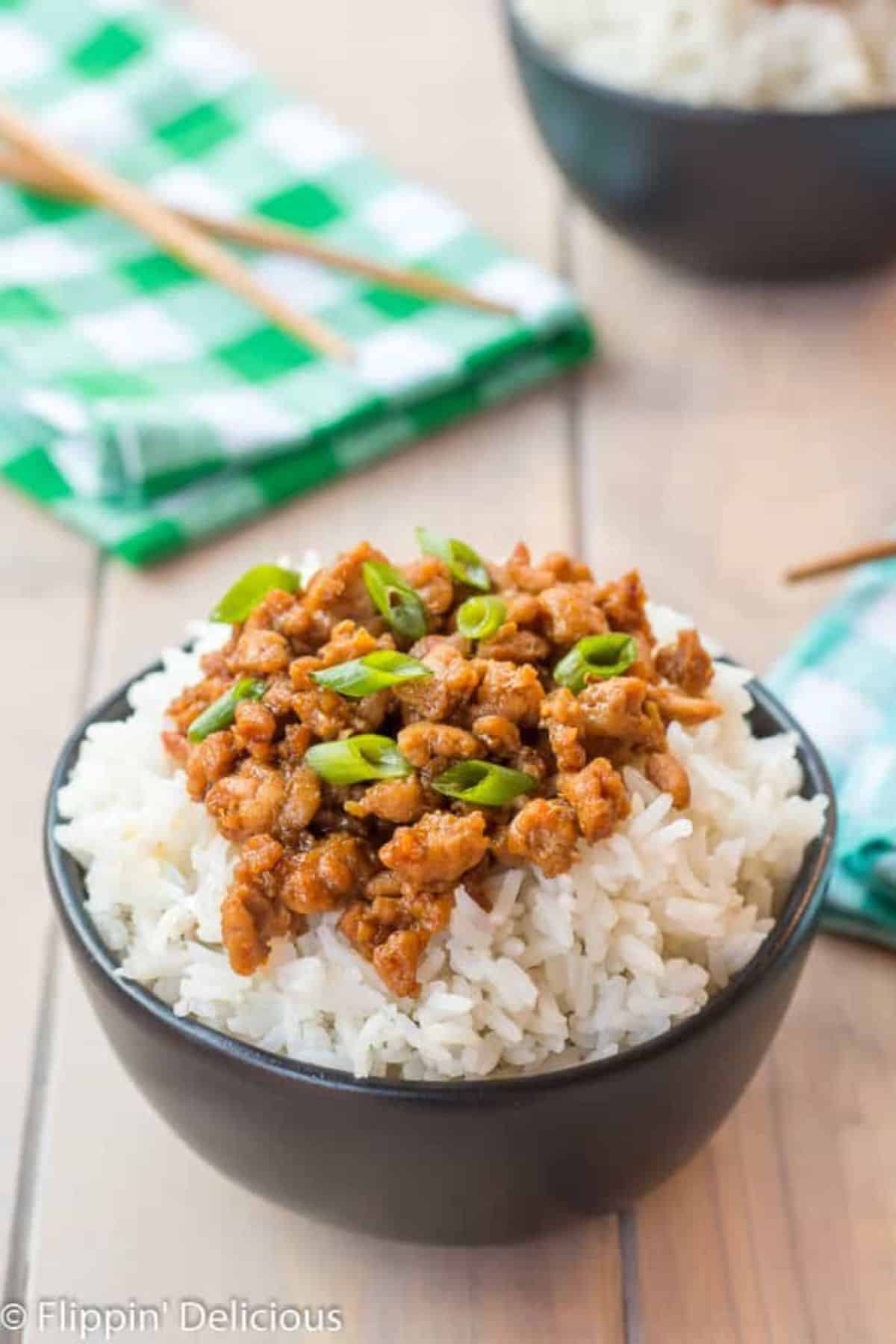 Have the gluten-free Korean ground turkey and rice bowl ready in minutes. Cook and season the ground turkey, heat day-old rice, and enjoy!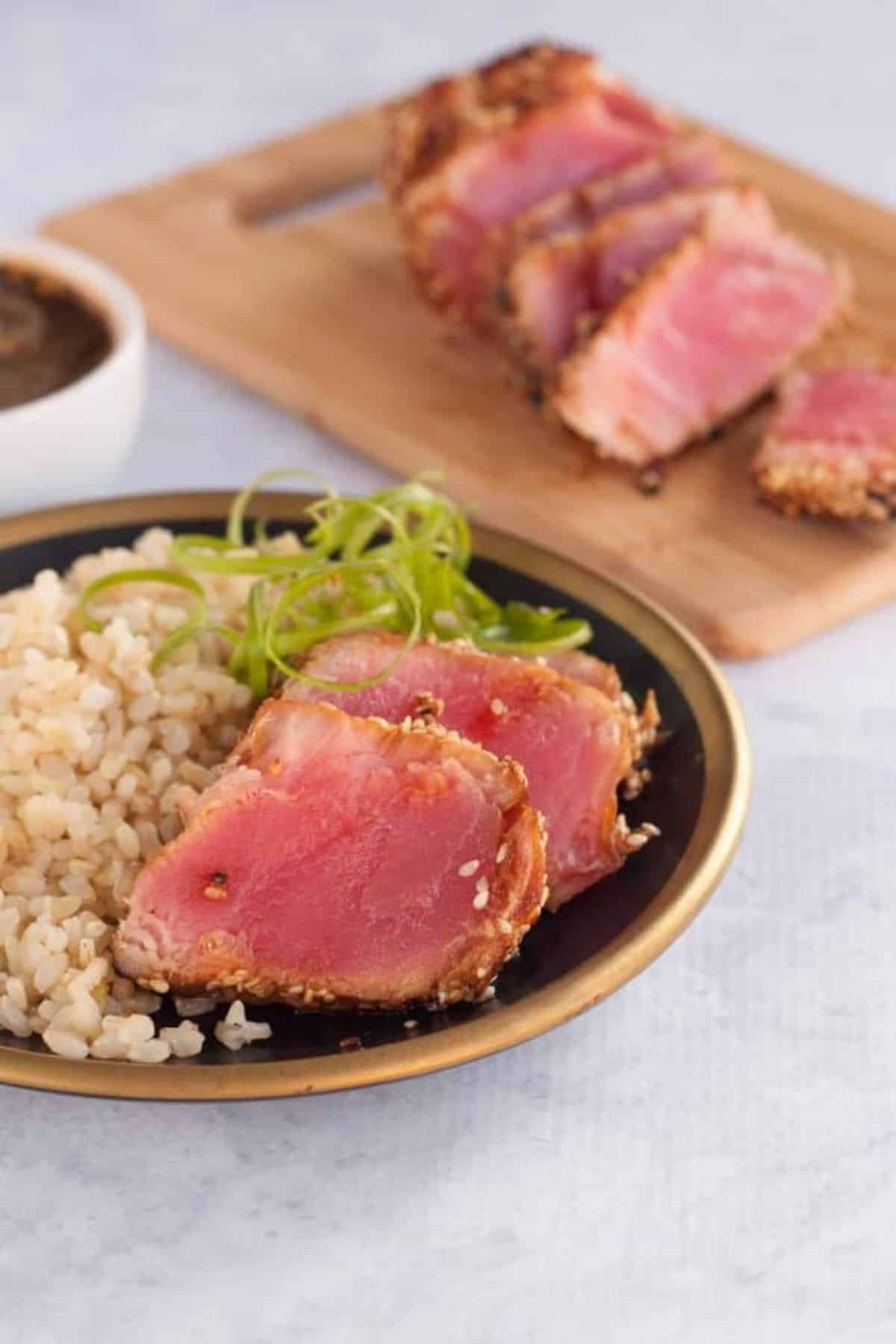 Sweet honey and salty soy sauce marinated in Ahi tuna steaks will satisfy your tastebuds.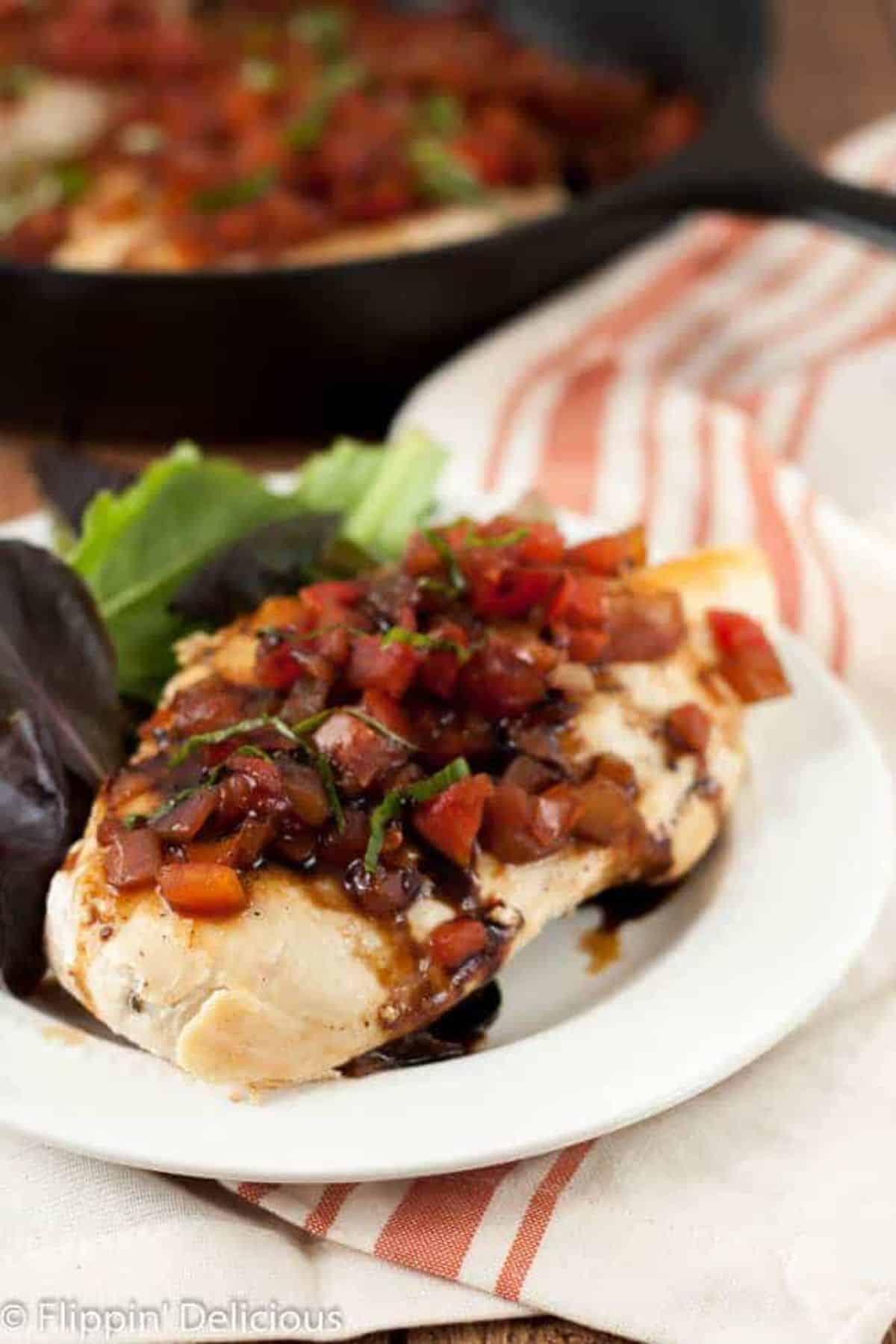 Bring out the balsamic vinegar, juicy Roma tomatoes, and zesty red onions to create this Bruschetta chicken skillet!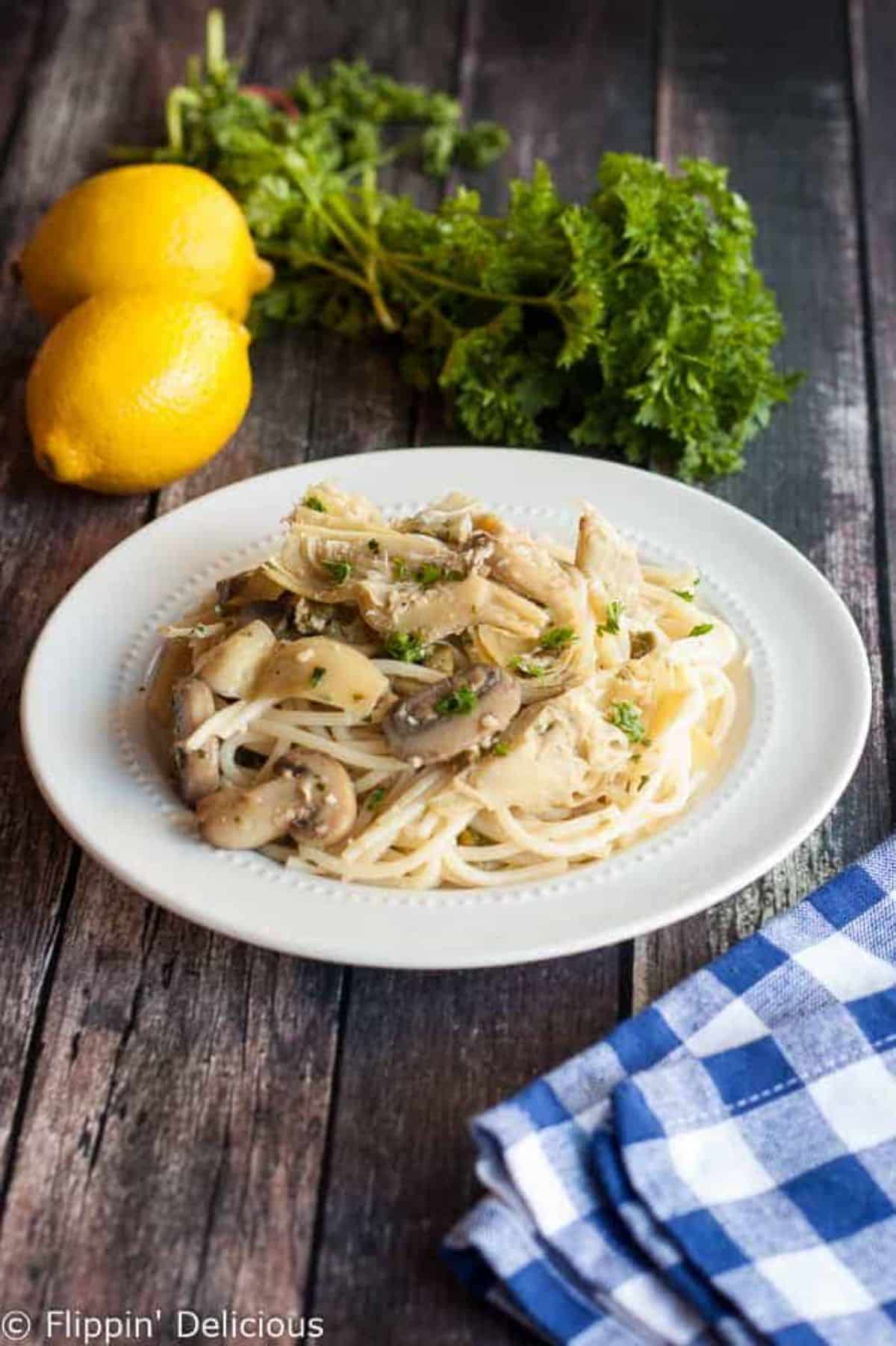 The tender mushrooms, Chardonnay wine, and citrusy lemon flavor profiles complete this dish!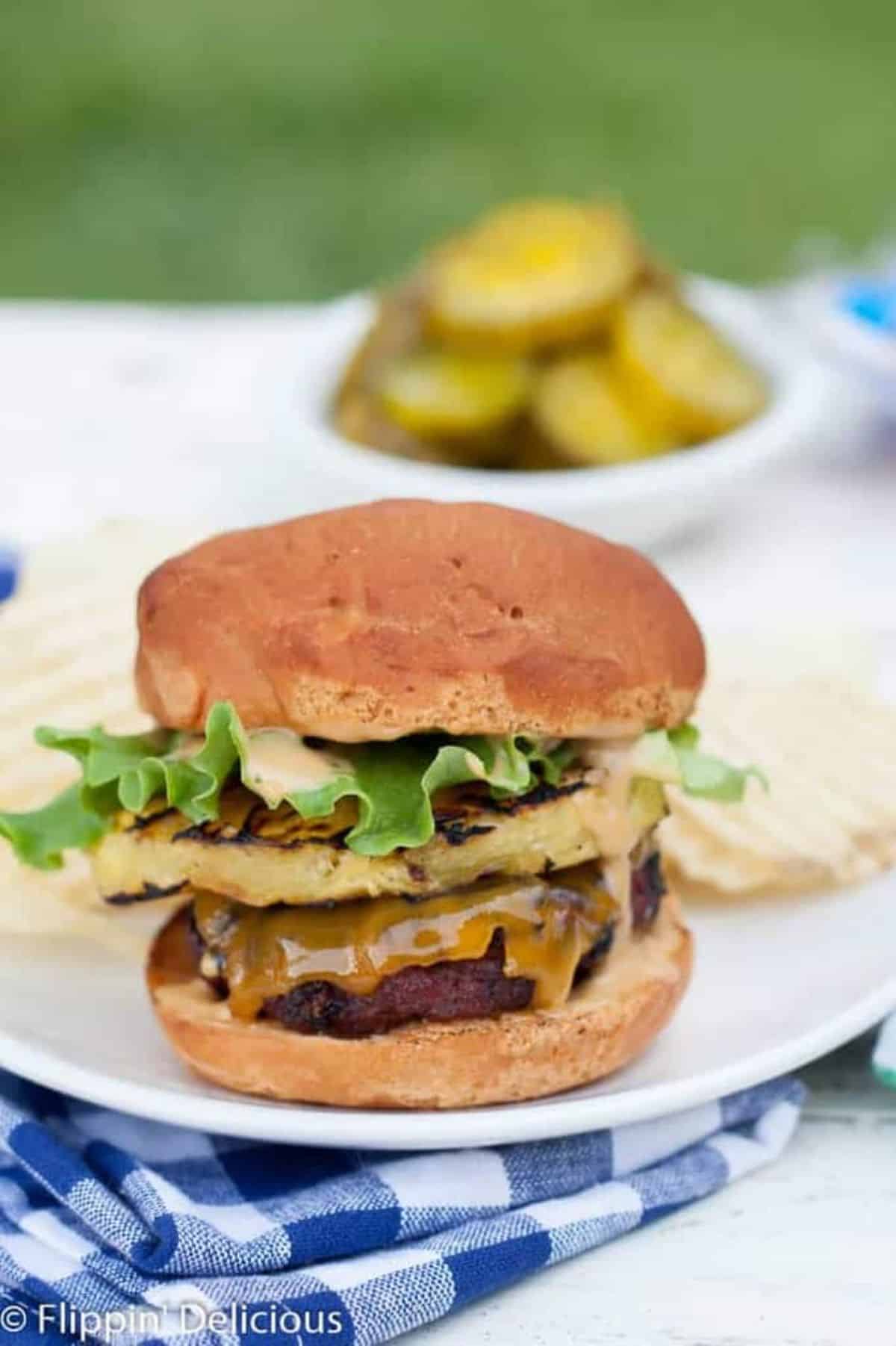 Flavorful teriyaki sauce and sweet pineapple slices compliment the smoky hamburger!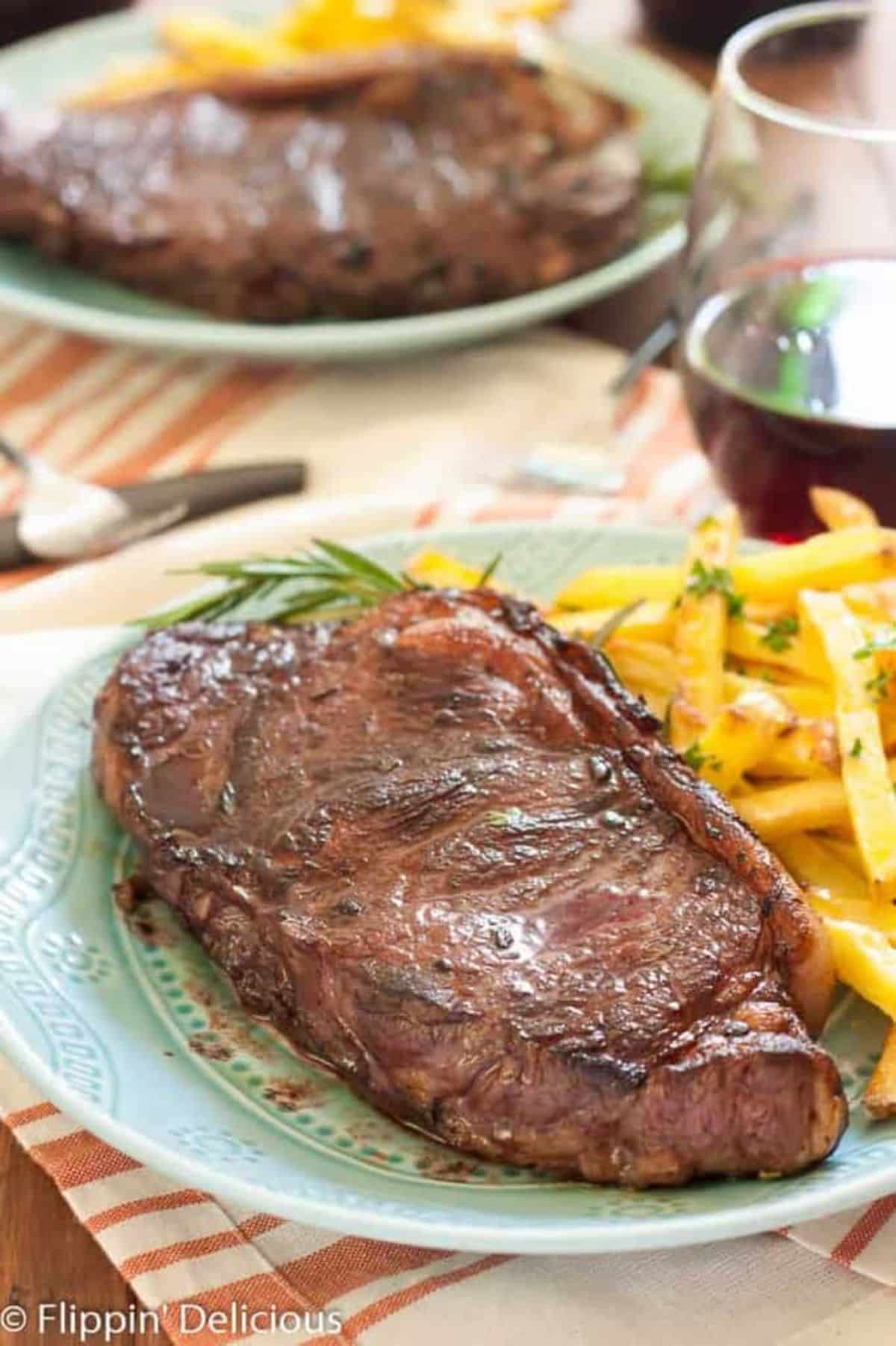 New York strip steaks plus red wine plus garlic and herb fries equals a sumptuous restaurant-quality dinner!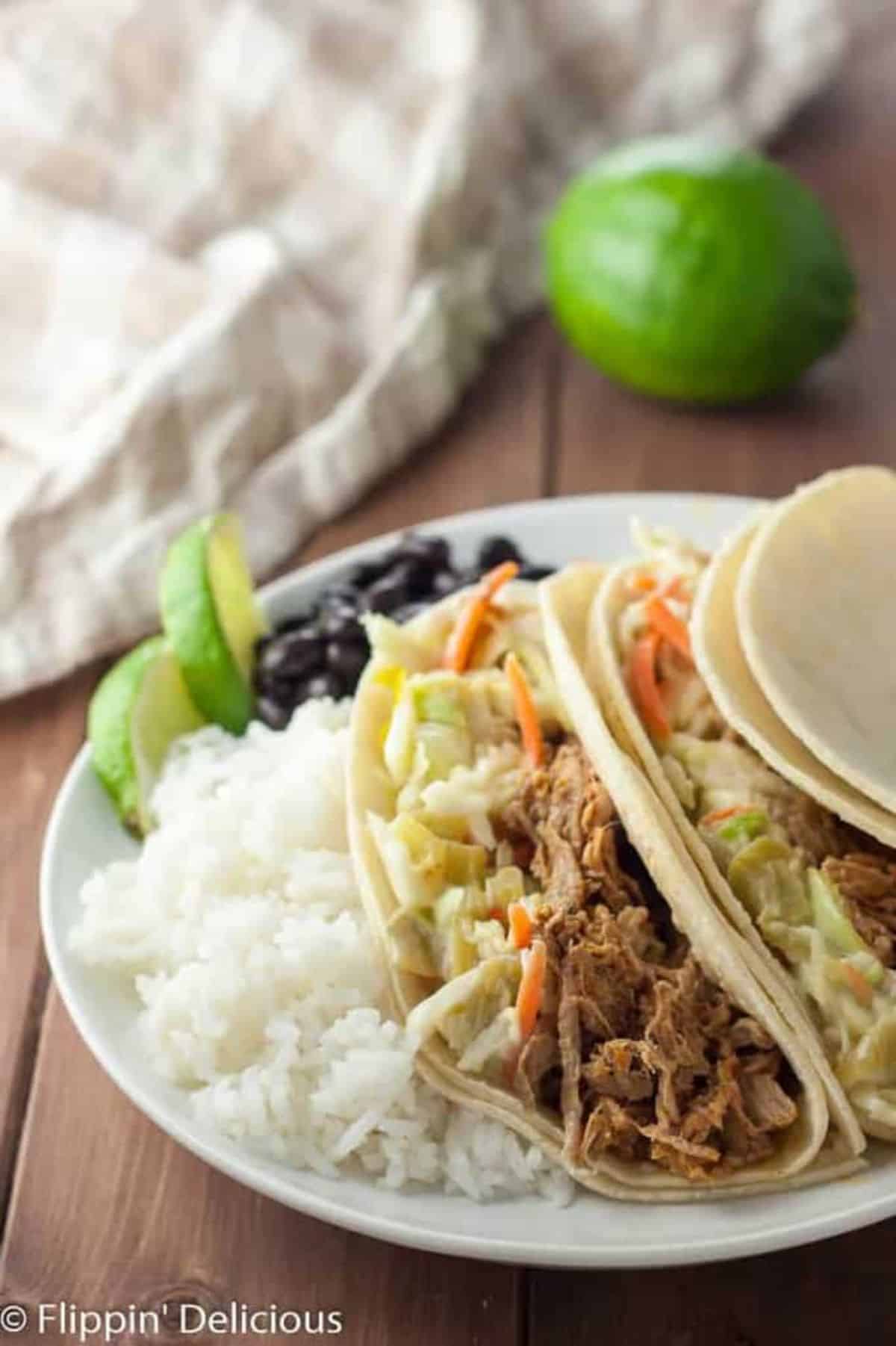 Guajillo peppers with a pork shoulder butt and gluten-free hard apple cider inhibit a flavor profile you never experienced before!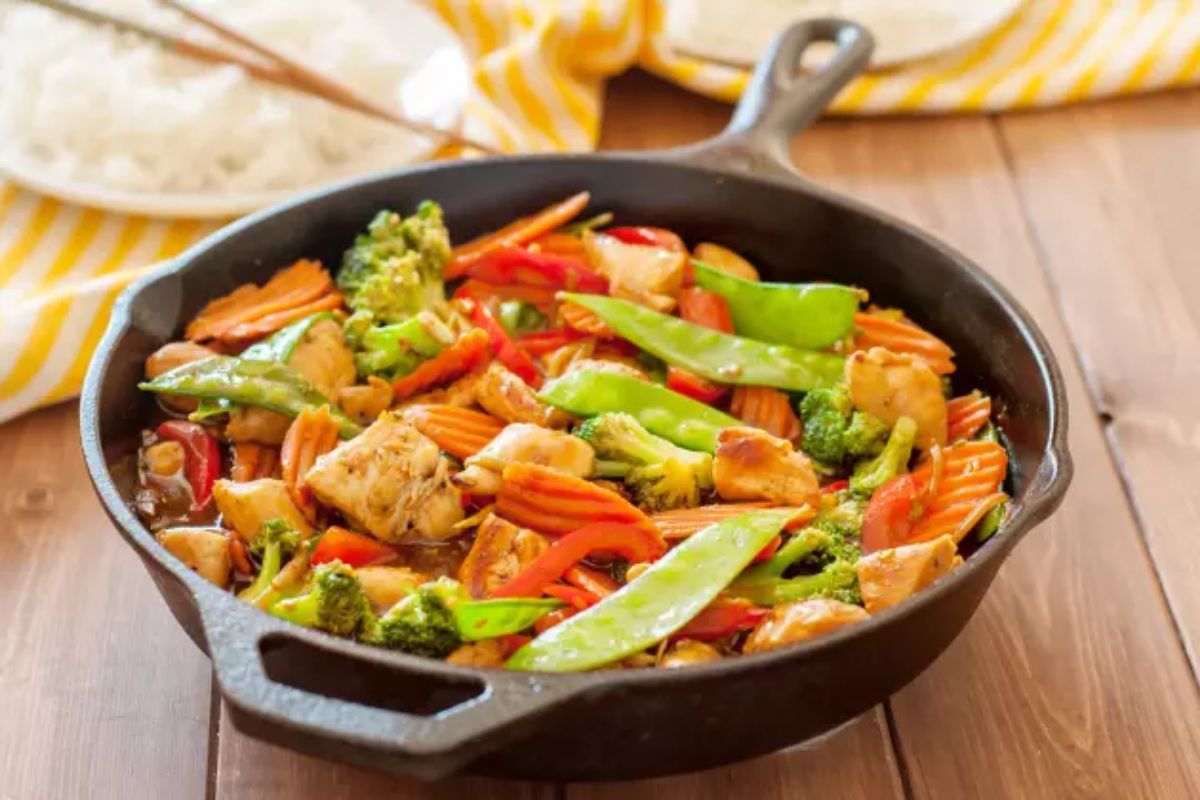 Throw your meat, vegetables, sauces, and seasoning into a skillet, cook, and serve!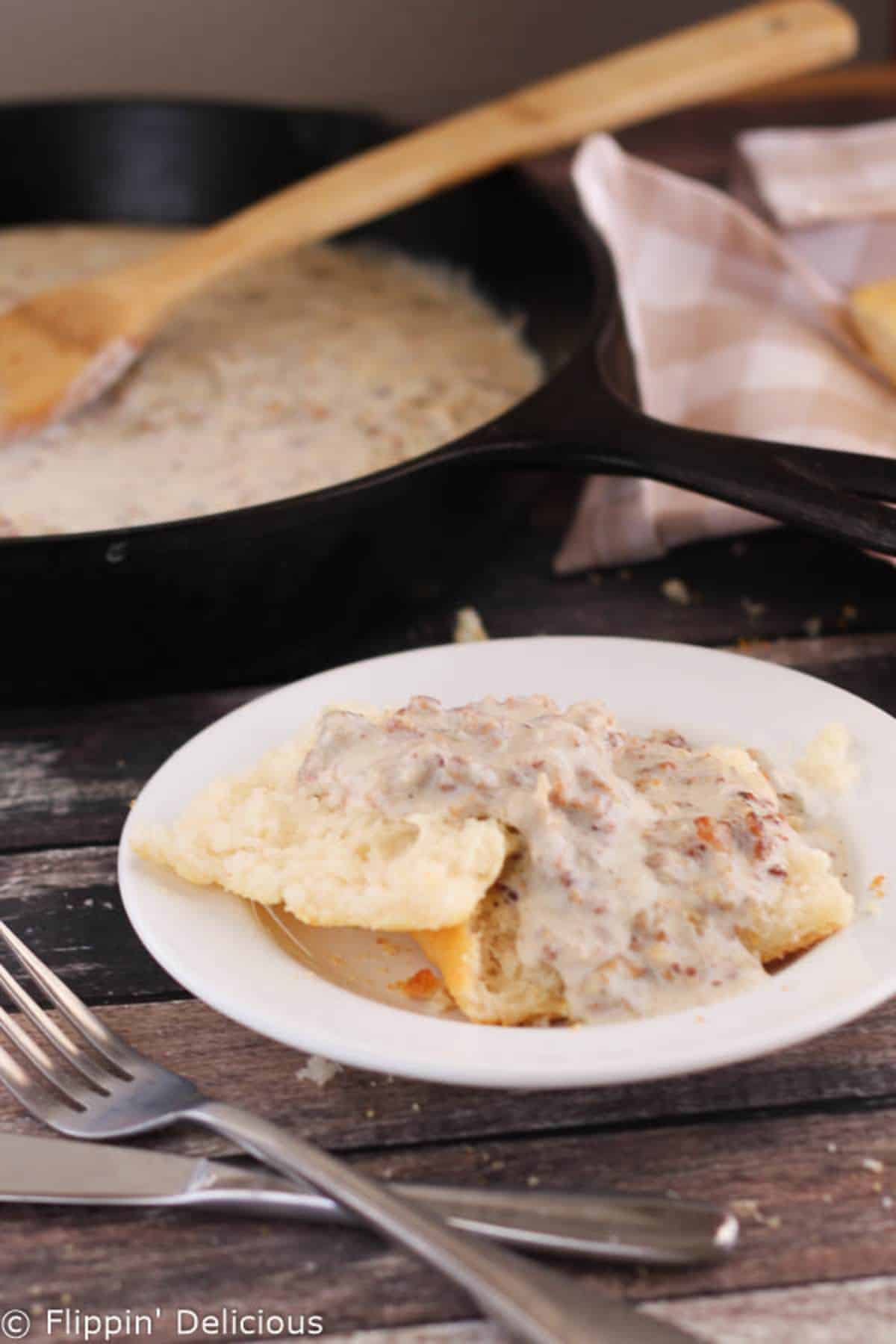 Replace all-purpose flour with rice flour and use a gluten-free sausage for a sumptuous sausage gravy without gluten-laden ingredients!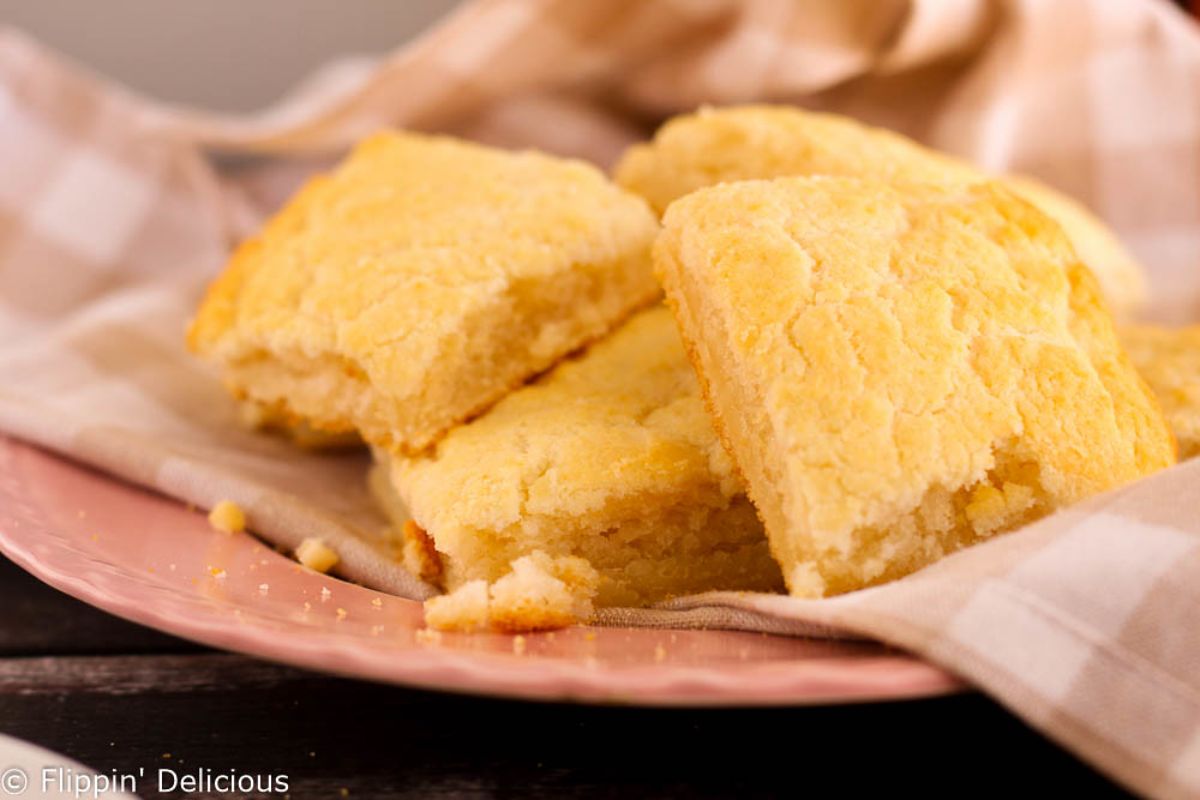 If you're a biscuit lover, you will enjoy this gluten-free alternative. Place the sausage gravy recipe on top of these biscuits!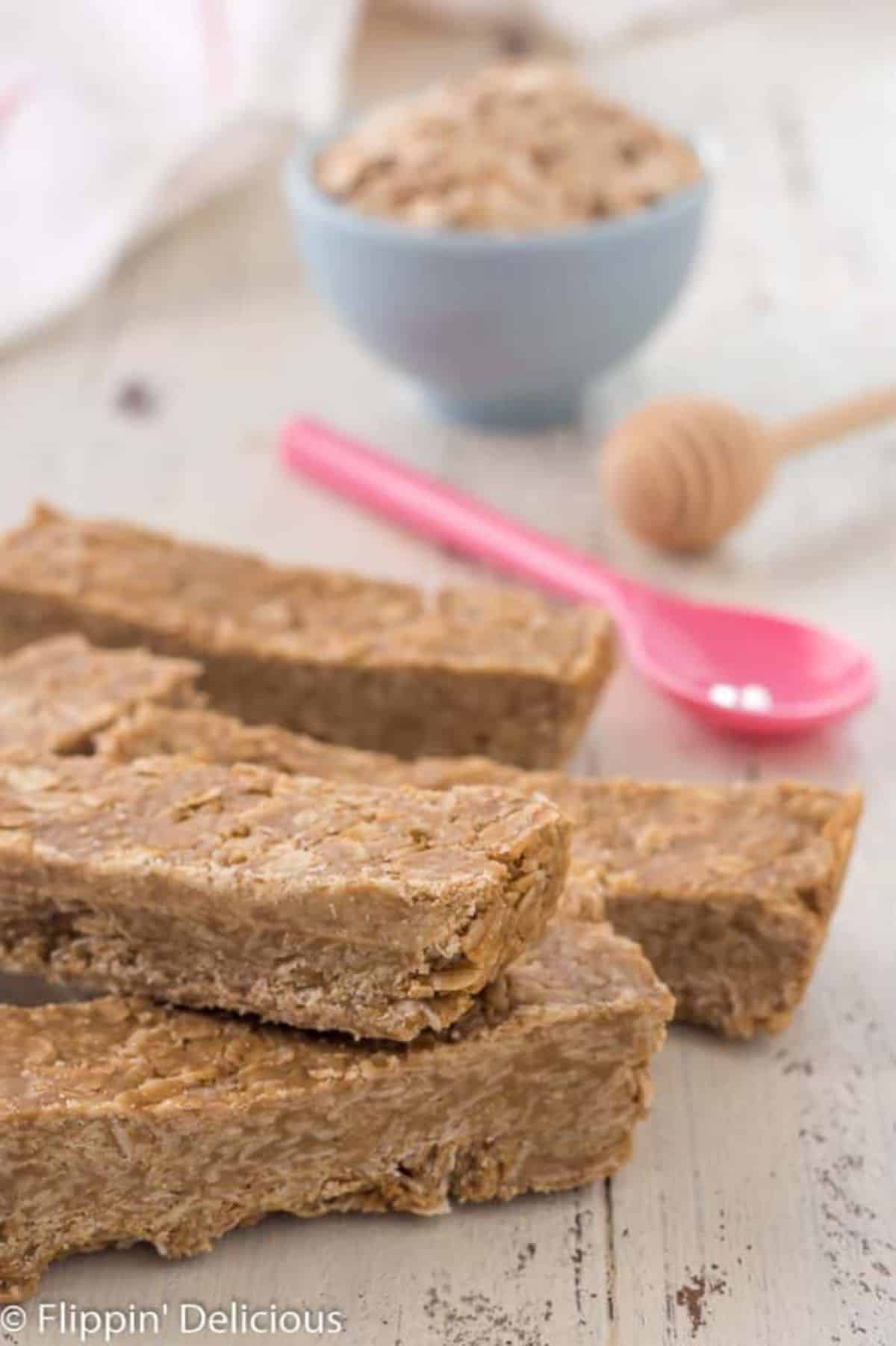 Don't pay for high-priced gluten-free granola bars at the grocery store. Try this homemade recipe instead!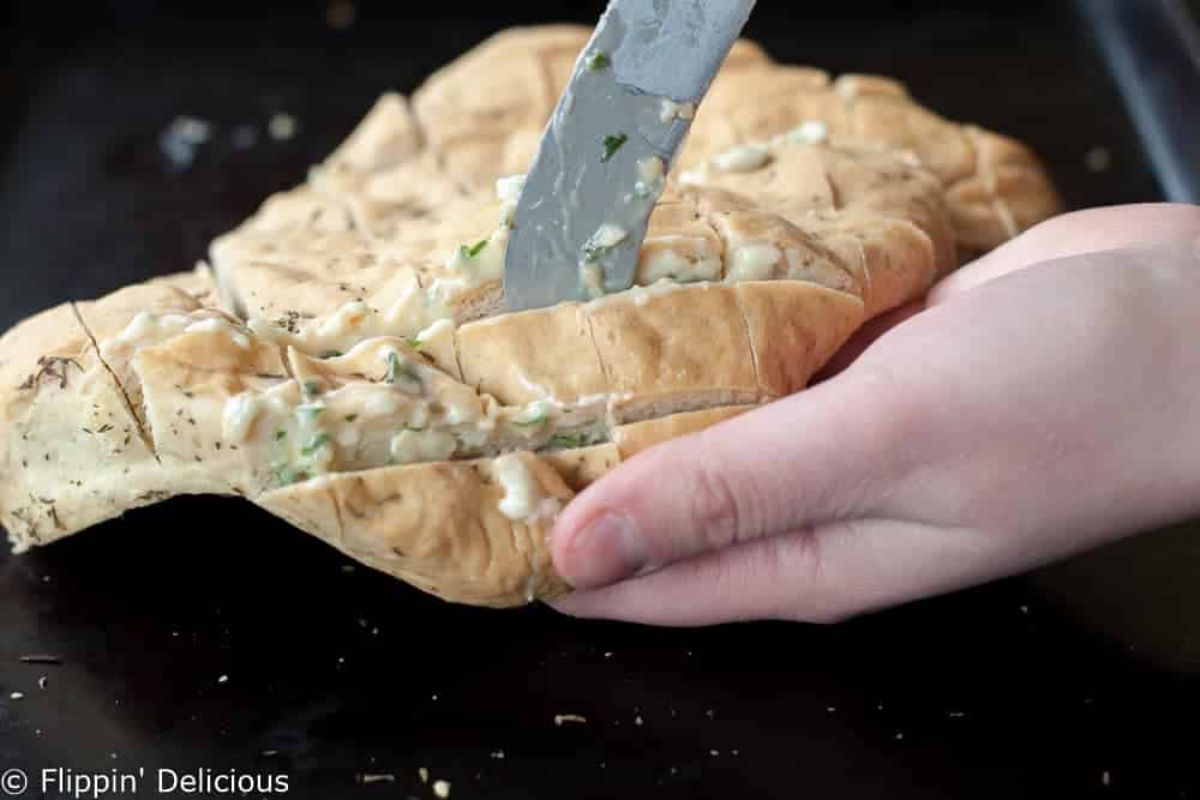 What's not to love about fluffy bread and gooey melted cheese with garlic notes?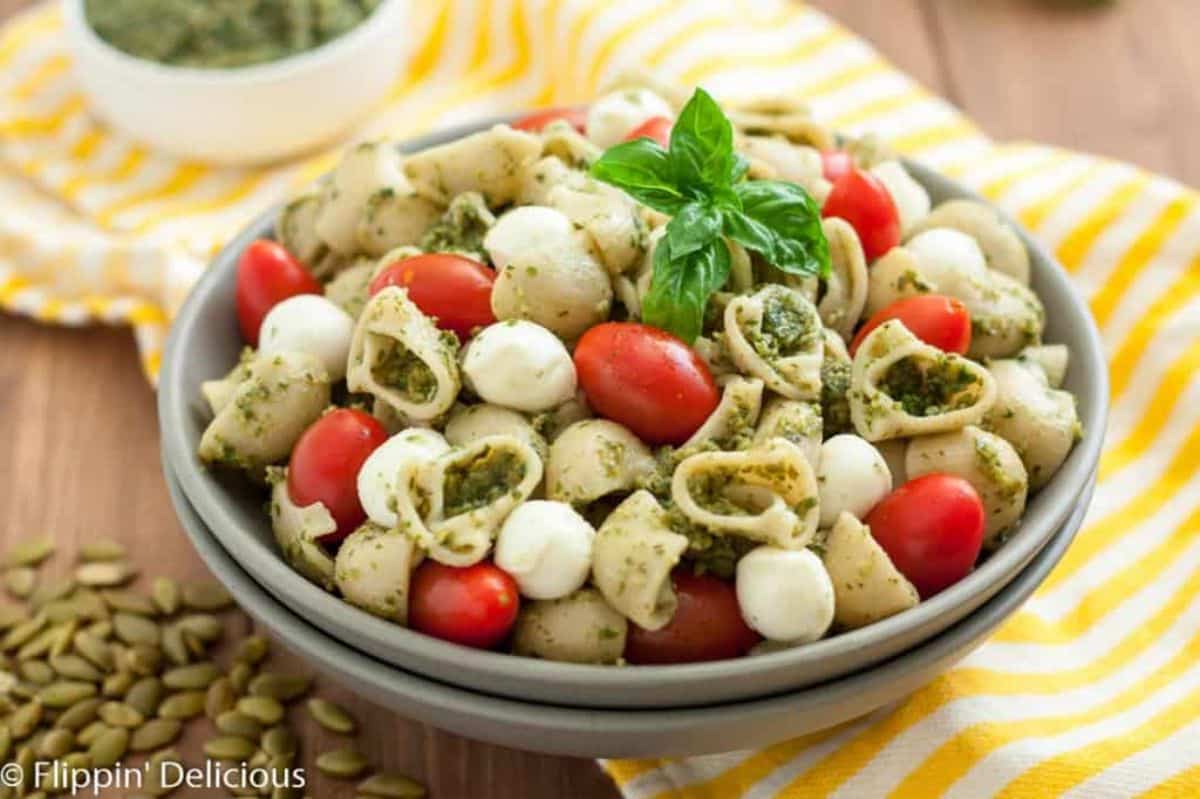 Indulge in this Italian-style pasta with quintessential flavors of fresh basil, cherry tomatoes, and mozzarella balls, but with a twist thanks to the pumpkin seed pesto.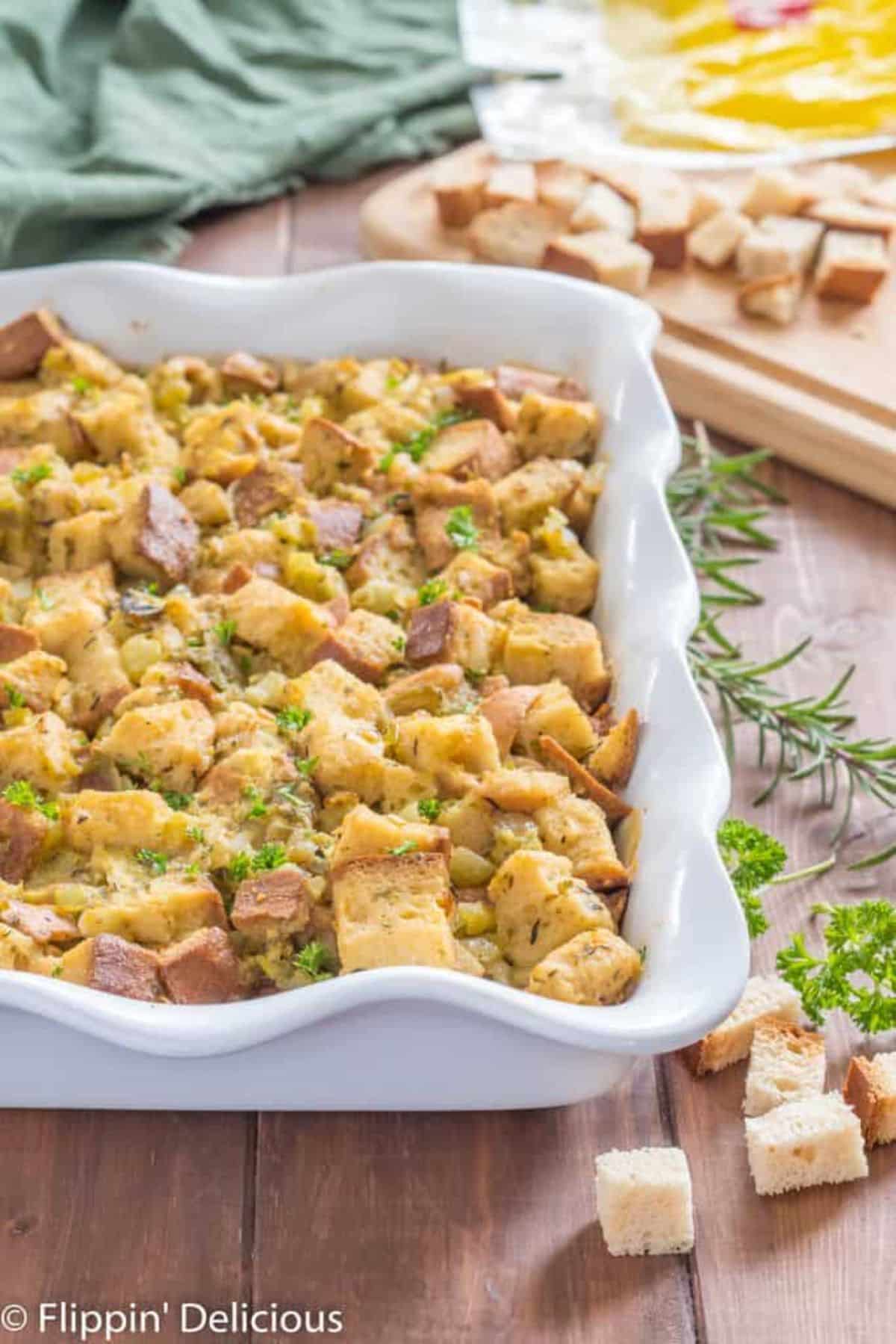 Enjoy a twist on a classic stuffing recipe by adding a zesty green chile pepper.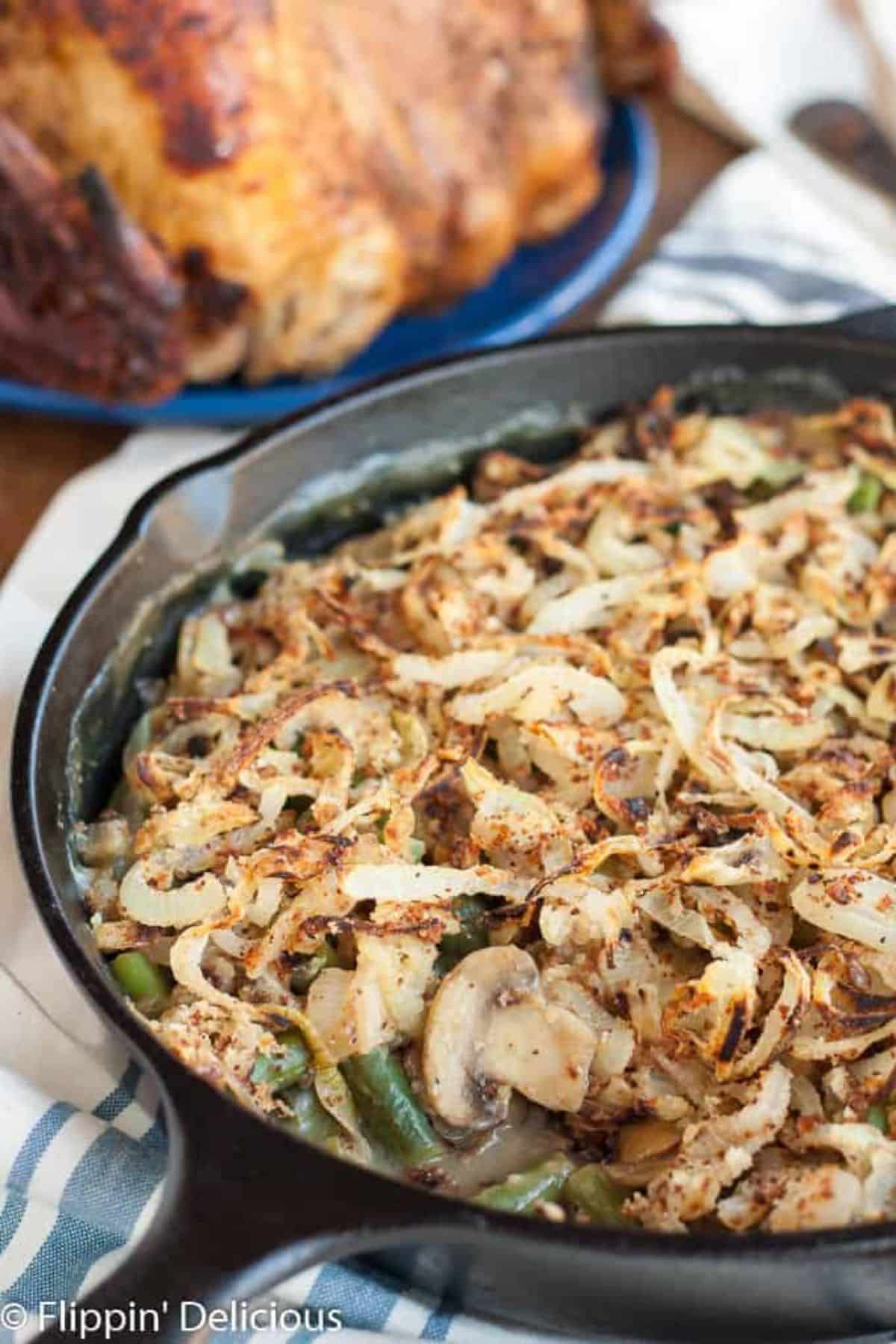 It's a classic green bean casserole without gluten-laden ingredients. Save this recipe for Thanksgiving!
Gluten-Free Recipes for Picky Eaters
Which gluten-free recipe was your favorite? What are you excited to try? Let us know in the comments!